Summer comes with a whole lot of excitement, but along with it, also the inescapable scorching heat. With these strawberry juice recipes, you can stay hydrated and soothe your senses while enjoying some unbelievably good beverages. Packed with vitamins and antioxidants, strawberries also offer a health boost that makes these drinks as nourishing as they are delicious.
What's more, with how versatile strawberries are, you won't have to worry about drinking the same thing over and over again. Beyond delightful juices, this list also features cocktails, lemonades, and tea recipes that you'll have the most amazing time playing around with. So grab your blender/juicer and let us take you on a journey through the world of strawberry juice – you won't be disappointed!
23 Delicious and Fresh Strawberry Juice Recipes to Make All Summer Long
1. Strawberry Juice
We're kicking things off with this simple and refreshing strawberry juice. With a blend of strawberries, lemon juice, and mint leaves, it offers a vibrant sweetness that's freckled with cooling and zesty notes—a beautiful combination of summer flavors that are so soothing to enjoy on hot, sunny days.
Go to Recipe
2. Strawberry Watermelon Juice
Sip the summer heat away with this strawberry watermelon juice. With a vividly sweet taste and nourishing ingredients, this drink is an excellent thirst quencher for all those hot days. The sweet aroma of fresh strawberries and the juicy flavor of ripe watermelon will transport you to a tropical paradise, making you feel like you're on vacation, even if you're just sitting in your backyard.
Go to Recipe
3. Strawberry Carrot Juice
Strawberry and carrot sound like an odd combination at first, but hey, don't knock it 'til you've tried it. The strawberry's vibrancy goes surprisingly well with the carrots' woodsy sweetness, creating a vibrant flavor combination that delights the taste buds with every sip. And, of course, with two nutrient-dense main ingredients, this drink is packed with vitamins A and C.
Go to Recipe
4. Strawberry Agua Fresca
Agua fresca is a popular Mexican refreshment made from fresh fruits, lime juice, water, and an optional sweetener. The simple combination creates a light, fresh drink that delights the palate with natural flavors. Toss a few ice cubes in and you have an amazingly hydrating beverage to chase away that sweltering summer heat.
Go to Recipe
5. Berry A-Peeling Juice
This juice is an "appealing" blend of apples, strawberries, and lime. Strawberries and apples create a delightful sweet-tart combination that's made all the more delightful by the lime's zesty brightness. Whip up a glass or two whenever you need a quick pick-me-up that's also incredibly nourishing.
Go to Recipe
6. Strawberry Kiwi Juice
For those looking to try something new, this strawberry kiwi juice might just be what you're looking for. The two fruits collide in a mingle of sweet, sour, and exquisitely tangy flavors that are unique but also quite easy to drink. We like to make this drink whenever summer arrives, and we have some outdoor festivities to entertain.
Go to Recipe
7. Strawberry Orange Juice
Bring a little twist to your morning routine with this strawberry orange juice. It still has that bright, tangy taste of a typical orange juice but is laced with the strawberries' fragrantly sweet and slightly sour notes. The lemon juice ties everything together in an acerbic, citrusy knot that constantly excites the taste buds.
Go to Recipe
8. Strawberry Cucumber Juice
Cucumber is a water-rich food that's great for keeping hydrated, especially against the scorching heat of summer. If you don't like this fruit by itself, give this strawberry cucumber juice a try. The strawberry adds a layer of sweet-tart goodness to the cucumber's mild, fresh taste, creating a nourishing drink with heavenly flavors.
Go to Recipe
9. Strawberry Lemonade
A cold lemonade glass is always a welcome sight on those hot summer days. Jazz it up with strawberry juice, and you've got a beverage that everyone will be fawning over. It's a harmonious combination of sweet, tart, and citrusy goodness, with a gorgeous, vibrant pink hue as a visual bonus—an ideal beverage for all summer activities.
Go to Recipe
10. Strawberry Peach Lemonade
Strawberry, peach, and lemonade come together in a bright, citrusy, and sweet flavor combination that perfectly captures the sunny feeling of summer. This lemonade is perfect for outdoor festivities, from picnics and barbecues to poolside lounging. Hold a cold glass in hand, and you'll have a fantastic, well-hydrated time under the sun.
Go to Recipe
11. Blender Beet Juice
Despite the name, this juice does have strawberries, along with other veggies and fruits like carrots, apples, clementine, lemon, ginger, and of course, beet. The rainbow blend of veggies creates this vibrant fuchsia drink that's packed with amazing, essential nutrients and a unique taste.
Go to Recipe
12. Strawberry Mint Margaritas
Sweet strawberries and cool mint create a refreshing, gorgeous flavor combination that's perfect for jazzing up your hot summer days. With tequila and liqueur added to the mix, it carries a zingy undertone that feels like sunshine on your palate. Pair this drink with a guacamole dip to serve at parties, and you'll have the crowd buzzing with satisfaction.
Go to Recipe
13. Spring Strawberry Mojito
Here's another vibrant beverage to liven up all your parties and get-togethers. Strawberries are muddled with lime and mint, then blended with sparkling water to make this spring strawberry mojito. The mint adds a cooling element, while the lime juice provides acidity and balances out the sweetness of the fruit. You can also add rum to make an alcoholic version.
Go to Recipe
14. Roasted Strawberry Mint Lemonade
Roasted strawberries bring a burnt, intensified sweetness that makes this lemonade a highlight wherever it appears. The smoky undertone goes magnificently well with the lemon's tartness and the mint sprig's fragrant notes, creating a concoction of gratifying flavors. Combined with the eye-catching pink hue, this drink will color all your meals and parties with unparalleled excitement.
Go to Recipe
15. Strawberry Pineapple Punch
Imagine a tropical paradise in a glass - that's what you'll get with this strawberry pineapple punch! Each sip brings a vibrant sweetness reminiscent of sunshine, with a bright citrus touch to seal the deal. You can make this punch with water to make a hydrating, refreshing drink, or swap it out for rum, vodka, or your liquor of choice for a fun summer cocktail.
Go to Recipe
16. Strawberry Blueberry Lemonade Spritzer
This fruity spritzer is a refreshing and delightful mingle of strawberries, blueberries, mint leaves, lemon juice, sugar, and sparkling water. It's bubbly and effervescent with some sweetness and a tart undertone—all quintessential summer flavors. Whether you're lounging by the pool, hosting a backyard barbecue, or just cooling down from the sweltering heat, this strawberry blueberry lemonade spritzer is a perfect choice.
Go to Recipe
17. Strawberry Coconut Lemonade
This strawberry coconut lemonade is what summer dreams are made of. The juicy sweetness of fresh strawberries intertwines seamlessly with creamy, rich coconut milk, all tied together by a lemon twist that fills the taste buds with bright, zesty sparks. Give it a try to transport yourself to a tropical paradise with every sip.
Go to Recipe
18. Homemade Kompot Juice
Kompot is a drink made by simmering fruits in water and sugar that's often enjoyed in Eastern Europe. What makes Kompot so special is its versatility. It can be made with different ingredient combinations, as well as served hot or cold—depending on the season or personal preference.
This recipe, in particular, features strawberries, blueberries, cranberries, and peaches (or apples). The beautiful mixture creates an aromatic drink with sweet-tart flavors and an incredibly soul-soothing homemade warmth.
Go to Recipe
19. Sparkling Strawberry-Ginger Lemonade
Strawberry, ginger, and lemon is an unexpected combination, but one that will have you mesmerized nevertheless. The sweetness of the strawberries hits you first, followed by a subtle warmth from the ginger. Everything is tied together by the lemon juice, which offers a tart finish that balances out the flavors perfectly. The sparkling water adds a fizzy touch that makes every sip so much more exciting.
Go to Recipe
20. Strawberry Acai Refresher
This strawberry acai refresher is a Starbucks copycat that you can easily make at home and customize to fit your liking/diet. It's made from fresh strawberry juice, water, acai powder, grape juice, syrup, and (optional) green tea. The result is a fruity concoction with an aromatic sweetness that quenches your thirst and satisfies your sweet tooth at the same time.
Go to Recipe
21. Vanilla Strawberry Iced Tea
This refreshing beverage is a harmonious blend of rooibos tea, honey, vanilla, and strawberry purée. The tea lays a delicate and smooth flavor base that's beautifully accentuated by the fruit's vibrant sweetness and the vanilla's fragrant, floral notes. Add a few ice cubes and you've got a cooling treat with a heavenly taste that everyone will be sipping on to keep the heat away.
Go to Recipe
22. Southern Strawberry Iced Sweet Tea
This recipe brings a fruity twist to the classic Southern sweet tea, which is typically made from freshly brewed black tea and a sweetener. The strawberries are diced, then simmered with lemon juice, water, and sugar into a rich syrup that infuses the tea with a gorgeous, aromatic sweetness. It's the perfect drink to sip on on those hot summer days, picnics, barbecues, or any occasion that calls for a cool and refreshing drink.
Go to Recipe
23. Strawberry Hibiscus Iced Tea
Strawberry and hibiscus are a match made in heaven. With this tea, their sweet, tart, and floral notes intertwine in a beautiful dance of flavors that never fail to delight the taste buds. Keep this five-ingredient recipe in your back pocket for whenever you need something unique and enjoyable that's still easy to make.
Go to Recipe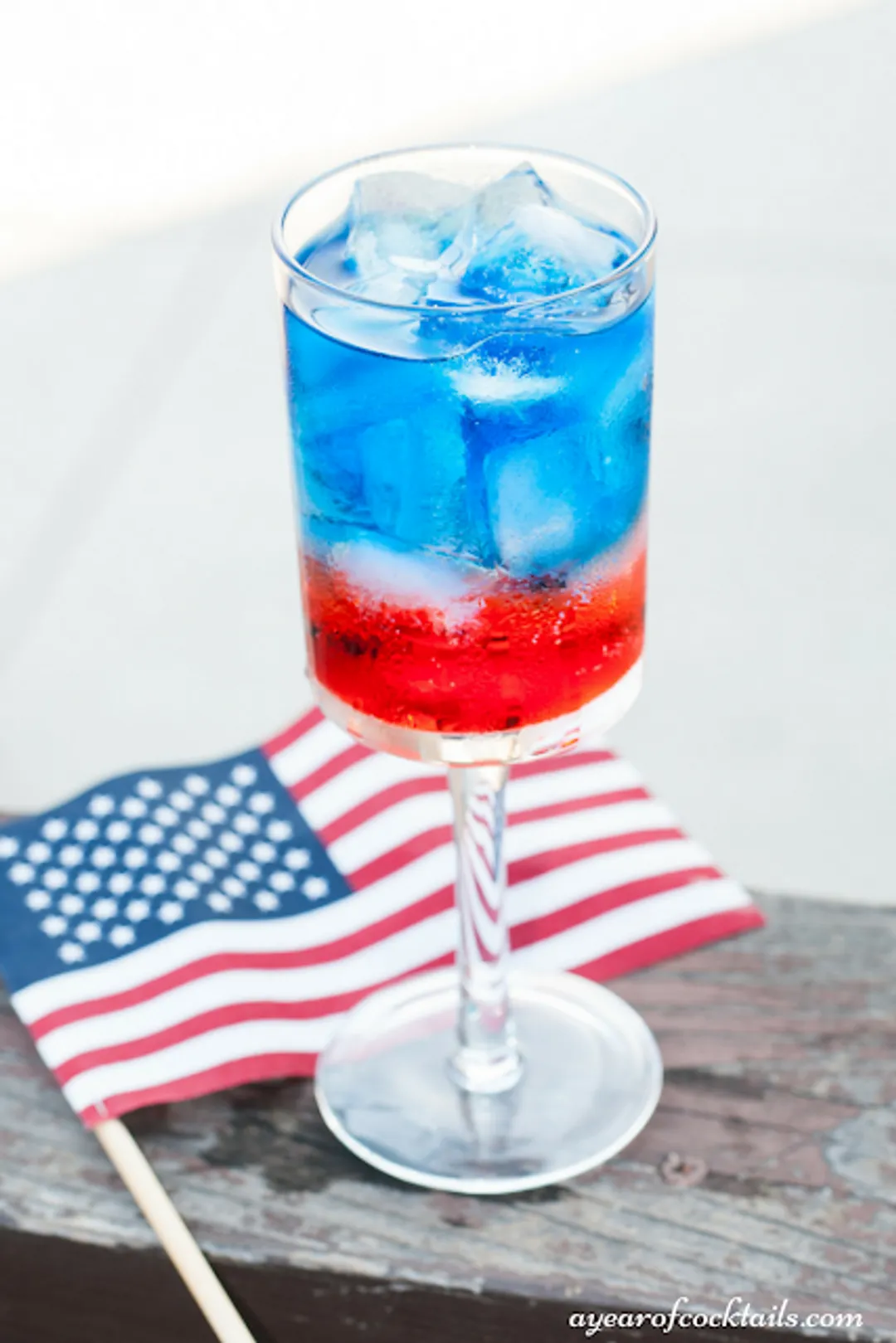 Previous Recipe
4th of July Drinks
4th of July Drinks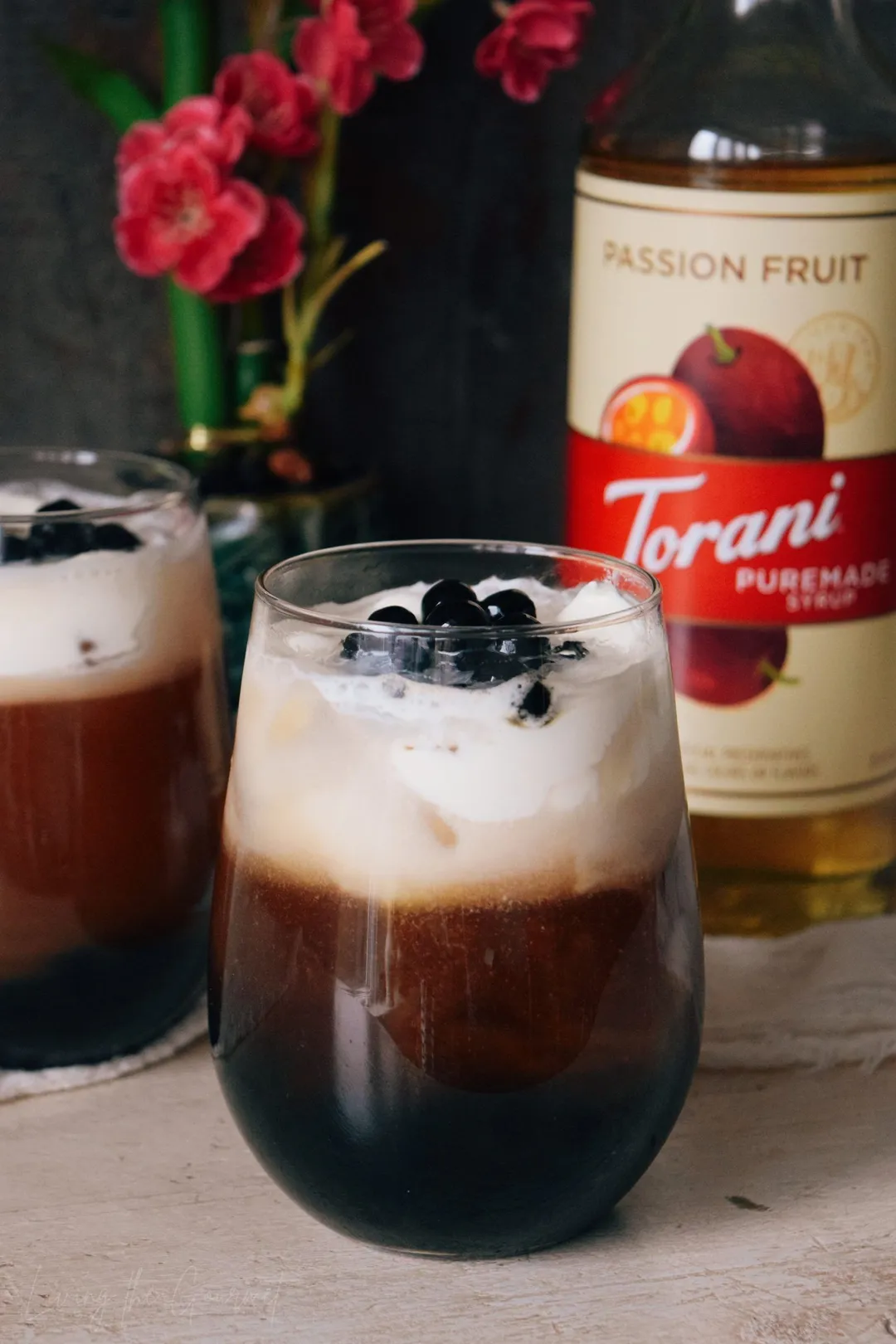 Boba Drinks
Writer, Author
Luna Regina is an accomplished writer and author who dedicates her career to empowering home cooks and making cooking effortless for everyone. She is the founder of HealthyKitchen101.com and HealthyRecipes101.com, where she works with her team to develop easy, nutritious recipes and help aspiring cooks choose the right kitchen appliances.
Comments/ Reviews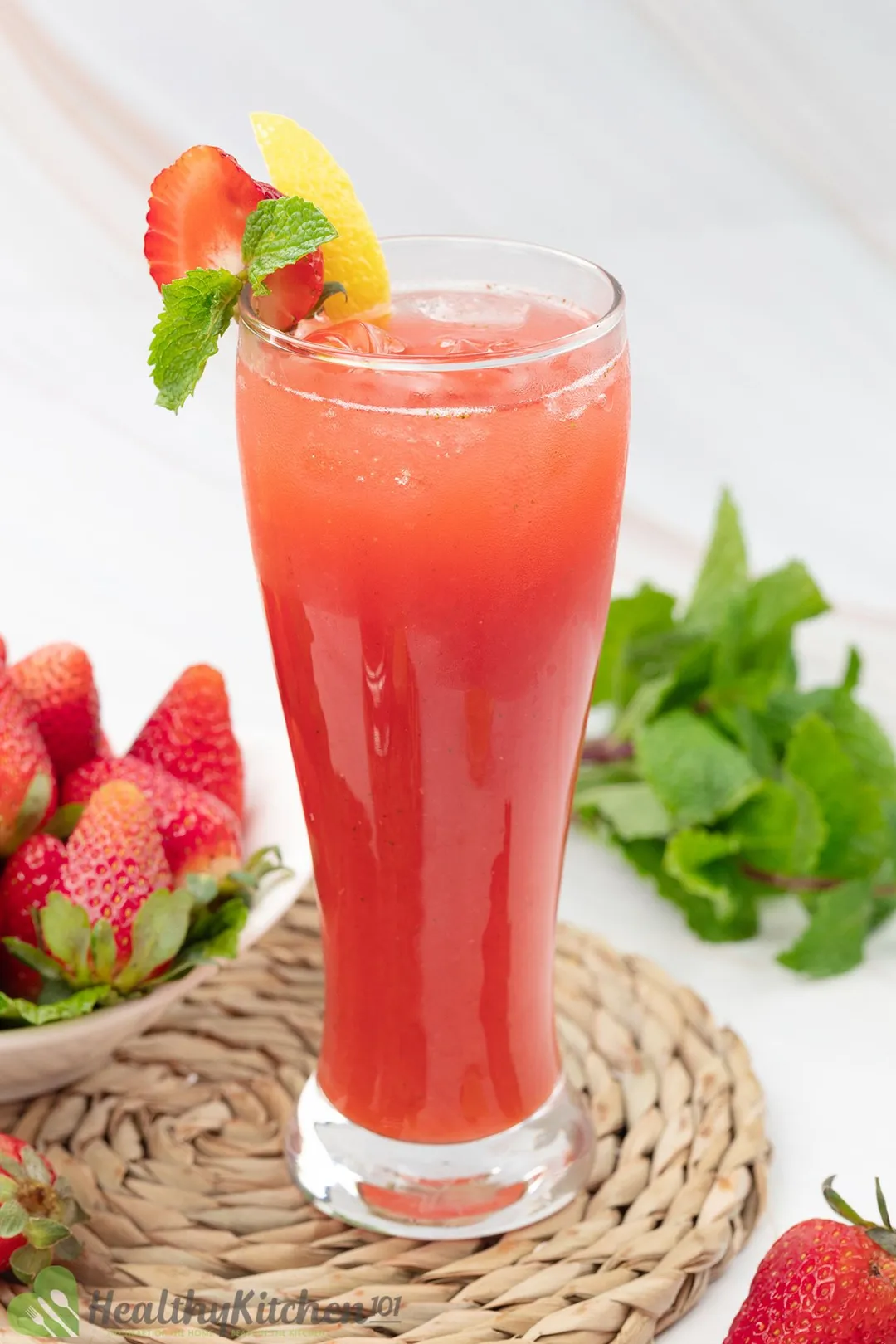 Refreshing and tasty, these strawberry juices are perfect ways to start your day or quench your thirst.

I love love love these recipes, strawberry is my favorite. Sweet and refreshing