Store-bought boba drinks are great and all, but have you ever tried making them at home? You'll be surprised by just how easy it is to recreate that heavenly goodness—from the pleasant sweetness and delicious creamy taste to tender, chewy tapioca pearls that tingle the taste buds with each bite.
Whipping up your own boba drinks allows you to adapt and adjust the ingredients to fit your diet and make them healthier, as well as explore various ways to enjoy them. The little tapioca balls make an excellent addition to not only milk tea but also milkshakes, smoothies, lattes, coffees, and even desserts. Keep reading to check out all of our favorite boba recipes.
30 Boba Drinks (And Desserts) We Can't Get Enough Of
1. Easy Boba Tea
Let's kick things off with a true classic. This ubiquitous Taiwanese drink is a classic indulgent treat that never fails to hit the spot. The simple combination of black tea, dairy, brown sugar, and boba pearls creates a sweet and creamy drink with fun, chewy bites that has everyone completely mesmerized.
Go to Recipe
2. Oreo Bubble Shake
If you think Oreo milkshakes are delicious, wait until you try this Oreo bubble shake. This drink is an explosion of rich, creamy, and chocolatey flavors that burst on the taste buds with each frosty sip. Everything is made better by the chewy boba pearls that nicely contrast with the drink's frosty, melt-in-your-mouth consistency.
Go to Recipe
3. Pumpkin Bubble Tea
When fall rolls around, celebrate it in a new way with this pumpkin bubble tea. The special twist lies not only in the pumpkin cream on top but also in the tapioca pearls that are made from pumpkin purée. This infuses the tea with a creamy, earthly sweet taste that's perfect for those days when you want something cozy, but aren't entirely ready for a hot drink yet.
Go to Recipe
4. Matcha Bubble Tea
Matcha bubble tea is the perfect go-to drink for all occasions because it's so easy to make and tastes absolutely remarkable. The matcha offers rich, grassy notes and a fragrant undertone, seamlessly intertwining with the milk's creamy taste. With the brown sugar boba pearls at the bottom, each sip finishes off with a deep sweetness and chewy bites that keep you coming back for more.
Go to Recipe
5. Strawberry Milk Bubble Tea
Satisfy your sweet tooth with this strawberry milk bubble tea. It's made with strawberry purée, which brings a vibrant sweetness that bursts beautifully on the taste buds. The purée also comes with little fruit pieces that, in combination with the viscous boba pearls, fill the drink with exciting and enjoyable textures.
Go to Recipe
6. Passion Fruit Bubble Tea
If you don't have the time or energy for a purée, syrup is another excellent choice when making fruit bubble tea. This recipe uses passion fruit syrup to whip up a brightly sweet drink with a tropical tart that tastes like summer and sunshine.
Go to Recipe
7. Chocolate Milk Tea
Despite the name, this recipe actually doesn't feature any tea. It's just your classic choco milk but made better by the chocolate syrup-soaked bobas. As a result, this drink is extra rich with the dark sweetness and decadent taste of chocolate. With only four ingredients and three simple steps, this is a quick and easy treat to whip up any time you want a little indulgence.
Go to Recipe
8. Avocado Boba Smoothie
Avocado smoothie is good enough as it is, but add some boba to it and you've got one truly remarkable drink. Drenched in brown sugar, the pearls add a layer of flavor that deepens the smoothie's creamy sweetness. Their chewy bite stands out nicely against the drink's velvety smooth texture and brings an exciting mouthfeel to each sip.
It does take a bit more time to make than your regular smoothies, but every single second is well worth it.
Go to Recipe
9. Dalgona Coffee With Boba
If you've been scrolling through social media over the last few years, you've probably seen dalgona coffee more than once. This trendy drink is made by whipping coffee into a fluffy, foamy texture then layer it over milk. It has a rich sweetness that's laced with the coffee's signature aromatic bitterness. Adding tapioca pearls to this drink makes it so much more exciting while still sticking to the original flavors.
Go to Recipe
10. Raspberry Smoothie With Rainbow Boba
If you're in the mood for a little experimenting, give this recipe a try. Berries are blended with soy milk, ice cream, and yogurt into a sweet-tart smoothie that tastes like a dream. Then, the (rainbow) boba transforms it into a fun beverage that colors your taste buds with a kaleidoscope of flavors and textures.
Go to Recipe
11. Creamy Taro Milk Tea
This drink's vibrant purple hue comes from raw taro root that's cooked and mashed. The taro is then blended with jasmine tea, almond milk, sugar, and sweet potato powder to a velvety smooth consistency. Each sip brings pleasantly sweet and nutty flavors with subtle vanilla notes—a unique and charming combination that never fails to impress.
Go to Recipe
12. Lychee Bubble Tea
Lychee is a Chinese fruit with soft, juicy flesh and a uniquely sweet, floral taste. This recipe blends the fruit with coconut milk and green tea, which gives a more mellow taste than regular bubble tea. If you like a fresh and light drink that still offers some sweetness as well as that delicate tea taste, don't miss out on this one.
Go to Recipe
13. Mango Milk Tea
Mango nectar brings a dazzling flavor base that makes this the perfect summer drink. Mixed with green tea, milk, and sugar, it gives the drink a creamy, bright, and sweet taste. Add a few ice cubes and you've got an incredibly refreshing, soothing beverage to sip on on those sunny days.
Go to Recipe
14. Dairy-Free Honeydew Boba Smoothie
Here's another easy and refreshing boba drink that you can easily make to enjoy during summer. It comes together in 20 minutes with just three simple steps, so any time you want something cool, sweet, fresh, and soothing, don't forget to whip up a few of these glasses.
Go to Recipe
15. Honey Milk Tea
For those who don't want any fruits in their boba drinks, try this honey milk tea. It consists of honey, black tea, and milk, with some boba at the bottom to jazz things up. This simple combination creates a simple and elegant drink that just exudes comfort—a perfect pick-me-up for any time of the day.
Go to Recipe
16. Strawberry Rose Bubble Tea
With a rose tea flavor base, this bubble tea carries a floral and ambrosial taste that's quite refreshing—especially if you're already too familiar with black and green tea. The milk adds a creamy taste that perfectly complements the tea's fragrant scent, woven with the strawberry's fruity sweetness to create a soft and pleasant drink that pulls at your heartstrings with each sip.
Go to Recipe
17. Sparkling Strawberry Lemonade With Strawberry Boba
This lemonade offers so much more than just a beautiful, eye-catching appearance. The macerated strawberries come with a vibrant, sparkling sweetness that instantly brightens the taste buds. At the end of each sip, you're rewarded with viscous and tender strawberry boba pearls, making this drink an absolute delight to have at any meal or gathering.
Go to Recipe
18. Sweet Potato Bubble Tea
Unlike the previous flavored boba recipes, this one doesn't incorporate sweet potato into the tea by turning it into purées or syrup. Instead, the sweet, starchy vegetable is cooked into tapioca pearls, making both the taste and texture a lot more pronounced. With the brown sugar and cinnamon-spiced cream added, this drink perfectly captures fall's essence.
Go to Recipe
19. Spiked Dirty Chai Latte
The ubiquitous and beloved chai latte gets an espresso twist that gives its signature spicy-sweet taste an enticing dark and bitter undertone. This recipe adds boba pearls, which makes the drink all the more intriguing.
Go to Recipe
20. Blueberry Milk Tea
This blueberry milk tea is made with homemade blueberry syrup, giving it that natural sweet-tart fruit taste that melds right into the milk tea's creamy, floral sweetness. Of course, the boba adds a textural layer that just ties everything together in a simple yet impressive way.
Go to Recipe
21. Strawberry Matcha Boba Latte
This drink's colorful appearance promises a beautiful blend of flavors, and that's exactly what it delivers. The strawberries bring a vibrant sweetness that perfectly contrasts the matcha's subtle grassy taste, both of which are tied together seamlessly by the creamy milk. And just when you think it can't get any better, the brown sugar-covered boba comes in and ties everything together in swirls of caramelized sweetness.
Go to Recipe
22. Coconut Butterfly Pea Flower Boba Tea
This drink's exotic, ombre blue hues come from the butterfly pea flower, which is commonly used in Southeast Asia to create a natural dye for various foods and drinks. Despite the vibrant color, however, its taste is quite light, so it's just enough to add a delightful floral tint to the coconut milk without overwhelming the nutty-sweet, creamy taste. Make this at your gathering for a drink that will have everyone mesmerized at first sight.
Go to Recipe
23. Apple Chai Boba Tea
This is a splendid drink to sip on when fall arrives at your doorstep. The apple brings a sweet-tart hint that unravels beautifully into the chai's warming spiciness. Together, they create a flavor combo that pampers the taste buds with a whole lot of coziness.
Go to Recipe
24. Thai Bubble Tea
Thai tea has a unique flavor profile that will captivate your taste buds from the first sip. It's rich and sweet at first but gradually fades into an exotic earthy, vanilla scent. 
Although Thai tea is often made by mixing black tea, condensed milk, and a variety of spices together, you can easily buy pre-mixed packages to quickly whip up a delicious drink in less than 10 minutes, or 25 if you're making tapioca pearls to amp up the taste and texture.
Go to Recipe
25. Earl Grey Bubble Tea
Earl grey imparts a delicate fusion of sweet, mildly bitter, and citrusy flavors that makes this drink absolutely irresistible. The milk mellows out any harsh edges the tea may have and leave you with a pleasant, relaxing aftertaste. The boba adds a fun little touch, making the drinking experience a whole lot more spectacular.
Go to Recipe
26. Boba Cold Brew Pumpkin Spice Brown Sugar Oatmilk
Wrap yourself in a warm, cozy blend of fall flavors with this delectable drink. It features cold brew coffee, pumpkin spice, liquid monk fruit, brown sugar, and oat milk, with some tapioca pearls for an extra chewy delight. The coffee's rich, dark taste is layered with spicy and sweet notes, bringing an extraordinary complexity that tantalizes all your senses.
Go to Recipe
27. Mangonada Boba
Take your taste buds on a summer adventure with this Mexican slushie. It's a blend of frozen mangoes, Mexican condiments like chamoy and tajin, mint leaves, and lime juice. The combination creates a frosty and cooling drink that burst with sweet, spicy, and savory flavors—a strangely unique combination that will surprise you with how good it is.
The boba, of course, is an optional added twist, but it does give the drink a much more voluminous mouthfeel that just makes the flavor punch extra intense.
Go to Recipe
28. Black Sesame Bubble Tea
This black sesame bubble tea is actually caffeine-free since it doesn't contain any tea. Instead, it features black sesame paste, which is often used in Asian desserts and drinks to lend a softly nutty and toasty aroma as well as a creamy texture. The brown sugar boba comes in at the end to close out each sip with a sweet, decadent touch that keeps pulling you back in for more.
Go to Recipe
29. Bubble Tea Crème Brûlée
This isn't really a boba drink, but it tastes exactly like one, and possibly even better with the contrasting textures of the crispy, brittle burnt sugar top and tender, chewy boba pearls. Each spoonful brings the silky, custardy feeling of a classic crème brûlée and the pleasant sweetness of milk tea, giving you a decadent dessert that endlessly delights and excites the taste buds.
Go to Recipe
30. Watermelon Boba Popsicles
The summer heat's got nothing on these watermelon boba popsicles. They're a cooling blend of coconut cream and watermelon that fills your taste buds with the sweet, sunny taste of a tropical holiday. Coupled with boba pearls coated in brown sugar, each bite is something straight out of heaven.
Go to Recipe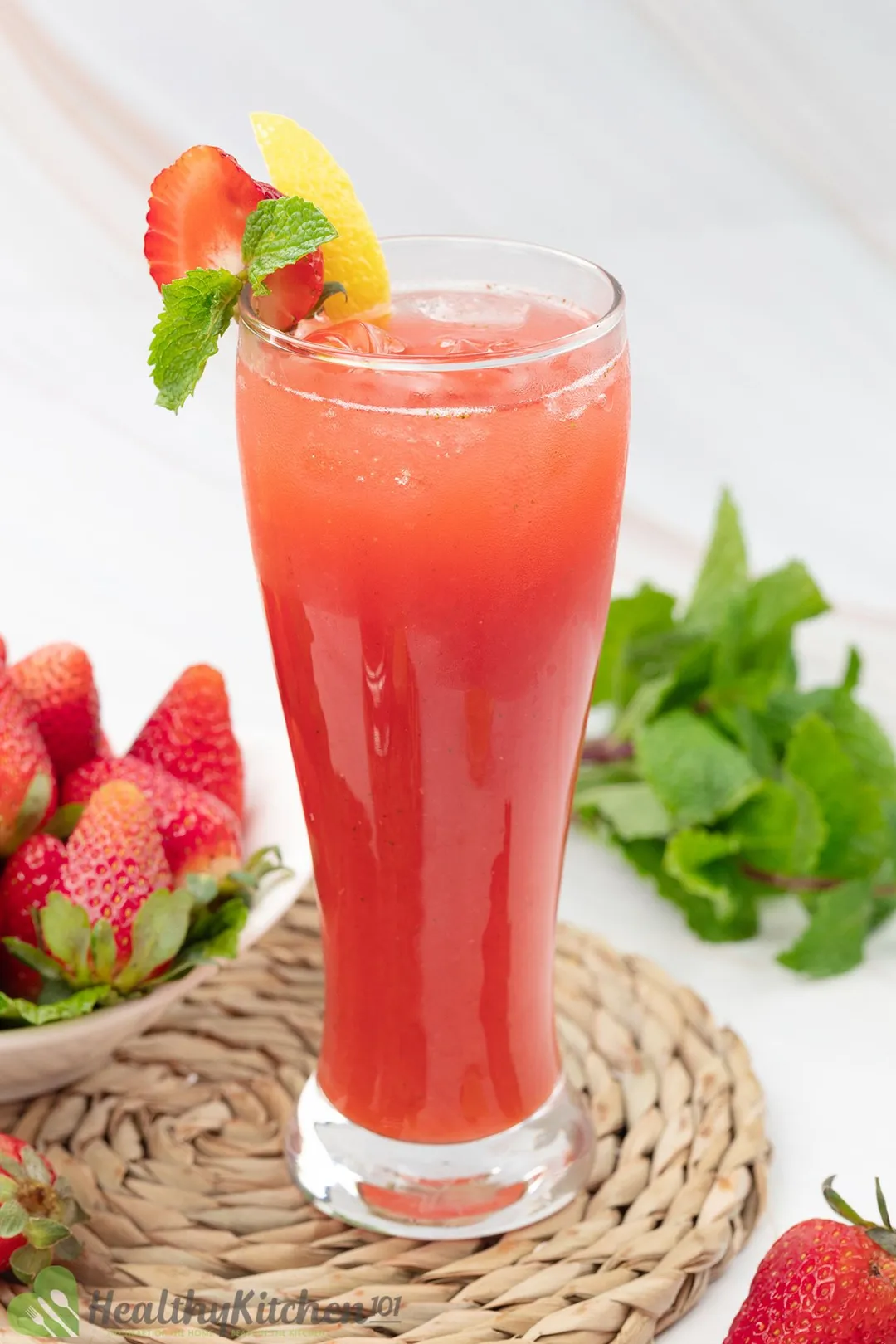 Previous Recipe
Strawberry Juice Recipes
Strawberry Juice Recipes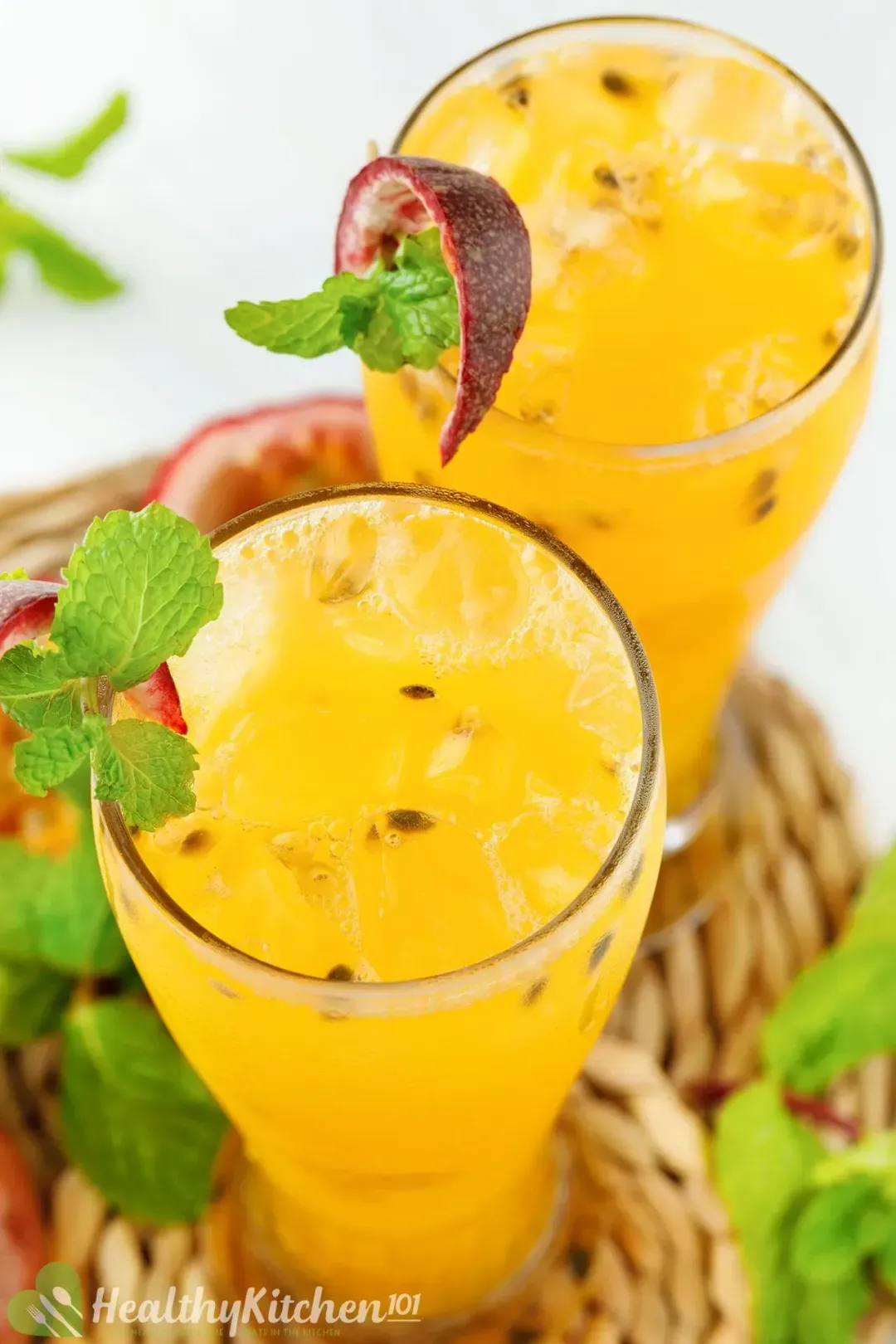 Next Recipe
Passion Fruit Juice Recipes
Passion Fruit Juice Recipes
Writer, Author
Luna Regina is an accomplished writer and author who dedicates her career to empowering home cooks and making cooking effortless for everyone. She is the founder of HealthyKitchen101.com and HealthyRecipes101.com, where she works with her team to develop easy, nutritious recipes and help aspiring cooks choose the right kitchen appliances.
Comments/ Reviews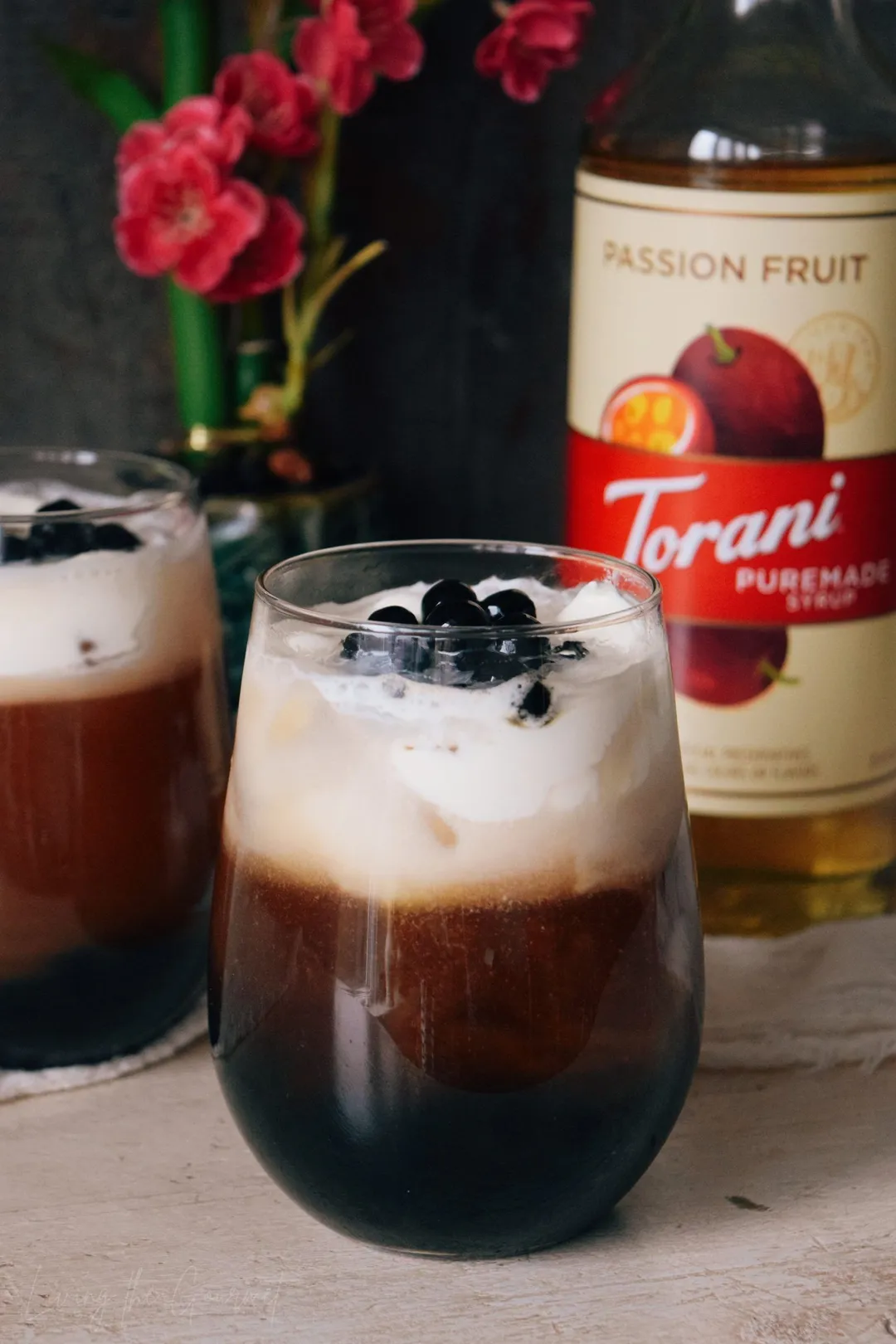 Boba Drinks are a fun and unique way to enjoy your favorite fruit juices, perfect for a refreshing treat.

Tasty boba drinks for refreshment.