Today's top 10 cucumber juice recipes will show you ten easy and mouth-watering drinks to make for your family.
Do you have skin problems, high blood pressure, or find you gain weight too easily? The underlying cause of these conditions might be a lack of essential vitamins and minerals. This can slow down your metabolism and impair your immune system.
Luckily, the top ten cucumber juice recipes below can help. Studies show that cucumber juice is one of the best sources of rehydration. Proper hydration reduces inflammation in your body that causes fatigue, chronic illness, and premature aging.
However, some cucumber juice recipes don't do the trick because they contain too much sugar or added chemicals. That's why it's good to learn about the benefits of cucumber juice and how to make the best combinations. 
Cucumber Juice Benefits 
Cucumber juice has been touted as a miracle elixir against all sorts of health issues. However, a lot of its superpowers can be countered easily if you look at the science behind them.
That's exactly what we're here to do. 
1. For Weight Loss
Cucumber juice may aid weight management, but you have to do some work to improve your poor nutrition and fitness habits. You also have to choose the right recipe for the job.
That's because a lot of these recipes contain plenty of sugar. Little did you know, many store-bought cuke juice brands are as rich in sugar as soda. Therefore, drinking these cucumber juices also means you're drinking up your calories.
If you make your juice following the recipes below and remember to stay active and eat healthily, cucumber juice can help you lose weight faster. Here are the main reasons why:
Low-calorie. Depending on the recipe you're using, one glass has about 39 calories. So, if you're addicted to sports drinks or sodas, replacing them with cucumber juice helps you cut back on your daily calories.
High in Potassium. Cucumber juice decreases swelling because it contains a lot of potassium. If you feel bloated all the time, it's most likely because there is too much salt and too little potassium in your blood. Sodium causes water retention, whereas potassium regulates the sodium in your body. Therefore, your kidneys can do a better job of eliminating excess water, while your heart works better in the process. This helps reduce the risk of heart and kidney disease.
High in Vitamin C. Cucumber juice can have up to 56% of your RDI of vitamin C. Studies show healthy levels of vitamin C in your body help you oxidize up to 30% more fat when you're exercising. As such, cucumber juice can maximize the results of your workouts so that you can lose weight faster.
2. For Skin
Cucumber juice has been used to treat skin problems for ages. For instance, cucumber slices are a renowned and cheap home remedy for dark circles and dry skin.
But does this really work?
Here are the arguments in favor of cucumber juice:
Electrolytes. Cucumber's electrolytes assist hydration. And if you're properly hydrated, your kidneys can flush out toxins that otherwise turn your skin into a war zone.
Antioxidants. Cucumber juice is rich in antioxidants. Antioxidants like vitamin C, magnesium, vitamin K, and potassium, strengthen your immune system because they fight inflammation. Couple that with the fact that poor immunity and stress can cause dermatitis, and you understand why cuke juice can improve your skin.
Besides, the antioxidants in this juice can improve your intestinal flora so that your good gut bacteria can destroy the bad gut bacteria that cause constipation, and, as a result, trigger acne eruptions.
However, remember that cucumber juice isn't a magic potion. It can improve your skin and help you lose weight, but only if you eat a healthy diet, get plenty of rest, and exercise every day.
How to Make Cucumber Juice 
Now that you know the benefits of cucumber juice, it's time to understand the basic principles of cucumber juice recipes. We'll discuss various preparation methods and you'll learn plenty of tips below:
1. Recipe For Weight Loss
Cucumber juice recipe for weight loss is easy to make since you'll only need cucumbers and water. Cucumbers are very low in calories, so this is the perfect recipe when you're trying to lose weight. 
To start with, peel a few cucumbers. Chop them in smaller pieces and blend them until you get a smoothie. 
At this point, you can either add water or use a strainer to turn your cuke puree into a juice.
The advantage of adding water is that you'll be ingesting more of the fiber and micronutrients from the original cucumbers. As such, you can stay fuller for longer and improve your digestion.
Pro tips:
Add some squeezed lemon juice or berry juice into the mixture if you're fighting a cold.
Use cucumber juice to replace one of your meals if you want to cut down your caloric intake even more.
Add some chili powder to the mix because the capsaicin in chili peppers increases your metabolism and fat oxidation.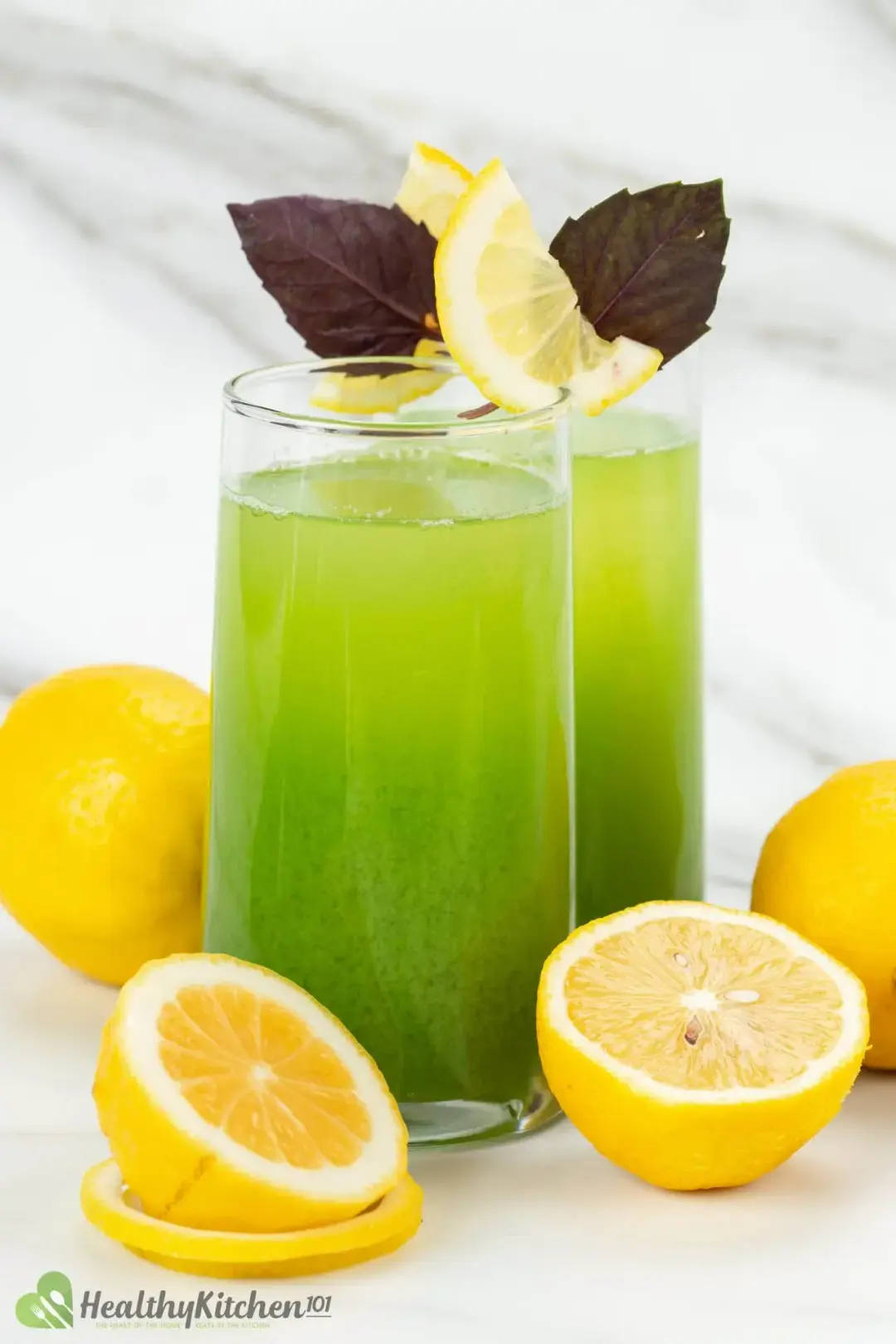 2. Recipe For Better Skin
You can use cucumber juice to improve existing skin conditions or to prevent premature aging. As such, you can incorporate cucumber juice into your skin masks or create a face mask from the leftover pulp when you're making juice. For instance, adding some honey, lemon juice, and coffee grounds to this mush can create a perfect mask.
Another idea is to spice up your juice with ingredients that promote skin health. For instance, if your skin problems are caused by bad digestion and you have a sweet tooth, you may like the combination of cucumber juice and carrot or apricot juice. 
Additionally, if your skin issues are triggered by stress or an underlying immunological condition, you may prefer a combination of cucumber juice and berry juice for extra antioxidants.
Pro tips:
If you have skin problems, don't add sugar to your juice. 
If you want to restrict your caloric intake, mix cucumber juice with juice from leafy greens, lemons, or berries. 
3. Cucumber Juice Without A Blender 
If you don't have a blender, you can still enjoy a delicious cup of cucumber juice. All you need is a pan and some water to boil your grated chunks of peeled cucumber. The mixture needs to boil for at least ten minutes. Allow it to cool down before you enjoy your freshly brewed cucumber juice.
Pro tips:
Add spices such as ginger, mint, or cinnamon if you want to improve your digestion. 
Consider some chili powder if you want a quick metabolic boost and like spicy drinks.
Refrigerate your cucumber juice so that you have a healthy drink every day of the week.
These three methods for making juice are easy for everyone, but you can read more detailed instructions below.
First, though, let's see if you still have any
Easy And Delicious Cucumber Juice Recipes
1. Best Recipe: Healthy cucumber Juice (4 servings)
This healthy cucumber juice shows excellent support in refreshing your body in the most straightforward way. This juice can be kept as is or be mixed with additional ingredients and sweeteners for intriguing flavors. With a more mellow flavor to begin with, we believe this drink could be one of the juice recipes that allow you to get the most creative.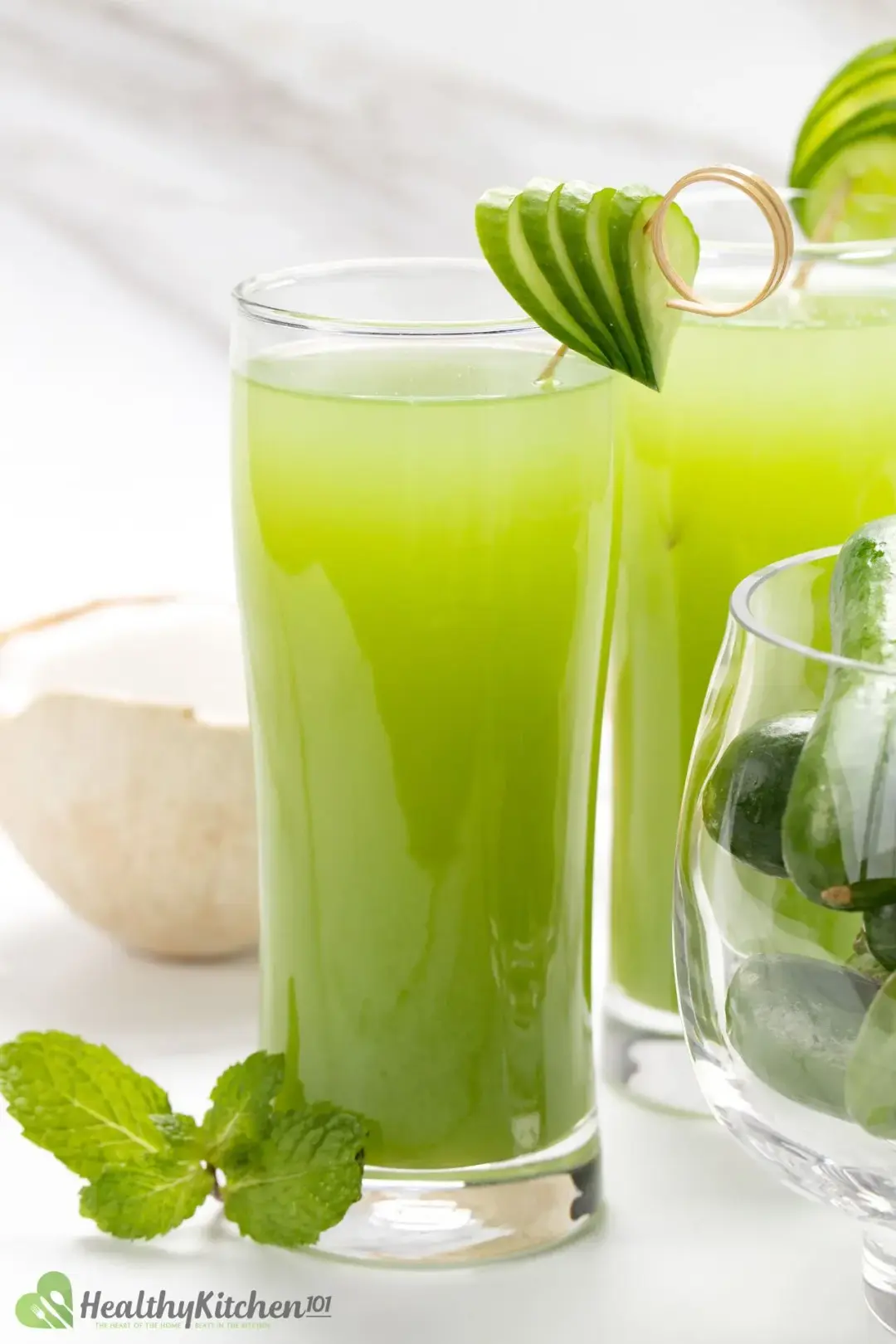 2. Cucumber Celery Juice (4 servings)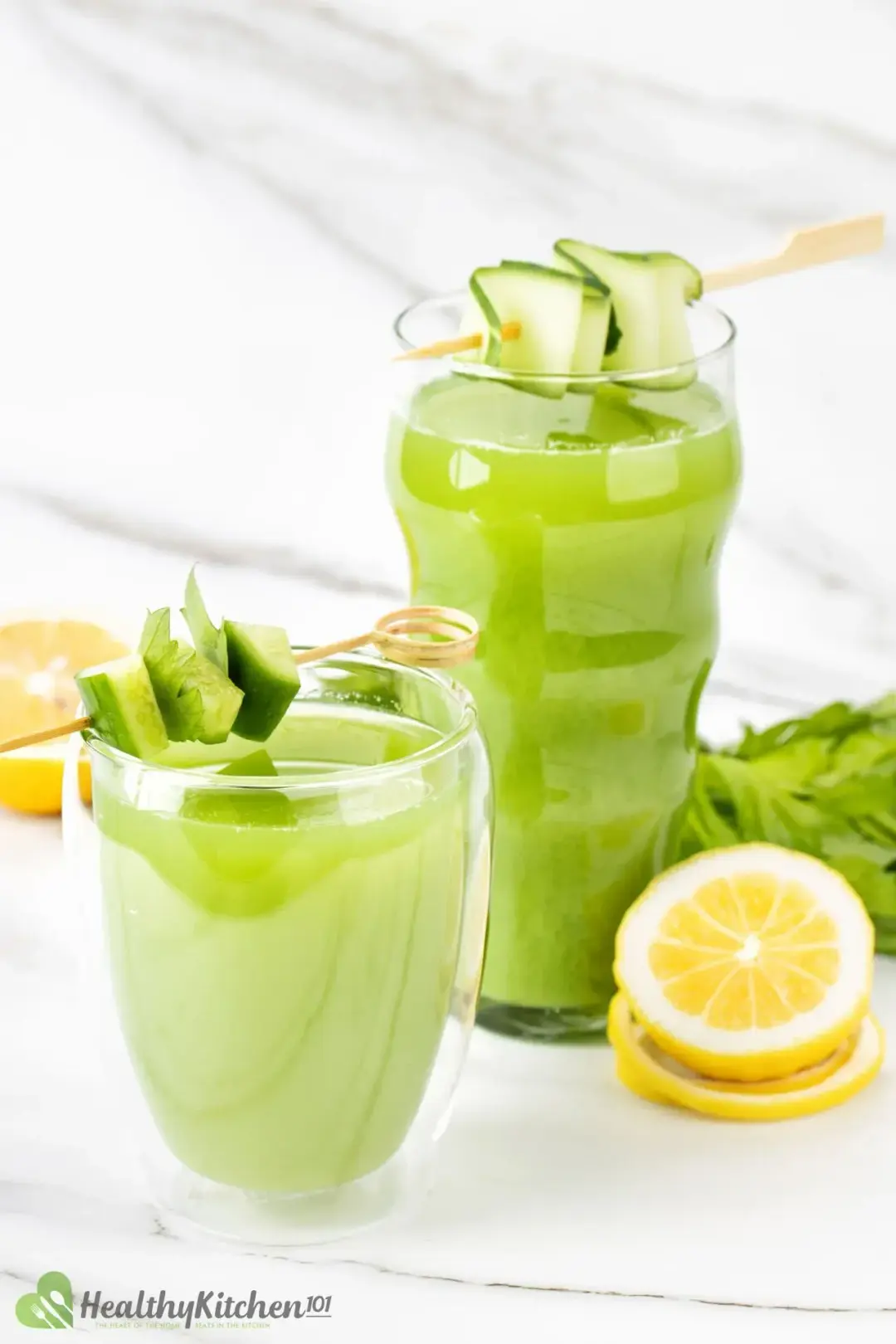 Taking a sip of cucumber celery juice might be a great way to start your day. For people who think celery's flavor is too strong, it's best to first make the cucumber juice. After that, start adding tiny spoons of celery juice one step at a time until the mixture's flavor is balanced to your liking.
Ingredients:
26 oz cucumbers, cut into chunks
5.3 oz green apple, (4 fl oz juice)
2 oz celery
0.5 oz ginger
6 mint leaves
3 tbsp sugar
1 1/2 tbsp lemon juice
2 cups ice 
Instructions:
Put cucumbers, apple, celery, mint leaves, and ginger through a juicer to extract the juice. Collect the juice in a pitcher.
Add sugar and lemon juice, and stir well.
To serve, divide the drink into 4 glasses, filled with ice and garnished with mint leaves.
3. Cucumber And Lemon Juice (4 servings)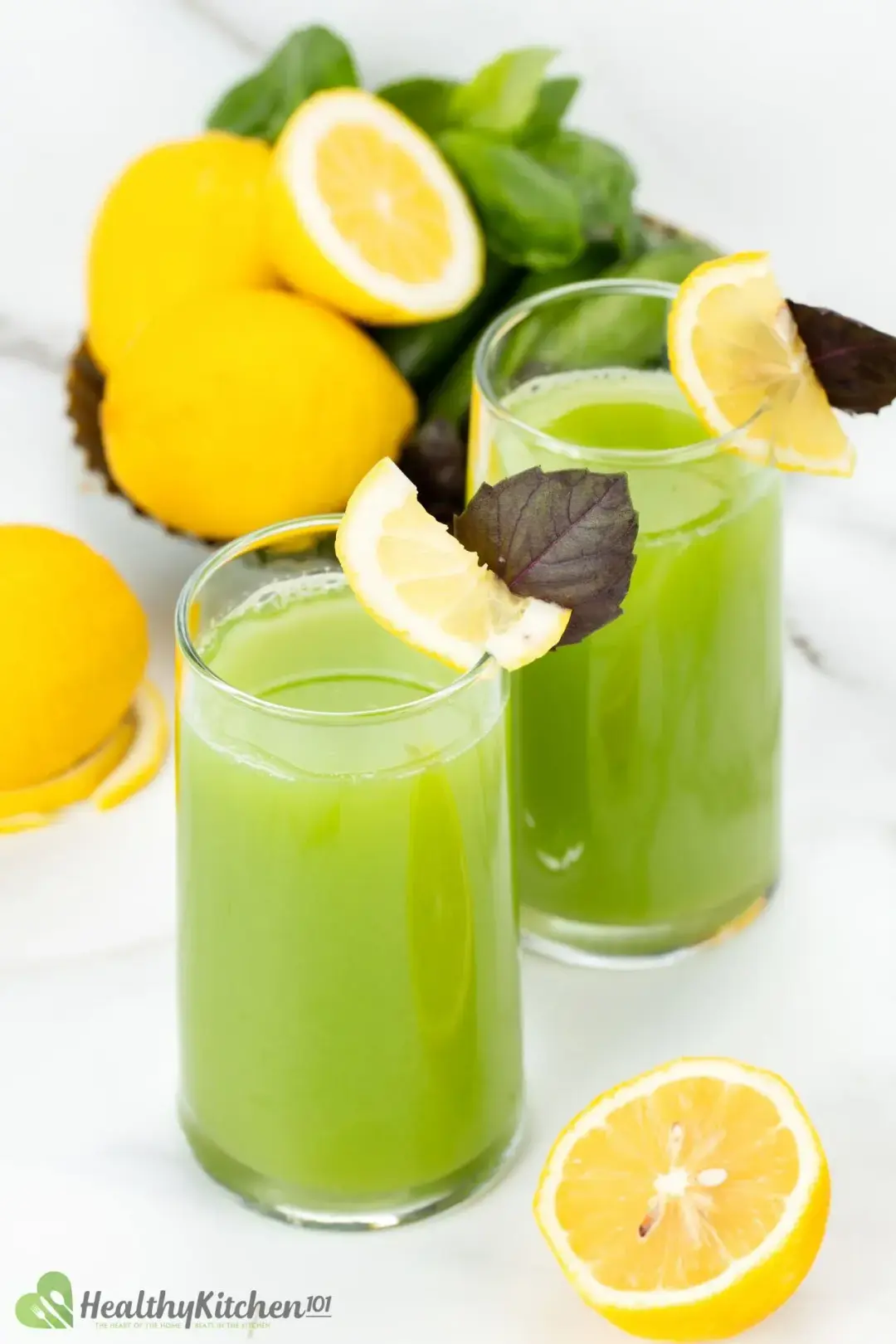 In our honest opinion, any combination of cucumber and lemon would be worth a taste. Thus, this zingy cucumber and lemon juice is no exception. It is quick, simple, and super low in calories. It provides a smart and convenient solution for busy people to stay hydrated all day long. 
Ingredients:
30 oz cucumbers
3 tbsp sugar 
2 1/2 tbsp lemon juice
6 basil leaves
2 cups ice
Instructions:
Put cucumbers and mint leaves in a juicer to extract the juice and collect the juice in a pitcher.
Add sugar and lemon juice, and stir well.
Fill the pitcher with ice and serve.
4. Watermelon Cucumber Juice (4 servings)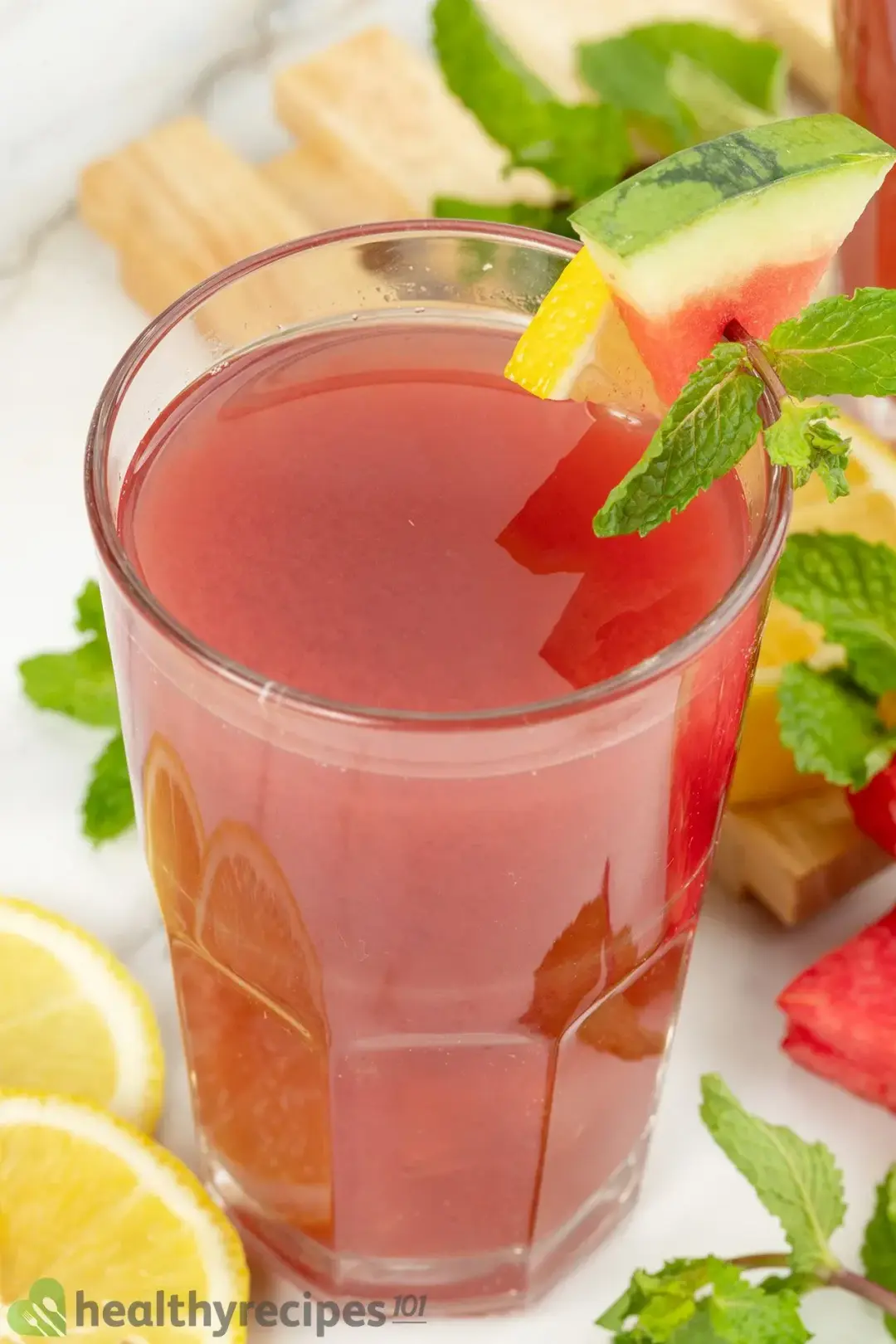 This watermelon cucumber juice is a perfect choice for the hot weather, especially by the beach. On the whole, it's sparkling to look at and packed with lots of vitamin C to freshen your body and mind.
Ingredients:
7 oz cucumber, deseeded and cut into chunks
12 fl oz watermelon juice, from about 13 oz fresh watermelon
1 tsp lemon juice
1 tbsp sugar
4 tbsp spearmint
2 cups ice
Instructions:
Run cucumber and watermelon through a juicer.
In a pitcher, combine watermelon cucumber juice, lemon juice, and sugar. Stir well.
To serve, divide the drink into 4 glasses, filled with ice. Garnish with fresh mint leaves.
5. Pineapple Cucumber Juice (4 servings)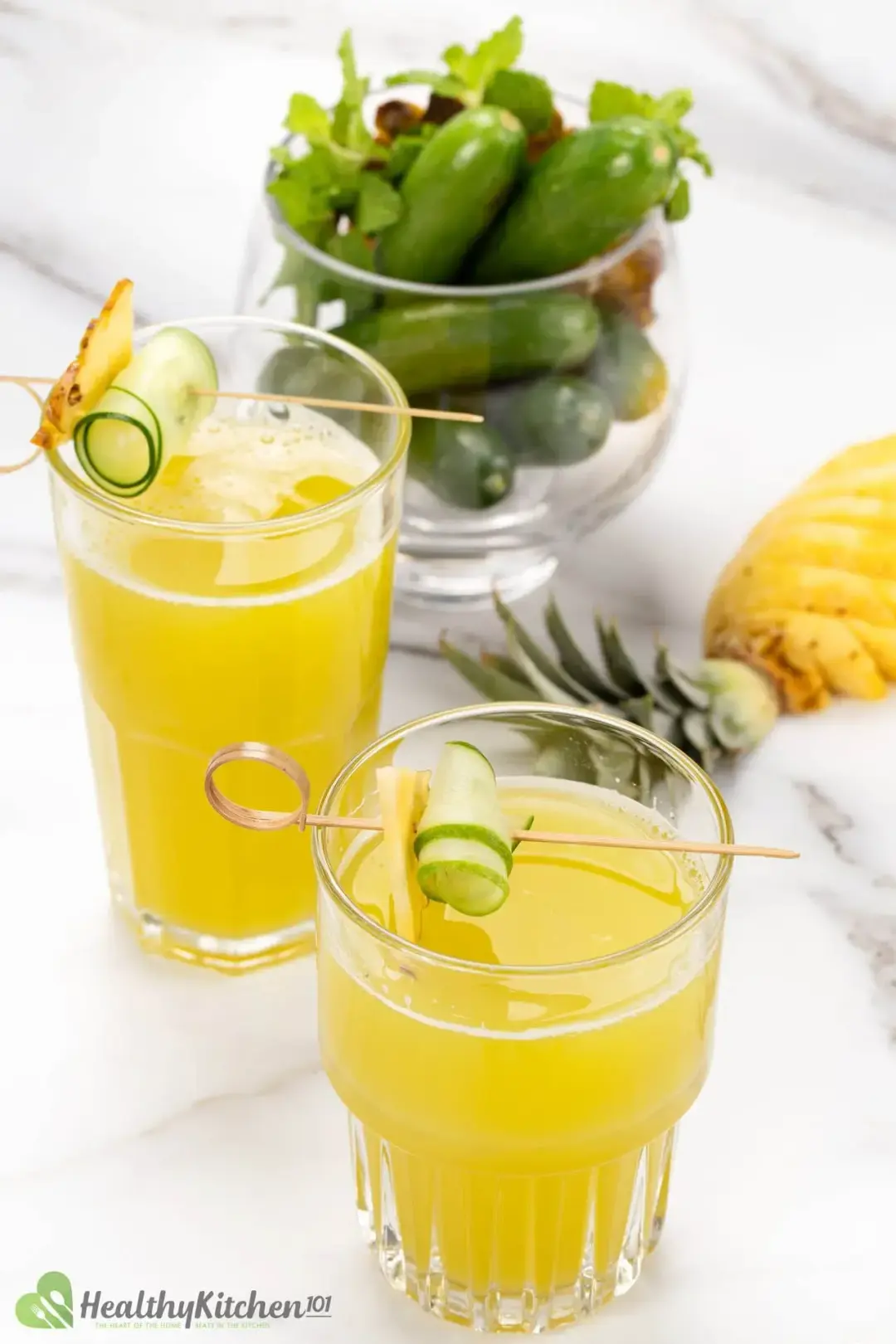 This pineapple cucumber juice breathes a tropical vibe that's all in for hot summer days. With mint, lemon, pineapple, and cucumber working together, you'll have an incredibly refreshing morning drink ready in 10 minutes. Finally, don't forget to garnish this summer drink with a nice slice of lemon on the rim!
Ingredients:
8 oz cucumber, seedless
16 fl oz pineapple juice, from 18 oz fresh pineapple
½ tsp lemon juice
2 tbsp sugar
6 mint leaves
2 cups ice
Instructions:
Use a sharp knife to peel the pineapple. Cut off the top, bottom, and outer skin of the pineapple. Discard the core and cut it into medium chunks.
Put pineapple chunks and cucumber through a juicer. Transfer the juice to a large pitcher. 
Add lemon juice and sugar to the juice. Use a spoon to stir until all the sugar is dissolved.
Pour the juice into serving glasses filled with ice cubes. Garnish with fresh pineapple slices and mint leaves.
6. Cucumber Lime Juice (2 servings)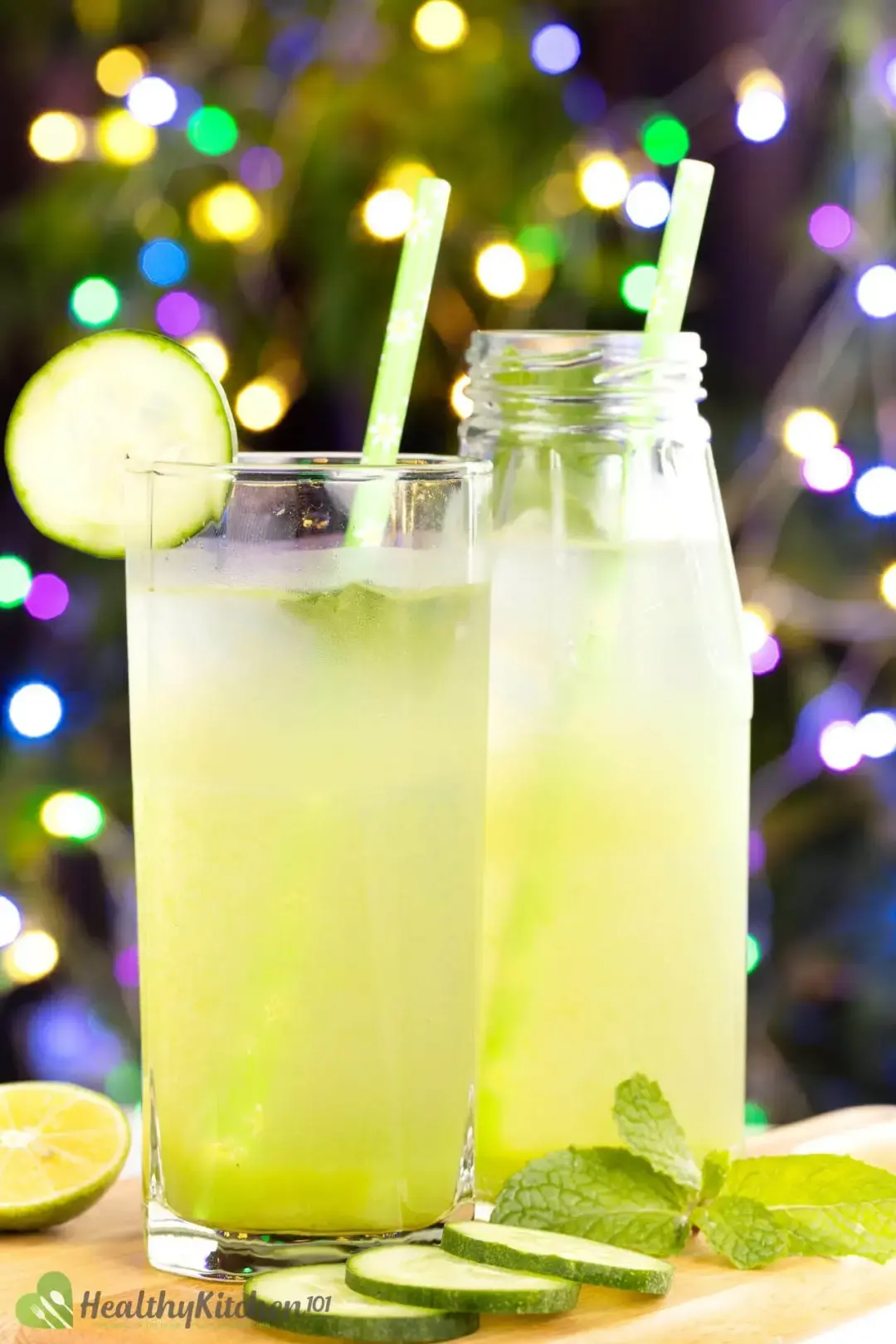 Cucumber lime juice is a budget-friendly and super refreshing drink. If you want to reset your appetite after protein-high main dishes, it's no doubt the choice to make.
This cucumber lime juice will help keep you hydrated while delivering essential nutrients. It's easy to prepare, making it handy for those busy and active days.
Ingredients:
16 oz cucumber chunks seedless
1/2 tbsp mint leaves
1 cup water
2 tbsp lime juice freshly squeezed
3 tbsp sugar
2 cups ice crushed
Instructions:
Add the cucumber chunks and mint leaves to the juicer.
In a large pitcher, stir together water, lime juice, and sugar.
Fill large glasses with ice and pour in the cucumber lime juice. Garnish with mint leaves and serve.
7. Apple Cucumber Juice (4 servings)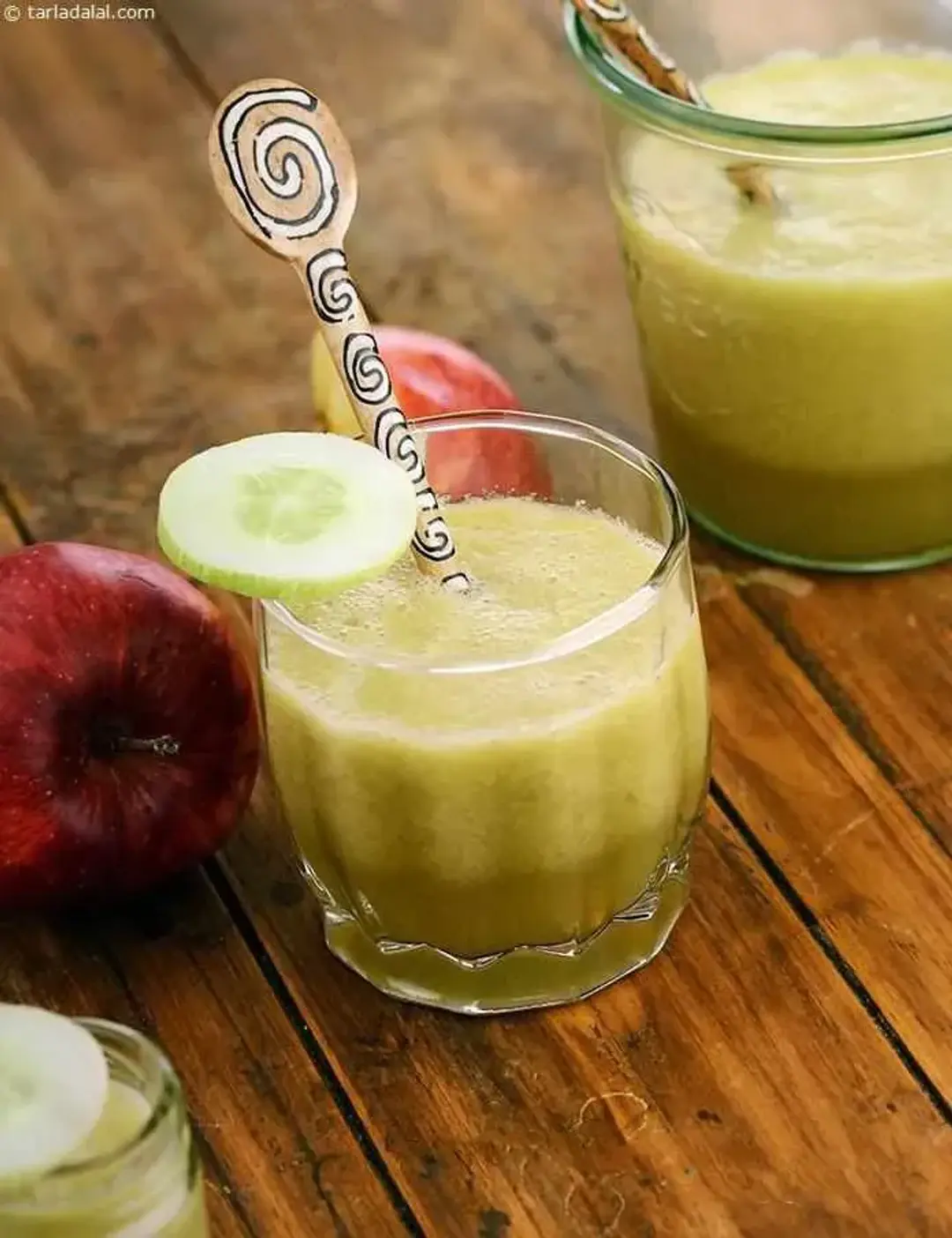 This recipe presents you with a tasty and refreshing juice made by juicing cucumber with the apple. Thanks to a little help from lemon juice, apple cucumber juice speaks the language of natural freshness. Lemon adds a final zingy taste to the juice to make it as well-balanced in flavor as possible.
Ingredients:
3 cups apple, roughly chopped
3 cups cucumber, roughly chopped
1/2 tsp lemon juice 
Instructions:
Process apple and cucumber in a blender.
Continue to add lemon juice and mix well together.
Divide the juice into individual glasses and serve immediately.
8. Carrot Cucumber Juice (4 servings)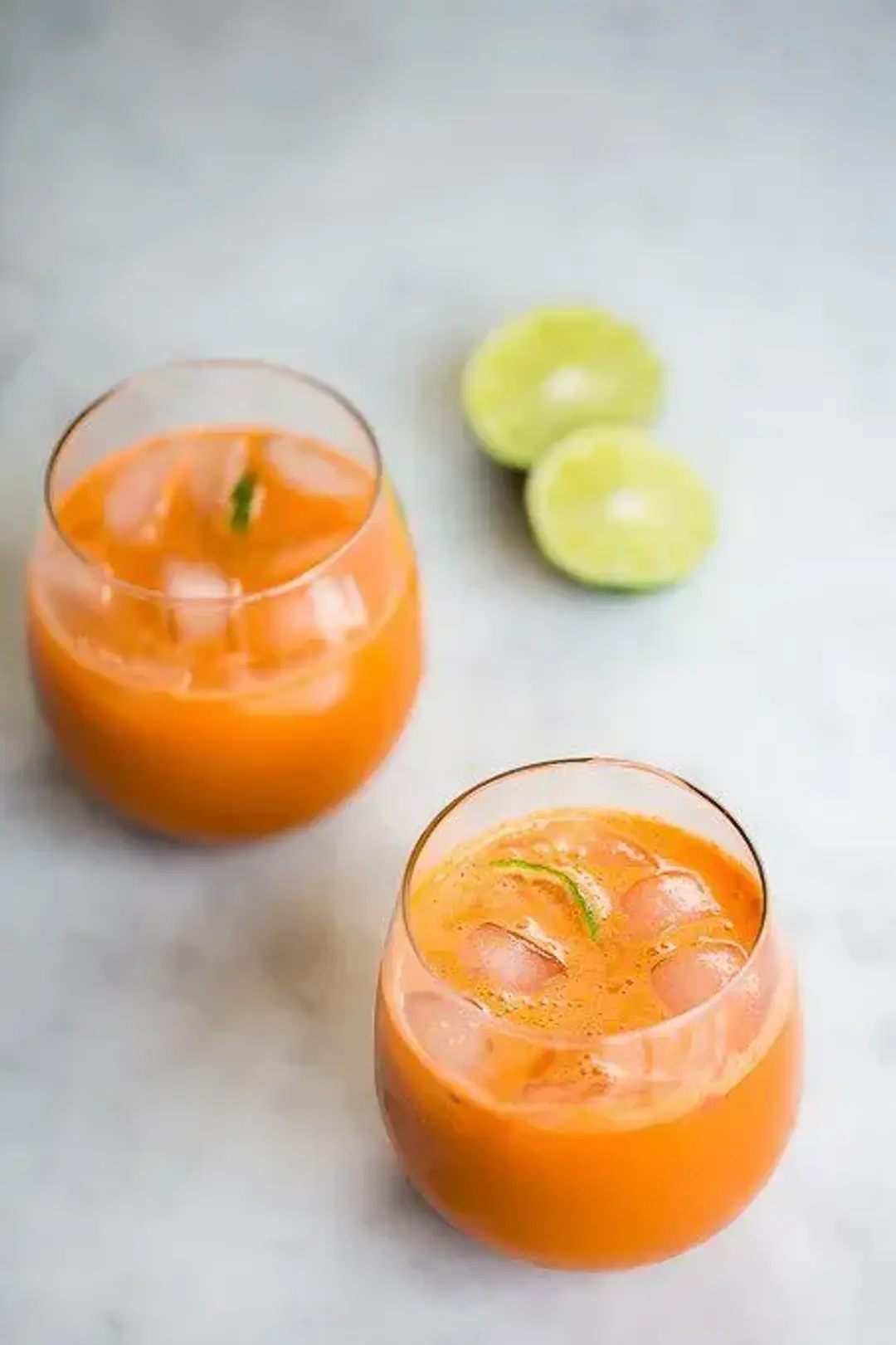 This recipe calls for simple ingredients of many different flavors. As a result, you'll have the sweetness from carrots, sour and tart notes from lime and green apples, and the special tanginess from ginger. All these are built together on a refreshing cucumber juice base to serve as a pick-me-up. 
Ingredients:
4 carrots
1 green apple
1 cucumber
An inch knob of ginger
Lime
Instructions:
Wash and rinse everything.
Peel the cucumber, lemon, and green apples.
Run all ingredients through the juicer. Divide into 4 portions.
Serve with ice and lime slices.
9. Ginger Cucumber Juice (2 servings)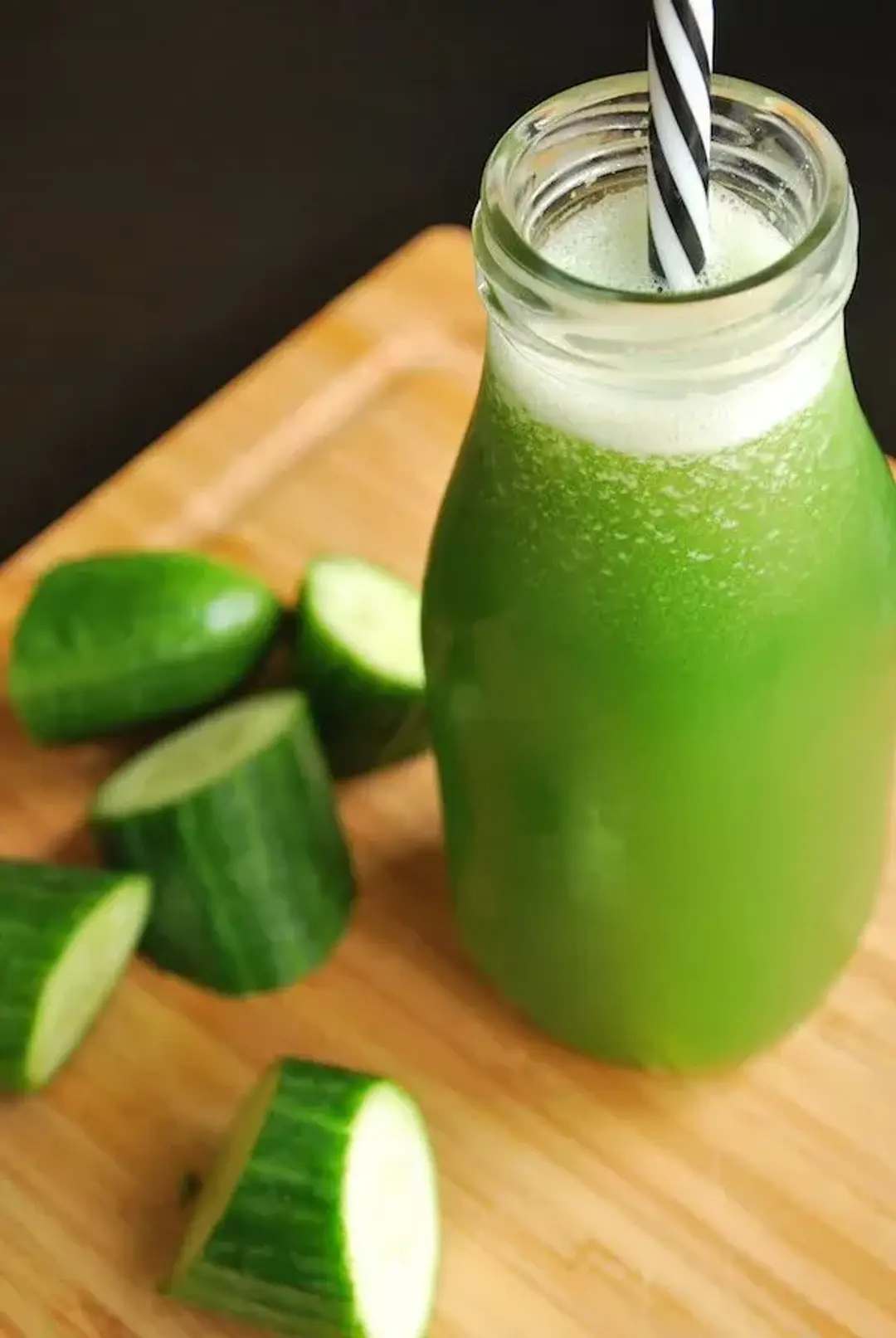 Ginger cucumber juice promises you a refreshing experience with a spicy hint from ginger and the organic sweetness of honey. In fact, this palate-cleansing drink requires only four natural ingredients for two servings: cucumber, ginger, honey, and water. What a simple way to kick off your meal!
Ingredients:
1 cucumber, chopped
4 tsp fresh ginger, grated
1 1/2 tbsp honey
1 cup cold water
Instructions:
Blend all the ingredients until smooth.
Fit a fine-mesh sieve in a small bowl, pour in the juice mixture to extract the liquid from the juice pulp. Discard pulp. 
Divide the liquid into small glasses. Chill and serve.
10. Celery Cucumber Apple Juice (2 servings)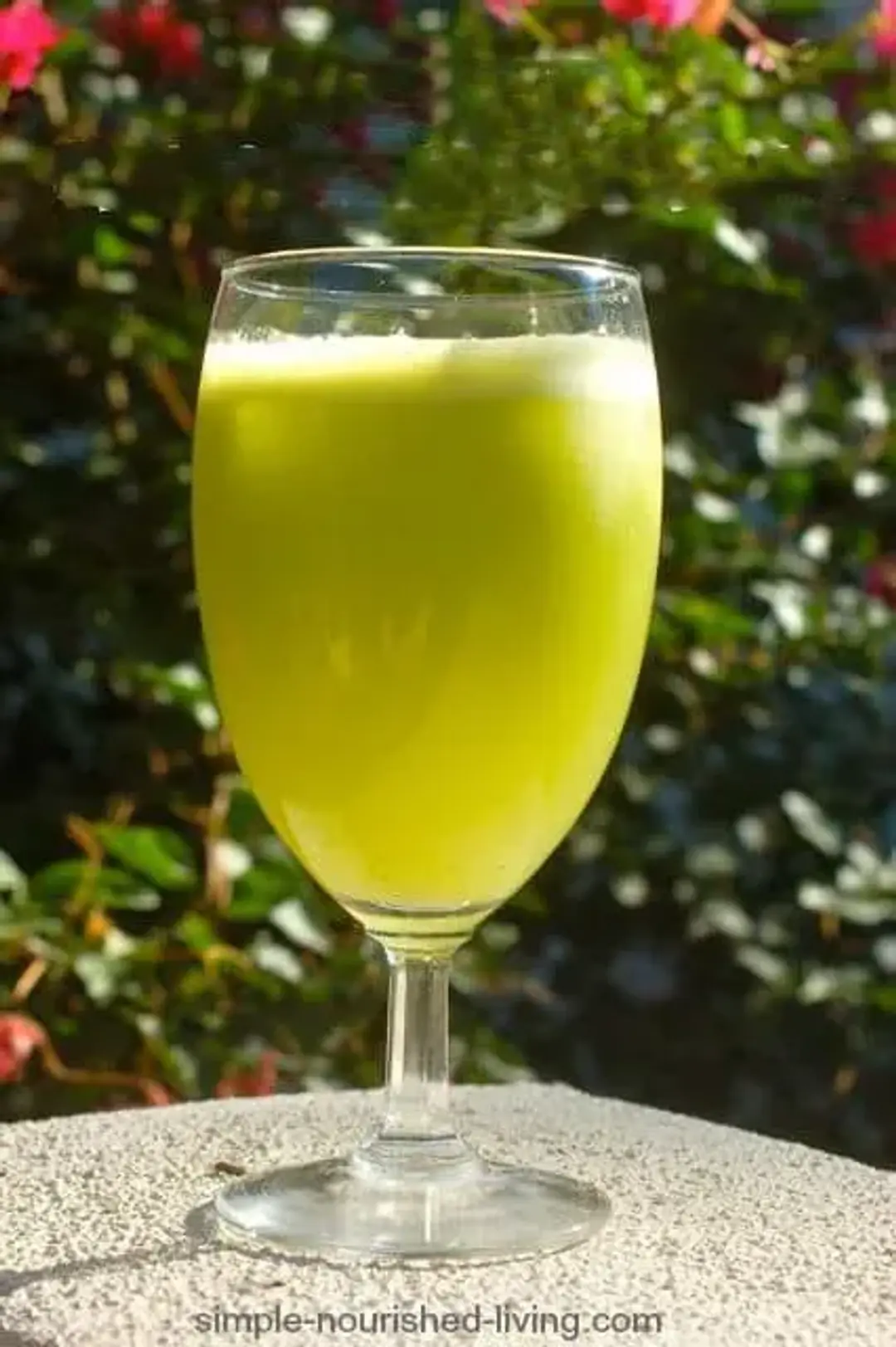 This celery cucumber apple juice is light, refreshing, and surprisingly pleasant served on a hot summer day. It delivers only 76 calories per serving and can be done in no time.
Ingredients:
1 cucumber, peeled
3 apples, quartered and cored
2 oranges, peeled
3 stalks of celery
1/2 lemon, peeled
1-inch knob of fresh ginger
parsley
Instructions:
Wash all the ingredients and rinse well. 
Quarter and core the apples. Peel the oranges, cucumber, ginger, and lemon. 
Run all the ingredients through the juicer.
Serve over ice.
FAQ
1. Is This Juice Good for You
Yes, cucumber juice is good for you, but it's by no means a miracle cure or magic potion. 
For instance, we discussed the medical proof that cucumber juice can help you burn more belly fat faster thanks to its high amount of vitamin C, electrolytes, and antioxidants.
However, these nutrients only work if you're following through with a healthy lifestyle.
Besides assisting weight loss and clearing skin problems, cucumber juice has plenty of other benefits too.
According to Healthline, cucumbers are rich in nutrients that help you stay healthy. Cucumber powder has also been shown to improve your body's antioxidant activity against free radicals that trigger chronic illness.
Moreover, cucumbers can regulate your blood sugar and improve your digestion.
There aren't any known side effects of cucumber juice either, as long as you consume it in moderation as part of a healthy diet.
For example, some people who want to lose weight fast might start replacing more of their meals with cucumber juice. Although there is a lot of scientific evidence for fasting and weight loss, it's wiser to first discuss things with your doctor. Remember that excess cucumber juice can lead to diarrhea, headaches, and nausea if you're not getting all the nutrients you need.
2. What is The Best Time to Drink It?
The right time to drink cucumber juice depends on your purpose. 
You should start your juice about thirty minutes before breakfast if you want to reduce bloating and increase your energy levels.
Remember to take a sip of juice anytime during the day if you want to strengthen your immune system.
If you want to stay hydrated, make sure to drink juice during or after a workout.
Lastly, drinking juice after dinner can help give your metabolism a boost and decrease your post-meal blood sugar levels.
3. What Happens When You Drink It?
When you drink cucumber juice, your body is filled with nutrients that help keep it healthy. Its vitamins and minerals flush your body and give it a surge of energy. They stabilize your sugar levels, lower your blood sugar level, and help your good gut bacteria to thrive.
These micronutrients accelerate your metabolism, help you lose more weight, and improve your skin health.
Cucumber juice also reduces constipation and helps your kidneys work more efficiently so that your body gets a good detox.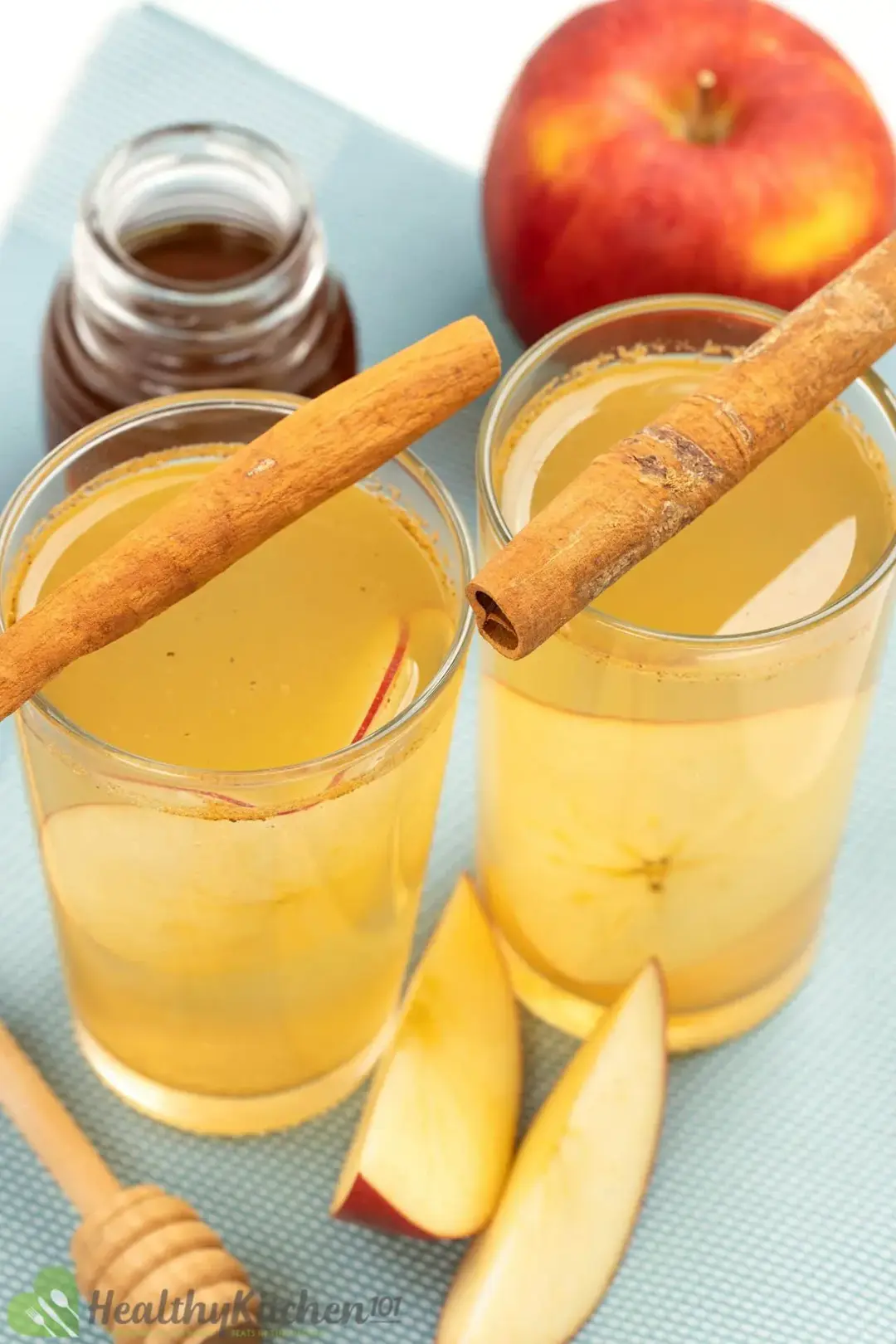 Previous Recipe
Apple Cider Vinegar Drink Recipes
Apple Cider Vinegar Drink Recipes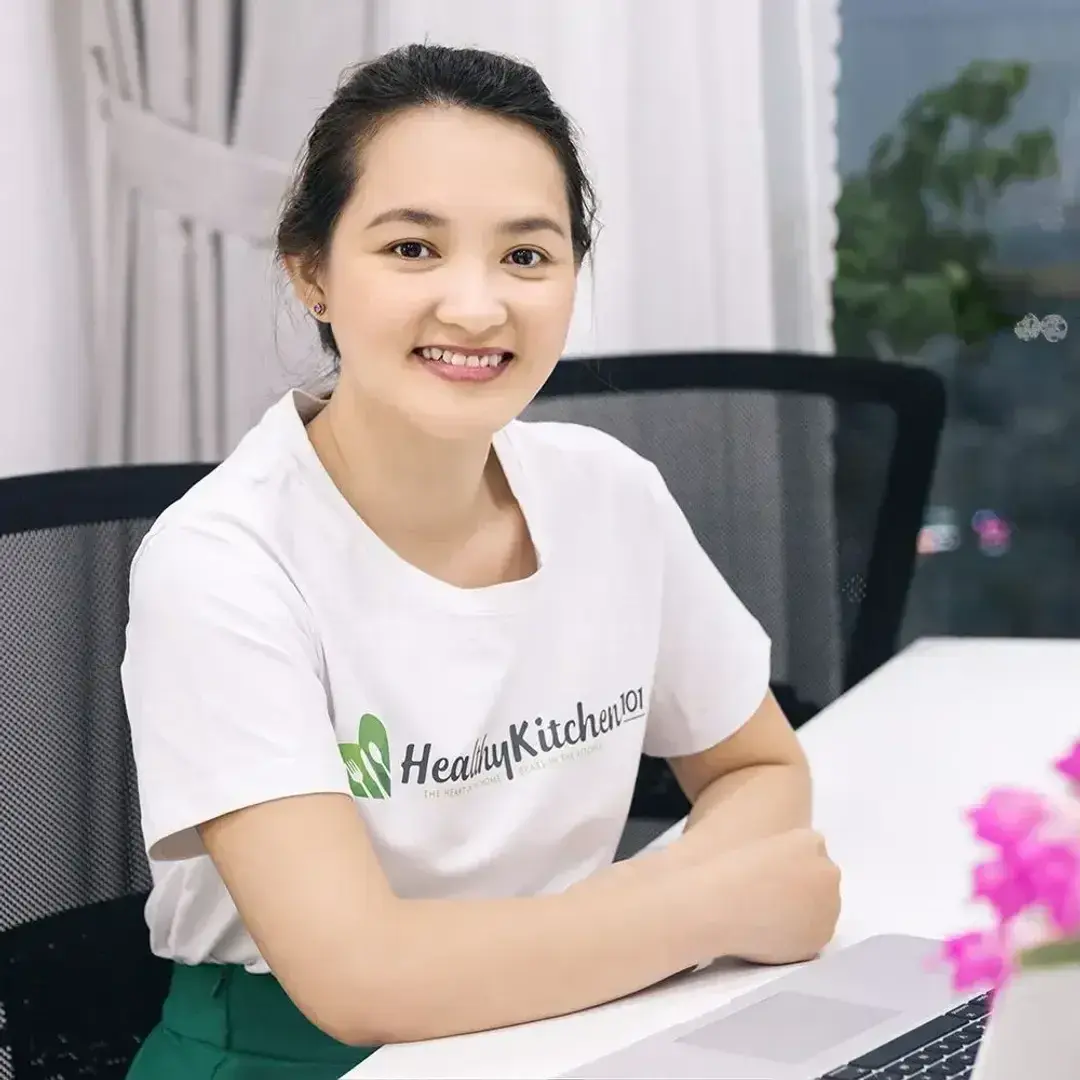 Luna Regina
Luna is the founder and chief recipe developer of Healthy Recipes 101. Apart from cooking, she also loves reading, programming, exploring the outdoors, and collecting useless facts about everything.