With our apple cider vinegar drink recipes collection will add a fun twist to your health regimen.
Apple cider vinegar (ACV) has become a hot topic recently: people who have been taking daily doses of ACV are seeing great health improvements. We did our own research, and the result was surprising.
In today's article, we share some of our findings regarding the health benefits of ACV. We also share some delicious, healthy drink recipes that you can make from it.
15 Easy and Delicious Apple Cider Vinegar Drink Recipes
1. Apple Cider Vinegar and Honey
This powerful elixir offers potent health benefits and can be made in seconds with simple yet flavorful ingredients. Honey balances out the tartness of the vinegar while the apples and cinnamon add a nice, glowing touch of fall flavors. Best served warm on chilly days, this drink is the perfect remedy for the body and soul.
And if you're looking for more fun, delicious fall beverages, don't forget to check out our collection of Pumpkin Juice Recipes.
Go to Recipe
2. Apple Cider Vinegar Drink
This apple cider vinegar drink is a simple and healthful combination of ACV, honey, lemon juice, cinnamon, ice, and water. The extra ingredients help to dilute the ACV's intense acidic taste and leave you with soft, warm tart notes that are quite soothing.
Go to Recipe
3. Apple Cider Vinegar Shots
These ACV shots pack a powerful punch of nutrients and antioxidants and can be made ahead to be mixed with water, sparkling water, juice, or smoothies for a quick daily health boost. 
The recipe offers three variations, each of which includes a different fruit combination. There's orange turmeric ginger, cranberry, and lemon pomegranate. Depending on what your flavor preferences are, you can take your pick, or simply make a small jar of each to alternate and switch things up.
Go to Recipe
4. Apple Cider Vinegar and Lemon Juice
This drink is just like your regular lemonade but with an extra tanginess of ACV and the wonderful aroma of lemongrass. Each sip feels like sunshine bursting on your taste buds. Serve it hot or add a few ice cubes, the choice is yours. Either way, you'll have a healthy drink with an exquisite taste that promises to nourish and refresh in an instant.
Go to Recipe
5. Orange Juice Apple Cider Vinegar and Honey
This vibrant orangey refresher will rouse your senses and give your immune system loads of nutrients. The orange juice provides a bright, tangy base that effortlessly mellows out the tart ACV, and with a pinch of honey, you'll also taste a subtle yet endearingly sweet undertone. We love that everything is so well-balanced while still offering a flavor-bursting, senses-invigorating essence. 
Go to Recipe
6. Apple Cider Vinegar and Grapefruit Juice
Grapefruit and its citrus zest bring a vibrancy that makes this drink the perfect refreshment for all your summer days. It comes together in just five minutes with six simple ingredients, so whether you're just starting your day, having lunch, or needing a quick palate cleanse after dinner, you'll have no problem whipping up a quick glass.
Go to Recipe
7. Pomegranate Apple Cider Vinegar Drink
Pomegranate, ACV, and honey—a seemingly simple combination that's surprisingly good. These ingredients are simmered together over low heat, then served with ice, giving you a glimpse of fall with their mix of sweet, tart, and warmly tangy flavors. Savor each sip and let the flavors dance on your tongue, transporting your taste buds to a world of pure bliss.
Go to Recipe
8. Apple Cider Vinegar and Pineapple Juice
This recipe brings a tropical twist to ACV with the use of tangy, sweet pineapple juice. Honey and lime juice are also added for a sweet, zesty touch. Like many drinks on this list, it's packed with beneficial vitamins and loads of antioxidants that keep your body nourished and energized.
Go to Recipe
9. Apple Cider Vinegar and Grape Juice
If you want something that looks and tastes a little fancy but is still packed with great nutrients, this apple cider vinegar and grape juice might do the trick. Grapes, water, ACV, mint leaves, and honey are simmered together to create an elegantly sweet-tart drink with an eye-catching, vibrant purple hue.
And hey, grape juice tastes pretty good on its own too. Take a peek at our list of Grape Juice Recipes to explore its gorgeous flavors and wonderful versatility.
Go to Recipe
10. Apple Cider Vinegar and Turmeric
This glowing, golden drink is an earthy, peppery, and lightly tart combination of ACV, turmeric powder, lemon juice, and honey. These are all nutrient-dense ingredients that come with amazing health benefits, such as regulating blood sugar levels, lowering LDL (bad cholesterol), boosting the immune system, etc. 
You may have some reservations because ACV and turmeric don't always have the most pleasant tastes, but the honey and lemon juice do a pretty good job at mellowing out their harsh flavor edges. Give it a try and you might find this health elixir to be more delightful than expected.
Go to Recipe
11. Ginger Lemon Honey Apple Cider Vinegar
With ginger, lemon, honey, and ACV as the main ingredients, this drink is like a hug in a glass. It wraps your taste buds in the cozy embrace of ginger's fragrant warmth and ACV's bittersweet tang, with wholesome notes of honey and lemon. Each sip brings a comforting feeling that soothes both your body and mind.
Go to Recipe
12. Rose Strawberry Shrub
A shrub, also known as drinking vinegar, is a syrup made from concentrated fruit, sugar, and of course, vinegar. This recipe uses ACV, strawberries, and rosewater to create a shrub that perfectly encapsulates the playful, sparkling feeling of summer.
It does require a bit of patience, however, since the ingredients need a few days to really come together and create that rich, deeply vibrant taste. But the wait is worth it once you taste how divine this drink is.
Go to Recipe
13. Apple Shrub
Imagine the crisp, tart goodness of apples and the fiery spice of ginger, perfectly intertwined with a tangy twist of ACV. That's what you'd get with this apple shrub. Mixed with a prosecco or sparkling water base, it's a delightful and joyful fall beverage that will undoubtedly leave your taste buds shimmering with gorgeous flavors.
Go to Recipe
14. Cranberry Shrub With Apple Cider Vinegar
Get festive while staying healthy this holiday season with this cranberry shrub that you can make with just four simple ingredients. The antioxidant-rich cranberries provide sweet-tart notes that go marvelously with the ACV's tangy taste. If you're looking for a non-alcoholic drink to serve at dinner parties and get-togethers that will still everyone buzzing with joy, give this a try!
Go to Recipe
15. 3-in-1 Apple Cider Vinegar
This recipe offers three easy, simple, sugar-free, and delicious ways to incorporate ACV into other beverages. For those sunny, sweltering hot summer afternoons, we recommend giving blueberry ginger blend and cherry limeade a try for sweet-tart, frosty swirls that will immediately cool you off. And for those who'd like to try something new but not too unfamiliar, the Concord grape juice is exactly what you've been looking for.
Go to Recipe
What Is Apple Cider Vinegar?
ACV is a vinegar product made from crushed apples. Its production involves two stages:
Fermenting apple juice to make apple cider, an alcoholic drink.
Allowing selected bacteria to turn the alcohol into vinegar.
With most of the vitamins destroyed during the production process, ACV is fairly low in nutrients. However, its interaction with the body tells a different story, which we'll discuss later on.
1. What Does ACV Taste Like?
Whether you use sweet or tart apples in the production, apple cider vinegar always turns out sour. This is because the bacteria have turned all of the sugar into extremely sour-tasting acetic and malic acid.
In fact, it's so sour that even a whiff of the mixture is enough to make you pucker a little. It's the brain's way of protecting your mouth from acidic substances that it thinks you're about to digest.
Because of such a high acid concentration, it's recommended that the vinegar be diluted before drinking.
2. How to Make ACV Taste Good
Once it's diluted, you can drink it as-is or instead, turn it into something delicious. There are many ways to do this, but it often starts with adding a sweetener like honey and a choice fruit juice.
If you have no idea what to add, we've got you covered. Here, we've collected nothing but the best apple cider vinegar drink recipes.
What Are the Benefits?
1. Can ACV Help You Lose Weight?
One study on a group of Japanese obese patients in 2009 reported visible changes in the participants' bodies. After a 12-week treatment, those who took a specified amount of vinegar each day saw a decrease in their waistline.
The study couldn't explain the mechanism behind this, and so far, we haven't been able to find a study that claims ACV can help you burn body fat. However, some people claim they tend to eat less after taking the vinegar because it reduces their appetite.
Even if this is the true mechanism, the real key to weight loss is calorie management, and you can do this more easily by following recipes with carefully calculated nutritional profiles.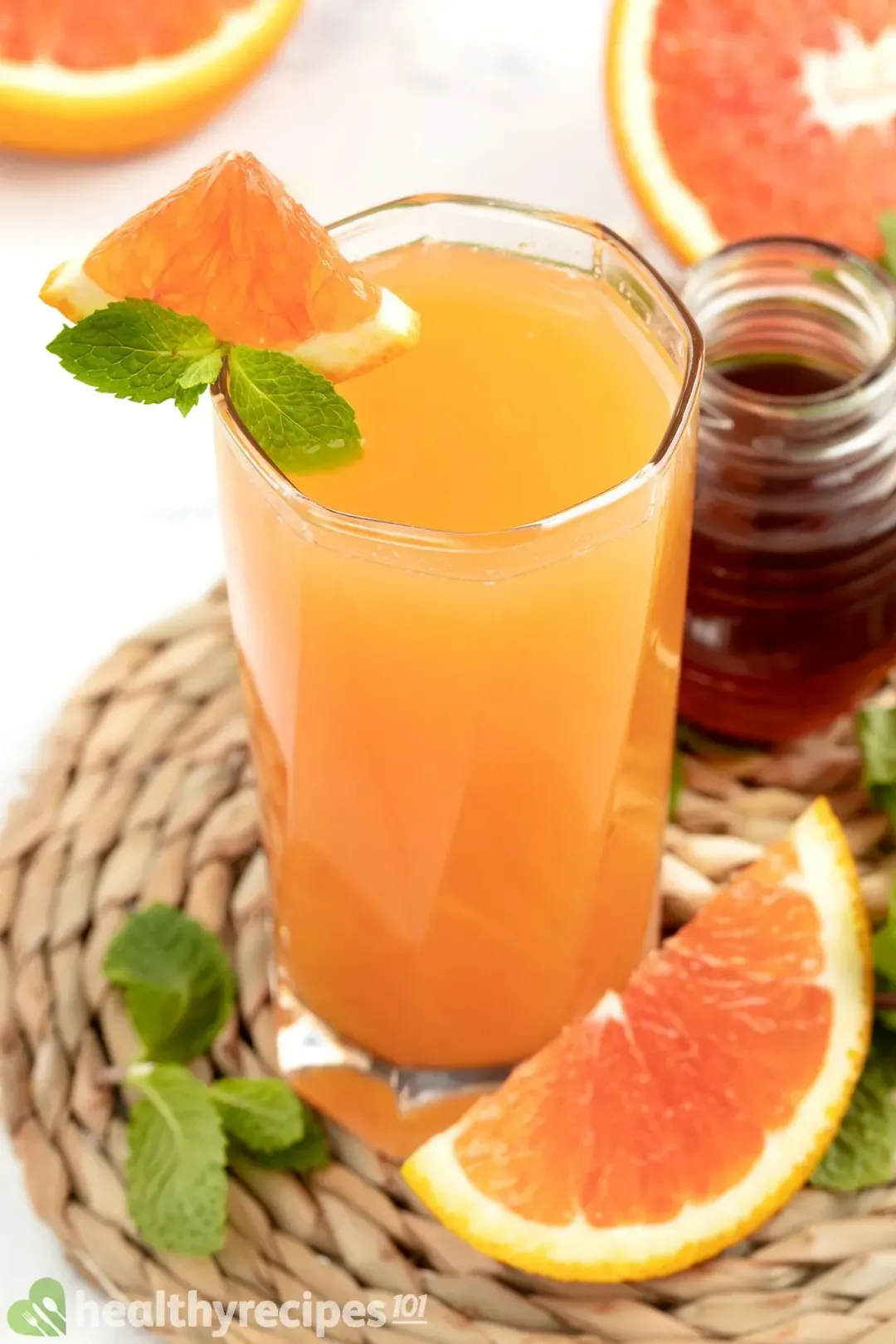 2. Is ACV Good for the Heart?
You'll often see claims such as, "ACV can reduce fat," and while it's true, it might not be what you think.
The word 'fat' has many meanings, one of which is cholesterol. It's produced naturally in the body and, for many reasons, the 'bad' type is sometimes produced more than necessary and can hinder blood flow.
In the same study as mentioned above, patients also had a lower 'bad' cholesterol level after the treatment. This research in 2021 also reported, "an improvement in HDL-C ('good' cholesterol) among non-diabetic participants," after treatment of 15mL ACV a day for 8 weeks.
Based on these findings, we can see that ACV can potentially help with managing bad cholesterol. However, until more research is done, a healthier lifestyle with frequent exercise and low saturated fat intake remains a better remedy.
3. Does ACV Have Other Health Benefits?
Some sources also claim that ACV can:
Although these claims are yet to be backed by official studies, they may be among the many 'undiscovered discoveries' that exist in the world of science. Until they are, it wouldn't hurt to safely experiment with them and see the results for yourself.
Below, you'll find some healthy, delicious apple cider vinegar drink recipes to help you get started:
FAQs
1. When Is the Best Time to Drink ACV?
A glass of apple cider vinegar drink before a meal can make you feel satiated and possibly help with weight management. Other than that, the result is the same no matter when you drink the beverage.
2. Can I Drink It Every Day?
Yes, you can. It's recommended that you dilute the vinegar before drinking, and be mindful of the amount of sweetener in your drink.
3. How Much ACV Should I Drink Daily?
There's currently no clear advisable amount of ACV consumption. Major components of apple cider vinegar, acetic and malic acid, are not considered necessary nutrients for the body.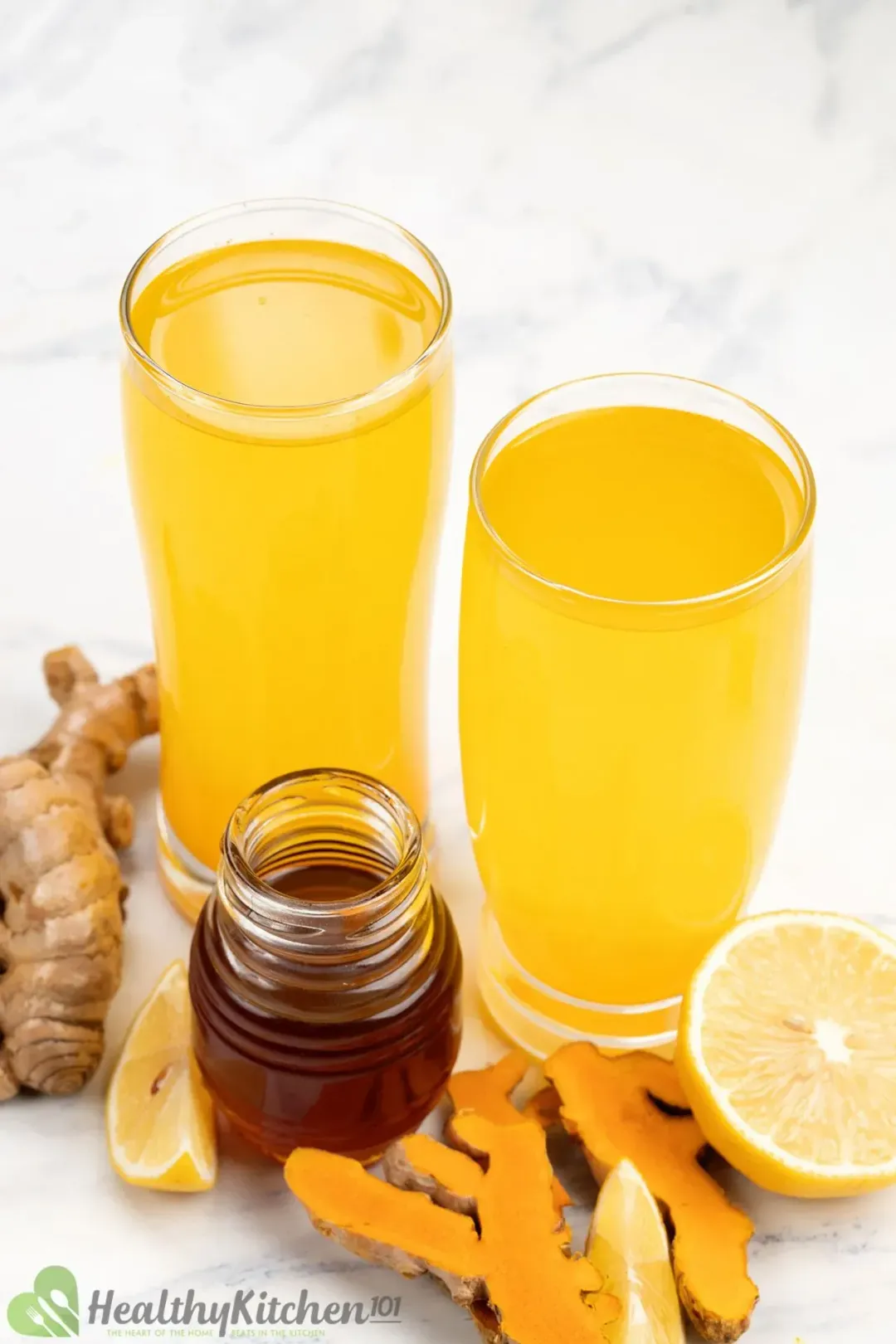 4. Can ACV Go Bad?
Vinegar sometimes produces a slimy substance that emerges out of nowhere. It doesn't indicate that the vinegar is spoiled, but instead, an interesting phenomenon.
As a product of the fermentation process, vinegar contains a certain amount of bacteria, and if left for long enough, they'll form this slimy substance. Manufacturers often fish it out afterward to ferment the next batch so you don't get to see it when you buy the product.
Although they're bacteria, they are not harmful to our bodies. You can add it to wine, cider, or alcoholic liquids to make your own vinegar at home.
5. How Long Does Apple Cider Vinegar Drink Last?
The vinegar itself lasts forever as it's too acidic for harmful bacteria to grow. However, once they're used in foods and drinks, the environment becomes less acidic and the food or drink should be safely stored.
Generally, cooked foods and drinks can last for about 5 days in the fridge and up to three months in the freezer.
6. Can You Use ACV to Make Buttermilk?
Yes, you can. Any acidic, edible substance can be added to whole milk to make buttermilk, as the acid curdles the proteins.
The process is simple: stir 1 tablespoon with 1 cup of whole milk, and allow the mixture to sit. After 10 minutes, curds will appear, and then you'll need to give it a good stir to make buttermilk.
It's worth noting that the buttermilk will smell like vinegar — that's why people often use lemon juice, with a milder fragrance. It's fine, however, to use this buttermilk in cooking as the smell tends to be masked by other ingredients.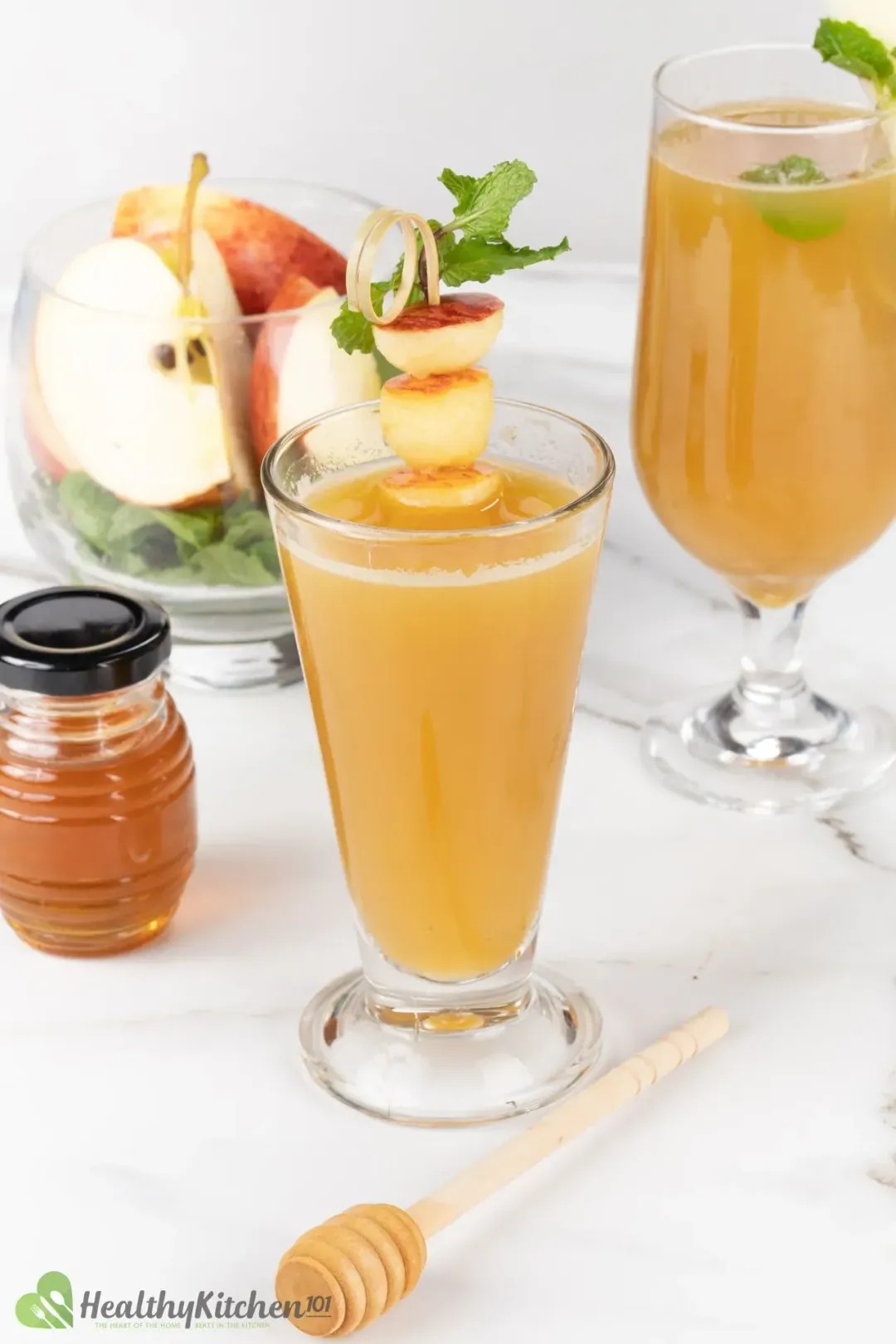 Previous Recipe
Top 10 Apple Juice Recipes
Top 10 Apple Juice Recipes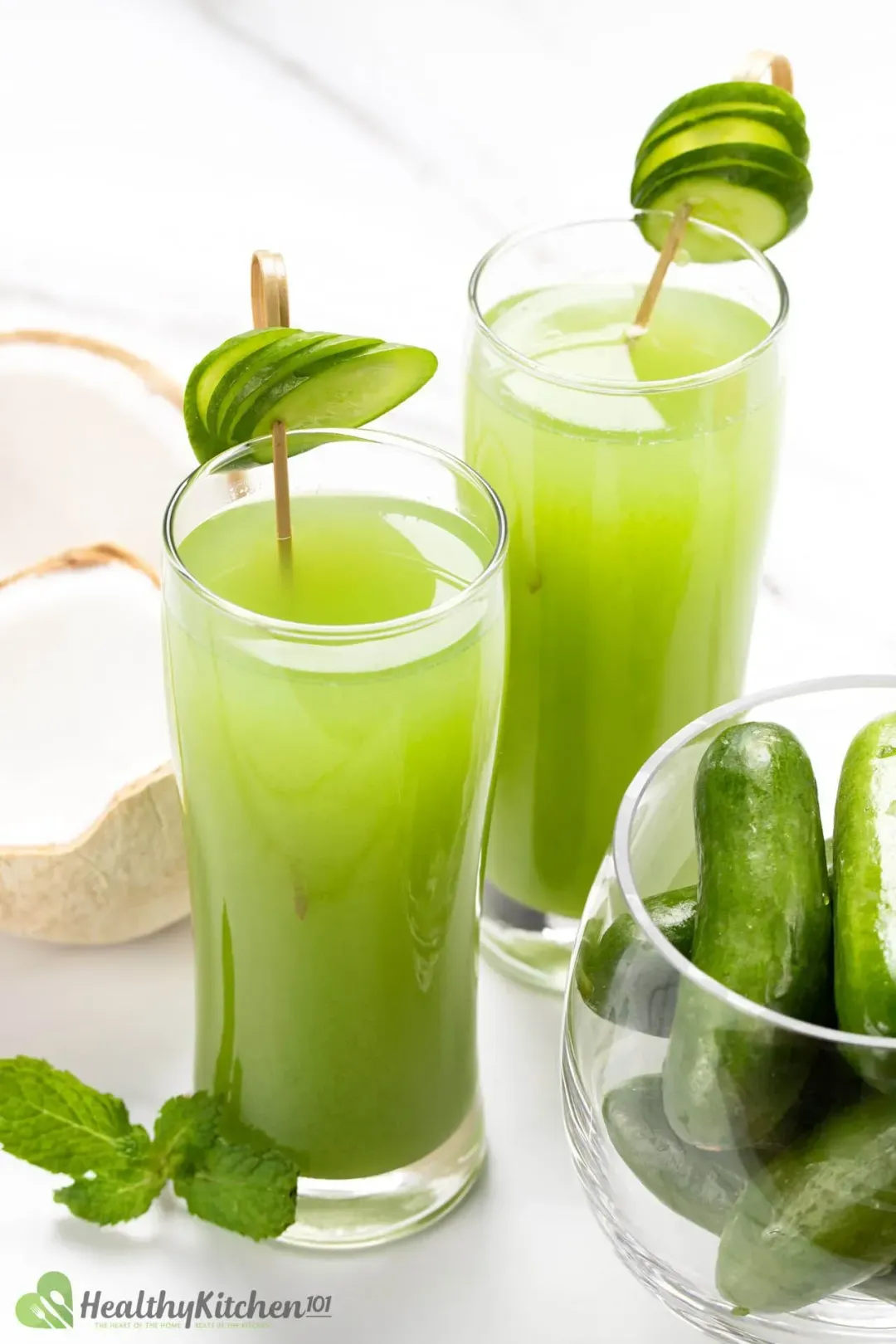 Next Recipe
10 Best Cucumber Juice Recipes
10 Best Cucumber Juice Recipes
Writer, Author
Luna Regina is an accomplished writer and author who dedicates her career to empowering home cooks and making cooking effortless for everyone. She is the founder of HealthyKitchen101.com and HealthyRecipes101.com, where she works with her team to develop easy, nutritious recipes and help aspiring cooks choose the right kitchen appliances.
Comments/ Reviews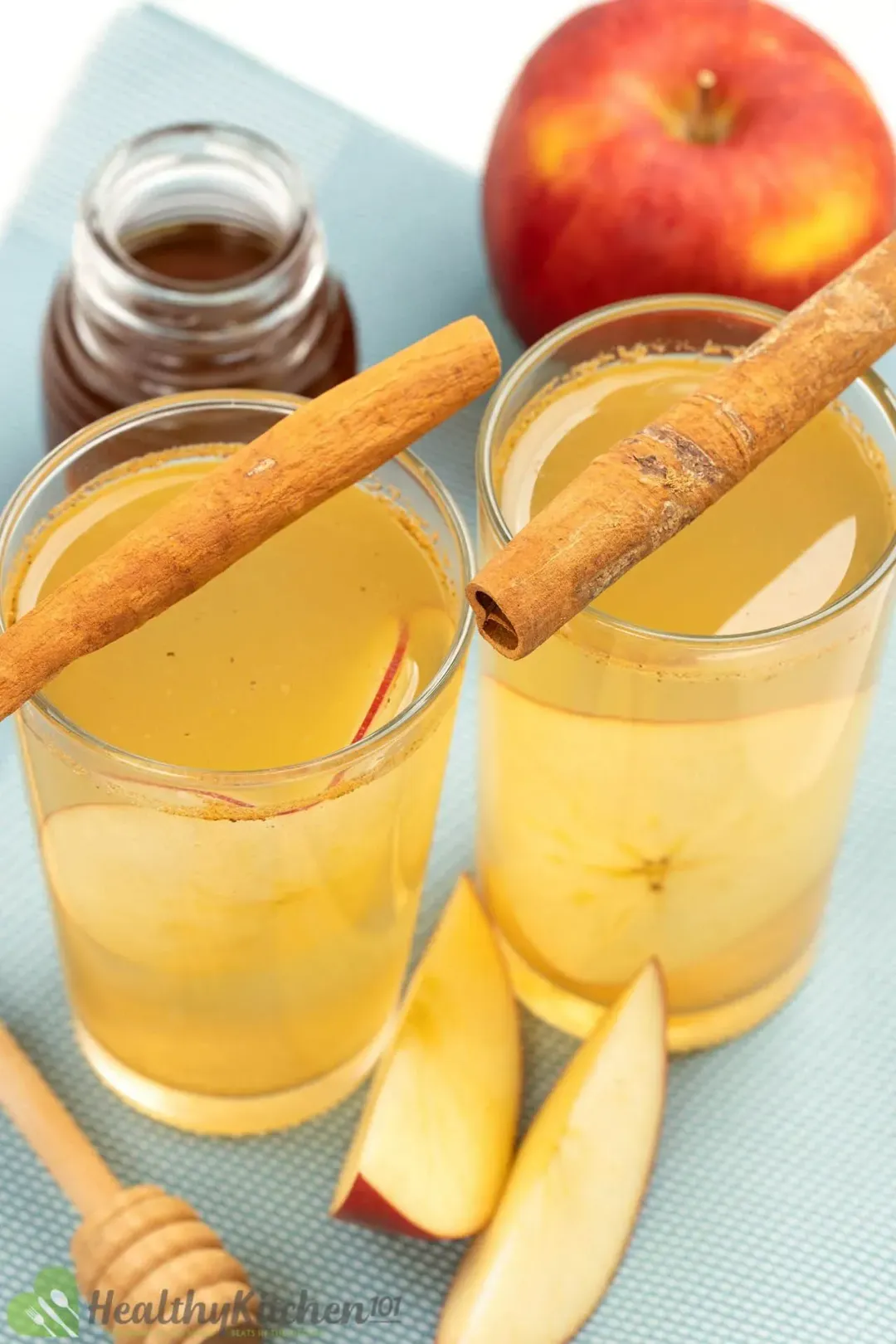 Thank you Luna, adding cinnamon & artificial sweetener to the apple cider vinegar & water makes such a difference . I have recently been diagnosed with type 2 diabetes and I am trying hard to get my blood sugar under control. I was really struggling to drink the apple cider with just water. If you have any further tips for diabetics anything would be greatly appreciated. Thank you so much again. Ann

Dear Ann Thank you so much for reaching out. Apple cider vinegar does taste much better when diluted and sweetened a little, to tone down the tartness. We suggest

Stevia

if you're looking for a good sugar substitute--it's sweet, highly available, and extracted from a plant. People actually use the plant in recipes to make drinks in Asian countries. The sweetener is usually sold in powder form and dilutes in water just like sugar. There are other sugar substitutes that are allowed in foods as well, which you can look more into

here

. The article also points out many sugar substitutes that are often mistaken as sugar-free. Hope you find this helpful!

Refreshing and healthy acv drink recipes to try.