Watermelons are one of the most hydrating varieties of fruit. And a tasty watermelon juice recipe is the perfect accessory to combat the heat this summer season. It's pleasantly refreshing and easy to extract. And its natural sugars make it an appealing choice for energy-boosting consumption.
Also, it's remarkably healthy, giving you an intense dose of disease-fighting nutrients! It's full of antioxidants that promote anti-cancer activity, protect from damaging sun effects, and improve heart health.
So you could begin to improve your health by incorporating watermelon juice into your daily routine. The recipes we've put together can help you with some ideas of how to create nutrition-rich, delicious drinks.
Benefits of Watermelon Juice
Watermelon juice contains many nutrients. The top three are lycopene, beta-carotene, and water (92%). All these are especially great for the skin. 
It's also low in calories and sugar, making watermelon juice the perfect drink for weight loss.
1. For Skin
Increasing water is so essential for preventing dehydration. And with such a high water content, drinking it helps your skin to feel hydrated, and reduces the risk of dehydration which may lead to wrinkles. 
However, watermelons alone won't accomplish this. You have to ensure a well-rounded, high nutrition intake to fully reap the benefits of the hydration watermelon juice provides.
Watermelon juice also contains antioxidants in the form of vitamins C, A, and lycopene. A single (240 ml) serving provides 26% of the vitamin C recommended daily intake (RDI). So it contributes to forming collagen that promotes elasticity and wound healing to help give flawless, radiant skin.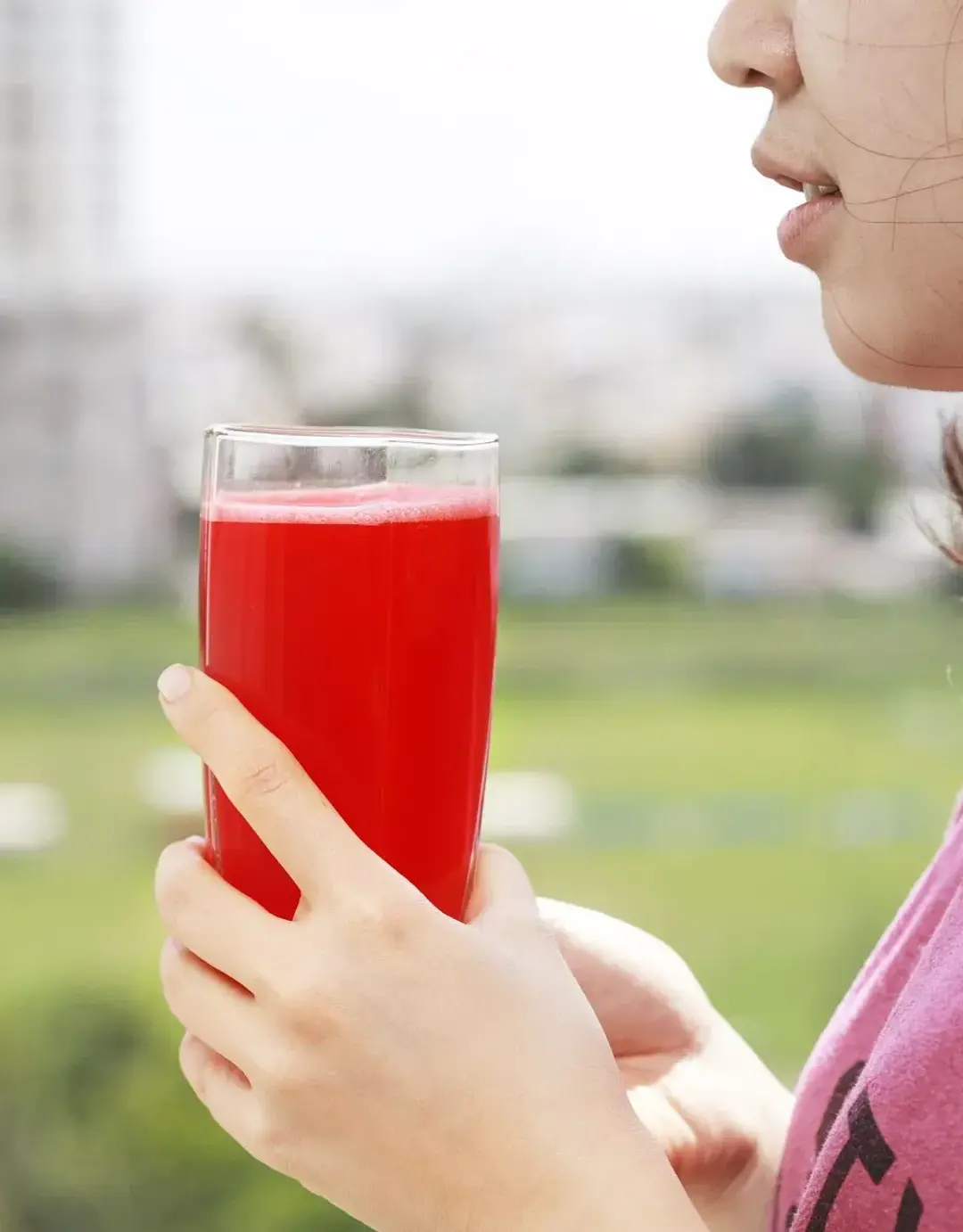 Lycopene is a carotenoid. And there's evidence that its dietary supplementation increases lycopene levels in the skin. Watermelon juice's high content of lycopene means it's excellent for fighting free radicals. It has anti-aging effects that prevent photodamage and help to rejuvenate the skin.
This juice also contains beta-carotene, which the body converts into vitamin A. And though found in small amounts in this juice, it also helps to maintain healthy skin. 
Nowadays, many skincare products incorporate watermelon juice for its skin reviving effects. Topically applying it has been proven to increase moisture levels significantly. As a result, it improves skin condition.
 It's also an incredible component for toning and moisturizing. The summer can bring scorching days where your skin suffers damage from UV rays. Using watermelon juice could help to calm and soothe the epidermis. 
2. For Weight Loss
One serving of watermelon juice contains only 72 calories— an incredibly low amount. That's great for weight loss diets. 
You can replace higher-calorie beverages like soft drinks and even use this juice to up your water intake. It also contains natural sugars which could help you satisfy sweet cravings in a healthy way.
And you've probably heard of the recommendation to drink eight glasses of water a day. Watermelon could help you achieve that! By drinking it, you'll stay hydrated, feel full, and eat less. 
Watermelon juice also contains citrulline, which converts to L-arginine. Prior research shows that supplementing with L-arginine improves weight loss. And it's even more effective coupled with exercising. So fill your bottle with watermelon juice next time you go training for the best results!
How to Make a Watermelon Juice Recipe
Watermelon juice is easy to make. Depending on your preferred method, you could end up with a smooth or slightly chunky texture. And both are equally delicious!
1. Blending
Blending watermelon creates a relatively more fibrous drink. But because its flesh is filled mostly with water, you barely notice the pulpy bits.
To start, peel and cut a seedless watermelon into cubes or wedges. Then, use a blender to blend it into a smooth puree. If you're not satisfied with the texture, blend it again for another 30 seconds. Pass it through a mesh sieve to strain the juice into a jar. 
Just like cucumbers, the entire watermelon fruit is edible. So you can enjoy the rind too! It's filled with water and nutrients like fiber and citrulline. Citrulline is effective in reducing systolic blood pressure, so it's excellent for adults with obesity. 
On the other hand, fiber will get your bowels moving and leave you feeling full, which can help with weight management.
2. Juicing
Just as you would do when blending; peel, and cube a seedless watermelon. In addition to the rind, you can also keep the nutrient-dense seeds for higher nutritional content. You can get from 25% to 35% of the RDIs for magnesium, zinc, and iron all in one ounce of watermelon seeds!
However, keep in mind that watermelon seeds are high in calories, so you may want to consume them sparingly.
To make your drink, add the watermelon cubes to the feed chute and collect the juice in a pitcher.
3. Grating
An unconventional way to make watermelon juice is to use a grater. It works great if you don't have any appliances! Though, you may want to keep both the rind and seeds out of this one. It's more work, so less is better.
After peeling, cutting, and deseeding the watermelon, lay the grater atop a container and grate the cubes. Collect all the watermelon juice and pass it through a mesh sieve into a pitcher for a smoother texture.
Easy and Delicious Watermelon Juice Recipes
1. Best Recipe: Watermelon Juice (2 servings)
Watermelon juice is a refreshing, naturally sweet beverage. It's easy to make for a simple brunch or dinner. You can enjoy it plain or even mixed with other fruit juices. And you'll especially appreciate its cooling effects during the summer heat.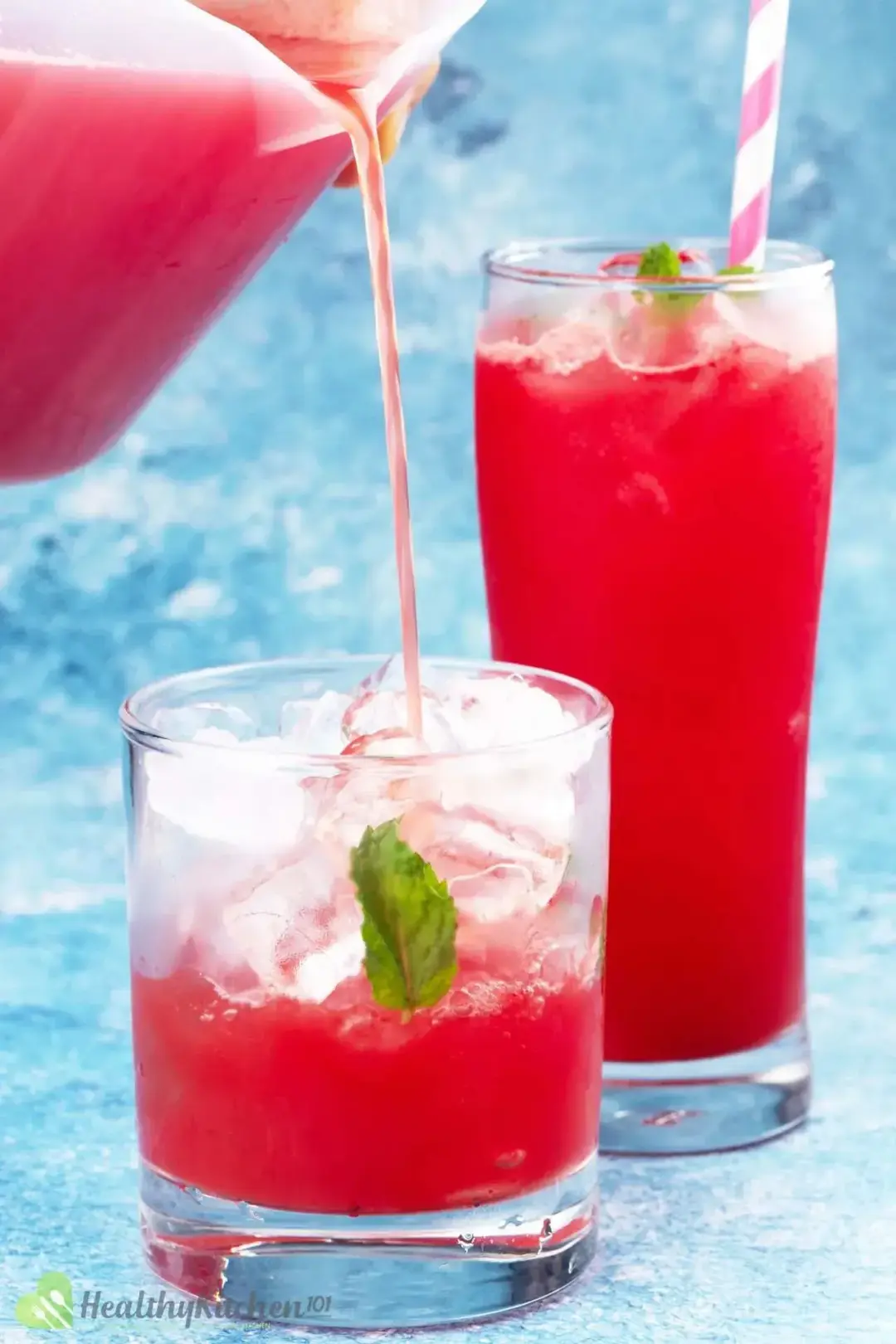 2. Watermelon Juice and Lemon (4 servings)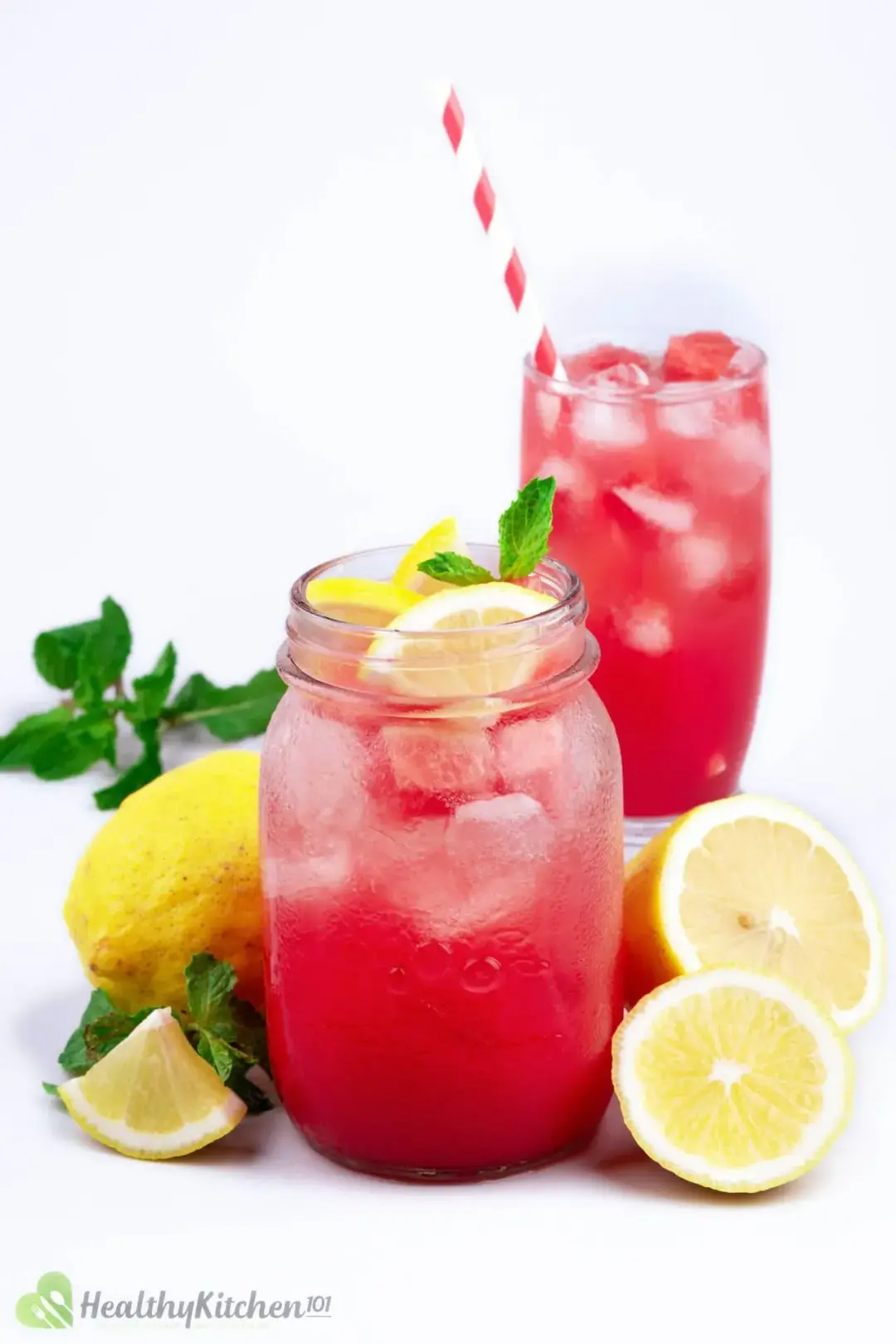 Watermelon and lemon juice combines sweet and tangy flavors to create a soothing beverage. It's a delightful drink chock full of immune-supporting nutrients, and you'll love just how easy it is to make.
Ingredients
24 oz watermelon, peeled, deseeded
8 mint leaves
2 tbsp sugar
1 tbsp lemon juice
2 cups ice cubes
Instructions
Juice watermelon and collect the juice in a pitcher. Add lemon juice and sugar, and stir until the sugar dissolves.
Add ice to the pitcher and serve.
3. Watermelon Cucumber Juice (4 servings)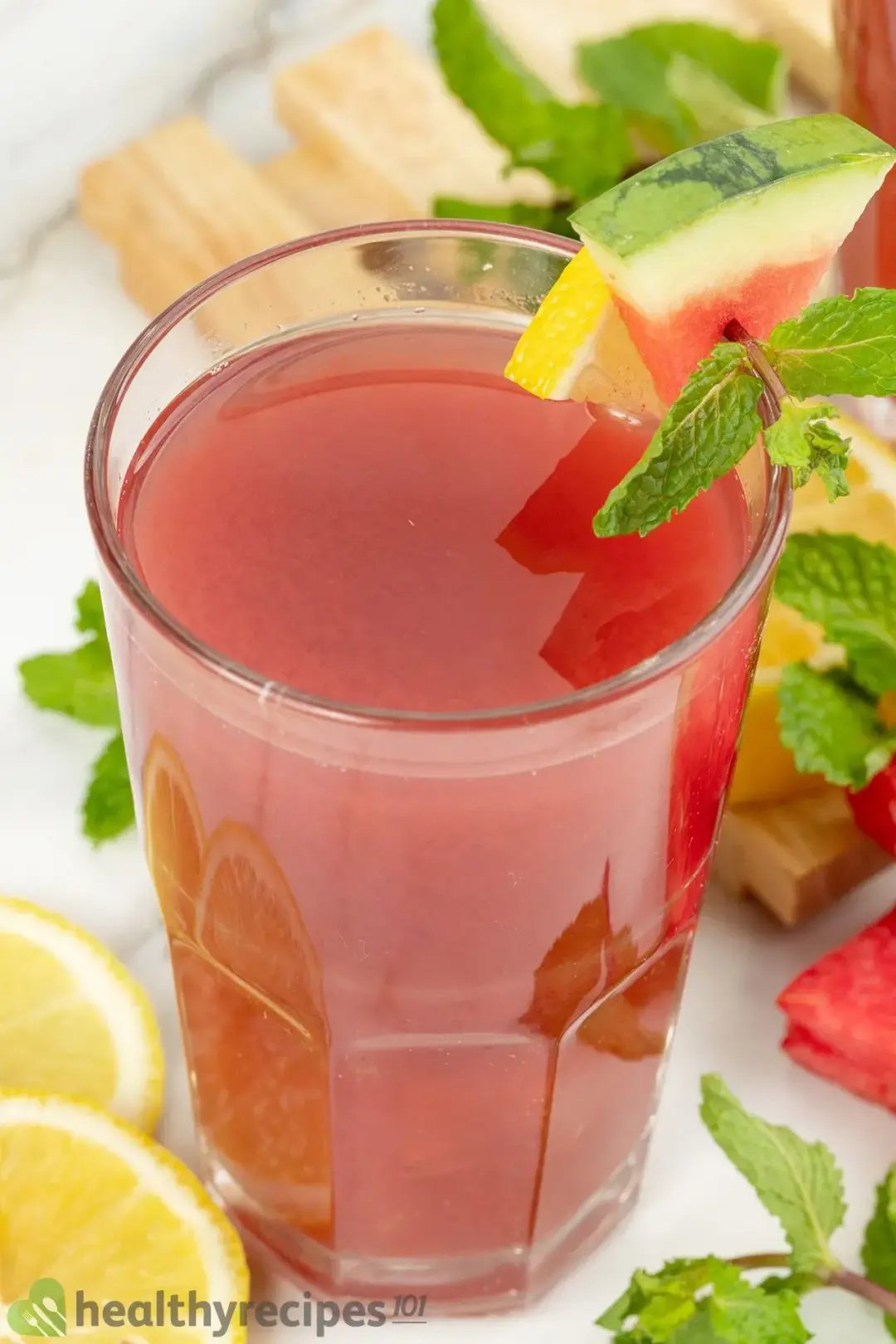 Watermelon cucumber juice is a pleasantly hydrating drink. Both fruits are water-dense, made up of at least 90% water. And spearmint adds a hint of coolness that makes this beverage especially refreshing. Drinking it is an excellent way to stay refreshed during summer days.
Ingredients
18 fl oz watermelon juice, from about 13 oz fresh watermelon
7 oz cucumber chunks, deseeded
1 tbsp sugar
4 tbsp spearmint leaves
1 tsp lemon juice
2 cups ice cubes
Instructions
Run cucumber chunks and watermelon through a juicer and collect the juice in a pitcher.
Add sugar and stir to dissolve. Serve over ice and garnish with spearmint.
4. Watermelon Strawberry Juice (4 servings)
This watermelon strawberry juice is topped with a cooling mint essence. It also makes a tasty breakfast beverage that effectively boosts your vitamin C intake.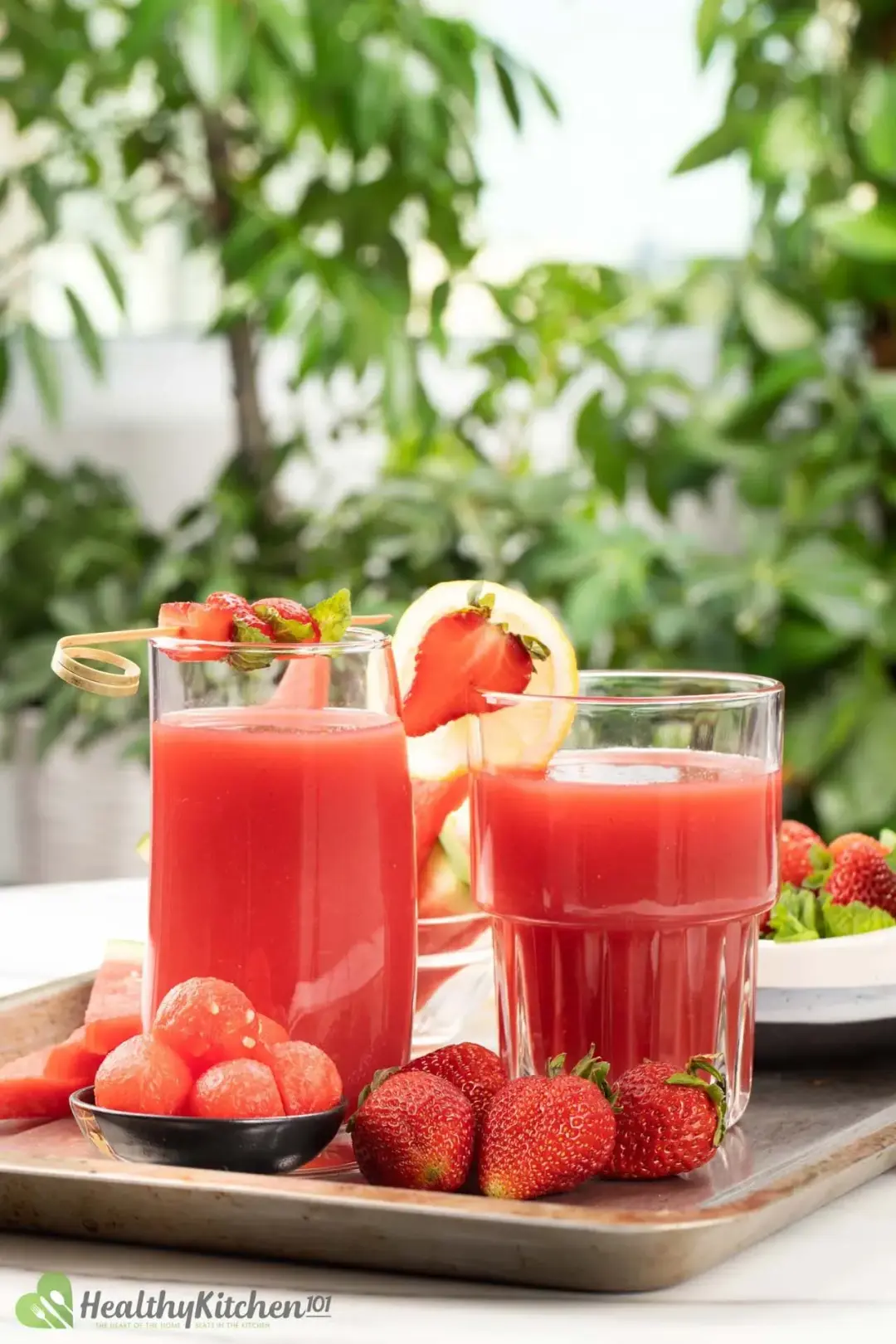 Ingredients
20 oz watermelon
1 tsp lime juice
8 oz strawberries
6 mint leaves
2 tbsp sugar
2 cups ice cubes
Instructions
Add all ingredients (except ice) to a blender and blend until smooth.
Place a strainer over a bowl. Line the strainer with a large cheese cloth and pour the liquid into the strainer. Gather the corners into a pouch and squeeze the juice out. Do this in batches to make it easier.
Discard the pulp and pour the juice into a pitcher.
Add ice and serve.
5. Watermelon Lime Juice (4 servings)
This simplistic yet striking beverage offers relief for summer days. Combining lime and watermelon makes a drink rich in antioxidants to protect your system from potential disease.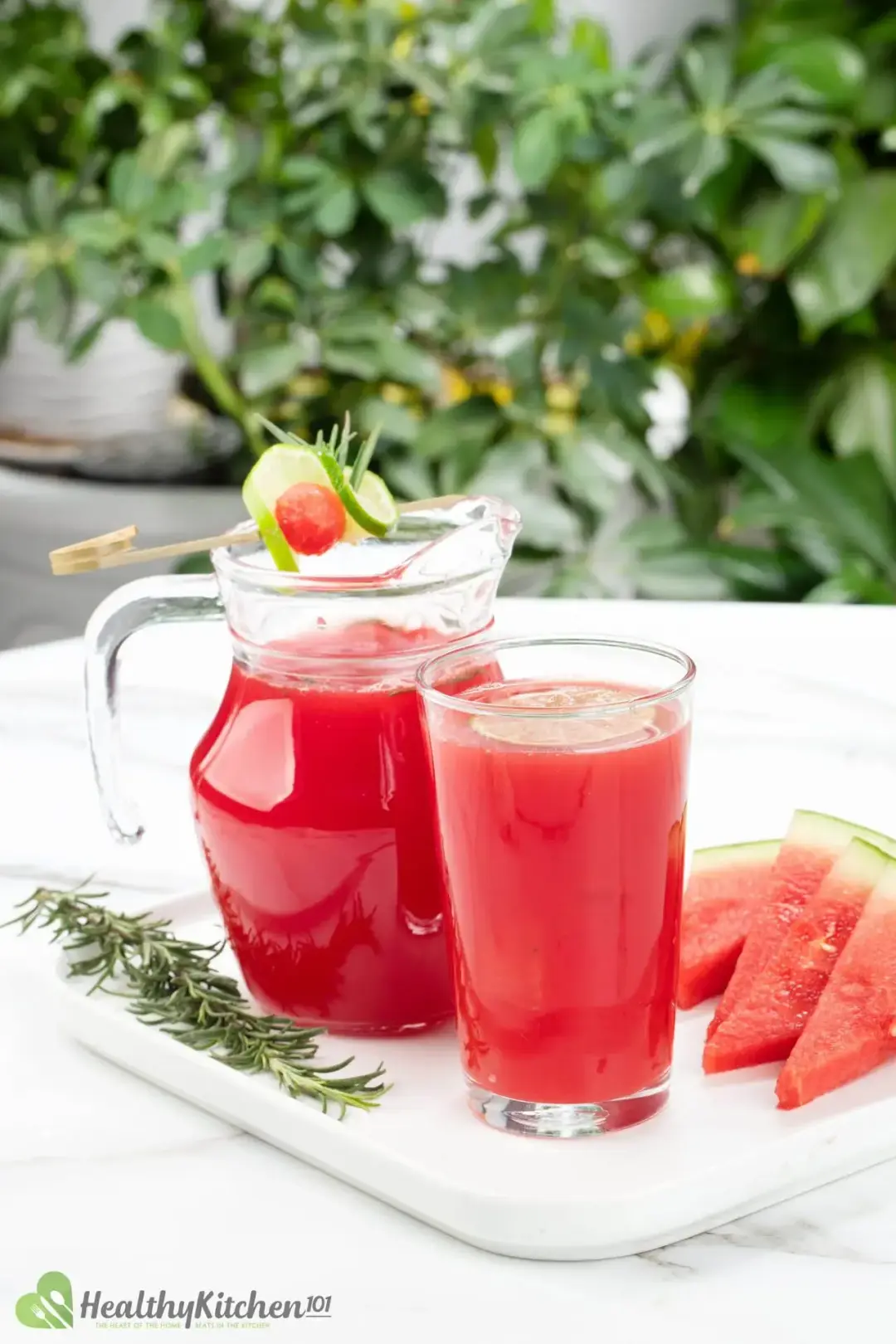 And the contrast of lime and watermelon brings a tangy sweetness that tickles the taste buds, while sugar perfectly combines the flavors.
Ingredients
24 fl oz watermelon juice, from about 26 oz fresh watermelon
1 fl oz lime juice
2 tbsp sugar
1 tbsp rosemary, fresh
2 cups ice cubes
Instructions
Run watermelon through a juicer to extract juice.
In a pitcher, combine watermelon juice, lime juice, sugar, and rosemary. Stir until the sugar dissolves. Serve over ice.
6. Watermelon Pineapple Juice (2 servings)
Watermelon pineapple juice is a quenching summer drink that naturally hydrates the system. Pineapple juice's bromelain enzyme improves digestion while its tropical flavor gives a vibrancy to the watermelon juice. It's an easy 2-ingredient recipe that you can refrigerate for daily consumption too.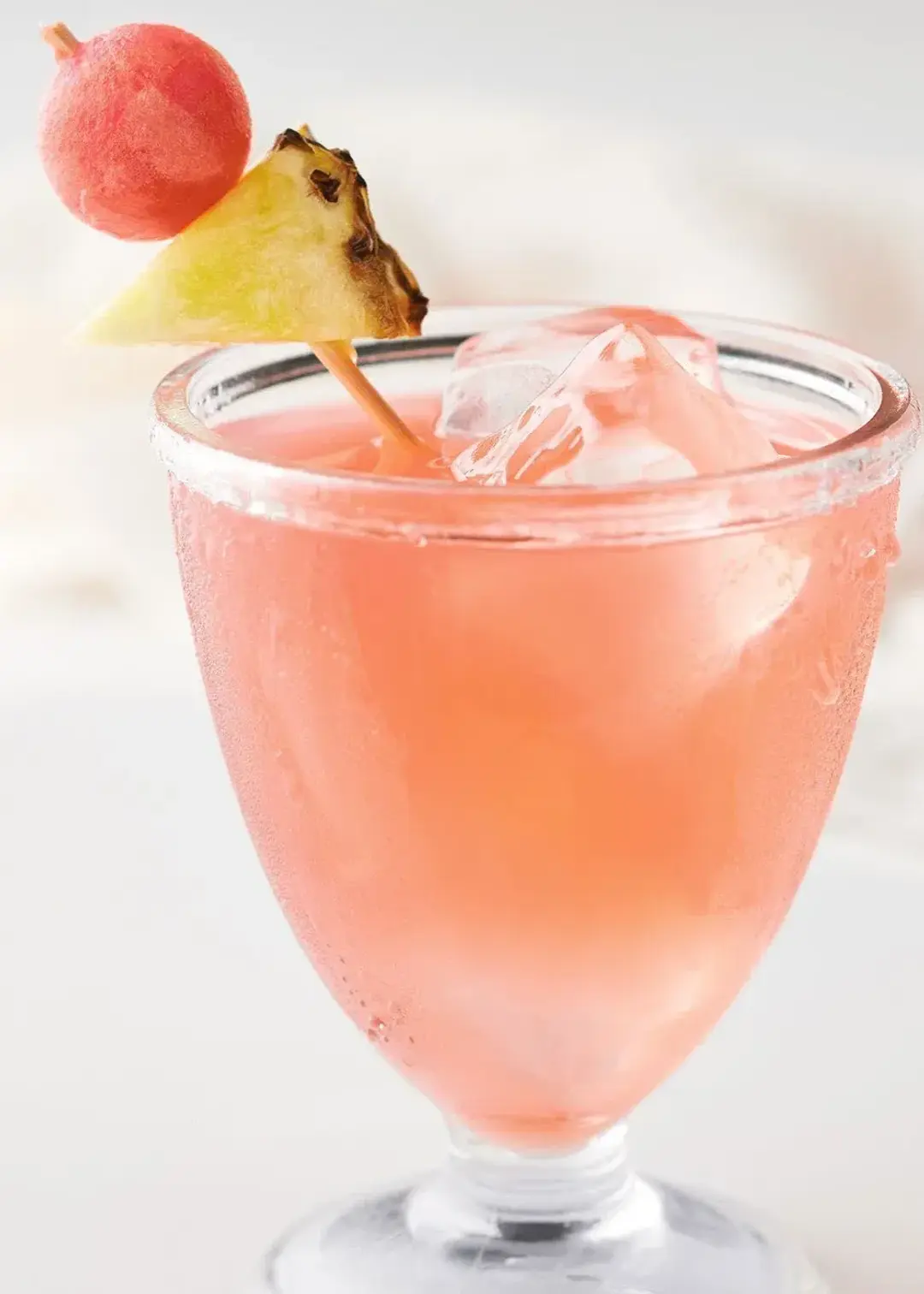 Ingredients
6 cups watermelon chunks, deseeded
3 cups pineapple chunks
Instructions
Press fruits into the juicing chamber until all the juice has been drained into a pitcher.
Drink immediately or refrigerate for at least 45 minutes to chill.
7. Watermelon Apple Juice (3 servings)
Besides being fiber-rich, this drink has stacks of free radical-fighting nutrients. Both watermelon and tomatoes have notably high levels of lycopene, which may help in warding off diseases like cancer. The drink makes a sweet and slightly savory beverage that is delightfully soothing.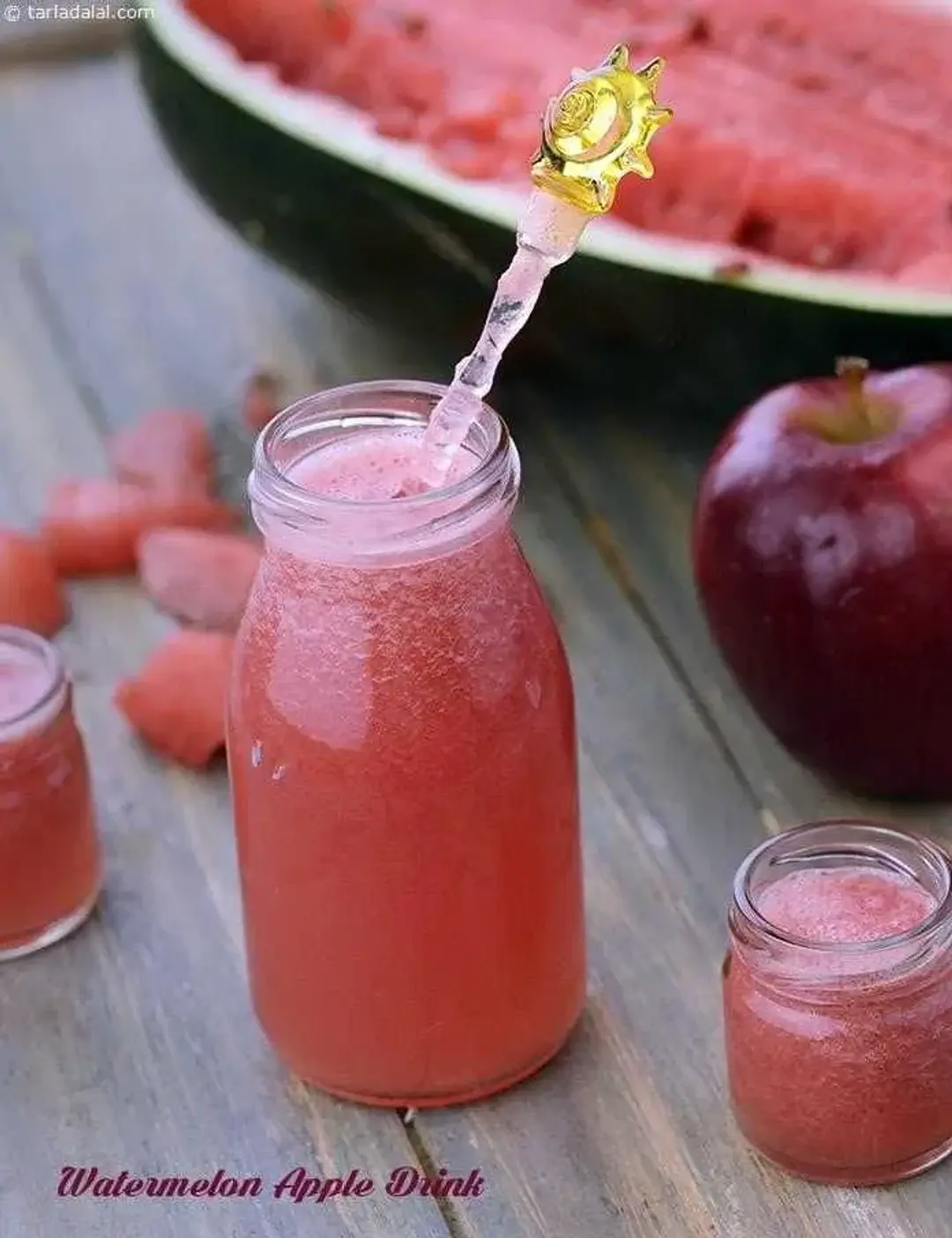 Instructions
2.5 cups watermelon, deseeded and chopped
1 cup apples, chopped
1/2 cup tomatoes, chopped
1 cup ice cubes
Instructions
Pass all ingredients through an electric juicer and collect in a pitcher. 
Serve over ice.
8. Watermelon Ginger Juice (2 servings)
Ginger brings a warm, spicy aroma to the cooling flavors of watermelon juice and it also has anti-inflammatory benefits. Adding lemon juice gives an additional source of vitamin C, and simultaneously balances the sweetness of sugar and watermelon juice.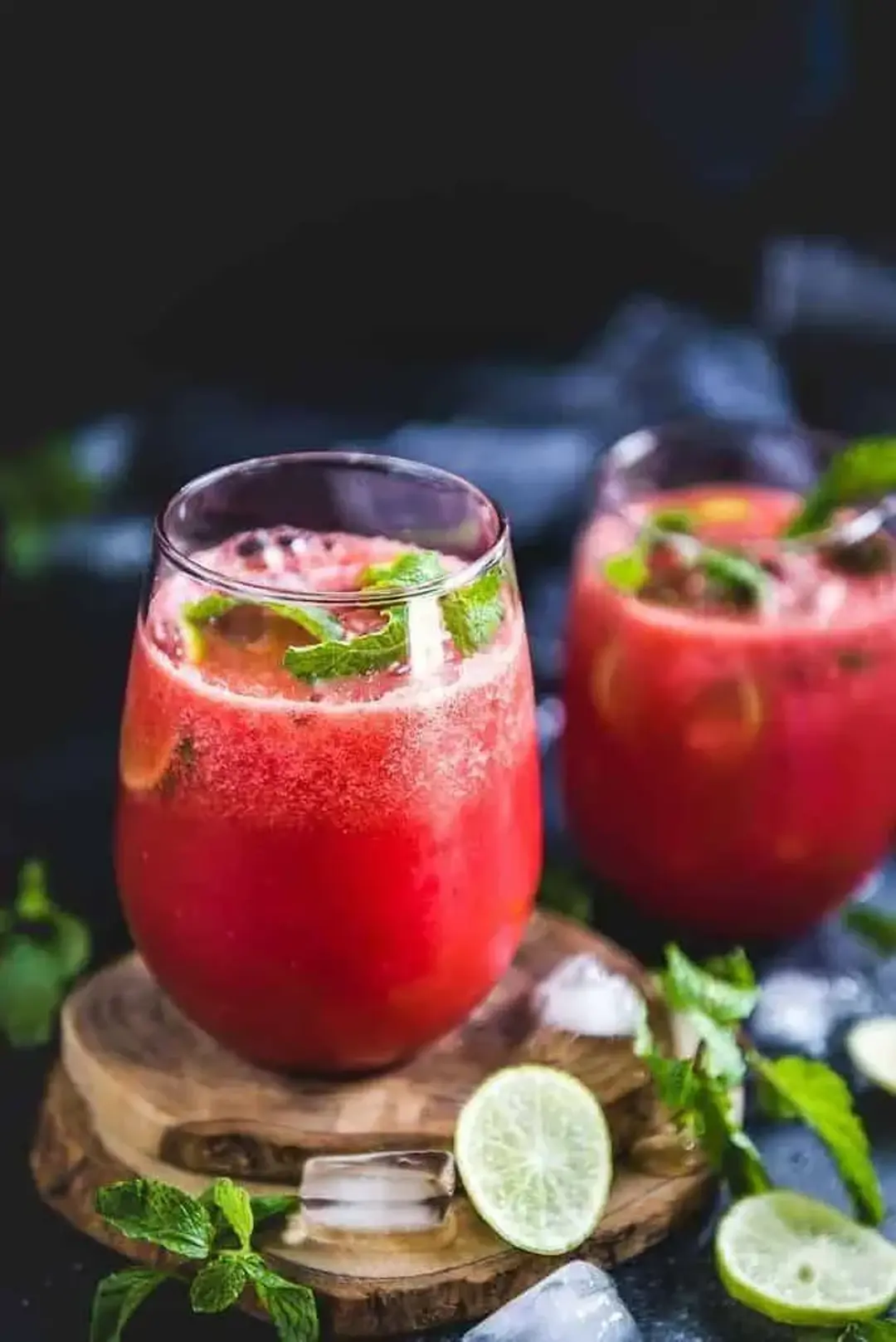 Ingredients
4 cups watermelon, deseeded and cubed
1/4 cup lemon juice
2 tsps ginger
2 tbsps sugar
1 cup ice cubes
Instructions
Add watermelon, lime juice, ginger, sugar, and ice cubes into a blender. Blend until smooth.
Pass the mixture through a sieve into a pitcher. Serve.
Top with more ice and garnish with mint (optional).
9. Watermelon Beet Juice (4 servings)
Watermelon beet juice is an energizing beverage that's excellent for athletes. Beetroot juice may improve endurance during sports and exercise. But even if you're not planning on going for a jog, this drink will give you a sweet and earthy essence that is pleasant to enjoy while relaxing.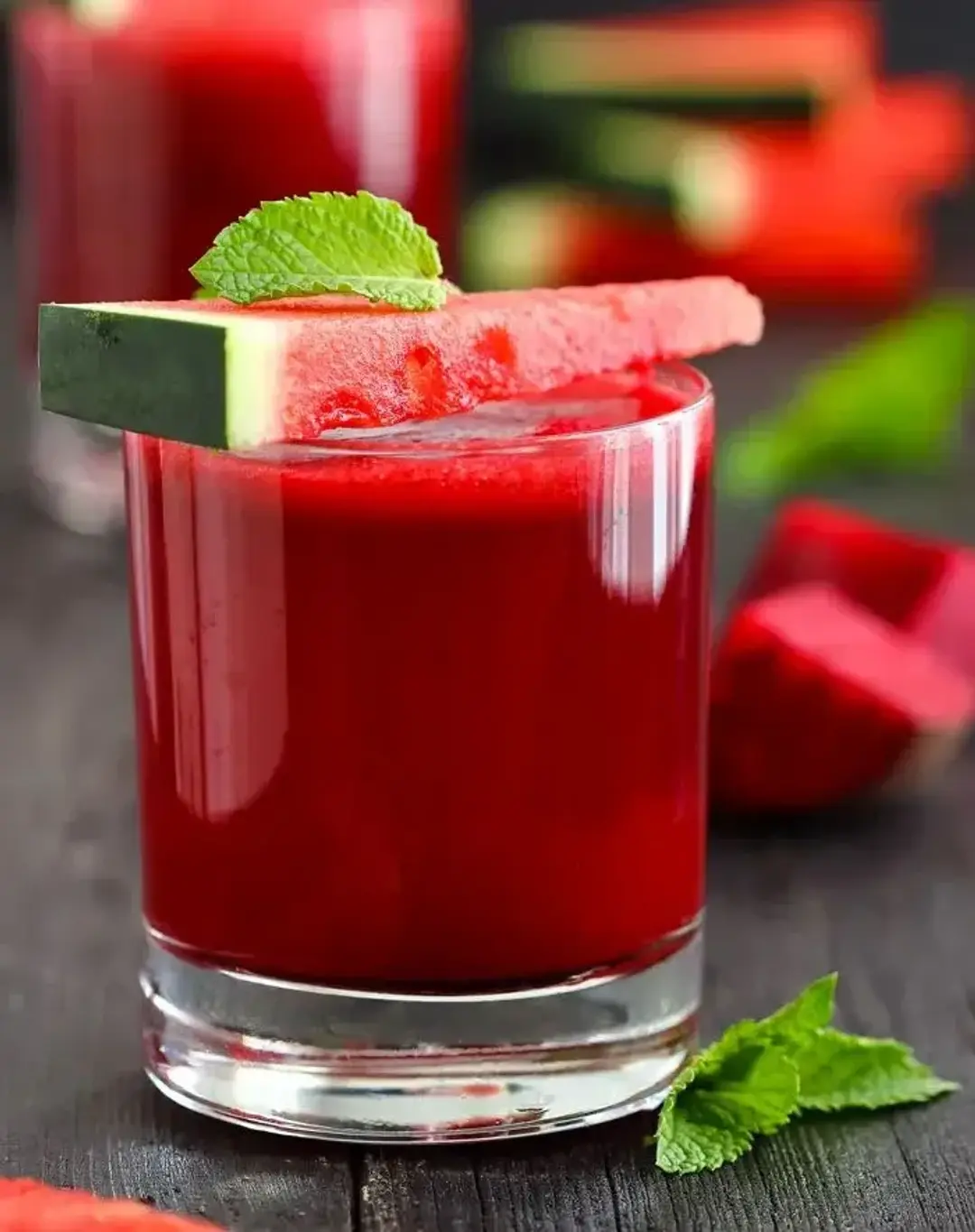 Ingredients
2 cups watermelon juice
1.5 cups beets, peeled and diced
Instructions
Pass the beets through the feed chute of an electric juicer. Collect the juice in a pitcher and mix with watermelon juice.
Garnish with mint (optional). Serve immediately or store in the refrigerator to chill for at least 45 minutes before serving.
10. Watermelon Juice and Vodka (1 serving)
It doesn't take much to make this tasty drink; just some watermelon, lime, vodka, and sweetener of your choice. Because lime and vodka add a bitter element, the sweetener helps to curb the flavors and create a more pleasant drink.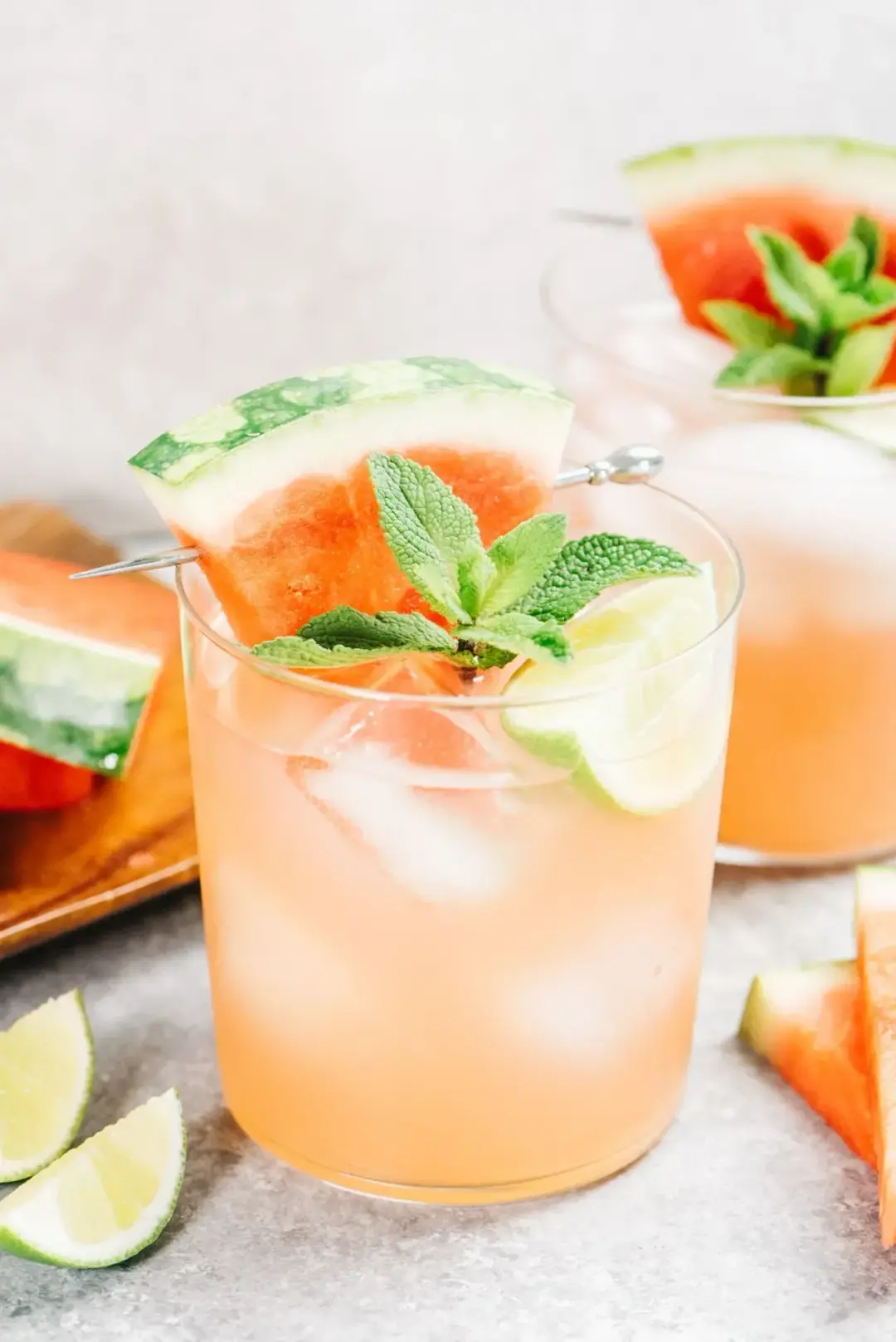 But it is summer after all, and the purpose of these drinks is to keep you hydrated. Drinking too much of a dehydrating liquid like vodka defeats the goal of a healthy, refreshing beverage, so make sure you're also drinking loads of water.
Ingredients
1/4 cup watermelon juice
1/4 cup vodka
2 tbsps fresh lime juice
1 tsp agave nectar/honey/maple syrup
Instructions
Add watermelon juice, vodka, lime juice, and agave nectar to a tall cocktail glass. Stir to mix well.
Alternatively, add all ingredients into a shaker/mason jar with 1 cup of ice and shake until chilled.
Watermelon Juice Nutrition
1. Calories
With only 72 calories in a single serving, this drink serves high doses of vitamin C, lycopene, and beta carotene. So it's an efficient option to help with managing weight while enjoying a nourishing diet.
2. Sugar
Watermelon juice packs natural sugars such as fructose, glucose, and sucrose. These constitute most of its carbs. Thus you can drink it plain with no added sugar and still relish some sweetness.
When you blend watermelon juice with all its pulpy bits, you get a high (72) glycemic index (GI) drink. High GI foods raise blood glucose quickly. The food metabolism runs slowly, and it takes longer to digest, making it difficult to manage diabetes.
But don't dismiss your melons yet— thankfully, they have a low glycemic load (GL) of 5. GL takes into consideration the quantity and quality of carbs. So it gives an idea of how much glucose enters the bloodstream per serving. And foods with a lower GL are less associated with the risk of coronary heart disease.
Pulpless this juice is a slightly different story. It's not a recommended option for those with type 2 diabetes, as it has a high GL. However, since watermelon juice converts to glucose quickly, it's excellent for providing much-needed energy to healthy individuals.
3. Carbs
Watermelon juice is a relatively low carb drink. The total carbs in a single serving only amount to 7.5% of the total calories. So it's certainly a drink you can use in keto and low carb diets. 
Most of the carbs for watermelon juice come from sugars. And unfortunately, it doesn't provide a lot of fiber, with only 5% contributing to total carbs.
4. Is Watermelon Juice Good for You?
Yes, it is— it's remarkably hydrating. Watermelon juice is a cooling beverage that could pass off as sweetened water because it naturally increases your water intake. Consequently, it also has positive dermatological effects, and drinking it helps to prevent dehydration and dry skin.
Watermelon juice is the most abundant drink source of citrulline, a non-essential amino acid. And drinking it may relieve muscle soreness. Citrulline supplementation leads to vasodilation, the relaxing of blood vessels to increase blood flow. So athletes who consume it tend to have muscle relief and a lower heart rate after exercise.
Watermelon also has plenty of lycopene (1.5 times more than the lycopene-famed tomato!). That makes watermelon juice a great antioxidant source. Drinking it comes with immune-boosting advantages. For instance, it decreases free radicals in your body that attack your system. 
So this recipe is unquestionably good for you. But of course, it depends on your state of health and food tolerance. People with diabetes should not consume watermelon juice due to its blood sugar spiking effects.
5. What Happens If You Drink It Every Day?
You could lose weight and lower both your body mass index and blood pressure by drinking watermelon juice every day, specifically the blended, unsieved choice. Studies have proven that these significant changes result within four weeks of eating watermelon, including an increase in antioxidant capacity.
6. How Long Does It Last?
Fresh watermelon juice is a highly perishable food, so you should only store it for up to two hours at room temperature and three days in the refrigerator.
For long term storage, you can keep it in the freezer for 30-60 days.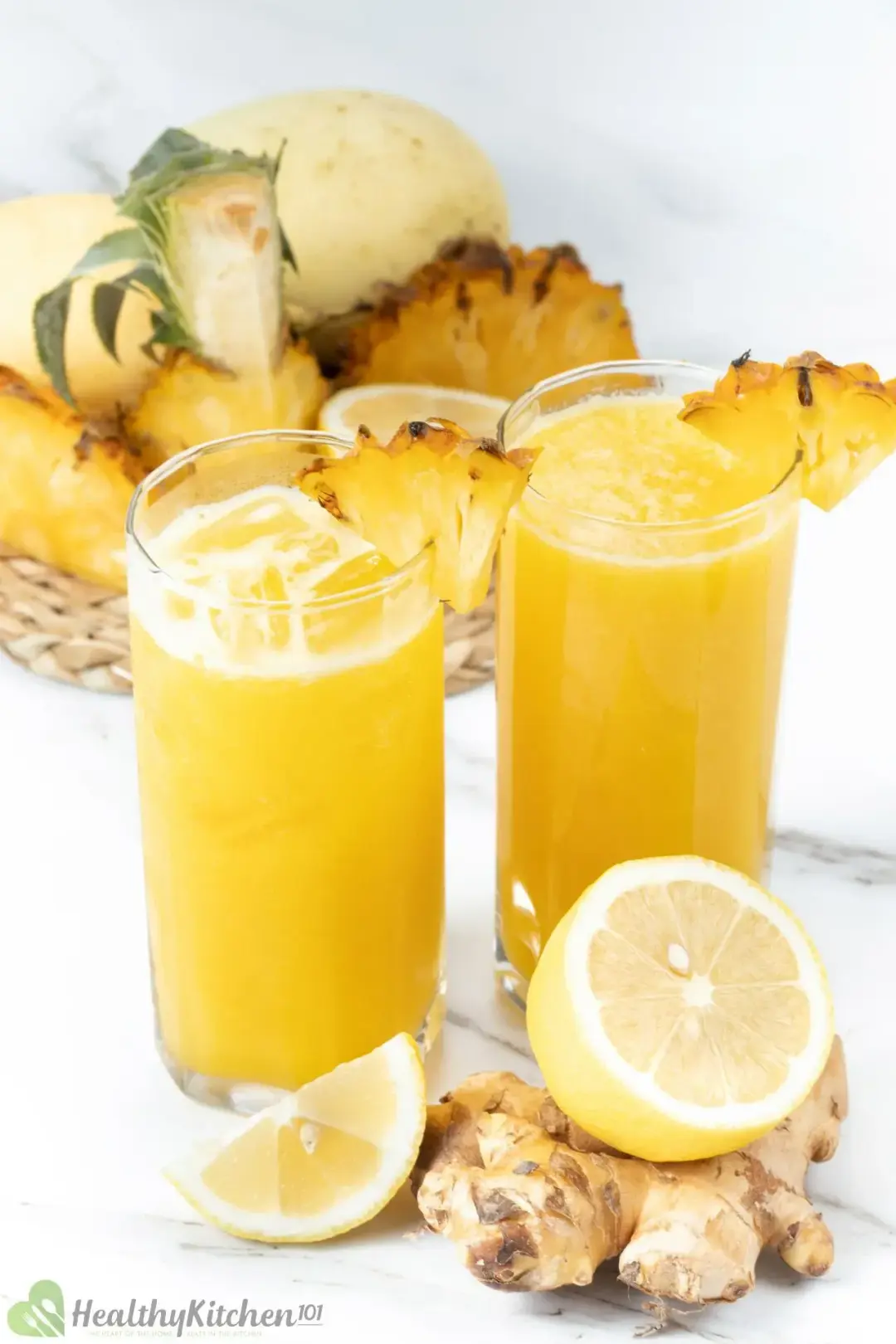 Previous Recipe
Top 10 Mango Juice Recipes
Top 10 Mango Juice Recipes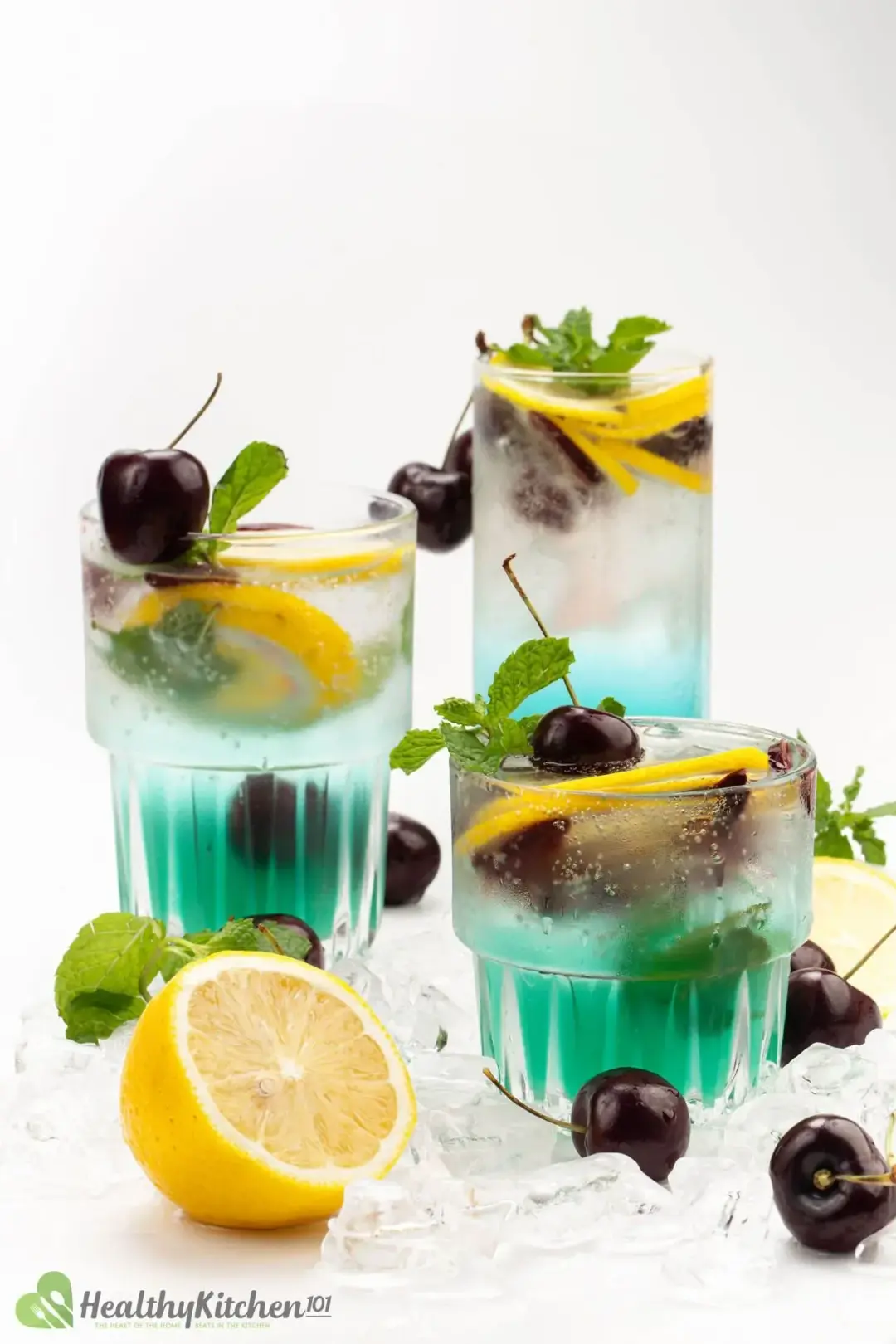 Next Recipe
Top 10 Jungle Juice Recipes
Top 10 Jungle Juice Recipes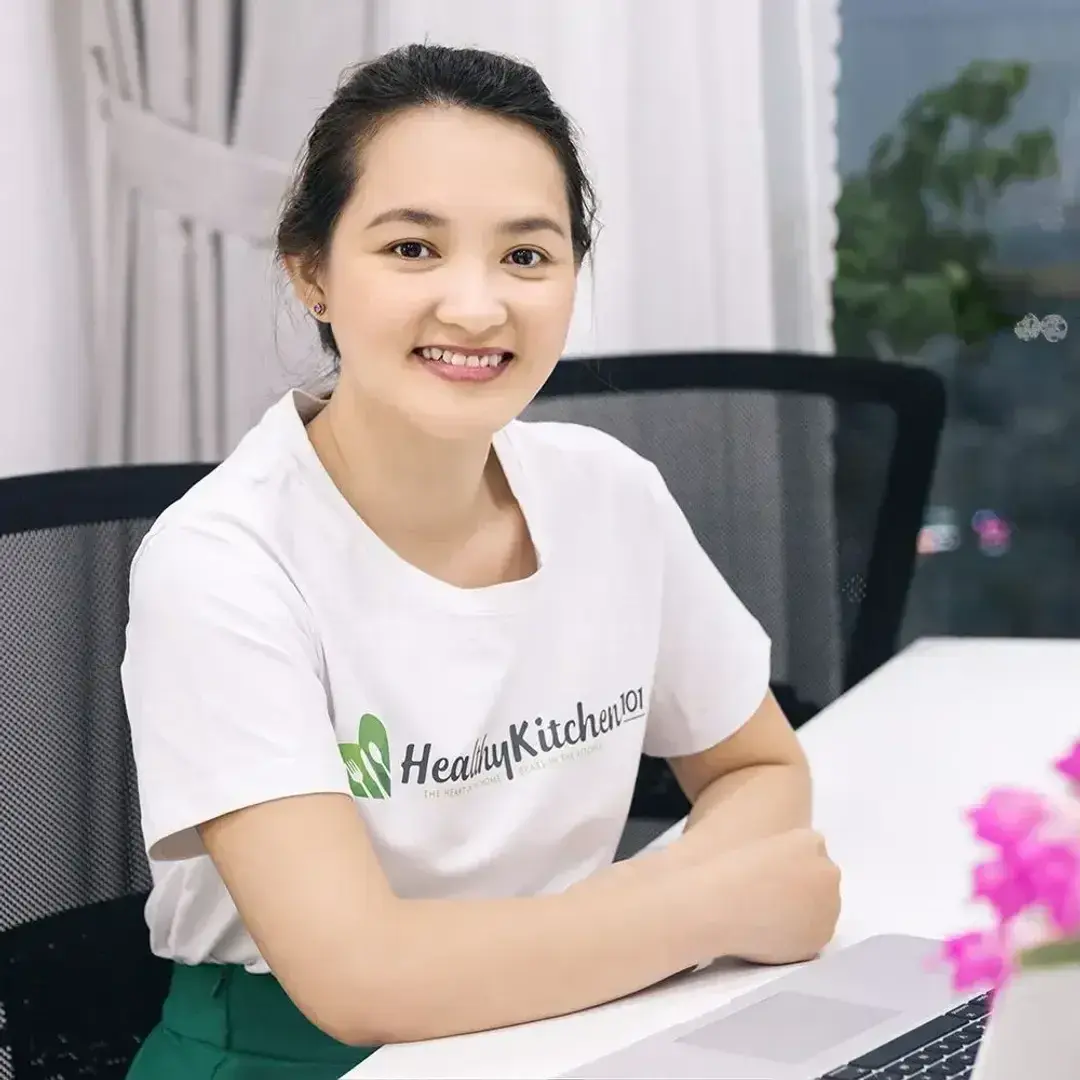 Luna Regina
Luna is the founder and chief recipe developer of Healthy Recipes 101. Apart from cooking, she also loves reading, programming, exploring the outdoors, and collecting useless facts about everything.