Save some time and money by making your own drinks at home with these Jamba Juice recipes. They offer the same delectable flavors and velvety smooth texture as the store-bought ones, but with a homemade twist that allows them to perfectly fit your appetite and diet. Not to mention, the ingredients are incredibly simple and come together in a blink of an eye, so you'll have no trouble whipping up a few glasses at any moment.
So pull some fruits out from the fridge, grab a few other pantry staples, toss them in your blender, and whirl away!
Skip the Store Run and Make These 15 Jamba Juice Recipes Right At Home
1. Strawberries Wild Smoothie
This is one of Jamba's most popular drinks that can be easily recreated at home with a few simple ingredients. It's a sweet, stunning blend of strawberries, bananas, apples, and yogurt. Since it's homemade, you can freely adapt it to your personal preference—add protein powders, switch out the yogurt varieties, etc.
We also have our own version of strawberry banana smoothies, featuring oranges. Check it out if you want something similar to this recipe.
Go to Recipe
2. Caribbean Passion Smoothie
With a blend of strawberries, peaches, and orange sherbet, this Caribbean Passion smoothie brings a sunny sweet-tart taste that instantly brightens the taste buds. It's also packed full of antioxidants, so you can load up on essential nutrients while enjoying a marvelous drink.
Go to Recipe
3. Peach Pleasure Smoothie
This smoothie is summer splendor in a glass. The blend of peaches and bananas creates a delightfully sweet and slightly tropical flavor base. Paired with the bright, tangy hints from the orange juice and sherbet, this drink brings a sunny feeling that chases all your blues away.
Go to Recipe
4. Aloha Pineapple Smoothie
Tropical wonders come together in this aloha pineapple smoothie. It's a simple blend of bananas, strawberries, and pineapples, yet the result is absolutely glorious. With a luscious sweetness that's freckled with tangy hints, this drink brings a vibrancy that makes it a perfect companion for all your summer activities.
Go to Recipe
5. Mango-A-Go-Go-Smoothie
This mango smoothie tastes just as vibrant as it looks. Creamy, lusciously sweet mangoes are blended with mango juice, pineapple sherbet, and ice cubes to velvety smooth perfection. The result is a cooling drink with bursting tropical flavors that melt like a dream on your tongue.
Go to Recipe
6. Chocolate Peanut Butter Banana Smoothie
This is a copycat of Jamba's Peanut Butter Moo'd that you can make right in your kitchen with readily available ingredients. Consisting of cocoa powder, peanut butter, milk, and frozen banana, this smoothie is a rich, decadent treat that both kids and adults will enjoy.
Want more peanut butter smoothies? Check out our Strawberry Peanut Butter Smoothie Recipe!
Go to Recipe
7. Blue Spirulina Smoothie
This smoothie's exquisite sky blue color comes from the blue spirulina (a nutrient-dense algae) powder. Blended with frozen banana, coconut milk, vanilla paste, and plant milk, this eye-catching drink is a near-similar copycat of Jamba's Vanilla Blue Sky smoothie.
Beyond the gorgeous appearance, this drink also offers a softly sweet and creamy taste that's quite enjoyable. You can even turn it into a smoothie bowl with a few extra sprinkles of fruits, grains, or cereals.
Go to Recipe
8. Banana Berry Smoothie
Berries lovers, this one's for you!
This smoothie combines bananas, blueberries, raspberry sherbet, and berry juice to make a vivid drink full of gorgeous sweet-tart flavors. We can't think of anything better than a cold glass of this drink to quench your thirst on those hot, sunny days to come.
Don't forget to also check out our Blueberry Banana Smoothie Recipe if you want more berry goodness in your life.
Go to Recipe
9. Chunky Strawberry Smoothie Bowl
Any morning that starts with this chunky strawberry bowl is undoubtedly a good one in our opinion. Frozen bananas and strawberries are blended with peanut butter, yogurt, oat, and milk into a smooth, frosty drink that melts with heavenly smoothness. Then, everything is topped with granola and fresh bananas to make a filling, healthy, and undeniably delicious treat.
Go to Recipe
10. Apple 'N Greens Smoothie
Green juices and smoothies are often considered difficult to drink, but that won't be the case with this smoothie. It sneaks spinach and green juice into a blend of apple juice, strawberry juice, bananas, mangoes, and peaches. The fruits' sweet-tart taste completely masks the vegetal scent, so even if you're not too keen on leafy greens, you can still wholeheartedly enjoy this smoothie.
We've also got our own version of a healthy green smoothie, featuring spinach, bananas, blueberries, and mangoes. Check it out if you're interested.
Go to Recipe
11. Mango Carrot Smoothie
Looking for something similar to Jamba's Orange Carrot Karma Smoothie? This mango carrot smoothie might just be what you want.
Requiring only four ingredients—mango, banana, carrots, and orange juice—this smoothie is a quick whip-up that you can make at any moment. The layers of sweetness are highlighted by a contrasting orange tang, making the drink an absolute delight to sip on. Not to mention, it's also filled with great nutrients that will keep you healthy and nourished.
Go to Recipe
12. Strawberry Surf Rider Smoothie
This smoothie brings strawberries and peaches together in a beautiful, cooling swirl of bright flavors. With little citrusy hints freckled throughout, this drink is summer in a glass. Give it a try to transport your taste buds to those holidays by the beach, where it's all clear skies and sunshine.
Go to Recipe
13. Cranberry Craze Smoothie
It's a berry party with this Cranberry Craze smoothie. It features strawberries, blueberries, raspberry sherbet, and cranberry juice—all blended into a bright, tart smoothie that pulls at your heartstrings with every sip.
Go to Recipe
14. PB&J Smoothie
Get a taste of nostalgia with this PB&J smoothie that tastes just like the classic sandwich, only much more healthy. It's made from nutrient-dense fruits like strawberries, bananas, and raspberries. They provide enough natural sweetness that no added sugar is necessary. The peanut butter brings a salty-sweet and nutty undertone that ties everything together in a marvelous blend of flavors.
Go to Recipe
15. Protein Berry Workout Smoothie
This 4-ingredient smoothie is an excellent workout companion that helps aid your muscle growth and recovery as well as provides various essential nutrients. It consists of strawberries, bananas, milk, and protein powder. The simple combination creates a sweet, frosty beverage that's not only healthy but also tastes absolutely delicious.
Go to Recipe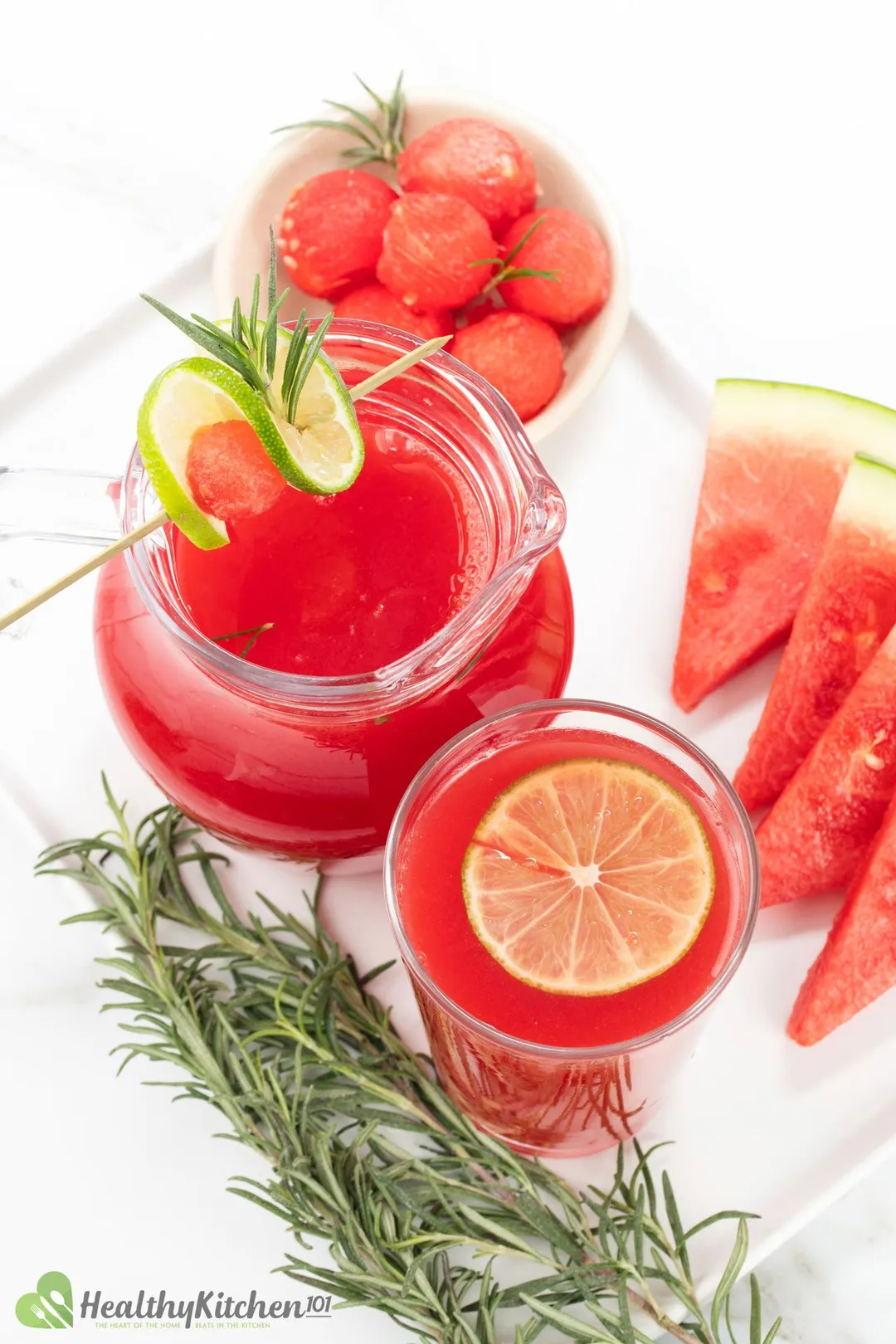 Previous Recipe
Watermelon Drinks
Watermelon Drinks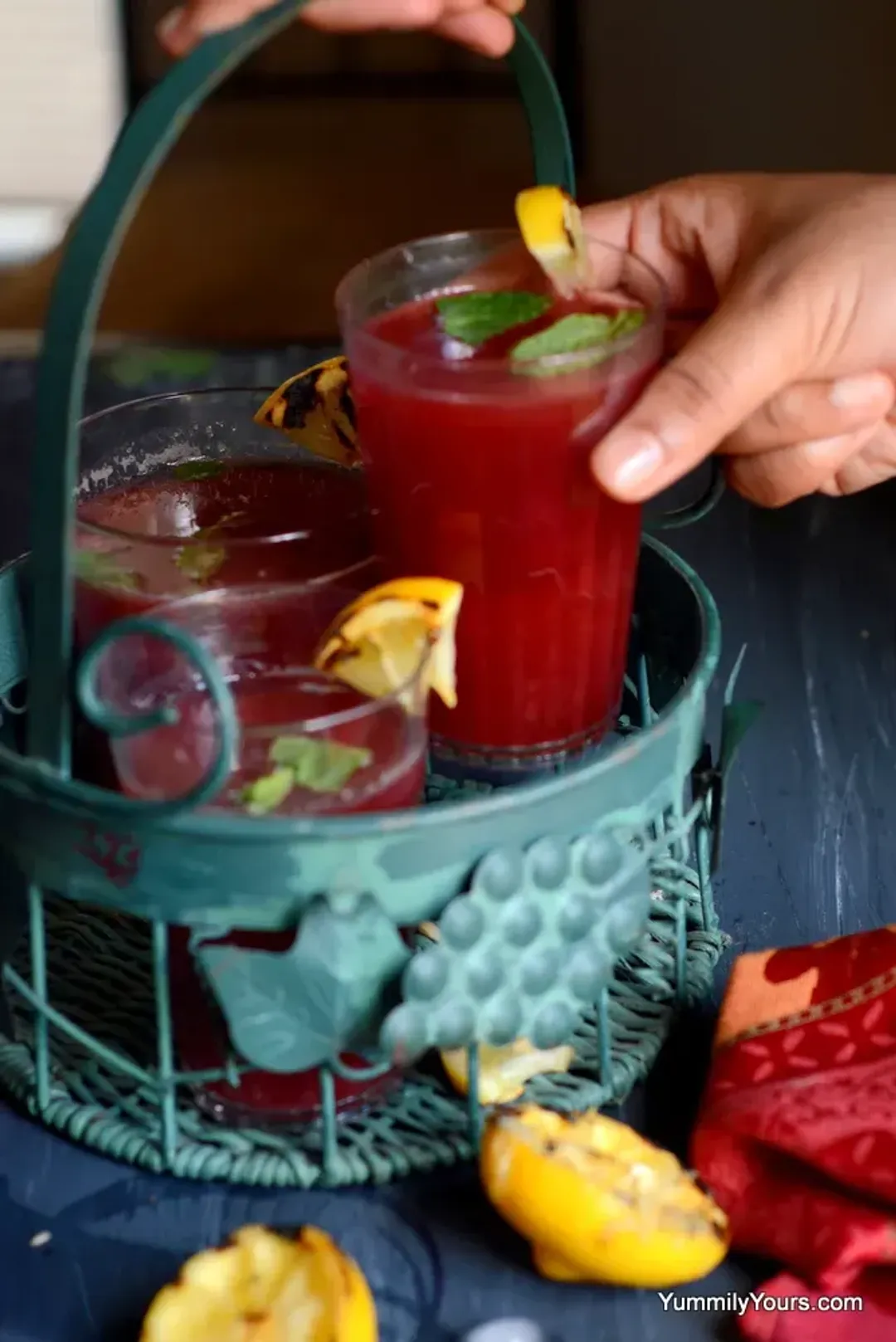 Next Recipe
Plum Juice Recipes
Plum Juice Recipes
Writer, Author
Luna Regina is an accomplished writer and author who dedicates her career to empowering home cooks and making cooking effortless for everyone. She is the founder of HealthyKitchen101.com and HealthyRecipes101.com, where she works with her team to develop easy, nutritious recipes and help aspiring cooks choose the right kitchen appliances.
Comments/ Reviews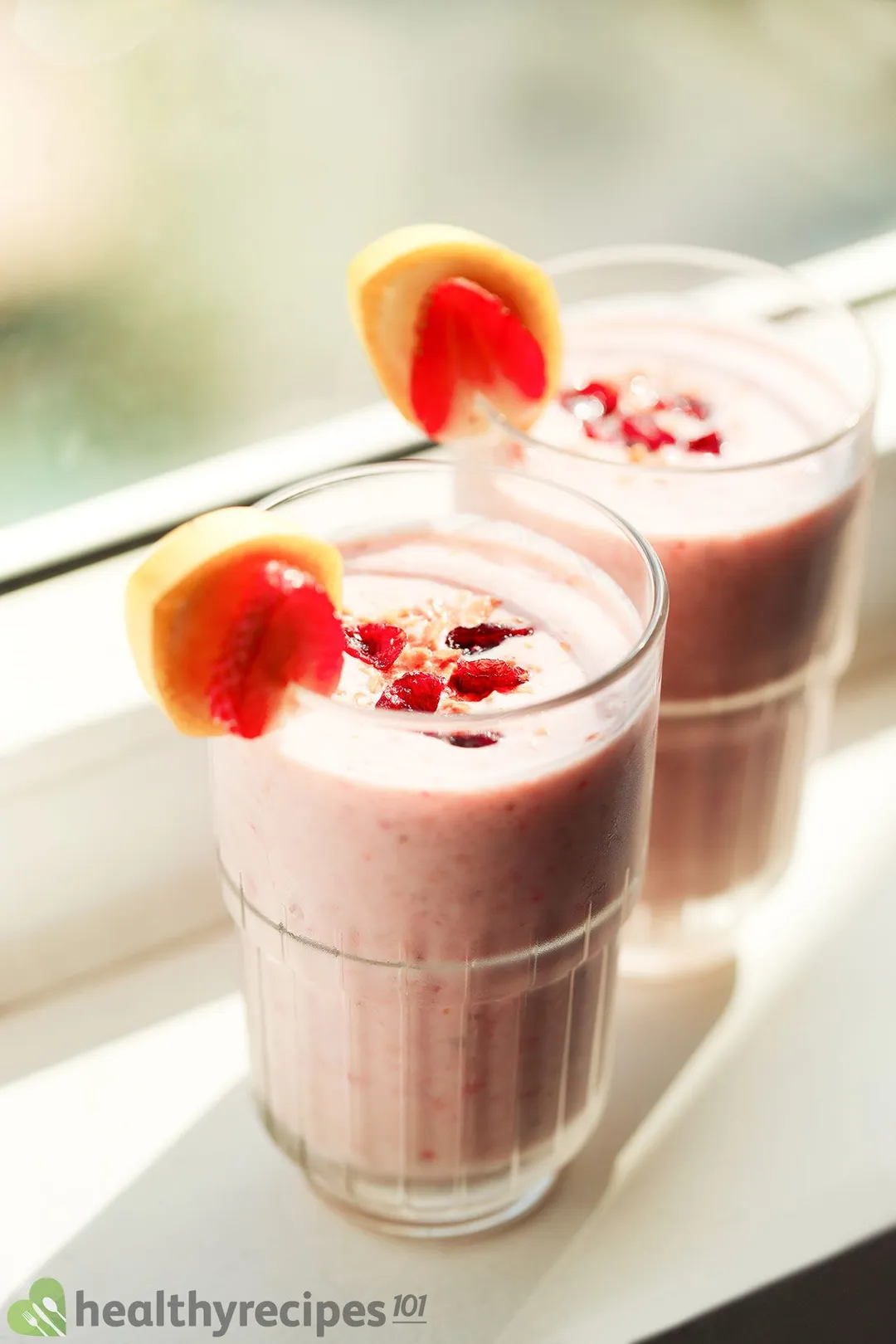 Refreshing and nutritious Jamba Juice recipes galore!