Summer and all of its glory are just around the corner, and what better way to celebrate than with some light and refreshing watermelon drinks? Whatever it is you're looking for—cocktails, smoothies, juices, lemonades, slushies, and others—we've got them all right here. These beverages fill your palate with a bursting sweetness and other carefree flavors that promise to make all your sunny mornings, lazy afternoons, and hazy nights unforgettable.
25 Easy & Delicious Watermelon Drinks to Make This Summer
1. Watermelon Vodka Cocktail
With summer fast approaching, this 6-ingredient recipe is the perfect beverage to chase away the heat on those hot days. This watermelon vodka cocktail has the refreshing essence of a typical watermelon drink, but with an added zesty zing that makes every sip a buzzing excitement. It's great for BBQs, brunches, or even just a casual lounge by the pool.
Go to Recipe
2. Mexican Watermelon Cooler
Also known as agua fresca, this staple Mexican refreshment is a blend of watermelon, sugar, water, ice, and a hint of zest. The result is a cooling, light, and refreshing beverage that chases away the sweltering heat in the blink of an eye.
Go to Recipe
3. Strawberry Watermelon Smoothie
Strawberry and watermelon, what a combo! When blended into a smoothie, these quintessential summer fruits bring a beautiful vibrant sweetness, complemented by the bright hints of citrus. Beyond the great taste, it also checks all the boxes—refreshing, nourishing, vegan, gluten-free, and so simple to make. You can easily whip up a few glasses for everyone—kids included—to enjoy on hot summer days.
Go to Recipe
4. Frosted Watermelon Rosemary Frosé
Frosé is a frozen cocktail made with rosé. This recipe blends the wine with watermelon, vodka, rosemary, honey, and some lemon juice, creating a bright mixture of flavors that glimmer beautifully on the tongue. Whether you're chilling by the pool, enjoying a lazy brunch, or sweating it out at a BBQ, this watermelon frosé will undoubtedly make a fantastic companion.
Go to Recipe
5. Watermelon Lemonade
When it comes to refreshments, a pitcher of cooling lemonade is always a good idea. With watermelon in the mix, it can only get better. The fruit brings a wonderful sweet twist to the zesty beverage that makes it so much more fun to enjoy.
Go to Recipe
6. Strawberry Watermelon Rosé Sangria
Sangria is typically made with red wine, but with this recipe's rosé twist, you can discover another way to enjoy the classic Spanish drink. The rosé offers a sparkling lightness that pairs so well with the fruits' dazzling sweet taste. The result is a beautiful, refreshing drink that's vivid both in taste and colors—perfect for almost any gathering.
Go to Recipe
7. Watermelon Iced Tea
There's nothing quite like a cold glass of watermelon tea to quench your thirst on a hot day. The tea's delicate aroma is wonderfully enhanced by the fruit's striking sweetness. Add a few ice cubes and you'll be sipping away the summer heat in no time.
Go to Recipe
8. Watermelon Mule
This is a refreshing and fruity take on the classic Moscow mule—a cocktail concoction of ginger beer, vodka, and lime. The drink still has that signature fizzy, spicy essence, but it's lightened by the watermelon's juicy sweetness. It's perfect for when you want something warming and festive, but still mellow enough to casually enjoy.
Go to Recipe
9. Dragon Fruit Watermelon Refresher
This gorgeous beverage tastes just as vibrant as it looks. Using only the two fruits as ingredients, it has a completely natural and undiluted sweetness. All you have to do is whizz them together and you'll have a drink that everyone will be marveling at.
Go to Recipe
10. Watermelon Slushie
When summer comes knocking, this watermelon slushie and its frosty swirl of sweetness might just be exactly what you need. Requiring only four essential ingredients and one single step, this beverage is a quick and cooling treat you can make in a flash that everyone will enjoy.
Go to Recipe
11. Watermelon Caipiroska
Caipiroska is a vodka spin-off of caipirinha—a classic Brazillian cocktail made with cachaça. It's a mix of lime juice, sugar, and vodka, and with this recipe, watermelon. The simple ingredients give this drink a fresh and light taste, made all the more exciting by the watermelon's vibrant sweetness.
Go to Recipe
12. Watermelon Cucumber Basil Lemonade
Tired of drinking lemonade the same way? Not with this recipe you don't have to. Watermelon and cucumber make a classic combination of sweet and fresh flavors that hit the spot every time. With the basil's herbaceous touch, each sip leaves an aromatic aftertaste that keeps you coming back for more.
Go to Recipe
13. Watermelon Juice
Easy to make, refreshing, deliciously sweet, and packed with great nutrients, it's no wonder watermelon juice is such a beloved beverage. With only two essential ingredients, you will have no trouble putting together a large pitcher to enjoy at any time. This drink is also quite versatile, so you can even play around with different ingredients to explore new flavor combinations.
Go to Recipe
14. Watermelon Cooler
This excellent thirst-quencher is a combination of sweet watermelon and tart lemon, with the frosty consistency of a slushy. Each sip brings an invigorating touch that keeps you cooled and refreshed on hot summer days. Even better, it requires only three ingredients and a simple blend, how easy is that?
Go to Recipe
15. Raspberry Watermelon Lemonade
Summer fruits coalesce into a splendor of flavors with this raspberry watermelon lemonade. The watermelon's vibrant sweetness is freckled with sweet-tart notes from the raspberry and lemon, creating a delightfully bright beverage. It makes a fantastic addition for various occasions, such as outdoor parties, casual dinners, picnics, or just a leisurely sip on a daily basis.
Go to Recipe
16. Spicy Watermelon Margaritas
We promise the heat this cocktail brings is nothing like the one you try to run from when summer comes around. The jalapeños offer a spicy kick that's mellowed out by the fruity and floral sweetness of the tequila and watermelon purée, with added specks of brightness from the lime juice. Serve this drink with tacos, nachos, or salsa for a flavorful Mexican-themed meal.
Go to Recipe
17. Watermelon Frozen Gin & Tonic
Gin and tonic is a classic favorite, but have you tried combining it with watermelon? The fruit brings a gorgeous sweetness that seamlessly harmonizes with the bright citrus notes and creates a beautiful melody of summery flavors. This recipe uses frozen watermelon cubes, which gives the drink a coolness that—unlike ice—won't dilute the drink.
Go to Recipe
18. Watermelon Peach Smoothie
Watermelon is delicious enough on its own in a smoothie, but pair it with peaches and the drink will be something on the cusp of magic. Peaches come with an enchantingly sweet aroma that melts seamlessly into the watermelon's freshness. Together, they create a luscious drink that will have you spellbound from the very first sip.
Go to Recipe
19. Coconut-Watermelon Mojito
It's almost impossible to talk about summer drinks without mentioning mojitos. With the addition of coconut and watermelon, the light drink is colored with a tropical sweetness that makes it so much more captivating. Throw together a large batch to serve at your next get-together and you're all set for a good time.
Go to Recipe
20. Bananas & Strawberries Watermelon Smoothie
This smoothie is a luscious blend of bananas, strawberries, and watermelon, with the addition of Greek yogurt and mint leaves. The result is a dreamy drink infused with tropical flavors and natural sweetness. On top of being delicious, it's also nutritionally balanced, so you can stay healthy while enjoying this delectable beverage.
Go to Recipe
21. Frozen Watermelon Daiquiri
Keeping things minimal but still flavorful, this frozen watermelon daiquiri is another ideal choice for summer entertainment. The recipe requires only four ingredients and a simple blend, creating a balance of sweet and sour flavors. Since it's frozen, each sip melts straight onto your tongue with a coolness that immediately chases away the summer heat.
Go to Recipe
22. Watermelon Piña Coladas
If you like Piña Coladas, you'll undoubtedly love this watermelon spin-off version. It intertwines the watermelon's bursting sweetness with the drink's signature creamy pineapple and coconut taste and blends them into a velvety smooth consistency. Served in a watermelon bowl, this cocktail makes a stunning and eye-catching centerpiece for all your outdoor festivities.
Go to Recipe
23. Watermelon Rose Drink
Also known as Mohabbat Ka Sharbat, this watermelon rose drink is a popular Indian beverage that can often be found on the streets of Delhi and many other places. It's made of milk, watermelon, rooh afza (rose syrup), and a few (optional) rose petals as garnish.
More than just an aesthetically pleasing drink, Mohabbat Ka Sharbat is a beautiful collision of sweet, floral, and ambrosial flavors. With a delicate taste and soothing qualities, this is the ideal drink to casually enjoy on those hot summer evenings.
Go to Recipe
24. Watermelon Hibiscus Agua Fresca
Agua frescas are incredible thirst-quenchers, even more so with the addition of watermelon. This drink is fresh and sweet but sparkles with zesty hints from the lime juice and the floral, aromatic notes from the hibiscus. The flavor combination sounds a bit odd, but give it a try and you'll be pleasantly surprised.
Go to Recipe
25. Watermelon Blackberry Martini
Martini is classically simple and great as is, but you can always jazz it up with a few extra ingredients to explore new, exciting flavors. This recipe infuses the cocktail with the fruits' deep sweetness and bright tart notes, creating a flavor concoction that perfectly captures the elegance of summer nights.
Go to Recipe
With minimum ingredients and preparations, we have no doubt that you'll be able to put together these drinks in the blink of an eye. Give them a try and let us know how it went, and if you're looking for other nourishing beverages, find them in our extensive collection of healthy juice recipes.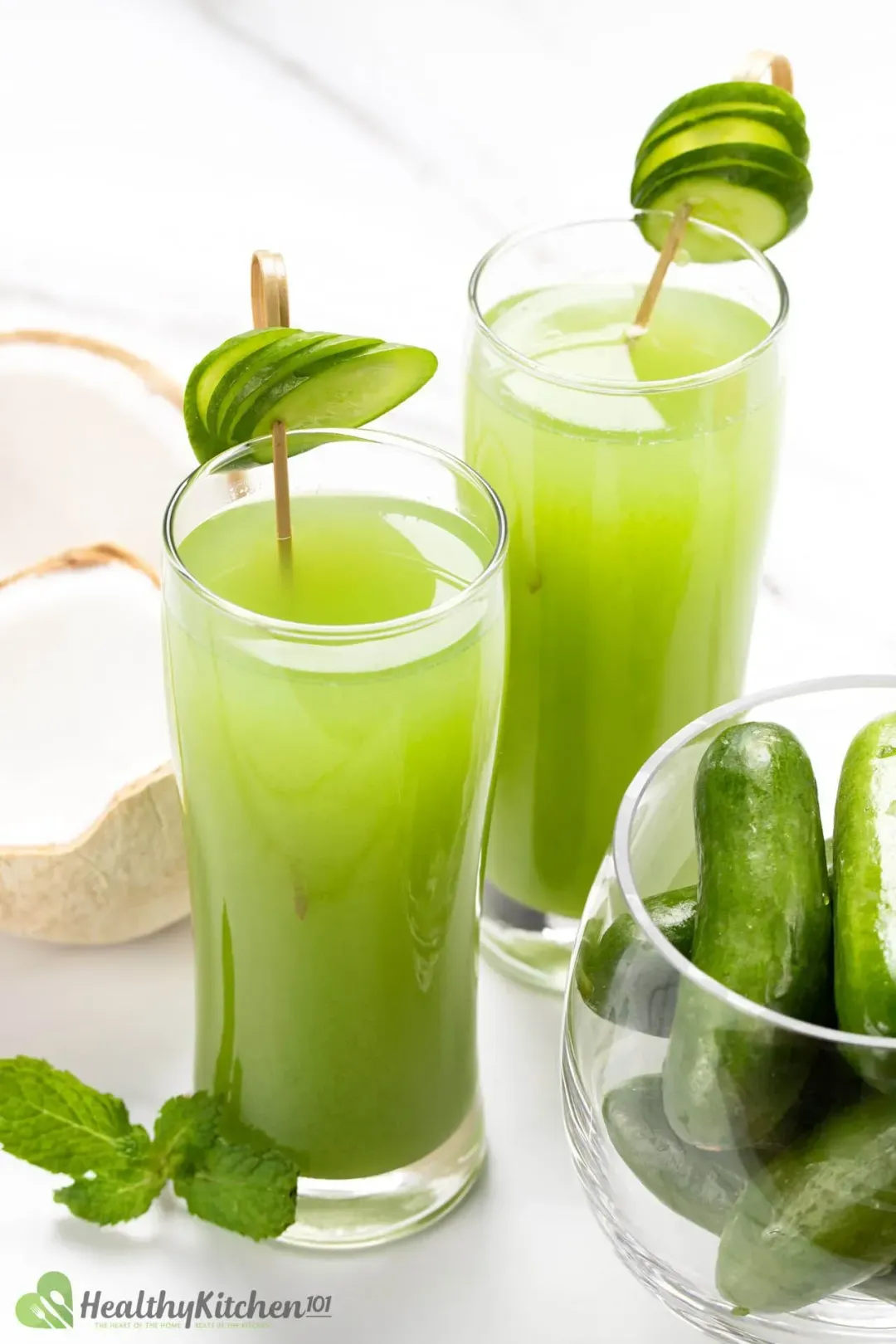 Previous Recipe
10 Best Cucumber Juice Recipes
10 Best Cucumber Juice Recipes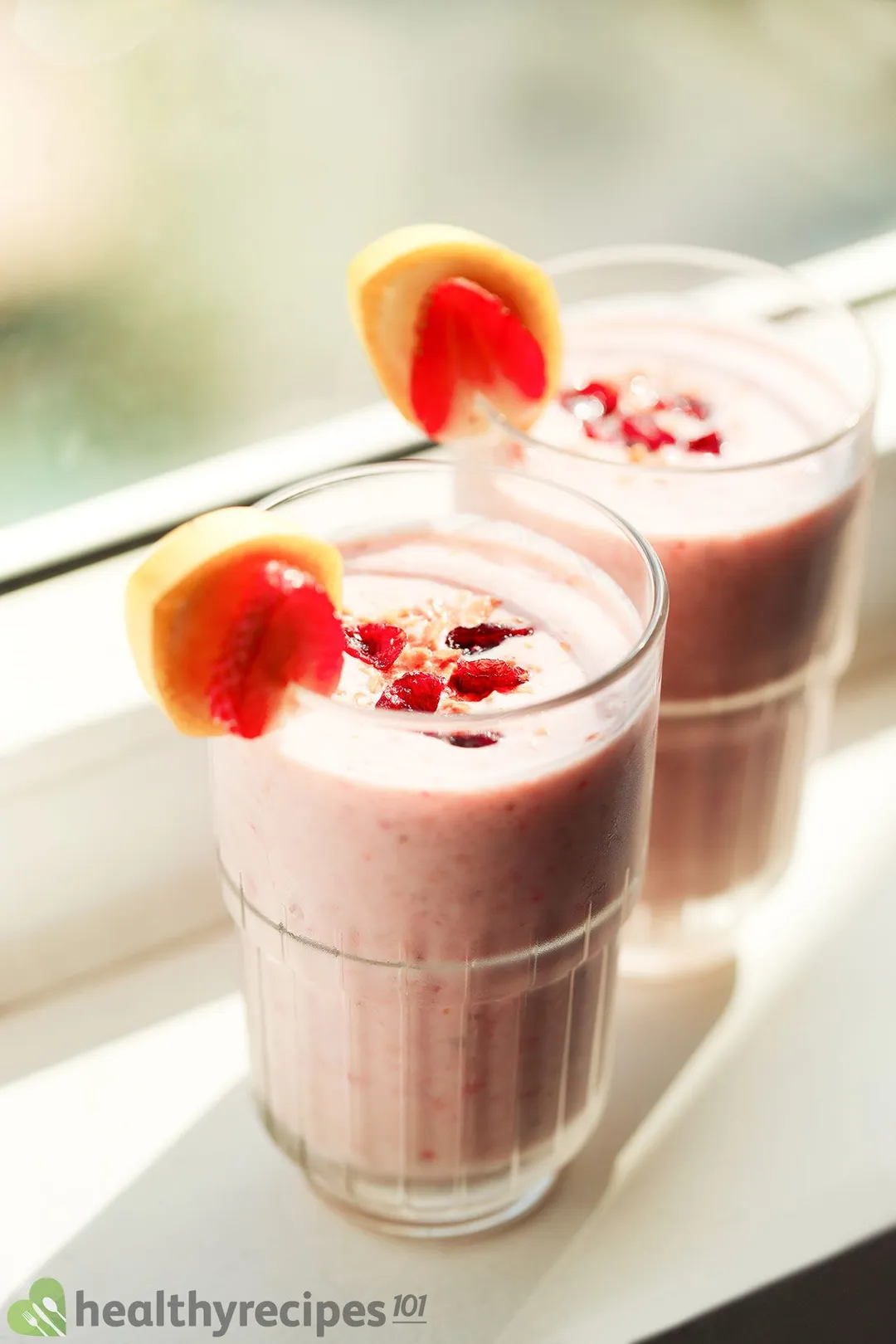 Next Recipe
Jamba Juice Recipes
Jamba Juice Recipes
Writer, Author
Luna Regina is an accomplished writer and author who dedicates her career to empowering home cooks and making cooking effortless for everyone. She is the founder of HealthyKitchen101.com and HealthyRecipes101.com, where she works with her team to develop easy, nutritious recipes and help aspiring cooks choose the right kitchen appliances.
Comments/ Reviews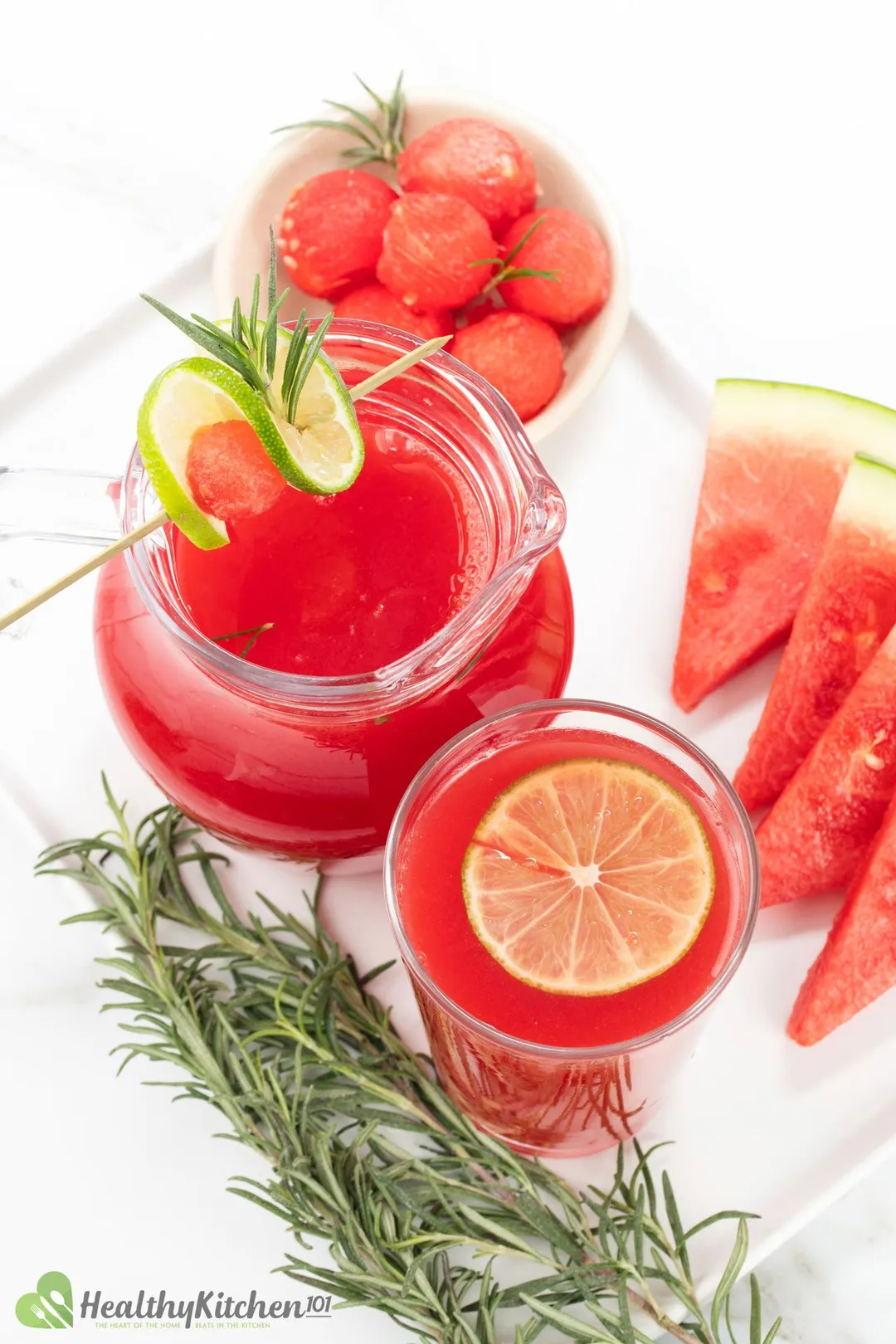 Love watermelon lemonade, it was very, very good.