With vibrant colors, tantalizing aroma, and a unique tangy-sweet taste, these passion fruit juice recipes transport your taste buds to a tropical paradise in a sip of a drink. From invigorating morning elixirs to dazzling cocktails, these are some of our favorite ways to enjoy the magical flavors of passion fruit.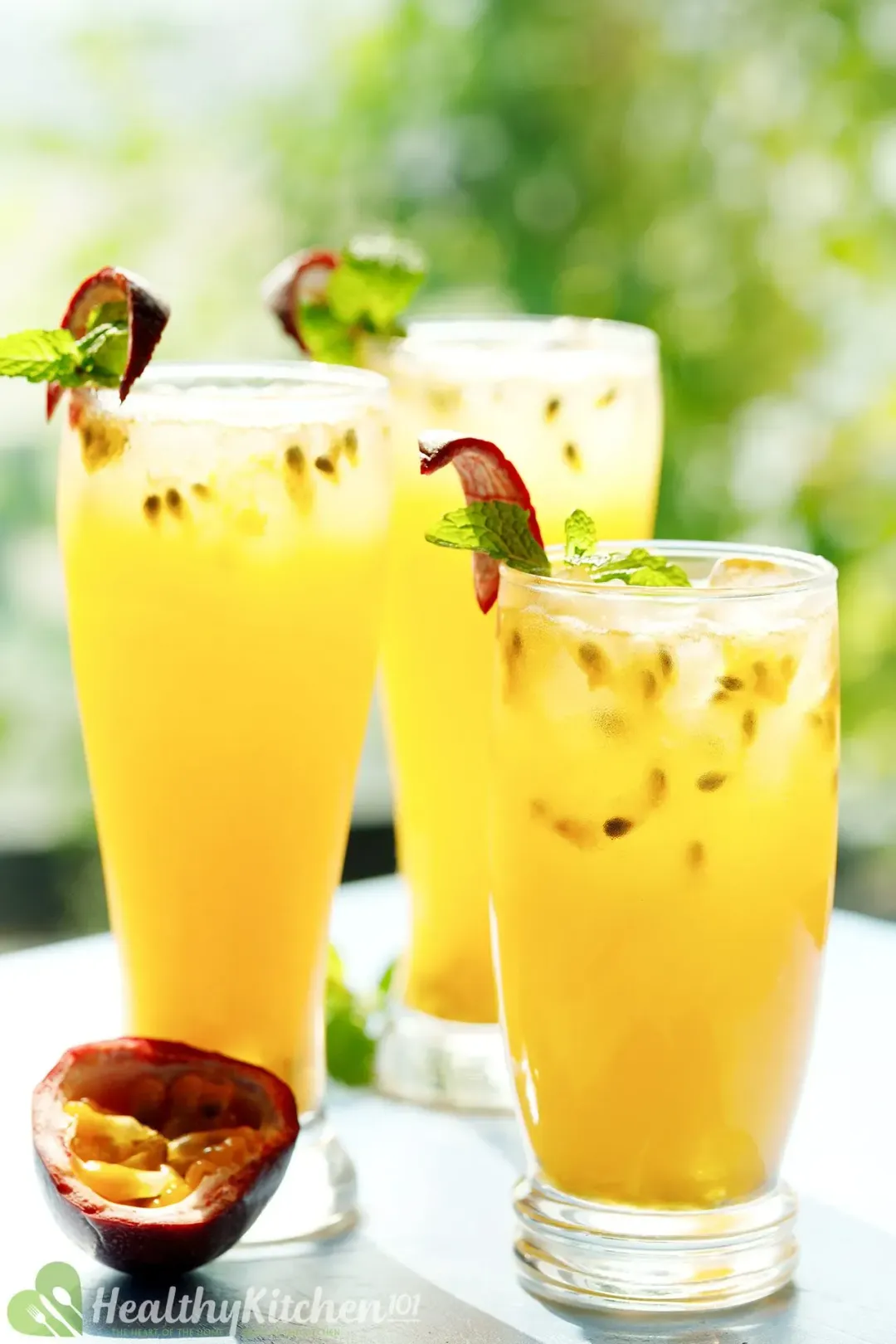 Passion Fruit Juice Benefits
Drinking passion fruit juice is a great way to get essential vitamins and minerals into your body daily. Passion fruit is packed with vitamins A and C and is an excellent fiber source (with 1.87 grams per fruit).
Thanks to its antioxidant properties, this tropical fruit is known to have positive effects on the human body. It helps boost the immune system, fight off infections and inflammation, and increase metabolic health.
Before we go any further, it's important to first make sure that you are not latex allergic or have a history of latex anaphylaxis. This may or may not lead to a reaction to passion fruit, so it's always better to be safe than sorry.
Passion fruit, the star of this juice, is not only delicious as juice but also contains certain nutrients. Below are the most significant benefits:
Rich in antioxidants: this tropical fruit contains various antioxidants, particularly vitamin C, beta carotene, and polyphenols. They play an important role in supporting your immune system and eyesight.
Great source of dietary fiber: fiber is essential for a healthy diet because it keeps the digestive system functioning properly and helps the weight loss process.
If we were aiming only for a vitamin boost, passion fruit wouldn't quite hit the mark. It tastes unique, but fruits like oranges are much better choices when it comes to nutrients (plus, they're easier to find).
However, we found a way around it. We added orange juice and lime juice to not only up the nutritional profile but also enhance the passion flavor. As a result, we turned the cocktail into a delicious bomb of vitamins C and A. These substances boost our immune systems and reduce the risk of various diseases.
Easy and Delicious Passion Fruit Juice Recipes
1. Passion Fruit Juice
Featuring a perfect balance of sweetness and tartness, this passion fruit juice makes a refreshing tropical beverage on hot summer days. It adds a robust and fruity flavor to complement BBQs and outdoor parties.
With only four ingredients and 15 minutes of whisking and mixing, passion fruit juice undoubtedly is the choice to make when hot days come in town. You'll be surprised at how well everything comes together in harmony!
Go to Recipe
2. Passion Fruit Mango Juice
For this mango passion fruit juice, you don't need any high-class equipment or advanced skill to put things together. It's a fool-proof and refreshing drink that's packed with a bunch of health benefits, delivering a strong sweet-sour flavor and a pleasant tropical fragrance.
Go to Recipe
3. POG juice
If you have traveled to Hawaii, you probably have tried POG. POG juice is a delicious blend of passion fruit, orange, and guava juice that screams tropical. Wait until you try my POG Cocktail; it is the perfect way to celebrate happy hour.
Go to Recipe
4. Passion Fruit Margarita
Our passion fruit margarita recreates the classic cocktail but now comes with a fun twist. It's boozy, it's tonic, it's effortless — this easy-to-make beverage guarantees to wake all the taste buds.
Go to Recipe
5. Passion Fruit Vodka
This Passion Fruit Caipiroska is a party in a drink!! Slightly tart, sweet, and super refreshing — this cocktail recipe is made of infused French Vodka, lime, and passion fruit. I dare you to drink just one!!
Go to Recipe
6. Passion Fruit Rum Punch
This Passion Fruit Rum Punch will make you feel like you're sipping a cocktail on the beach!
If you're looking for a passion fruit cocktail that's easy to make, you can't beat this simple four ingredient rum punch. Make a pitcher or glass of this tropical drink recipe and be transported to paradise.
Go to Recipe
7. Fresh Pineapple and Passion Fruit Mojito
This fresh pineapple and passion fruit mojito is the ideal summer cocktail. Serve with plenty of ice, fresh mint and lemon slices. It's also perfect made into a virgin mojito as a refreshing drink.
Go to Recipe
8. Passion Fruit Lemonade
Sweet with a slight tart hint, this passion fruit lemonade will be the best drink you have this summer. Perfect for those dog days of summer.
Go to Recipe
9. Passion Fruit Juice with Lime
Friends, I'm pumped for you to try a little sip of sunshine today. If you've ever wanted to know how to make Passion Fruit Juice at home (without a fruit juicer), you're in luck! Made with just 5 ingredients in mere minutes, this simple, fuss-free recipe brings the taste of the tropics to your table. As a bonus, making your own passion fruit drink means there are no preservatives or artificial ingredients anywhere to be found. 
Go to Recipe
10. Brazilian Passion Fruit Cocktail
If you love the Brazilian national drink—the classic lime Caipirinha—you'll love this passion fruit version. This 3-ingredient passion fruit cocktail, called a Caipirinha de Maracuja in Portuguese, is sweet, tart and perfect for any time of the year.
Like any other flavor of caipirinha, just pair this Passion Fruit Caipirinha with churrasco, grilled dishes, friends and fun, and you're all set for a memorable day full of the best tropical vibes. Recipe makes 2 servings, but is easily doubled.
Go to Recipe
How to Make Passion Fruit Juice
If you've never worked with this seedy fruit before, some of you might be confused, wondering what to do. That's okay because we're here to help.
As you cut the purple sphere open, you'll see a mixture of orange flesh with seeds sticking to the inside of the fruit. We need to extract the juice from the orange flesh, so first, scoop all the innards out into a small bowl with a spoon.
Next, place a sieve over another bowl and transfer the passion fruit pulp into it. Use a spoon to press and scrape the mixture around and extract the juice.
Do this for 2-3 minutes and you'll have a small bowl of passion juice. It might look like just a little bit, but the flavor is very concentrated.
We're using the juice and discarding the seeds for now, but you can add some to your cocktail as decoration if you like. Or, you can leave your friends guessing what's in the drink.
The flesh of the passion fruit is different from other juicing fruits. This fruit vesicle is mushy so that a juicer can yield very little liquid from it.
The best way to juice passion fruit is to shred mango flesh into small pieces, blend them with a little water in a food processor, and strain the pulp out through a fine strainer.
A small tip is to blend at the slowest degradation rate so that the pulp can extract as much as possible while the seeds don't disintegrate. The final step is to pour the liquid through a fine-mesh sieve over a glass jar.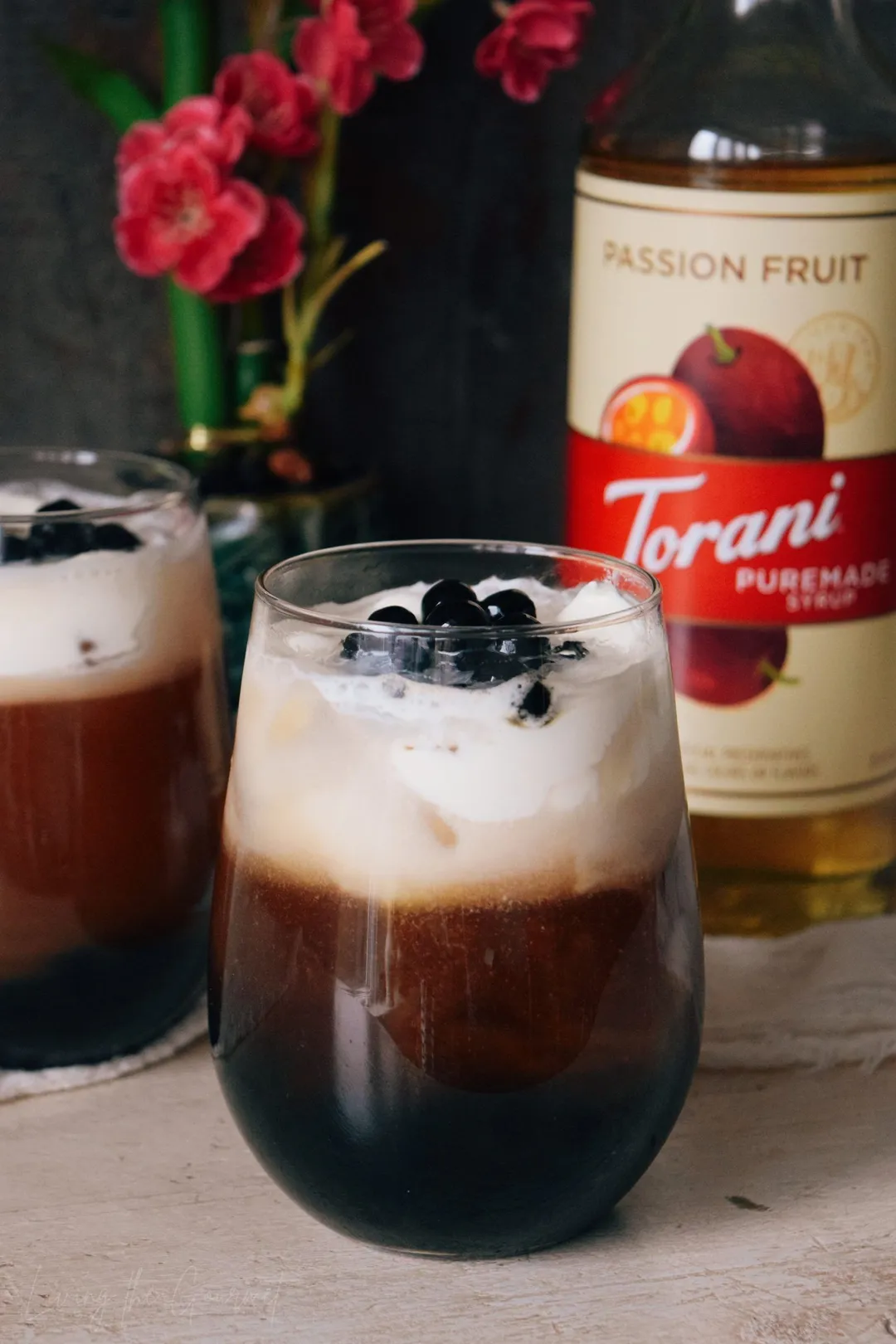 Previous Recipe
Boba Drinks
Boba Drinks
Head Chef, Culinary Consultant
Tuyet Pham is an award-winning Saigonese chef who believes that joy is the secret ingredient to delicious food. At Healthy Recipes 101, Tuyet personally tests and simplifies every recipe, ensuring maximum flavor with minimal effort. With a background at prestigious French restaurants P'TI Saigon and Le Corto, Tuyet knows how to make every dish exceptional.
Writer, Author
Luna Regina is an accomplished writer and author who dedicates her career to empowering home cooks and making cooking effortless for everyone. She is the founder of HealthyKitchen101.com and HealthyRecipes101.com, where she works with her team to develop easy, nutritious recipes and help aspiring cooks choose the right kitchen appliances.
Comments/ Reviews