Today's passion fruit juice recipe, featuring a perfect balance of sweetness and tartness, makes for a refreshing choice on hot summer days. With only four ingredients, this juice adds pleasantly robust and fruity flavors to your big meals and toasts.
Why Is It Called Passion Fruit?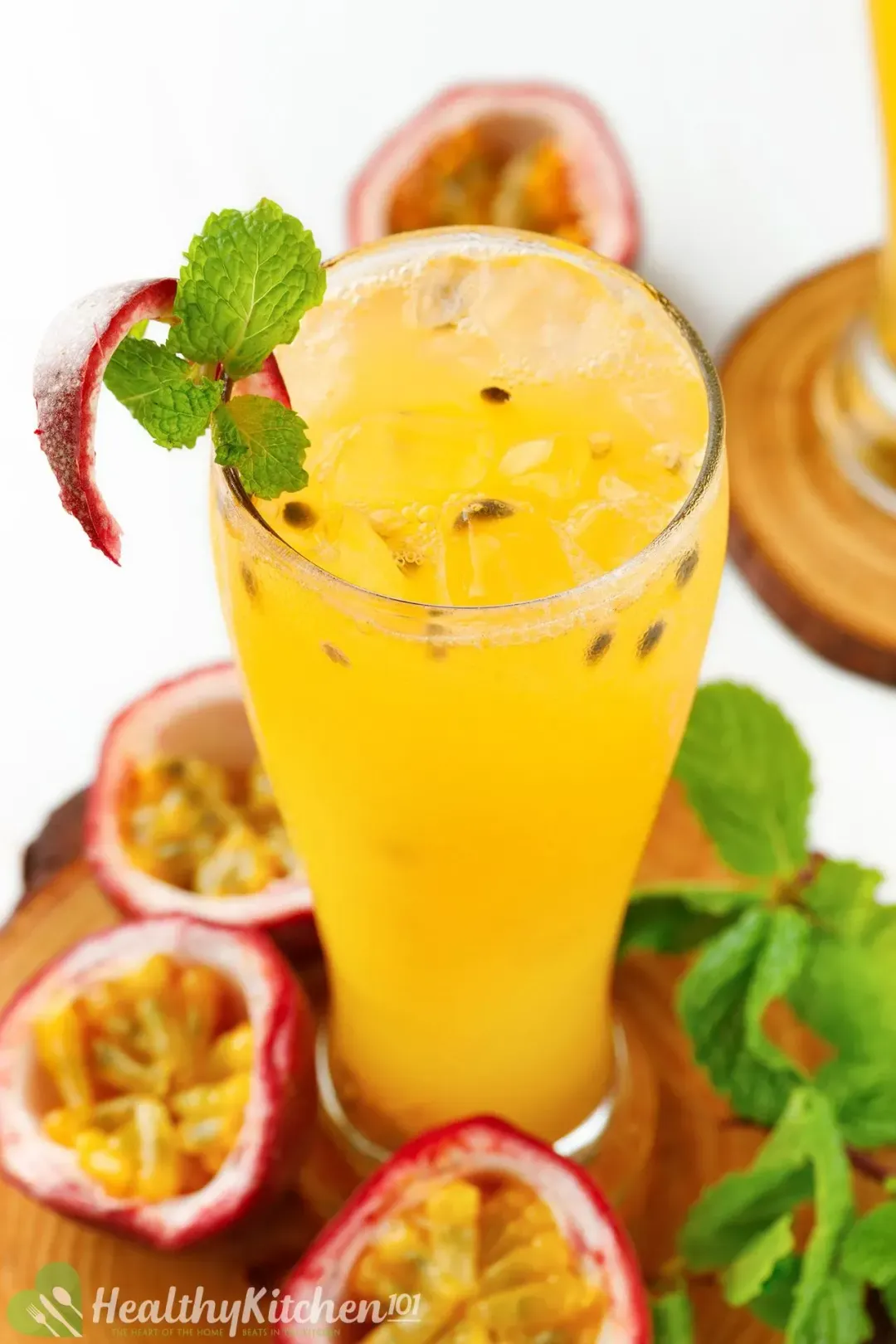 Passion fruit is a round, golf-ball-sized tropical fruit that belongs to the Passiflora family. It comes with a thick shell that gets glossy and wrinkly when ripe.
Passion fruit is mostly grown in tropical environments and subtropical climates, on perennial vines with blooming large white or purple flowers. It's also known by the name "Maracujá" in Brazil or "Lilikoi" in Hawaii.
Inside the fruit, you'll find a bright orange, jelly-like pulp that contains edible crunchy black seeds. The pulp and seeds of passion fruit are usually eaten together as a whole and deliver a citrusy taste.
There are two popular varieties of passion fruit — yellow and purple. Both of them can be used to make juices. 
Yellow-skin passion fruit is significantly larger and more sour in taste than the purple ones. This variety is commonly used in Brazil as an ingredient in fresh juices and fruit preserves such as jam, jelly, and marmalade.
Purple-skin passion fruit is mostly available on the American continents. It's smaller in size and comes with a sweeter taste in comparison to its yellow counterpart, making it more suitable to consume fresh.
Nowadays, you can easily find fresh passion fruit widely available on the market. Frozen pulp and purée of passion fruit are also sold separately at food stores.
Is Passion Fruit Juice Healthy?
Yes, absolutely.
Drinking passion fruit juice is a great way to get essential vitamins and minerals into your body daily. Passion fruit is packed with vitamin A and C and is an excellent fiber source (with 1.87 grams per fruit).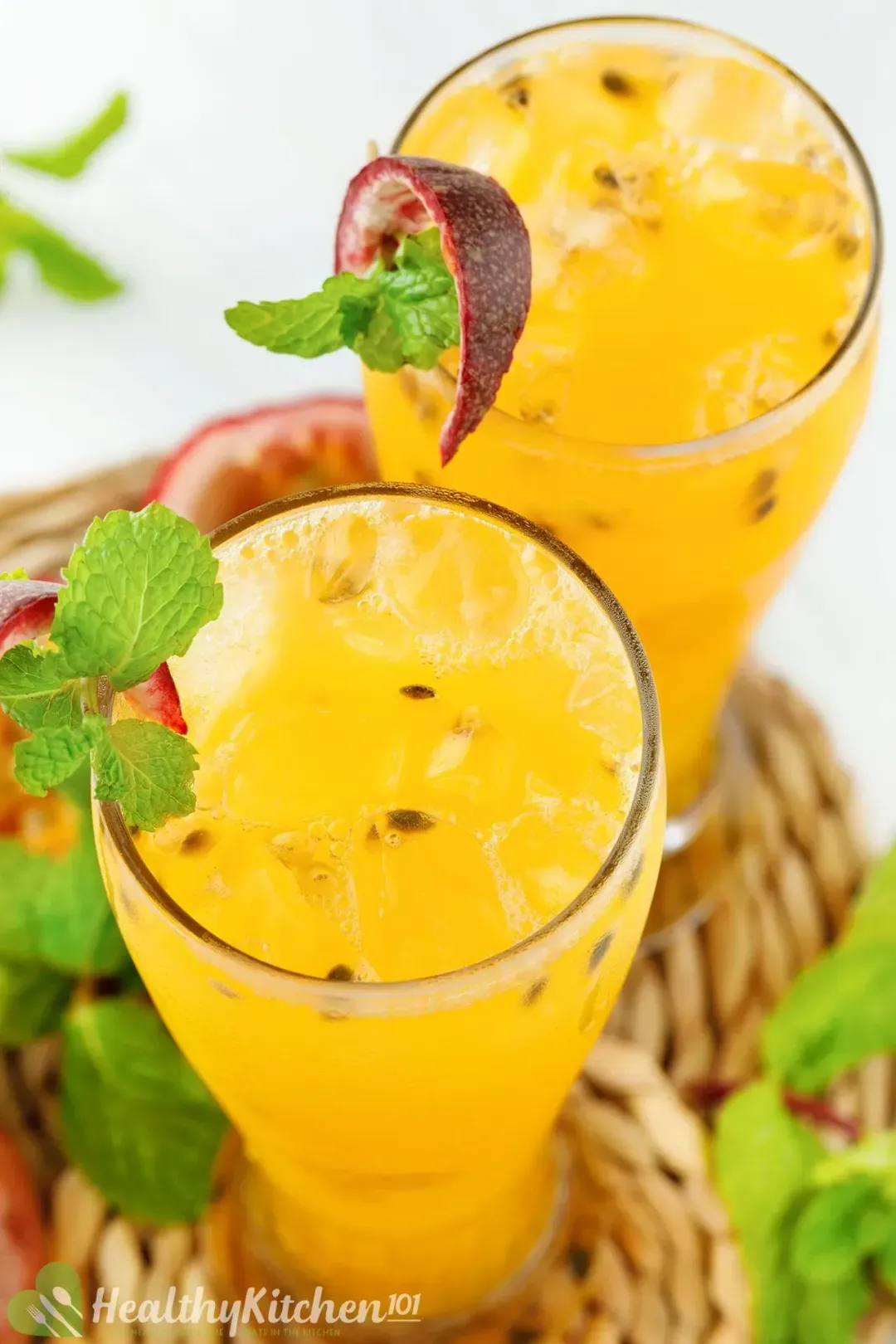 Thanks to its antioxidant properties, this tropical fruit is known to have positive effects on the human body. It helps boost the immune system, fight off infections and inflammation, and increase metabolic health.
Before we go any further, it's important to first make sure that you are not latex allergic or have a history of latex anaphylaxis. This may or may not lead to a reaction to passion fruit, so it's always better to be safe than sorry.
If you crave more fruity flavors aside from just passion fruit alone, then this healthy passion fruit mango juice recipe could be the next stop to visit.
How To Choose Passion Fruit for Juicing
1. How To Tell If a Passion Fruit Is Ripe
Physical traits such as color, texture, and thickness can tell many things about the ripeness of passion fruit.
Passion fruits are usually harvested when they're semi-ripe (after they just turn greenish-yellow or light purple). They'll start to get wrinkly when ripe (but not too much), the skin color will turn darker, and the fruit pulp will also become sweeter.
When buying passion fruits to make juices, it's important to look for the ones with deep yellow or deep purple skins. Use your hands to press the fruit gently to check if it's firm on your palm, not too soft, and not too hard.
2. How To Tell If a Passion Fruit Has Gone Bad
You can easily spot yucky passion fruits by their skin texture.
Fruits with black dots, tiny holes, bruises, or large soft spots should be discarded. These signs indicate that the pulp inside has already gone moldy.
Although wrinkling is normal, too many wrinkles on the skin can also mean that the fruit has begun to spoil. If the passion fruits were smooth-skinned when you bought them, a period of two to three days will be enough for them to grow ripe.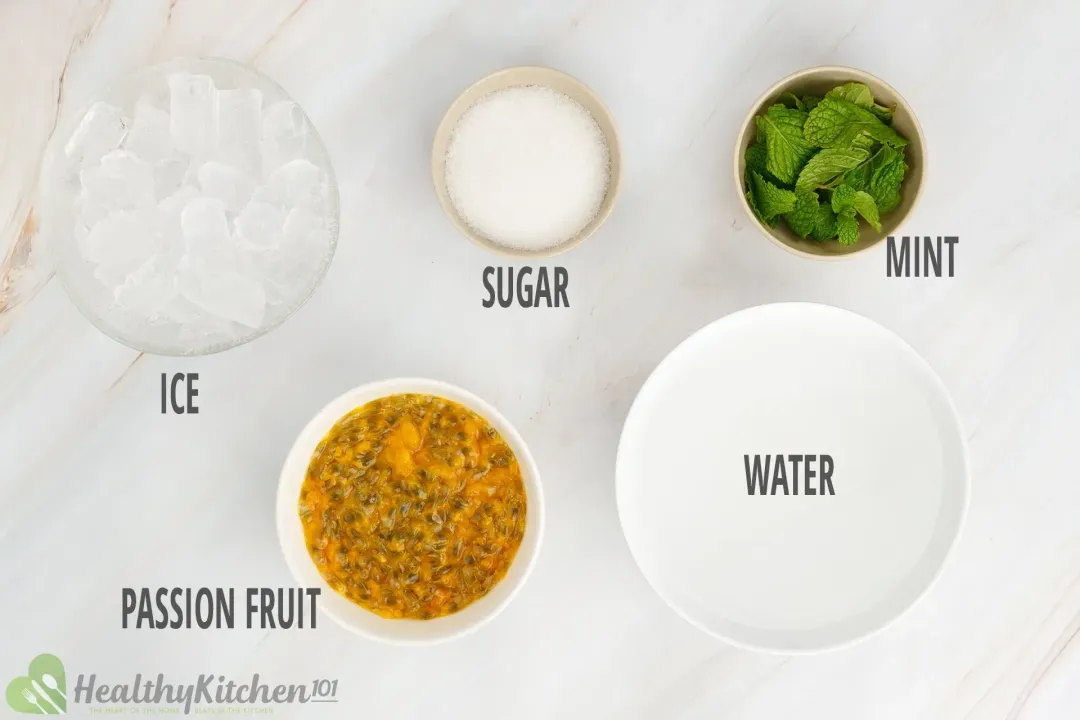 How To Juice With a Blender
There are two ways to juice passion fruit — use a blender or strain it with a mesh sieve. Although we're using a mesh sieve in today's passion fruit juice recipe, here's another quick guide on how to juice it with a blender:
After scooping the pulp out of the shell, put it in a blender with water. Run it at slow speed for a minute until it's fine as a purée (without actually disintegrating the small black seeds).
Next, pour the passion fruit purée through a fine-mesh sieve set over a bowl, use a spoon to press it through, then discard the remainder. After the first straining, if there are still tiny seeds left in the juice, simply do a second strain by squeezing it through a muslin cloth or cheesecloth.
Can I Drink This Juice Every Day?
Yes, you can, in moderate amounts, of course.
With passion fruit juice, the addition of sweeteners to balance out the citrusy flavor is totally adjustable to your taste. You can also leave the sugar out completely and dilute it by whisking in more ice cubes or mixing the juice with sparkling water. 
Passion fruit can also be used to make salad dressing or fruit syrup and is often consumed as a condiment with meals.
How Long Does This Juice Last?
Passion fruit juice can last up to a week in the fridge. It can be stored in large pitchers, mason jars, or even water bottles — anything will do, as long as it comes with a lid that seals tight.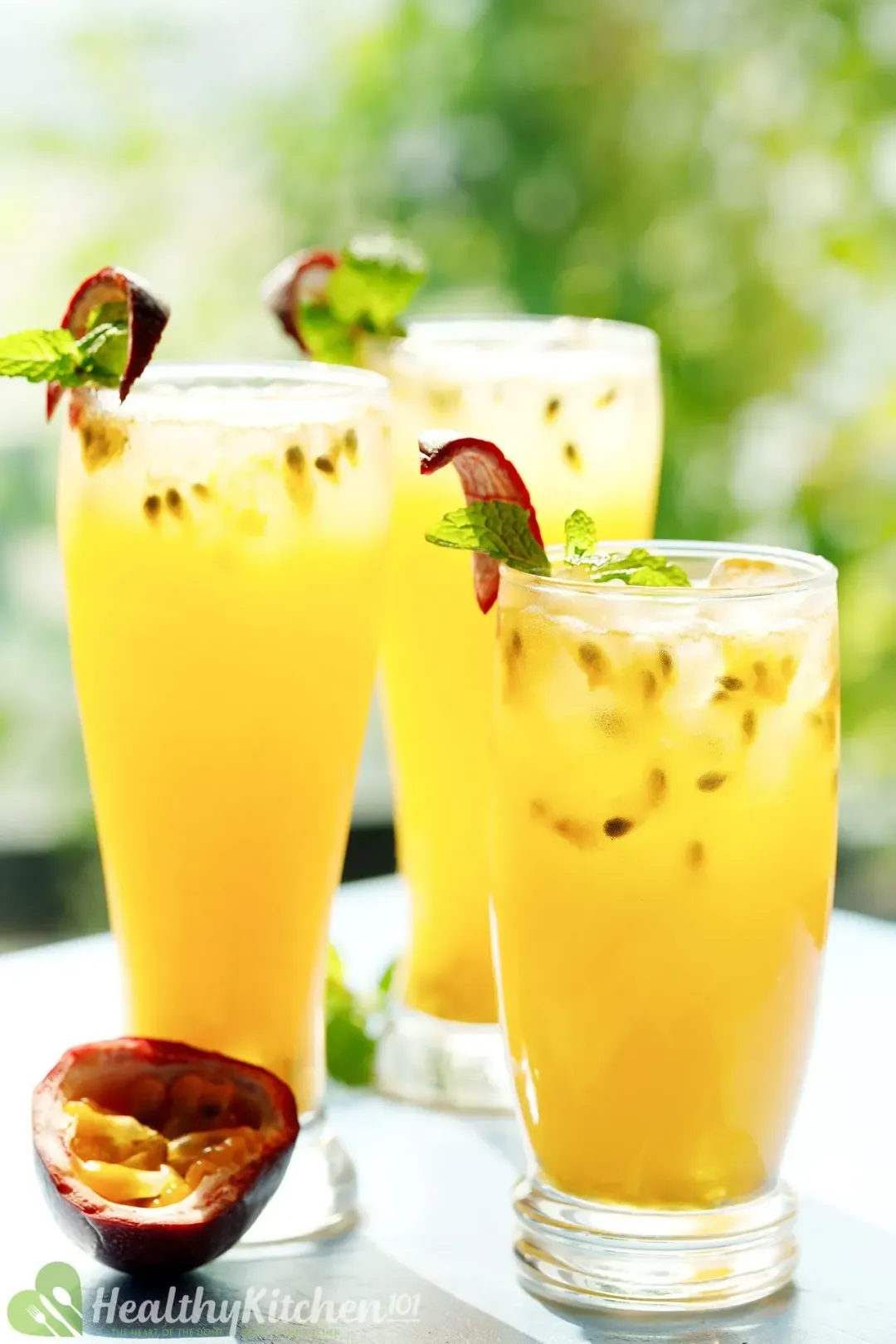 Fruit juice usually separates after refrigerating. This happens all the time and doesn't necessarily indicate that the juice has gone bad. After thawing, simply shake up the bottle to make the juice and the water combined again.
Passion fruit juice can last much longer in the freezer — up to 6 months.
You can also pour the juice into ice cube trays, allow them to be frozen solid, then transfer them into a freezer bag. These passion fruit ice cubes can be saved for months to enjoy in party cocktails.
For more healthy drinks to put into your collection, check out our healthy juice roundup.
Passion Fruit Juice
Today's passion fruit juice recipe, featuring a perfect balance of sweetness and tartness, makes for a refreshing choice on hot summer days. With only four ingredients, this juice adds pleasantly robust and fruity flavors to your big meals and toasts.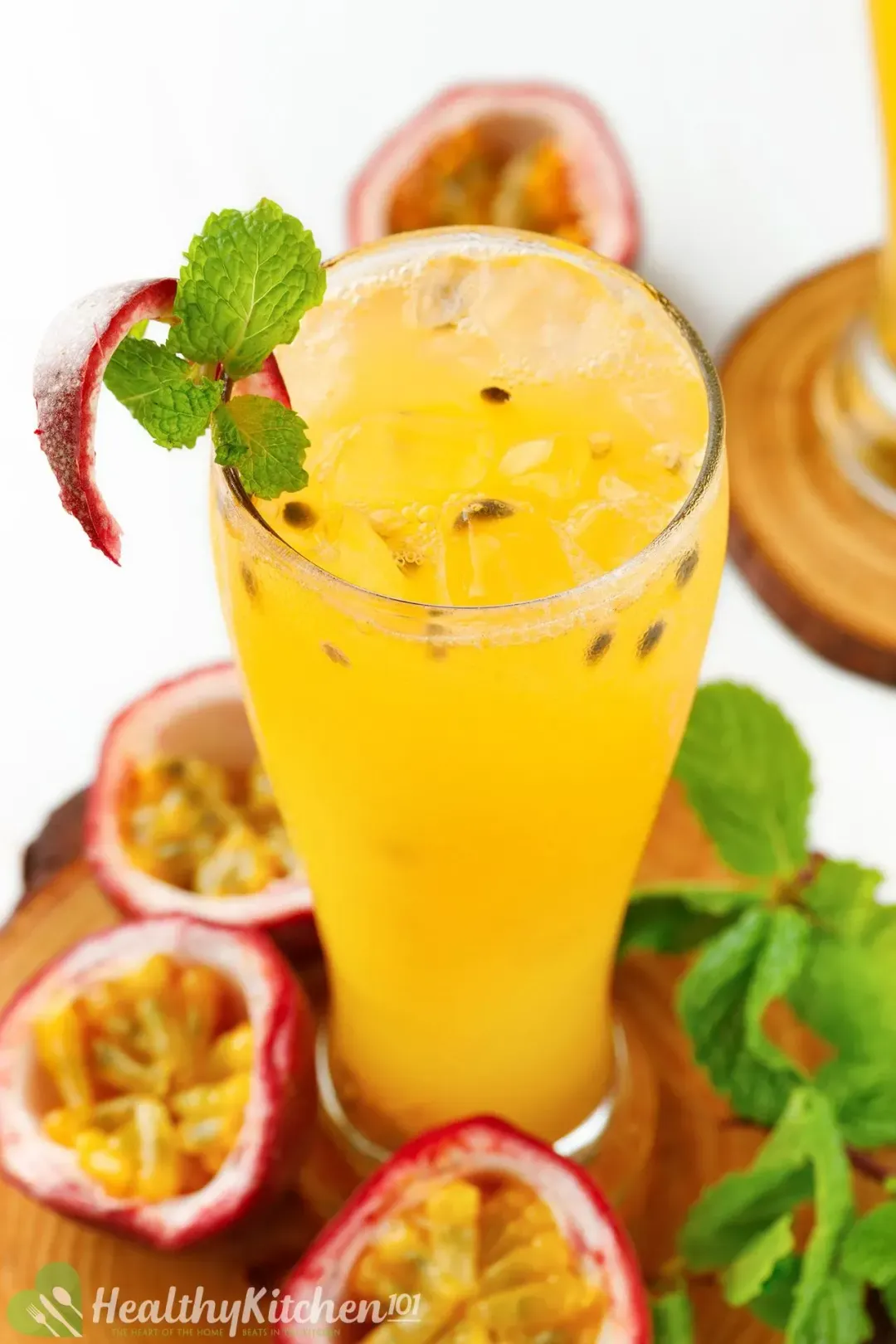 prep TIME

15 mins

total TIME

15 mins
COURSE

Beverage

CUISINE

Global

SERVINGS

CALORIES

67 kcal
INGREDIENTS
10 oz

passion fruit

(raw, yields 4.6 fl oz juice)

2 tbsp

mint

(for garnish)
INSTRUCTIONS
1
Use a knife to cut the 10 oz passion fruit in half crosswise. Scoop the pulp out and into a bowl.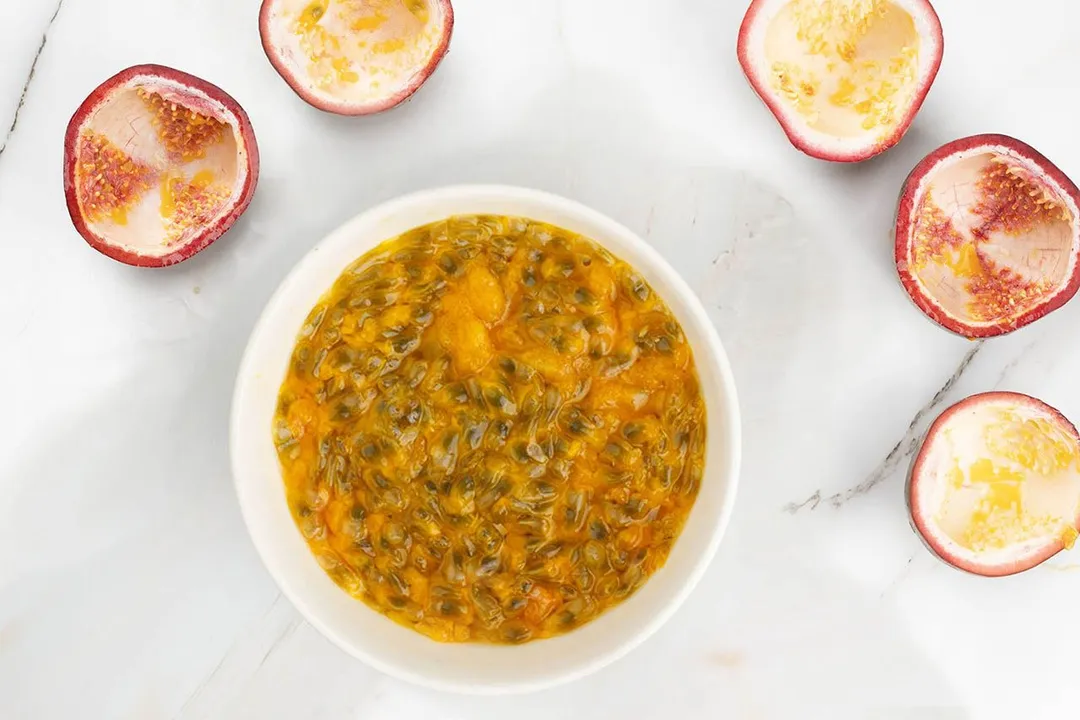 2
Pour the seedy passion fruit pulp into a mesh sieve set over a big bowl, use a large spoon to press as much juice through as possible.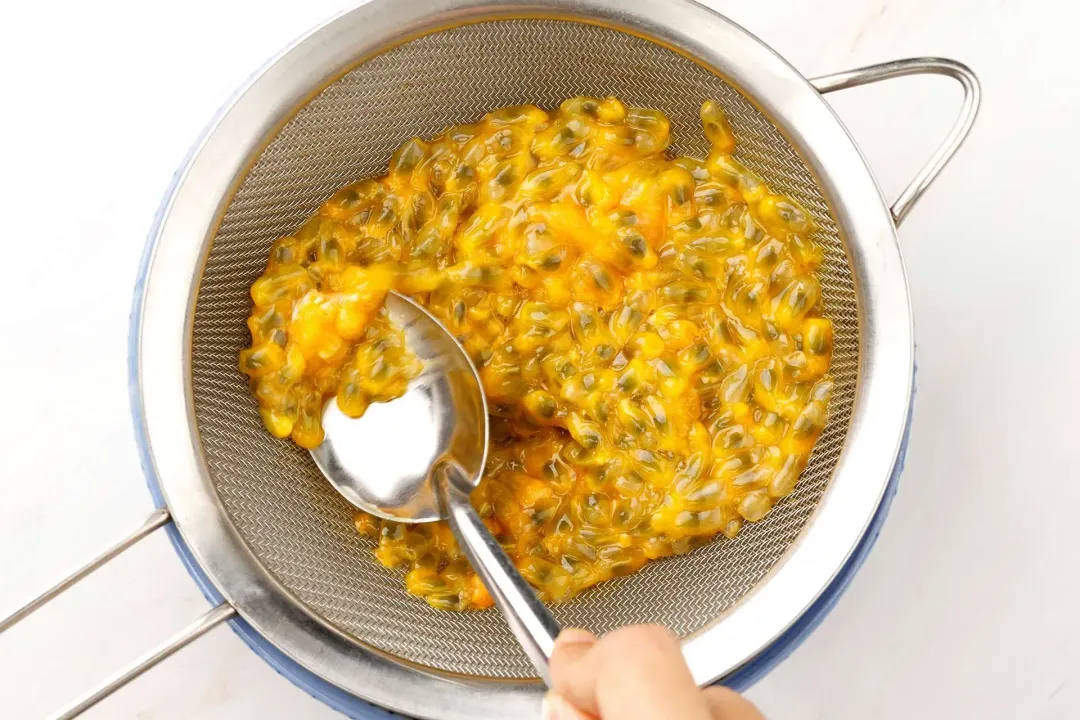 3
In a pitcher, whisk passion fruit juice together with 2 cups water and 4 tbsp sugar. Stir to combine.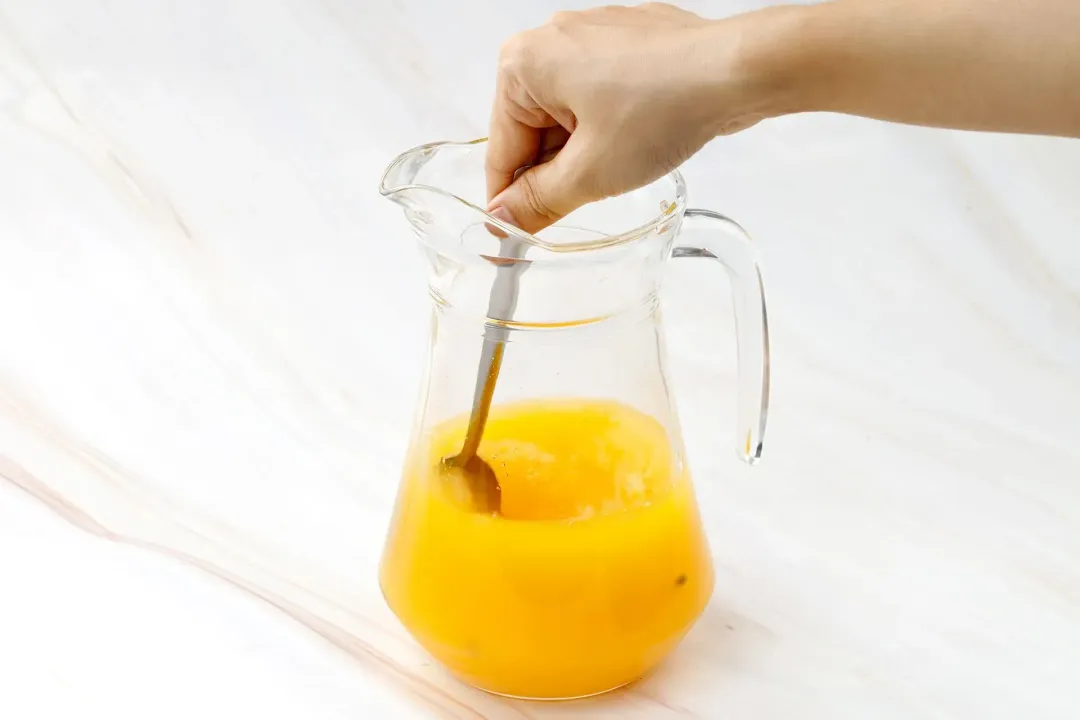 4
Pour the juice over ice, garnish with mint leaves and serve chilled.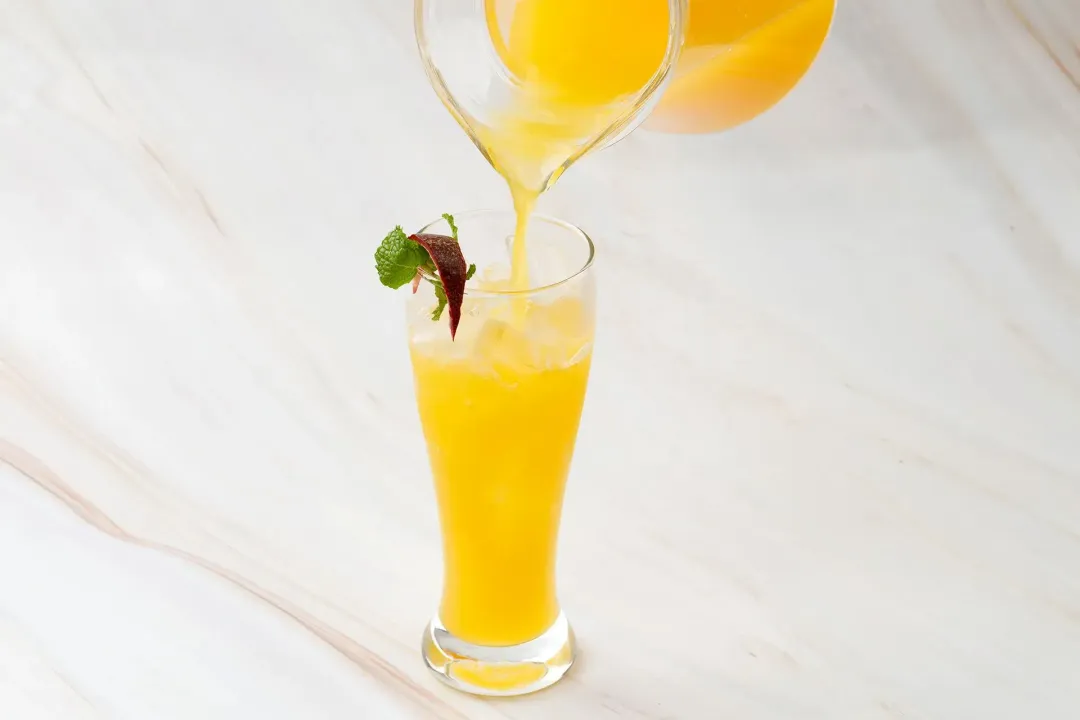 Note:
Sometimes, the edible seeds can be saved after straining and added to the serving cups for extra crunch and garnish.
NUTRITION
Nutrition Facts
Passion Fruit Juice
Amount Per Serving (1 serving)
Calories 67
% Daily Value*
* Percent Daily Values are based on a 2000 calorie diet.
Keywords: health benefits of passion fruit juice, passion fruit juice, passion fruit juice recipe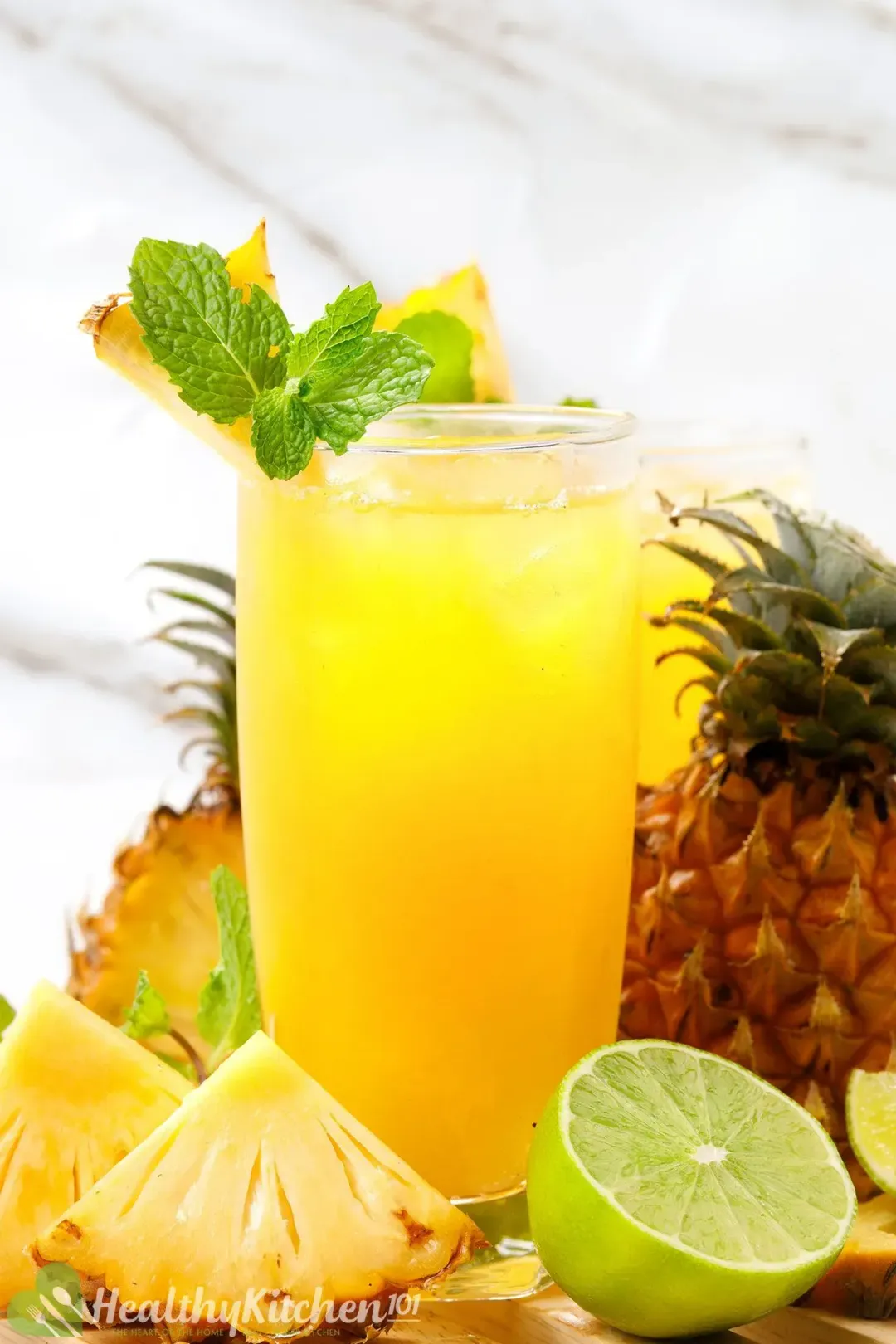 Previous Recipe
Apple Cider Vinegar and Pineapple
Apple Cider Vinegar and Pineapple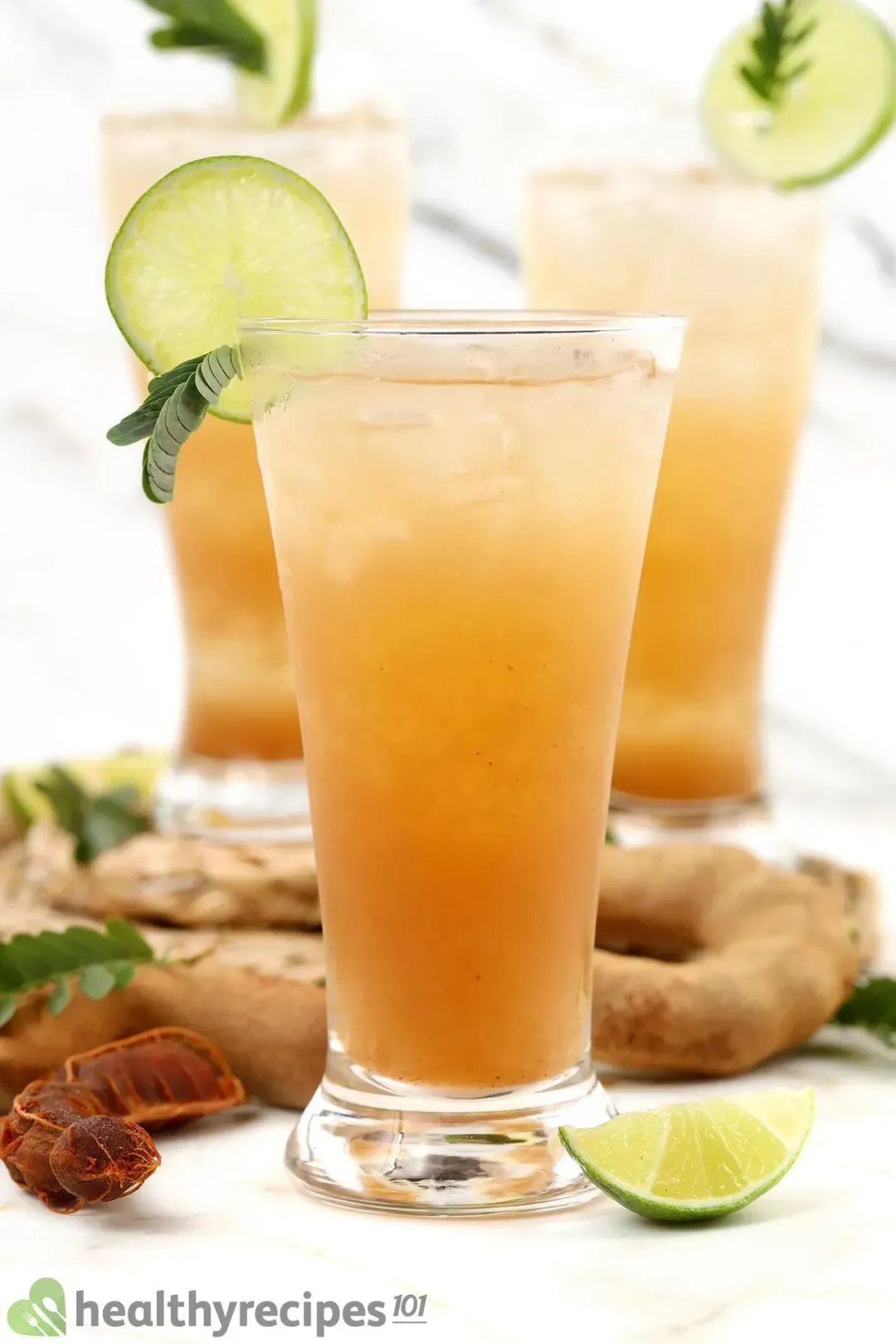 Next Recipe
Tamarind Juice
Tamarind Juice
Head Chef, Culinary Consultant
Tuyet Pham is an award-winning Saigonese chef who believes that joy is the secret ingredient to delicious food. At Healthy Recipes 101, Tuyet personally tests and simplifies every recipe, ensuring maximum flavor with minimal effort. With a background at prestigious French restaurants P'TI Saigon and Le Corto, Tuyet knows how to make every dish exceptional.
Writer, Author
Luna Regina is an accomplished writer and author who dedicates her career to empowering home cooks and making cooking effortless for everyone. She is the founder of HealthyKitchen101.com and HealthyRecipes101.com, where she works with her team to develop easy, nutritious recipes and help aspiring cooks choose the right kitchen appliances.
Nutrition Reviewer
Lizzie Streit is a Minneapolis-based dietitian and founder of It's a Veg World After All. She completed her MS in Human Nutrition from Drexel University, and is an expert in culinary nutrition, recipe development, and nutrition communications. Lizzie's philosophy is centered around making nutrition recommendations, and especially the advice to eat more vegetables, approachable and realistic. She is excited to be working with the team at Healthy Recipes 101 to ensure that their recipes are both nutritious and delicious.
This is an easy and quite tasty juice.