Picture this: tender, flaky salmon fillets, perfectly cooked and bursting with delectable, gorgeous fillings. That's what you'd get with these easy, healthy, and tasty stuffed salmon recipes. From creamy spinach and feta to zesty lemon and herb, these dishes will transport your taste buds to a paradise of mouthwatering bliss. So, grab your apron and prepare to embark on a culinary adventure to explore the amazing versatility of salmon.
Best Stuffed Salmon Recipes
Now that you know how to prep your salmon filet to perfection, let's check out our highly recommended stuffed salmon recipes.
1. Stuffed Salmon
This stuffed salmon dish is a restaurant delicacy that you can put together in the comfort of your kitchen with little to no trouble. The delicate richness of the salmon harmonizes with the spinach's earthy notes, while the cream cheese brings a softness that melts the flavors right onto your taste buds. Each mouthwatering bite is a symphony of textures and tastes, a seamless blend of oceanic goodness and garden-fresh delight.
Go to Recipe
2. Asparagus, Lemon, Basil, and Ricotta Stuffed Salmon Rolls With Lemon Sauce
Taste summer on the tip of your tongue with this delightful dish. It's a beautiful, beaming burst of earthy, herby, and zingy flavors, made all the more spectacular by the rich, creamy lemon sauce. Lunch or dinner, you can count on this dish to immediately brighten the whole meal.
Go to Recipe
3. Crab Stuffed Salmon With Fennel Salad
Seafood lovers, don't miss out on this gorgeous dish of salmon stuffed with crab meat, herbs, sauces, and spices. It's served over a bed of fennel salad and topped with grated cheese and an orange dressing. Have this dish on the dining table for a fine-dining experience that you'll have no trouble recreating.
Go to Recipe
4. Cajun Stuffed Salmon
Cheesy and spicy with a zingy touch, this Cajun stuffed salmon is something pulled straight from our wildest culinary dreams. Even better, it comes together in just 30 minutes while requiring barely any preparation or cooking skill, so you'll have no trouble whipping up a hearty dish in a blink of an eye. Casual meals, last-minute dinners, or fancy celebrations, whatever it is, this is the dish to go for!
Go to Recipe
5. Mediterranean Stuffed Salmon
Feta cheese, sun-dried tomato, and spinach stuffed inside salmon make a splendid meal that you'll have a hard time resisting. Their tangy, sweet-tart, and earthy flavors do a wonderful job of lifting the fish's delicate taste, altogether creating a perfect harmonized taste. And the best part? It requires only five ingredients and 30 minutes in the oven!
Go to Recipe
What Is Stuffed Salmon Made of?
A classic stuffed salmon dish doesn't require complicated ingredients. With a quick trip to the grocery store, you will find everything you need – salmon filets, vegetables, cream cheese, and seasonings. 
Salmon: Salmon is an excellent source of protein and omega-3 fatty acids, which offer many health benefits. For those who aren't confident in their knife skills, you can buy pre-cut salmon at the store. The ideal salmon filet is about one to two-inch thick.
Spinach: With its mild sweetness and tender leaves, baby spinach is great for stuffing. If you don't have fresh spinach on hand, frozen baby spinach works fine. However, you should avoid buying mature spinach with hard stems, as this can affect the texture of your stuffed salmon.
Mozzarella and parmesan cheese: These add a rich note to our stuffing. Go for low-moisture mozzarella that melts better when cooked.
Cream cheese: Cream cheese helps to blend all the stuffing ingredients into a silky-smooth mixture. If you are vegan or lactose-intolerant, you can opt for plant-based cream cheese instead. 
What Else Can You Add to the Stuffing?
If you are looking for some add-ins for your stuffed salmon dishes, try out these options:
Dried fruits: Raisins, dried cranberries, and apricots possess a sweet and sour taste that complements other ingredients beautifully. 
Roasted nuts: The smokiness and crunch of nuts adds more texture and flavor to the dish. 
Mushrooms: Diced mushrooms sautéed with olive oil are a great vegan addition.
Spices: If you fancy a little kick in your stuffed salmon, add a pinch of chili powder or red pepper flakes. 
How to Prepare Salmon Filet
Prepping a salmon filet may seem a bit intimidating for entry-level home cooks. Don't stress out, as we have some tips to help you out.
Always double-check for pin bones by gently running your hand over the surface of the salmon. If there are any, remove them with a pair of fish bone tweezers. 
Don't rinse your salmon under the faucet, as doing so will cause cross-contamination in your kitchen.
If you are using a frozen salmon filet, thaw it in the fridge for a few hours before cooking. Make sure to pat it dry with a paper towel to remove any moisture. 
Do not slice the salmon filet all the way through; instead, make a small cut in the center to create a pocket for the stuffing. 
With our collection of stuffed salmon recipes, we hope to make cooking this high-quality fish easy and enjoyable for you. If you try out any of our recipes, feel free to share your experiences by leaving a comment below.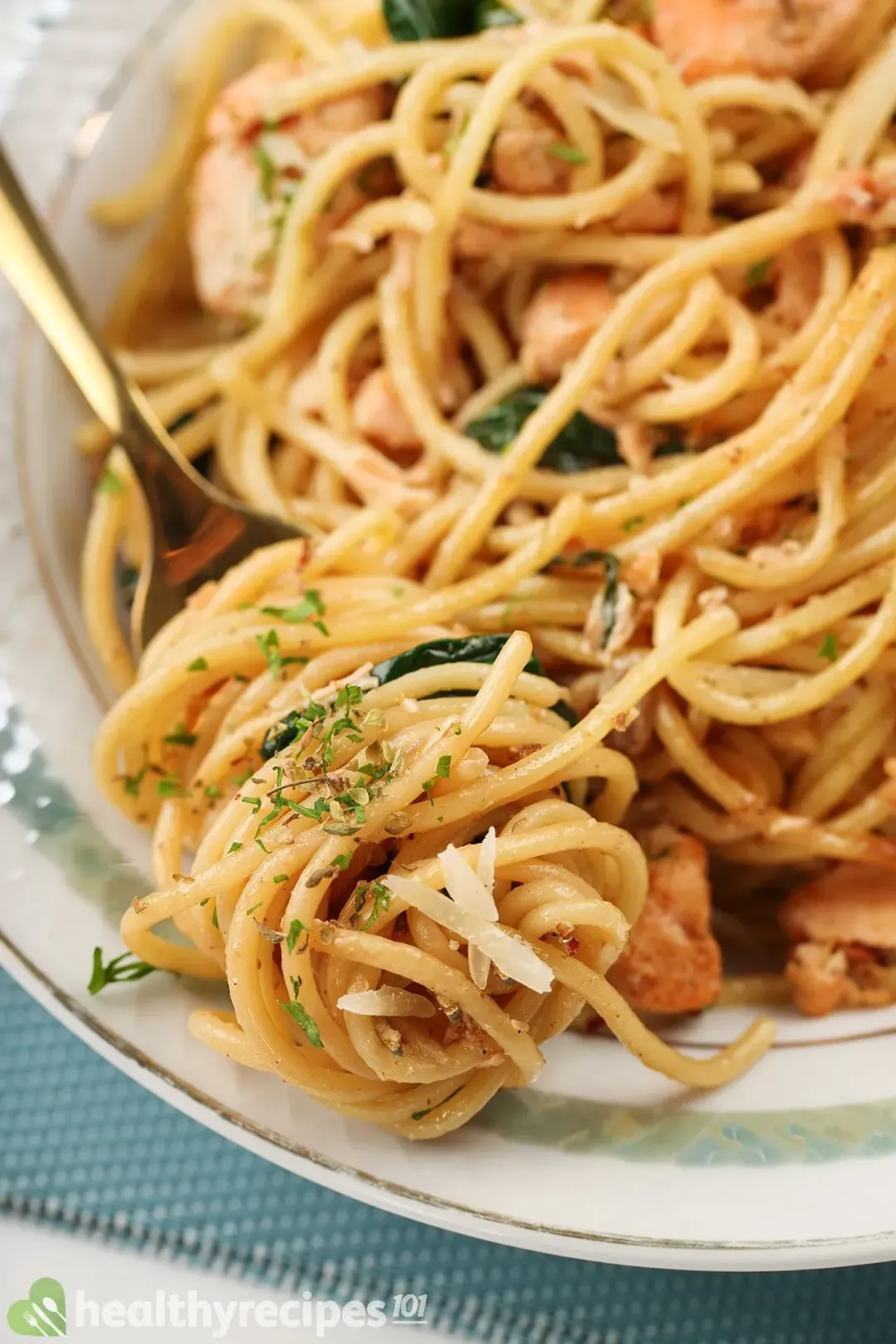 Previous Recipe
Salmon and Pasta Recipes
Salmon and Pasta Recipes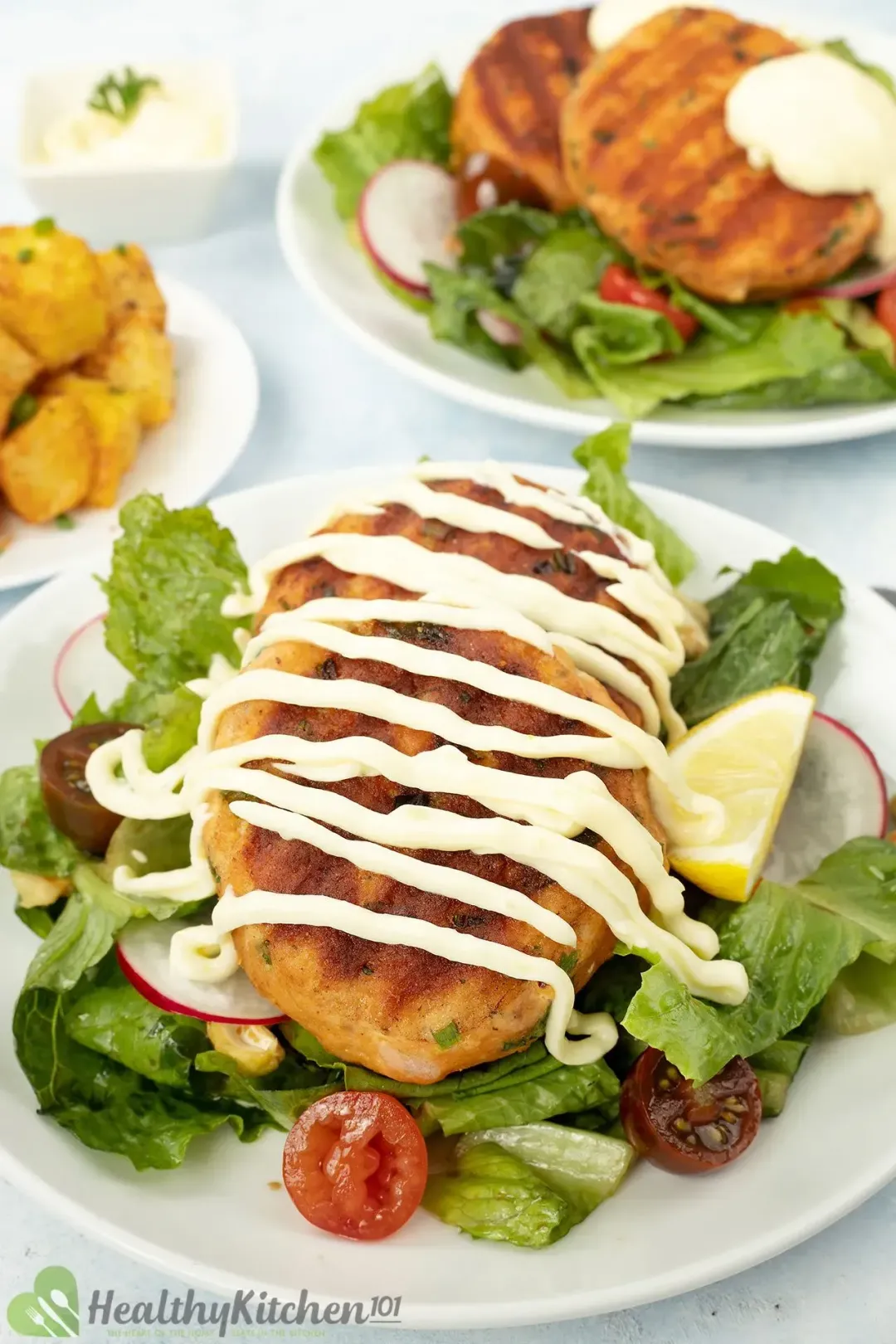 Next Recipe
Leftover Salmon Recipes
Leftover Salmon Recipes
Writer, Author
Luna Regina is an accomplished writer and author who dedicates her career to empowering home cooks and making cooking effortless for everyone. She is the founder of HealthyKitchen101.com and HealthyRecipes101.com, where she works with her team to develop easy, nutritious recipes and help aspiring cooks choose the right kitchen appliances.
Comments/ Reviews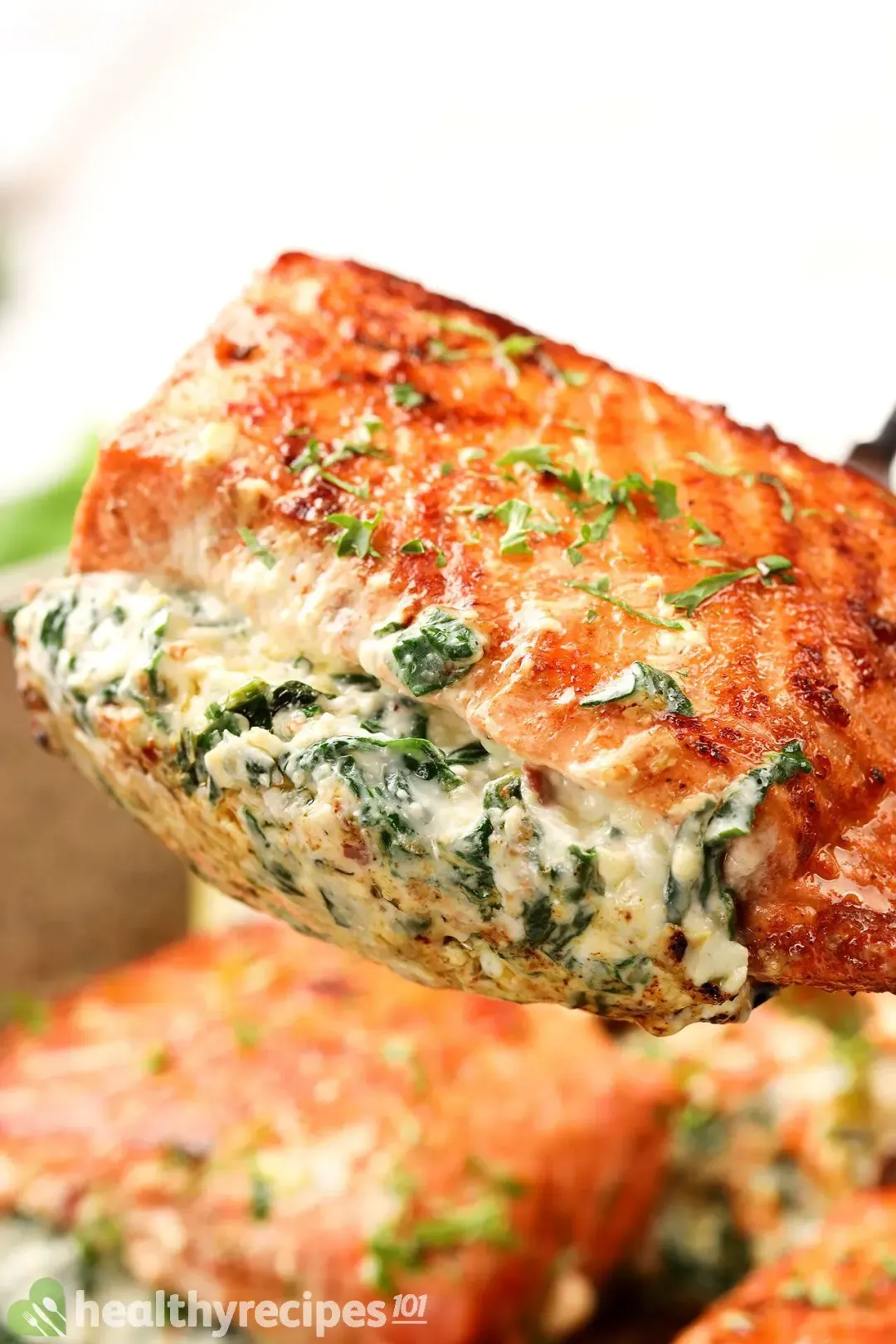 Stuffed salmon was a hit! I cooked it in the oven, and it turned out to be delicious.