You really can't go wrong with these salmon and pasta recipes. The possibilities are endless as there are many pasta shapes and sauce combinations.
Find what fits you and have a look at some tips to perfect salmon pasta.
Does Salmon Go Well With Pasta?
You may wonder if pasta is healthy or not. It can be part of a healthy diet, thanks to its nutrients. However, pasta is high in carbs and contains gluten. It may lead to side effects if consumed immoderately.
The signature Italian ingredient can be part of a fulfilling and hearty dish and is super easy to make. Also, twirling pasta on your fork is very fun.
There have been multiple renditions of salmon pasta all around the world. These dishes feature different pasta shapes served with numerous sauces.
What Types of Pasta Go Well With Salmon
There are approximately 350 pasta shapes around the world. While it's possible to test every one of them, it will take some time. Here, we recommend some pasta shapes to pair with salmon.
Five main types of pasta shapes are short, long, sheet, filled, and dumpling pasta. 
Short: macaroni, penne, or rigatoni.
Long: spaghetti, pappardelle, or tagliatelle.
Sheet: lasagna
Filled: tortellini or ravioli
Dumpling: gnocchi
Short and long pasta shapes are easiest to make with salmon because you can cook dried pasta and make some salmon. Sheet and filled pasta are more difficult because they involve more complicated processes like assembling a lasagna or stuffing ravioli.
The sauce also plays a role in choosing the pasta shape. Creamy sauce is preferred for long pasta since it can coat the pasta wholly and evenly. Thicker and chunkier sauces are good for short and hollow kinds of pasta to hold.
Best Salmon and Pasta Recipes
Have a look at some ways to combine this dynamic duo and give some of them a try.
Best Ways to Cook Pasta
There are many ways to cook pasta, including some cookware that you never expect.
This may be the first method that comes to your mind. 
Bring a pot of water to a complete boil.
Stir the water and add pasta.
Follow the package directions or cook until al dente.
Drain and serve.
Microwave is the ultimate time-saving cookware, and now it can help you cook pasta. 
Simply put the pasta in a microwave-safe bowl and add 4 cups of water.
Microwave on high for the time on the package plus 3 minutes, or until al dente. Stir halfway through.
Drain and enjoy.
Cooking with an Instant Pot is easy because you can just let it do its thing. Also, you won't need to drain the pasta, as it will absorb the water while cooking.
Add pasta and water (2 cups of water for every 8 oz of pasta).
Seal and lock the lid.
Pressure cook on high for 0-5 minutes (based on package directions).
Leave it on natural release for 5 minutes, then manually release the rest of the pressure.
Open the lid and stir.
Close the lid and let the pasta rest for 5-10 minutes.
Serve.
This may seem strange at first, but it's doable. Your rice cooker is way more capable than you think.
Add water to the pot (do not go over 2/3 of the cooker, or it may overflow).
Press the cook button.
Once the water boils, add the pasta and cook according to the package instructions.
Drain and serve.
How to Store the Leftover Cooked Pasta
Store leftover cooked pasta in an airtight container in the fridge, and consume the pasta within two days.
If the pasta isn't mixed with sauce, you may toss them with olive oil to avoid clumping.
Reheating is also easy. You may use a skillet or microwave. Remember to add 1-2 tbsp water to prevent the pasta from drying.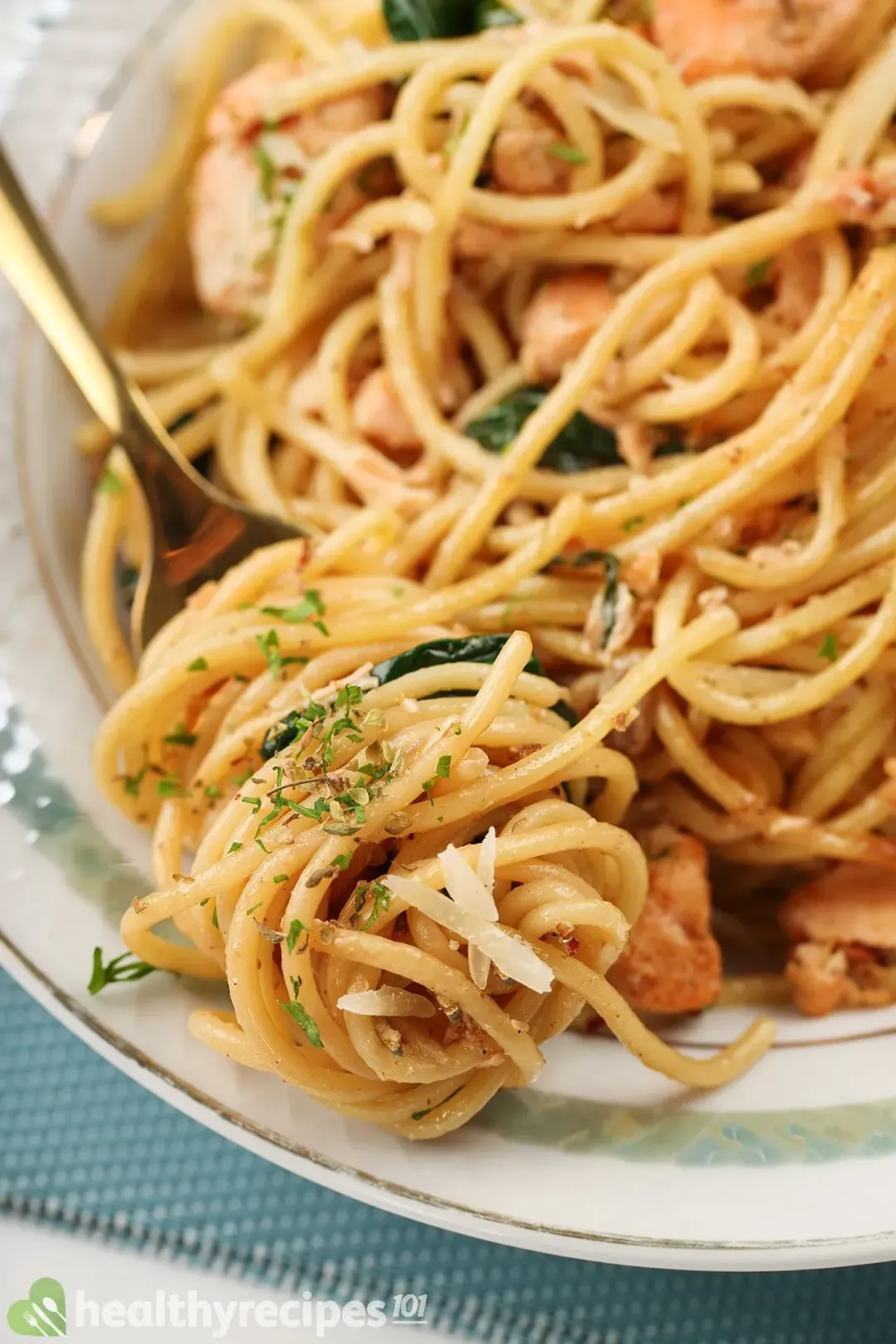 Salmon and Pasta Recipes
These salmon and pasta recipes feature two well-known ingredients that can give you a hearty meal packed with nutrients.
Ingredients
Directions
Choose a recipe that you like.
Gather the ingredients.
Follow the instructions to give you incredibly tasty salmon and pasta recipe in less than 40 minutes!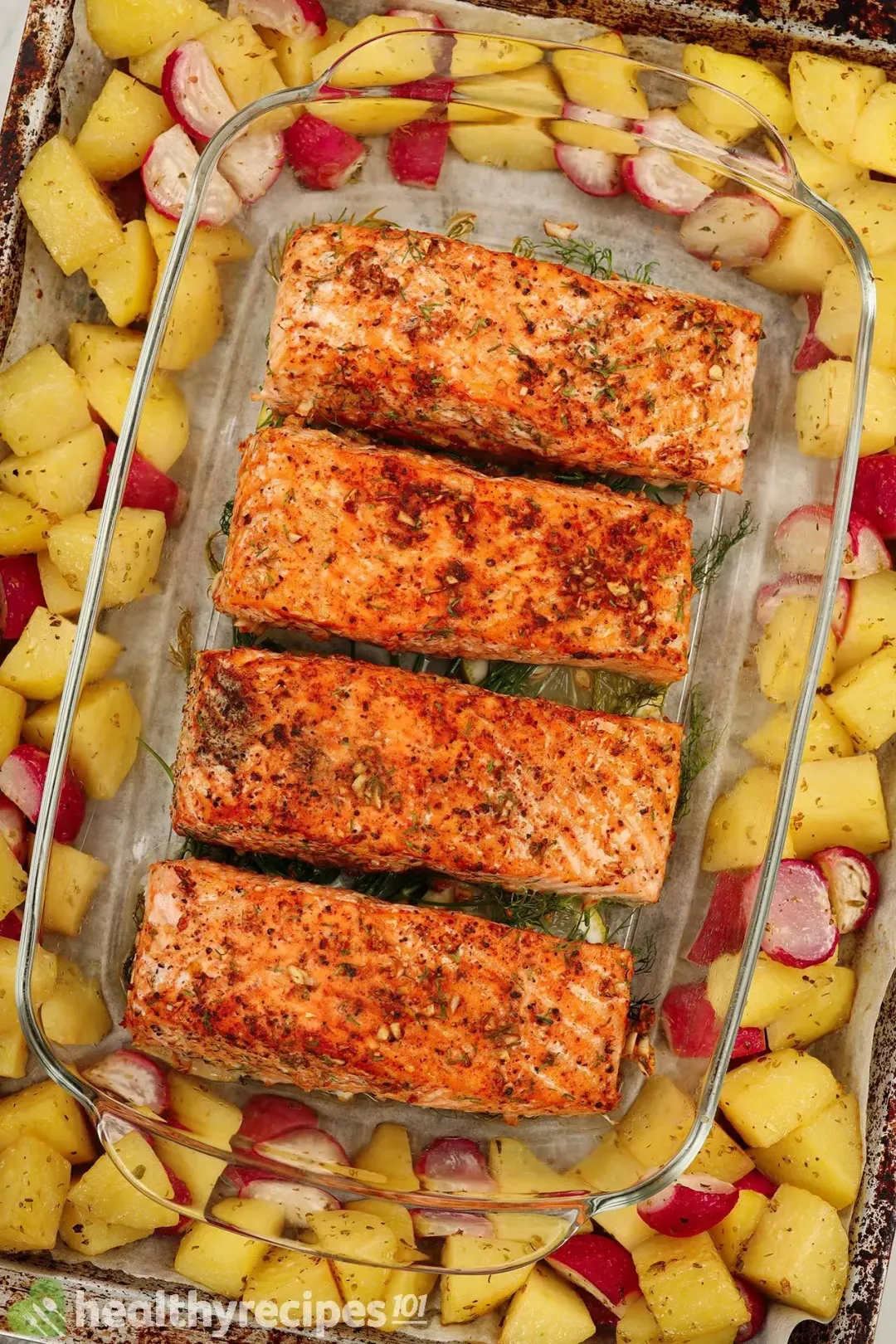 Previous Recipe
Salmon Marinade Recipes
Salmon Marinade Recipes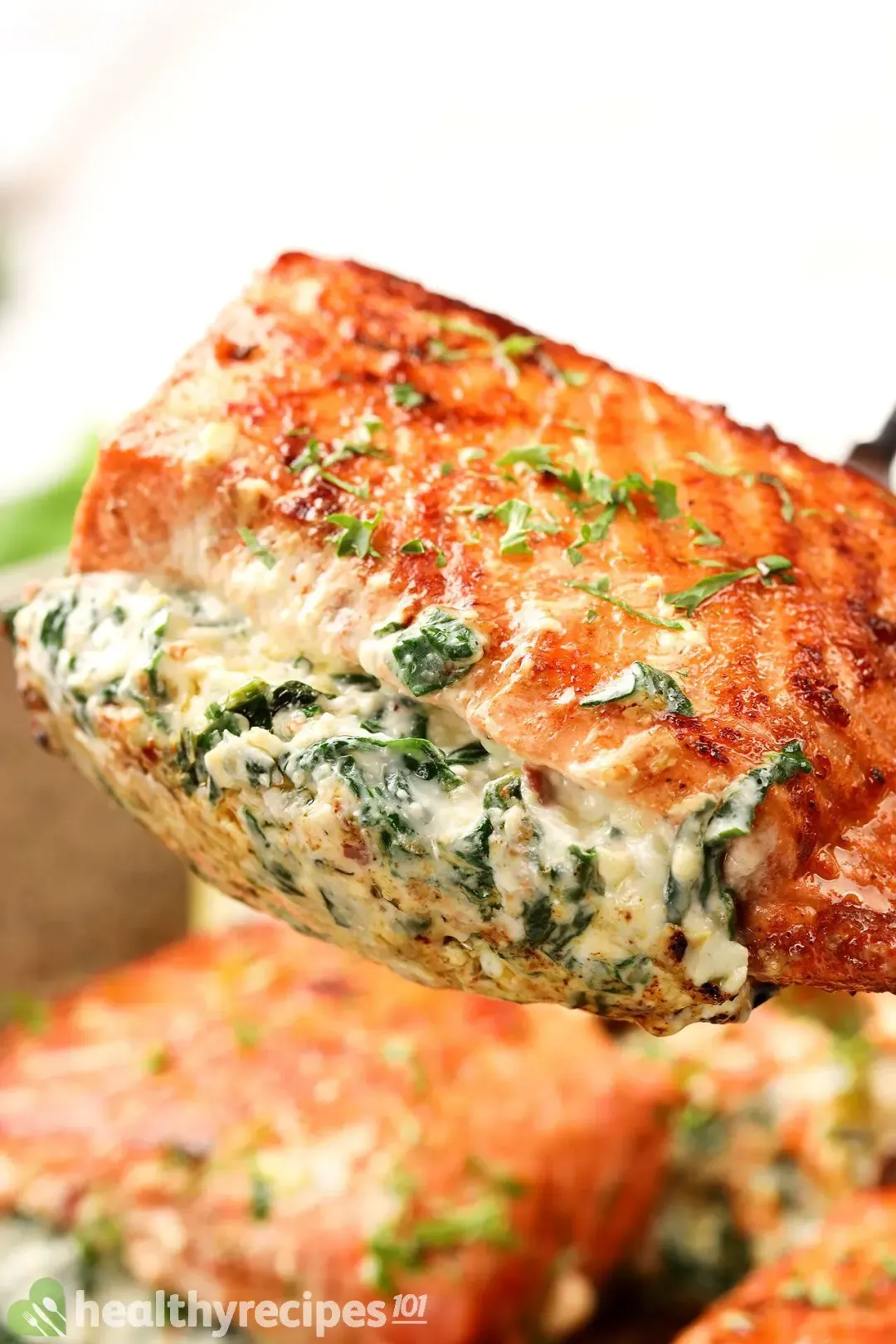 Next Recipe
Stuffed Salmon Recipes
Stuffed Salmon Recipes
Writer, Author
Luna Regina is an accomplished writer and author who dedicates her career to empowering home cooks and making cooking effortless for everyone. She is the founder of HealthyKitchen101.com and HealthyRecipes101.com, where she works with her team to develop easy, nutritious recipes and help aspiring cooks choose the right kitchen appliances.
Comments/ Reviews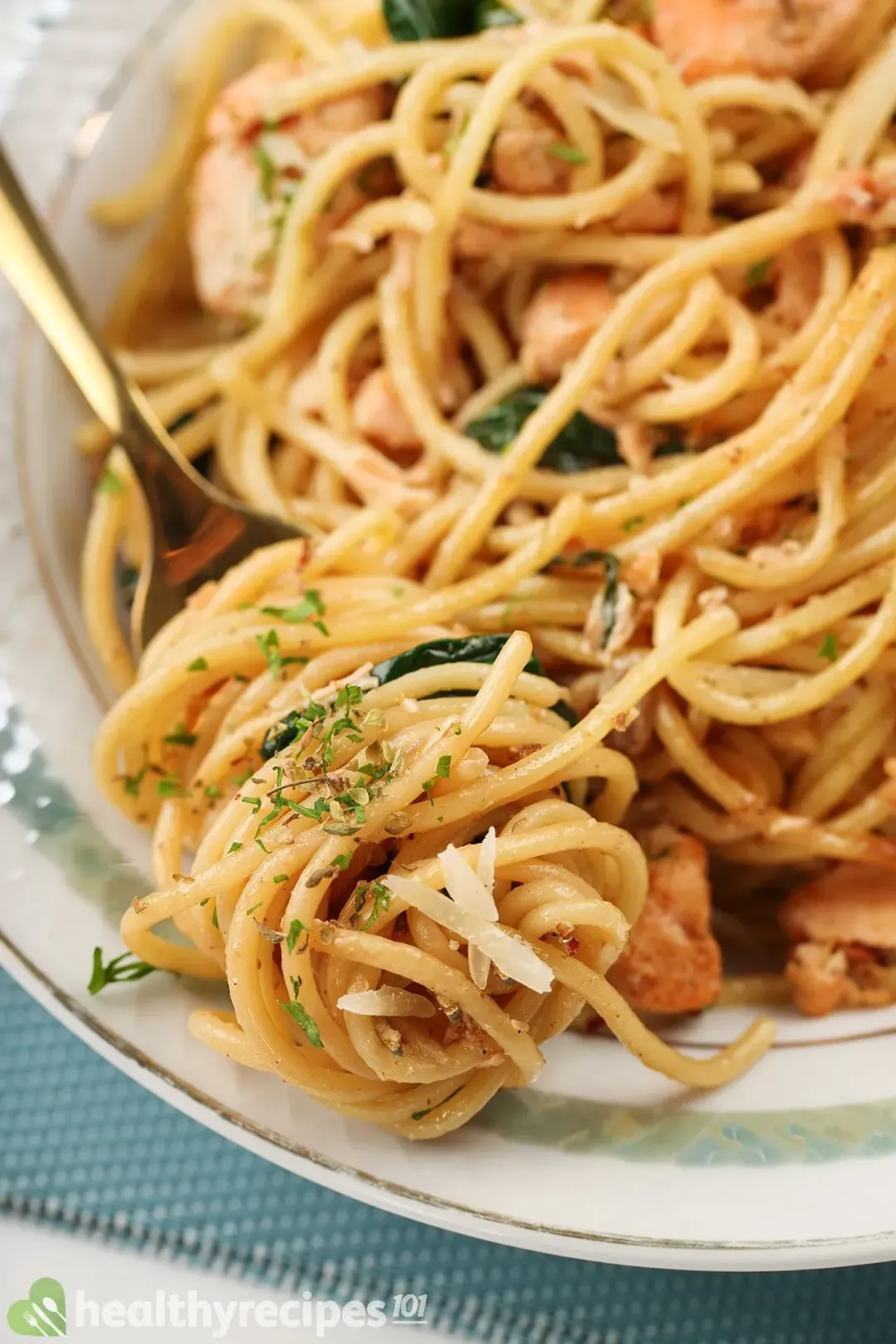 Loved salmon alfredo - looks like a flavorful and satisfying dish that would be perfect for a cozy dinner at home.