Air-frying is a quick and efficient way to cook salmon, and these no-fuss air fryer salmon recipes will help get your meal prepped and ready in no time.
Before getting into the recipes, let's look at some most common questions and also some tips for making a successful air fryer salmon dish.
Can You Air Fry Frozen Salmon?
Yes, it is possible.
If you are in a rush and frozen salmon is all you got, then worry not, you can still have it cooked and well-done. 
You just need to set the timing and temperature depending on the fillet thickness. 
Place the salmon in and set the air fryer at 390°F. A thin slice that is about 0.7 inches thick will cook for around 12-14 minutes, while thicker slices need longer cooking time, up to around 20 minutes. 
Still, if you can make time to thaw your salmon beforehand, it will result in a much more moist and tender texture, which is worth every wait and effort.
Best Air Fryer Salmon Recipes
Now let's check out our best air fryer salmon recipes and whip some up!
1 of 2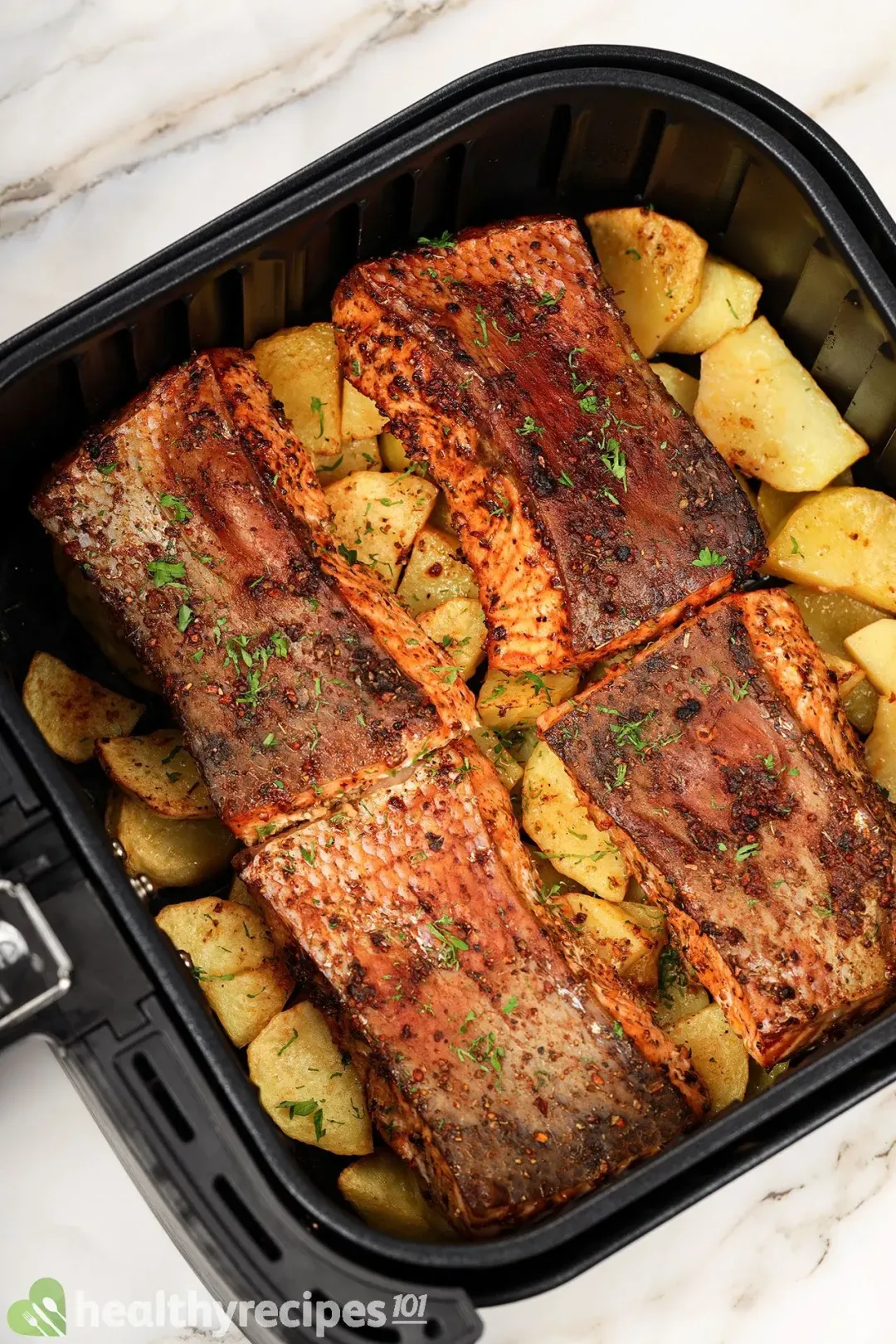 1 of 2
Air Fryer Salmon and Potatoes Recipe
This all-in-one Air Fryer Salmon meal is exactly what you need on busy days. Throw everything into the air fryer, including cubed potatoes, then, microwave some fresh asparagus and you're all set to dig in. It's so easy you can make it with your eyes closed. Ahem, full disclosure - don't!
Get the
recipe
.
2 of 2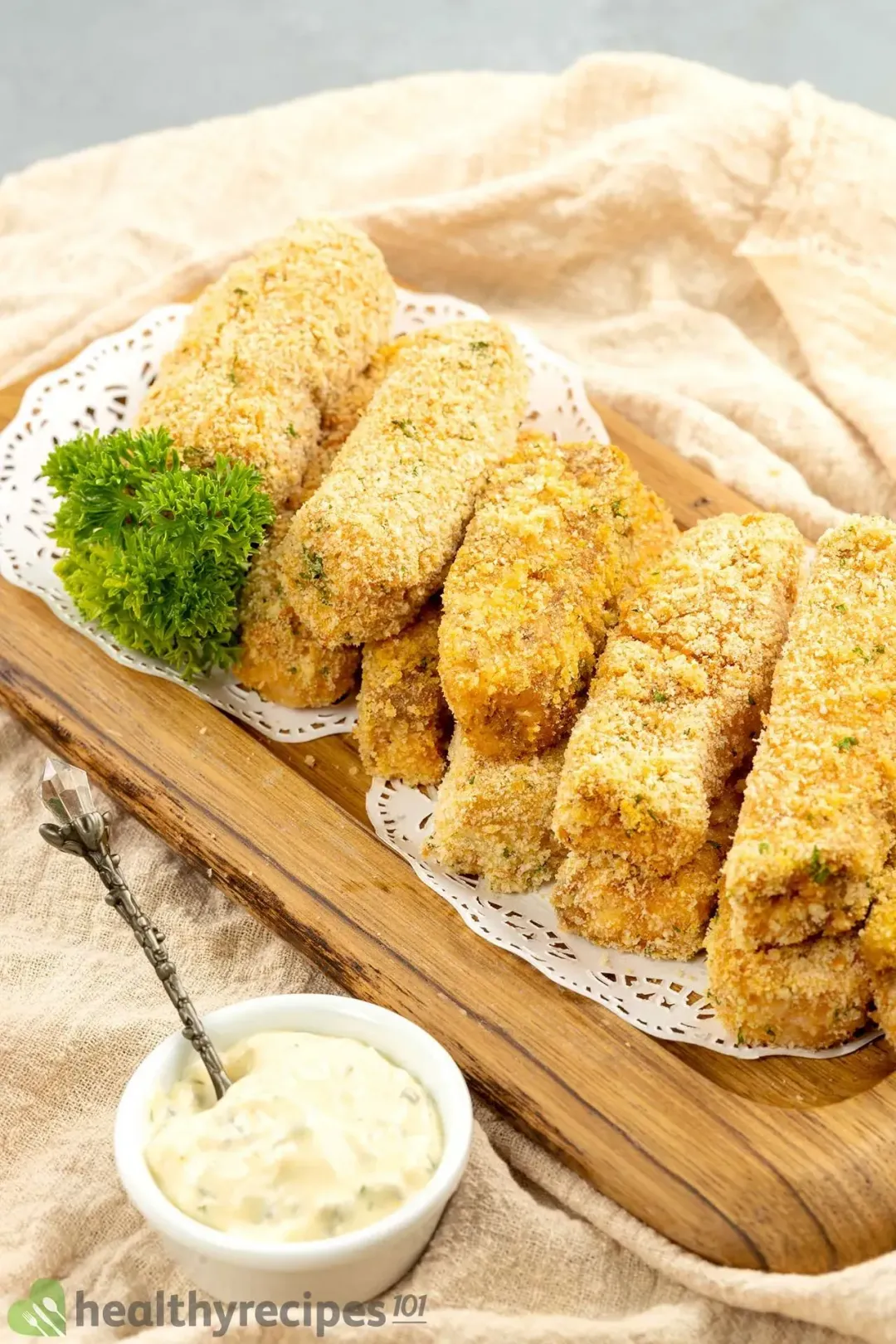 1 of 2
Air Fryer Salmon Sticks Recipe
Crispy on the outside, juicy in the centre - Air Fryer Fish Sticks nail all the traits of an ideal snack. The zestful tartar sauce provides a smooth, refreshing layer against each meaty bite and offers much-needed relief. Be warned, however, that this snack may disappear rapidly right after it's served, and we guarantee no leftovers.
Get the
recipe
.
How to Marinate Salmon for Air Frying
To season salmon for air-frying, an oil-based marinade with added spices and an acidic liquid of choice is the best.
For the base, olive oil is the most commonly used in salmon marinades.
The presence of oil gives moisture to the salmon, keeping it juicy at the center. At the same time, it helps the outer layer to react better with heat, hence, giving the salmon a nice and even golden-brown exterior.
For the acidic ingredient, you can choose to add lime juice, lemon juice, or orange juice for that beautiful citrus aroma which works extremely well with salmon. The acid also helps tenderize the fish, making it more palatable to eat.
However, only add a small amount and don't let your salmon sit for too long in an acidic marinade, or else it will affect the texture and overpower the taste of salmon.
Also, the addition of spices can elevate the taste of your salmon, even if just used a little. You can go with the very basic ones like salt and pepper, or have a little adventure with garlic, honey, soy sauce, Dijon mustard, Italian seasoning, chili powder, maple syrup, ginger powder, and tons of other spices.
Making a marinade for salmon is very easy, plus, you can get creative with it and experiment to see what flavor mix you will like best.
How Long Should You Marinate Salmon?
If you marinate the salmon with only oil and other dry spices, then you can cook it right away.
However, if your marinade contains other watery liquids such as lemon juice or soy sauce, then it's best to let the salmon sit for at least a few minutes to half an hour so that it can absorb the spices better.
Can You Marinate Frozen Salmon
Yes, you can.
It still tastes good but not as rich and flavorful as thawed salmon.
Also, it will not be evenly seasoned because there are ice crystals all over the frozen salmon, which will turn into water and vaporize during the cooking process. This excess liquid will make it harder for the salmon to absorb the seasoning.
So if you can, take an extra step to thaw your salmon, then marinate it before cooking.
How Do You Know When Salmon Is Done?
You can easily check whether or not your salmon is done by gently piercing its thickest part with a toothpick or a small fork. If it goes through easily with minimal effort, then the fish is well-cooked.
Do You Have to Flip Salmon In an Air Fryer?
You don't have to do that, since the hot air flowing in a circular motion inside the cooking chamber makes sure that your fillet cooks evenly and has a nice browning.
You only need to flip if you place too many salmon fillets in the frying basket, which makes it hard for the air to flow over and under the fillets.
Those are our suggestions for your easy and tasty air fryer salmon meals.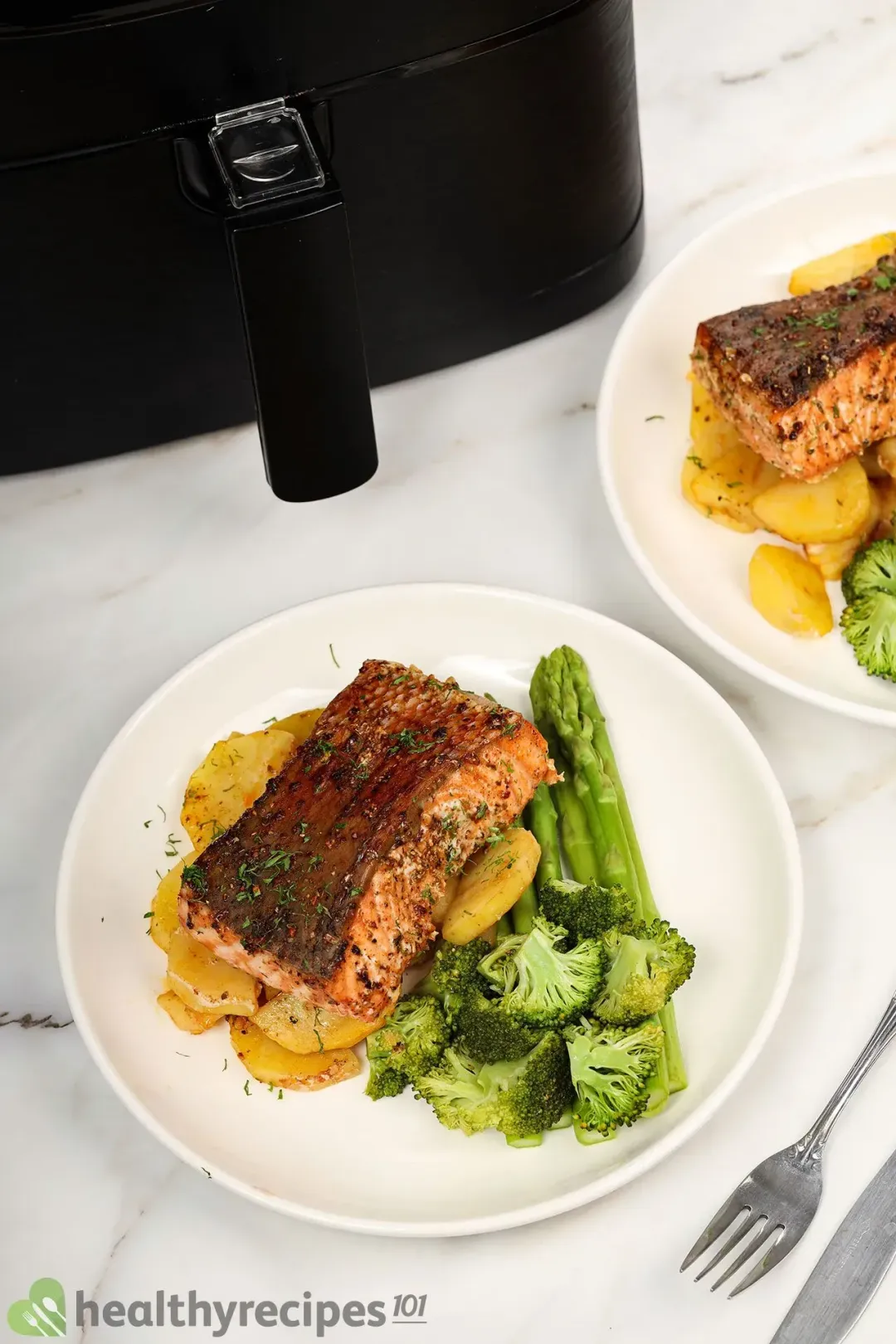 Air Fryer Salmon Recipes
These air fryer salmon recipes will give you quick and easy salmon dishes packed with flavors, ready to serve at any time!
Ingredients
Directions
Pick your favorite recipe.
Gather the ingredients.
Follow the instructions to give you incredibly tasty air fryer salmon dishes ready in less than an hour!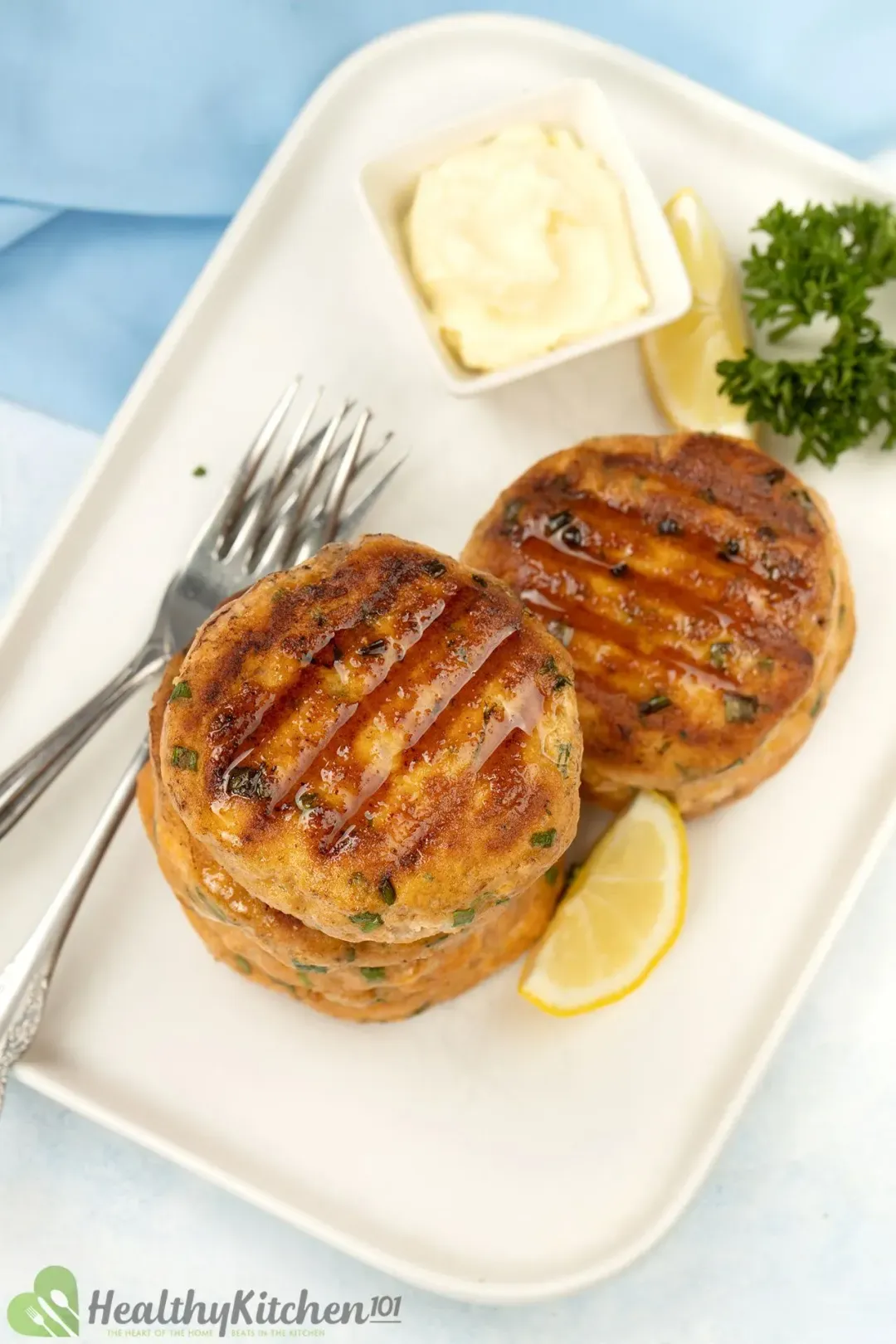 Previous Recipe
Salmon Cakes Recipes
Salmon Cakes Recipes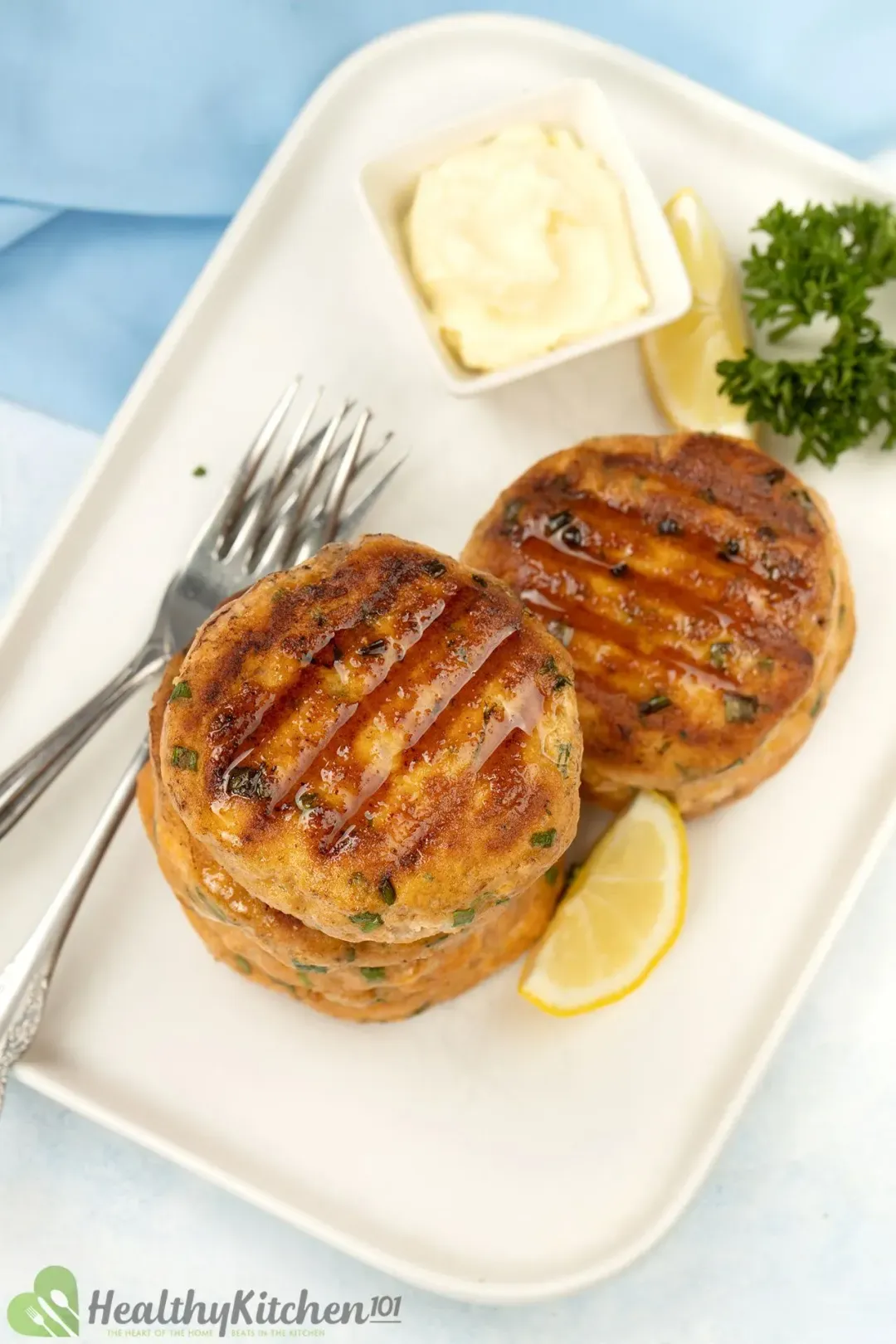 Next Recipe
Salmon Patties Recipes
Salmon Patties Recipes
Writer, Author
Luna Regina is an accomplished writer and author who dedicates her career to empowering home cooks and making cooking effortless for everyone. She is the founder of HealthyKitchen101.com and HealthyRecipes101.com, where she works with her team to develop easy, nutritious recipes and help aspiring cooks choose the right kitchen appliances.
Comments/ Reviews