Today we're recommending some salmon recipes in the oven, one of your best friends in the kitchen.
Cooking can be tiring, and the oven is there to help you. It not only takes some weight off your shoulders but also cooks the food evenly.
Give these recipes a try and show everyone you put in the effort, effortlessly.
Differences Between Cooking Salmon in the Oven and on the Stove?
 We use the stovetop pan-frying method for this comparison because, unlike with poaching or boiling, the results are similar.
Overall, we can't say which method is better, because each has its advantages. You should consider multiple factors to decide which is more suitable for you.
When it comes to cooking time, using the stove is quicker. Pan-frying takes 6-8 minutes, while the oven takes around 10-18 minutes, depending on how hot you reheat the oven.
However, quicker doesn't mean more convenient. Cooking on the stove requires a great deal of hands-on cooking (flipping and adjusting heat). With the oven, conversely, you can let it do its thing while you get on with cooking other ingredients alongside salmon.
The mechanics of the oven can also help you. Ovens cook by heating the air around the food. Pan-frying, however, heats the oil around the fish. That means using the oven doesn't add much fat and calories to your salmon.
Best Salmon Recipes in Oven
Create a stunning dish with these salmon recipes in the oven.
How to Cook Salmon in the Oven
Cooking in the oven is easy once you get used to how it works. We'll give you some general tips, but since there are multiple types of ovens, the amount of time may not be right on the money.
Get accustomed to the correct rack placement: The top rack is for broiling, standard cuts of meat go in the middle, and the bottom is for baking and roasting large cuts.
Here's the general process for salmon:
Preheat the oven to 400°F.
Season or marinate salmon (this is optional as you can cook the salmon with the seasoning).
Place the salmon skin-side down in a baking pan or a lined baking sheet.
Bake the salmon until cooked (remember to set a timer). Monitor your food during the cooking process.
How Long Should You Bake Salmon?
There are some ways to check if salmon is done. However, you shouldn't open the oven door while cooking.
You can rely on the oven window and a timer to monitor the cooking.
Our recommended temperature and time for salmon in the oven is 400°F and 12-14 minutes. 
When you take the fillet out, you should check its temperature and make sure that it's 145F.
What to Season Salmon With
There are a ton of flavors you can add to your salmon, and you can experiment to find your favorite seasoning combination. Here are some seasoning suggestions based on their taste.
Salty: salt or reduced-sodium soy sauce
Sweet: honey, brown sugar, maple syrup, or orange juice
Sour: vinegar, lemon, or lime (both the juice and zest)
Aromatics: garlic, onion, or ginger
Herbs: thyme, oregano, or dill
Don't know where to start? No worries, here are some of our favorites.
Glaze for Salmon
Teriyaki: A flavorful umami sauce with soy sauce, mirin, sesame oil, and brown sugar.
Lemon butter garlic: A restaurant-quality sauce that lets salmon shine.
Honey soy sauce: Stick, sweet, and savory. This sauce packs a ton of flavors and gives salmon a nice dark coating.
Chili lime: When these two intense flavors meet, you're in for a treat. Chili sauce and lime juice are the stars of this sauce.
Bourbon: How about some alcohol? Bourbon will make your salmon dish look and taste restaurant-worthy.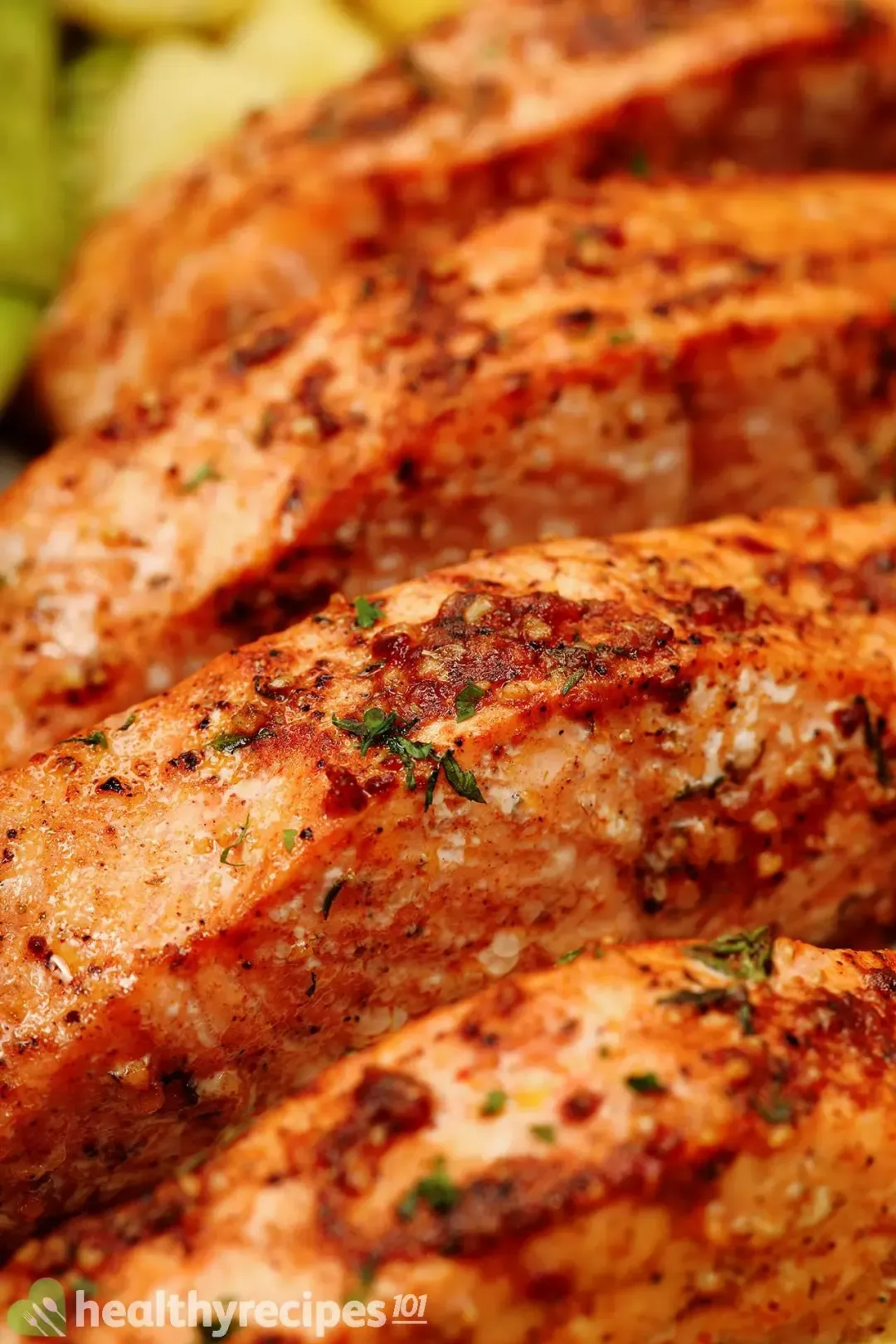 Salmon Recipes in the Oven
These beautiful and easy salmon recipes in the oven allow you to sit back, relax, and let your oven do the cooking.
Ingredients
Directions
Pick your favorite recipe.
Gather the ingredients.
Follow the instructions to give you incredibly tasty salmon recipes in the oven ready in less than an hour!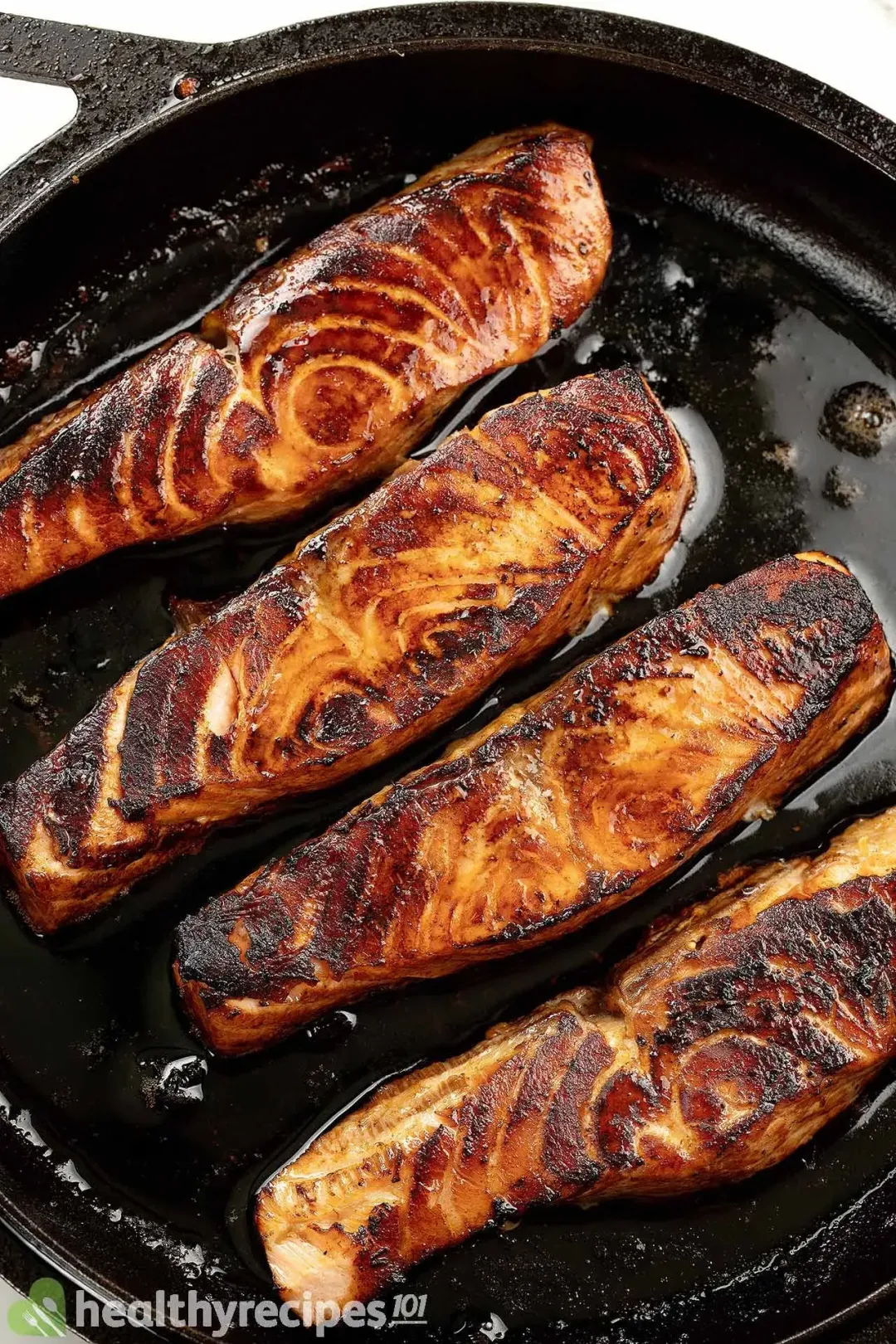 Previous Recipe
Easy Salmon Recipes
Easy Salmon Recipes
Writer, Author
Luna Regina is an accomplished writer and author who dedicates her career to empowering home cooks and making cooking effortless for everyone. She is the founder of HealthyKitchen101.com and HealthyRecipes101.com, where she works with her team to develop easy, nutritious recipes and help aspiring cooks choose the right kitchen appliances.
Comments/ Reviews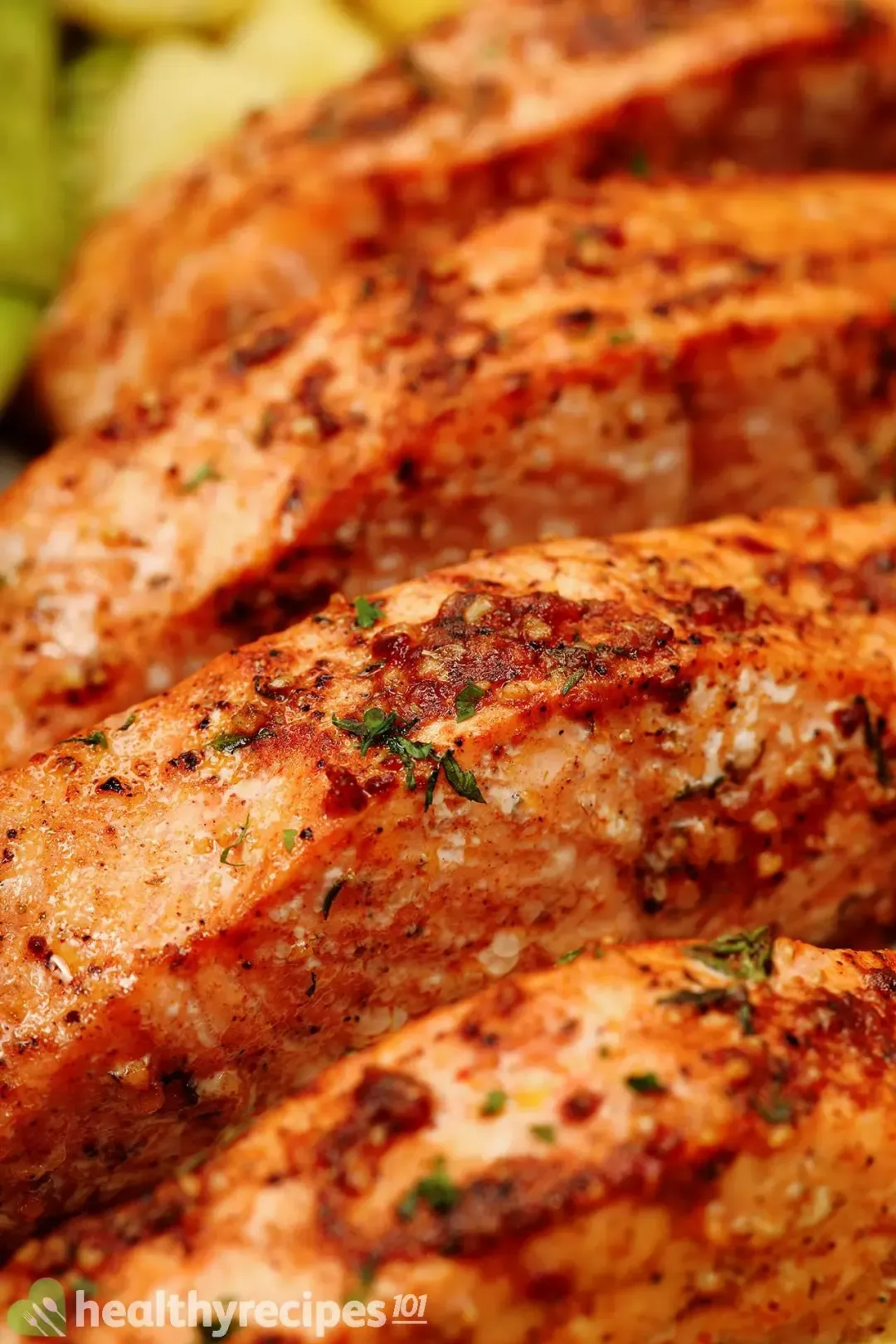 Easy and delicious salmon recipes