We've gathered our best salmon recipes for grilling, baking, broiling, poaching, searing, and frying. Whether you're smitten with salmon or simply a fan of all things fish, we've got the recipe you're looking for.
Cooked salmon is a seafood delicacy. It fuses nutrition, an impressive buttery texture, and oceanic flavors that deliver a five-star experience.
Its short cooking time also makes salmon a personal favorite for many. That said, cooking salmon can take a bit of skill.
Our salmon recipes will help you master this fantastic fish and serve unforgettable dishes every time. Satisfy your inner grizzly bear with this collection, starting with some handy facts on salmon.
Is Salmon Healthy?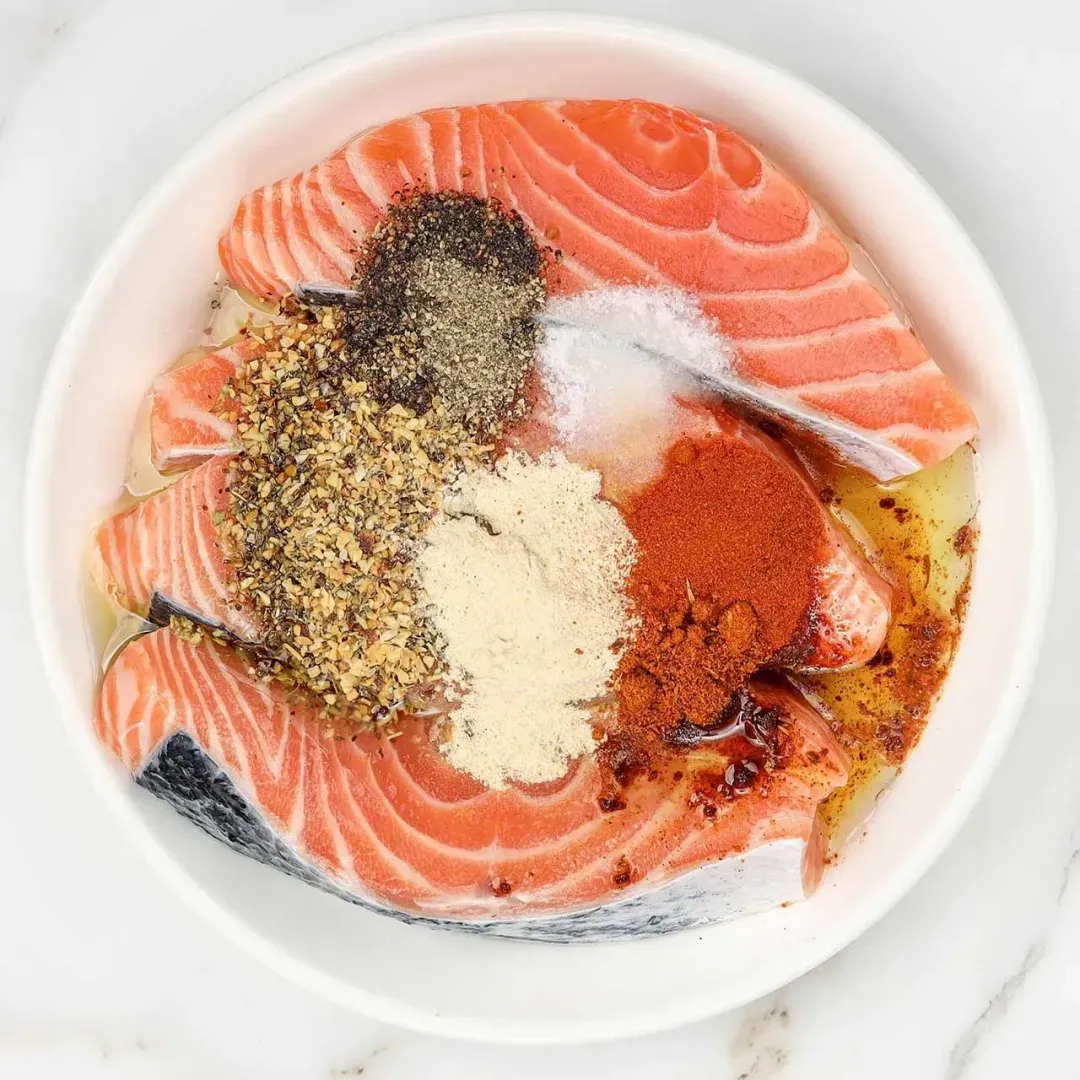 Salmon is among the world's healthiest foods. You can credit its impressive nutrition profile to its large reserves of omega-3 fatty acids (great for heart health), vitamin D (important for bones and muscles), and protein (one of your critical energy sources).
Nutrients, however, are strongly influenced by cooking and preservation methods, and there's no shortage of ways to prepare salmon.
1. Smoked
Smoking salmon is not only a way to add flavor to the fish but is originally how our ancestors preserved it. The trouble is it requires that you either cure the fish or suspend it in salt and sugar brine.
The resulting smoked fish is delicious but contains almost nine times the amount of sodium per serving as the raw, uncooked filets.
For this reason, smoked salmon is served only in small amounts. That means you get only a fraction of the nutrients you'd otherwise receive from one serving of cooked salmon.
2. Canned
Canned salmon is a wallet-friendly alternative to fresh salmon, but how healthy is it?
Like raw salmon, it's rich in protein, vitamin D, and omega-3 fats. The difference is fresh salmon has only 3% of the calcium found in canned salmon because canned salmon contains bits of tiny, soft, edible bones.
On the other hand, canned fish contains high amounts of sodium. You have to keep a strict eye on the amount of salty ingredients you add to it.
3. With Skin
Salmon with skin is just as safe and healthy as without skin. The skin layer gives it a lovely, crisp finish along with extra collagen, protein, and omega-3 fatty acids.
In one experiment, salmon skin was fed to subjects and found to have antioxidant effects and skin-healing properties. If you're keen on squeezing more health benefits from salmon, it's a great idea to cook it with the skin still in place.
What Does Salmon Taste Like?
You'll get the purest salmon flavor by cooking it fresh. Fresh, cooked salmon is rich and fatty with a clean fish flavor.
However, there are at least six salmon species, each with a distinct taste.
Chinook: A buttery fish that's fatty, rich, and meaty, making it a favorite for most people.
Coho: This one has a 'gamey' flavor but still retains a rich and distinct fish taste.
Pink: A fish lower in fat content, with a subtle salmon taste and a clean flavor.
Atlantic: A mild-tasting fish that's slightly buttery.
Red/Sockeye: The fattiest type of salmon; it is rich and full-flavored.
Chum: A fatty, arguably neutral-tasting fish.
Calories
On average, 3.5 oz (100 grams) of salmon contains 127 calories. Note that the exact total varies with the species.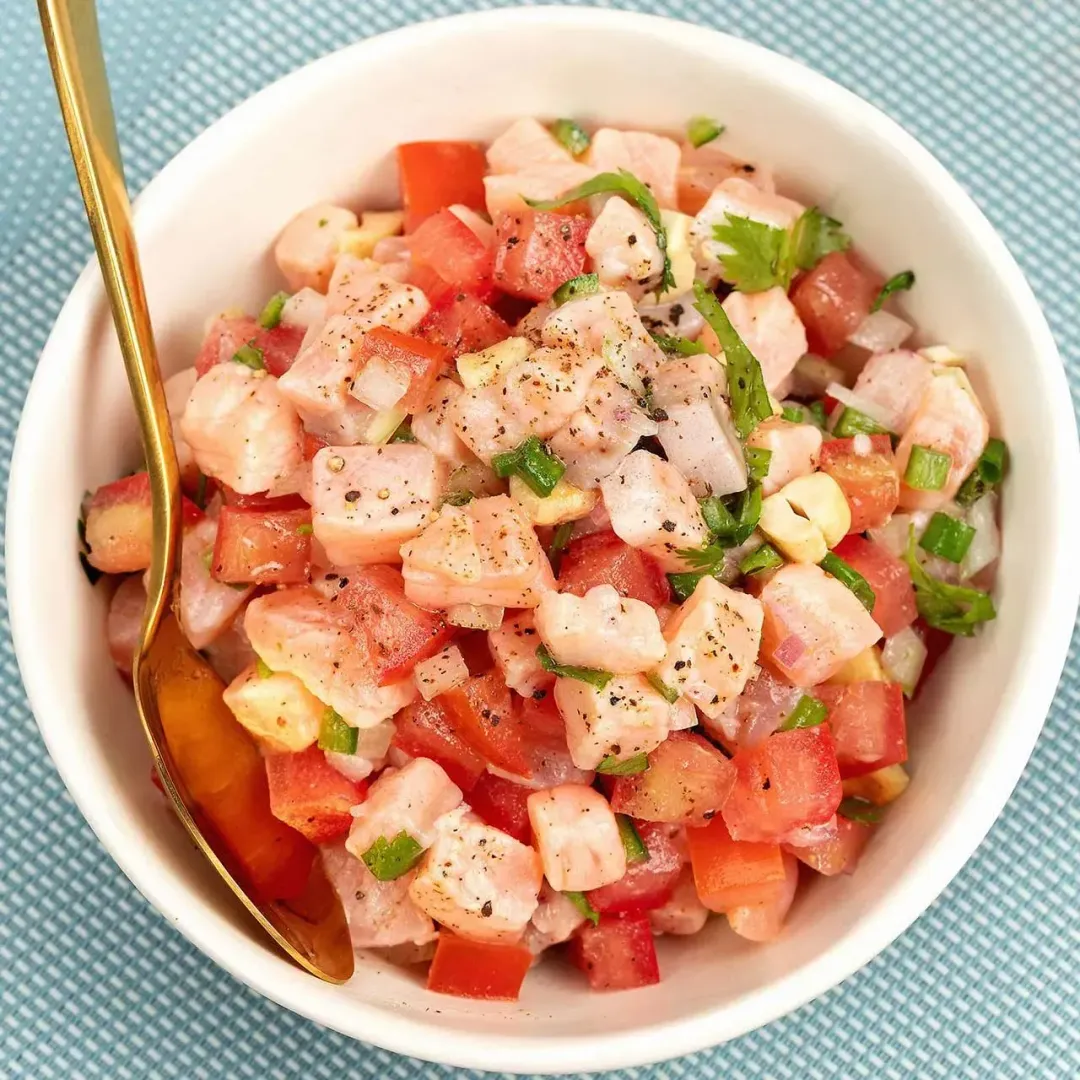 1. How much protein?
With up to 20 grams of protein per 100 grams of meat, salmon is a muscle-building ally. It may not be the most wallet-friendly option, but it's an excellent alternative to chicken, beef, lamb, or pork.
2. Carbs
Like most meats, salmon contains zero carbs. Its unique combination of high amounts of fat and no carbs makes it a popular choice for those on low-carb and keto diets.
And while these merits make it a superfood in its own right, the icing on the cake is salmon's low overall calorie count.
3. How Much Salmon per Serving?
You can enjoy 3 to 4 ounces of salmon per serving about twice a week. That's an average of 250 calories of salmon per week.
Salmon belongs to the group of fish that are generally low in mercury and is within the "safe" bracket concerning mercury poisoning.
By limiting consumption to 8 ounces of salmon a week, you can avoid any mercury-related health risks while reaping the benefits of omega-3 fatty acids.
4. Salmon filet Calories
One salmon filet (318 grams) contains about 400 calories and can be divided into roughly three servings. Of course, the size depends on individual fishmongers — some provide slightly bigger or smaller cuts.
What Flavors Go Well With Salmon?
Whether you enjoy a firm salmon filet seared to crispy perfection or a juicy one glazed in sauce, there are several flavors and condiments that never fail to make your salmon experience unforgettable. 
Salt and pepper: This is a basic seasoning that allows the flavor of salmon to shine through unfettered. It's an excellent option if you don't like heavy seasonings and appreciate the clean taste of salmon.
Maple sauce: If you love a sweet and savory meal, a simple salmon cut with maple sauce can do wonders for your palate. The two create a smooth combo with a perfect balance of flavors.
Lemon and pepper: Simple seasonings go a long way with salmon. Lemon and pepper effortlessly bring out salmon's savoriness without overpowering it.
Ways to Serve Salmon
So you got your hands on some fresh filets and are wondering how best to enjoy them. The great news is salmon is versatile, and we have no shortage of preparation methods. Try one of the following:
Burger buns: Due to its meaty texture, salmon is excellent for making patties. It holds its shape just like beef patties.
Salmon patties on buns make for tasty, succulent salmon burgers.
Leafy greens: Adding flaky salmon bits to kale, for example, can create a bowl of nutritious salad. The buttery texture of salmon is what makes it incredibly delicious.
Baked/Fried Veggies: Salmon served with baked vegetables like broccoli, carrots, or asparagus completes a pleasant, texture-rich dish of flaky salmon and crunchy vegetables.
Pasta/Rice: Salmon and pasta is a tasty combo that can also be served as a carb-loaded dish. It's just as fulfilling as salmon and rice, which we love in crunchy fried-rice form. 
Let's kick off this catalog of our best salmon recipes with oven-baked selections for perfect fall-off-the-fork grilled filets.
Beautiful Baked Recipes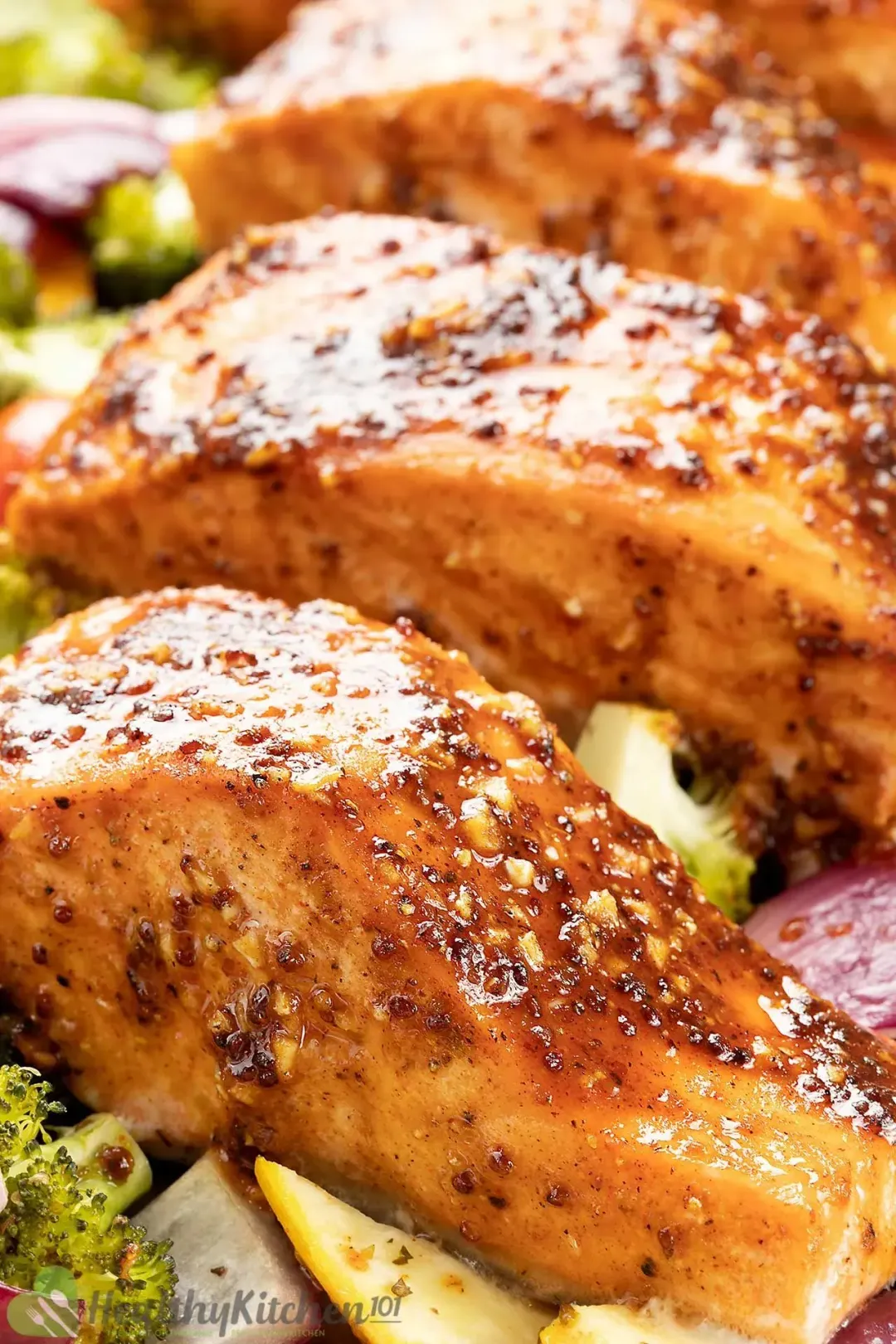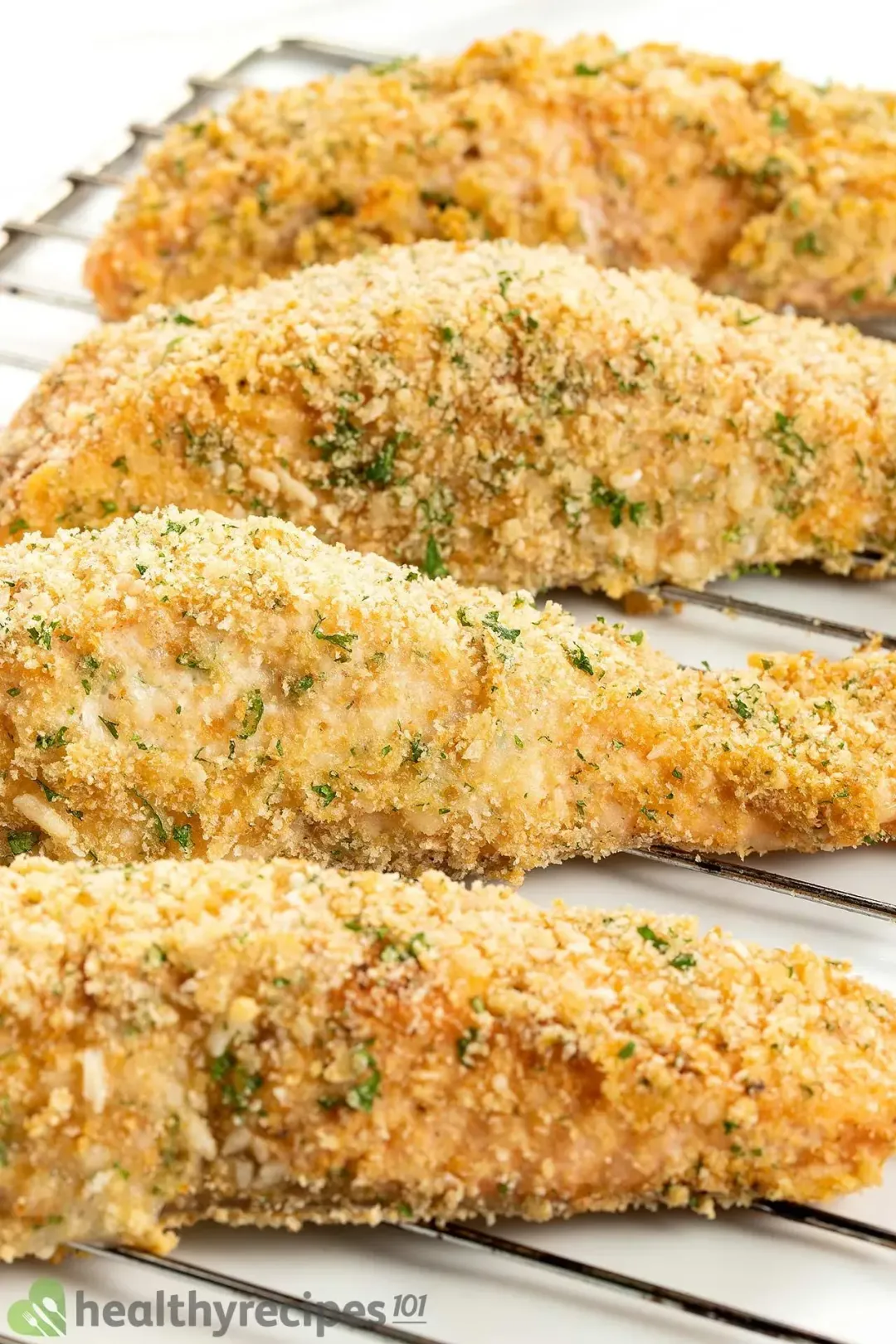 Stress-Free One-Pan Salmon Recipes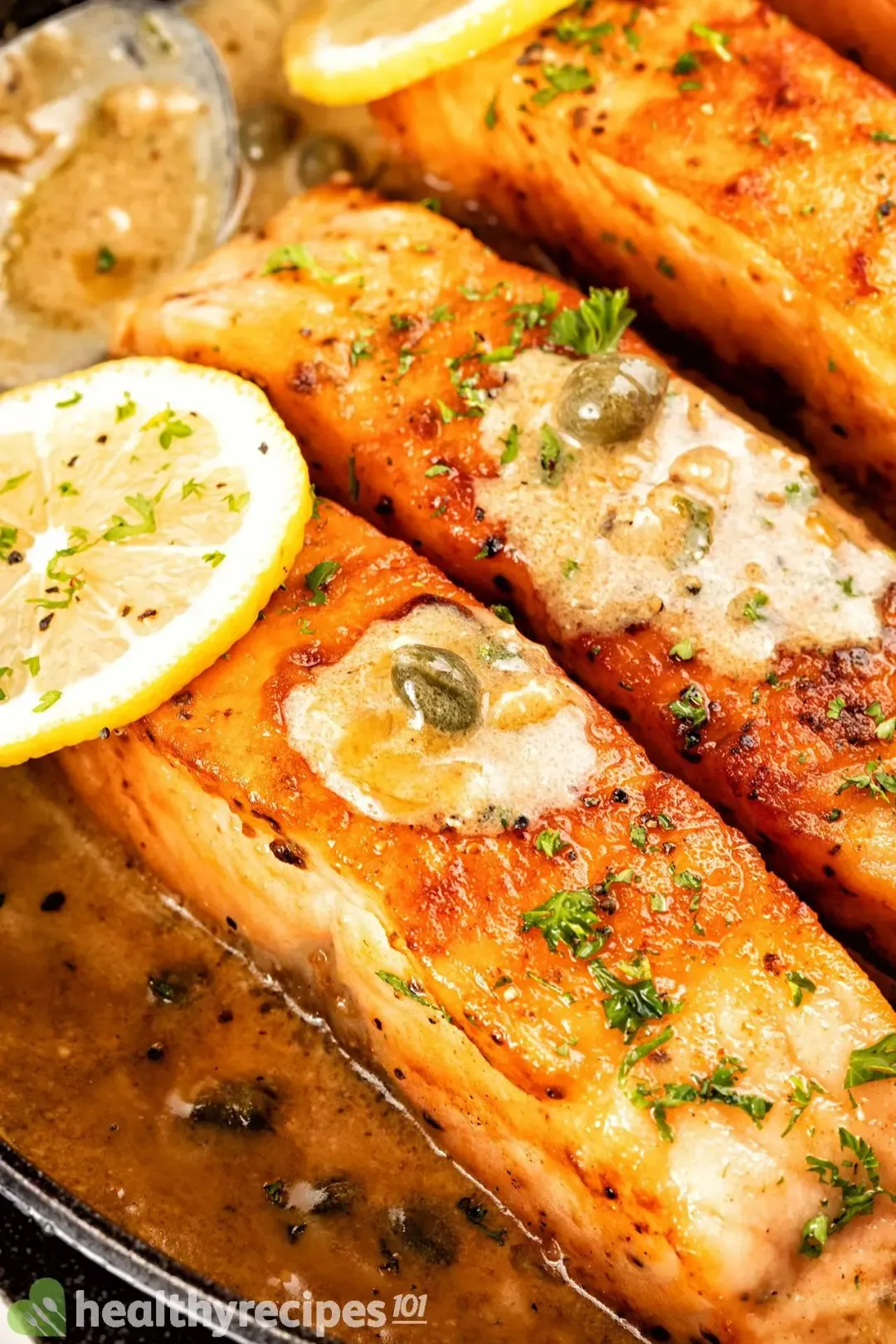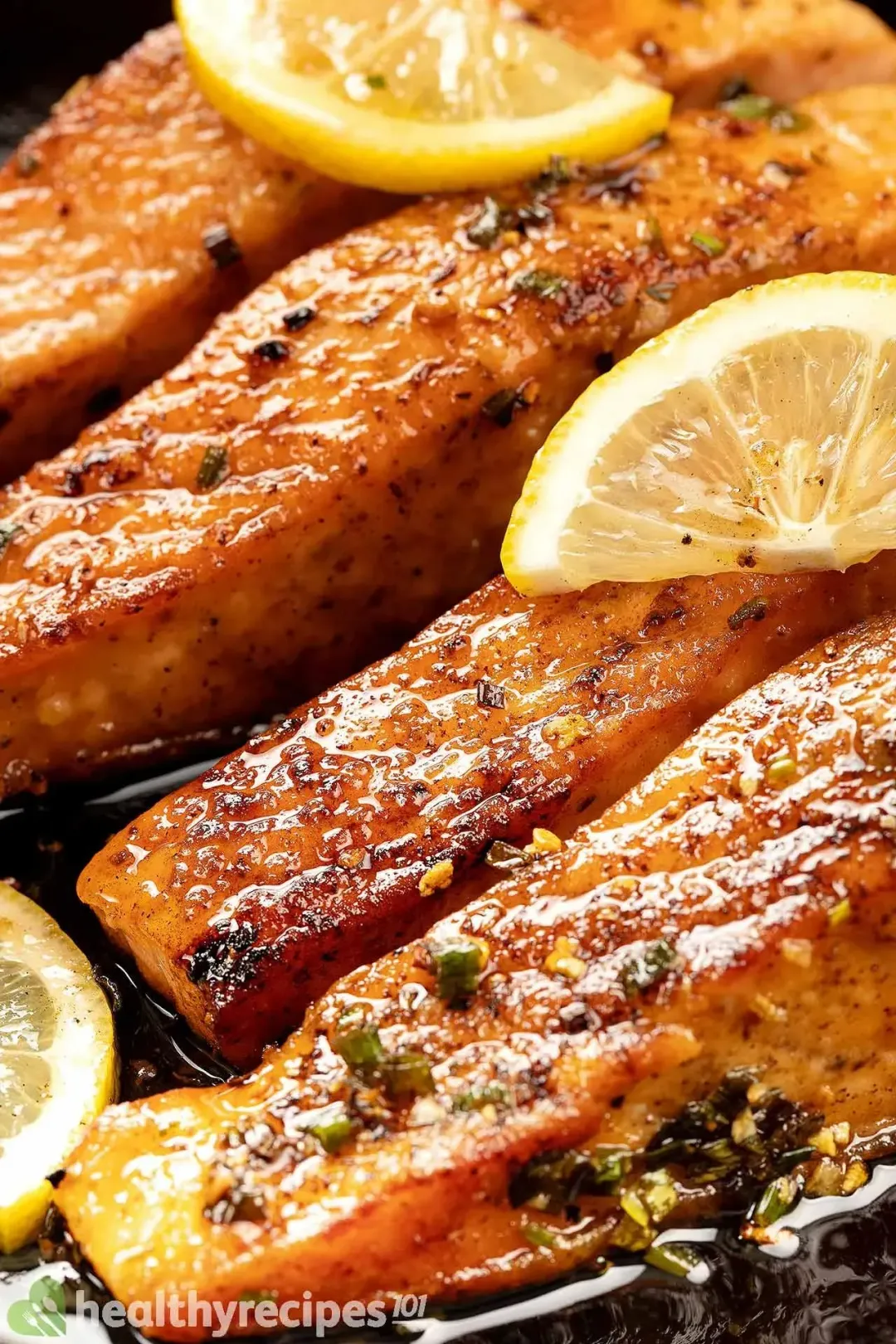 Extremely Easy Fillet Recipes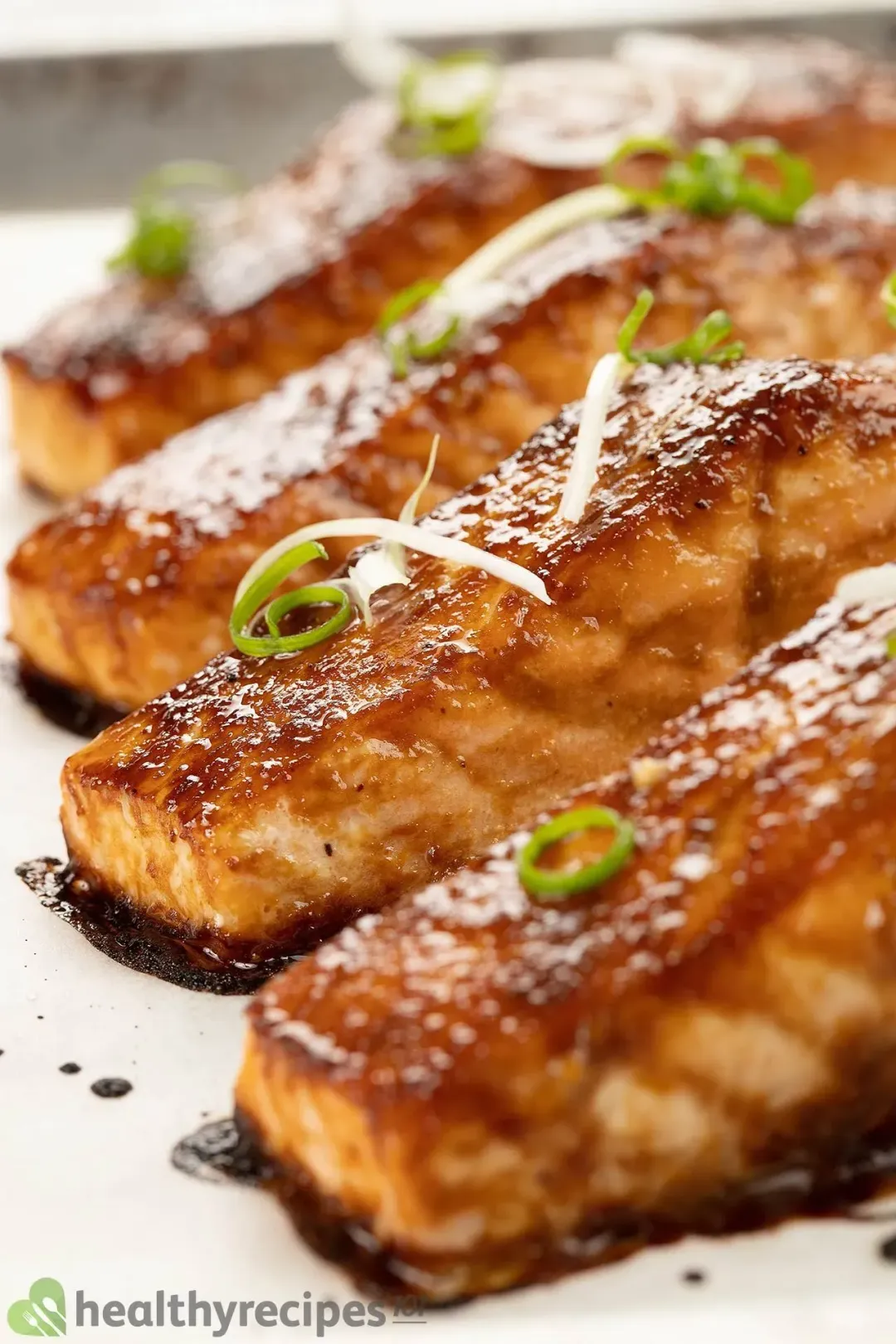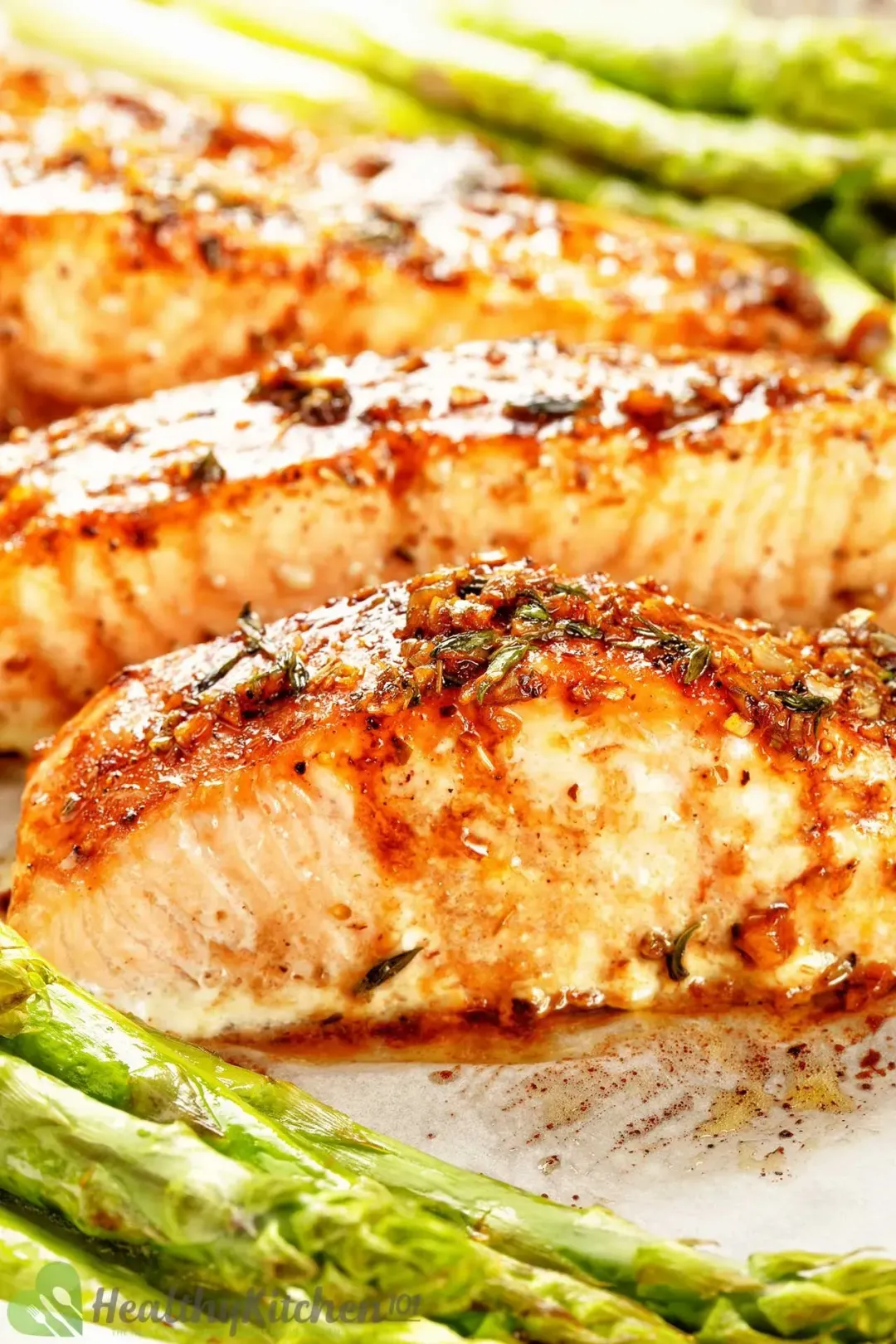 Broiled Salmon Recipe
Simple Patty Recipes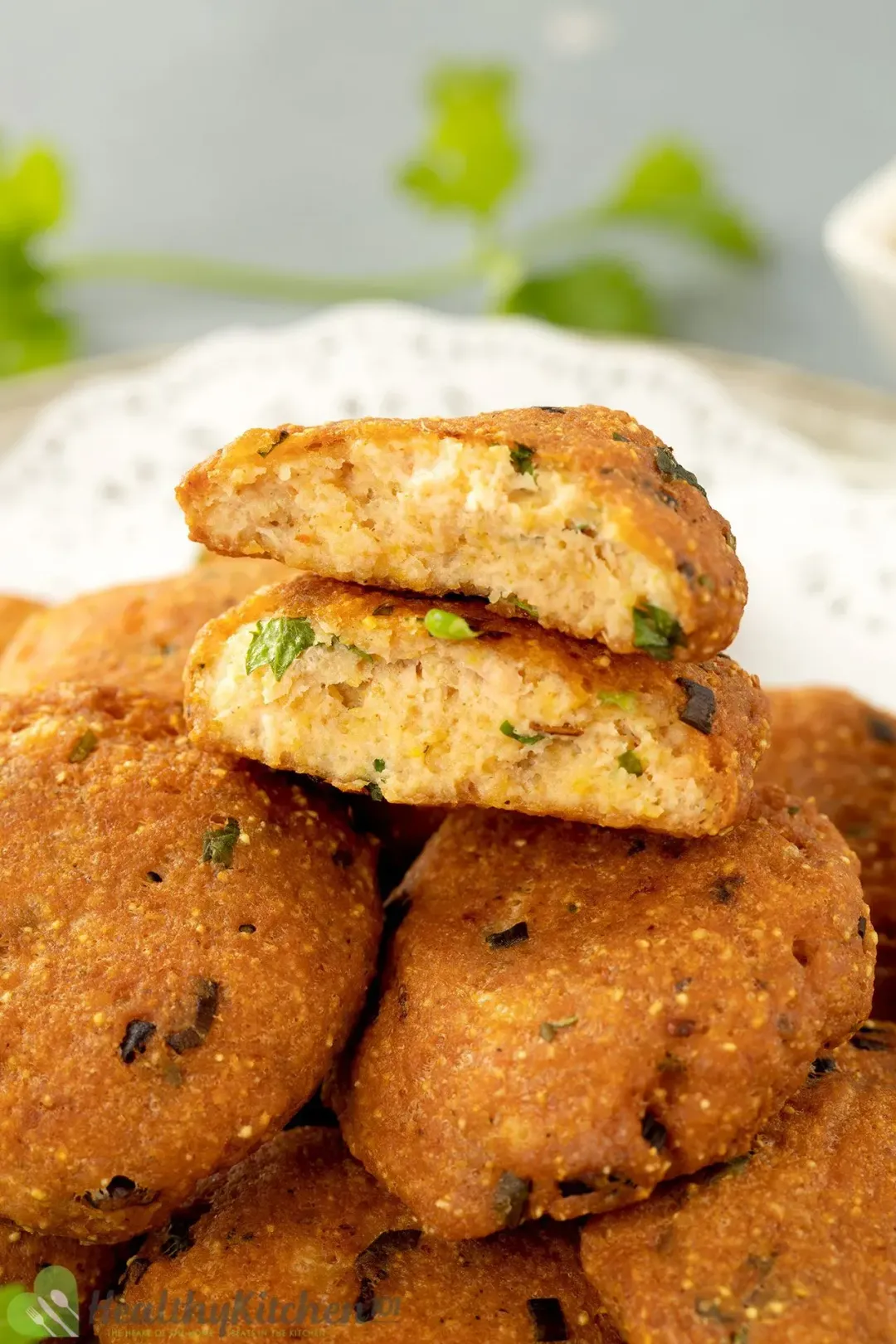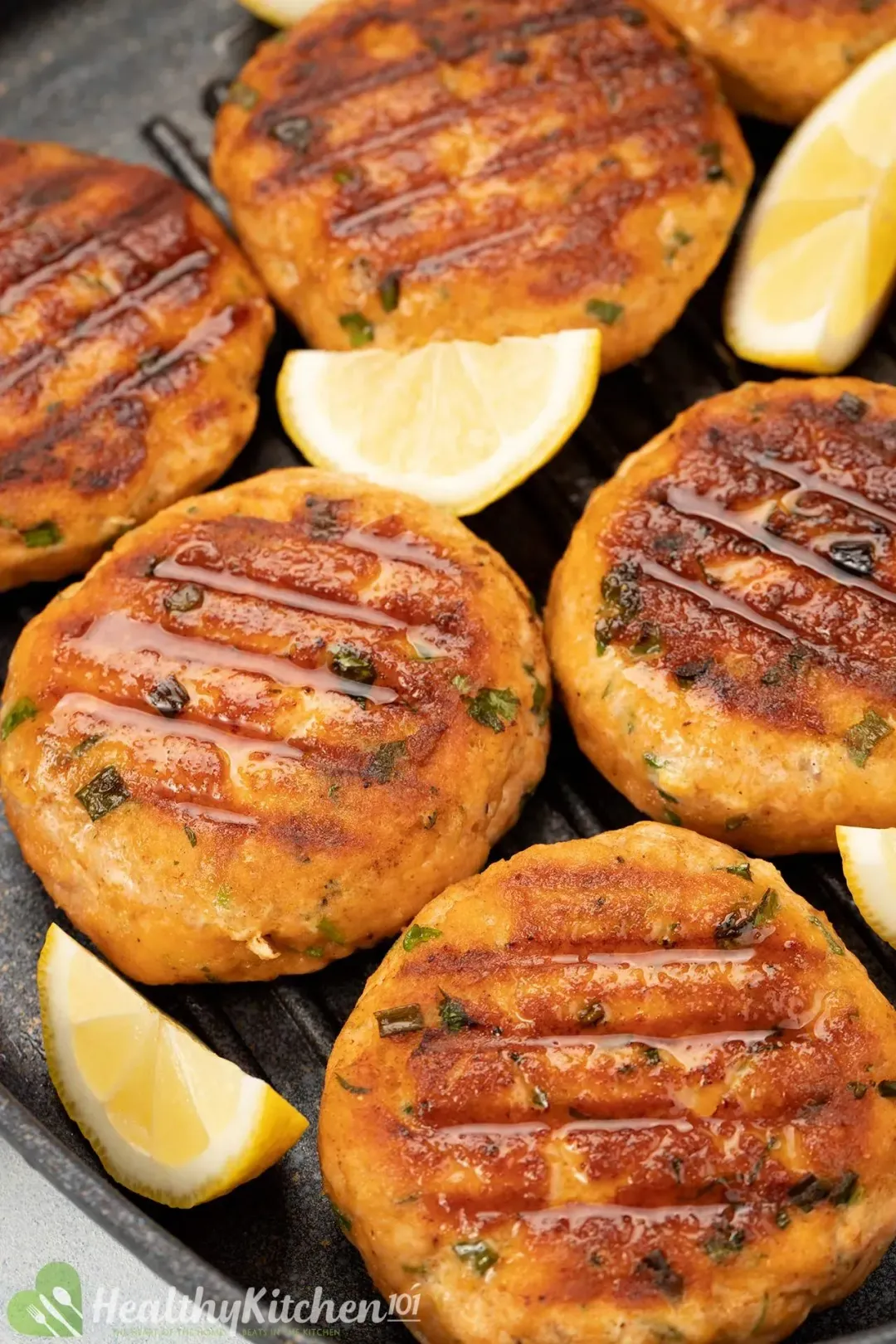 Salmon Patties: Crispy on the outside, juicy on the inside, these patties are golden fish cakes that deliver delightful, crunchy bites. They're excellent as a side dish served with a tangy mayo dip.
Salmon Burger: Regular beef burgers will become a thing of the past once you sink your teeth into this salmon special. It's thick, juicy, and served with a bold sour cream sauce to give you the full burger experience.
Salmon Croquettes: Croquettes are much like patties: chopped meat mixed with eggs, flour, and seasoning. This recipe uses an herbaceous mix to bind the ingredients together before frying them into crispy, golden cakes.
Our Best Salmon Recipes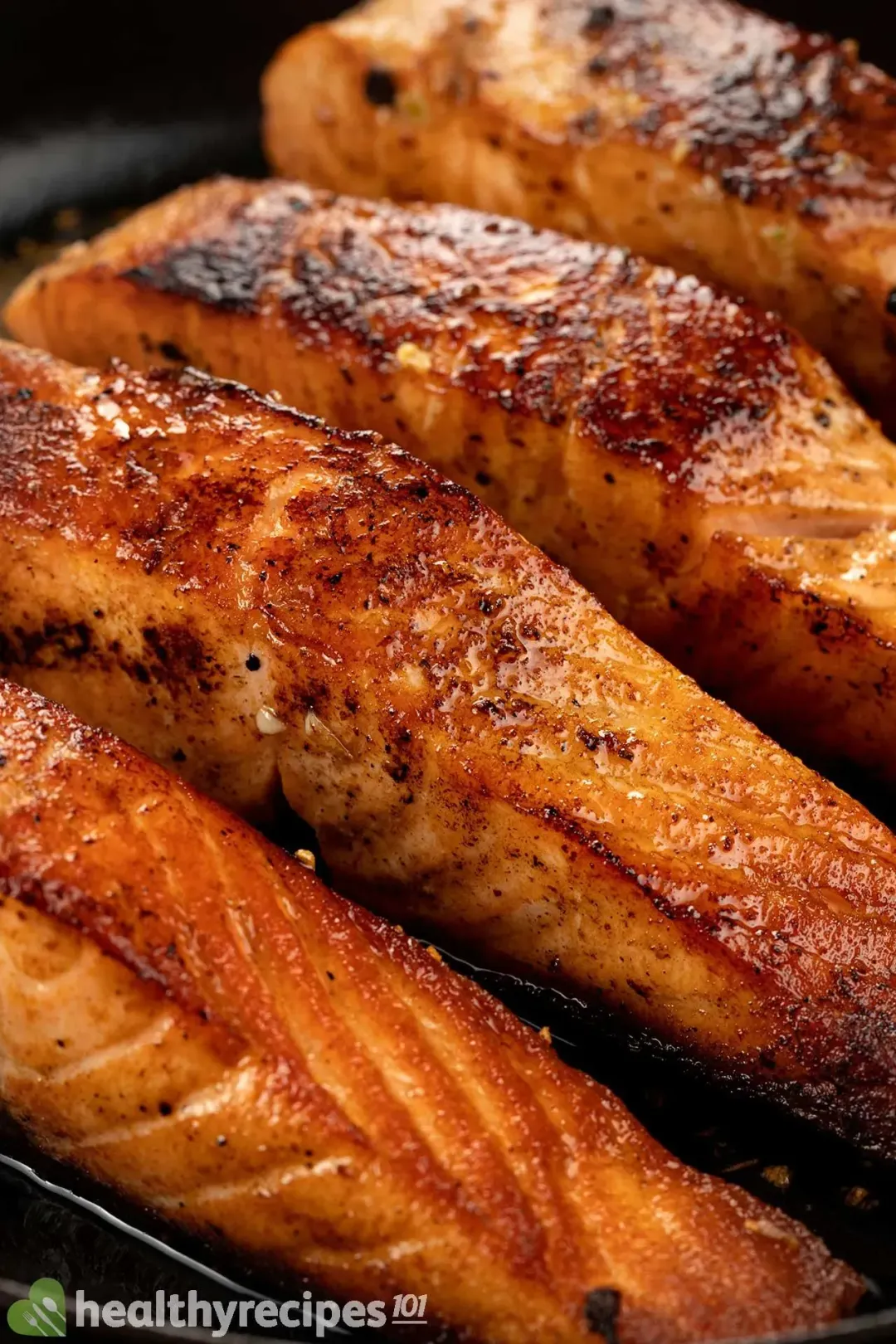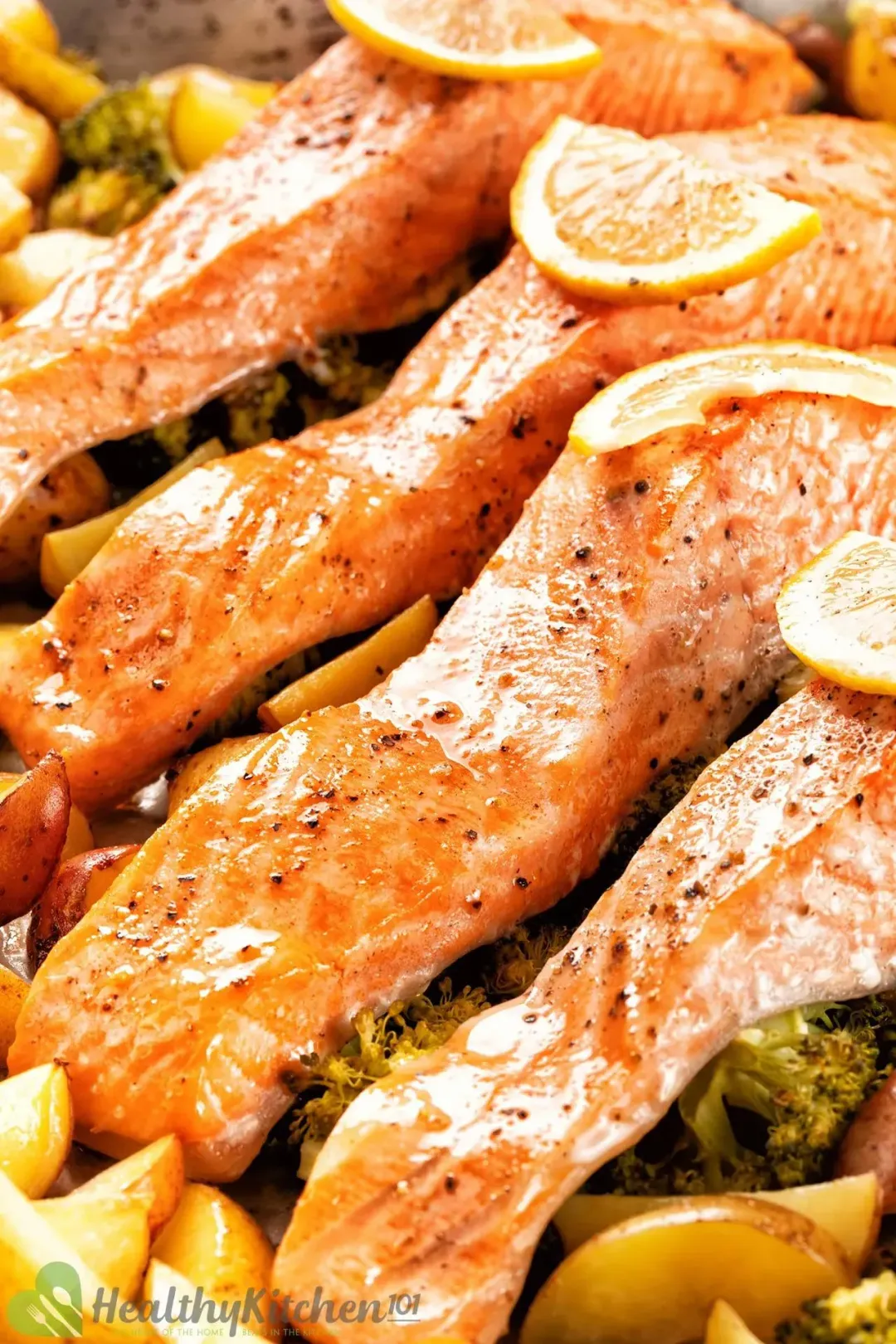 FAQs
1. How Long Does Raw Salmon Last in the Fridge?
Fresh, uncooked salmon can last up to two days in the fridge. With proper storage (tightly sealed, in its original package), you can keep fish safely without spoilage.
2. How Long Does Cooked Salmon Last?
Cooked salmon can last for four days in the fridge if you (i) refrigerate it within two hours of cooking and (ii) store it in an airtight container.
3. How to Defrost
Place it in the fridge to thaw for up to 24 hours. This is often the best thing to do if you're on your way out the door for work — it'll defrost slowly during the day and will stay fresh a little longer.
Leave it at room temperature to gradually defrost. This can take up to 2 hours or slightly longer for lower room temperatures.
Use a microwave. Although this isn't our preferred option, we know all too well the panic that ensues after realizing you forgot to take the meat out to thaw!
No worries — simply pop the salmon into the microwave and set it to defrost. Set the timer for 5-minute bursts for a piece weighing roughly 300 grams and increase the time for larger pieces to let it thaw completely before cooking.
4. How to Reheat
If you've got some salmon leftovers from the day before, use these methods to help convert soggy fish back to fresh filets.
Oven: An oven can help you get the job done perfectly if you want to be sure the salmon doesn't dry out. Cover the piece of fish with aluminum foil and reheat it at 350 °F until it's warm to the touch.
Skillet: Using a skillet will reintroduce some oil into your dish, but a little goes a long way as long as you don't overcook the salmon. Medium temperature is ideal for slowly warming the fish until it's crispy on the outside.
Air Fryer: An air fryer is another type of oven that's perfect for quick reheating with no oil. You can use foil to ensure that it stays moist in the center and cook it for 5 to 7 minutes at 360 °F until it's nice and crispy.
Microwave: Using a microwave is quick, but comes at the cost of crispy salmon skin. If this is your only option, reheat the filet in 30-second bursts until it's warm throughout.
Refer to our full instructions to help you reheat salmon filets.
5. How to Tell if Salmon Is Bad
Fresh salmon smells like the ocean. If it has a sharp, pungent odor, it may be time to toss it.
You may also notice a thin layer of slime form on the surface of salmon when it goes bad. This is a telling sign that the fish has spoiled, so don't be tempted to wash it off and keep it. Dispose of it immediately to avoid food poisoning.
6. How to Tell if Salmon Is Done
When cooking salmon (and fish in general), watch for the following as signs that it's ready.
The color of the salmon changes when it's ready. An opaque or light pink shade on the exterior and darker pink in the center means it's done.
Check the temperature with a thermometer to ensure a more precise cook. The salmon is ready when it reaches an internal temperature of 145°F.
A flaky texture is a giveaway that the fish is done cooking. Use a fork to pull away some meat from the fish. If it comes away easily in flaky bits, that means it's done and ready to be served.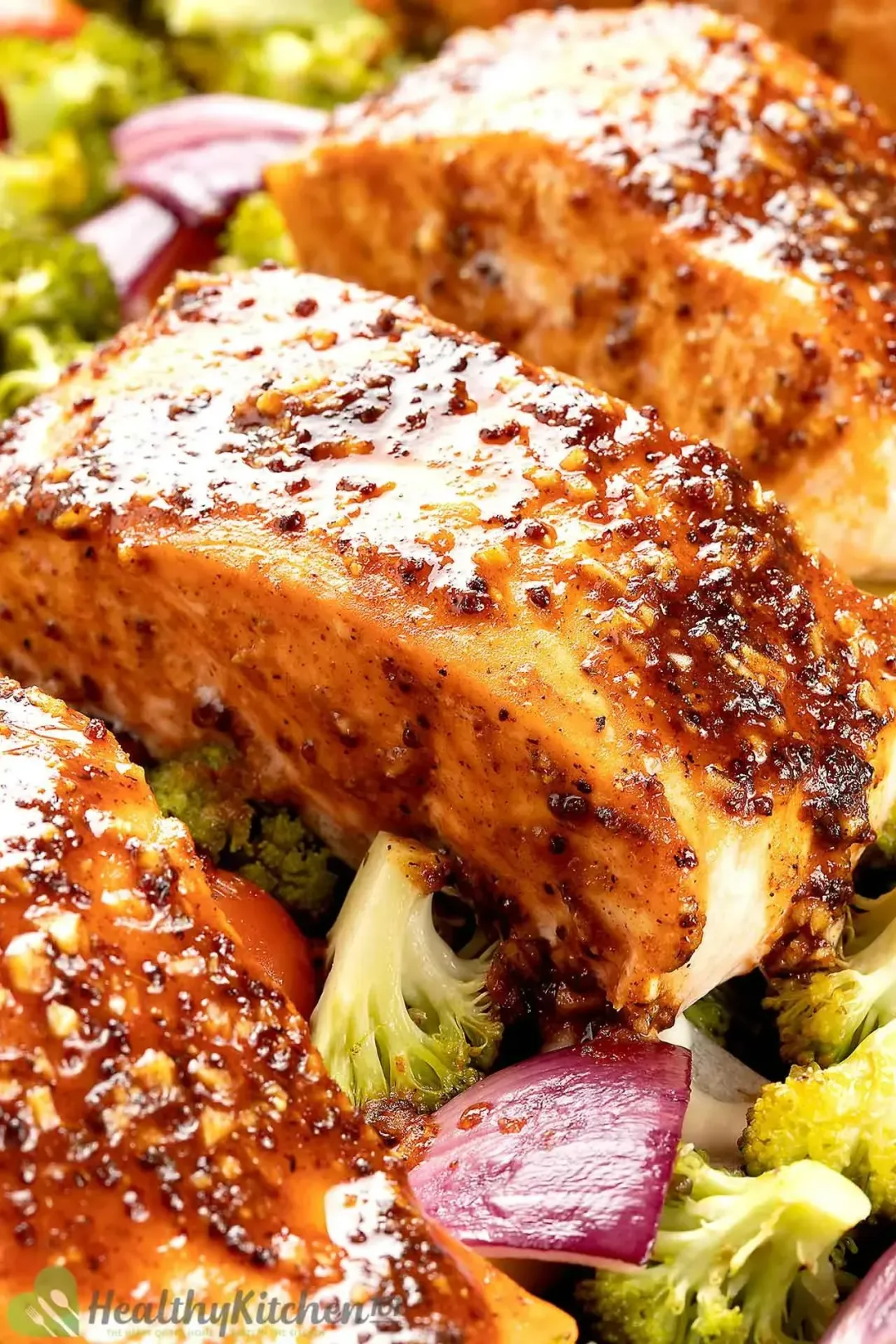 Next Recipe
Bake Salmon Recipes
Bake Salmon Recipes
Writer, Author
Luna Regina is an accomplished writer and author who dedicates her career to empowering home cooks and making cooking effortless for everyone. She is the founder of HealthyKitchen101.com and HealthyRecipes101.com, where she works with her team to develop easy, nutritious recipes and help aspiring cooks choose the right kitchen appliances.
Comments/ Reviews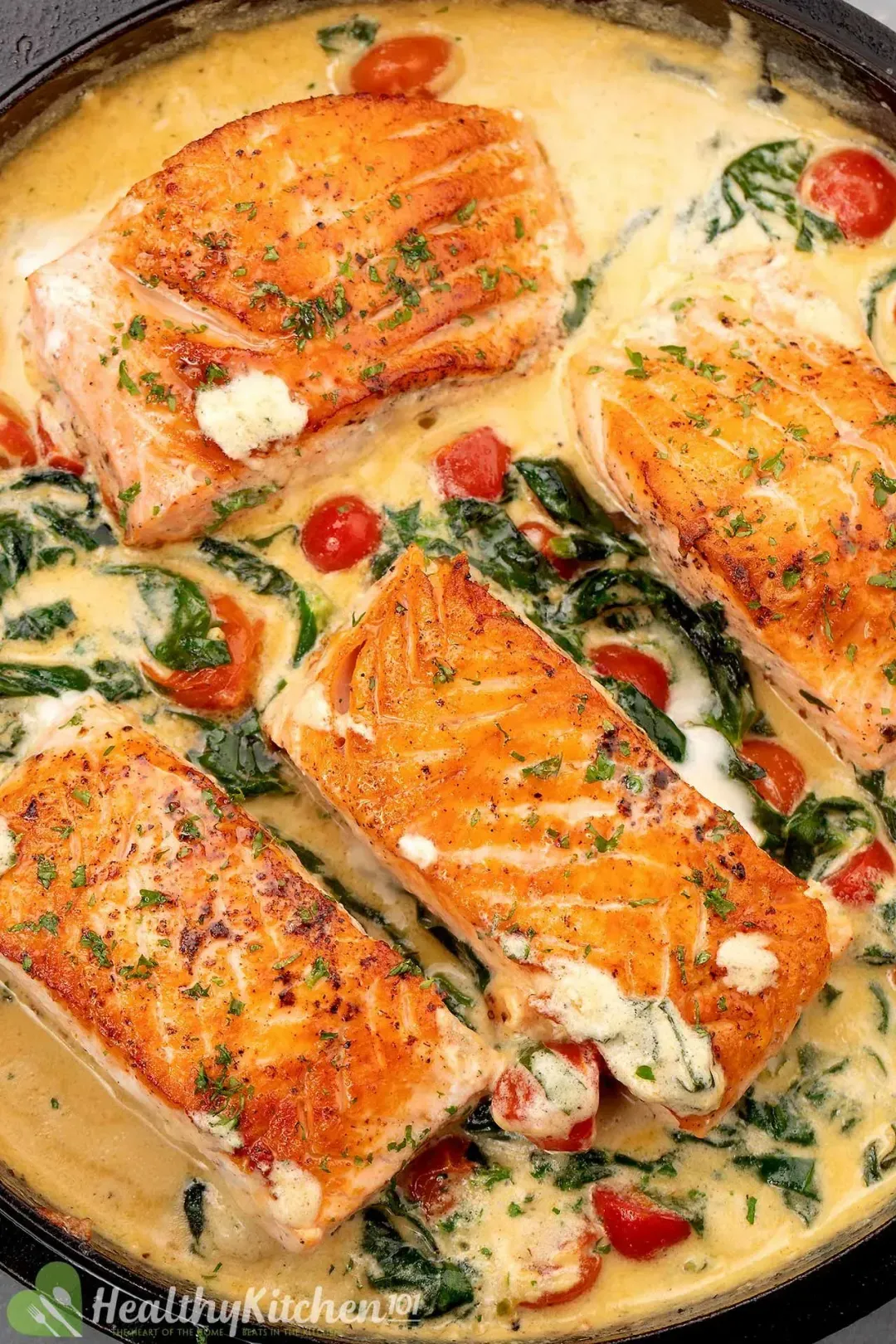 Made maple glazed salmon. This was delicious!