We've gathered some of the most delicious must-try baked salmon recipes out there to have you covered for any occasion - from cookouts and picnics to romantic dinners.
Difference Between Grilled Salmon and Oven-Baked Salmon?
Salmon is a nutritious and versatile food. The final dishes, however, will differ slightly in nutritional value and flavor depending on the cooking method.
Grilling is a quick and healthy way to cook salmon: Over an open fire the excess fat will melt and drip off the racks helping to reduce the amount of cholesterol intake. Moreover, the grilled salmon will possess delicious smoky notes of wood and charcoal.
However, working at high temperatures (grilling, frying, or sautéing) could lead to an increase in AGEs (Advanced glycation end-products). These harmful substances are responsible for metabolic issues, kidney failure, heart disease, etc.
On the other hand, oven-baking is easier and healthier than the traditional grilling method.
Unlike grilling, oven-baking can distribute even heat to cook the fish thoroughly, lowering the risk of undercooked or burned salmon. Plus, with baking salmon at low temperatures, AGEs will not be a problem.
During the baking process, no added oil is required and the grease from the fish will also drain out. Hence, oven-baked salmon is an excellent dish for a low-calorie high-protein menu. You will be able to enjoy the tenderness and juiciness without worrying about the amount of added fat.
Best Baked Salmon Recipes
Now, let's take a look at our collection of must-try baked salmon recipes, shall we?
How to Choose and Season Salmon for Baking
1. Choosing the Salmon
A successful baked salmon dish starts with high-quality salmon fillets. You should opt for the center-cut pieces, around one to two-inch thick.
To tell whether salmon is in good condition, use your finger to gently press down the flesh. If it springs back and leaves no fingerprints, it's a keeper. Besides, you can also choose salmon based on the color and smell. Fresh salmon fillets should have a bright orange-red hue with nice marbling rather than dark spots and milky-white residue.
2. Seasoning the Salmon
Here is how to season salmon the classic way with olive oil, salt, pepper, and herbs.
Line the baking tray with a large parchment paper. Place the salmon fillets skin-down on the tray.
Brush the fillets lightly with olive oil.
Sprinkle on some salt, pepper, and herbs of your choice. Gently rub the seasonings in with your hands.
Let the salmon sit for 5-10 minutes to allow the spices to absorb better.
Sauce for Baked Salmon
If you fancy baked salmon with bold flavors and characters, marinating is the way to go. Here are some sauce options that work excellently with salmon:
Dill sauce: This classic sour cream sauce goes well with most protein dishes - from meat to seafood. Plus, dill sauce is easy and budget-friendly to make from scratch.
Cream sauce: Are you ready for French vibes? All you need are olive oil, whole milk, all-purpose flour, salt, pepper, nutmeg, and our secret ingredient - a dash of white wine. This sauce will raise any home-cooked dish to fine-dining standards.
Mustard sauce: Serving salmon with Dijon mustard is a great idea, as the tanginess of the sauce helps perk up the natural flavor of the fish. Try adding honey to your mustard mixture for a simple yet incredible twist.
Lemon sauce: You can't go wrong with salmon and lemon sauce. Adding lemon zest and chopped parsley in the last few minutes of cooking will help sharpen your dish.
Honey soy sauce: If you haven't tried the Asian way of cooking salmon, now is a perfect time. For those who are fans of spicy food, sprinkle red chili flakes into the mixture of soy sauce, vinegar, honey, minced garlic, and ginger.
How to Bake Salmon
Baking salmon doesn't require a lot of cooking skills, as the oven will do most of the work for you. You just need to pay attention to the time and temperature while baking to prevent undercooked and overcooked fish.
Prep your oven: Preheat the oven to 400°F for regular salmon (seasoned with salt and pepper). If you're working with marinated fillets, lower the temperature to 360°F. Place the baking rack in the middle of the compartment.
Place the well-seasoned salmon skin-side down on the baking tray and place it in the oven. Bake until the salmon is fork-tender, about 25-30 minutes. Keep in mind that cooking time varies depending on the thickness of the fillets. You should let the larger and thicker pieces sit longer in the oven, about 5-10 more minutes.
Remove the salmon from the oven.
Pour the sauce over and garnish with fresh parsley (optional). Serve.
We hope our recipes will encourage you to cook more with salmon - especially using an oven for more healthy meals. We're looking forward to seeing your beautiful salmon creations. So, do share your experiences with us by leaving a comment below.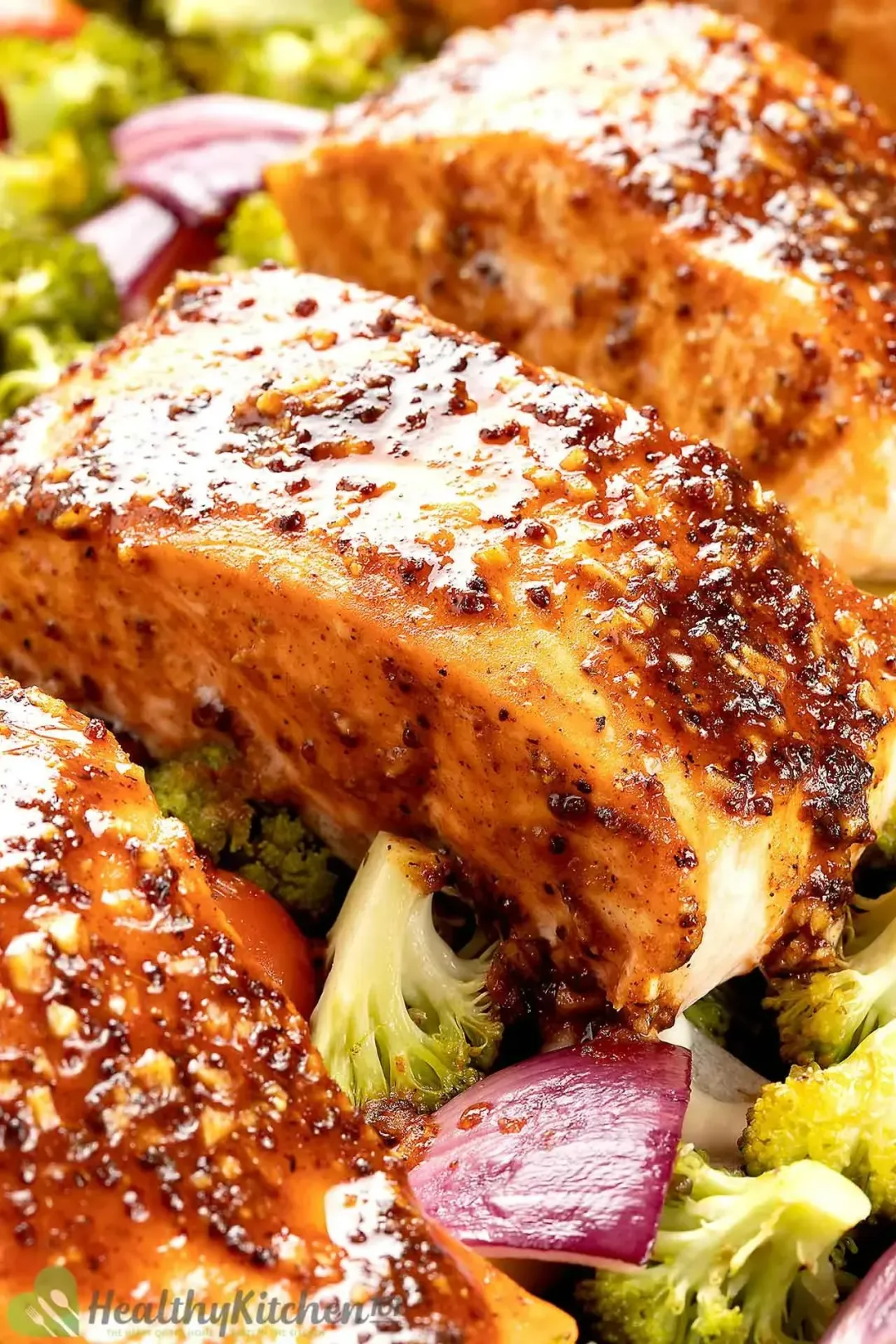 Bake Salmon Recipes
From casseroles to oven bakes, find the best Bake Salmon Recipes to incorporate into your healthy eating regimen.
Ingredients
Directions
Choose a recipe that you like.
Assemble all the essential ingredients.
Follow the instructions to give you incredibly tasty baked salmon recipe in less than 45 minutes!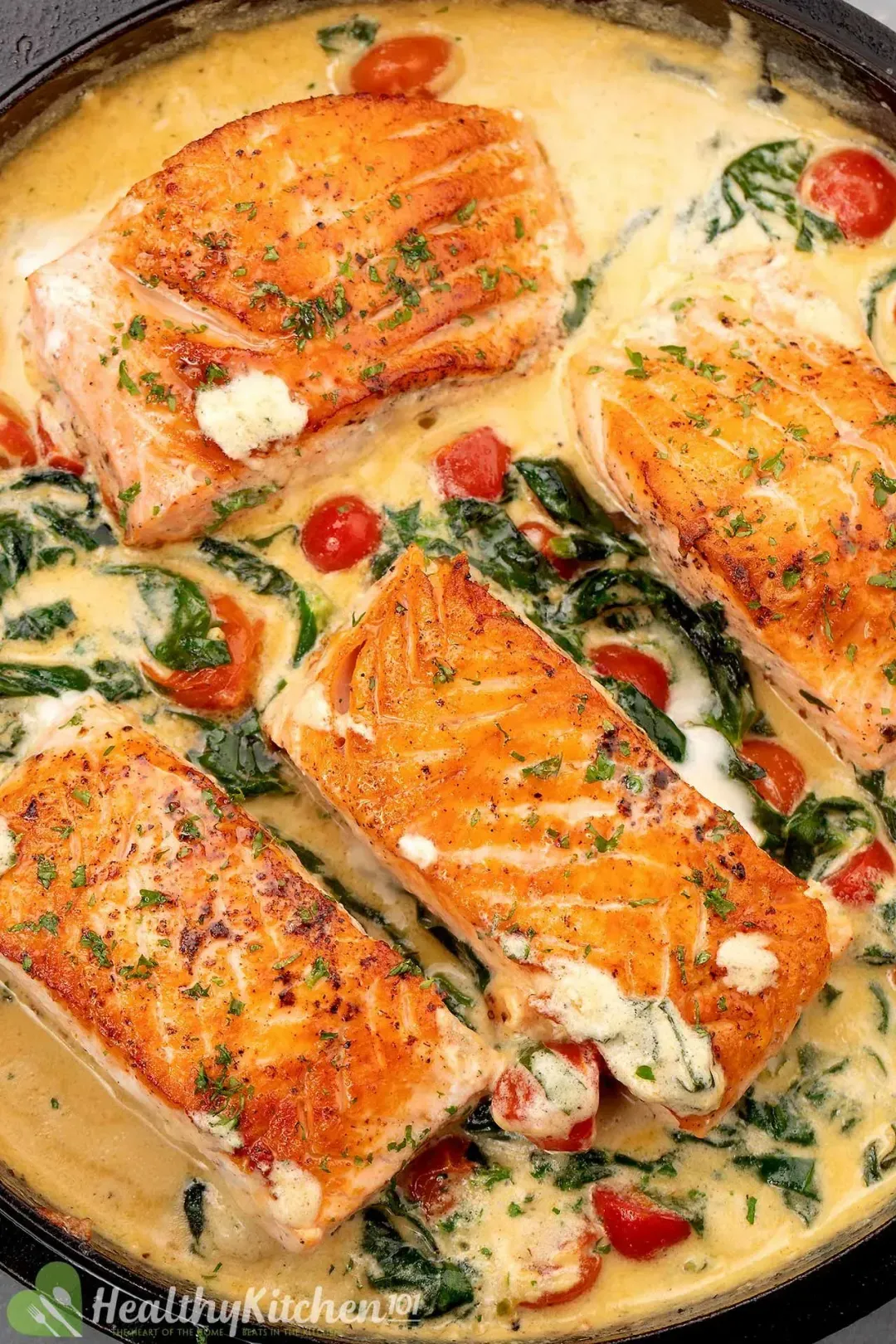 Previous Recipe
Healthy Salmon Recipes
Healthy Salmon Recipes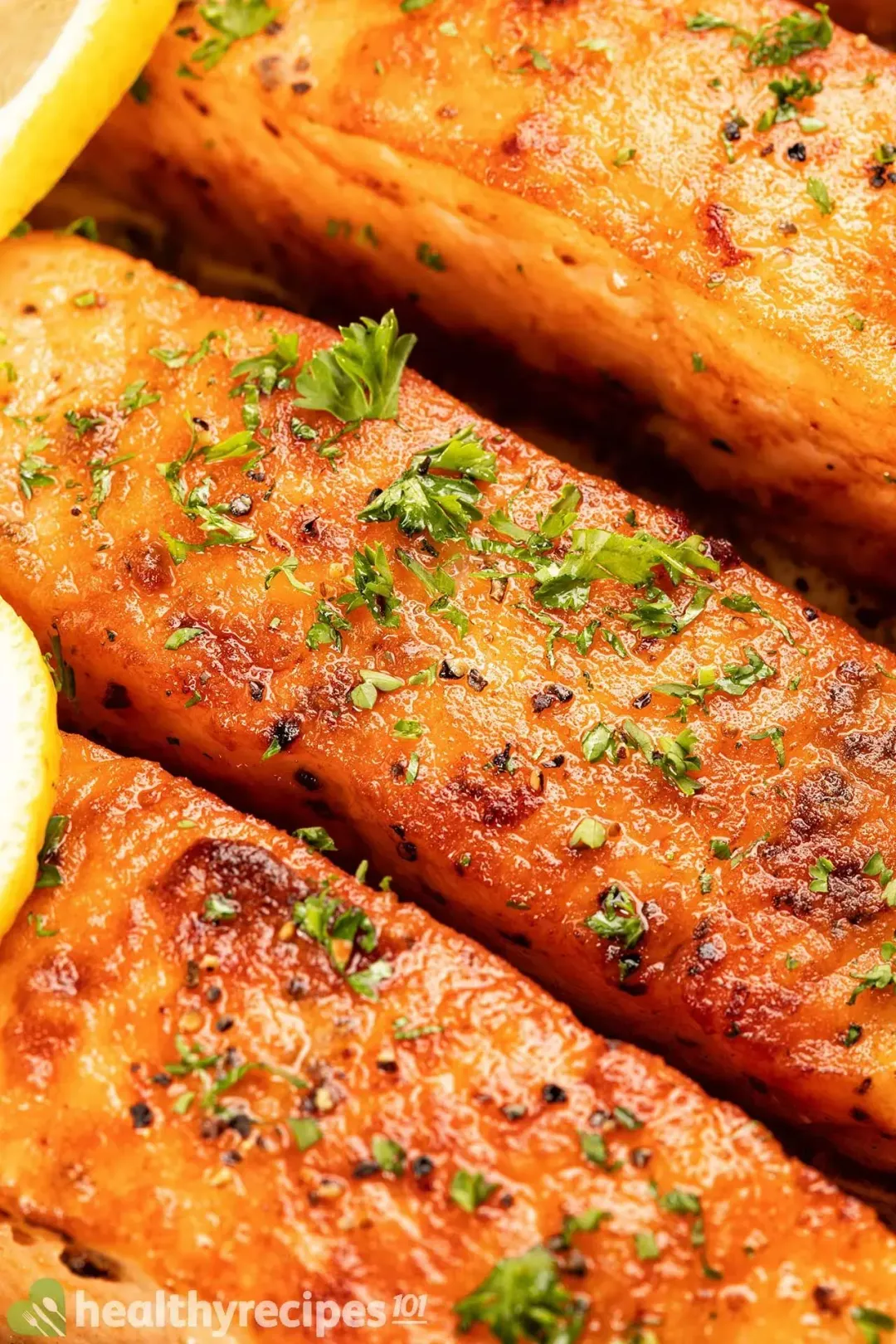 Next Recipe
Salmon Fillet Recipes
Salmon Fillet Recipes
Writer, Author
Luna Regina is an accomplished writer and author who dedicates her career to empowering home cooks and making cooking effortless for everyone. She is the founder of HealthyKitchen101.com and HealthyRecipes101.com, where she works with her team to develop easy, nutritious recipes and help aspiring cooks choose the right kitchen appliances.
Comments/ Reviews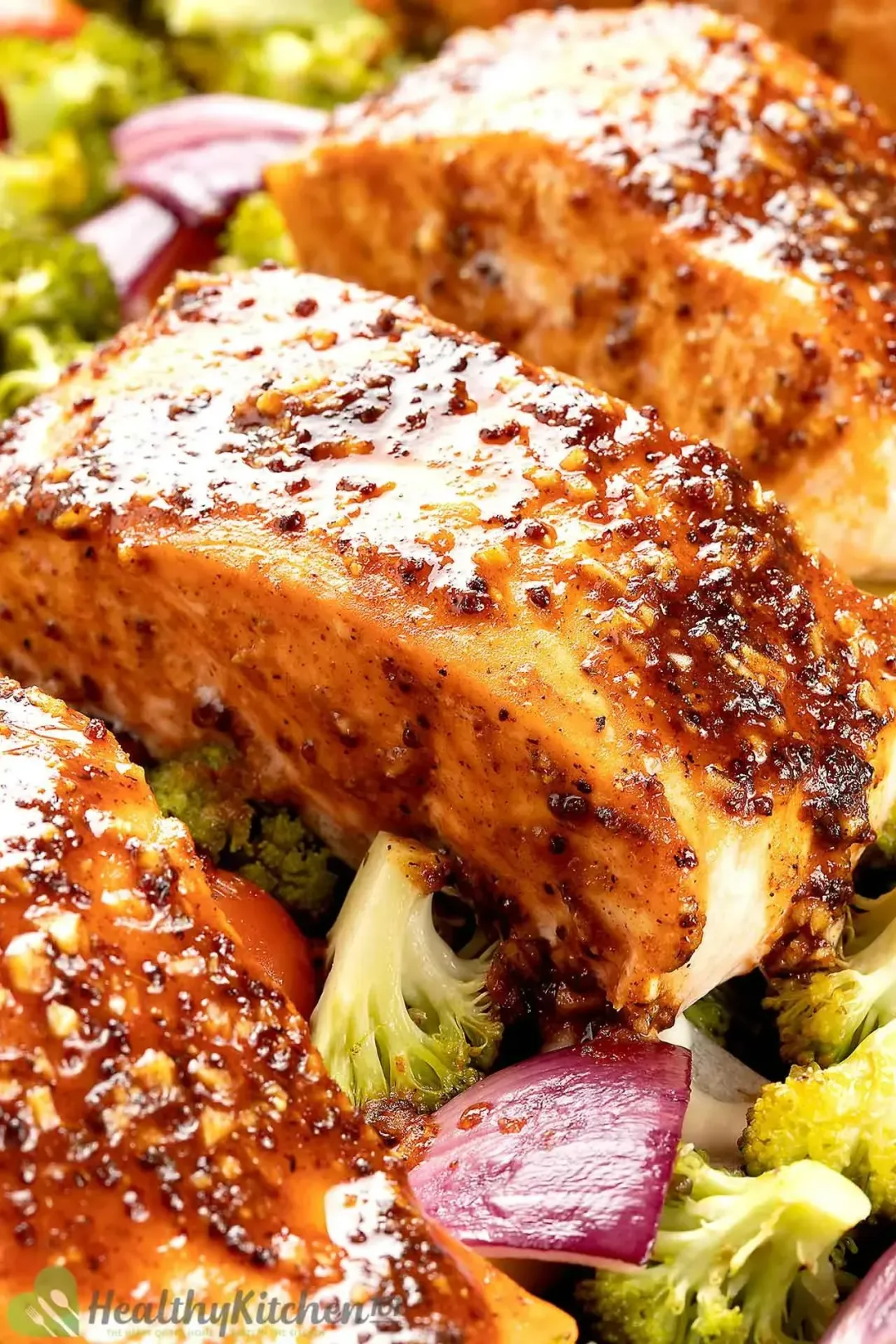 This is a great roundup of baked salmon recipes! The variety of seasonings and sauces make it fun to experiment with the different flavor profiles. Every recipe looks delicious, and I plan to try out at least one in my kitchen soon!