Start the party on the right note with these shrimp cocktail recipes. After all, what's better than succulent, plump shrimp, perfectly cooked and chilled to perfection, swimming in a pool of enticing cocktail sauce? So grab your forks and get ready to indulge in this classic dish that never fails to impress. 
Why You Will Love Our Shrimp Cocktail Recipes
They're so easy to make: Our recipes are as simple as they get, making it easy for even novice cooks to whip up a delicious, elegant shrimp cocktail in no time. No complicated techniques or hard-to-find ingredients required!
They're quite healthy: Shrimp is low in calories and fat but high in protein, making it a healthier choice compared to other appetizers. It's also a great source of omega-3 fatty acids, which have been shown to have positive effects on the body's cardiovascular system.
They're diverse and flexible: Our shrimp cocktail recipes offer a wide range of options to suit every palate. Whether you prefer a traditional cocktail sauce or want to experiment with different flavors, we have recipes that you'll find utterly irresistible.
Best Shrimp Cocktail Recipes
So now you know a bit more about shrimp cocktail recipes it's time to take a look at some. Grab some fancy cocktail glasses, invite friends over, and impress them with these delectable recipes.
1. Shrimp Cocktail
Elegant and light but still packed with delicious flavors, this shrimp cocktail is an appetizer dream come true. The shrimp is boiled with veggies and herbs, infusing them with a delicate aroma that tingles all your senses. Coupled with the sauce's spicy, zesty goodness, every bite is nothing short of heavenly.
Go to Recipe
2. Mexican Shrimp Cocktail
Get ready to elevate your shrimp cocktail experience and add a little fiesta to your life! Vibrant and hearty with enough heat to ignite your senses, this Mexican shrimp cocktail is a showstopper that will bring life to any party or get-together. Moreover, the sauce is also filled with a variety of diced vegetables, making it a party of texture that will have your taste buds shimmering in joy.
Go to Recipe
3. Roasted Shrimp Cocktail With Chimichurri & Cocktail Sauce
Roasting shrimp for your shrimp cocktail brings an unexpectedly delightful twist to the dish. It intensifies the shrimp's seafood sweetness and coats them in a myriad of spicy, herby notes. Even better, this recipe comes with two sauces: chimichurri, which is a vibrant, tangy, and slightly zesty mixture of fresh herbs, garlic, lime juice, vinegar, and oil, and the classic cocktail sauce. The more the merrier hey?
Go to Recipe
4. Bloody Mary Shrimp Cocktail
There's nothing tame or ordinary about this recipe. It brings a bold twist to the dish's classic taste by marinating the shrimp in a diluted mix of Bloody Mary, Worcestershire sauce, hot sauce, BBQ sauce, horseradish, and various aromatics. Pair it with a glass of chilled vodka or a crisp white wine for the ultimate culinary experience.
Go to Recipe
5. Shrimp Cocktail in Avocado Bowls
While a martini glass is always a timeless choice for shrimp cocktails, sometimes a little switch-up makes this dish all the more exciting and refreshing. With this recipe, the succulent, tender shrimp is tossed in a creamy, mildly spicy sauce, and then served in hollowed-out avocado halves. It's a fantastic choice not only for appetizers but also for those quick breakfasts and brunches, or any occasion that calls for simple, refreshing dishes with just the right amount of flavors.
Go to Recipe
6. Cranberry Basil Shrimp Cocktail
Obviously, cranberry and basil are far from traditional for shrimp cocktails, but when it comes to culinary, a little experimenting sometimes results in the best outcomes. These two additional ingredients give the sauce an off-kilter yet oddly soothing tangy, subtly anise aroma. They're a perfect serve at Christmas and New Year's Eve parties, but would also kill it any other time of the year.
Go to Recipe
7. Korean Shrimp Cocktail
This recipe's version of cocktail sauce includes only three simple ingredients: ketchup, gochujang, and ginger. The shrimp is seasoned with Old Bay seasoning and then steamed to a tender, succulent perfection. Everything about this dish is as simple and straightforward as can be, but that doesn't make it any less scrumptious. The concoction of subtly sweet, spicy, savory, and slightly funky flavor notes is one that will delight your taste buds to no end.
Go to Recipe
8. Shrimp Cocktail Wonton Cups
Tiny but mighty, these shrimp cocktail wonton cups are palm-sized culinary wonders that guarantee to brighten all your meals. They require only four ingredients and come together in just 25 minutes with ease. All you have to do is assemble the ingredients and let the oven work its magic. Serve them at parties, get-togethers, or even regular meals—both adults and kids will have one helluva time devouring them.
Go to Recipe
9. Roasted Shrimp Cocktail With Chipotle Aioli
If regular cocktail sauce's gotten a little repetitive, perhaps this recipe might be more up your alley. The creamy, delectably spicy sauce is a mix of mayo, chili powder, cumin, garlic, lime juice, chipotle powder, and salt. The highlight, of course, is the chipotle powder which offers a one-of-a-kind spicy-smoky fusion that makes this dish unlike other cocktail dishes you've had before.
Go to Recipe
10. Grilled Shrimp Cocktail With Fresh Tomato Cocktail Sauce
Feel the magic of summer melting on your palate with this beautiful dish. The shrimp are marinated, then grilled to a smoky, flavorful perfection. The sauce is a hearty, smoky, and delicately zesty blend of tomatoes, sun-dried tomatoes, lemon juice, and harissa, with a subtle spicy kick from the crushed red pepper lingering in the aftertaste. Serve it with some toasted bread or over a bed of pasta and you've got a truly memorable meal on your hand.
Go to Recipe
Homemade Shrimp Cocktail Sauce
A major draw of any shrimp cocktail is the cocktail sauce. Its most common ingredients are ketchup, hot sauce, lemon or lime juice, horseradish, and Worcestershire sauce. Ketchup and hot sauce like Sriracha or Tabasco sauce are popular options that you may already have in your kitchen. The same goes for lime and lemon juice.
Horseradish and Worcestershire sauce, however, are special. Worcestershire sauce has many layers of flavor due to its many components: vinegar, molasses, sugar, salt, garlic, etc. Horseradish is in a league of its own when it comes to natural potency and heat.
You can add other herbs and vegetables to cocktail sauce for a greater variety of flavors, such as red onion, parsley, cilantro, etc. Some other renditions of cocktail sauce involve mayonnaise (Marie Rose sauce) or whisky.
Can I Use Frozen Shrimp for Shrimp Cocktail?
Sure you can.
The cooking time will vary depending on what kind of frozen shrimp you have. If you have peeled shrimp, you don't need to thaw before boiling. Simply boil the shrimp for one minute longer than the time indicated in the recipes.
If your shrimp are whole, we advise that you thaw them first, peel and clean them, then cook according to the recipes.
How to Thaw Frozen Shrimp Quickly
Thawing shrimp quickly is easy. First, you need a large bowl of cold water.
Transfer your frozen shrimp to a resealable ziplock bag and submerge that bag in the cold water. You can cover the bowl with something to make sure that the entire bag is in the water. This method will thaw shrimp in 20-30 minutes.
If you put the shrimp directly into the cold water it will take even less time; about 10-15 minutes to be thawed completely. 
FAQ
There are some common questions that come up when thinking about shrimp cocktails. Here are just a few to help you on your way:
1. Is Shrimp Cocktail Raw?
No, shrimp cocktails are not raw. The shrimp is boiled with herbs and spices before serving.
Raw shrimp is not safe to eat as it contains harmful bacteria. Shrimp should be cooked to an internal temperature of 145 °F to be safe. And as an added bonus, boiling shrimp with herbs and spices makes its flavor profile more diverse (as well as making it safe to eat).
2. How Long Does Shrimp Cocktail Last in the Fridge?
Cooked shrimp and the cocktail sauce can last up to four days in the fridge. Store these two components in separate airtight containers. 
They will be ready to serve any time within those four days. Where possible, we recommend enjoying this dish within one day of making it to maintain its best flavor and mouthfeel. Shrimp loses its texture gradually in the fridge.
3. What Is the Difference Between Ceviche and Shrimp Cocktail?
The main difference between ceviche and shrimp cocktails is the starting point of the dish. Shrimp cocktails require cooked shrimp right at the start, and the sauce is more of a companion to the shrimp.
With ceviche, you start with raw shrimp, and the acidic citrus juice "cooks" the shrimp. The shrimp is mixed with vegetables, juice, and spices as opposed to shrimp cocktails where the sauce can be a dip.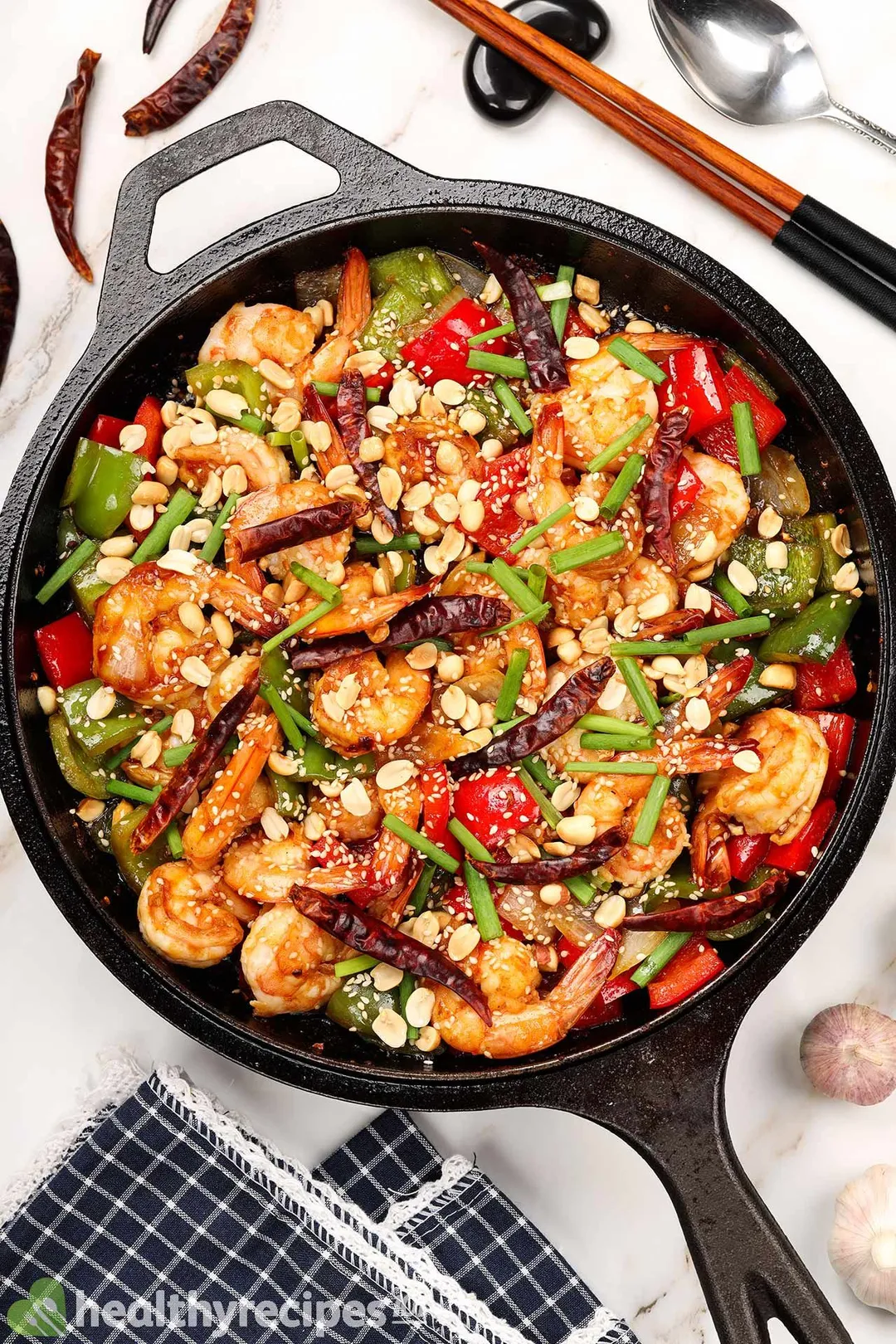 Previous Recipe
Asian Shrimp Recipes
Asian Shrimp Recipes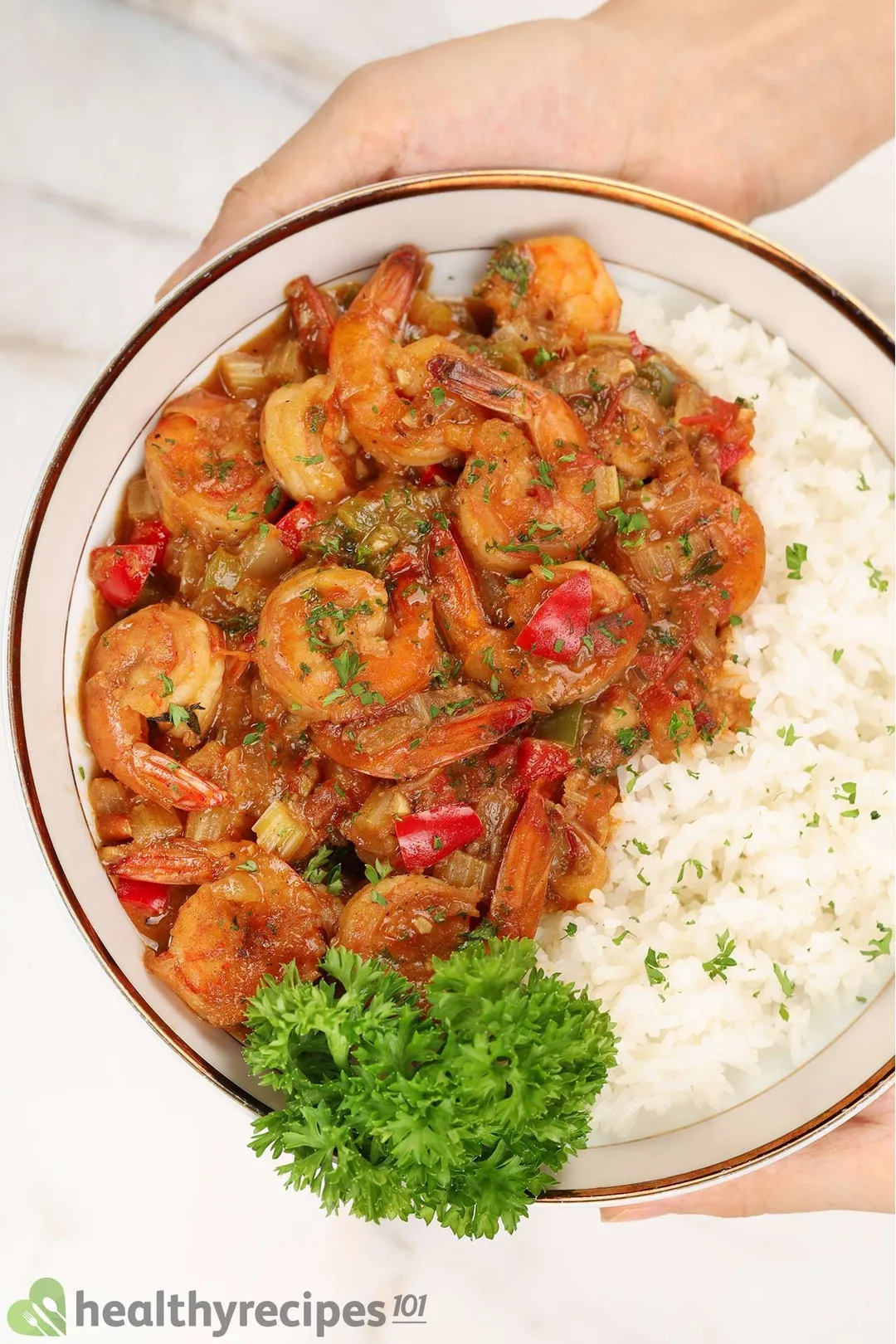 Next Recipe
Shrimp Etouffee Recipes
Shrimp Etouffee Recipes
Writer, Author
Luna Regina is an accomplished writer and author who dedicates her career to empowering home cooks and making cooking effortless for everyone. She is the founder of HealthyKitchen101.com and HealthyRecipes101.com, where she works with her team to develop easy, nutritious recipes and help aspiring cooks choose the right kitchen appliances.
Comments/ Reviews