Our shrimp Alfredo recipes require only a few ingredients and use simple cooking techniques to create hearty and satisfying meals at home.
What Is Alfredo Sauce Made of?
Alfredo sauce is rich, silky, and creamy, made by combining melted butter, heavy cream, and parmesan cheese. Unlike other pasta sauces that use tomatoes as a foundation, the Alfredo sauce omits vegetables entirely and relies on dairy products for its flavor and texture.
Seasonings, such as salt, pepper, garlic, parsley, or Italian seasoning are often added to taste. While the ingredients are quite straightforward, the sauce has an extraordinary flavor. It can be used to complement any dish, from chicken, beef, salmon, to shrimp.
American-style Alfredo sauce is a richer sauce since it also includes a small portion of heavy cream. Some people add cream cheese to it, too.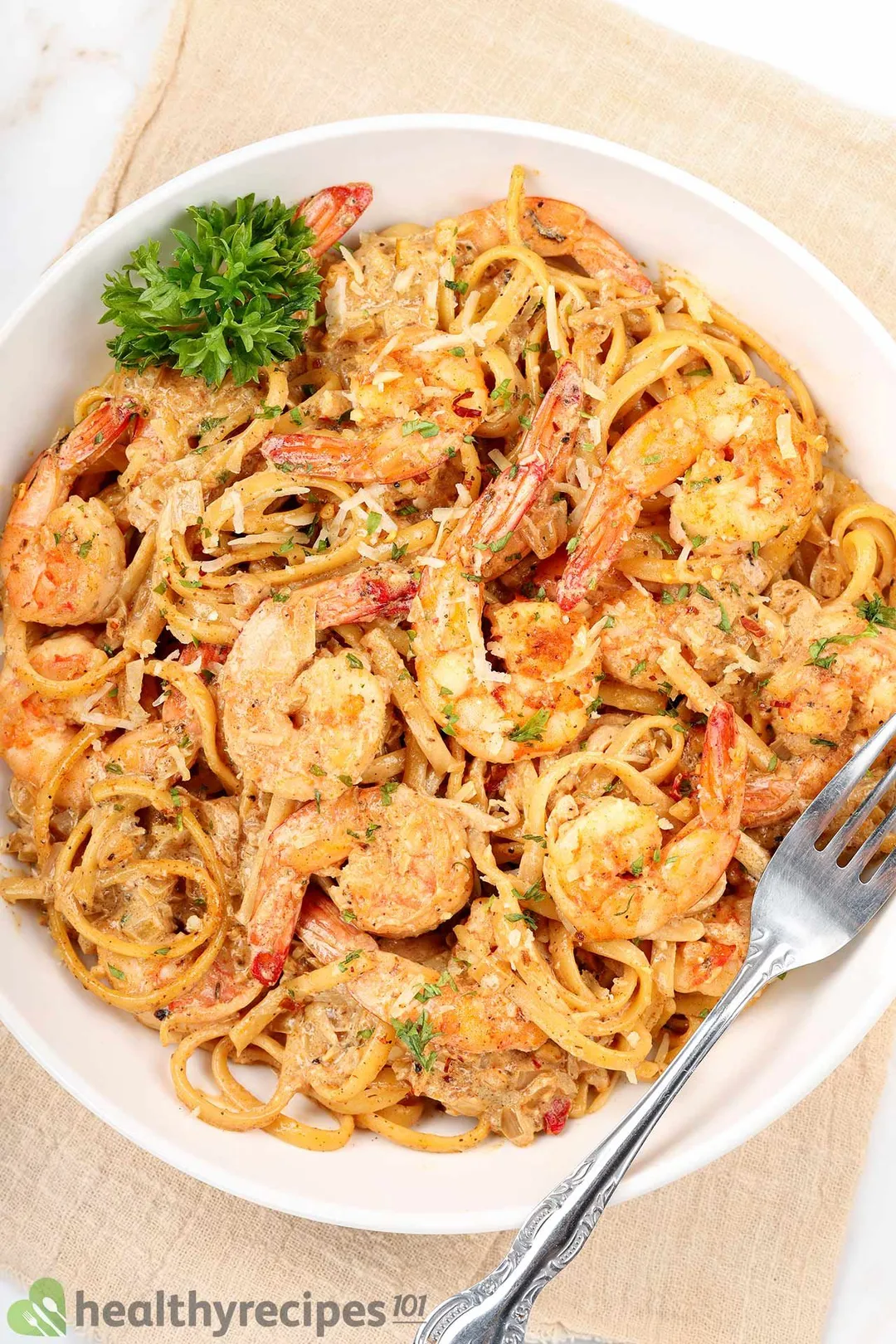 Is White Sauce and Alfredo Sauce the Same?
Alfredo sauce is an Italian sauce, generally composed of heavy cream, butter, parmesan cheese, and garlic. On the other hand, white - or Béchamel - sauce, is a French sauce made up of roux (flour and butter) and cream. 
White sauce is more shelf-stable than Alfredo sauce and used in a range of recipes, whereas the latter Alfredo is mainly used in fettuccine Alfredo.
Best Shrimp Alfredo Recipes
1 of 1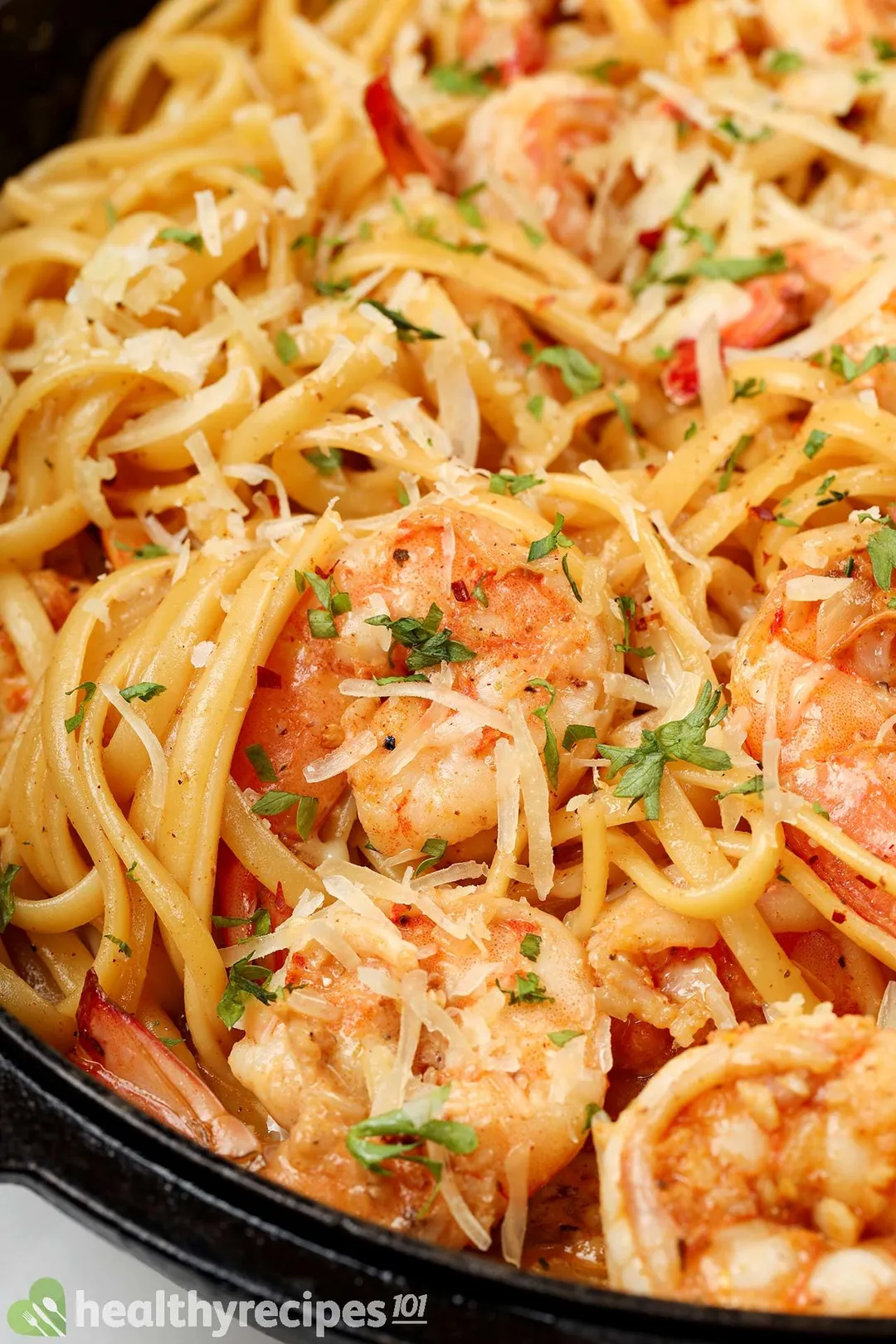 1 of 1
Shrimp Alfredo Recipe
This dish will do wonders if you're feeling the blues and need a comforting meal. Spaghetti and plump shrimp are served in a creamy white sauce that's robust with garlic and onion flavors to satiate.
Get the
recipe
.
Tips for the Perfect Shrimp Alfredo
Preparing glorious shrimp isn't complicated, but there are some tips you should follow to elevate such a simple recipe.
Use Fresh, High-Quality Ingredients: The rule of thumb is that the higher the quality of the ingredients used, the better your sauce will be. Make sure the shrimp is fresh, and the parmesan cheese is procured from trusted sources.
Shred the Cheese: Due to the small size of the shredded cheese, the parmesan will melt instantly to create a smooth and rich sauce. You can also switch to another hard cheese like Asiago or Romano for a little variation in flavor.
Additional Herbs and Seasonings: There is always room for creativity while preparing the classic Alfredo sauce. You may add pepper, salt, paprika, onion powder, Italian seasoning, or your favorite herbs.
Thick, American-Style Alfredo: To thicken the sauce, add a tablespoon of flour to the melted butter and stir for 30 seconds. Then add cream, and continue with the rest of the recipe.
Alternatively, add a few tablespoons of cream cheese to the saucepan right before you add the heavy cream. Cream cheese helps thicken the sauce and gives it a mildly tangy flavor.
What Goes Well With Shrimp Alfredo?
If you are wondering what to pair with shrimp Alfredo to prepare a complete dinner meal, we have a few suggestions.  From our experience, something as rich and luscious as pasta is best paired with a side that is light and refreshing.
Serving vegetables, bread, or any salad with fresh flavors or light fruitiness are an excellent way to complement this pasta dish. The most common served with shrimp Alfredo is garlic bread. 
This crisp, crunchy, and savory bread is a classic accompaniment to practically all pasta dishes in Italy. Baguette or dinner rolls are also a delicious option to consider when serving shrimp Alfredo.
There are many vegetables that can complement shrimp Alfredo. We love to roast any handy veggies such as broccoli, asparagus, or mushrooms, and finish with a squeeze of lemon juice. The zest of the lemon goes well with the buttery and decadent flavor of Alfredo pasta.
Alternatively, you can go with any salad you like. Just keep it simple and light to prevent it from overwhelming the main course. If you're in the mood for pasta tonight, go ahead and try our simple and tasty shrimp Alfredo recipes.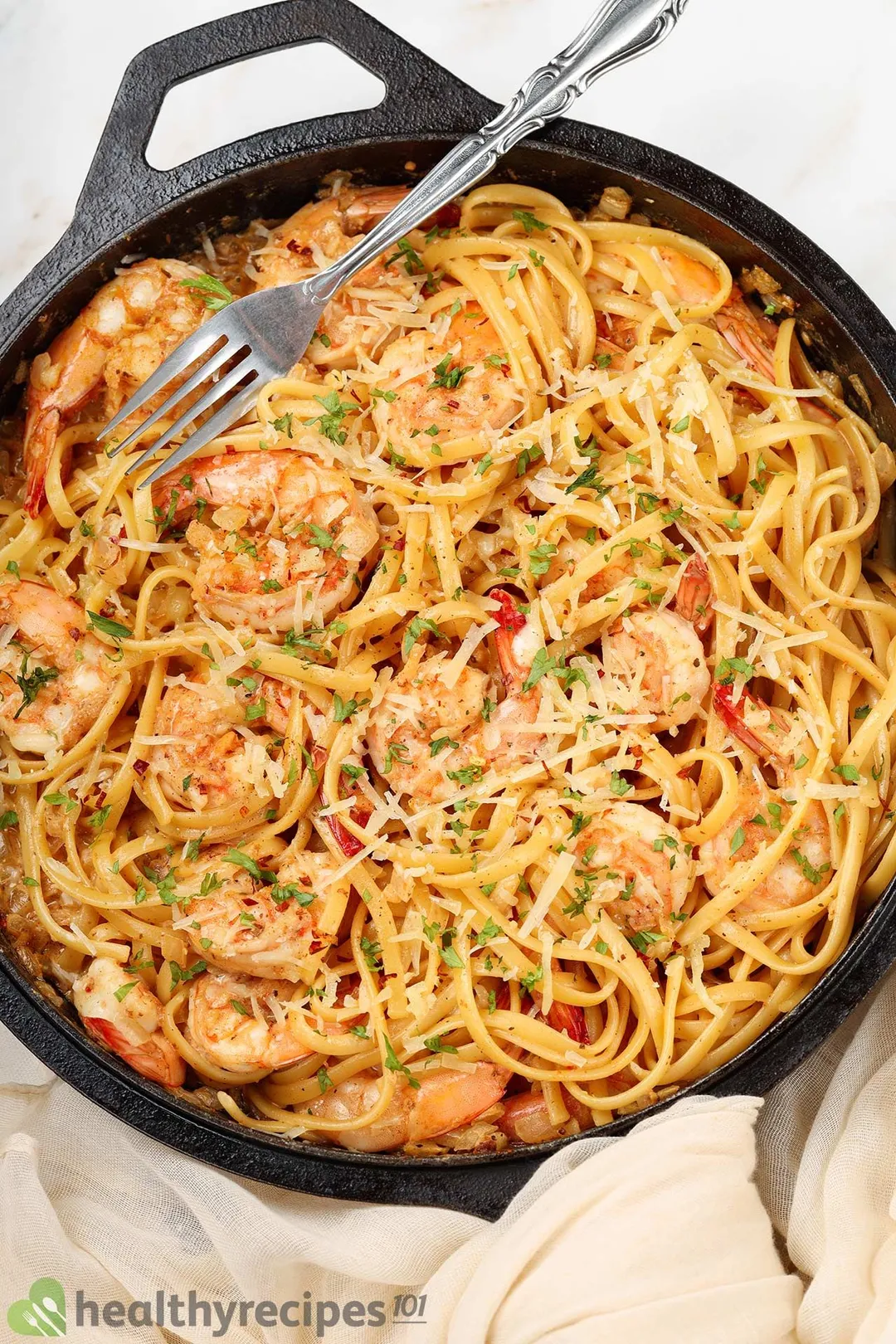 Shrimp Alfredo Recipes
Straightforward, quick-to-make, and delicious, this collection of shrimp Alfredo recipes is among our favorite comfort foods.
Ingredients
Directions
Pick your favorite recipe.
Gather the ingredients.
Follow the instructions to give you incredibly tasty shrimp Alfredo recipe ready in less than an hour!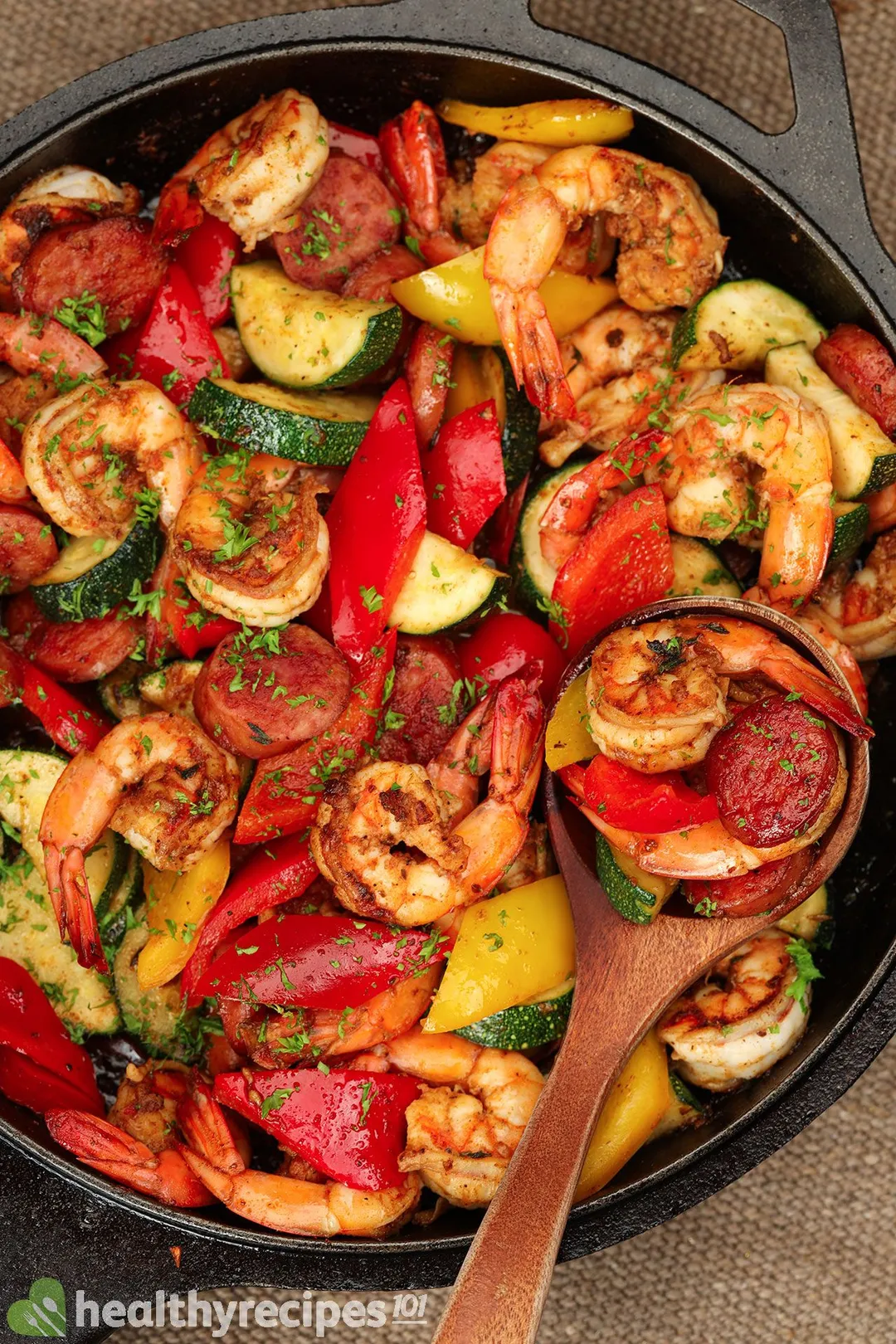 Previous Recipe
Shrimp and Sausage Recipes
Shrimp and Sausage Recipes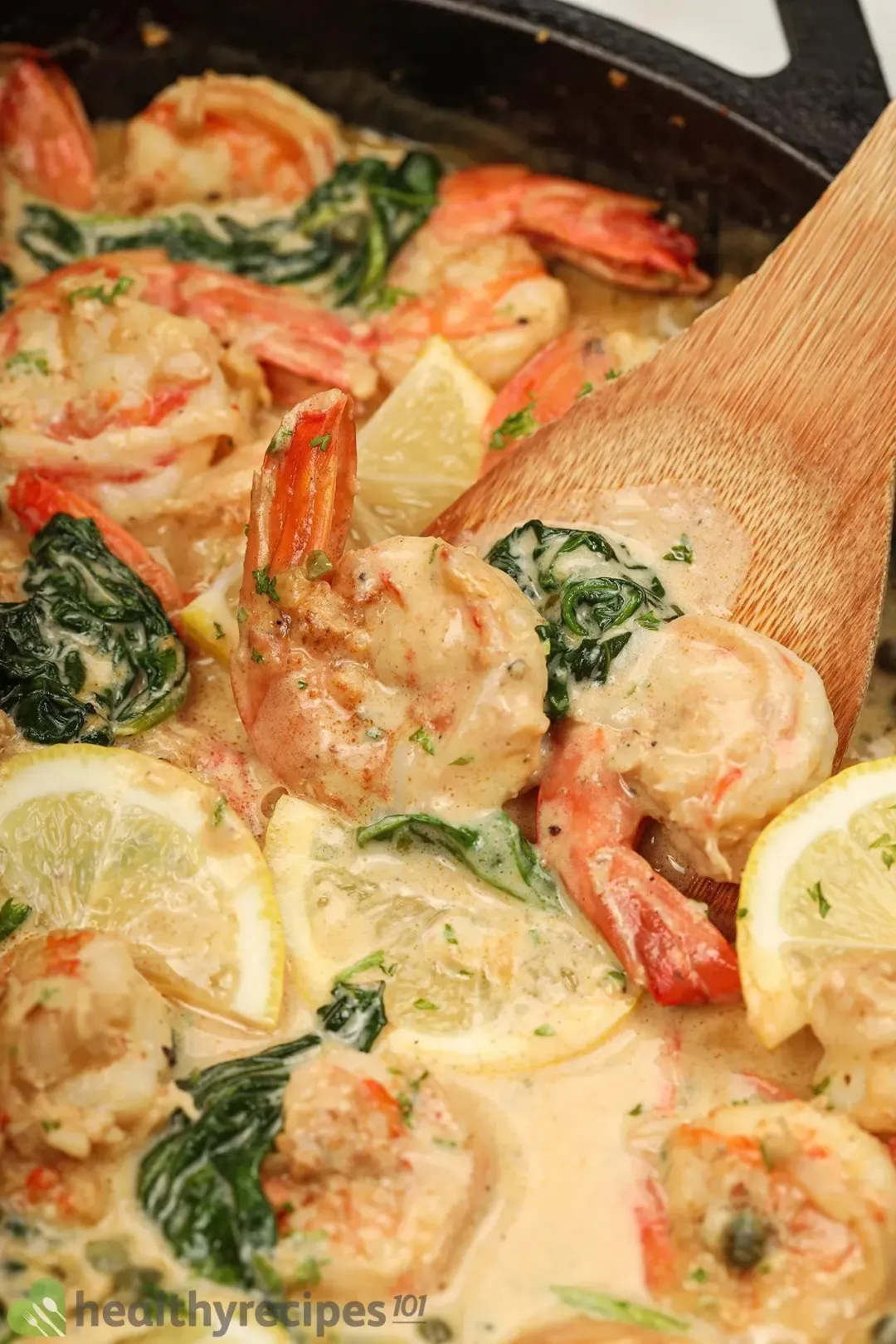 Next Recipe
Shrimp And Spinach Recipes
Shrimp And Spinach Recipes
Writer, Author
Luna Regina is an accomplished writer and author who dedicates her career to empowering home cooks and making cooking effortless for everyone. She is the founder of HealthyKitchen101.com and HealthyRecipes101.com, where she works with her team to develop easy, nutritious recipes and help aspiring cooks choose the right kitchen appliances.
Comments/ Reviews