Tired of cooking shrimp and sausage the same way every time? Our list of shrimp and sausage recipes will not disappoint you. They are quick, easy to make, and prove that you don't always need to go out for delicious, satisfying dinners.
What Can I Add to Shrimp and Sausage Recipes?
A great add-in should complement the main ingredients while boosting the nutritional value of the dish. We've come up with a list of foods that pair well with shrimp and sausage, making your dinner robust and filling without being overwhelmingly heavy.
It is a terrific idea to add your favorite greens to these shrimp and sausage recipes. You can place veggies such as bell peppers, carrots, and zucchini directly in the sauté pan or baking dish. Whether roasted, fried, or pan-seared, the vegetables can pair wonderfully with shellfish and sausage.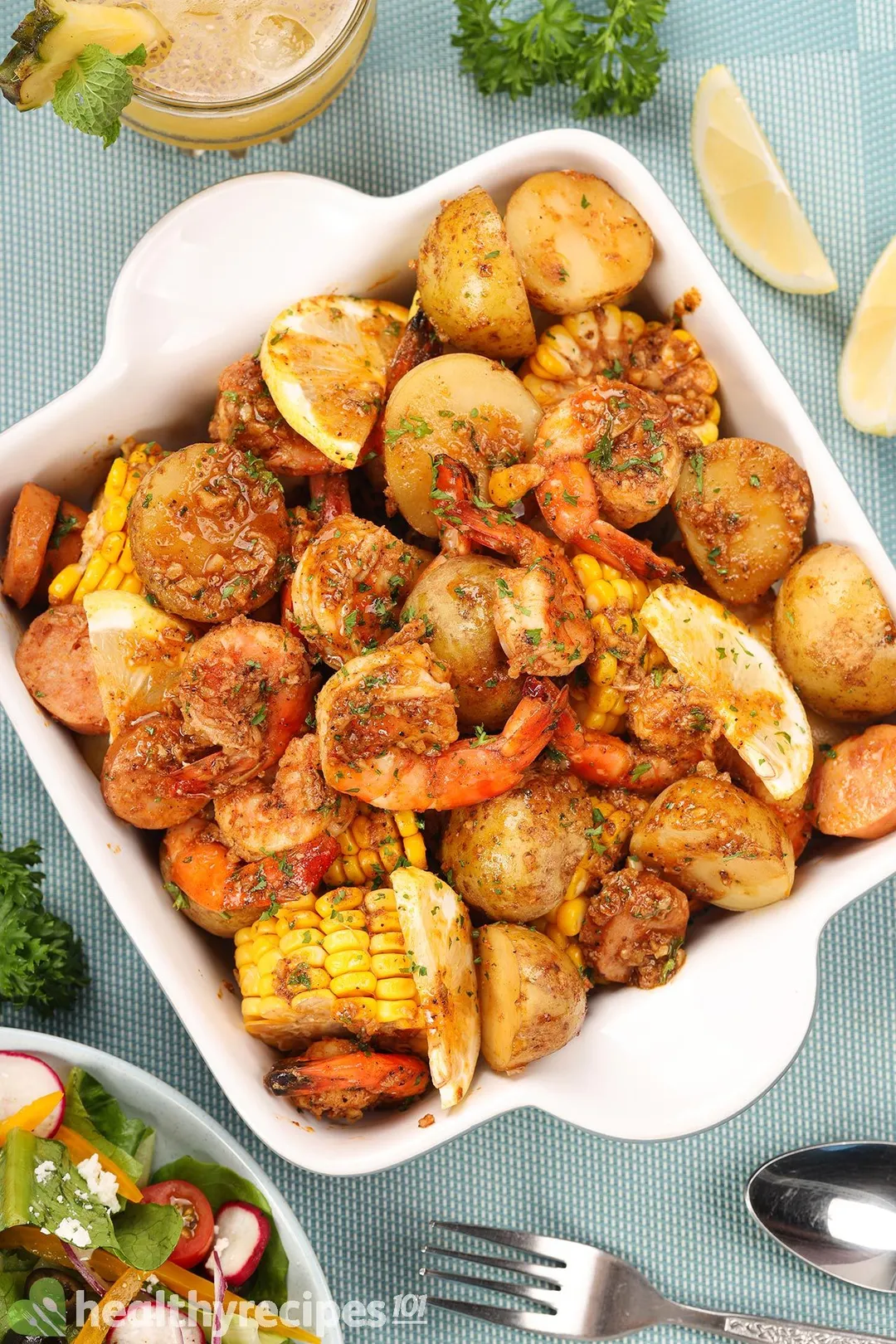 Pasta goes well with all types of protein, including shellfish and sausages. The pasta can be tossed into the sauce, creating a hearty meal.
If you are searching for a simple side dish, steamed rice is an excellent choice. It's also the ideal accompaniment if you want to cram more calories into your dinner.
Now that you have some delightful options to serve with shrimp and sausages, preparing your next meal will be a breeze. Check out the following section for suggestions on cooking the ultimate sausages.
The Best Ways to Cook Shrimp and Sausage
Grilled shrimp and sausages are perfect for weeknight dinners or simple celebrations. Juicy, smoky food is an excellent communal meal that brings everyone together around the table.
An alternative to the ultimate summer party? We recommend a traditional shrimp boil. In this method, you must bring water to a boil and then add more ingredients. Potatoes, carrots, corn, or Brussels sprouts are our favorites since they absorb all the amazing flavors.
Sautéed or pan-seared shrimp and sausage is another way to demonstrate how simple it is to cook these foods. Heat an oil-coated nonstick pan or skillet over medium-high heat. 
Once the oil is hot, add the shrimp and sausages and cook for a few minutes per side, or until they are cooked through. Serve over spaghetti or steamed rice, then finish with a squeeze of lemon and some herbs of choice.
In general, shrimp and sausage cuisine are quite simple to prepare, and there are some great recipes to satisfy all taste buds. Here's our collection:
1 of 3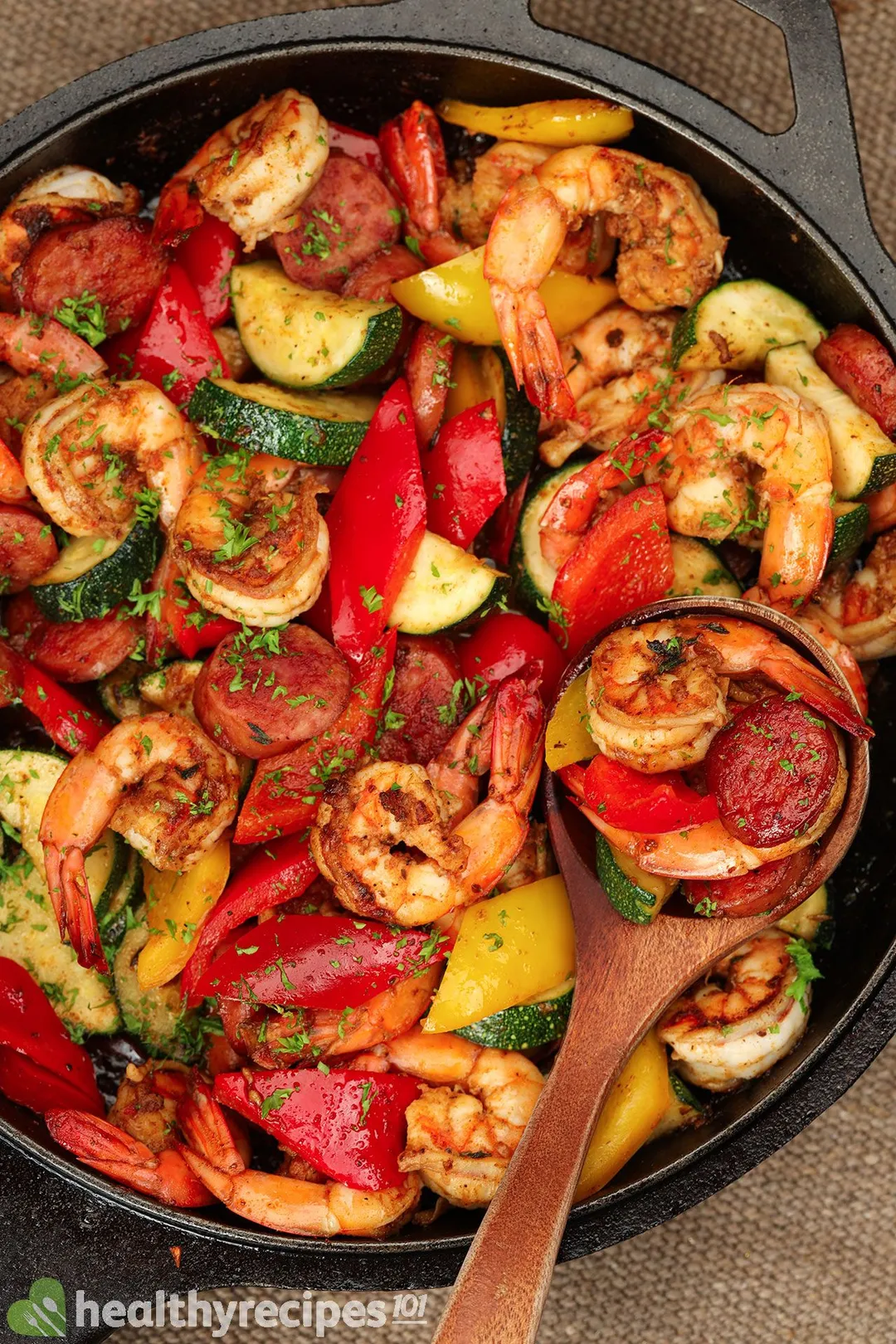 1 of 3
Cajun Shrimp and Sausage Recipe
This dish will be great the first time you make it and even better the second time. It's simple enough to master, with smoky sausage and plump shrimp that come together in 20 minutes.
Get the
recipe
.
2 of 3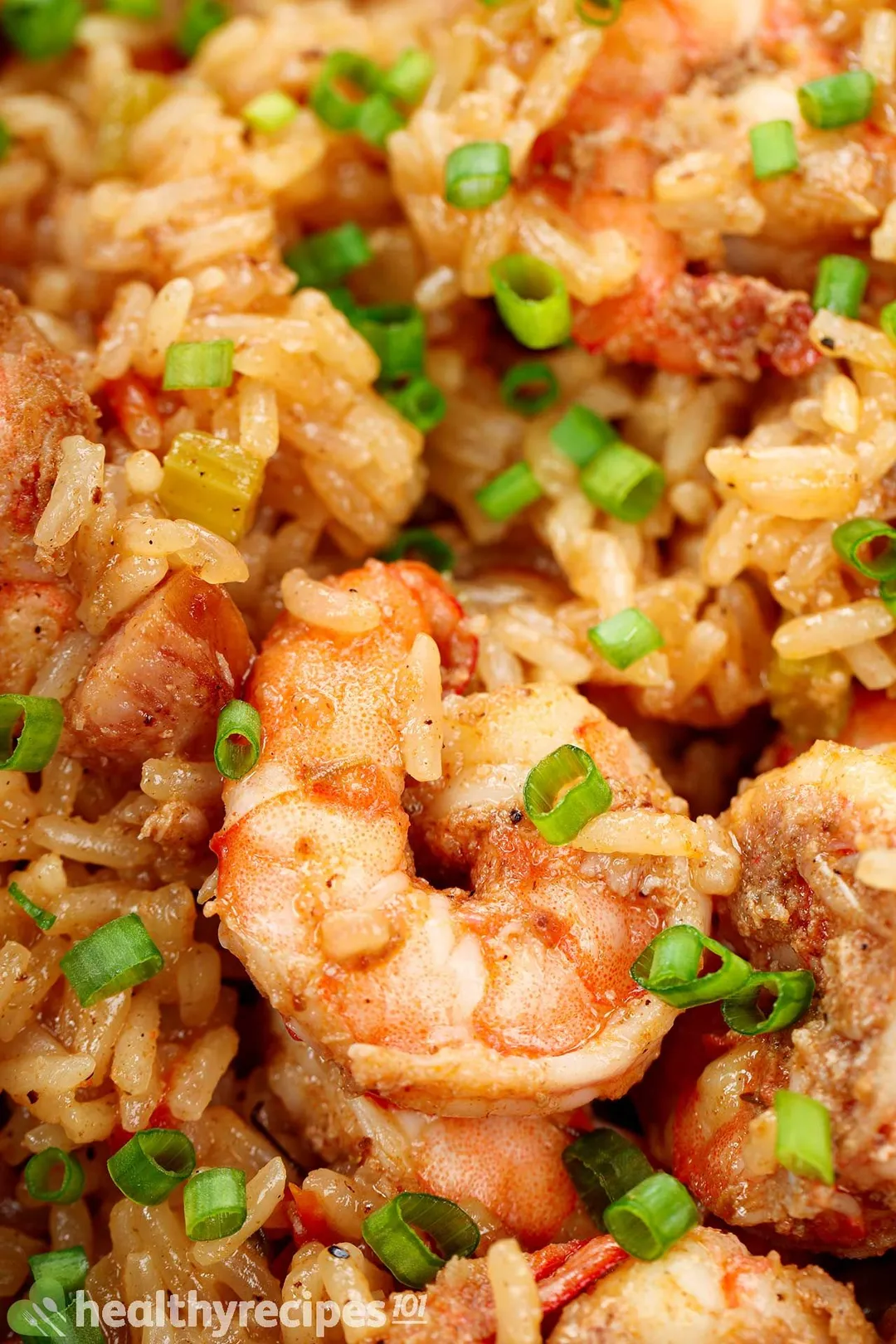 1 of 3
Shrimp Jambalaya Recipe
A delectable yet easy meal to prepare, Jambalaya is an excellent entry point into Louisiana Creole cuisine. The red seasoning pack of paprika, cayenne, and red pepper lends a fiery taste and auburn red shade so that you won't mistake the dish for Paella!
Get the
recipe
.
3 of 3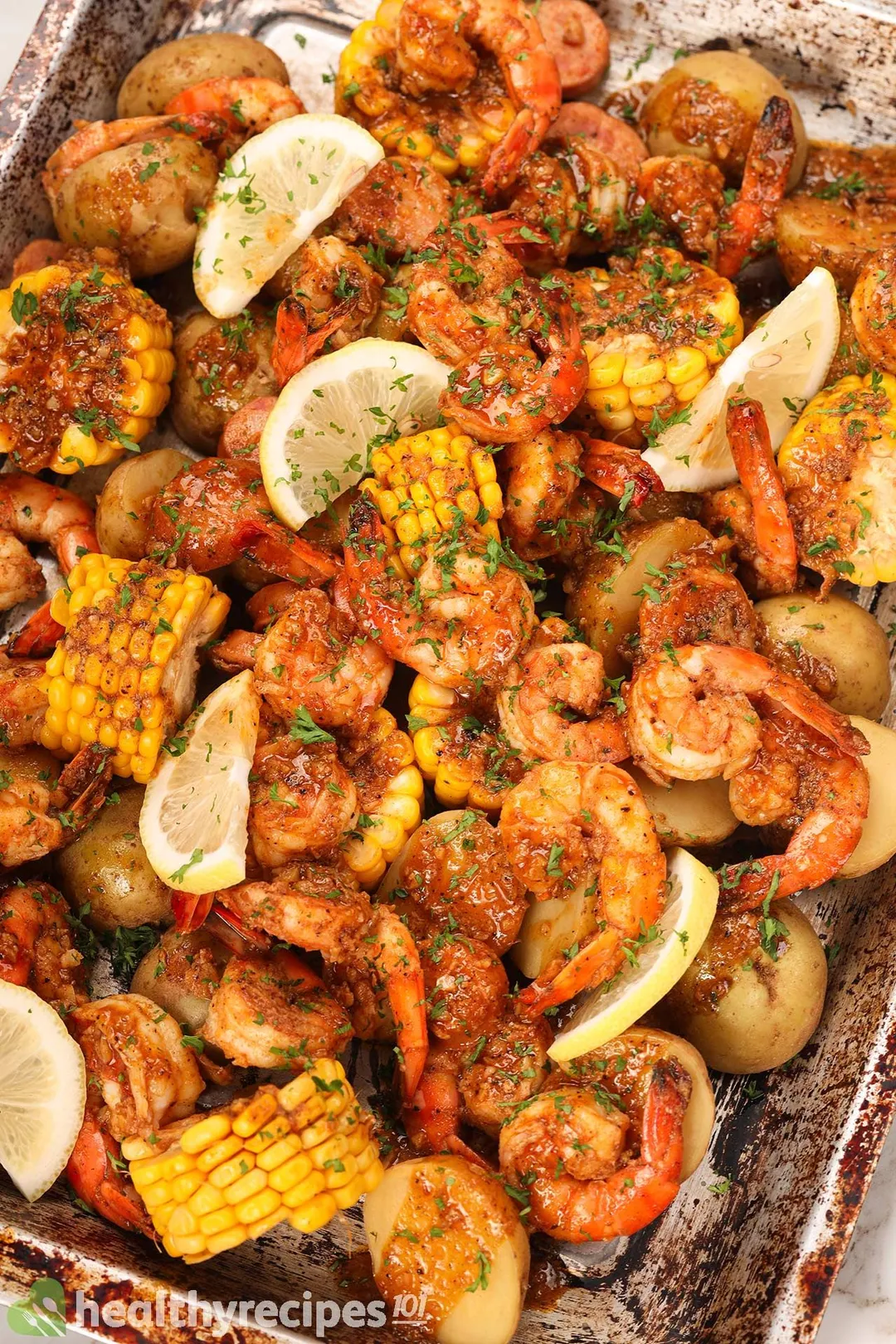 1 of 3
Shrimp Boil with Potatoes and Corn Recipe
This dish is so delicious and satisfying it's almost unfair to have it so far down on this list. It carries corn and potatoes right to the top with a zealous fennel, bay, and mustard spice bag. An aromatic pastime for purposeful gatherings!
Get the
recipe
.
Tips for Cooking Sausages
Sausage is a staple ingredient for many of us because it complements so many delicious dishes. Though you may have been preparing sausages for years, you can create one of the finest you've tasted with just a few simple adjustments.
First, bring the sausages to room temperature before cooking. This lessens the likelihood of the skin splitting and helps ensure even cooking.
Second, heat your frying pan on a low to medium heat. If the pan is too hot, the sausages will burn on the outside before cooking through. Low-heat frying allows the sausage to cook to a chewy and juicy texture.
Next, you can add a little fat to the frying pan to enhance the flavor and texture of fried sausages. Any variant, including sunflower oil, peanut oil, olive oil, or even pork fat, can work. If you have a non-stick frying pan, or plan to bake in the oven, you can cook the sausages without any fat.
The key technique to ensure golden perfection on all sides is to turn the sausages every couple of minutes. To determine if the sausage is done, use a meat thermometer. The internal temperature should be 155 - 165 °F(68 - 74 °C).
And finally, let the sausages rest for a while. Just like other meats, sausages benefit from a brief rest after cooking. They will become more succulent and soft after 5-10 minutes.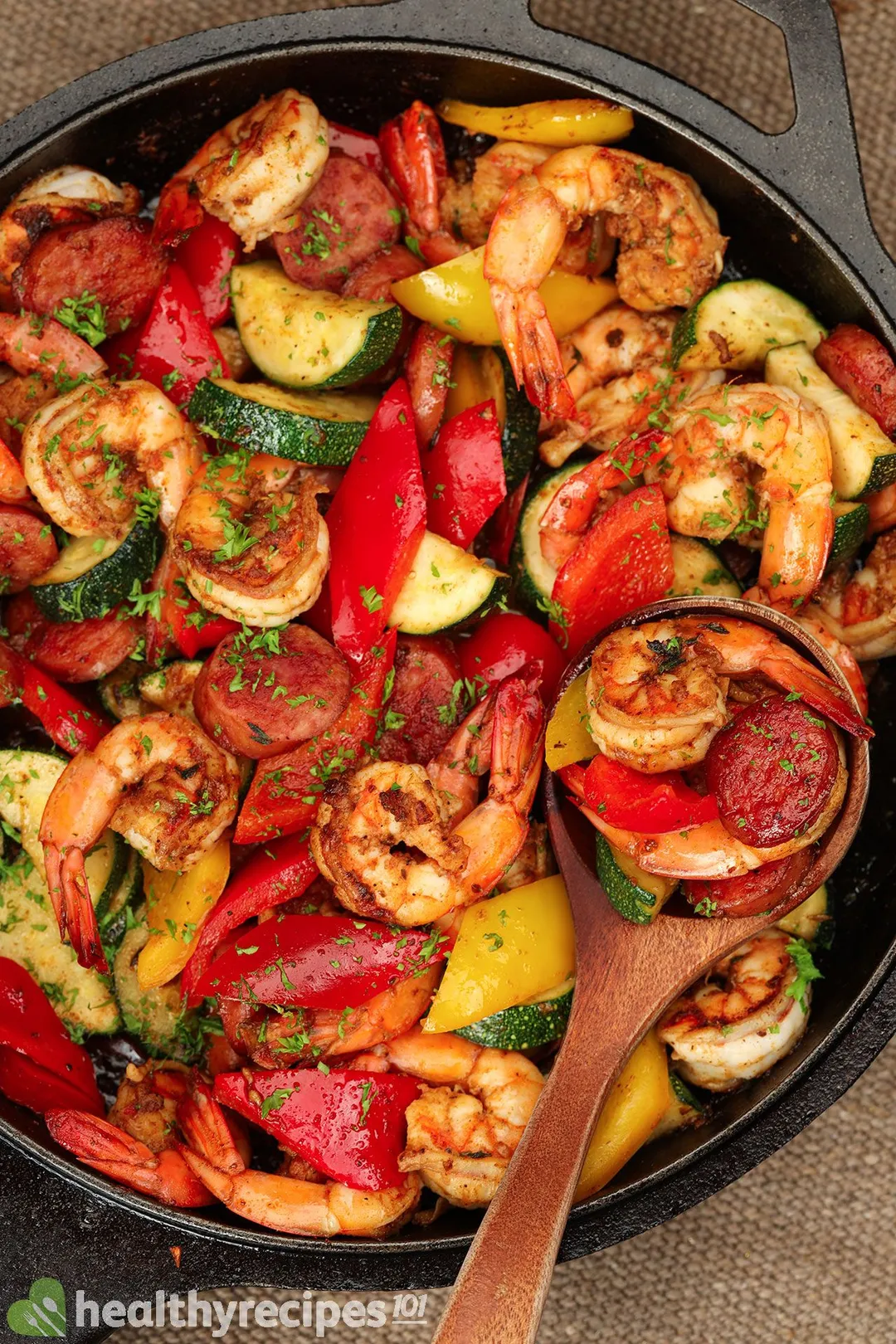 Shrimp and Sausage Recipes
Our shrimp and sausage recipes transform your pantry ingredients into quick, nutritious, and hearty meals.
Ingredients
Directions
Pick your favorite recipe.
Gather the ingredients.
Follow the instructions to give you incredibly tasty shrimp and sausage recipe ready in less than an hour!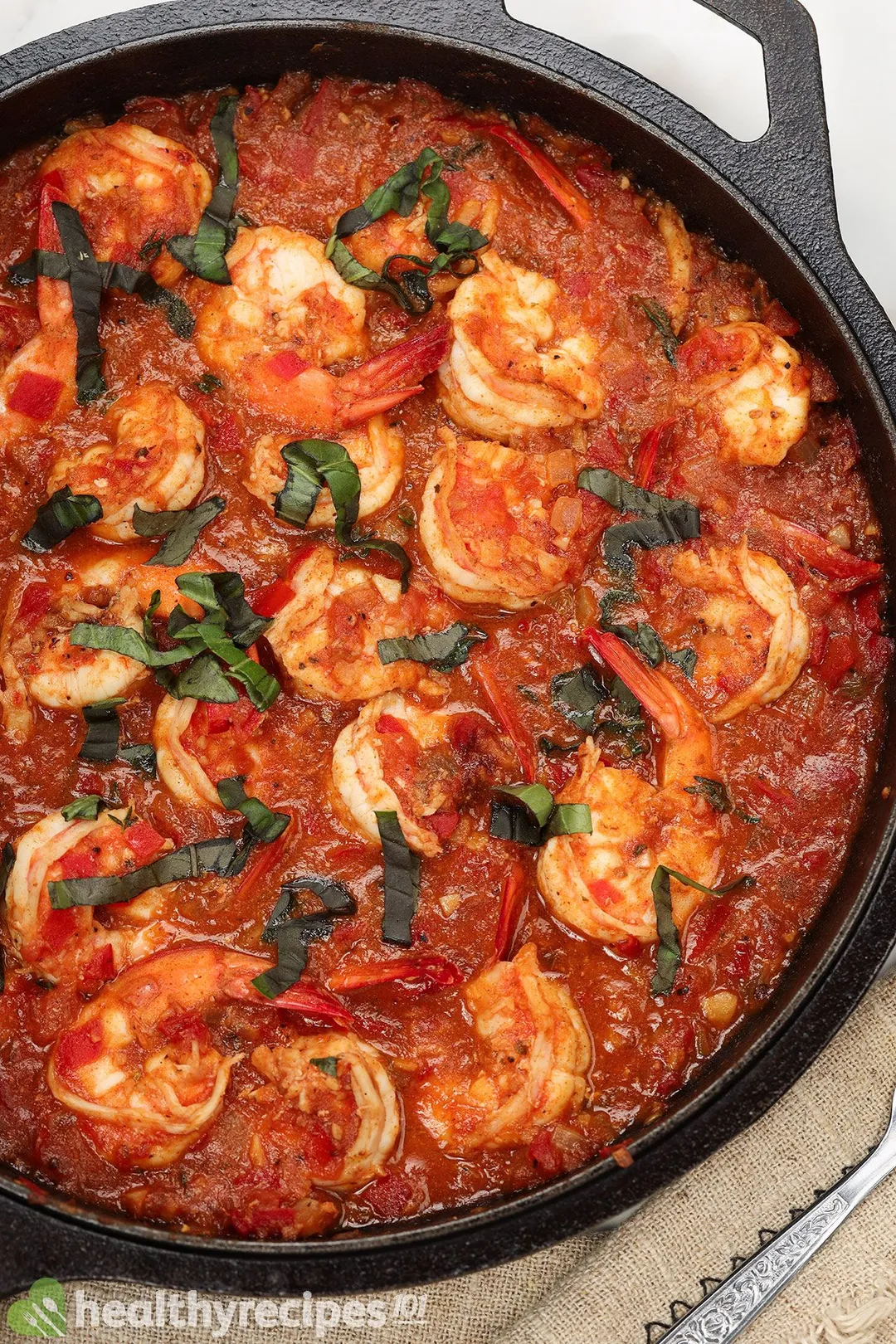 Previous Recipe
Spicy Shrimp Recipes
Spicy Shrimp Recipes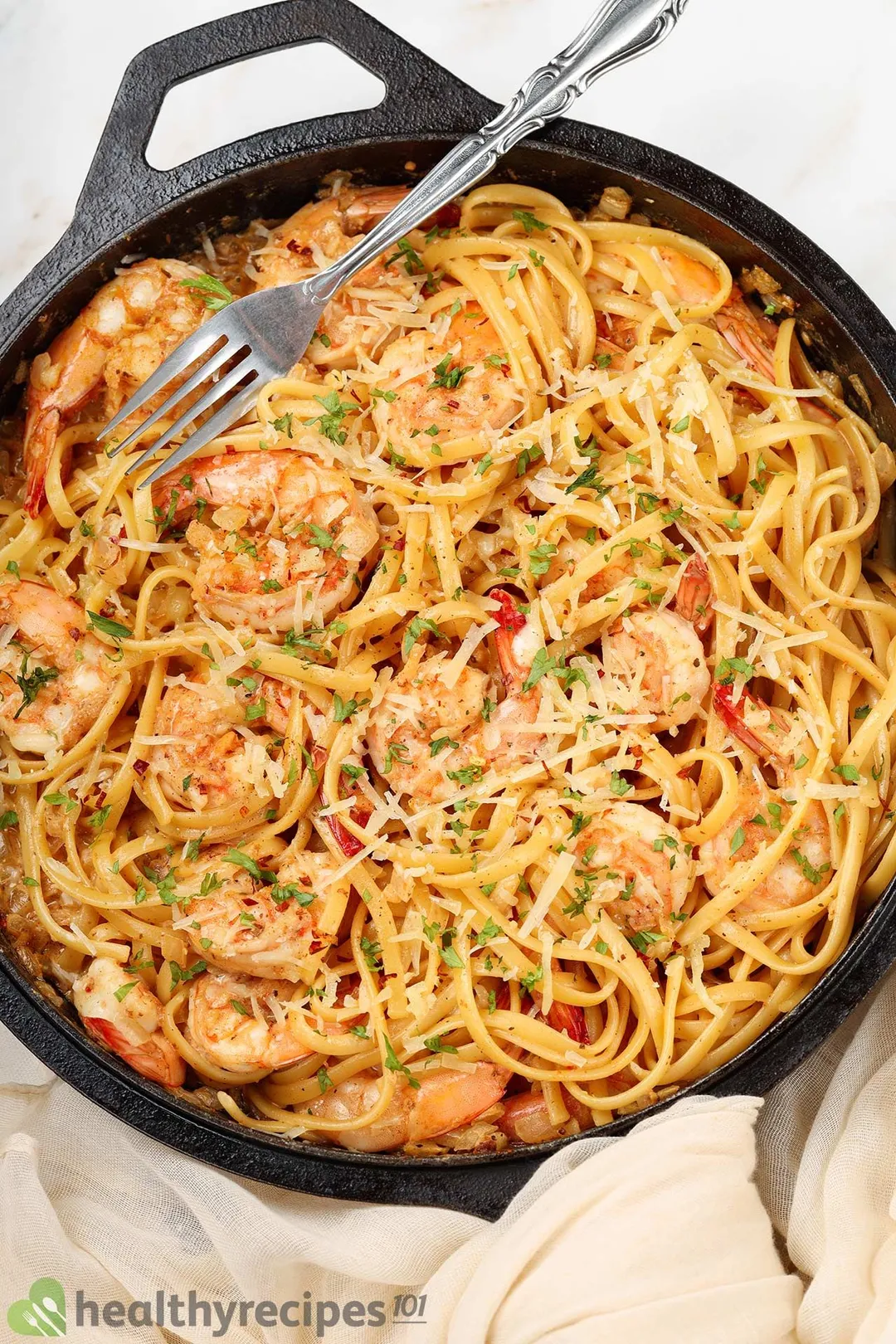 Next Recipe
Shrimp Alfredo Recipes
Shrimp Alfredo Recipes
Writer, Author
Luna Regina is an accomplished writer and author who dedicates her career to empowering home cooks and making cooking effortless for everyone. She is the founder of HealthyKitchen101.com and HealthyRecipes101.com, where she works with her team to develop easy, nutritious recipes and help aspiring cooks choose the right kitchen appliances.
Comments/ Reviews