If you're a big fan of shrimp and barbecue food, why not combine the two to create a new delectable dish. Our chefs have compiled a list of the best BBQ shrimp recipes that are quick, easy, and beginner-friendly.
Are you ready for a BBQ shrimp adventure?
Why You'll Love Our BBQ Shrimp Recipes
What makes our BBQ shrimp recipes stand out?
Unlike other online recipes, we make sure ours not only taste delicious but are healthy to enjoy as well. While experimenting with various spices, herbs, and marinades, flavor balance is our top priority. For these recipes, our chefs have made sure to add enough seasoning to enhance, not overpower, the freshness of the shrimp.
Plus, who doesn't love a quick and versatile barbecue shrimp recipe? You can serve these gorgeous shrimp over pasta, rice, and salads.
Best BBQ Shrimp Recipes
Why not put your cooking to the test with our collection of finest BBQ shrimp recipes.
1 of 1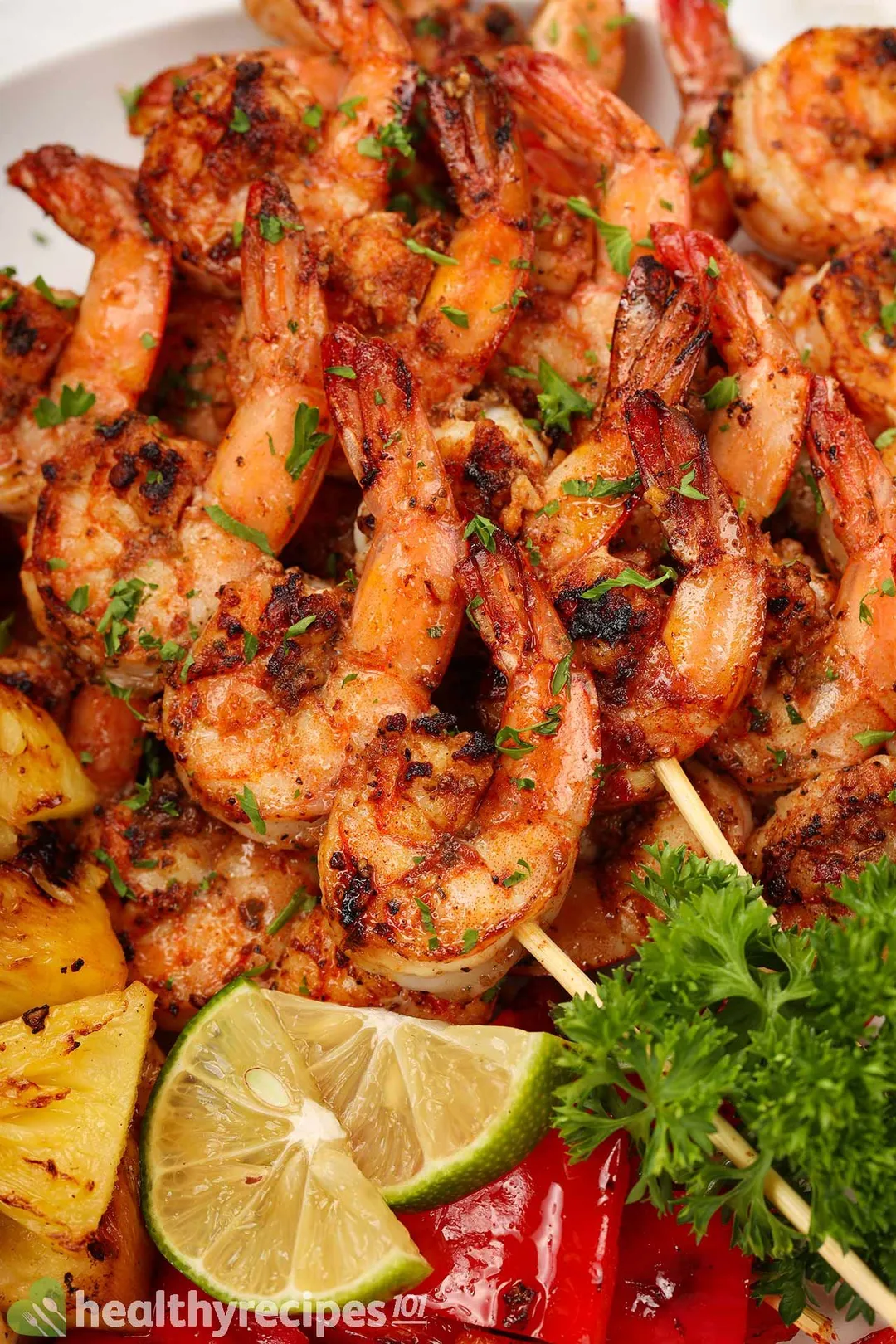 1 of 1
Marinated Grilled Shrimp Recipe
As evident, a short and quick marinade can work wonders. Paprika, sriracha, and cayenne carry the heat in this dish, leaving lime juice to mellow its flavors. By the end of the cook, the shrimp is infused with intense aromas that no one will guess it's a 20-minute meal!
Get the
recipe
.
How to Prepare Shrimp for BBQ
For entry-level home cooks, shrimp may be a little tricky to prepare and marinate. No need to stress though, we have some helpful tips to get you through.
To peel or not to peel?
The answer comes down to the cooking equipment you are going to use for your BBQ shrimp. For those who have a grill on hand and want a relaxed get-together in the backyard, peeling isn't absolutely necessary.
But keep in mind that the shell will absorb most of the seasoning, not the flesh itself. Unpeeled shrimp also take more time to cook.
For those reasons, our chefs generally recommend cleaning and peeling the shrimp before cooking. But the choice is up to you.
How to Thaw, Clean, Peel, and Devein Shrimp
If you opt for frozen shrimp, it's best to thaw them in the fridge 12-24 hours ahead of time.
If you are in a rush, you can go for cold water thawing. Place the frozen shrimp in a leak-proof bag and submerge it in a bowl of ice water. Change the water every 30 minutes. The thawing time varies depending on the amount of shrimp you use. One pound of frozen shrimp (16 oz) will take approximately 30 minutes to thaw completely.
Sanitize your hands and utensils before prepping the shrimp.
Prepare a bowl of ice water to keep your shrimp cold during the prepping process.
Remove the head and legs: Hold the shrimp by the tail and gently pull off the head and legs with your hands. You can leave the tail on for presentation.
Peel the shell: Starting from the head end, use your thumb to crack the shell open, and then pull it off.
Devein the shrimp: Using a small paring knife, cut along the back of the shrimp, about 1/4 inch deep. Use the tip of the knife to lift out the thin gray vein along the back and then discard it. Repeat for each shrimp.
Return your prepped shrimp to the ice water.
What Can You Season Shrimp With?
The following create a seasoning combo that nails any BBQ shrimp recipe:
Salt and black pepper: These are the traditional flavor enhancers that you probably already have in your pantry.
Garlic powder: Garlic and seafood are old friends. The pungent edge of garlic highlights the natural sweetness of the shrimp.
Italian seasoning: The mix of herbs and spices make each bite you take more flavorful.
Cayenne powder/red pepper flakes: These bring some tongue-tingling kicks that will keep you wanting more.
How to BBQ Shrimp
When working with shrimp, temperature and cooking time matter a lot, as this seafood tends to overcook easily. To make your cooking journey less bothersome, we've gathered some of the best cooking methods for you.
Air-fried BBQ shrimp: An air fryer can be a great helper in the kitchen. With no preheating required, arrange your seasoned shrimp in a single layer on the air fryer basket. Cook them at 400 °F for 10-12 minutes.
Pan-seared BBQ shrimp on skewers: First, presoak the wooden skewers to prevent them from burning during cooking. Thread the shrimp onto the skewers (three to four medium-sized shrimps per skewer). Heat the pan over medium heat, and sear each side of the shrimp for 2-3 minutes. Remove from heat and serve.
Baked BBQ shrimp in foil: This cooking technique applies to both the oven and grill. Preheat the oven/grill to 400 °F. Make a foil packet for your shrimp. Place the foil packet on the grill or in the oven, and cook for 8-10 minutes. When the shrimp is cooked through, carefully open the packet and enjoy.
We hope that our BBQ shrimp recipes can assist you with all your special summer occasions — picnics, gatherings, or outings. Don't hesitate to try them out and leave your thoughts in the comments section below.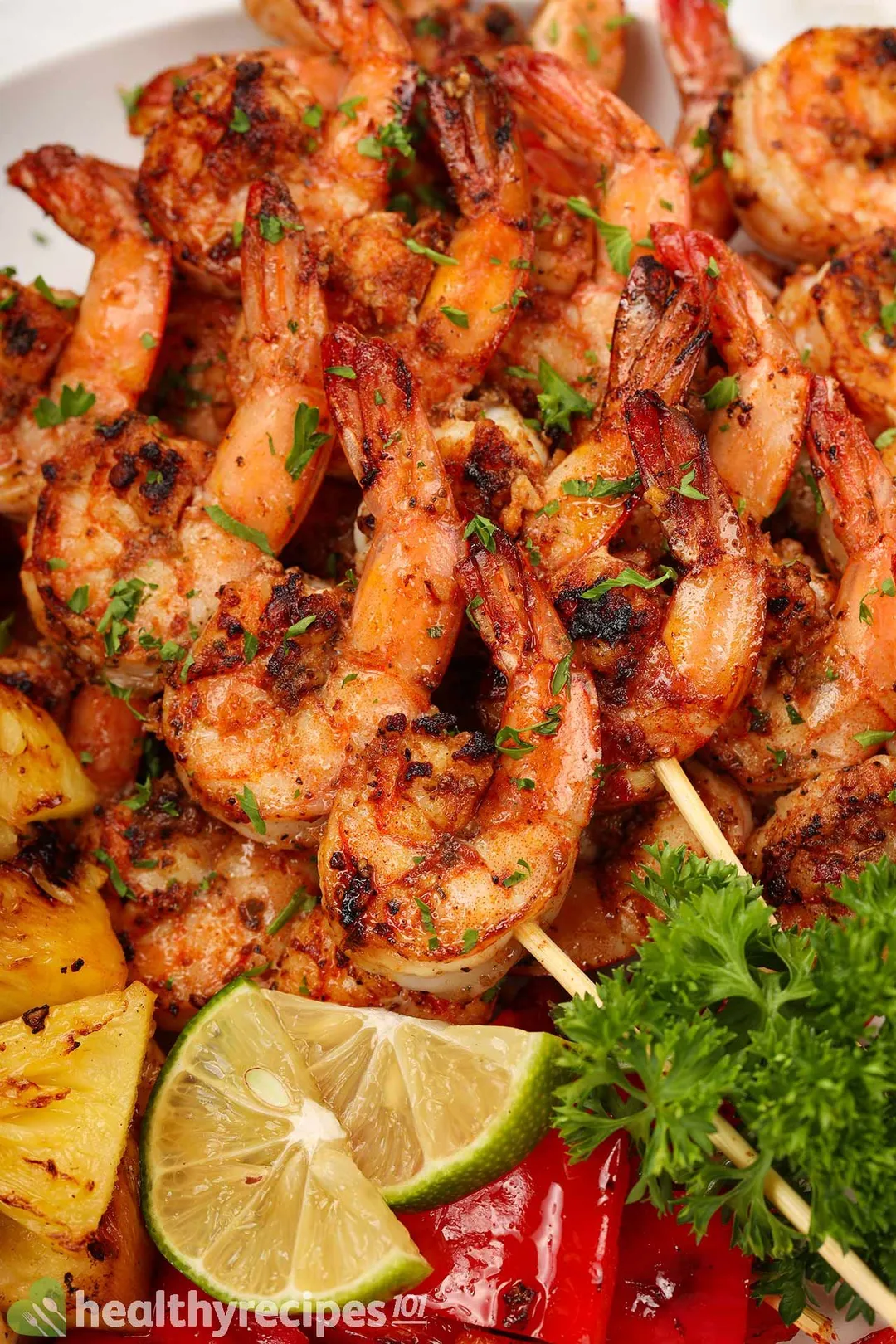 BBQ Shrimp Recipes
Our simple yet classic BBQ shrimp recipes promise you a full-on seafood experience.
Ingredients
Directions
Choose a recipe that you like.
Gather the ingredients.
Follow the instructions to give you incredibly tasty BBQ shrimp recipe in less than 45 minutes!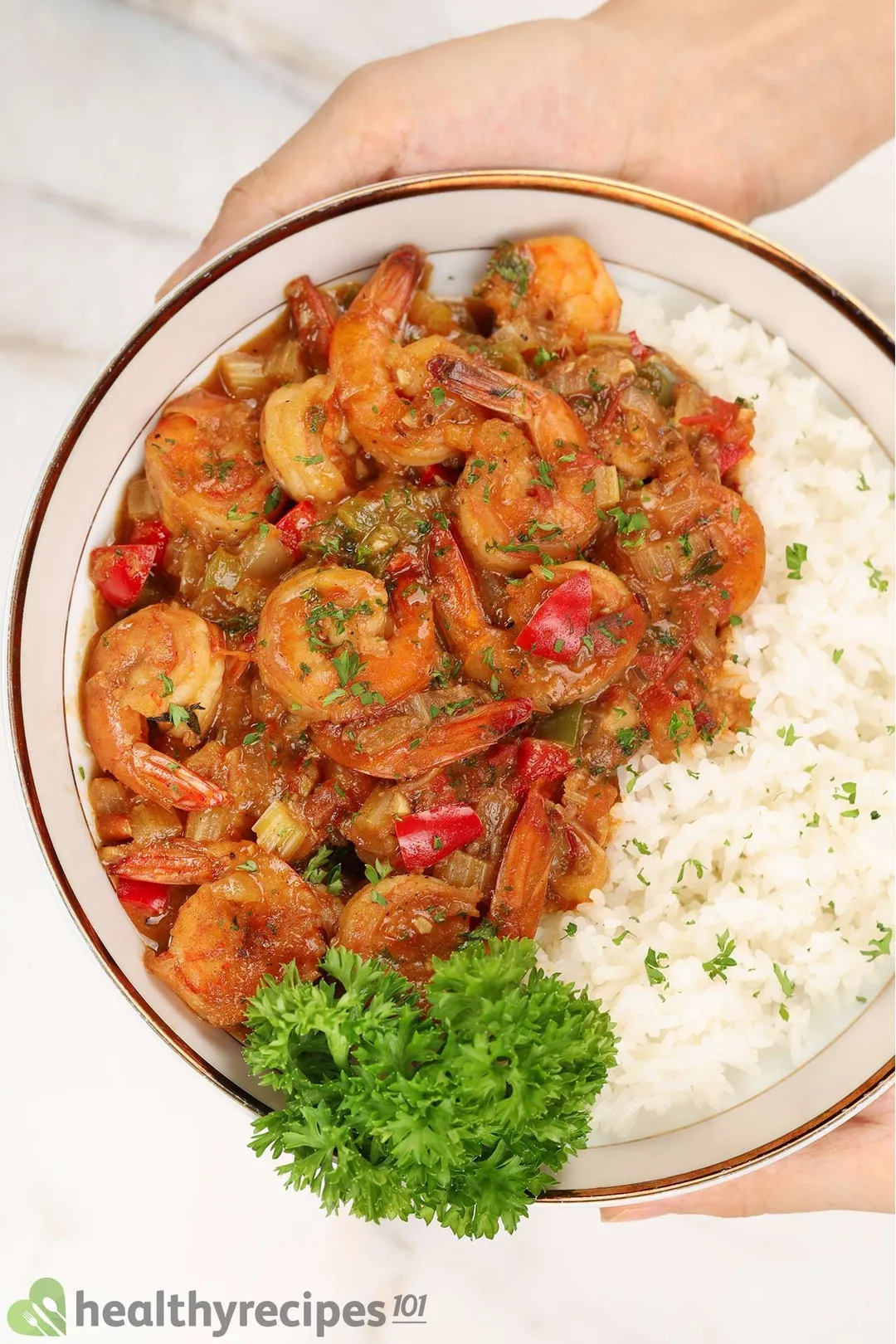 Previous Recipe
Shrimp Etouffee Recipes
Shrimp Etouffee Recipes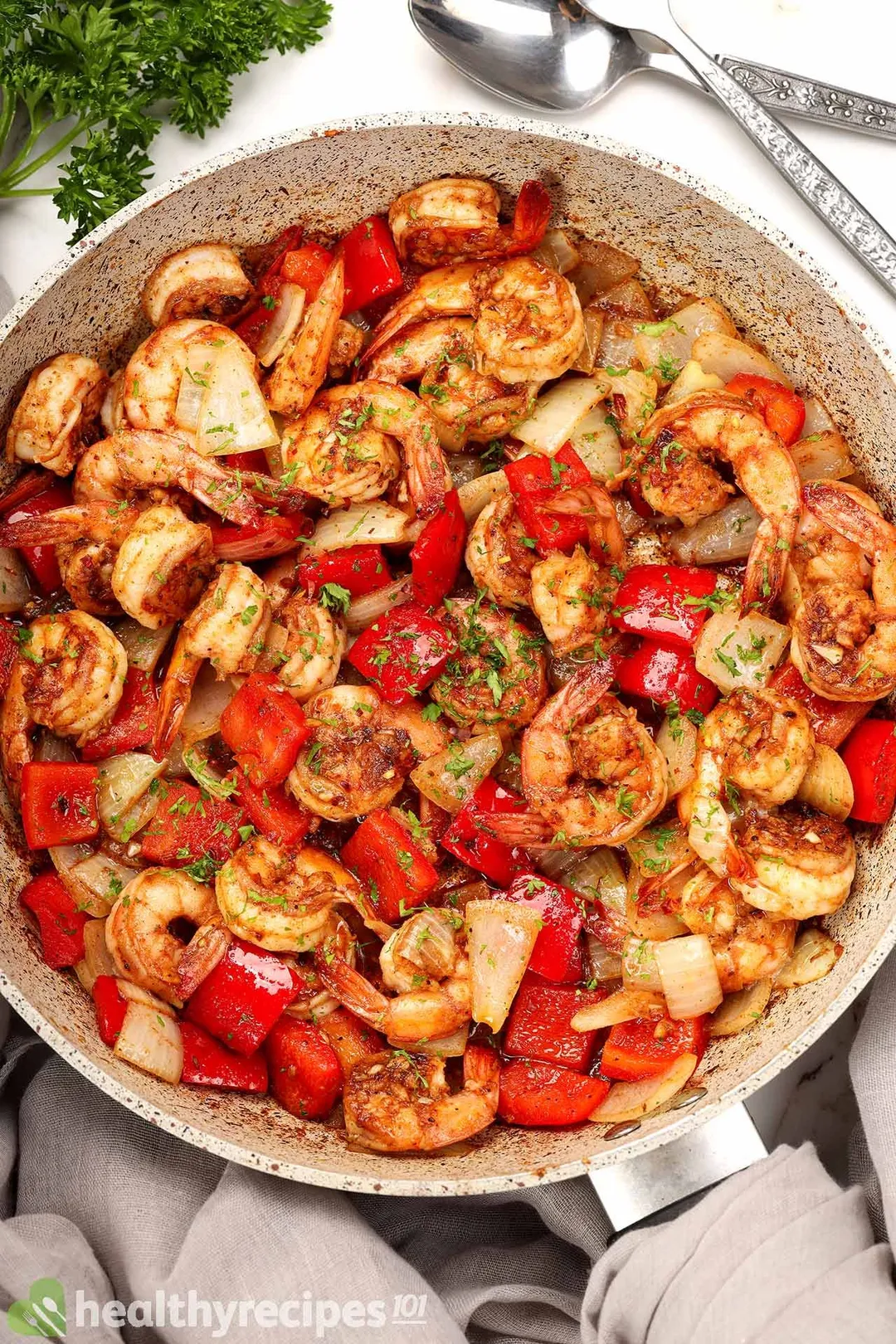 Next Recipe
Cajun Shrimp Recipes
Cajun Shrimp Recipes
Writer, Author
Luna Regina is an accomplished writer and author who dedicates her career to empowering home cooks and making cooking effortless for everyone. She is the founder of HealthyKitchen101.com and HealthyRecipes101.com, where she works with her team to develop easy, nutritious recipes and help aspiring cooks choose the right kitchen appliances.
Comments/ Reviews