When it comes to food, it's hard to find something more heart-warming than a steamy bowl of soup. Its layers of flavorful ingredients harmoniously blend together in a simmering pot, creating a sense of comfort that can only be found in homemade food.
 If you're searching for ways to bring this wholesomeness to your meal, check out our list of shrimp soup recipes for inspiration. 
Types of Stock and Broth You Can Use for Shrimp Soup
Stock and broth are flavorful liquids that are used as a base for soups. Depending on your preference for taste and texture, you can consider using any of these for shrimp soup recipes:
This stock is made by simmering shrimp shells with a few spices. You can also add herbs to enrich the taste. When added to shrimp soup recipes, the stock's distinctive sweetness helps to deepen the flavors and highlight the goodness of seafood. It's commonly used in bisque, gumbo, and other dishes like risotto or paella. 
Seafood stock is made from the shells of crabs, shrimp, lobsters, and other shellfish. They're often roasted beforehand, so this stock's flavors are richer and deeper than shrimp stock. Depending on the aromatics added to the stock, it can also have undertones that range from sweet to umami.  
If you want to stick to pantry staples, you'll find stock and broth made from vegetables and chicken always make a good choice for preparing soup. Some shrimp soup recipes may not use either of these as a base and, instead, rely on herbs, seasonings, and vegetables for flavor.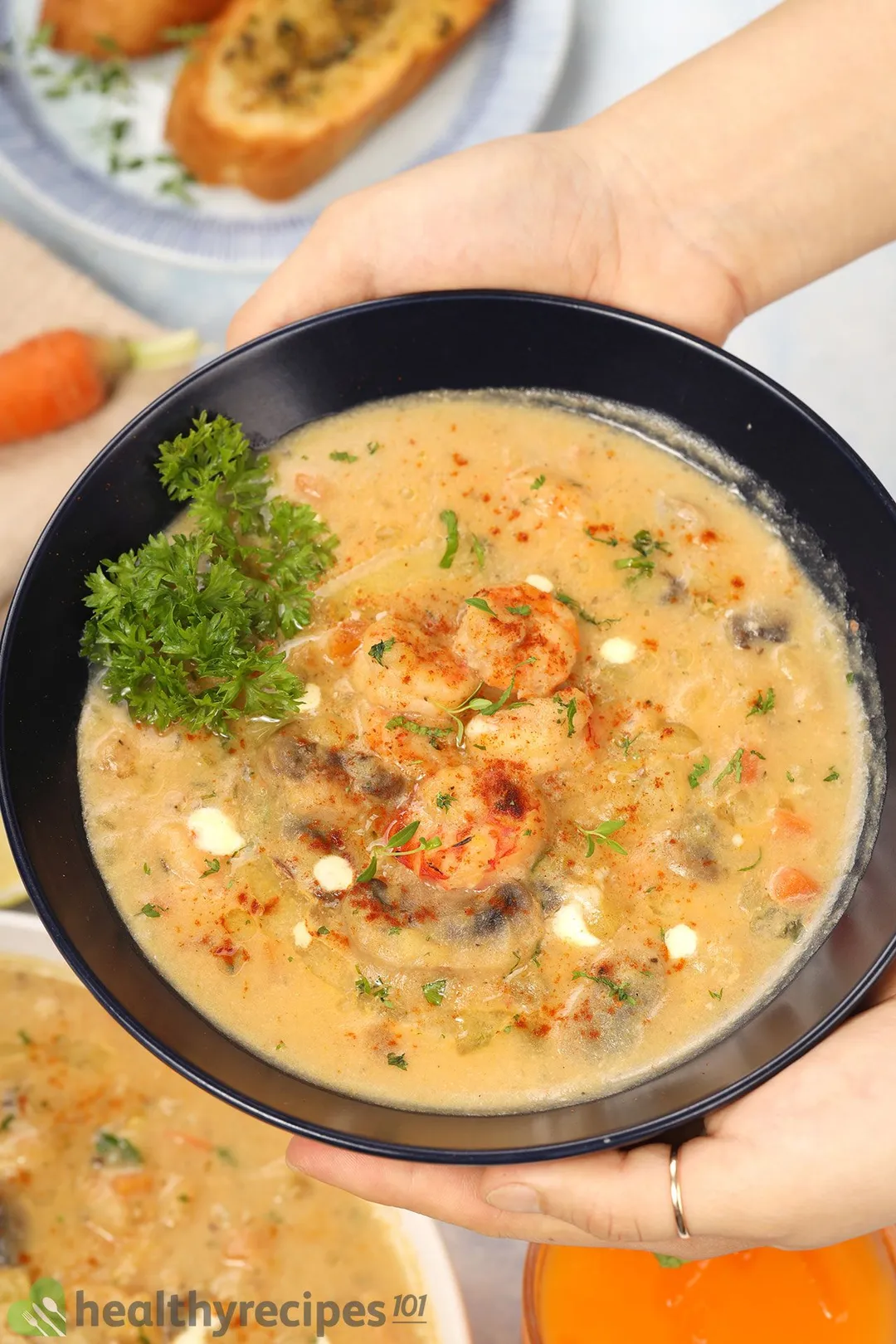 Check Out Our Most Popular Shrimp Soup Recipes
1 of 3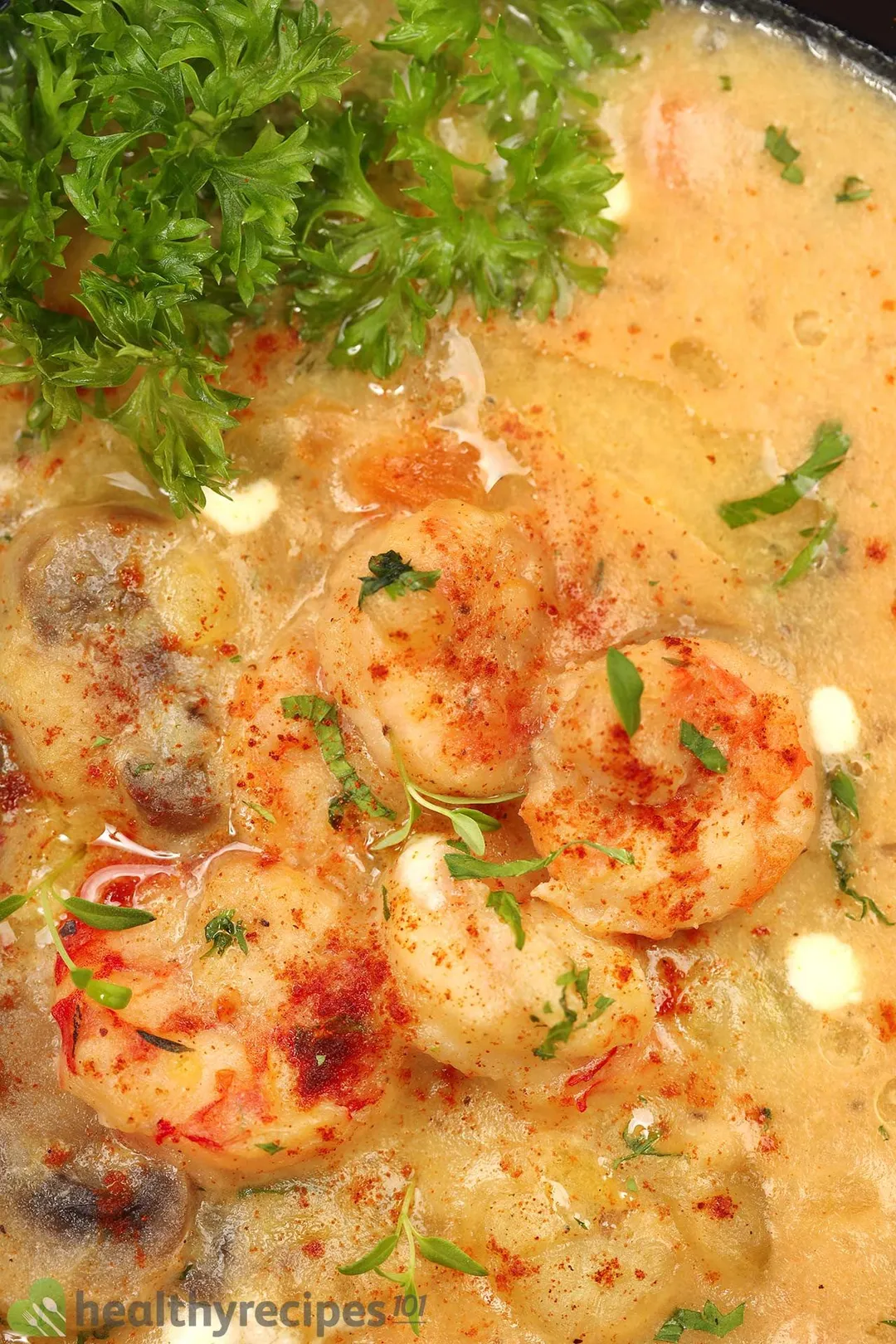 1 of 3
Shrimp Soup Recipe
This rich soup gets its aromas from a white wine deglaze of thyme, garlic, and paprika flavors in a butter sear. As it cooks, the fragrance of wine and mushrooms fills the kitchen; you'll have to keep from digging in before it's done!
Get the
recipe
.
2 of 3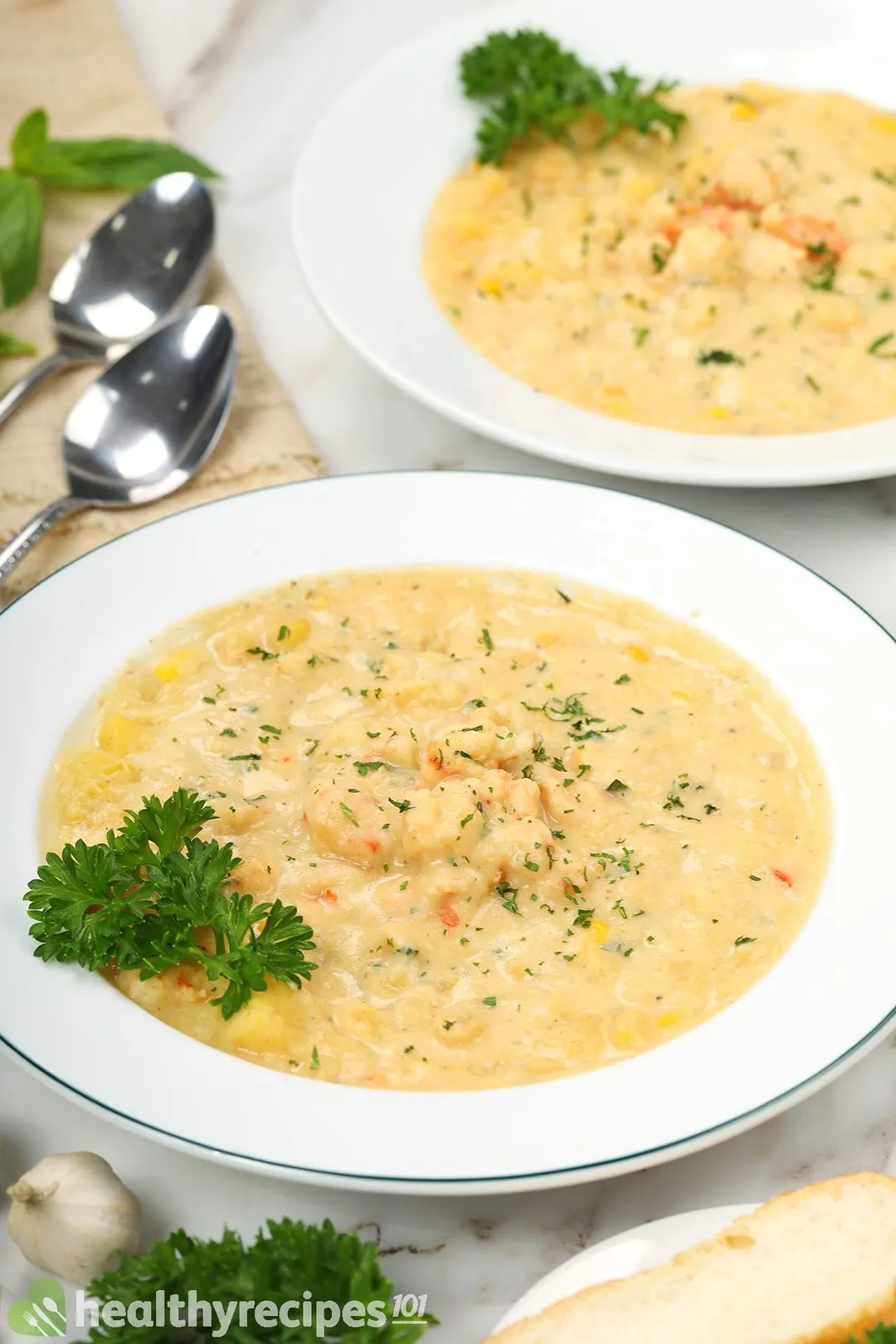 1 of 3
Shrimp Chowder Recipe
Chowder is a blended potato dish served as a chunky bisque. As with any good soup, you'll want to serve this piping hot with a typical accompaniment, a French baguette.
Get the
recipe
.
3 of 3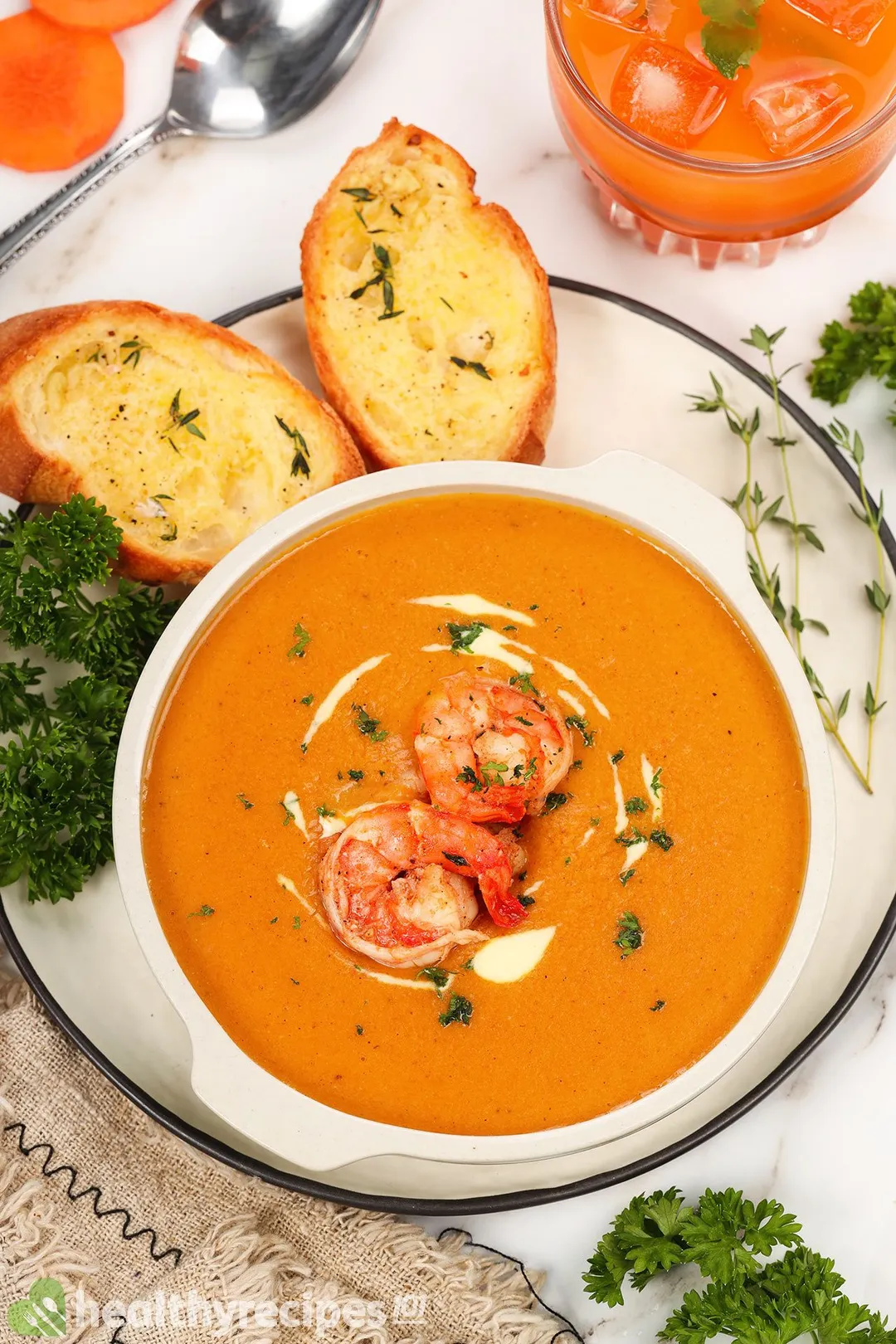 1 of 3
Shrimp Bisque Recipe
We turn to bisques when we are cold, under the weather, or need comfort food. So it's no surprise they can take some time to put together. The soothing, simmered flavors of carrots, onions, and white wine will be worth the wait and are guaranteed to rehabilitate you.
Get the
recipe
.
Tips for Cooking the Perfect Shrimp Soup
Soup-making can be quite straightforward, but not without some patience and attention to detail in following the process. Check out these quick tips to give your shrimp soup balanced and exciting flavors:
Given enough time, the soup's ingredients will have the chance to sit and seamlessly blend into one another, developing brand new flavors. This is why making the soup 12-24 hours in advance is a good idea.
Cook Your Vegetables Beforehand
If you don't mind the extra work, sauté, roast, or quickly sear the veggies with a few herbs and spices before adding them to the pot. This helps to significantly intensify their taste and, therefore, introduce complex layers of flavors into the soup.
Don't put the veggies and spices in all at once. Instead, gradually build the flavors by adding one or a few of the ingredients at a time and letting them simmer for a little while. You can lightly stir after each addition to mix everything together. 
Cooking soup requires a certain amount of patience, so if possible, consider slow cooking. This not only helps the ingredients to fully release their unique flavors but also prevents the vegetables from getting mushy because of the high heat.
Squeeze in a small spritz of lime or lemon juice when you're nearly done. This will instantly brighten up the flavor profile. Citrus has the marvelous ability to make the soup taste more vibrant and a lot lighter, partially taking the heavy edge off the meat. However, this is not recommended if your soup is cream-based, as it could potentially curdle it. 
How to Serve Shrimp Soup
Soup is flavorful and wholesome enough to be eaten on its own as a light meal. However, you can also eat it with the main meal. Here are two of the most popular serving suggestions.
Soup is typically served as an appetizer since it contains herbs and spices that whet the appetite while still being light enough to keep you from feeling full. In this case, we suggest choosing a soup with a thin consistency to avoid overwhelming the taste buds early on in the meal. 
Adding a filling side dish can quickly turn the soup into a main course. Bread and croutons are the most common choices, but you can also go with your favorite pasta, noodles or rice for Asian-inspired recipes. A simple salad will suffice if your soup has a thick consistency and is already loaded with hearty ingredients.. 
The beauty of homemade food lies in the simplicity and warmth that it brings to the table. You will have no trouble finding these wonderful qualities in our shrimp soup recipes. Don't hesitate to try them out, and discover new ways to bring wholesome comfort to your meals.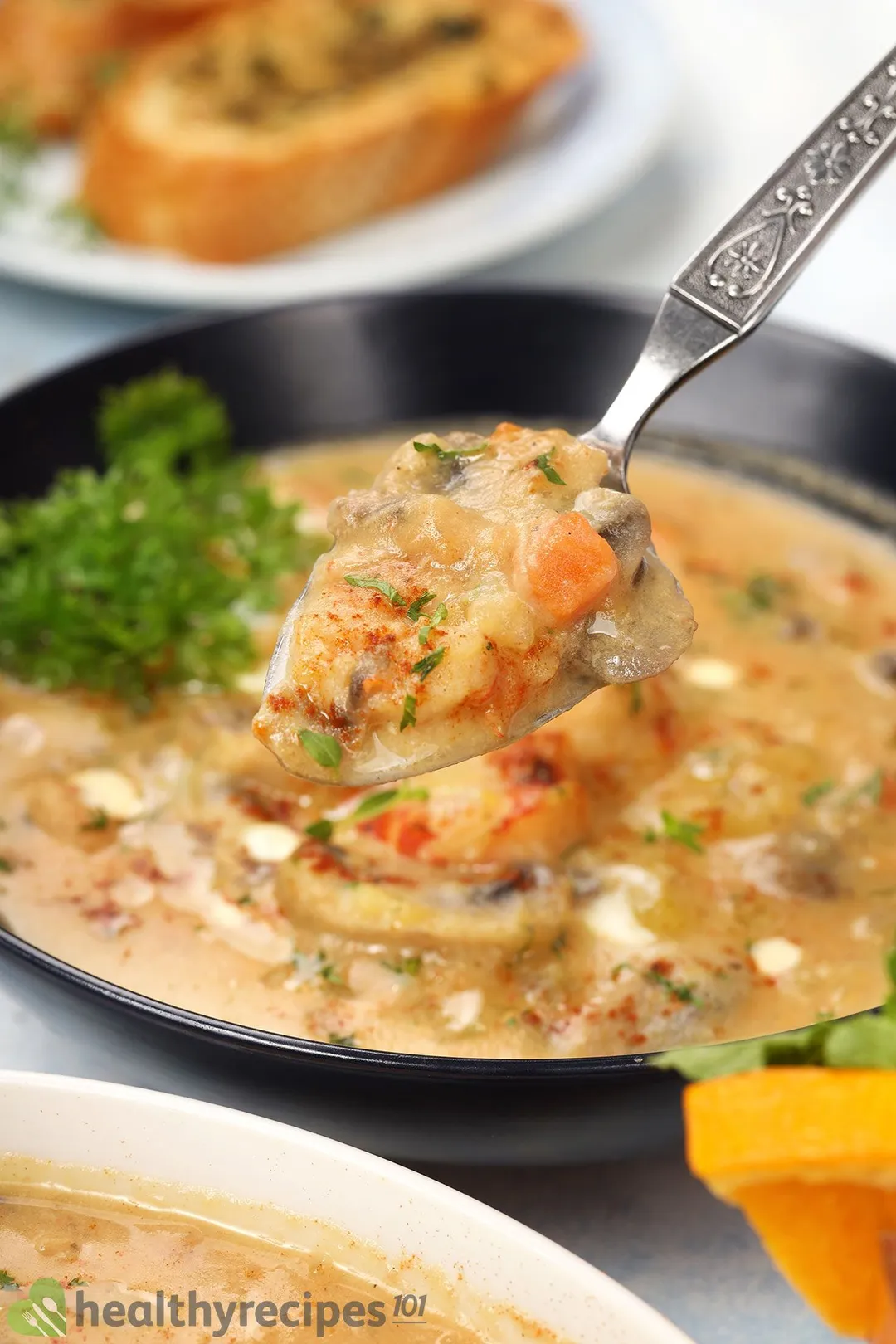 Shrimp Soup Recipes
Cozy up with these shrimp soup recipes that embrace what homemade food is all about – simple, warming, and familiar.
Ingredients
Directions
Pick your favorite recipe.
Gather the ingredients.
Follow the instructions to give you incredibly shrimp soup recipe ready in less than an hour!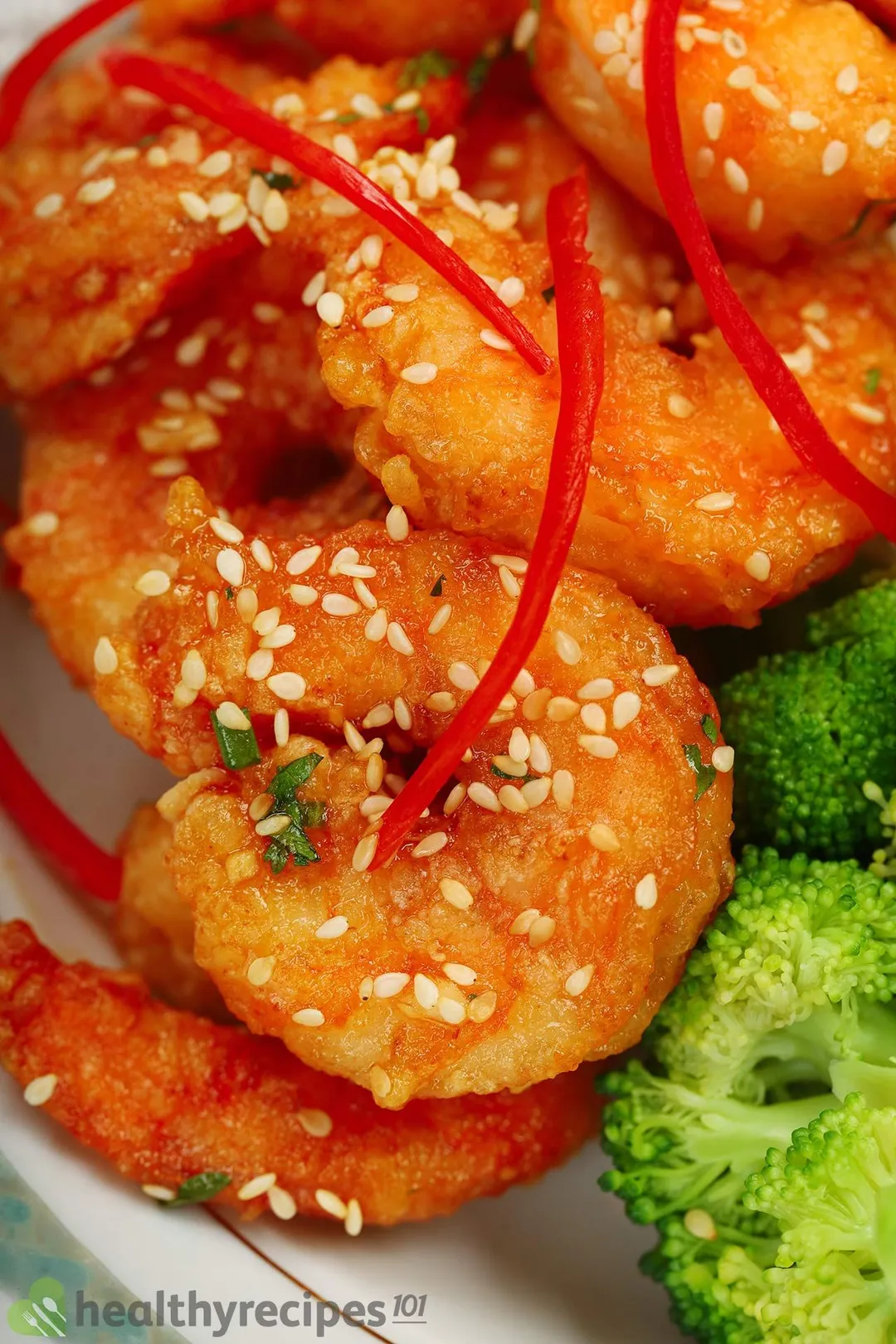 Previous Recipe
Fried Shrimp Recipes
Fried Shrimp Recipes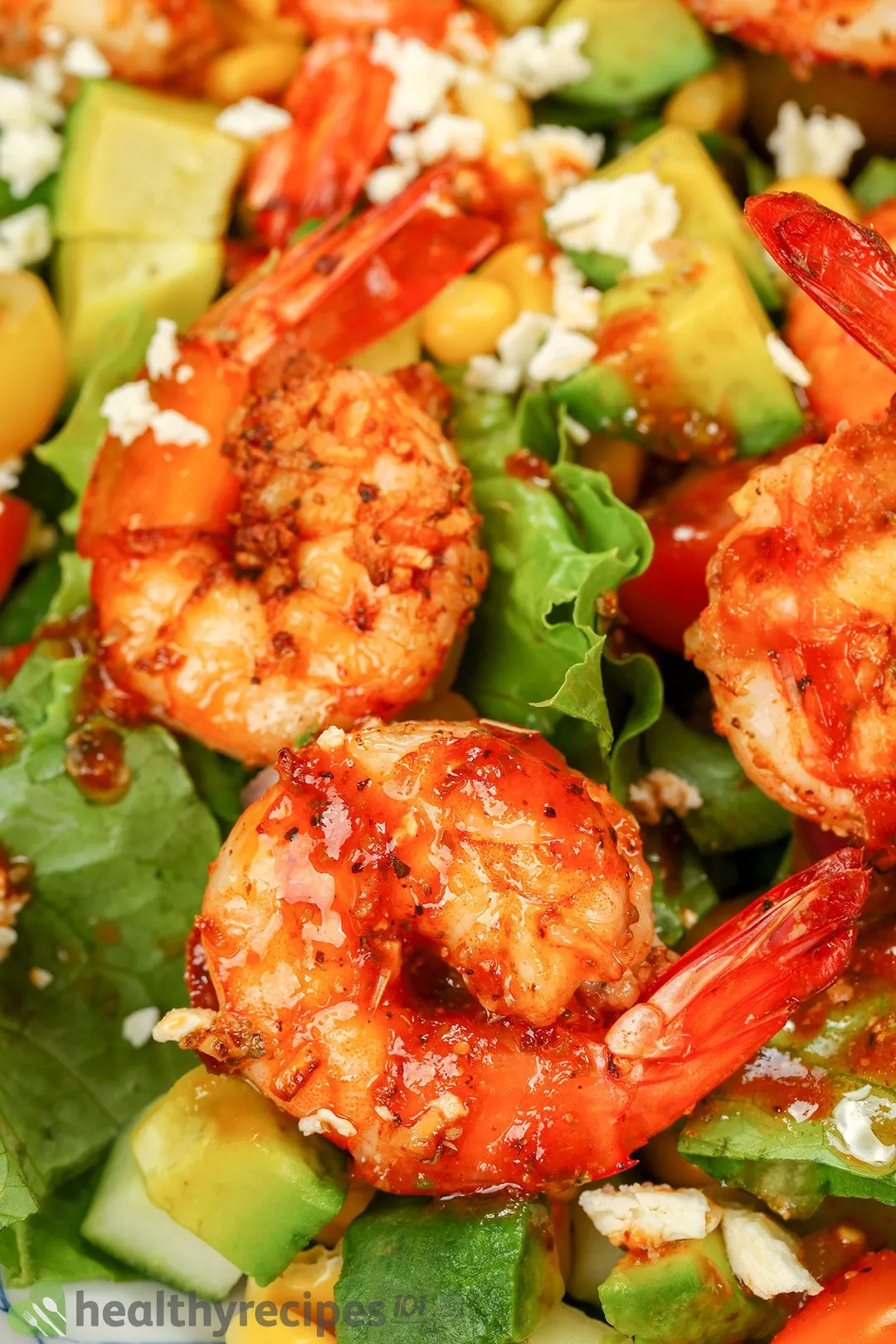 Next Recipe
Quick Shrimp Recipes
Quick Shrimp Recipes
Writer, Author
Luna Regina is an accomplished writer and author who dedicates her career to empowering home cooks and making cooking effortless for everyone. She is the founder of HealthyKitchen101.com and HealthyRecipes101.com, where she works with her team to develop easy, nutritious recipes and help aspiring cooks choose the right kitchen appliances.
Comments/ Reviews