Today's chocolate banana smoothie recipe is a straightforward tutorial for creating an enjoyable, sweet, yet healthful beverage.
Is This Chocolate Banana Smoothie Healthy?
Yes, our recipe for chocolate banana smoothie is nutritious. The following are a few reasons why:
Due to the inherent sweetness of bananas, you don't actually have to include extra sweeteners in this recipe. Having said that, we used ½ tablespoon of honey for 4 smoothie servings to provide a balanced taste profile. But feel free to exclude based on your preference.
Apart from being low in calories and fat, bananas are packed with essential nutrients and may help aid with weight reduction, digestion, and cardiovascular health.
Bananas are high in soluble fiber, which contributes to bananas' spongy texture. During digestion, soluble fiber dissolves and forms a gel.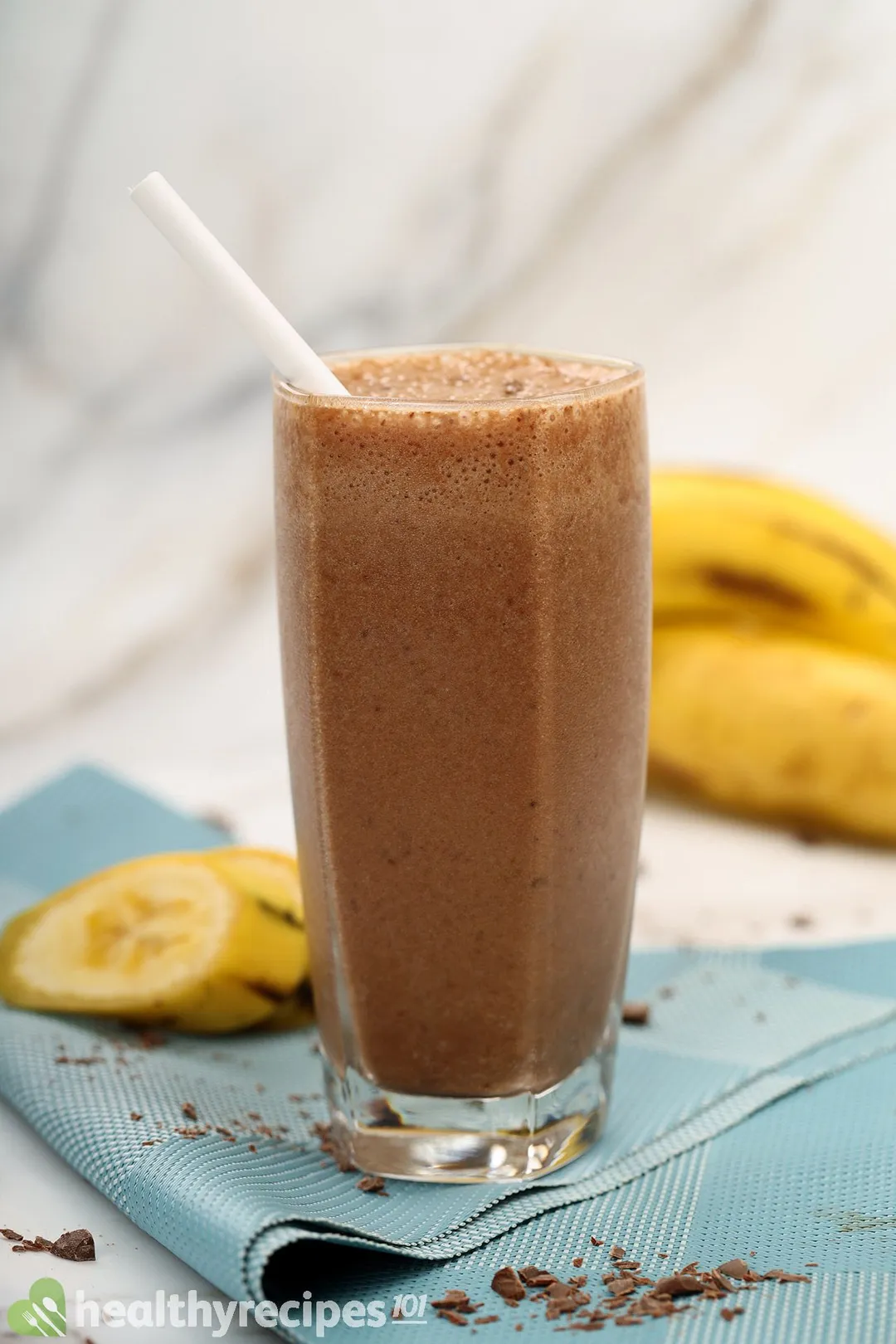 Additionally, unripe bananas contain resistant starch, a type of carbohydrate that your body cannot process. This starch helps to feed your healthy gut bacteria which leads to numerous beneficial health outcomes. 
These two types of fiber may work in tandem to assist in maintaining healthy blood sugar levels following meals. Additionally, they may assist in appetite management by slowing the rate at which your stomach empties out.
This implies that, despite high carbohydrate counts, bananas do not cause substantial increases in blood sugar in otherwise healthy individuals.
Fiber consumption has been linked to a number of health benefits, including improved digestion. A medium-sized banana contains around 3 grams of fiber.
One of the other major ingredients is chocolate. While bananas are low in fat and calories, chocolate has lots of both. Fortunately, we only need to use 1 oz of chocolate for this recipe. Plus, the dark chocolate we use is healthier than sweetened milk chocolate, it contains a powerful source of antioxidants. We can intensify the chocolate flavor by adding cocoa powder to the smoothie.
For more chocolate and fruit smoothies, check out our Chocolate Avocado Smoothie Recipe and Chocolate Strawberry Smoothie Recipe.
Ingredients for Chocolate Banana Smoothie
Here are the ingredients for today's chocolate banana smoothie recipe: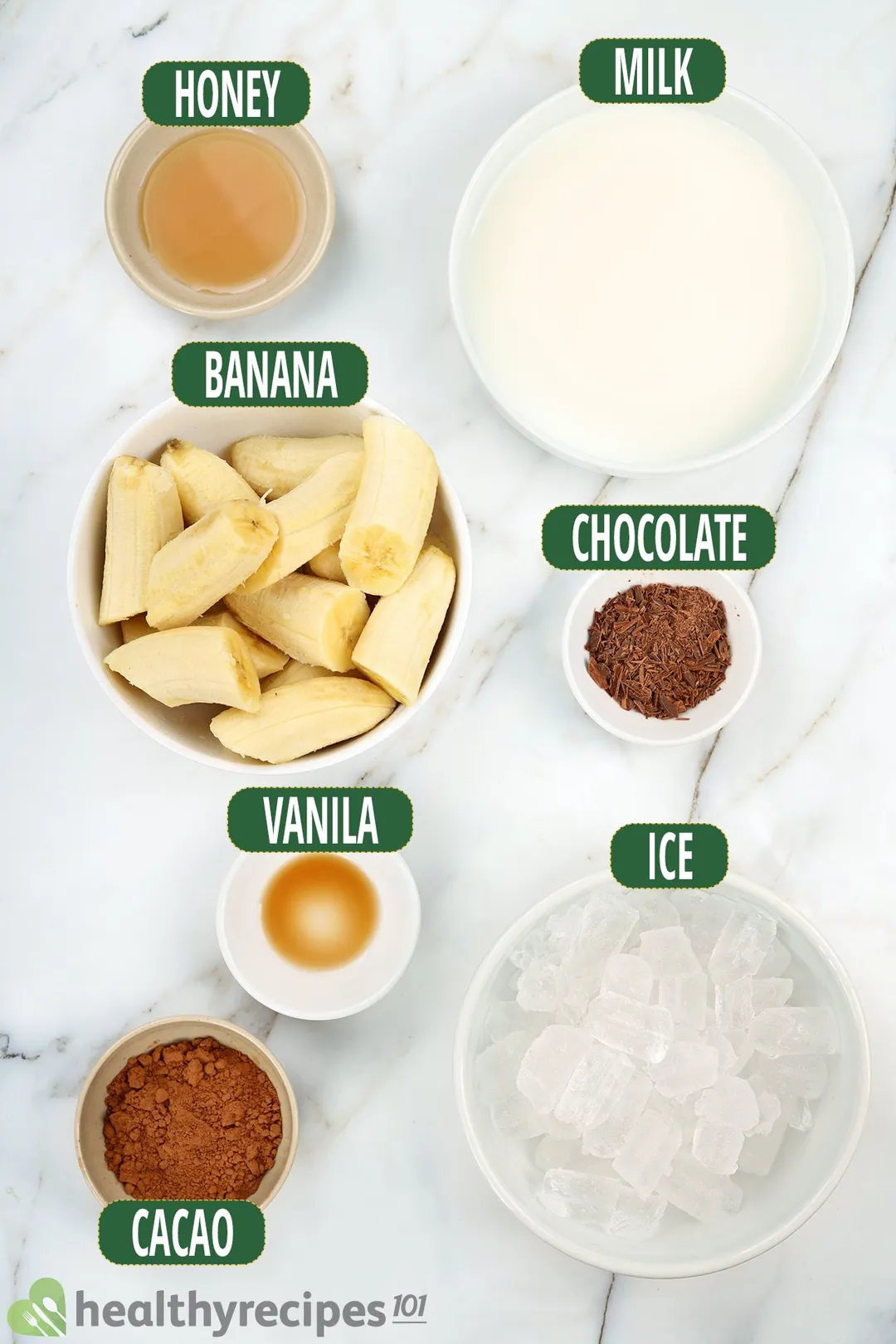 Banana: If you have ripe or nearly overripe bananas, this is the perfect way to use them all up.
Chocolate: We recommend using dark chocolate for this recipe — we used 65% cacao. The higher the percentage of cacao solids, the more bitter the chocolate, and the better the smoothie will taste.
Milk: Adding milk helps the smoothie blend more smoothly and gives the drink a milkshake-like flavor.
Honey: As mentioned, this will be the only sweetener for today's recipe.
Vanilla extract: This gives the smoothie a dessert-like flavor. If you're not a fan of vanilla in smoothies, you can leave it out.
Cocoa powder: As we said in the previous section, adding cocoa powder is a great way to add more chocolate flavor while keeping the calorie count in check.
Mint leaves: We used spearmint, but you could argue that peppermint or chocolate mint are even better fits for this recipe.
Ice: Ice cools things down and gives the smoothie a thick texture, making it more pleasurable to drink.
Can You Use Frozen Banana for This Chocolate Banana Smoothie Recipe?
Yes, you can. Blending frozen banana chunks will make the smoothie thicker and keep it cold longer than if you only use ice.
How to Peel a Frozen Banana
Freezing is a good way to store ripe and nearly overripe bananas. You can peel them, put them in Ziploc bags, and put them in the freezer.
However, if your bananas are overripe and a bit mushy, it's best to freeze them without peeling. They'll actually be easier to peel once frozen. Here's what you do:
Freeze the bananas for a few hours until they're solid.
Remove them from the freezer and leave them on the counter for about 5 minutes to let the peel soften a little.
Use a sharp knife to cut the two ends off.
Cut the banana in half lengthwise.
Follow the edge of the banana to remove the peel.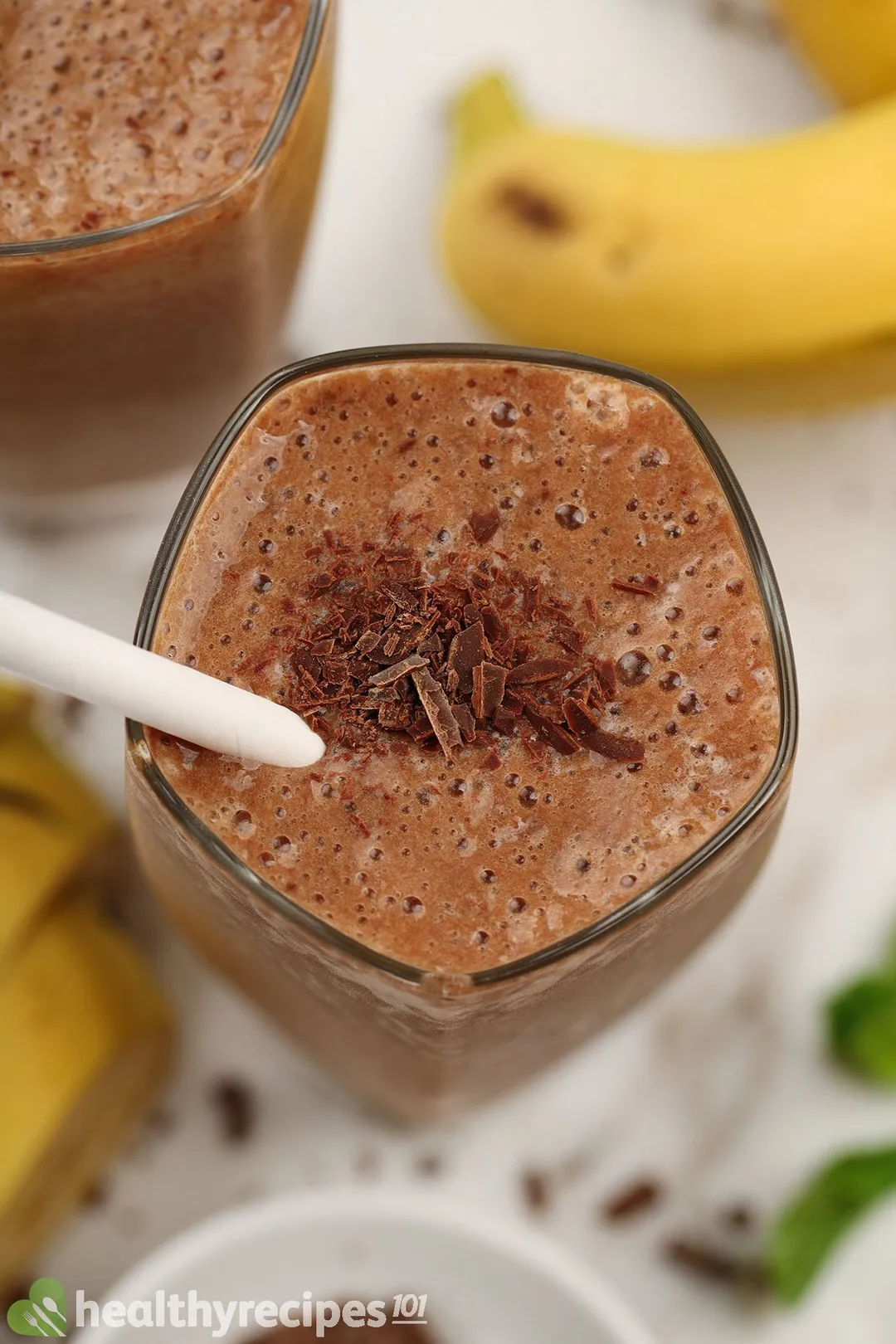 Is It Bad to Drink Smoothies Everyday?
It depends. If you are a healthy individual with no underlying chronic conditions, including a smoothie daily would be fine.
It also matters what is in your smoothie, switching up your smoothies to include both fruits and vegetables will help to provide you with a variety of nutrients that aligns with a healthy dietary pattern.
It is important to be mindful of your individual needs and consumption, for specific questions seek an expert's advice. A Registered Dietitian can help you to individualize a healthy eating pattern that works best for you. 
How Long Does This Chocolate Banana Smoothie Last?
Our chocolate banana smoothie recipe contains raw, fresh bananas and whole milk — two highly perishable ingredients — so it won't last long.
At room temperature, the smoothie needs to be used within two hours.
If you don't plan to drink your smoothie right away, it's best to transfer it to an airtight container and store it in the fridge. In this condition, it can last a day or two.
Another storage method we recommend is to freeze the smoothie. It can last a few weeks to a month. You can defrost it to drink later or enjoy a delicious and healthy chocolate banana ice cream.
Chocolate Banana Smoothie
Today's chocolate banana smoothie recipe is a basic guide on how to make this delicious treat. Feel free to customize the recipe to your liking.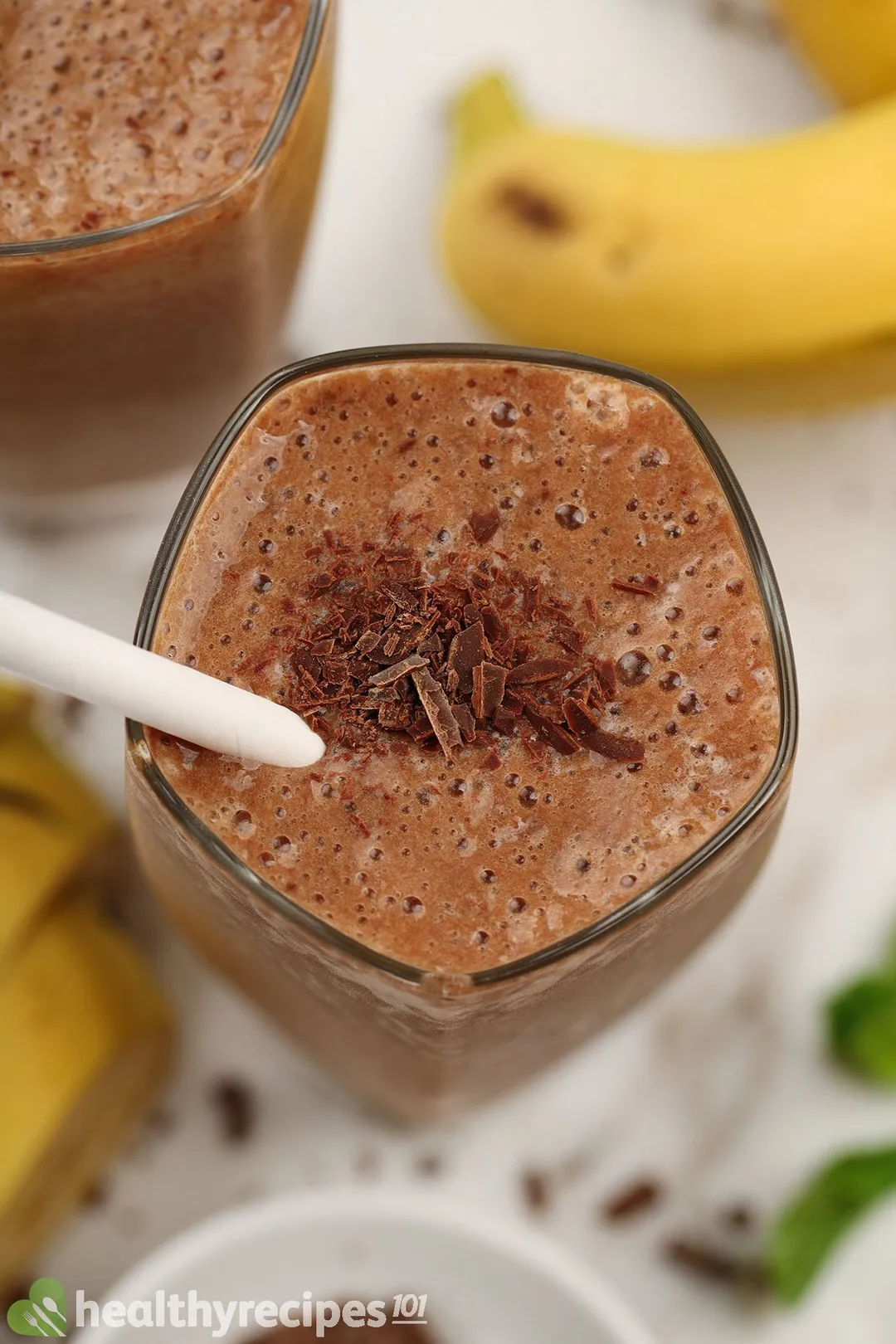 prep TIME

10 mins

total TIME

10 mins
COURSE

Beverage

CUISINE

American

SERVINGS

CALORIES

197 kcal
INGREDIENTS
1 oz

dark chocolate

(chopped (we used 65% cacao))

16 oz

banana

(peeled and cut into chunks)
INSTRUCTIONS
1
Combine 2 cups ice, 1 oz dark chocolate, 16 oz banana, 3 tbsp cocoa powder, 1 cup whole milk, 1/4 tsp vanilla extract and 1/2 tbsp honey in a blender.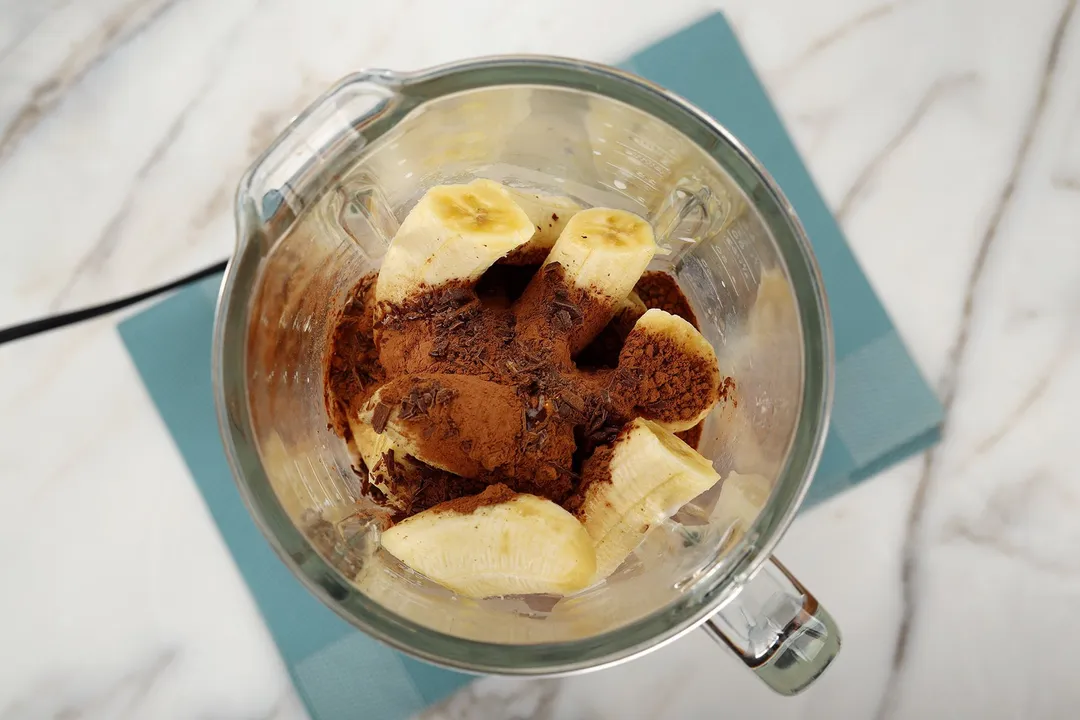 2
Blend in 20 - 30 seconds at high speed until completely smooth.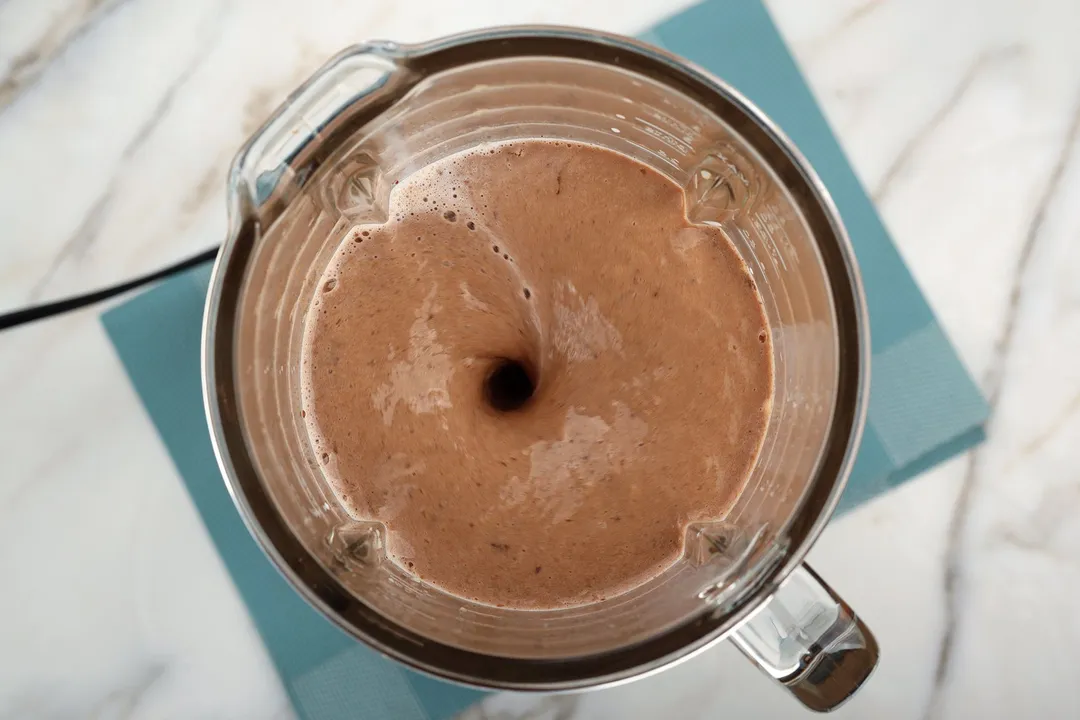 3
Pour the smoothie into 4 glasses.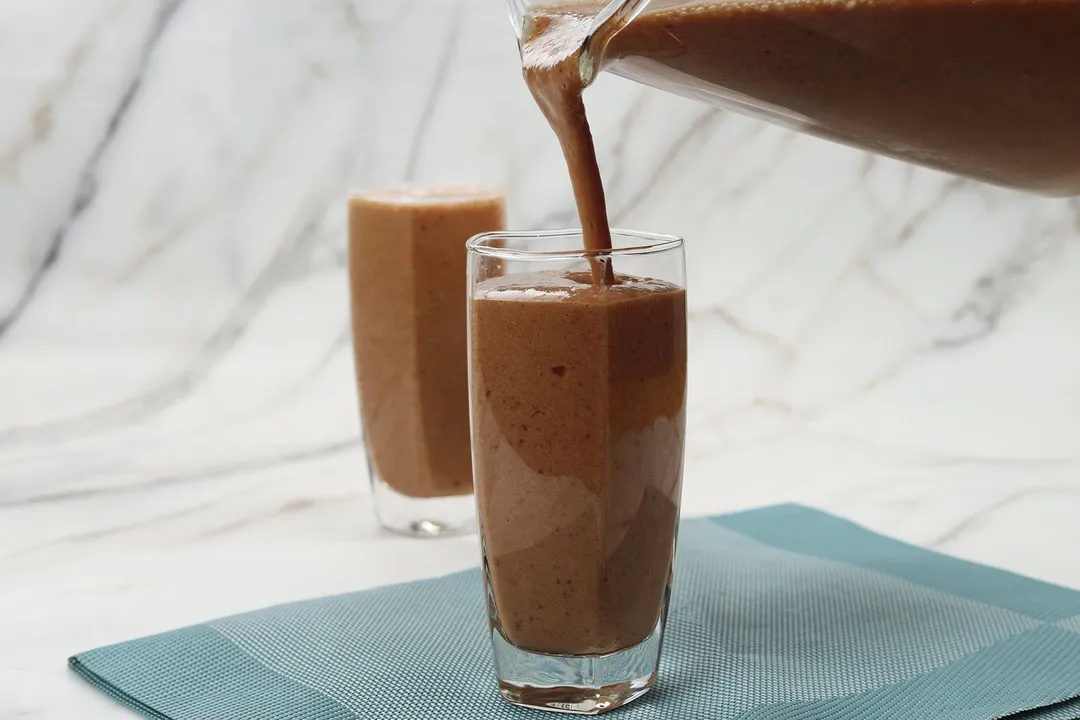 4
Garnish them with the mint leaves and enjoy your refreshing beverage.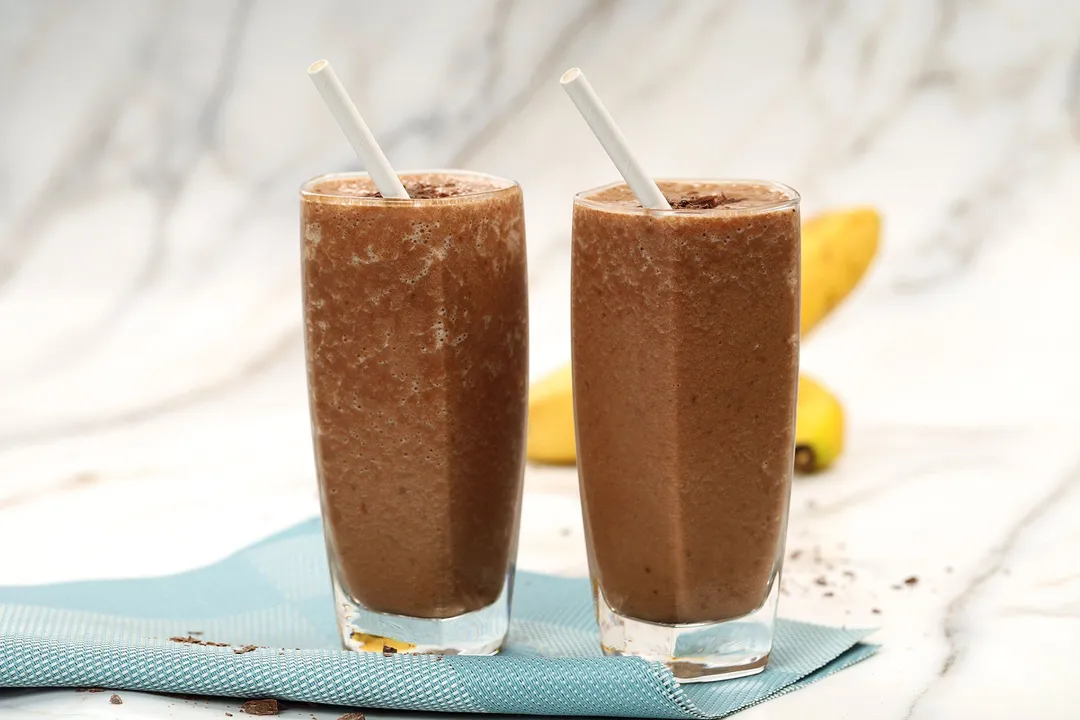 NUTRITION
Nutrition Facts
Chocolate Banana Smoothie
Amount Per Serving (1 serving)
Calories 197
Calories from Fat 50
% Daily Value*
* Percent Daily Values are based on a 2000 calorie diet.
Keywords: chocolate banana smoothie recipe, chocolate banana smoothie, how to make chocolate banana smoothie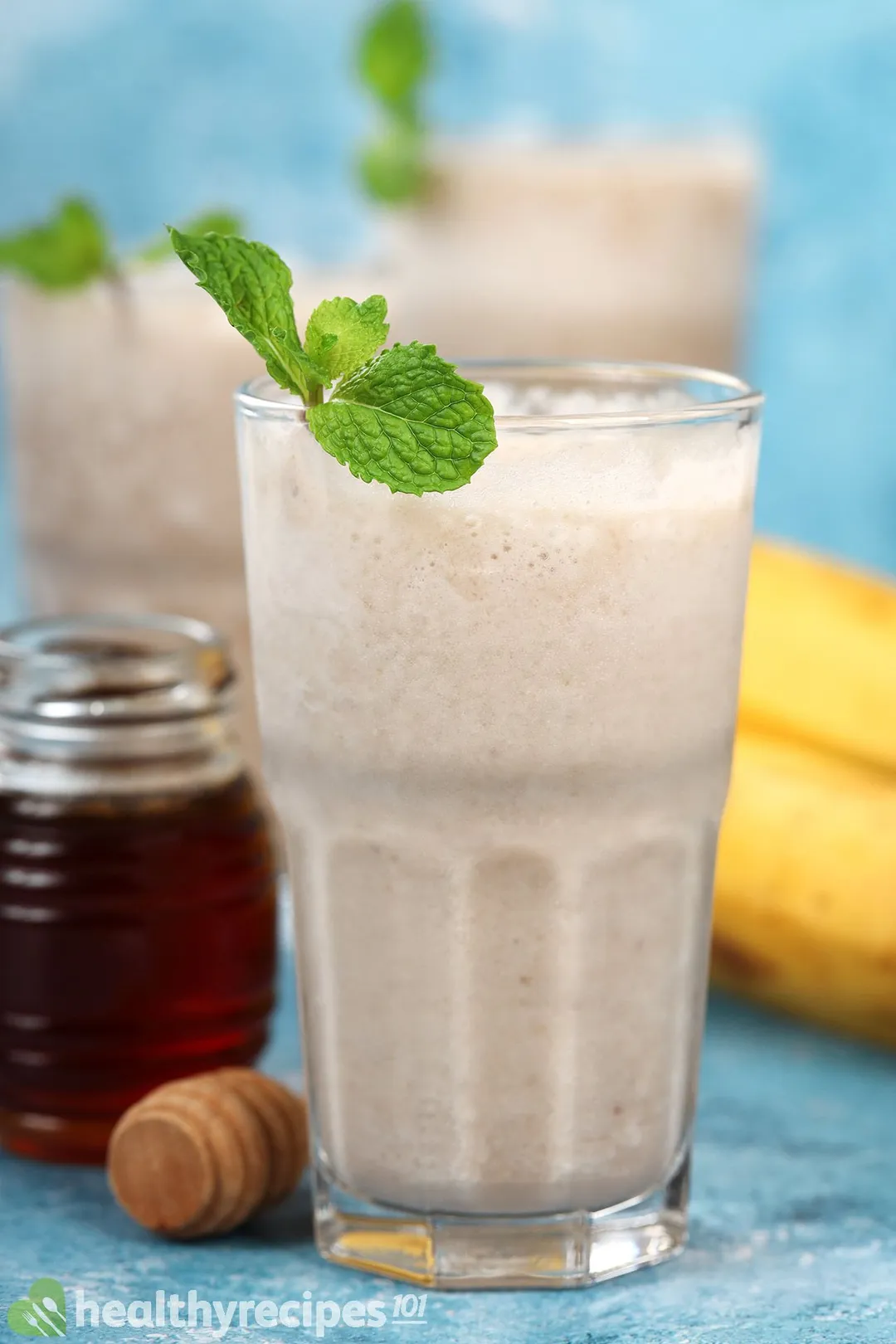 Previous Recipe
Yogurt-Free Banana Smoothie
Yogurt-Free Banana Smoothie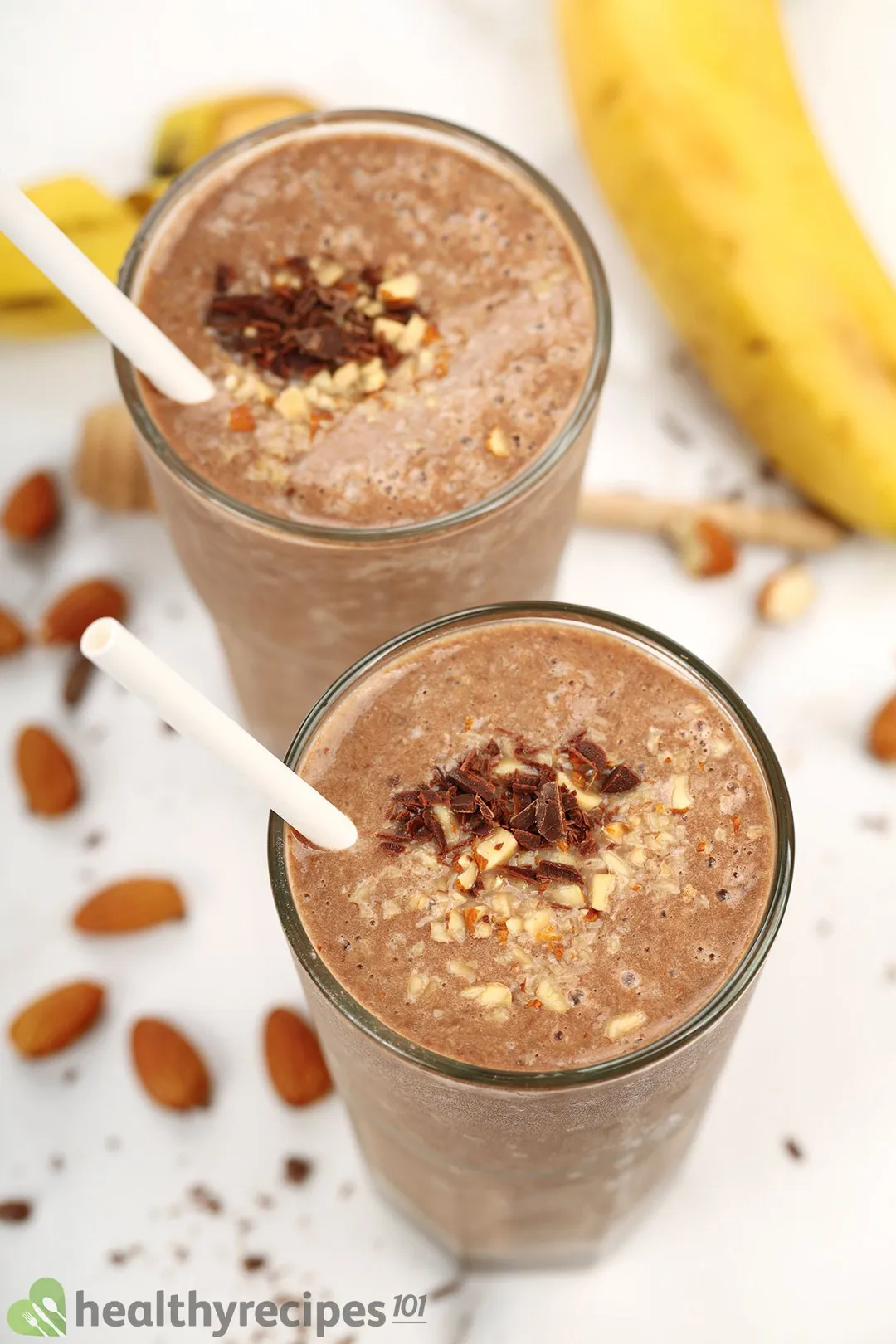 Next Recipe
Chocolate Peanut Butter Banana Smoothie
Chocolate Peanut Butter Banana Smoothie
Head Chef, Culinary Consultant
Tuyet Pham is an award-winning Saigonese chef who believes that joy is the secret ingredient to delicious food. At Healthy Recipes 101, Tuyet personally tests and simplifies every recipe, ensuring maximum flavor with minimal effort. With a background at prestigious French restaurants P'TI Saigon and Le Corto, Tuyet knows how to make every dish exceptional.
Writer, Author
Luna Regina is an accomplished writer and author who dedicates her career to empowering home cooks and making cooking effortless for everyone. She is the founder of HealthyKitchen101.com and HealthyRecipes101.com, where she works with her team to develop easy, nutritious recipes and help aspiring cooks choose the right kitchen appliances.
I can't wait to try this smoothie as a delicious and healthy treat