Today's simple yogurt-free banana smoothie recipe will show you how to make an appetizing and healthy drink from scratch.
Is Yogurt-Free Banana Smoothie Healthy?
Yes, our banana smoothie is healthy. Here's why:
Bananas Support Digestive Health
Dietary fiber has been associated with a variety of health advantages, including better digestion. And a medium-sized banana happens to have around 3 grams of fiber, which is about 10% of an average person's recommended daily intake.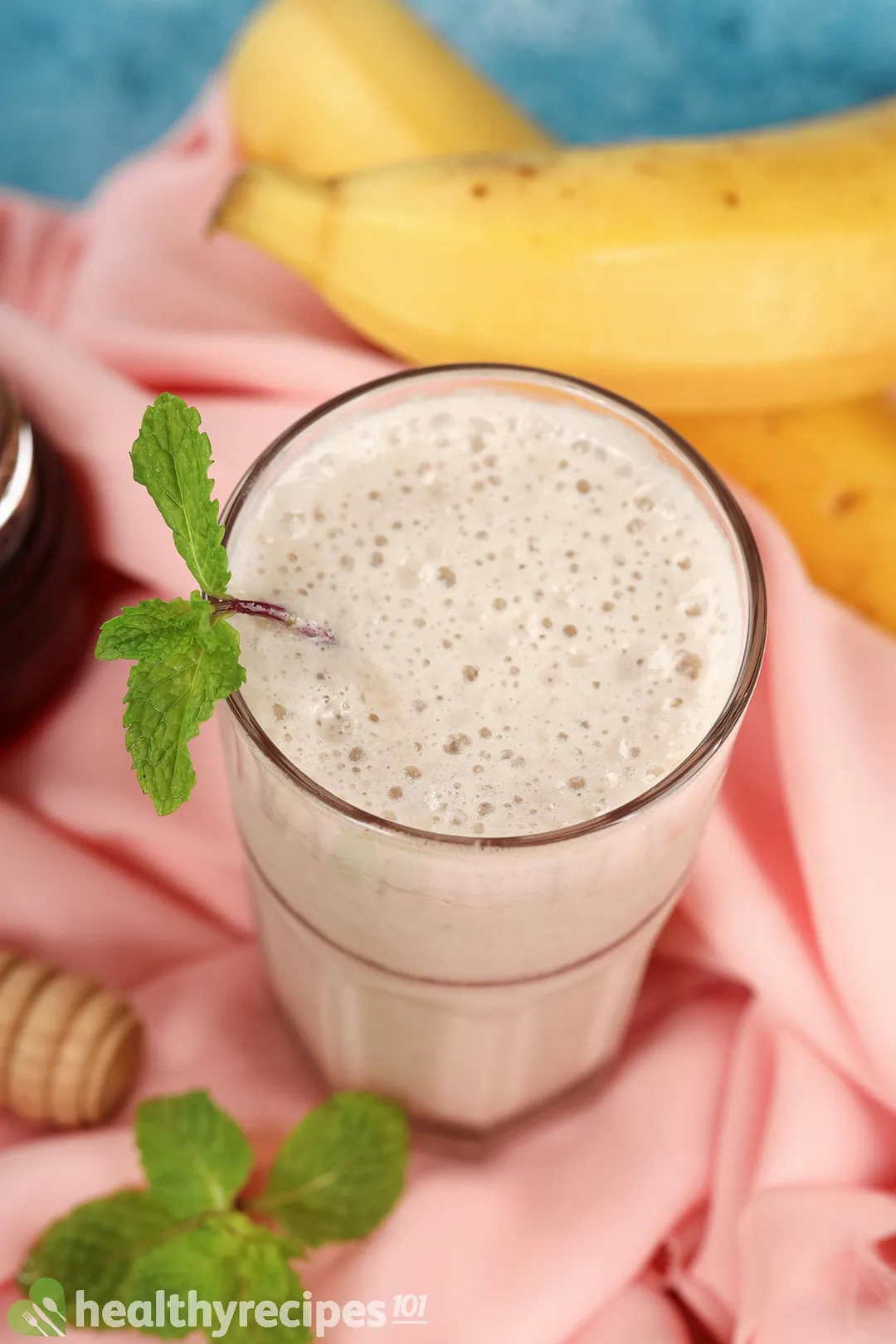 Bananas May Help You Lose Weight
Currently, no study has solely and specifically examined the effect of bananas on weight reduction. However, this famous fruit comes with characteristics that make it a potential weight-loss aid.
To begin with, bananas are low in calories. Although a medium banana contains little more than 100 calories, it is healthy and satisfying.
We've already mentioned their fiber content, and consuming more fiber from vegetables and fruits has been connected to decreased body weight and weight reduction more than once.
Additionally, because unripe bananas are high in resistant starch, they tend to be more satisfying and suppress your appetite. If you want to incorporate unripe bananas into your diet, treat them similarly to plantains. That being said, they may not be the best fit for today's banana smoothie recipe.
Main Ingredients for This Smoothie
Today's banana smoothie without yogurt recipe contains the following ingredients: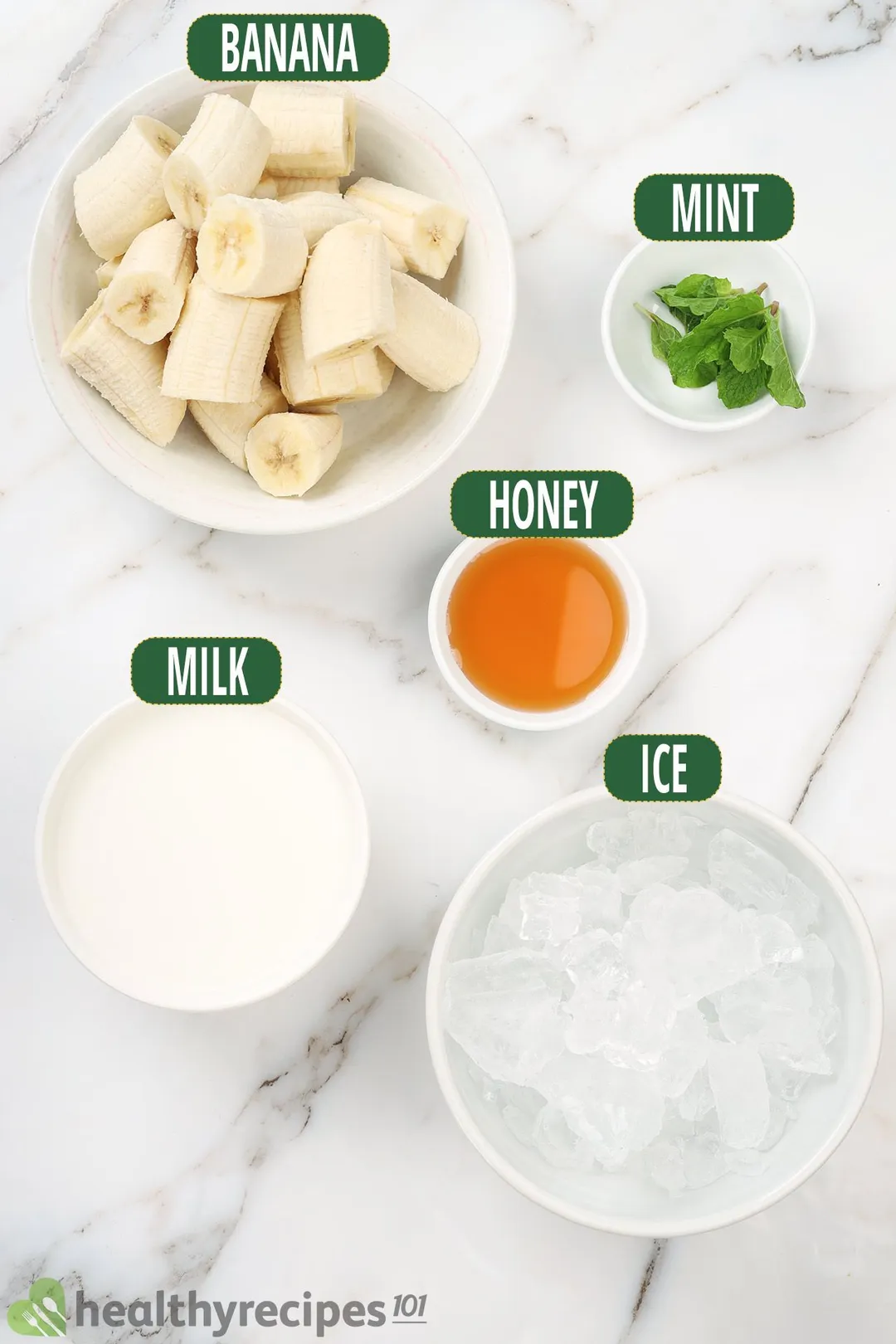 Bananas: Any variety of banana will do, just make sure that you're using ones that are fully ripe.
Milk: A touch of dairy can enhance the richness of your smoothie significantly even when you don't use any Greek yogurt, like today. If you're lactose intolerant, feel free to use plant-based milks, such as coconut, oat, cashew, or almond milk.
Honey: We only need to add a tiny bit of honey for the aroma, not the taste, because bananas are already sweet.
Mint: You can use your favorite type of mint for this recipe (we used spearmint). Not a fan of this minty herb? Simply leave it out.
And ice.
How Do You Thicken a Smoothie Without Yogurt?
Although yogurt can help your blender pulverize fruits and other ingredients more smoothly, technically, it doesn't help much in terms of increasing the viscosity of your smoothie.
Whether you're making a smoothie with or without yogurt, you can still improve its texture by adding frozen fruits. If your smoothie calls for bananas (like today's recipe) or berries, freeze them the night before and they will make your smoothie a lot thicker once they're all blended together.
If you want to go all the way, freeze the liquids, too! Whatever type of juice or milk you're using, just pour it into an ice cube tray and leave it in the freezer overnight. Add these flavored ice cubes to the blender with your regular ice and your smoothie will be extra thick and slushy!
You can also add a small scoop of old-fashioned oats or chia seeds. They're a great trick to thicken your smoothie instantly and sneak a little more fiber into your drink.
What Fruit Goes Well With Banana in a Smoothie?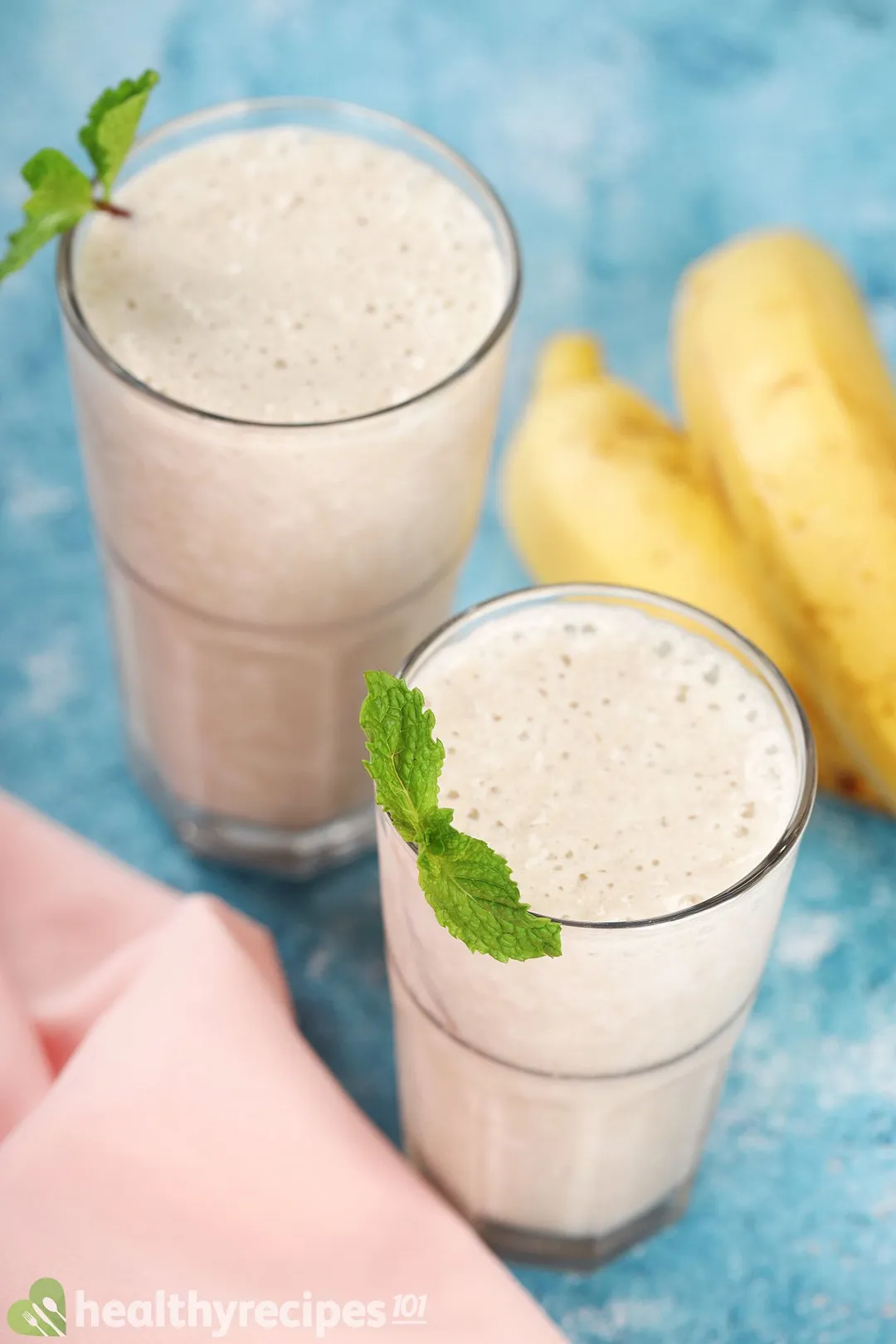 How to Tell When Bananas Are Ripe
Bananas, believe it or not, may be eaten at any stage of maturity. That being said, you really want ripe bananas for making smoothies. Here are a few features you should look out for when you're waiting for them to ripe.
Yes, green bananas are edible. However, they are hard, starchy, and lack the distinctive banana flavor. In addition, peeling one is more challenging than peeling a ripe banana.
Green bananas may not be so appetizing when you eat them raw. However, they are frequently included in soups and stews, or boiled and eaten as is.
If you have green bananas, you'll want to wait until they're ripe. One trick to speed up the ripening process is to place the bananas in a paper bag with an apple. It sounds funny, but it actually works.
Bananas at this stage are nearly ripe and simple to handle. When eaten uncooked, there is a little sweetness. At this point, you can also sauté, fry, or mash them for different recipes.
When bananas are yellow they're considered fully ripe. They can ripen beyond this but this is their optimum time.
At this stage, bananas are still solid but begin to soften. Their flavor has developed to become more sweet and the unmistakable banana aroma is present.
These bananas are most commonly eaten raw as a snack or part of a smoothie or salad. However they are still firm enough to be cooked and incorporated into different meals.
Place bananas in the refrigerator if you want to prevent them from continuing to ripen. While the skins may continue to change color, the flesh inside will remain firm and tasty.
Yellow Bananas with Brown Spots
At this point, the banana has reached its peak of ripeness. There should be a greater proportion of yellow than brown.
The fruit gets more succulent and soft as it ripens. While some individuals prefer to consume the fruit raw at this stage, it is the optimal state for smoothies, puddings, and desserts.
When the banana peel is mostly brown, it has become overripe. The fruit gets very soft and sweet. Many individuals prefer not to eat a banana like this uncooked, but some will. Once a banana has reached this stage, it's best used in baked desserts.
How Long Does This Smoothie Last?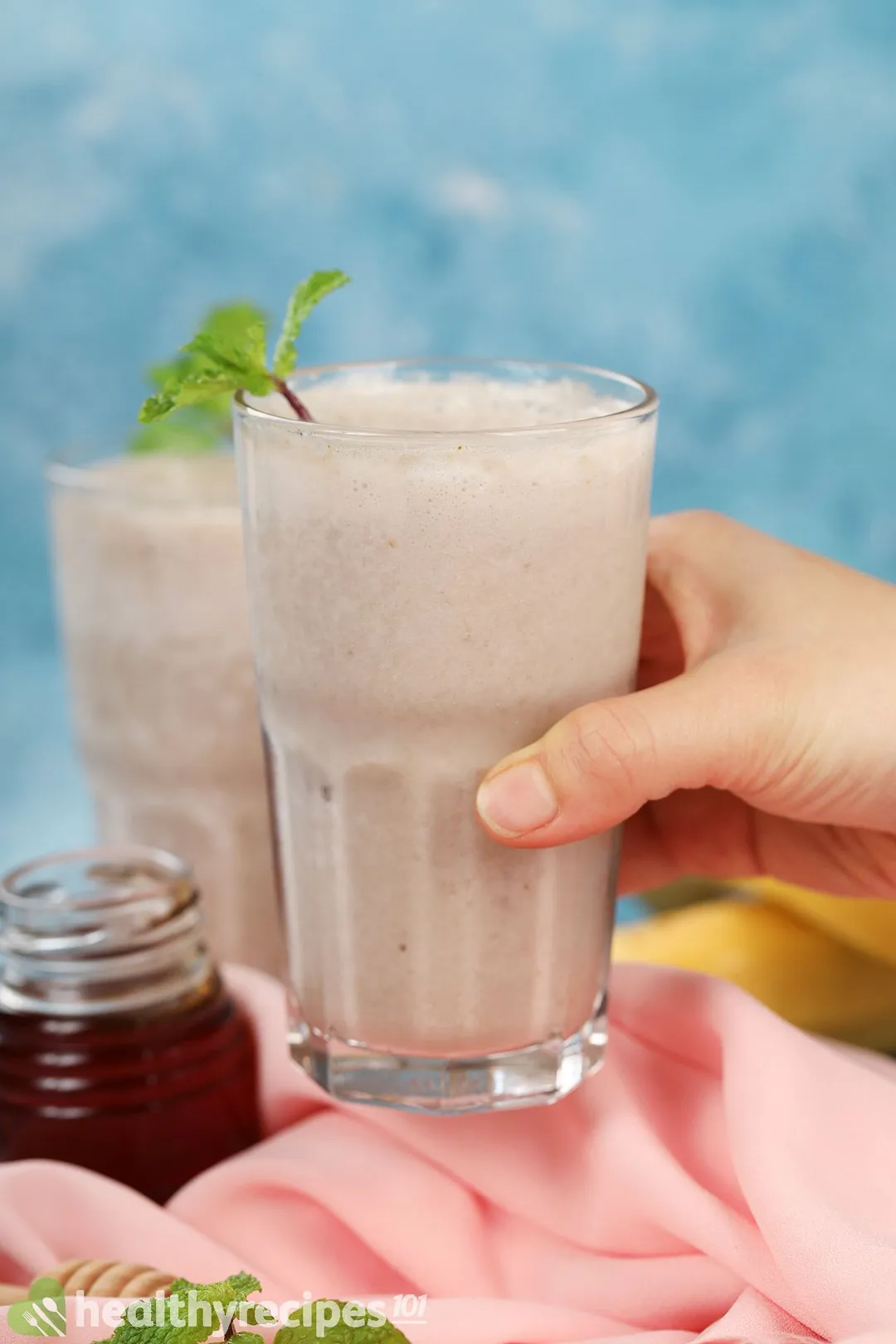 Since this recipe contains milk, your leftover banana smoothie can only last a day in the fridge. We recommend keeping it in an airtight container such as a bottle with a tight fitting lid or a mason jar.
Yogurt-Free Banana Smoothie
You only need 5 simple ingredients to make this yogurt-free banana smoothie recipe. Check your fridge and see if you have everything you need.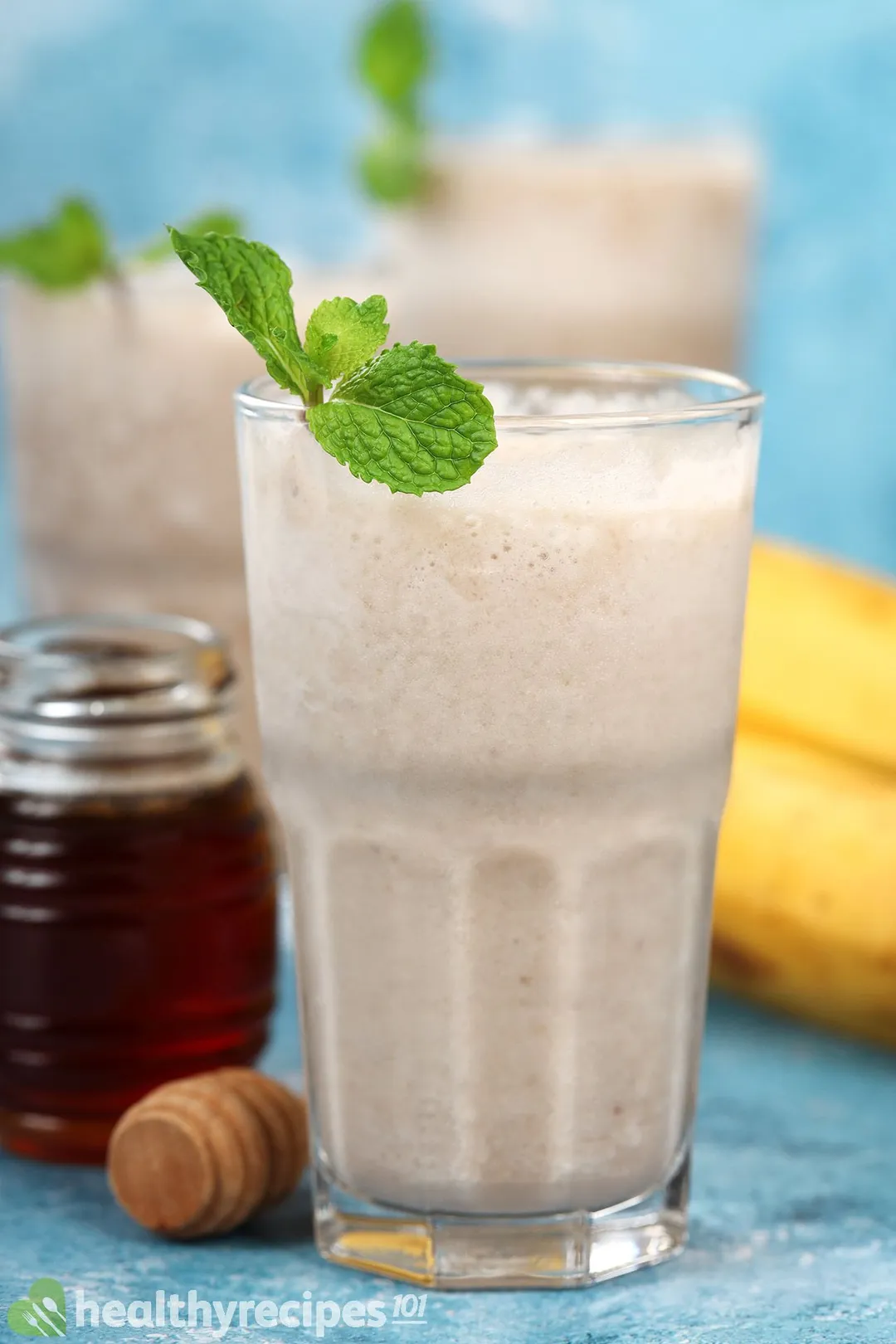 prep TIME

10 mins

total TIME

10 mins
COURSE

Beverage

CUISINE

American

SERVINGS

CALORIES

154 kcal
INSTRUCTIONS
1
Combine all the ingredients: 2 cups ice, 16 oz bananas, 1 cup milk and 1 tbsp honey in a blender.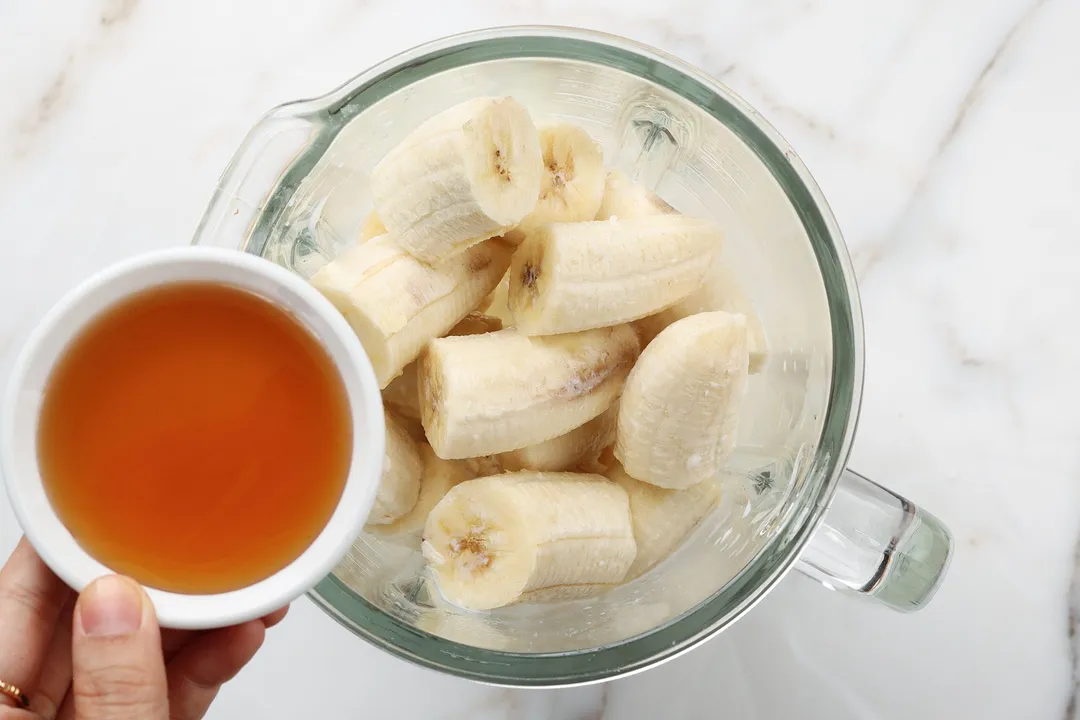 2
Blend at high power mode in 20 - 30 seconds until smooth.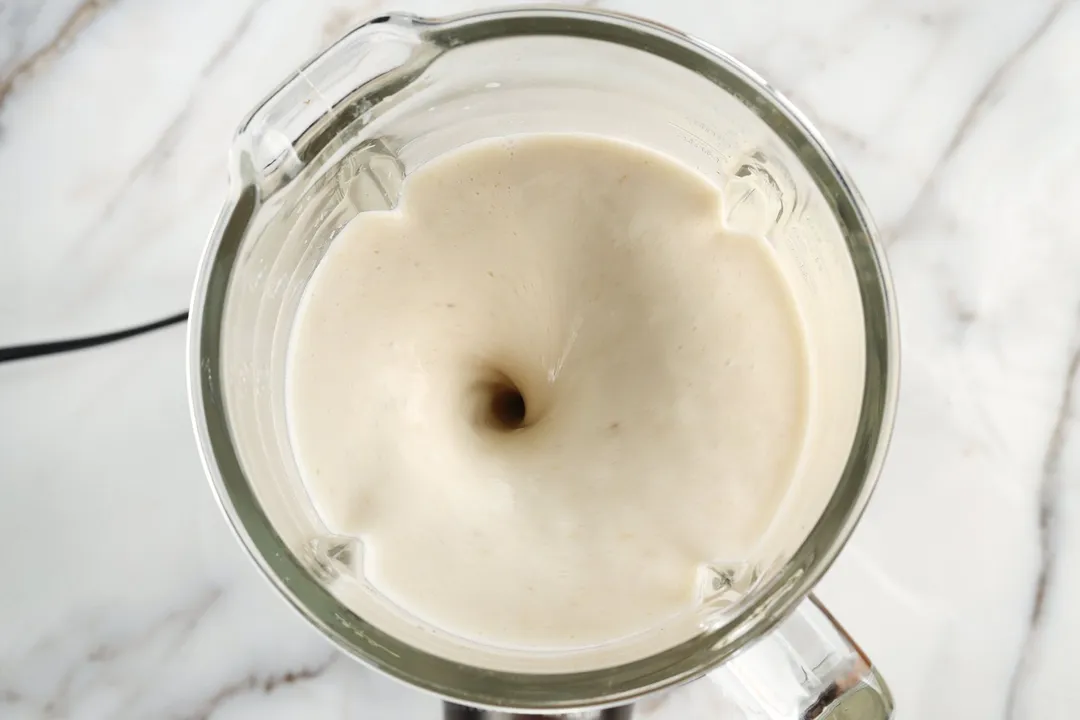 3
Pour the smoothie into 4 glasses.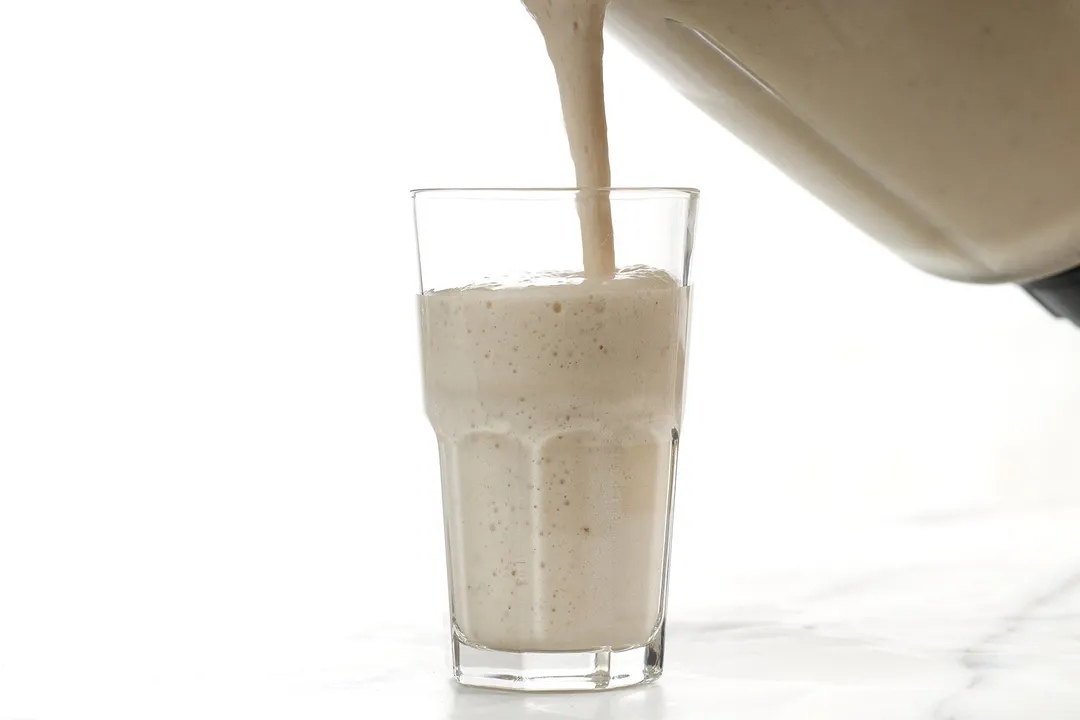 4
Garnish them with the mint leaves and enjoy your refreshing beverage.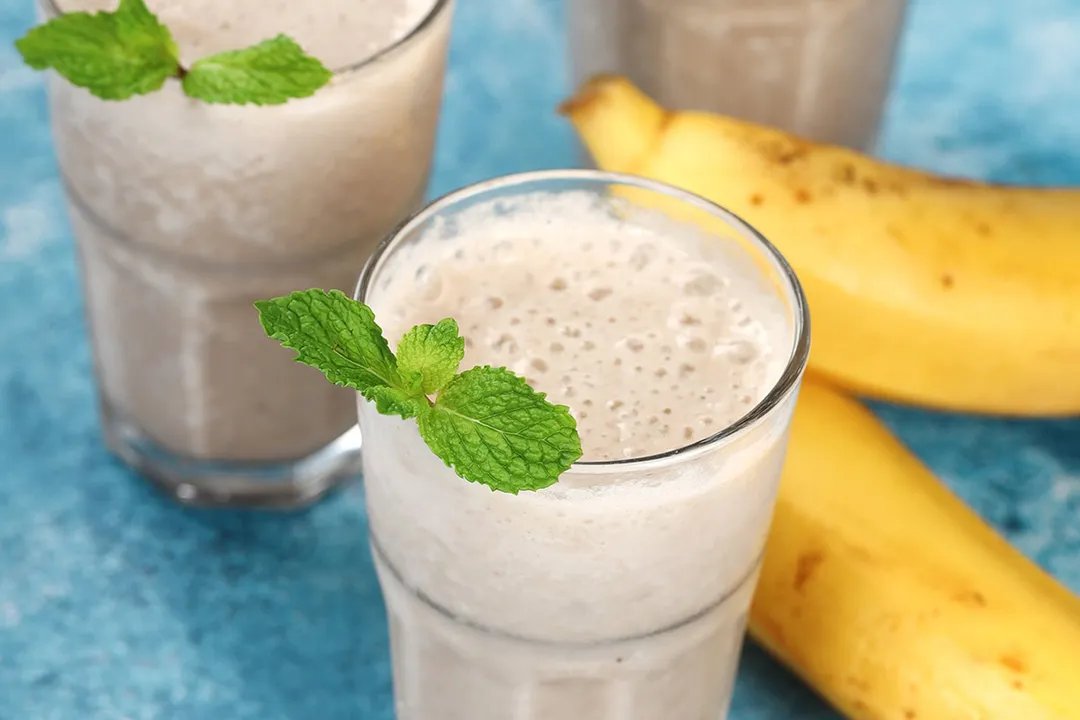 NUTRITION
Nutrition Facts
Yogurt-Free Banana Smoothie
Amount Per Serving (1 serving)
Calories 154
Calories from Fat 22
% Daily Value*
* Percent Daily Values are based on a 2000 calorie diet.
Keywords: yogurt-free banana smoothie recipe, yogurt-free banana smoothie, banana smoothie without yogurt, banana smoothie without yogurt recipe, banana smoothie, how to make banana smoothie without yogurt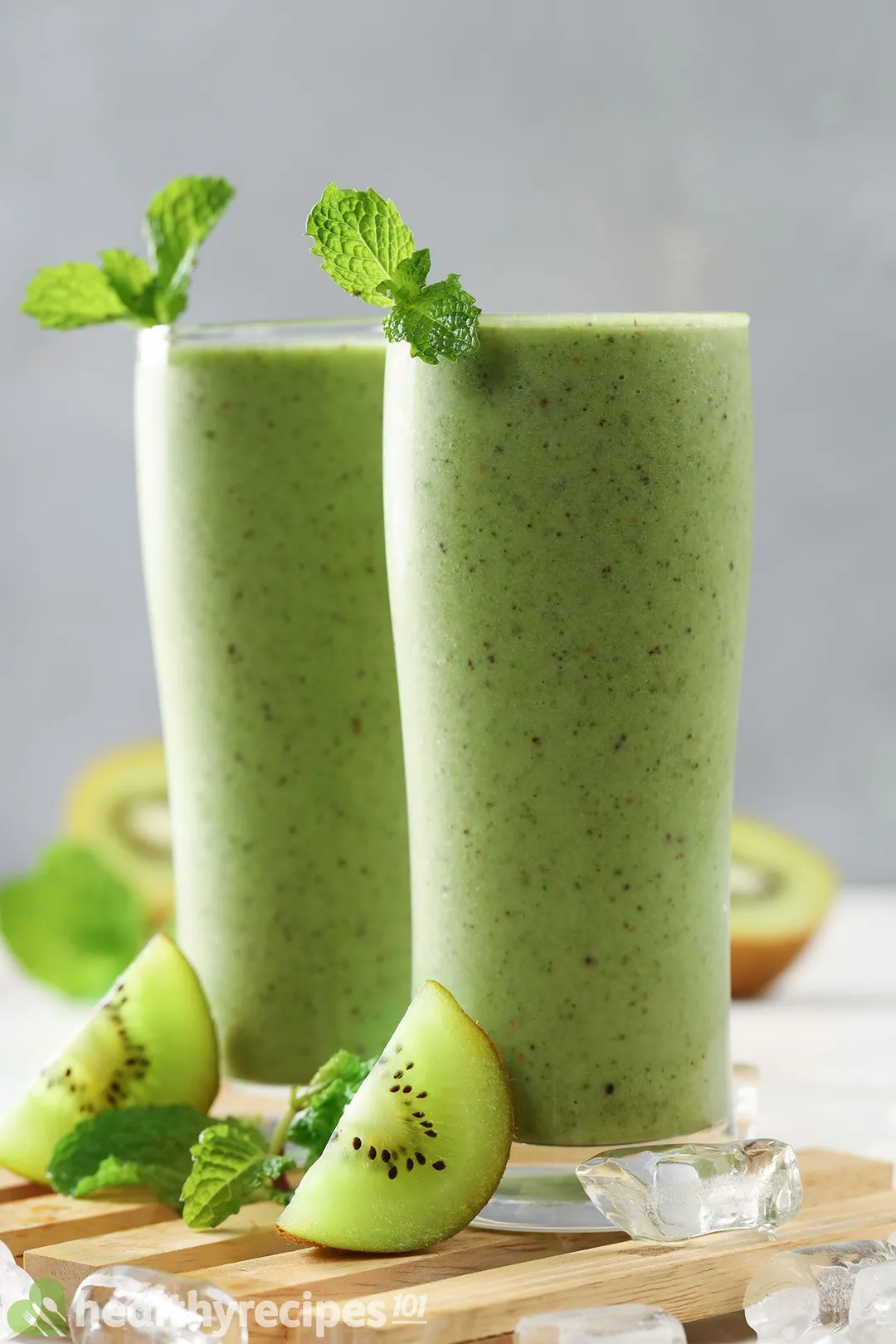 Previous Recipe
Kiwi Smoothie
Kiwi Smoothie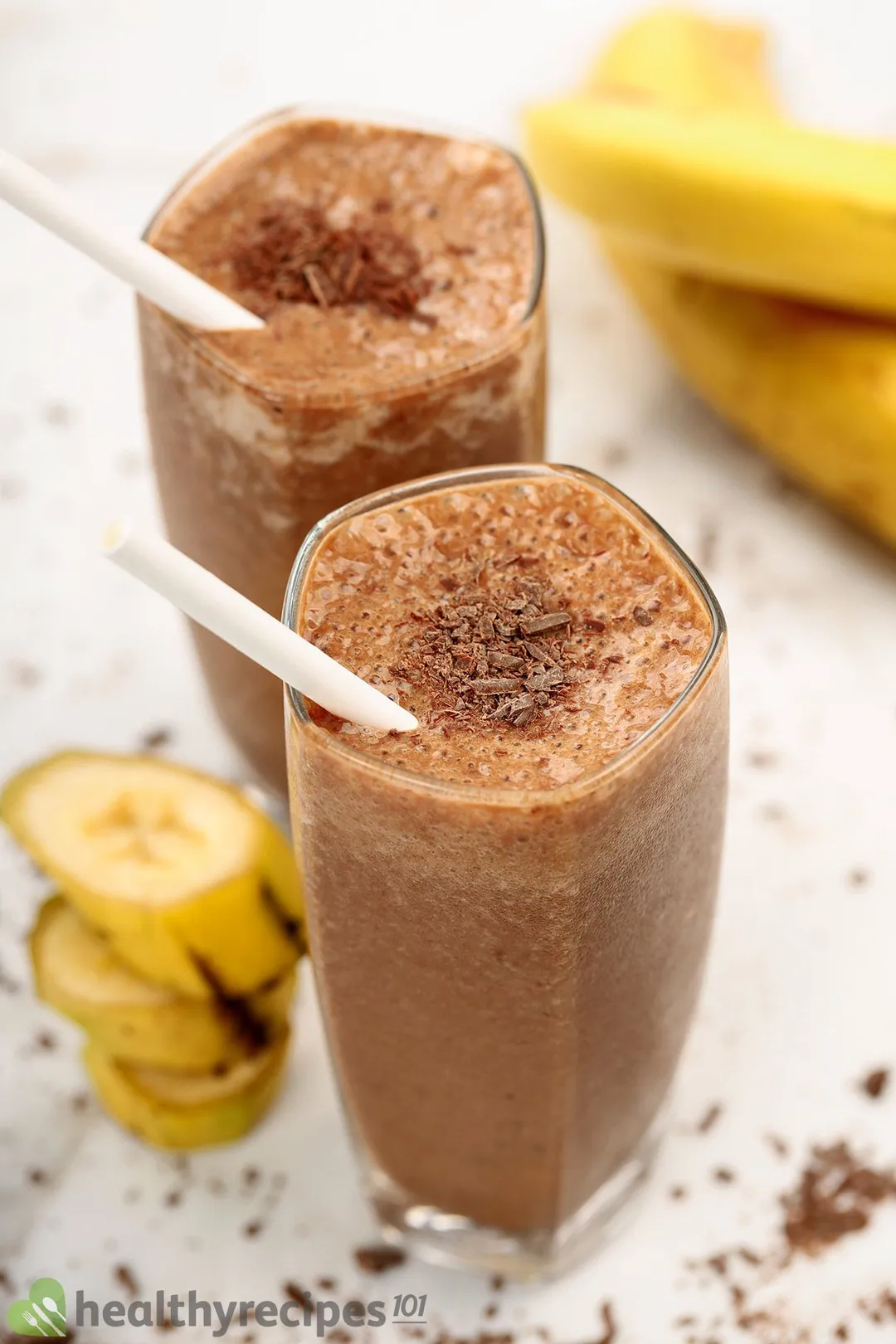 Next Recipe
Chocolate Banana Smoothie
Chocolate Banana Smoothie
Head Chef, Culinary Consultant
Tuyet Pham is an award-winning Saigonese chef who believes that joy is the secret ingredient to delicious food. At Healthy Recipes 101, Tuyet personally tests and simplifies every recipe, ensuring maximum flavor with minimal effort. With a background at prestigious French restaurants P'TI Saigon and Le Corto, Tuyet knows how to make every dish exceptional.
Writer, Author
Luna Regina is an accomplished writer and author who dedicates her career to empowering home cooks and making cooking effortless for everyone. She is the founder of HealthyKitchen101.com and HealthyRecipes101.com, where she works with her team to develop easy, nutritious recipes and help aspiring cooks choose the right kitchen appliances.
Refreshing and healthy, perfect for a quick breakfast!

Refreshing banana smoothie without yogurt.