Our chocolate strawberry smoothie recipe is a healthy formula for a delicious treat. It's a fine blend of strawberries, chocolate, bananas, Greek yogurt, and ice.
Is Chocolate Strawberry Smoothie Healthy?
Not all smoothies are healthy, and the word "chocolate" in the title here probably raises some red flags. But there are a few things about our chocolate strawberry smoothie that make it healthy.
First of all, it has a plethora of micronutrients from the main ingredients: chocolate, strawberries, bananas, almonds, and Greek yogurt. You'll get vitamins from the A, B, C, and E categories, as well as calcium, manganese, potassium, iron, magnesium, and many other minerals in varying amounts.
There is also 5.7 g of fiber within each serving. For reference, the USDA suggests getting 28 g daily.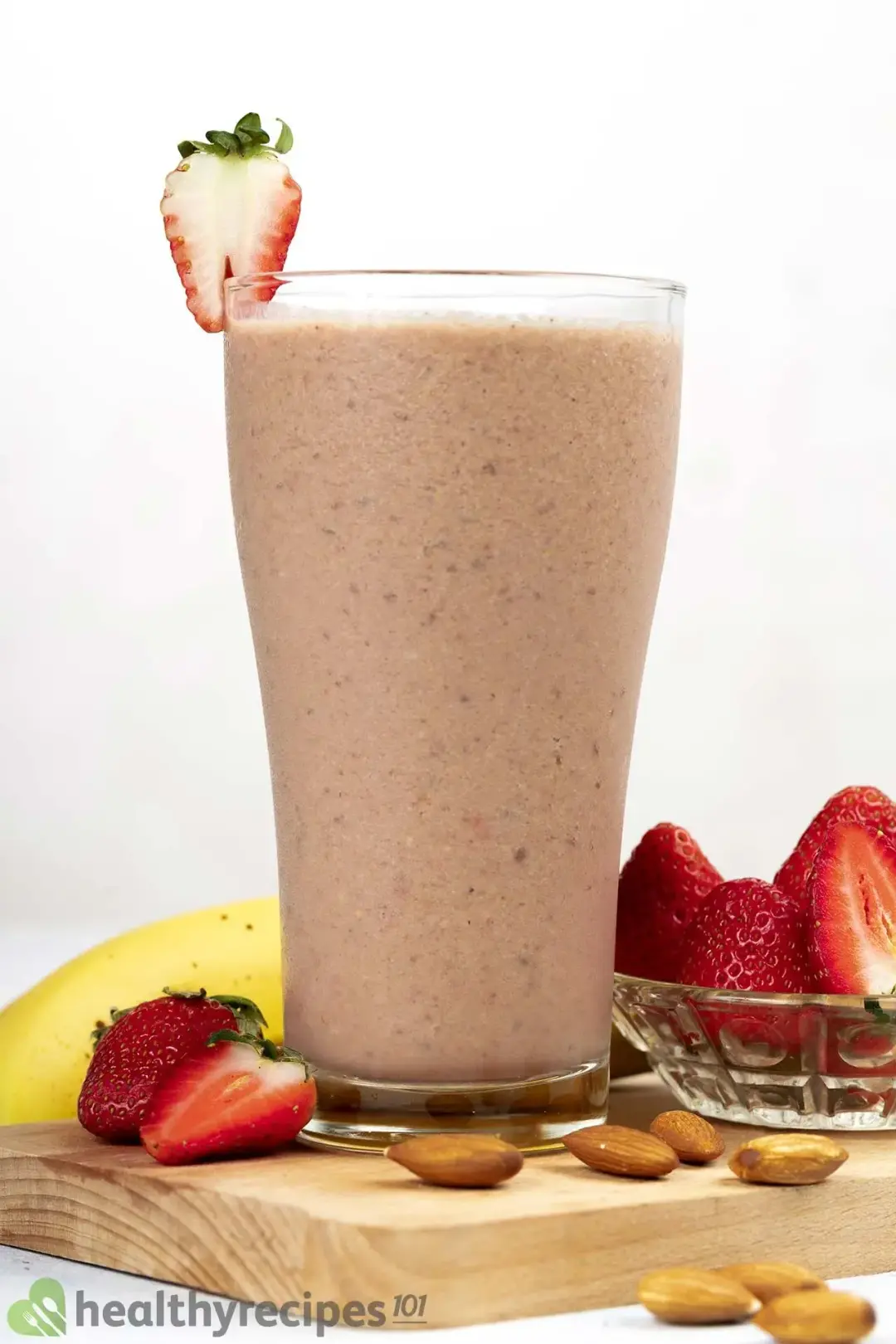 Many smoothie recipes suggest adding extra sugar. Ours, on the other hand, gets only 2.5 grams from the chocolate. Compared to the USDA's suggested upper limit of added sugar for a 2000-calorie diet, this amount takes up 5%. It is a good choice if you have sweet snacks frequently.
Coming along with all these benefits is a decent amount of calories, 225 per serving.
Is Chocolate Vegan?
Many chocolate products are vegan-friendly, but not all of them.
Dark chocolate is often made of the cacao fruit directly. It is allowed to ferment, cleaned, roasted, and ground with cacao butter until silky. Without additives coming from animal sources, it is a vegan-friendly product. Dark chocolate chips meant for cooking (not for consuming) are usually vegan.
Some dark chocolate is infused with butter made from cow's milk, so it falls into the non-vegan category. Milk chocolate seems non-vegan, too, but some products use nut milk instead, making it purely plant-based.
The bottom line is, it's difficult to tell if a chocolate product is vegan without carefully inspecting the ingredients list. It's helpful to shop at stores that promote vegan products.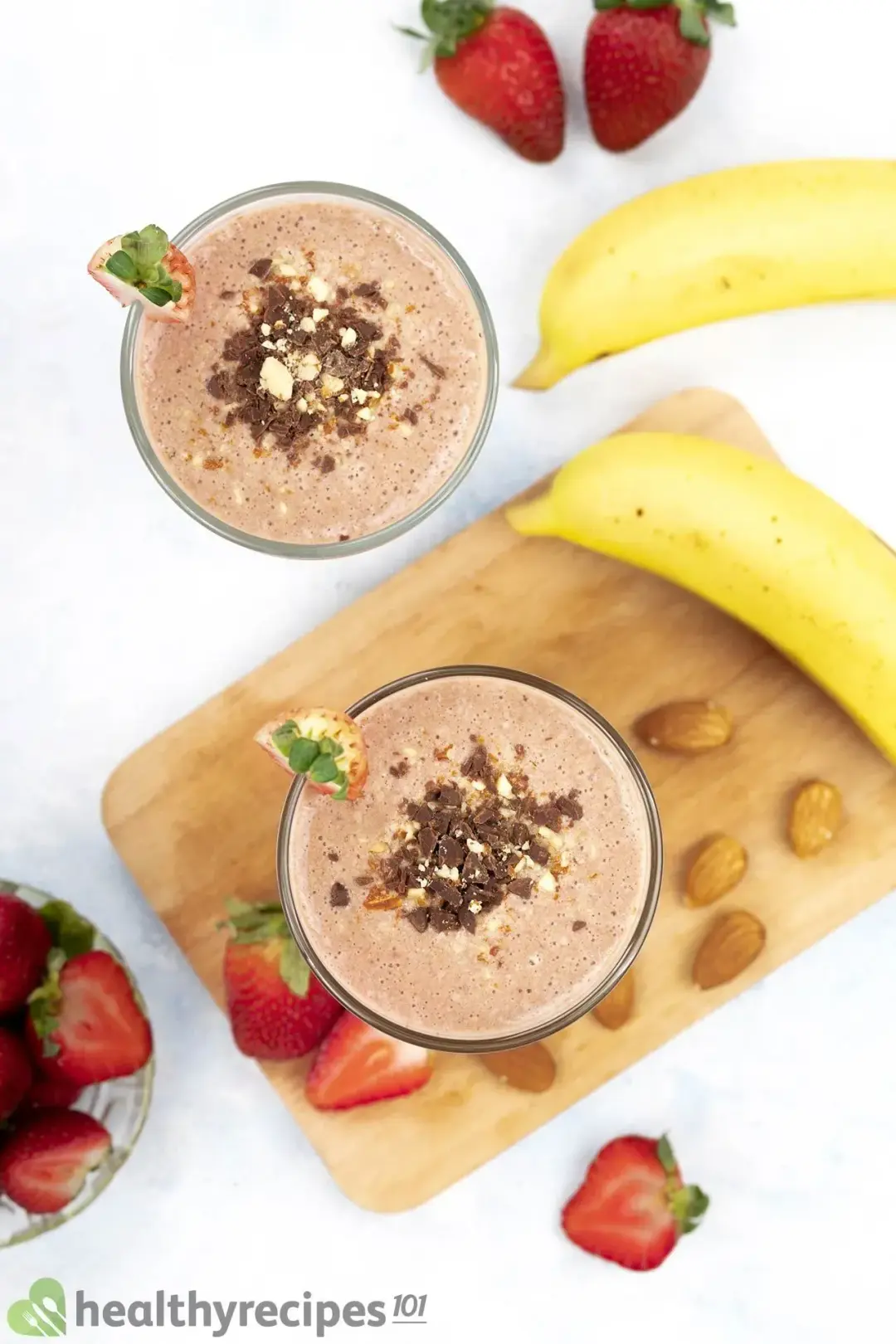 Ingredients for Chocolate Strawberry Smoothie
This chocolate strawberry smoothie recipe calls for strawberries, dark chocolate, cocoa powder, bananas, almonds, milk, greek yogurt, and ice.
Strawberries naturally contain both sugar and malic acid, a substance responsible for the sour taste of many fruits. Sweet smoothies taste nicer than sour ones, so we highly recommend using ripe, sweet strawberries. Choose those that are plump, vibrantly red, and have green, fresh crowns.
For chocolates, we use dark chocolate that is made of 65% cacao solids. We thinly slice it with a serrated knife, so the chocolate incorporates better into the smoothie.
We enhance the chocolate flavor with some cocoa powder. It gives the final product a chocolatey, slightly bitter undertone, but with none of the fats.
Besides strawberries and chocolate, we also include bananas, and with good reason. Bananas make the smoothie thick and add plenty of natural sweetness.
Since chocolate-dipped strawberries and bananas taste so great when topped with crushed nuts, we also add some crushed almonds. We leave some good chunks in there — as you drink, it's fun to occasionally have something to chew on.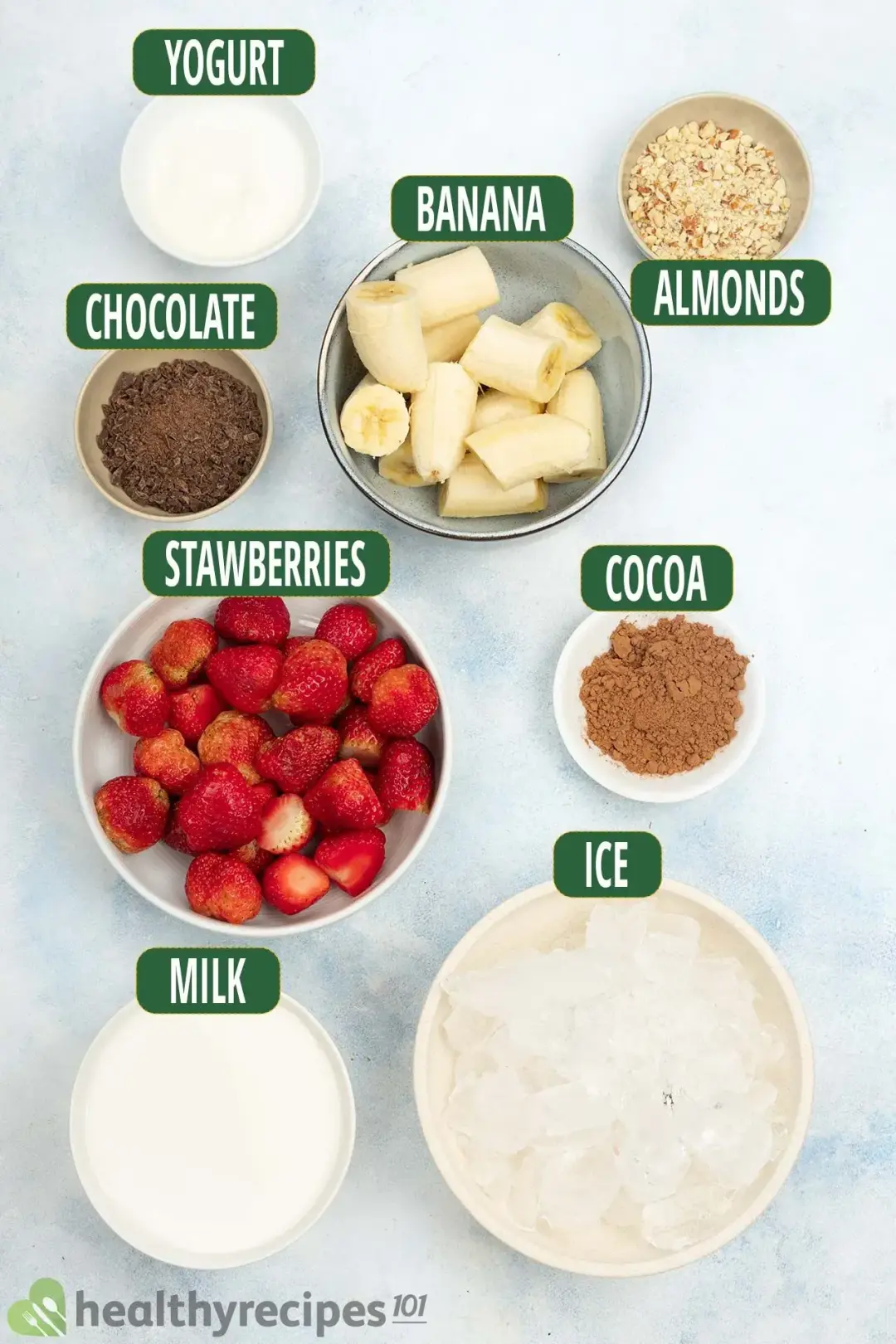 For dairy products, we use milk and Greek yogurt, which makes the smoothie thicker and silkier. If you're aiming for a vegan smoothie, you can use plant-based alternatives.
The last ingredient is ice. Since our blender isn't very good at breaking up hard ice, we choose ice nuggets. If yours is similar but you have no other choice but hard ice, smash it into finer pieces first.
Types of Chocolate You Can Use
You can use pure dark chocolate or semi-sweet dark chocolate, which comes with some sugar should still be acceptable nutritionally. We don't recommend sweet chocolate, milk chocolate, or chocolate-infused products for this smoothie.
How to Make Chocolate Strawberry Smoothie
Once you've got the ingredients gathered and measured out, blend them all until smooth. We tend to lay the ice at the bottom, so it gets blended into fine bits first, which speeds up the overall process.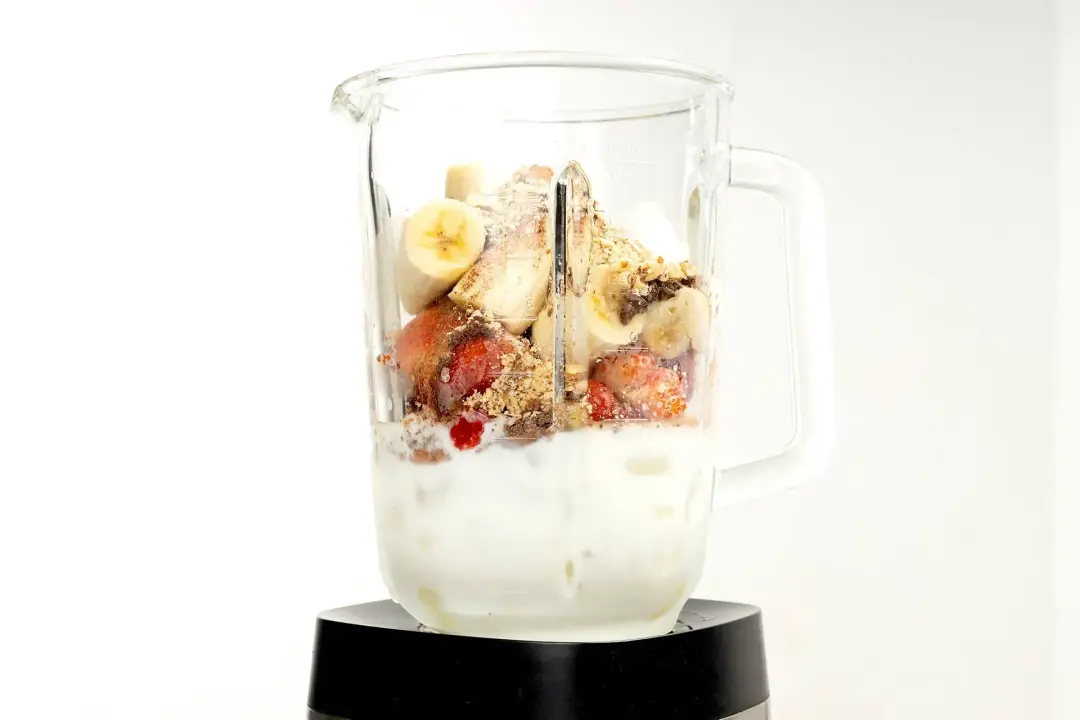 Blend ingredients.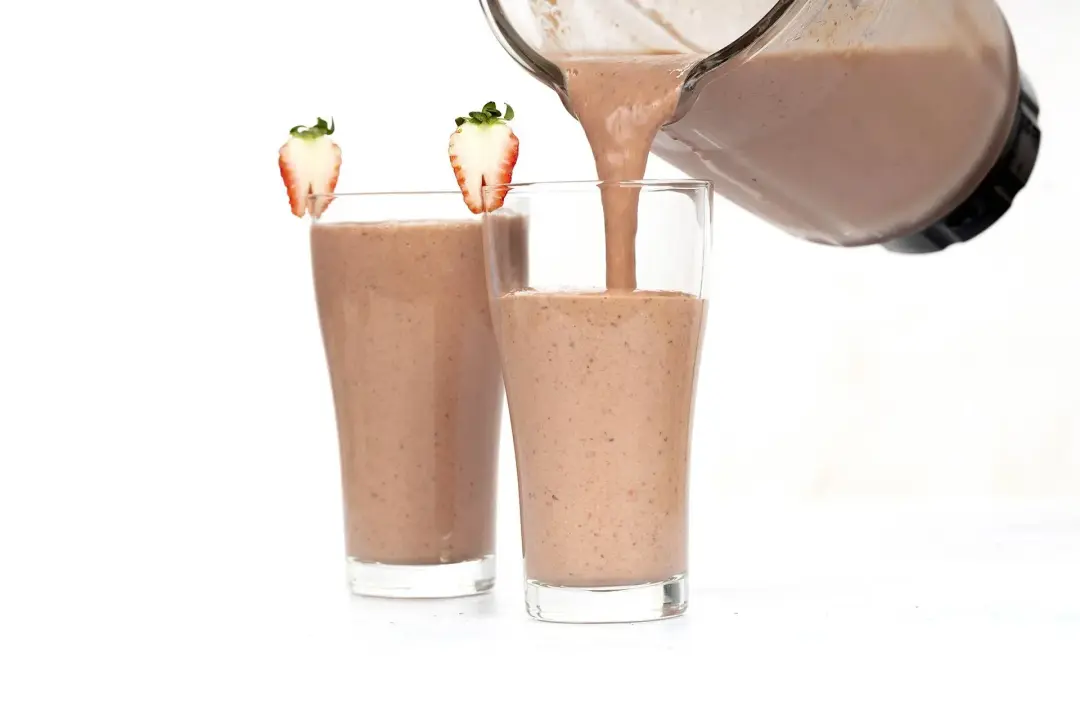 Pour into serving glasses.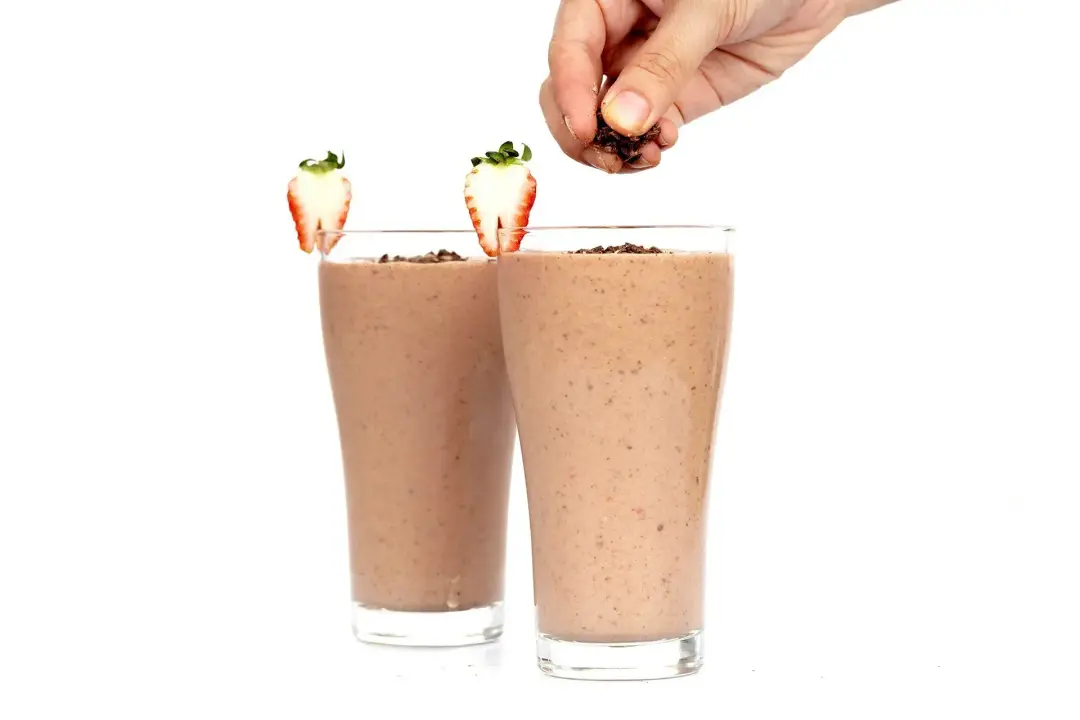 Serve immediately.
How Long Does Chocolate Strawberry Smoothie Last?
Since it contains ice, the smoothie will taste watered down after 30 minutes at room temperature. Leaving it for 2 hours at room temperature puts it at risk of being spoiled by airborne bacteria.
The fridge helps to extend its shelf life for up to 2 days, but its quality will be compromised (watered down and discolored).
For longer storage, consider placing the smoothie mix into the freezer.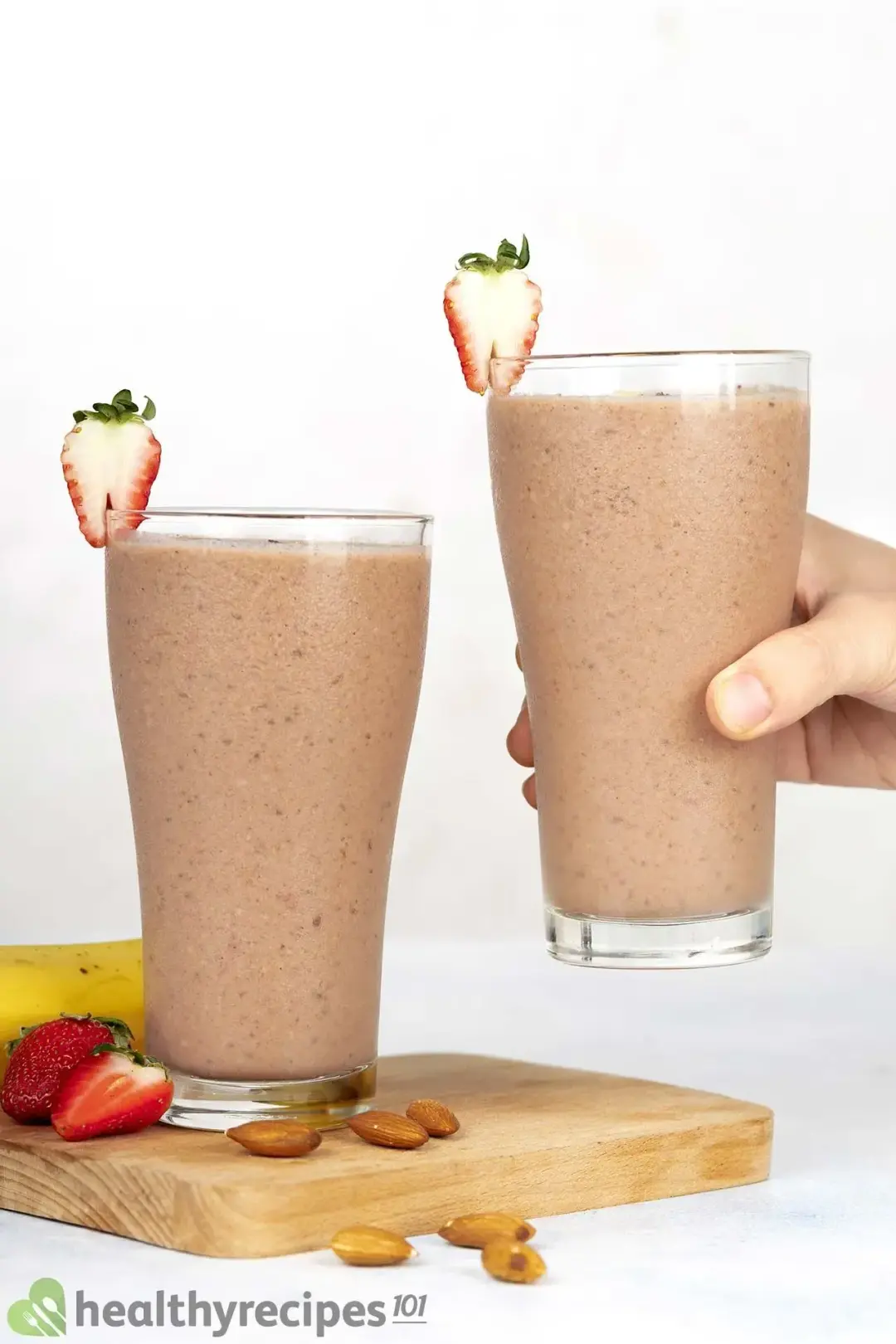 Freezing keeps the smoothie for up to 3 months. It's most convenient to store each portion in an individual container so you'll have less trouble with the thawing process.
Chocolate Strawberry Smoothie Recipe
If you're into chocolate-dipped strawberries with crushed almonds, this chocolate strawberry smoothie recipe offers something similarly delicious.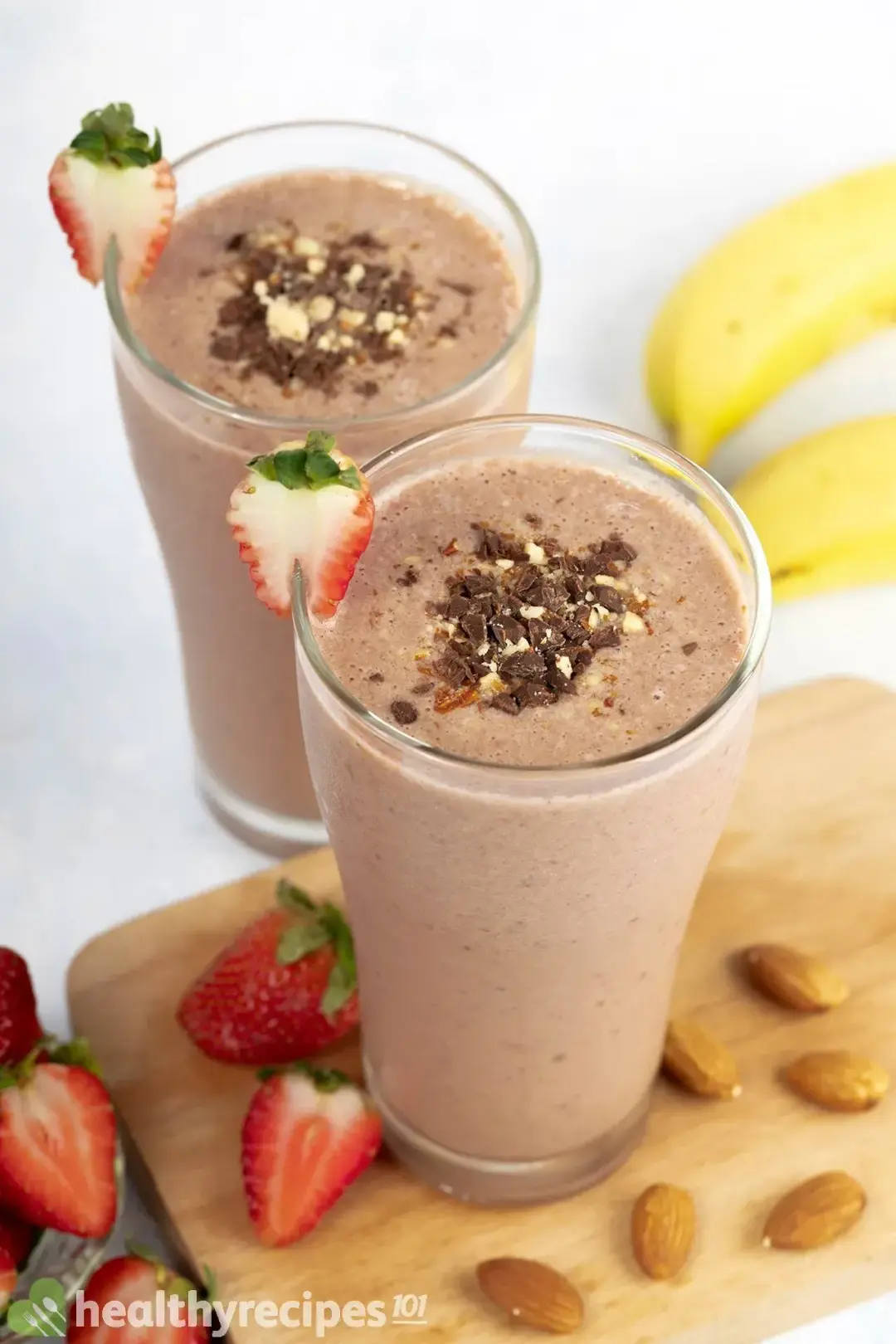 prep TIME

7 mins

total TIME

7 mins
COURSE

Beverage, Smoothie

CUISINE

Global

SERVINGS

servings

CALORIES

225 kcal
INGREDIENTS
10 oz

strawberries hulled and quartered

10 oz

bananas peeled and sliced

2 cups

ice preferably ice nuggets

1 cup

whole milk

0.3 cup

plain Greek yogurt

1 oz

almonds chopped

1 oz

chocolate 65% cocoa solids

2 tbsp

cocoa powder
INSTRUCTIONS
1
Place all ingredients in a blender, starting with the ice. Cover and blend until smooth.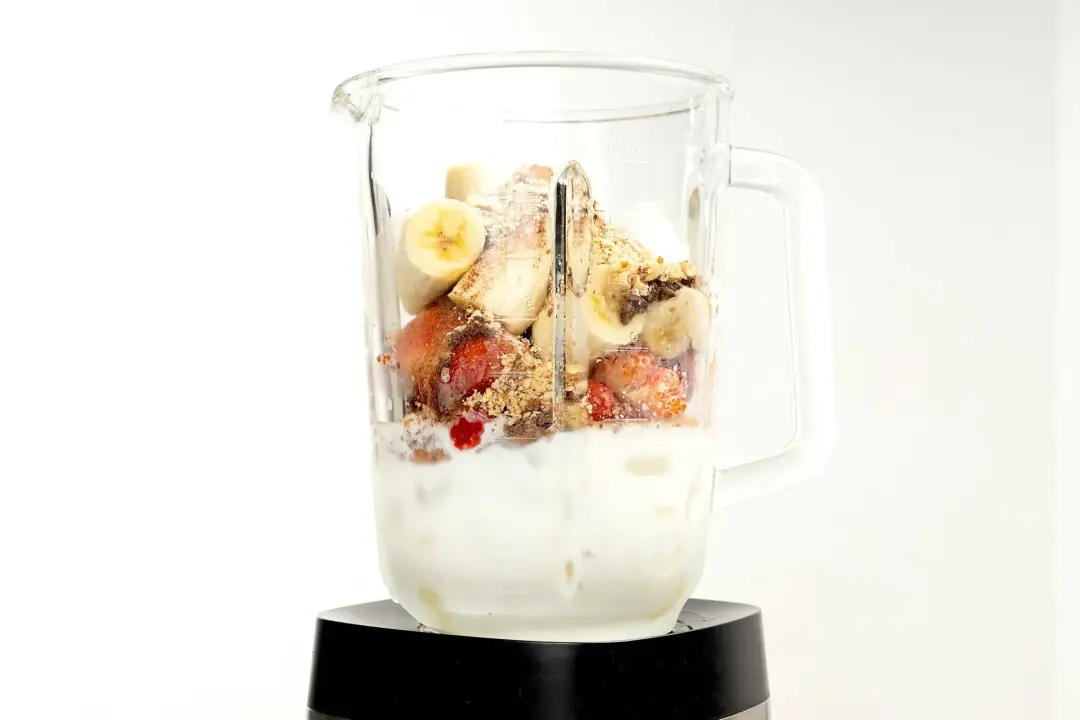 2
Pour into serving glasses.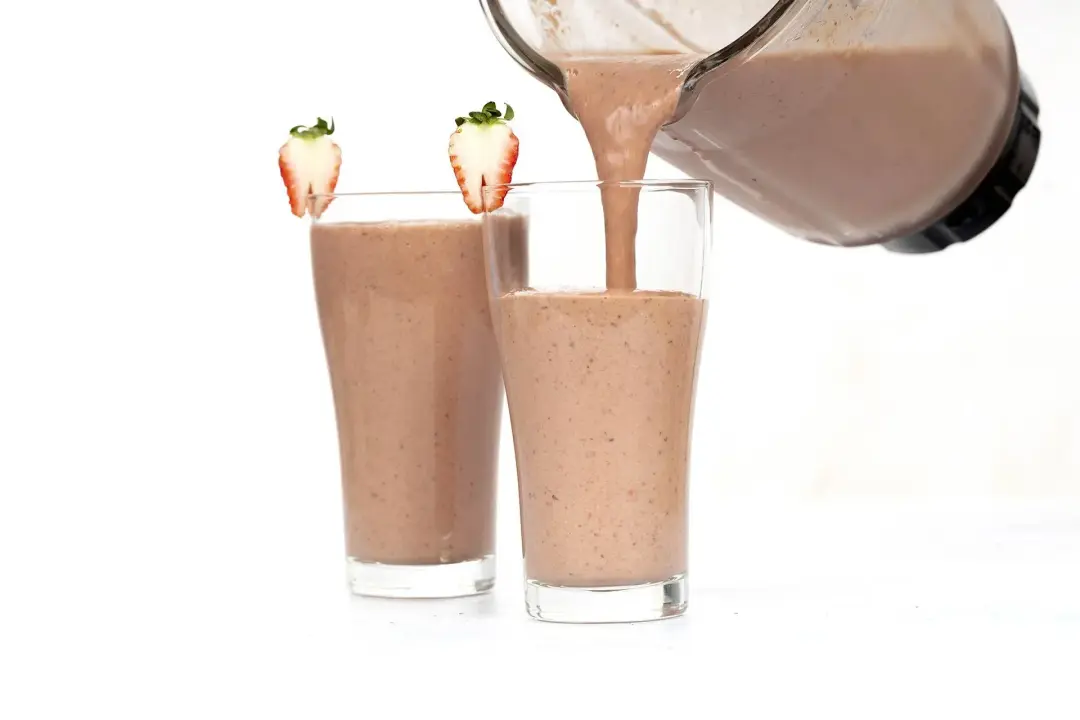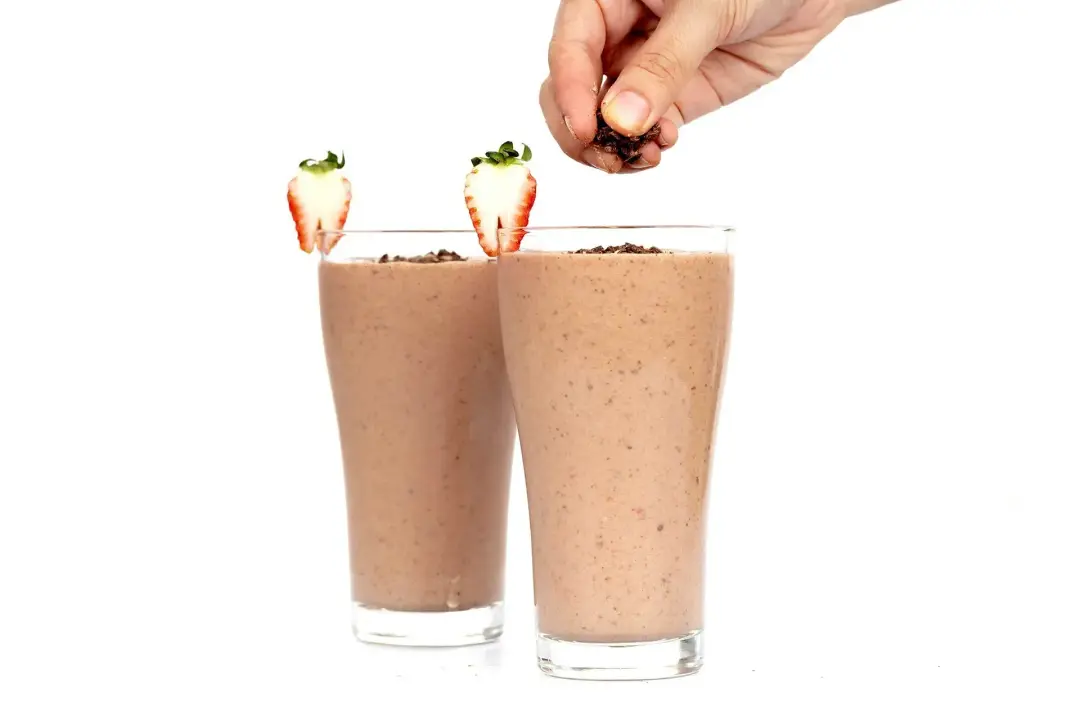 NUTRITION
Nutrition Facts
Chocolate Strawberry Smoothie Recipe
Amount Per Serving (1 serving)
Calories 225
Calories from FDA
% Daily Value*
* Percent Daily Values are based on a 2000 calorie diet.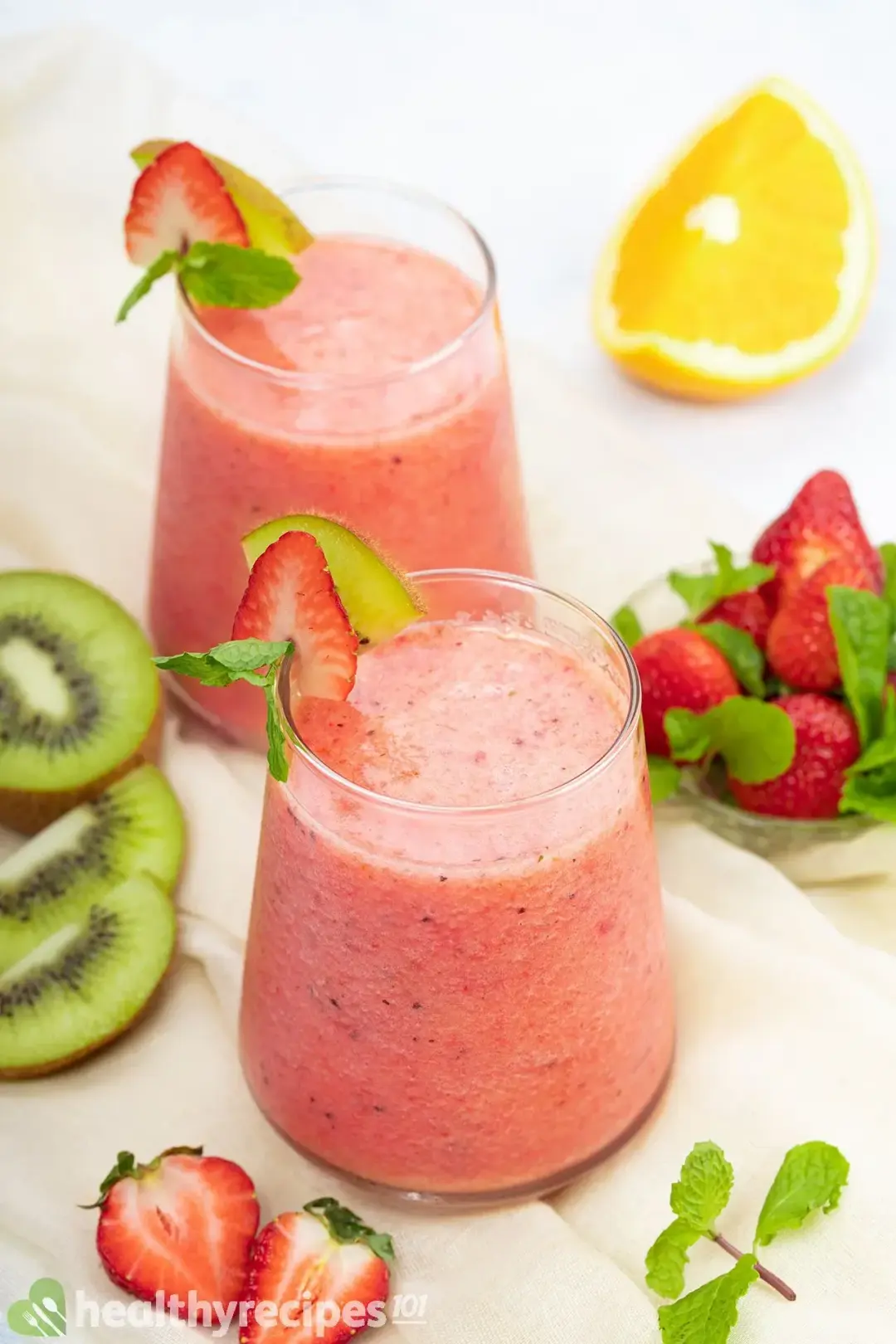 Previous Recipe
Strawberry Kiwi Smoothie
Strawberry Kiwi Smoothie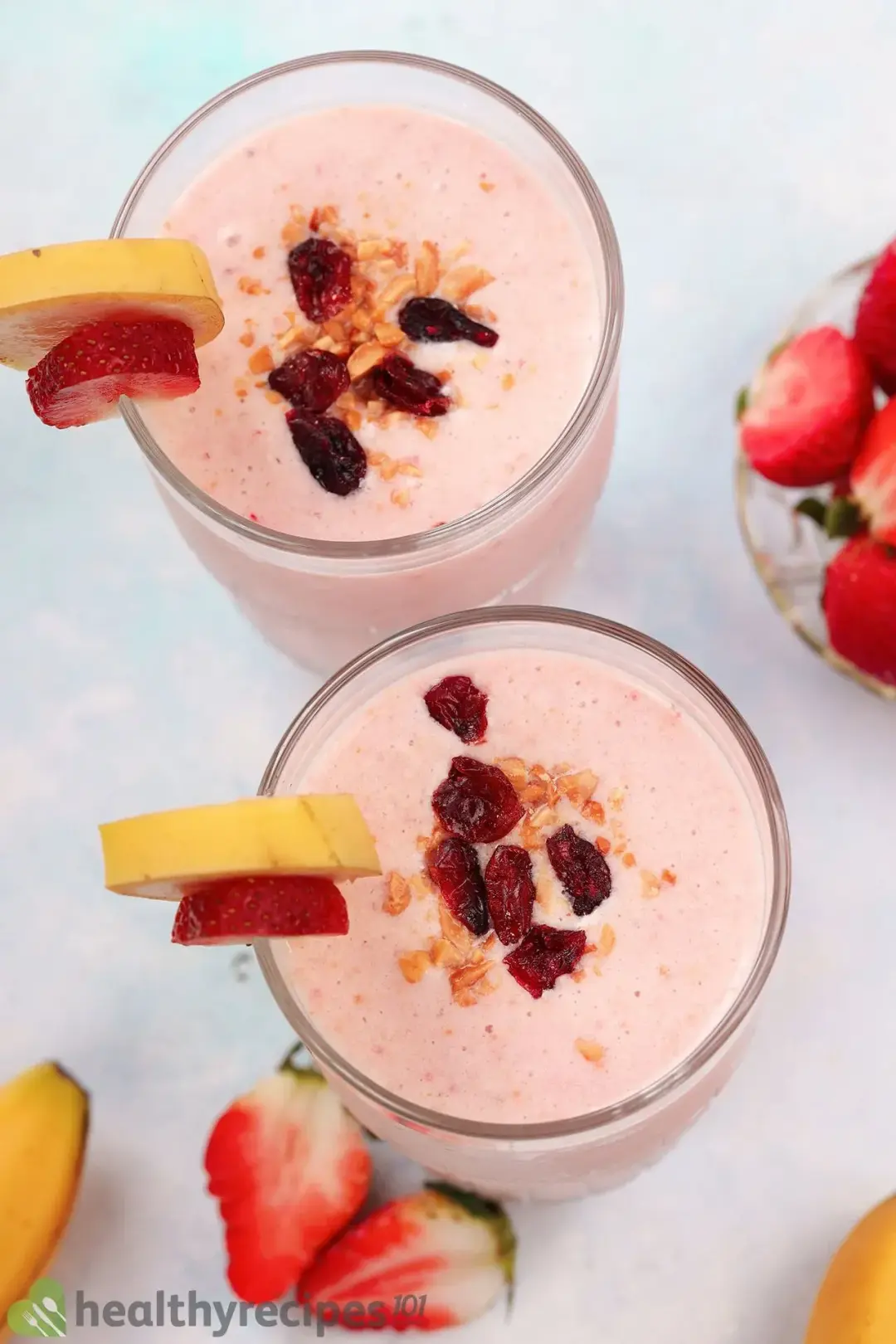 Next Recipe
Strawberry Peanut Butter Smoothie
Strawberry Peanut Butter Smoothie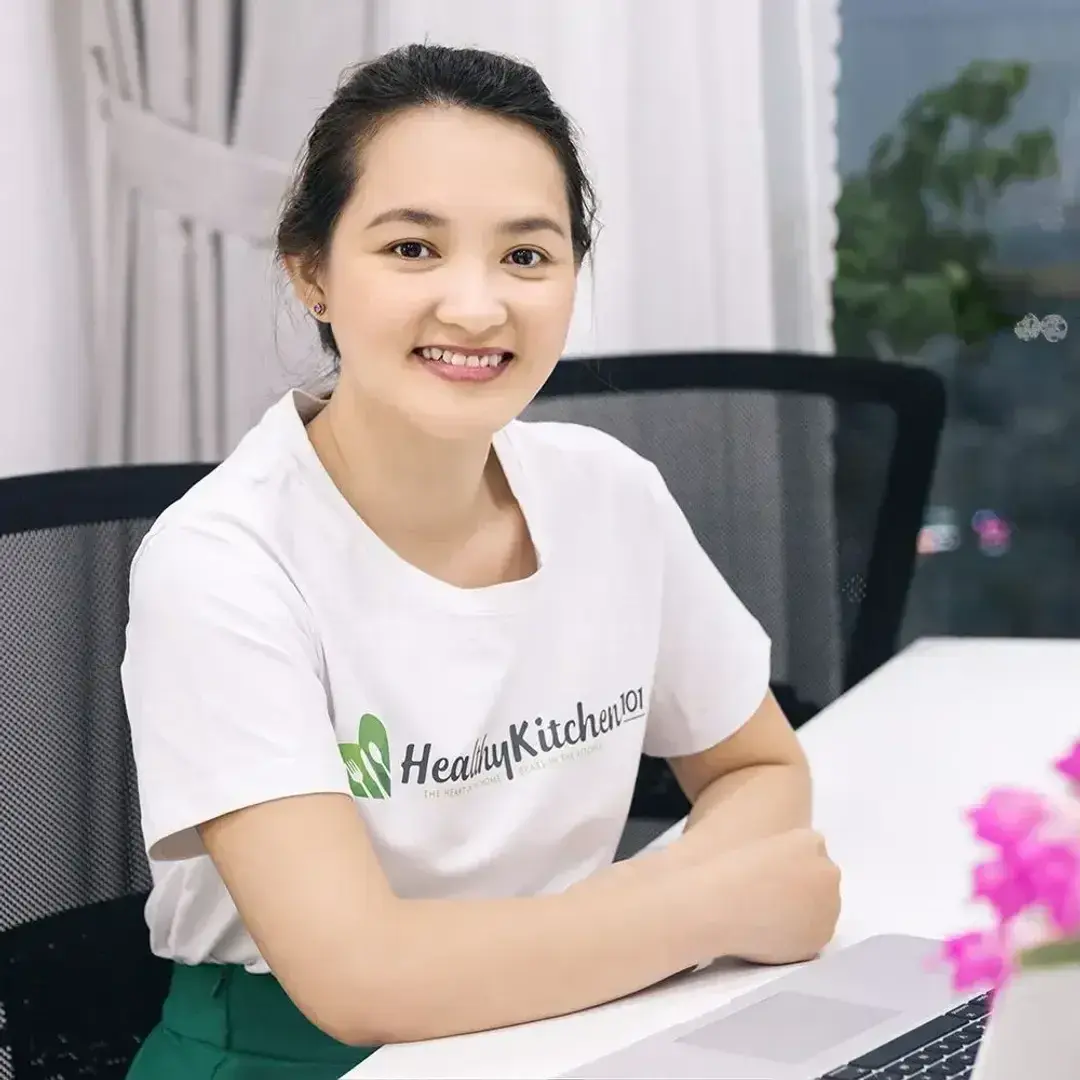 Luna Regina
Luna is the founder and chief recipe developer of Healthy Recipes 101. Apart from cooking, she also loves reading, programming, exploring the outdoors, and collecting useless facts about everything.