Our dragon fruit banana smoothie recipe makes a creamy blend of two nutritious fruits. Thanks to the ripe banana and dragon fruit, the smoothie is naturally sweet, creamy, and packed with vitamins, minerals, and antioxidants. Additionally, the drink is high in fiber, which will keep you satiated for a longer period of time.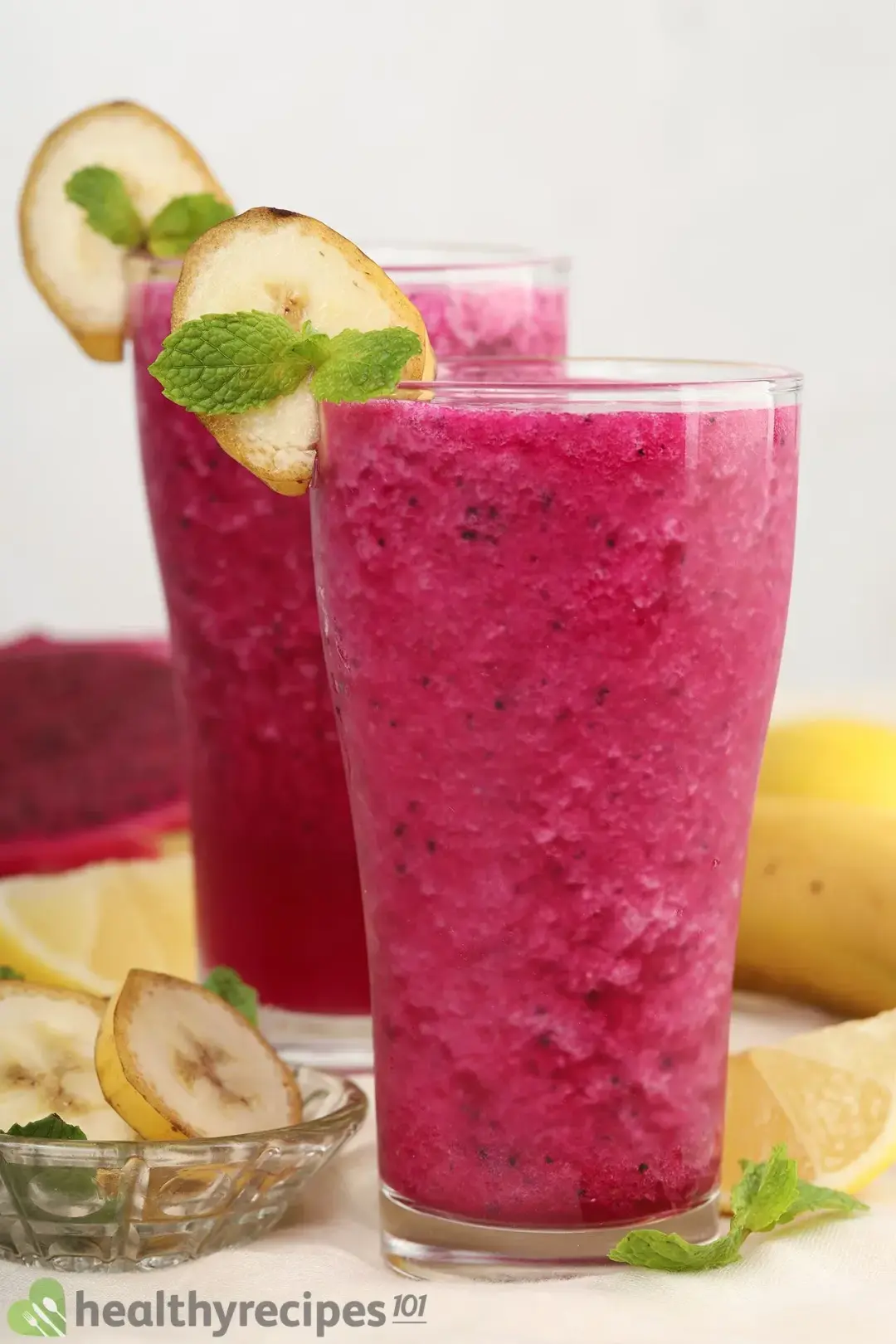 Before you go out, purchase dragon fruit and slice it for your smoothie bowl, let's discuss how it tastes.
What Does Dragon Fruit Taste Like?
When you first see it, you're struck by its extraordinary shape. Its name comes from the scale-like skin on the outside. 
Although you're probably familiar with dragon fruit that is bright pink on the outside and white on the inside, dragon fruit also comes with bright red flesh and yet another variety comes with yellow skin and white flesh. All types have edible black seeds, similar to kiwi seeds.
When ripe, dragon fruit has a pleasantly sweet flavor that is frequently compared to a cross between a pear and a kiwi, as well as a soft texture similar to that of a ripe kiwi.
Overall, ripe dragon fruit has a wonderfully tropical taste with a refreshing vibe. On the other hand, unripe dragon fruit is quite flavorless.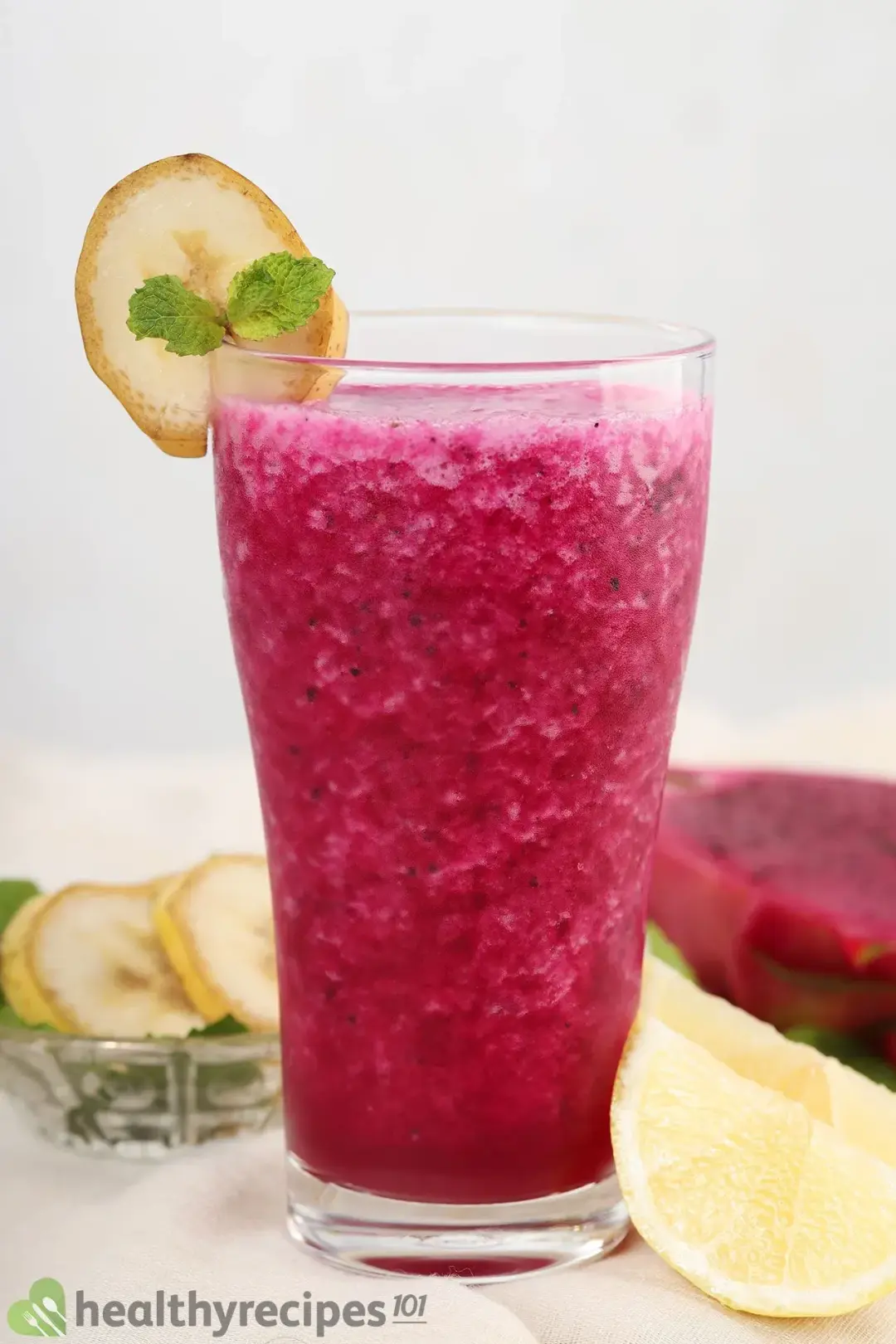 Is This Dragon Fruit Banana Smoothie Recipe Healthy?
Yes, our dragon fruit smoothie is healthy thanks to the goodness of the fresh ingredients.
1. Benefits of Dragon Fruit
Dragon fruit is a vitamin and nutrient powerhouse, packed with antioxidants such as vitamins A and C, calcium, iron, magnesium, and protein. Regular consumption of dragon fruit has a plethora of health benefits.
Furthermore, it is low in calories – only 120 calories per 6 oz – making it an ideal snack for all. Dragon fruit also helps to enhance your immune system due to its high vitamin C content, which can help boost protection against the common cold or flu. 
The fruit also promotes good digestion due to its high fiber content. A 6-oz serving of dragon fruit has 5 grams of fiber, which is considered high. Not only does the fiber aid in digestion, but it also helps to control blood sugar levels.
As if that weren't enough, dragon fruit is also beneficial to the skin: antioxidants vitamin C and A, fiber, and minerals in the fruit aid in cell regeneration and a decrease in free radical damage.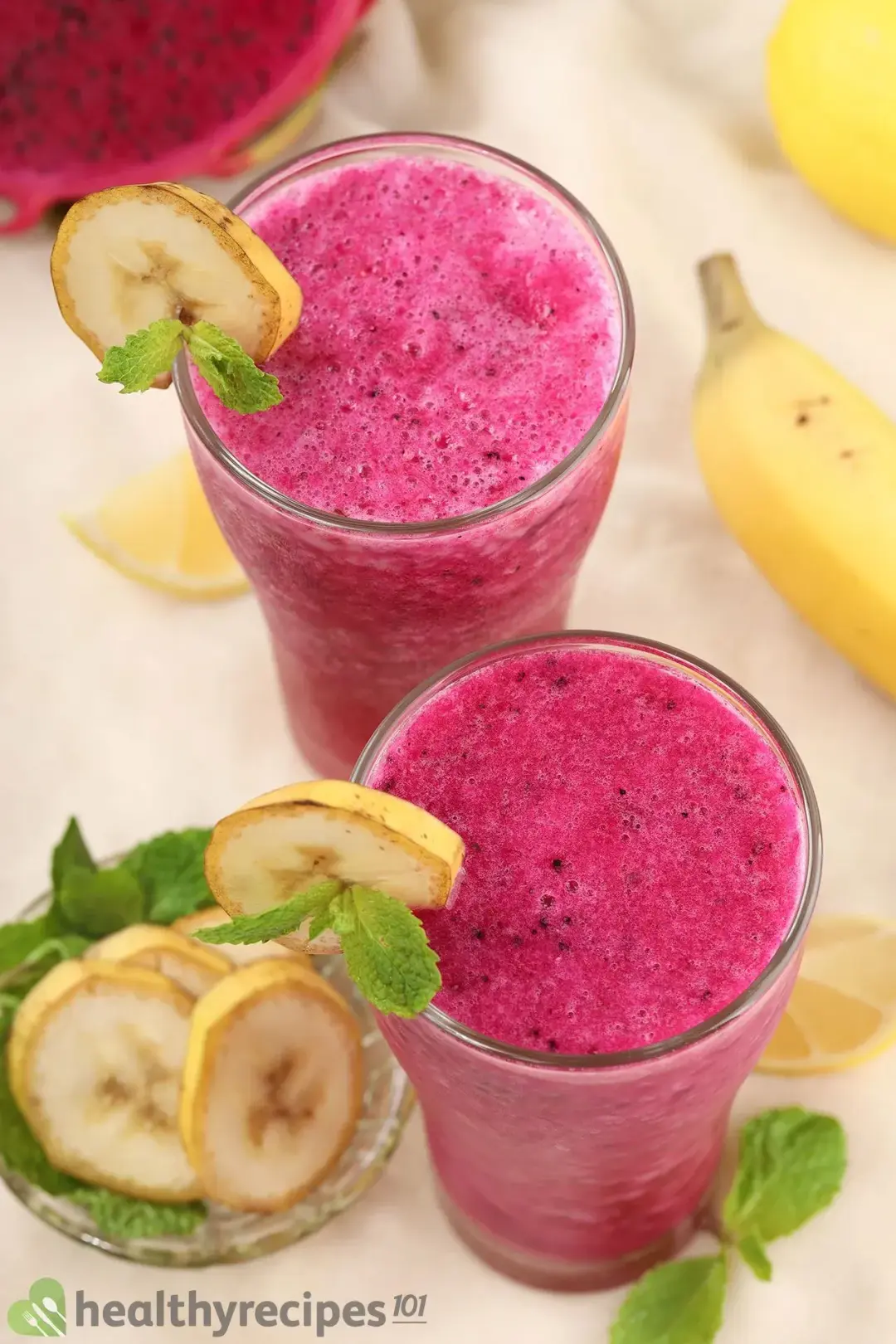 2. Benefits of Banana
Bananas are high in soluble and insoluble fibers, both of which are necessary for digestive health. Soluble fibers aid in blood sugar regulation and may help lower cholesterol levels. Insoluble fibers help to prevent constipation by bulking up your stool and speeds up intestinal movement.
A medium-sized banana has approximately 400 mg of potassium, which is approximately 10% of your daily potassium needs. The fruit is crucial for heart health. It is high in potassium, minerals, and electrolytes, all of which contribute to heart health.
Smoothies are fantastically versatile, and you can add all sorts of add-ins. If you love smoothies with dragon fruit or banana as a base, please check out our Simple Banana Smoothie.
Ingredients for Dragon Fruit Banana Smoothie
Dragon Fruit: This tropical fruit is delicious and nutrient-dense, with a sweet flavor and an interesting texture. Dragon fruit is tasty on its own as a simple and refreshing snack, or it can be added to fruit salads, desserts, and smoothies.
Banana: Be sure to use a really ripe banana, as the riper the banana, the sweeter it is. Before mixing, slice your banana, especially if you're using a low-powered blender. Bananas impart a thick, creamy, sweet, and delectable texture to the smoothie.
Lemon Juice: Since the dragon fruit is quite mild in taste, a squeeze of fresh lemon or lime juice helps to liven things up with tropical tanginess. 
Ice and Water: To make the recipe dairy-free, we went with water, but if you prefer a creamier texture, milk, yogurt, or plant-based milk are all excellent choices.
Mint Leaves: For a visually aesthetic look.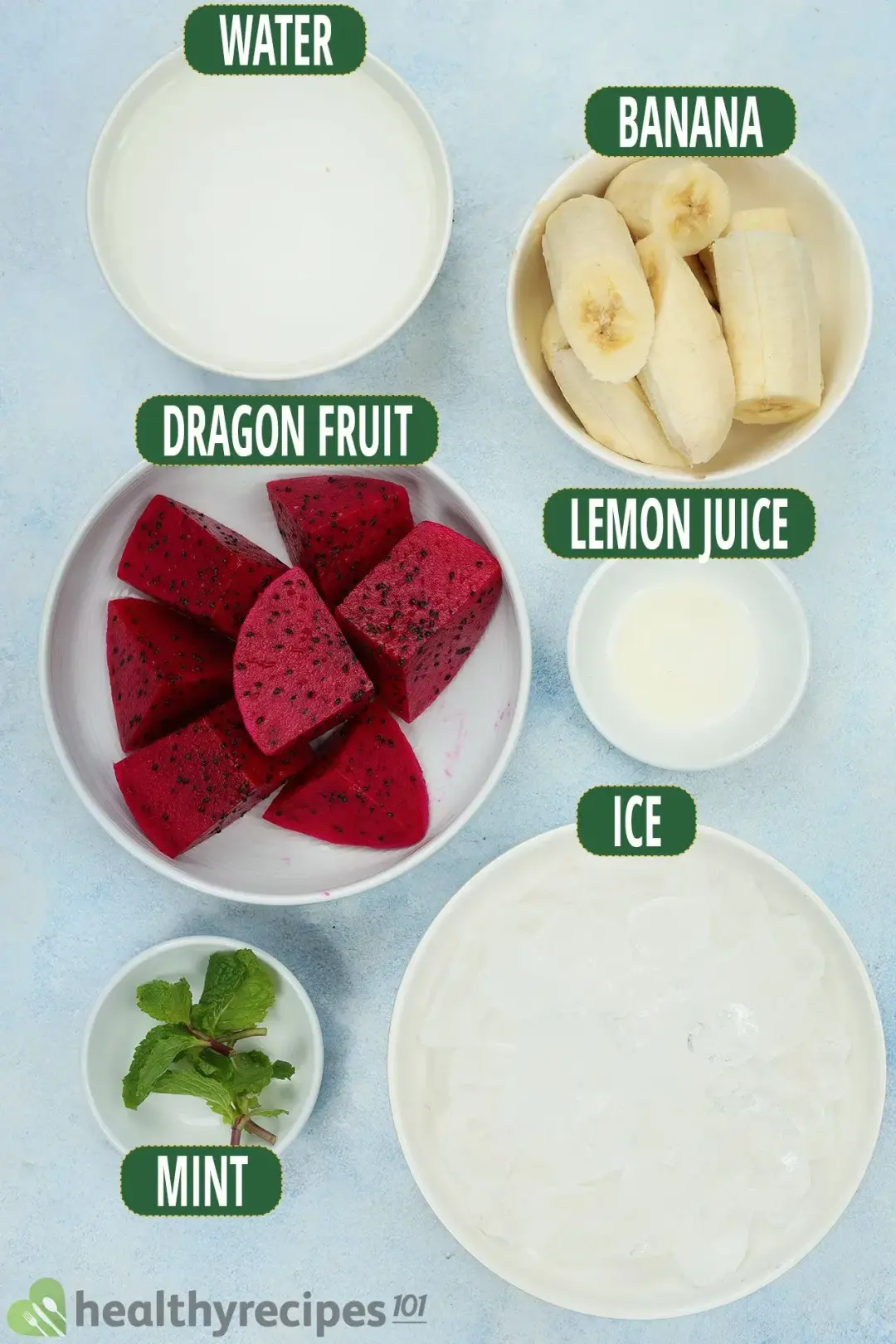 How to Prepare Dragon Fruit
The initial step in preparing dragon fruit is to select optimally ripe ones. When selecting dragon fruit, look for one that is firm but slightly soft when gently squeezed. The skin should be bright without shriveled stems or dark patches.
To prepare dragon fruit, just cut it in half and scoop out the relatively hard flesh with a spoon. Alternatively, use a sharp spoon to gently cut and remove the flesh from the skin, then slice or cut it any way you want.
Dragon fruit is at its best newly cut. If you're not ready to use it immediately, you can leave it at room temperature on the counter for a day or two. Any longer and it should be refrigerated in a sealed zip top bag for up to one week.
How to Make Dragon Fruit Banana Smoothie
Our dragon fruit banana smoothie recipe is as easy as filling a blender with the fruits and add-ins and blending until smooth.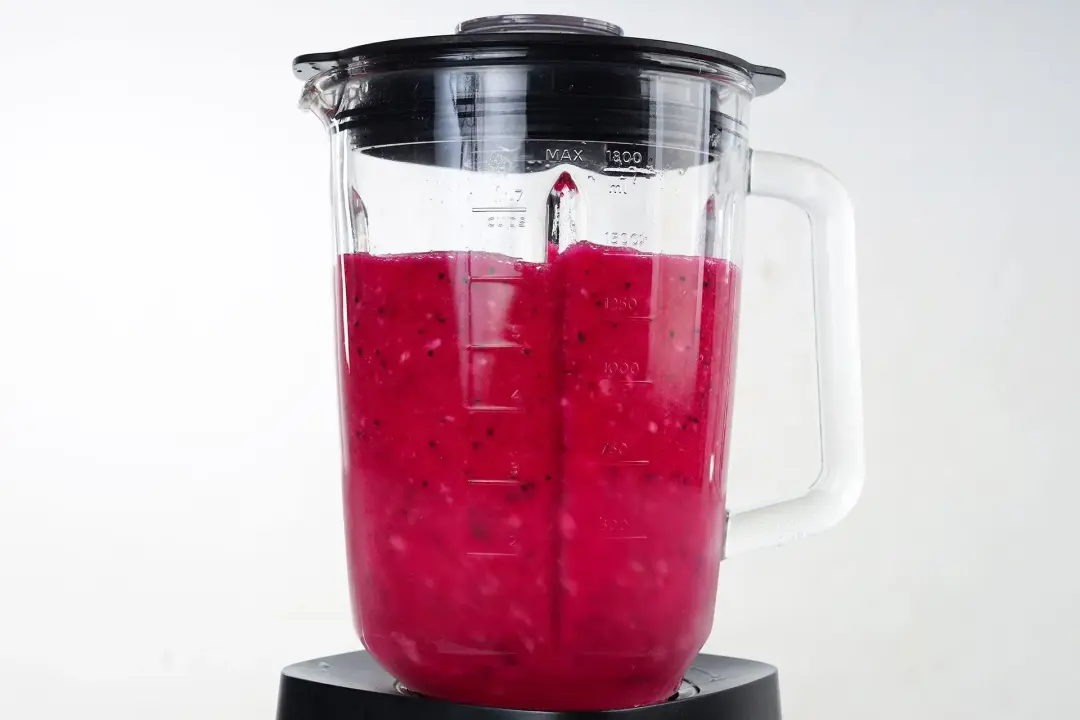 Blend until smooth consistency.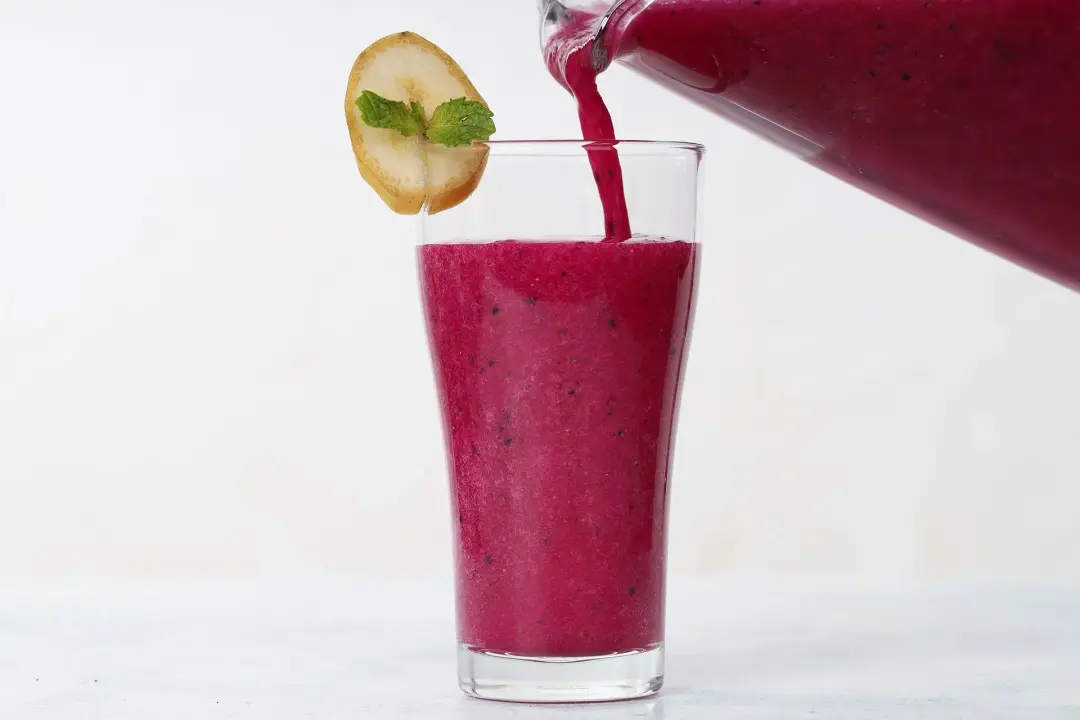 Garnish and serve cold.
Storing and Freezing The Leftover
If you are unable to consume all of your smoothie immediately, refrigerate the leftover smoothie in an airtight jar for 1–2 days or place it in the freezer for up to 3 months. When ready to use, simply stir the smoothie, pour it into a glass, and enjoy.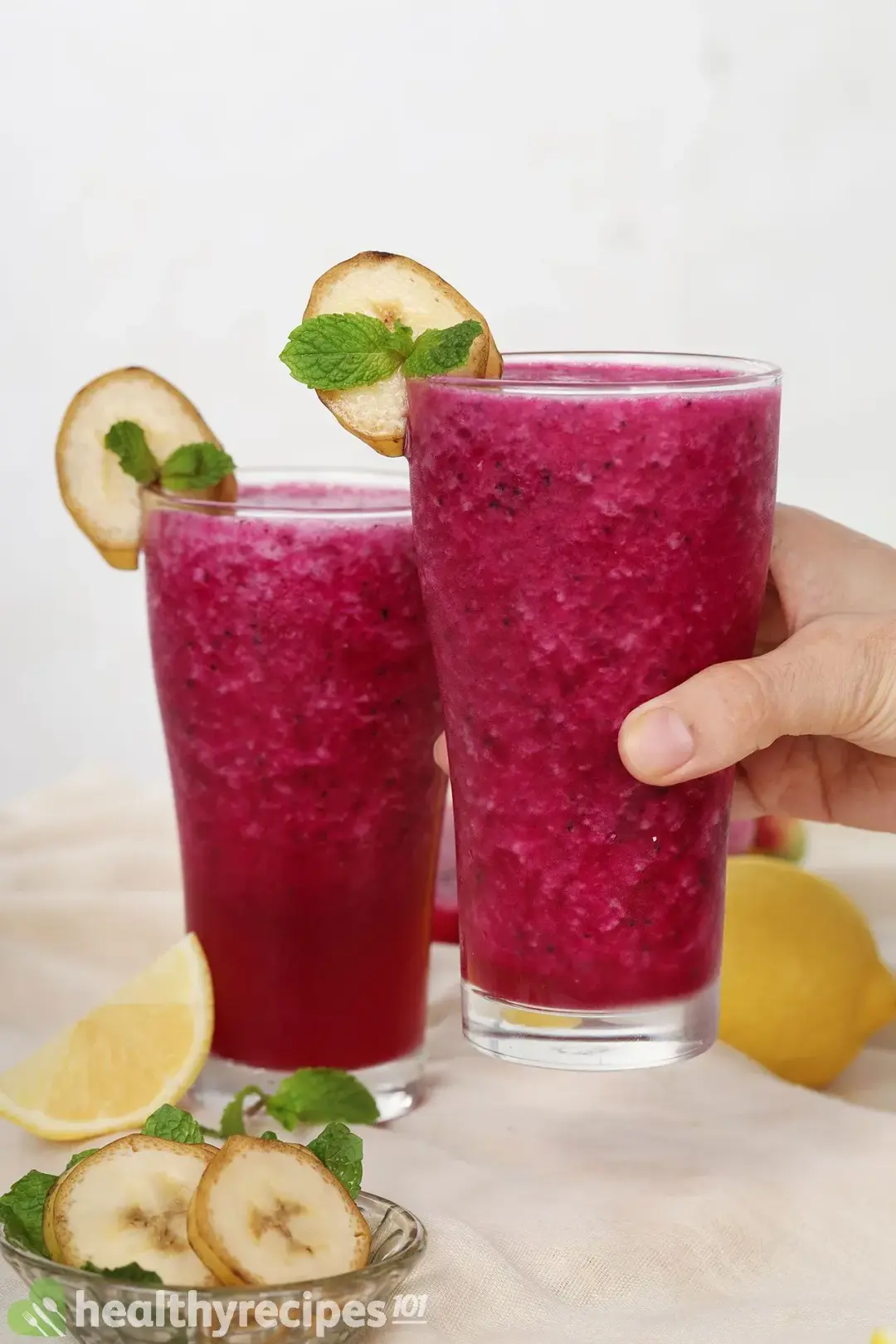 Dragon Fruit Banana Smoothie Recipe
This dragon fruit banana smoothie recipe makes a tropical, vibrant pink drink that will feast your eyes and delight your taste buds.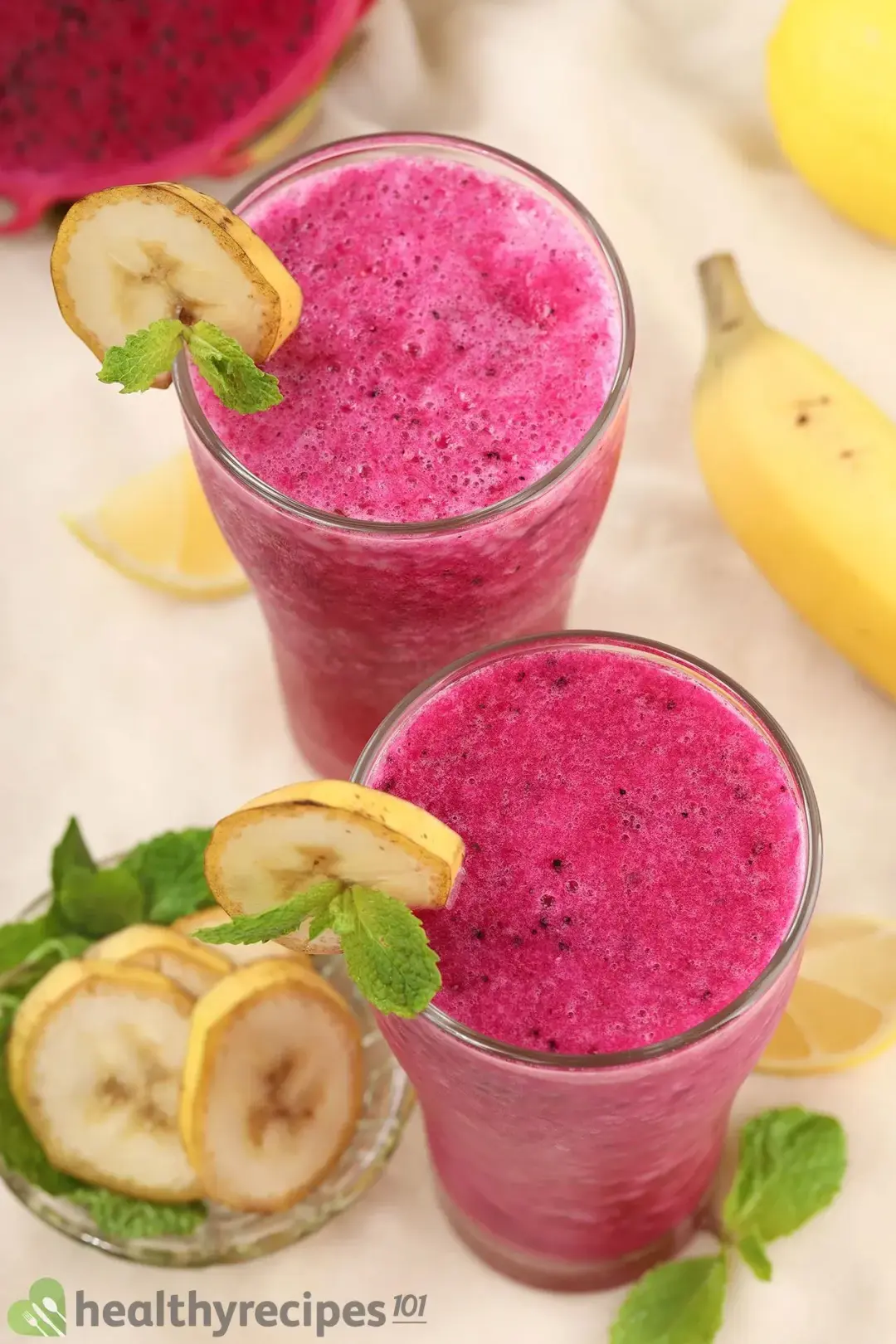 prep TIME

10 mins

total TIME

10 mins
COURSE

Drinks, Smoothie

CUISINE

Global

SERVINGS

servings

CALORIES

93 kcal
INGREDIENTS
10 oz

red dragon fruit

2 cups

ice

1 cup

water

8 oz

banana

1 tsp

lemon juice

8

mint leaves
INSTRUCTIONS
1
Add 2 cups ice, 1 cup water, 8 oz banana, 10 oz dragon fruit, and 1 tsp lemon juice to a blender. Blend until smooth.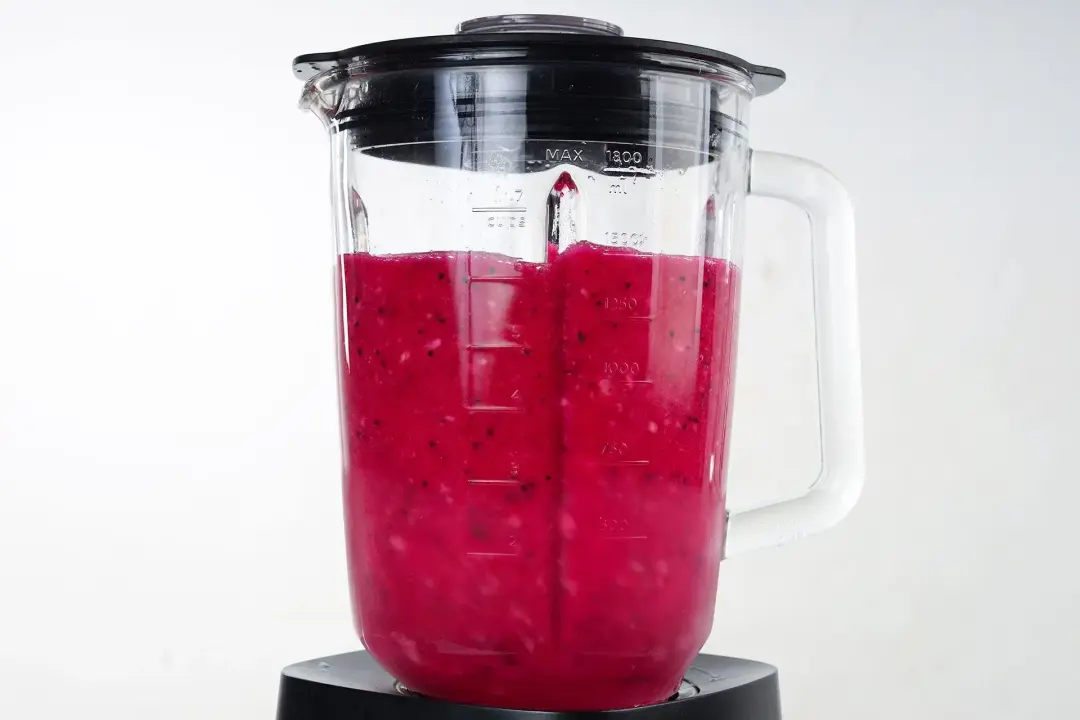 2
Pour into serving glasses. Garnish with mint leaves and serve immediately.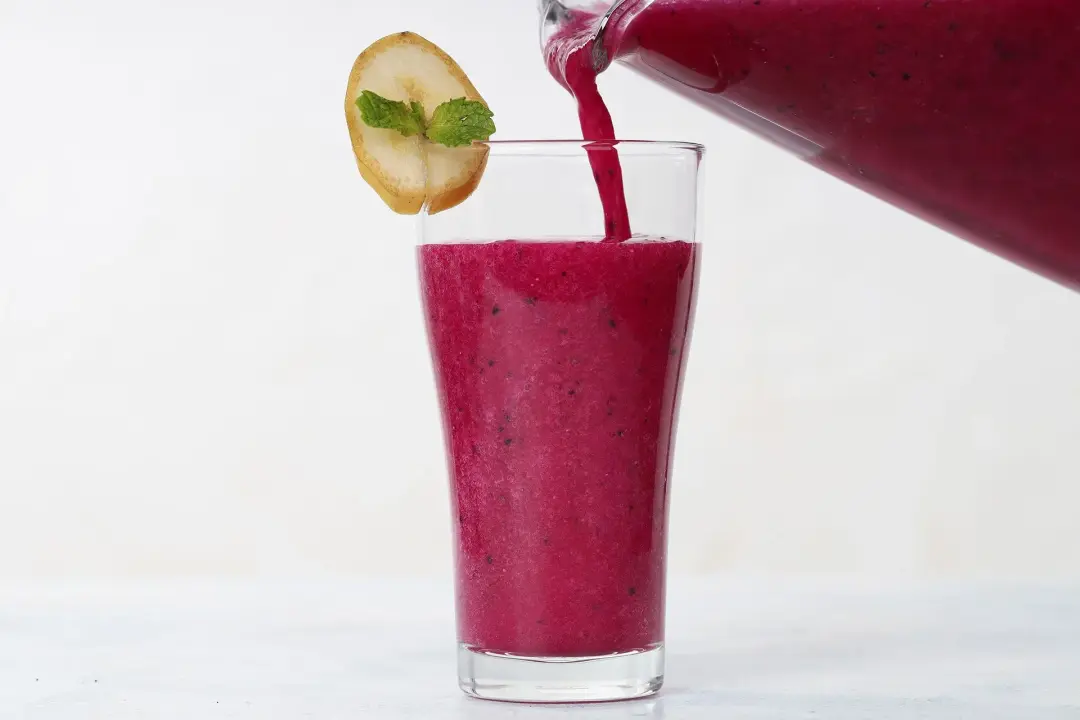 NUTRITION
Nutrition Facts
Dragon Fruit Banana Smoothie Recipe
Amount Per Serving (1 serving)
Calories 93
Calories from FDA
% Daily Value*
* Percent Daily Values are based on a 2000 calorie diet.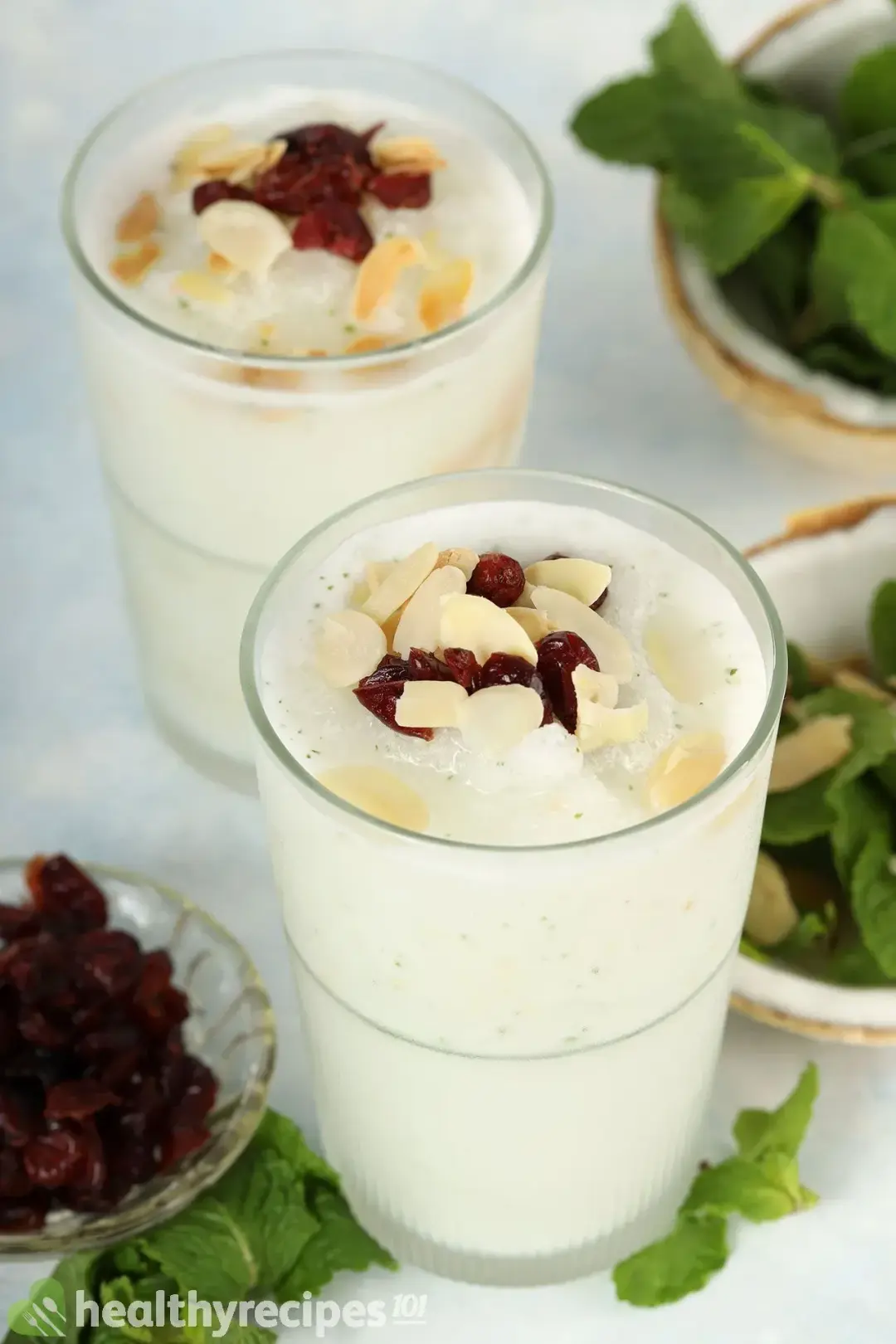 Previous Recipe
Coconut Smoothie
Coconut Smoothie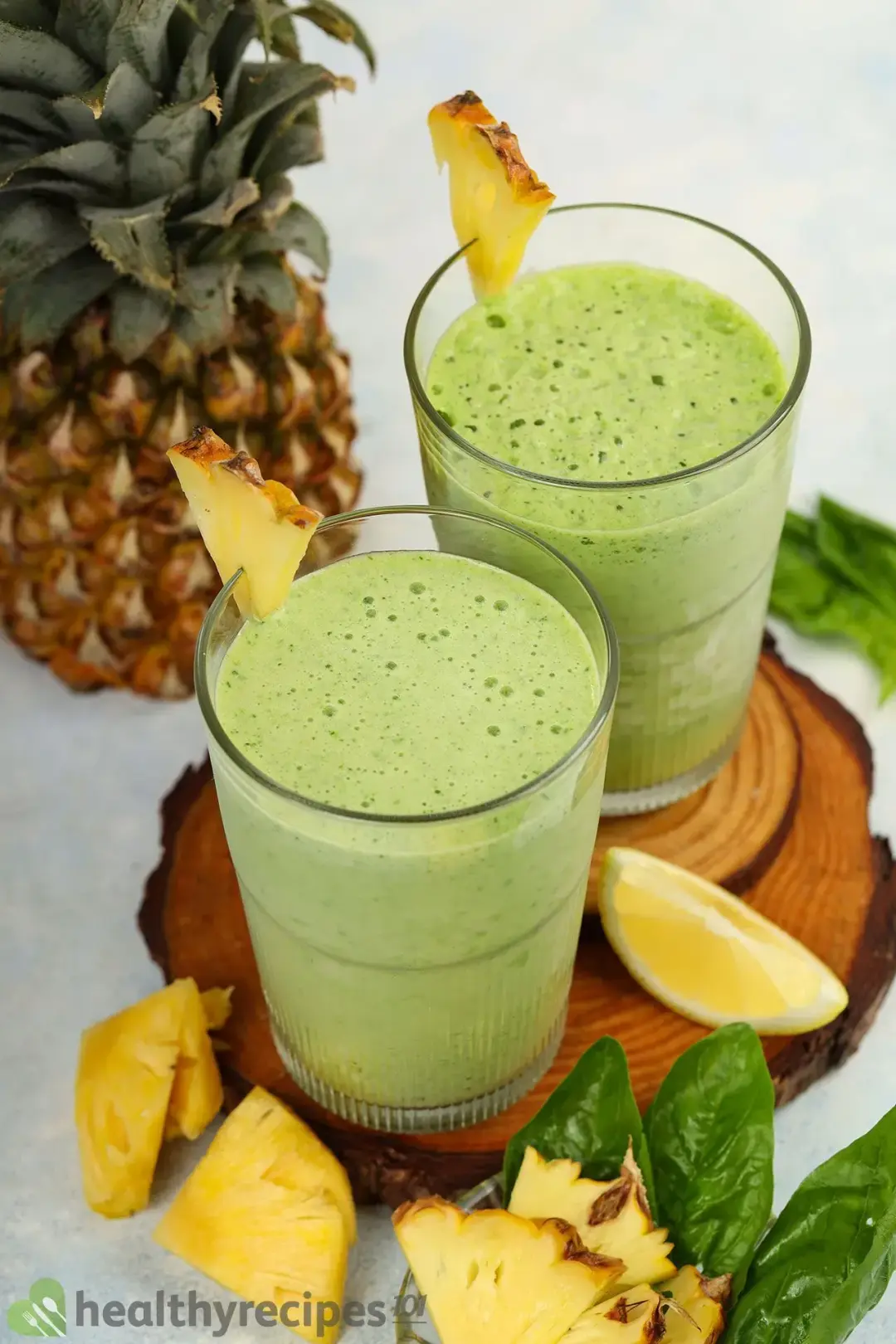 Next Recipe
Spinach Green Smoothie
Spinach Green Smoothie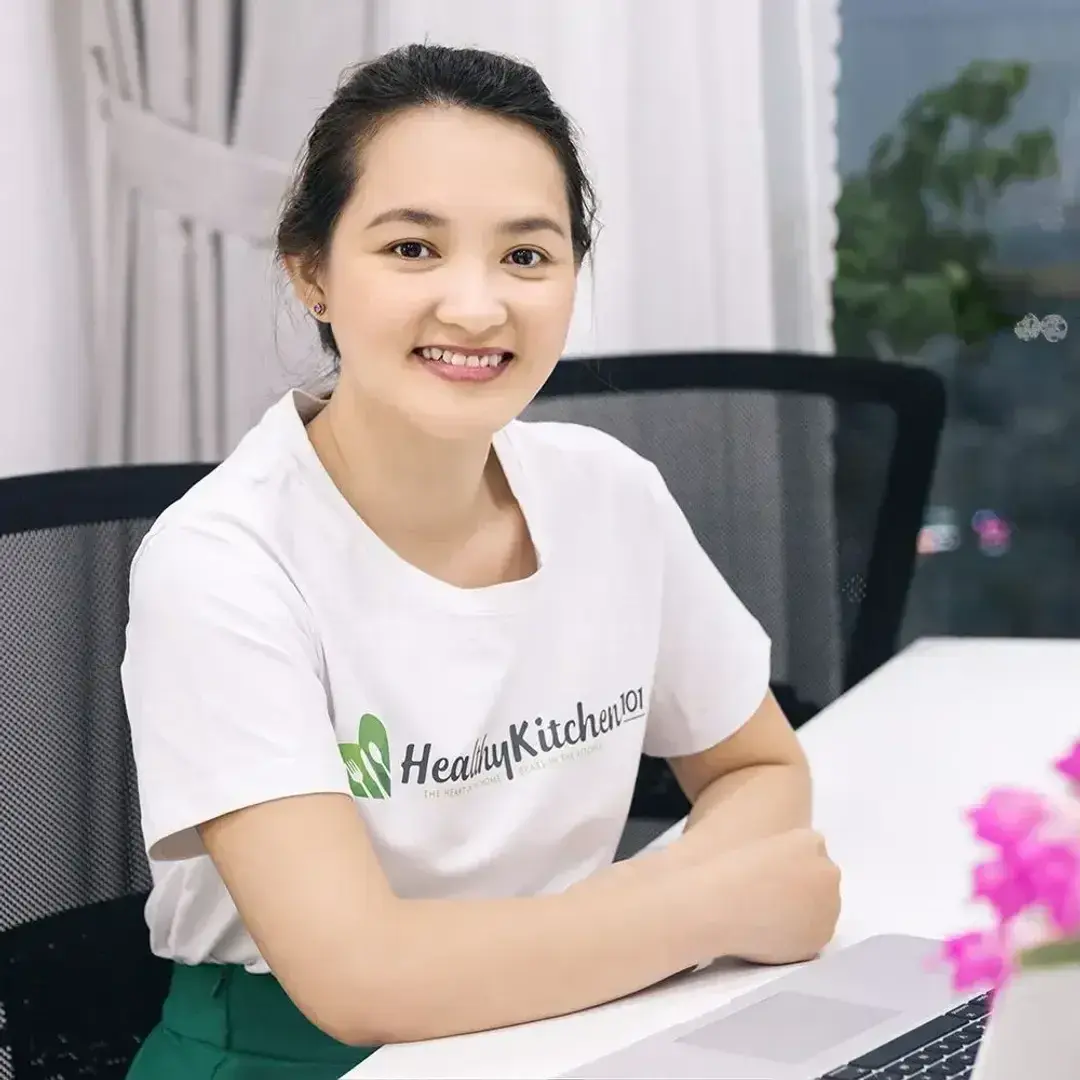 Luna Regina
Luna is the founder and chief recipe developer of Healthy Recipes 101. Apart from cooking, she also loves reading, programming, exploring the outdoors, and collecting useless facts about everything.