Our pineapple blueberry smoothie recipe turns simple ingredients into a sweet summery beverage. It's packed with awesome flavors and crucial nutrients.
Is Pineapple Blueberry Smoothie Healthy?
Pineapples and blueberries are high in nutrients such as vitamin C, E, B6, copper, manganese, potassium, and many more. Each serving also contains 3.9 g fiber (mostly from the pineapple), about 10-18% of the daily suggested intake.
We use only a reasonable amount of dairy products and sweeteners to keep the saturated fats and added sugar at moderate levels. Each serving of our pineapple blueberry smoothie recipe contains just 1.7 g saturated fats and 13 g added sugar.
To ensure our smoothie is satisfying but contains a healthy amount of calories, we also keep an eye on the portion size. In one glass you're getting 212 calories, accompanied by an assortment of nutrients.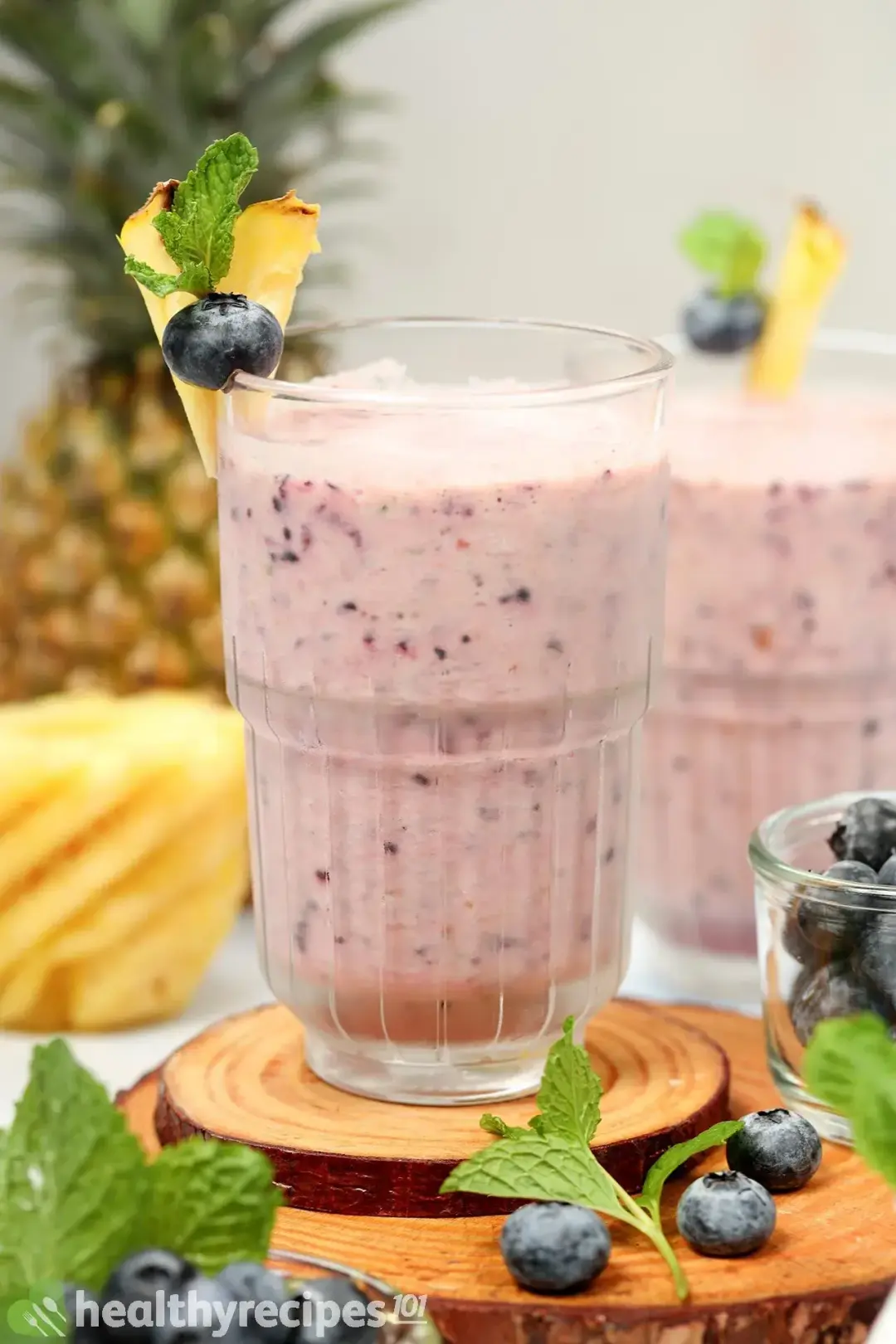 Ingredients For Pineapple Blueberry Smoothie
For our pineapple blueberry smoothie recipe you'll need pineapples, blueberries, Greek yogurt, milk, honey, ice, and mint leaves for garnish.
We prefer to use fresh fruits but canned fruits are also fine. Just be sure to look for unsweetened products or rinse the fruits well.
Our smoothie uses dairy products, but you can use plant-based alternatives if you prefer. Nut-based varieties may even add additional aromas to your smoothie.
Finally, let's discuss ice. We use ice nuggets, a soft ice that crushes easily in the blender. Hard ice like crescent ice may result in chunks, so you will want to place it in a cloth pouch and pound it into finer pieces before making the smoothie.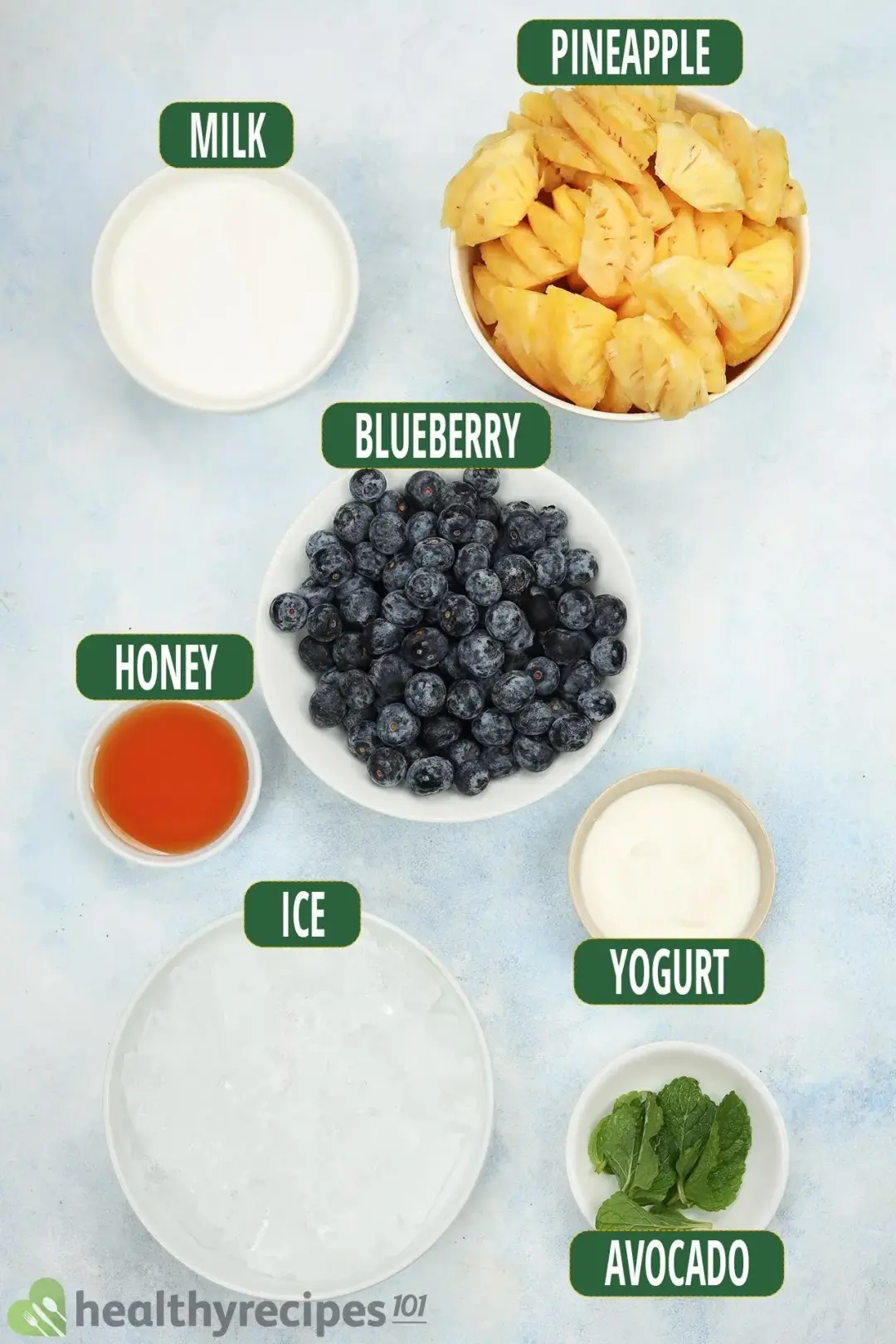 Prepping the Fruits For Pineapple Blueberry Smoothie
Lay the pineapple on a cutting board and slice off its crown and bottom. Stand it straight up and slice off the tough skin, then quarter it and remove the core segment from each piece.
Since there's no cooking involved, you want to give the blueberries a good rinse. This is to clean off residual pesticides, dirt, and bacteria that might be present on the fruit and could spoil your drink quicker than expected.
Are Frozen Blueberries Good For Smoothies?
Using frozen fruits is likely to result in a thicker and cooler smoothie. They're often blended together with yogurt to make homemade berry ice creams.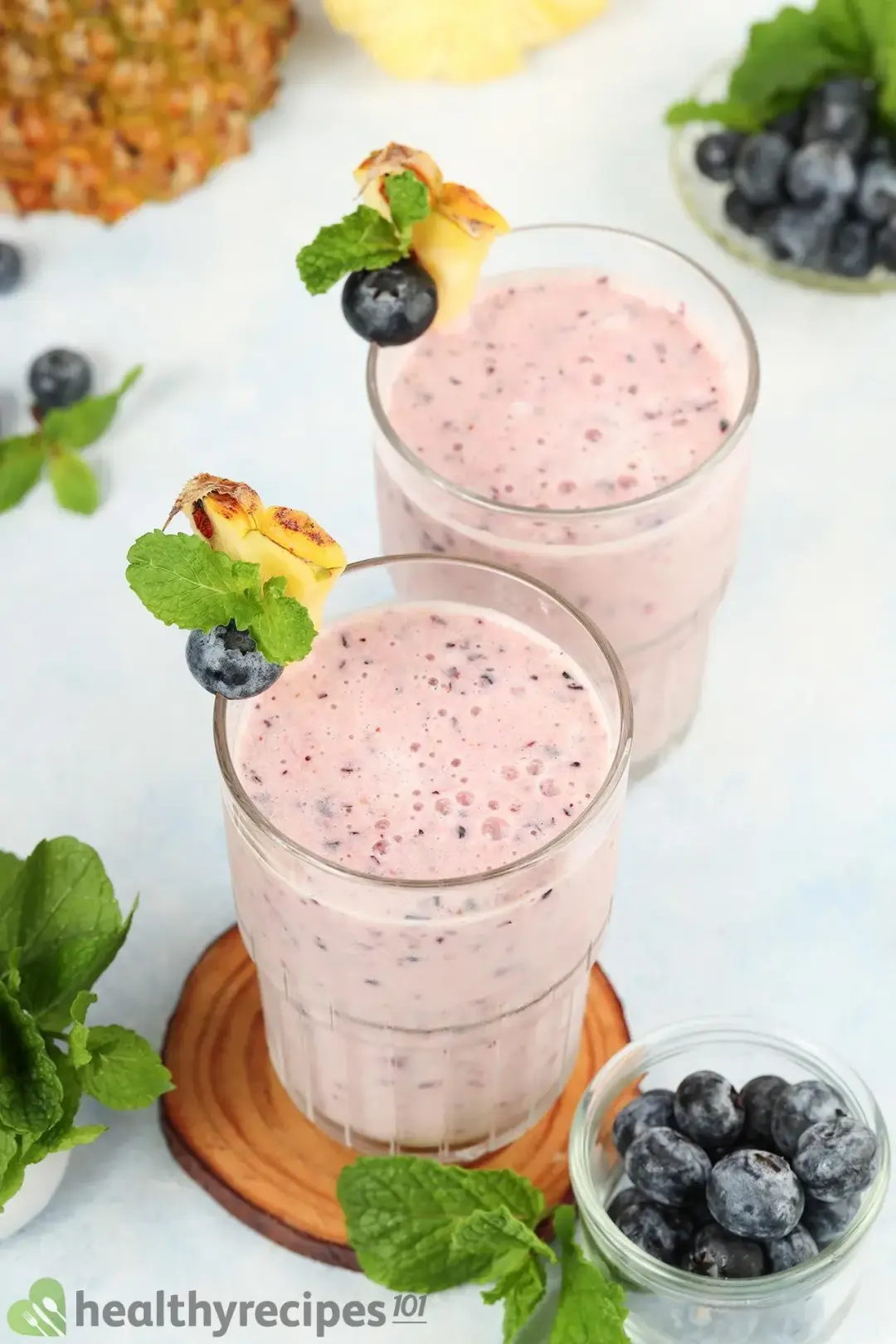 If you do use frozen fruits for our pineapple blueberry smoothie recipe, use half the amount of ice that it calls for. The result will still be silky smooth but much more concentrated in flavor.
How To Make Pineapple Blueberry Smoothie
Once you've got the ingredients ready, place it all in the blender and blend until smooth. We often place the ice at the bottom so it gets blended first, speeding up the process.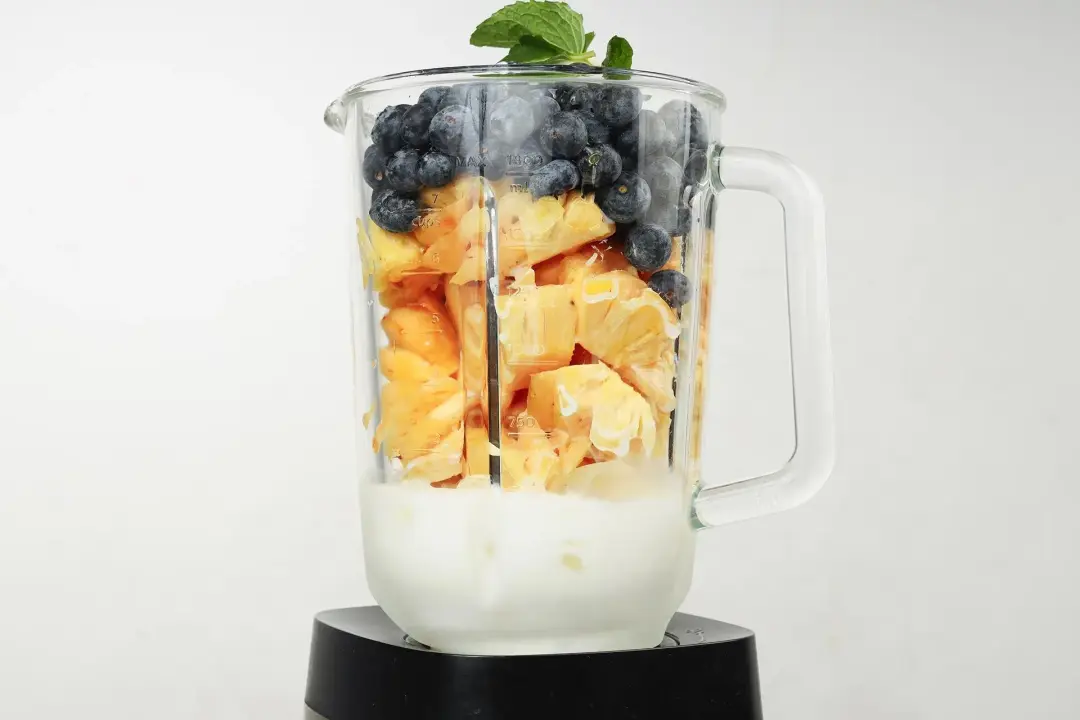 Blend ingredients.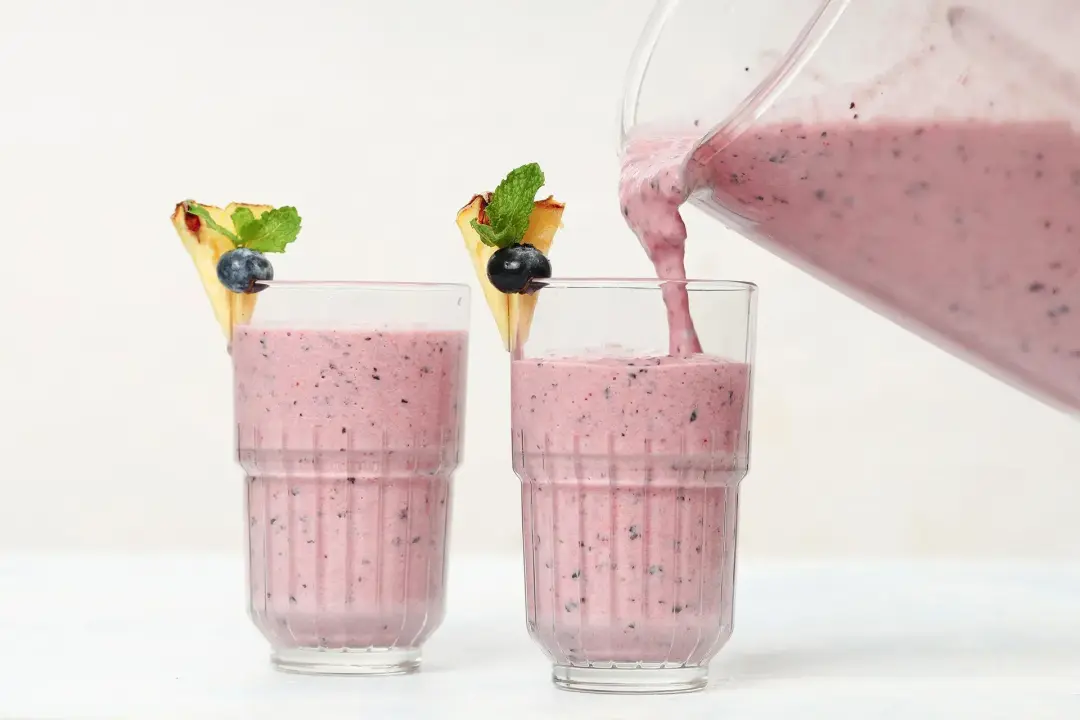 Pour into serving glasses.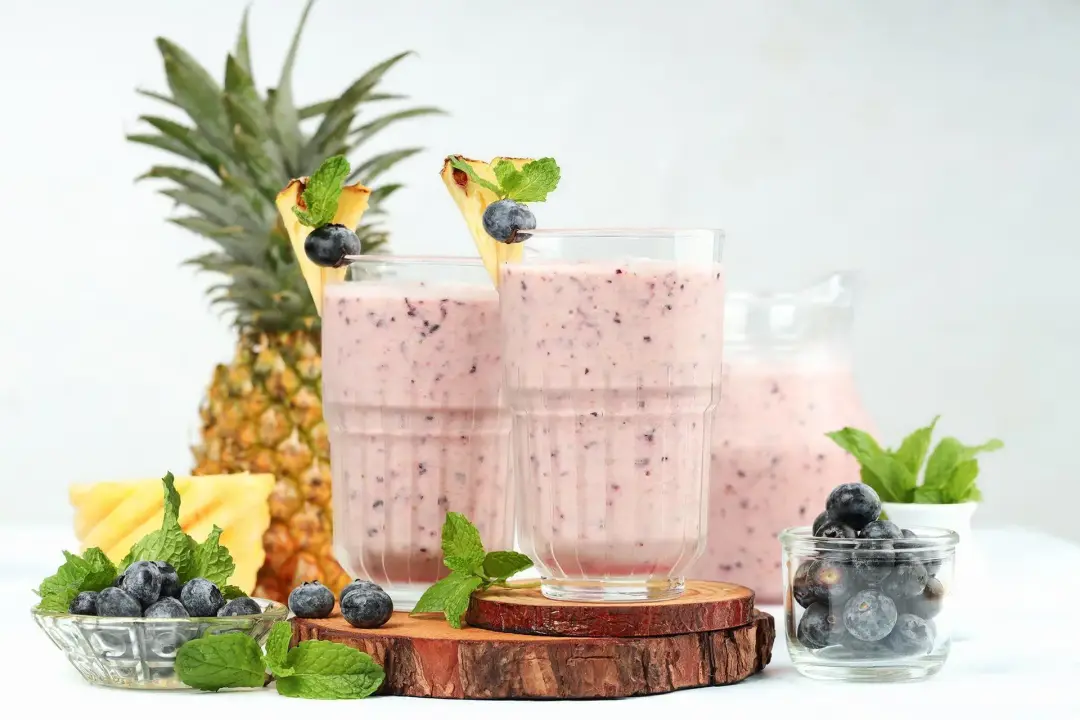 Garnish with mint leaves and enjoy.
How to Tell if a Pineapple is Bad?
Your pineapple might sometimes taste like alcohol, and that's the result of natural fermentation. They're still completely edible, and sometimes, this alcoholic taste adds a fun twist.
Still, as the fermentation process goes on, the fruit will taste sour, spoil, and no longer be edible. There are intuitive signs to spot a spoiled pineapple, such as wilted/ brown leaves, soggy bottom, and a tart, pungent aroma.
How Long Does Pineapple Blueberry Smoothie Last?
In general, smoothies should last for 2 days in the fridge. Separation and discoloration can take place, but there is minimal compromise in taste.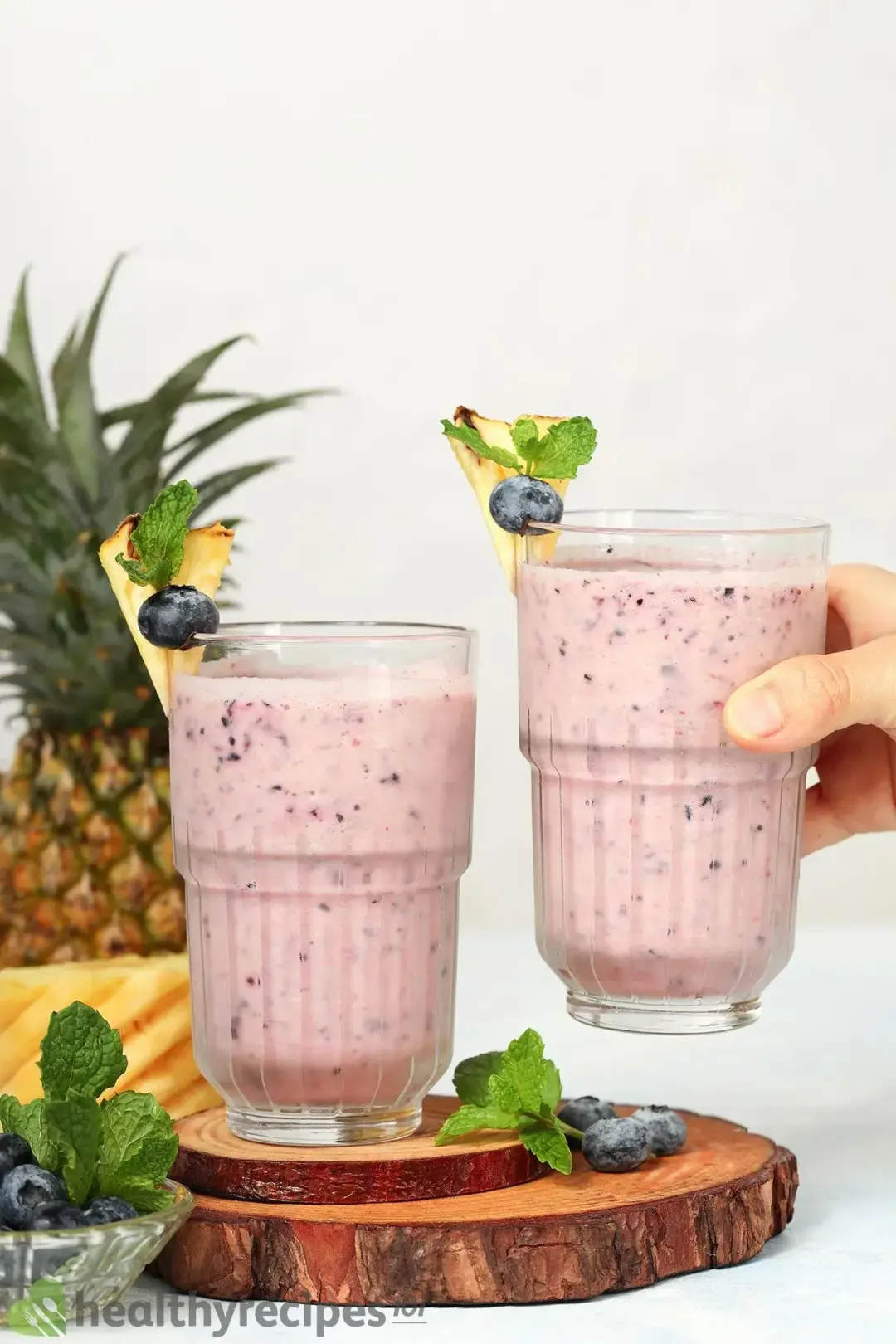 To extend storage, portion the smoothie into Ziploc bags and freeze. They will keep for up to 3 months and need 2 hours in the fridge to thaw.
Pineapple Blueberry Smoothie Recipe
This pineapple blueberry smoothie recipe makes a summery health boost in 7 minutes. All you need is the fruits, yogurt, milk, honey, and ice.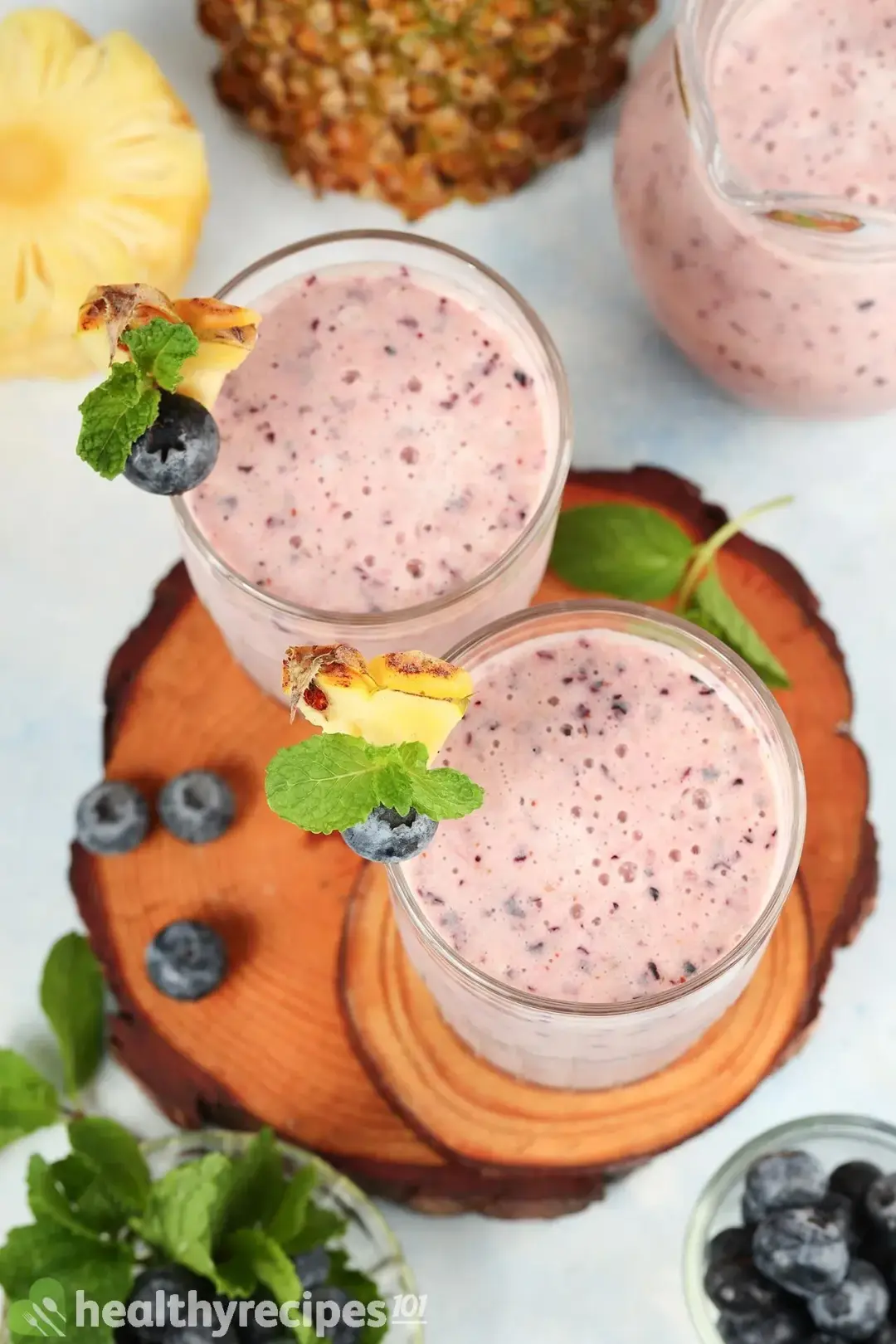 prep TIME

7 mins

total TIME

7 mins
COURSE

Beverage, Smoothie

CUISINE

Global

SERVINGS

servings

CALORIES

212 kcal
INGREDIENTS
18 oz

pineapples cut into chunks

12 oz

blueberries

2 cups

ice

1 cup

whole milk

0.3 cup

plain Greek yogurt

3 tbsp

honey

8

mint leaves
INSTRUCTIONS
1
Add to the blender 18 oz pineapples, 12 oz blueberries, 2 cups ice, 1 cup whole milk, 1/4 cup Greek yogurt, and 3 tbsp honey. Blend until smooth. You can save honey for last to adjust the smoothie's sweetness.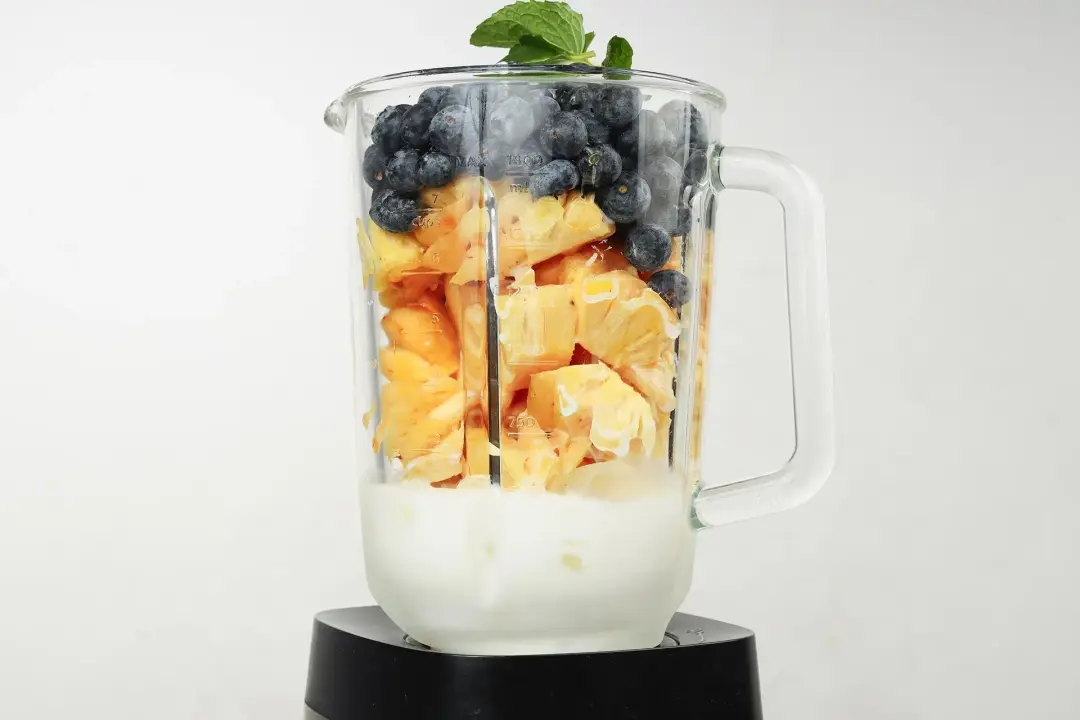 2
Pour into serving glasses.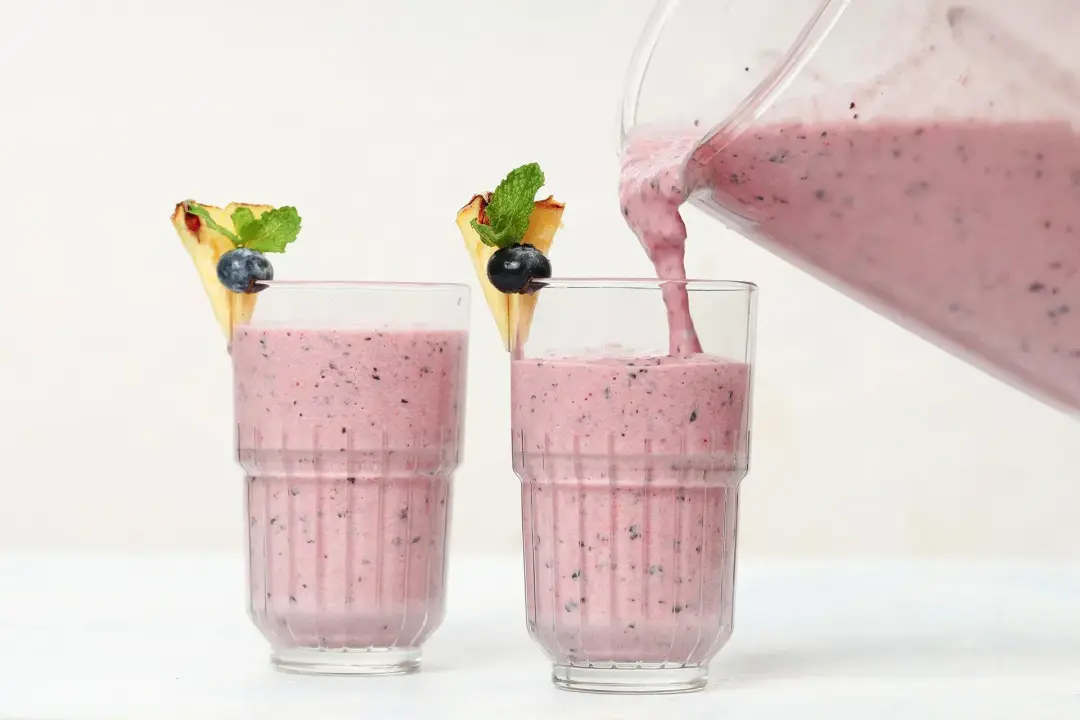 3
Garnish with mint leaves and enjoy.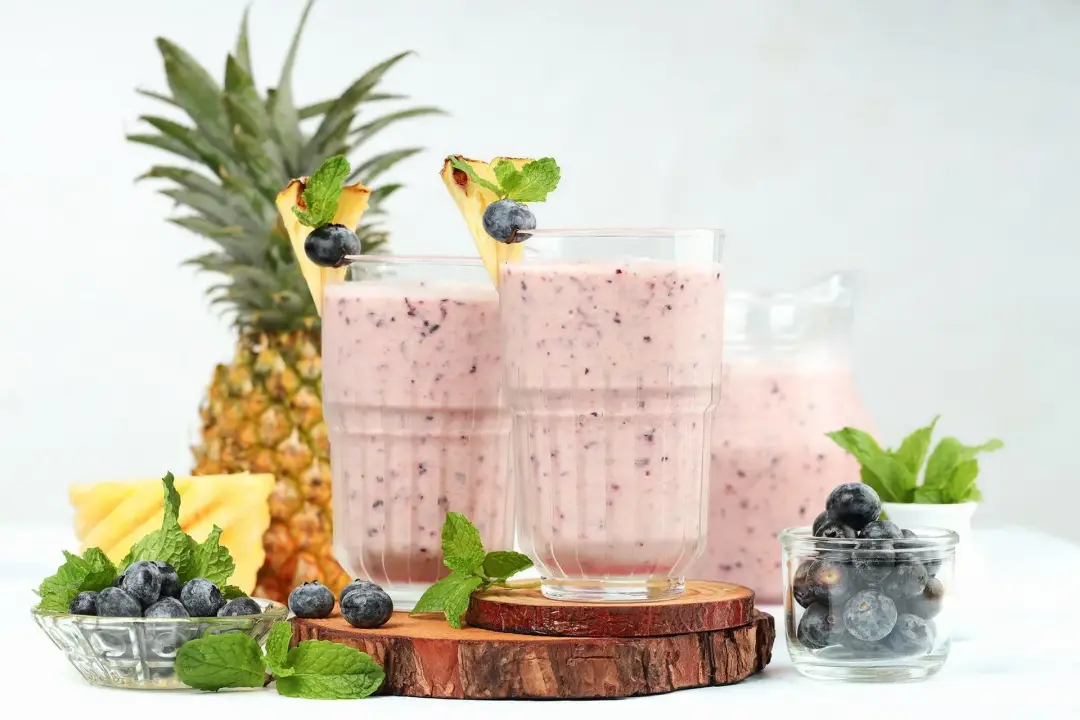 NUTRITION
Nutrition Facts
Pineapple Blueberry Smoothie Recipe
Amount Per Serving (1 serving)
Calories 212
Calories from FDA
% Daily Value*
* Percent Daily Values are based on a 2000 calorie diet.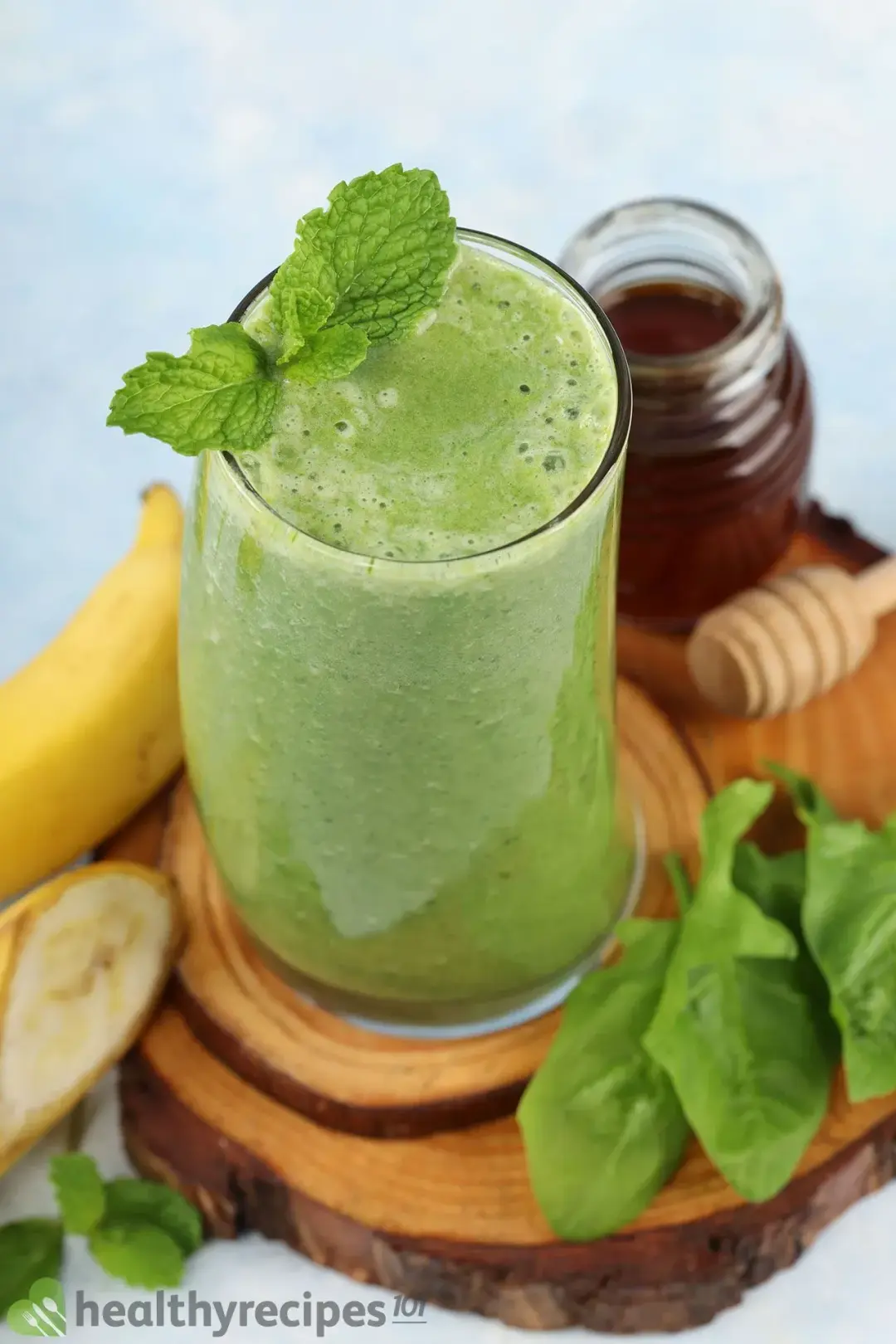 Previous Recipe
Spinach Banana Smoothie
Spinach Banana Smoothie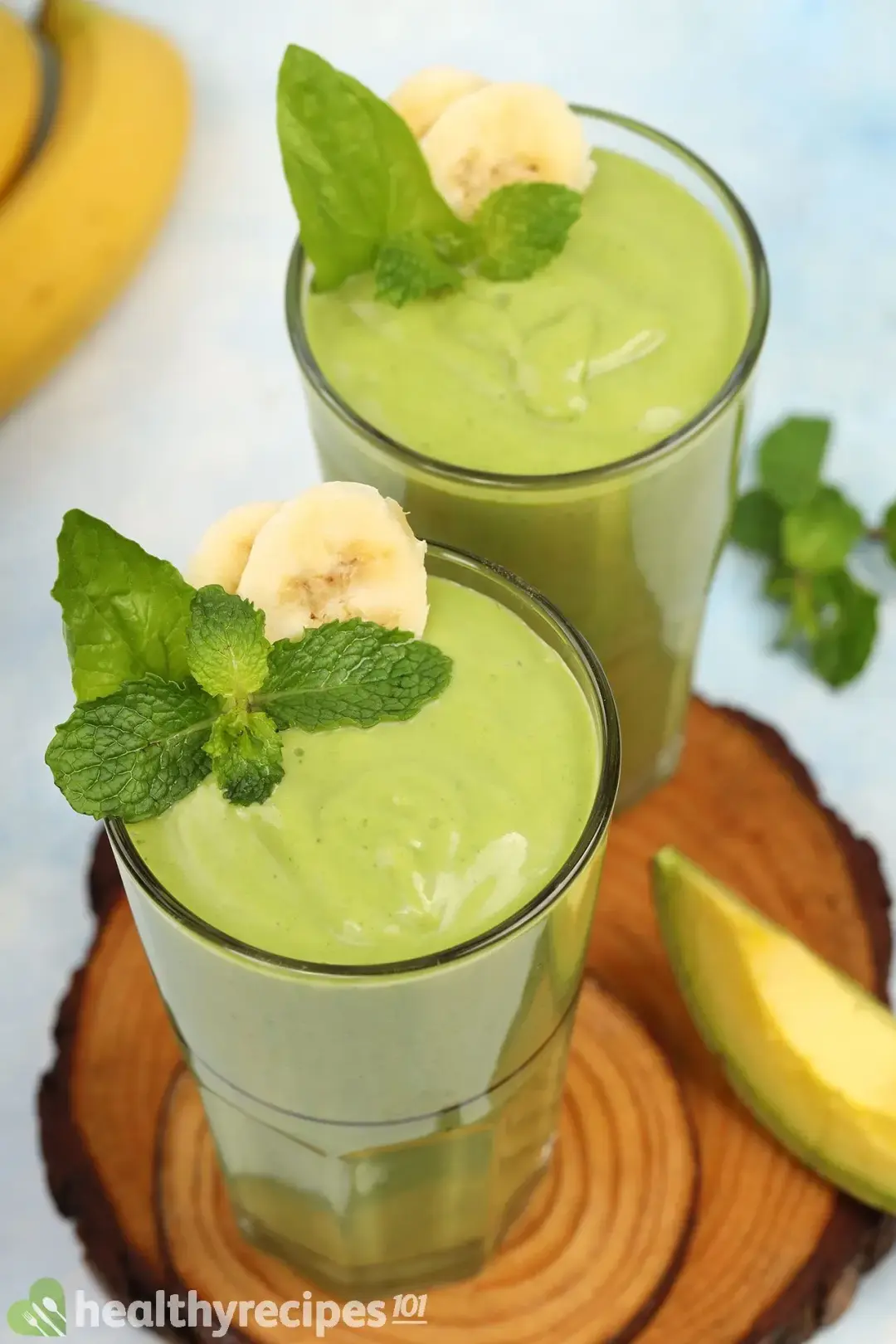 Next Recipe
Avocado Spinach Smoothie
Avocado Spinach Smoothie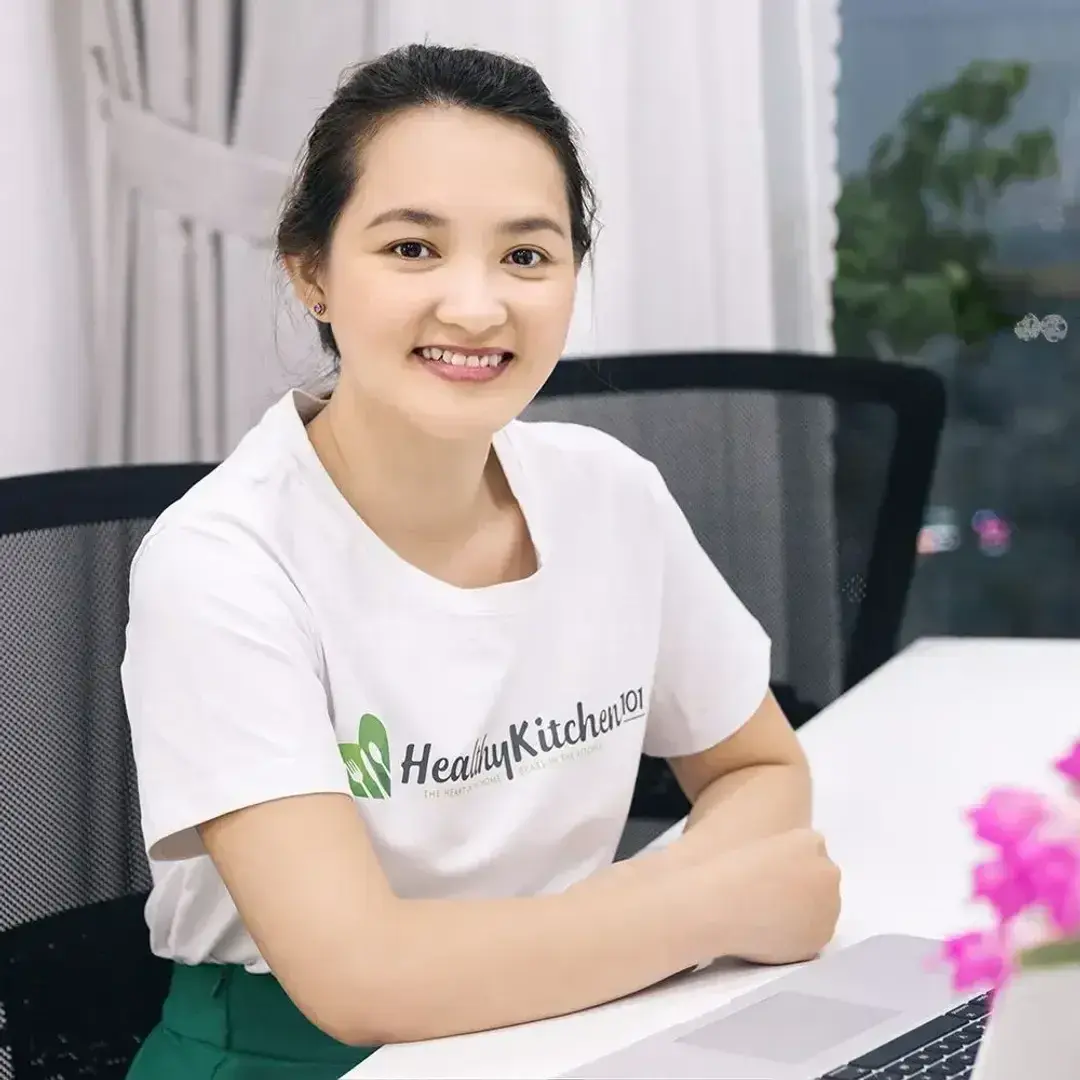 Luna Regina
Luna is the founder and chief recipe developer of Healthy Recipes 101. Apart from cooking, she also loves reading, programming, exploring the outdoors, and collecting useless facts about everything.