This spinach smoothie recipe is among our favorite healthy recipes at the moment because it is simple to make and tastes absolutely delicious.
Don't let the green color deceive you — this drink tastes nothing like what its name suggests.
Benefits of Spinach Smoothie
The benefits of our spinach smoothie lie in the ingredients themselves:
Spinach is a type of leafy green vegetable native to central and western Asia and is praised to be one of the most healthy veggies because of its high nutrient content.
Consuming spinach may boost eye health, reduce oxidative stress, aid in cancer prevention, and lower blood pressure.
Spinach is low in carbohydrates but high in insoluble fiber — a type of fiber that may have a beneficial effect on your digestion.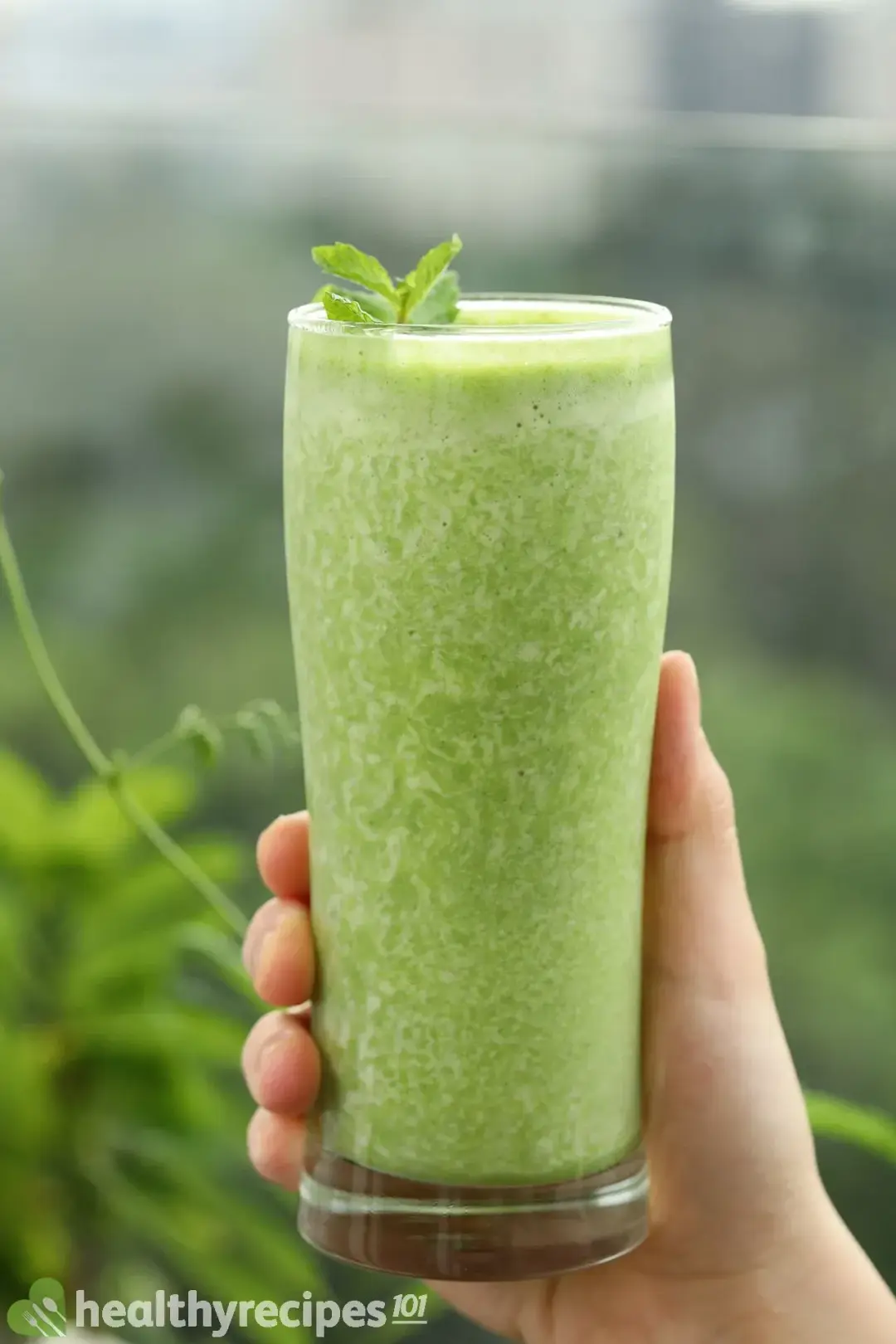 It's also an antioxidant-dense vegetable. Vitamin A, C, K, and many vital minerals can be found in these leafy greens.
Spinach can be prepared in a variety of ways. You can purchase it fresh, frozen, canned, cooked, or raw. It's delectable on its own or in combination with other foods.
That being said, spinach should be eaten in moderation as a part of a healthy diet. Overconsumption of spinach can lead to a few possible risks — it may promote the formation of kidney stones and blood clots in some cases.
Pineapples contain trace amounts of vitamin A and K, phosphorus, zinc, and calcium. They are also particularly high in vitamin C, containing about 88% of the daily value (DV). 
Vitamin C is a crucial vitamin that can bring a number of health benefits including helping you absorb iron and calcium from foods, maintaining a healthy immune system, aiding in overall growth and development, and contributing to healthy skin.
Bananas provide digestive, cardiovascular, and weight-loss benefits. A medium-sized banana contains around 10% of your DV of potassium.
Potassium, a mineral and electrolyte, is essential for all tissues, cells, and organs. Increased dietary potassium has been demonstrated to help lower blood pressure.
In addition, we took advantage of the natural sweetness of ripe bananas to minimize the smoothie's sugar content. In the end, we only added 1 tablespoon of granulated sugar to make 4 servings of smoothie.
Reducing the amount of sweetener in the recipe also eliminates quite a few calories per serving.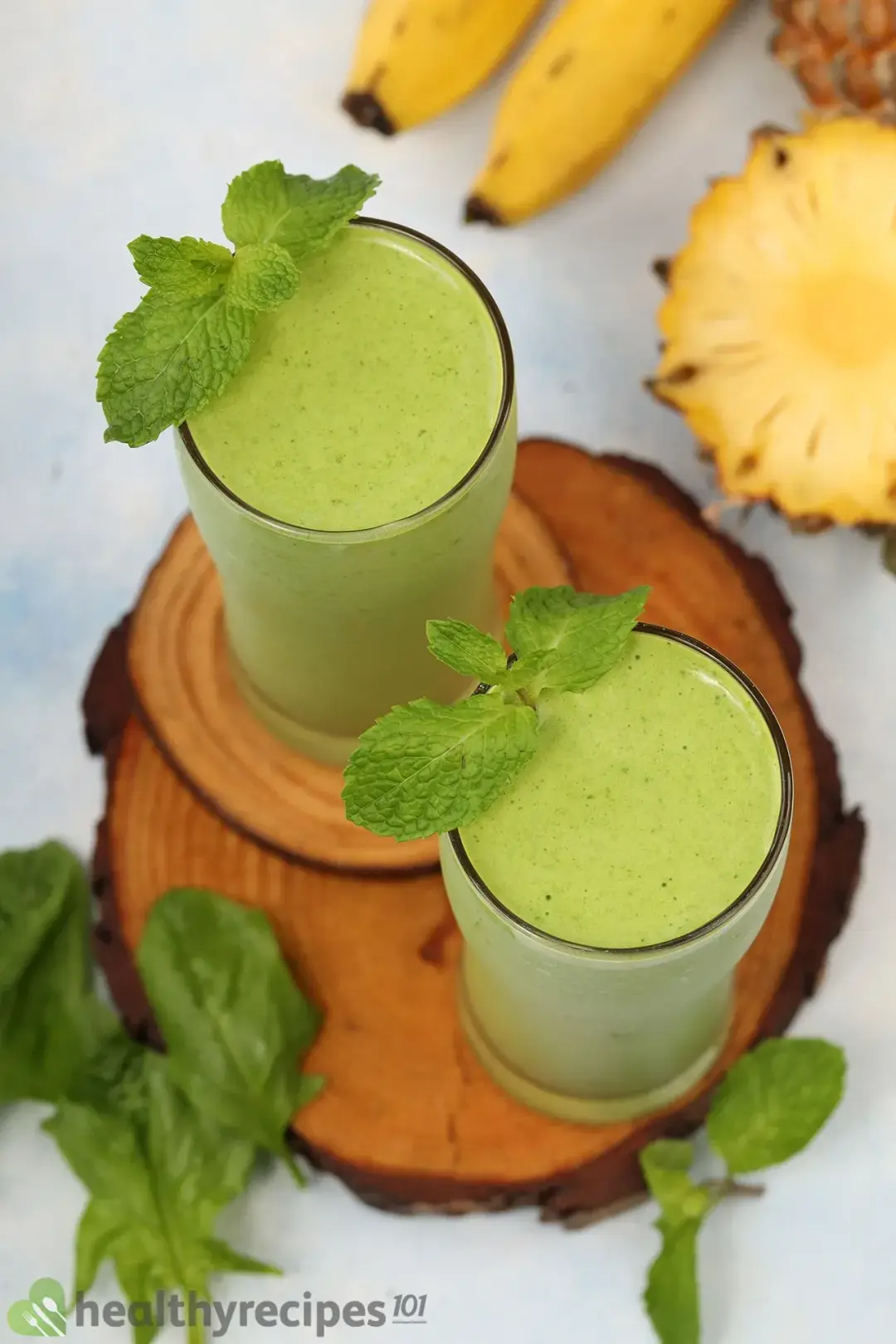 Ingredients for This Smoothie
The title "spinach smoothie recipe" may sound unappetizing, but spinach and ice aren't the only ingredients in this drink. To give the smoothie a more complex and appealing flavor profile, here's what we used:
Spinach leaves: Yes, leaves only. Take the time to trim off the stems. But don't discard them — you can save them for other recipes.
Frozen bananas: As we always say, ripe bananas should be your go-to option for making smoothies. They add natural sweetness. Also, using frozen bananas for smoothies will give your drinks a much thicker texture than blending fresh fruits with ice.
Frozen pineapple: Similarly, frozen pineapple can enhance the smoothie's texture.
Milk: We added a touch of whole milk to give the smoothie a rich, almost milkshake-like flavor.
Lemon juice: We always like adding freshly squeezed lemon juice to our smoothie recipes as it adds a fresh citrus zest that will awaken your taste buds.
Sugar: We used 1 tablespoon of granulated sugar in this recipe. It helps neutralize the sharp sour taste of lemon juice.
Ice: You don't necessarily need ice when your fruits are frozen, but the additional ice keeps the drink nice and cool for a long time.
Mint: Spearmint, peppermint, chocolate mint, etc. Pick your favorite and top your smoothie with it for a fresh and cool scent.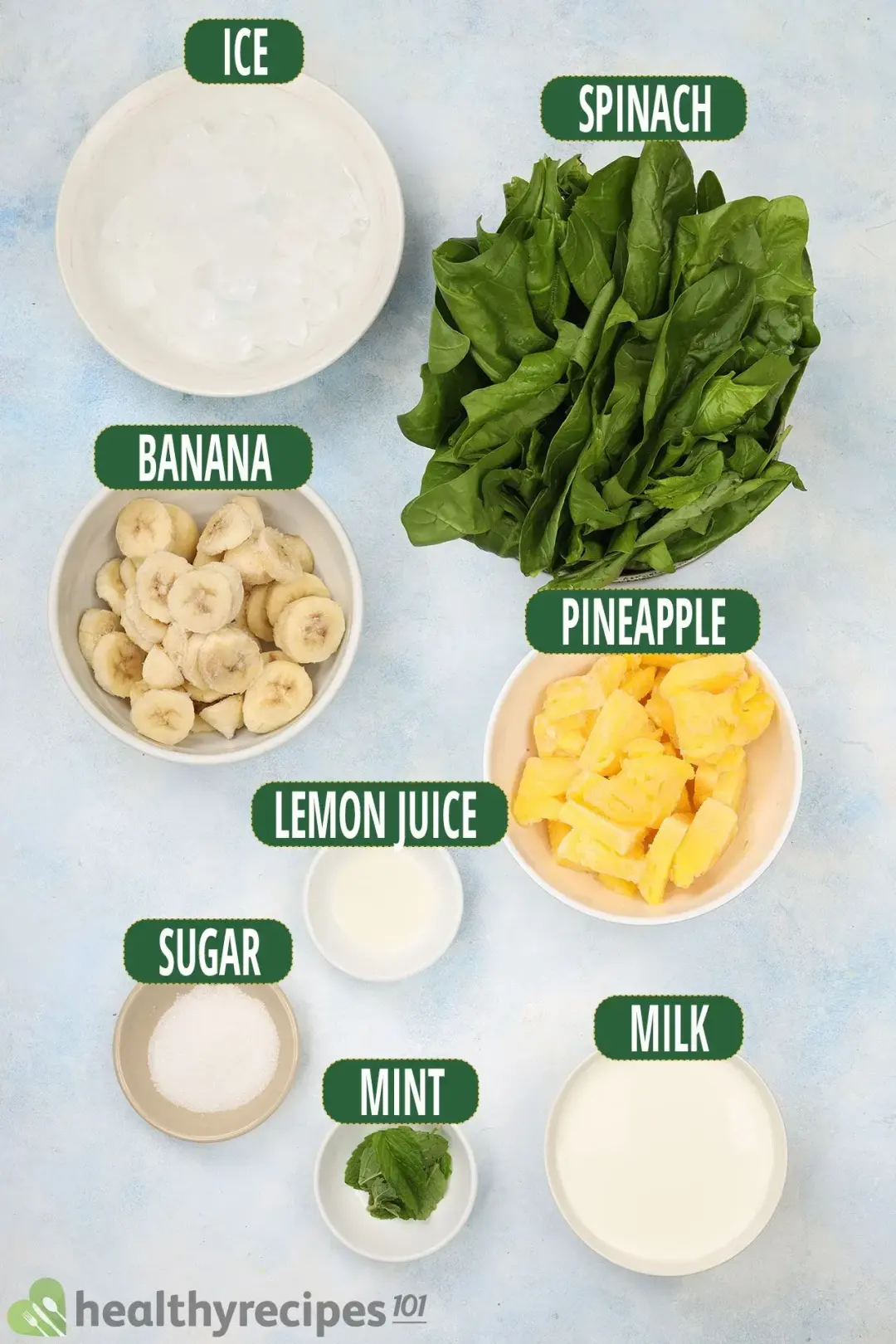 Can You Use Frozen Spinach in a Smoothie?
You can, but we prefer not to.
Frozen spinach from the supermarket is chopped and packed into thick nuggets that don't blend easily into smoothies. You will need to defrost and let it drain to remove excess moisture.
If the spinach isn't drained thoroughly, that excess moisture will be added to the smoothie, which may dilute the flavor.
How to Make a Spinach Smoothie
This recipe may be simple, but there is one step you want to do the night before: freeze your bananas and pineapple.
Peel and cut bananas into chunks before putting them into a freezer-safe container or Ziploc bag.
Pre-cut fresh pineapple chunks are widely available at the grocery store so you can buy them to avoid the trouble of peeling a whole fruit. Simply put them in a Ziploc bag and place it in the freezer right next to the bananas.
We recommend freezing these fruits overnight or at least 4 hours before making the smoothie.
Once all your ingredients are prepared and measured, the process is very simple: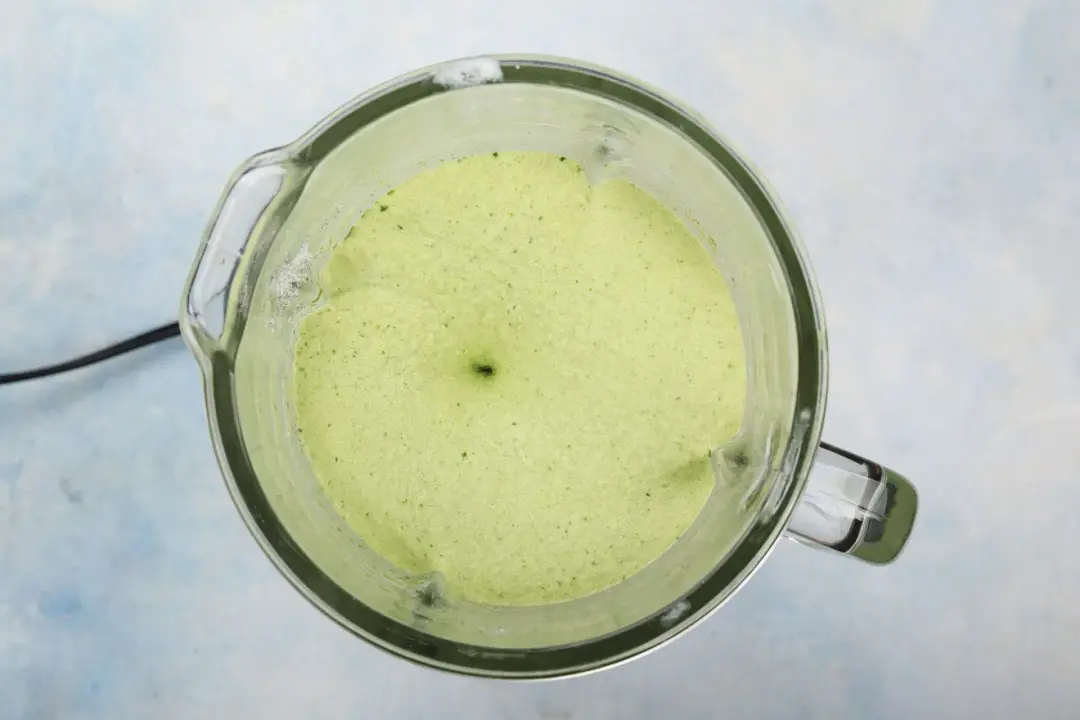 Blend all ingredients.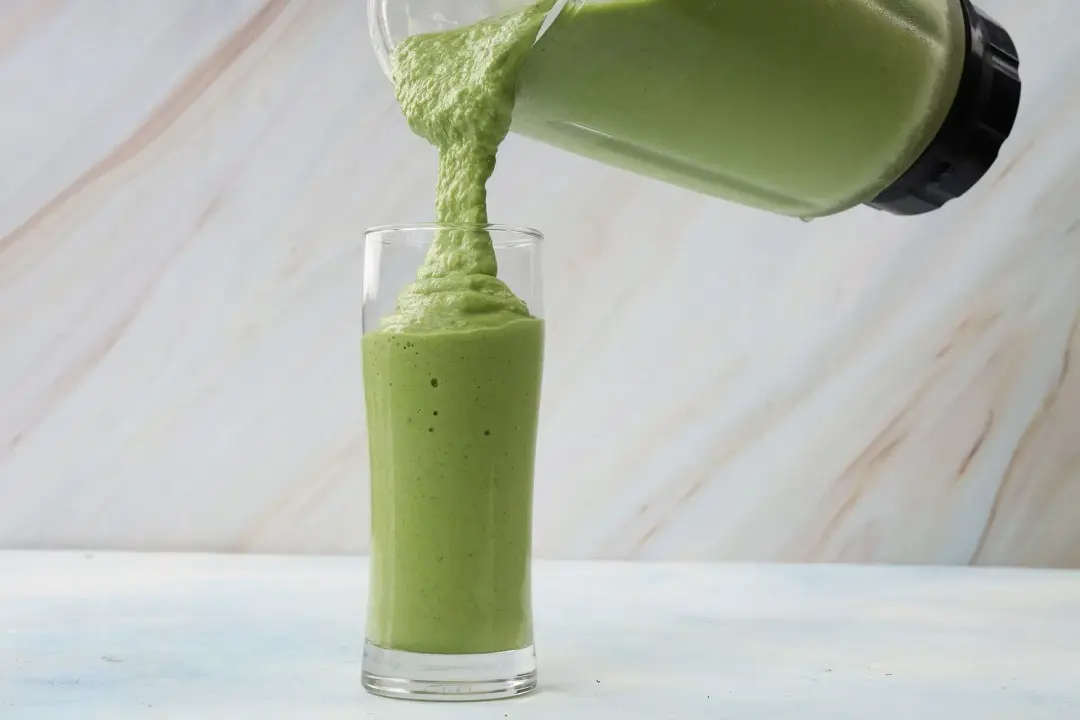 Pour into serving glasses.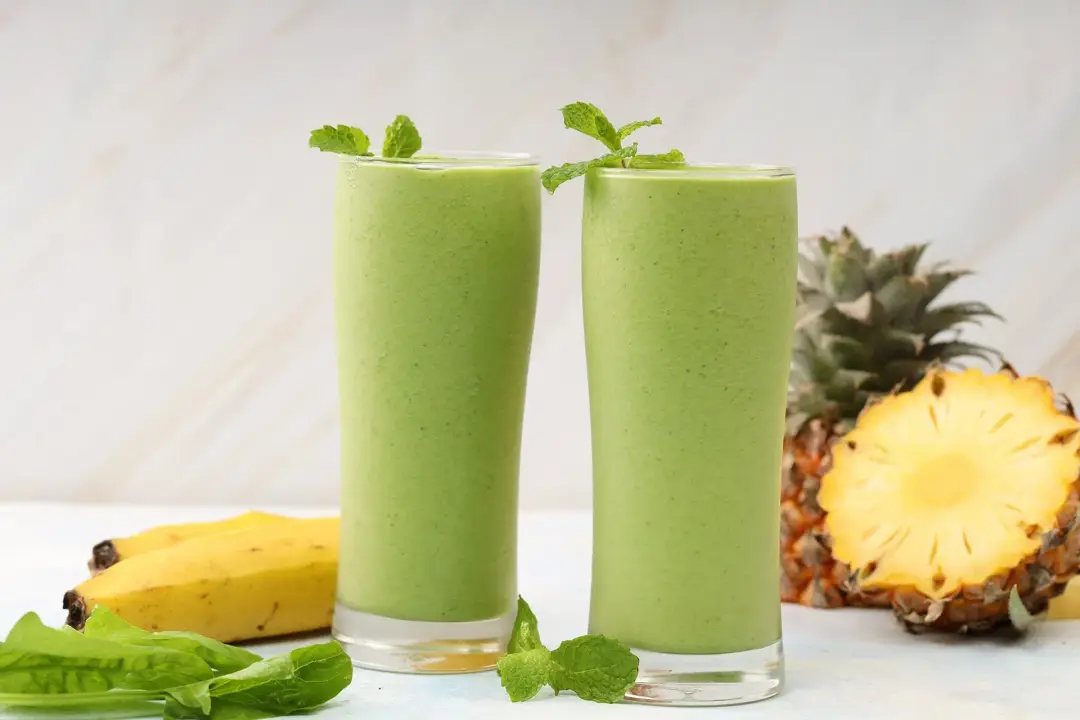 Garnish and serve.
Can You Drink Spinach Smoothies Daily?
Yes, you can if you want to.
Our spinach smoothie contains only 133 calories per serving, which isn't a lot and shouldn't contribute too much to your daily diet.
However, we don't actually recommend drinking the same drink every day. If you want to diversify your menu, you can try our other spinach-based smoothie recipes:
Spinach Banana Smoothie Recipe: This tasty, nutritious smoothie is the perfect way to satisfy your sweet tooth and give your body a boost of vitamins and minerals all at the same time.
Avocado Spinach Smoothie Recipe: This silky smooth and creamy smoothie is ideal as a quick and healthy breakfast or a light snack after an energizing workout.
Healthy Green Smoothie Recipe: This funky-looking smoothie is packed with all of your favorite fresh fruits: mangoes, bananas, and blueberries. It's delightfully sweet and will surely become your favorite summer drink!
How Long Does Spinach Smoothie Last?
Typically, smoothies can last two days in the refrigerator. However, today's spinach smoothie may not last that long.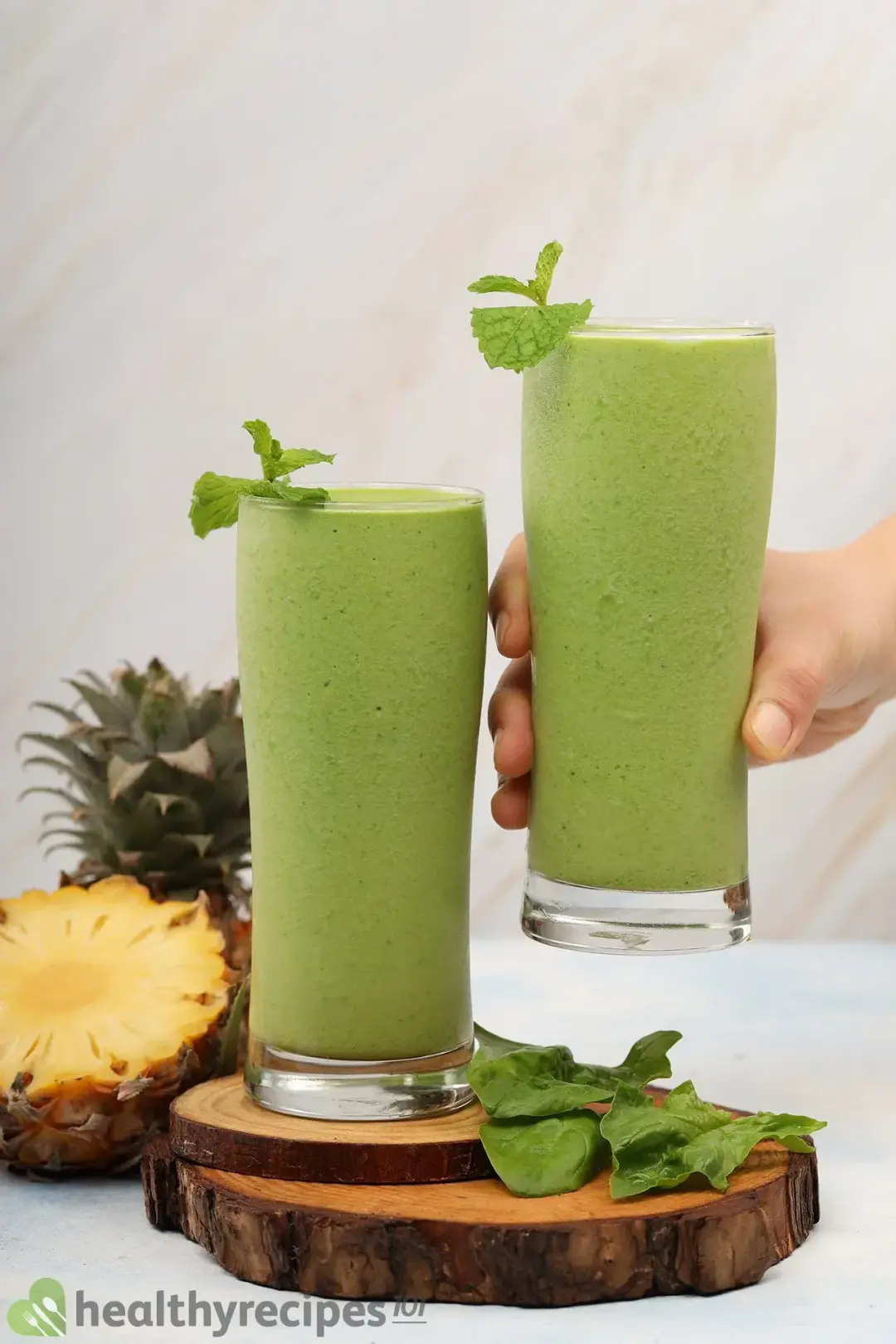 To ensure food safety, we recommend finishing your spinach smoothie within 24 hours. Store it in an airtight container such as a mason jar or bottle with a tight-fitting lid to minimize oxidation and spoilage.
You can also freeze the smoothie to enjoy later as a healthy ice cream. It should last for about two to three weeks.
Spinach Smoothie Recipe
Today's spinach smoothie recipe will show you how to make a healthy, green drink that tastes delicious. Here are the details.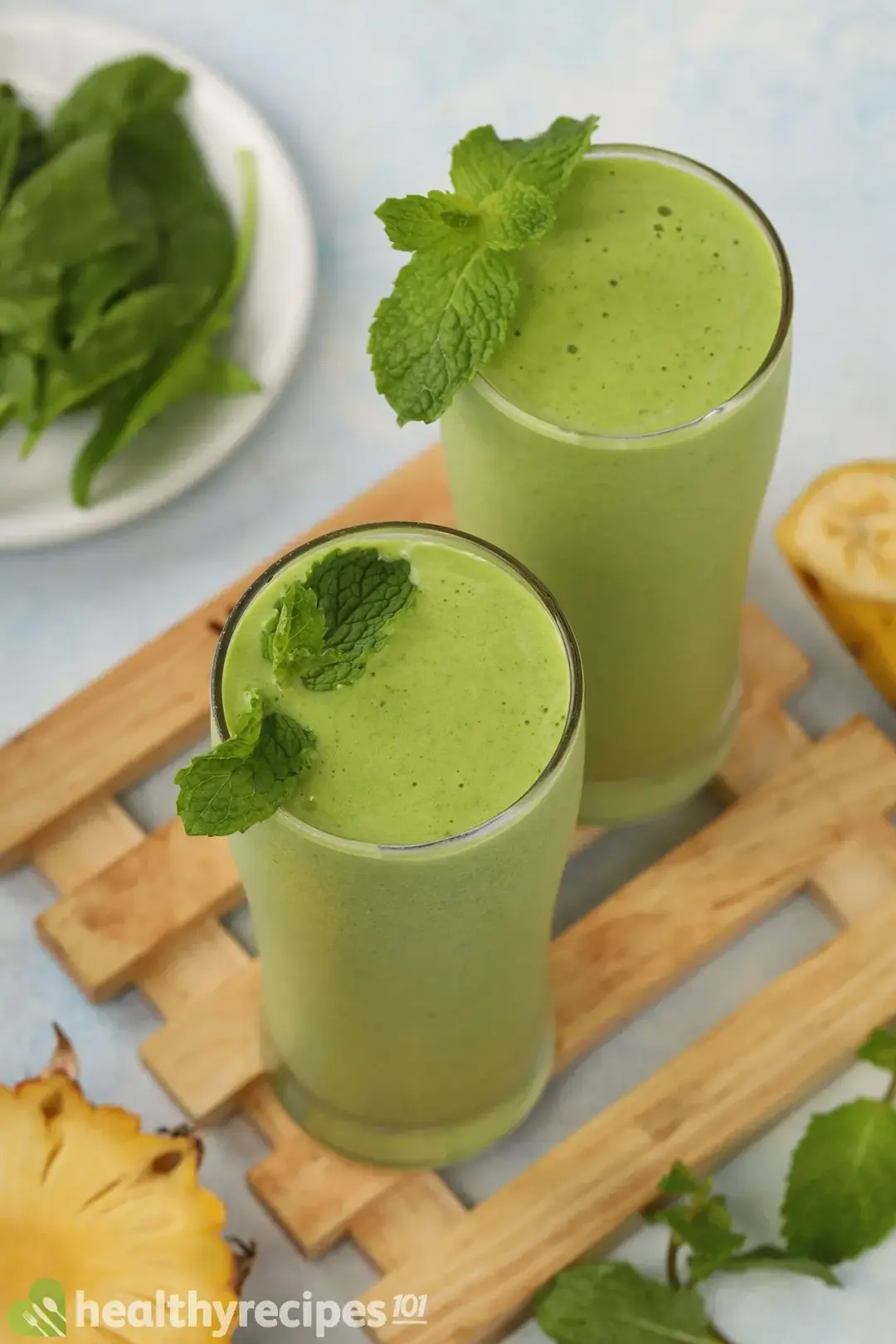 prep TIME

10 mins

total TIME

10 mins
COURSE

Beverage, Smoothie

CUISINE

American

SERVINGS

servings

CALORIES

133 kcal
INGREDIENTS
3 oz

spinach leaves only

8 oz

frozen bananas

8 oz

frozen pineapple

1 cup

whole milk

1 tsp

lemon juice

1 tbsp

sugar

6

spearmint leaves for garnish

2 cups

ice
INSTRUCTIONS
1
Blend ingredients: In a blender, combine 3 oz spinach, 8 oz frozen bananas, 8 oz frozen pineapple, 1 cup whole milk, 1 tsp lemon juice, 1 tbsp sugar, and 2 cups ice. Blend until completely smooth.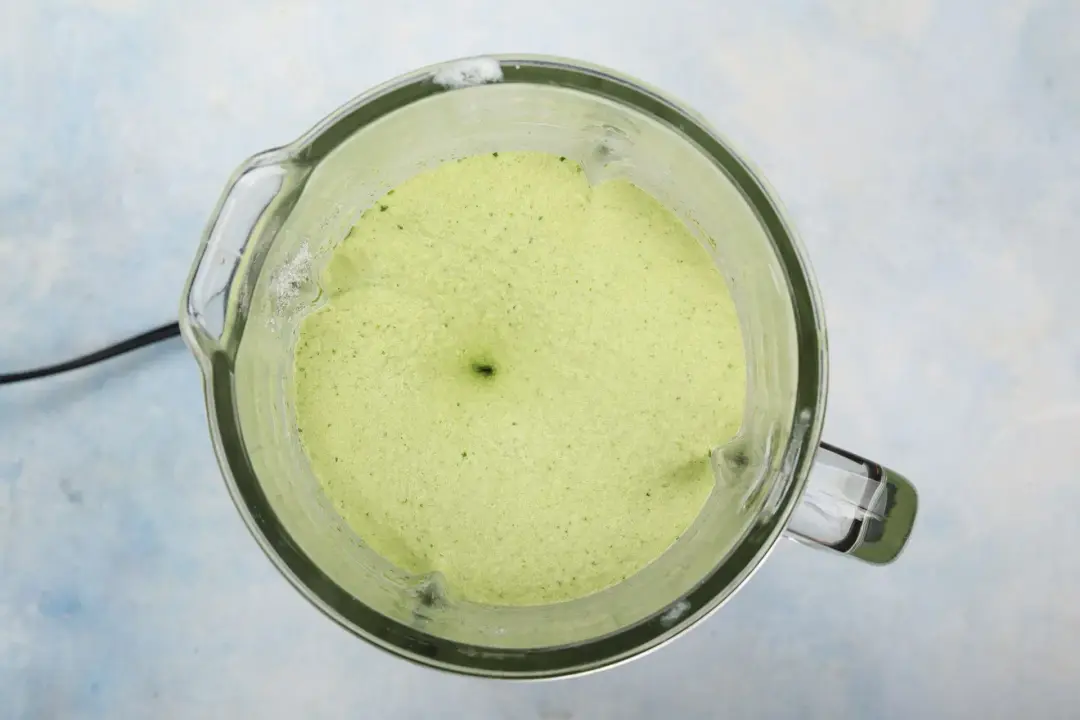 2
Pour into serving glasses.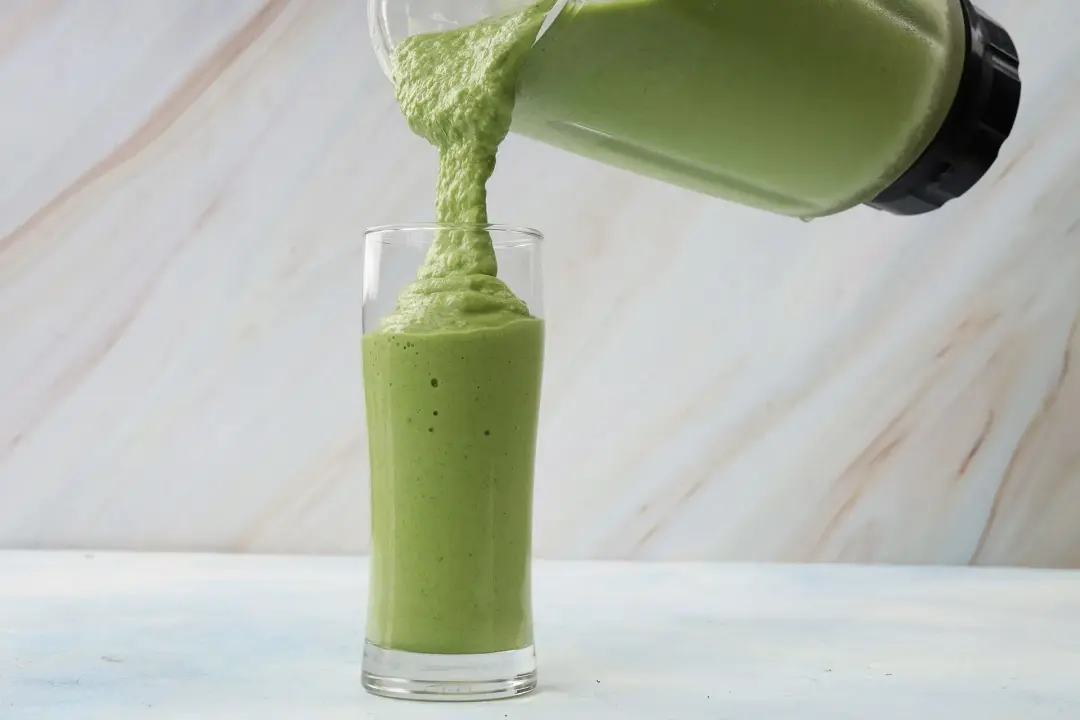 3
Garnish and serve: Divide the smoothie into four glasses, garnish each glass with spearmint leaves, and serve.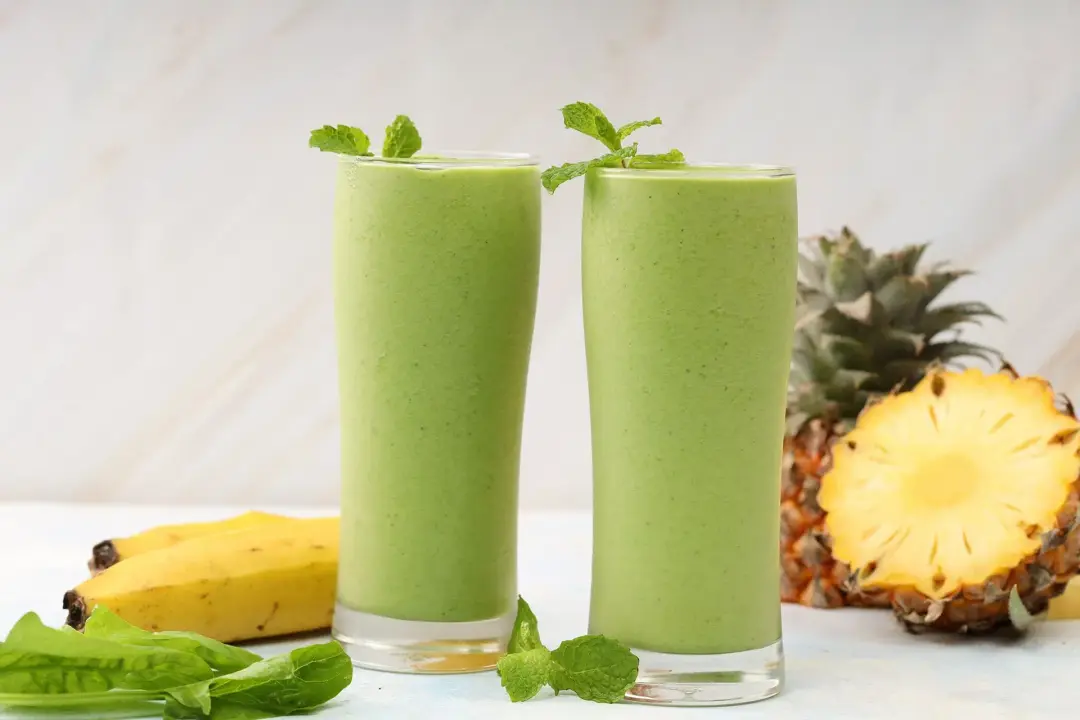 NUTRITION
Nutrition Facts
Spinach Smoothie Recipe
Amount Per Serving (1 serving)
Calories 133
Calories from FDA
% Daily Value*
* Percent Daily Values are based on a 2000 calorie diet.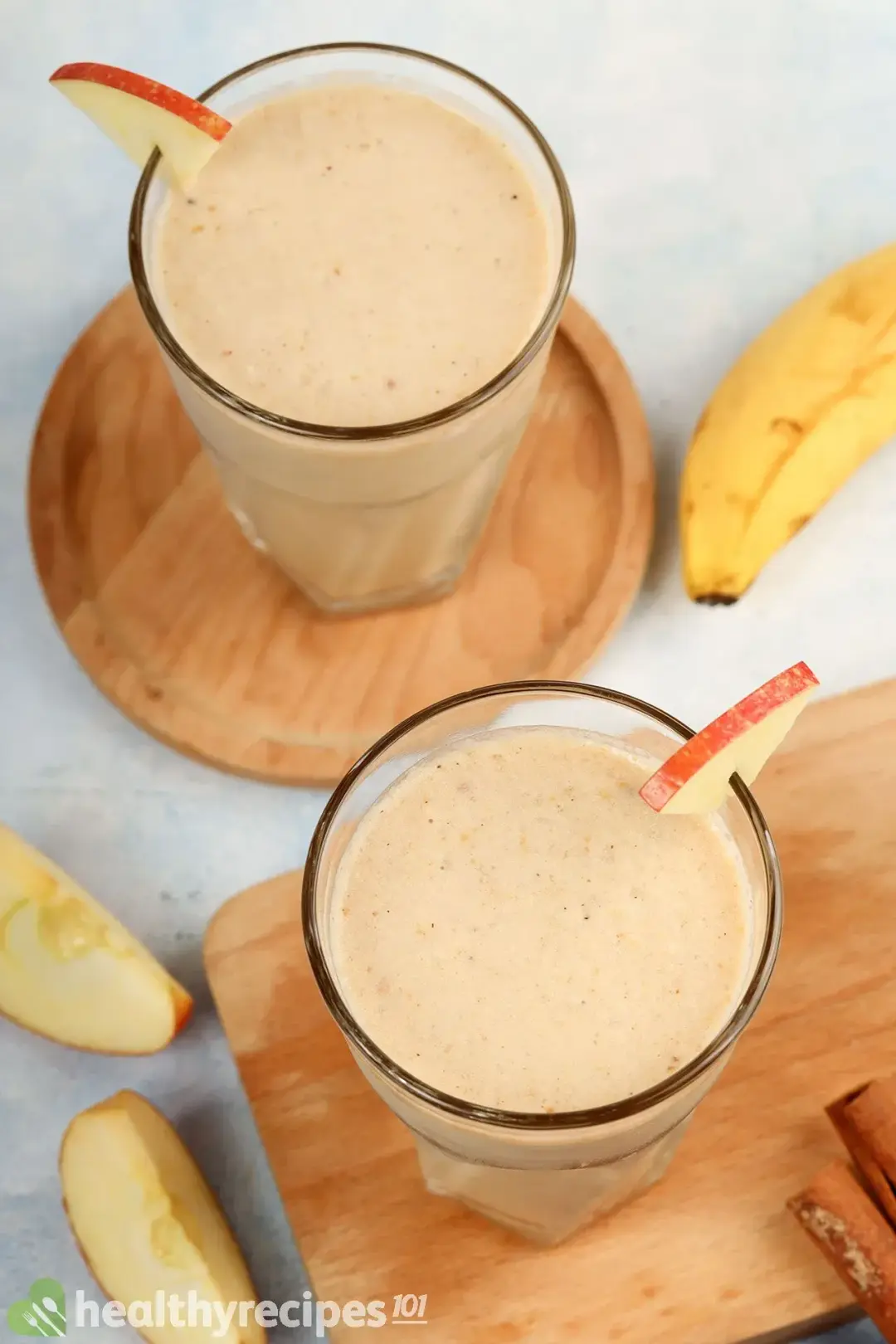 Previous Recipe
Apple Peanut Butter Smoothie
Apple Peanut Butter Smoothie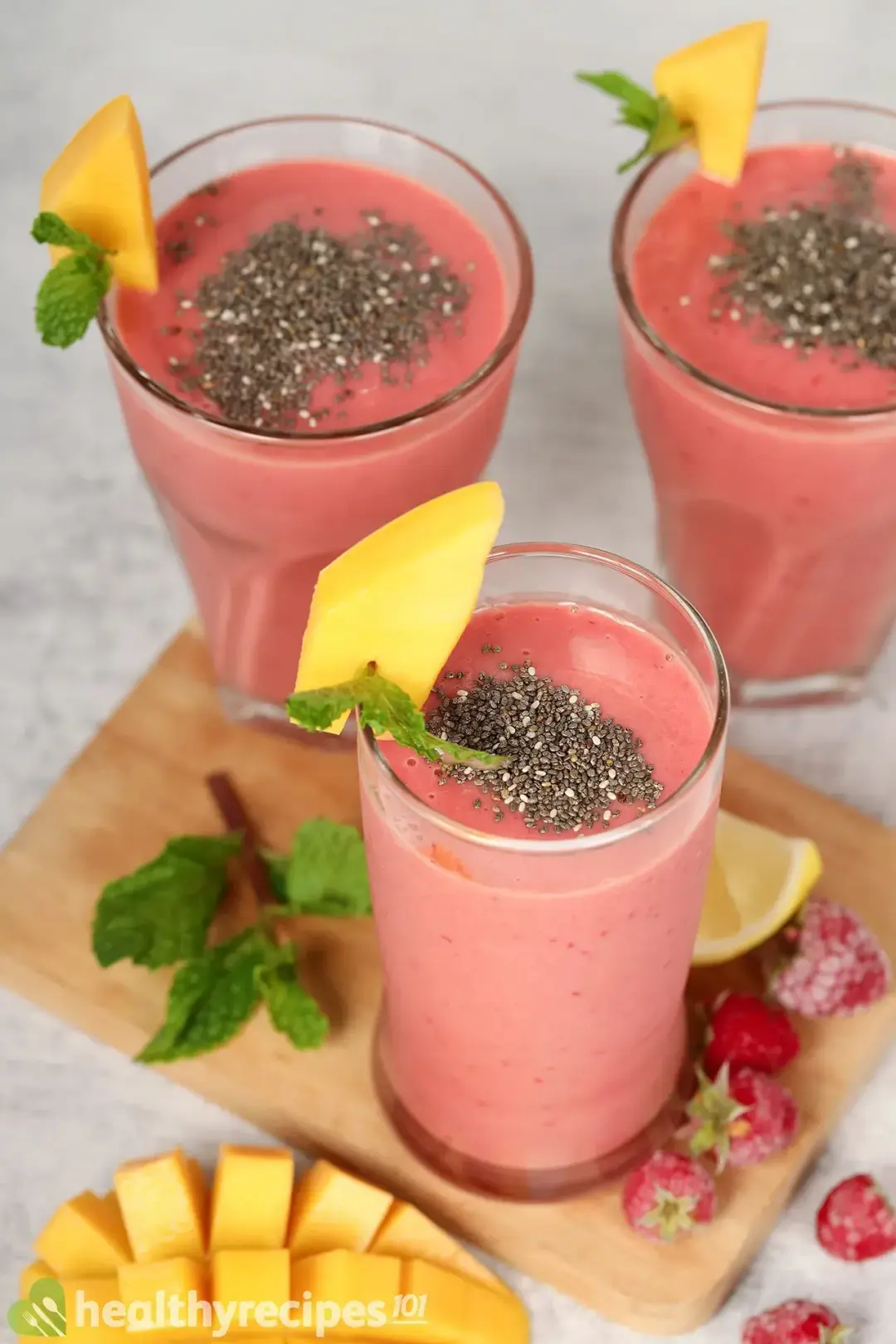 Next Recipe
Mango Raspberry Smoothie
Mango Raspberry Smoothie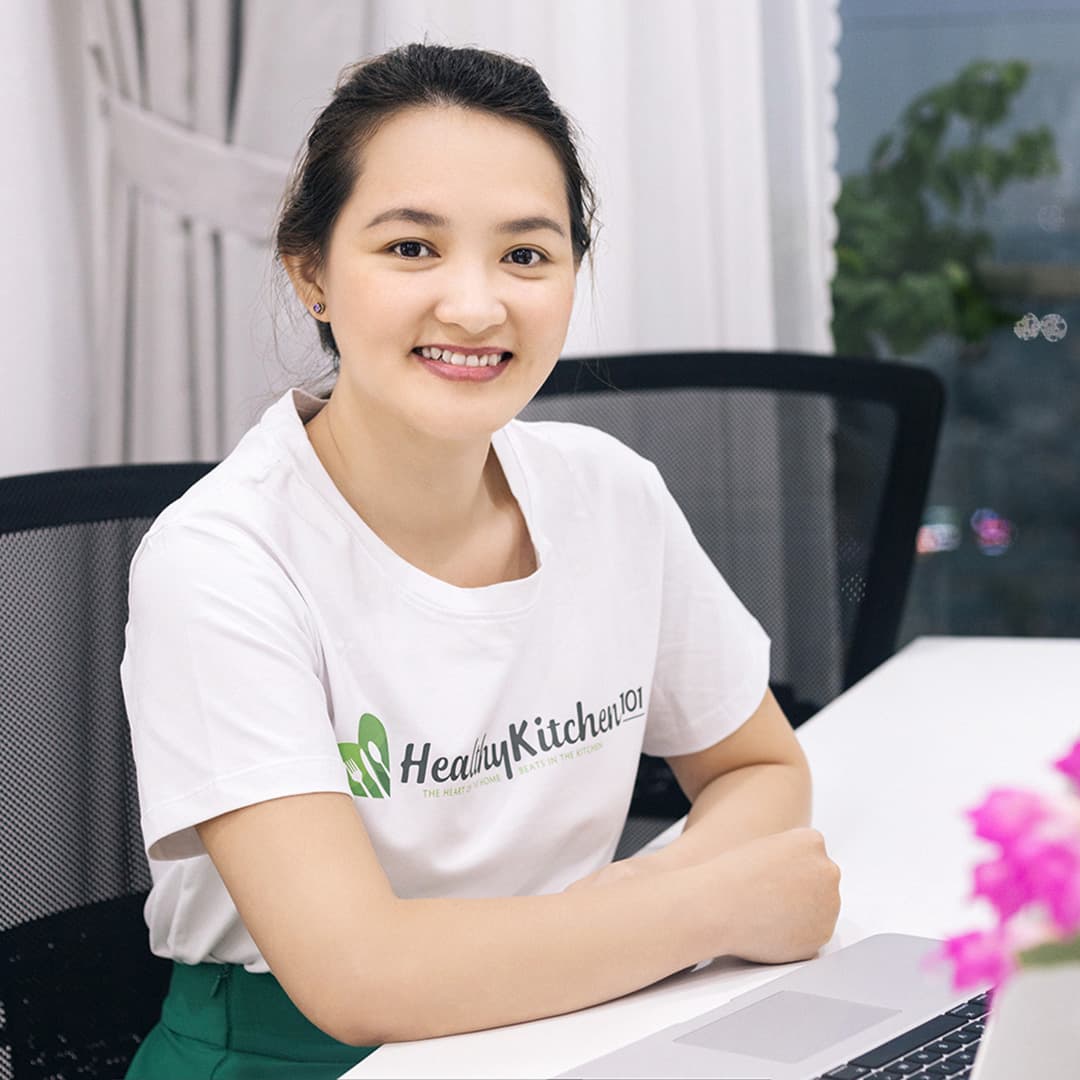 Luna Regina
A writer and entrepreneur, Luna's day doesn't start at the computer keyboard, but in the kitchen.
Half of her working hours are spent on mixing ingredients for her recipes. The other half involve working with the tech team to research and test the tools and appliances that promise to make kitchen work effortless and mess-free. From a kitchen knife or water filter to the Instant Pot, if it can help save time and effort for the home cook, Luna and her team are on it.
Luna's extracurricular pastimes include camping, travel, and photography.
Comments/ Reviews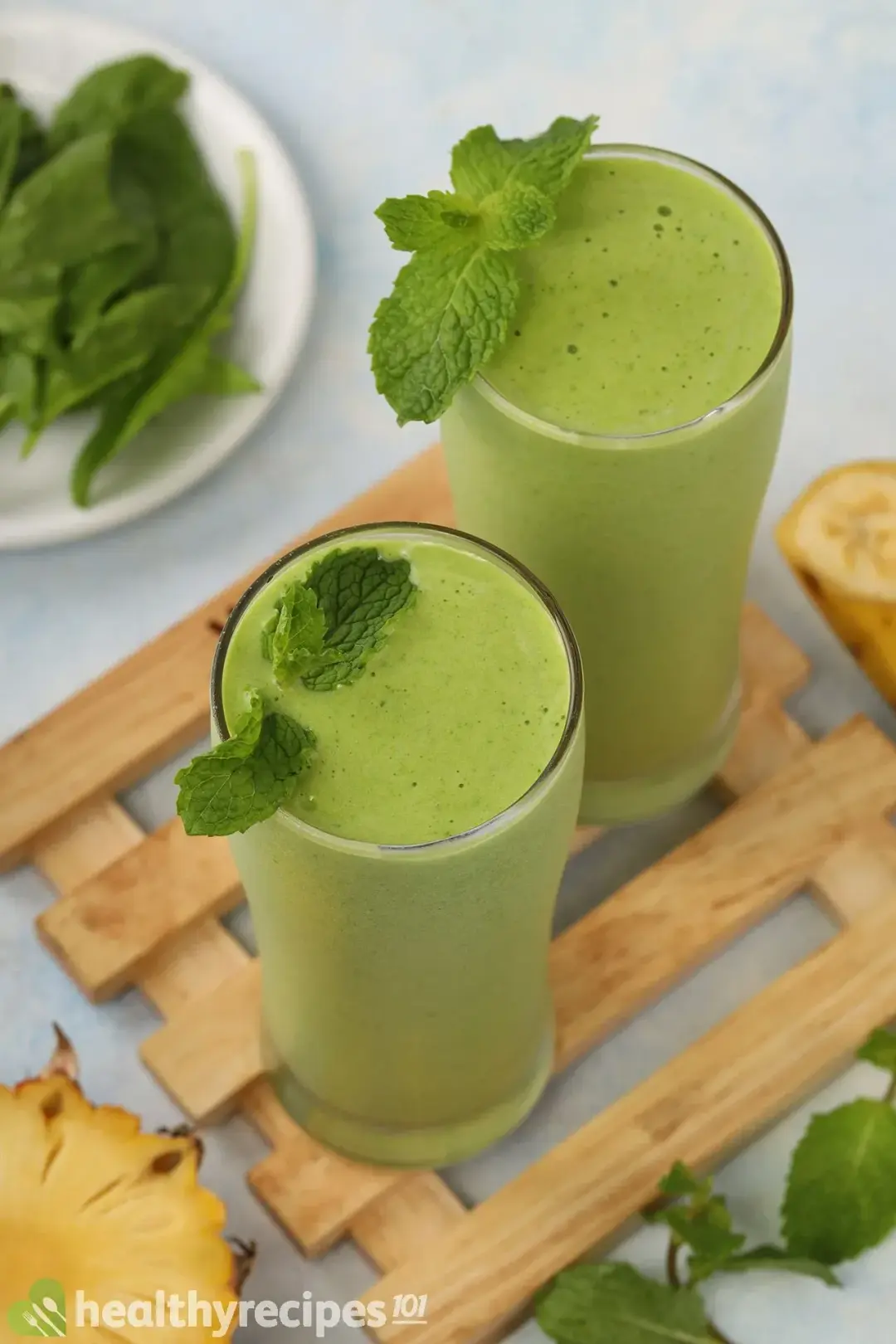 Spinach Smoothie Recipe