Our Vietnamese avocado smoothie (sinh to bo) recipe is the simplest way to enjoy this creamy fruit.
Walk the streets of Vietnam and you'll find this iconic treat in almost every smoothie stand. It's simply avocado blended with ice, milk, and sweetened condensed milk, a creamy and sweet treat that sells for less than 2 dollars.
Since it's so easy, you needn't actually go beyond your own kitchen to recreate it. Having hands-on experience in the country before, our chefs can guarantee an authentic experience.
Is Vietnamese Avocado Smoothie Healthy?
Avocados contain brain-healthy fats and crucial micronutrients for the body's growth. But still, since the smoothie is high in calories and added sugar (from condensed milk), it should be consumed in moderation.
We resized the portions to give our smoothie 246 calories and 10 g added sugar. If you want to tone down both calories and sugar, feel free to adjust the sweetener to your taste.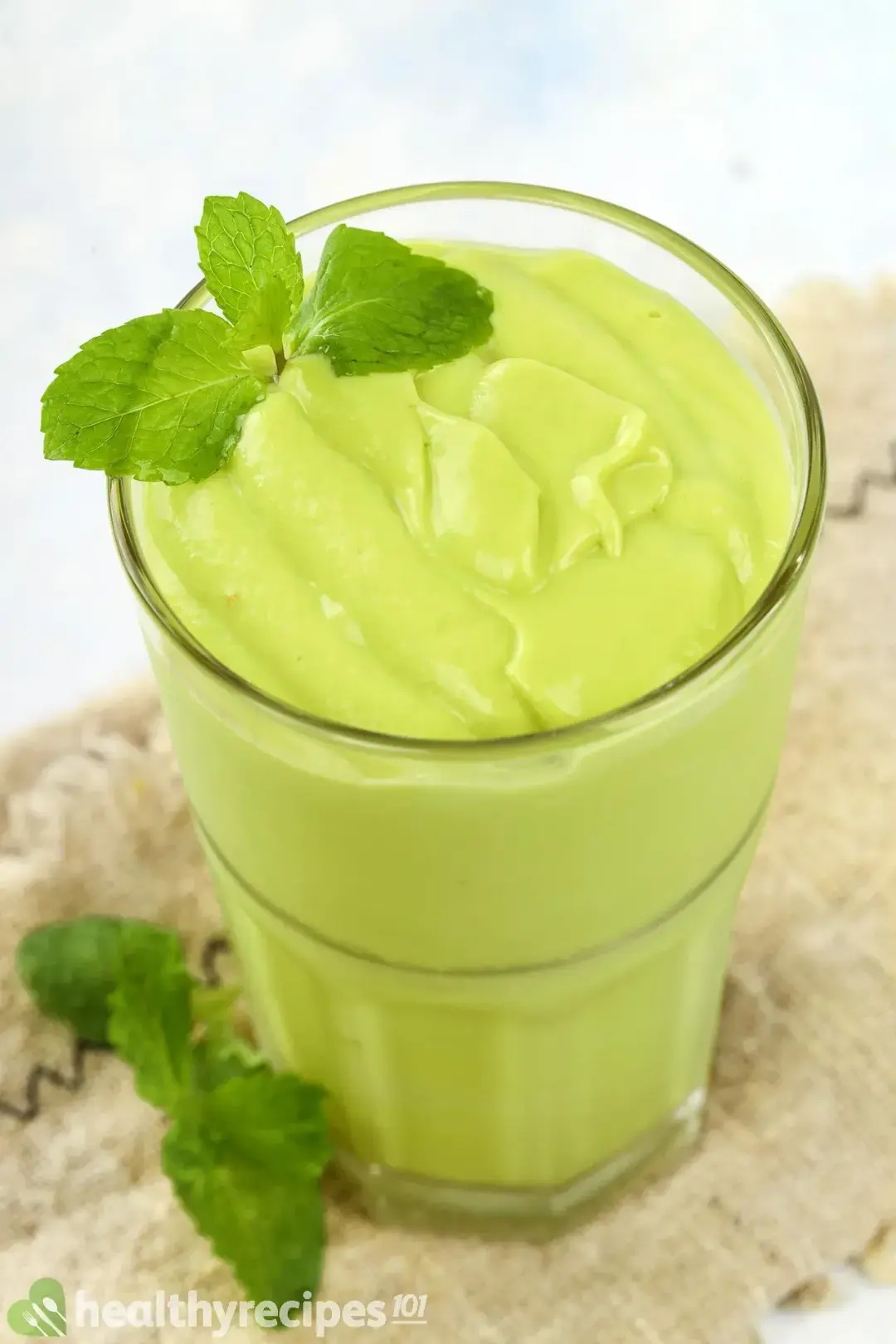 Ingredients for Vietnamese Avocado Smoothie
As mentioned, our Vietnamese avocado smoothie recipe needs avocados, sweetened condensed milk, whole milk, and ice.
Sweetened condensed milk is popular in Vietnam, not just because it's sweet but also because it makes smoothies silkier. If you don't have it, honey or corn syrup will work too.
Vendors also put some whole milk into the smoothie for extra richness. If you want to, use plant-based alternatives instead. The drink will still have a delicious aroma.
Avocado smoothie tastes best when it's not watery, so the smoothie must be prepared with haste and served right away. There are a few things you can do to speed up the process:
Use soft avocados.
Use refrigerated ingredients so the ice doesn't melt quickly.
Use small ice (like ice nuggets) or crushed ice. If you only have large ice cubes, place them into a bag/cloth and smash them with a pestle.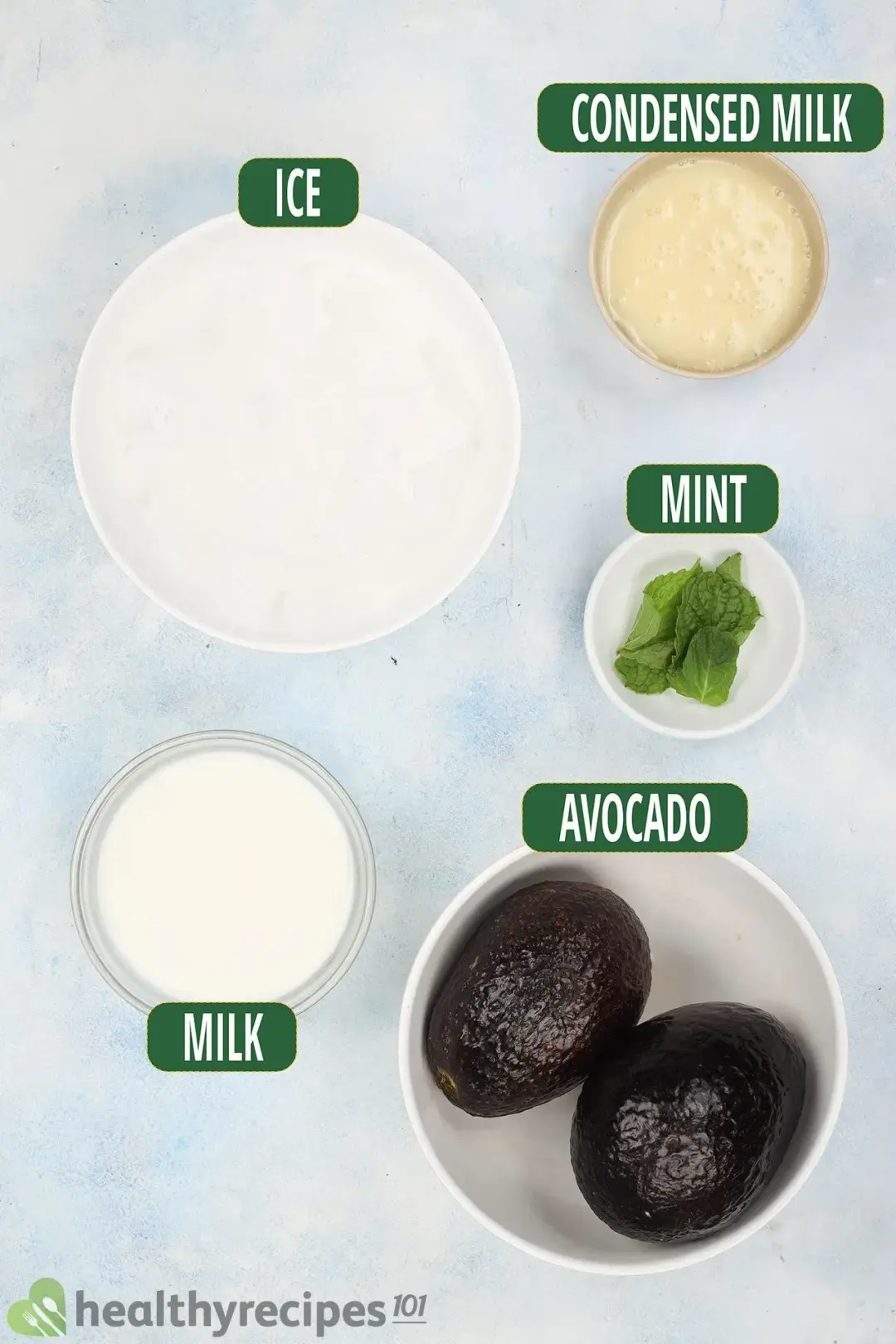 How to Choose Avocados for Your Smoothie
There's a significant texture difference between ripe and unripe avocados, so for smoothie-making, choose ripe ones. You can easily tell them apart from the younger ones — they often come in a purplish skin.
If you're buying a bunch of avocados and won't use them all right away, split your selection into about half ripe and half unripe. They'll ripen over time and be ready when you're ready.
Some avocados are creamier than others, so if you're lucky and got those, your smoothie will taste a little better. But don't worry, the others will still work out fine.
How to Prepare Your Avocado 
Slice into the middle of the fruit as if you're going to cut it in half lengthwise. When the blade hits the pit, run the knife all the way around it and twist the two halves open. Tap the knife into the pit and lift it out.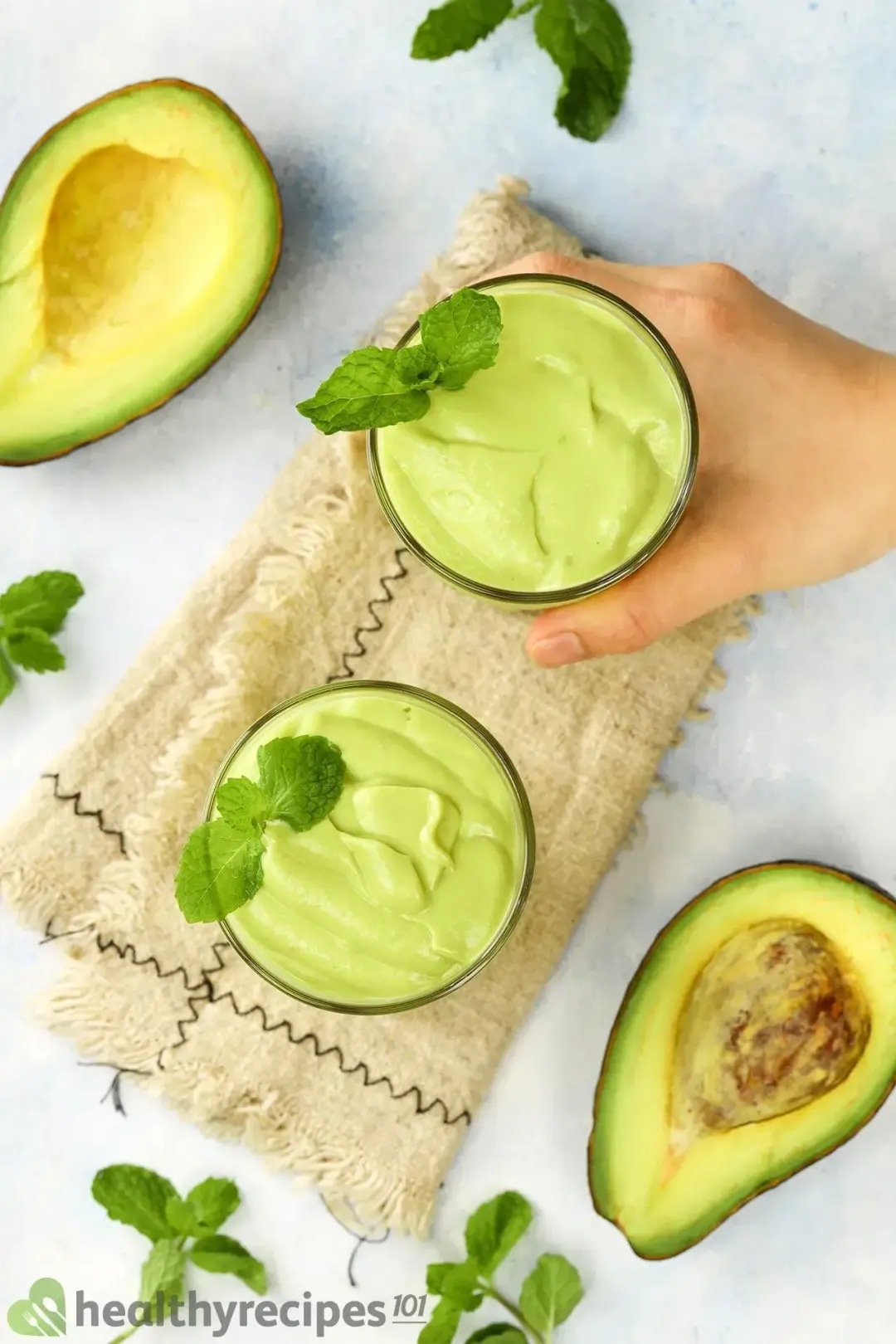 For smoothie-making, simply scoop the flesh out with a spoon.
Some people make diagonal cuts into the flesh, so it scoops out into little cubes. This is the best method for salads but isn't necessary for smoothies.
If you're aiming for presentation, however, you want to cut the halves in half again, peel away the skin, and thinly slice the quarters. This assures intact slices for your avocado toast.
How to Make Vietnamese Avocado Smoothie
Once your ingredients are prepped, blend it all until smooth and enjoy right away. If you want to adjust the sweetness, add the condensed milk by small spoonfuls at the end and taste-test it until you're happy with the result.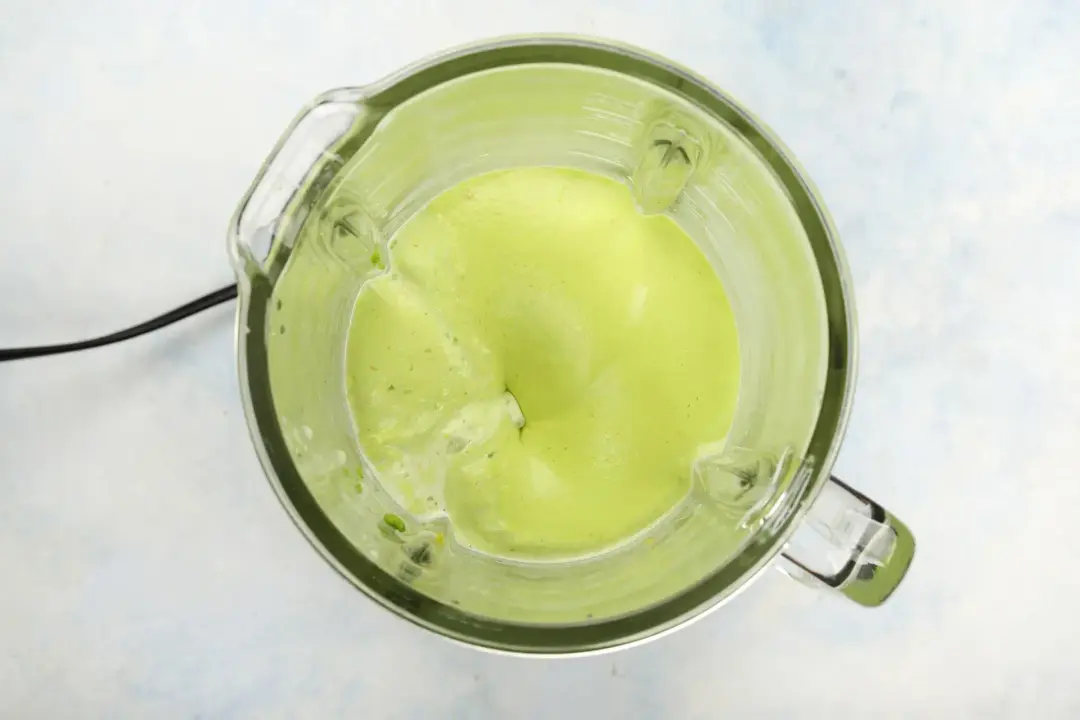 Blend ingredients.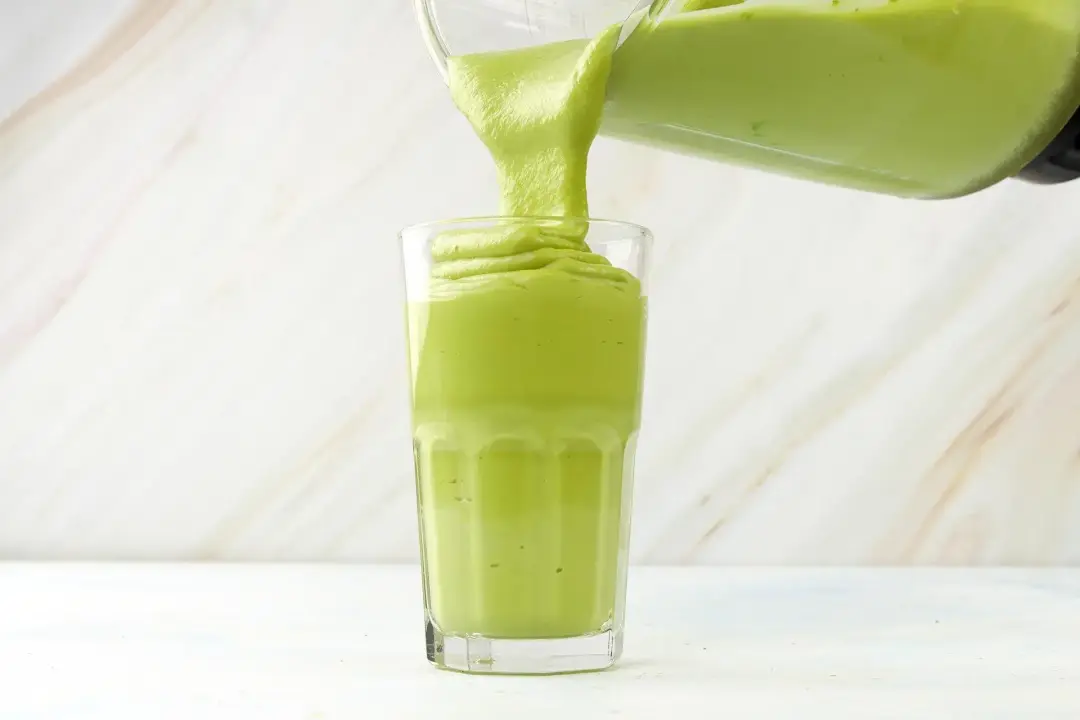 Pour into serving glasses.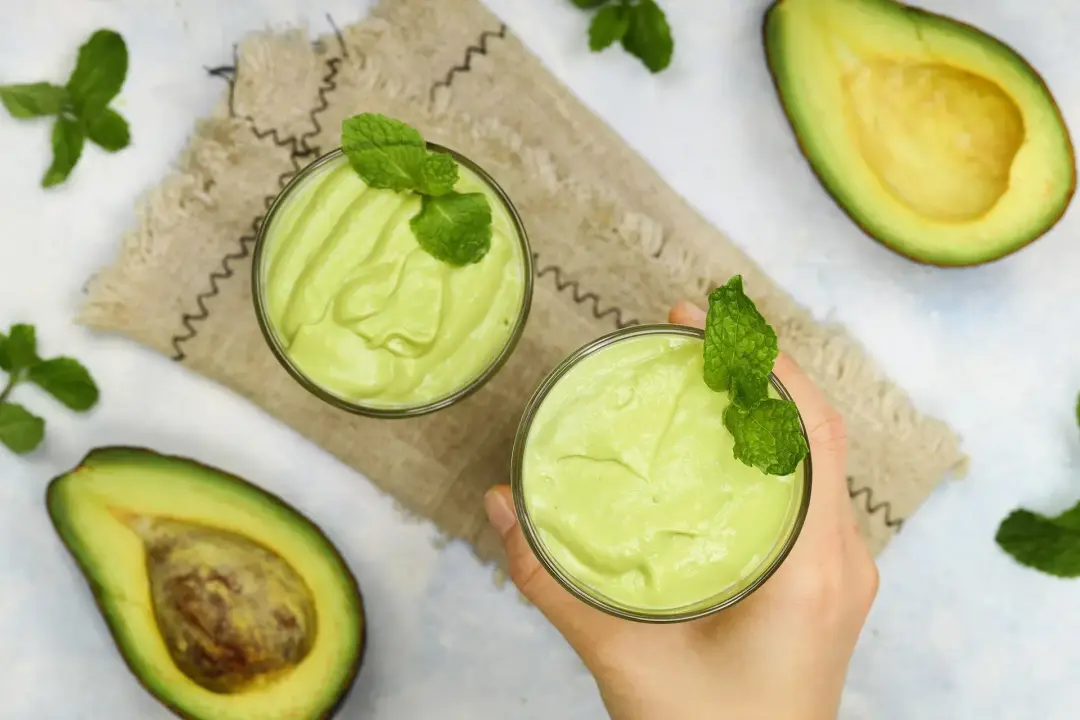 Garnish with mint leaves and enjoy.
For the most authentic result, strictly follow our printable 'Vietnamese Avocado Smoothie Recipe' card at the bottom of this article.
Can You Freeze Avocado Puree?
Yes, you can keep avocado puree in the freezer. It's a neat trick that Vietnamese vendors use to serve many people at once.
All you have to do is puree raw avocados, store that liquid in a jar, then freeze it. Frozen avocado will be hard to scoop out, so make sure that you thaw it before use. Do so by moving the frozen batch to the fridge and let it thaw slowly for about 2 hours.
Many vendors mix the puree with milk and sweetener so that all they have to do to prepare smoothies is blend it with ice. If you're using the puree solely to make Vietnamese avocado smoothies, you can add milk and condensed milk to it too.
Is It OK to Have Avocado Smoothies Every Day?
There is no known harmful dose for avocados. You can have avocado smoothies or treats made of avocados every day. Many people try to incorporate more of this healthy fruit into their diets.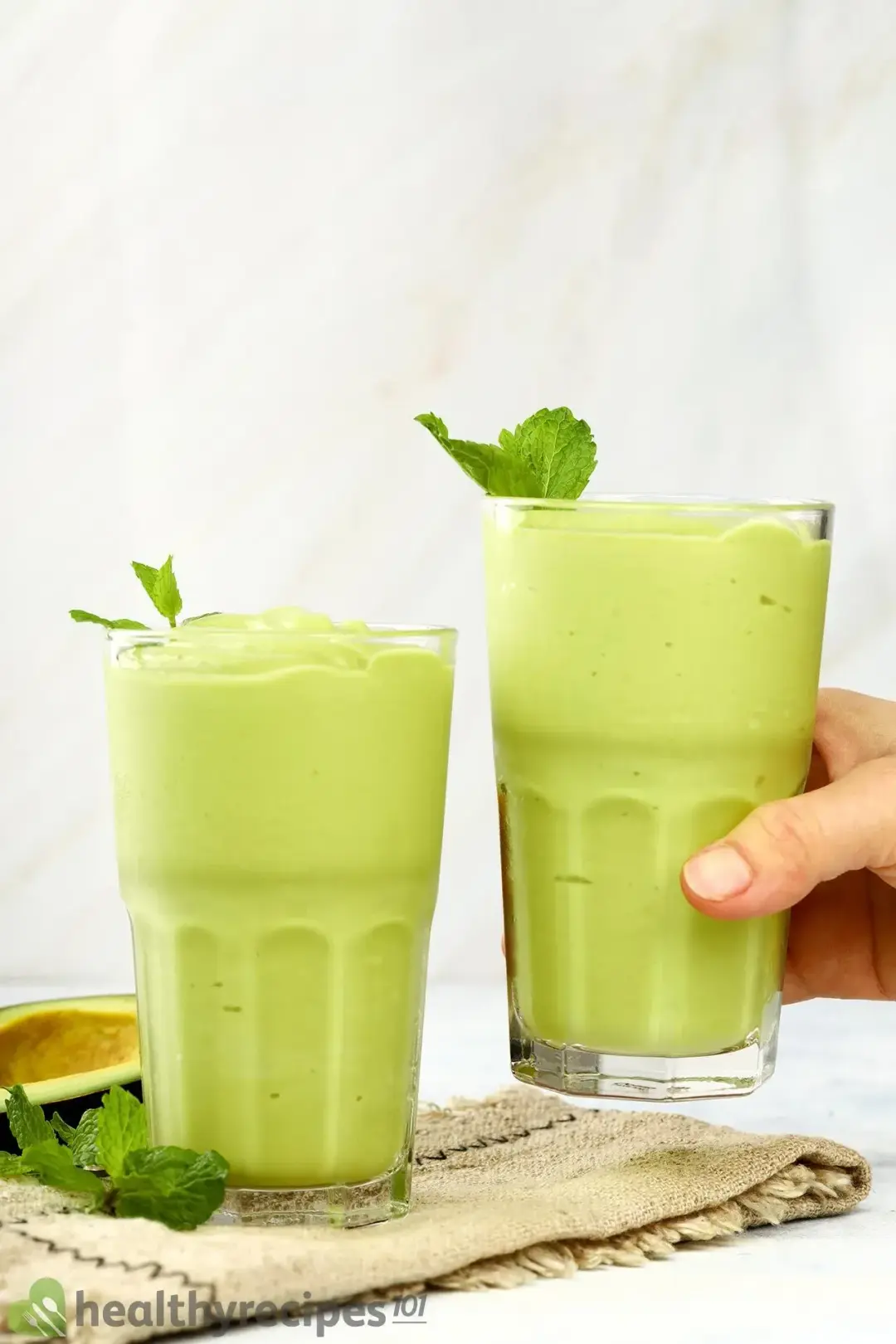 What you need to be mindful of is how much calories and added sugar you're consuming. Avocados are naturally high in calories. If you make sweet treats out of avocados, the amount of added sugar should be taken into consideration as well.
Vietnamese Avocado Smoothie Recipe
Our Vietnamese avocado smoothie recipe is a delicious way to enjoy this healthy fruit. It requires just a few ingredients.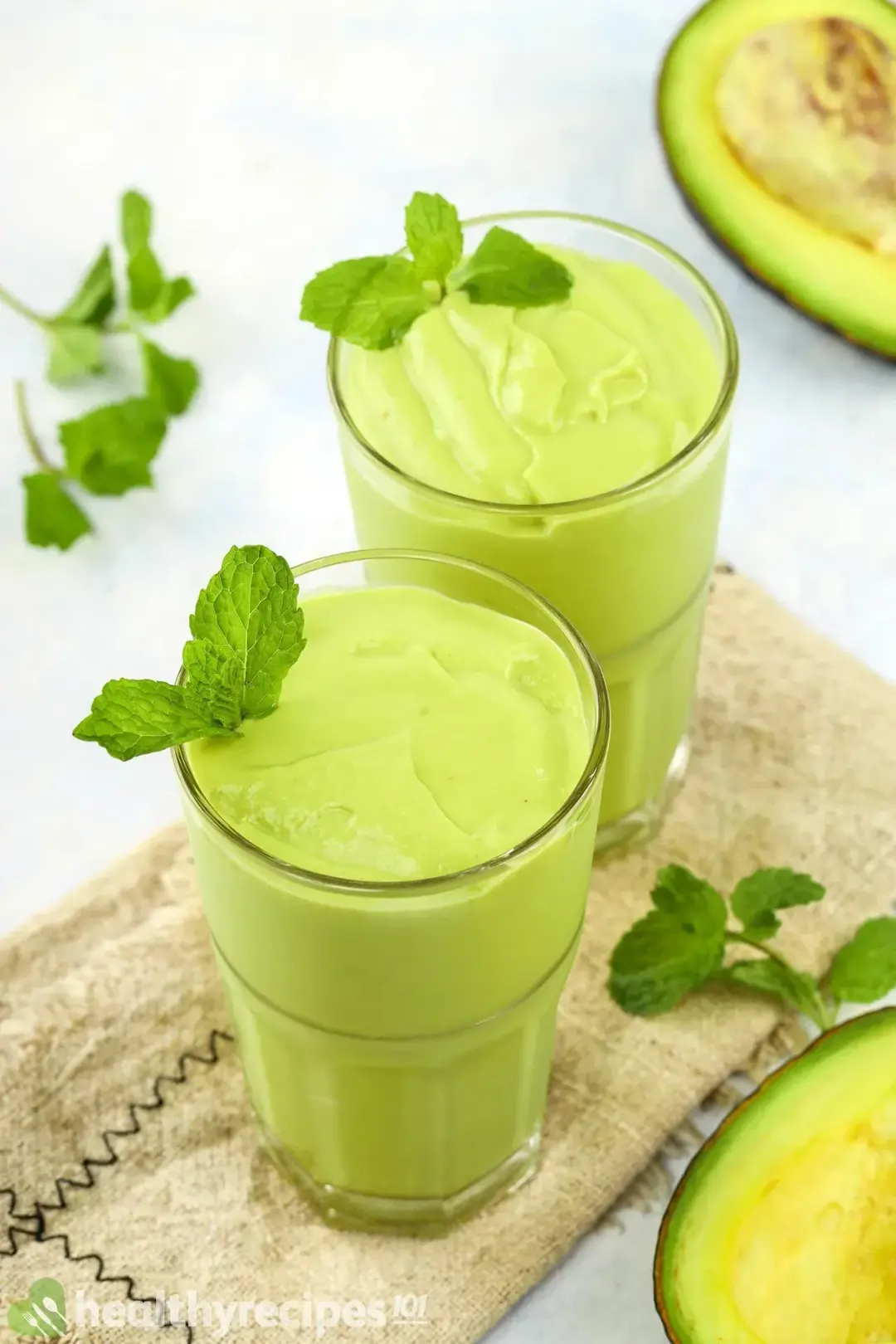 prep TIME

7 mins

total TIME

7 mins
COURSE

Beverage, Smoothie

CUISINE

Vietnamese

SERVINGS

servings

CALORIES

246 kcal
INGREDIENTS
14 oz

avocado skin and pit removed

2 cups

ice

0.5 cup

whole milk

0.3 cup

sweetened condensed milk

6 leaves

mint
INSTRUCTIONS
1
In the blender, combine 14 oz avocado, 2 cups ice, 1/2 cup whole milk, and 1/4 cup sweetened condensed milk. Blend until smooth, about 10 seconds.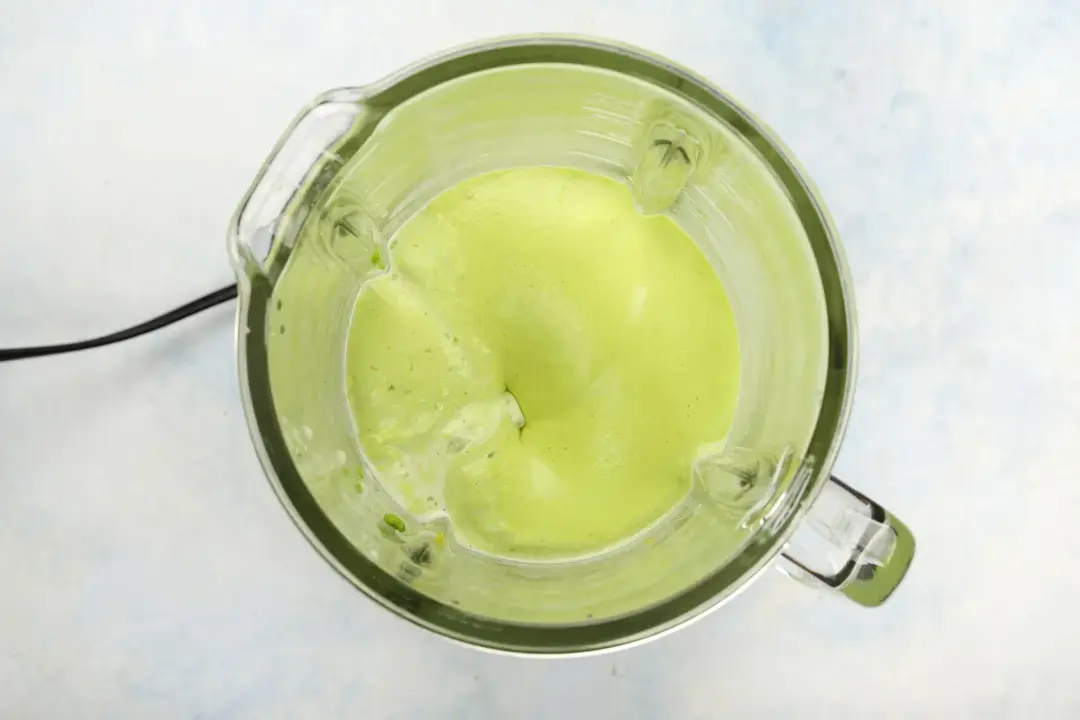 2
Pour into serving glasses.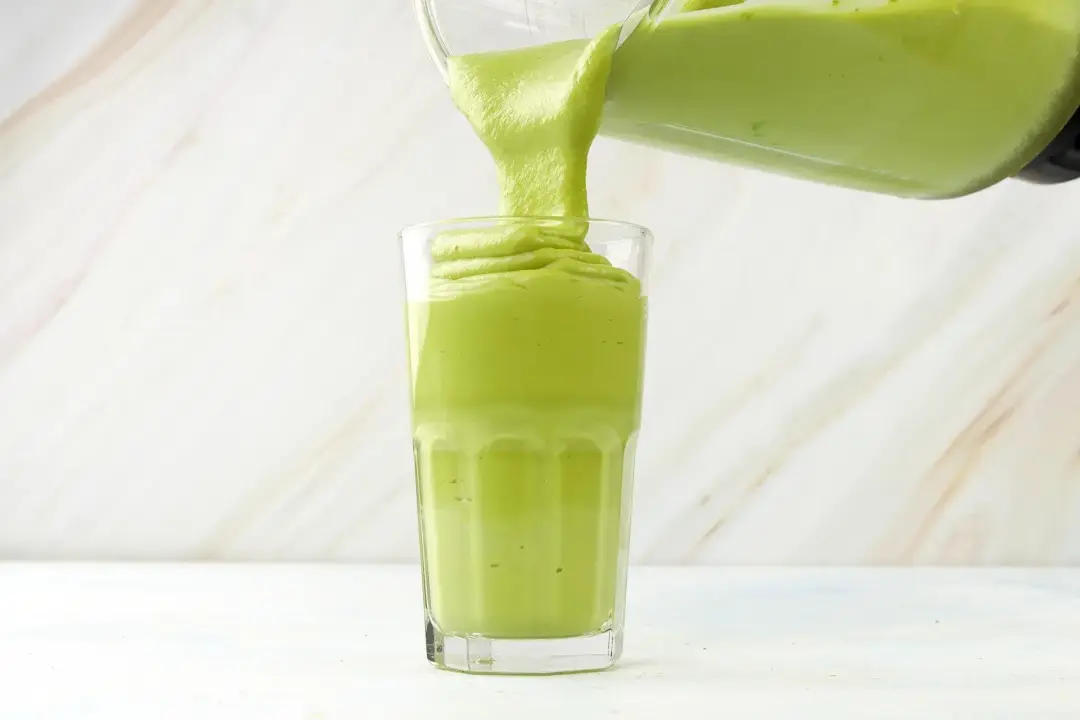 3
Garnish with mint leaves and enjoy.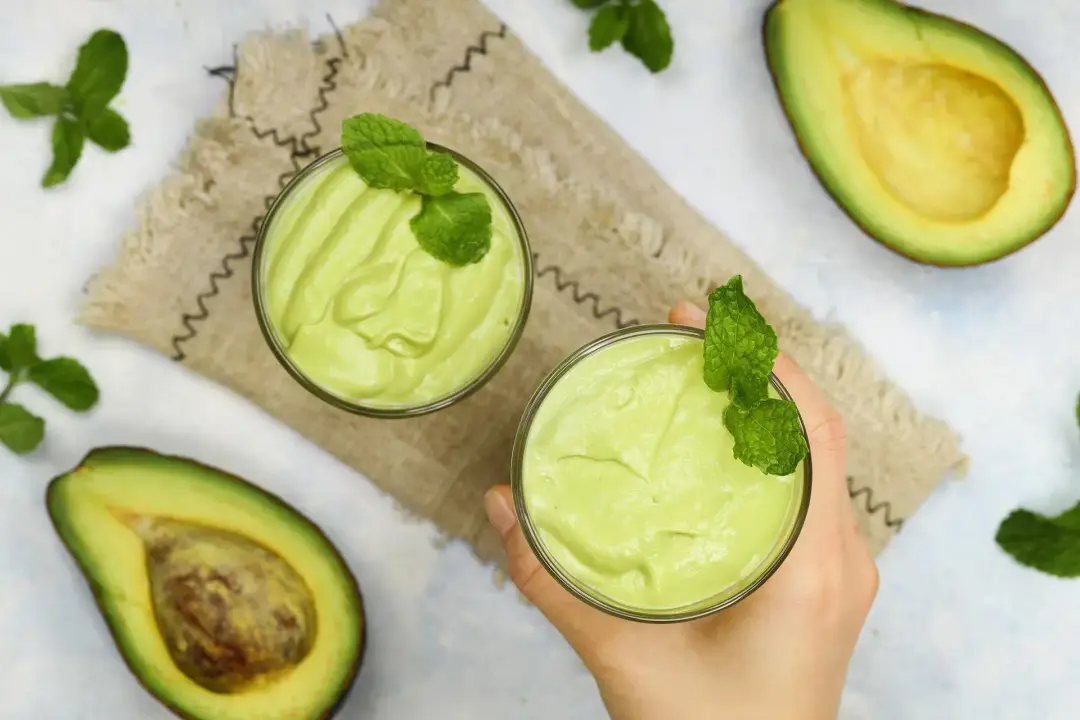 NUTRITION
Nutrition Facts
Vietnamese Avocado Smoothie Recipe
Amount Per Serving (1 serving)
Calories 246
Calories from FDA
% Daily Value*
* Percent Daily Values are based on a 2000 calorie diet.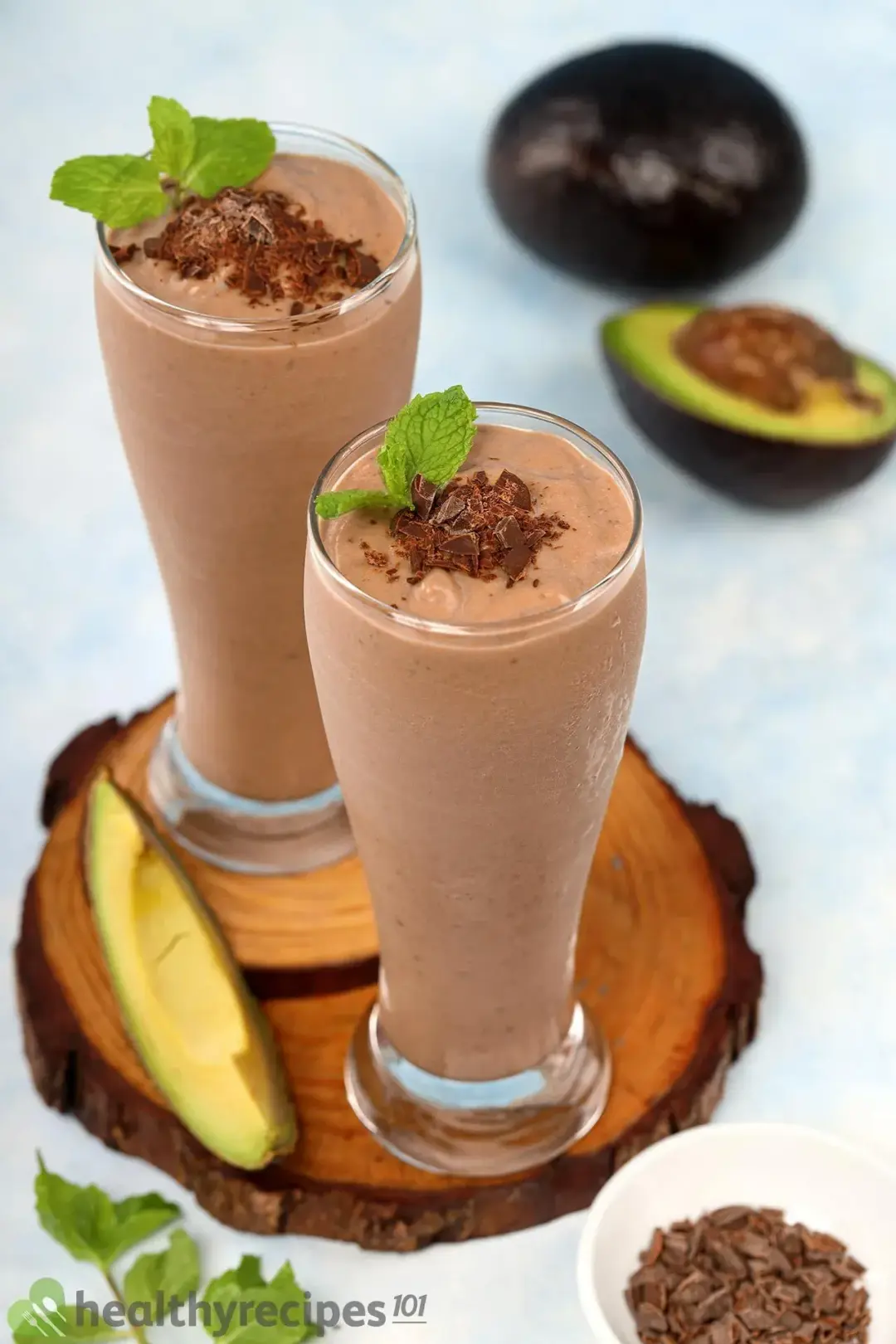 Previous Recipe
Chocolate Avocado Smoothie
Chocolate Avocado Smoothie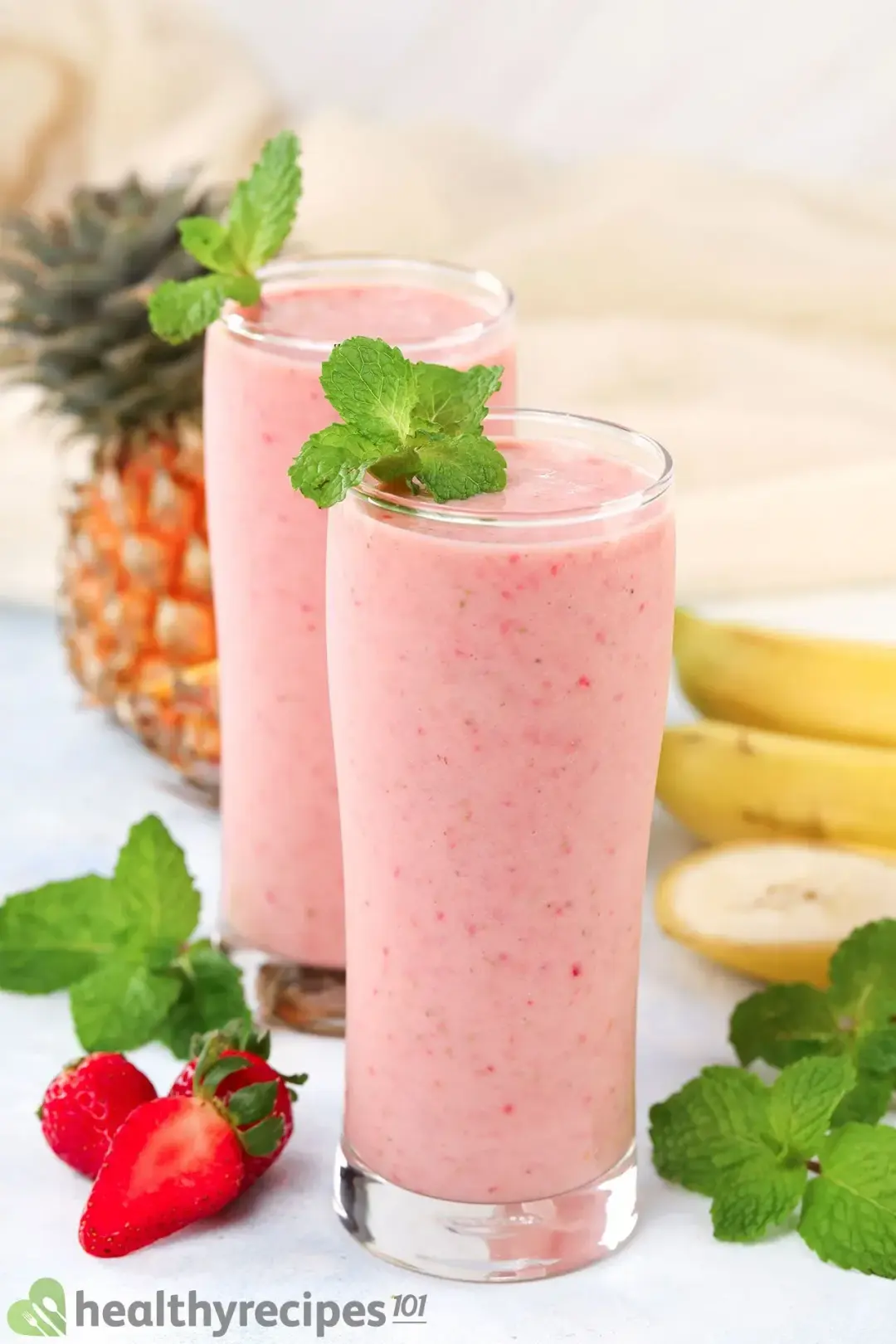 Next Recipe
Pineapple Strawberry Banana Smoothie
Pineapple Strawberry Banana Smoothie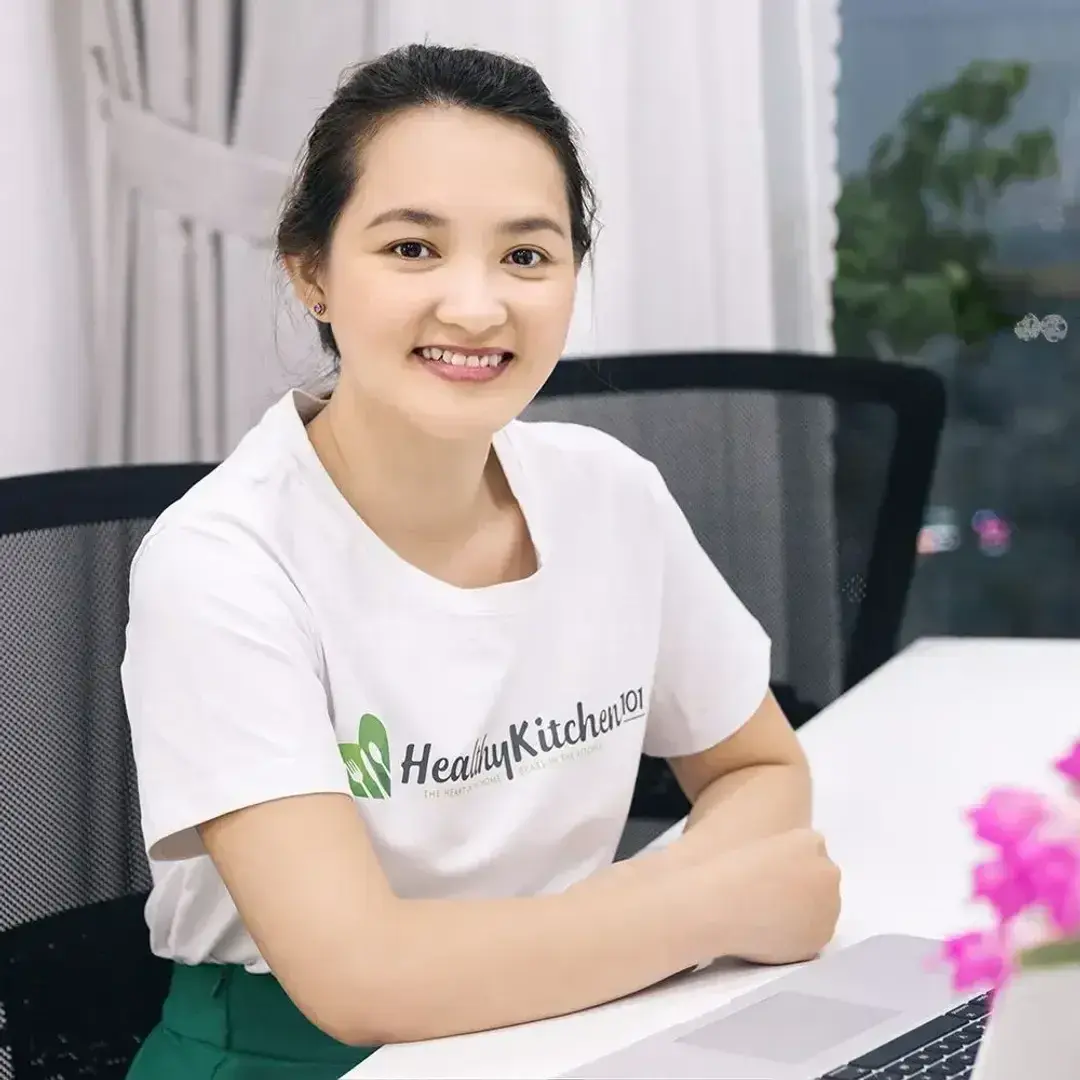 Luna Regina
Luna is the founder and chief recipe developer of Healthy Recipes 101. Apart from cooking, she also loves reading, programming, exploring the outdoors, and collecting useless facts about everything.