To some people, the Southern cornbread recipe is not only a side dish, it is American heritage. The golden-brown exterior combines with buttery moist fruity interior making the Southern cornbread recipe a perfect dessert or even a side dish for almost any meal. You can serve it with butter for breakfast, crumbled into soup for lunch, or serve as a side with pork chops for dinner.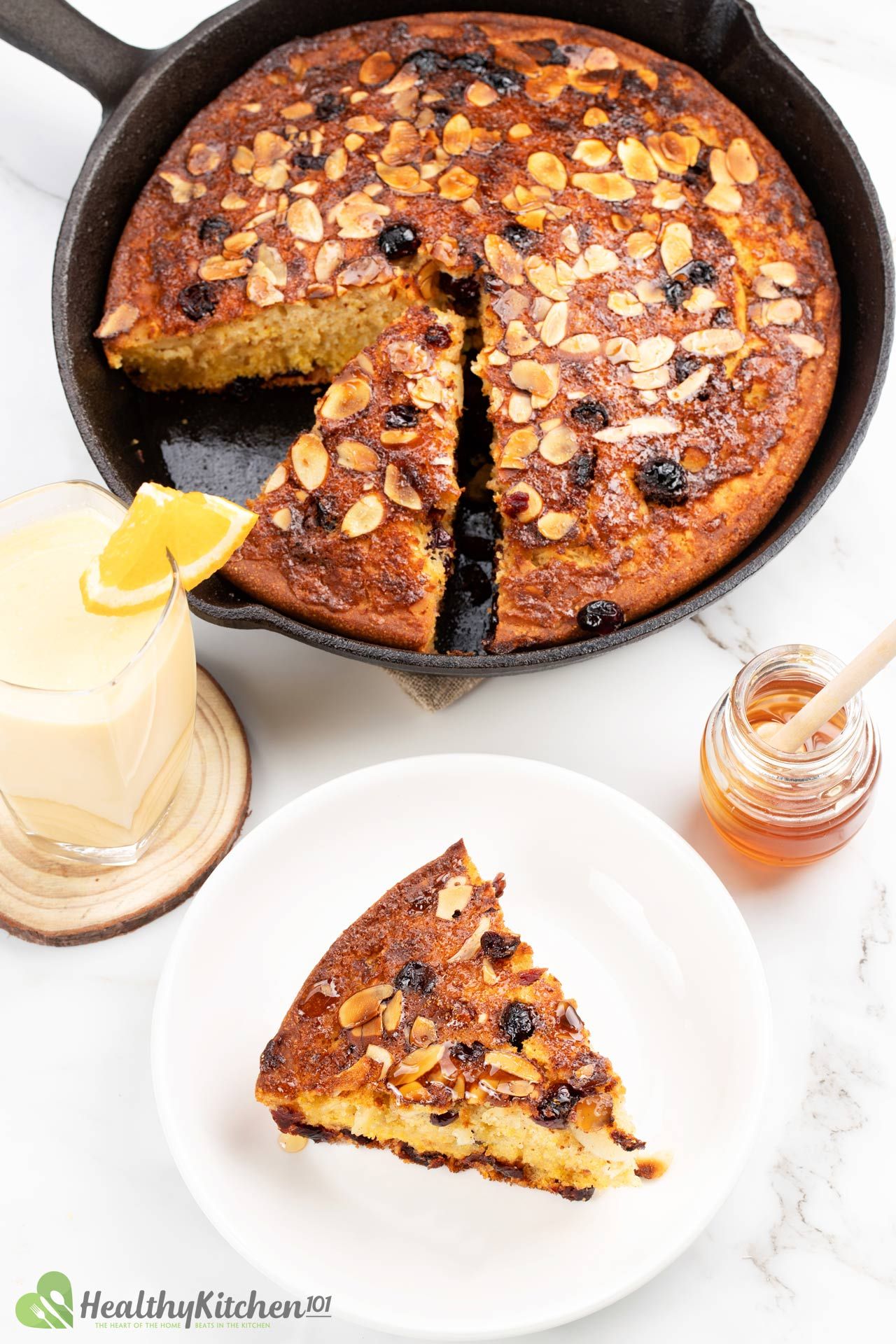 What Is Cornbread
Cornbread has been made for hundreds of years and is considered a staple of Native American cuisine. Corn has been grown and been a part of Native American's diets.
Later when European settlers arrived and brought with them different recipes from their own cultures. They began to use cornmeal in baking, thus cornbread became popular in the Southern and Atlantic of America.
Cornbread is a quick bread made from cornmeal and there are many variations of cornbread.
Hoecakes: this is one of the simplest cornbread which is made from only 3 ingredients: cornmeal, water, and salt. It's originally baked in an iron pan called a hoe; now, people cook it in a skillet.
Jonhnycakes: Johnnycakes have a thicker texture than hoecakes because it has added ingredients like wheat flour. The modern version of it can include milk and salt, and can also be sweetened. As for the topping, this cake can be served like pancakes with honey, maple syrup, or fruits.
Hushpuppies: hushpuppies are small, deep-fried balls that are made from cornmeal batter. Some recipes contain chopped onions and jalapeno peppers. Since they are a deep-fried savory dish, people often serve them as a side dish with seafood.
Baked cornbread: this type of cornbread is a common dish in America. Baked cornbread batter contains cornmeal, wheat flour, eggs, and milk or buttermilk. This dish can accompany chili carne, barbeque as a side, or be a breakfast option.
Baked Southern cornbread recipes are different in the northern and southern parts of the US due to ingredients and the proportion of them in the batter. We'll clarify that in the next part.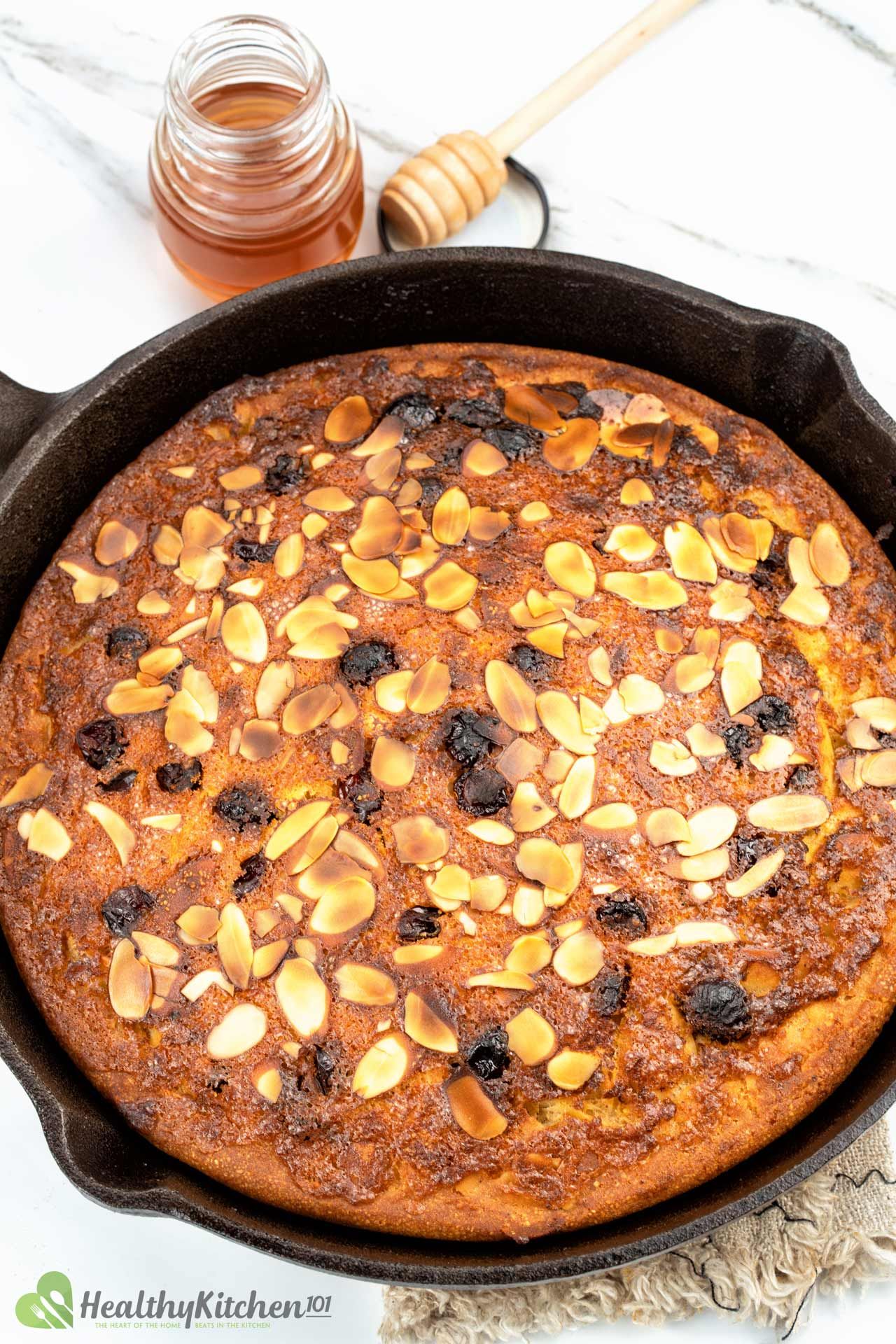 Northern and Southern Cornbread
Native Americans were the first to make cornbread long before the Europeans set foot on the Americas. Corn pone – the earliest version – was made from a simple batter of cornmeal, water, and salt and cooked in an iron skillet directly on heat.
Over time, people enhanced basic pone by adding buttermilk and baking soda. Then, egg, butter, and baking powder made their way into the cornbread mixture.
Cornbread is considered a staple in many American homes. Each person has a different opinion about their favorite type. Is it sweet or savory? Do you need to add sugar or cheese and bacon? It can be confusing when it comes to the original cornbread recipe.
This iconic Southern cornbread uses a significant amount of sugar and butter while the Northern version sometimes uses none at all.
Aside from being sweeter than Northern cornbread, the Southern bread calls for more eggs, which produces a buttery finish and a cakier texture. The Northern style, on the other hand, is dense, has a much stronger corn taste, and is usually flavored with bacon grease, making it a perfect side for barbecues.
Is Southern Cornbread Healthy?
Yes, our Southern cornbread recipe is relatively healthy. Besides cornmeal – the main ingredient, our recipe also calls for almond and dried fruits.
Since most of the water content is removed through the drying process, dried fruits are energy-dense food. Loaded with nutrients, fiber, and antioxidants, they can benefit our health and reduce the risk of certain diseases.
1. Calories
A serving of our Southern cornbread recipe contains 455 calories. This number may sound a lot, but for a nutritious breakfast, you need about 600 calories.
We recommend having cornbread with milk or juice to reach that number.
2. Carbs
There are 66 grams of carbohydrates, which is 22 percent of daily intake in each serving of this Southern cornbread recipe.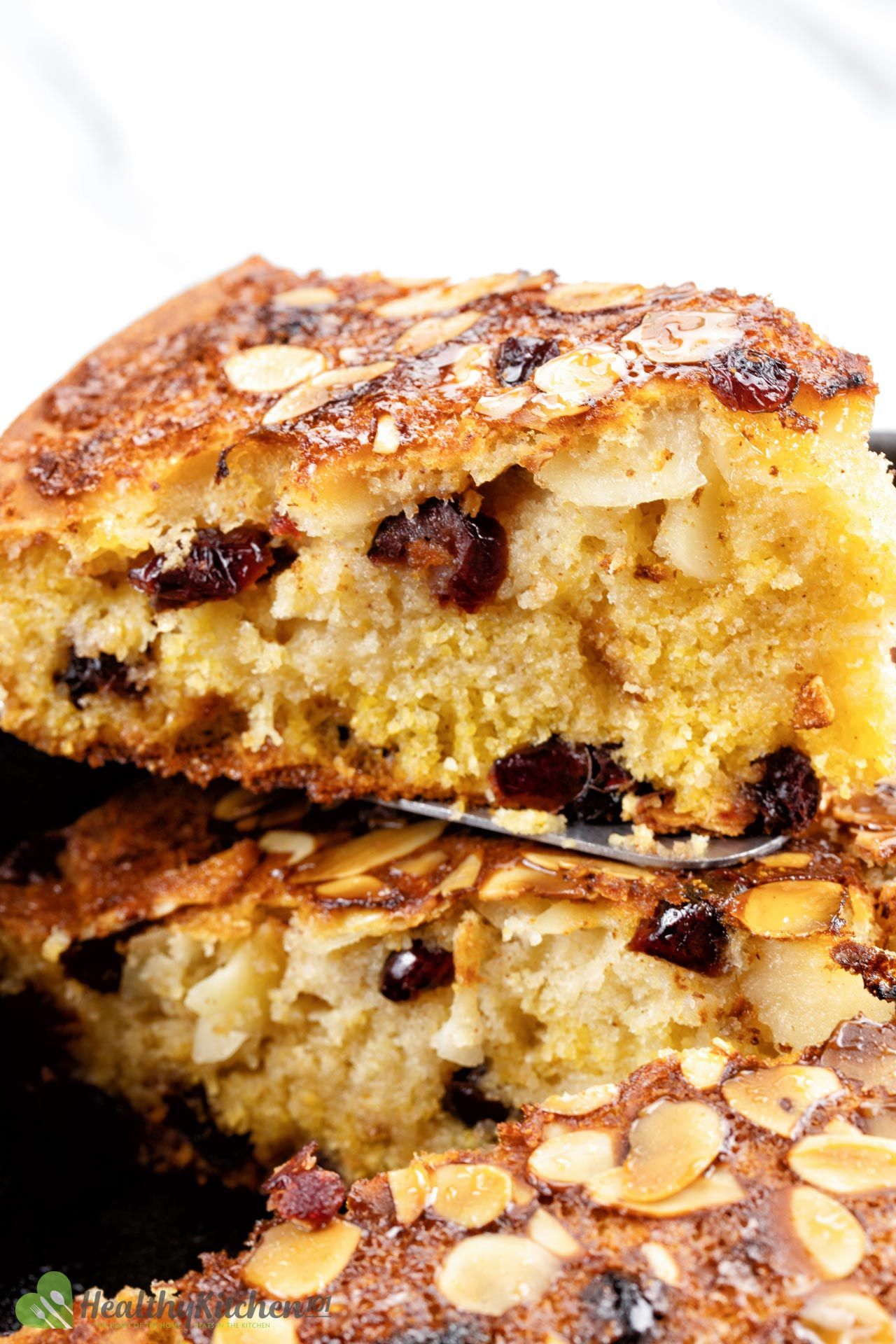 Southern Cornbread Ingredients
A typical Southern cornbread recipe contains half of the cornmeal, half of the wheat flour, milk or buttermilk, eggs, leaving agents, sugar, and salt. Depending on the regional cuisine, cornbread can be sweet or savory.
Southern U.S cornbread recipe calls for more sugar and butter, resulting in a lighter and sweeter than the traditional northern version.
How to Make Homemade Southern Cornbread in Cast Iron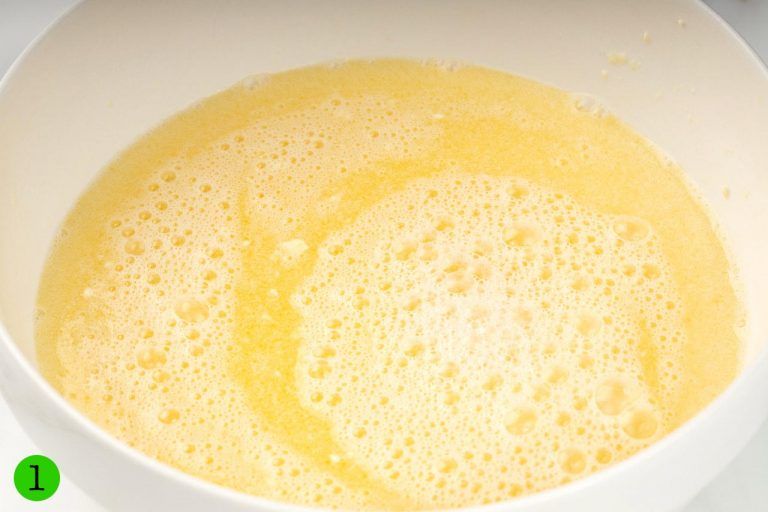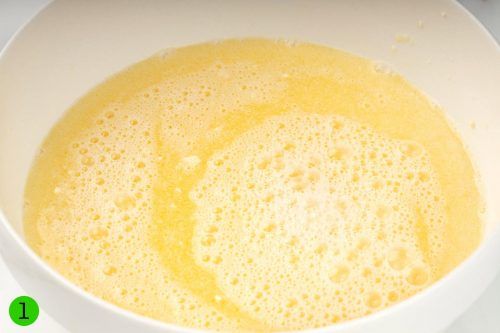 Preheat the oven and melt the butter: Preheat the oven. Heat the butter in a cast-iron skillet over low heat until melted. Set aside.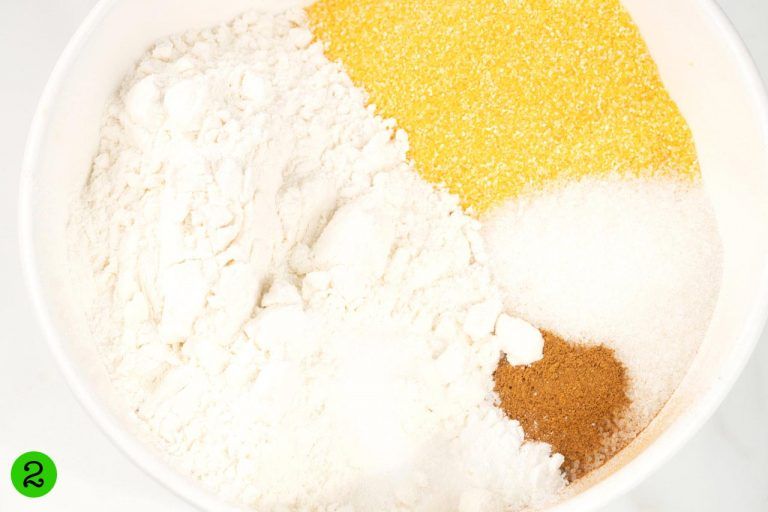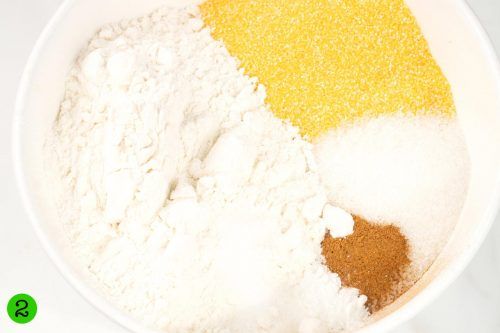 Mix dry ingredients: In a medium mixing bowl, whisk together the flour, cornmeal, baking powder, baking soda, salt, and cinnamon. Set aside.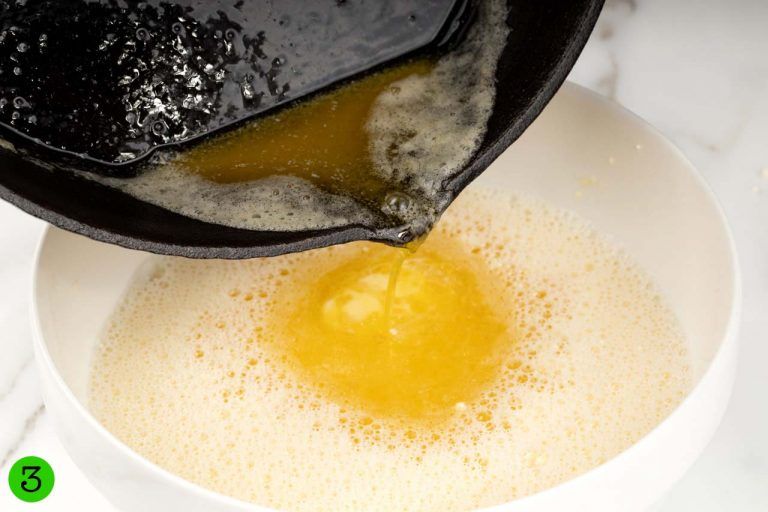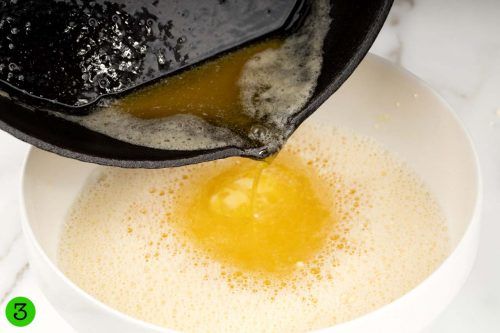 Mix wet ingredients: In another big bowl, whisk buttermilk. Blend in the water. Then add eggs, mix well to combine. Pour in slightly less than half the amount of the cooled melted butter.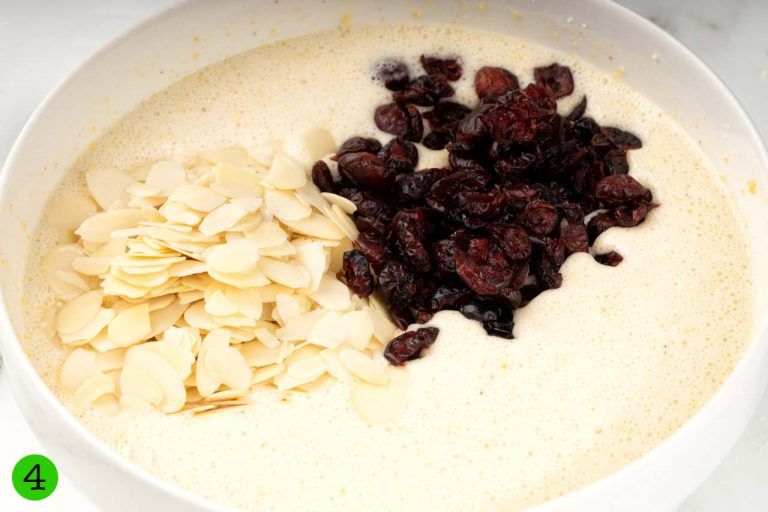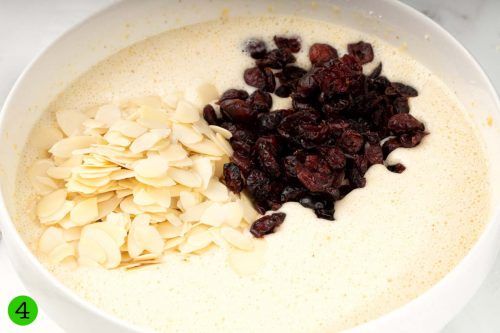 Make the batter: Pour the dry ingredients into the wet ingredients. Whisk until combined. Avoid over-mixing. Then stir in dried cranberries and sliced almonds.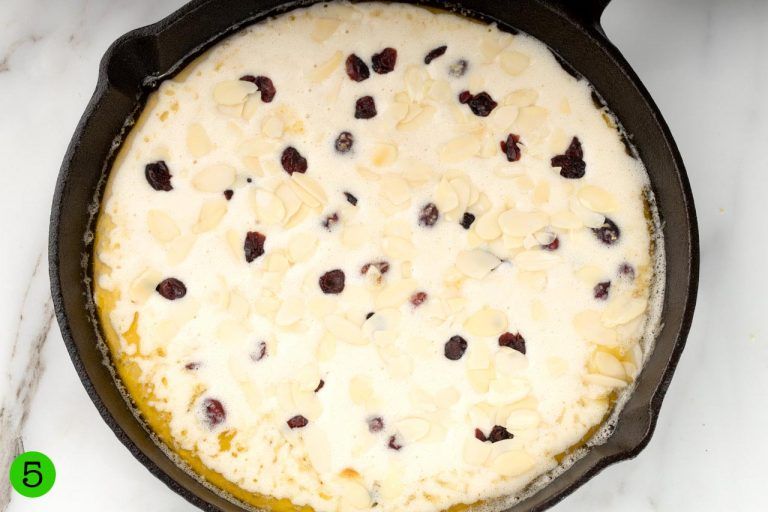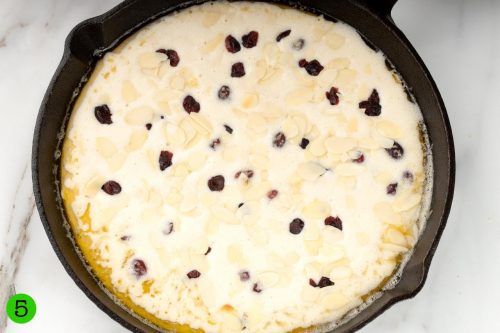 Bake: Pour the batter into the cast iron pan. Bake until it is golden brown on top and the center is cooked through.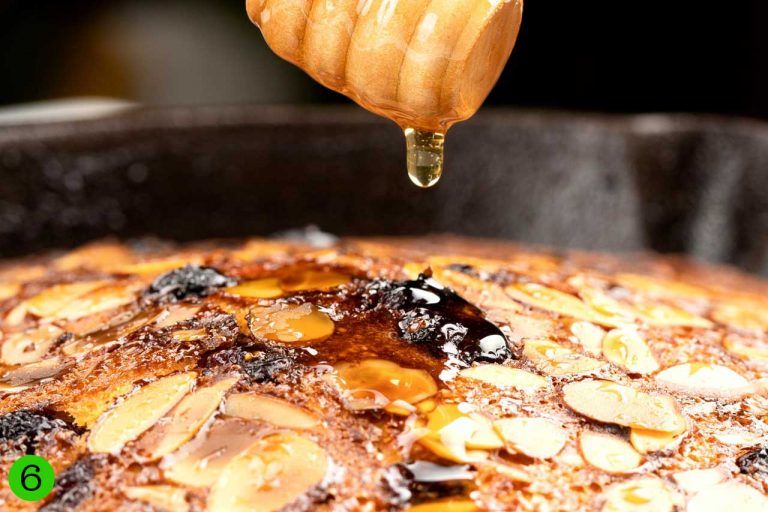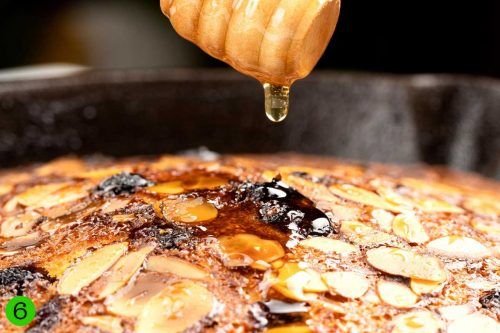 Brush honey on top: Use a brush to coat honey over the top of the bread.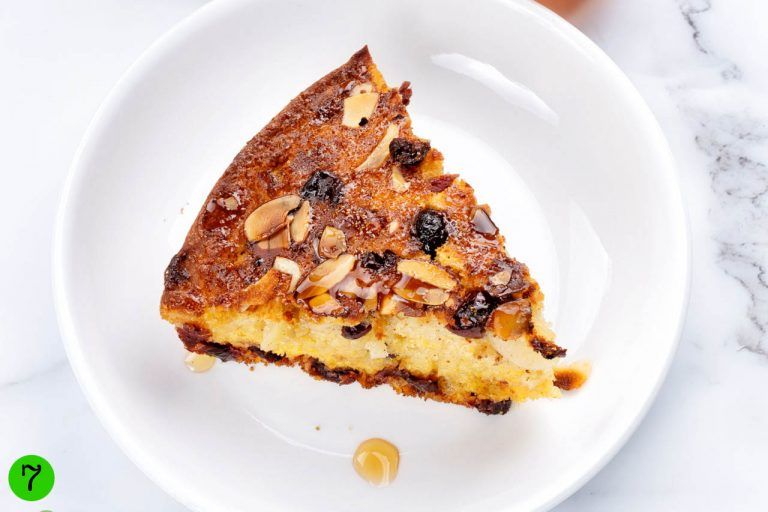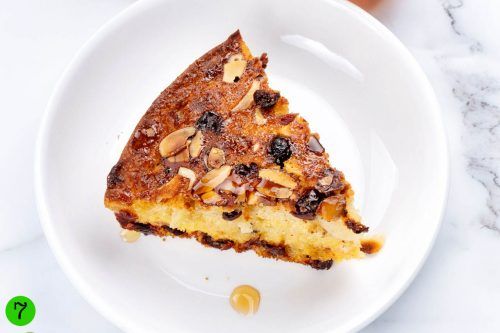 Serve: Serve warm.
What Goes with Southern Cornbread
1. Pudding
Cornbread pudding or spoonbread is a favorite southern side dish. A minimal recipe can be made using only cornbread mix, baking powder, milk, and butter.
Moister than an average cornbread but not custardy like a normal pudding, cornbread pudding is a dream for weeknight dinner!
2. Blueberries
It isn't exaggerated to say that cornbread and blueberries are a perfect flavor combo. Fresh blueberries give a burst of sweetness, which balances out the creaminess of the cake. They also create little pockets of juice that keep cornbread tender and moist.
3. Cheese
Cheese is an essential ingredient in Southern cornbread recipes either sweet or savory. We love cheddar, but smoked mozzarella or even cream cheese works beautifully in the recipe. So feel free to swap in your favorite cheese!
4. Beans
In this classic Texas-style, we have beans to eat along with cornbread. Crispy, creamy cornbread, and starchy bean, this combination brings about tons of flavor and health benefits.
5. Pumpkin
Try to add pumpkin puree into the cornbread batter, you won't regret it! The pumpkin adds extra moisture and compliments the corn flavor.
This delicious twist on the classic cornbread recipe is perfect for autumn soup or stew.
6. Bacon
Everything tastes better with bacon, especially in baking. You can combine bacon in the batter or sprinkle them over the top.
You can bake cornbread in the muffin size, making it a light snack or side to soup.
How to Store Southern Cornbread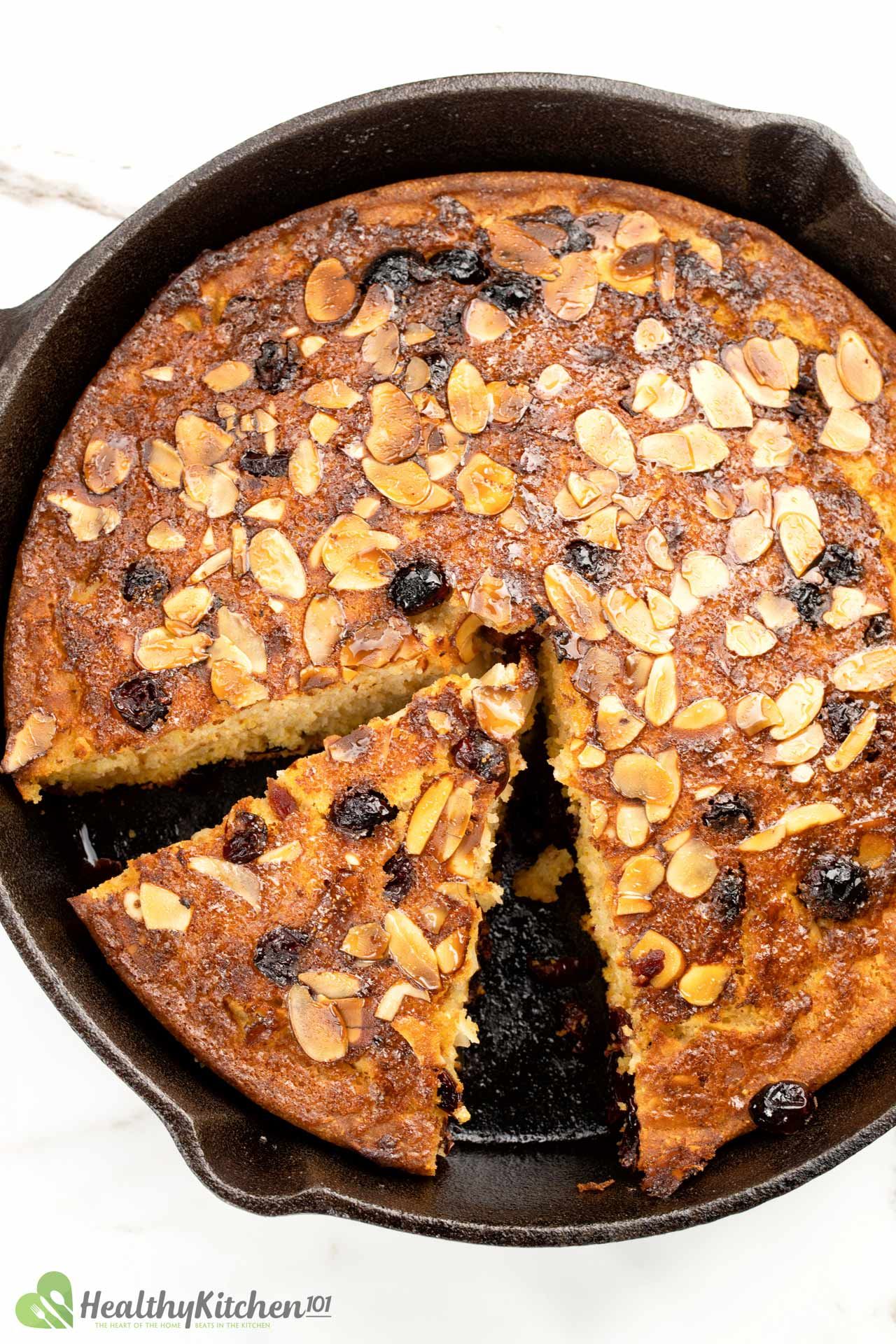 Southern cornbread is soft, tender, and has the right balance between sweetness and creaminess. As for any other cake, it has a limited lifespan.
Depending on the way you store, you can extend the lifespan and maintain its freshness. There are some possible methods to store cornbread:
At room temperature: wrap your cornbread in plastic wrap and place it in a cool place, which helps prevent it from drying out. If your cornbread develops mold or sour smell, don't try to eat them. We recommend using cornbread within 2 days after baking.
In the fridge: after letting your cornbread cool off, wrap it in a plastic wrap of place in an airtight container. This method can keep your bread fresh and tasty for up to 1 week. After a week, your bread begins to lose its flavor, get some excess moisture, so it's time to throw it out.
How Long Does Cornbread Last?
A freshly baked Southern cornbread can last up to 2 days at room temperature without any preservations. We don't recommend leaving your cornbread outside, but if it is the only option you have, go for it.
During this time, you should keep it in an airtight container, so that your bread can conserve its moisture and preserve the freshness.
Can You Freeze Cornbread?
Yes, Southern cornbread can be stored in a freezer to extend its lifespan for up to 3 months. You should let it cool down completely at room temperature before storing it.
You should wrap it in foil, zip bags, or a container that can keep its shape intact so that you can carve for some delicious pieces any time you want to.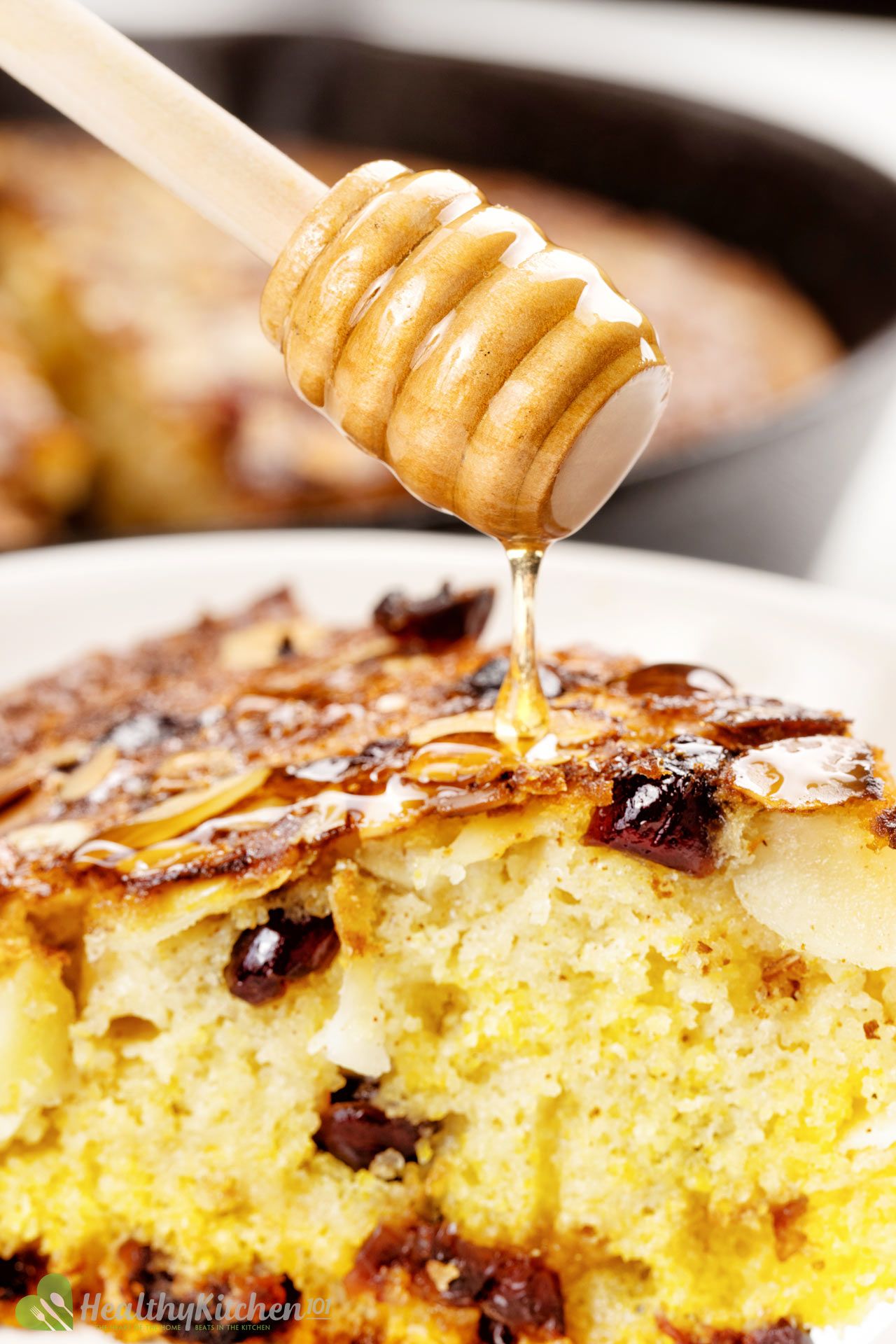 How to Reheat Cornbread
Commonly, you can't finish your cornbread at once and still have some leftover slices. Warming them up is not a challenging task, but you need a proper way to do it.
In the oven: the oven is always our best choice for any type of bread. All you need to remember is that bake them at a suitable temperature, usually at the same baking temperature as when you made it.
In the microwave: using a microwave can shorten the time to reheat your food. Therefore, you should go with 1 or 2 minutes first and pay attention during the heating time.
What Can Be Served With Southern Cornbread?
To be honest, Southern cornbread tastes amazing with a myriad of options. You can read the basic recipe and try to expand your culinary experience with new combinations. Here we've come up with some of our favorite accompaniments that go with cornbread.
Chili: chili is the most common side to eat with cornbread for good reason. The spicy flavor of chili goes perfectly with the sweet taste of cornbread, mixing in a way that will surely surprise and satisfy your taste buds.
If chili isn't your cup of tea, other dishes such as beans or stews work just as well.
Milk: if you want a healthy start to the day, a glass of warm milk with cornbread is a great combination for breakfast. Don't just pair it as sides, you can try to dip cornbread in milk. The crunchy bread and creamy milk are truly delightful.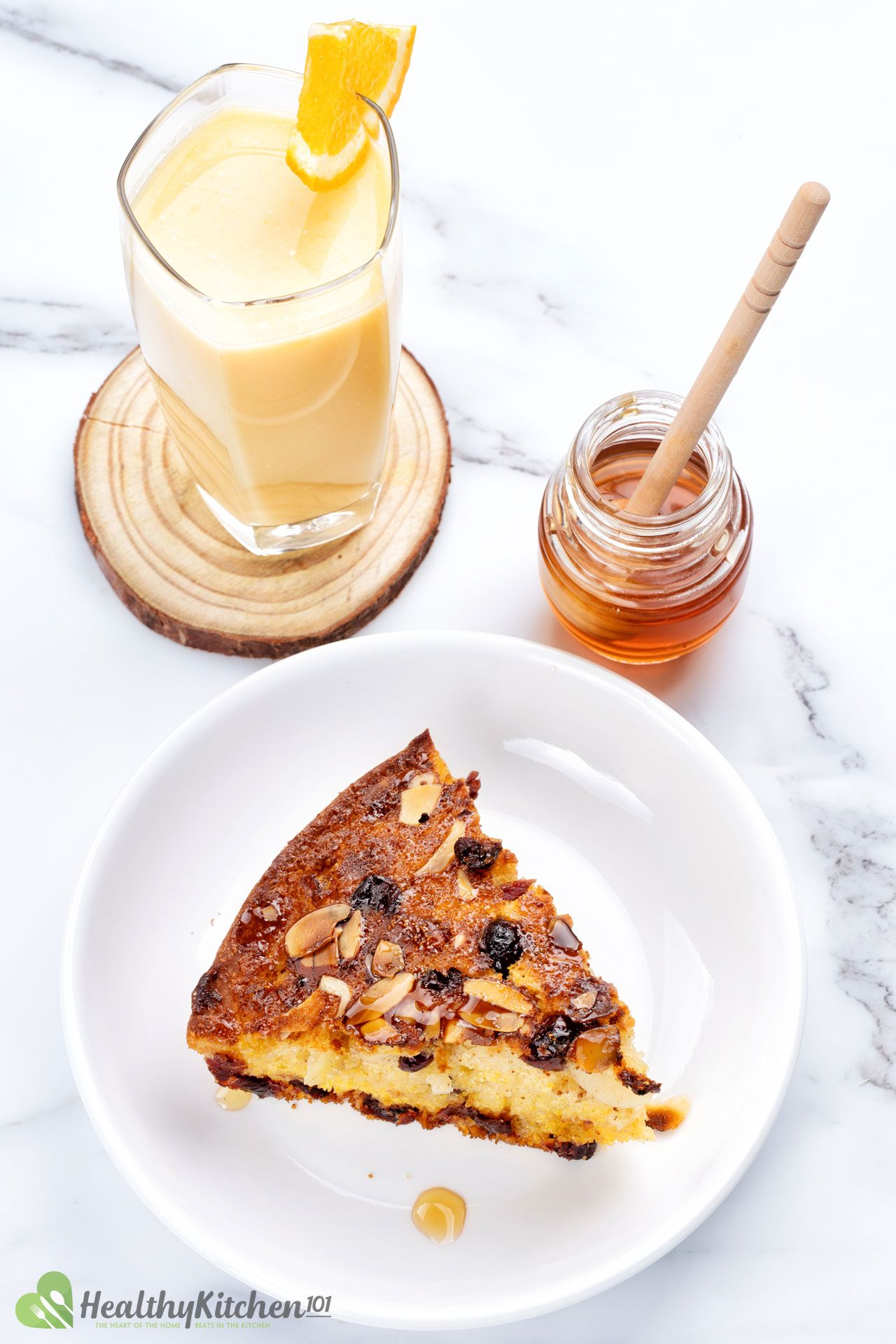 BBQ: instead of roasted vegetables or mashed potatoes, you can try some cornbread as a side dish. There's a wonderful contrast between the sweet yet savory taste of the bread and the smoky and spicy flavors of BBQ sauce.
This combination assures you of a hearty meal and gives you all the energy you need for a hard day's work.
Ice cream: in some cuisines like Mexican, people serve Southern cornbread as dessert. Our handpicked flavors are vanilla, corn, and mango.
However, you don't have to restrict your choices when it comes to ice cream. Go wild and enjoy cornbread with any of your favorite ice cream flavors!
Southern cornbread is a versatile dish. You bake and then serve it as either a breakfast or dessert. To meet the recommended daily intake of calories, we serve our cornbread with a cup of milk.
Recipes
Course
Calories
Saturated fat
Sodium
Cornbread
Breakfast
463
7.0 g
369 mg
Milk And Orange Juice
Beverage
137
1.0 g
24 mg
Total
600
8.0 g
393 mg
Nutritional values in this table vary somewhat to those below due to different app calculations. Read more...
If you are looking for a healthy cake recipe, our banana bread is a great option.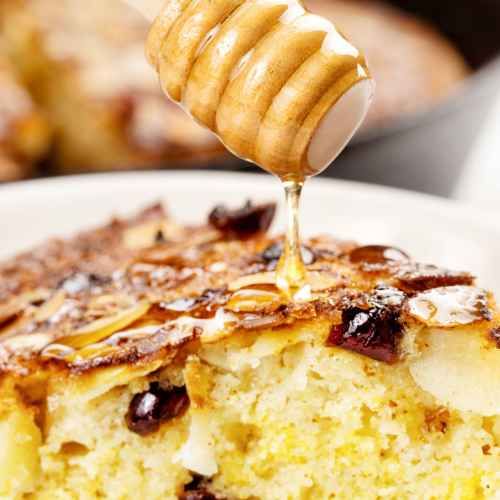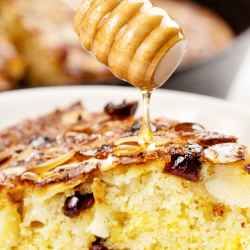 Southern Cornbread Recipe
Whether served with butter or honey, this healthy Southern cornbread recipe is tender, moist, and buttery with a well-balanced corn flavor. You can convert it into sweet or savory depending on what you mix in the batter. This one-bowl recipe is so versatile and is considered an ideal base to create endless variations!
Ingredients
5

tbsp

unsalted butter

1

cup

all-purpose flour

1

cup

fine-grind cornmeal

1/4

tsp

salt

1 ½

tsp

baking powder

1/2

tsp

baking soda

1/2

tsp

cinnamon

1 ½

cup

water

6

tbsp

buttermilk blend

2

eggs

4

tbsp

sugar

1

cup

dried cranberries

2

oz

sliced almond

1

tbsp

honey
Instructions
Preheat the oven to 425°F.

Heat the butter in a cast-iron skillet over low heat until melted. Set aside.

In a medium mixing bowl, whisk the flour, cornmeal, baking powder, baking soda, salt, sugar, and cinnamon. Set aside.

In another big bowl, whisk buttermilk. Blend in the water. Then add eggs, mix together well to combine. Pour in slightly less than half the amount of the cooled melted butter.

Pour the dry ingredients into the wet ingredients. Whisk until combined. Avoid over-mixing. Then stir in dried cranberries and sliced almonds.

Pour the batter into the cast-iron pan. Bake for 40 minutes or until it is golden brown on top and the center is cooked through.

Use a brush to coat honey over the top of the bread.

Serve warm.
Nutrition
Nutrition Facts
Southern Cornbread Recipe
Amount Per Serving (1 serving)
Calories 455
Calories from Fat 162
% Daily Value*
Fat 18g28%
Cholesterol 82mg27%
Sodium 246mg11%
Potassium 319mg9%
Carbohydrates 66g22%
Protein 9g18%
Vitamin A 104IU2%
Calcium 102mg10%
Iron 2mg11%
* Percent Daily Values are based on a 2000 calorie diet.
Common Questions
1. What is cornmeal?
Many beginners may have this question in mind: "Is cornmeal and cornflour the same?" The answer is no. Cornmeal is dried and ground corn and the texture is a medium to fine grind, while corn flour is more finely ground.
2. How can we make a moist cornbread?
A perfect cornbread has an interesting texture: spongy and moist on the inside and just crumbly enough on the exterior. The right balance of cornmeal and flour (1:1) gives the bread the sponge structure while also allowing it to crumble.
If you have never combined eggs in cornbread, now's a fine time to try. Eggs add texture and will help the other ingredients stay together.
3. Do I need to use cast iron?
The cornbread recipe works best when you use a cast-iron skillet coated with fat. This helps to brown the crust, and since the pan is already hot, the cornbread is quickly cooked.