This quick and easy scalloped potatoes recipe is the healthiest way to recreate one of America's delicious takes on potatoes. It's low in saturated fat compared to most scalloped potatoes recipes, and yet, it's fragrant with butter, garlic, and cheese.
Although scalloped potatoes are often served as a side dish for meat, we think it's also great for breakfast. It's easy, it reheats well, and it's wholesome.
Let's get to know more about this delicacy, shall we?
Scalloped Potatoes and Au Gratin Potatoes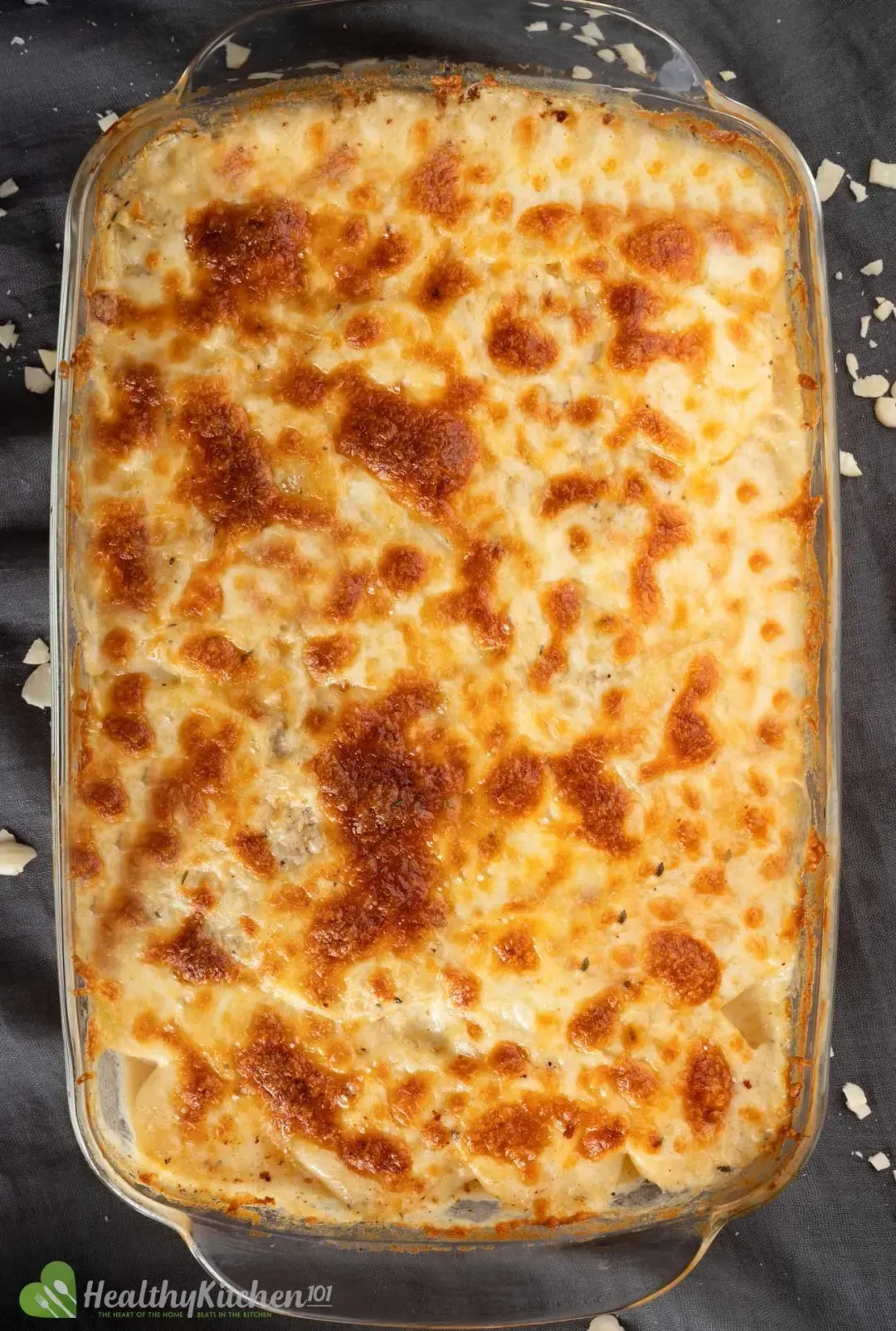 If you're familiar with the Pixar animation film "Ratatouille", you may have seen the delicate dish of the same name. It belongs to the "gratin" dishes, a bake of vegetables sliced thinly and arranged neatly, one slice over another.
Similarly, "au gratin potatoes" are prepared by slicing potatoes thinly with a mandoline and arranging them into a baking dish. Then, it is baked with a rich sauce made of cream and cheese, which has a stunning flavor profile.
Compared to its French alternative, scalloped potatoes have thick slices of potatoes and are cooked in a more aromatic sauce. The sauce is made by sautéing garlic and onions in butter, which, as you can guess, is super fragrant.
Are Quick and Easy Scalloped Potatoes Healthy?
Potatoes often get a bad rap for being carby and unhealthy. This misconception stems from the fact that french fries are unhealthy.
French fries, or deep-fried foods in general, tend to pack more unhealthy calories, which can cause you to put on more weight. Foods fried using hydrolyzed oil are even more unhealthy, as they contain trans fat.
Meanwhile, potatoes are a good source of carbs to include in your diet.
Besides potatoes, the traditional recipe calls for plenty of butter. Butter contains fat, and the majority of this fat is saturated fat, which the USDA advises to limit.
Knowing that, we adjusted our scalloped potatoes recipe so the saturated fat content stays within allowance. Specifically, each serving only has 7 grams, less than 30% of the daily recommended amount.
Calories in Scalloped Potatoes
Each serving of our quick and easy scalloped potatoes recipe gives around 372 calories. Most of the calories come from potatoes, which, again, is a clean source of carbohydrates. For half the calories per serving, try our 20-minute Instant Pot Scalloped Potatoes Recipe.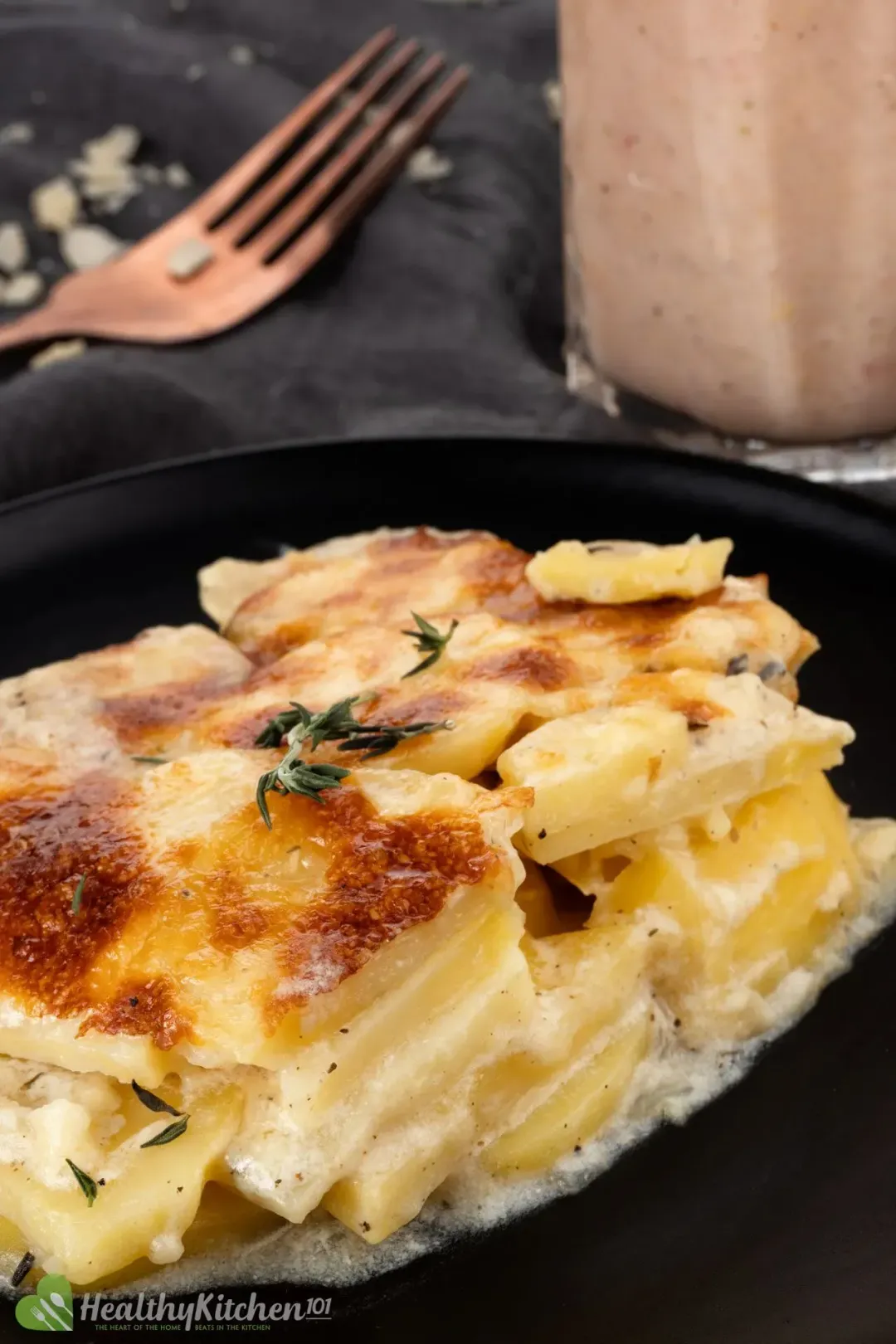 What Goes With Quick and Easy Scalloped Potatoes
You can add more toppings to this quick and easy scalloped potatoes to make it taste even better:
1. Bacon
Baked/pan-fried bacon strips would add a good amount of umami to any savory dish, including this scalloped potatoes.
Bacon needs around 10-15 minutes to cook, so you can fry them in a pan to save time. If you're concerned about the excess oil, simply discard the oil and pat them dry with paper towels.
2. Ham
As a fat-free alternative of bacon, ham also adds tons of flavors to your dish. Its texture is perfect for those who have a soft spot for tenderness.
You can chop your ham and sprinkle them on top of your potatoes, or char them a bit first. A skillet and a dash of neutral oil would do.
3. Cream of Mushroom Soup
By using cream of mushroom soup, you might not even need any other seasoning. This concoction is extra creamy and has chewy button mushrooms that add a lot of flavors.
As health enthusiasts, we always use as many fresh ingredients as possible to avoid consuming preservatives and excess fat/sodium. So instead of getting this creamy soup in a can, make it at home using our recipe right here.
Tips for Making Scalloped Potatoes
1. Pre-Boiling Scalloped Potatoes or not?
If you're afraid the slices won't cook through because they're too thick, fear not. The added liquid in the baking step will help cook the potatoes evenly, assuring tender potato slices.
Pre-boiling the potatoes can easily make them overcooked, plus it adds one more item to your dishwasher.
2. Check for Cooked Potatoes
Things might happen and it's okay if your potatoes are undercooked— you just need to cook them a little longer.
The thing is, how do you know it's undercooked without trying it out? Remember it's crazy hot just coming out of the oven.
The trick is to use a toothpick and plunge it into a potato slice. If it goes through with too much resistance, your potatoes need 10-15 minutes extra in the oven.
Otherwise, your potatoes are ready to be served.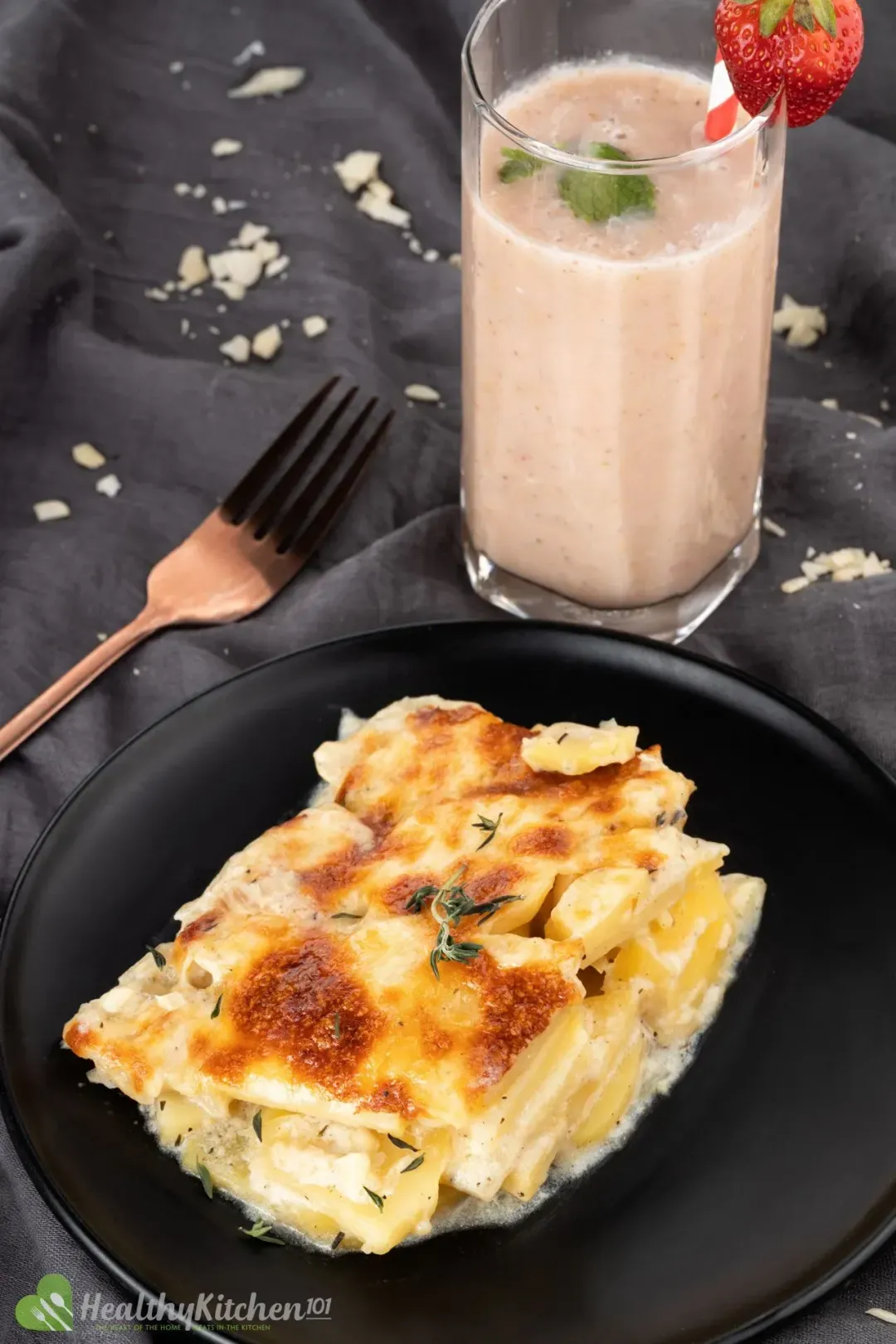 Can You Freeze Scalloped Potatoes?
The morning routine can be overwhelming, so you may consider preparing potatoes the night before. It is indeed more convenient, but sliced potatoes turn dark very quickly, which does not make for an appealing dish.
Instead, you can bake the dish like usual and preserve it in the freezer. It allows you to keep the potatoes for up to a week.
Here is your to-do list after the potatoes are baked: 
Leave the potatoes to cool completely before cutting into portions.
Place each portion on plates, cover with plastic wrap, and store them in the freezer.
To reheat the potatoes, transfer them to oven-safe plates/containers and bake them for about 30 minutes at 350°F.
The bottom line is, by making this recipe ahead of time, you're saving 55 minutes in the morning!
What to Serve With Quick and Easy Scalloped Potatoes
Quick and easy scalloped potatoes by itself is delicious, but it doesn't make a healthy, wholesome meal.
Here are some options that you can pair the potatoes with:
1. Chicken
Oven-baked chicken is a simple option to pair with scalloped potatoes. It's quick to cook, can be seasoned to your liking, and takes little time to prepare.
You can use any part of the chicken. We find chicken legs/thighs more appealing than its other parts.
If you have a favorite spice rub recipe, feel free to use that and season the chicken the night before. If you don't, have a look at our oven-baked chicken recipe just for the idea.
2. Pork Chops
Baked pork chops are another great option if you have spare time. Do it right and you'll have juicy pork chops packed with all sorts of flavors to enjoy with the potatoes.
And by "do it right", we meant proper method, careful timing, and most important of all, suitable seasonings. We also happen to have this article to cover all of that.
3. Smoothie
For busy mornings, you may not have time to lay a hand on anything else but reheating leftovers. With a smoothie, this is no longer a problem.
After you make the scalloped potatoes to reheat in the morning, wash and measure out ingredients for this easy smoothie. We bet it'll take only seconds to get them inside the blender and blend them all together.We're serving our scalloped potatoes with banana strawberry smoothie. The smoothie's sweetness really rounds off the tender, rich, flavorful potatoes.
For more casserole recipe ideas, have a look at our easy casserole roundup.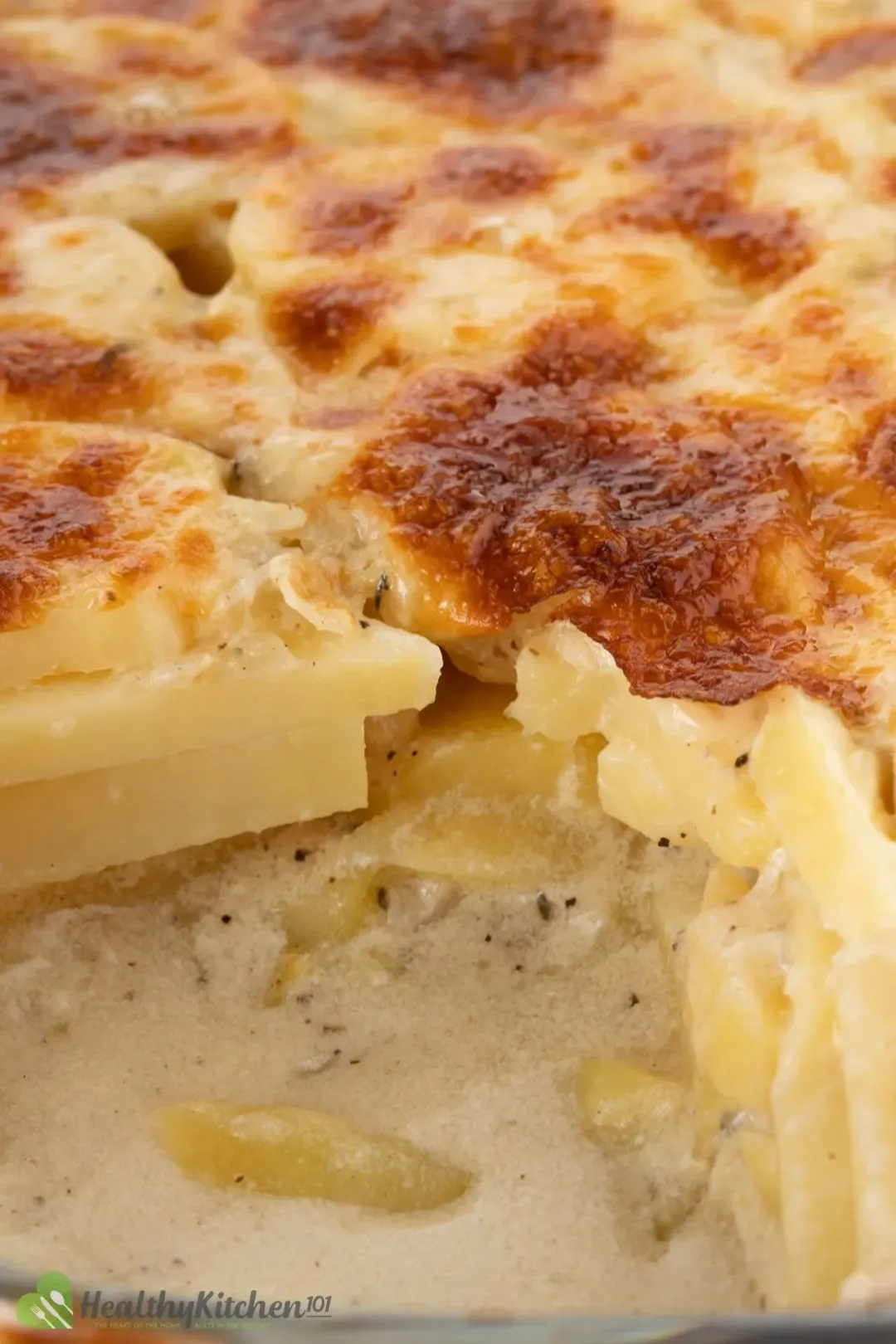 Craving Potatoes? We've Got You Covered!
Satisfy your potato cravings with not just this Scalloped Potatoes, but a myriad of other quick and easy potato dishes that we've made and loved. Take a peek and see what's in store:
Quick and Easy Scalloped Potatoes
This quick and easy scalloped potatoes recipe takes just minutes to prep and only an hour to cook. If your morning tasks are overwhelming, you can make a large batch over the weekend, freeze them as individual servings, and reheat them when you need.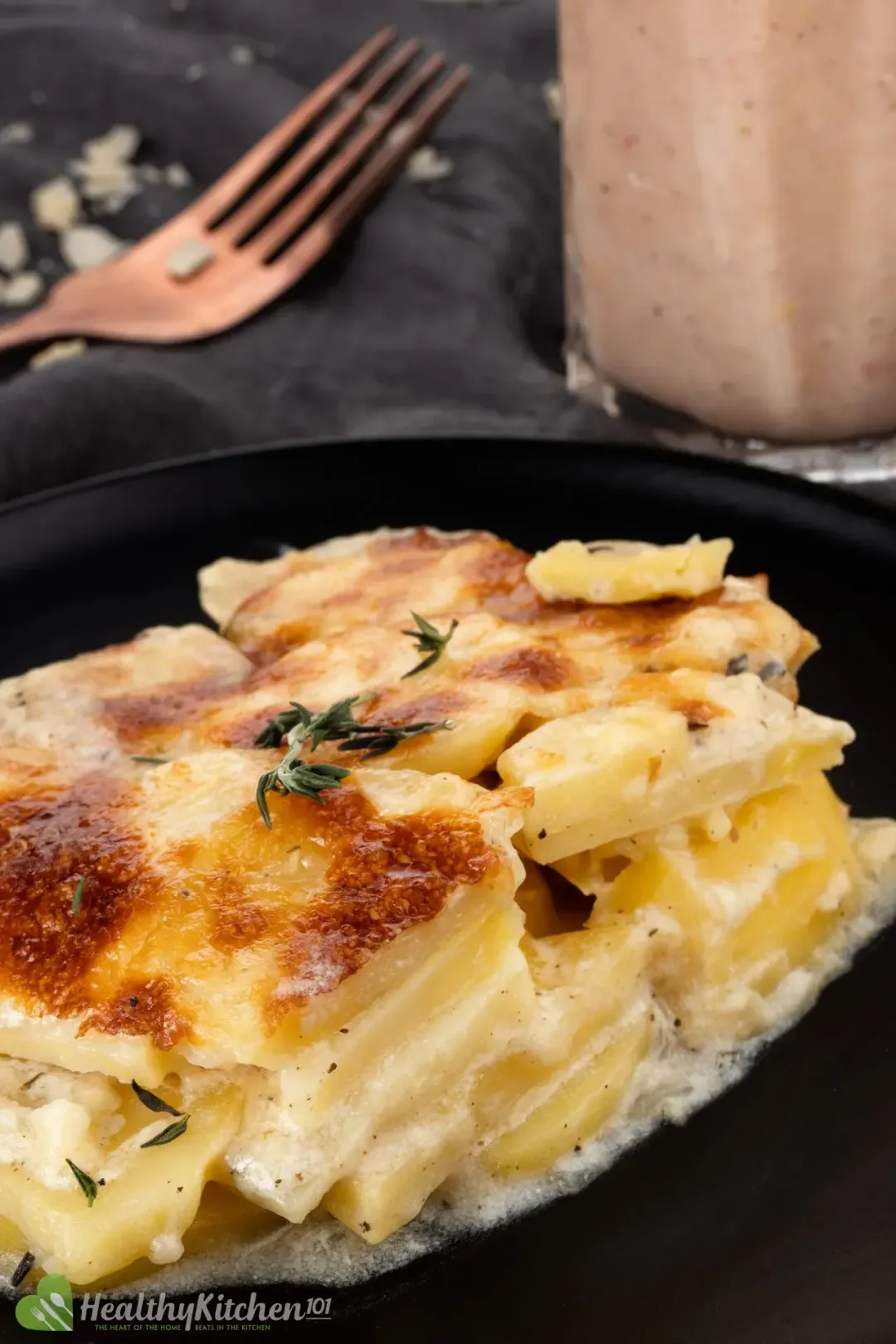 cook TIME

1 hr 15 mins

prep TIME

10 mins

total TIME

1 hr 25 mins
COURSE

Breakfast, Side Dish

CUISINE

Global

SERVINGS

CALORIES

372 kcal
INGREDIENTS
2.2 lb

russet potato

(sliced)

4 oz

onion

(finely chopped)

3 oz

mozzarella cheese

(shredded)

1/2 tsp

ground black pepper

1 cup

unsalted chicken broth
INSTRUCTIONS
1
Preheat the oven to 400°F.
2
Melt 1/2 tbsp butter over medium heat in a pot, then sautée 4 oz onions and 2 tbsp garlic for about 3 minutes, or until translucent.
3
Stir in 4 tbsp flour, 1/2 tsp salt, 1/2 tbsp pepper, 1 cup chicken stock, 1 cup milk, and 2 tbsp cream, and cook for 3 minutes, or until it starts to bubble.
4
Arrange the 2.2 lb potato slices in the casserole dish in even layers and pour the sauce over them. Using a spatula, fill all visible gaps with onion bits to get a nice, flat surface.
5
Cover with tin foil and bake for 1 hour.
6
Uncover and sprinkle 3 oz shredded cheese on top. Broil for about 3-4 minutes, or until it is golden brown on the surface.
7
Sprinkle 1/2 tsp thyme and serve.
NUTRITION
Nutrition Facts
Quick and Easy Scalloped Potatoes
Amount Per Serving (1 serving)
Calories 372
Calories from Fat 99
% Daily Value*
* Percent Daily Values are based on a 2000 calorie diet.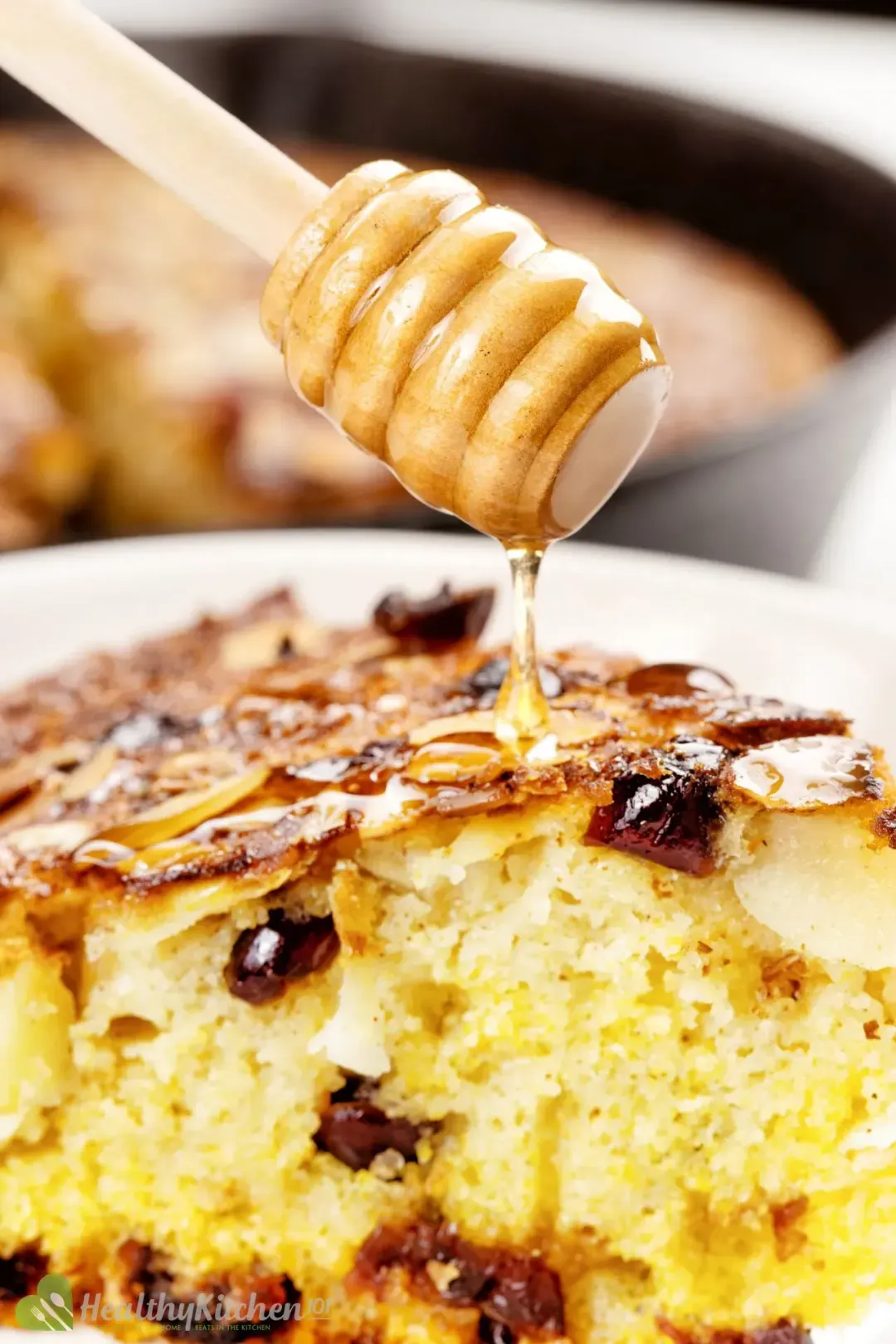 Previous Recipe
Southern Cornbread
Southern Cornbread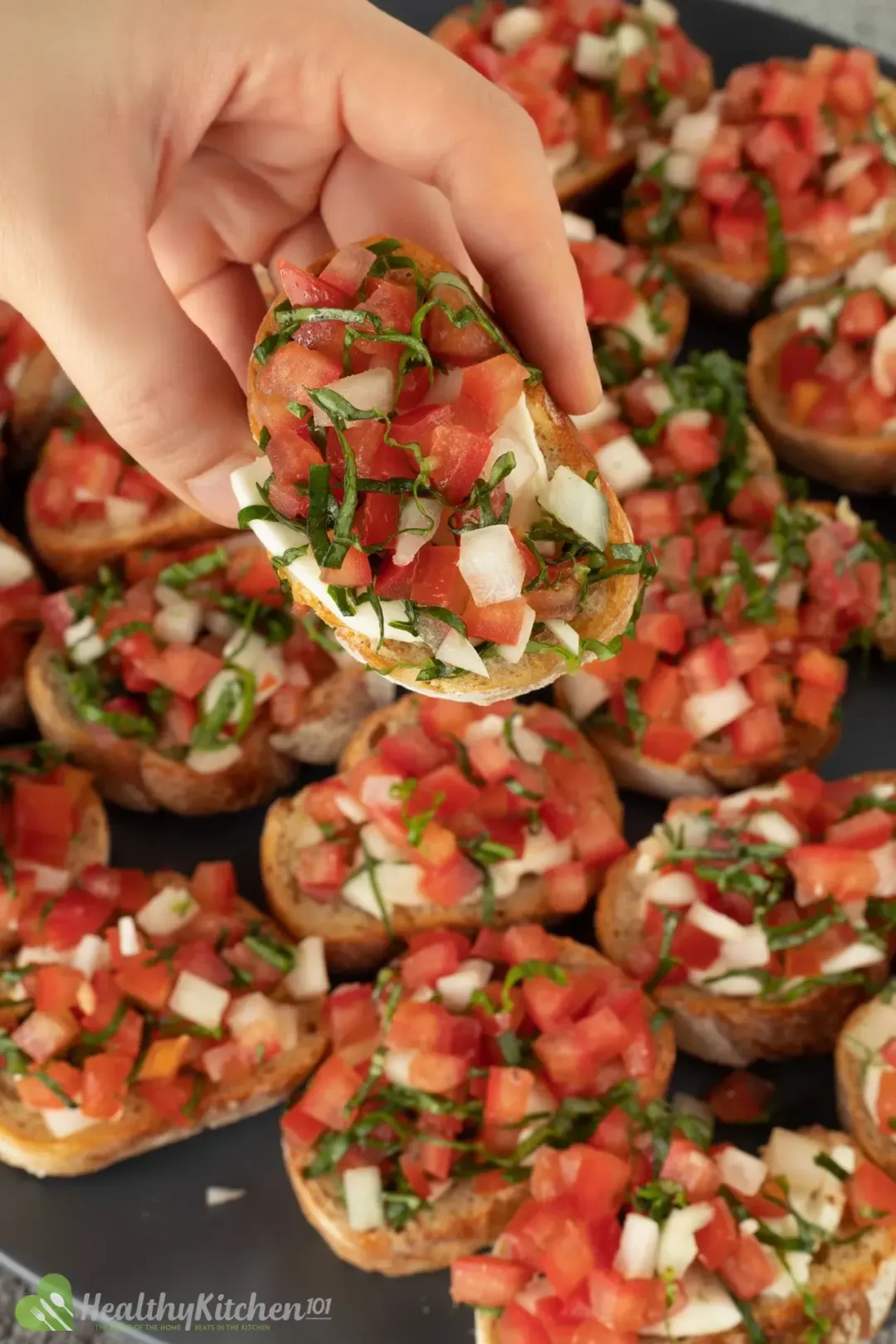 Next Recipe
Tomato Bruschetta
Tomato Bruschetta
Head Chef, Culinary Consultant
Tuyet Pham is an award-winning Saigonese chef who believes that joy is the secret ingredient to delicious food. At Healthy Recipes 101, Tuyet personally tests and simplifies every recipe, ensuring maximum flavor with minimal effort. With a background at prestigious French restaurants P'TI Saigon and Le Corto, Tuyet knows how to make every dish exceptional.
Writer, Author
Luna Regina is an accomplished writer and author who dedicates her career to empowering home cooks and making cooking effortless for everyone. She is the founder of HealthyKitchen101.com and HealthyRecipes101.com, where she works with her team to develop easy, nutritious recipes and help aspiring cooks choose the right kitchen appliances.
Nutrition Reviewer
Lizzie Streit is a Minneapolis-based dietitian and founder of It's a Veg World After All. She completed her MS in Human Nutrition from Drexel University, and is an expert in culinary nutrition, recipe development, and nutrition communications. Lizzie's philosophy is centered around making nutrition recommendations, and especially the advice to eat more vegetables, approachable and realistic. She is excited to be working with the team at Healthy Recipes 101 to ensure that their recipes are both nutritious and delicious.
YUM! This looks so rich and creamy and beyond comforting — perfect for this cool weather. I love it!

I was stunned too! What a great creamy combination that lingers for days :P.