This strawberry kiwi smoothie recipe combines two great fruits to make a tangy, sweet slushie that freshens up your summertime. We add some orange juice for extra vitamin C and mint leaves to enhance the cooling effect.
Is Strawberry Kiwi Smoothie Healthy?
Yes, this is a healthy smoothie.
To begin with, it is packed with micronutrients from strawberries, kiwis, and orange juice. There are B, C, E, and K vitamins, and minerals such as manganese and potassium. You can have a look at each ingredient's nutritional information for precise nutrients and amounts.
Strawberries and kiwis are also high in fiber — one serving of our strawberry kiwi smoothie recipe has 3.7 g. This is 14.8% of the general recommendation for adults following a 2000-calorie diet.
We sweeten the smoothie by adding 1/2 tbsp honey to each serving. This amount acts as 9 g added sugar, 18% of the upper limit suggested by the USDA.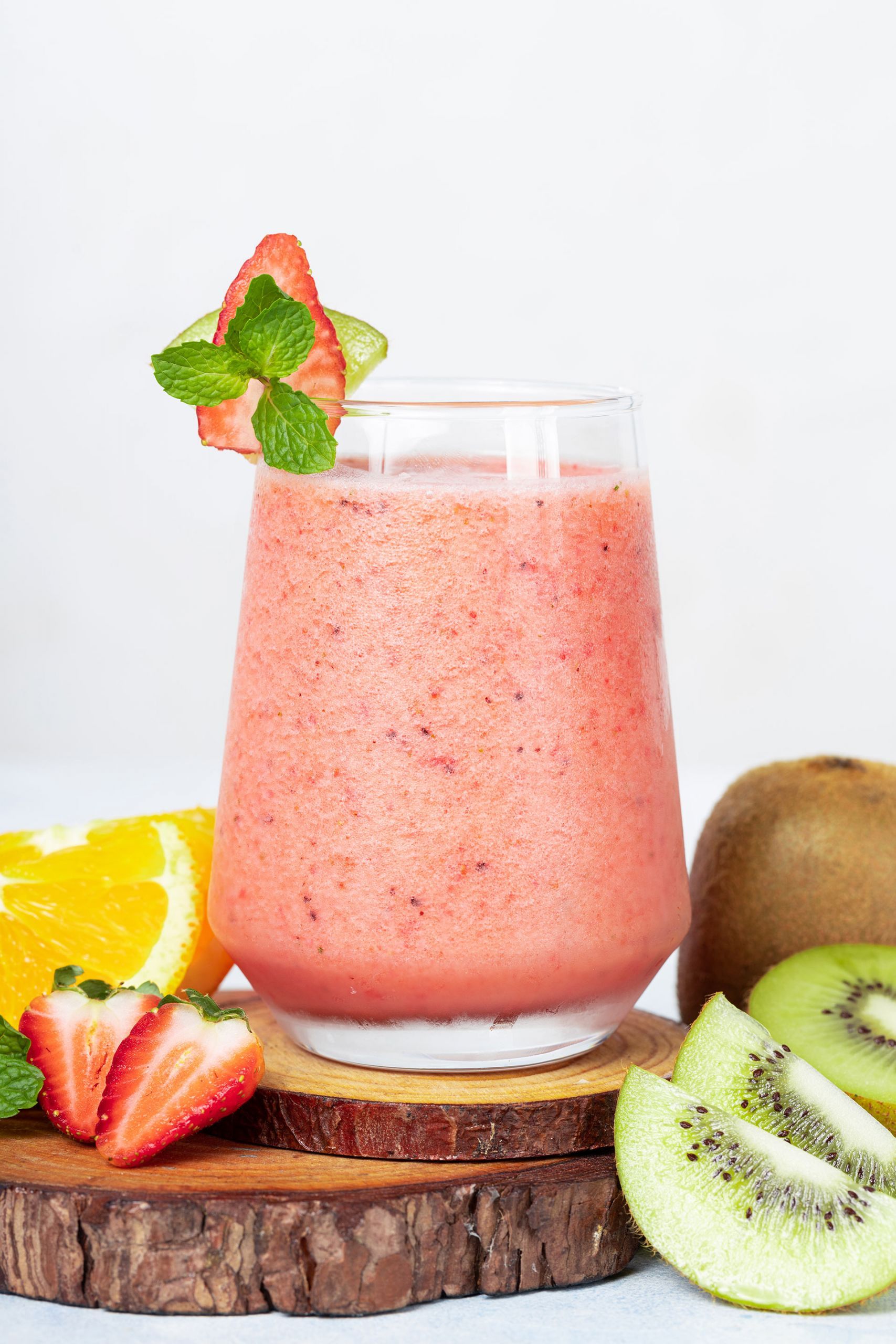 Ingredients for Strawberry Kiwi Smoothie
For our strawberry kiwi smoothie recipe, you'll need the two fruits, some orange juice, honey, ice, and mint.
Strawberries and kiwis naturally contain fruit sugar and organic acidsmalic acid, which is responsible for their sweet and sour taste. If you want your drink to err more on the sweet side, try to look for ripe berries:
Ripe strawberries should be plump, shiny, vibrantly red, and have green crowns. Size isn't a ripeness indicator.
Kiwi ripeness is a bit harder to identify, but ripe fruits usually give a little when squeezed or pressed into.
But again, the sweetness of fruits can be impossible to guess at times. You can always use sweeteners like honey or sugar, as long as you track your added intake.
For those of you who consume large amounts of added sugar daily, we suggest using dates in your smoothies. They are very sweet, yet add a few extra nutrients and don't count as added sugar. However, it may be wise to also set a goal of slowly reducing your overall sugar intake for the many potential health benefits that reducing sugar provides.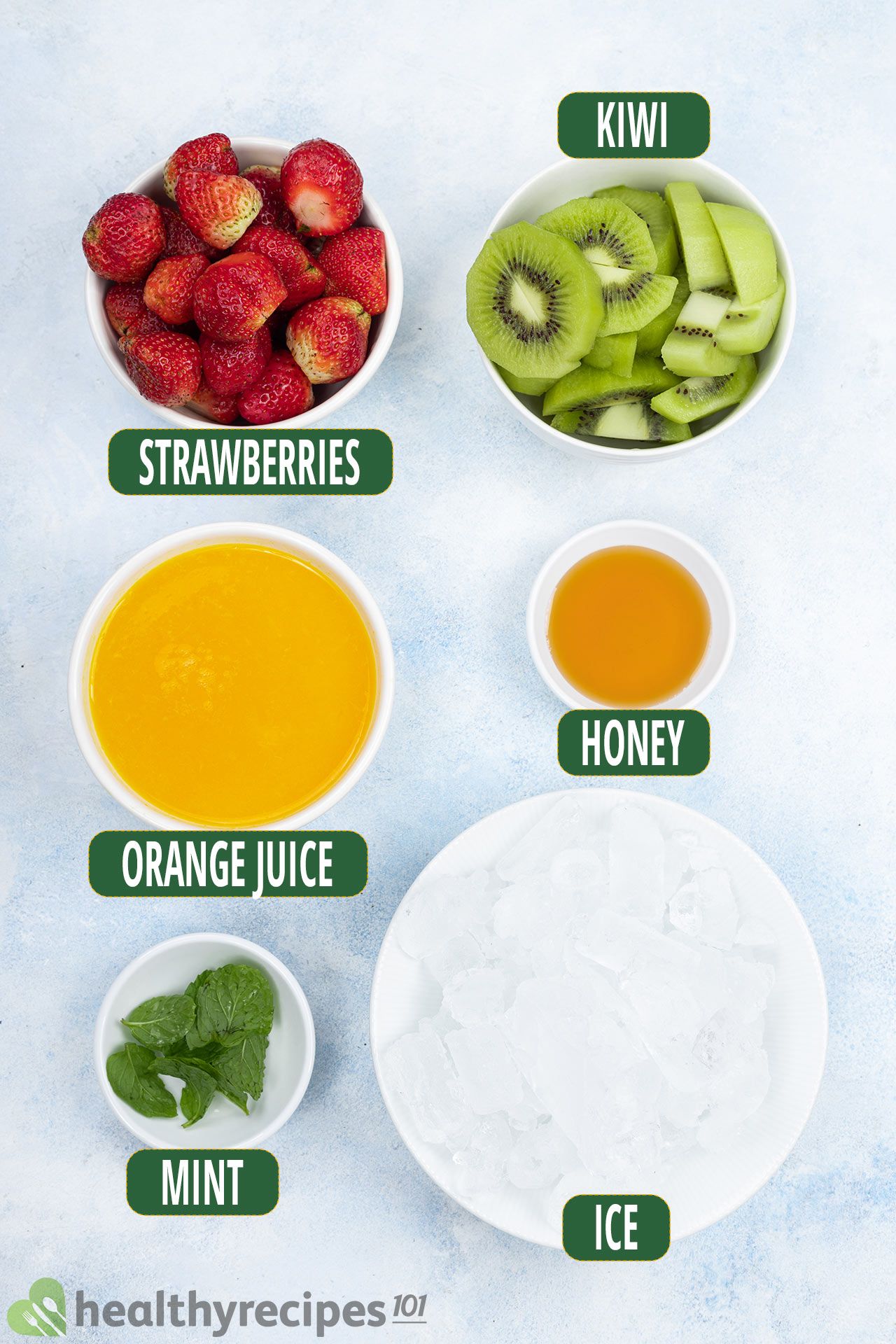 In terms of liquid, we used orange juice instead of milk — its acidity and citrus fragrance is what this smoothie needs. You can squeeze some yourself like we do or use bottled juice — as long as you make sure the label lists little to no added sugar.
For something both sweet and sour like this smoothie, one or two mint leaves makes it even more refreshing.
Obviously, our smoothie has ice. We use ice nuggets since our blender doesn't have a strong motor. If yours is like ours and you only have hard ice, smash it up manually before you blend or there will be chunks in your smoothie.
If you don't want to use ice, frozen fruits are a great idea. You can purchase frozen fruits or freeze the fruits yourself:
Cut them into small pieces. Avoid slicing — thin slices are difficult to remove when they stick to the tray.
Line a baking sheet with parchment paper and spread them out before freezing. This step prevents them from sticking to each other and allows for easier removal.
Freeze the fruits.
Once they're frozen, transfer them to a Ziploc bag and store them until they're needed.
What Type of Kiwis Can You Use?
In terms of varieties, there are fuzzy kiwis and hardy kiwis. The fuzzy types are more readily available and have brown, fuzzy skin. Hardy kiwis also go by the name kiwi berries; they are about the size of grapes and have green, bald, edible skin that also resembles that of grapes.
To make this smoothie, we used the fuzzy kind. Kiwi berries are sweeter, but we enjoy our fuzzies.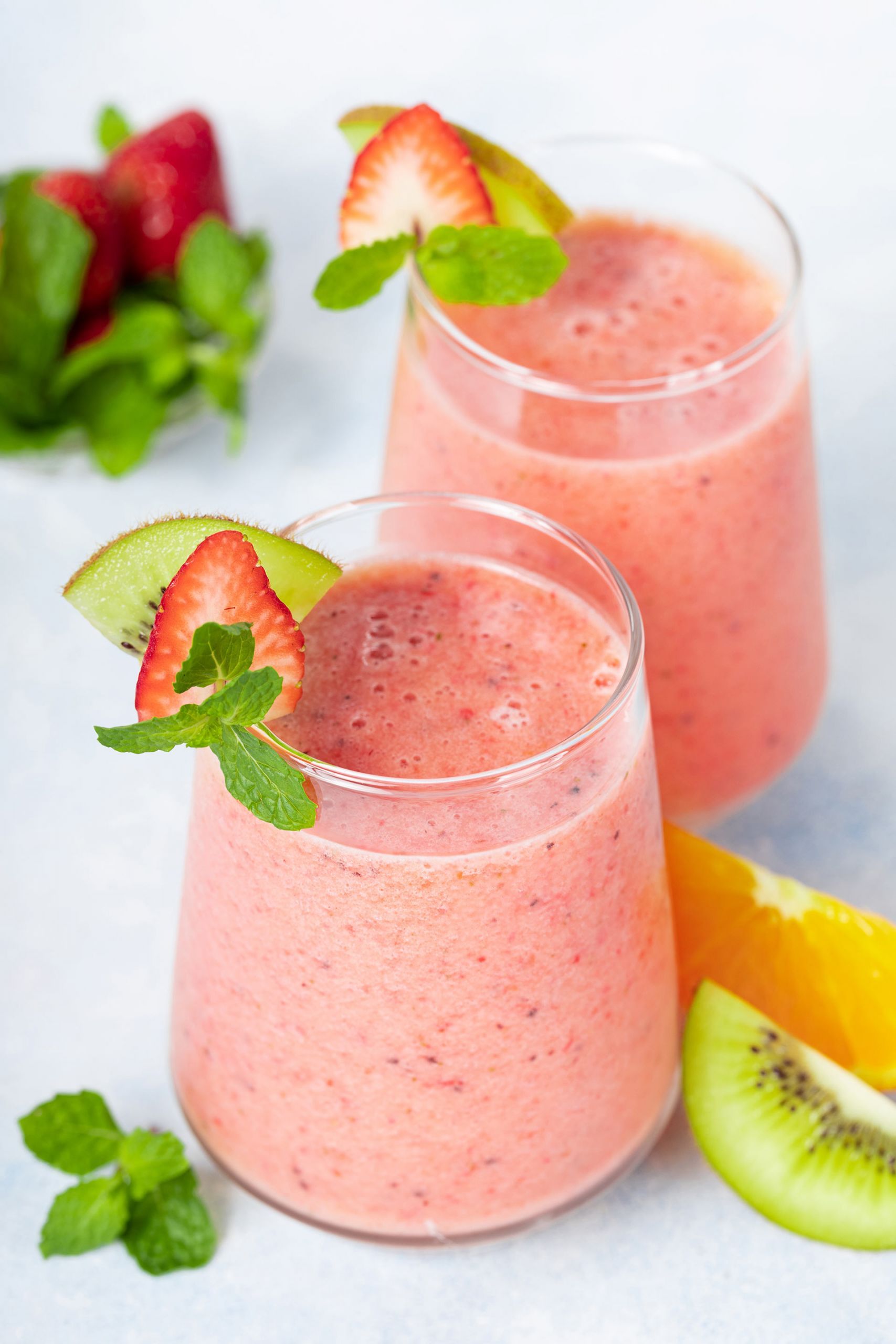 Can You Eat Kiwi Skin?
The hardies have green, fur-less, and edible skin like apples. The skin on fuzzies won't harm you, but doesn't taste very pleasant.
How to Make This Strawberry Kiwi Smoothie
Once you've picked your berries, prepped your orange juice, and measured out the ingredients, blend everything together until smooth. Layer the ice at the bottom so it gets blended first.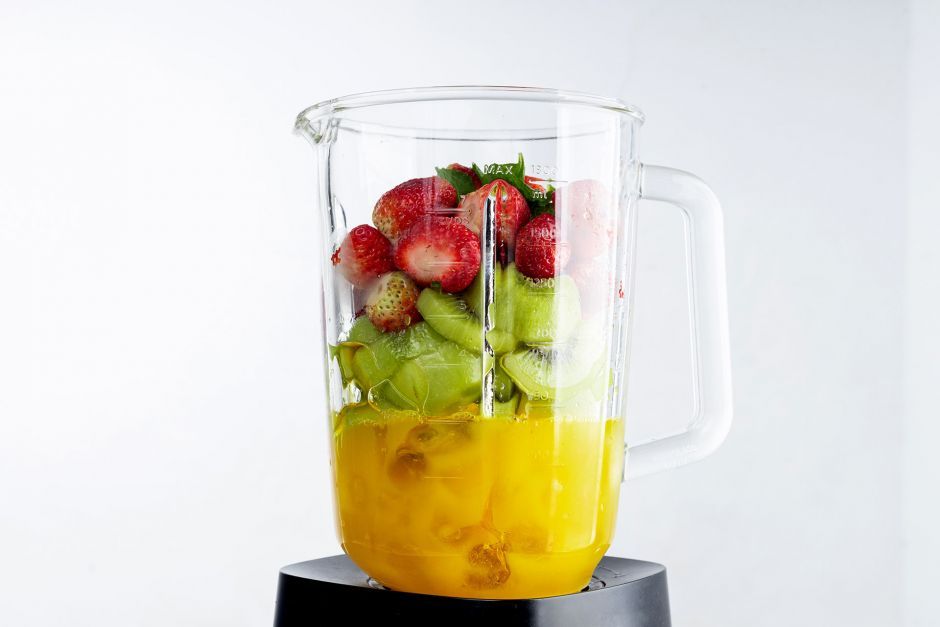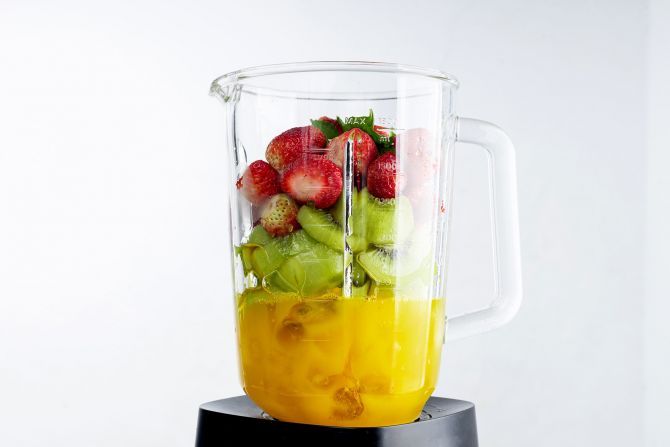 Blend ingredients.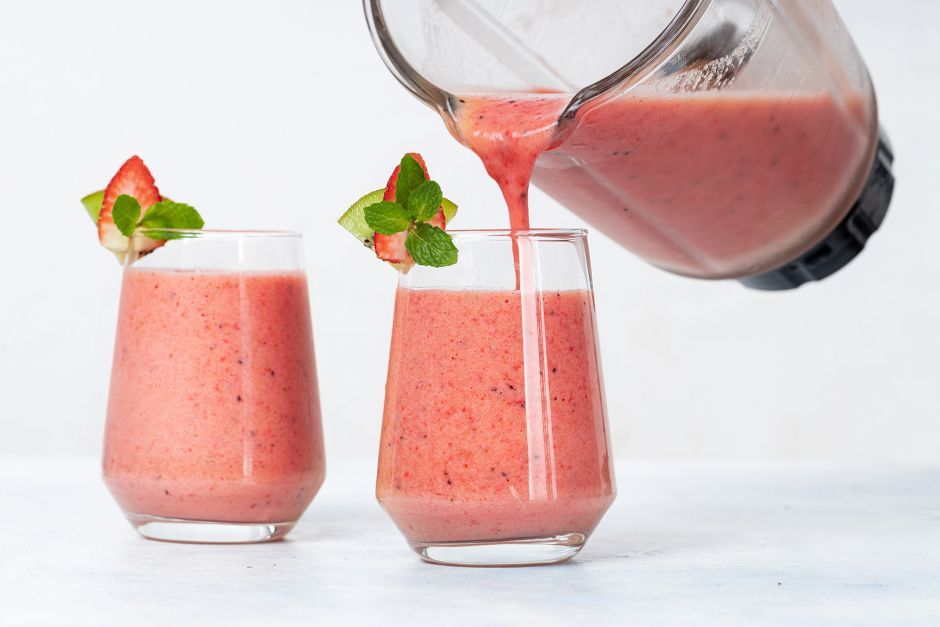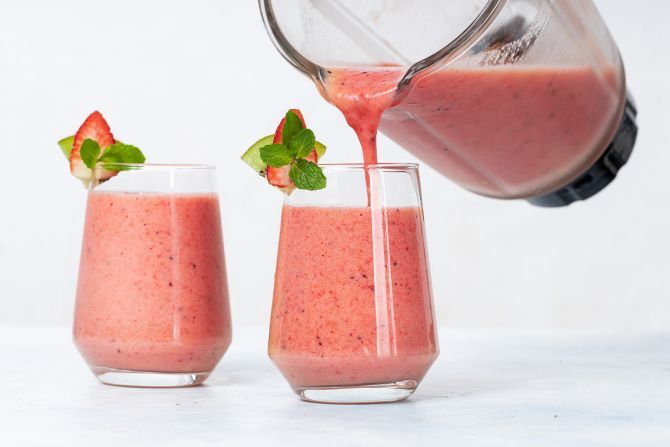 Pour into serving glasses.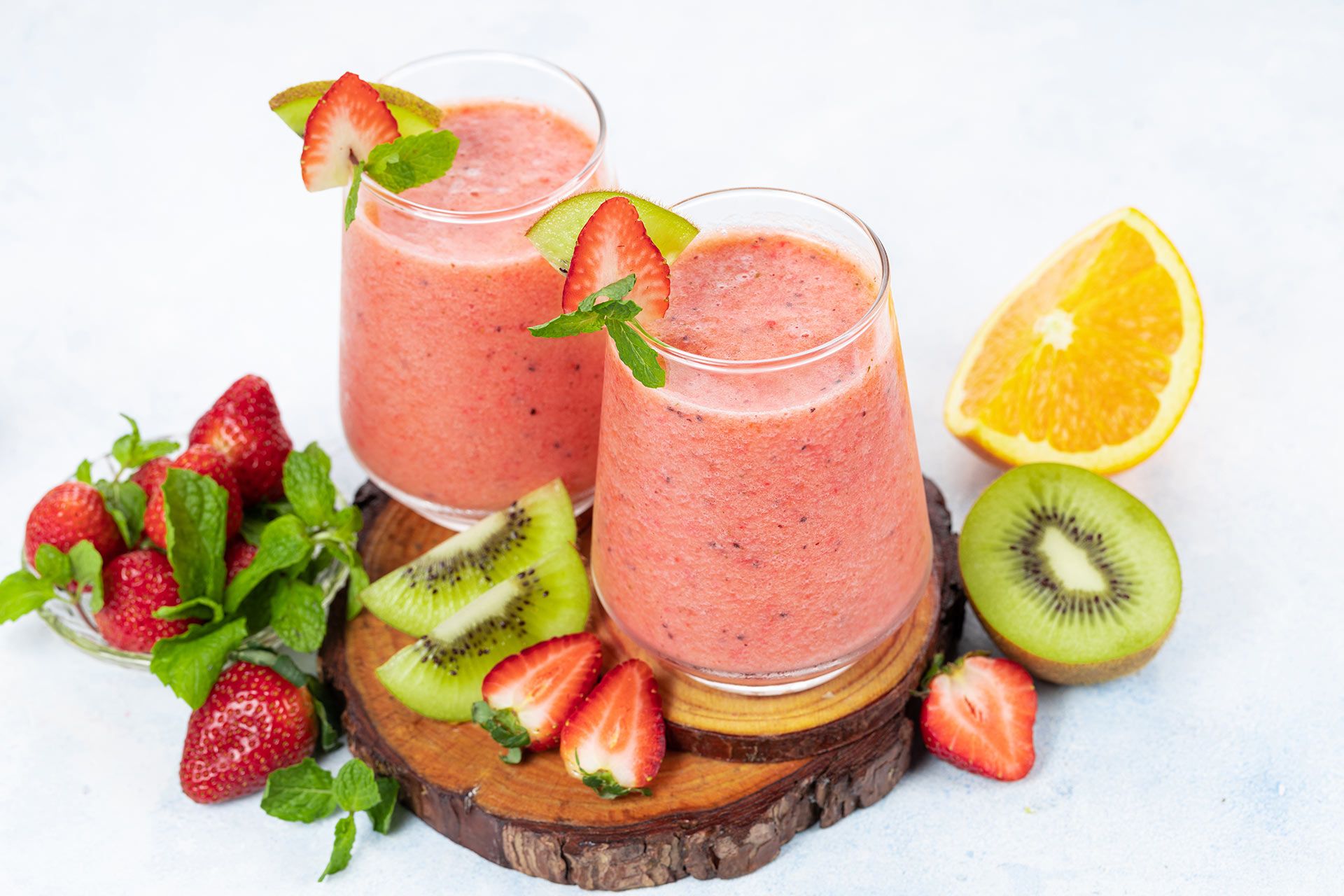 Garnish with fresh mint leaves and serve immediately.
How Long Does Strawberry Kiwi Smoothie Last?
Any smoothie left at room temperature should be consumed within 2 hours. The smoothie's texture, color, and flavor will degrade in time, and it may also spoil if it's out too long.
For longer storage, we recommend refrigeration. Placing the smoothie into the fridge can extend its shelf life for up to 2 days. In the freezer, it'll last 3 months. There might be separation and a change in quality, but it will stay edible within this time frame.
Of course, placing the smoothie into air-tight containers is important. If your fridge is a bit crowded, Ziploc or bio-degradable bags are really helpful for saving space.
If you want to prep smoothies for a month or two, skip the ice entirely and just create a smoothie paste. Portion out this paste and freeze it. When you need a smoothie, blend the paste along with the amount of ice you desire to create a cold, thick smoothie that tastes and looks fresh.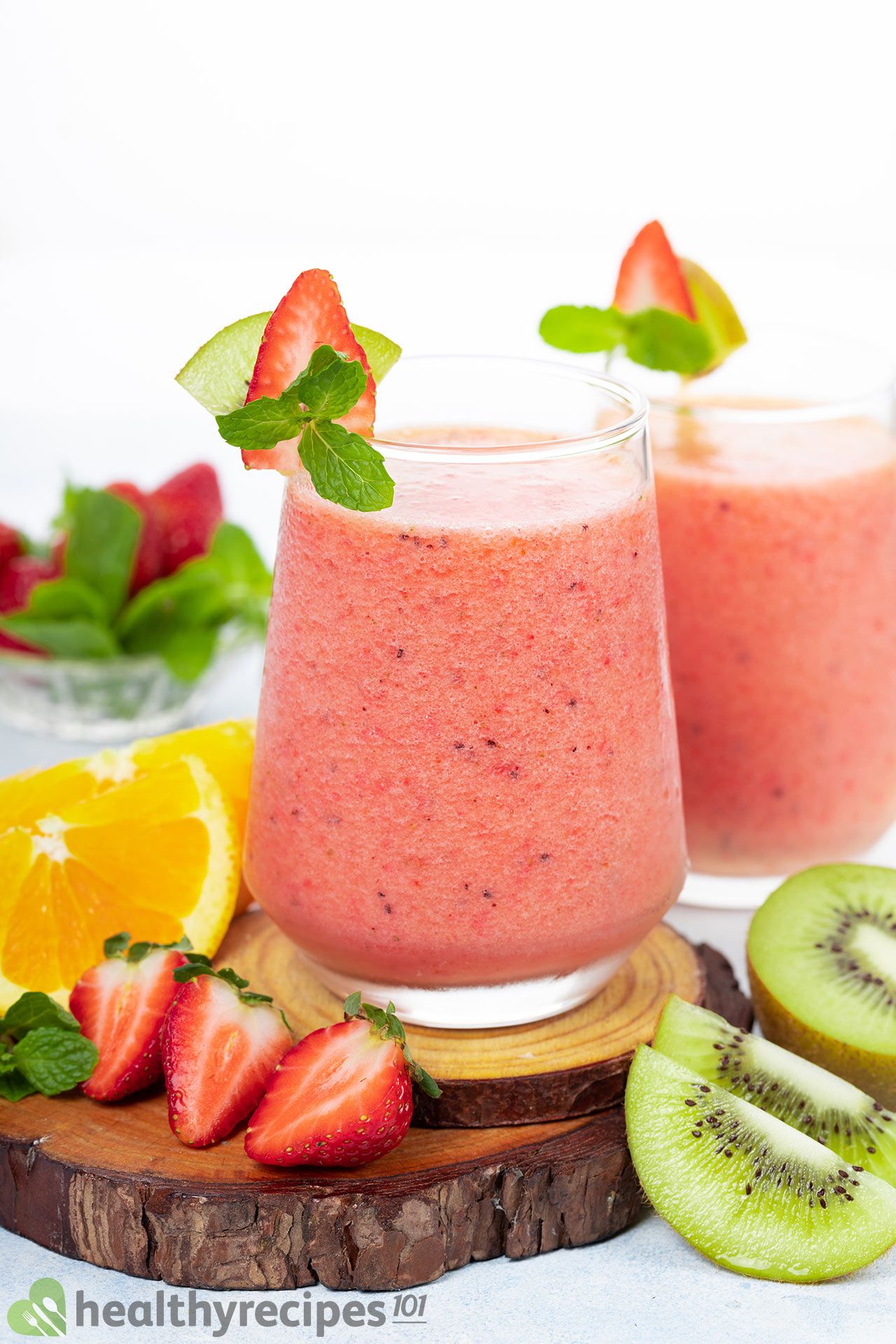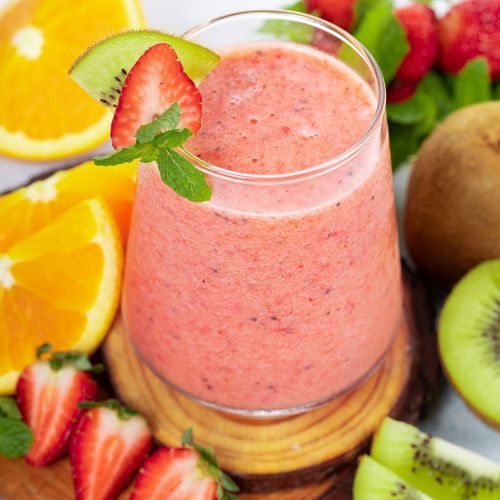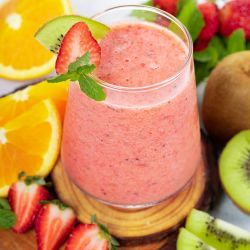 Strawberry Kiwi Smoothie Recipe
Our strawberry kiwi smoothie recipe makes a delicious slushie-like smoothie that chases away the summer heat. It's super easy to make.
Ingredients
10

oz

strawberries

hulled and halved

10

oz

kiwi

peeled and quartered

2

cups

ice

1

cup

orange juice

2

tbsp

honey

8

mint leaves
Instructions
Place all ingredients except mint in a blender, starting with the ice. Cover and blend until smooth.

Pour into serving glasses.

Garnish with fresh mint leaves and serve immediately.
Nutrition
Nutrition Facts
Strawberry Kiwi Smoothie Recipe
Amount Per Serving (1 serving)
Calories 126
% Daily Value*
Sodium 9mg0%
Potassium 390mg11%
Carbohydrates 31g10%
Protein 2g4%
Vitamin A 279IU6%
Vitamin C 126mg153%
Calcium 52mg5%
Iron 1mg6%
* Percent Daily Values are based on a 2000 calorie diet.