Simple to make and absolutely delicious, this easy apple kiwi kale smoothie is currently among our favorite healthy recipes.
Can You Mix Apples and Kiwis Together?
Yes, you can. It's totally fine to combine apples and kiwis in a smoothie recipe.
Although apples and kiwi fruits have their own distinctive flavors, when brought together in a smoothie, far from canceling each other out, they will, in fact, balance each other's flavor, giving you a refreshing sweet and sour drink.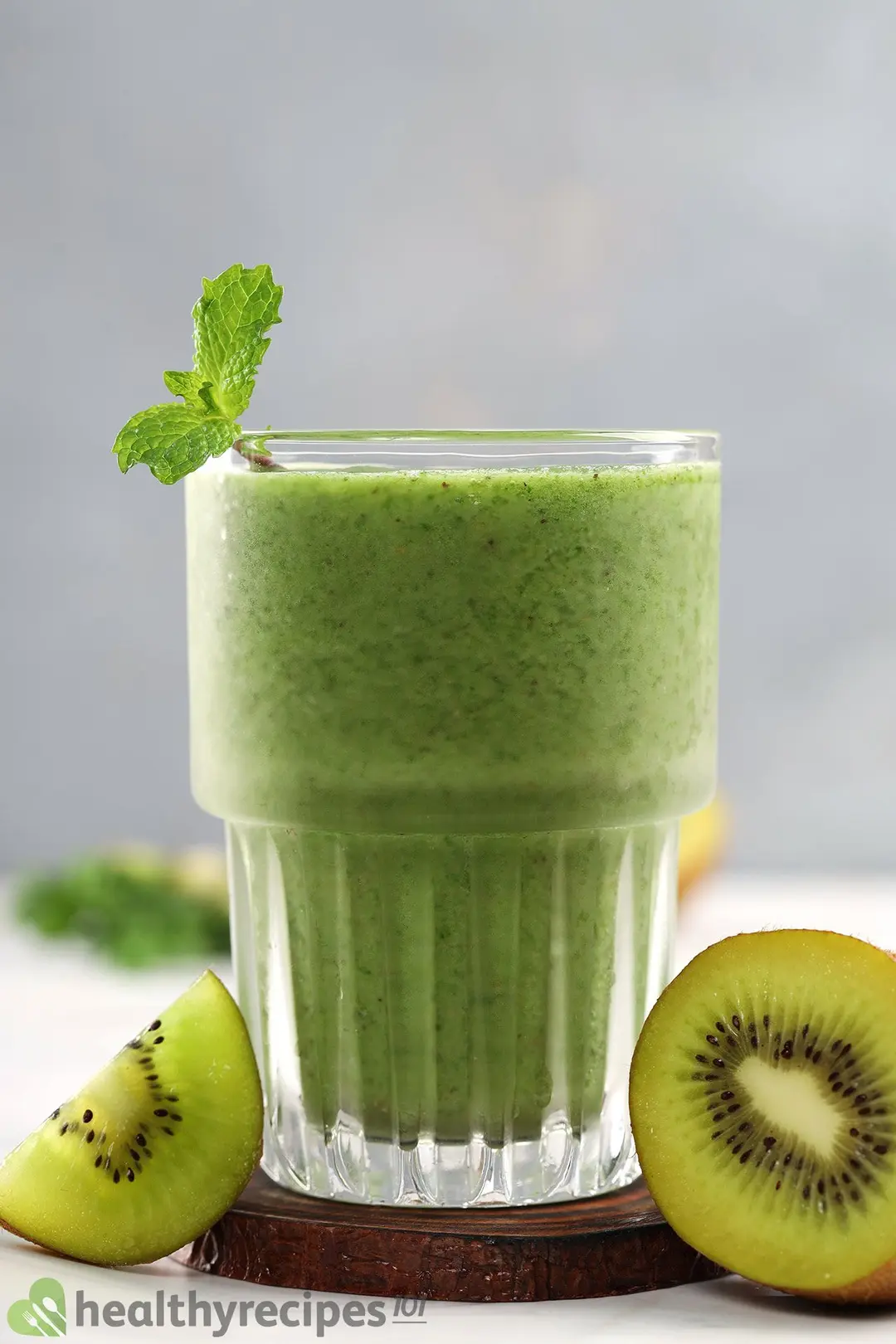 Ingredients for Apple Kiwi Kale Smoothie
Let's take a look at the ingredients for this apple kiwi kale smoothie recipe:
Apples: We're using Granny Smith apples for today's recipe.
Kiwis: You may want to use ripe kiwis as they are sweet and taste a lot less acidic than unripe ones.
Raw kale: You may find It's very common to blend raw vegetables into smoothies but don't worry, you won't be able to tell the kale is in there.
Flavorings: Today's pick of sweetener is honey. We also add a few mint leaves to garnish and give the drink a refreshing lift.
And ice.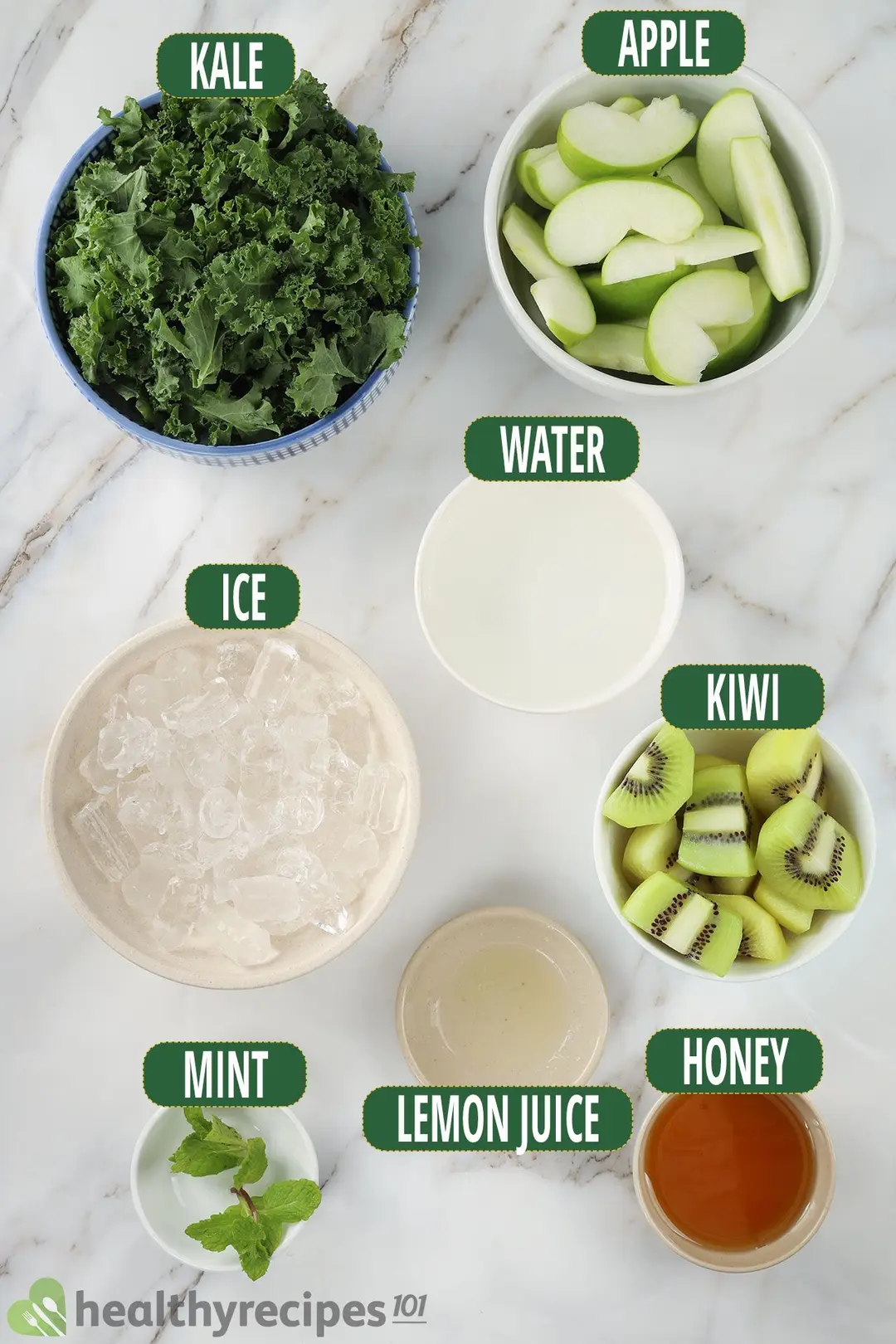 How to Peel a Kiwi
Here's how to peel a kiwi fruit with ease:
Wash the kiwi.
Use a sharp paring knife and cut off the 2 ends of the fruit.
Slowly cut around the fruit to remove the skin.
If you're not confident with your knife skills, you can use a vegetable peeler instead.
Another way to peel the kiwi is to cut the fruit in half. Then, run the edge of a spoon around the fruit to scoop the flesh out.
How to Make Apple Kiwi Kale Smoothie
There are only two simple steps in this apple kiwi kale smoothie recipe: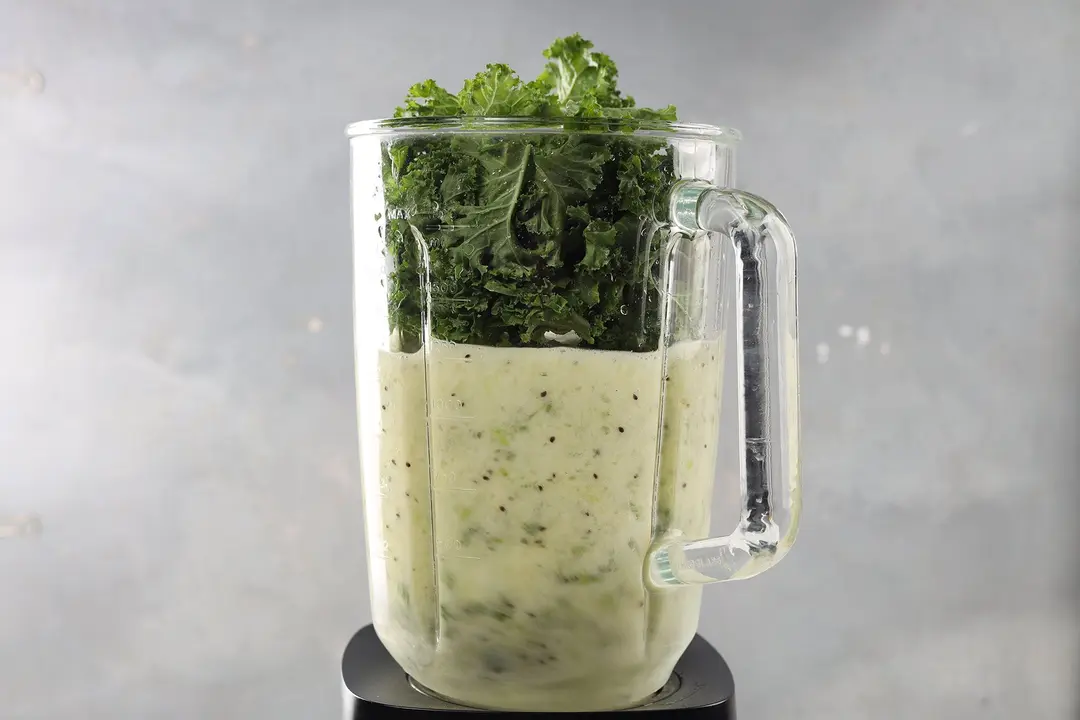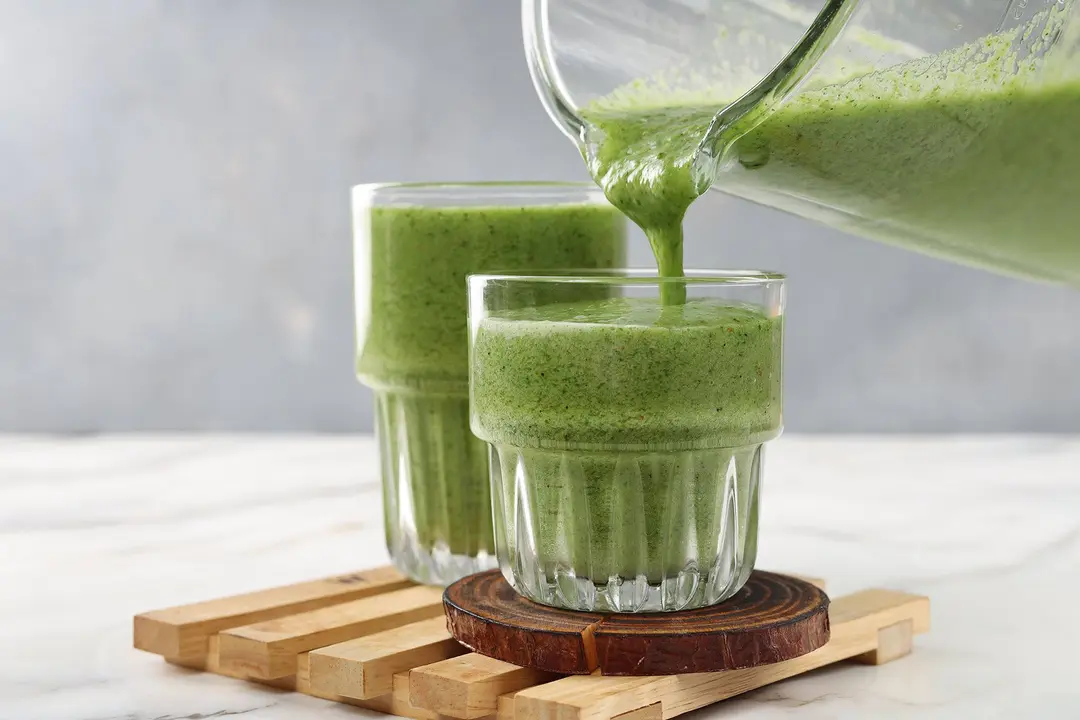 That being said, we recommend rinsing the kiwis, apples, and kale under running water before you start making the smoothie. This extra step makes sure that there is no dirt on your produce.
Is Apple Kiwi Kale Smoothie Healthy?
Yes, our apple kiwi kale smoothie is healthy. Here's why:
1. An Apple a Day Keeps the Doctor Away
Apples are high in phytonutrients such as polyphenols. While the majority of the plant's chemicals are concentrated in the peel, blending apples for homemade smoothies still retains a significant amount.
It has been demonstrated that polyphenols protect cells from oxidative stress and inflammation. As a result, they may slow the progression of certain cancers and cardiovascular diseases while also boosting immunity.
Additionally, these fruits are high in fiber. 100 grams of red apples contain 2 grams of fiber, and a single serving of our smoothie contains up to 13% of the daily fiber recommendation.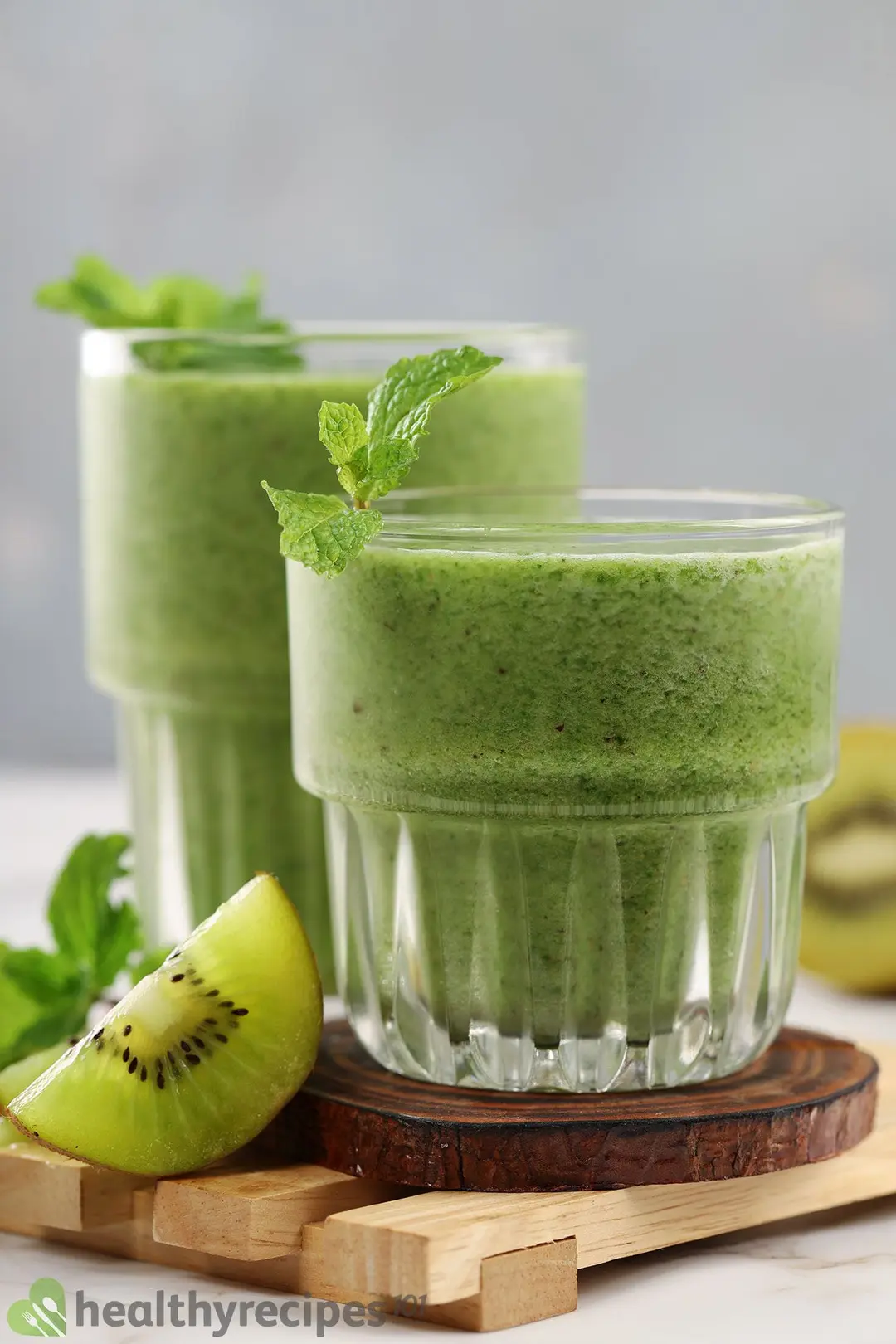 2. Benefits of Kiwis
One of the fantastic benefits of kiwi juice is its great contribution to weight loss. This beverage provides your body with an abundance of nutrients while maintaining a low-calorie count.
Drinking this juice will keep your hunger at bay without adding unnecessary calories to your body.
Kiwi is antioxidant-rich, aiding in the fight against free radicals, firming the skin, and slowing the aging process. Additionally, kiwi is high in potassium, a mineral that promotes tissue repair and accelerates the healing process of skin wounds.As mentioned before, Kiwi is a nutrient-dense fruit and this includes a large number of vitamins, particularly vitamin C. To be precise, one cup of this fruit juice contains 273 percent of your daily vitamin C requirement.
Vitamin C is a potent antioxidant that strengthens the immune system and helps the body eliminate harmful free radicals. In other words, each sip of this delectable juice contains a host of immune-boosting nutrients.
3. Benefits of Kale
Kale, also known as leaf cabbage, is a cruciferous vegetable that is readily available throughout the year, but especially during the winter.
The edible green leaves of kale are the primary reason for its cultivation. It is most commonly available in two varieties: dinosaur kale, which has narrow, wrinkly, dark green leaves, and curly kale, which has bright green, ruffled leaves.
Kale is a critical source of omega-3 fatty acids in plants. It has been a mainstay of numerous internet food trends due to its high nutritional value and versatility in a variety of dishes.
Kale contains approximately 6% of the recommended daily vitamin A intake in one cup and is also high in other nutrients. Fiber, folate, vitamins C and K, iron, calcium, potassium, and antioxidants are among them.
How Long Does This Smoothie Last in the Fridge?
This apple kiwi kale smoothie will last for up to 2 days in the fridge. To keep your drink nice and fresh, store it in an airtight container such as a bottle or mason jar with a tight-fitting lid.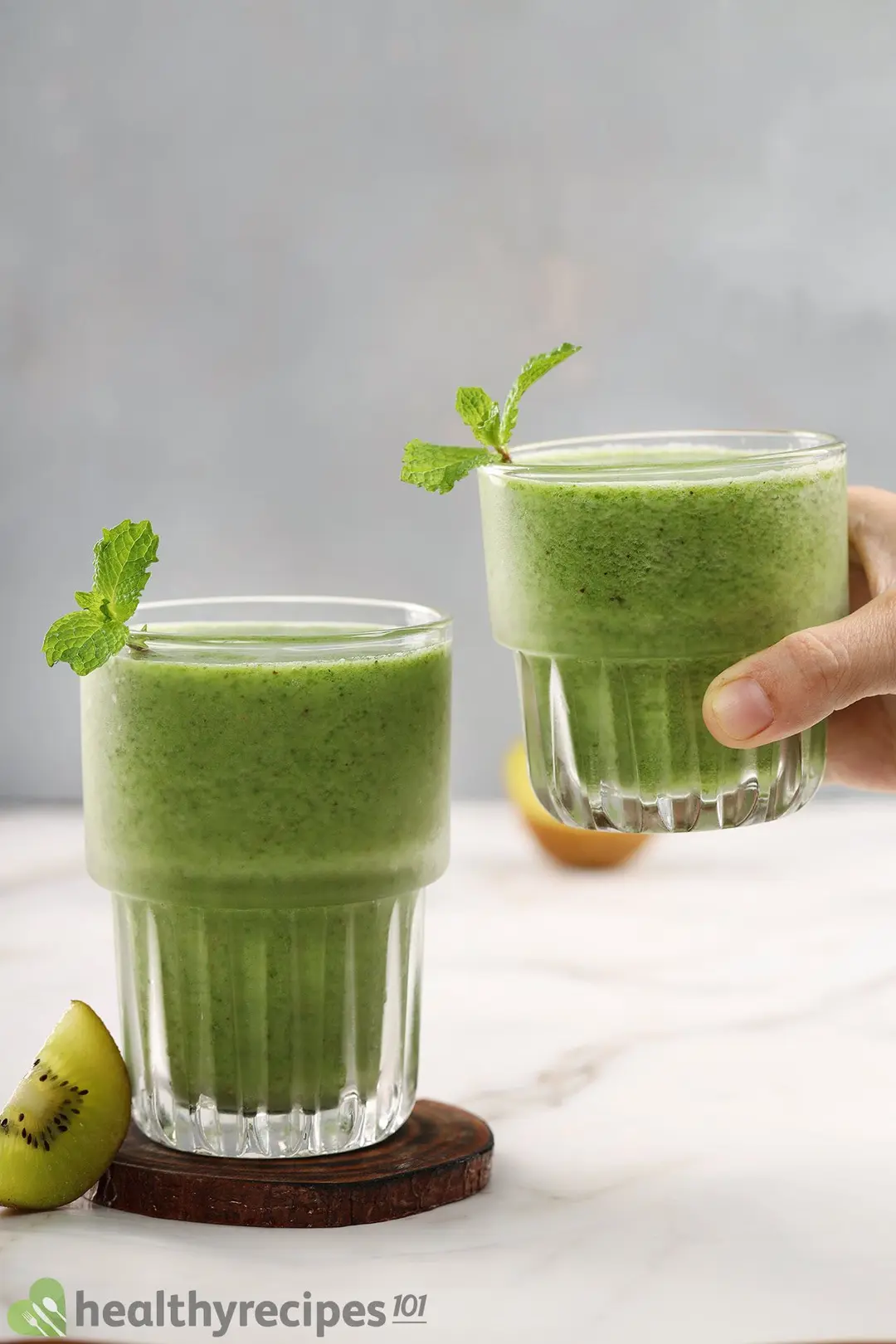 Apple Kiwi Kale Smoothie Recipe
Our apple kiwi kale smoothie recipe is a delicious combination of fruits and vegetables, for a refreshingly enjoyable drink. Let's check it out.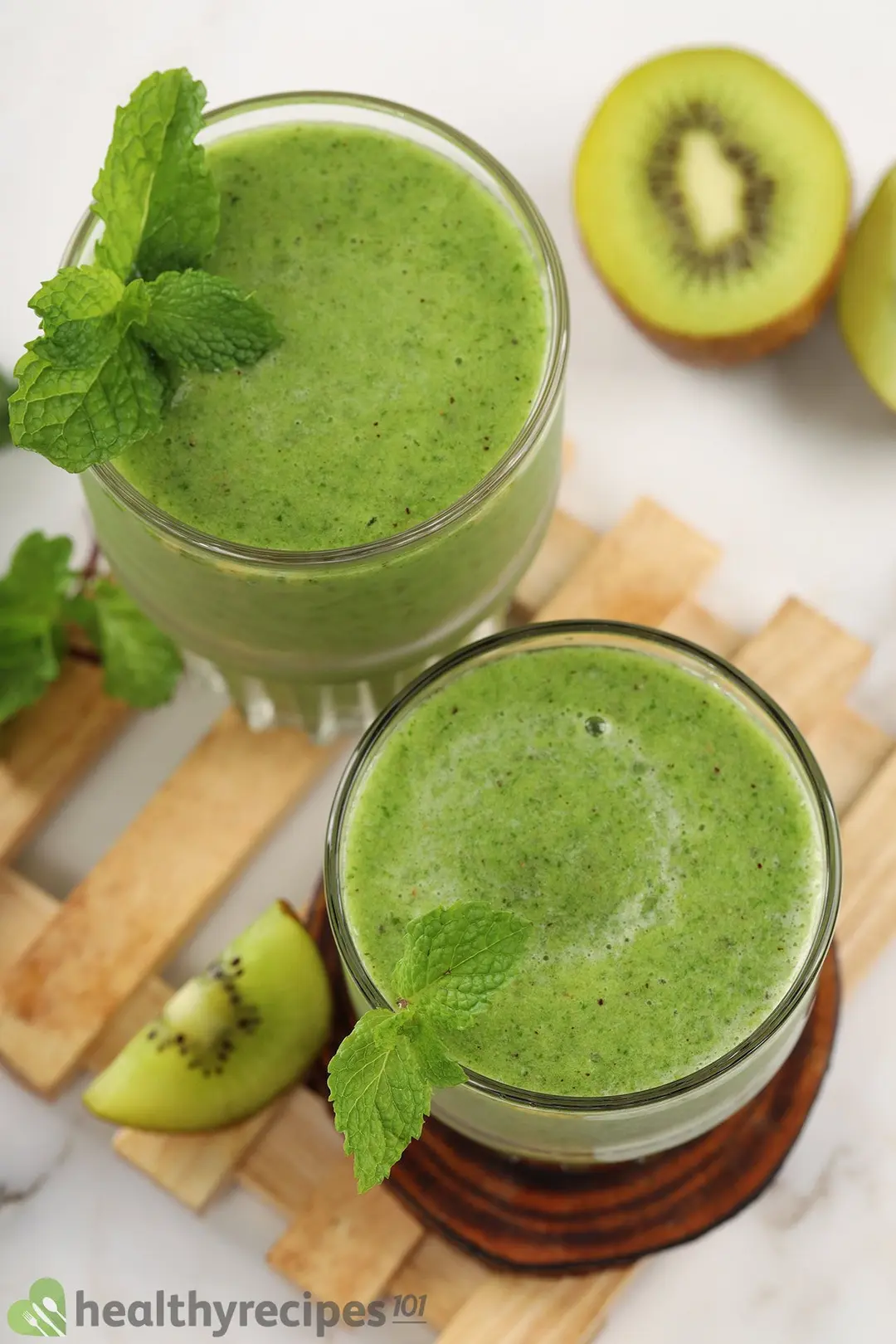 prep TIME

10 mins

total TIME

10 mins
COURSE

Beverage

CUISINE

American

SERVINGS

servings

CALORIES

129 kcal
INGREDIENTS
10 oz

green apple , peeled, and cut into wedges (core removed)

1 tsp

lemon juice

2 oz

kale

1 cup

water

8 oz

kiwi (peeled and cut into chunks)

2 cups

ice

8

mint leaves

3 tbsp

honey
INSTRUCTIONS
1
Blend all the ingredients: Combine all the ingredients in a blender and blend until smooth.
2
Pour the smoothie into 4 glasses.
3
Garnish them with the mint leaves and enjoy your refreshing beverage.
NUTRITION
Nutrition Facts
Apple Kiwi Kale Smoothie Recipe
Amount Per Serving (1 serving)
Calories 129
Calories from FDA
% Daily Value*
* Percent Daily Values are based on a 2000 calorie diet.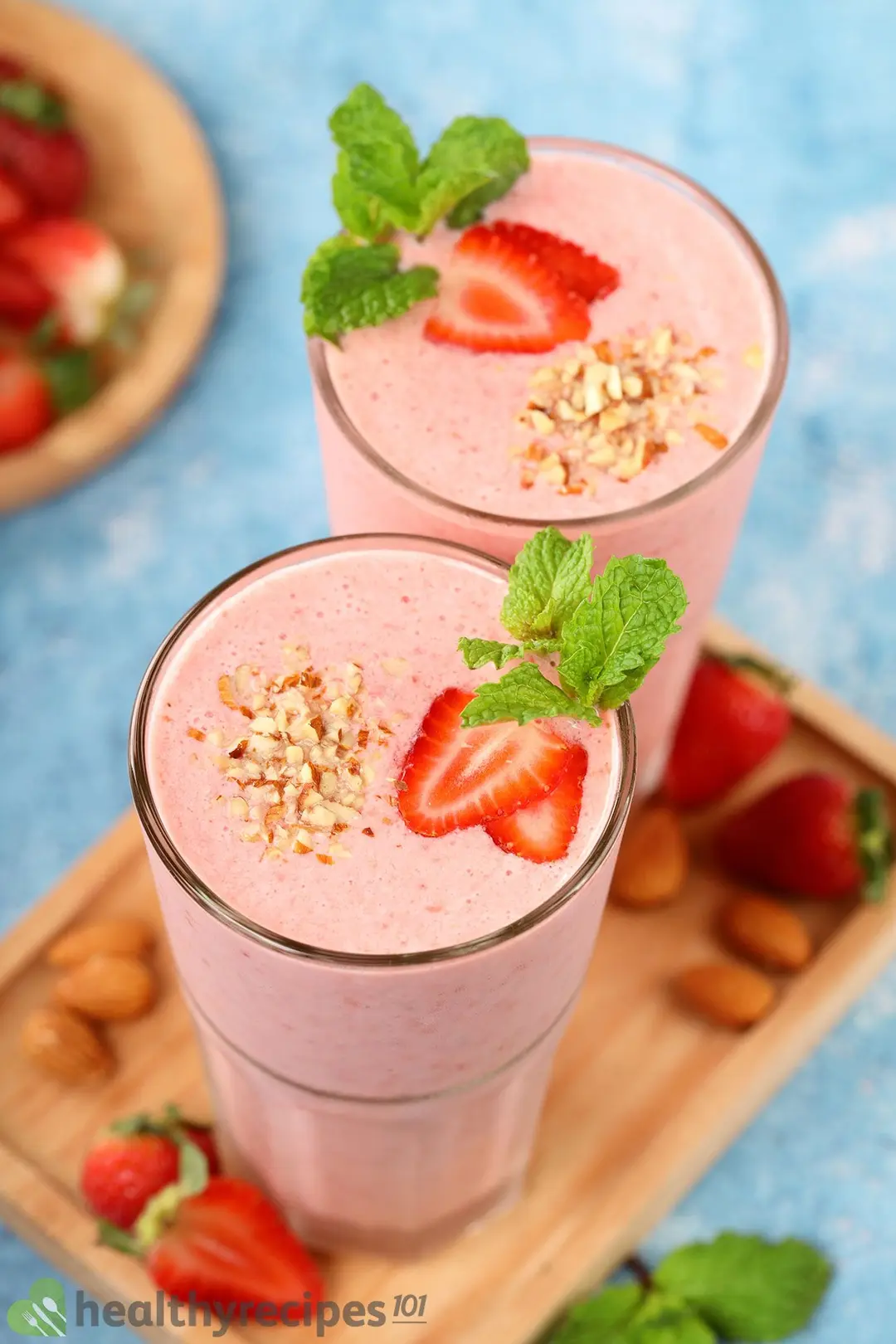 Previous Recipe
Strawberry Smoothie With Yogurt
Strawberry Smoothie With Yogurt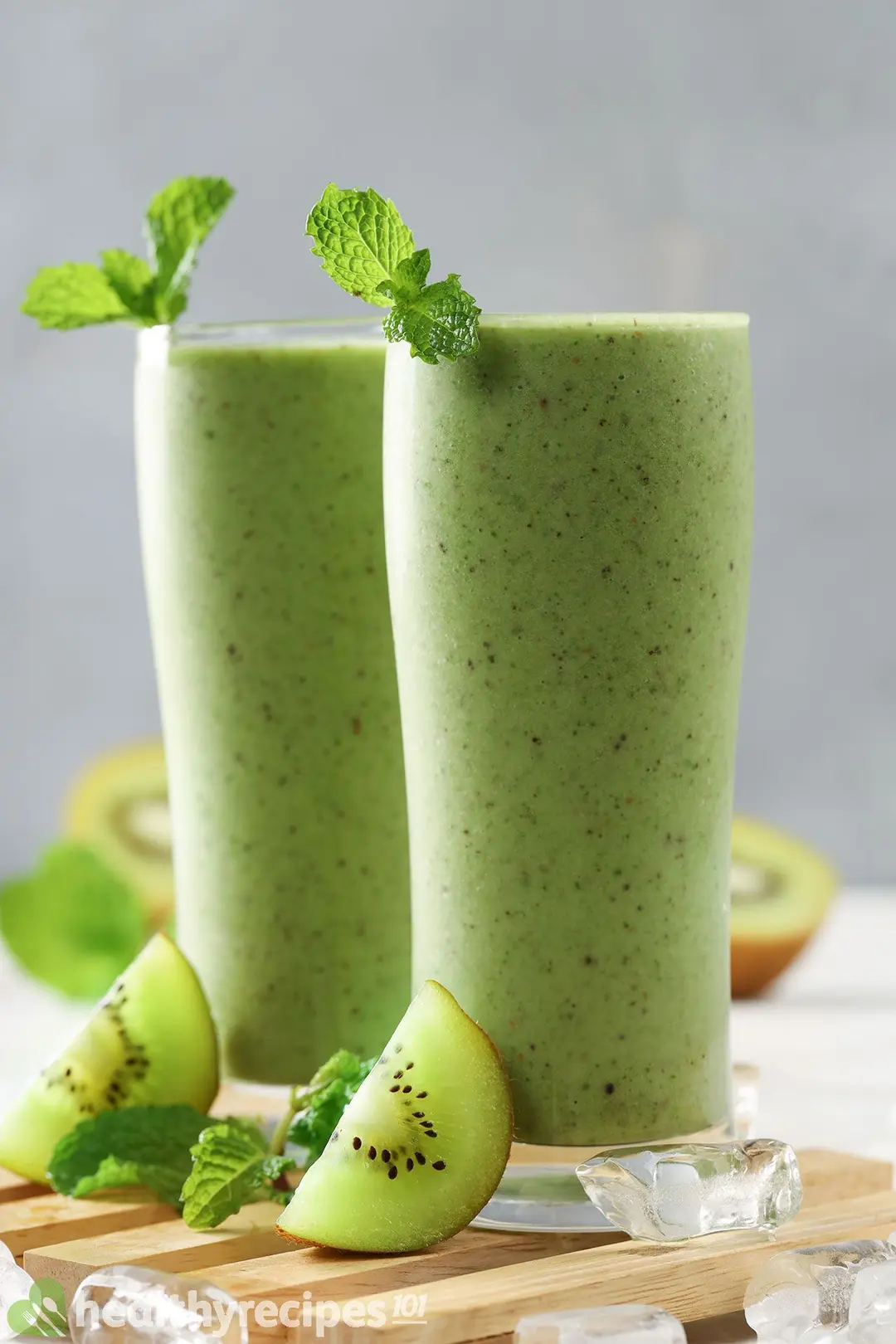 Kiwi Smoothie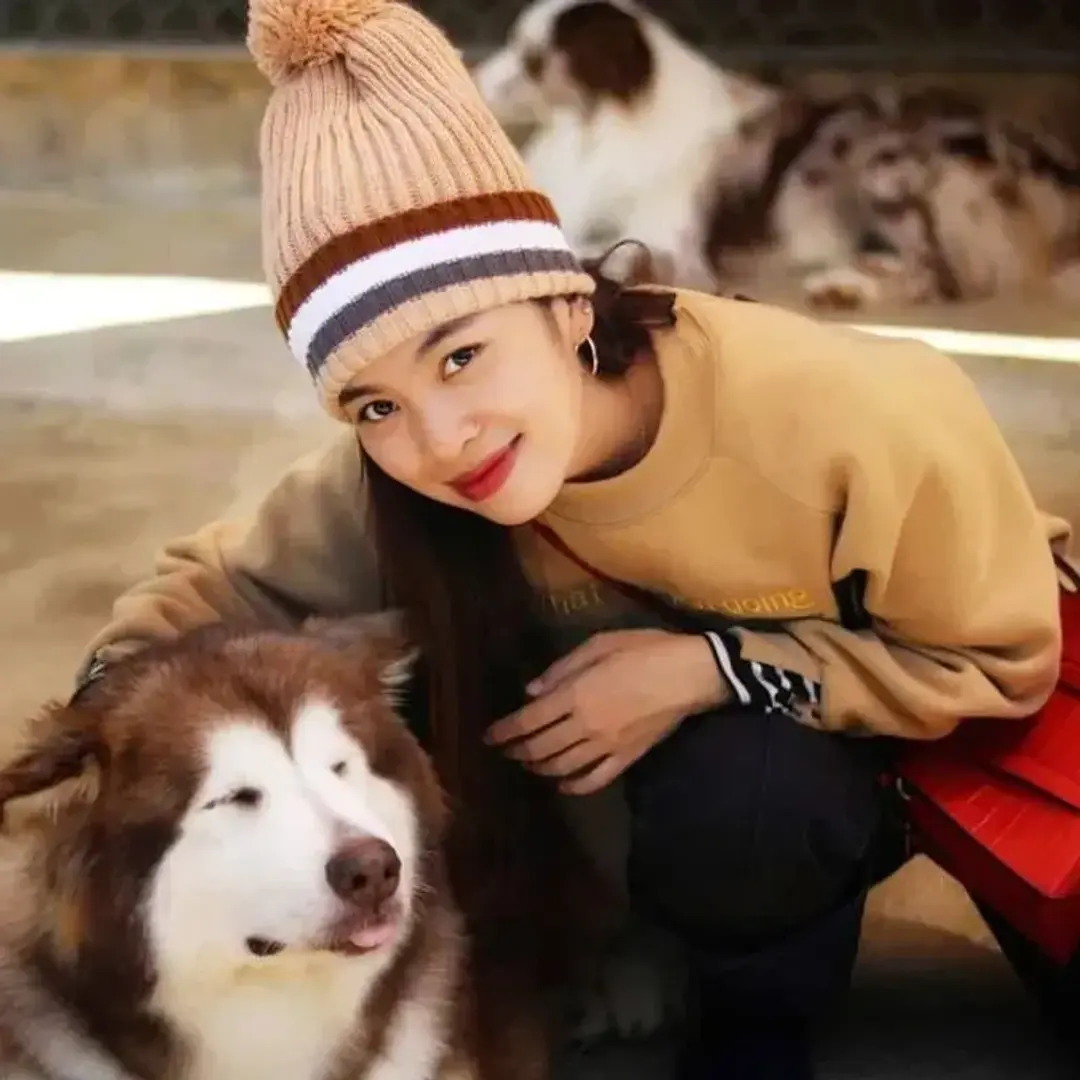 Chef, Culinary Consultant
Tuyet Pham is an award-winning Saigonese chef who believes that joy is the secret ingredient to delicious food. At Healthy Recipes 101, Tuyet personally tests and simplifies every recipe, ensuring maximum flavor with minimal effort. With a background at prestigious French restaurants P'TI Saigon and Le Corto, Tuyet knows how to make every dish exceptional.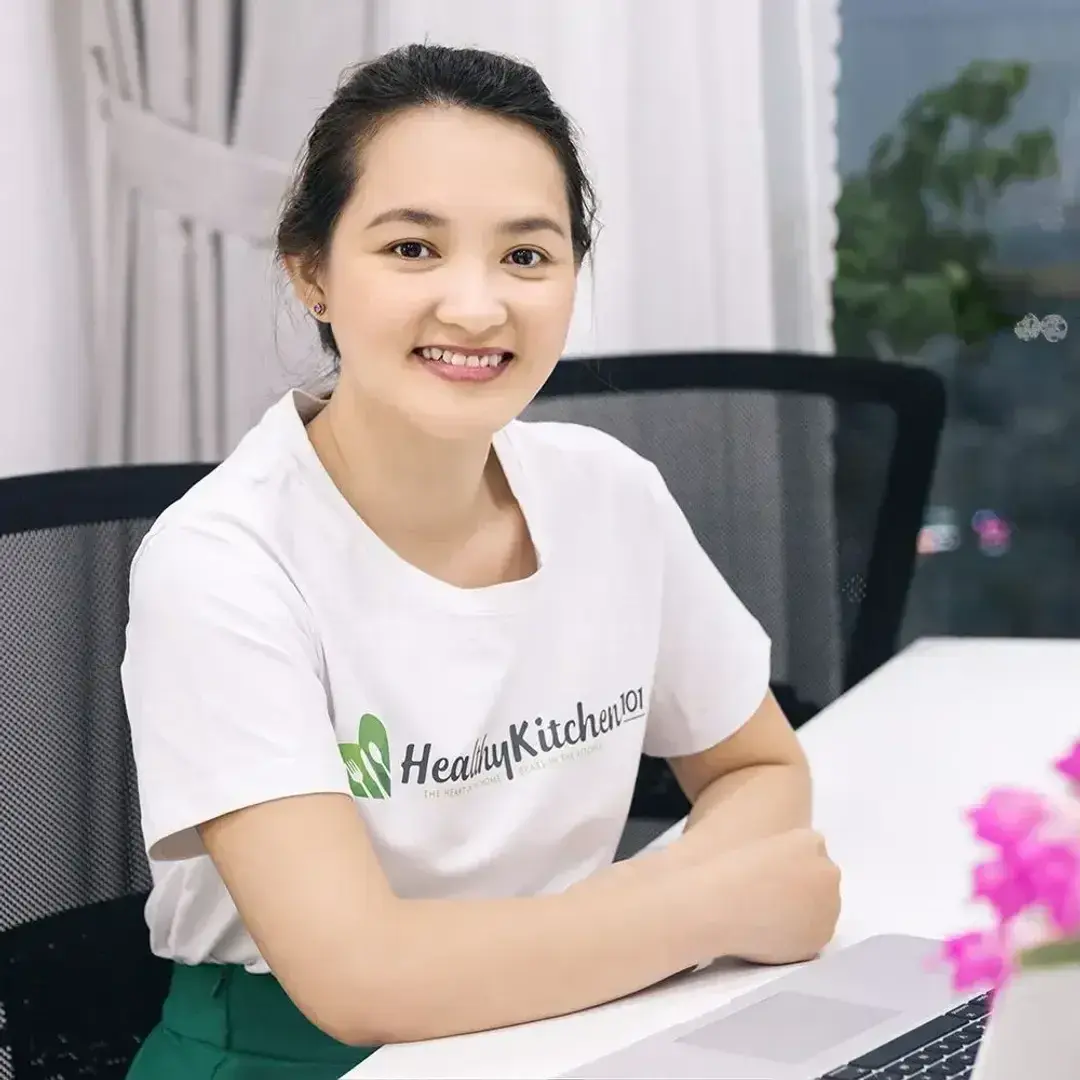 Writer, Author
Luna Regina is an accomplished writer and author who dedicates her career to empowering home cooks and making cooking effortless for everyone. She is the founder of HealthyKitchen101.com and HealthyRecipes101.com, where she works with her team to develop easy, nutritious recipes and help aspiring cooks choose the right kitchen appliances.
Comments/ Reviews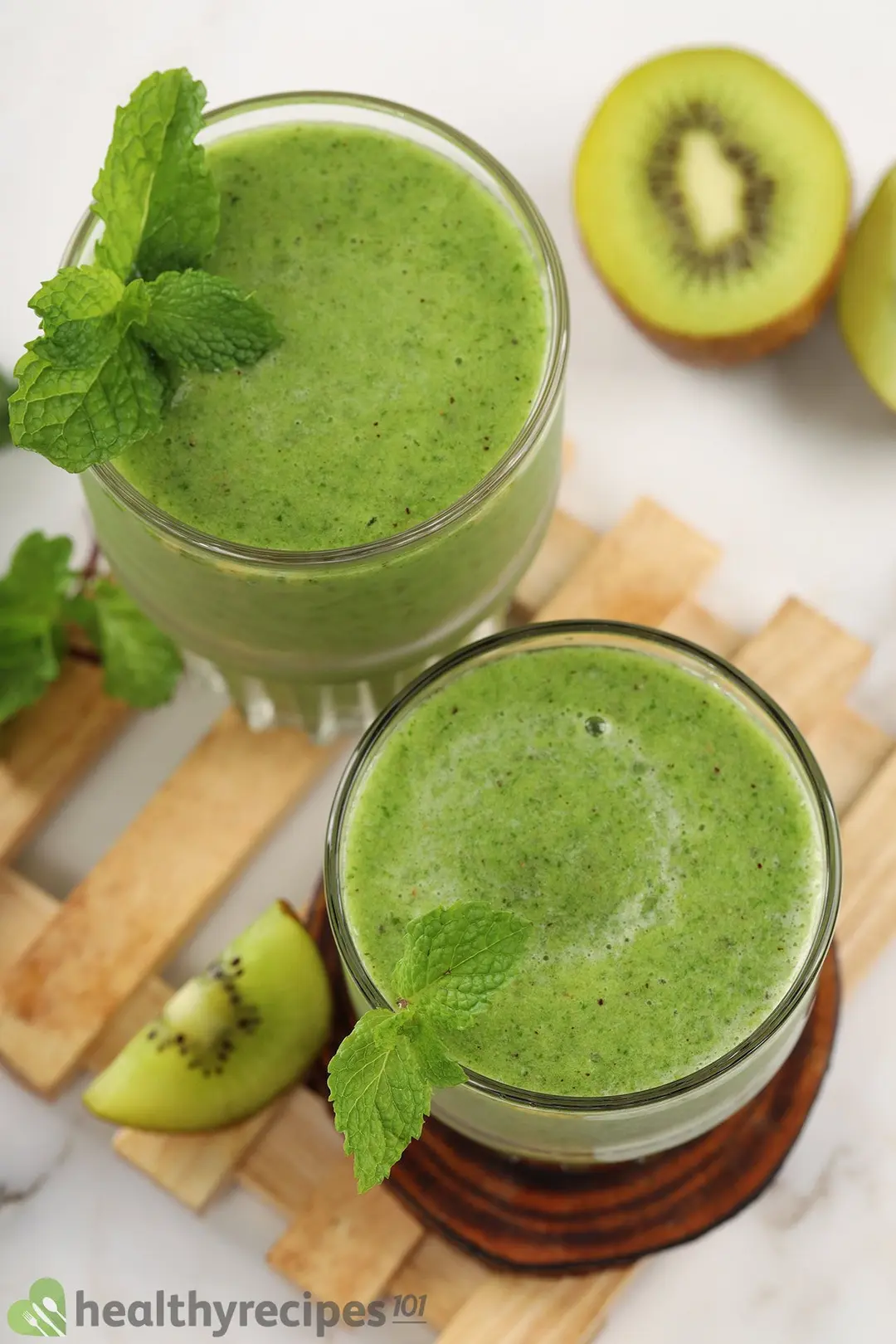 Apple Kiwi Kale Smoothie Recipe