Today's vodka and pomegranate juice recipe features the gorgeous ruby red color and sweet-tangy flavor of pomegranate. We combine the juice with some alcohol and soda to make a festive drink that is both refreshing in taste and visually charming.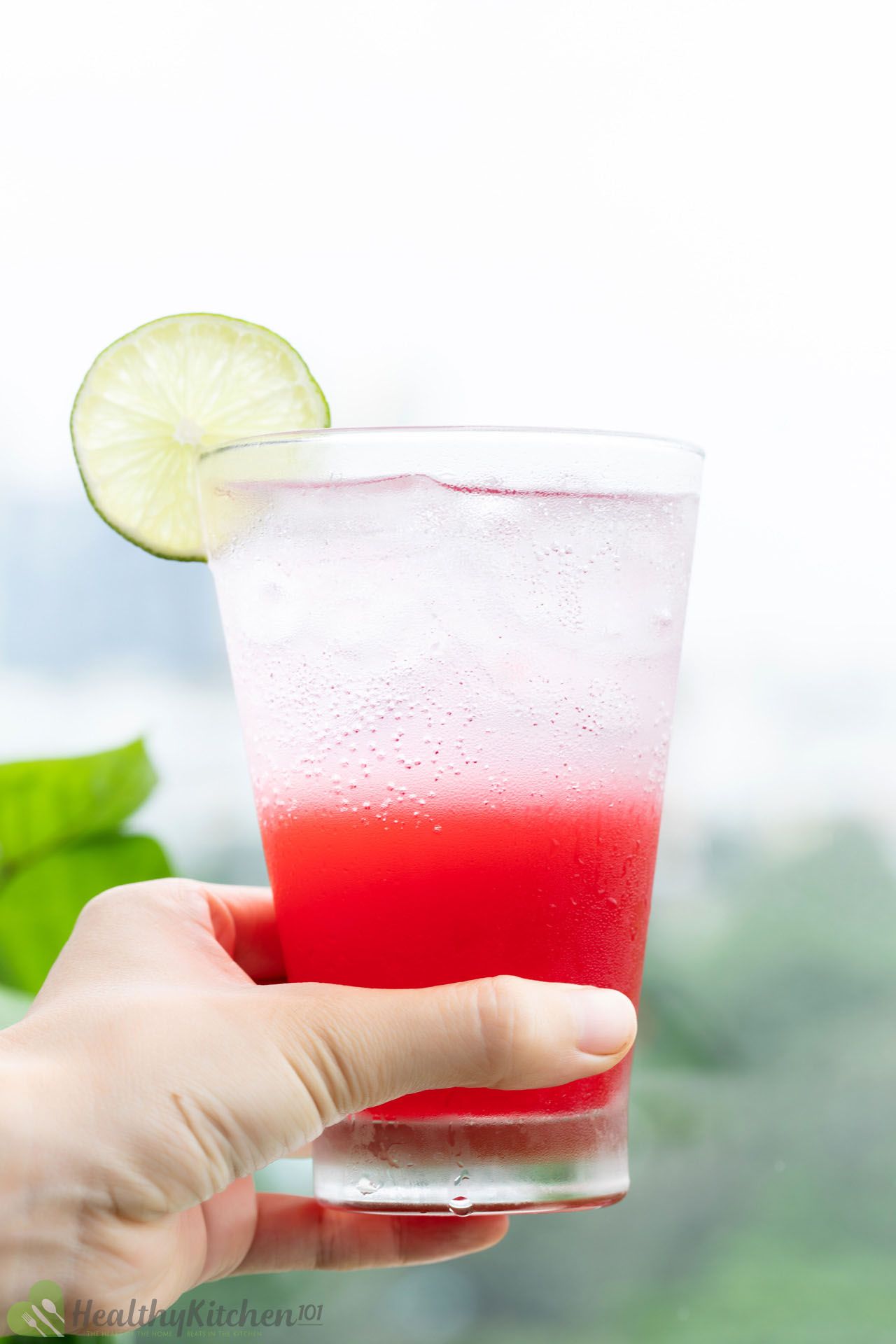 Before heading to the how-to section, let's start with some common questions about this vodka and pomegranate juice recipe.
Is Vodka and Pomegranate Juice Healthy?
Since our vodka and pomegranate juice contains some alcohol and sugar, we don't consider it a healthy drink but have tried to add some goodness with the pomegranate.
According to USDA dietary guidelines, alcoholic beverages can be consumed in a moderate amount of up to 1.5 fl.oz per day. Our vodka and pomegranate recipe is formulated to stay below this limit with only 1 fl.oz in each serving.
There are also health benefits that come with pomegranate. The fruit is packed with vitamins, antioxidants, and other essential nutrients.
Some of the most impressive benefits include cancer prevention, immune system support, and reduced risk of heart disease.
Is Pomegranate a Citrus Fruit?
Coming with a sharp tangy taste, pomegranates are sometimes considered citrus fruit. However, they are not.
Pomegranates belong to the Lythraceae family while citrus fruits are members of the Rutaceae family. The two families also come from different regions.
Pomegranates are native to the Northern Hemisphere, Iran all the way to India then they came to the Mediterranean thousands of years ago. Citrus fruits are grown in warmer climates such as South America, Southeast Asia, and Australia.
The tangy note present in pomegranate is not vitamin C like in citrus fruits but citric acid. Citric acid is a natural compound that can be found not only in citrus fruits, but also in berries, tomatoes, and yes, pomegranate.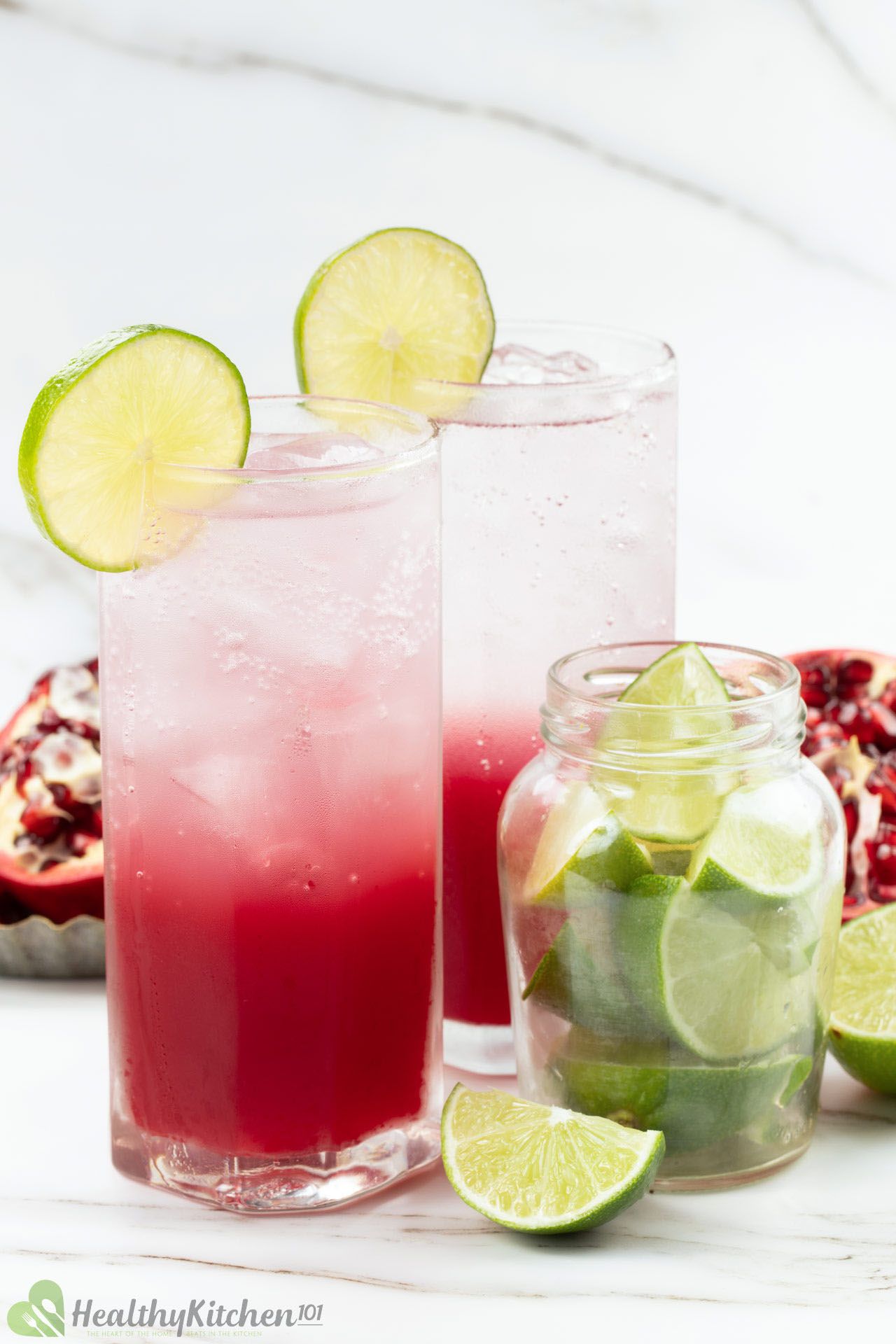 Best Types of Pomegranate
Pomegranate, one of the most ancient fruits still grown today, has many different types. A couple of the varieties that are best for juicing are:
1. Granada Pomegranate
It is a juicy pomegranate variety with dark red color and sweet or light tart taste. This type of pomegranate is one of the most popular available in stores and supermarkets.
2. Parfianka Pomegranate
Parfianka is a soft seeded variety with bright red skin. The arils are juicy and provide a nice vivid cherry color, making Parfianka a great choice for juicing.
How to Juice a Pomegranate
Sometimes people avoid pomegranates as the thought of extracting all those red seeds might seem a bit daunting. However, after walking through some tried-and-true methods, we have settled on 2 of our favorite ways to juice these gorgeous arils.
The first method requires more time and effort; however, it ensures that you can collect the maximum liquid and the juice comes out clearer. The second one, on the other hand, is quicker but you might lose some juice during the process.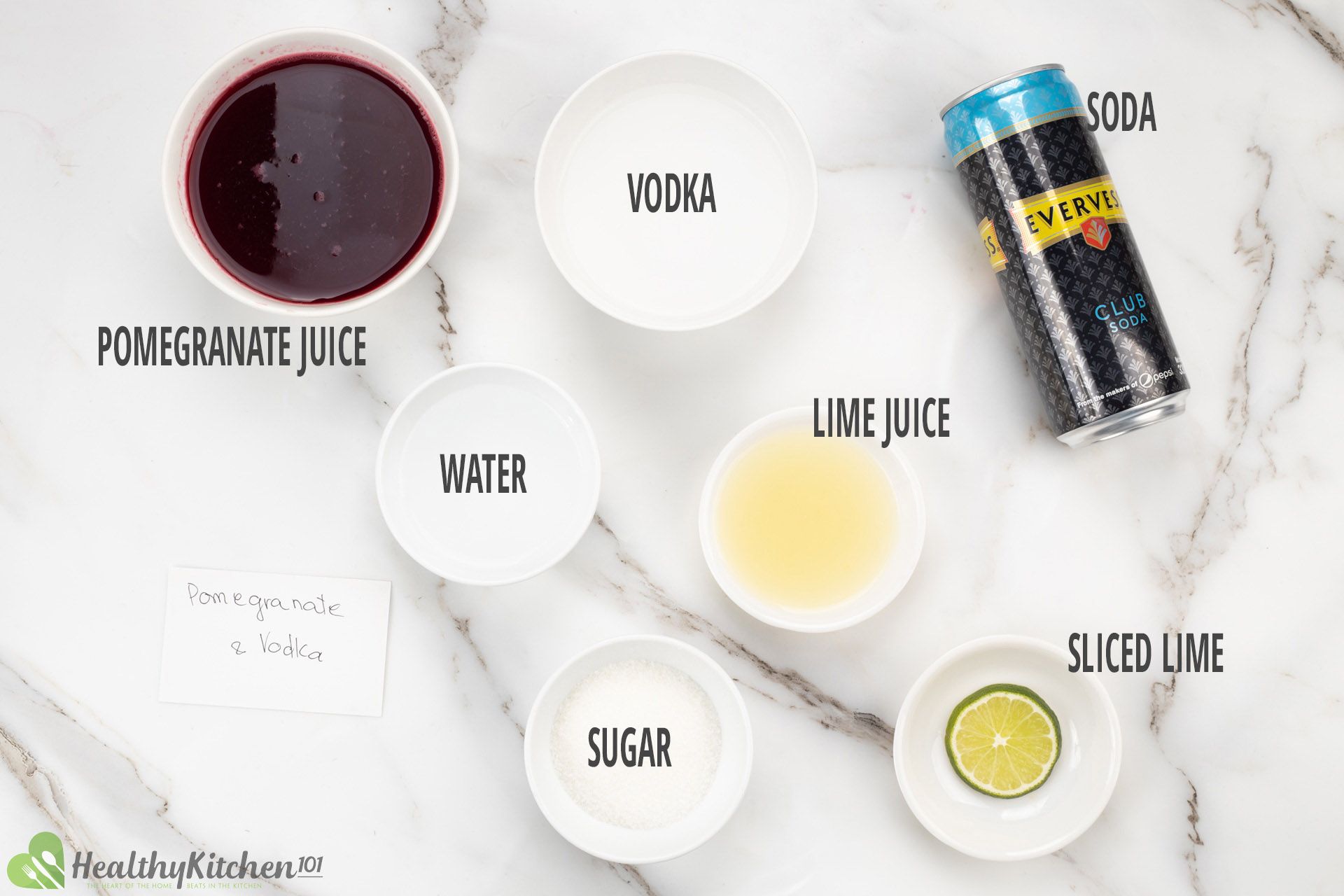 Either method works, so choose whichever way is most suitable for you.
1. Cheesecloth
If you juice only one or two pomegranates, use a cheesecloth. The idea of juicing fruit by a piece of fabric might sound a bit low-tech, but this is the most effective way to do the task.
Start by placing the pomegranate seeds in a cheesecloth. Fold the fabric in half and twist to wring out the juice. Continue with the remaining pomegranate seeds.
2. Blender
Simply put the arils into a blender and pulse until you get a smooth mixture. Then strain the liquid through a fine-mesh strainer to discard the seeds and pulp.
You can press down on the blended mixture with the back of a spoon when straining to help release more juice.
Protip: pomegranate juice can stain certain fabrics such as linen or cotton. It's always a good idea to wear an apron when de-seeding and juicing the fruit.
How to Make Vodka Pomegranate Juice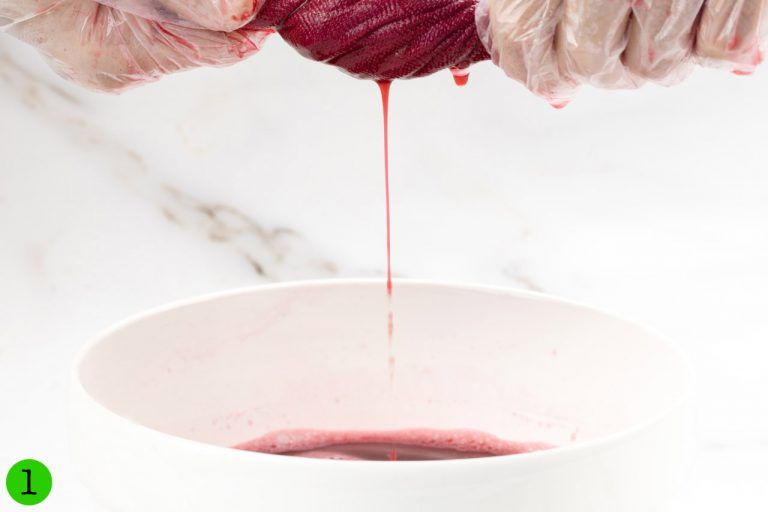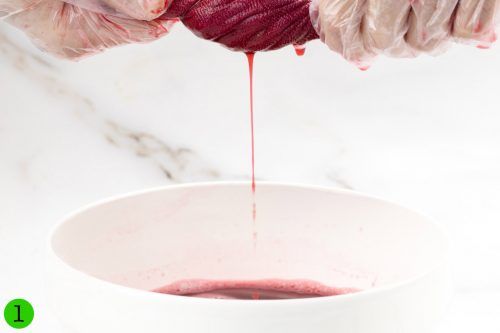 Juice pomegranate: Juice pomegranates using either a cheesecloth or a blender.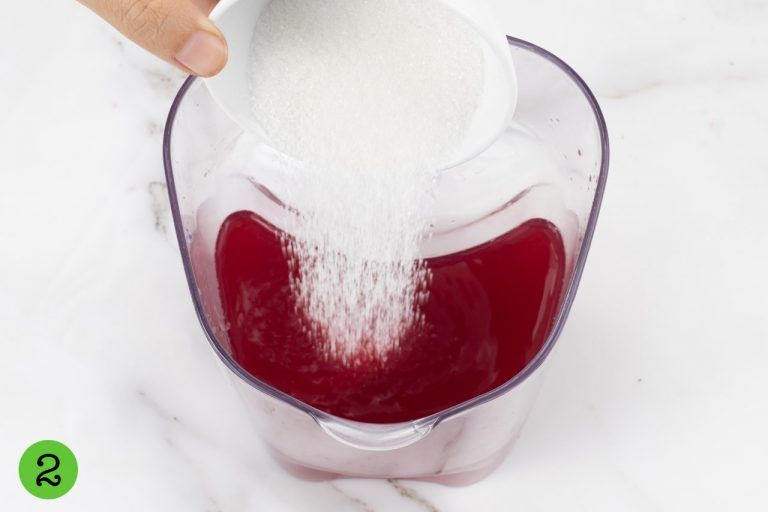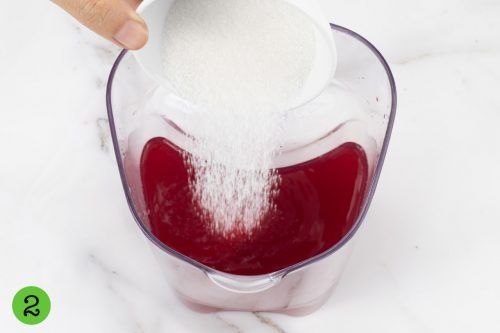 Add sugar, alcohol, and lime juice: Pour the pomegranate juice into a pitcher. Add sugar, water, vodka, and lime juice. Stir to dissolve the sugar.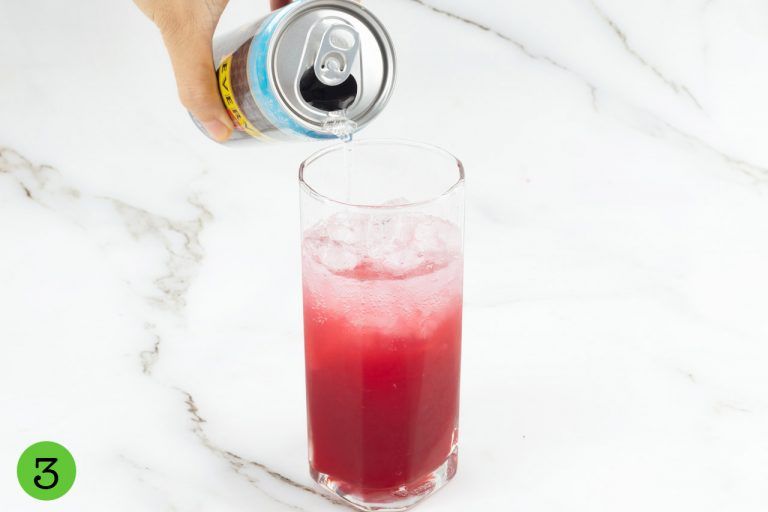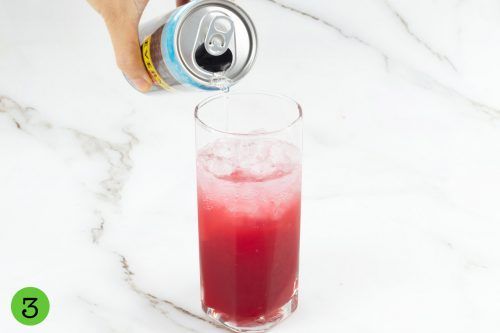 Add ice and soda club: Pour the drink into 4 glasses. Add ice and top with soda.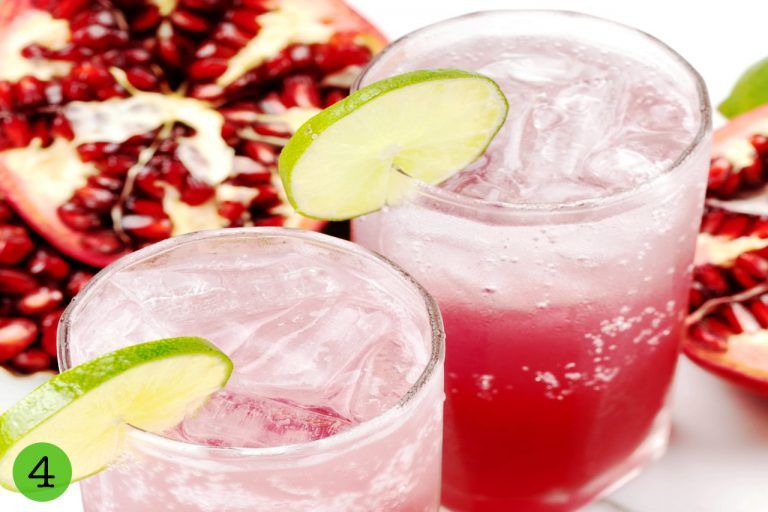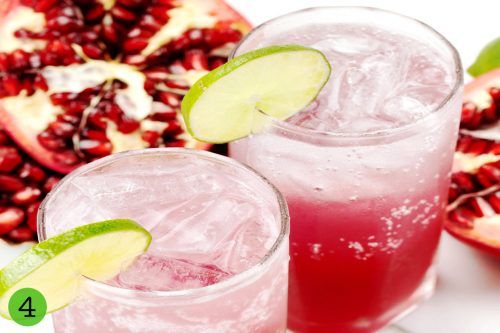 Serve: Garnish with lime slices for a more visually appealing appearance. Serve.
How Long Does Vodka and Pomegranate Juice Last?
Since this vodka pomegranate juice contains some alcohol and fresh juice, it won't last well for more than 24 hours. However, we recommend having it within the first 2 hours of making for the best quality and tasting experience.
If you want to keep the drink a bit longer, place the liquid in a glass container and store it in a refrigerator. This way the drink can stay fresh for up to 3 days.If you are in the mood for some more pomegranate juice, check out our top 10 pomegranate juice recipes for some healthy and refreshing drinks.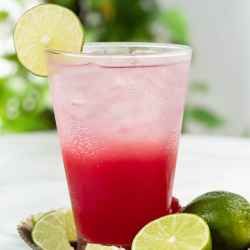 Vodka and Pomegranate Juice Recipe
Print
RATE
facebook share
twitter share
pinterest share
Our vodka and pomegranate juice recipe is simple enough to make in 10 minutes but also tasty and elegant enough to serve at any gathering or party.
Ingredients
1

cup

pomegranate juice

from 2 medium pomegranates

1/2

cup

80-proof vodka

1/4

cup

water

3

tbsp

sugar

3

tbsp

lime juice

1

cup

club soda

4

lime slices

1

cup

ice
This post may contain links to Amazon or other partners; Purchases made via these links may benefit us at no additional cost to you. Read our Affiliate Disclosure.
Instructions
Place a piece of cheesecloth over a medium bowl. Add a handful of pomegranate seeds in the middle of the cheesecloth. Fold it in half and twist the cloth to wring out the juice. Continue with the remaining pomegranate seeds.

Pour the pomegranate juice into a pitcher. Add sugar, water, vodka, and lime juice. Stir to dissolve the sugar.

Pour the drink into 4 glasses. Add ice and fill the glass with soda.

Garnish with lime slices for a more visually appealing appearance.
Nutrition
Nutrition Facts
Vodka and Pomegranate Juice Recipe
Amount Per Serving (1 serving)
Calories 139
% Daily Value*
Sodium 22mg1%
Potassium 147mg4%
Carbohydrates 19g6%
Protein 1g2%
Vitamin C 5mg6%
Calcium 10mg1%
Iron 1mg6%
* Percent Daily Values are based on a 2000 calorie diet.
Hello! All photos and content are copyright protected. Please do not use our photos without prior written permission. Thank you!