On a hot summer day, this watermelon mojito smoothie recipe will be the perfect choice to make whenever you feel like chilling out. It's hydrating, refreshing, and simple to prepare!
Is Watermelon Mojito Smoothie Healthy?
Yes, it is. Due to our watermelon mojito smoothie being made entirely of healthy, fresh ingredients, it is nutritionally dense and delicious.
This smoothie, made with low-calorie watermelon and strawberries, is packed with antioxidants vitamins A and C, and fiber. It's also hydrating due to its high- water content while maintaining relatively low calories.
Watermelon is high in lycopene and vitamin C, both anti-inflammatory antioxidants. Including strawberries in this smoothie also provides an additional abundance of antioxidants and fiber.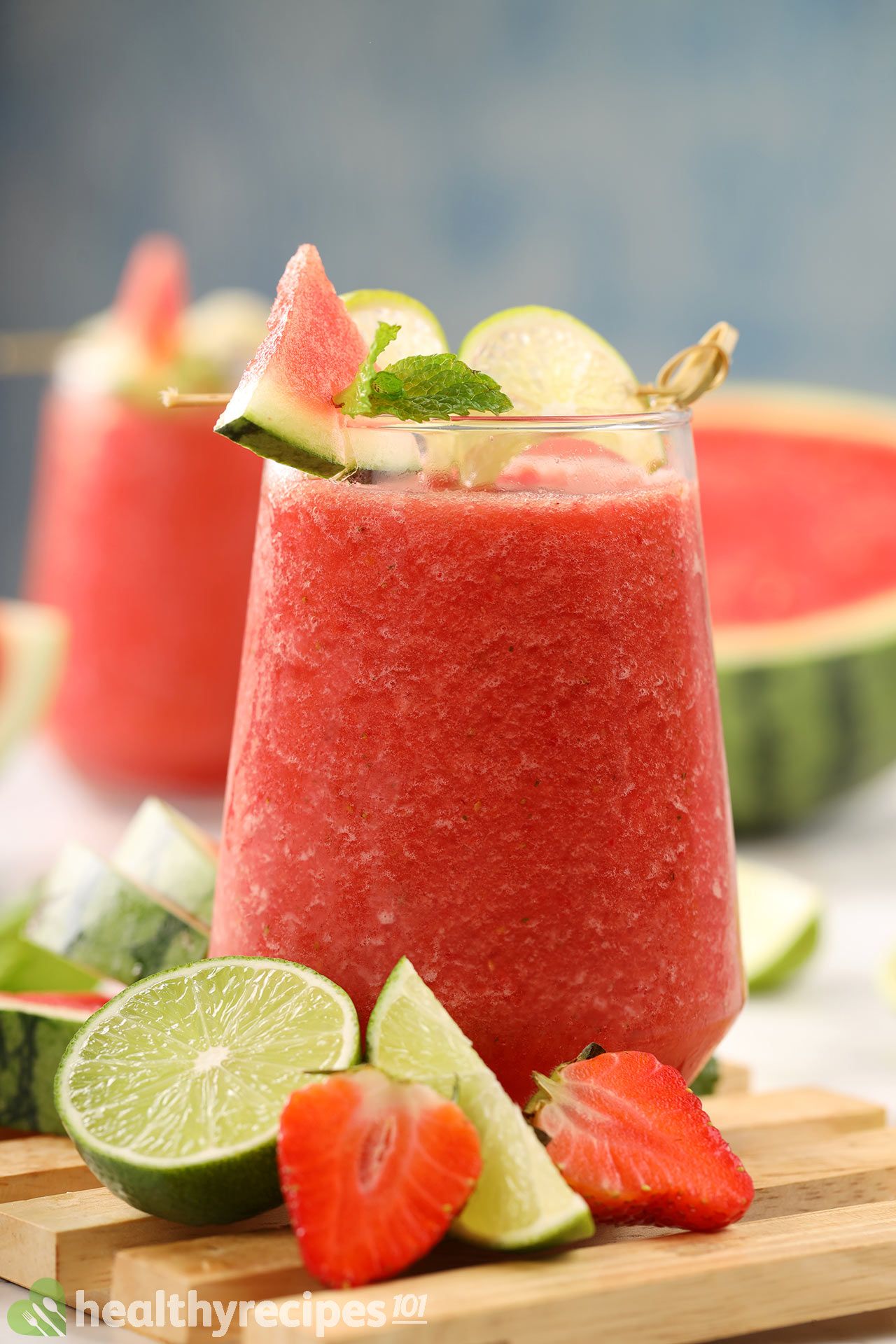 Ingredients for This Smoothie
This satiating crimson mixture is a refreshing fusion of sweet and zesty flavors that will help you relax and stay energized for hours. It can also be prepared in bulk and stored in the refrigerator for easy access whenever you want!
Frozen watermelon and strawberries
The foundation of any fantastic smoothie is frozen fruit, and today's drink is no exception.
The primary ingredient, watermelon, offers a plethora of mixing and matching possibilities. It complements a wide variety of fruits, including strawberries, bananas, and tropical fruits like mango and pineapple.
Strawberry is our choice to pair with watermelon in today's recipe. We love that its flavor is complementary and not overpowering. The mildly sweet, citrusy taste of strawberries allows the watermelon's pure flavor to shine through beautifully.
That being said, please feel free to add other fruits of your liking if preferred. The more frozen fruit you incorporate into the smoothie, the thicker it will be.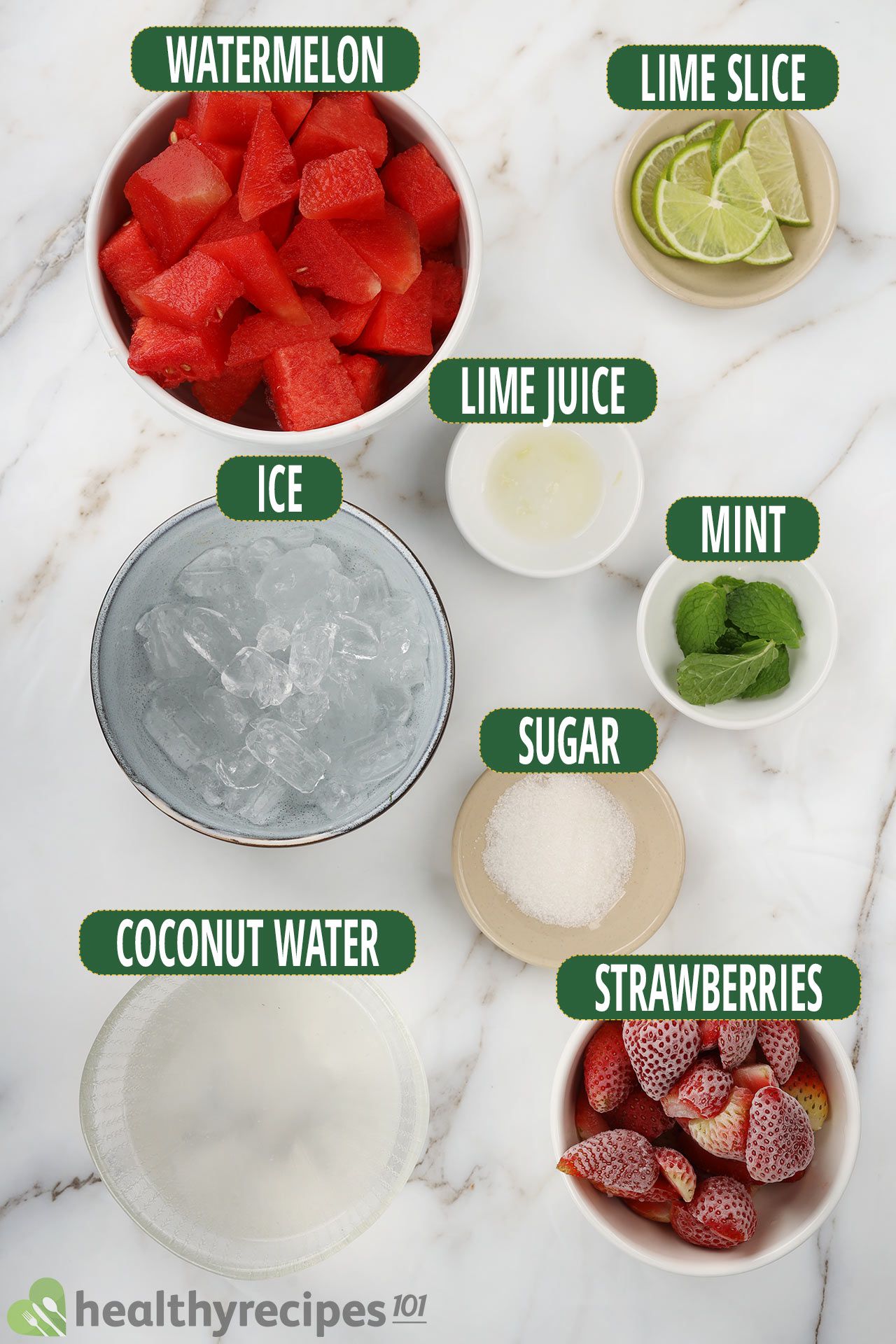 Lime juice and coconut water: Coconut water provides the utmost refreshment, while lime juice adds a lovely tangy note.
Sugar, ice, and mint:
Without a sweetener, watermelon and strawberries can be a bit tasteless in smoothies. You can use any type of sweetener you desire, including sugar, honey, and simple syrup. The amount you use should depend on the ripeness of the fruits.
Last but not least, ice cubes are included to make it extra frosty alongside frozen fruits, and the mint leaves are added to amp up the cooling feeling.
How to Make Watermelon Mojito Smoothie
This watermelon mojito smoothie recipe will be the perfect choice to make on a hot summer day to cool you down. It's bright, tasty, and easy to make in 4 simple steps: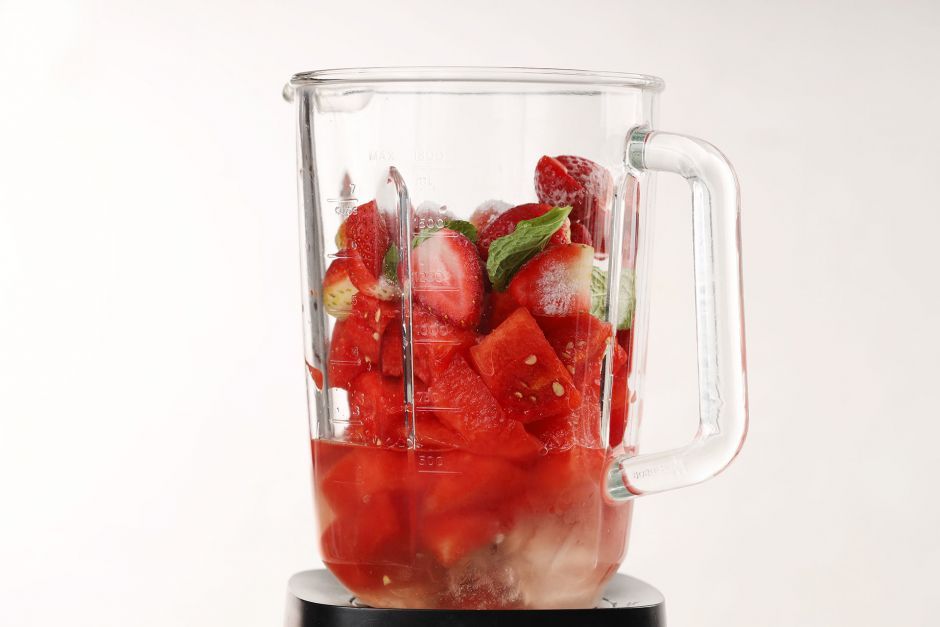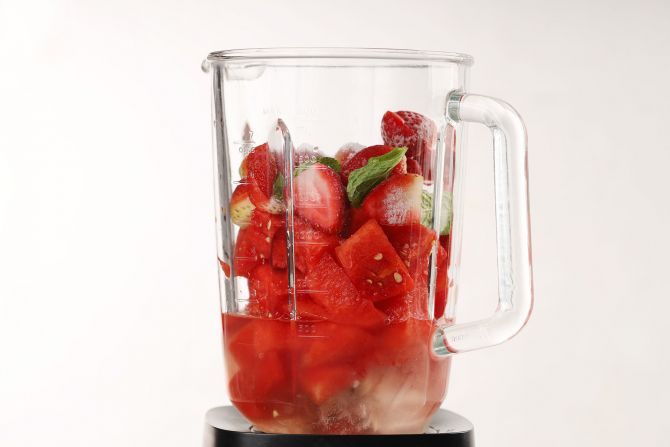 Blend all the ingredients until smooth.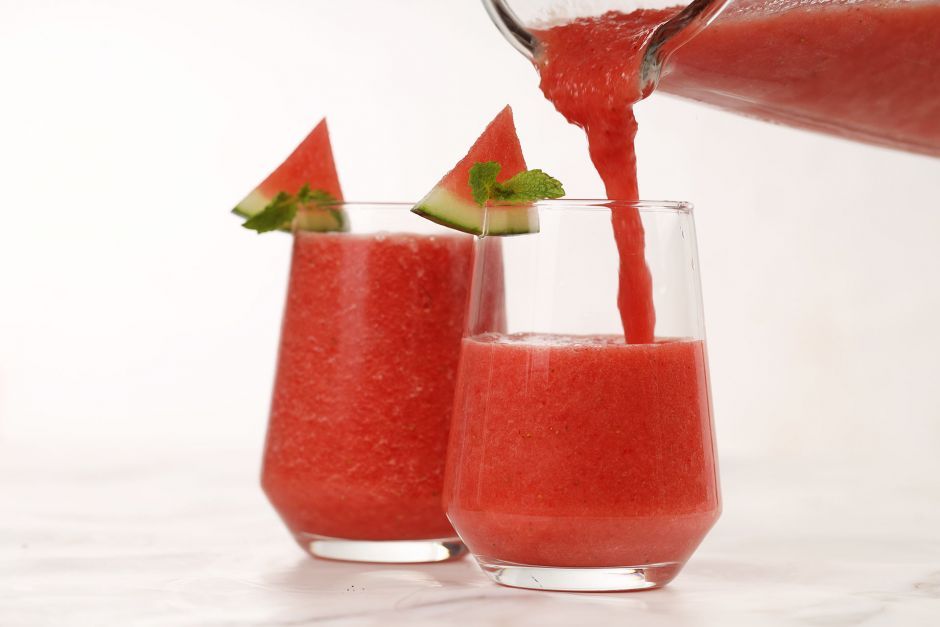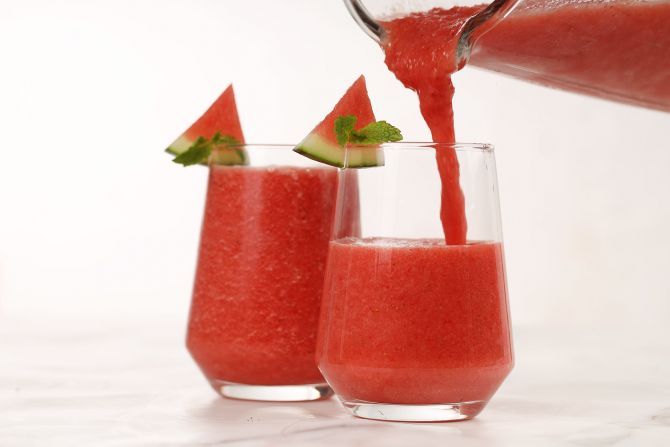 Decor with lemon slices. Pour into serving glasses.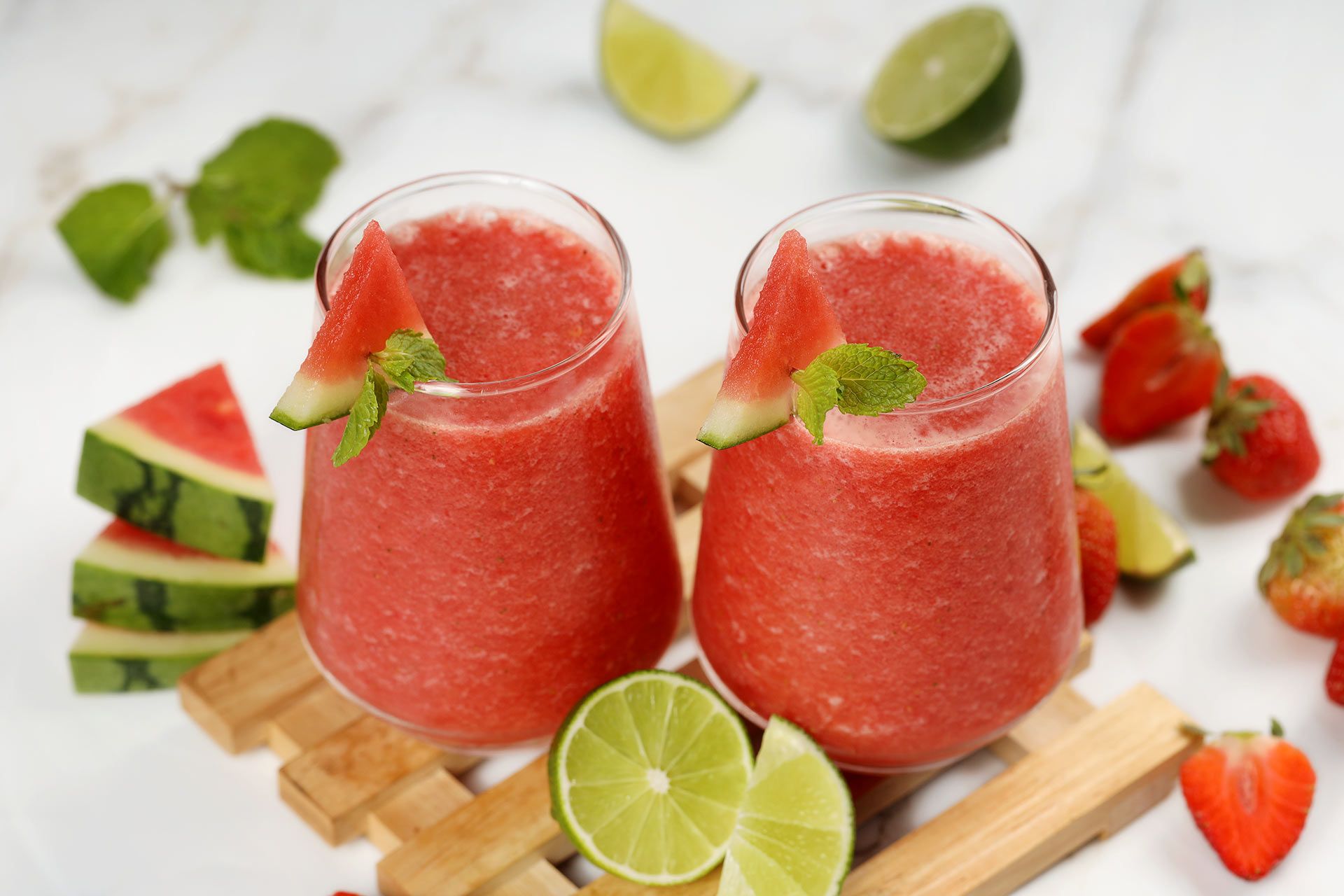 Enjoy.
How Long Does Watermelon Mojito Last?
Watermelon mojito smoothie can be kept in the refrigerator for up to 1 day after being blended. Storing it in an airtight jar is the best approach to ensure it stays fresh for as long as possible.
Because homemade fruit juices are not pasteurized, they have a relatively short shelf life. They lose nutrients quicker over time and maintain nutrients better at lower temperatures.
Keeping it in an airtight container is the best approach to prevent it from coming into contact with air. Because oxygen causes browning in fruit juices and smoothies, it must be restricted.
Put your blended smoothie in sealed freezer-safe jars or containers and store in the freezer for up to 3 months. Allow for thawing in the refrigerator overnight before serving.
When putting it to freeze, remember to leave about an inch of room at the top for expansion.
You can keep it in popsicle molds for a more enjoyable experience. Simply freeze it and serve it at a party or as a refreshing summer beverage for children!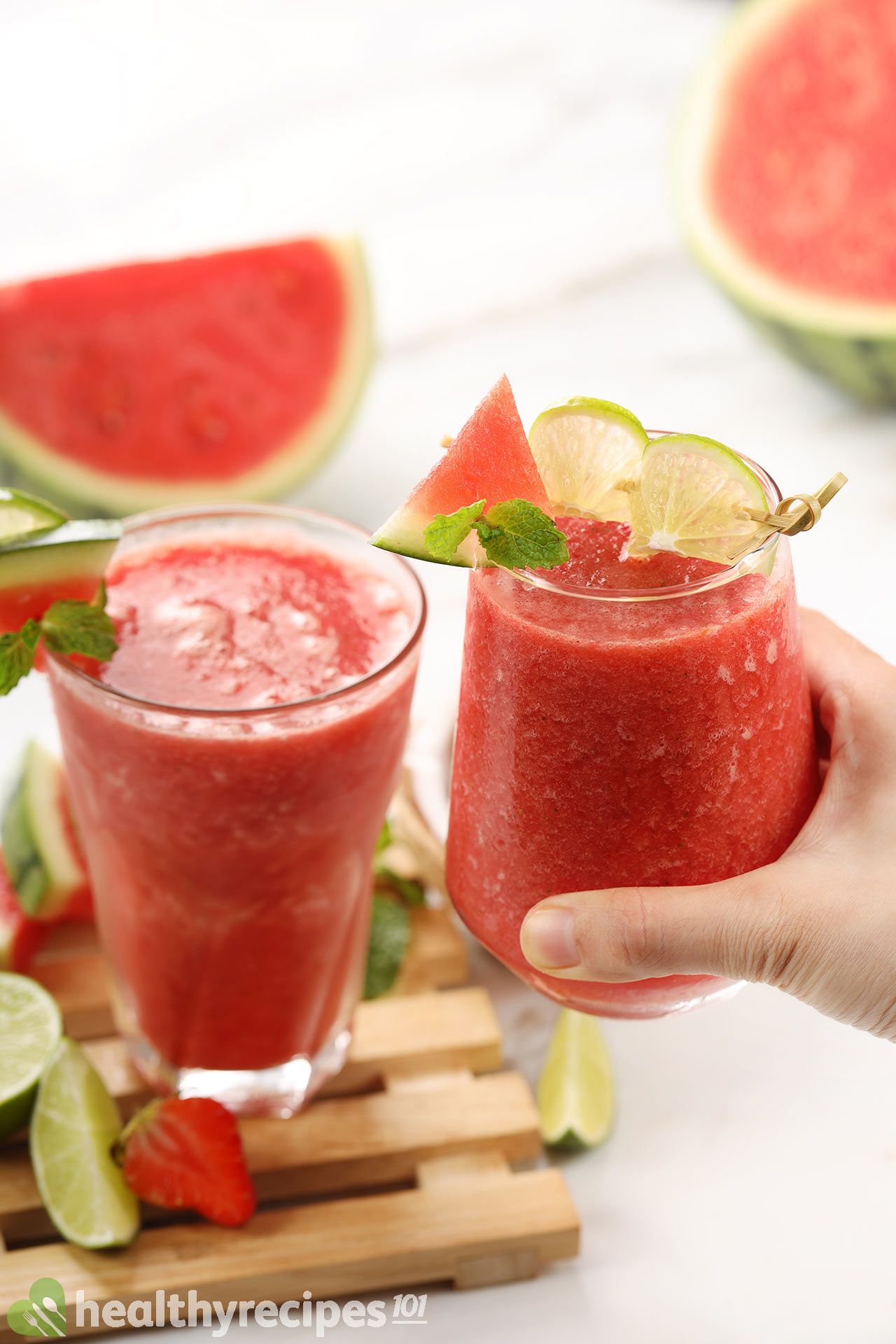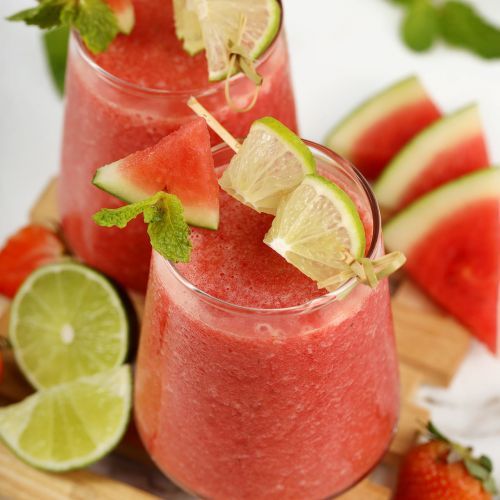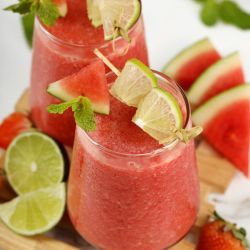 Watermelon Mojito Smoothie Recipe
On a hot summer day, this watermelon mojito smoothie recipe will be the perfect choice to make whenever you feel like chilling out. It's hydrating, refreshing, and simple to prepare!
Ingredients
1

tsp

lime juice

6

oz

frozen strawberries

halved

8

mint leaves

18

oz

frozen watermelon

cut

1

tbsp

sugar

1

cup

coconut water

1

cup

ice cubes

1

oz

lemon slices
Instructions
Place all the ingredients in the blender: 1 cup ice cubes, 1 tsp lime juice, 6 oz frozen strawberries, 8 mint leaves, 18 oz frozen watermelon, 1 tbsp sugar, and 1 cup coconut water. Blend them away until smooth.

Decor with 1 oz lemon slices for 4 servings. Pour the watermelon mojito smoothie into serving glasses.
Nutrition
Nutrition Facts
Watermelon Mojito Smoothie Recipe
Amount Per Serving (1 serving)
Calories 79
Calories from Fat 5
% Daily Value*
Fat 0.5g1%
Sodium 68mg3%
Potassium 381mg11%
Carbohydrates 19g6%
Protein 2g4%
Vitamin A 818IU16%
Vitamin C 42mg51%
Calcium 39mg4%
Iron 1mg6%
* Percent Daily Values are based on a 2000 calorie diet.