Today's avocado green smoothie recipe features a delicious concoction of several fruits and veggies. It's creamy, thick, and tastes amazing.
Is Avocado Green Smoothie Healthy?
If your plate is frequently devoid of fruits and vegetables, our smoothie can be a lifesaver. It includes avocado, banana, pineapple, kale, spinach, and a pinch of ginger, all of which contribute essential nutrients to your diet.
It's also quite filling at 247 calories per serving.
Each serving is sweetened with 1/2 teaspoon honey, which contains approximately 9g sugar. This is considered added sugar, rather than naturally occurring sugar, so the recommended amount varies according to your calorie target.
If you aim for 2000 calories per day, for example, no more than 200 should come from added sugar, which is less than 52 g.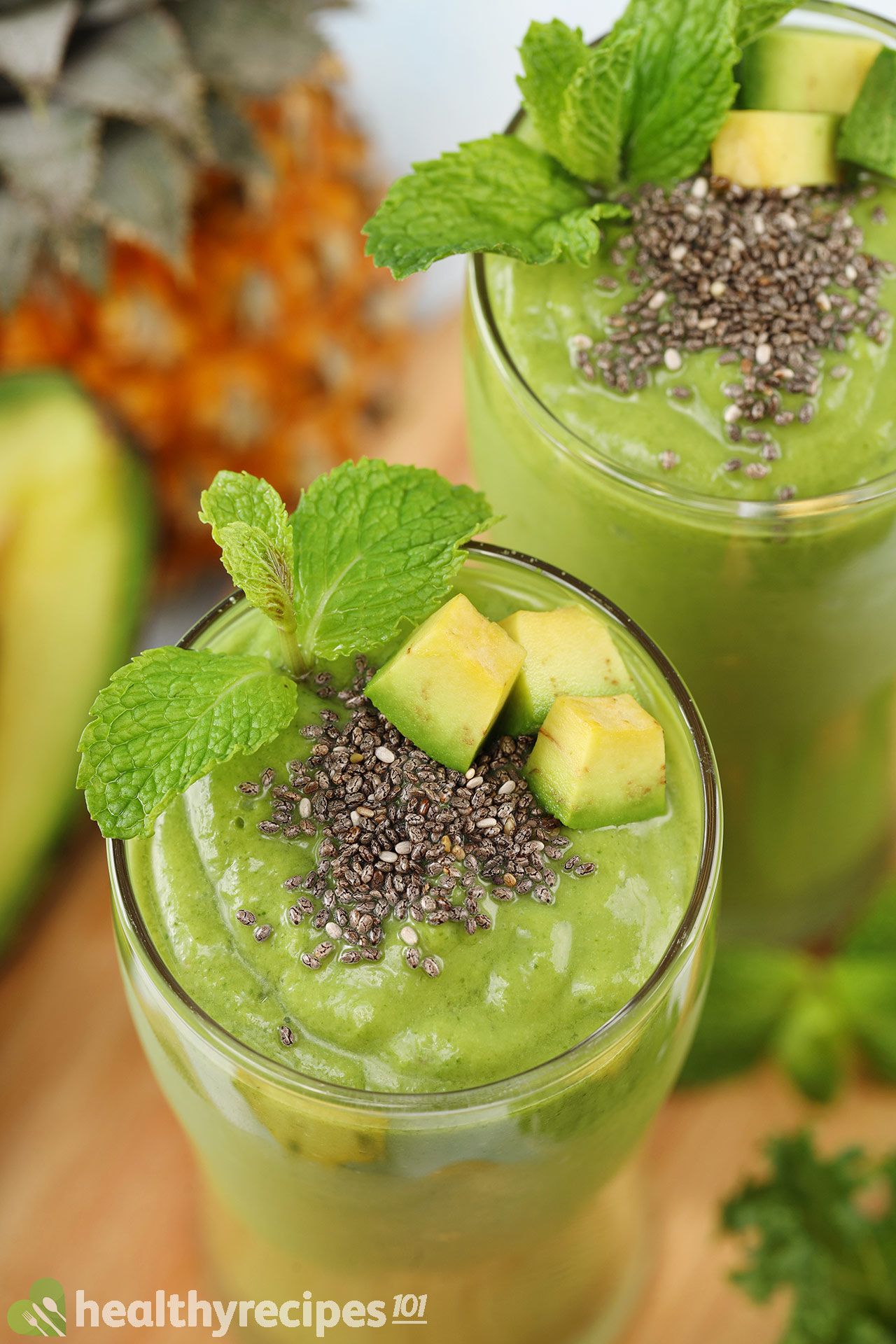 Ingredients for This Smoothie
Our avocado green smoothie recipe calls for avocado, banana, pineapple, leafy greens, milk, honey, ice, and chia seeds. The abundance of fruit and vegetables results in a delicious smoothie that is filled with nutrients.
We chose spinach and kale as our leafy greens. They can be added to virtually any smoothie without altering the texture or flavor.
All of these ingredients were mixed at room temperature. If you use frozen fruits instead, the smoothie becomes thicker and can be eaten with a spoon, much like ice cream.
As the base, we stuck with regular whole milk just to keep things simple. You can substitute it with half and half, skimmed, or even nut milk if you wish.
Smoothies are best served cold, so we blended our fruits and vegetables with some easy-to-break ice nuggets. If you only have large ice cubes, throw them in a bag and crush them with a pestle first; otherwise, your smoothie will contain ice chunks. We're aiming for a smoothie, not a chunkie.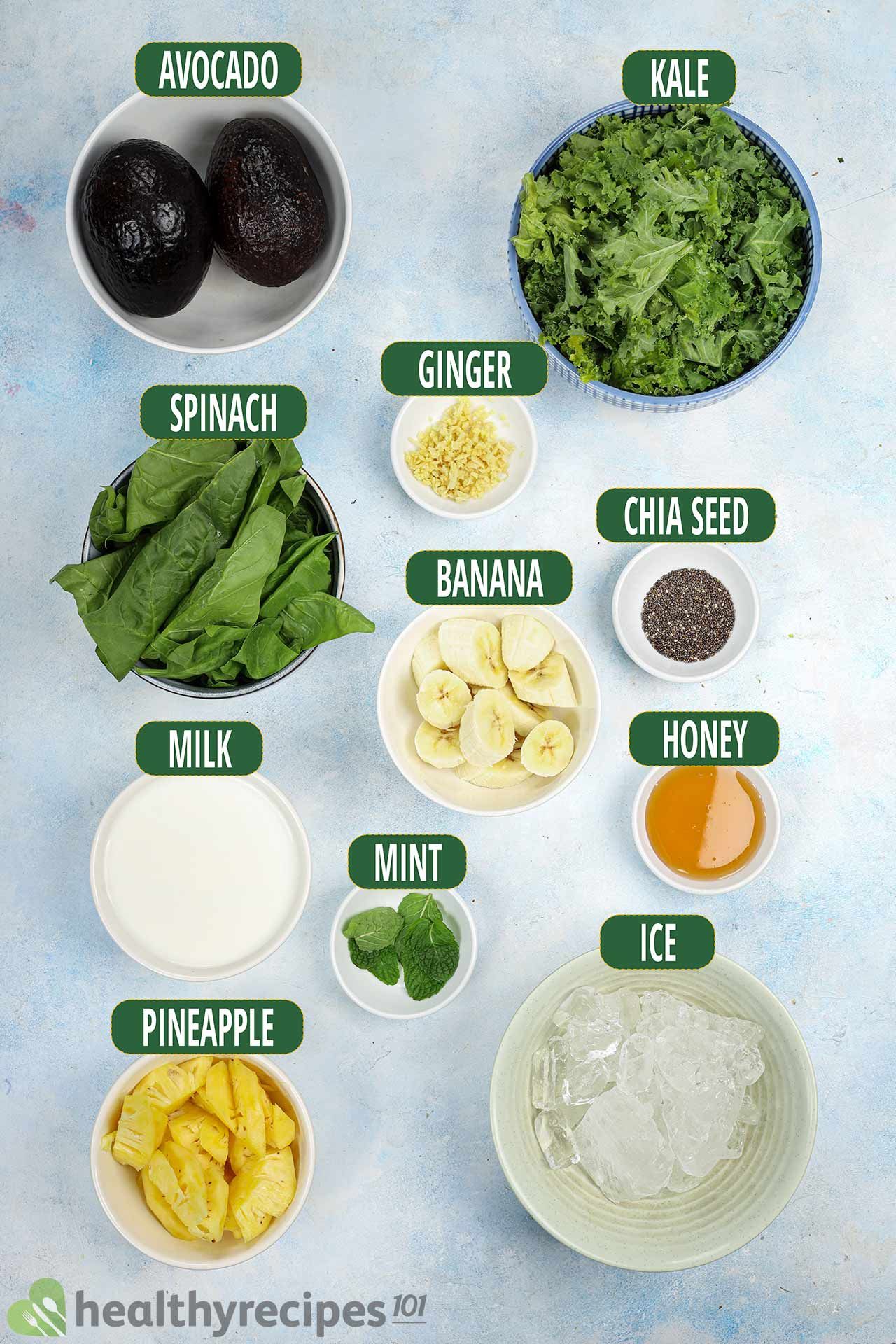 Because our selection of fruits was not particularly sweet, we added a drizzle of honey. If you prefer to tweak the final sweetness, add your honey in small amounts until the smoothie tastes right.
If you're not familiar with chia seeds, they resemble black sesame seeds and are delicious to chew on. They can be used to boost the nutritional profile of any smoothie, adding omega-3 fatty acids, antioxidants, and fiber.
Finally, we garnished the drink with mint leaves to give it a fresh appearance.
How to Make Avocado Green Smoothie
Except for the chia seeds and mint leaves, all ingredients were simply added to the blender. We always put the ice in the blender first to make sure the blades break it up right away. The rest of the blend will go more smoothly that way.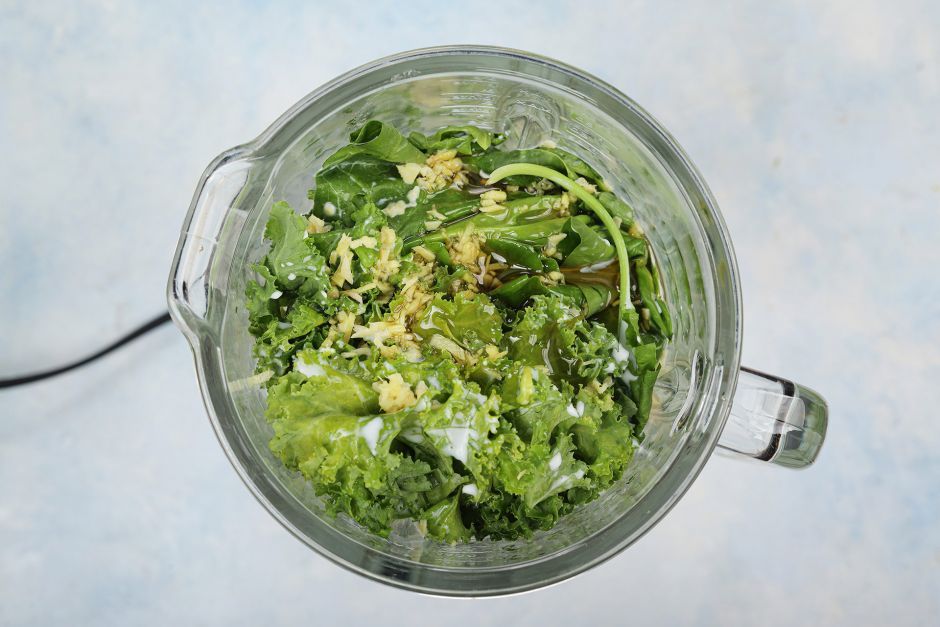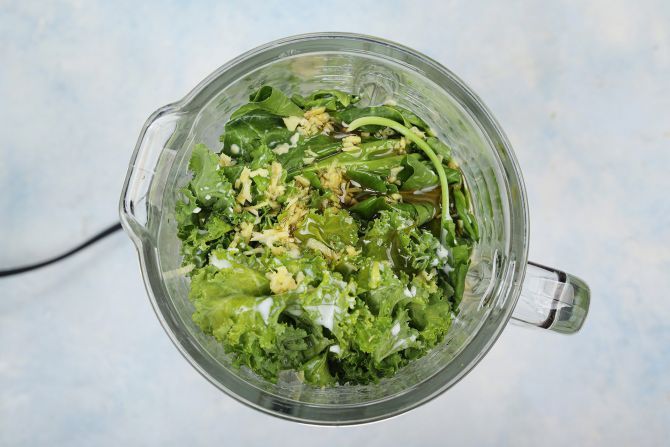 Blend ingredients.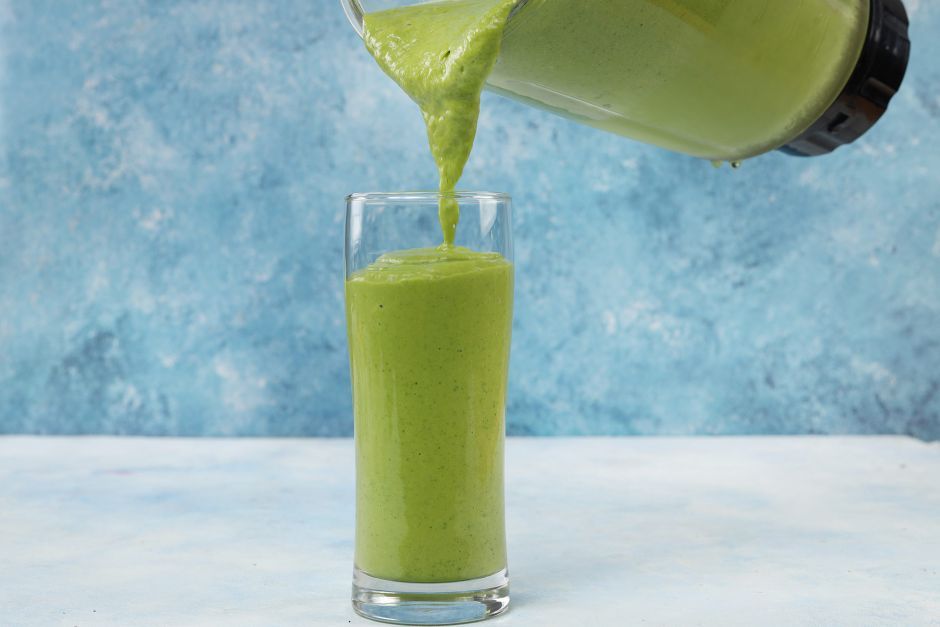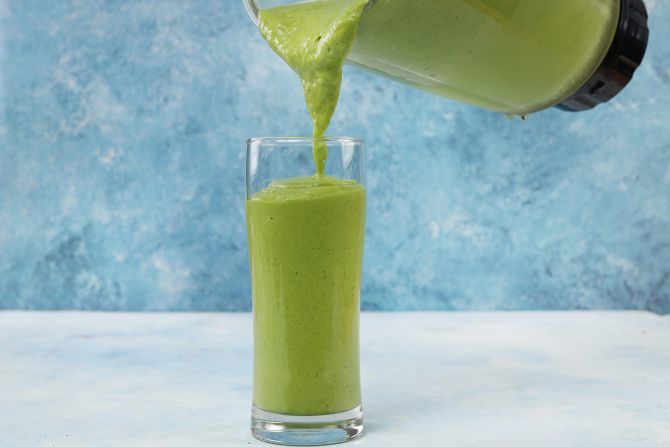 Pour into serving glasses.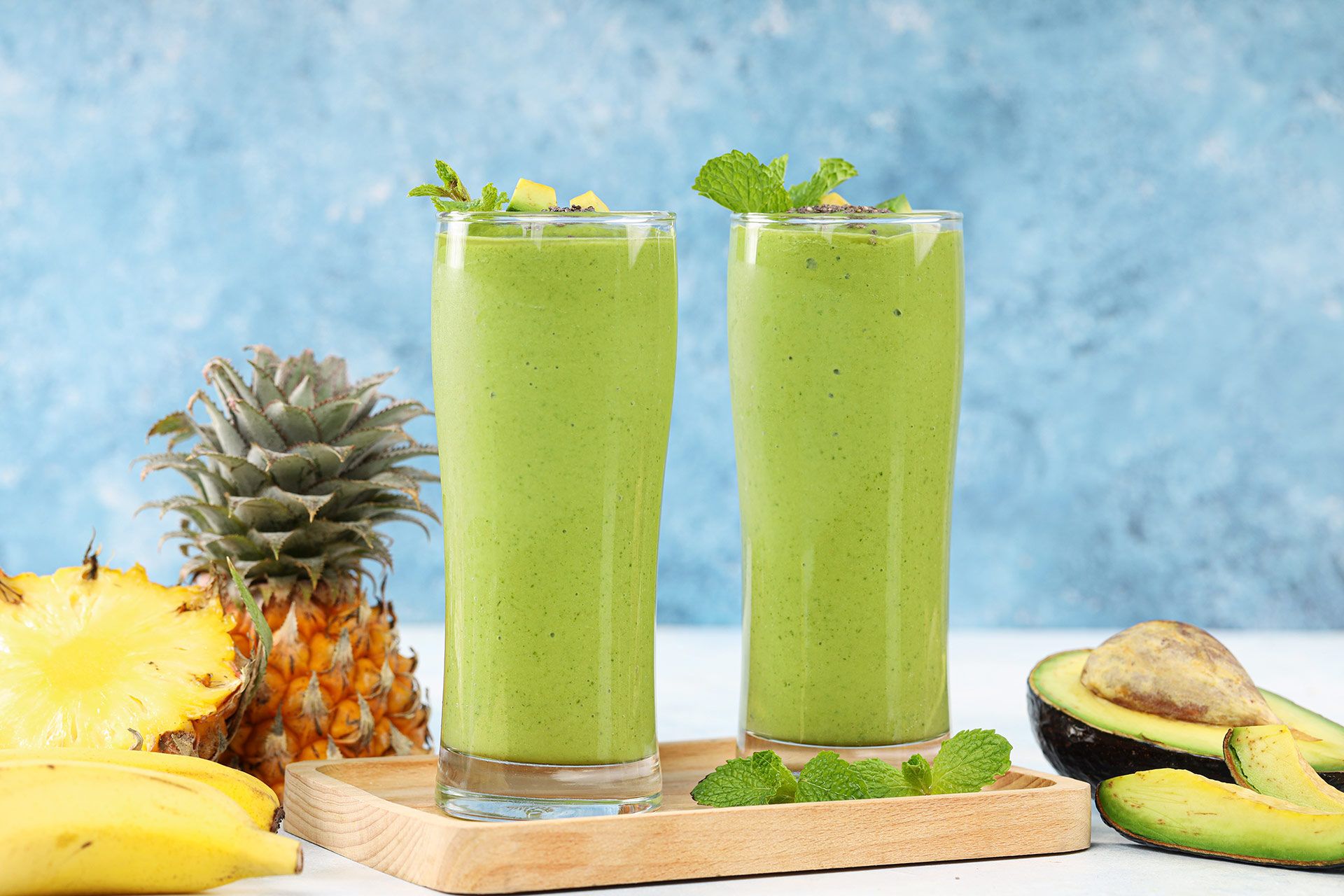 Garnish and serve.
For precise measurements, refer to our printable 'avocado green smoothie recipe' card at the bottom.
How Long Does Avocado Green Smoothie Mix Last?
The smoothie mix will darken rapidly, but if refrigerated immediately after preparation, it should remain edible for up to 5 days. You may use any container you wish, as long as it seals tightly.
To prolong its shelf life, we recommend freezing each portion in a Ziploc bag. They'll keep for up to 3 months and can be defrosted individually in the refrigerator overnight.
Because three months is a long period of time, we recommend marking each bag with a date, so you'll know if yours expires.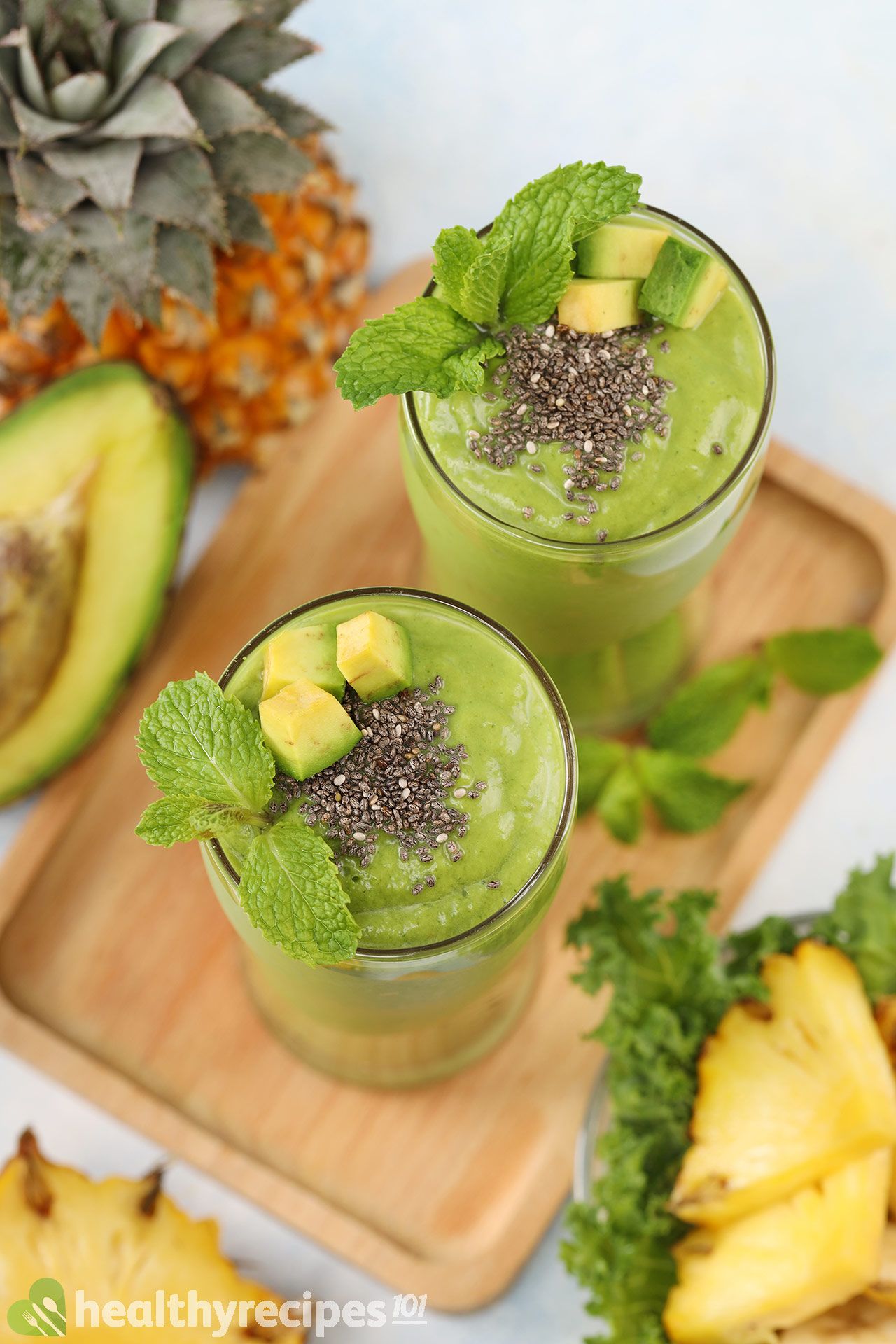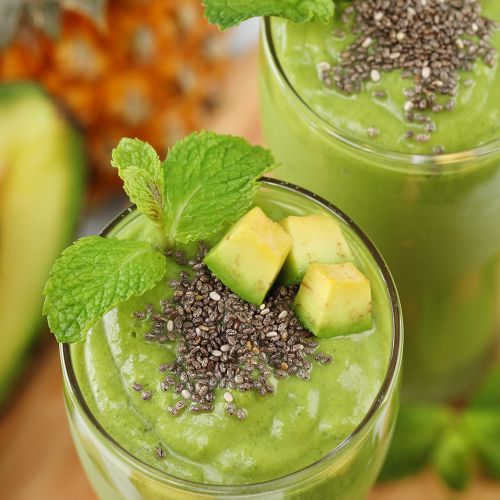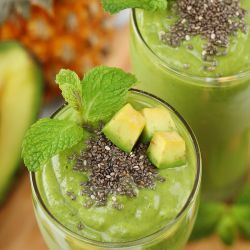 Avocado Green Smoothie Recipe
Our avocado green smoothie recipe takes simple ingredients and turns them into a delicious beverage with potent health benefits.
Ingredients
10

oz

avocado

4

oz

pineapple

cut into small pieces

4

oz

banana

sliced

2

oz

spinach

stems removed

2

oz

kale

roughly chopped

0.25

oz

ginger

finely minced

2

cups

ice

1

cup

whole milk

2

tbsp

honey

6

baby mint leaves

1/2

tbsp

chia seeds
Instructions
Place into the blender 2 cups ice, 10 oz avocado, 4 oz pineapple, 4 oz banana, 2 oz spinach, 2 oz kale, 0.25 oz ginger, 1 cup whole milk, and 2 tbsp honey. Blend until smooth.

Pour into serving glasses.

Garnish with mint leaves and top with chia seeds.
Nutrition
Nutrition Facts
Avocado Green Smoothie Recipe
Amount Per Serving (1 serving)
Calories 247
Calories from Fat 126
% Daily Value*
Fat 14g22%
Cholesterol 6mg2%
Sodium 56mg2%
Potassium 740mg21%
Carbohydrates 31g10%
Protein 5g10%
Vitamin A 2884IU58%
Vitamin C 43mg52%
Calcium 132mg13%
Iron 1mg6%
* Percent Daily Values are based on a 2000 calorie diet.