Today's blueberry avocado smoothie recipe only requires seven ingredients to make a healthy drink. It's the perfect light beverage to sip as a snack or to cleanse your palate after a meal.
Is Blueberry Avocado Smoothie Healthy?
Yes, our blueberry avocado smoothie is healthy, mostly because, as the name implies, it is packed with avocado and berries.
1. Avocado Benefits
Avocados are highly nutritious. They contain folate, potassium, healthy fats, and vitamins K, C, and E. There are also trace amounts of B vitamins, phosphorus, magnesium, manganese, iron, and zinc.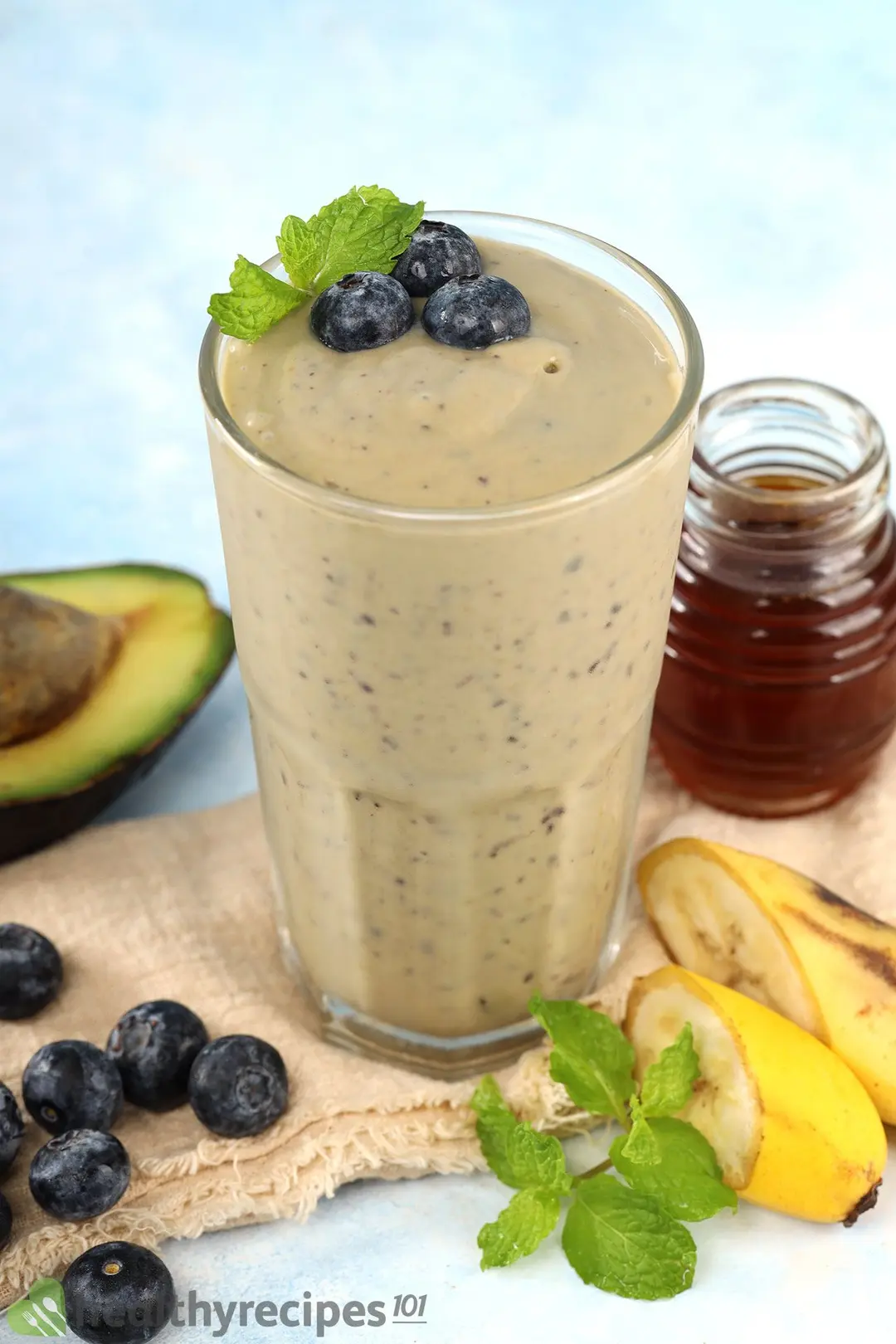 They are also rich in fiber, which is lacking in most American diets.
Consumption of these creamy fruits has been linked to weight loss, perhaps due to their fiber, healthy fats, and low glycemic index.
Avocados also include eye- and brain-friendly antioxidants like lutein and zeaxanthin. These antioxidants may help prevent age-related macular degeneration, cataracts, and neurological illnesses like Alzheimer's.
2. Blueberry Benefits
Blueberries pair with almost any dessert or drink. But what we love most about these berries is that they are low in calories yet packed with antioxidants.
Blueberries contain polyphenol antioxidants called flavonoids. The flavonoid known as anthocyanin is considered to be responsible for many of the berries' health benefits.
Blueberry antioxidants have been demonstrated to lower oxidative damage from "bad" LDL cholesterol, a major risk factor for heart disease.
Ingredients for Blueberry Avocado Smoothie
Let's take a look at the ingredients for today's blueberry avocado smoothie recipe: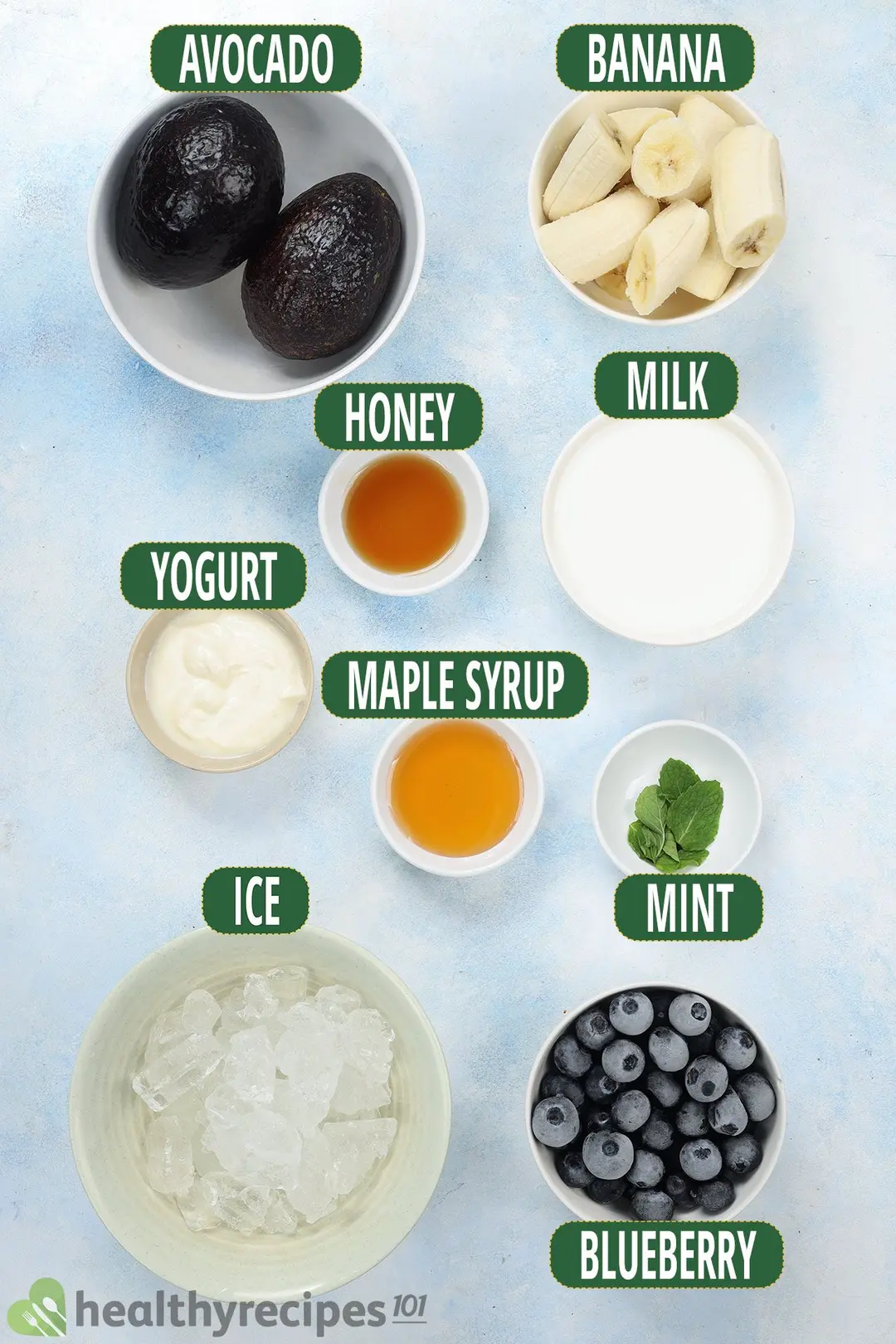 Avocados: You can pick any variety of avocados you like as they all have a similar flavor.
Berries: We're using frozen blueberries for today's recipe.
Bananas: These are great to add to almost any smoothie. Plus, if they're particularly ripe, they alleviate much of the need for added sweeteners.
Sweetener: We added one tablespoon each of maple syrup and honey for this recipe.
Dairy: A little whole milk helps the smoothie blend more easily. We're also using Greek yogurt to give the drink a richer and slightly tangy flavor.
Keep in mind that both avocados and bananas oxidize quickly, causing them to turn brown and also affect the color of the smoothie.
How to Make Blueberry Avocado Smoothie
There will be no ice in this blueberry avocado smoothie recipe. Instead, we're replacing it with frozen blueberries.
If you have fresh berries, we suggest putting them in the freezer 4 hours before making the smoothie (or just freeze them overnight). This will ensure that they are solid enough to blend into a thick smoothie.
That is all you need to prepare ahead of time. Here is the rest of the process: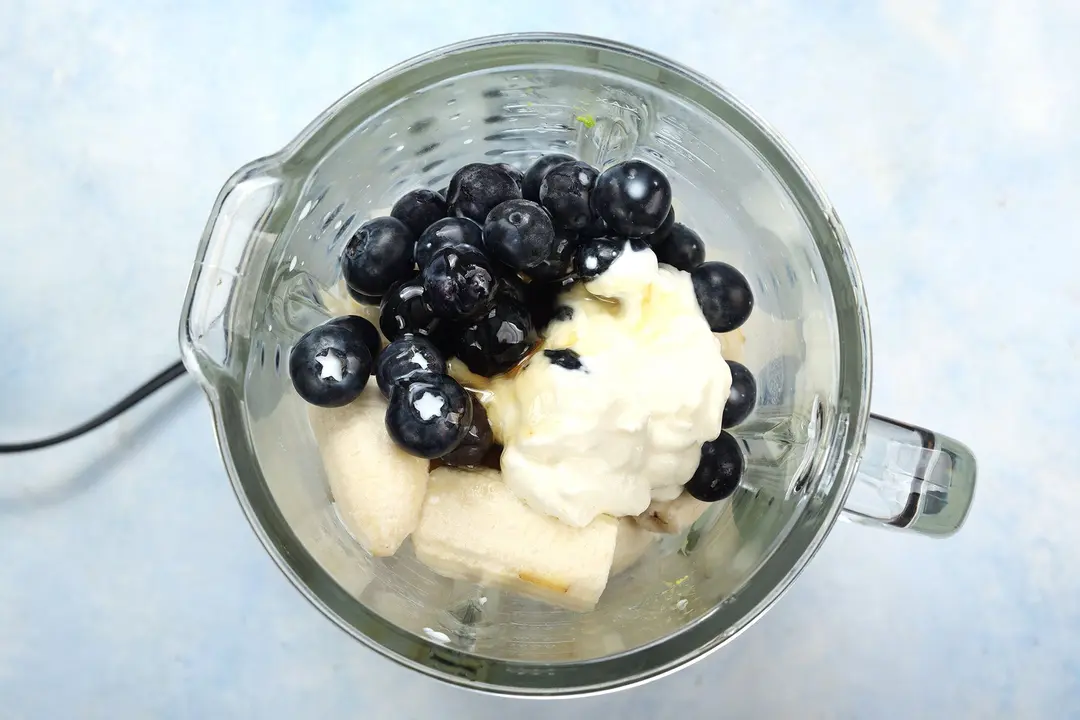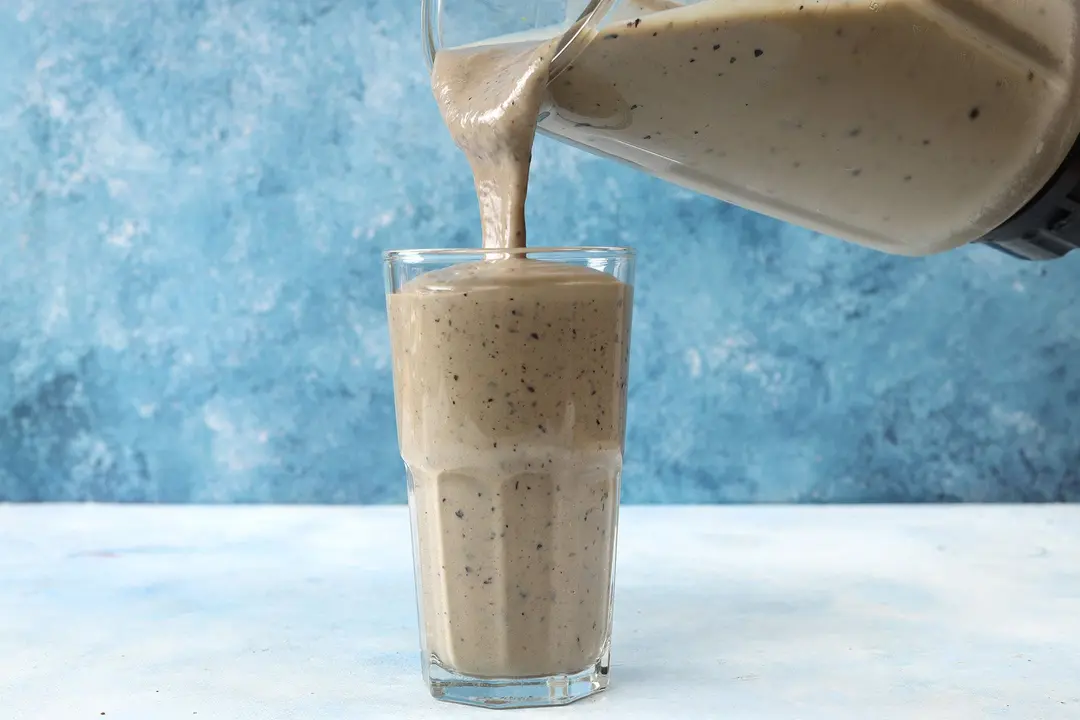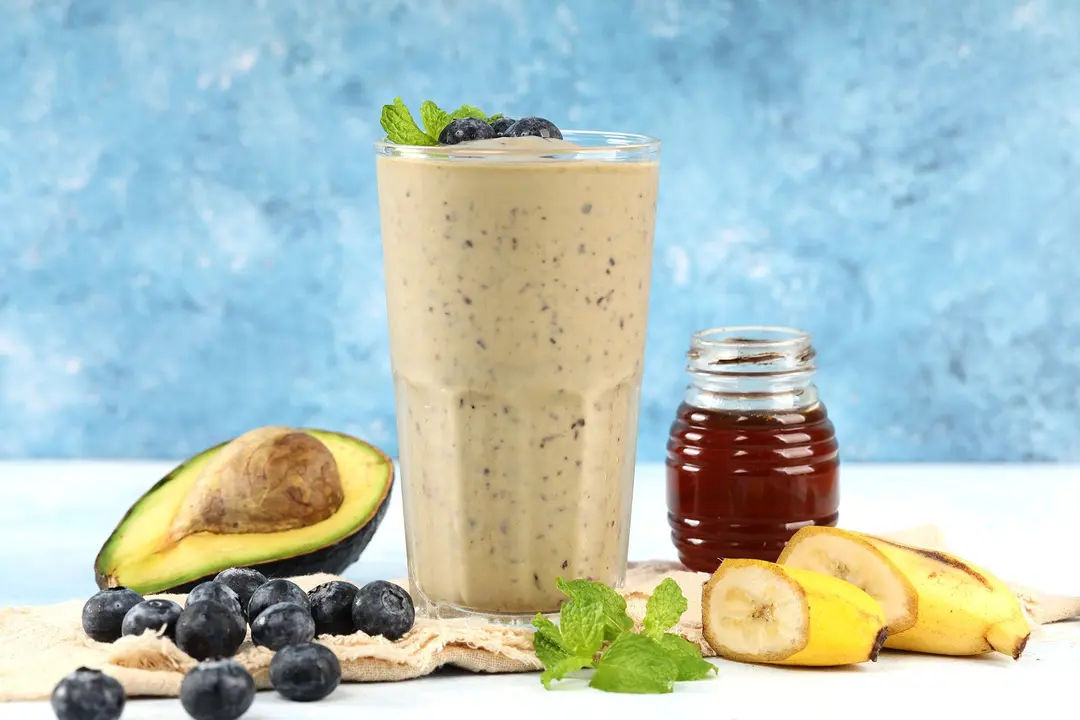 How Long Does This Smoothie Last?
Most smoothies will survive up to two days in the fridge. However, since this blueberry avocado smoothie recipe contains highly perishable ingredients such as whole milk and Greek yogurt, it will only last a day.
Still, we recommend storing the smoothie in an airtight container to keep it fresh as long as possible.
The smoothie may separate after sitting in the fridge for a few hours, but don't worry. It's still safe to drink. Just give it a stir and enjoy.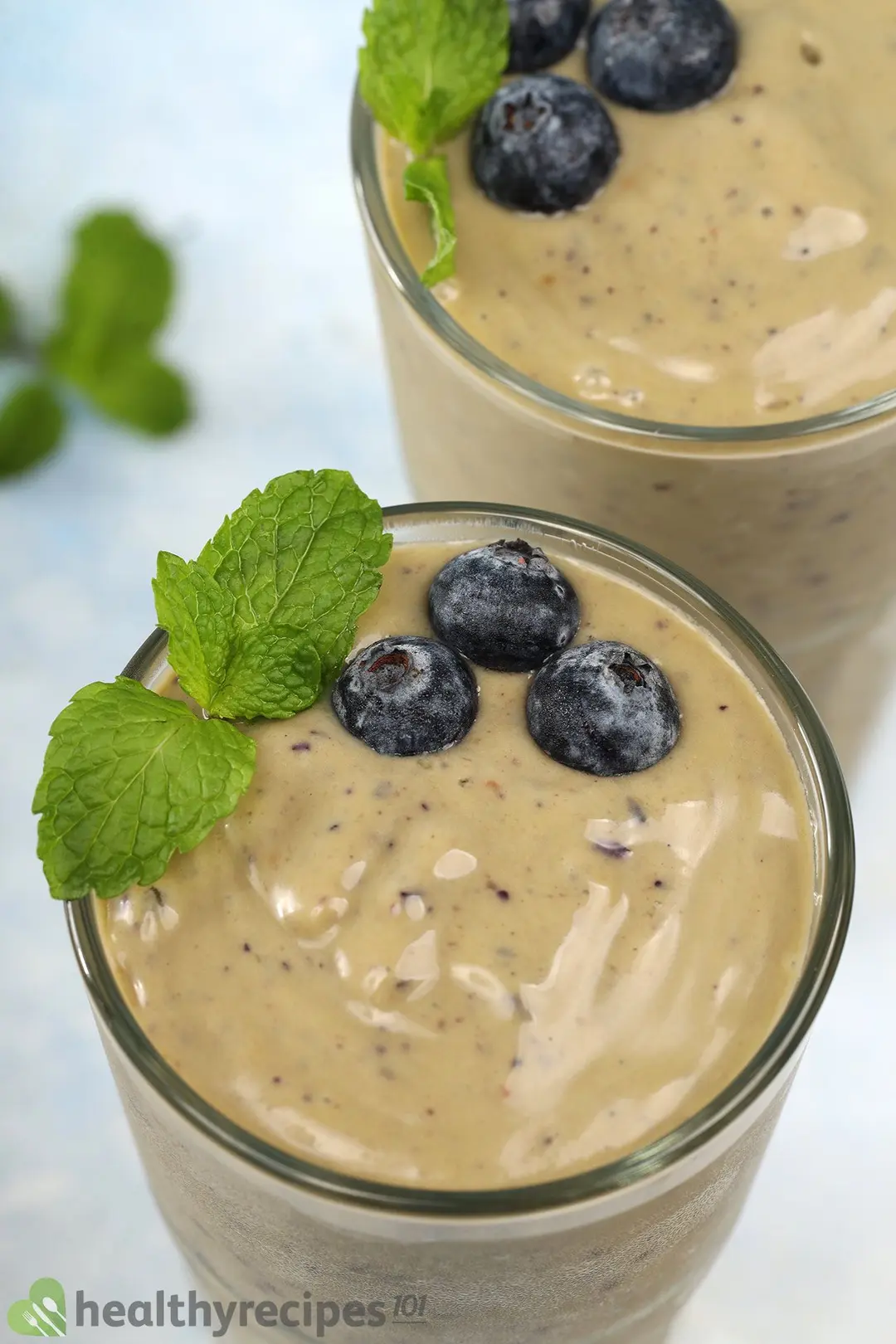 How to Tell If an Avocado Is Ripe
When picking avocados at a grocery store, you should check out their peel. Unripe avocados generally have green peels which will gradually turn darker as the fruits ripen.
However, the peel is not always a good indicator of ripeness because color varies depending on the variety of avocado.
Another way to test avocado ripeness is by touch. Hold the fruit in your palm and gently squeeze it with your fingers.
If the fruit feels firm, it's unripe, and you should keep looking. If you can feel it give but there's still a bit of pressure, it's ripe. Soft avocados may be overripe and may have lots of bruised patches under their peel.
Checking beneath the stem is also a telltale sign of the fruit's ripeness. If the stem comes off easily and you can see green flesh below, it's probably ripe enough.
If you're at a farmer's market, you can kindly ask the salesperson and they will assist you.
And don't worry if you pick unripe avocados. You can speed up the process by keeping them next to apples, pears, or bananas. These fruits produce a gaseous plant hormone that helps ripen fruits faster. You can put them all in a large fruit bowl over the counter or in a large paper bag and your avocados should be ripe the next day.
Can You Freeze Blueberry Avocado Smoothies?
Yes, you can. In fact, freezing smoothies can be a great idea.
A smoothie may only last a day or two in the fridge, but freezing it extends the shelf life to three or four weeks.
Once frozen, your smoothie will become a low-calorie, fruity replacement for ice cream that you can snack on any time of the day without having to defrost it!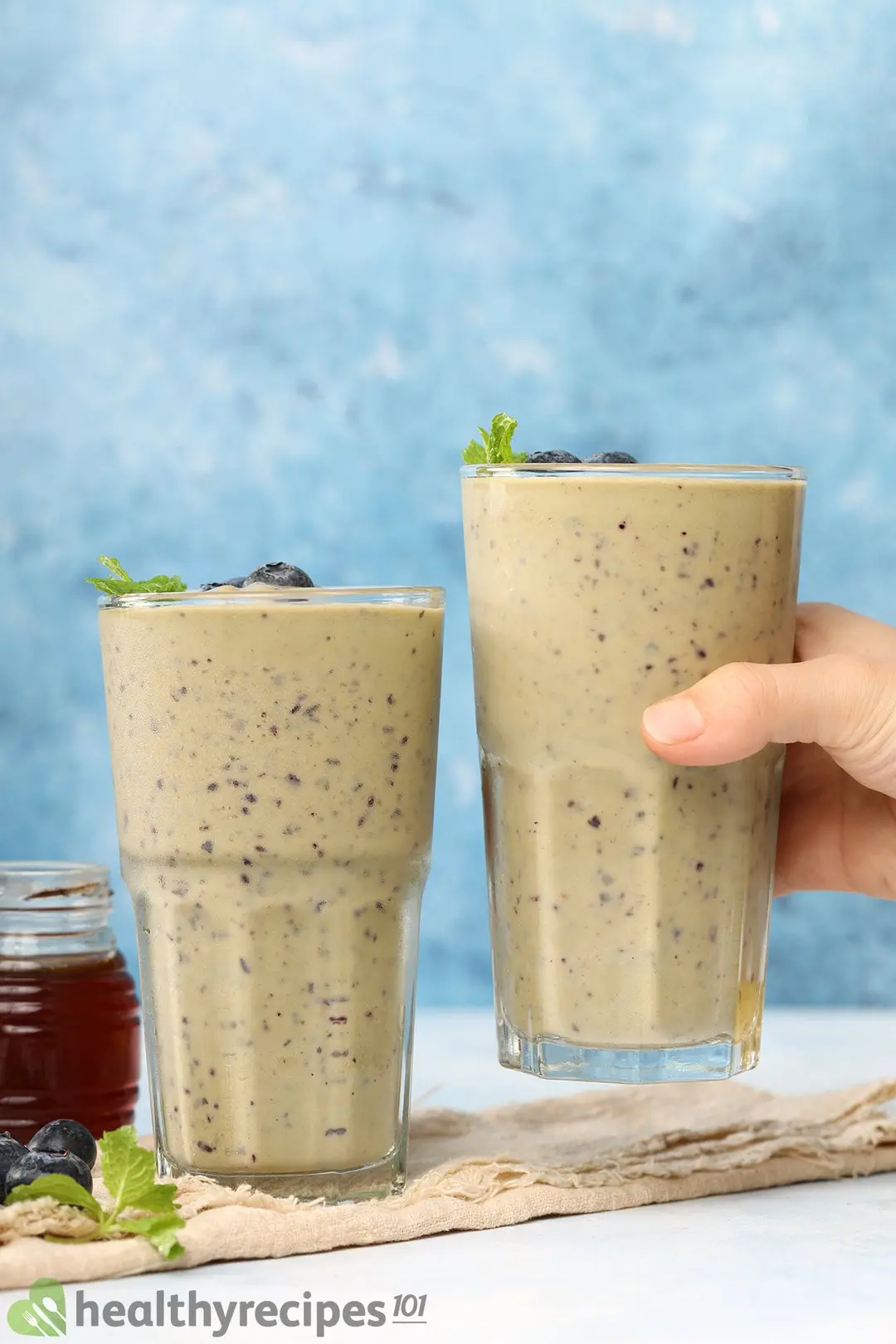 Blueberry Avocado Smoothie Recipe
This blueberry avocado smoothie recipe is all about flavor. Let's see how we create this sweet and creamy drink with only seven ingredients.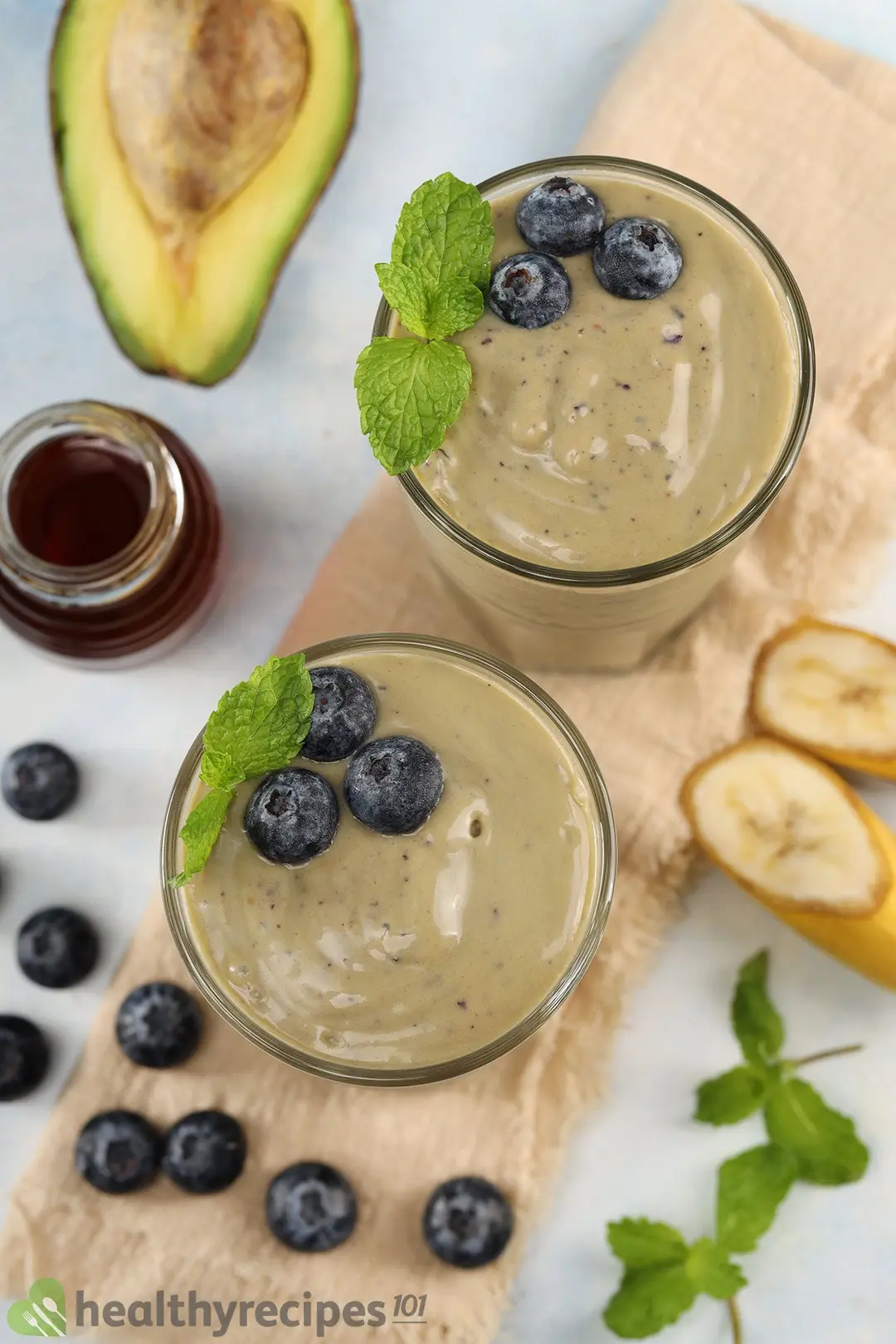 prep TIME

10 mins

total TIME

10 mins
COURSE

Beverage

CUISINE

American

SERVINGS

servings

CALORIES

249 kcal
INGREDIENTS
6 oz

blueberries (frozen)

8 oz

avocados , peeled and pitted, cut into chunks (about 2 small fruits)

8 oz

bananas (peeled and cut into chunks)

1 tbsp

maple syrup

1 tbsp

honey

0.3 cup

Greek yogurt

1 cup

whole milk

6

mint leaves (for garnish)
INSTRUCTIONS
1
Blend the smoothie: In a blender, combine 6 oz frozen blueberries, 8 oz avocado, 8 oz bananas, 1 tbsp maple syrup, 1 tbsp honey, 1/4 cup Greek yogurt, and 1 cup whole milk. Blend until smooth.
2
Divide the smoothie equally into 4 glasses.
3
Garnish with fresh mint leaves and enjoy.
NUTRITION
Nutrition Facts
Blueberry Avocado Smoothie Recipe
Amount Per Serving (1 serving)
Calories 249
Calories from FDA
% Daily Value*
* Percent Daily Values are based on a 2000 calorie diet.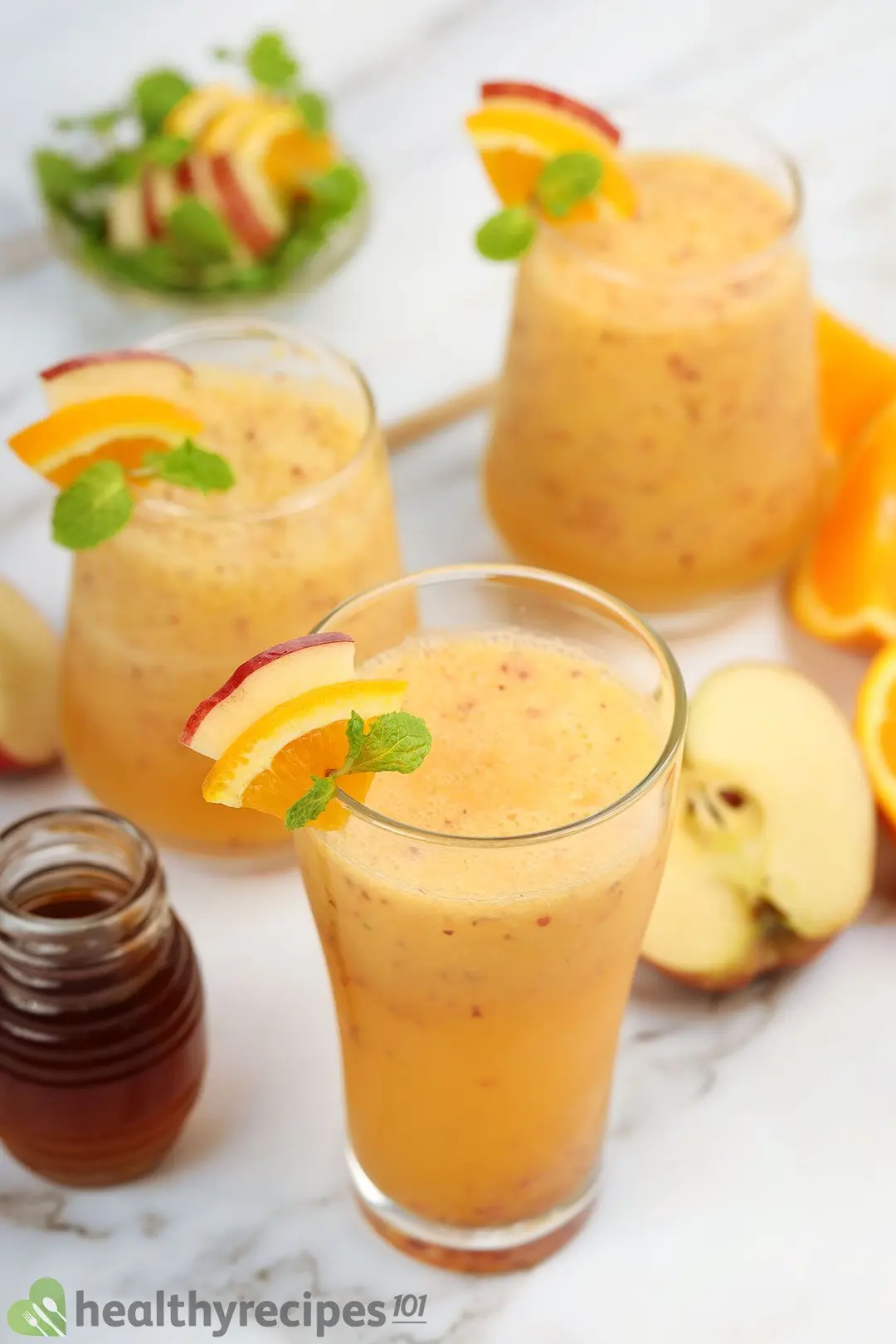 Previous Recipe
Apple Orange Smoothie
Apple Orange Smoothie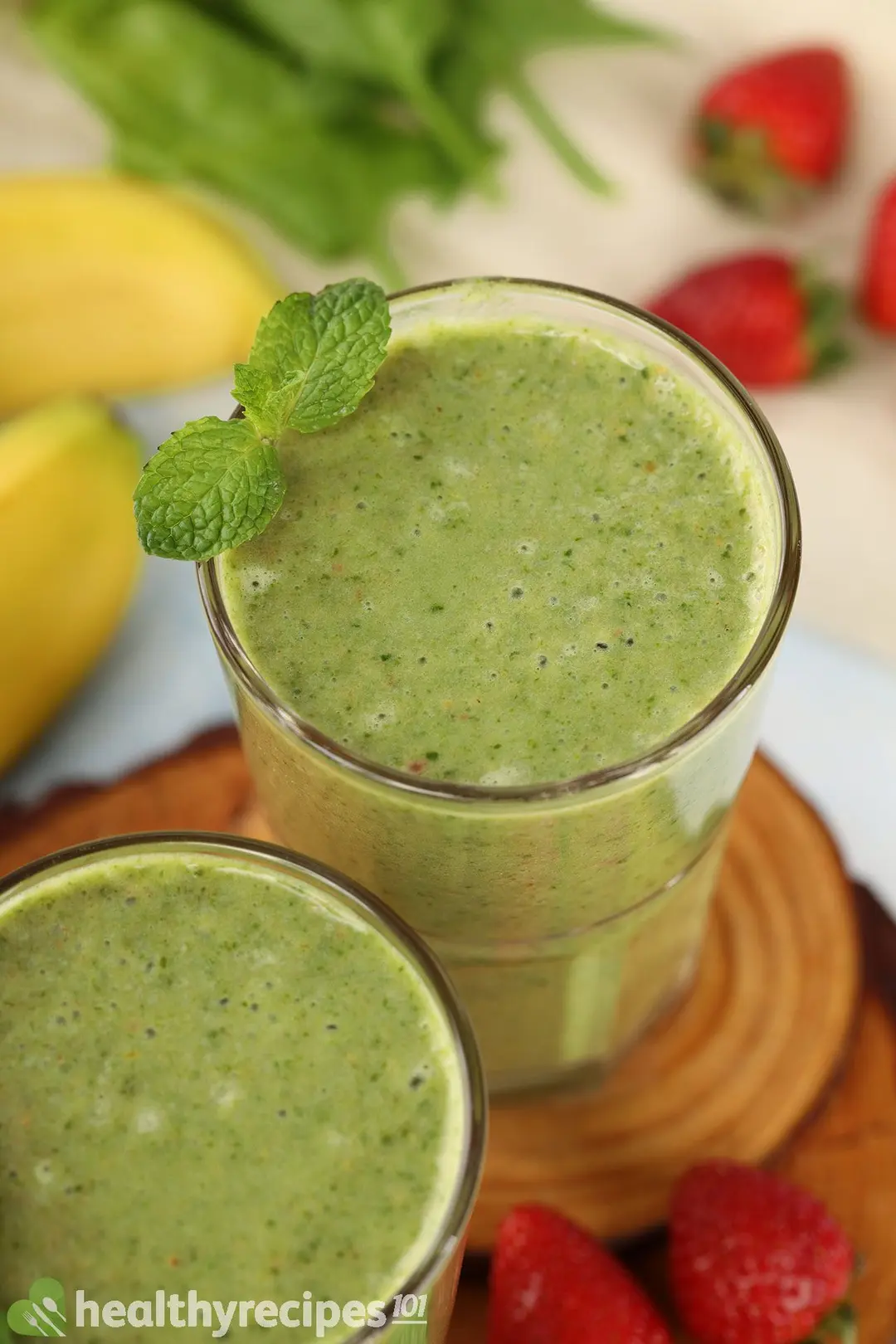 Next Recipe
Strawberry Spinach Banana Smoothie
Strawberry Spinach Banana Smoothie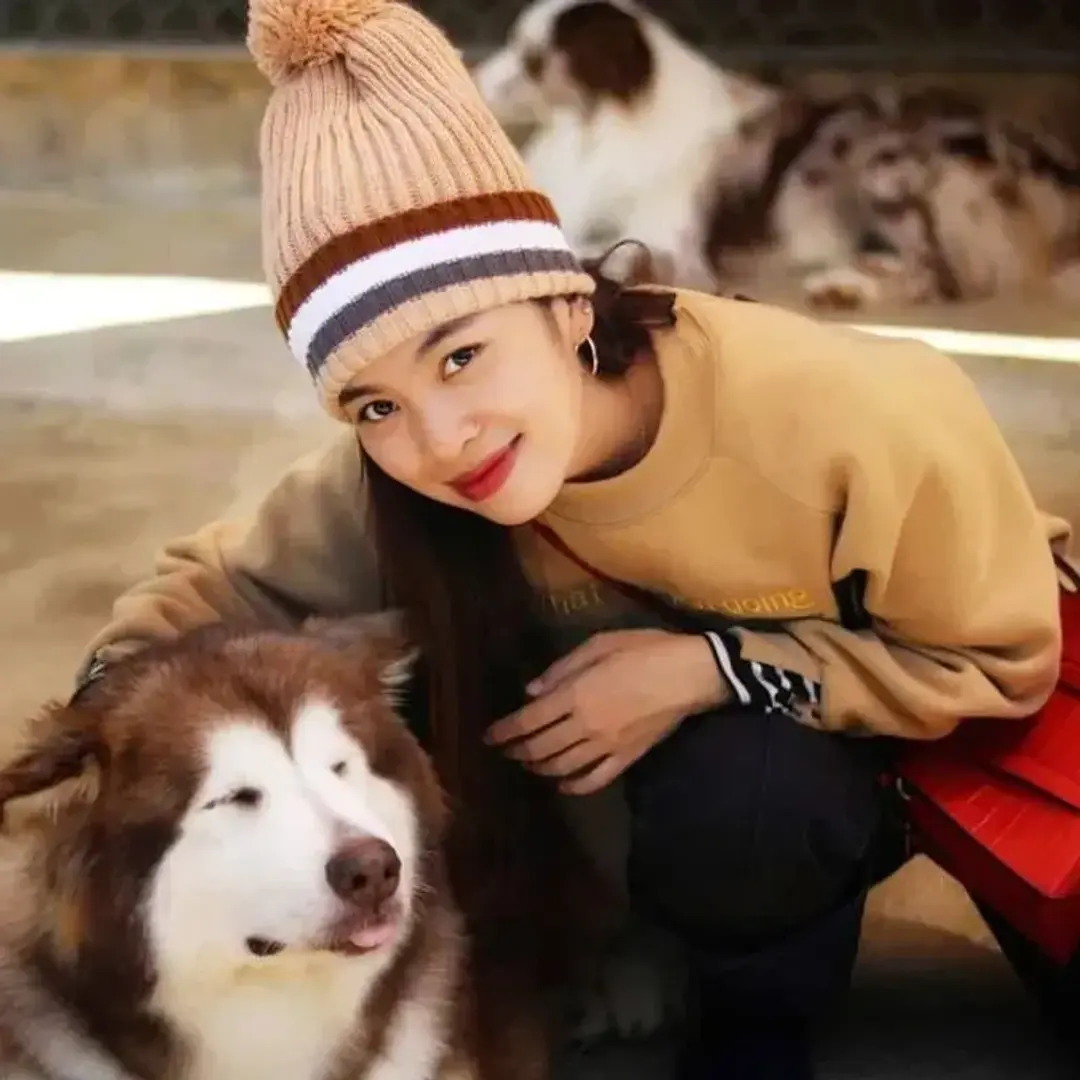 Chef, Culinary Consultant
Tuyet Pham is an award-winning Saigonese chef who believes that joy is the secret ingredient to delicious food. At Healthy Recipes 101, Tuyet personally tests and simplifies every recipe, ensuring maximum flavor with minimal effort. With a background at prestigious French restaurants P'TI Saigon and Le Corto, Tuyet knows how to make every dish exceptional.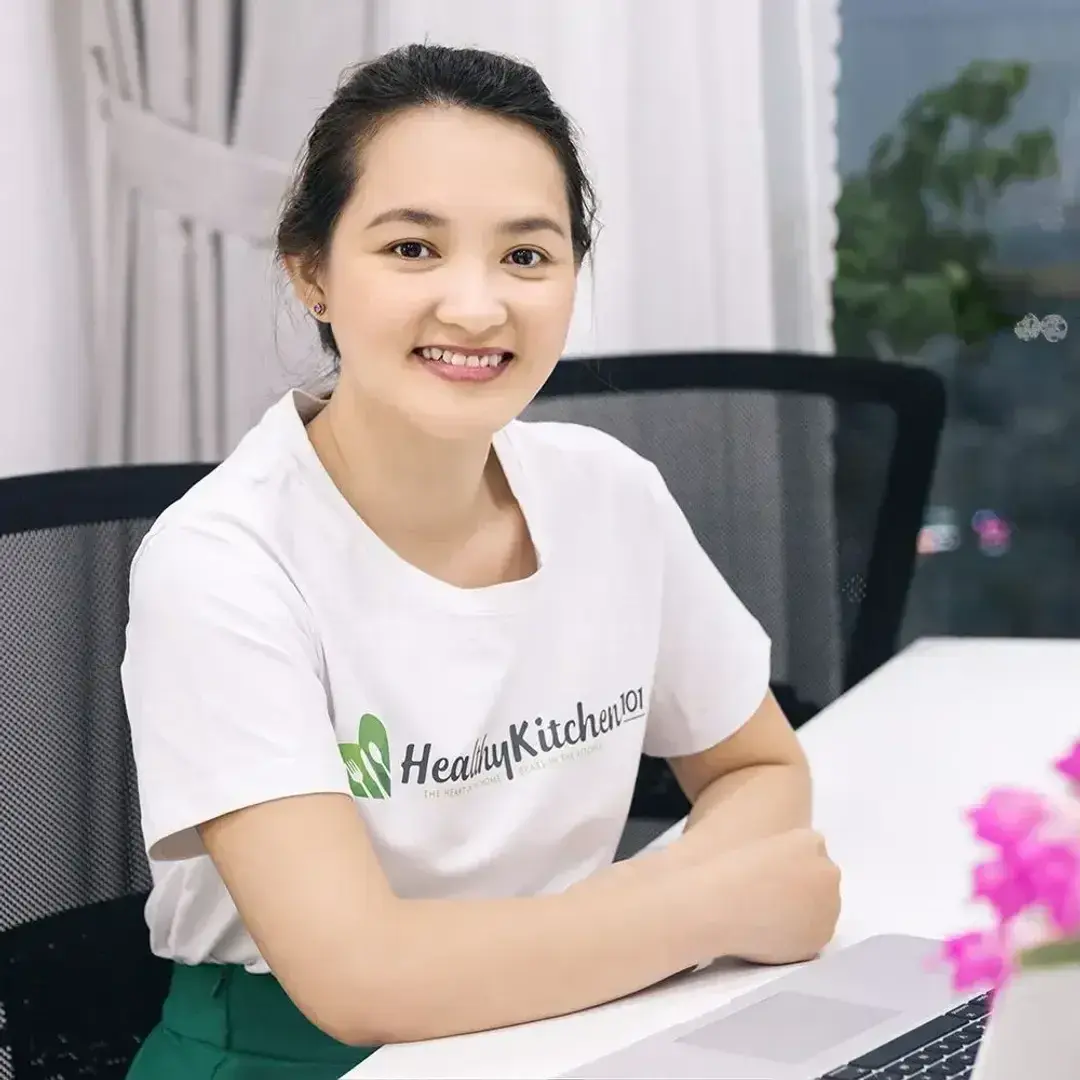 Writer, Author
Luna Regina is an accomplished writer and author who dedicates her career to empowering home cooks and making cooking effortless for everyone. She is the founder of HealthyKitchen101.com and HealthyRecipes101.com, where she works with her team to develop easy, nutritious recipes and help aspiring cooks choose the right kitchen appliances.
Comments/ Reviews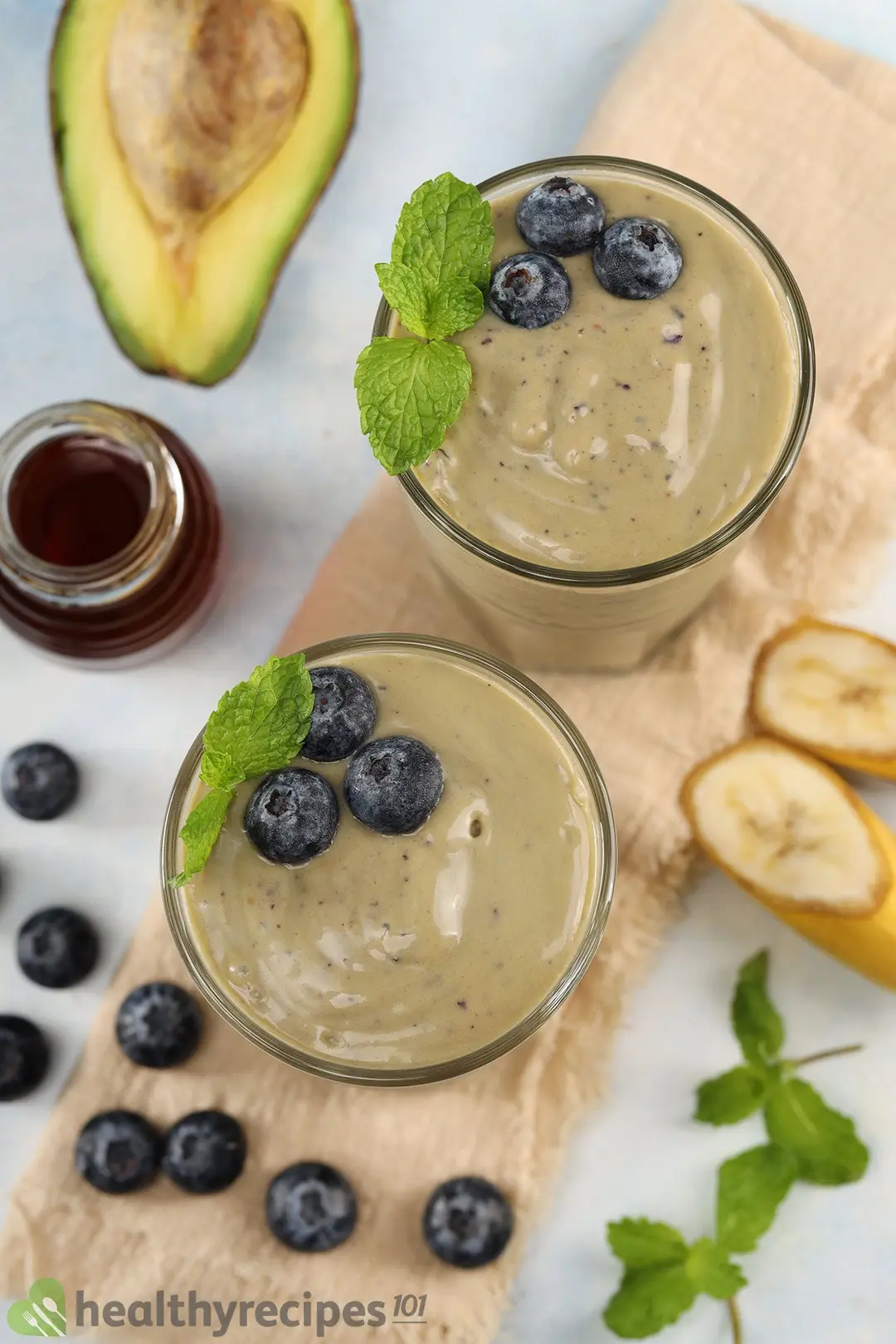 Blueberry Avocado Smoothie Recipe