Our avocado spinach smoothie recipe is made with delicious fruits and leafy greens for a creamy beverage full of healthy nutrients. It's bursting with tropical flavors and is an ideal choice for breakfast, snack, or post-workout drink to keep you satisfied and energized throughout the day.
Is This Avocado Spinach Smoothie Recipe Healthy?
Full of nourishing vegetables and fruits, it's no surprise our avocado spinach smoothie recipe is healthy.
1. Avocado
Not only are avocados creamy and delicious, they are also packed with monounsaturated fats. Research has shown that these 'healthy' fats help to protect against heart diseases and aid in lowering blood pressure.
According to the USDA, 100 g of avocado contains up to 485 mg of potassium. This is impressive, especially when compared to other potassium-rich foods like banana — 358 mg per 100 g.
Potassium helps regulate nerve activity, transports nutrients into cells, and decreases blood pressure. According to the CDC, high consumption of sodium in the diet can raise blood pressure, while potassium encourages sodium excretion through the urine, resulting in a decrease in blood pressure.
Plus, foods high in fiber like avocados can keep you fuller for longer. One serving of our avocado spinach smoothie contains 5.7 g fiber — up to 20% of your daily recommended intake, making our smoothie an excellent choice for anyone who is mindful of their weight.
2. Spinach
Low in calories but loaded with nutrients, this leafy veggie is considered a superfood. Three cups of raw spinach contain only 20 calories, 2 g protein, 3 g carbohydrate, and 2 g fiber.
A three-cup serving also delivers more than 300% of the daily need for bone-building vitamin K. As well as more than 160% of the daily recommended amount of vitamin A and around 40% of the daily recommended amount of vitamin C, which both enhance immune function and promote healthy skin.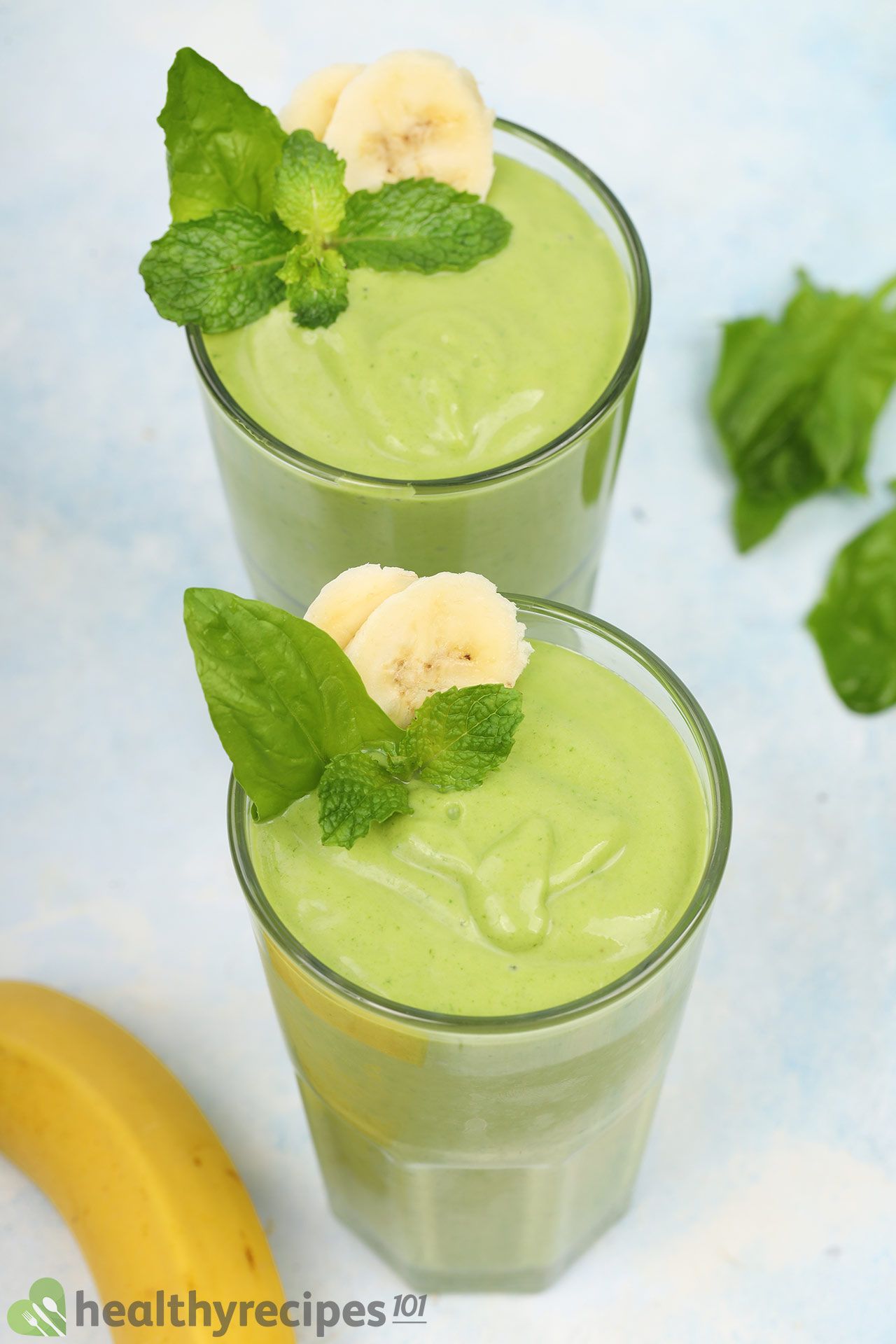 Ingredients for Avocado Spinach Smoothie
We created this green smoothie with simple ingredients:
Fruits: Ripe avocado is an excellent addition to any smoothie if you prefer them extra creamy. Bananas give a touch of sweetness and contribute to the silky consistency of the drink.
Instead of bananas, you could also try mangoes, peaches, or sweet apples. We also like to keep the fruits in the freezer as they help keep the smoothie cold without added ice and reduce the prep time.
Vegetables: Not only does spinach provide color to the smoothie, but it also gives a wonderful nutrient boost. Other green add-ins include kale and collard greens. And not to worry, you won't even notice the vegetables because of the tropical fruits and milk.
Dairy: Our avocado spinach smoothie recipe calls for regular milk and Greek yogurt, but you can substitute any milk that suits your taste. Nut milks like almond or cashew impart a neutral flavor to smoothies, while coconut milk lends a more tropical flavor.
Honey: Sweetens the smoothie with its signature earthy aroma. If you choose to add in other sweet fruits, make sure you reduce the amount of added sweetener or add more ice.
Ice: Ice keeps the smoothie frosty and lends more volume without extra calories.
Mint Leaves: For the appealing look and another note of freshness.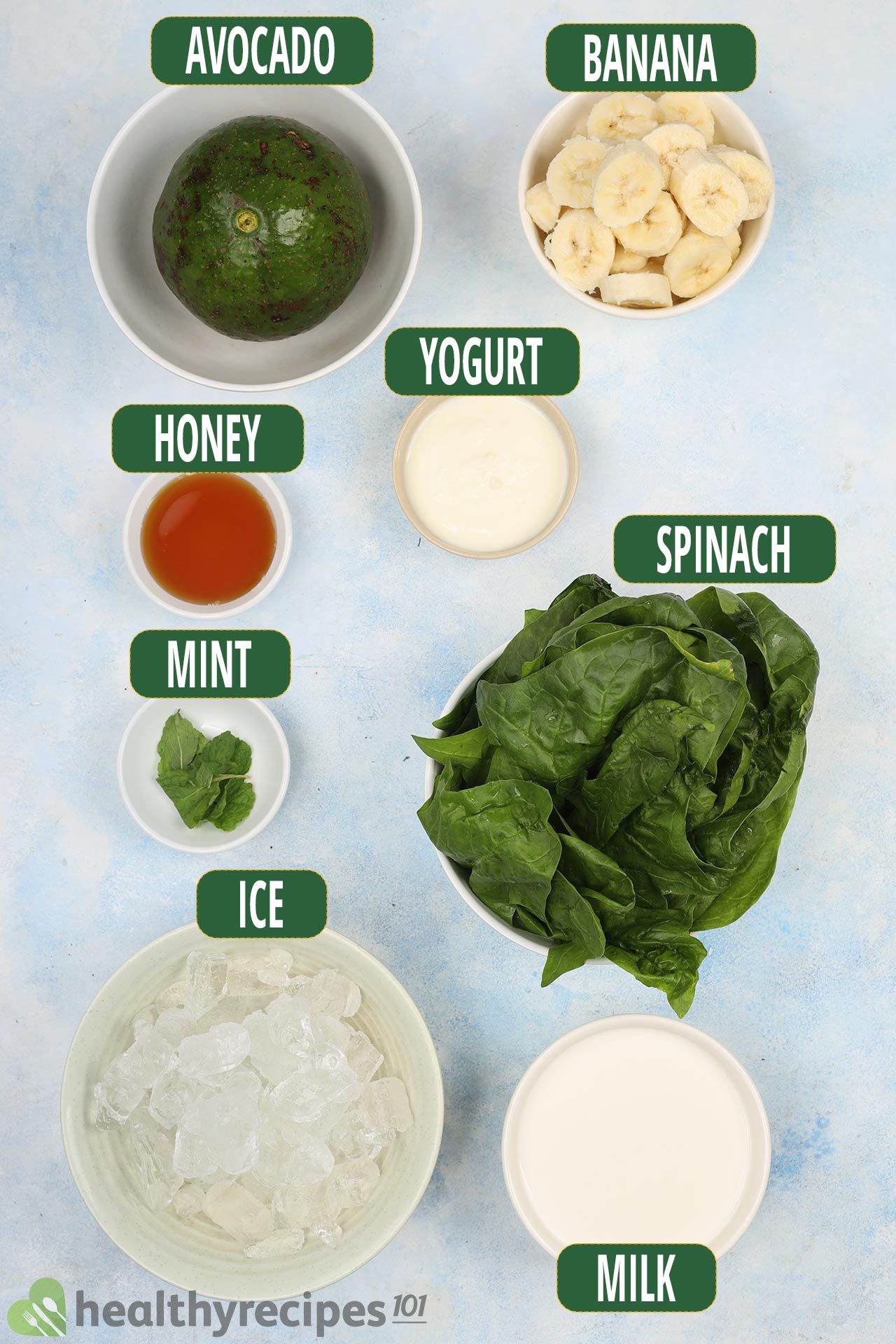 How to Make Avocado Spinach Smoothie
If you chop your fruit and veg up into smaller pieces, they will blend more easily into the silky texture. Also, it's best to stop the blender once or twice to mix the ingredients up since sometimes the components can get stuck.
Here's how we made this wholesome drink: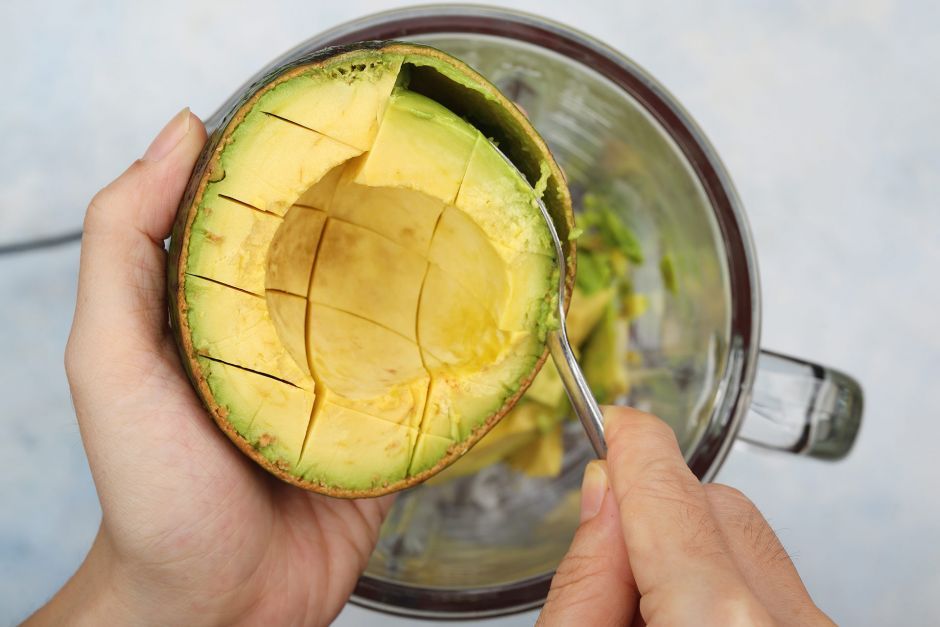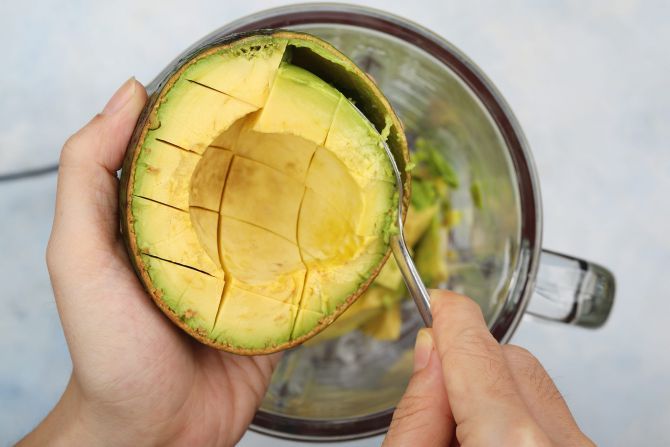 Put the ice into the blender and scoop in the avocado.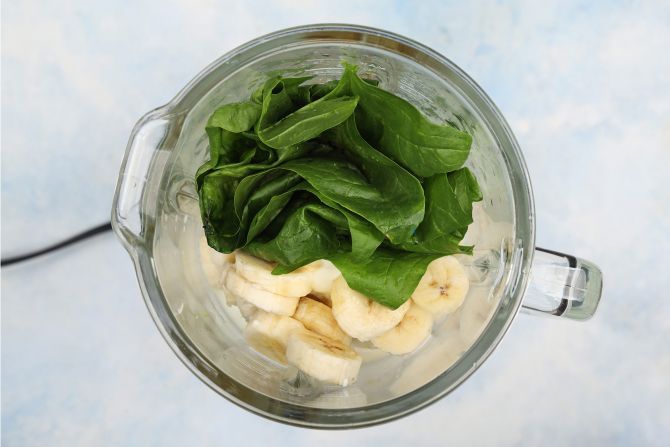 Add in the banana, milk, yogurt, honey, and spinach. Blend the mixture.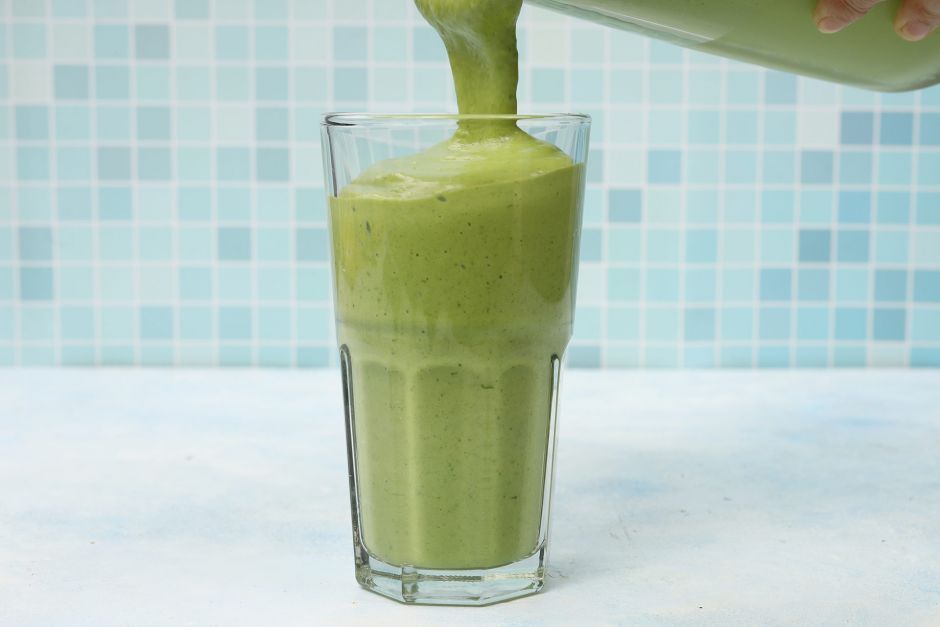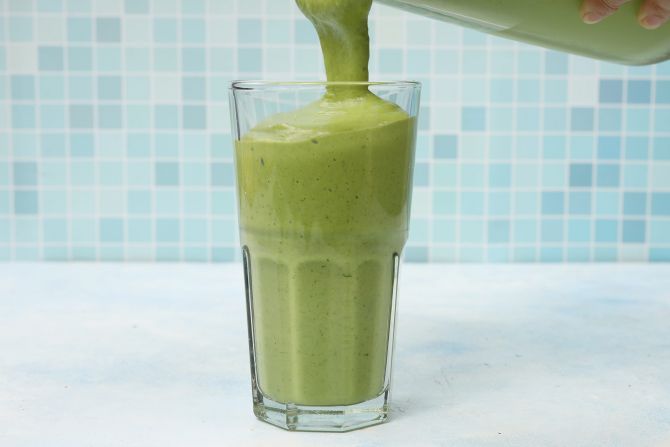 Pour into glasses.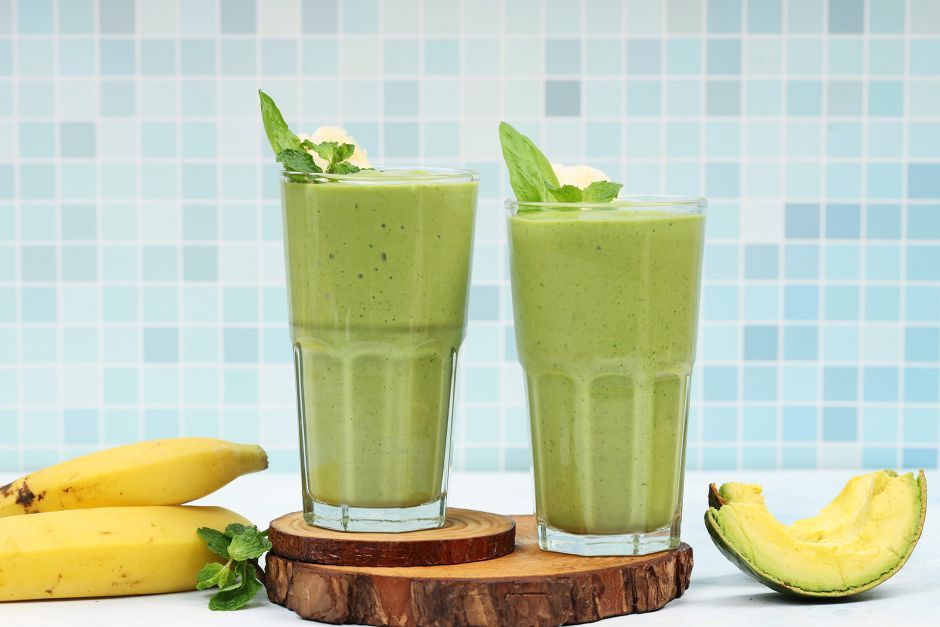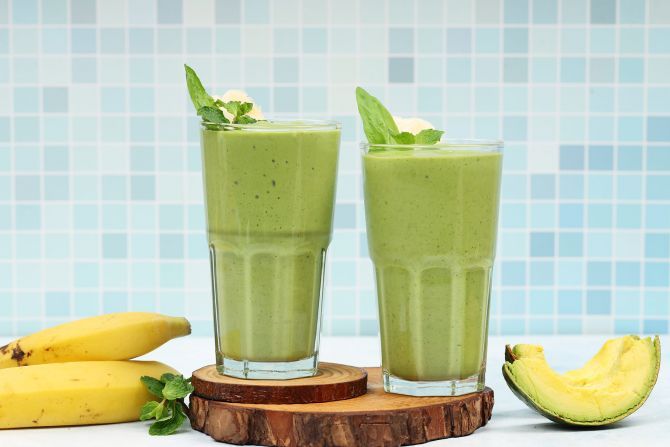 Garnish with mint leaves. Serve.
How to Tell If Spinach Has Gone Bad
Though it's not a foolproof test, you can rely on your senses to tell whether your spinach has gone bad. The common characteristics of bad spinach include darker hues, a soggy texture, and a pungent odor. If you notice any of the above traits, it's time to get rid of that veggie.
How to Store Leftovers
Due to the avocado's rapid oxidation, this smoothie is best consumed immediately. If preserved, the drink will darken slightly but still remain tasty.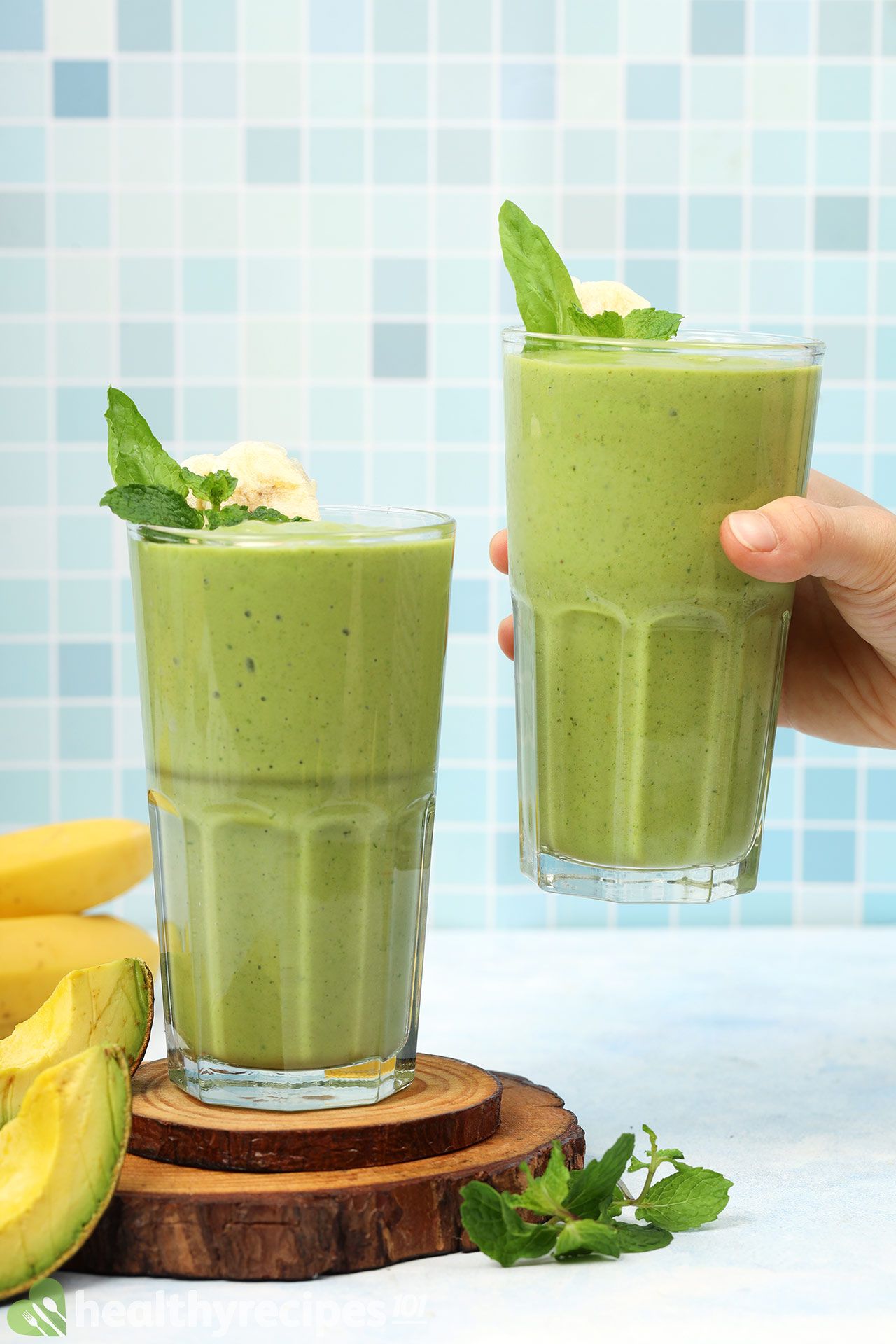 To properly store the avocado smoothie, seal in an airtight container and place it in the fridge as soon as possible. Avocado smoothies will last for up to 1 – 2 days in the fridge and up to 3 – 4 months in the freezer.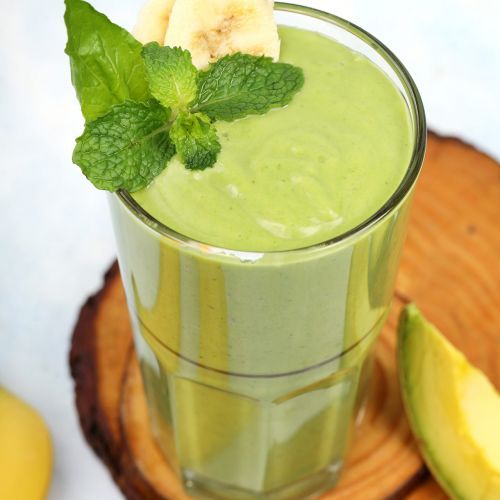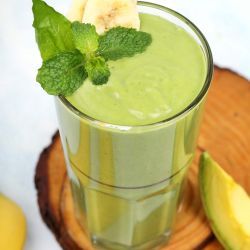 Avocado Spinach Smoothie Recipe
Our avocado spinach smoothie recipe is a brilliant option for a nutrient-packed snack. Have it any time you need a veggie boost.
Ingredients
8

oz

avocado

a large avocado

2

oz

spinach

2

cups

ice

8

oz

banana

1

cup

milk

1/4

cup

plain Greek yogurt

2

tbsp

honey

6

mint leaves
Instructions
Put 2 cups of ice and scoop 8 oz avocado into the blender.

Add 8 oz banana, 1 cup milk, 1/4 cup Greek yogurt, 2 tbsp honey, and 2 oz spinach. Blend at high speed until the mixture is smooth.

Transfer the smoothie into serving glasses.

Garnish with 6 mint leaves and serve immediately.
Nutrition
Nutrition Facts
Avocado Spinach Smoothie Recipe
Amount Per Serving (1 serving)
Calories 232
Calories from Fat 108
% Daily Value*
Fat 12g18%
Cholesterol 9mg3%
Sodium 59mg3%
Potassium 693mg20%
Carbohydrates 31g10%
Protein 5g10%
Vitamin A 1532IU31%
Vitamin C 14mg17%
Calcium 101mg10%
Iron 1mg6%
* Percent Daily Values are based on a 2000 calorie diet.