Our avocado toast recipe makes nutrient-packed slices for breakfast.
What Is Avocado Toast?
As straightforward as it sounds, avocado toast is simply avocado spread on a slice of warm, crisp toast. This is a versatile base that you can add additional toppings to, to turn it into the healthy breakfast you desire.
Who Invented Avocado Toast?
There's no sure answer to who was the trendsetter, but for sure, it first gained its popularity in around 1990. It was first noted as being on a menu at Bill Granger's cafe, in Sydney.
Now, you can find avocado toast almost everywhere, from cafes to restaurants.
However, the sandwich has often been overpriced in restaurants, and a large part of the millennial generation has spent ridiculous amounts on it. This is what sparked the avocado toast stereotype.
While this does not apply to the generation as a whole, who can blame the ones that do? Although pricey, the dish is indeed a delicious, healthy and balanced breakfast that many should include in their diets.
To put an end to sarcastic tweets towards millennials, we say let's make avocado toast at home. Our avocado toast recipe is easy to follow, requires cheap ingredients, and is customizable to anyone's liking.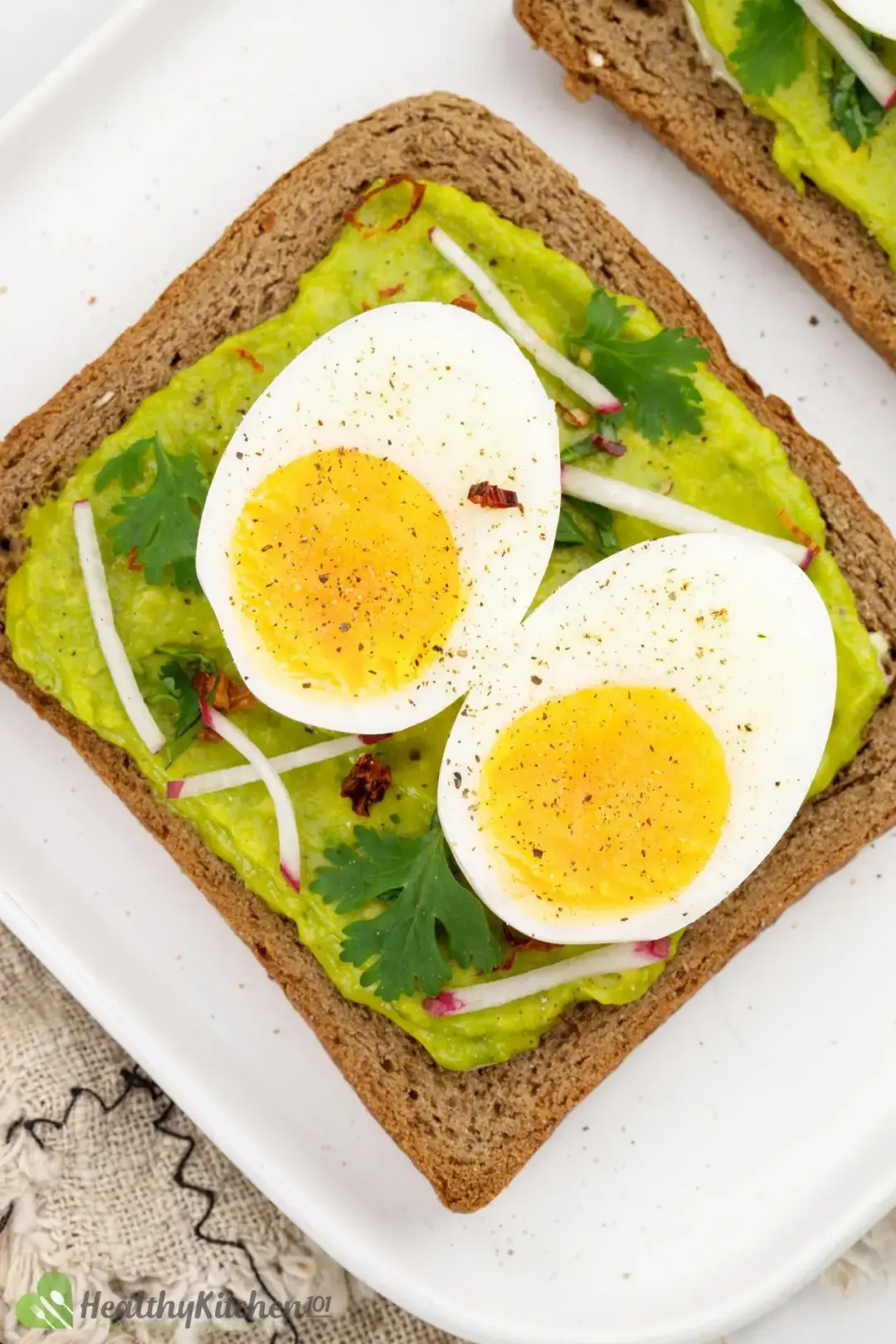 Is Avocado Toast Healthy?
Avocados are proven to be healthy, and here's why:
1. Good for the Heart
In terms of weight, about 13% of the avocado flesh is unsaturated fat, most of which is oleic acid. It's a good fat, found predominantly in olive oil, possibly up to 73%.
This means both avocado and olive oil may reduce risks of cancer, reduce "bad" cholesterol levels, and fight off inflammation.
2. Improve Digestion
We need fiber to digest food with ease, and avocados are a rich source of fiber.
Despite the un-fibrous texture, a medium avocado (5.5 oz) can provide a third of your recommended daily intake.
If you compare it with artichoke (one of the most fiber-packed vegetables), avocado has about 8% more fiber per 100g.
This is a great alternative for anyone who would rather have guacamole than spinach or artichokes.
3. Promote Weight Loss
Avocados do contain fat, and of course, consuming a lot of avocados doesn't help with losing weight. They help us lose weight in a different manner— making us feel full for longer, thanks to their fiber content.
By including avocado in your meal, you may end up feeling more satisfied after eating. That is, if you like avocados, which we hope you do after trying out this recipe.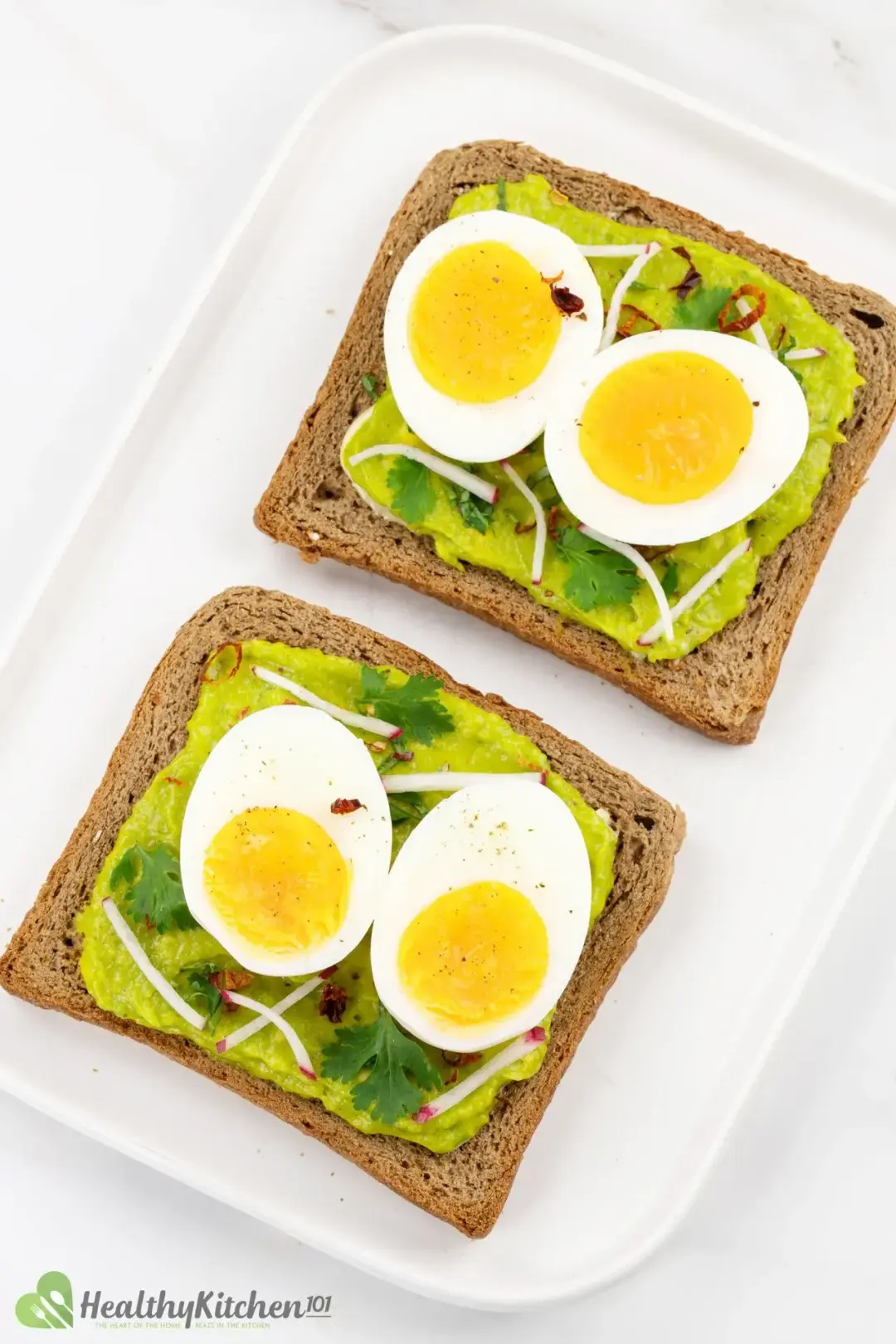 Avocado Toast with Egg
Egg and avocado on toast makes a simple, healthy, wholesome breakfast. It boasts good carbs (the toast), great proteins (the eggs), and healthy fats (the avocado).
Our avocado toast recipe uses soft-boiled eggs, and it's super easy to make. All you need is a pot of vinegar water, which we'll go over in detail a little later.
Besides hard-boiled, eggs can be prepared in a lot of ways. Here's a few easy ideas:
1. Poached Egg
The sight of runny yolk flooding out of a poked poached egg is really intriguing, don't you think? It's delicious, and it makes almost everything more elegant and delicate looking.
To cook poached eggs, bring a pot of water mixed with 2-3 tablespoons of vinegar to a boil. The vinegar water will coagulate the whites faster, which helps the poached egg to have a more intact shape.
As it's boiling, swirl the water with a spoon and crack your egg directly into the pot. Doing this both gathers the white as a clump and prevents it from sticking to the bottom of the pot.
Cook for 2 minutes and you'll have a perfect poached egg with runny yolk inside. Scoop it out, carefully pat dry with a paper towel, and serve immediately because the yolk can harden with the residual heat.
2. Scrambled Egg
On busy mornings, you might feel like making scrambled eggs and we get you. It's quick to make, and although not as aesthetically appealing as poached eggs, it's still got charisma.
To make a regular scrambled egg, begin by melting a thin slice of butter on low heat. When it's hot, crack your egg straight into the pan and cook for 2 minutes.
Here's our way to elevate your scrambled egg: beat your egg with 2-3 tablespoons of milk (per egg), then cook. The milk gives additional creaminess, and you'll likely end up with moist scrambled eggs instead of a dry batch.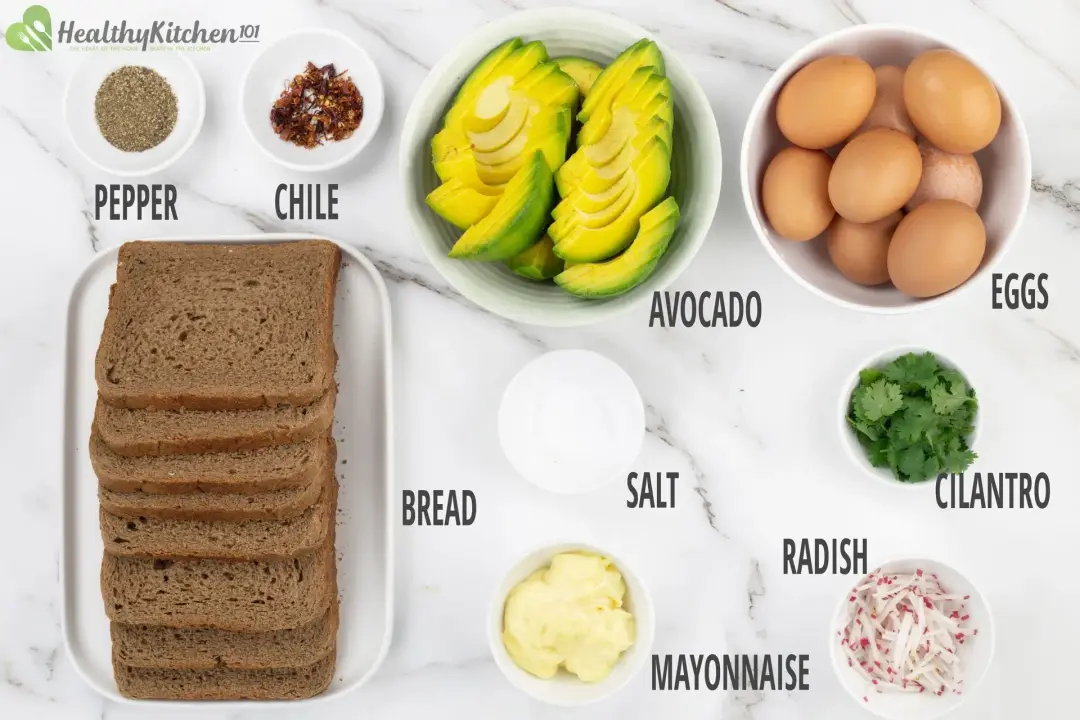 3. Sunny-side-up Egg
In our experience, sunny-side eggs, although simple, never fail to impress. In fact, our sunny side-up egg recipe is one of the most classic breakfast in bed dishes.
To make a perfect sunny-side-up egg, crack your eggs in a non-stick frying pan and turn the heat on low. Make sure to cook the whites thoroughly, while keeping the yolk runny.
We often look at the white near the yolk, and when it turns opaque, we scoop the egg out. Perfect sunny-side-up egg every-single-time.
4. Fried Egg
Although it looks like a sunny-side, fried egg has crisp edges, and this is my cup of tea. Let me show you how to achieve that crisp edge.
First, heat your pan on medium heat and add a generous amount of canola oil. When the oil is hot, crack your egg in and you'll see it bubbling, which is what we want.
After 4-5 minutes, you should see a brown, crisp edge form and that's when to scoop it out. Best thing is, the yolk is still runny.
Avocado Toast Toppings
In case the egg isn't enough to meet your daily caloric requirements, here are a few more options:
1. Cheese
If you're a fan of cheese, the melted, oozy texture of it must be no stranger to you. It's a great topping to go with many dishes, especially toasts.
To get the cheese melted, we don't suggest using an oven because avocado and oven don't mix well. Instead, add your favorite cheese, grab a torch and blast until it goes all bubbly.
If you don't have a torch, you could melt the cheese in a pan over medium-low heat. Then, transfer it onto your toast using a spatula.
2. Bacon
As a versatile topping, bacon can be added to this avocado toast to make it a more delicious breakfast. Simply place your bacon in a heated skillet, wait until the sides are golden brown and crisp, and take them out.
3. Smoked Salmon
If bacon seems a little unhealthy because of the fat, why not try its fancy alternative: smoked salmon. By adding slices of smoked salmon, you're adding a twist in both texture and flavor— tender, kinda chewy, umami bites.
Aside from the taste, salmon also provides loads of protein for your toast.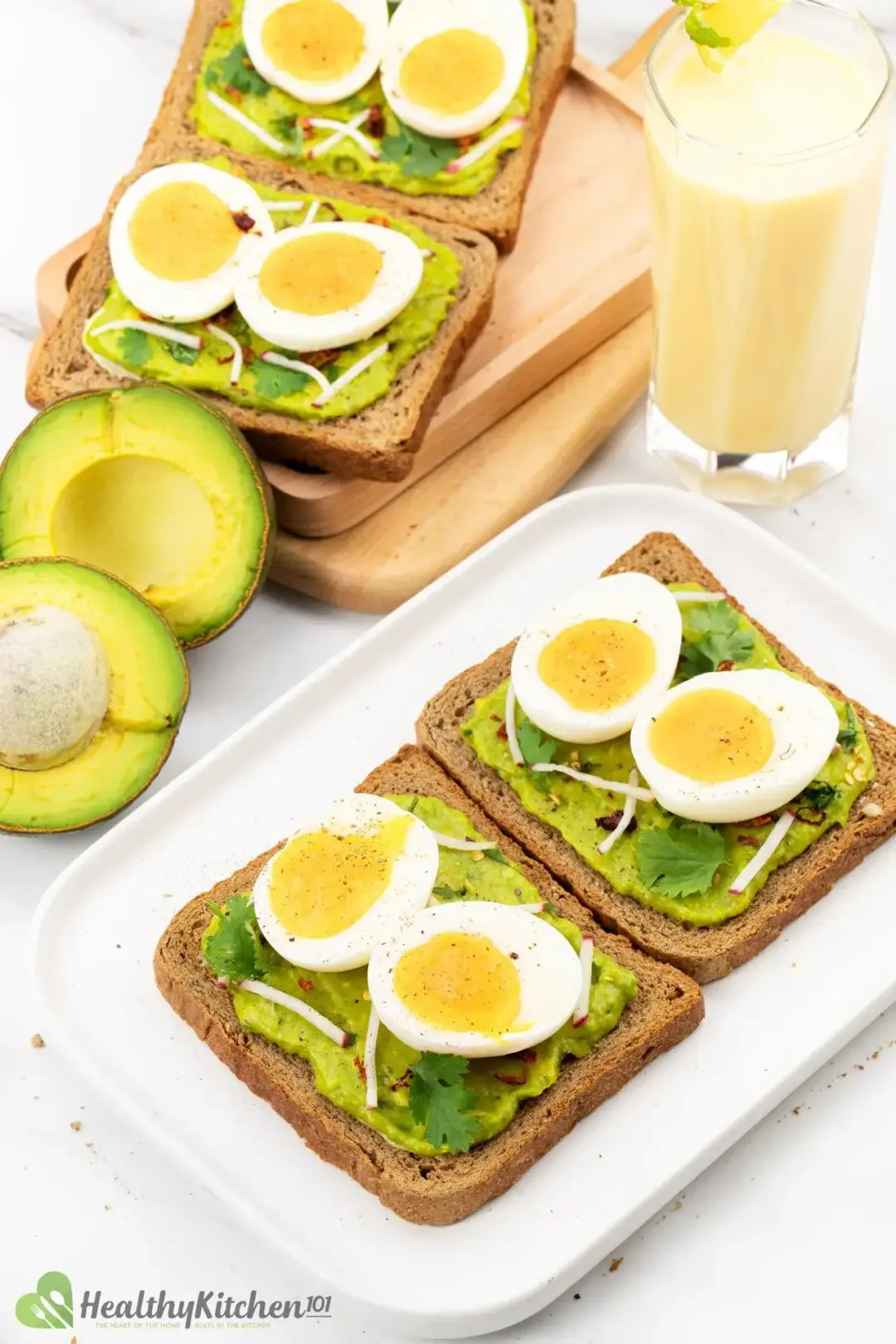 Best Bread for Avocado Toast
White bread is fine, but have you ever thought of rye, wheat or multigrain bread?
Our avocado toast recipe uses whole-grain wheat bread. Not only is it delicious but it also adds a decent amount of vitamins and minerals.
If you have problems with digesting gluten, using gluten-free bread is a good choice.
Tips for Making The Best Avocado Toast
Perfecting limited-ingredient recipes like this avocado toast recipe requires a good hand and a good heart. Everything must be handled with care.
1. Choosing The Avocado
Since we're mashing them, you can use any avocado you want, ripe or too ripe.
However, if you want to serve the toast with sliced avocado, make sure to choose the firmer ones. You can tell without slicing it open by pressing your finger gently, and feeling the fruit's texture through the skin.
2. Seasoning The Toast
Just like any recipe, avocado toast doesn't taste good if it isn't well-seasoned. A pinch of salt, squeeze of a lemon wedge and a dash of red pepper flakes should do it.
If you want to go crazy with other condiments, please tell us how it goes. We're just making the simplest version of avocado toast recipe today.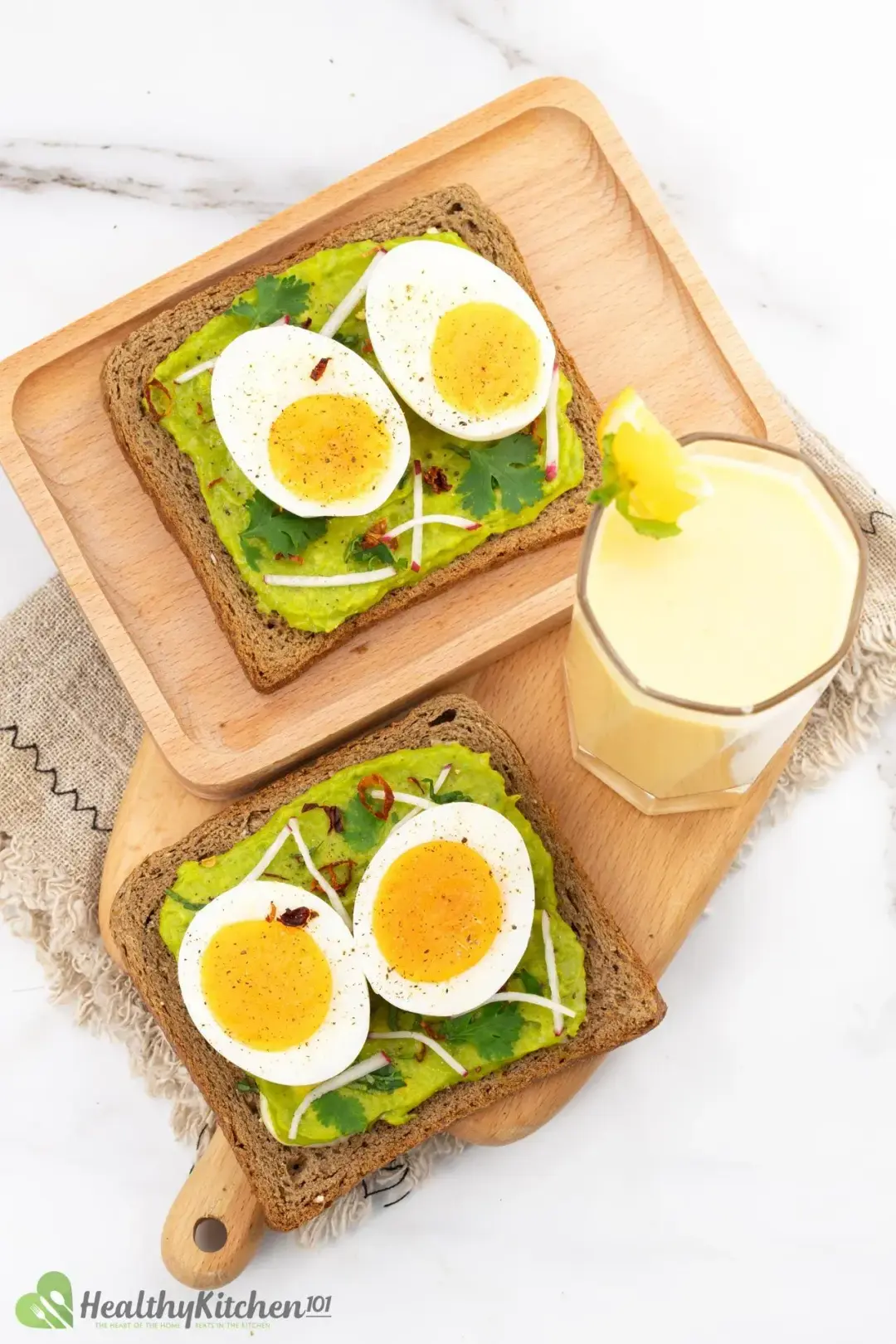 How to Make Avocado Toast
Step 1: Toast your bread
Toast your bread to your desired toastiness.
Step 2: Boil your egg
Put vinegar and water into a large stock pot, and place the eggs in. Bring it to a full boil.
When it boils, turn off the heat and set the timer for 4 minutes. Shock the eggs in an ice bath.
Step 3: Mash your avocado
Mash your avocado with half the amount of salt and pepper.
Step 4: Arrange and serve
Smear a thin layer of mayonnaise and avocado on each toast. Slice the eggs in half, place them on the toast and season with more pepper, salt, red pepper flakes, and minced cilantro.
Check out our Cauliflower Toast Recipe for yet another creamy toast spread.
How Long Does Avocado Toast Last?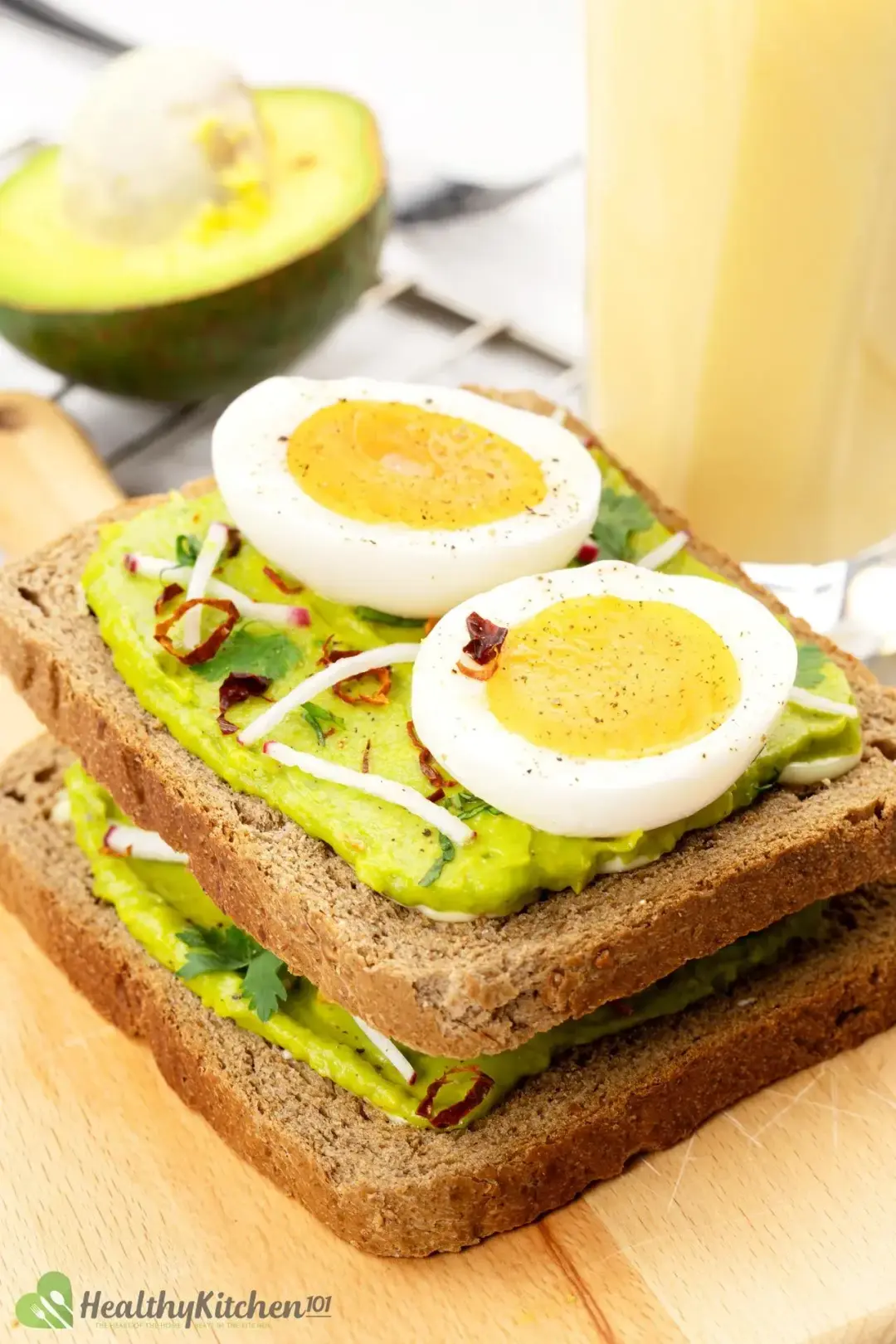 The toast will lose its texture when left exposed to the air for too long. Plus, the avocado turns brown quickly, so you may want to have your toast straight away.
If you plan to have avocado toast at another time, simply make them fresh as needed. It's quick and easy.
Calories in Avocado Toast
The toast often yields around 120 calories per slice, if there is just toast and avocado. You can adjust the calories by having more slices, or adding toppings to it to make it a fulfilling meal.
Our avocado toast recipe yields 461 calories per serving. To kick the calories to 600, we paired ours with an easy milk and orange drink: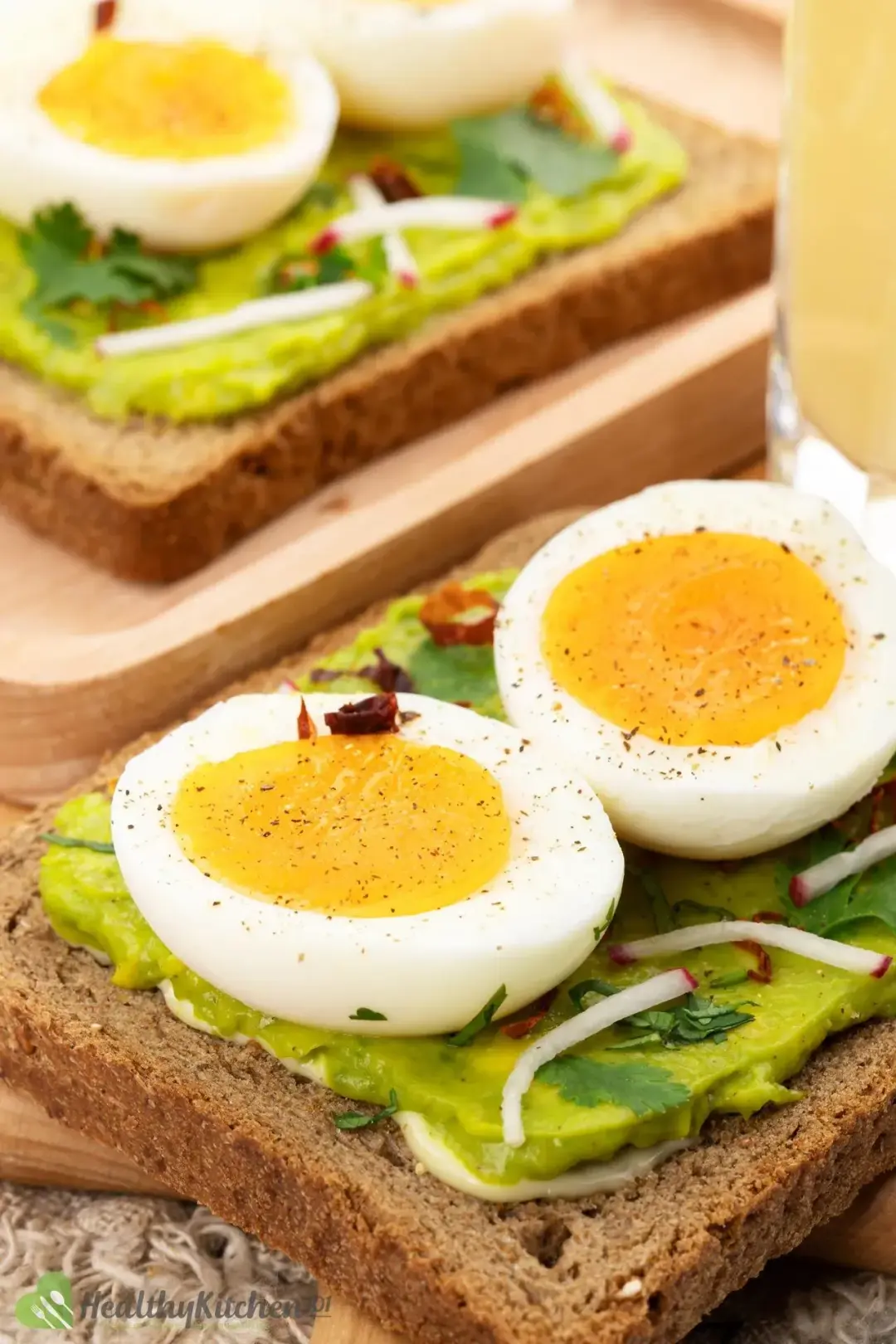 Healthy Avocado Toast Recipe
If there were Oscars for food, this healthy avocado toast recipe would be one of the nominees for being the most simple, easy, yet delicious. It's light, creamy, crunchy, and is an excellent kick of energy. Perfect for breakfast or lunch.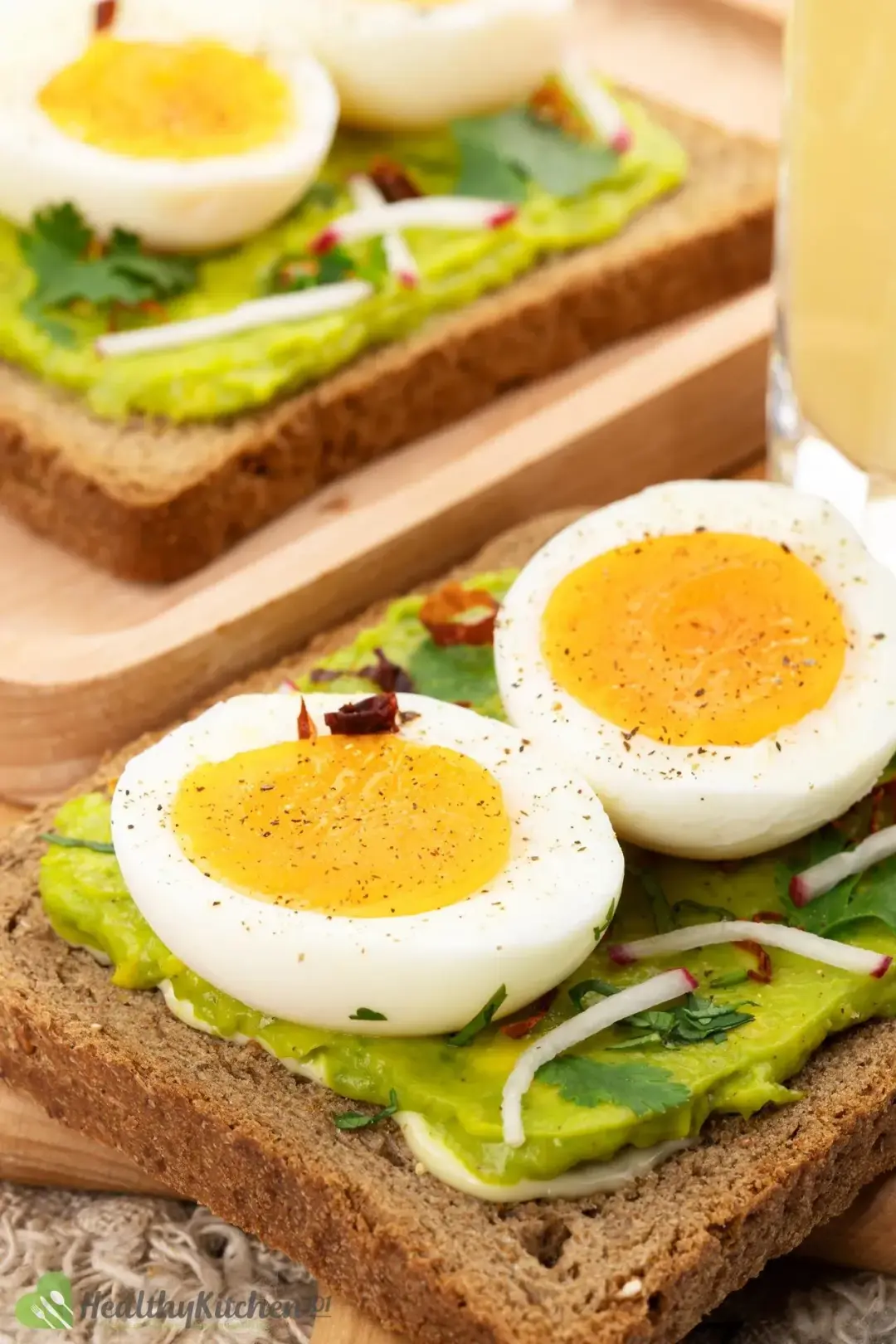 cook TIME

5 mins

prep TIME

5 mins

total TIME

10 mins
COURSE

Breakfast, Main Course

CUISINE

American

SERVINGS

servings

CALORIES

461 kcal
INGREDIENTS
For the toasts:

2 tbsp

cilantro (minced)

0.5 oz

radish (cut into thin strips)

12 oz

avocado (mashed)

2

sun-dried hot chiles (or red pepper flakes)

1 tsp

ground black pepper

8 slices

sprouted wheat bread

4 tbsp

Japanese mayonnaise

0.3 tsp

salt

For boiling the eggs:

8 cups

water

2 cups

vinegar

8

medium eggs
INSTRUCTIONS
1
Toast your bread to your desired toastiness.
2
Put vinegar and water into a large stock pot, and place the eggs in. Bring it to a full boil, and when it does, turn off the heat and start the timer. We want to cook the eggs in residual heat for 4 minutes.
3
After 4 minutes, scoop the eggs out and shock them in an ice bath. It's easier to peel them this way.
4
Mash your avocado with half the amount of salt and pepper.
5
Smear a thin layer of mayonnaise and avocado on each toast. Slice the eggs in half, place them on the toast and season with more pepper, salt, red pepper flakes, radish strips, and minced cilantro.
NUTRITION
Nutrition Facts
Healthy Avocado Toast Recipe
Amount Per Serving (1 serving)
Calories 461
Calories from FDA
% Daily Value*
* Percent Daily Values are based on a 2000 calorie diet.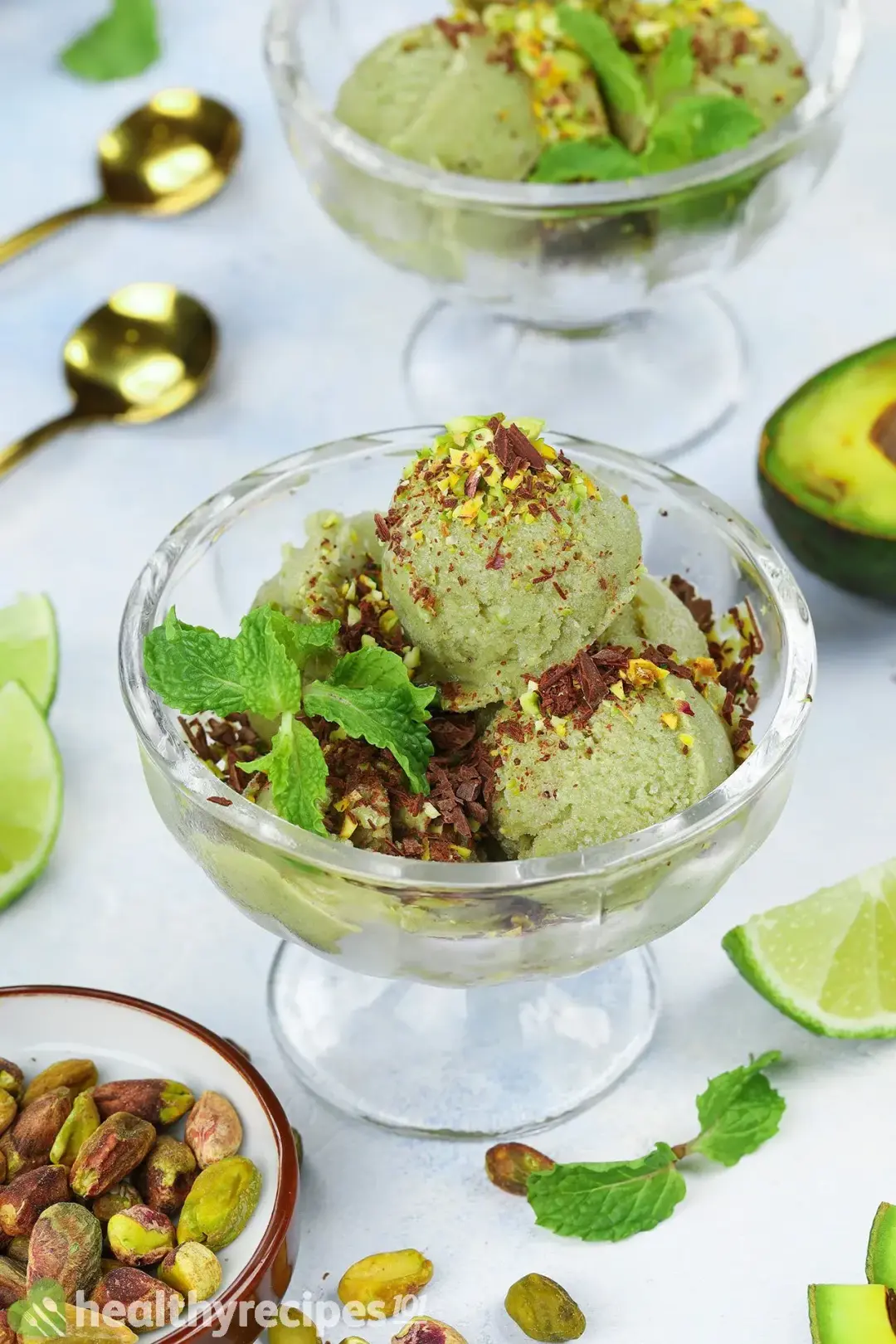 Next Recipe
Avocado Ice Cream
Avocado Ice Cream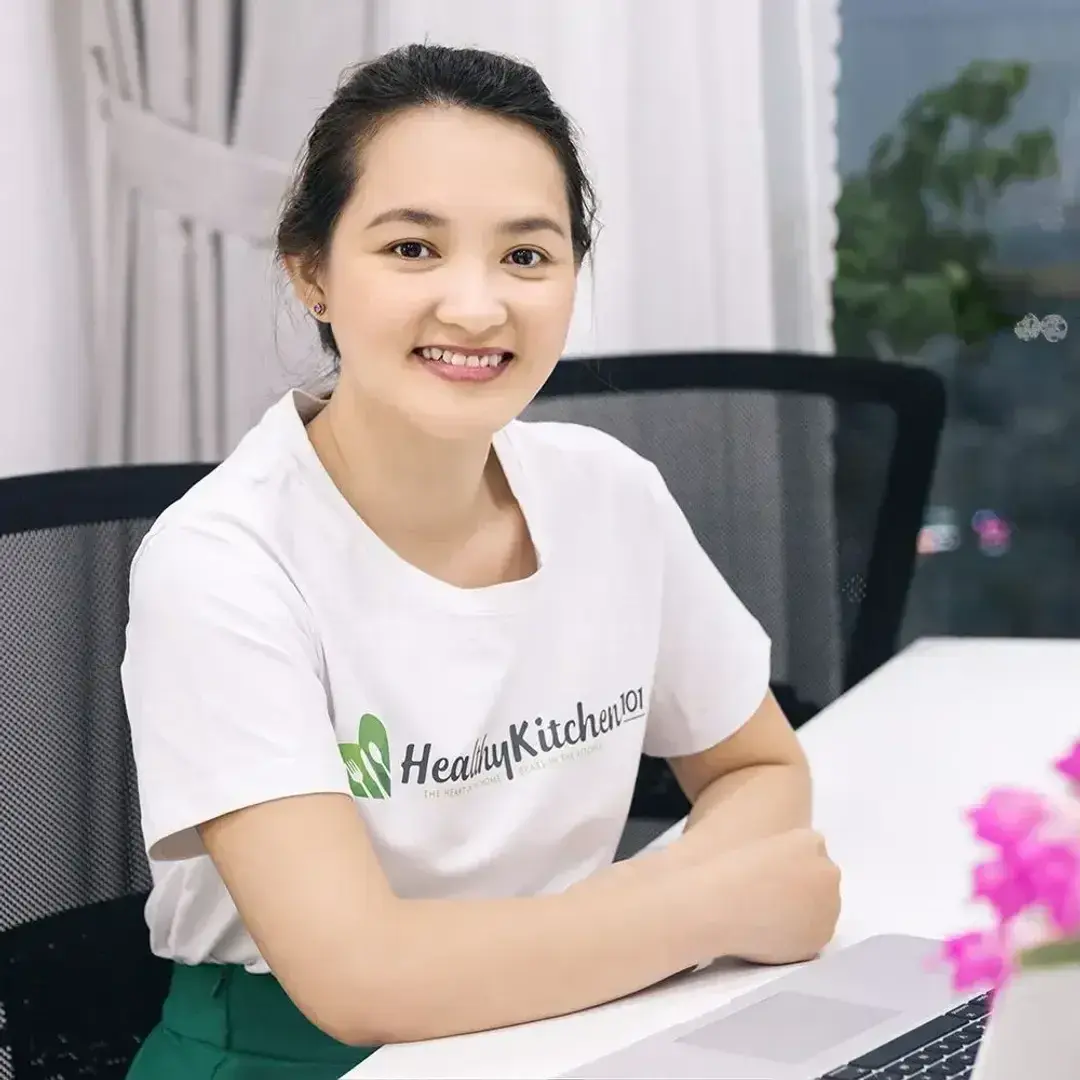 Writer, Author
Luna Regina is an accomplished writer and author who dedicates her career to empowering home cooks and making cooking effortless for everyone. She is the founder of HealthyKitchen101.com and HealthyRecipes101.com, where she works with her team to develop easy, nutritious recipes and help aspiring cooks choose the right kitchen appliances.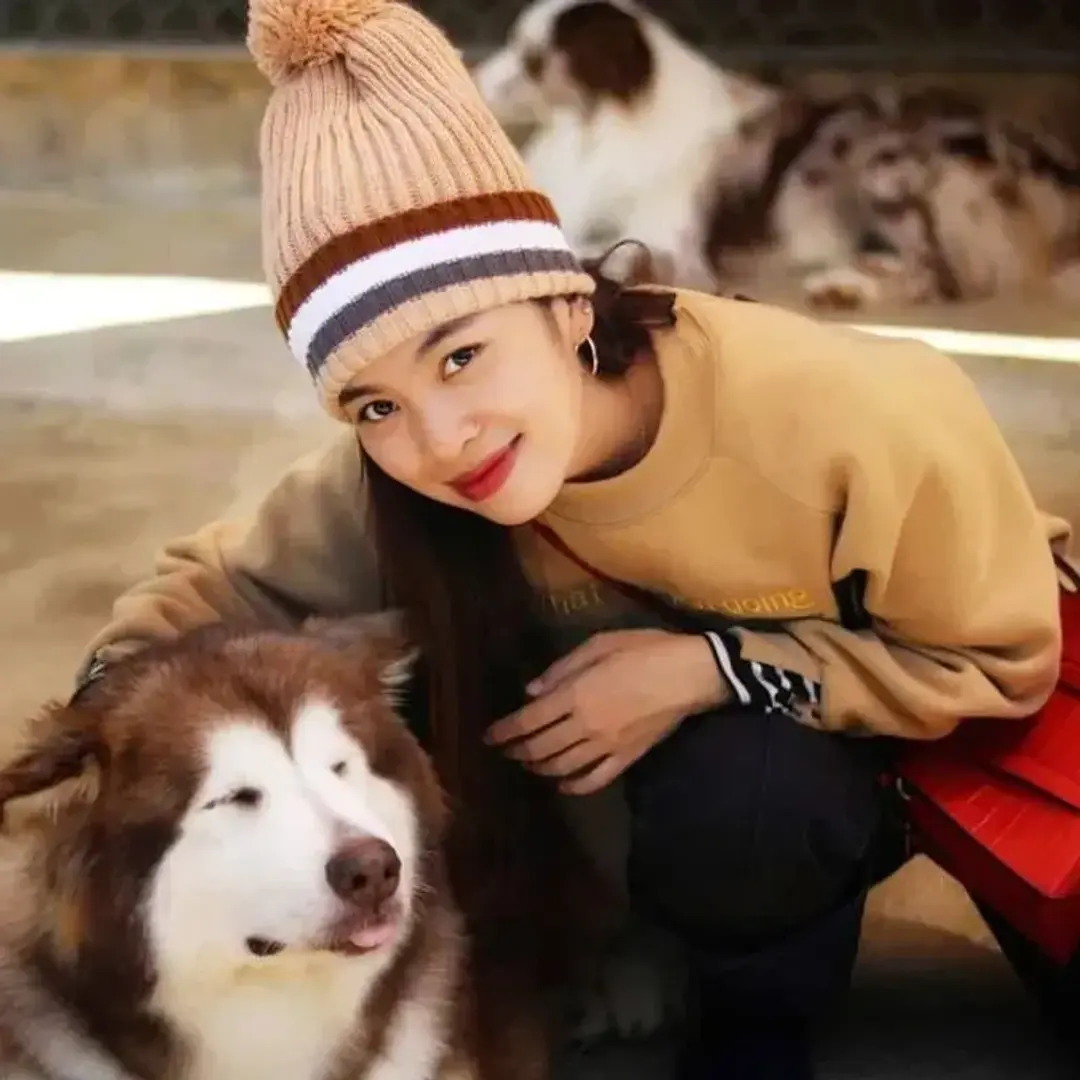 Chef, Culinary Consultant
Tuyet Pham is an award-winning Saigonese chef who believes that joy is the secret ingredient to delicious food. At Healthy Recipes 101, Tuyet personally tests and simplifies every recipe, ensuring maximum flavor with minimal effort. With a background at prestigious French restaurants P'TI Saigon and Le Corto, Tuyet knows how to make every dish exceptional.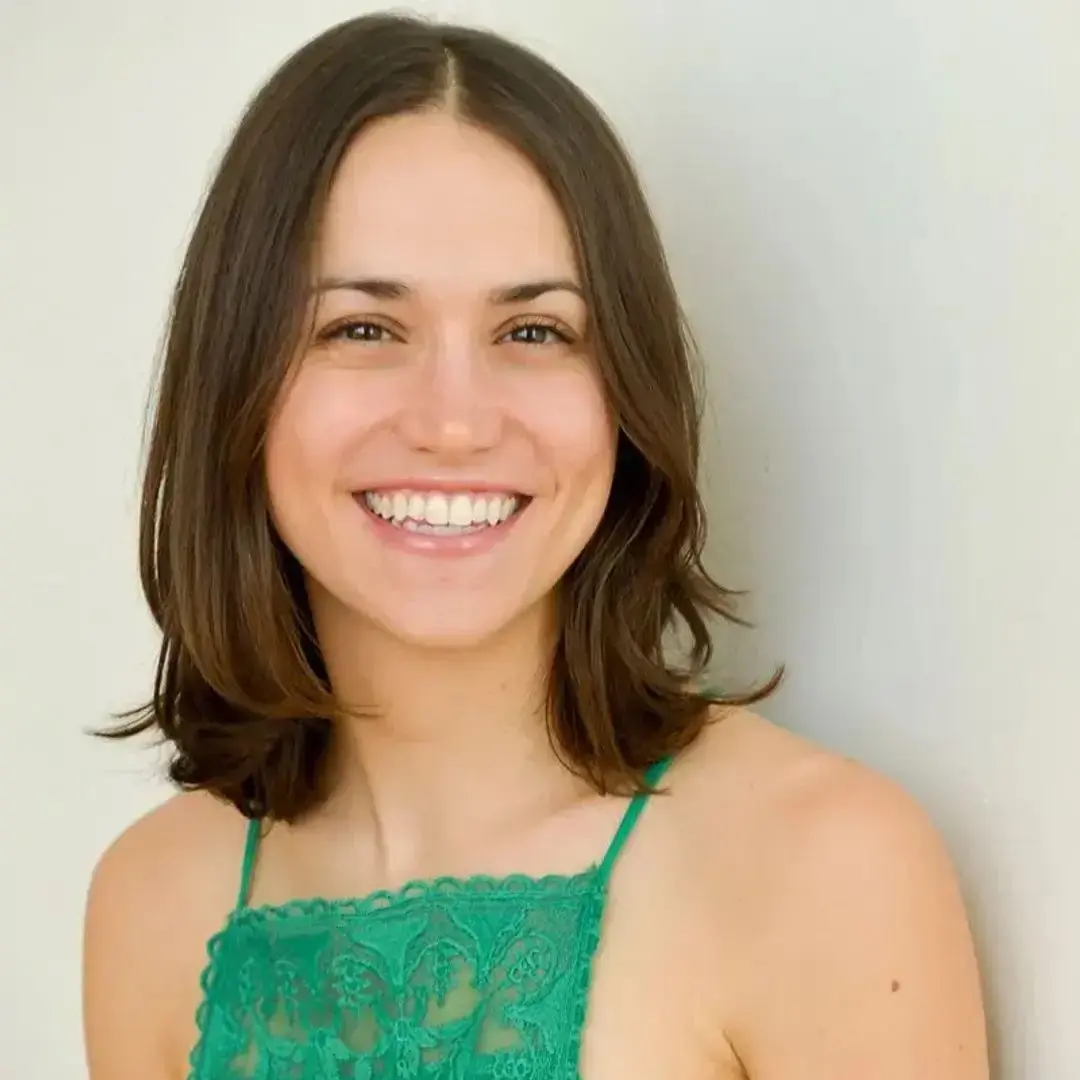 Nutrition Reviewer
Lizzie is a Minneapolis-based dietitian and founder of It's a Veg World After All. She completed her MS in Human Nutrition from Drexel University, and is an expert in culinary nutrition, recipe development, and nutrition communications.
Comments/ Reviews