This simple banana smoothie recipe requires more than just banana and ice, but everything it calls for is most likely already in your pantry. The result is a thick, luscious smoothie with amazing flavors and a wondrous aroma.
Benefits of Banana Smoothie
Although this fruit smoothie is sweet, it contains plenty of micronutrients and a fair amount of fiber. One banana gives you vitamin C, riboflavin, folate, niacin, copper, potassium, and more, with amounts varying from 5 to 12% of the recommended daily value.
With Greek yogurt and chopped almonds included, our banana smoothie is also packed with loads of healthy fats.
Still, as our smoothie contains about 9 grams of added sugar (from honey), you shouldn't have more than 3 servings per day. If you're going to have other sweet desserts or snacks within the day, check out our guidelines to understand how much sugar you should consume.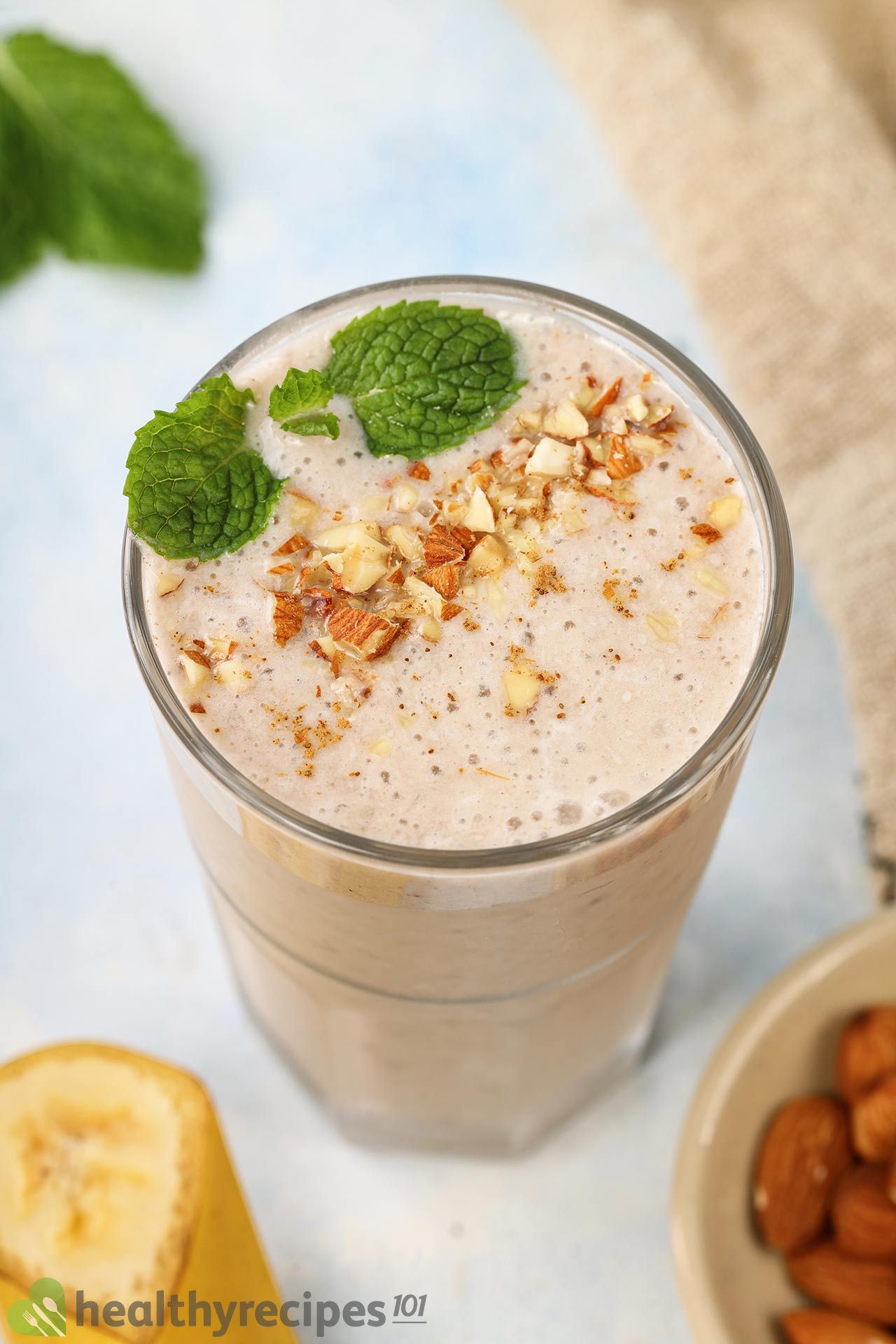 Ingredients for Banana Smoothie
Our simple banana smoothie recipe calls for simple ingredients, such as banana, milk, honey, ice, Greek yogurt, cinnamon, and vanilla extract.
If you choose frozen bananas instead of fresh ones like we did, your smoothie will become an ice-cream-like slushie. You'll also need a strong blender because frozen bananas can be tough to blend.
Ice is optional, depending on how thick you'd prefer your smoothie. Place half the amount of ice in the blender first and adjust its consistency by adding more later.
In terms of milk and Greek yogurt, there are plant-based options in store if you want to make a vegan smoothie. We went for fresh milk because it's an easy option, but we actually prefer the complex aromas of milk made from walnuts and almonds.
Honey in this recipe is merely a sweetener. You can replace it with other options such as sugar, or simply leave it out, taste, and decide whether or not to include it.
Next, we infused the smoothie with vanilla and cinnamon powder, giving it the wonderful aroma of banana bread. If you're a big fan of this sweet treat, including these ingredients is mind-blowing.
Finally, we garnished our drink with baby mint leaves.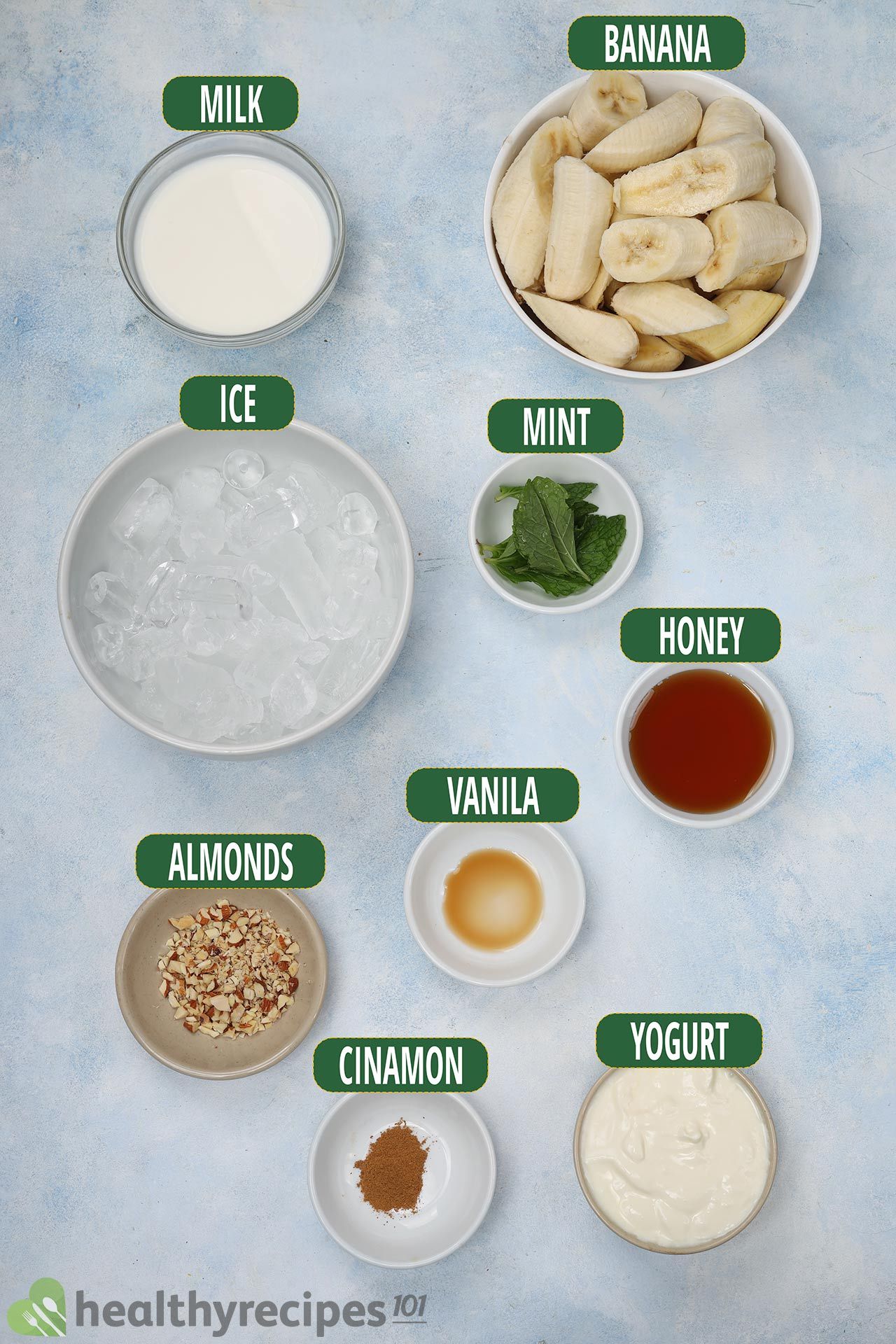 How to Peel a Banana
Although it seems quite intuitive, there are many ways to peel a banana.
The basic method is to tear the skin at either of the ends and peel away. Choosing which end to start with depends solely on your preference — some prefer the stalk, others the bottom end.
Some bananas are tough to peel, so simply cut them in half and they'll virtually peel themselves.
If you're thinking of using a vegetable peeler, it's not going to be of much assistance here.
Peel a Frozen Banana
Bananas are 75% water, and the more water a fruit has, the harder it becomes when frozen. The skin, on the other hand, will still be soft and thaw more quickly. Leave it on the counter for about 5 minutes, cut away the stalk, and peel as you would normally.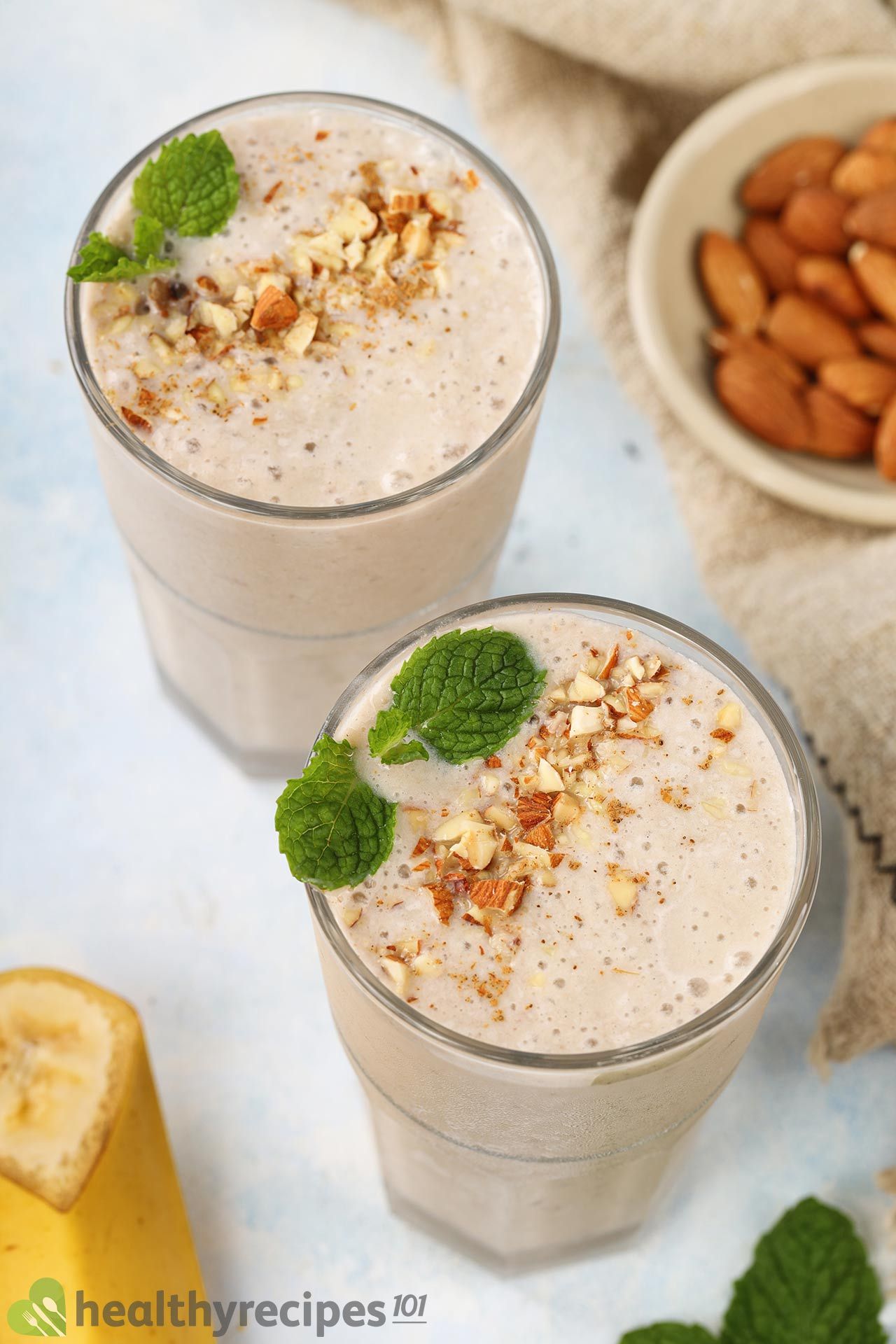 Then, pour some hot water into a tall glass, dump, then place one peeled banana in to quickly soften it. Repeat with the rest until they're soft enough to cut into.
If all of this seems like a lot of work, remind yourself not to ever freeze whole bananas. Slice them up, spread them out onto a parchment-lined tray, freeze for 1 hour, separate the slices, then put them in a container. Freeze them in bulk right after cutting and you'll have a hard time separating the big clump of frozen bananas later on.
How to Make a Banana Smoothie
Once all ingredients are prepped and precisely measured, add everything to the blender (except almonds) and blend until smooth. You can give the almonds a rough chop, or a quick pound using a mortar and pestle.
For the measurements of the ingredients, refer to our printable 'simple banana smoothie recipe' card at the bottom of this article.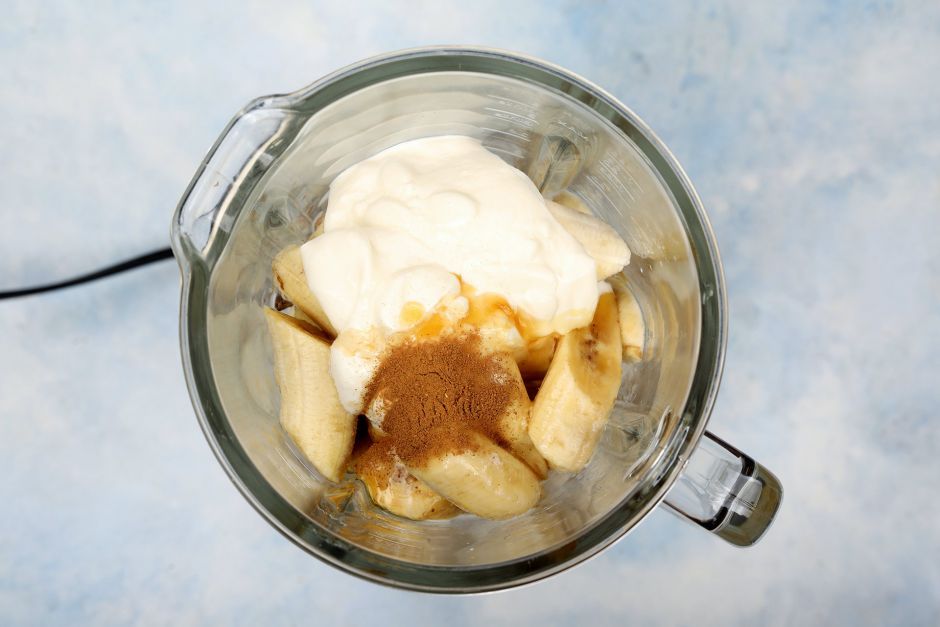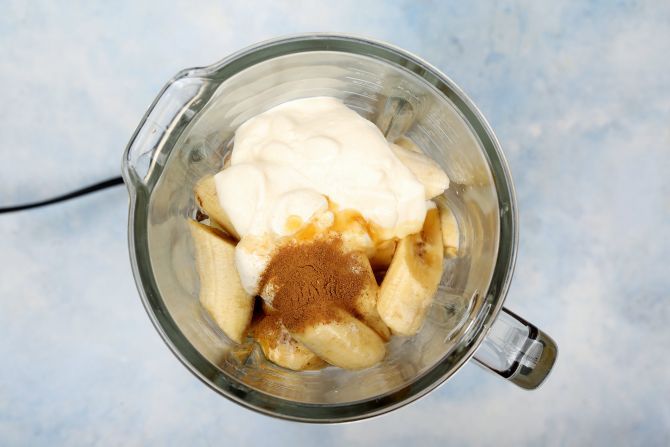 blend ingredients.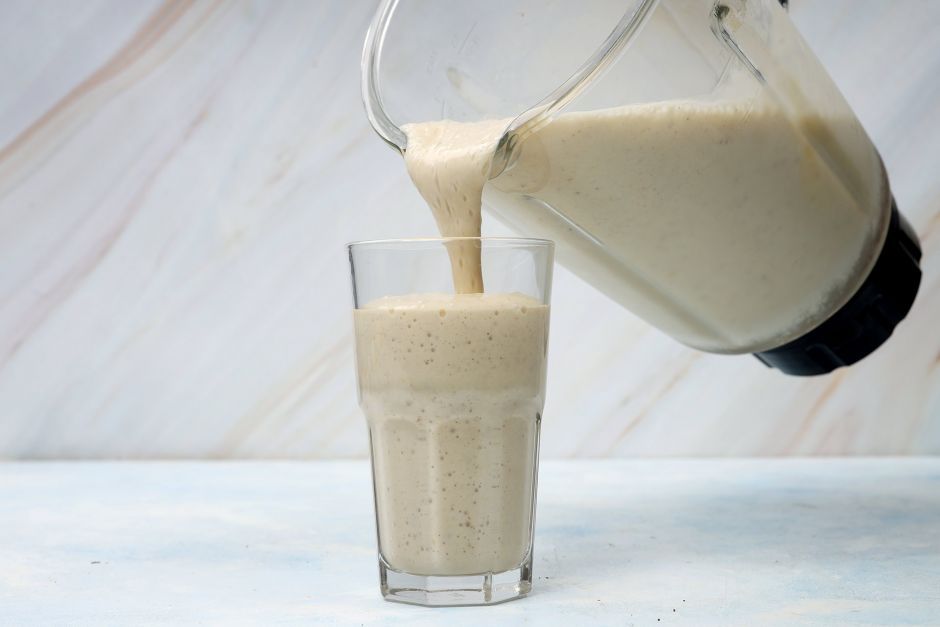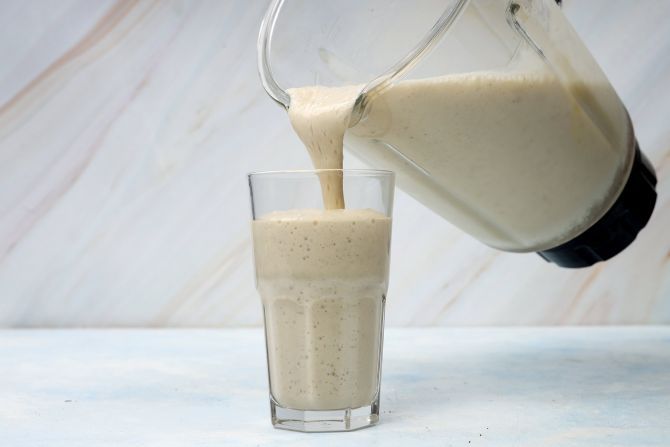 Garnish with spearmint leaves and serve.
What Does a Ripe Banana Look Like
Most bananas turn a bright yellow color as they ripen. As the fruit itself emits ethylene, a fruit-ripening gas, it will develop dark spots on its skin. Those soft, dark-skinned bananas in your fridge are edible, super sweet, and excellent for making banana breads.
However, some varieties of bananas stay green when reaching adulthood, like the Ebun Musak, and look identical to an immature fruit. The quickest way to tell it apart is to ask the shop owners or employees — we're sure they will want to assist you.
If you're wondering what young bananas taste like, they're firmer, not sweet, mildly bitter, and they contain a kind of sticky substance. They are not meant for eating as a fruit, but rather cooked into dishes or sliced thinly, washed, and served as a side.
How Long Does Banana Smoothie Last?
Theoretically, it will last for up to 5 days in the fridge, but it will turn brown due to oxidation and become rather unappealing. If you keep it in the freezer, however, it will last for up to 3 months and won't discolor as much.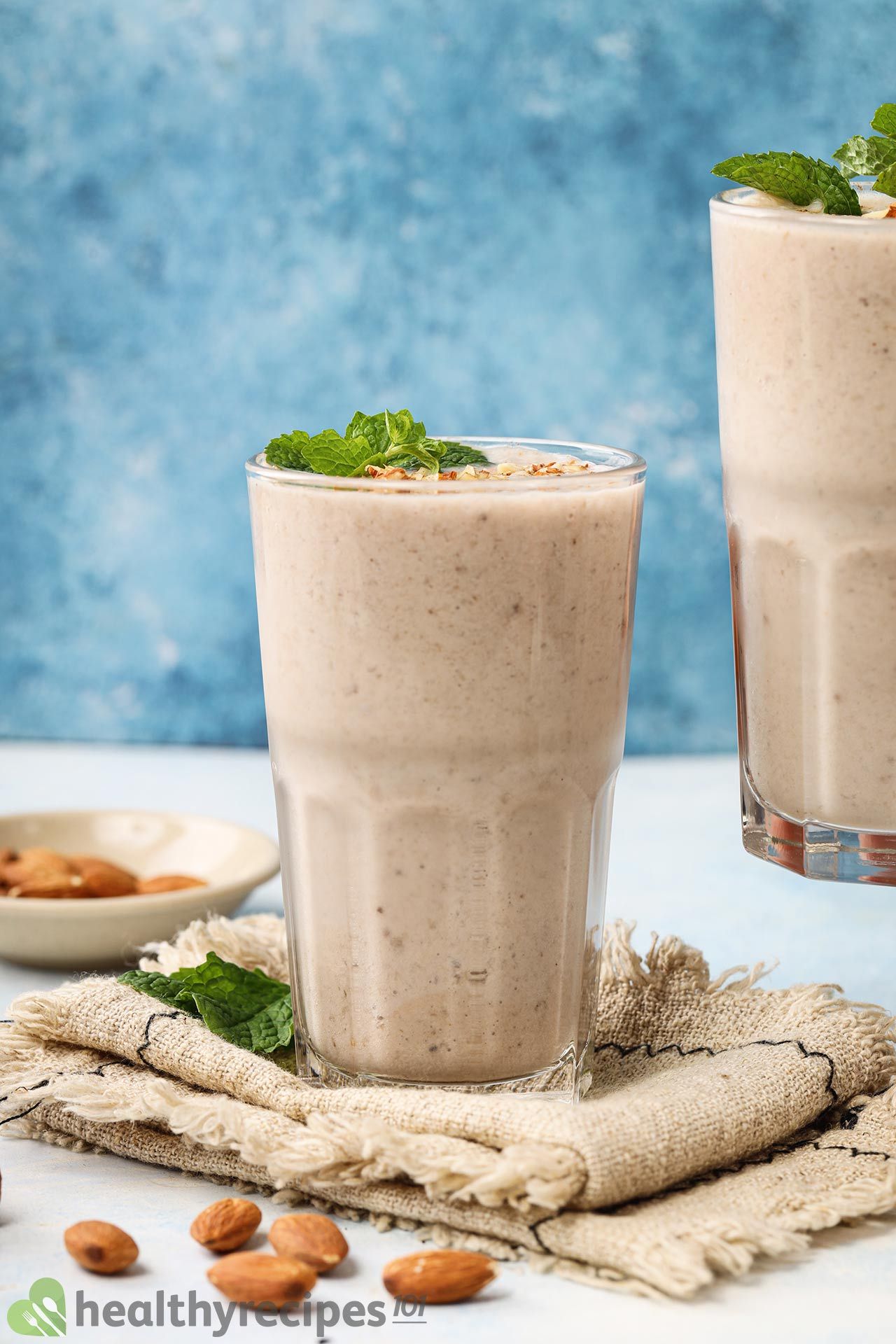 We recommend that you store each portion in individual containers, for easier thawing. If your freezer lacks space, use Ziploc bags instead of large containers.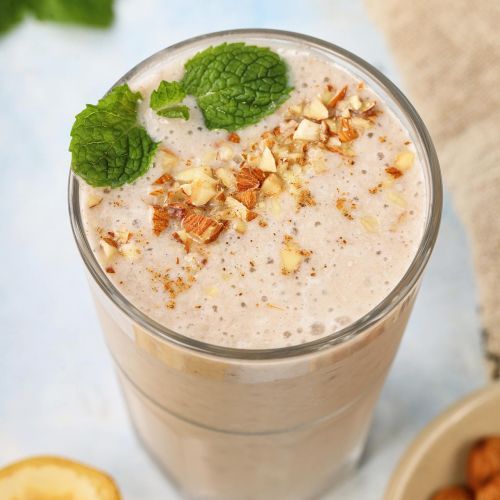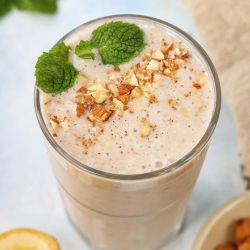 Simple Banana Smoothie Recipe
This simple banana smoothie recipe brings you an easy way to make a delicious smoothie. You'll need more than just bananas, but the ingredients are quite basic.
Ingredients
20

oz

bananas

peeled and sliced

2

cups

ice

1/2

cup

plain Greek yogurt

1/2

cup

whole milk

2

tbsp

honey

1/4

tsp

vanilla extract

1/4

tsp

cinnamon

0.25

oz

almonds

pound or chopped roughly

6-8

baby spearmints
Instructions
Add to the blender 2 cups ice, 1/2 cup Greek yogurt, 1/2 cup milk, 2 tbsp honey, 1/4 tsp vanilla extract, 1/4 tsp cinnamon, and 20 oz bananas. Blend until smooth.

Pour into serving glasses. Garnish with spearmint leaves and top with crushed almonds.
Nutrition
Nutrition Facts
Simple Banana Smoothie Recipe
Amount Per Serving (1 serving)
Calories 216
Calories from Fat 36
% Daily Value*
Fat 4g6%
Cholesterol 9mg3%
Sodium 40mg2%
Potassium 624mg18%
Carbohydrates 45g15%
Protein 4g8%
Vitamin A 141IU3%
Vitamin C 12mg15%
Calcium 52mg5%
Iron 1mg6%
* Percent Daily Values are based on a 2000 calorie diet.