Our avocado banana smoothie recipe transforms these awesome fruits into a nutritious drink. The ingredients are nothing but basic and require just 10 minutes of prepping, measuring, and blending.
Are Bananas and Avocados Good Together?
These fruits are perfect for smoothies with their creamy texture and strong flavors, so, naturally, they go well together. Avocado adds a depth of richness to bananas' already creamy texture, resulting in a naturally thick and sweet drink.
Still, since fruits can vary considerably in sweetness, we have included about 1 tablespoon of honey in this 4-serving recipe. You can adjust this to your taste, as long as the amount you use doesn't exceed the amount we recommend.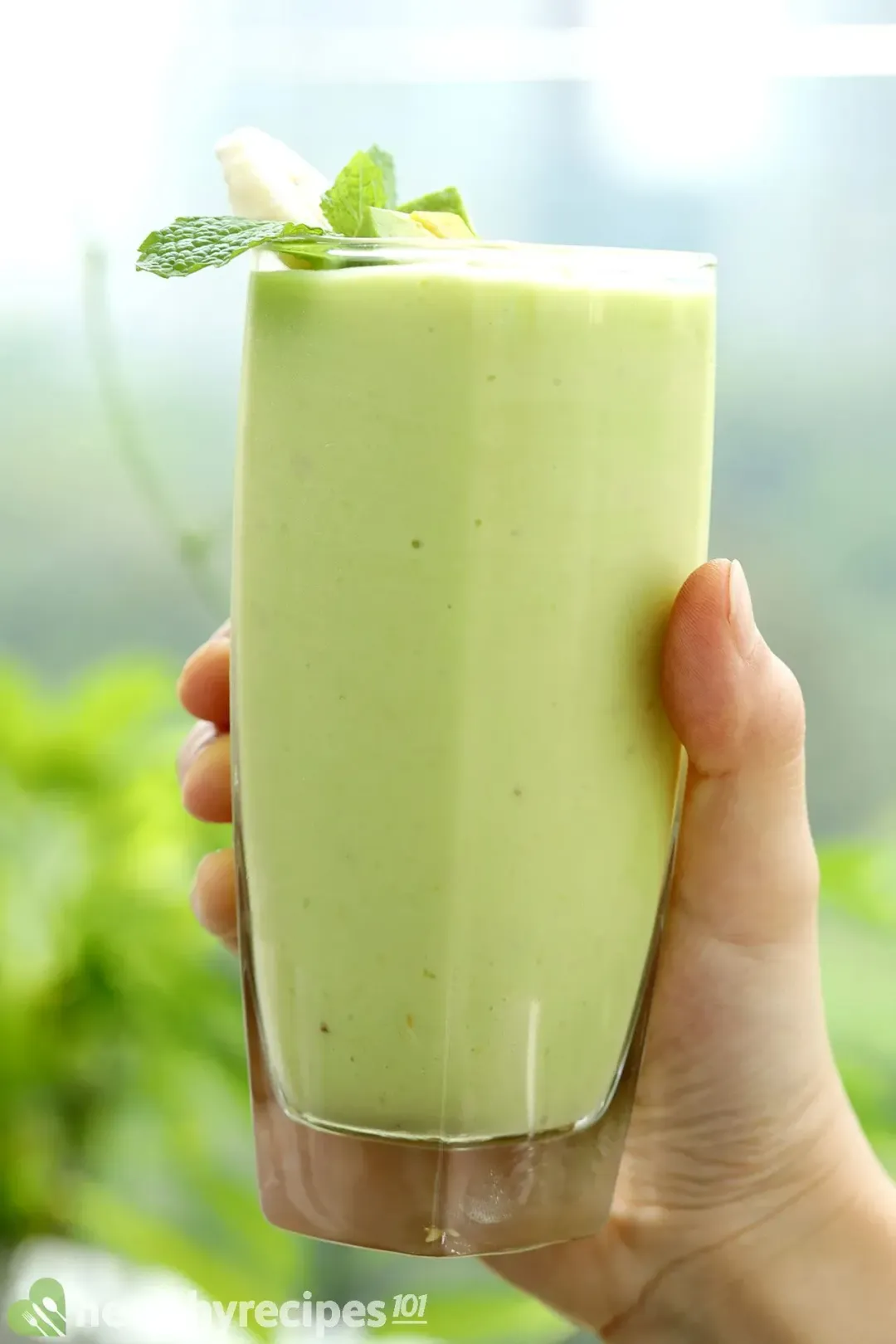 Is This Smoothie Healthy?
Smoothies are a great way to get nutrients from various different sources, veg included, into your body in one drink. Our drink, for instance, combines avocados and bananas to give you nutrients like B-vitamins, vitamin E, vitamin C, potassium, copper, magnesium, and many more in varying amounts. It's also high in fiber, with 6.3 g within each serving.
When it comes to sweet treats, we have to control how many calories and additional sweeteners (in this case, honey) each serving contains. Once we made the necessary adjustments, each serving of this recipe contained just 223 calories and 4.2 g added sugar (from honey).
Main Ingredients
Besides avocado and bananas, you'll also need ice, honey (or sweetener of choice), vanilla extract, some milk, and mint leaves for garnish.
1. Avocado
Ripe, soft avocados make the best smoothies. To get the pick of the bunch, gently squeeze each one and choose whichever has a little give. They'll often come with a purple-ish skin.
If you're buying in bulk, you definitely want the ones for storage to be firmer. You should be able to feel the firmness with just a squeeze.
To remove the avocado flesh, cut around the fruit length-wise, twist it open, then plunge the knife into the seed and yank to remove. Use a spoon to scoop the flesh out easily.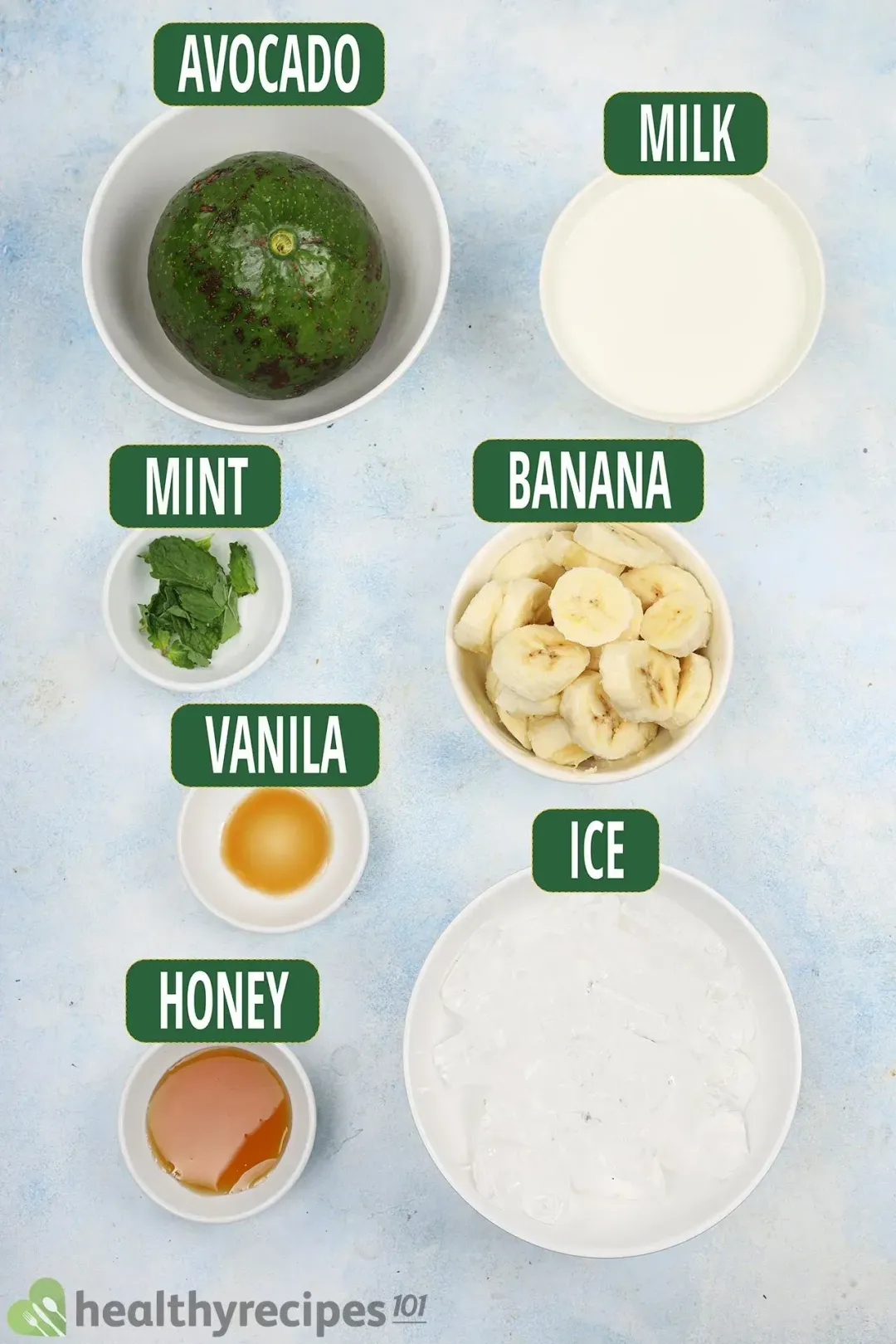 2. Choose Bananas for Smoothie
The problem with bananas isn't the difficulty in choosing ripe ones (they're often yellow in color), but rather, how quickly they ripen.
The fruit itself emits ethylene, which ripens it, making the flesh bruised and the skin dark. Don't be afraid — although their dark, almost black skin looks intimidating, they are actually edible and taste sweeter. They're often preferred for smoothies and baking.
3. Vanilla Extract
Avocados and bananas smell great on their own, but a few drops of this goodness add yet another layer to the aromatic profile. Just a dash goes a long way.
4. Milk
Milk helps the machine to blend the fruit and produces a smoothie less heavy in texture. You can use whole milk, half-and-half, or skimmed, or even nut milk for more flavor.
5. Honey
In theory, honey should add both sweetness and a floral aroma, but it's rather mild and indistinct in avocado banana smoothie. You can replace honey with any other form of sweetener you like.
6. Ice
Nugget ice and ice cubes are perfect for making smoothies as they are easily breakable.
If you use a tougher variety like crescent ice, your blender might not blend it finely enough. Give your smoothie buddy a hand by placing the ice in a clean cloth, grab the corners, then pound it with a pestle.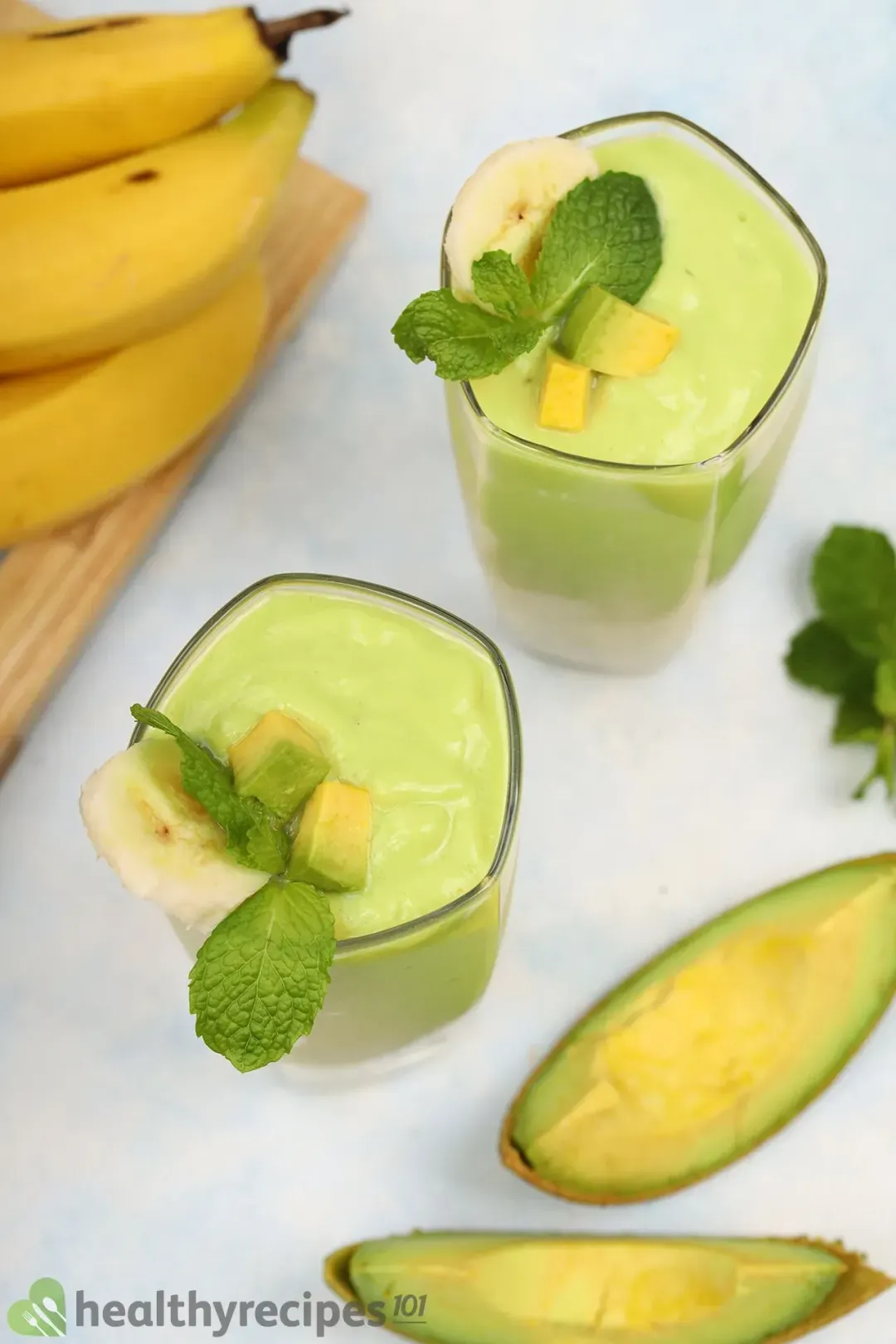 7. Mint
In this recipe, baby mint leaves are an optional ingredient for garnishing, along with some fruit cubes. If you're not a fan, simply skip on them.
Avocados and bananas are delectable when paired not only with each other but also with various other ingredients. For those who love avocados, our Strawberry Avocado Smoothie and Mango Avocado Smoothie are fantastic, flavor-bursting choices that will have your taste buds beam with joy. 
And if you like bananas, a summery sweet-tart Berry Banana Smoothie or this indulgent, decadent Chocolate Banana Smoothie might just be what you've been looking for.
Can I Use Frozen Banana and Avocado?
You absolutely can, and if you do, leave out the ice for a thick, smooth ice cream with a concentrated flavor. But beware, if you do just want a smoothie with ice blended in, be careful not to sip too quickly or you'll experience the dreaded brain freeze.
How Long Does It Last?
Containing ice, this smoothie will dilute (or discolor) either at room temperature or in the fridge. You'll want to drink it all as soon as possible for the best experience or store the leftovers in the freezer.
How to Store Leftover
Portion it into small containers or one big one, close tightly, and label it so you'll know and consume it within 3 months. To thaw, let the frozen smoothie sit in the fridge overnight or for at least 8 hours.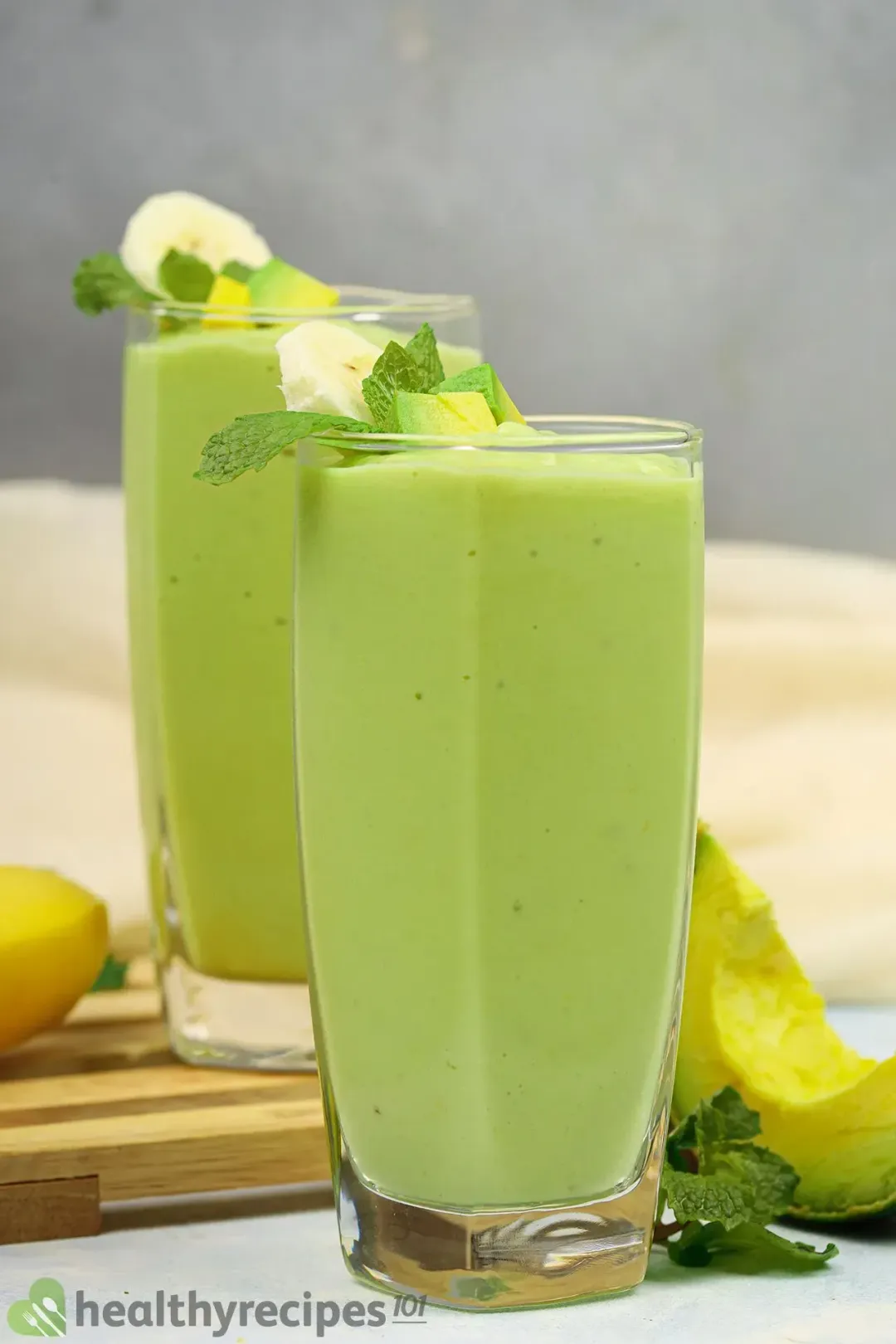 If your freezer lacks space, items like Ziploc bags or biodegradable bags really help a lot. We often place ours in Ziploc bags, each portion in an individual bag, then fit them in whatever space there is left.
Avocado Banana Smoothie
This avocado banana smoothie recipe is an easy way to have these two creamy fruits in one delicious serving. It's also packed with nutrients.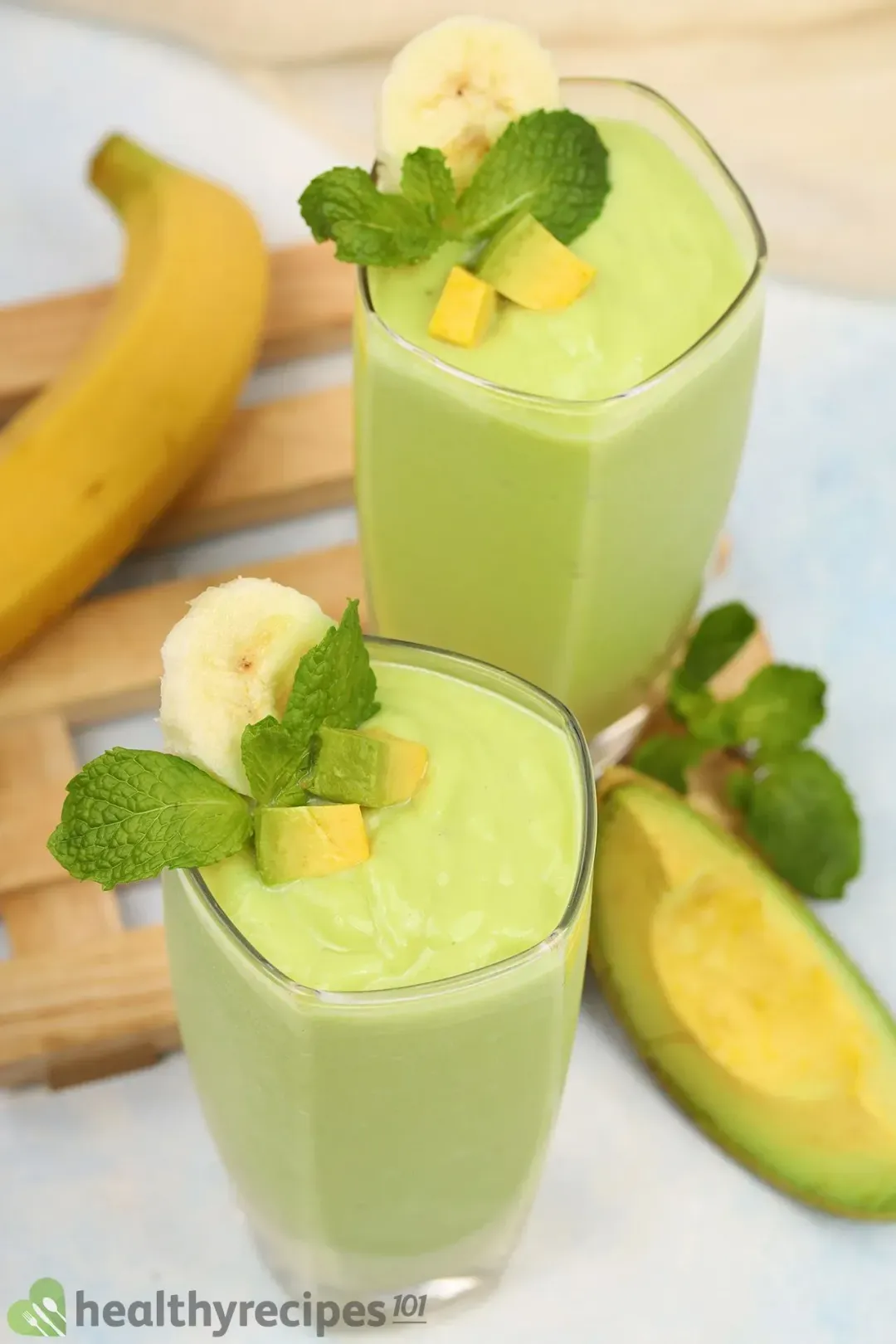 prep TIME

7 mins

total TIME

7 mins
COURSE

Beverage, Smoothie

CUISINE

Global

SERVINGS

CALORIES

223 kcal
INGREDIENTS
6

mint leaves

(for garnish)
INSTRUCTIONS
1
Add all the ingredients (10 oz avocado, 8 oz banana, 2 cups ice, 1 tbsp honey, 1 cup milk, 1/4 tsp vanilla) to the blender.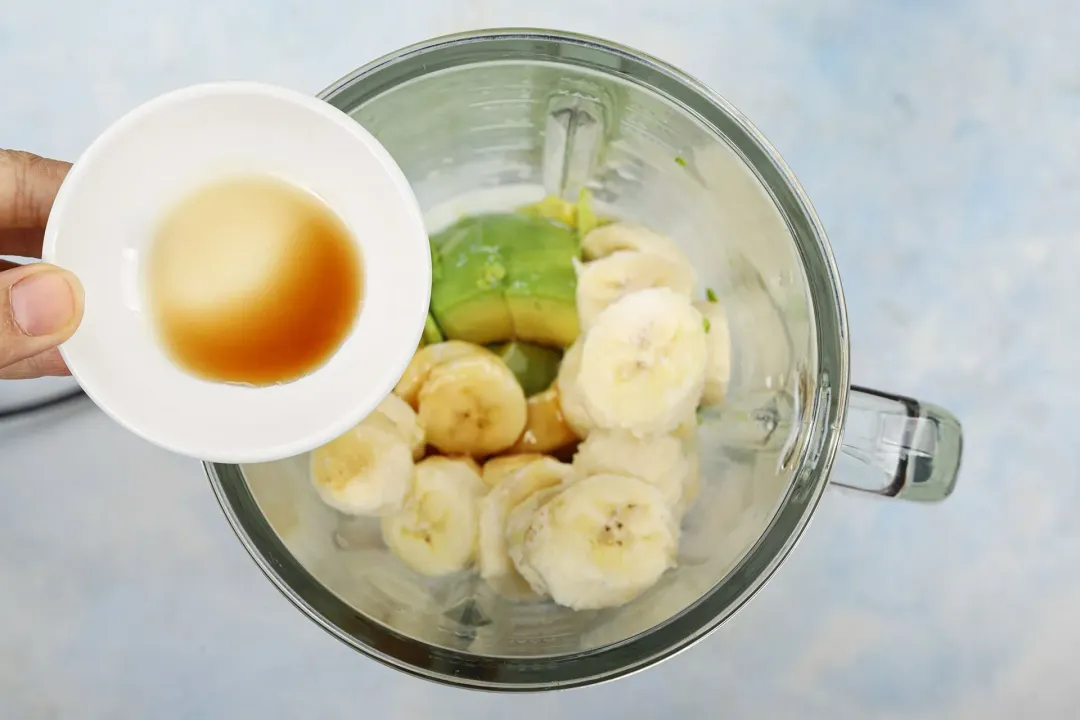 2
Blend in 20 - 30 seconds until smooth.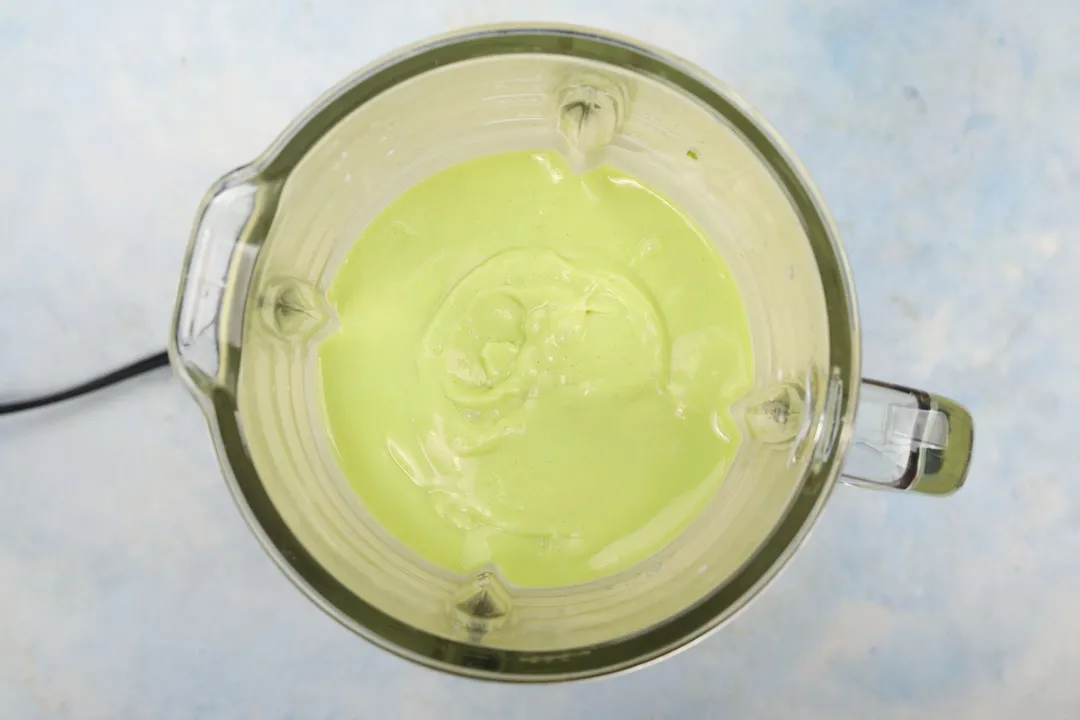 3
Garnish with mint leaves, serve immediately.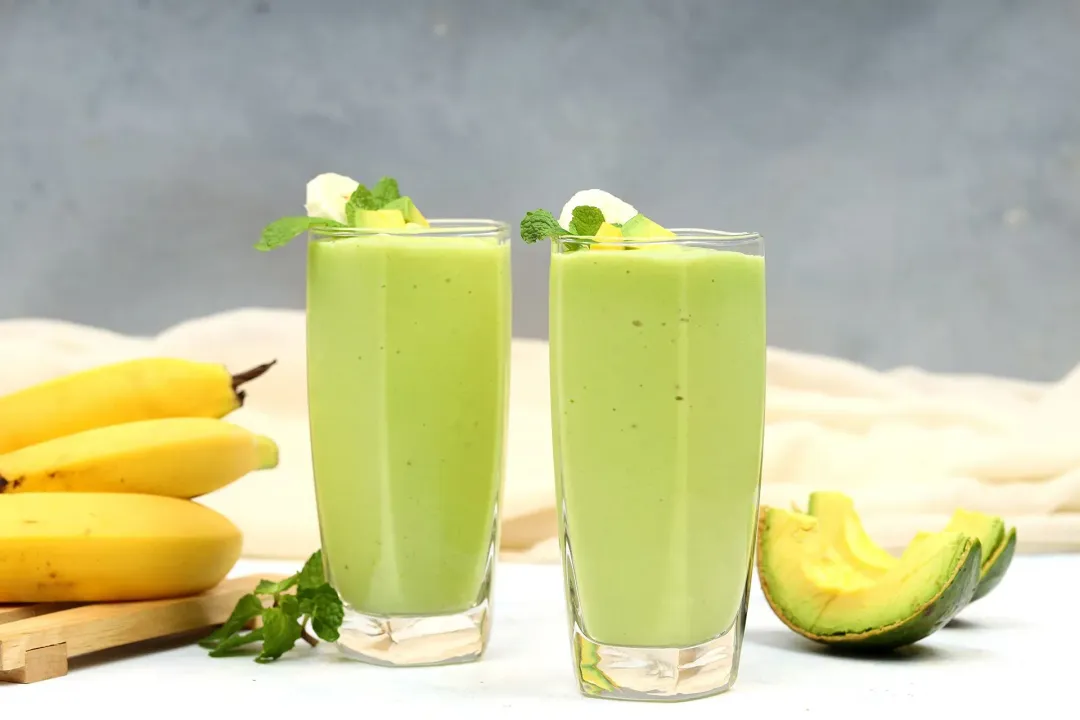 NUTRITION
Nutrition Facts
Avocado Banana Smoothie
Amount Per Serving (1 serving)
Calories 223
Calories from Fat 117
% Daily Value*
* Percent Daily Values are based on a 2000 calorie diet.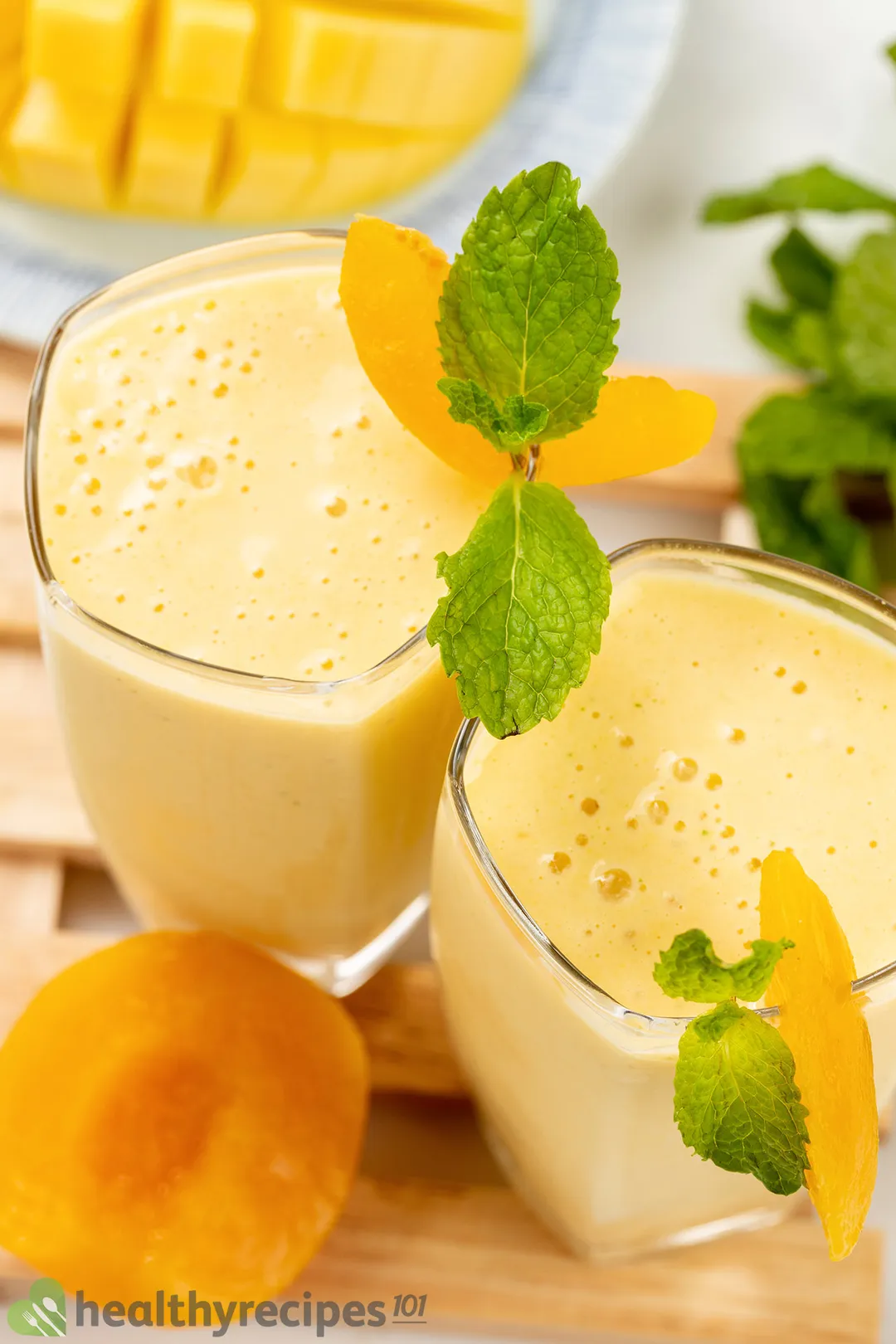 Previous Recipe
Healthy Peach Smoothie
Healthy Peach Smoothie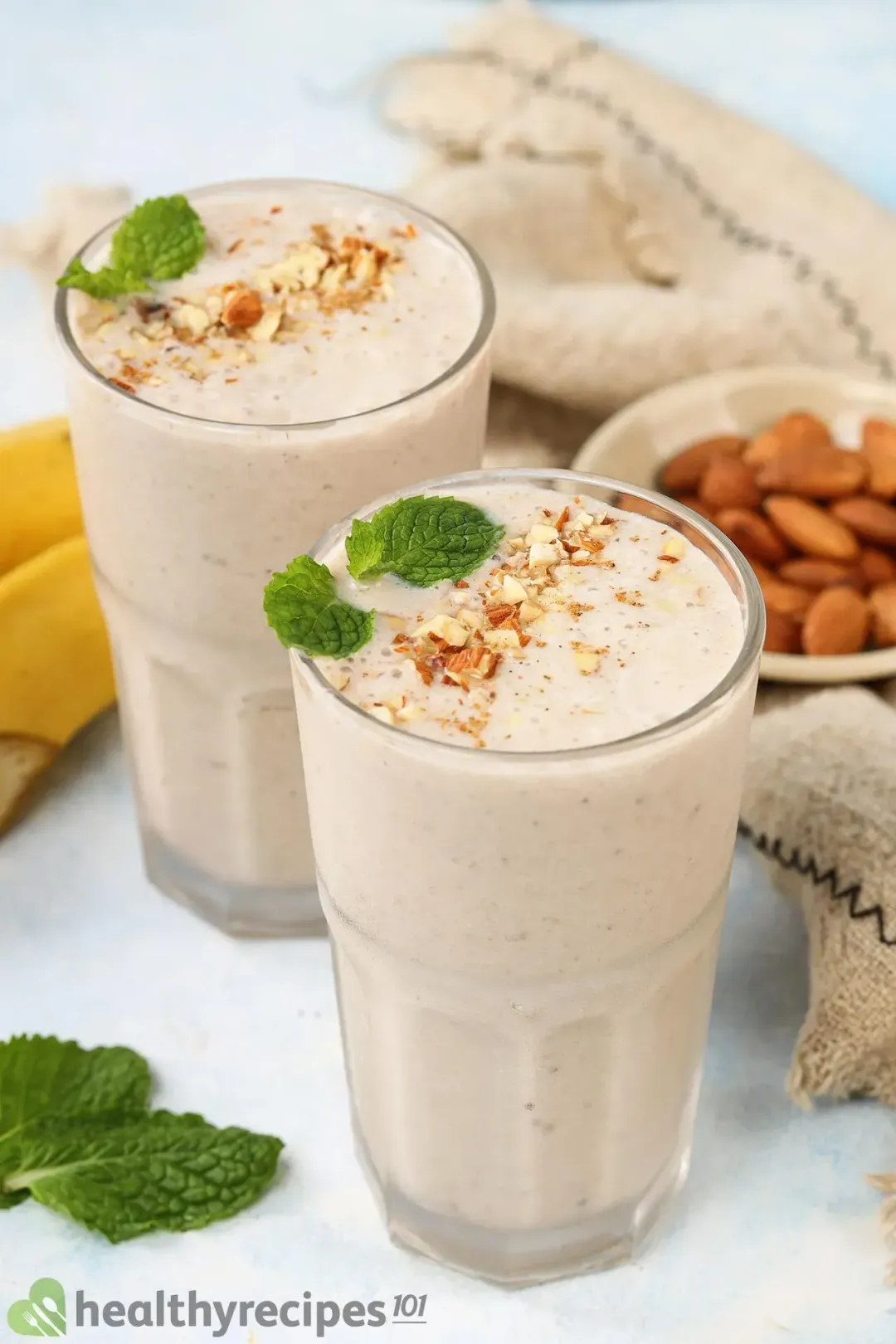 Next Recipe
Simple Banana Smoothie
Simple Banana Smoothie
Head Chef, Culinary Consultant
Tuyet Pham is an award-winning Saigonese chef who believes that joy is the secret ingredient to delicious food. At Healthy Recipes 101, Tuyet personally tests and simplifies every recipe, ensuring maximum flavor with minimal effort. With a background at prestigious French restaurants P'TI Saigon and Le Corto, Tuyet knows how to make every dish exceptional.
Writer, Author
Luna Regina is an accomplished writer and author who dedicates her career to empowering home cooks and making cooking effortless for everyone. She is the founder of HealthyKitchen101.com and HealthyRecipes101.com, where she works with her team to develop easy, nutritious recipes and help aspiring cooks choose the right kitchen appliances.
Nutrition Reviewer
Natalie Butler is a registered dietitian nutritionist with a passion to help others live their best life through food, fitness, safer beauty and a healthy lifestyle. She has expertise with a variety of diets and diseases and believes that there is no one-size-fits-all approach for health.
This is an addictive combination of flavors!

Loved it! Very simple recipe.