Today's classic beef bourguignon recipe is our take on the French stew that is internationally adored for both weeknight dinners and special occasions.
This dish is rich in flavor with beef chunks slow-cooked in red wine and broth. It is infused with the beautiful aroma of onions, garlic, herbs, and finished with mushrooms.
One-pot cooking allows the flavors to mingle together and create the ultimate hearty and completely delicious meal. Even better, its flavors continue to infuse and deepen over time, making beef bourguignon a perfect make-ahead recipe.
What Is Beef Bourguignon?
The name 'bourguignon' comes from the region of France where the dish originated: Burgundy (Bourgogne). The recipe was then popularized by Julia Child's cookbook 'Mastering the Art of French Cookery'.
In this dish, beef is tenderized by being cooked in a wine-based gravy with mushrooms, carrots, onions, and bacon. It's traditionally served with a starchy, more plain side such as mashed potatoes, rice, or noodles to celebrate the taste of the stew and soak up all the delicious jus.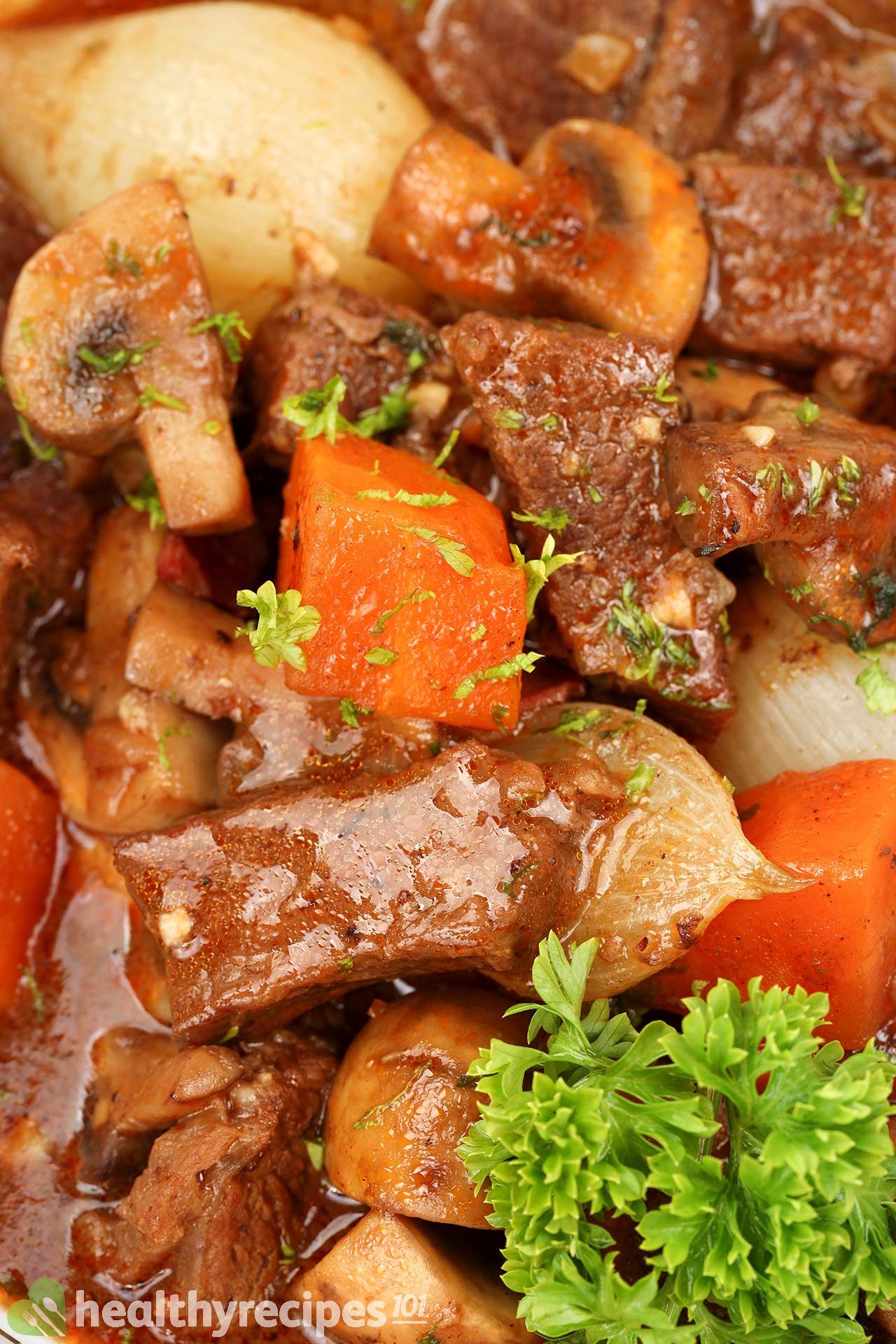 What Is the Difference Between Beef Bourguignon and Beef Stew?
The most significant difference between beef stew and beef bourguignon is the presence of red wine. Traditional American beef stews are created with onion and liquid — water or broth.
Beef bourguignon on the other hand, is simmered with chicken broth or beef broth and red wine (which will cook out during the simmering), leaving you a thick and rich sauce.
Bourguignon is quite similar to beef stew when it comes to cooking technique but its extra ingredients give the dish a greater depth of flavor.
Is Beef Bourguignon Healthy?
Our beef bourguignon is made from scratch with carefully measured ingredients and nutrition in mind. So yes, it is healthy.
To be precise, each serving of our beef bourguignon contains 469 calories. This leaves space for a carb-rich side dish and a vitamin-rich juice, to create a wholesome and fulfilling meal.
With 536 mg sodium and 8.5 g saturated fat — mostly from the beef and bacon— our recipe aligns with the USDA's Dietary Guidelines and still turns out savory, creamy, and tasty.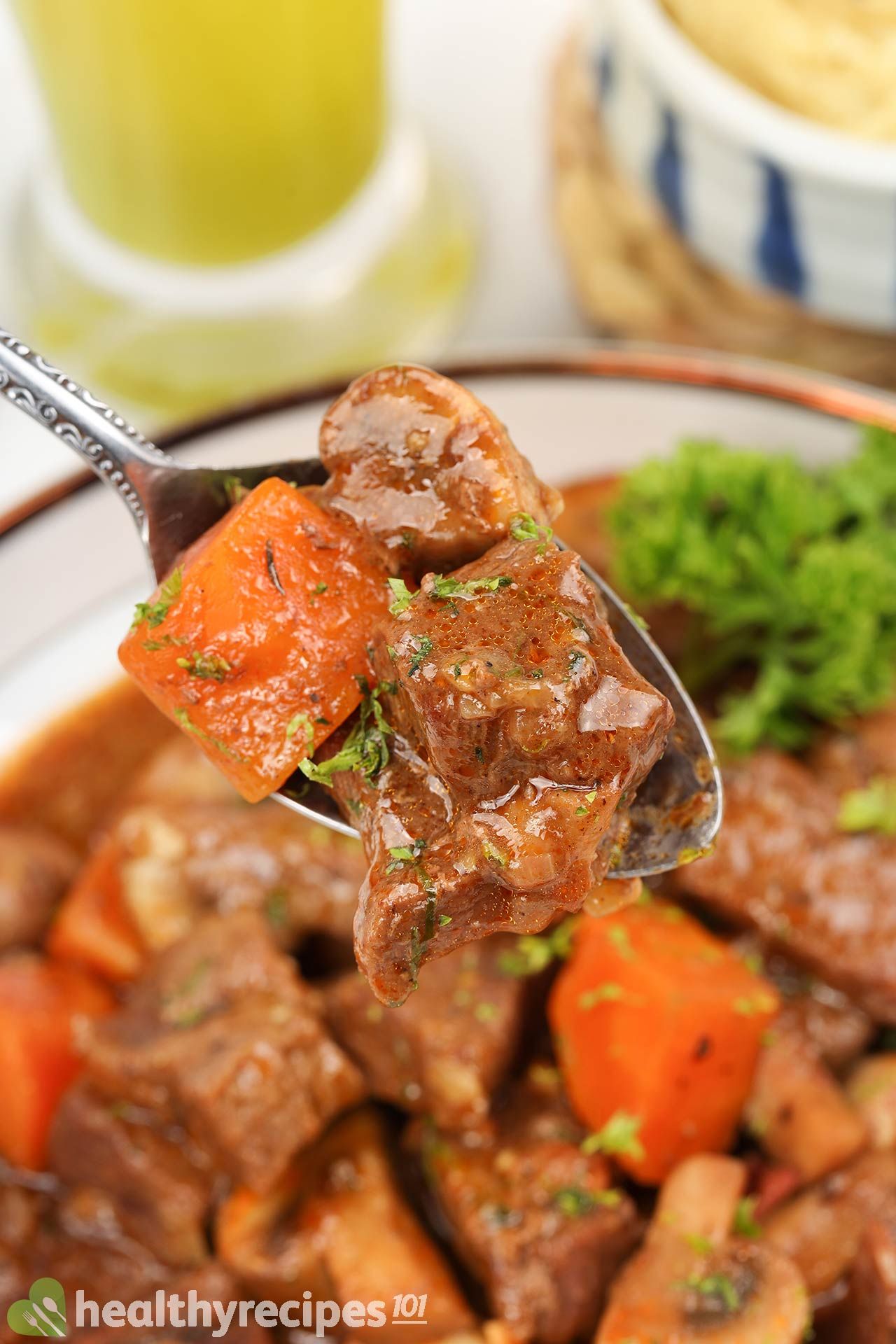 Beef Bourguignon Ingredients
While the name beef bourguignon sounds fancy, it's actually just very tasty comfort food made with simple ingredients.
Beef: This recipe is quite budget-friendly since it calls for inexpensive cuts like chuck or flank. These parts can easily be transformed into tender pieces with a slow-cooking process like in this recipe.
Vegetables: Go with hearty pieces of vegetables of your choice. Carrots, onions, potatoes, and mushrooms are traditional and work well since they're available all seasons and pair perfectly with beef.
Pearl Onions: Small onions are traditionally used in bourguignon recipes but if you can't find them at your local store, opt for the regular white or yellow onions. Peeling an extra layer or two can help to make them pearl onion size (about 3 – 4 cm diameter).
Broth: This is the biggest variable in the difference between a good and an excellent beef bourguignon. Most people will go for the store-bought due to convenience, but nothing compares to homemade and it certainly adds extra flavor and wonder to your gravy.
Tomato Paste: It adds a touch of tang, helps to thicken the sauce and gives the dish more color.
Red Wine: There are potential substitutes but really red wine is a must in any bourguignon recipe to ensure tender beef and the classic taste. We suggest using a lighter style wine so that it doesn't overwhelm the natural beef flavor.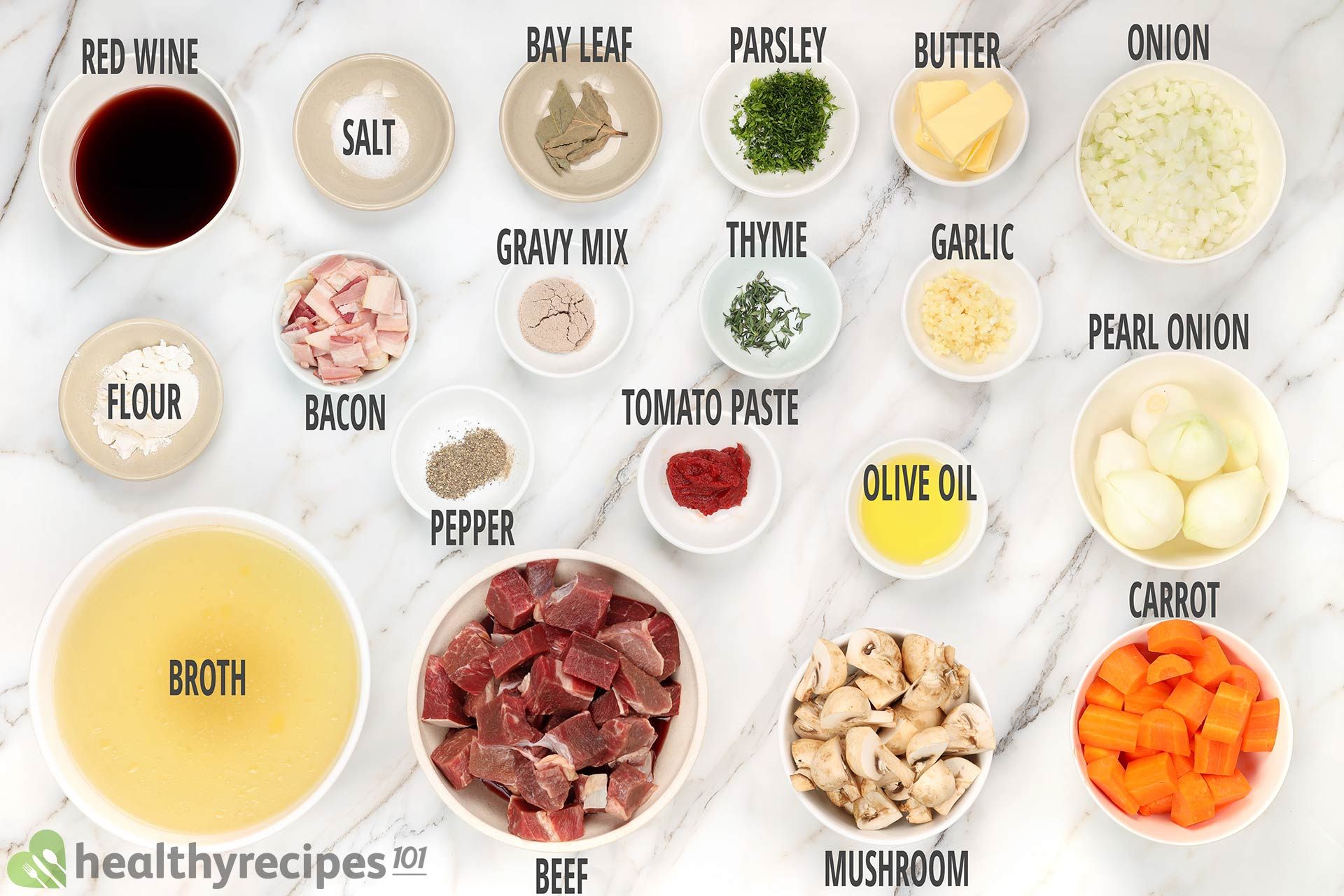 Q&A
1. What Is the Best Cut of Meat for Beef Bourguignon?
A great stew starts with the proper cut of meat. For the French beef bourguignon recipe, you want to pick a collagen-rich one as it can stay juicy and tender even after hours of slow-cooking.
From our experience, beef chuck and short rib yield the best result. These cuts become fall-apart tender and exquisitely delicious in the gravy.
2. What Wine Is Best for This Recipe?
It's important to use a high-quality wine for this beef bourguignon recipe. The red wine is typically a red burgundy — a Pinot Noir or Gamy.
A splash of good wine can add tons of flavor and color, especially for meaty dishes. The red wine cooks down during the simmering process and concentrates into the most delicious flavor.
If you love this recipe, this Instant pot beef bourguignon is a more convenient version.
How to Make Beef Bourguignon
A few extra steps are involved in making our beef bourguignon, but we guarantee it is worth the time and effort.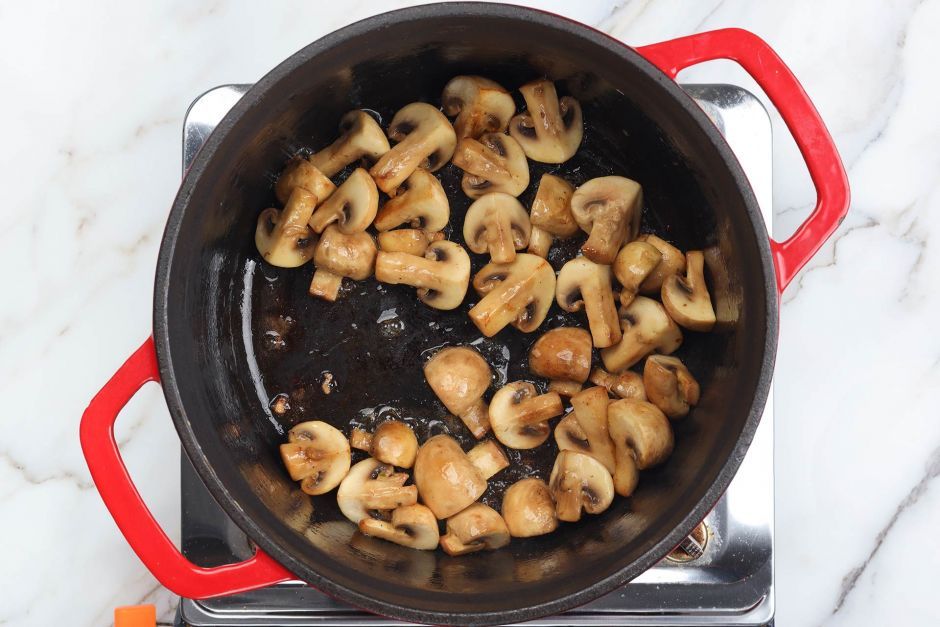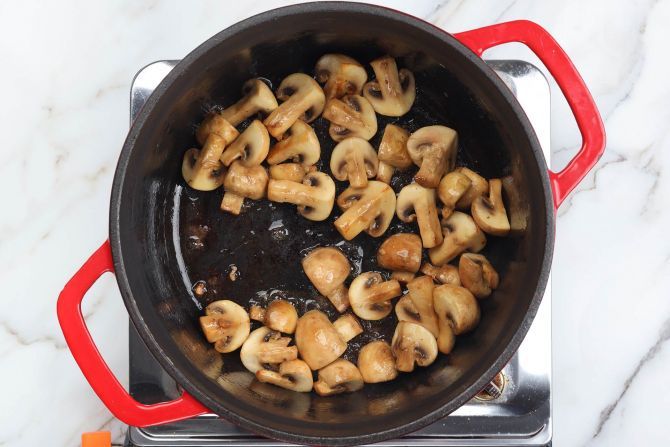 Stir fry the mushrooms. Set aside.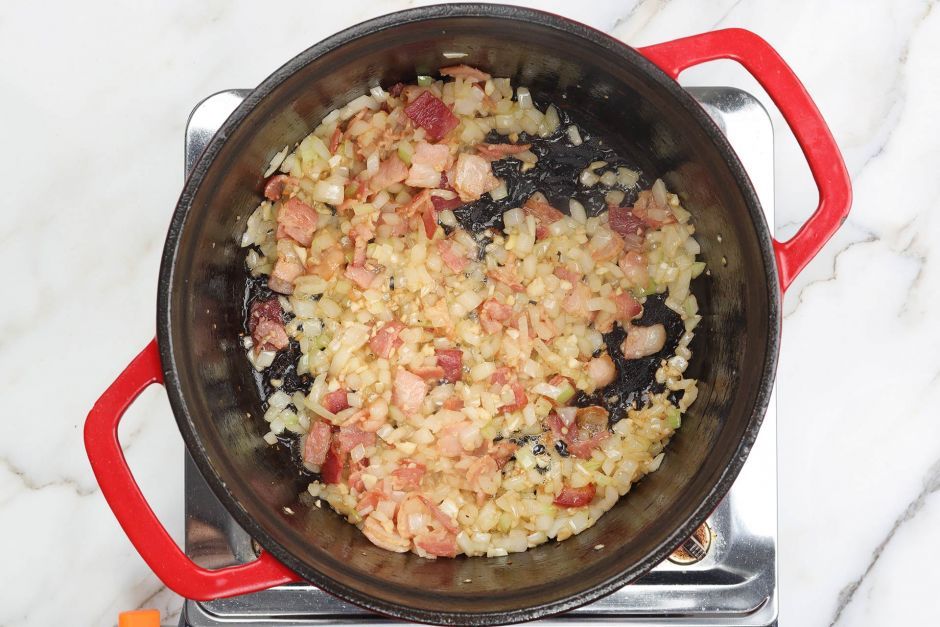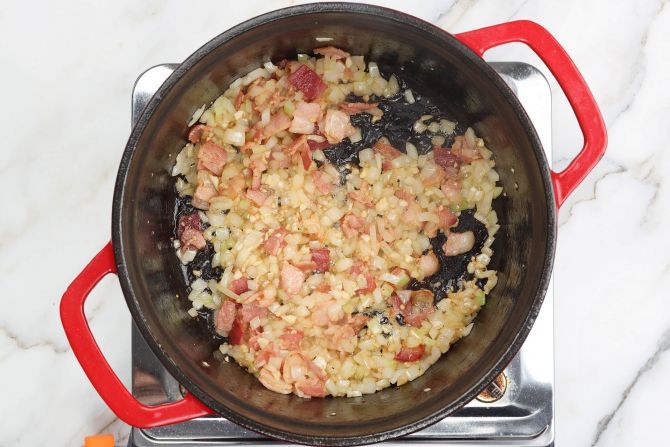 Sear the bacon.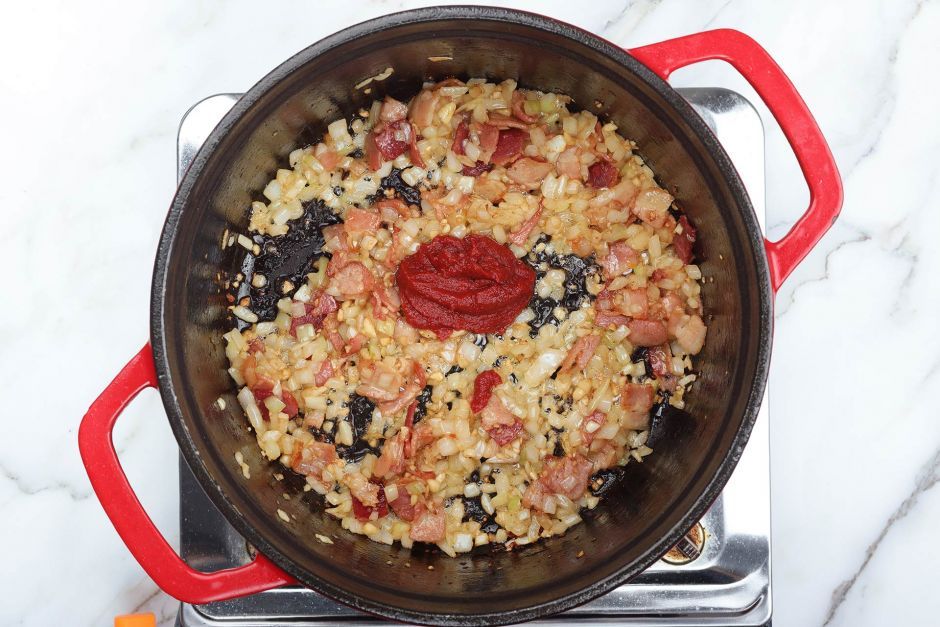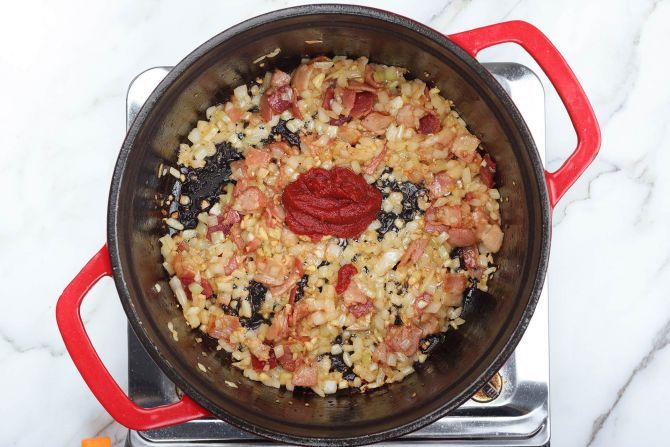 Add the tomato paste.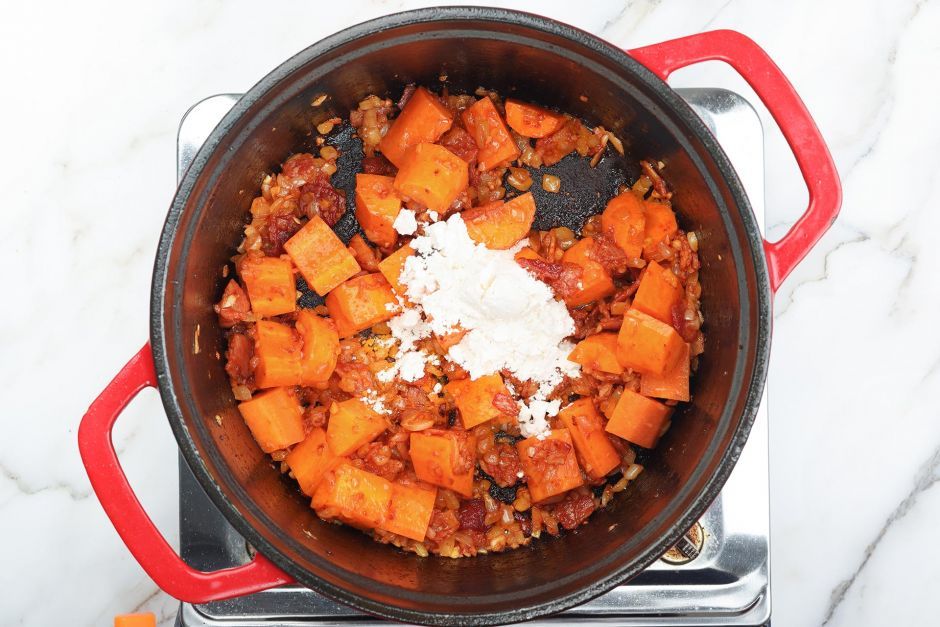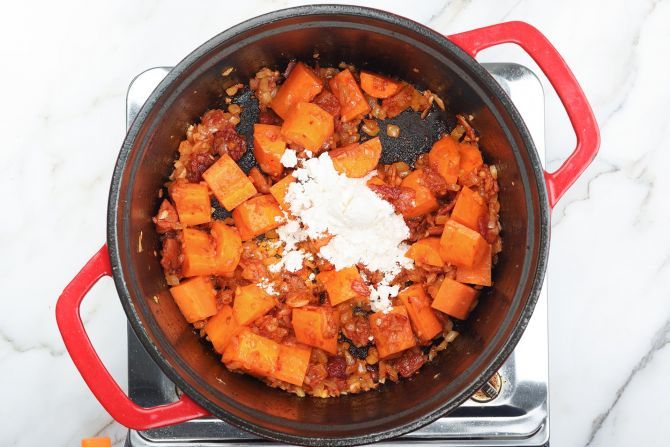 Add the carrots.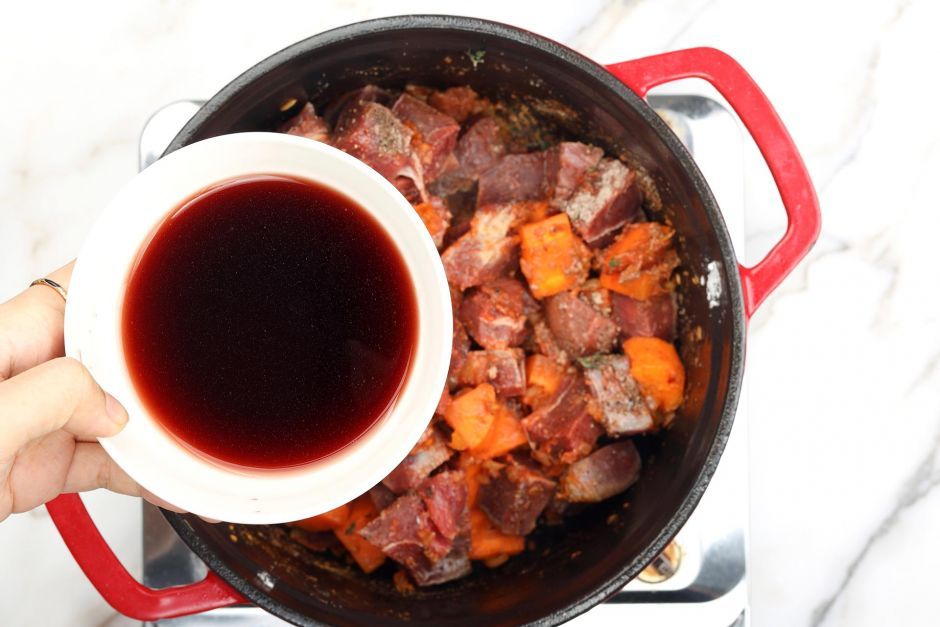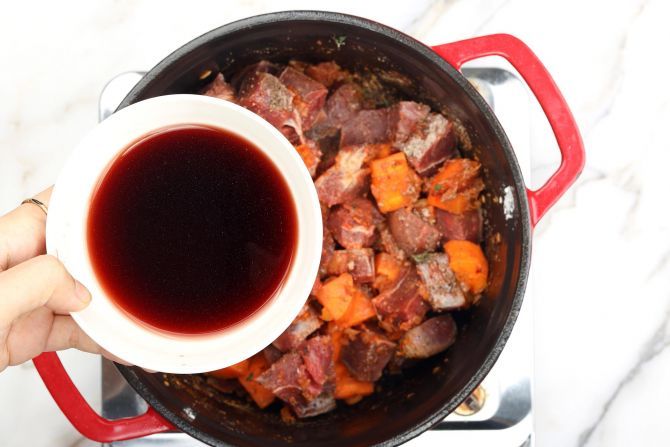 Stir in the beef, seasoning, and red wine.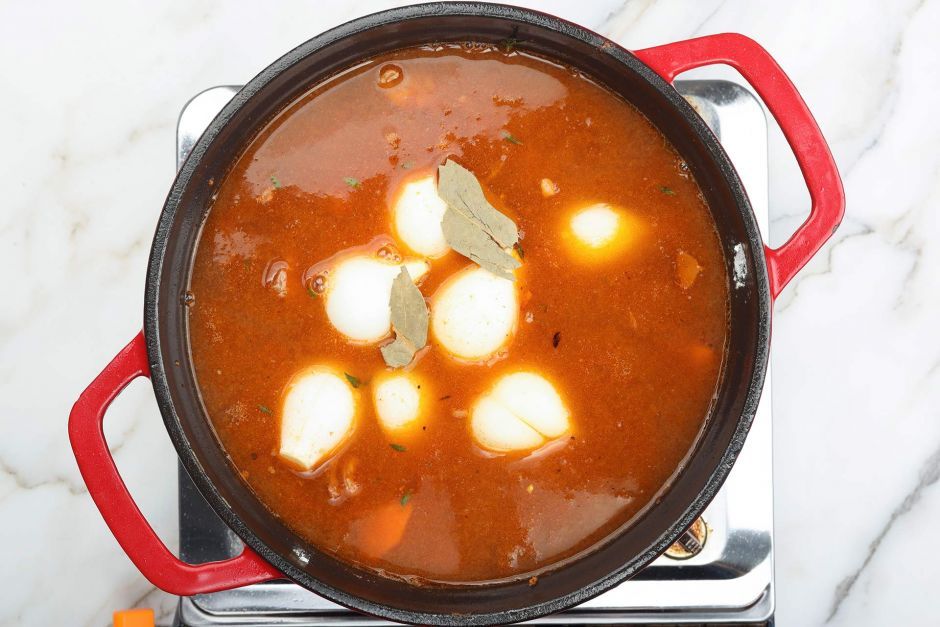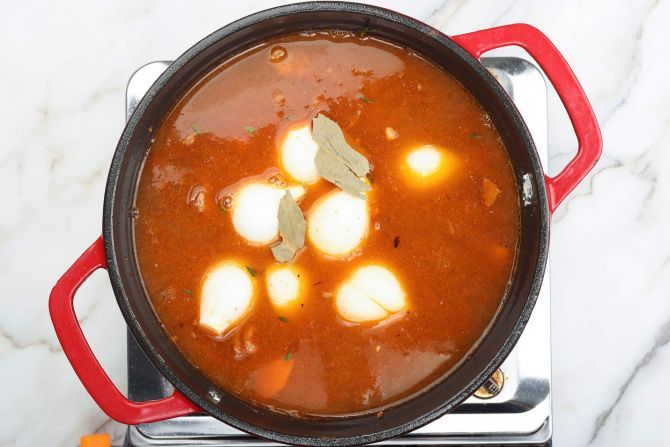 Add the broth and onions. Bring to a boil.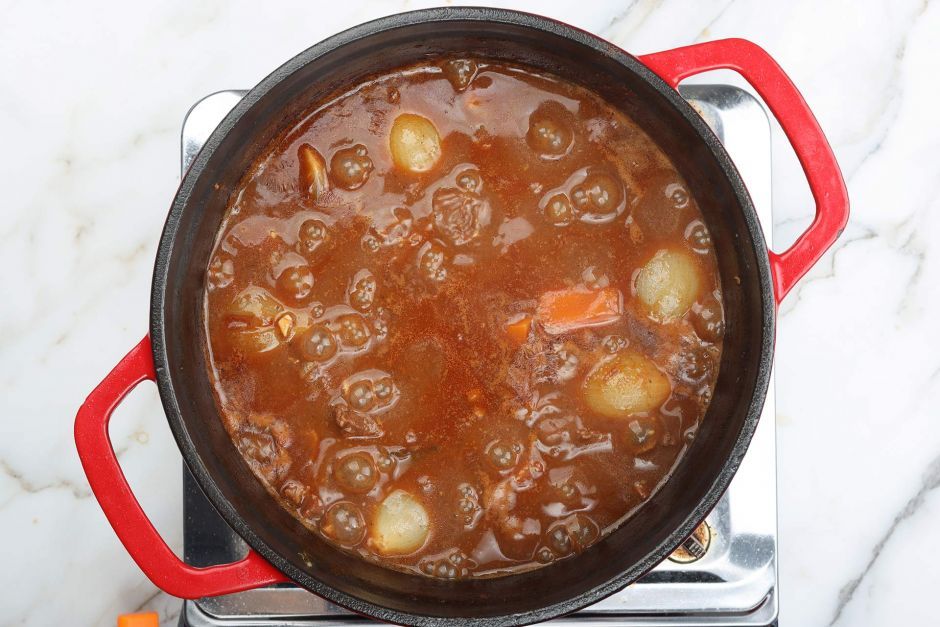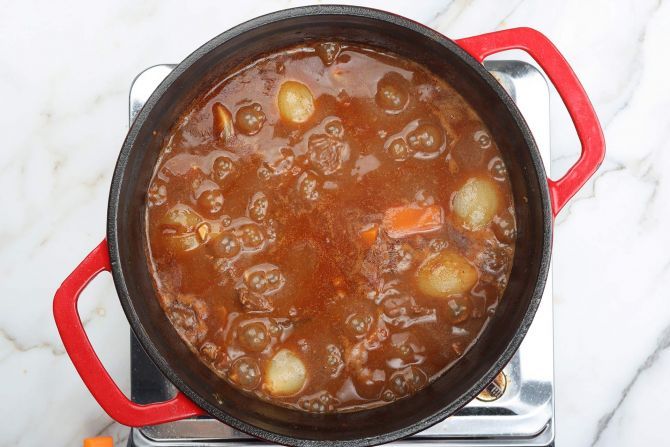 Reduce to a simmer.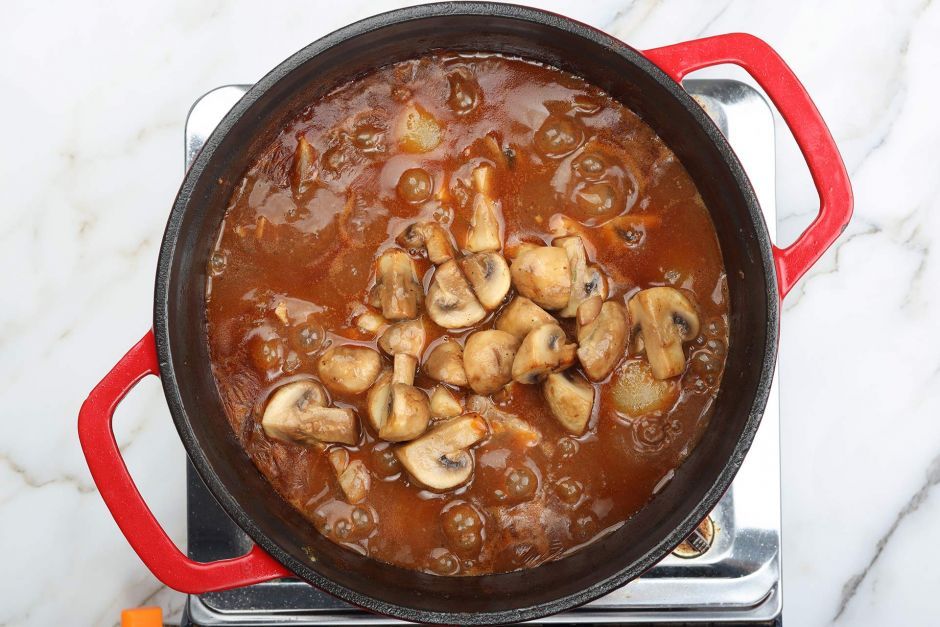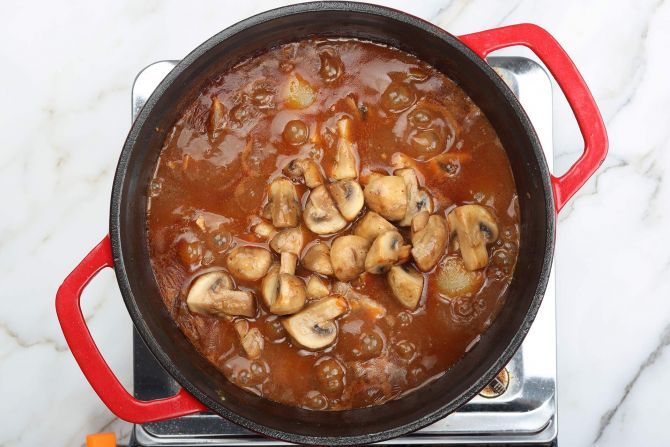 Return the mushrooms to the pot.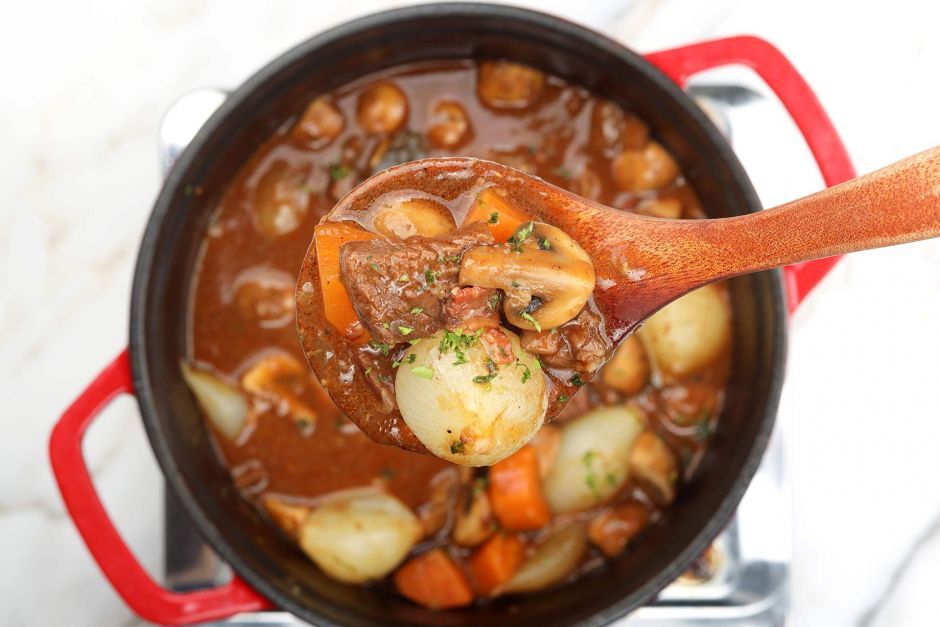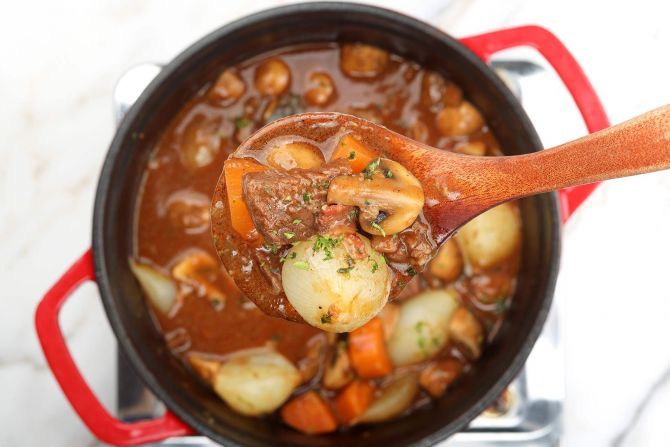 Garnish with parsley.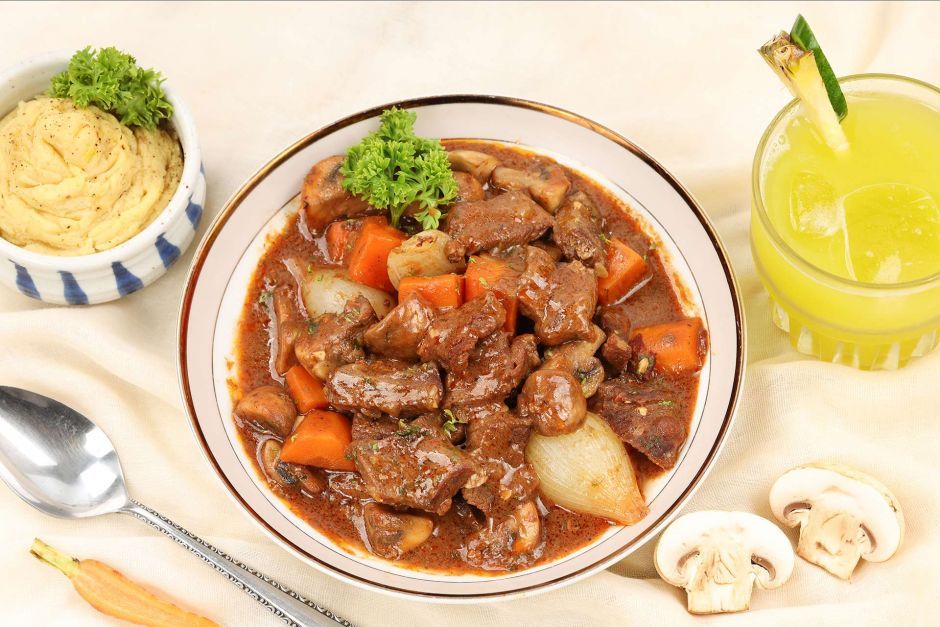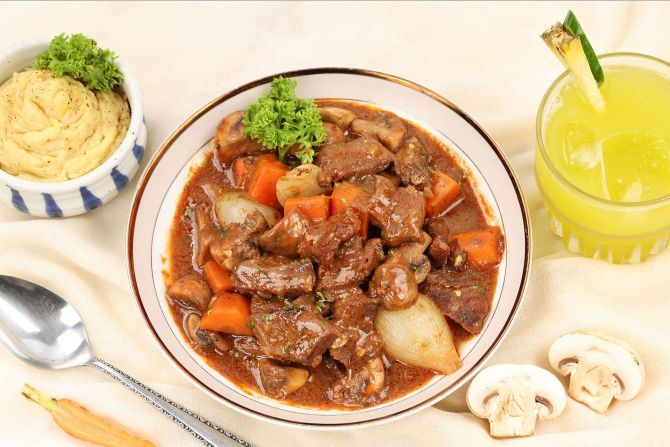 Serve hot.
Store and Reheat
The great thing about beef bourguignon is that the longer it sits, the more tasty it becomes. So if you end up having any beef bourguignon leftover, it's a real treasure.
To Store: Keep the stew in an airtight container or a sealed bag. It will last in the refrigerator 3 – 4 days and in the freezer for up to 3 months.
To Reheat: When ready to use the dish, defrost the beef overnight in the fridge or in a microwave if you're in a hurry. Put it in a pan on the stovetop and heat, stir occasionally to warm through.
What to Serve With Beef Bourguignon
To make this beef bourguignon a complete meal, we pair it with mashed potatoes and pineapple cucumber juice.
Mashed potatoes are easy to make, inexpensive and always taste excellent with protein-packed stew dishes. Together, they make a complete and satisfying experience.
You can make mashed potatoes while your beef bourguignon is simmering so that the whole meal can be hot and ready to serve at the same time.
Nutritional values in this table vary somewhat to those below due to different app calculations. Read more...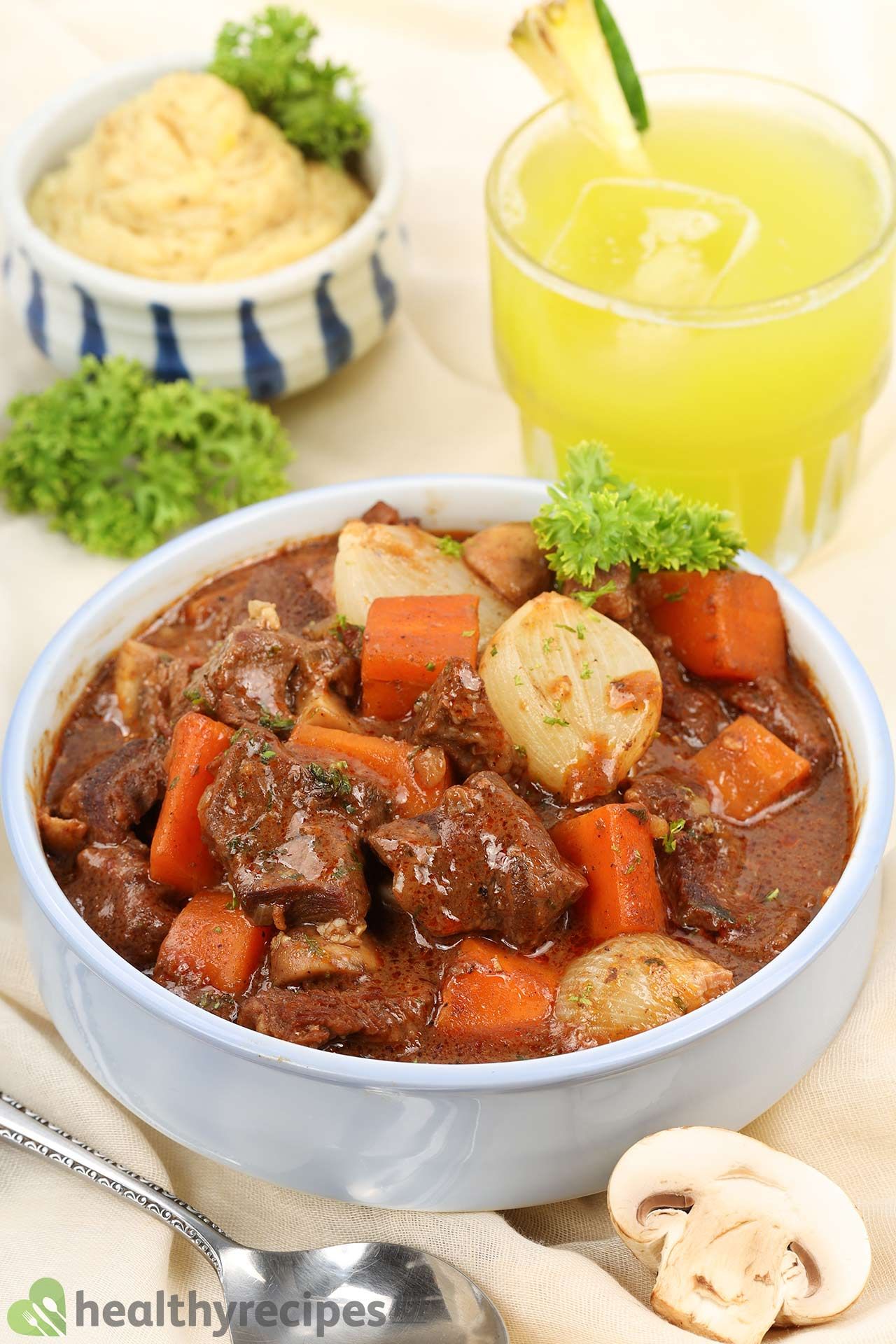 In addition, our pineapple cucumber juice is light and refreshing to offset the richness of the meat. It adds extra nutrition and a sweet note to balance the savory.
With such a meal as this, you can't help but be joyful!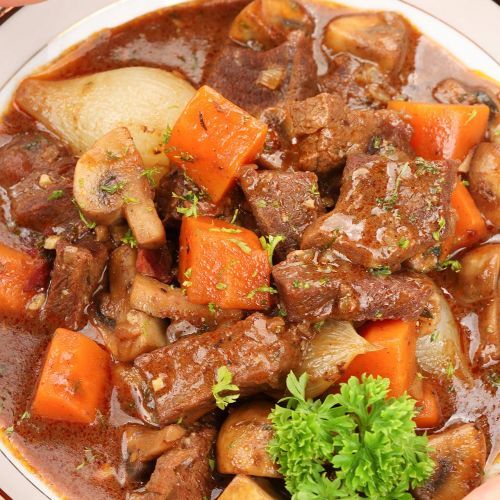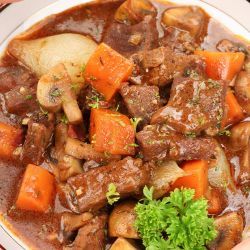 Beef Bourguignon Recipe
Our beef bourguignon recipe makes melt-in-your-mouth beef with hearty veggies and crisp bacon, enriched to perfection in a rich red wine gravy.
Ingredients
20

oz

beef chuck

cubed

2

tbsp

unsalted butter

6

oz

brown mushrooms

quartered

2

oz

bacon

chopped

2

tbsp

garlic

chopped

4

oz

white onions

chopped

2

tbsp

olive oil

1

tbsp

Hunt's tomato paste

6

oz

carrots

cubed

2

tbsp

all-purpose flour

1

tsp

thyme

1

tbsp

brown gravy mix

1/4

tsp

salt

1/2

tsp

pepper

3

fl oz

red wine

3 1/2

cup

unsalted chicken broth

1

bay leaf

6

oz

pearl onions

2

tbsp

parsley

chopped
Instructions
In a large pot, stir fry 2 tbsp butter and 6 oz brown mushrooms over medium heat for 2 minutes. Remove from the pot and set aside.

Add 2 oz bacon and cook for 1 minute or until crisp. Add 2 tbsp garlic, 4 oz white onions, and 2 tbsp olive oil to the pot. Stir occasionally until fragrant, about 2 minutes.

Add 1 tbsp tomato paste and whisk to combine, about 30 seconds.

Stir in 6 oz carrots and 2 tbsp flour, cook for 30 seconds.

Then add 20 oz beef chuck, 1 tsp thyme, 1 tbsp gravy mix, 1/4 tsp salt, and 1/2 tsp pepper and stir to combine. Pour 3 fl oz red wine into the pot, cooking for 30 seconds.

Add 3 1/2 cups chicken broth, 1 bay leaf, and 6 oz pearl onions. Cook over high heat for about 2 minutes to bring the mixture to a boil.

Reduce the heat to low and bring to a simmer. Let simmer for 55 minutes.

Return the mushrooms to the pot and cook for another 5 minutes, making sure the beef is perfectly tender.

Sprinkle with 2 tbsp chopped parsley.

Serve hot.
Nutrition
Nutrition Facts
Beef Bourguignon Recipe
Amount Per Serving (1 serving)
Calories 469
Calories from Fat 234
% Daily Value*
Fat 26g40%
Cholesterol 108mg36%
Sodium 536mg23%
Potassium 1126mg32%
Carbohydrates 21g7%
Protein 35g70%
Vitamin A 7306IU146%
Vitamin C 13mg16%
Calcium 73mg7%
Iron 5mg28%
* Percent Daily Values are based on a 2000 calorie diet.