When Japanese food is mentioned, colorful visions of elaborate sushi and steaming hot pots often come to mind. But did you know it can also be made into simple homemade dishes that are still packed with hearty, umami flavors? With these Japanese ground beef recipes, that's precisely what you'll get. Give them a quick look for more ways to bring a different twist to your weeknight dinners.
Top 7 Best Japanese Ground Beef Recipes to Make for Dinner
Are you ready to put these Japanese-style beef ideas into practice?
1. Gingery Ground Beef (Soboro Donburi)
Soboro Donburi is a Japanese dish consisting of stir-fried seasoned ground meat served over white rice. It's also often served with scrambled eggs, vegetables, and perhaps some legumes for extra flavors and textures.
With this recipe, everything is kept to a minimum with only five simple ingredients and a 20-minute cook time. That doesn't make it any less delicious, however. The beef's savory taste is enhanced by the umami soy sauce and invigorating hints of spicy ginger. Served with green peas over white rice, it's the perfect quick fix for all those family dinners after long, busy days.
Go to Recipe
2. Teriyaki Ground Beef
Want to quickly whip up a homemade meal that will fill your kitchen and taste buds with the comforting, winsome scent of Japanese food? Teriyaki is the foolproof way to go. This sauce is an umami, sweetly savory mixture made from soy sauce, mirin, sugar, and rice wine vinegar. Stir-fried with ground beef and served over white rice, it wraps your senses in a warmth that can't be found anywhere else.
Like your teriyaki sauce thick and rich with a luscious texture? Check out our beef teriyaki recipe for another way to cook up delicious teriyaki beef.
Go to Recipe
3. Slow Cooker Beef Ramen Noodles
Take your ramen game to the next level with this recipe. Simmered in chicken stock, garlic, and condiments, the juicy ground beef and colorful veggies become heart-meltingly delicious and drenched with gorgeous flavors. Served over ramen noodles, they make a splendid, budget-friendly dish that promises to instantly liven up your dinners.
Go to Recipe
4. Japanese Dry Curry
Japanese curry comes with a lusciously thick, almost stew-like consistency that makes every spoonful a heavenly experience. Since this is a dry curry recipe, there's slightly less sauce than you'd find in regular curry dishes. However, there's still enough to coat the ground beef, veggies, and legumes in that classic savory, subtly sweet goodness. It's served with white rice to make up a wholesome, filling meal that never fails to hit the spot.
Go to Recipe
5. Japanese Stewed Hamburger Steak
This Western-Japanese fusion dish is an elaborate put-together that's worth every minute of labor. The ground meat is seared, then simmered in a wine-reduction sauce packed with boldly savory flavors and offers an enticingly glossy and rich texture. Served alongside potato wedges and broccoli and topped with melted cheese, it looks like something straight out of a restaurant's kitchen—a perfect centerpiece for all your fancy dinner nights.
Go to Recipe
6. Menchi Katsu (Japanese Ground Meat Cutlet)
Juicy, tender ground meat patties coated in crispy breadcrumbs and drizzled with a Worcestershire-based sauce are what our food dreams are made of. Each bite brings a textural contrast that will endlessly excite your taste buds, made all the more spectacular by the deeply savory and umami flavors. Want to jazz up all your meals with a crowd-pleasing main course? This is it!
Go to Recipe
7. Gyoza Dumplings
Gyoza are Japanese dumplings filled with ground meat, vegetables, and some condiments. They can be steamed, boiled, or deep-fried, each cooking method offers a different texture and taste. With this recipe, the dumplings are pan-fried first for a crispy edge then steamed to achieve that tender bite. Give it a try to introduce yet another classic piece of Japanese cuisine into your weeknight meal rotations.
Go to Recipe
Popular Ways to Cook Japanese-style Ground Beef
As time passes, ground beef has become an irreplaceable part of the Japanese food culture. Their chefs have played around with different cooking techniques and spice combinations to deliver incredible dishes that never fail to surprise the world.
Shall we take a look at some of those signatures?
Teriyaki stir-fries: The combination of crunchy greens, juicy ground beef, and sweet-savory, umami teriyaki sauce makes for a rice-killer dish.
Noodle dishes: Udon, ramen, soba, and somen noodles are some of the most commonly used ingredients in Japanese dishes. Combined with browned ground beef, bean sprouts, and a soft-boiled egg, they make an ultimate comfort food to enjoy on all occasions.
Rice bowls: Japanese rice bowls are incredibly versatile, so you can use anything you like. If you're planning on a fridge-clearing day, making a Japanese-style rice bowl out of frozen ingredients (corn kernels, peas, diced carrots, etc.) is a brilliant idea.
Soups: Japanese soups are commonly flavored with miso, which gives them that warming homemade taste. Other types of soup you can also try are shabu shabu, sukiyaki, oden, and Kenchin jiru.
Tips and Tricks
Instead of buying pre-packaged ground beef from the butchers, we suggest grinding yours at home for two main reasons: it will be of a higher quality and contain no preservatives.
What Cuts of Beef Should I Use?
The fat-to-protein ratio, which will influence the flavor and texture of the ground beef, varies depending on the types of cuts used.
Here are some great options:
Ground sirloin: Coming from the midsection of the animal, sirloin with 10-14% fat is the leanest choice for making ground beef. Though sirloin may be a little pricier than other beef cuts, its tenderness and intense beefy flavor make it worth every penny. 
Ground chuck: This cut is taken from the upper shoulder and lower neck area and has around 15-20% fat. The ground chuck is much leaner but offers greater flavor than regular mixed ground beef, making it one of the best options. 
Ground round: With 12% fat, the ground round is considered extra-lean beef. Due to its low-fat content, the ground round has a mild taste and chewy texture. However, if you plan to stir the ground beef in pasta sauces, soups, or stews, this won't be a problem.
How Long Is Ground Beef Good for?
The temperature at which you store your ground beef will determine its shelf life.
At room temperature (between 40°F and 140°F): Whether raw or cooked, ground beef shouldn't be left in the open air for more than 2 hours.
In the fridge (between 37°F and 40°F): Stored in an airtight container, raw ground beef will last for 3-5 days, whereas cooked will stay edible for a maximum of 4 days.
In the freezer (0°F): You can keep your frozen raw ground beef for 3-4 months in the freezer. However, if cooked beforehand, you should consume it in less than 3 months.
How to Tell If Ground Beef Is Bad?
To distinguish between fresh and spoiled ground beef, pay attention to these four signs:
Color: Though the refrigerating process may cause a slight color change on the outer surface of ground beef, its exterior should remain pinkish-red. If your ground beef turns dark gray with fuzzy green spots, it is likely to be spoiled.
Texture: High-quality ground beef should feel firm and only slightly moist when touched. If yours is slimy and sticky, it's time to get rid of it.
Smell: Fresh ground beef doesn't have a noticeable aroma, while rotten one emanates a rancid odor.
Expiration date: If you purchase your ground beef from the meat section at the grocery store, always check for the expiry date on the packaging.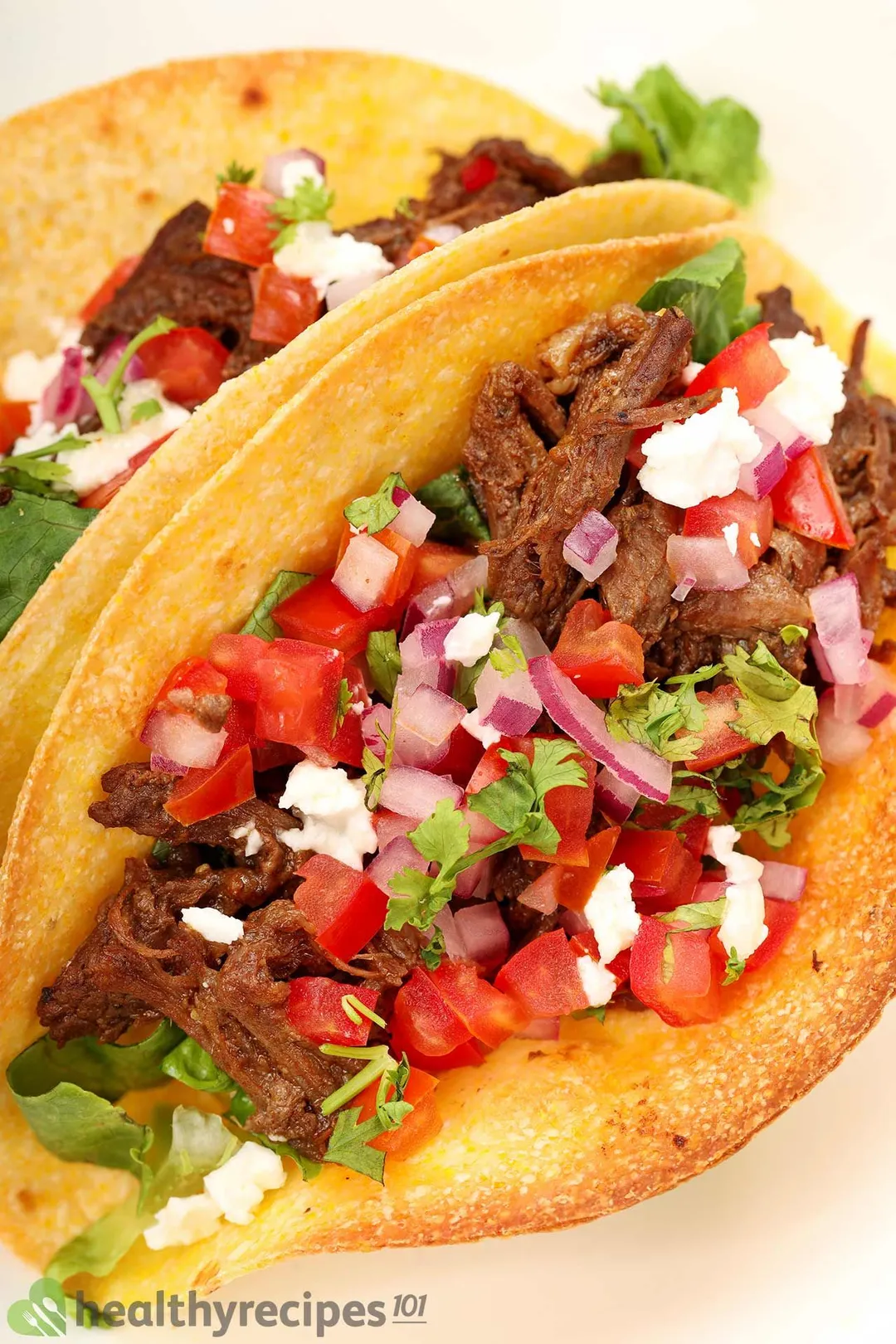 Previous Recipe
Leftover Ground Beef Recipes
Leftover Ground Beef Recipes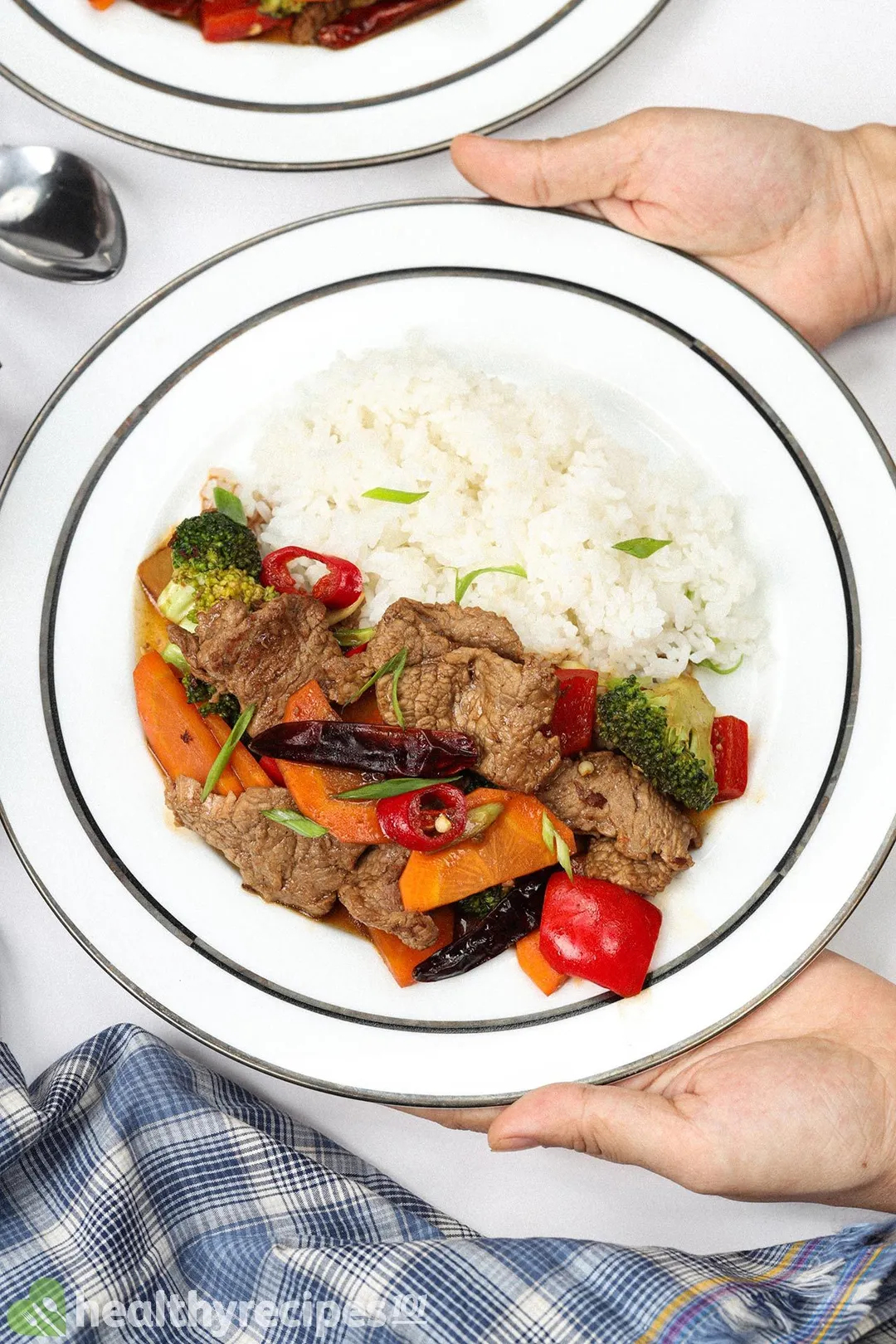 Next Recipe
Beef and Broccoli Recipes
Beef and Broccoli Recipes
Writer, Author
Luna Regina is an accomplished writer and author who dedicates her career to empowering home cooks and making cooking effortless for everyone. She is the founder of HealthyKitchen101.com and HealthyRecipes101.com, where she works with her team to develop easy, nutritious recipes and help aspiring cooks choose the right kitchen appliances.
Comments/ Reviews