As you'll soon discover, this calzone recipe makes a warm pocket feast stuffed with comforting tastes and cozy aromas. Piping hot, golden crust, melted cheese— it sounds delectable and tastes even better. Serve it as your kids' packed lunch, for dinner, or on Pizza Pie Day (February 9).
Read on to learn whether it's healthy and how to prepare your own. But first, what is this "calzone"?
What Is a Calzone?
Calzone is an Italian pastry dish that features a crescent-shaped crust filled with meat, sauce, and ricotta cheese. However, you can fill it with anything you like: salami, spinach, or other pizza-related ingredients.
Calzone vs. Stromboli
While a calzone typically has no sauce within the filling, a stromboli is a "rolled-up pizza". The sauce, filling, and crust are layered in folds.
Is This Recipe Healthy?
They definitely can be— that's the beauty of homemade calzone. It's about what you put into it, so there's every reason to create your own nutrition-packed version.
Some of our calzone's healthy perks come from mushrooms and ground beef— a heartwarming duo. Together, their nutrient profile is commendable, as both are high in B vitamins and proteins.
Mushroom properties also show a decrease in mild cognitive impairment that can lead to Alzheimer's disease. All while staying low in calories and fat.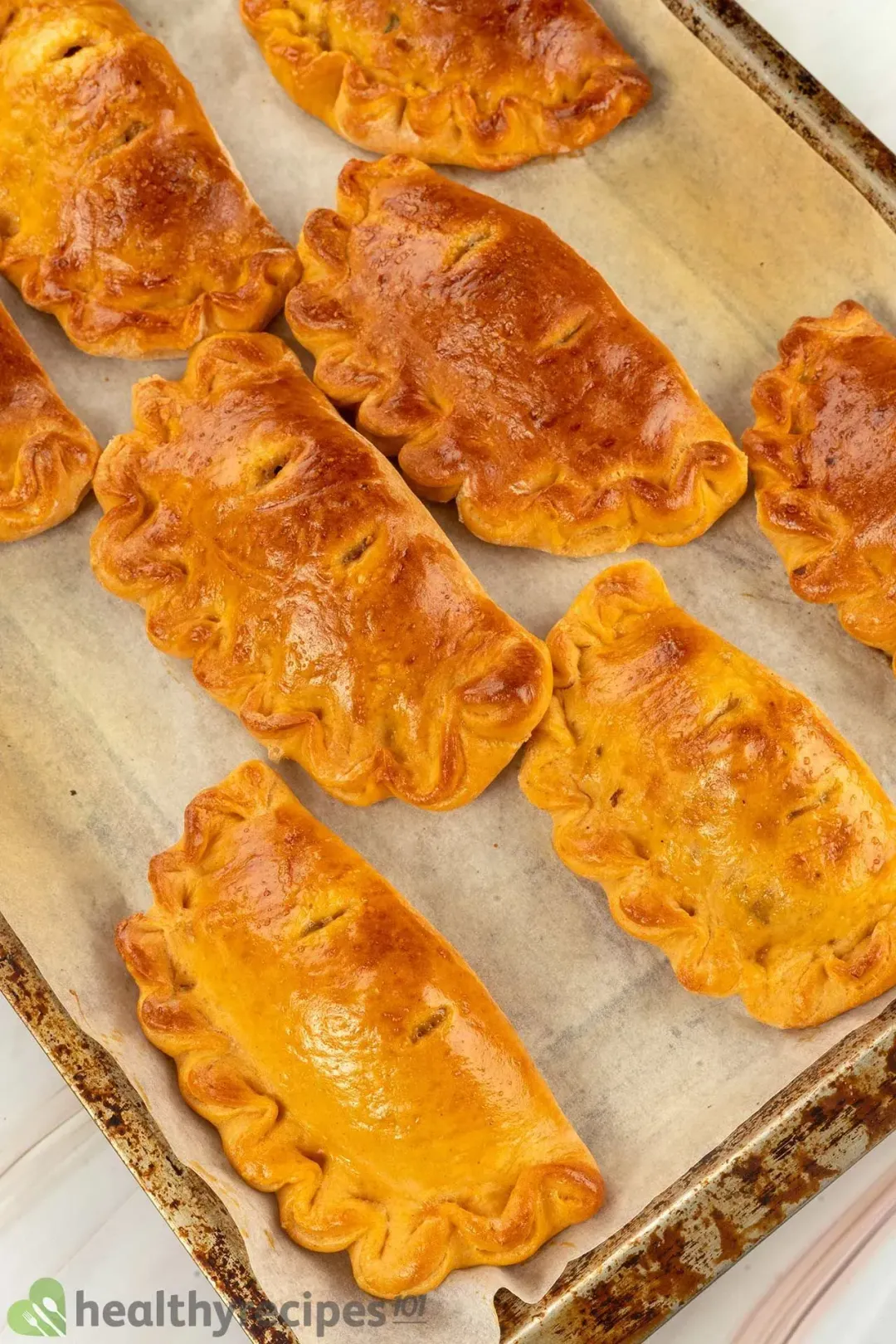 To top it off, the spicy-kick marinara sauce is a wholesome condiment. Tomatoes are laden with lycopene, a carotenoid and antioxidant that fights free radicals in the body to reduce inflammation.
By itself, lycopene is a powerhouse. But it's even better when combined with olive oil, as our bodies absorb it more effectively.
As a result, consuming the two may decrease the risk of coronary heart disease. That's yet another bonus of adding tomatoes to your calzone (and your diet).
Before we get ahead of ourselves, let's first figure out how to attempt the calzone dough.
Making the Dough
Our calzone dough is a foolproof recipe to nail a pizza crust every single time. We regularly use it to make pizza dough for turnovers like stromboli.
You can quickly learn how to make it, even for batches, using the following tips:
1. Warm Water, Sugar, and Yeast
The water should be between 105-115°F with a lukewarm feel. Higher temperatures kill the yeast, while lower ones fail to activate it.
Use a thermometer for accuracy and be careful when adding sugar. Sugar is food for the yeast, but an excessive amount will inhibit the fermentation process.
2. Olive Oil and Salt
Salt adds flavor and gives the gluten inside the dough more time to strengthen and form a better crumb. Meanwhile, olive oil enhances the soft texture while adding flavor.
And that's it! Now that you have a better idea of what to look out for when making your pizza dough, let's get to the meat of the calzone.
Fillings
1. Meat
Whether beef, chicken, or ham, you'll want to select meat that you enjoy.
We chose ground beef because it's quick to cook, and its natural fat makes it juicier than other meats. But you can also use meat like bacon for an even richer savory flavor.
2. Vegetables (Mushroom/Bell Pepper/ Onion)
All that meat talk might have you thinking calzones are not vegetarian friendly. But the fun of it is, you're at liberty to pick and choose, even while following our recipe.
Vegetables (or fungi) like mushrooms are excellent for replicating a meaty texture. You can also include them in a meaty center, along with onions and peppers, to add hints of savory sweetness.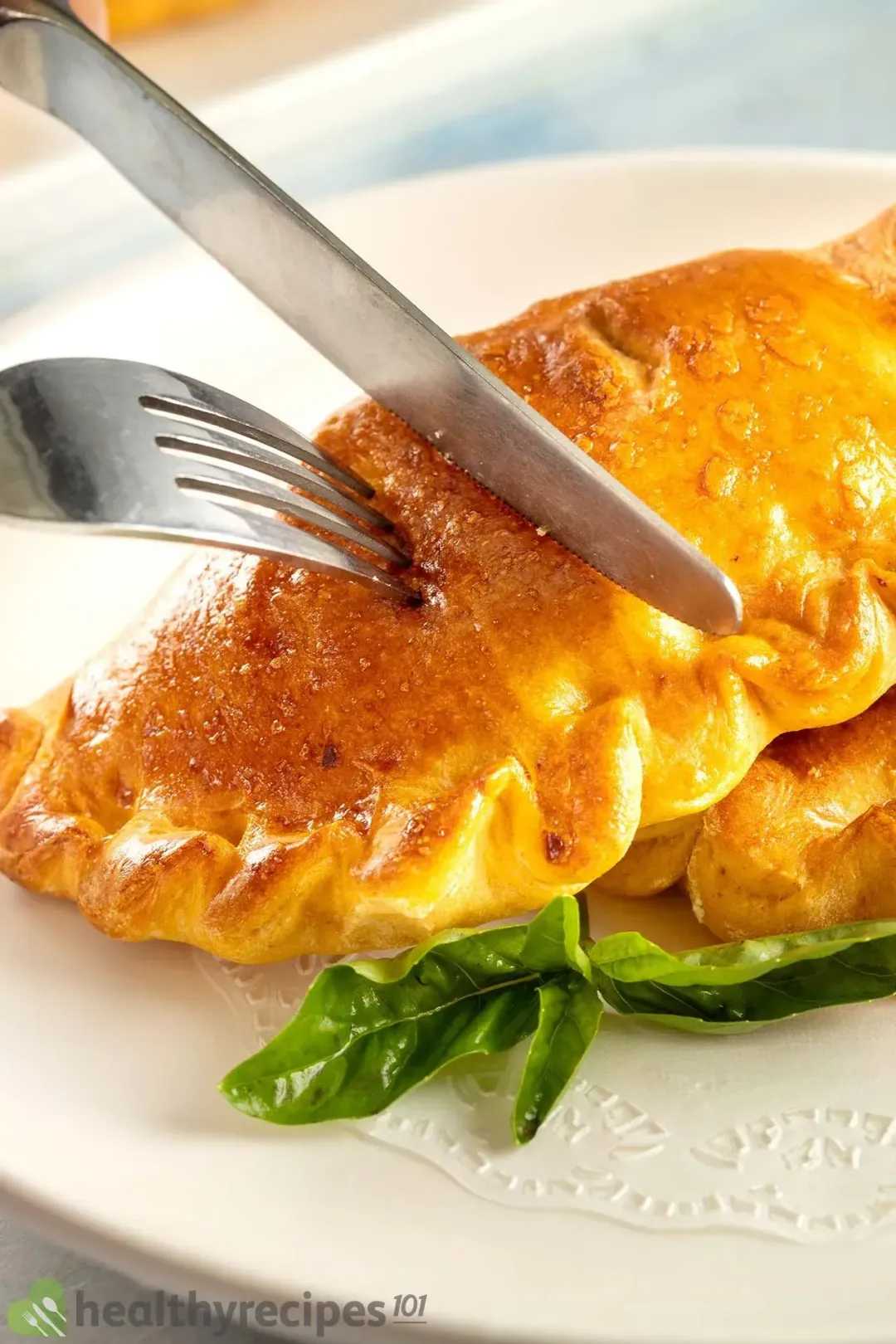 3. Cheese
Cheese is vital when assembling a calzone, as well as the type you use. The best cheese for that stringy effect we all love is always mozzarella, but gruyere is also an excellent choice.
If the oozy theatrics are not your priority, you can settle for soft cheeses like brie and ricotta. You might not achieve the same runny texture, but they will cushion the filling and relieve your palate.
4. Sauce
Including sauce is a traditional way to distinguish a calzone from other pastries like stromboli. So, as per tradition, we made a marinara sauce, adding heat, herbs, and relish to make it vibrant and fresh.
Note that calzone sauce is never inside the filling, but instead used as a dipping sauce. This is to avoid overstuffing the filling, yet we can add other light seasonings into it.
Other Ingredients for the Fillings
Herbs and spices are excellent ways to add more flavor to a calzone filling without leaving it jam-packed. Look for ingredients that will complement the already-packed filling and make it more flavorful.
For example, garlic, fresh thyme, and pepper add a pungent aroma that matches beef's savor and stimulates the palate. It also got us excited to bite into this calzone.
So, without further ado, let's show you how to make it.
How to Make
Making calzone from scratch is gratifying and personal. You'll be able to customize all the ingredients, including the crust.
Our recipe is a simple three-step process that involves separately preparing the dough, filling, and sauce all from scratch. Let's begin with the dough.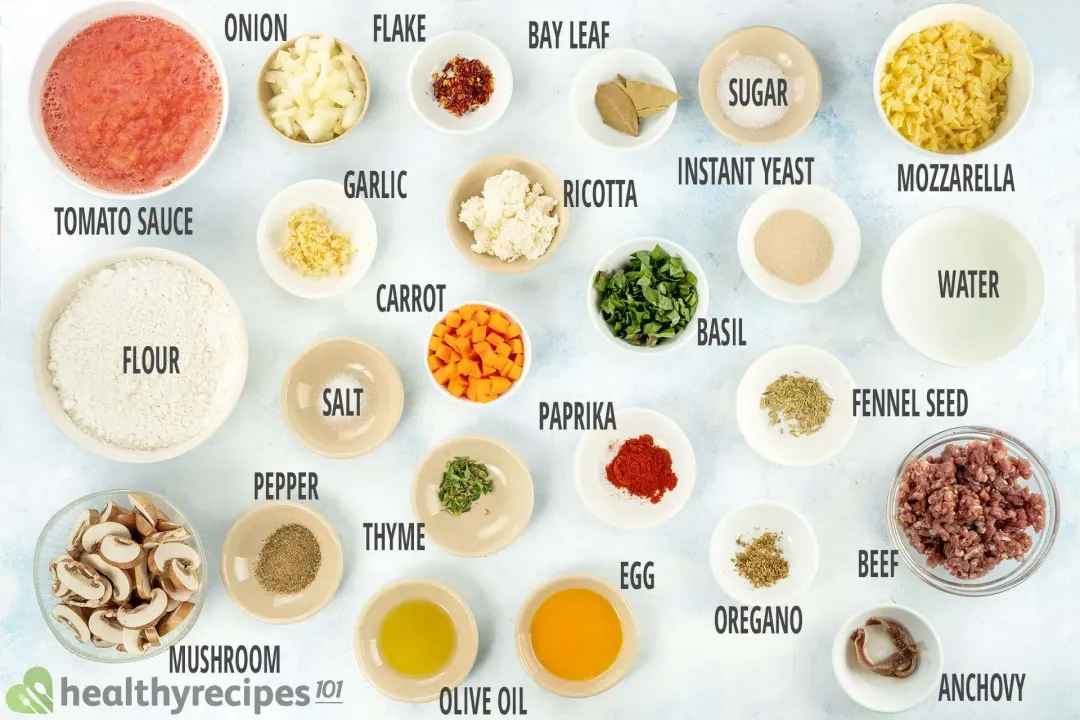 1. Dough
Start with the dough because it will need some time to rise. Heat water before adding yeast and sugar, and leave the mixture to proof.
Then, pour it into a separate bowl that contains flour, salt, paprika, and oil, and combine to form a ball. Knead the ball before wrapping it up and storing it in a warm place for 30 minutes to an hour.
While the dough is rising, let's start on the sauce.
2. Sauce
Heat some oil in a saucepan and add onions, then garlic, anchovies, and carrots.
Once it starts to release aromas, add in the remaining sauce ingredients and leave it to simmer. Remember to remove the bay leaf when done simmering, as it may disrupt the texture when chewing.
Next, blend the sauce and add fresh basil before cooking briefly and setting aside.
3. Filling
For the filling, start by cooking some of the ground beef to release the fat. Then, add in mushrooms before including the thyme, salt, pepper, and remaining beef.
Cook and set aside, and prepare to assemble the calzone.
Our recipe instructions give a guide on how to knead the dough into an appropriate rectangular shape. After doing so, add some ricotta, then the filling, followed by mozzarella, and finally fold the dough.
When you've repeated each step to make eight calzone pockets, place them onto a lined sheet pan. Use a knife to add incisions, then brush each pocket with egg wash and bake until golden brown.
You'll find these steps similar to other calzone recipes and our Air Fryer Empanadas Recipe, with slight tweaks, of course. However, it should hopefully give you the confidence to try other flavors in yours, some of which we suggest below.
What to Serve With
1. Green Salad
Toss a quick salad together by combining some radish and tomatoes with crunchy lettuce or arugula. The water-dense ingredients complement the drier, baked crust for added moisture and lightness.
2. Carrot Orange Pineapple Juice
The sweet taste of pineapple and orange juices are enough to offer a pleasant contrast to the savory calzone. It makes this light, healthy drink an excellent accompaniment for this dish.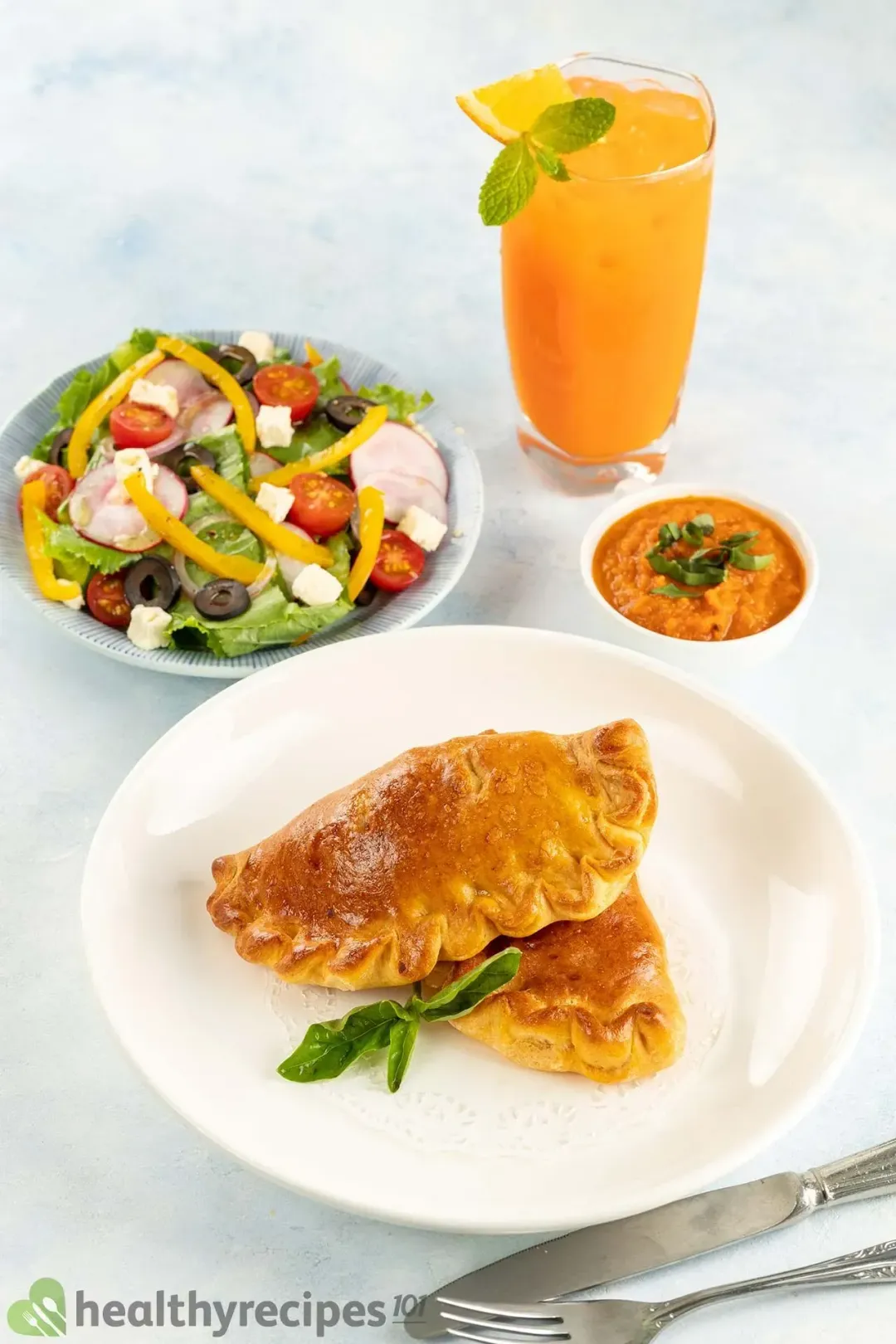 Use These Oven-Baked Beef Recipes to Take Your Taste Buds on a Journey
This recipe makes a beef, potato, and carrot casserole that is both nutritious and delicious. We use lean ground beef to lower the sat fat level, putting the 'healthy' in the recipe.
If you're looking for a low-carb alternative to pizza, this crustless pizza bowl is what you need. Packed with ground beef, cheese, and all your favorite pizza toppings, it's a delicious option made healthier in our lab.
If you love similar oven-baked beef dishes, give our roundup a browse-through.
FAQ
1. How Many Calories?
A typical calzone is stuffed with fats and calories, but our recipe cuts out similar high-calorie ingredients like bacon. This helps to restrict each serving to 492 calories.
2. Can You Freeze?
Yes, you can freeze a calzone. To store safely, use an airtight, freezer-safe container like a Ziploc bag and keep it for up to 3 months.
3. How Long Does a It Last in the Fridge?
A calzone can last up to 4 days in the refrigerator, given you keep it in an airtight container.
4. What's the Difference Between Pizza Dough and Calzone Dough?
There is none! Making a calzone crust generally requires pizza dough. Though, you have to be mindful when making calzone since the crust is more exposed.
Pizza dough can get away with some tears under the toppings. So, put some extra love and care into making your calzone to get a smooth crust and a neat presentation.
Calzone
This recipe makes sizable mushroom-beef calzones, excellent with a quick salad and a light beverage. Calzone is best enjoyed hot for a cozy lunch or dinner.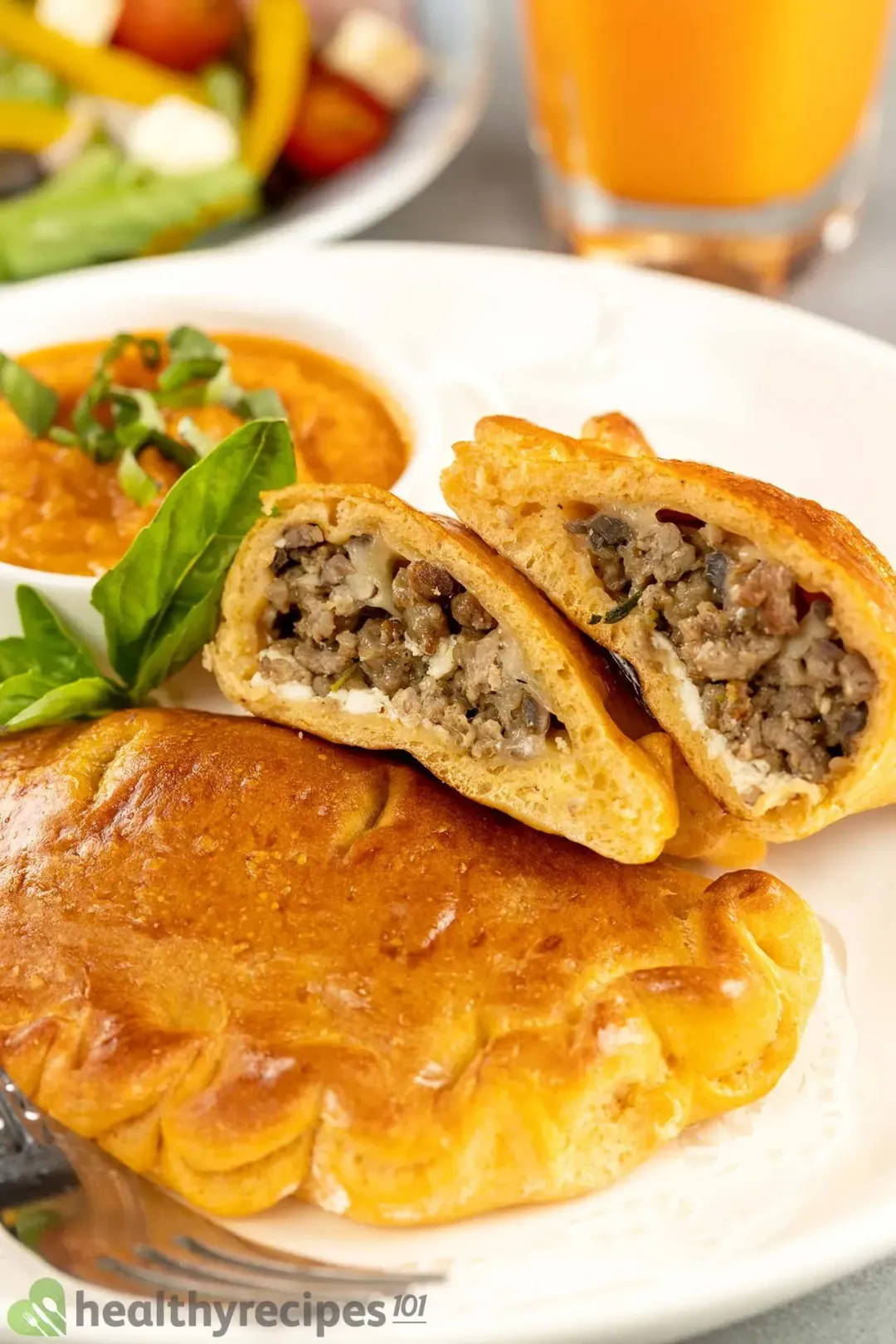 cook TIME

50 mins

prep TIME

15 mins

total TIME

1 hr 53 mins

INACTIVE TIME

48 mins
COURSE

Dinner, Lunch, Main Course

CUISINE

American-Italian

SERVINGS

CALORIES

497 kcal
INGREDIENTS
Pizza Dough

1 3/4 cups

all-purpose flour

(+ 1/2 tbsp for dusting)

Filling

6 oz

85% lean ground beef

4 oz

brown/cremini mushrooms

3 oz

fresh mozzarella cheese

Sauce

0.25 oz

anchovies

(drained)

1/3 cup

fresh basil

(finely chopped)
INSTRUCTIONS
2
In a pan over medium heat, heat 1/2 cup water for the dough to between 105-110°F, or until just warm enough to dip your finger in. Transfer to a bowl and add 1 tsp yeast and 1/2 tbsp sugar, leaving the yeast mixture to proof for 5 minutes.
3
Lightly grease a medium-sized bowl with some of the olive oil. Add 1 3/4 cups flour, 1/4 tsp salt, 1 tsp paprika, and remaining olive oil into the bowl and mix. Pour in the yeast mixture and mix until the dough forms a ball.
4
Use some of 1/2 tbsp of flour as you knead the dough for 3-4 minutes, adding more if it's too sticky. Use the poke test to check for readiness; the dough should bounce back when you poke it. If it doesn't, continue to knead. Once done, cover the bowl with plastic wrap.
5
Turn the oven off, place the bowl with the dough inside and close the oven door. Leave the dough to rise for 1 hour, until it doubles in size. Leave it for a further 30 minutes if it hasn't fully risen.
6
Prepare ingredients for the filling and marinara sauce.
7
Start by preparing the sauce. In a medium saucepan, add 1 tbsp olive oil and 3 oz onions and cook for 1 minute over high heat. Reduce heat to medium and fry for 4 minutes.
8
Add 4 tsp garlic, 0.25 oz anchovies, and 2 oz carrots, and continue frying for 6 minutes. Add 16 oz blended tomatoes, 1/2 tsp black pepper, 1/4 tsp oregano, 1 bay leaf, 1/4 tsp fennel seed, 1/4 tsp sugar, and 1 tsp red pepper flakes and stir to mix. Leave the sauce to simmer for 25 minutes at low heat. Remove bay leaf.
9
Use a hand blender to blend the sauce, then add 1/3 cup fresh basil. Cook over medium heat for 1 minute. If using a (stand) blender, allow the sauce to slightly cool before blending, then transfer back to the saucepan, add fresh basil, and cook for 1 minute over medium heat. Remove sauce from heat.
10
Preheat the oven to 475°F.
11
To make the filling, heat a skillet on medium heat. Add 1 tbsp of ground beef and cook for 2 minutes.
12
Add 2 tsp garlic and 4 oz mushrooms and fry for 6 minutes until brown. Add the remaining of 6 oz ground beef, 1/4 tsp salt, 1 tbsp thyme and 1/2 tsp black pepper. Cook for 2 minutes. Set aside.
13
Use your hands to knead the dough into a rectangular log and cut it into 8 equally-sized squares. On a floured surface, use a rolling pin to roll each square into a circle.
14
To assemble one calzone add some ricotta (roughly 1 tbsp), followed by some mushroom-beef filling, then mozzarella cheese (roughly 2 tbsp) to the centre of the circle. Brush the edges with egg and fold one side over the filling to form a semi-circle. Crimp the edges to tuck them. Then, poke two holes on top of the calzone and brush with egg. Repeat these steps for the remaining circles of dough until you have 8 calzone pockets.
15
Once done, transfer onto a baking sheet lined with parchment paper and bake in the oven for 15 minutes until golden brown. Remove from the oven and serve hot with a light salad and a refreshing beverage.
NUTRITION
Nutrition Facts
Calzone
Amount Per Serving (1 serving)
Calories 497
Calories from Fat 171
% Daily Value*
* Percent Daily Values are based on a 2000 calorie diet.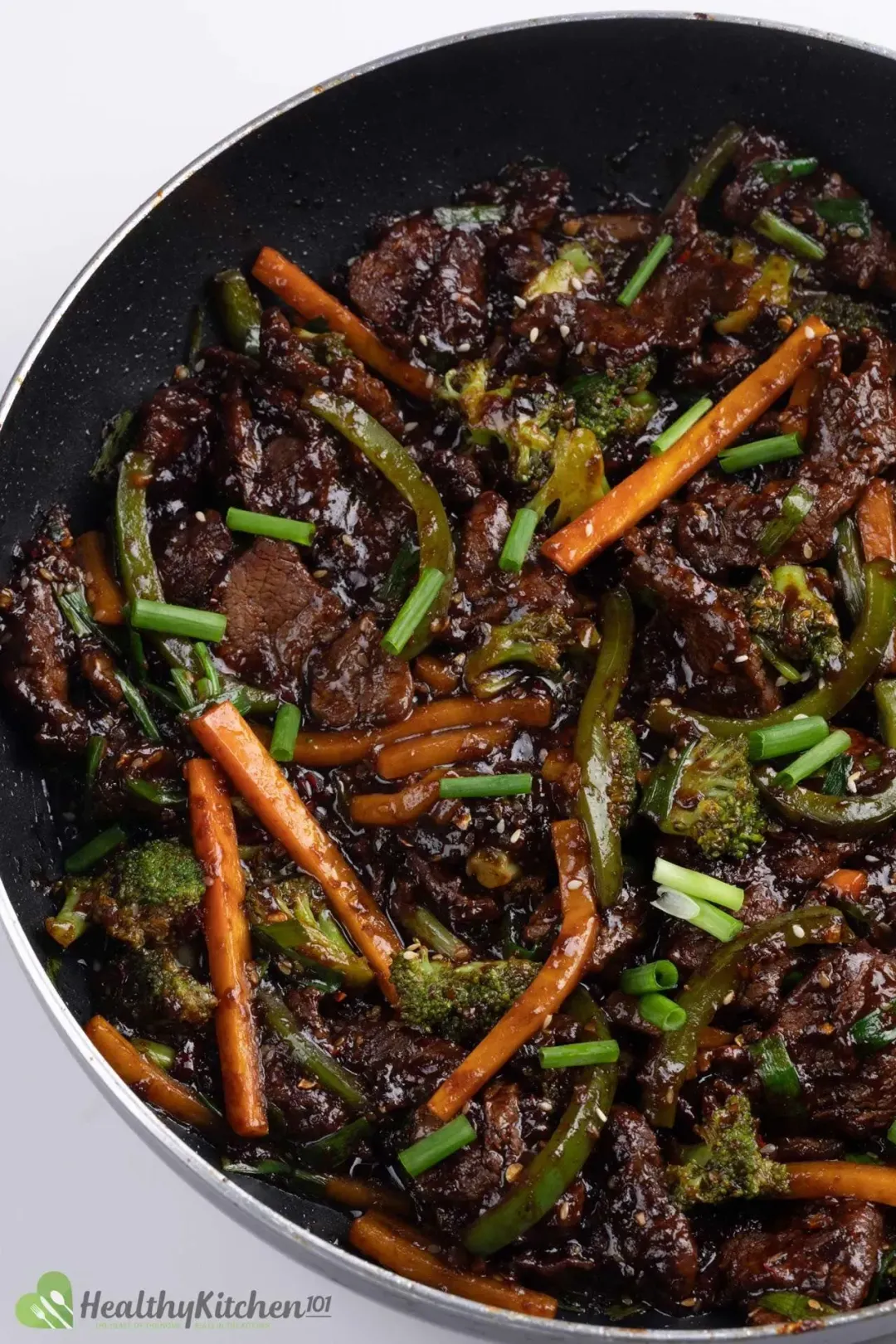 Previous Recipe
Mongolian Beef
Mongolian Beef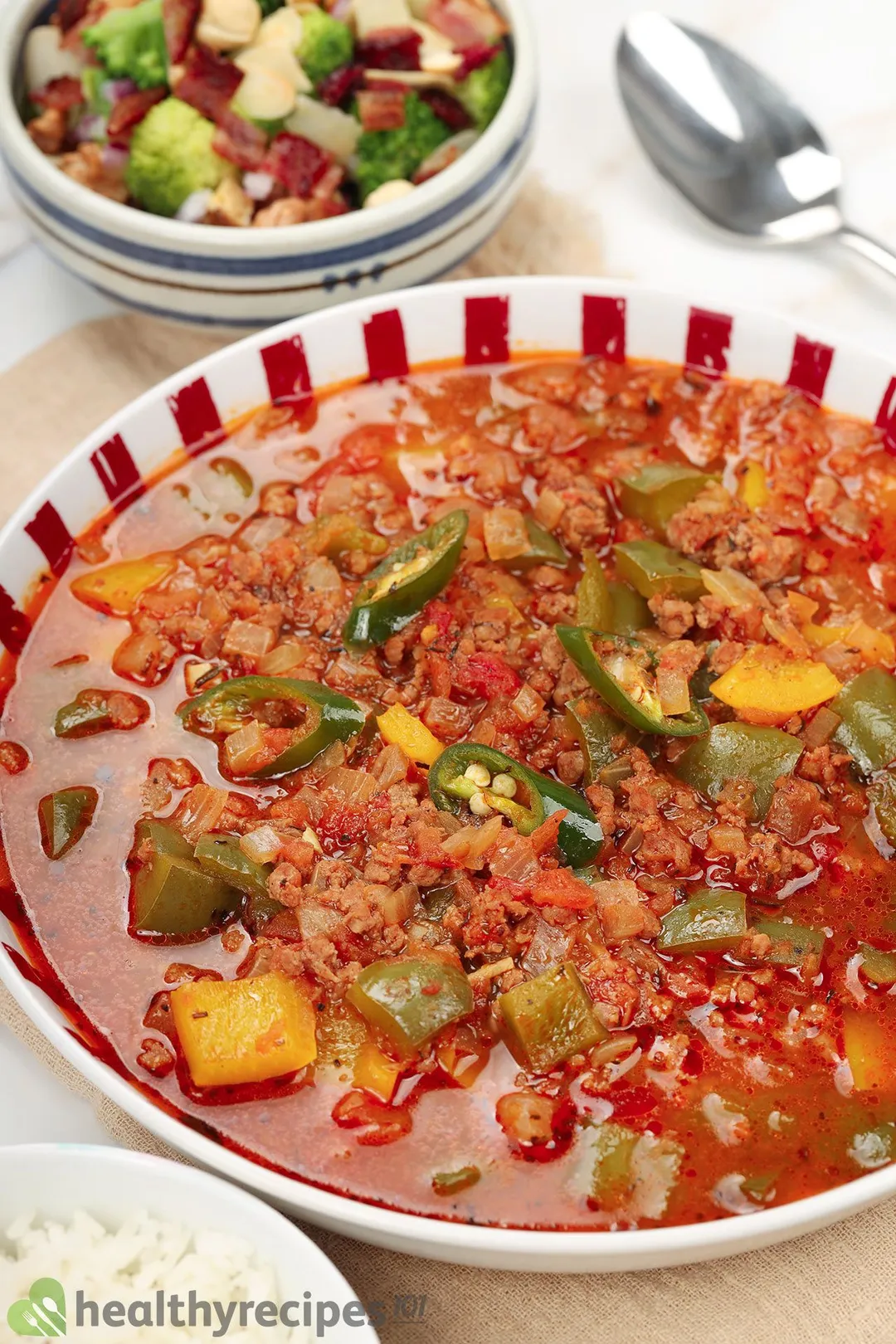 Next Recipe
Stuffed Pepper Soup
Stuffed Pepper Soup
Really delicious calzones! We replaced the mushrooms with chopped spinach and it was delish! Best calzone crust ever!

Beef calzone recipe for meat-lovers.