Bring the taste of a homemade Japanese meal right onto your table with this beef teriyaki recipe. It features tender and juicy beef smothered in a delectable teriyaki sauce that combines sweet, salty, and savory flavors. Served over a bed of white rice and some crunchy broccoli, it's an effortless dish that fills all your weeknight dinners with warmth and comfort.
What Does Beef Teriyaki Taste Like?
Beef teriyaki is beef sautéed or marinated in teriyaki sauce. This sauce has a soy sauce and mirin base, often mixed with other condiments like sugar, ginger, garlic, sesame, etc. Depending on its ingredients, the texture can either be thin, or syrupy and sticky.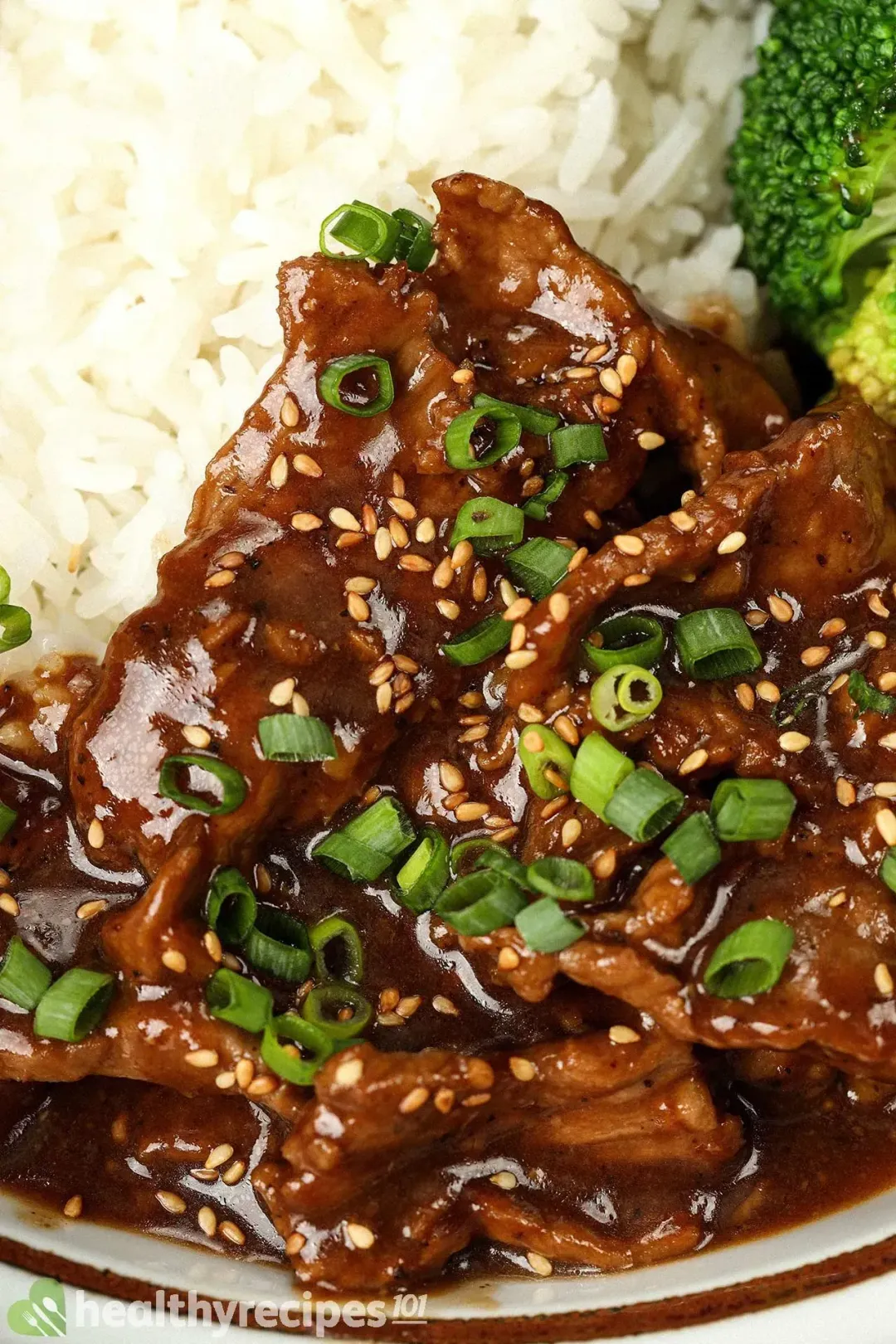 Drenched in teriyaki sauce, the beef is tenderized and infused with a unique and distinct umami taste. Many describe it as a distinctly rich mixture of sweet, salty, and tangy that harmonizes beautifully with the meat's savory taste, creating a luscious and flavorful dish.
Is This Beef Teriyaki Healthy?
Yes, it is.
The ingredients are carefully selected and measured so that nothing goes over the limits set by our nutrition guidelines. Each serving contains around:
473 calories
2.8 g saturated fat
566 mg sodium
We opted for lean beef in this recipe, which is trimmed of visible fat and offers a decent amount of complete protein, as well as vitamin B12, niacin, zinc, and heme iron.
Furthermore, this dish is also quite high in vitamin C thanks to the broccoli served on the side. This vegetable may also provide other nutrients like vitamins A and D, fiber, calcium, magnesium, and potassium.
Ingredients You'll Need
Since this is an Asian dish, the majority of the ingredients will be common Asian staples. You will most likely find them readily available at the supermarket or most Asian grocers.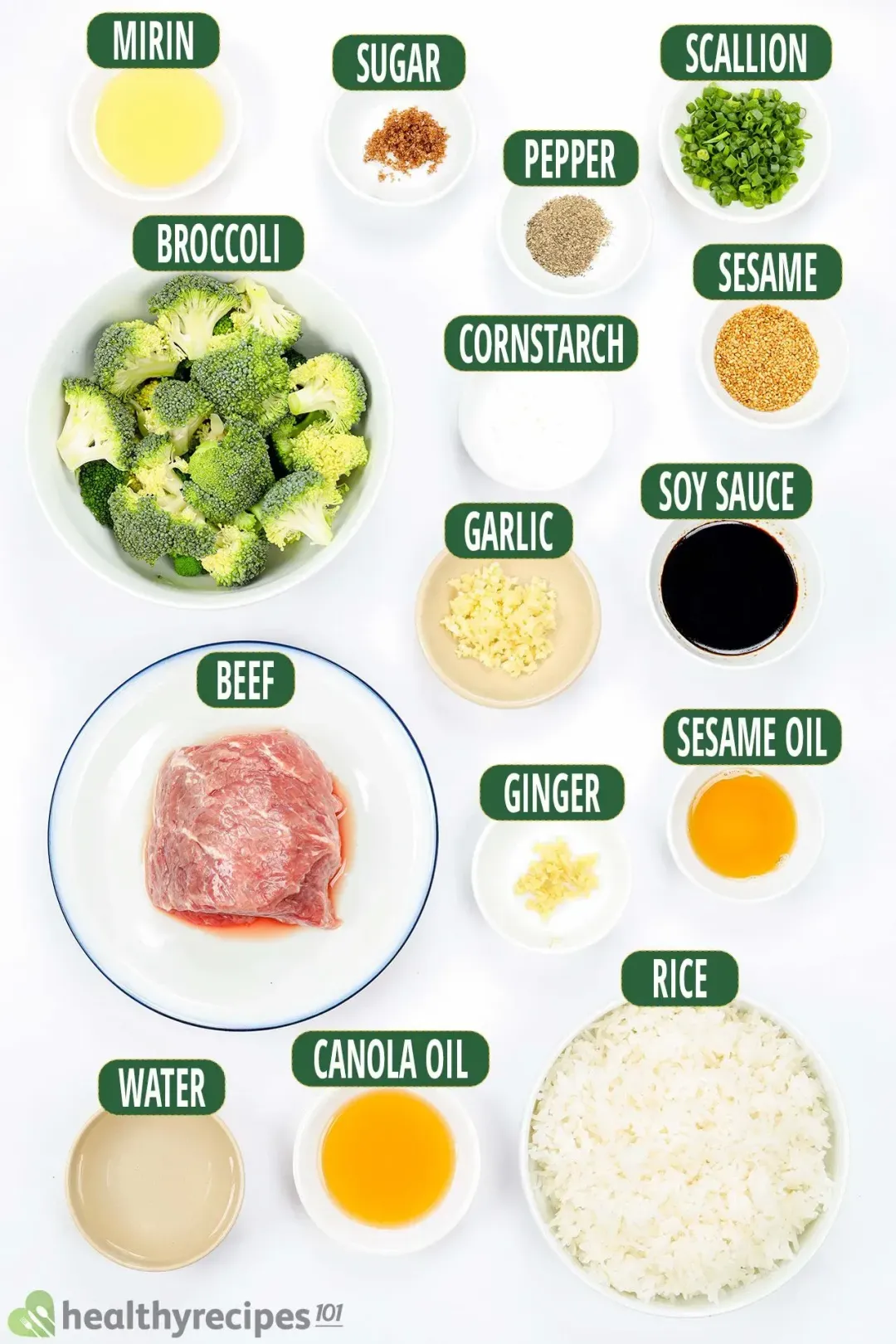 Beef: We went with flank steak with this dish because it requires some stir-frying. This cut is one of the most common choices because it's full of intense flavor even when sliced thin. When preparing the beef, cut across the muscle grains—lines that run along the length of the cut. This will ensure the meat turns out tender and not as chewy since the rough muscle fiber has already been broken up.
Broccoli: Broccoli is the most common pairing choice for beef teriyaki. It diversifies the dish with its unique crunchy texture and earthy undertones. However, you can branch out and add other veggies like carrots, snap peas, or bell peppers.
Rice: Since this is an Asian dish, the tender teriyaki beef is served over a fluffy bed of white rice. It's a foolproof way to make the dish filling without overwhelming the taste buds with any additional strong flavors.
Condiments: We included some teriyaki essentials like mirin and soy sauce, along with brown sugar, sesame oil, canola oil, and pepper.
Aromatics: Ginger and a few garlic cloves were used to infuse the food with a robust and aromatic undertone during the stir-frying.
Garnishing: To finish off, we sprinkled in some scallions and roasted sesame seeds. Not only does it make the dish look more appetizing, but it also adds small peppery and toasty hints to the savory beef.
What Cut of Meat Is Used for Teriyaki Beef?
Even though flank steak is the go-to choice when it comes to stir-fried beef, there are other beef cuts that also work. Here are a few to choose from: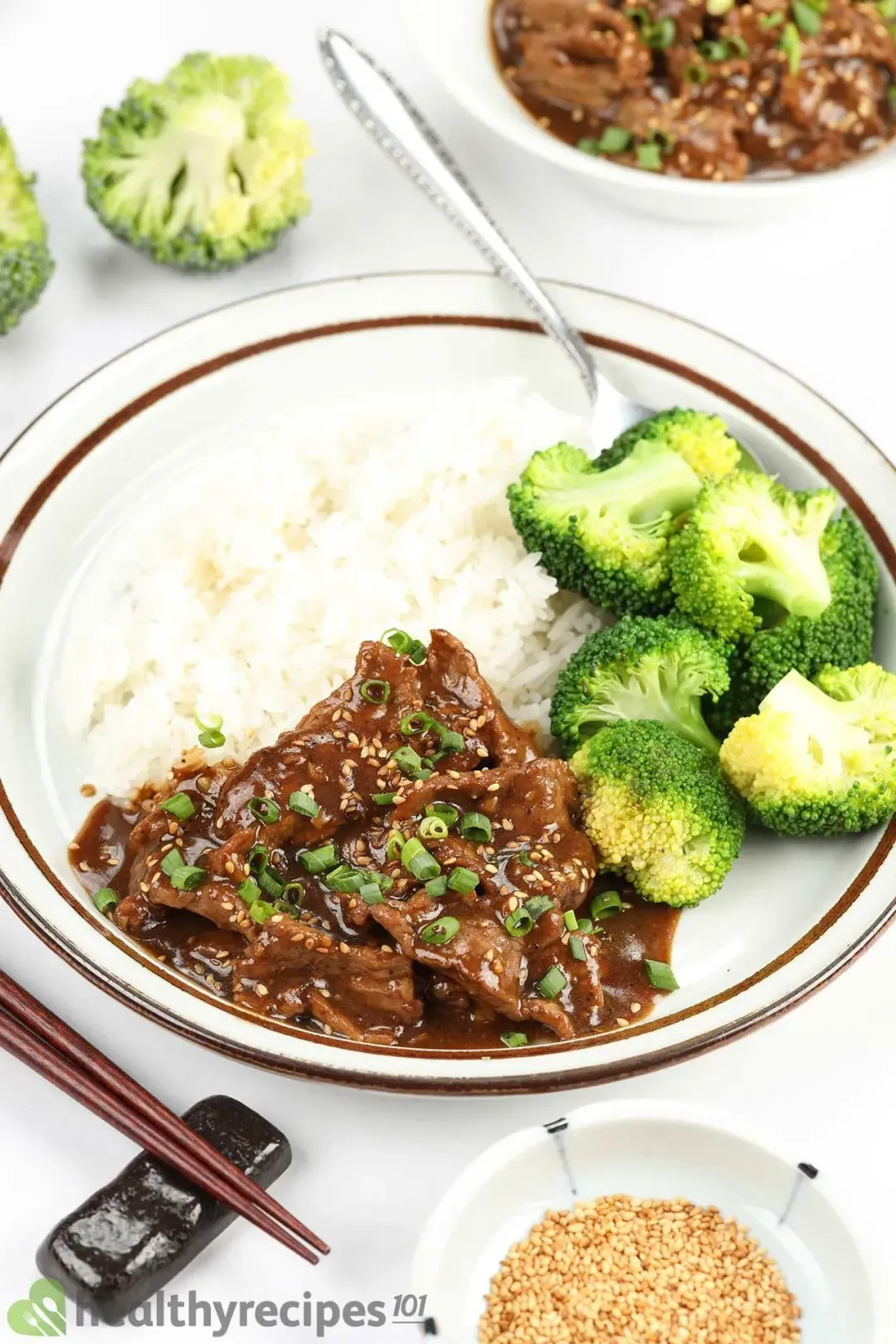 Sirloin is a lower back cut that's typically divided into two parts: the top sirloin and the bottom sirloin. It's tender, flavorful, has little fat, and no bones—a relatively good choice for stir-frying. The bottom sirloin can be a bit tougher, so it's best to thoroughly marinate the beef strips before cooking.
This is a cut from the diaphragm area, right underneath the rib. It's long, thin, and quite juicy with a beefy flavor that's intensified when stir-fried. The outside skirt is relatively tender while the inside skirt tends to be tougher and chewier.
This cut gets its name from hanging between the rib and the loin, supporting the diaphragm. It can be used in place of skirt and flank steak because it shares a similar tender texture and rich, juicy flavors that are enhanced when cooked on high heat.
How to Store and Reheat the Leftovers
This beef teriyaki should last for up to 2 days when kept in an airtight container in the fridge. When reheating, place it in the microwave at full power for 1 minute or give it a quick stir-fry on the stovetop. We recommend cooking a new batch of rice to better enjoy the dish.
What To Serve With Beef Teriyaki
Make a classic Asian meal with this dish of beef teriyaki as the main. Serve it alongside other simple side dishes to highlight the teriyaki's intense and distinct flavor. Here are some of our suggestions: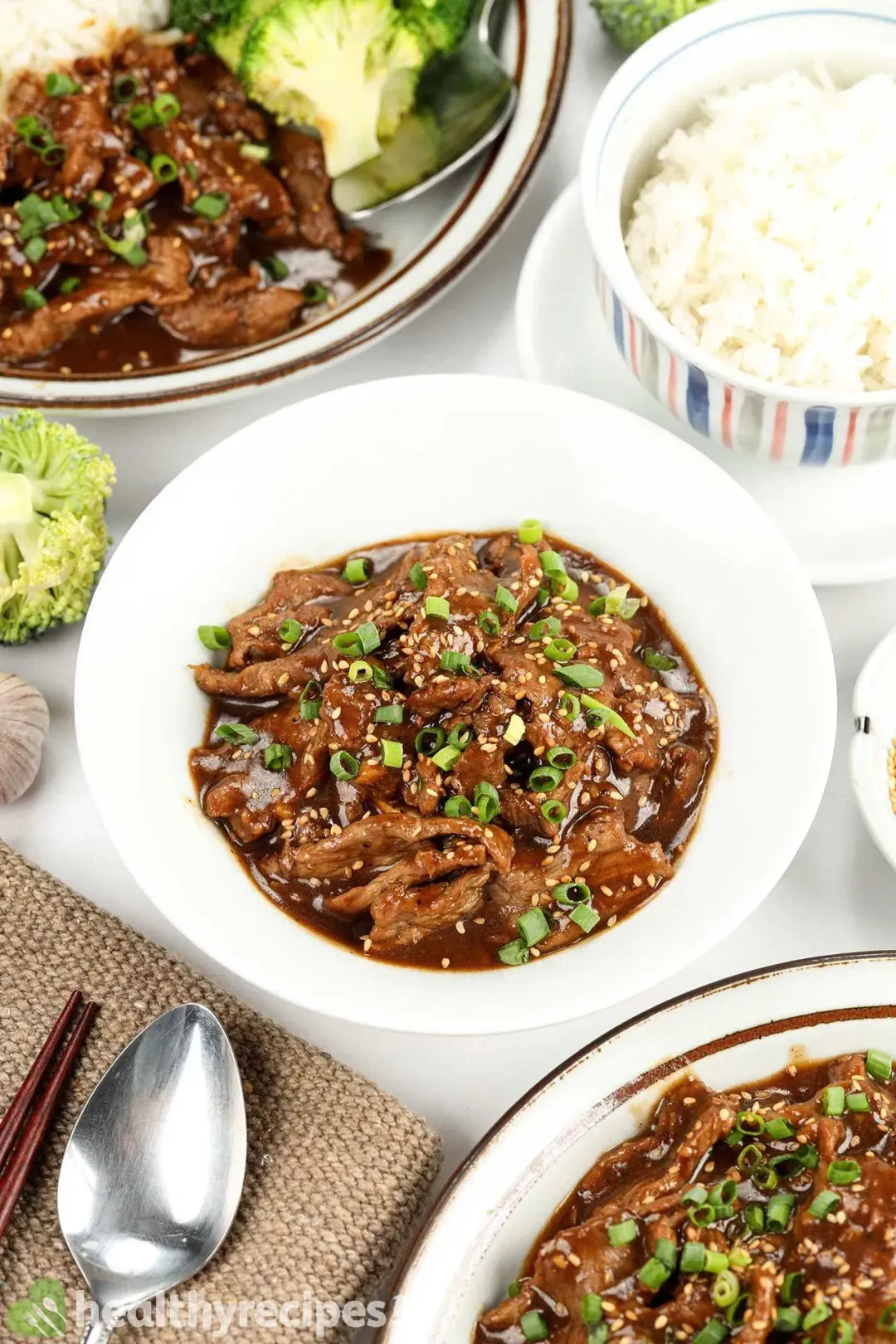 Spice Up Your Dinner Routine with These Exciting Beef Over Rice Ideas
This delicious and nutritious beef fried rice recipe is a great way to use up leftover rice and add some protein to your meal. Packed with veggies and seasoned with soy sauce and sesame oil, this dish is sure to become a family favorite.
This Beef Mushrooms recipe is a hearty and comforting meal that's perfect for cooler weather. The tender beef and mushrooms are cooked in a flavorful broth, making it a great option for a cozy dinner at home.
For those who want to switch up their usual routine with some new flavors, our beef and broccoli recipe roundup is just what you need.
How to Make Beef Teriyaki
This beef teriyaki recipe features tender and juicy beef smothered in a delectable teriyaki sauce. Served over a bed of white rice and some crunchy broccoli, it's a cozy and filling comfort dish that comes together effortlessly.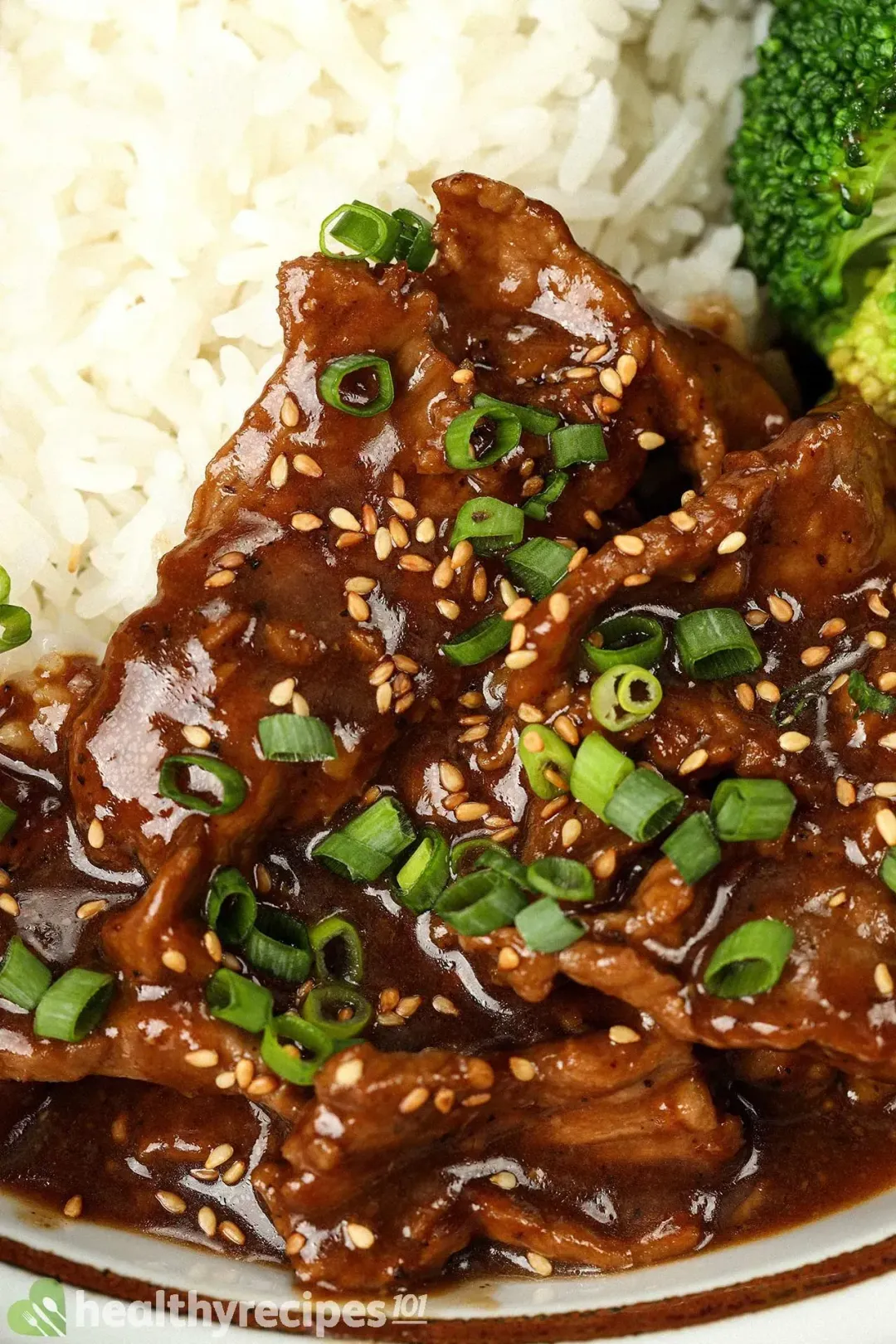 cook TIME

8 mins

prep TIME

7 mins

total TIME

15 mins
COURSE

Main Course

CUISINE

Asian

SERVINGS

CALORIES

473 kcal
INGREDIENTS
10 oz

flank steak

(cut into strips)

1 tbsp

garlic clove

(minced)

2 tbsp

scallions

(chopped)

3 1/2 tbsp

reduced sodium soy sauce

1 tbsp

unsalted roasted sesame seeds

3 1/2 cups

cooked medium-grain rice

(from 1 3/4 cups uncooked)
INSTRUCTIONS
Prep:
1
Cook the Rice: Rinse the rice, then cook using a rice cooker, the Instant Pot, or any preferred appliance.
2
Cut the Beef: Slice the beef across the grains into thin strips.
3
Mince the Ginger: Scrape the skin off then slice into thin pieces. Cut the pieces into matchsticks then gather the sticks and cut crosswise until minced.
4
Mince the Garlic: Peel the clove then thinly slice. Rock the knife up and down, from left to right over the sliced pile until they become finely minced.
5
Chop the Scallions: Remove the white roots. Bunch the scallions together and chop into 1/8-inch pieces.
Cook:
1
Make the Sauce: In a small bowl, mix 2 fl oz water, 1/2 tsp pepper, 1/2 tsp brown sugar, 2 tbsp cooking mirin, 3 1/2 tbsp reduced sodium soy sauce, and 1 tbsp sesame oil until well-combined.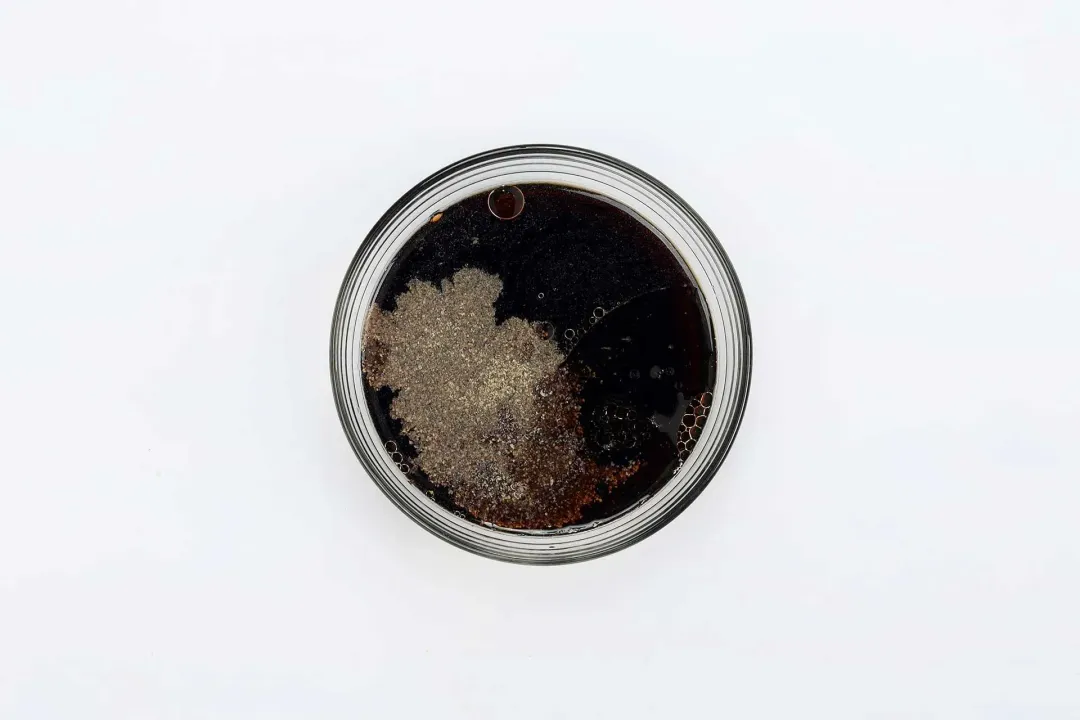 2
Cook the Broccoli: Boil 10 oz broccoli for 2 minutes then remove from the water and leave to cool.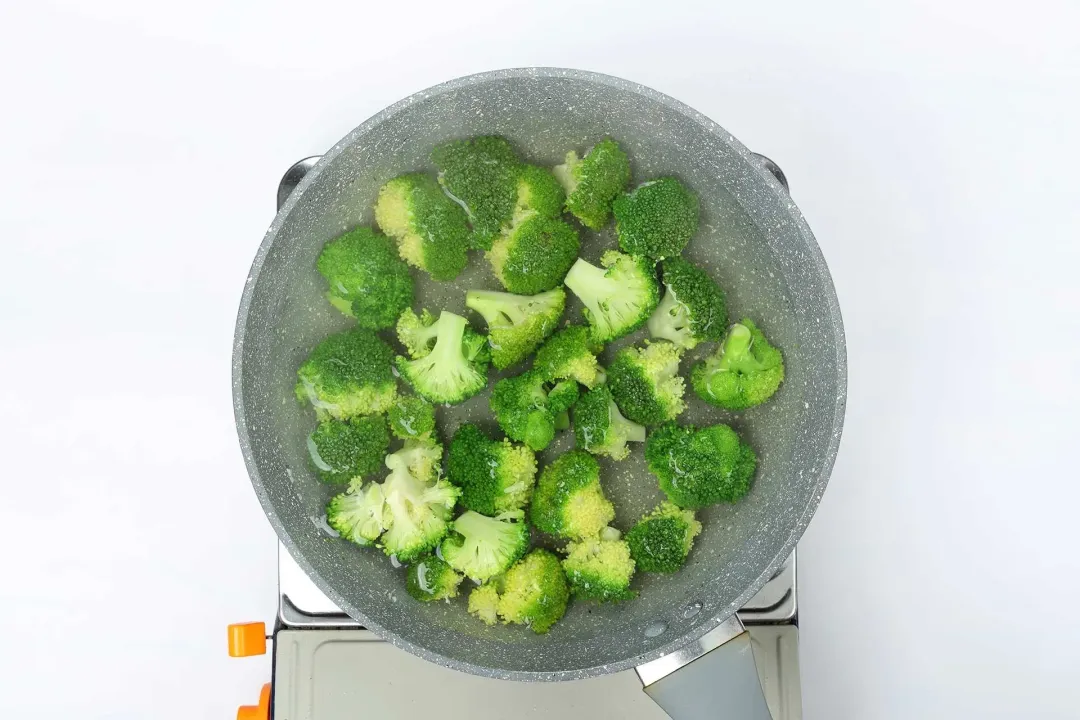 3
Season the Beef: Mix 1 tbsp canola oil and 1/2 tbsp cornstarch with 10 oz flank steak until well-seasoned.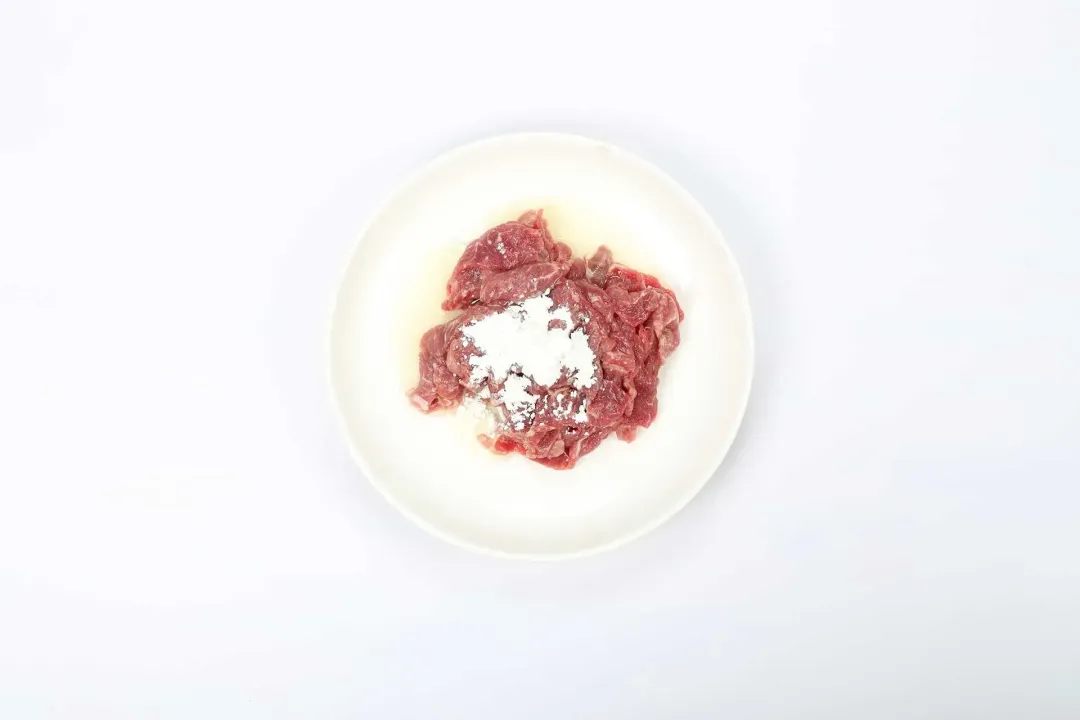 4
Stir-fry the Aromatics: In a pan over medium heat, stir-fry 1/2 tsp ginger and 1 tbsp garlic clove with 1 tbsp canola oil for 30 seconds until fragrant.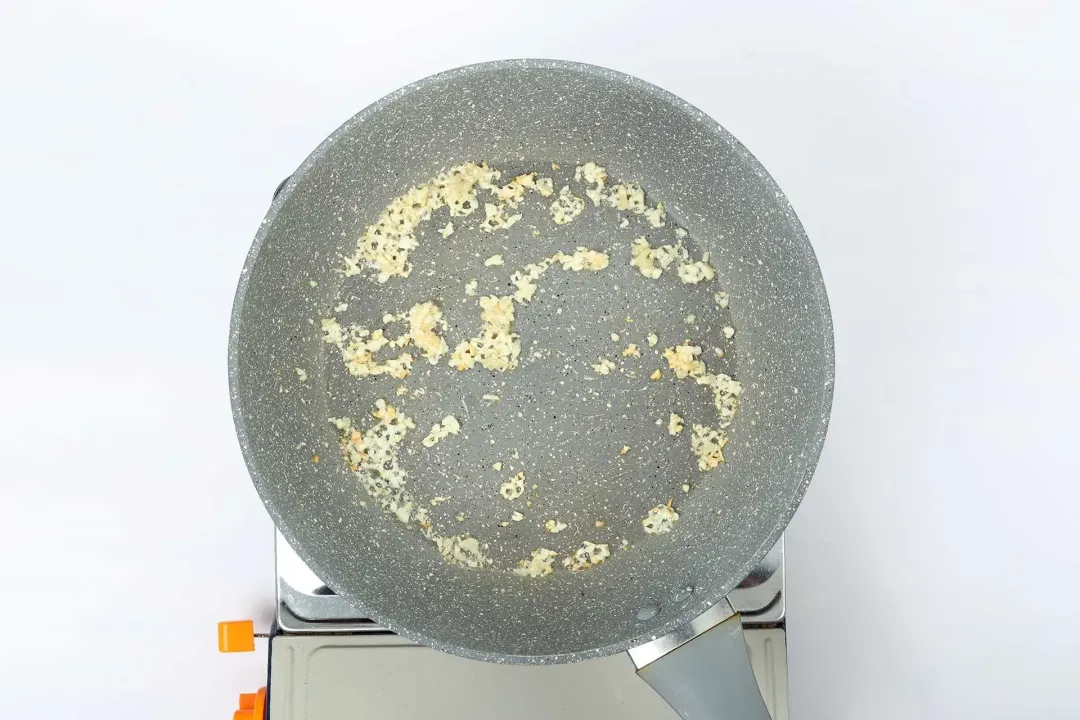 5
Stir-fry the Beef: Add the seasoned beef then stir-fry for 2 minutes until brown.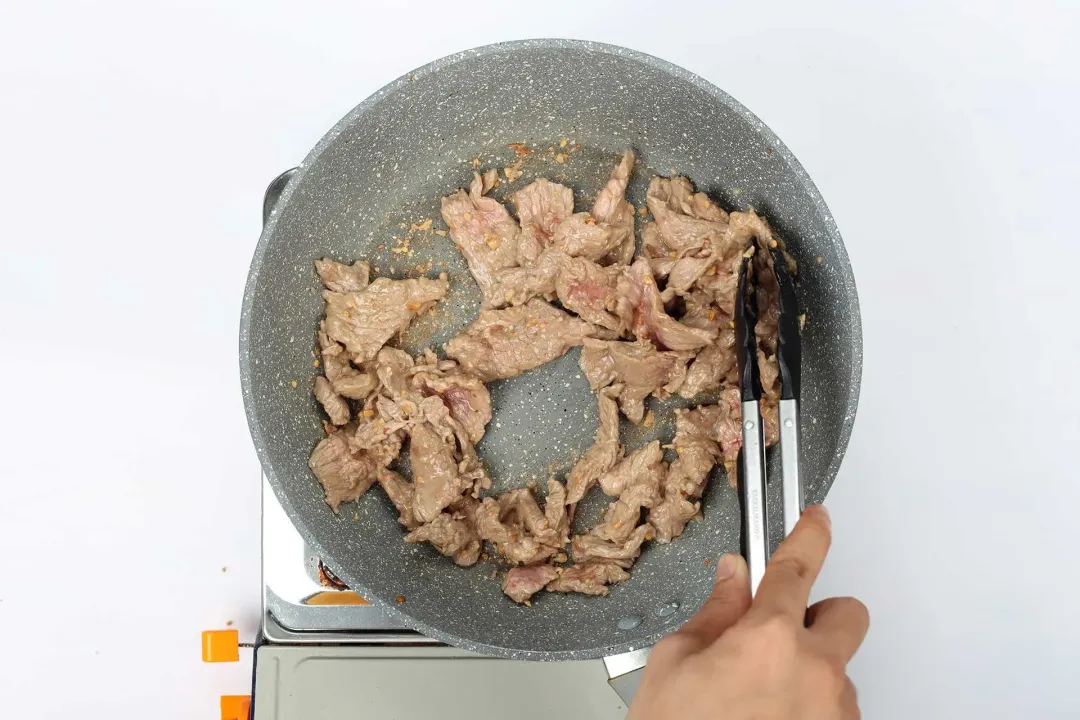 6
Add the Sauce: Add the teriyaki sauce then stir-fry for 2 minutes until the sauce thickens.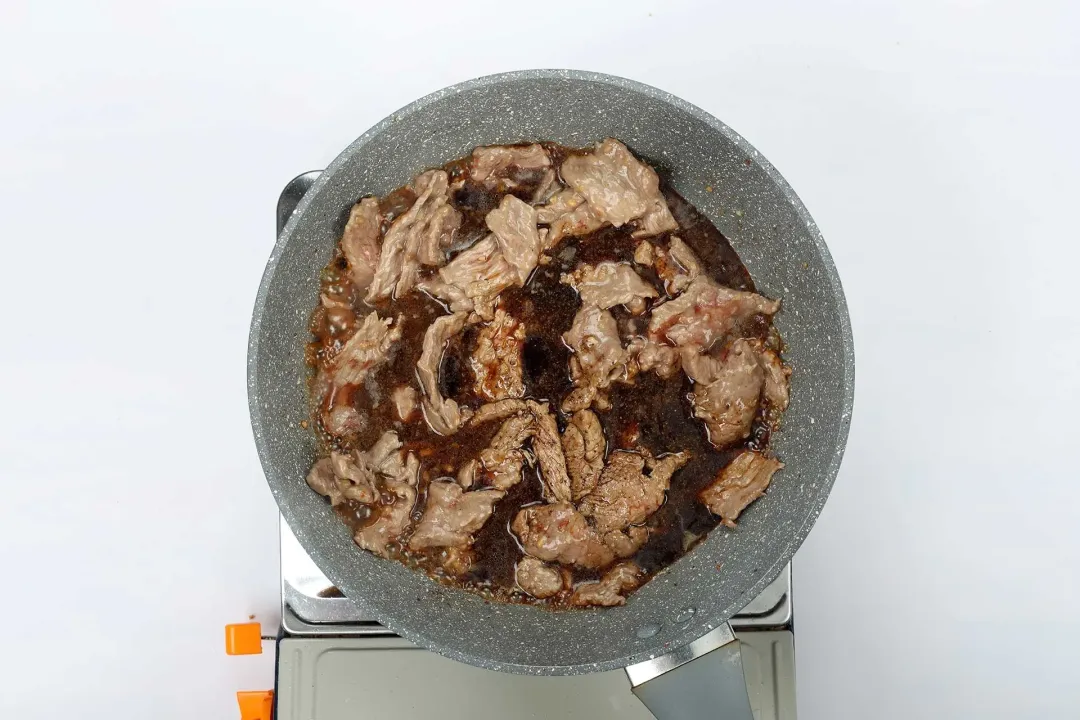 7
Garnish and Serve: Transfer the stir-fried beef onto the serving plates with rice and broccoli. Garnish with 1 tbsp unsalted roasted sesame seeds and 2 tbsp scallions then serve hot.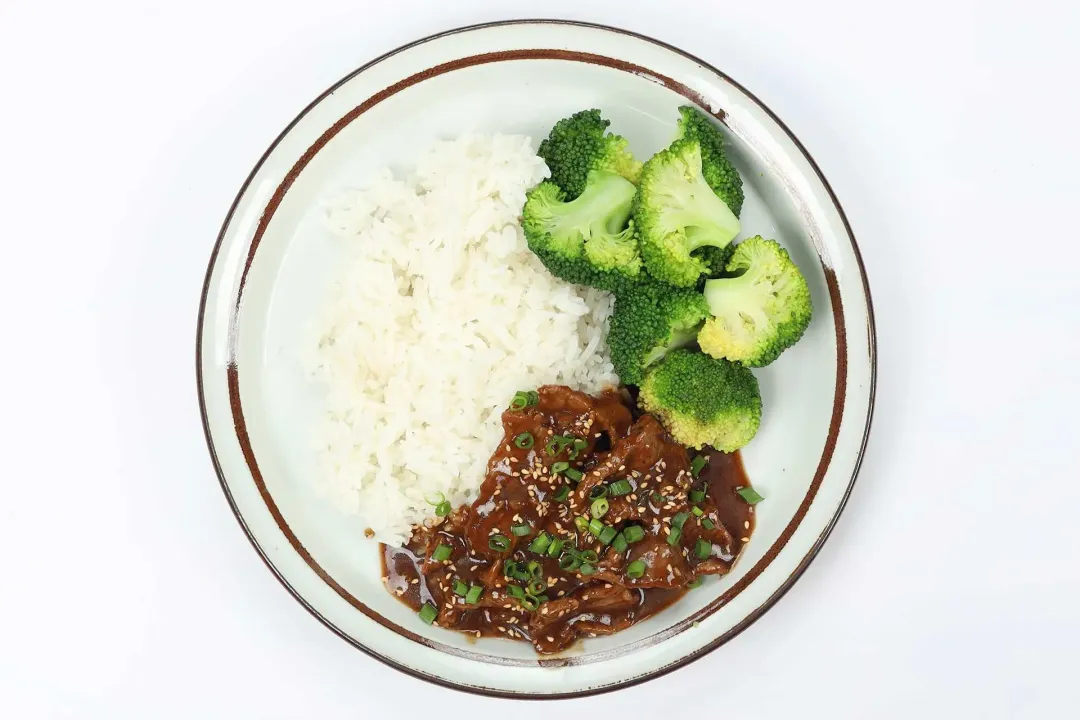 NUTRITION
Nutrition Facts
How to Make Beef Teriyaki
Amount Per Serving (1 serving)
Calories 473
Calories from Fat 141
% Daily Value*
* Percent Daily Values are based on a 2000 calorie diet.
Keywords: beef teriyaki, beef teriyaki recipe, how to make beef teriyaki
Previous Recipe
Beef Tomato
Beef Tomato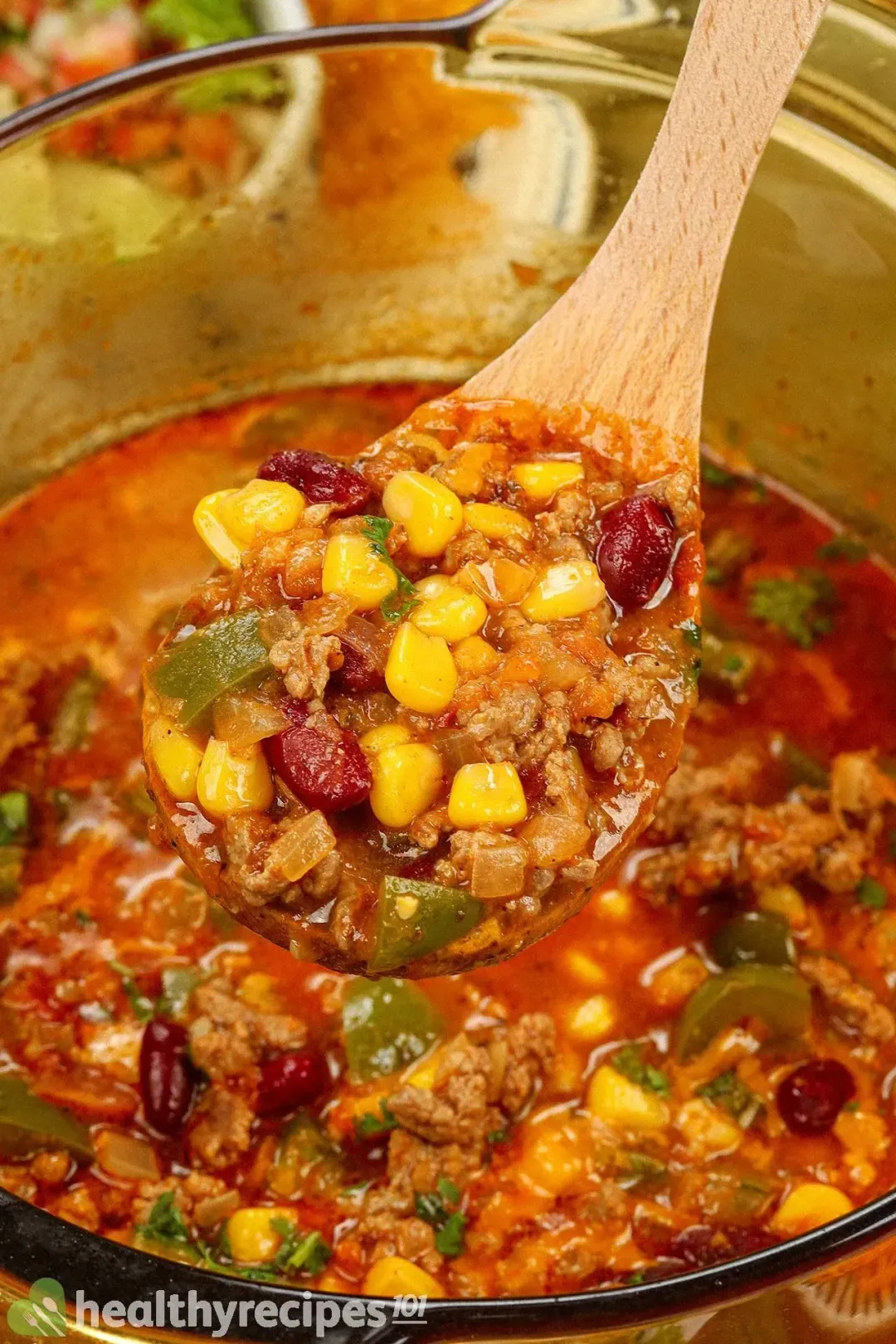 Taco Soup
Head Chef, Culinary Consultant
Tuyet Pham is an award-winning Saigonese chef who believes that joy is the secret ingredient to delicious food. At Healthy Recipes 101, Tuyet personally tests and simplifies every recipe, ensuring maximum flavor with minimal effort. With a background at prestigious French restaurants P'TI Saigon and Le Corto, Tuyet knows how to make every dish exceptional.
Writer, Author
Luna Regina is an accomplished writer and author who dedicates her career to empowering home cooks and making cooking effortless for everyone. She is the founder of HealthyKitchen101.com and HealthyRecipes101.com, where she works with her team to develop easy, nutritious recipes and help aspiring cooks choose the right kitchen appliances.
Nutrition Reviewer
Natalie Butler is a registered dietitian nutritionist with a passion to help others live their best life through food, fitness, safer beauty and a healthy lifestyle. She has expertise with a variety of diets and diseases and believes that there is no one-size-fits-all approach for health.
Made this and had it with noodles instead of rice, also a killer.