This blueberry spinach smoothie recipe is a combination of flavor and nutrition. The drink features tart blueberries, creamy protein-rich Greek yogurt, sweet bananas, and a handful of spinach for added nutrients.
It's the ideal treat or quick breakfast drink when you want something delicious and healthy.
Can You Put Raw Spinach in a Smoothie?
Yes, you can. Actually, including spinach in a smoothie is an excellent way to sneak more leafy greens into your family's diet.
Throw a handful of raw spinach into your smoothie along with the other ingredients. You'll get an extra dose of fiber, vitamins, and minerals with very few additional calories and no significant change to the smoothie's flavor.
The banana and blueberries in this recipe will cover the spinach flavor entirely. Although the drink doesn't have a lovely color, it is still delicious.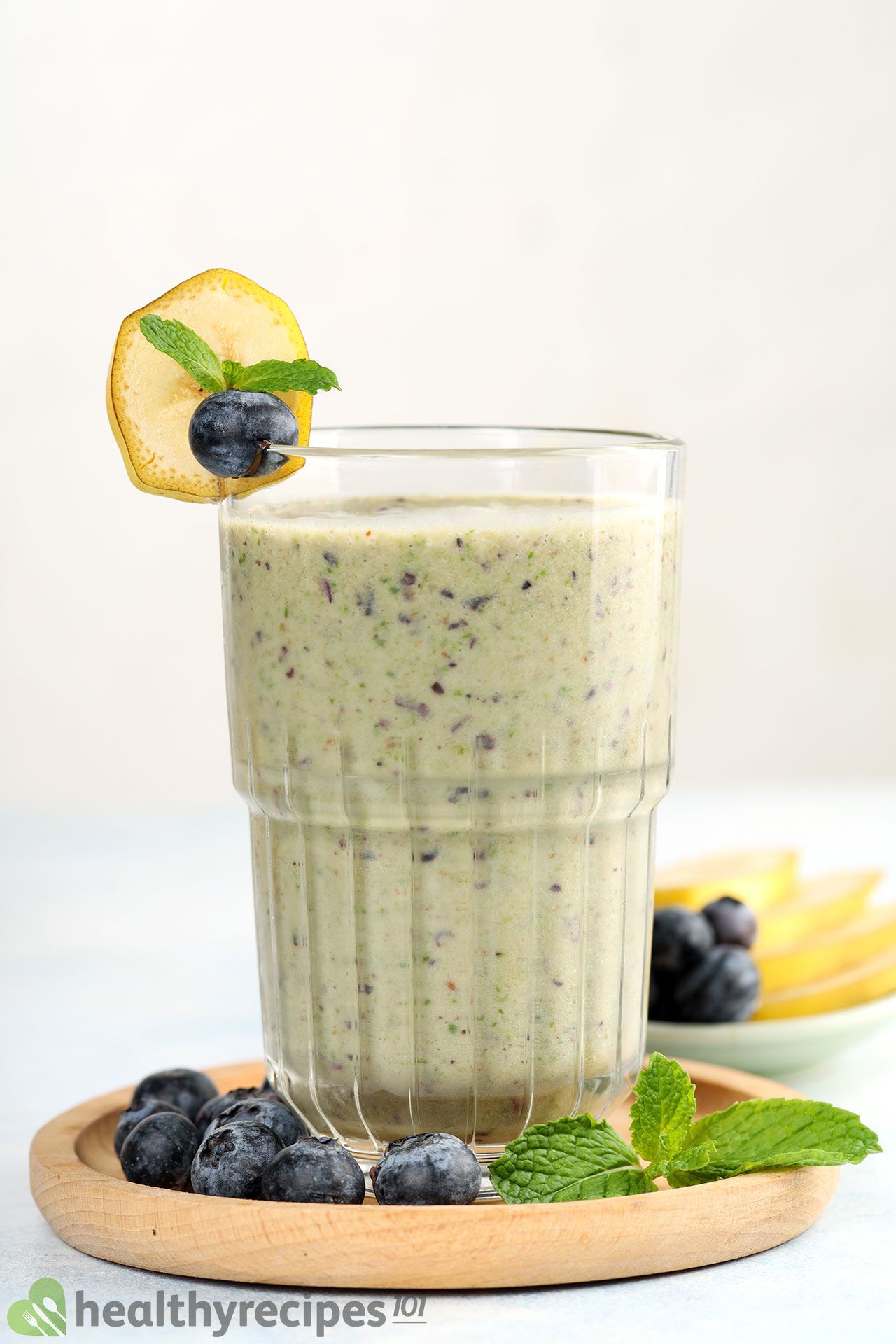 Is This Blueberry Spinach Smoothie Recipe Healthy?
The short answer is yes, our blueberry spinach smoothie recipe is healthy. It all comes down to good ingredients:
Like spinach, blueberries are often considered a "superfood." They are among the world's most nutrient-dense berries. A one-cup (about 150 g) serving of blueberries will go a long way to meeting your recommended daily intake (RDI) of many nutrients including 24% of your vitamin C, 36% of your vitamin K, and 25% of your manganese (9 mg).
They also contain more antioxidants than other fruits. Antioxidants protect our cells from free radical damage and help our body fight off illnesses.
Packed with nutrients and coming in on the low-calorie end of the spectrum, spinach is an excellent ingredient to include in smoothies and shakes.
Spinach is a great source of calcium, magnesium, and iron. 100g of fresh spinach contains approximately 25% of your daily recommended iron intake, making it one of the most iron-rich leafy vegetables.
The veggie also provides vitamins A, B6, and C. It can improve digestion and can also help strengthen your immune system.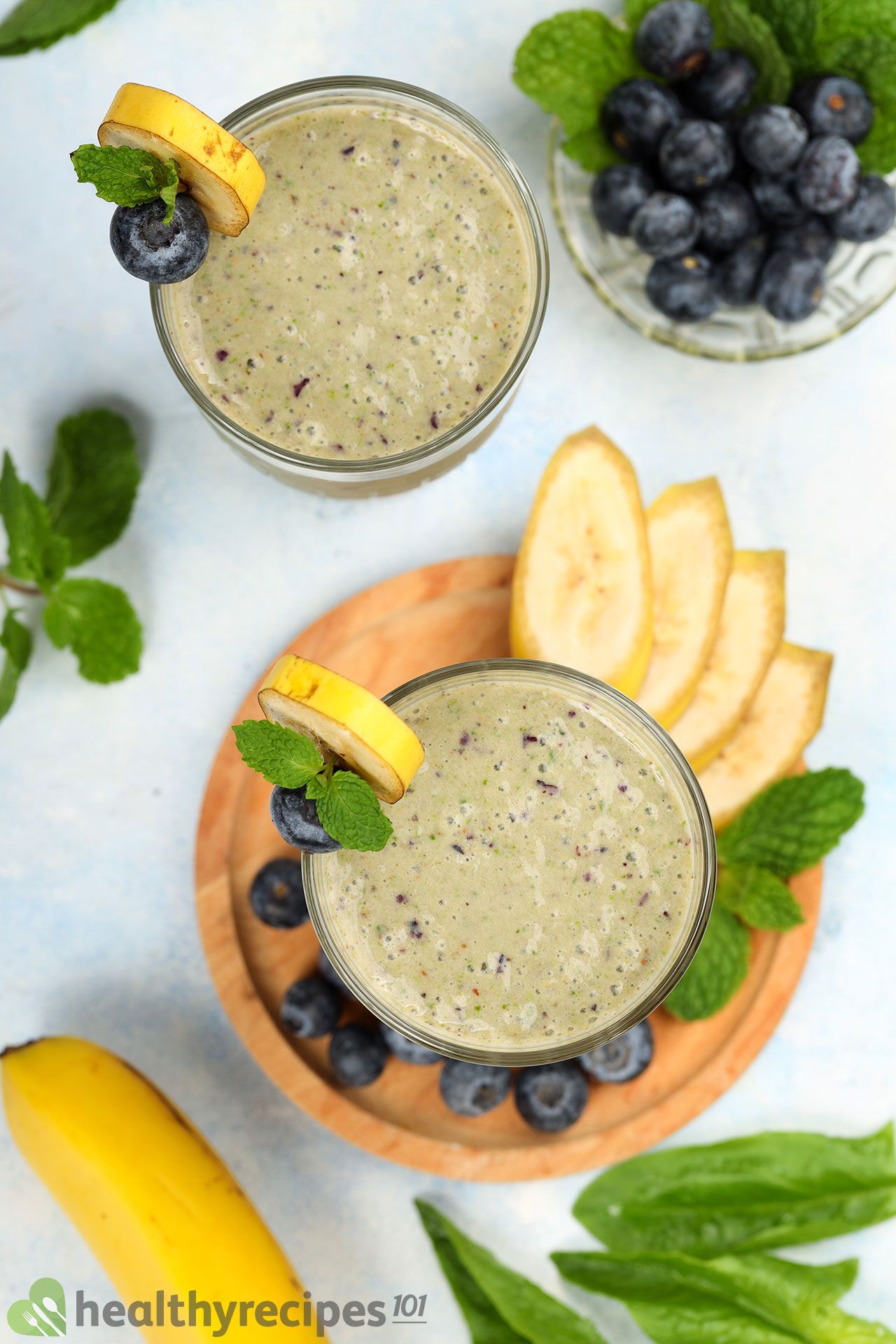 Ingredients for Blueberry Spinach Smoothie
Blueberries: You may use fresh or frozen berries in this smoothie. They are tasty both ways and give you options depending on how cold you want your smoothie to be.
Banana: While blueberries have a tart flavor, ripe bananas lend the sweetness. They are one of the most fantastic ways to make your smoothies sweeter and creamier without added sugar.
Spinach: Spinach is one of our favorite vegetables to incorporate into smoothies. The leaves' flavor completely disappears, but they turn the drink a vibrant green color.
Dairy: The milk creates a liquid base for the smoothie, giving it a thinner texture. We also added Greek yogurt to this blueberry spinach smoothie to make it creamier and to add more protein.
Make this blueberry spinach smoothie dairy-free by replacing Greek yogurt with coconut yogurt or your favorite plant milk.
Cinnamon: While the beverage is delectable, sometimes you need a little extra punch. Cinnamon provides a touch of spice that will awaken bored taste buds.
Ice and Mint Leaves: Ice helps to thicken the texture, while mint leaves make the drink seem fresher. It's best to start with just a leaf or two to see if you like how it tastes.
Can I Use Frozen Blueberries for This Smoothie?
Yes, frozen blueberries are wonderful for smoothies. They blend up thicker than fresh fruit, leaving you with a chilly, refreshing treat.
To make them easier to blend, let the blueberries partially defrost on your kitchen counter for 30 minutes prior to use. If you do not have frozen fruit, place them in the freezer for 30 minutes before blending.
Frozen blueberries are always available in the supermarket's freezer department. Frozen fruit may be used in place of ice cubes to thicken the drink without diluting the flavor.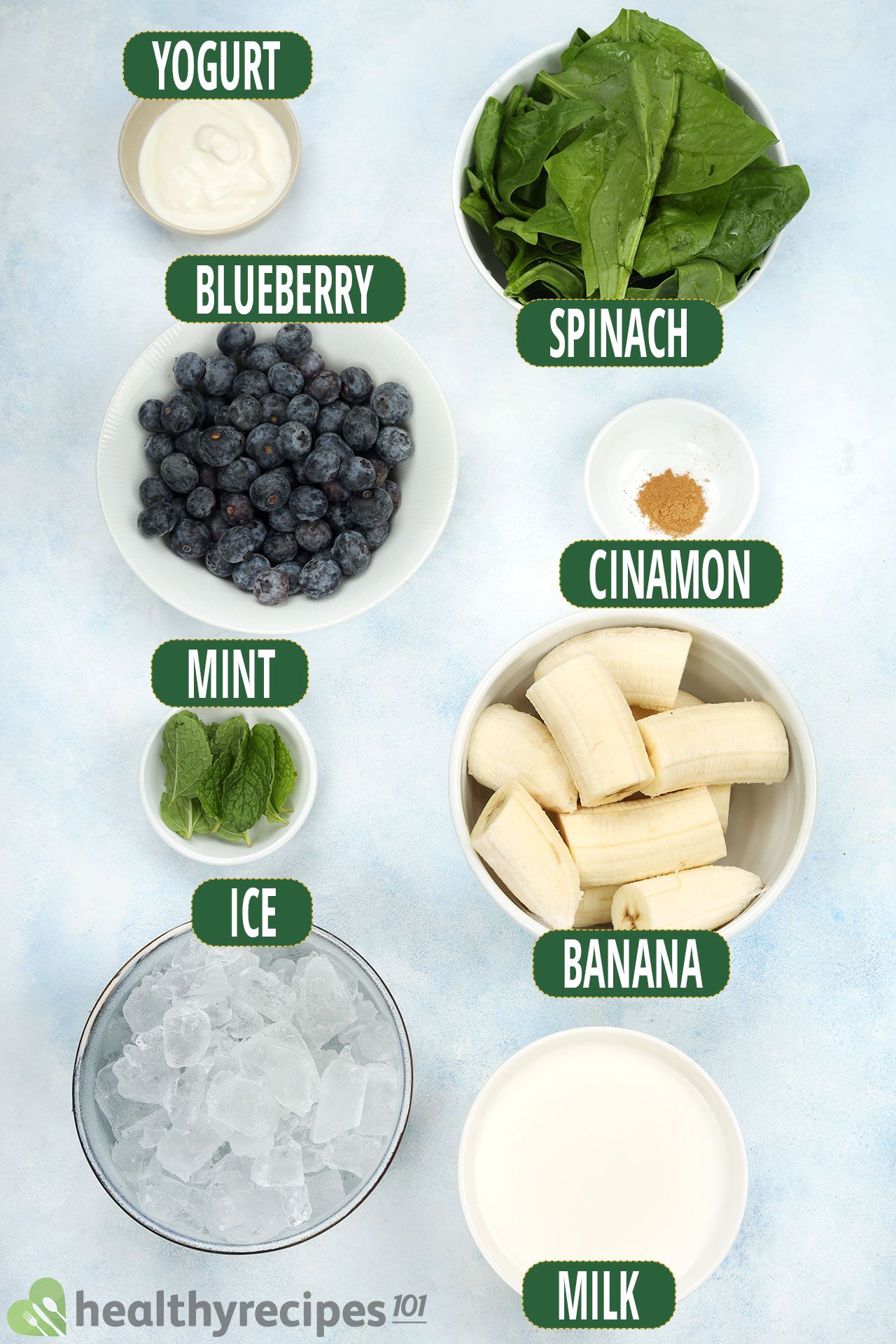 How to Make Blueberry Spinach Smoothie
This blueberry spinach smoothie is an ideal option when the weather is too warm to cook breakfast, but you still want something healthy and filling to start the day. Here's how we made the smoothie: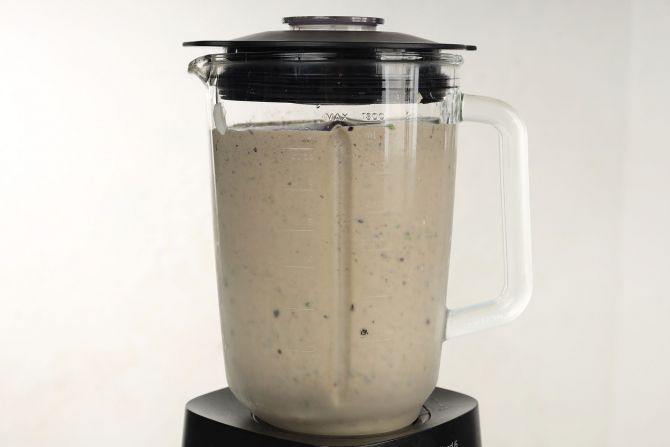 Blend ingredients.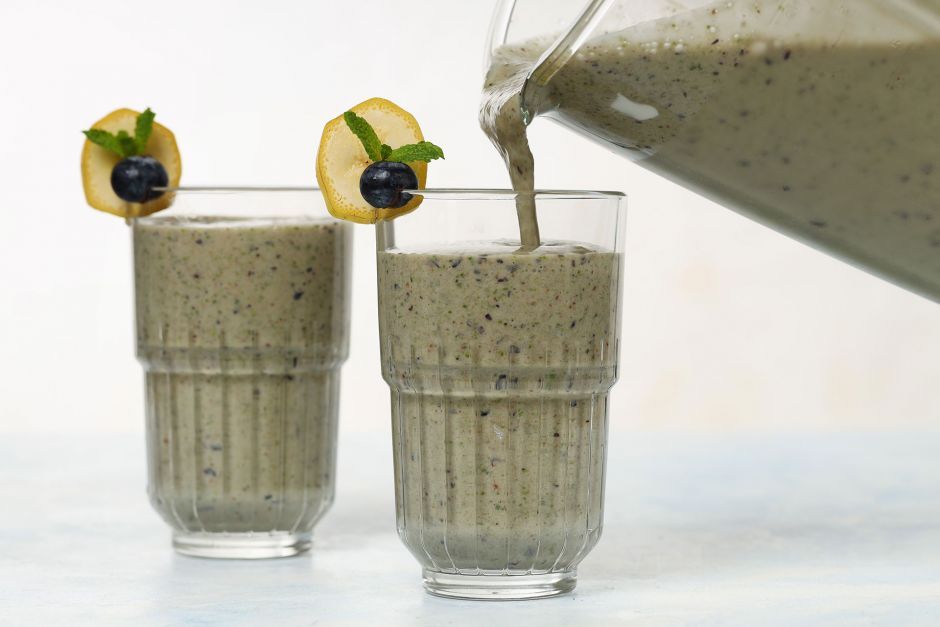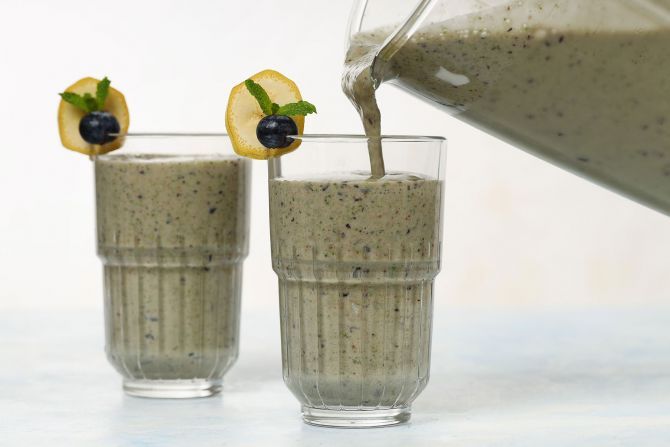 Pour into serving glasses.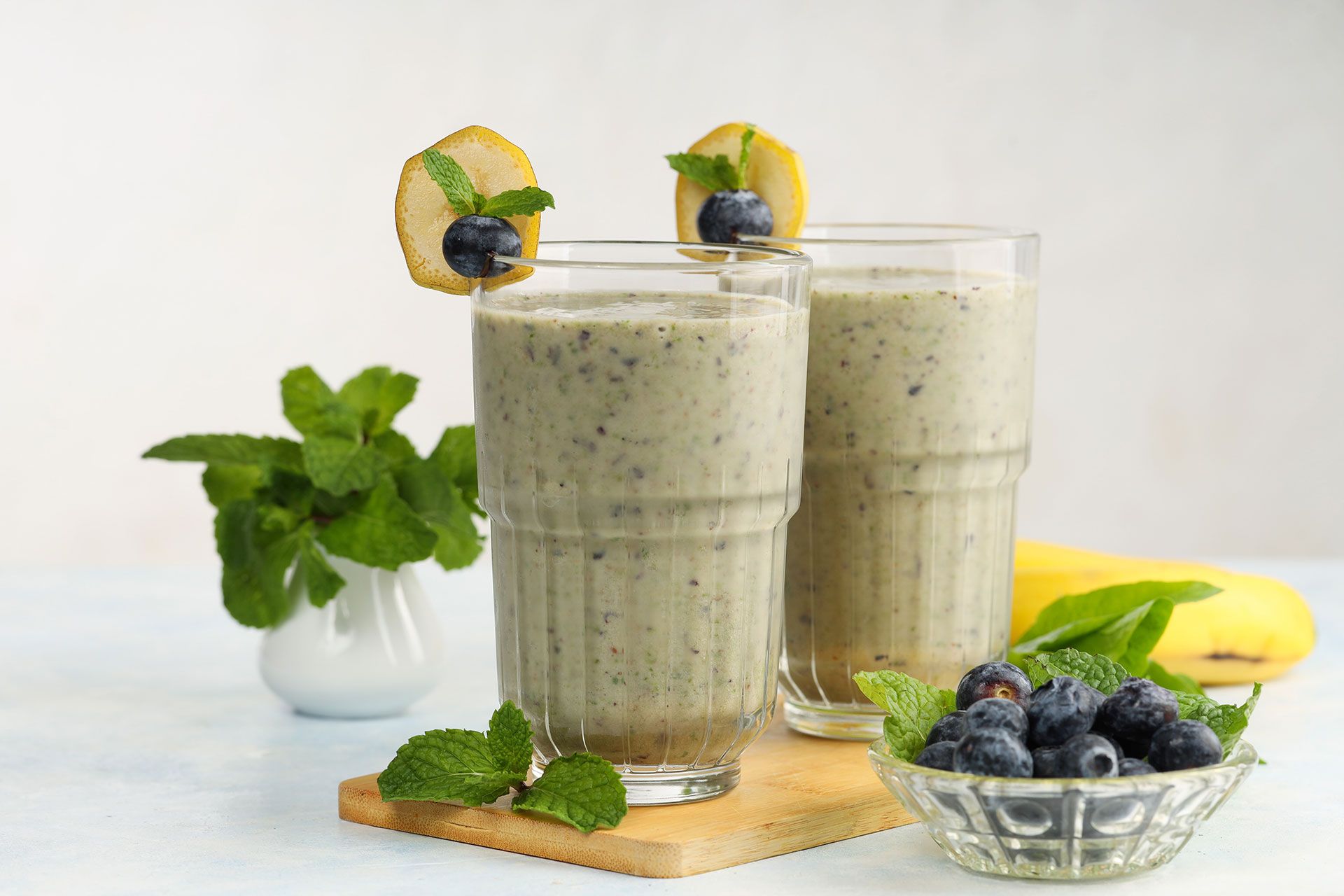 Garnish and serve immediately.
For the detailed instructions and ingredient measurements, please refer to the recipe card below.
How Long Does This Smoothie Last?
Smoothies are usually best served fresh, but you can store them in the refrigerator or freezer if need be. Prepare some smoothie mix ahead of time so you can enjoy one later even if you're busy.
This blueberry spinach smoothie will keep for 1-2 days in the refrigerator, as long as it's stored in a clean, sealable container such as a mason jar. Choose an airtight container to prevent the fruit and veggie material from oxidizing.
This smoothie keeps far longer in the freezer than it does in the refrigerator — up to 3 months in a clean container. All you have to do then is fully defrost it in the refrigerator prior to drinking.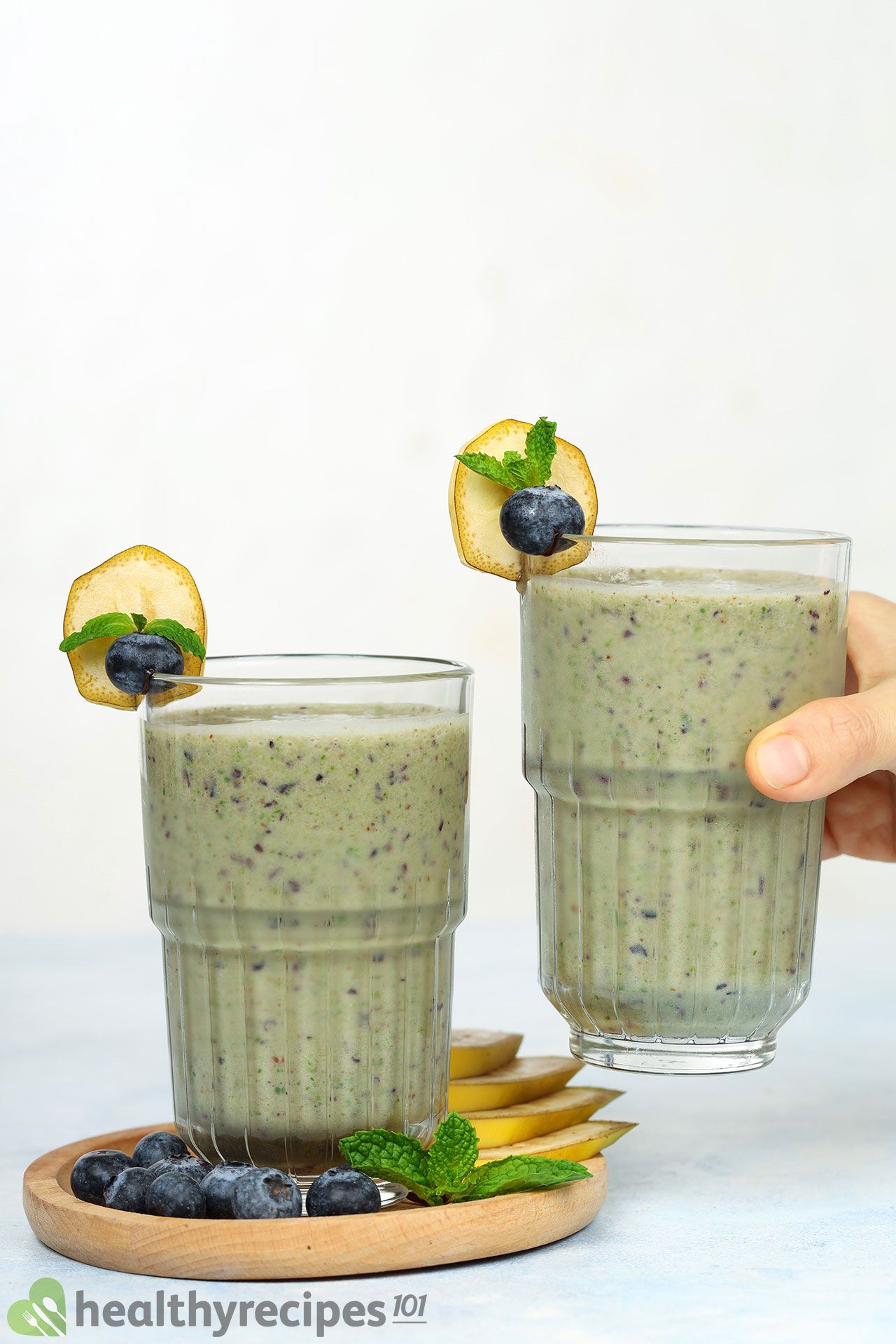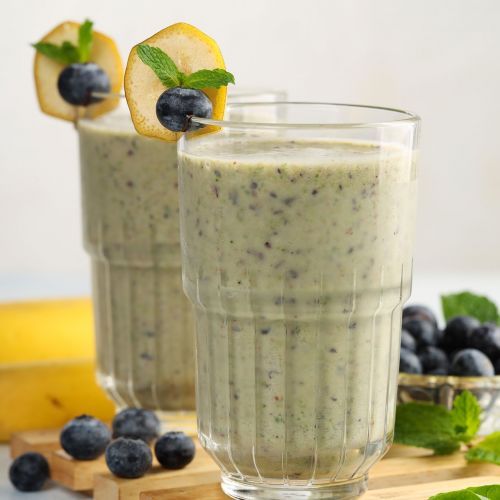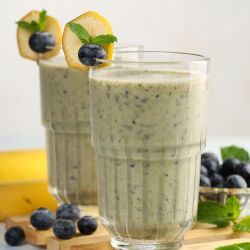 Blueberry Spinach Smoothie Recipe
This delicious and easy-to-make blueberry spinach smoothie recipe is a wonderful way to get more fruits and vegetables into your diet.
Ingredients
8

oz

blueberries

16

oz

banana

2

oz

spinach

2

cups

ice

1

cup

milk

1/4

cup

plain Greek yogurt

1/4

tsp

cinnamon

8

mint leaves
Instructions
Put 2 cups ice, 1 cup milk, 1/4 cup plain Greek yogurt, 16 oz banana, 8 oz blueberries, 2 oz spinach, and 1/4 tsp cinnamon into a blender. Blend everything until smooth and creamy.

Pour into glasses and garnish with mint leaves.
Nutrition
Nutrition Facts
Blueberry Spinach Smoothie Recipe
Amount Per Serving (1 serving)
Calories 188
Calories from Fat 27
% Daily Value*
Fat 3g5%
Cholesterol 10mg3%
Sodium 52mg2%
Potassium 661mg19%
Carbohydrates 39g13%
Protein 5g10%
Vitamin A 1617IU32%
Vitamin C 20mg24%
Calcium 108mg11%
Iron 1mg6%
* Percent Daily Values are based on a 2000 calorie diet.