This air fryer chicken shawarma recipe will show you an easy way to make this Middle Eastern staple right at home. It's served with rice, veggies, and additional side dishes, Healthy Kitchen 101 style.
What Does Chicken Shawarma Taste Like?
There is a lot to say about shawarma's flavor.
Chicken shawarma is a stack of boneless chicken meat (typically thighs) skewered on a revolving spit and rotated continually beside a vertical grill. It is often marinated overnight in a dry seasoning mixture of cumin, salt, garlic, and plenty of warm spices. Some recipes use turmeric as well, to give the meat an appetizing yellow shade.
The grilled meat is then thinly sliced and slammed into a pita wrap or piled on cooked rice, along with shredded lettuce and tomato. All is drizzled with tahini, a rich, silky smooth sauce similar to peanut butter, but made with toasted sesame seeds instead. The whole dish bursts with flavor and texture and surely doesn't lack aroma.
Home chefs not intending to make hundreds of servings may grill the meat in the oven or under the grill. Since an air fryer's function is similar to an oven's, this recipe will lead to the same yummy result as our oven-grilled chicken shawarma recipe.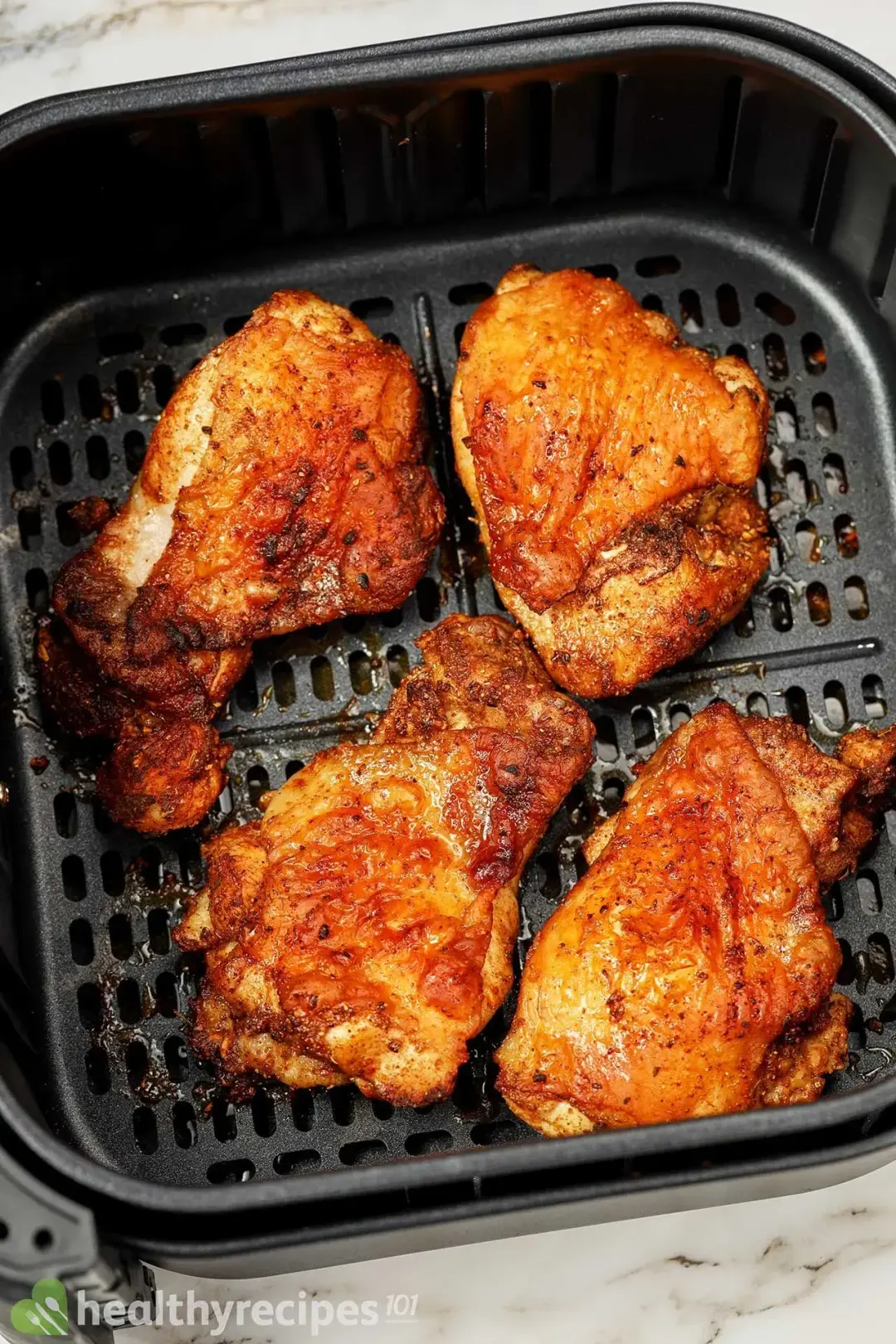 Chicken Shawarma vs Gyro
The two are served similarly, but they differ in flavor. Chicken gyro is marinated with Greek yogurt, lemon juice, vinegar, salt, oregano, and warm spices. Compared to shawarma, gyro errs on the tangy side with a slightly more intense flavor.
Is Air Fryer Chicken Shawarma Good for You?
No matter how it's done, chicken shawarma is a protein-rich meal. The veggies also add vitamins, minerals, and fiber.
The bread/rice shawarma is served in will give you carbohydrates, which provide energy. Instead of using white bread or white rice, you can use whole-grain alternatives to add a small amount of vitamins, minerals, and fiber to your meal.
One single serving of our air fryer chicken shawarma recipe yields 494 calories, 6.3 g saturated fats, and 529 mg sodium. Daily suggestions and recommended upper limits are available in our guidelines.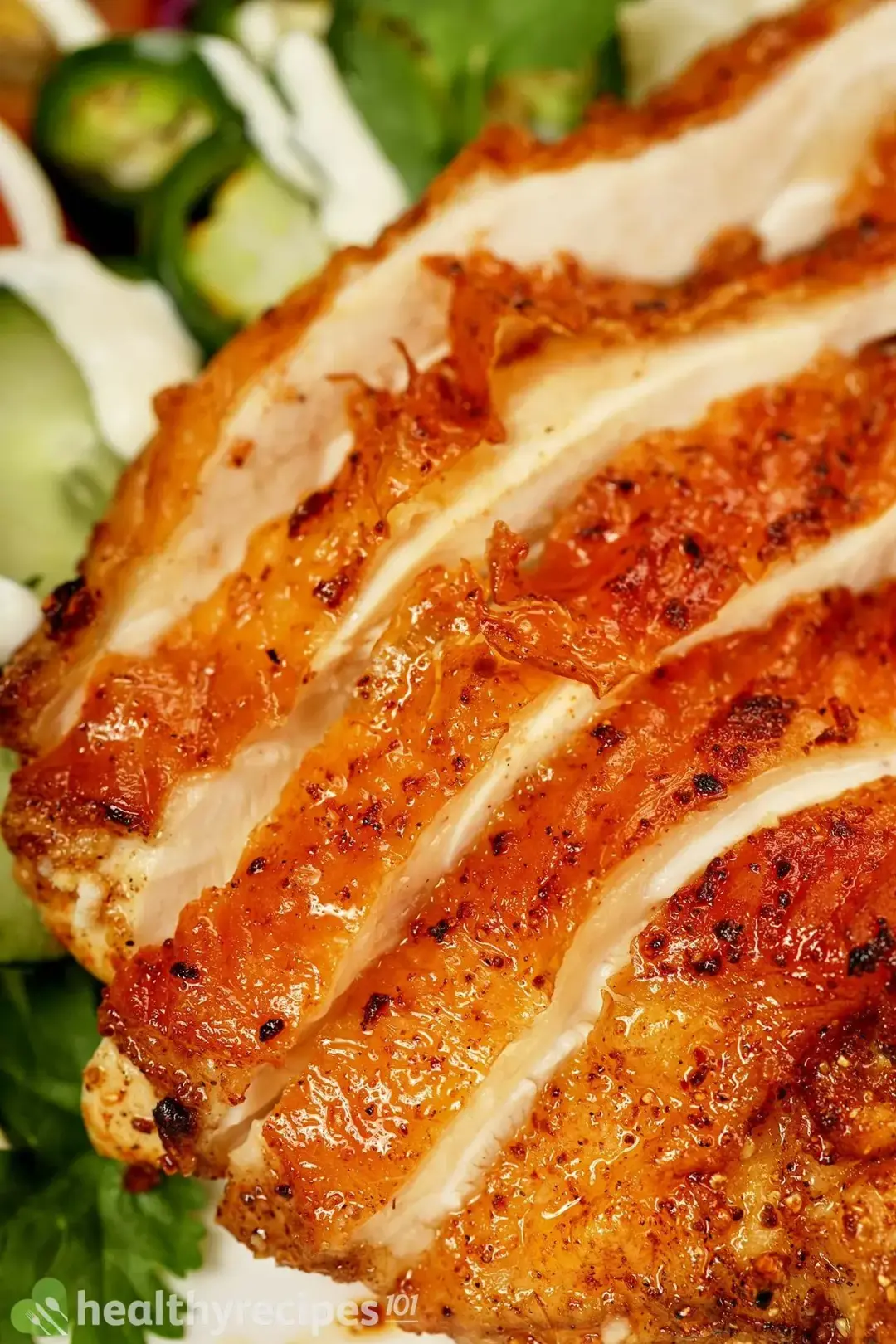 Main Ingredients for Our Air Fryer Chicken Shawarma Recipe
For those of you who prefer chicken breasts, you can use them but expect the meat to be dryer. This dish works best with chicken thighs or boneless drumsticks.
Chicken Shawarma Marinade
The spice mix typically includes ground ginger, cardamom, pepper, coriander, salt, cinnamon, cumin, and nutmeg. We add to this mix paprika, cayenne, chili powder, and cajun for different levels of heat.
If you find these spices a hassle to collect, an unsalted shawarma spice mix is a more convenient option. It is often sold without chili powders, so you need to get those separately.
We also marinate the meat with a dash of lemon juice to tenderize it.
For the drizzling sauce, we're going for an easy alternative to tahini: Greek yogurt, mayo, and julienned cilantro. It doesn't have the richness or aroma of tahini, but it still complements the meat well.
We are serving the meat with cooked basmati rice and crunchy veg like tomato, lettuce, and cucumber on the side. You can, however, substitute these items with any of your favorites.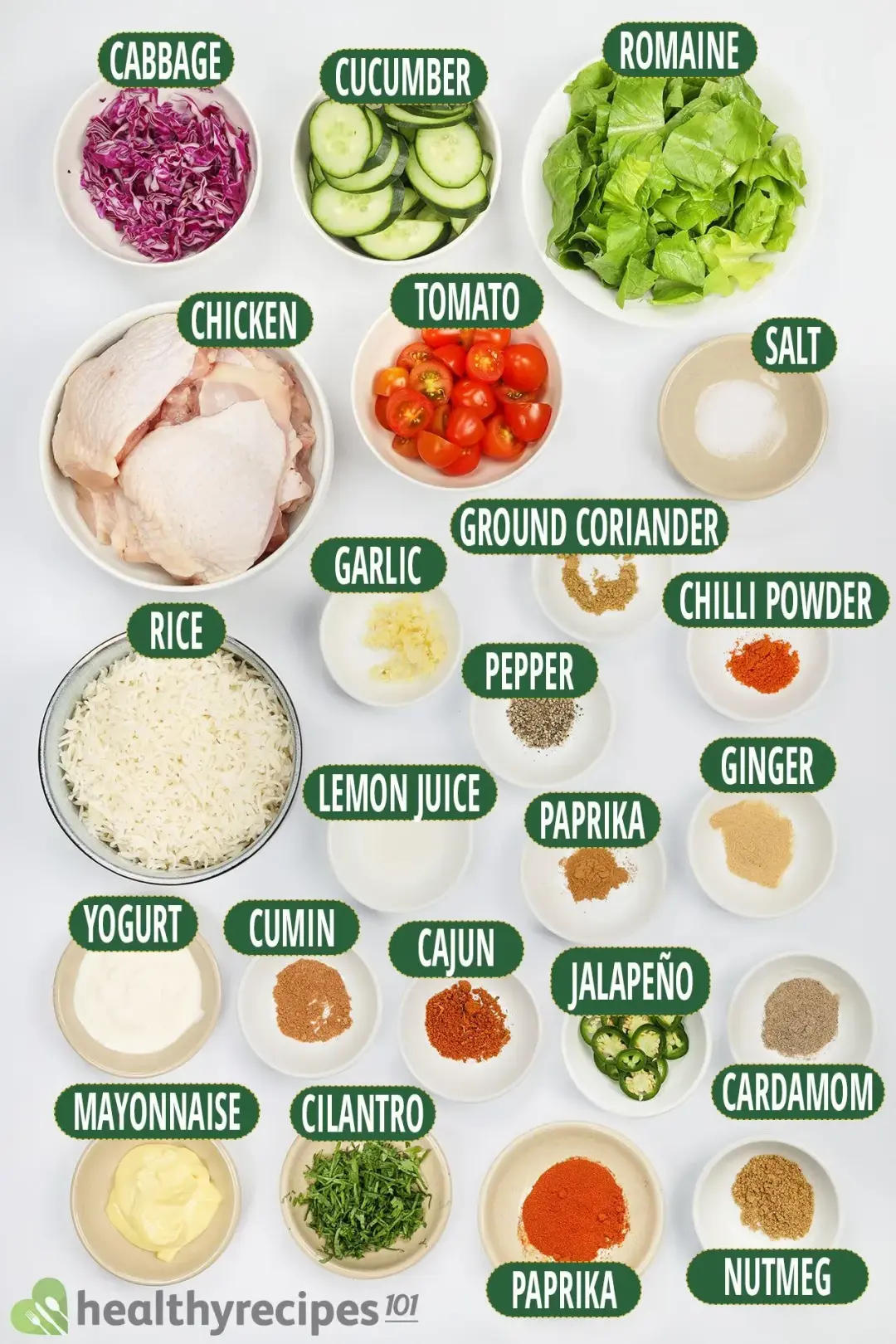 How to Make Air-Fried Chicken Shawarma
Once the meat is marinated, we air-fry it at 400°F for 17 minutes, skin-side up. It's then sliced and served with rice, vegetables, and our Greek yogurt sauce.
Here's the entire process: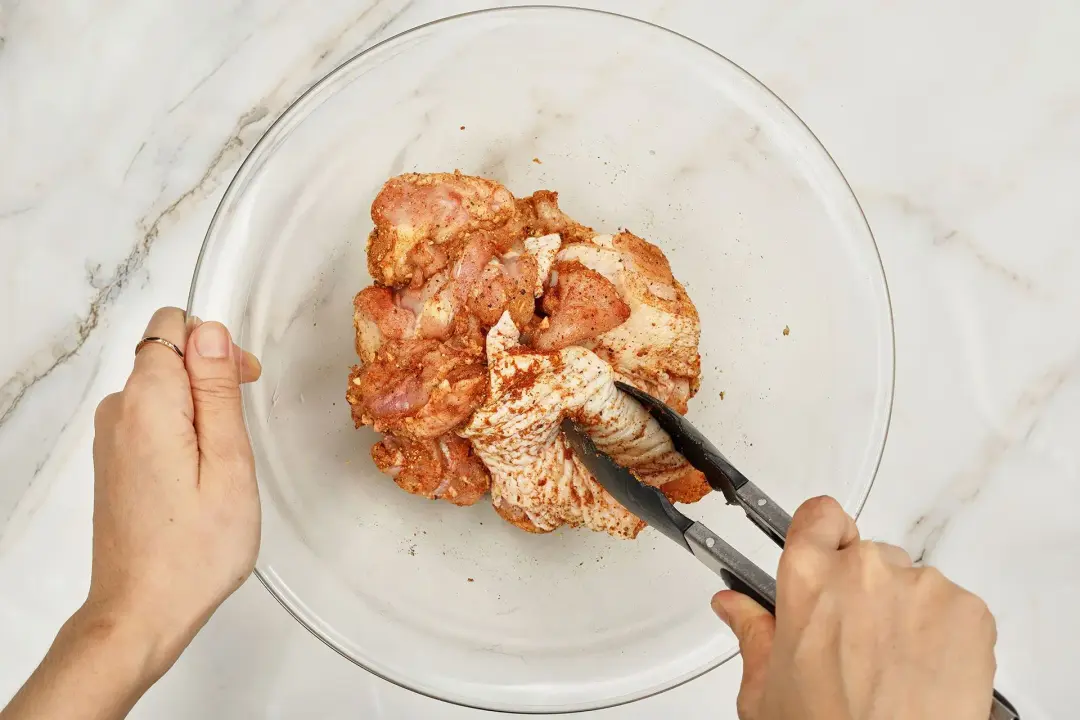 Marinate the meat.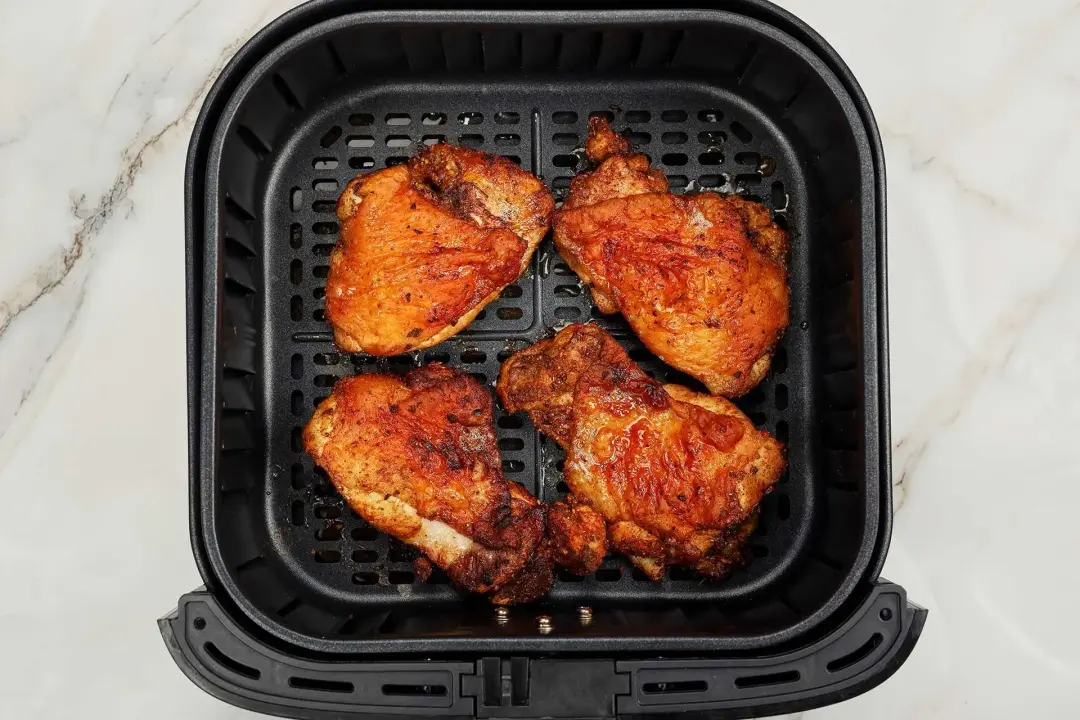 Air-fry it.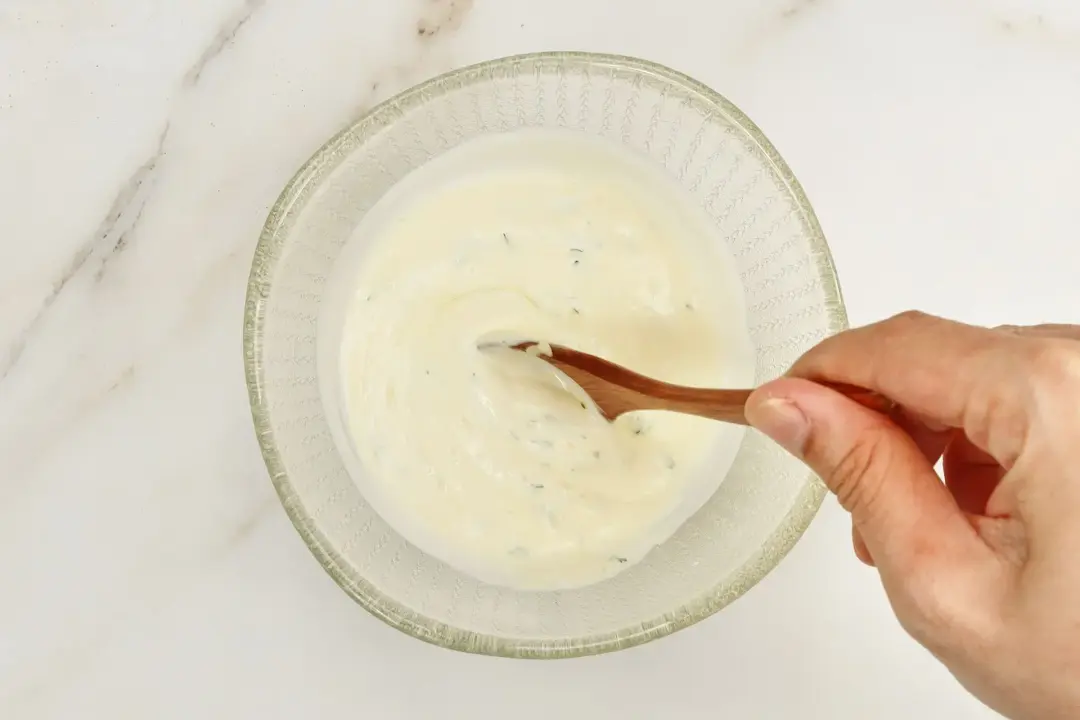 Make the sauce.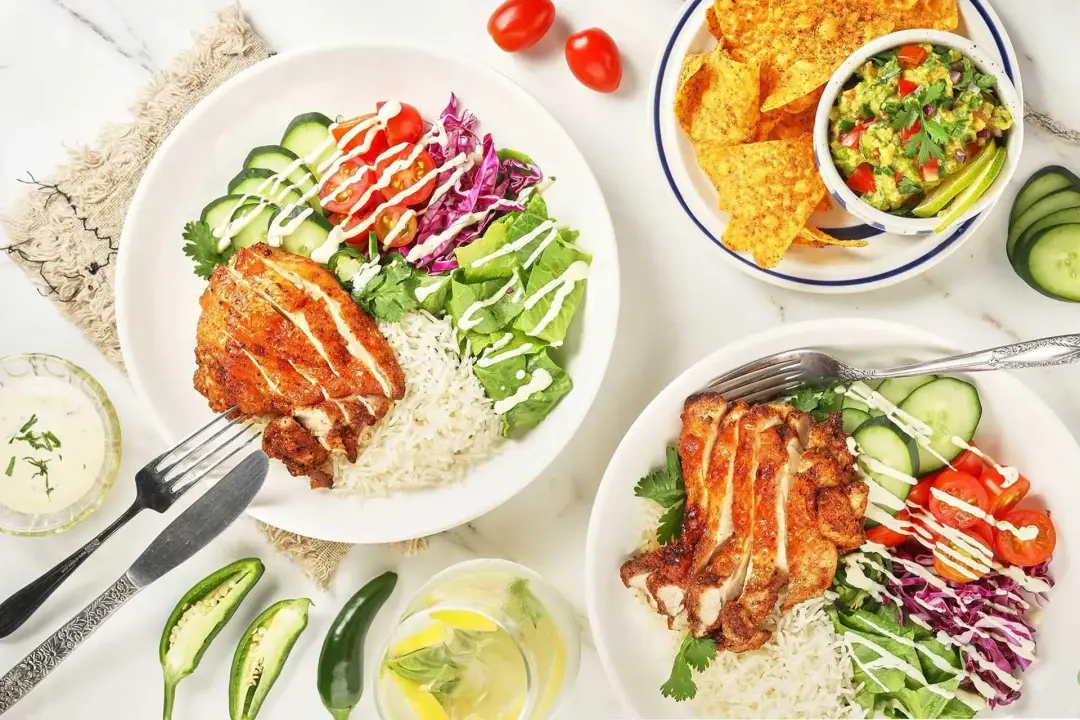 Serve with rice, veg, and drizzle the sauce over.
For the best results, follow our 'Air Fryer Chicken Shawarma Recipe' placed at the bottom of this article.
How to Store and Reheat Chicken Shawarma
Both the rice and cooked meat can be either refrigerated (for up to 5 days) or frozen (for up to 3 months). The sauce and vegetables, on the other hand, should be kept separately and in the fridge for 2 days only.
To minimize the chance of spoilage, seal the food to prevent air-borne bacteria from penetrating. This can be done by placing the food in air-tight containers, Ziploc bags, or wrapping it tightly with plastic wrap.
Different items need different reheating methods:
The chicken needs 5 minutes in the air fryer, or 10 if frozen.
The rice can be mixed with water (1 tbsp per serving) and then stirred over the stovetop for 5 minutes or microwaved for 2 minutes.
The veg and sauce can be used without reheating.
If possible, we suggest that you marinate and store a big batch, then only cook the portion(s) that you are going to eat in one sitting. We often place the servings for the week in the fridge, and the others in the freezer. This allows you to enjoy juicy meat every single time because reheating cooked meat takes away its unreplenishable moisture.
Side Dishes for Chicken Shawarma
What's missing from this wholesome meal is creaminess, so we figured guacamole to be a possible pairing, and we were right.
To cleanse the palate, we chose something with a refreshing simple taste – lemon water. Since the other two dishes are already 50 calories away from the recommendation, this low-calorie drink is the perfect choice.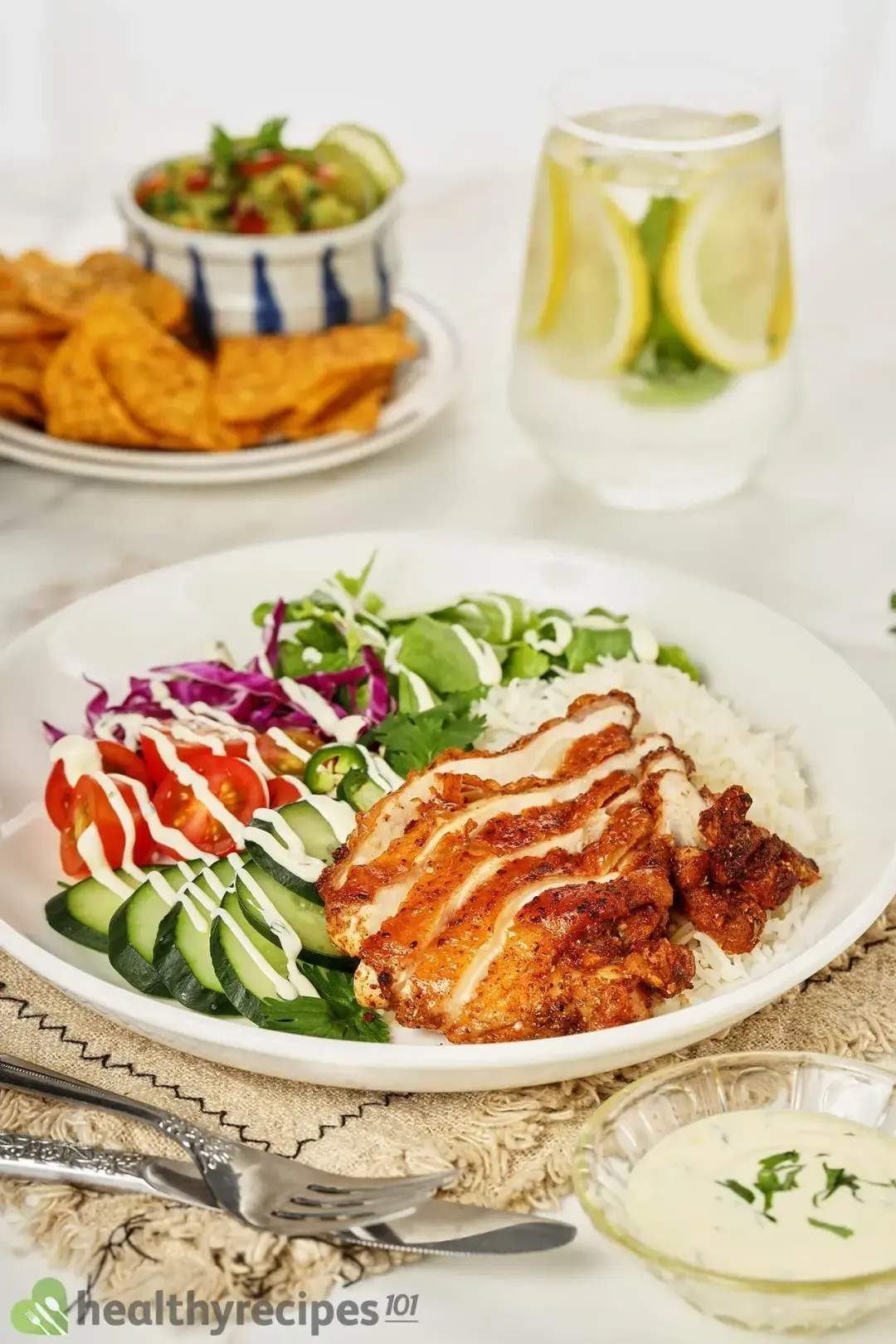 Air Fryer Chicken Shawarma Recipe
With plenty of hands-off cooking time, this air fryer chicken shawarma recipe is an easy way to recreate this iconic takeaway at home.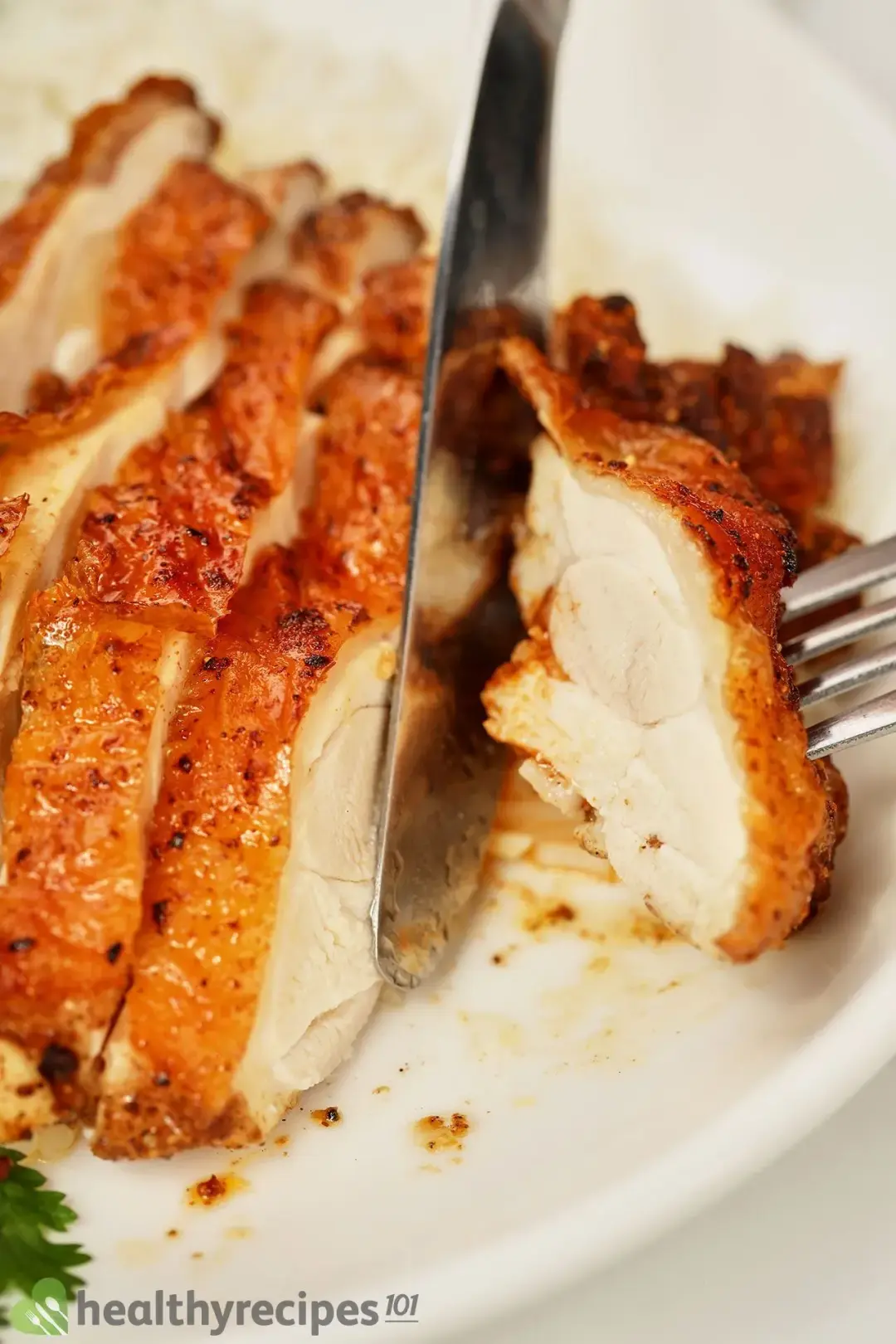 cook TIME

17 mins

prep TIME

8 mins

total TIME

25 mins
COURSE

Main Course

CUISINE

Middle East

SERVINGS

servings

CALORIES

494 kcal
INGREDIENTS
16 oz

boneless skin-on chicken thighs

1 tbsp

garlic (minced)

1 tsp

Cajun seasoning

1 tsp

paprika

0.5 tsp

ground ginger

0.5 tsp

cardamom

0.5 tsp

ground black pepper

0.5 tsp

ground coriander

0.5 tsp

salt

0.5 tsp

lemon juice

0.3 tsp

cinnamon

0.3 tsp

cumin

0.3 tsp

nutmeg

0.3 tsp

chili powder

2 tbsp

plain Greek yogurt

2 tbsp

Japanese mayonnaise

2 tbsp

coriander (julienned)

6 oz

cucumber (sliced)

4 oz

cherry tomato (halved)

2 oz

romaine (roughly chopped)

1 oz

red cabbage (shredded)

0.5 oz

jalapeño (thinly sliced)

2.8 cups

cooked basmati rice (from 1 cup rice)
INSTRUCTIONS
1
Season 16 oz boneless chicken thighs with 1 tbsp garlic, 1 tsp Cajun, 1 tsp paprika, 1/2 tsp ground ginger, 1/2 tsp cardamom, 1/2 tsp black pepper, 1/2 tsp ground coriander, 1/2 tsp salt, 1/2 tsp lemon juice, 1/4 tsp cinnamon, 1/4 tsp cumin, 1/4 tsp nutmeg, and 1/4 tsp chili powder. Set aside to marinate for about 5 minutes.
2
Air-fry at 400°F for 17 minutes.
3
Meanwhile, make the drizzling sauce by combining 2 tbsp Greek yogurt, 2 tbsp Japanese mayo, and 2 tbsp finely chopped coriander.
4
Cut the chicken into strips. Serve with the vegetables and rice (6 oz cucumber, 4 oz cherry tomatoes, 2 oz romaine lettuce, 1 oz red cabbage, 0.5 oz jalapeño, and 2 3/4 cups of basmati rice).
NUTRITION
Nutrition Facts
Air Fryer Chicken Shawarma Recipe
Amount Per Serving (1 serving)
Calories 494
Calories from FDA
% Daily Value*
* Percent Daily Values are based on a 2000 calorie diet.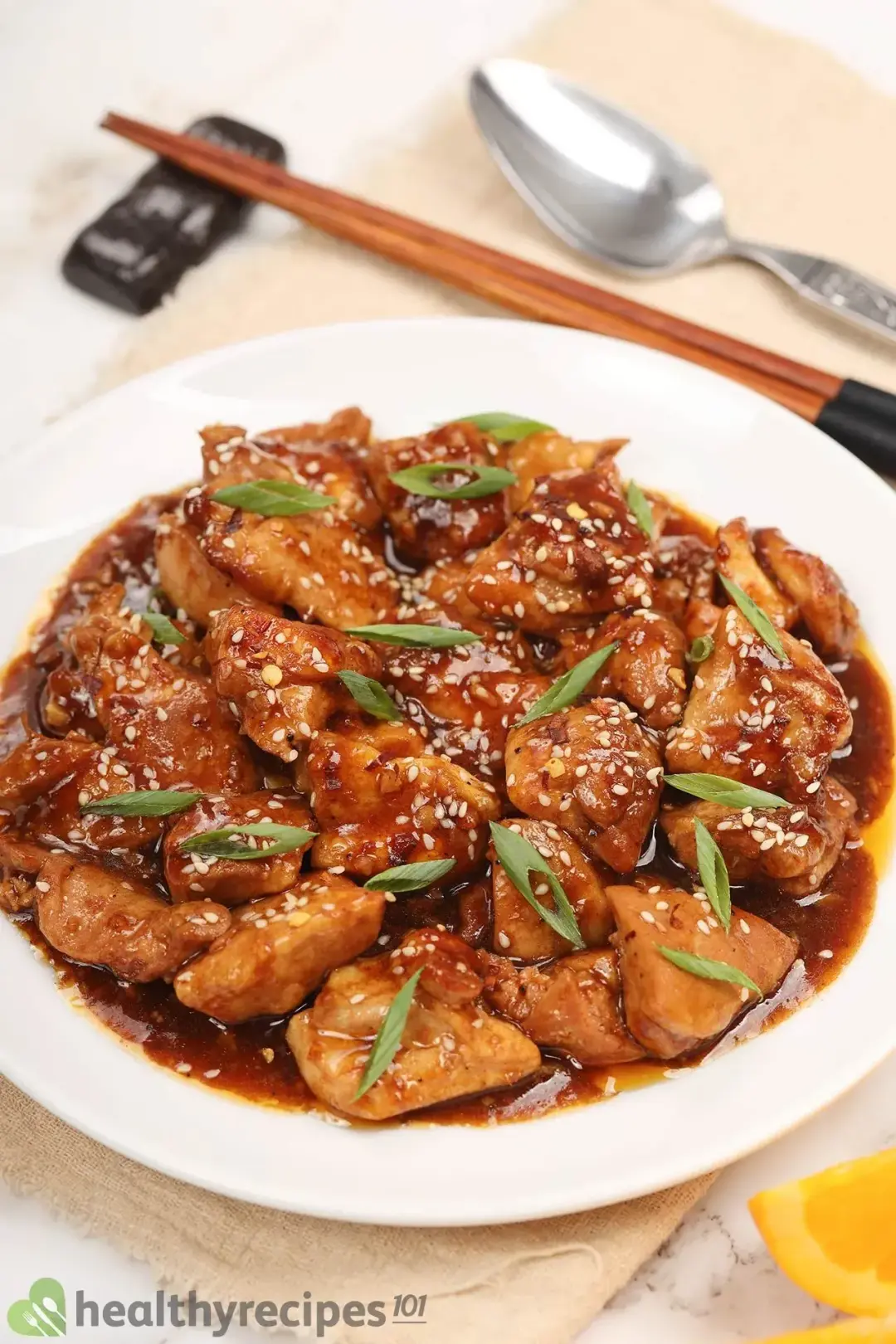 Previous Recipe
Air Fryer Orange Chicken
Air Fryer Orange Chicken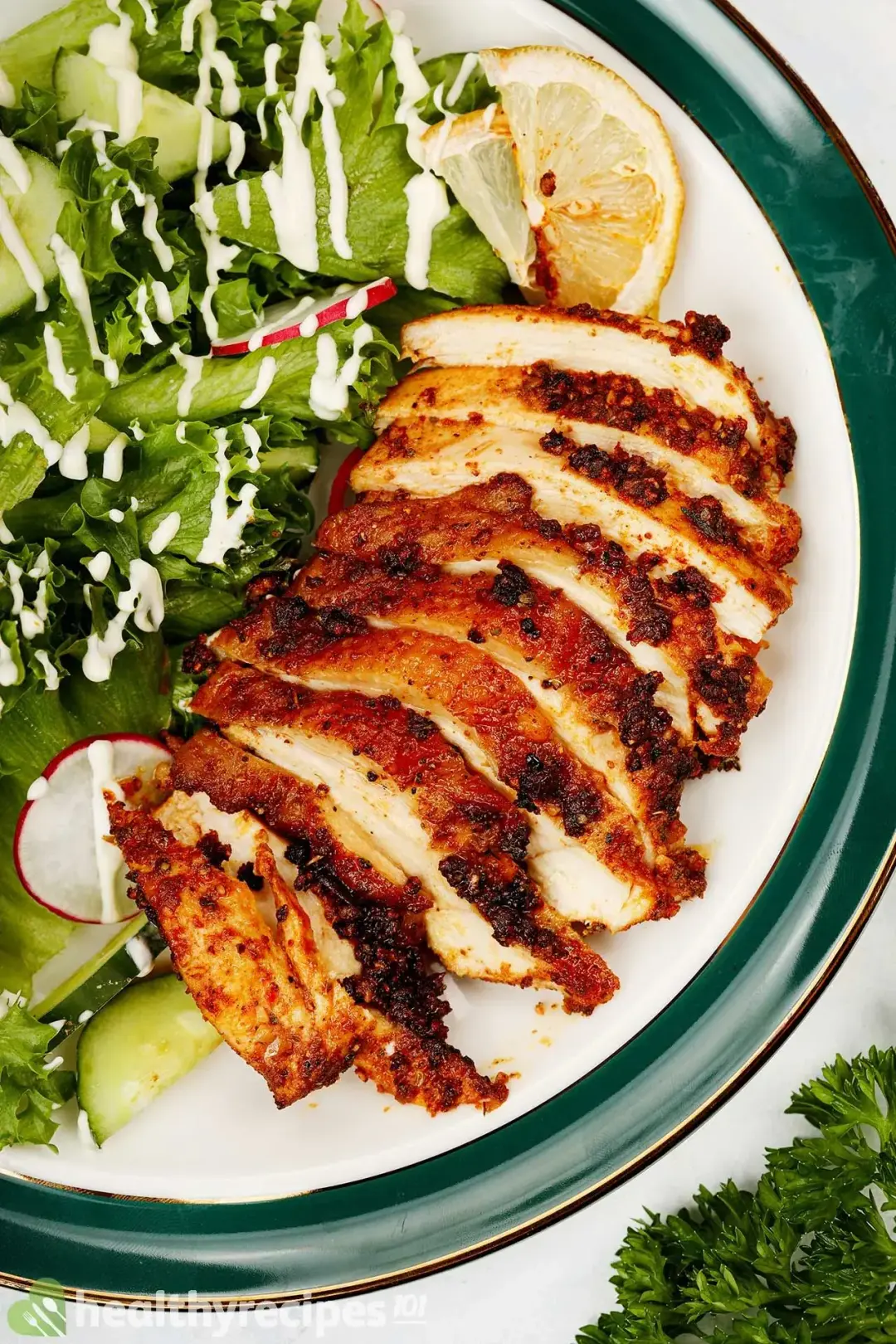 Next Recipe
Air Fryer Blackened Chicken
Air Fryer Blackened Chicken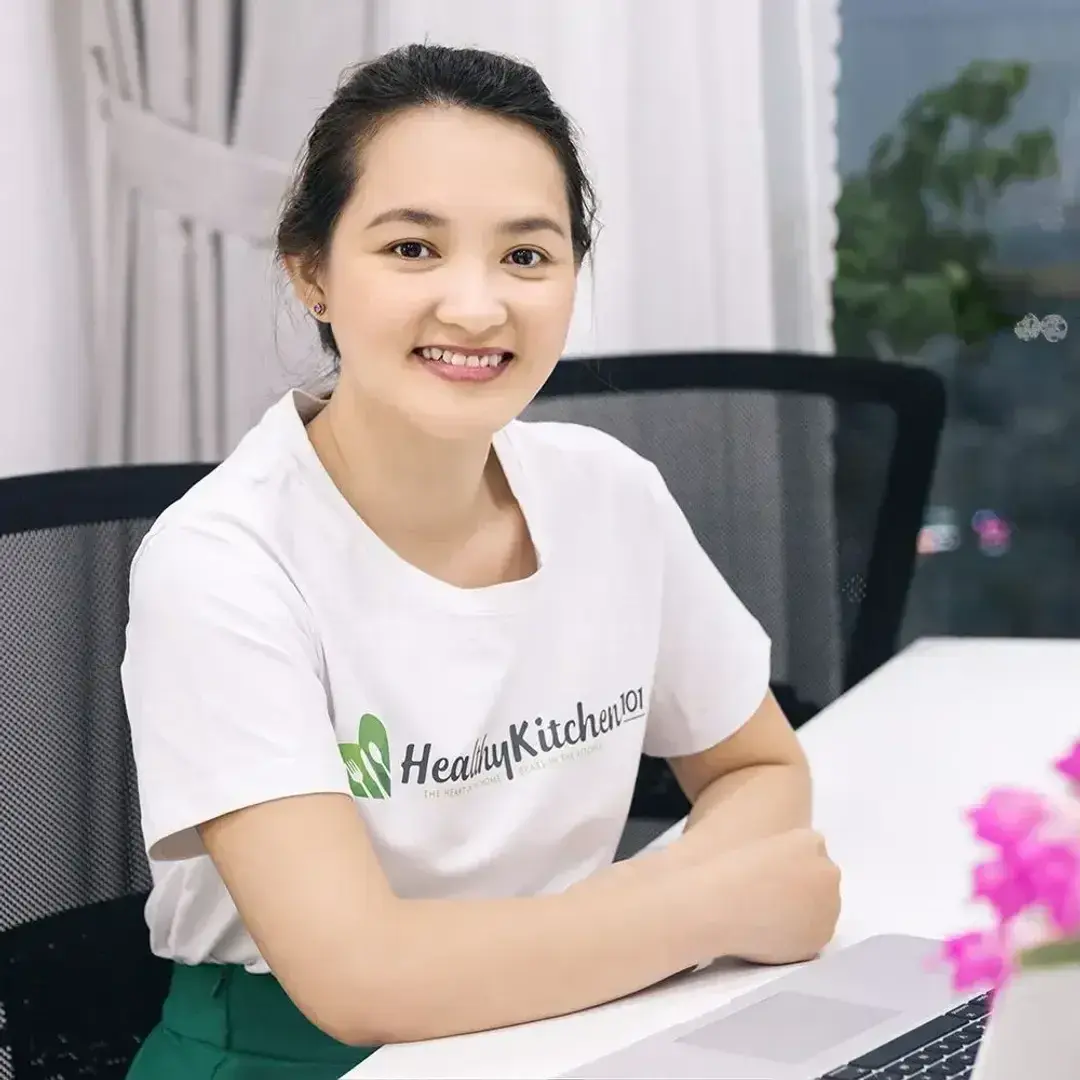 Founder
Luna Regina is an accomplished writer and author who dedicates her career to empowering home cooks and making cooking effortless for everyone. She is the founder of HealthyKitchen101.com and HealthyRecipes101.com, where she works with her team to develop easy, nutritious recipes and help aspiring cooks choose the right kitchen appliances.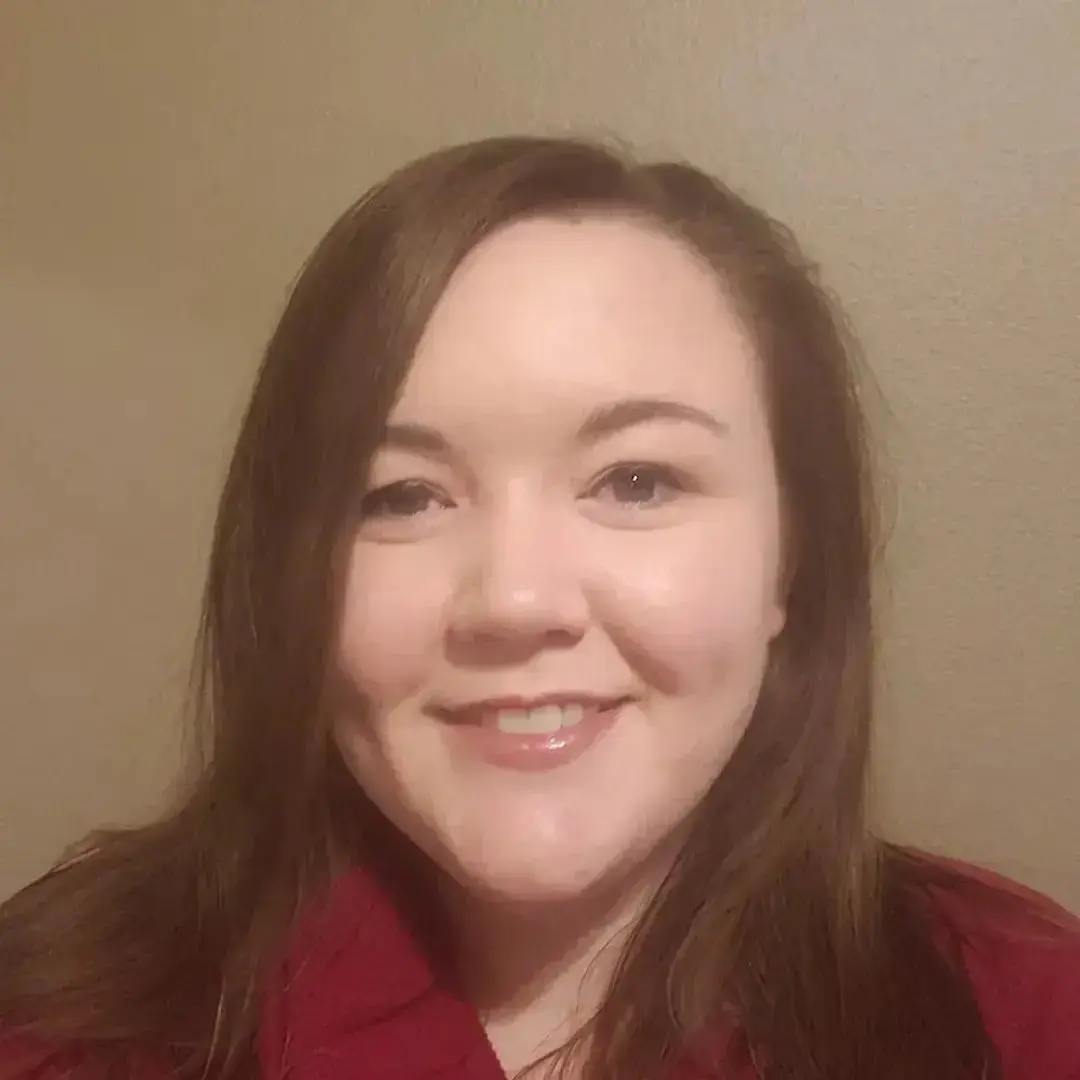 Nutrition Reviewer
SaVanna Shoemaker is a registered dietitian and freelance health and wellness writer. She's passionate about whole food-based eating and holistic nutrition, and uses her platform to help people embrace real food and reduce their sugar and processed food intake. Her work has appeared on Healthline, Greatist, Livestrong, Verywell Health, and more. In her free time, she enjoys gardening, reading, cooking, and weight lifting.
Comments/ Reviews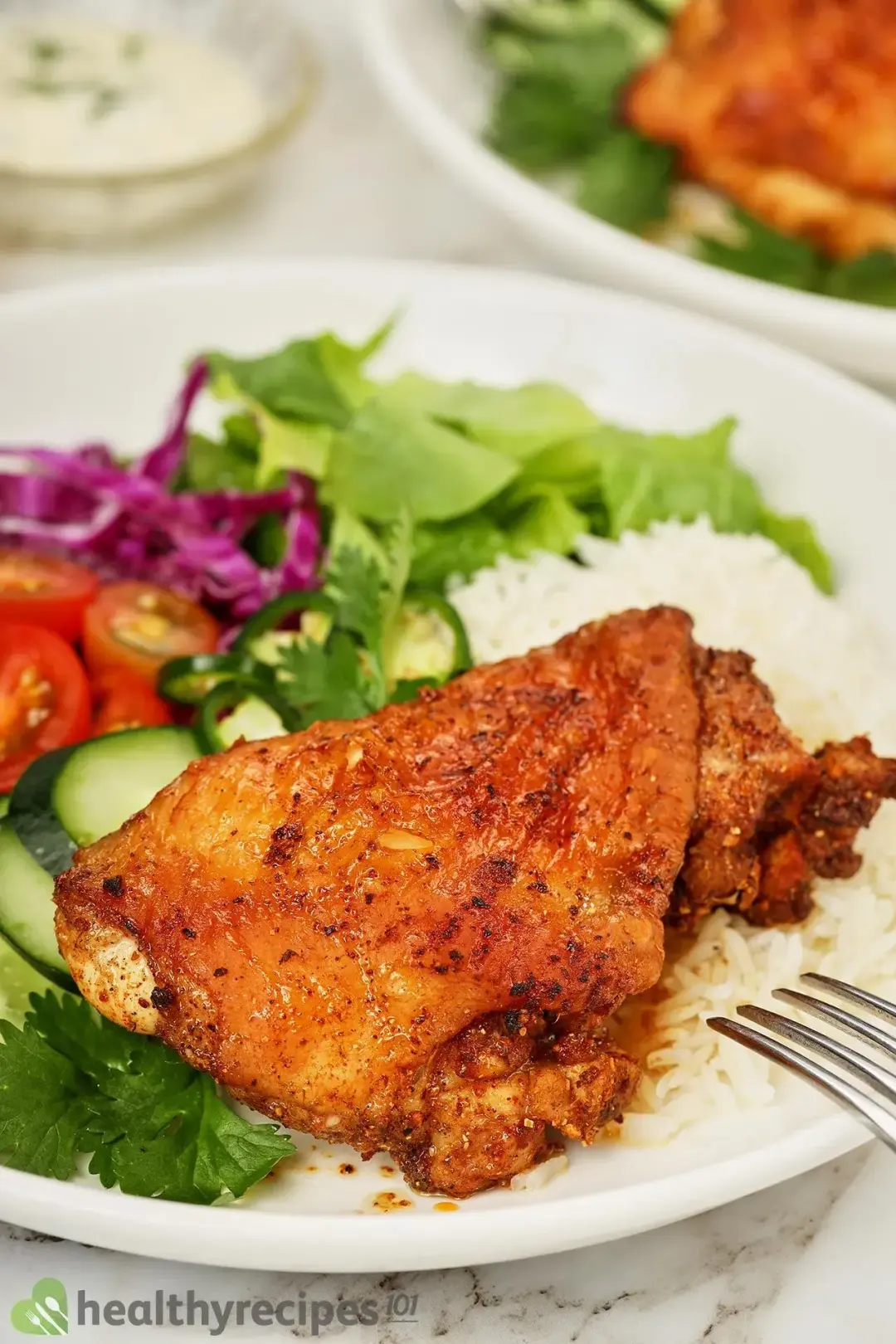 Air Fryer Chicken Shawarma Recipe