Effortless and comforting, this chicken couscous recipe is the ideal choice for all your weeknight meals. Layered with fluffy couscous, hearty chicken, and lightly crunchy veggies, it brings gorgeous flavors and textures that melt right onto your taste buds. Everything comes together in around 20 minutes, giving you a quick dish that guarantees to impress every time.
What Does Couscous Taste Like?
Couscous, contrary to popular belief, is not a type of whole grain but rather pasta made from semolina and wheat flour. It's a North African staple that's used in multiple cuisines, thanks to its ability to pair with almost everything—meats, vegetables, fruits, and legumes.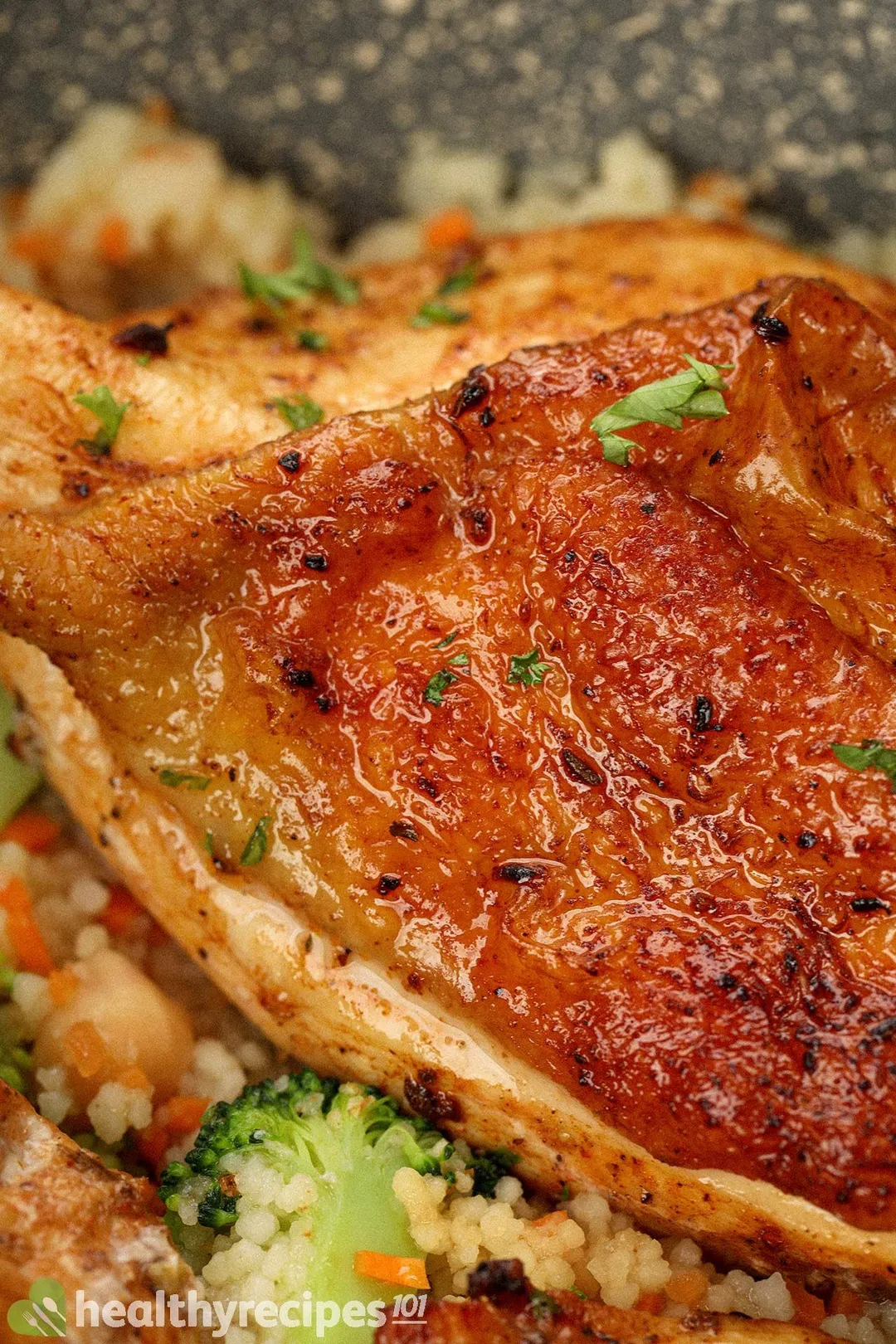 Generally speaking, couscous has a pretty mild flavor, with a sweet and nutty undertone. Texture-wise, it ranges from tender and fluffy to slightly chewy and coarse—depending on the variety. There are three main ones that you can check out:
Moroccan couscous: This is the smallest variety. Because of its size, it cooks quite quickly. It has a soft nutty taste and a deliciously fluffy texture, making it an ideal choice for various salads and other light meals.
Israeli couscous: Also known as pearl couscous, this variety is medium-sized and orb-shaped. It has a more pronounced taste than Moroccan couscous, accompanied by a chewy yet still slightly tender texture.
Lebanese couscous: This is the largest out of the three. Its large size means it can absorb more flavors as well as offer a rich nutty taste of its own. This type of couscous is quite coarse and chewy, so if you like a textured mouthfeel, go for this one.
Main Ingredients
You won't have too much trouble gathering ingredients for this chicken couscous. Almost everything comes straight from the pantry, and you can easily find the couscous at the grain or pasta aisle in the supermarket or certain specialty stores.
Chicken: We used boneless chicken breasts for this recipe. Since the meat would be air-fried, we kept the skin on to give it that delectably crispy brown skin. Remember to pat these meat cuts dry to prevent the excess moisture from affecting the browning process.
Spices: The chicken was seasoned with black pepper, paprika, garlic powder, and Cajun seasoning. These robust spices infuse the meat with slightly spicy and peppery flavors, making it much more exciting to eat.
Couscous: We went with dried Moroccan couscous, but you can use any other variety that you like. Don't forget to check the packaging to adjust the cooking time accordingly.
Vegetables: We kept things simple and only used broccoli and carrots for this dish. They have a firm texture that would hold up well when simmered with couscous.
Chickpeas: For more texture and a nutty taste, we also included some chickpeas.
Herbs: Since the couscous and veggies are all relatively mild, we sprinkled in some parsley and thyme to kick things up a notch. It's not overwhelming, but you can still taste the aromatic hints peeking through as you eat this dish.
Chicken Broth: This is what the dried couscous is simmered in, to bring a little warmth to the dish and gives the pasta that chicken scent that ties in with the actual meat.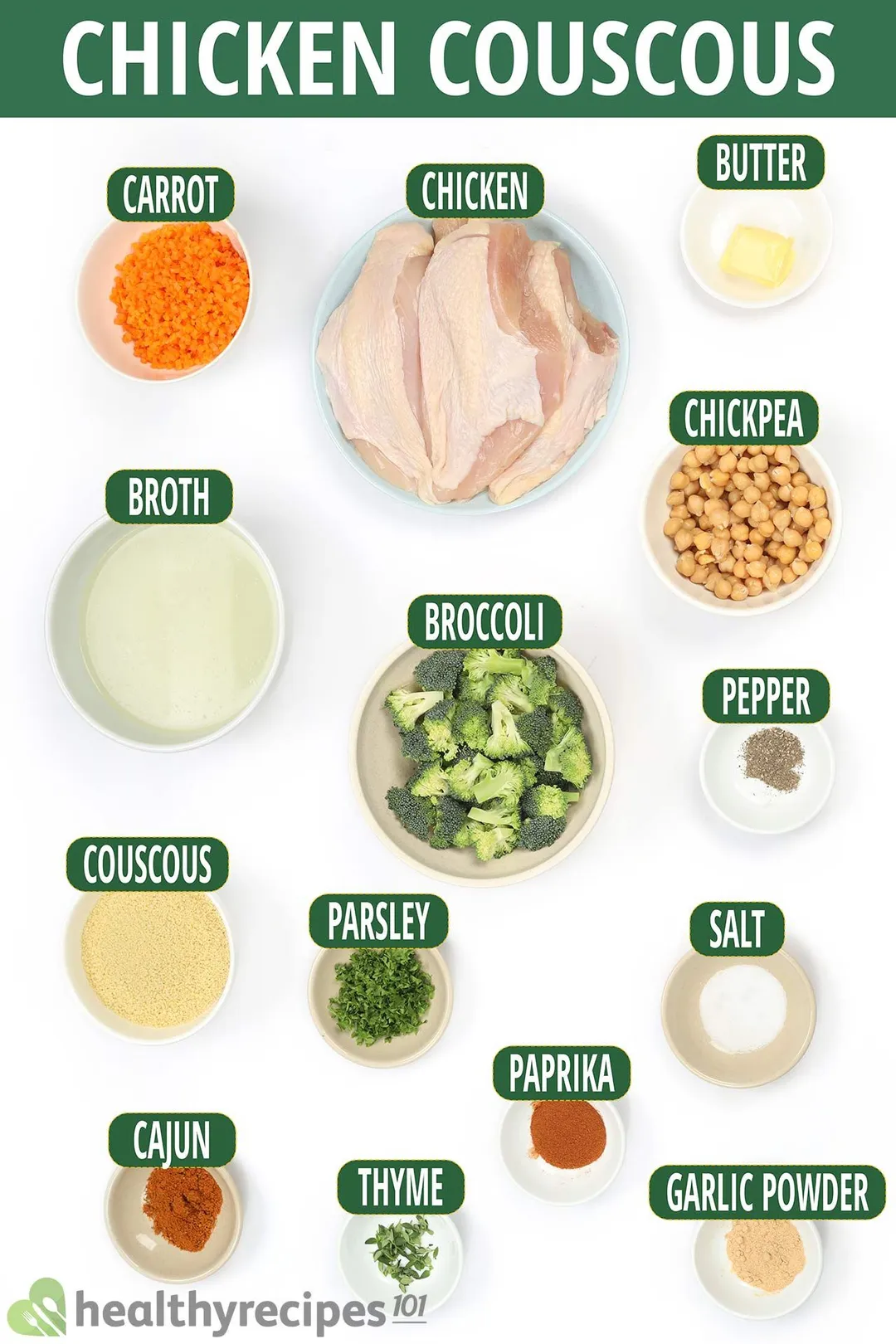 Is Our Recipe Healthy?
With carefully selected and portioned ingredients, we believe this chicken couscous is a relatively healthy choice for your everyday meal. Each serving comes with approximately 499 calories, 6.4 g saturated fat, and 580 mg sodium—all of which adhere to the limit set by our nutrition guidelines.
Furthermore, since chicken is the main ingredient, this dish is loaded with lean protein—providing around 43 g per serving. Lean protein comes with various health benefits, including muscle-building, maintaining a healthy weight by keeping you full longer, and reducing the risk of cardiovascular disease.
We paired the chicken with broccoli, chickpeas, and carrots. Altogether, these ingredients help to increase the dish's nutritional value by adding fiber, folate, niacin, vitamins A and C, calcium, potassium, magnesium, and many other essential nutrients.
How to Store and Reheat
This chicken couscous can last for up to 3 days when kept in airtight containers in the fridge. It can be frozen for around 3 months. If possible, keep the couscous and chicken separated to preserve their textures. You can defrost it overnight in the fridge or immerse it in water until thawed.
To reheat, put it in the microwave for around 1 minute or give it a quick stir on the stovetop. You can add a little bit of butter to loosen up the texture if it appears to have dried up. 
What to Serve With
This chicken couscous makes a fantastic main course for almost any meal. You can pair it with one of the following side dishes to serve up a cozy dinner for everyone to enjoy: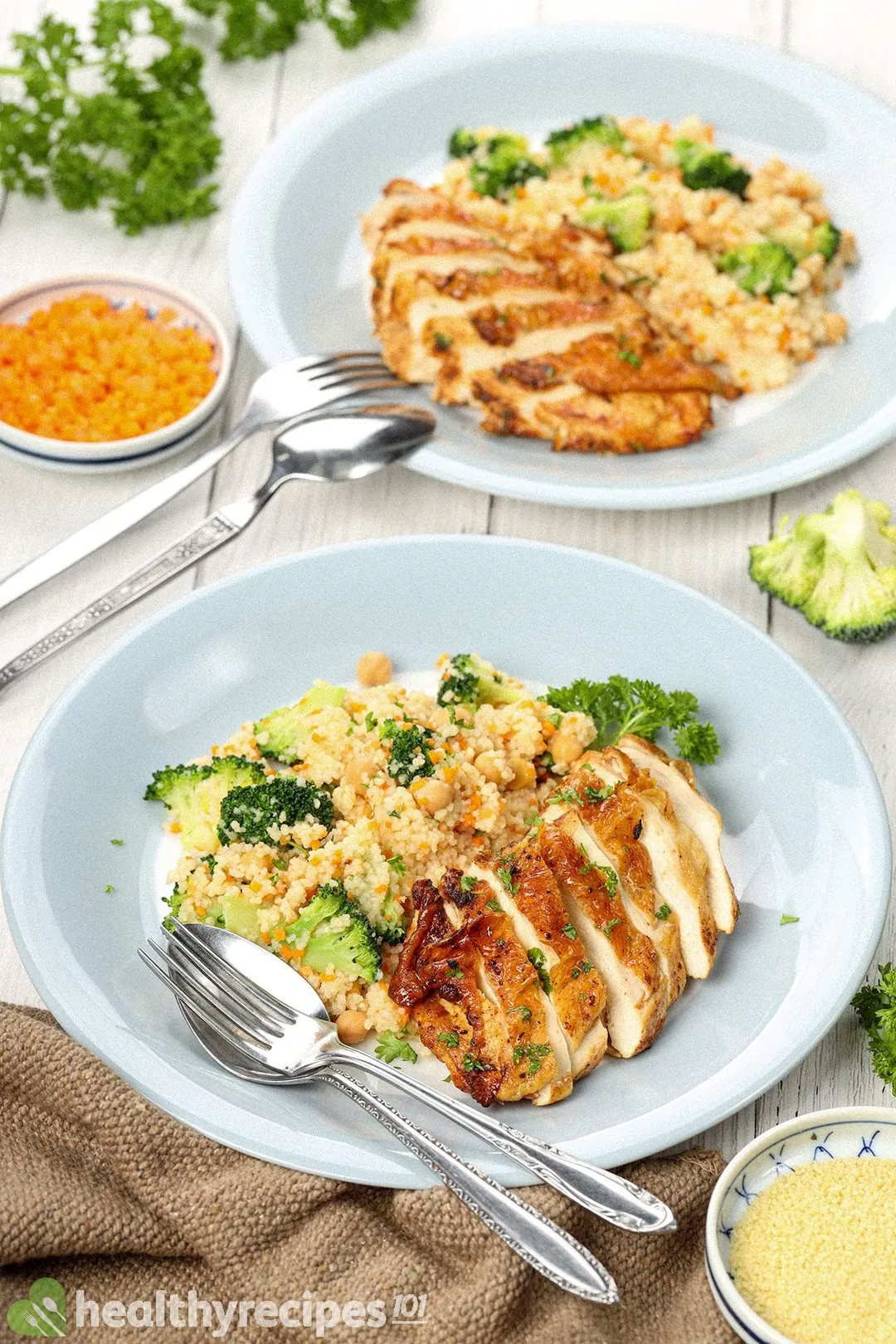 Spice Things up With These Chinese Chicken and Rice
Sticky and fragrant of sesame, this easy skillet is just what you need for a simple and quick meal. It can also double as a wrap with some lettuce and julienned carrots.
Or try cashew chicken, a guilty pleasure of mine. It's simple and quick to prepare, and every bite has a variety of textures: nutty cashews, tender chicken, and crunchy peppers in a savory and sweet sauce.
Chicken Couscous
This chicken couscous recipe is the ideal choice for all your weeknight meals. It features fluffy couscous, hearty chicken, and lightly crunchy veggies. Everything comes together in around 20 minutes, giving you a quick dish that guarantees to impress every time.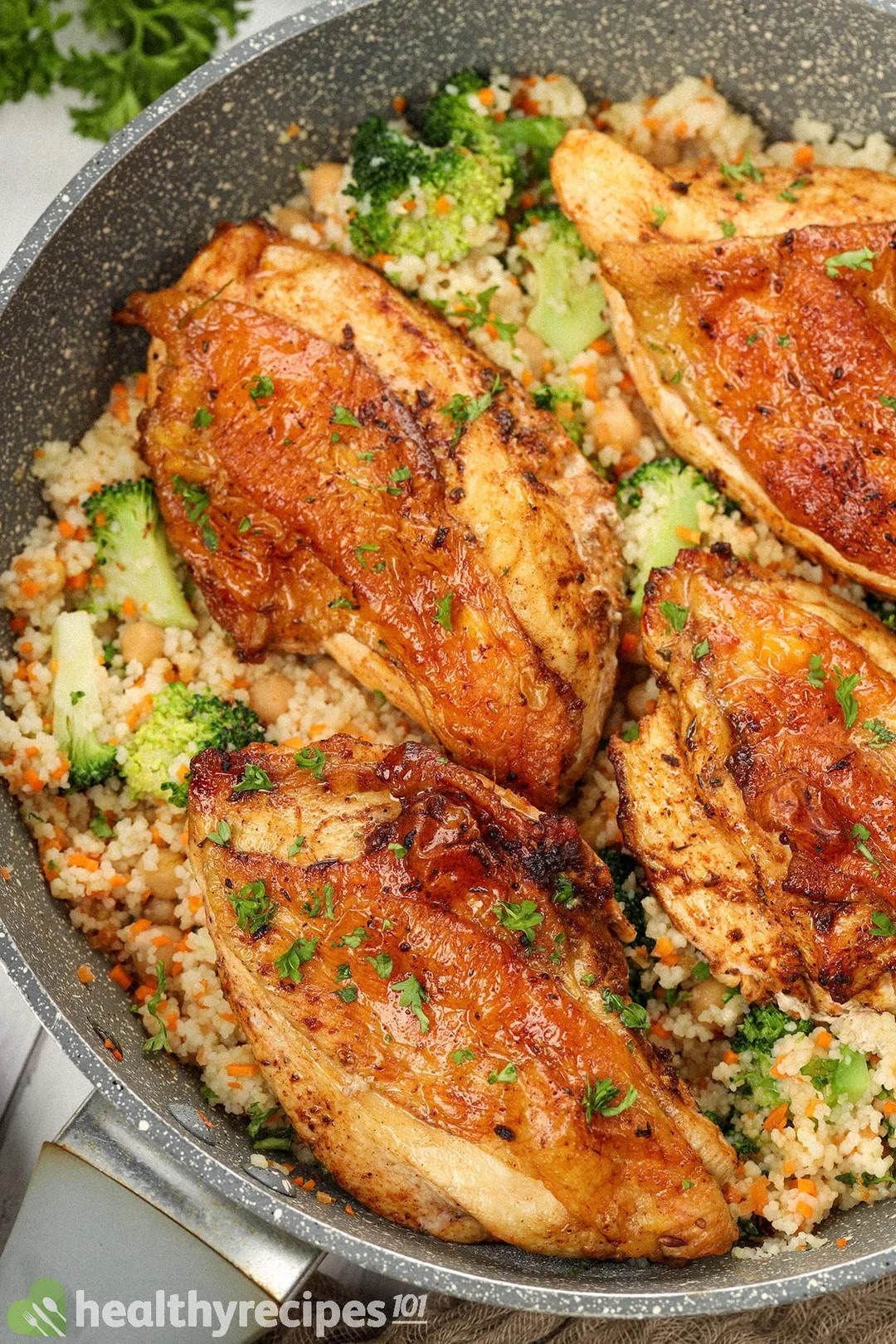 cook TIME

15 mins

prep TIME

5 mins

total TIME

20 mins
COURSE

Main Dish

CUISINE

American

SERVINGS

CALORIES

499 kcal
INGREDIENTS
24 oz

boneless chicken breast

4 oz

broccoli

(florets separated)

1/4 cup

parsley

(chopped)

1 1/2 cups

unsalted chicken broth

1/4 tsp

ground black pepper

1 1/2 tsp

Cajun seasoning
INSTRUCTIONS
Prep:
1
Prepare the Chicken: Use paper towels to pat the chicken dry.
2
Cut the Broccoli: With a small paring knife, cut off the florets then continue slicing them in half lengthwise.
3
Chop the Herbs: Gather the leaves and thinly slice them. Rock the knife over the sliced pile a few times until they are finely chopped.
4
Dice the Carrot: Cut and discard the ends then remove the skin with a peeler. Cut the carrot crosswise into thirds then thinly slice each of them lengthwise. Stack the pieces and continue slicing them lengthwise into matchsticks. Gather the sticks and slice them downward into fine pieces.
Cook:
1
Butterfly the Chicken: Slice 24 oz boneless chicken breast in half from the side using a sawing motion, but leave about 1/4 inch so the separated sides are still connected.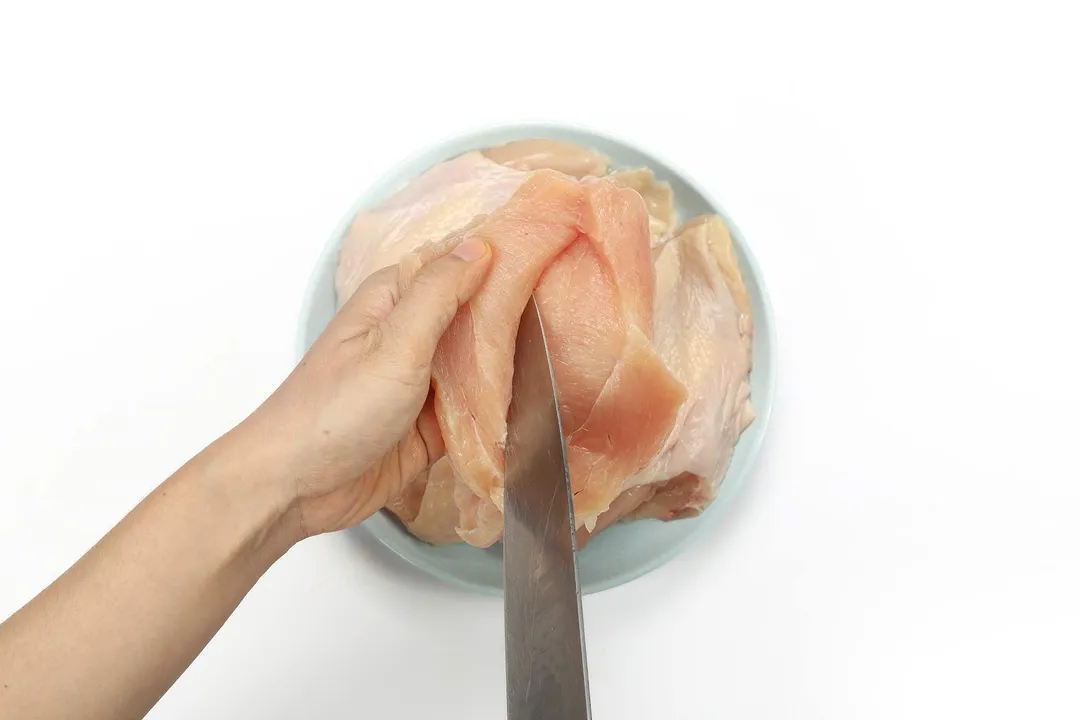 2
Season the Chicken: Dry-rub 1/4 tsp ground black pepper, 1 1/2 tsp Cajun seasoning, 1/2 tsp paprika, and 1 tsp garlic powder all over the chicken. Make sure to include the butterflied insides as well.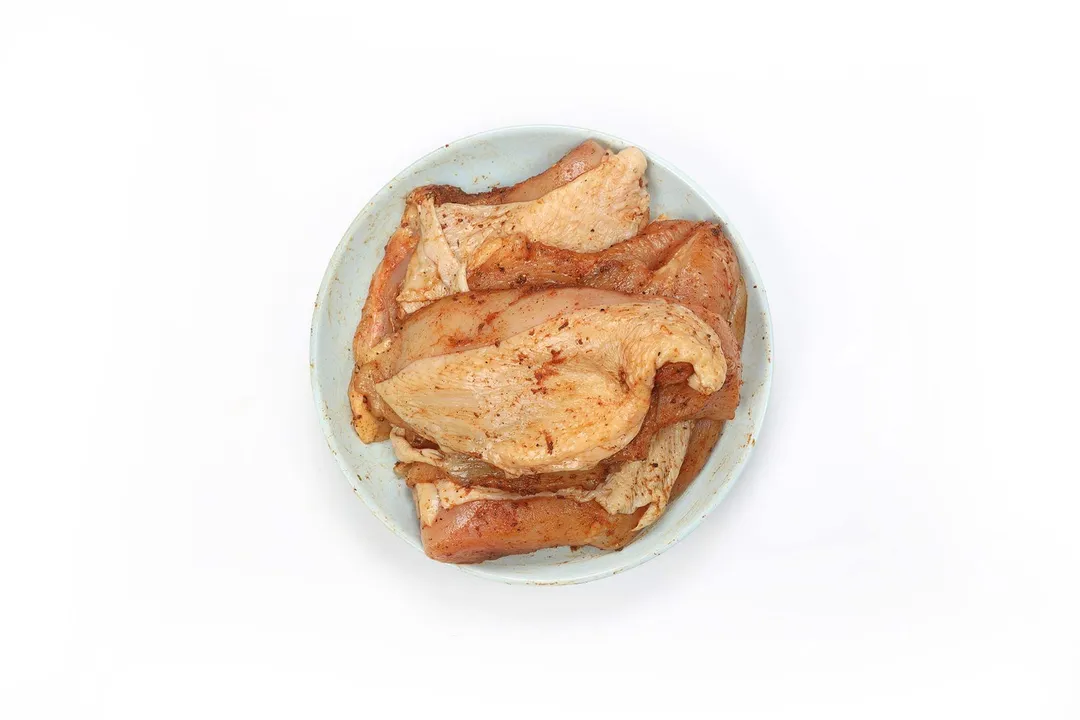 3
Air-fry the Chicken: Lay the seasoned chicken into the air-fryer basket and air-fry at 400 °F for 15 minutes.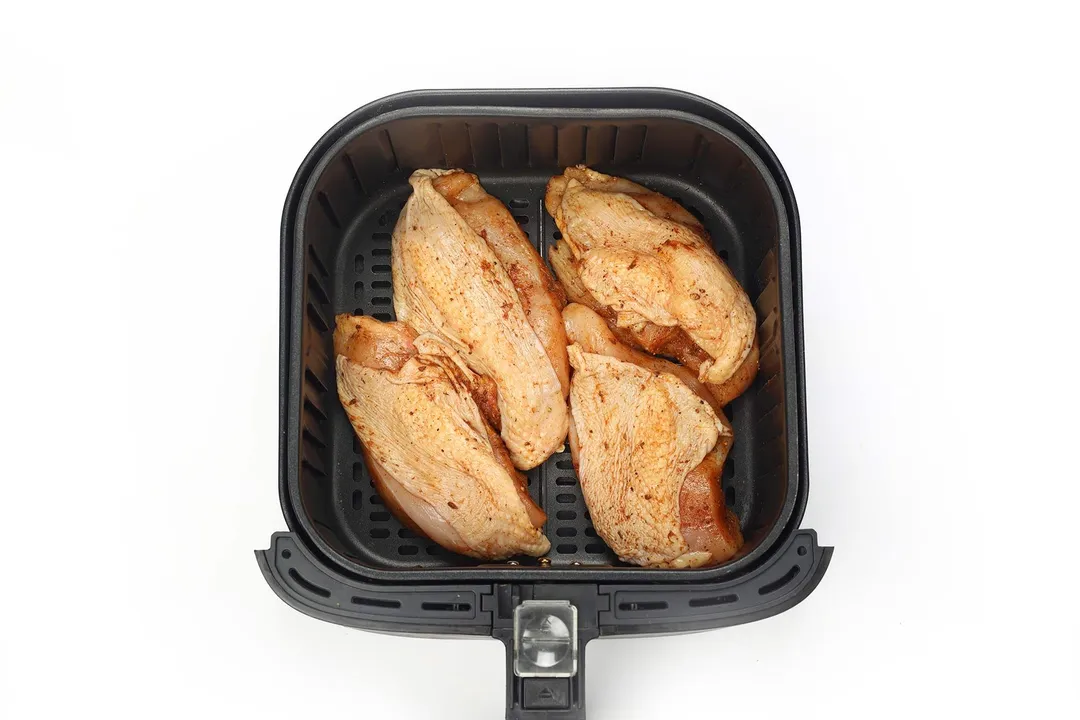 4
Cook the Chicken Broth: In a pan over medium heat, add 1 1/2 cups unsalted chicken broth, 1/2 tsp salt, 1 tbsp unsalted butter, 1 tsp garlic powder, and 1 tsp thyme, bring to a boil then lightly stir to mix them together.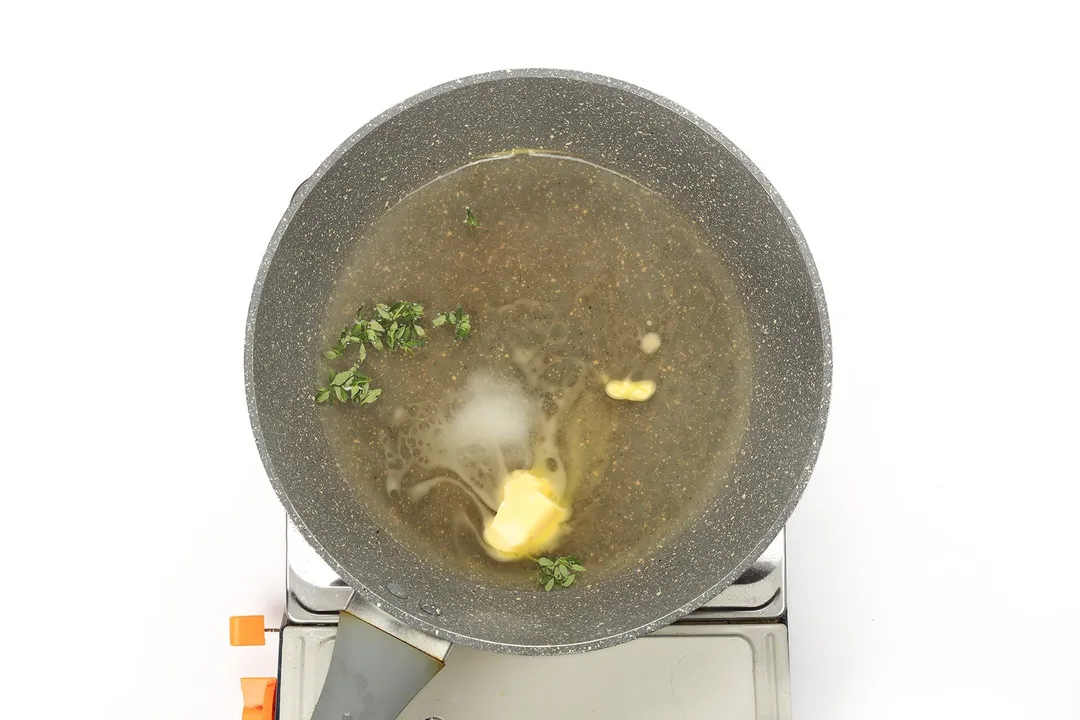 5
Add the Broccoli: Add 4 oz broccoli to the pan and cook for 1 minute.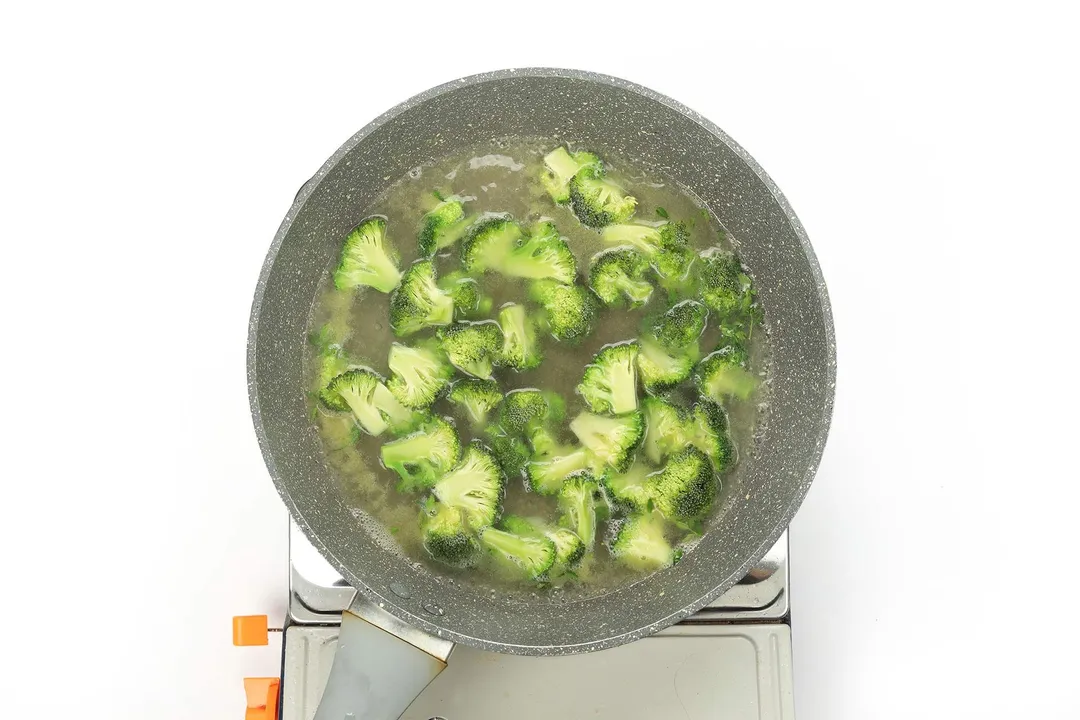 6
Add the Remaining Ingredients: Continue adding 5 oz dried couscous, 4 oz canned chickpeas, and 1 oz carrot to the pan. Wait for them to boil then close the lid and turn off the heat. Wait for around 10 minutes for the couscous to expand and become fluffy.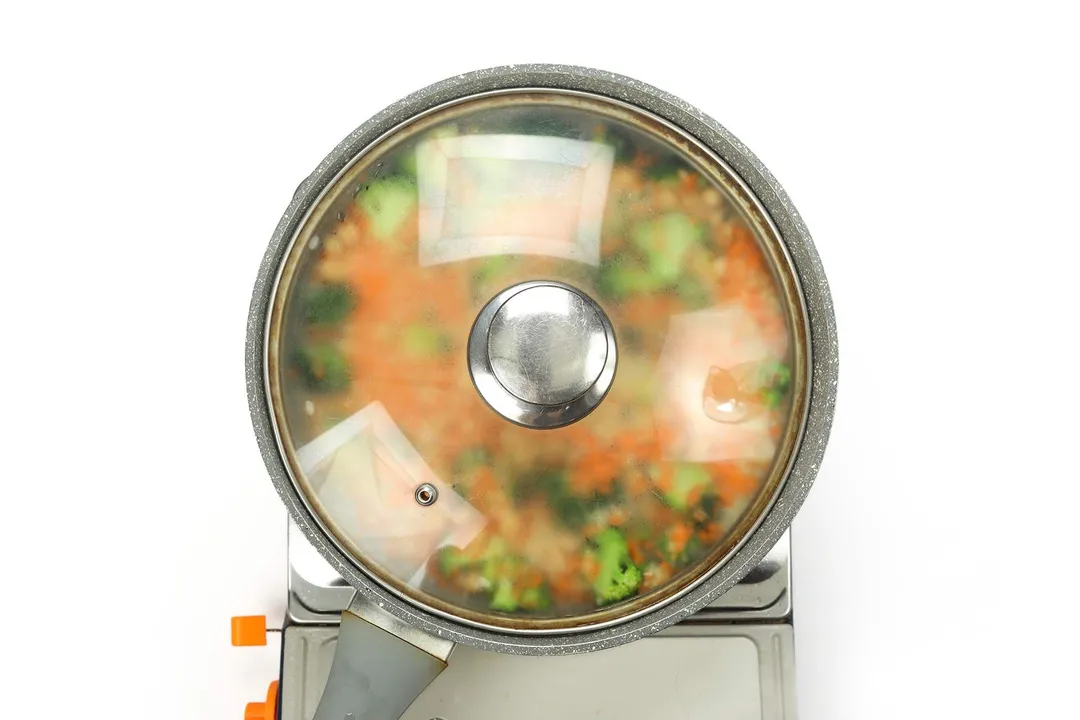 7
Garnish and Serve: Transfer the couscous and the cooked chicken onto serving plates, garnish with 1/4 cup parsley, and enjoy.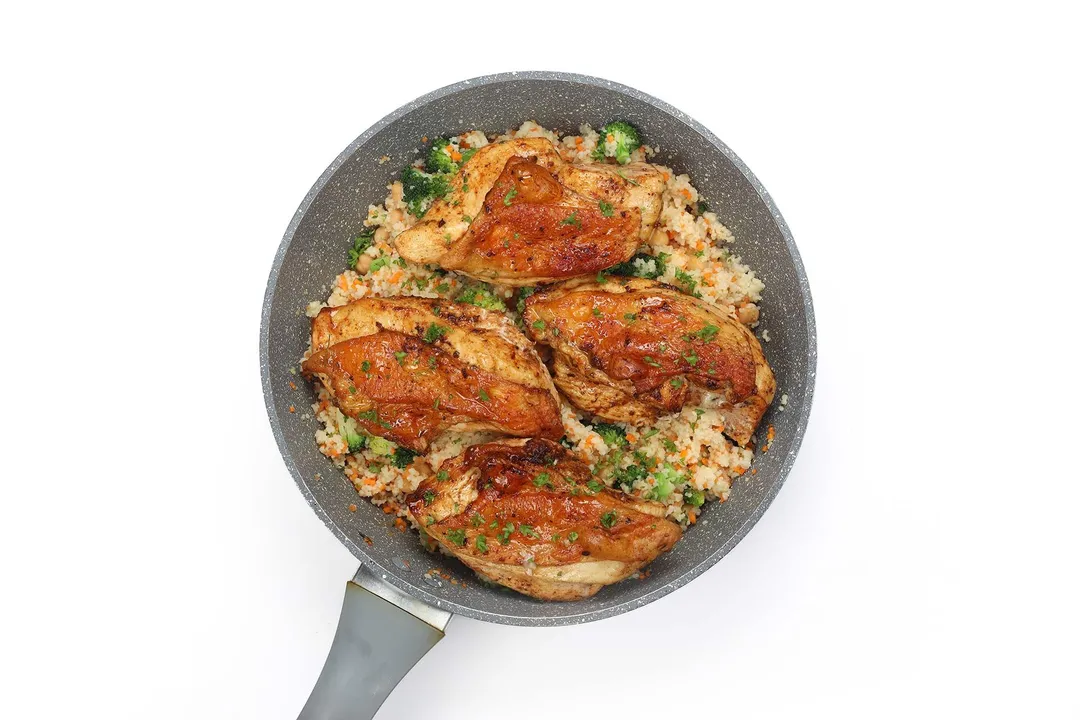 NUTRITION
Nutrition Facts
Chicken Couscous
Amount Per Serving (1 serving)
Calories 499
Calories from Fat 176
% Daily Value*
* Percent Daily Values are based on a 2000 calorie diet.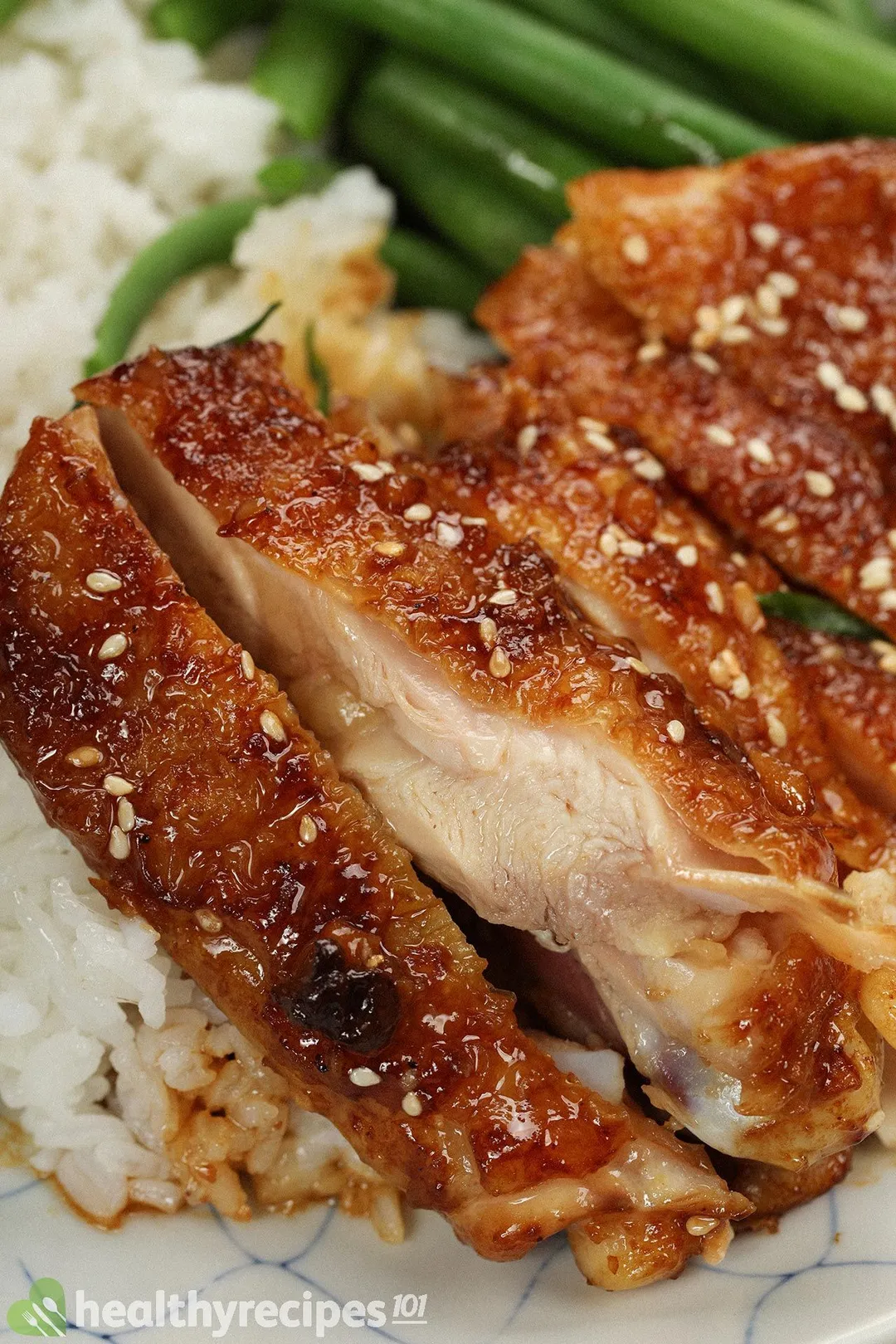 Previous Recipe
Miso Chicken
Miso Chicken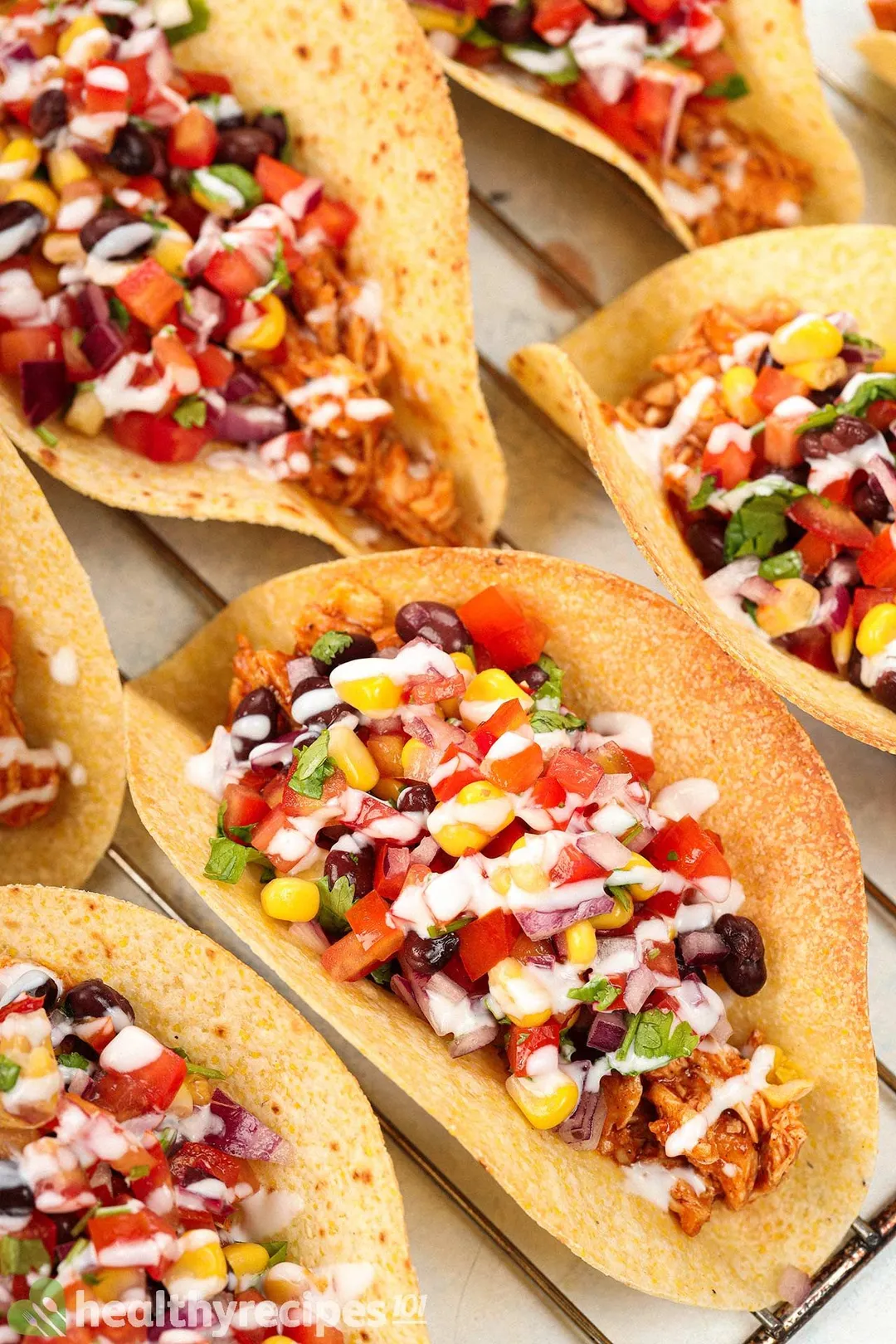 Next Recipe
BBQ Chicken Tacos
BBQ Chicken Tacos
Head Chef, Culinary Consultant
Tuyet Pham is an award-winning Saigonese chef who believes that joy is the secret ingredient to delicious food. At Healthy Recipes 101, Tuyet personally tests and simplifies every recipe, ensuring maximum flavor with minimal effort. With a background at prestigious French restaurants P'TI Saigon and Le Corto, Tuyet knows how to make every dish exceptional.
Writer, Author
Luna Regina is an accomplished writer and author who dedicates her career to empowering home cooks and making cooking effortless for everyone. She is the founder of HealthyKitchen101.com and HealthyRecipes101.com, where she works with her team to develop easy, nutritious recipes and help aspiring cooks choose the right kitchen appliances.
Chicken couscous is a healthy and satisfying dish perfect for any meal.