You can find chow fun dishes in almost every Chinese diner but today we're showing you how to make your own with this chicken chow fun recipe.
Stir-fried chicken and rice noodles are iconic items in Cantonese cuisine. They are packed with flavors, easy to make, and customizable. Try out this recipe and you'll find out why this dish stands out in Hong Kong's diverse food scene.
What's the Difference Between Chicken Chow Fun and Chicken Chow Mein?
Chow fun and chow mein are both very popular Cantonese dishes. They both involve stir-frying noodles with chicken, vegetables, and sauce. The key difference between them is the type of noodles used.
Chow mein uses egg noodles, while chow fun requires rice noodles. These two types of noodles are different in more ways than one.
Appearance-wise, egg noodles are yellow and thinner, while rice noodles are thicker, wider, and white. In terms of texture, egg noodles are more elastic and rice noodles are softer.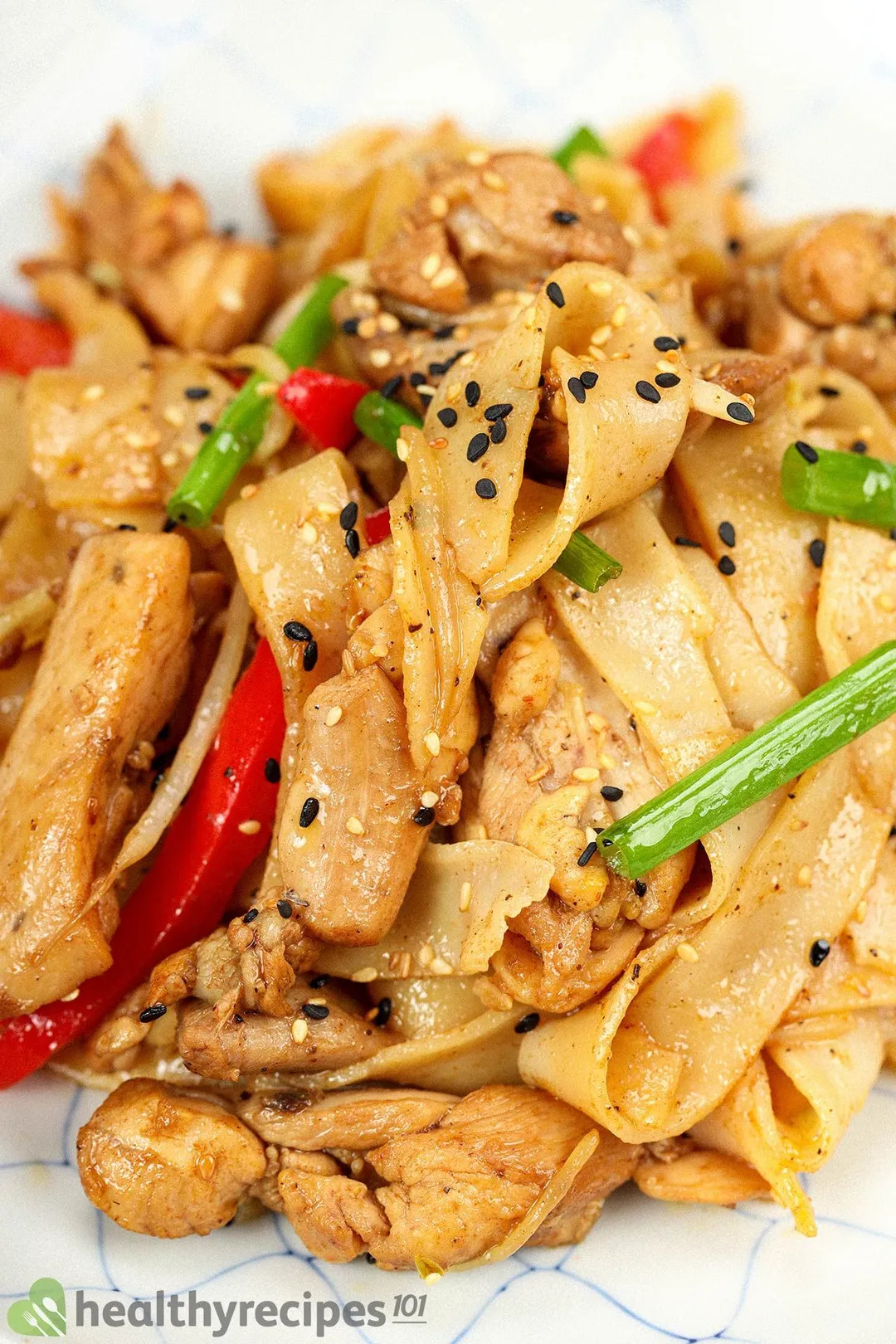 Is Our Recipe Healthy?
Yes, chicken chow fun is healthy.
Despite the amount of oil used in the recipe, there are only 489 calories and 3.1 g of saturated fat in each serving of this dish, which are within the limits of our nutrition guidelines. Also, this dish only contains 586 mg sodium per serving.
Chicken thighs and mushrooms combine for 23.1 g of protein per serving. Bell peppers and mung bean sprouts provide the fiber, vitamins, and minerals.
Ingredients
We chose skinless and boneless chicken thighs for this recipe for their tenderness. There is no particular rule on which cut of chicken you should go for, so you can also make this dish with chicken breasts.
Chicken thighs are cooked with a little paprika to add more taste or color to the meat.
White and silky-smooth rice noodles will give you a brand-new experience. They only have a slight sweetness from the rice, so you can experiment with different seasonings to find your favorite sauce for it.
In this recipe, we're going with the usual suspects in South Asian cuisine. Soy sauce for its signature umami flavor, hoisin sauce for its saltiness, sesame oil for the fragrance, and Sriracha and black peppers for some heat.
Mushrooms and bean sprouts are the two main vegetables of this recipe. White mushrooms are common in Western cuisines, while bean sprouts aren't. 
Bean sprouts and rice noodles are inseparable. In most dishes with rice noodles, they are often added to balance the soft texture with their crunchiness.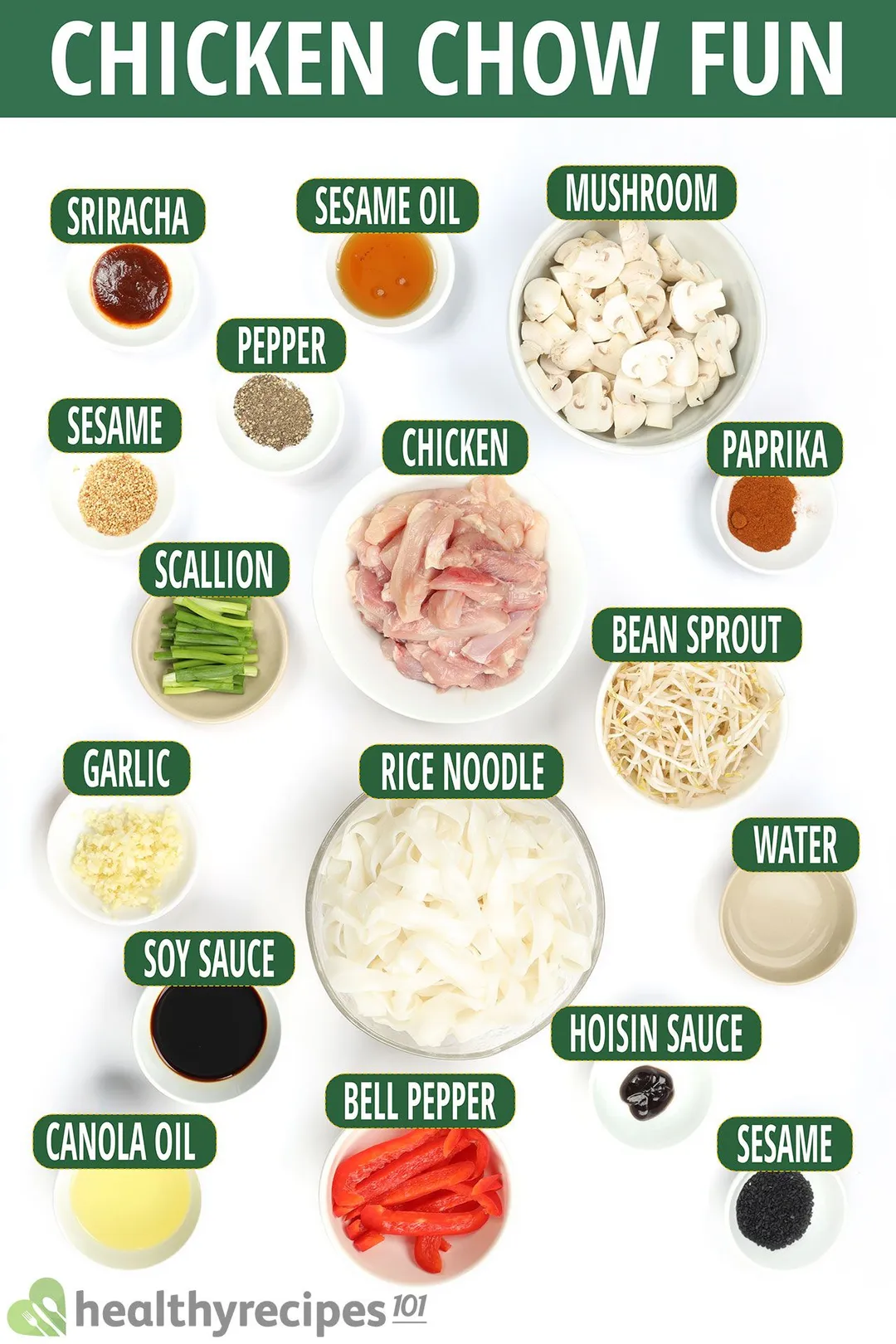 We add scallions and two types of sesame seeds as garnish.
Both black and white sesame seeds are nutty, but black sesame has a bolder flavor. Also, the contrasting colors provide a wonderful aesthetic for the dish.
What Kind of Noodle Works Best?
There are two variations of rice noodles: fresh and dried. Fresh rice noodles require a shorter cooking time as you only need to blanch them before cooking.
On the other hand, dried rice noodles are more convenient and can stay in your pantry longer.
Both versions will be just fine so you should go with the more accessible one to you.
How to Store and Reheat Leftovers
Chicken chow fun should last for 3 to 4 days in the fridge and up to 2 months in the freezer. Make sure to store the leftovers in airtight containers or freezer bags to ensure that the noodles don't lose their texture when thawed.
You can reheat the dish in a skillet over low heat until warm or use the microwave.
What to Serve With
These are our favorite Asian-themed side dishes to serve with chicken chow fun.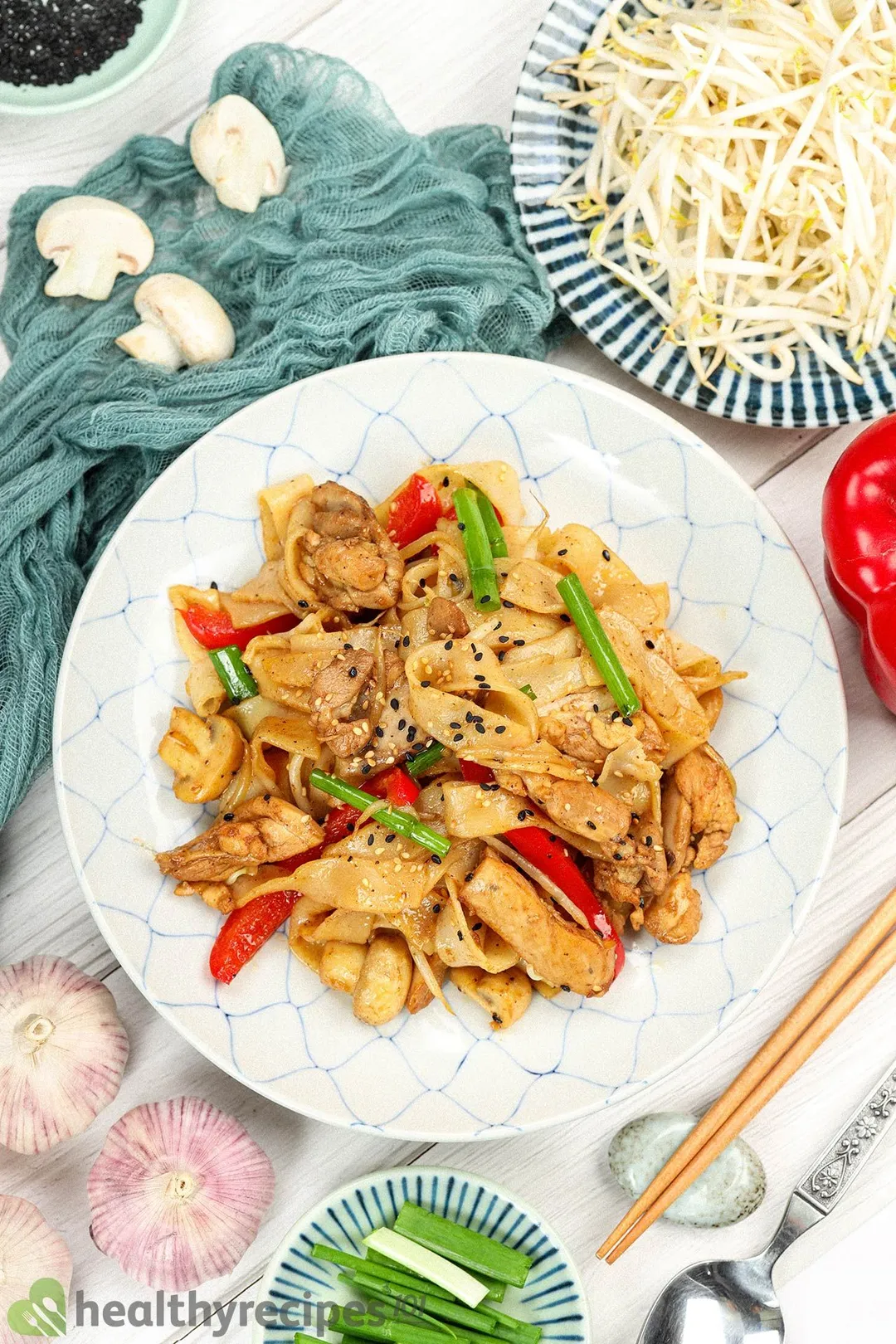 More Chicken Pasta Recipes for You to Try
This chicken lasagna recipe offers a comforting creamy dish with light flavors and not that much grease. We have layers of savory ground chicken, fresh spinach, luscious milk sauce, and melted cheese all put together, then baked to perfection and served.
Fettuccine, grilled chicken breasts, and steamed cauliflower. The pictures look pretty dry; things must have been left for too long of a photoshoot, but the fettucine was perfect: al-dente pasta swimming in sauce.
Chicken Chow Fun
This chicken chow fun recipe brings you a Hong Kong classic with stir-fried rice noodles and chicken in a flavorsome sauce.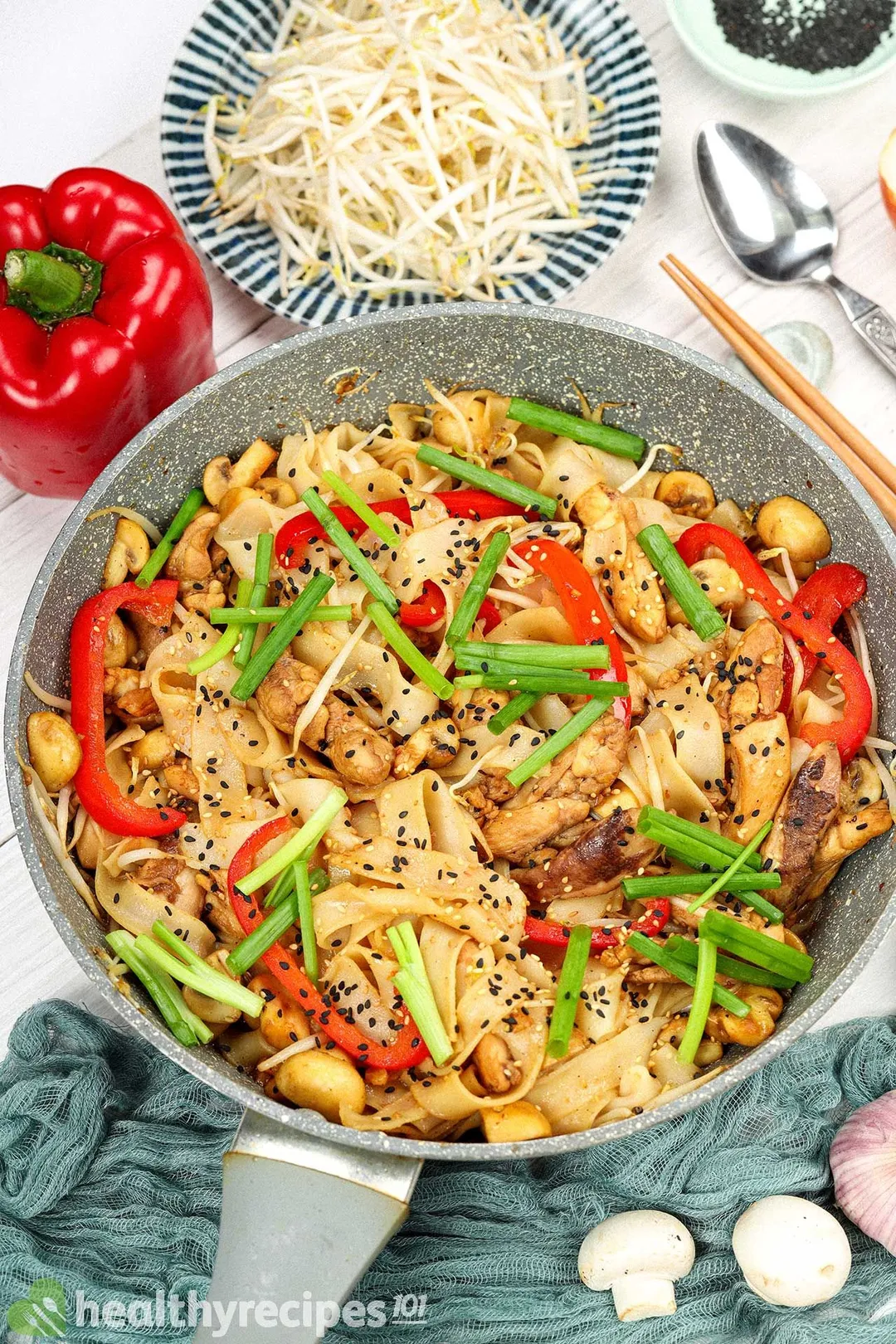 cook TIME

15 mins

prep TIME

5 mins

total TIME

20 mins
COURSE

Main

CUISINE

Chinese

SERVINGS

CALORIES

489 kcal
INGREDIENTS
12 oz

skinless boneless chicken thighs

(cut into strips)

20 oz

cooked rice noodles

(from 10 oz uncooked)

6 oz

white mushrooms

(sliced)

2 oz

red bell peppers

(cut into strips)

3 tbsp

reduced-sodium soy sauce

1/4 cup

scallions

(cut into segments)

1 tbsp

toasted black sesame seeds

1 tbsp

toasted white sesame seeds

1/2 tsp

ground black pepper
INSTRUCTIONS
Prep:
1
Cook the noodles: Bring a pot of water to a boil and blanch the rice noodles for 30 seconds. Transfer to an ice bath and drain.
2
Cut the chicken: Cut the chicken thighs crosswise into 2-inch wide strips.
3
Slice the mushrooms: Slice off the stems of the mushrooms. Place the mushrooms cut-side down and cut them into 1/2-inch thick slices.
4
Cut the bell peppers: Slice off the top and bottom parts of the pepper then cut the pepper open. Remove the white part and the seeds inside the pepper. Cut the peppers crosswise into 1/4-inch wide strips.
5
Prepare the bean sprouts: Wash the bean sprouts carefully 3 to 4 times and dry them.
6
Mince the garlic: Slice the root part of the cloves and peel the skin. Mince the garlic with a knife and mincer.
7
Cut the scallions: Bunch the scallions together and cut them crosswise into 1-inch long segments.
Cook:
1
Make the sauce: Prepare a small bowl. Add 1 fl oz water, 3 tbsp reduced-sodium soy sauce, 1 1/2 tbsp sesame oil, 1 tsp Sriracha, 1/2 tsp hoisin sauce, and 1/2 tsp ground black pepper. Mix until combined.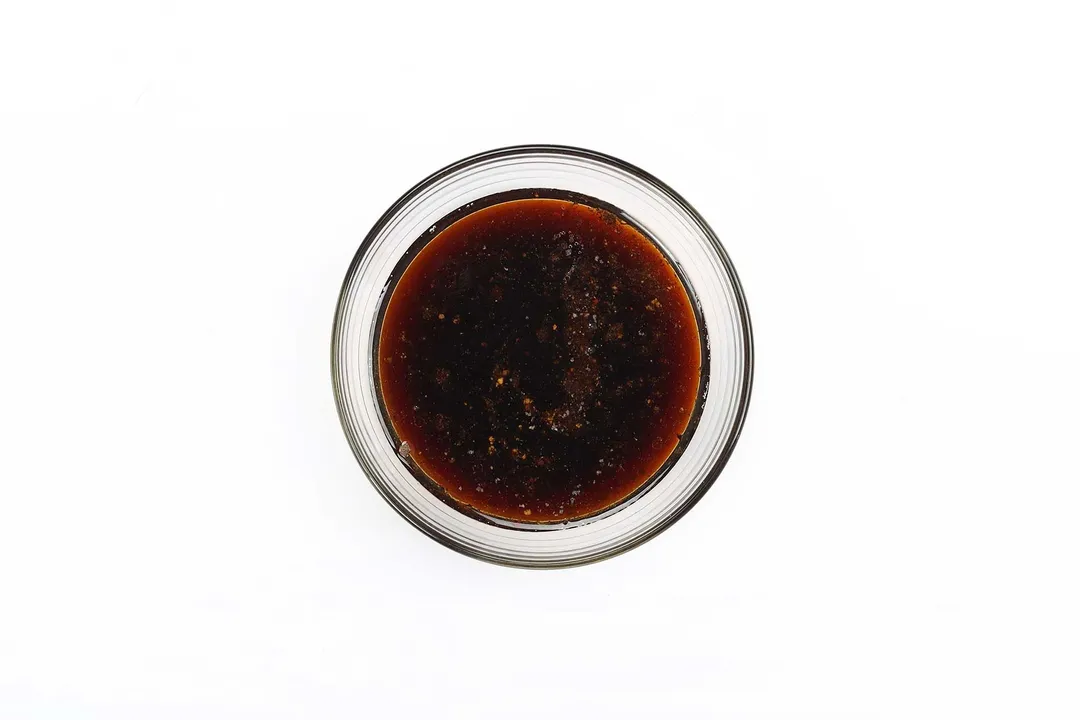 2
Caramelize the garlic: Prepare a hot pan over medium heat. Add 4 tbsp canola oil and 2 tbsp garlic. Stir for 30 seconds.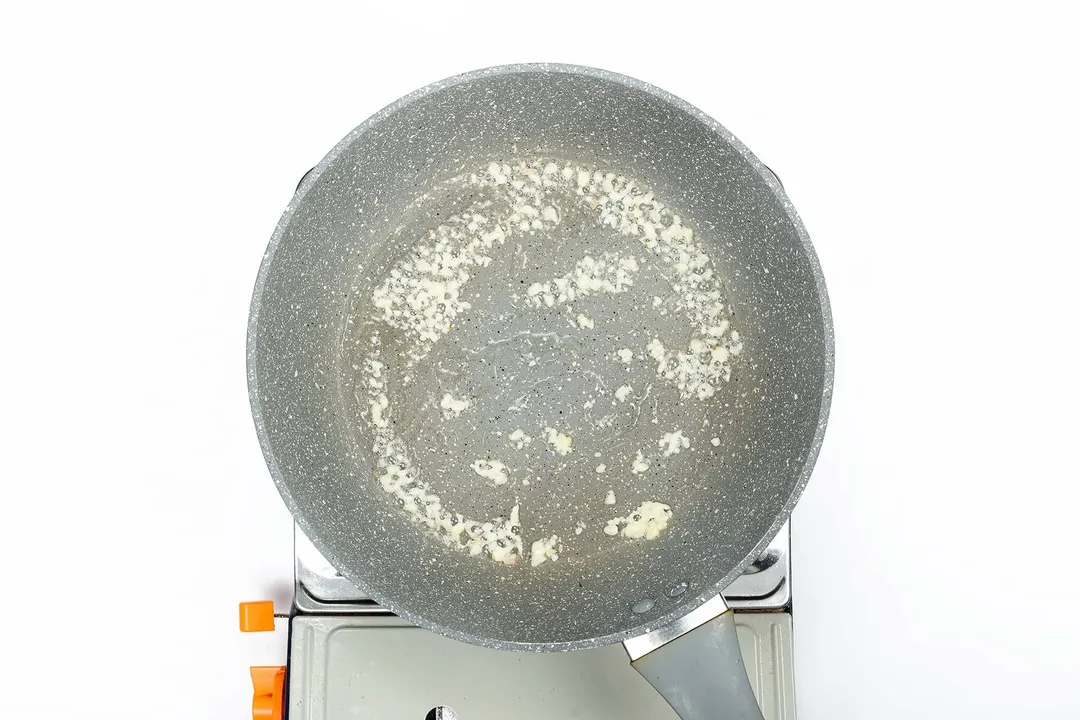 3
Sauté the chicken: Add 12 oz chicken thighs and 1 tsp paprika. Stir for 5 minutes.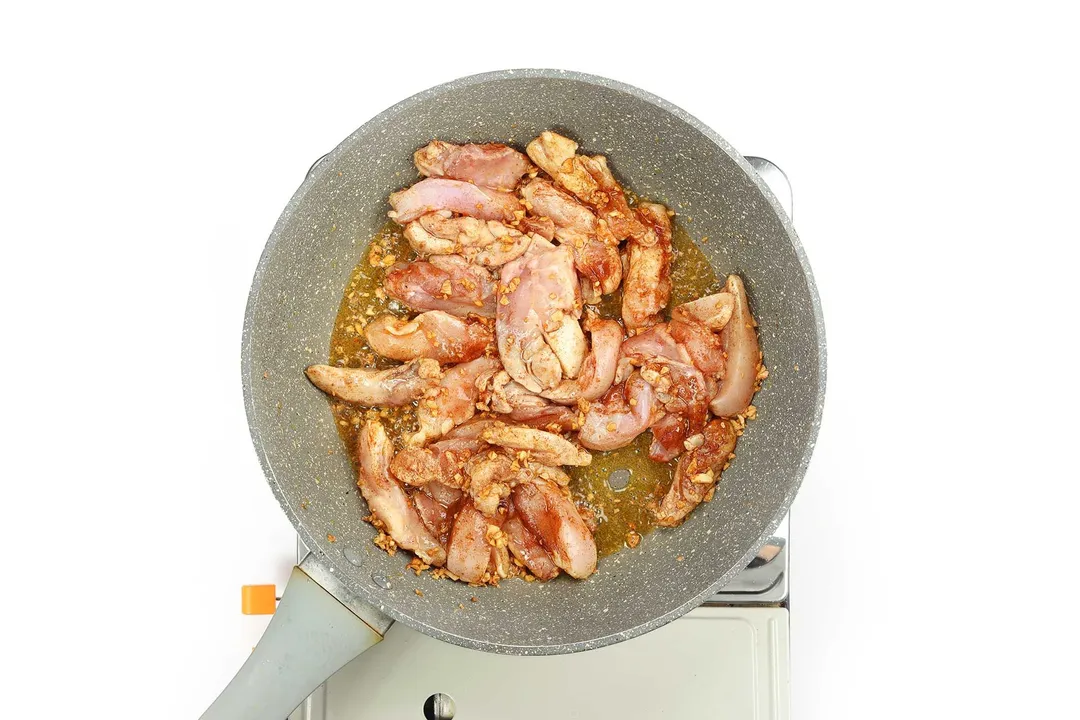 4
Sauté the mushrooms: Add 6 oz white mushrooms and stir for 3 minutes.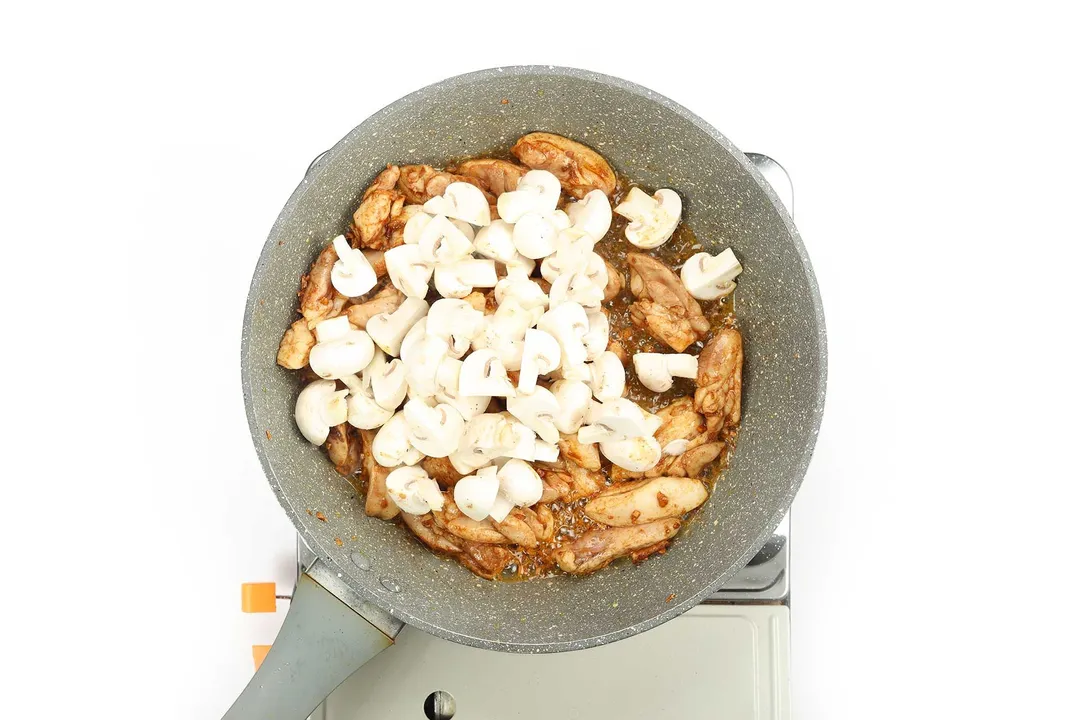 5
Sauté the bell peppers: Add 2 oz red bell peppers and stir for 2 minutes.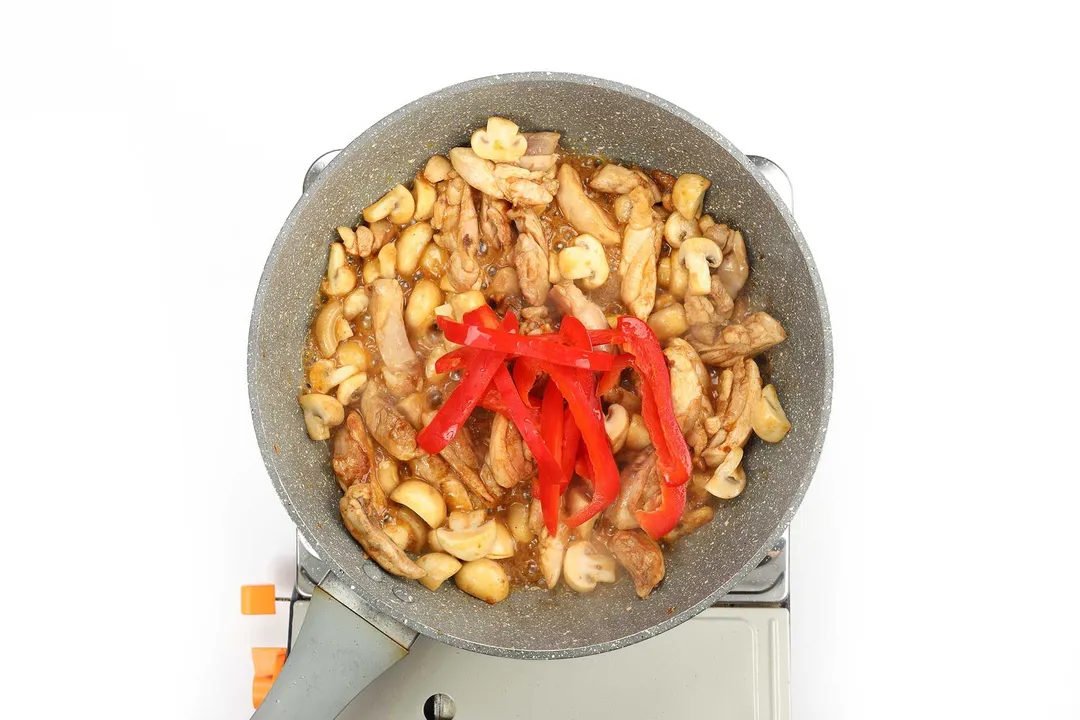 6
Stir in the sauce: Pour in the sauce and mix until it coats the ingredients.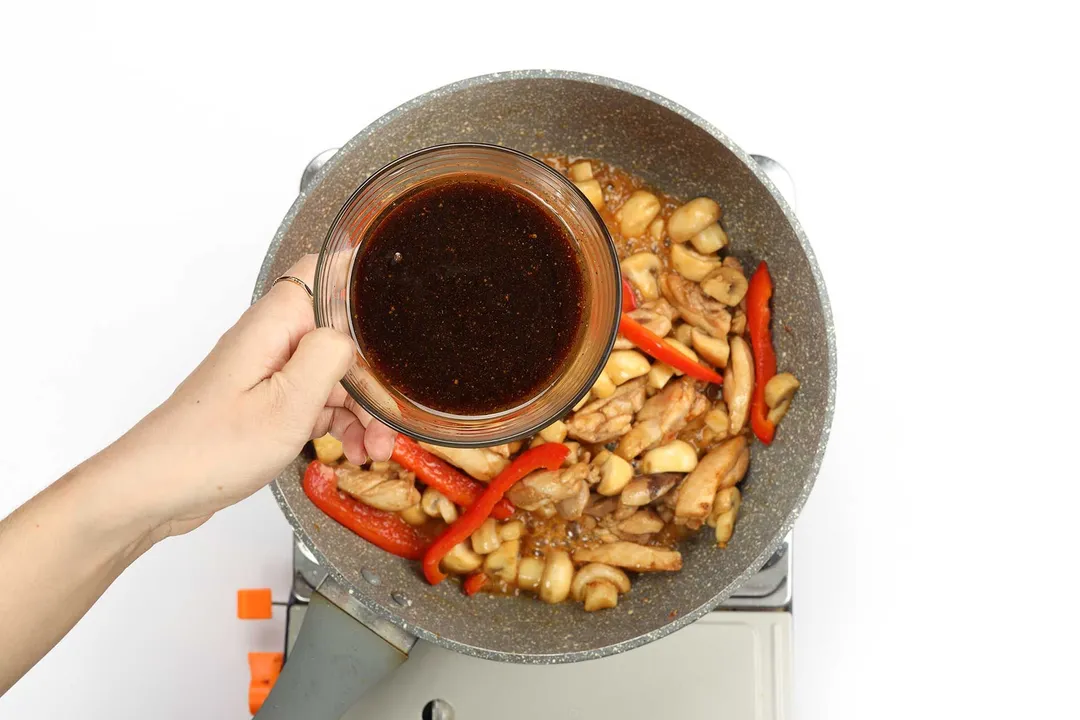 7
Add the noodles and bean sprouts: Add 20 oz cooked rice noodles and 2 oz mung bean sprouts. Turn down to low heat and mix thoroughly for 2 minutes.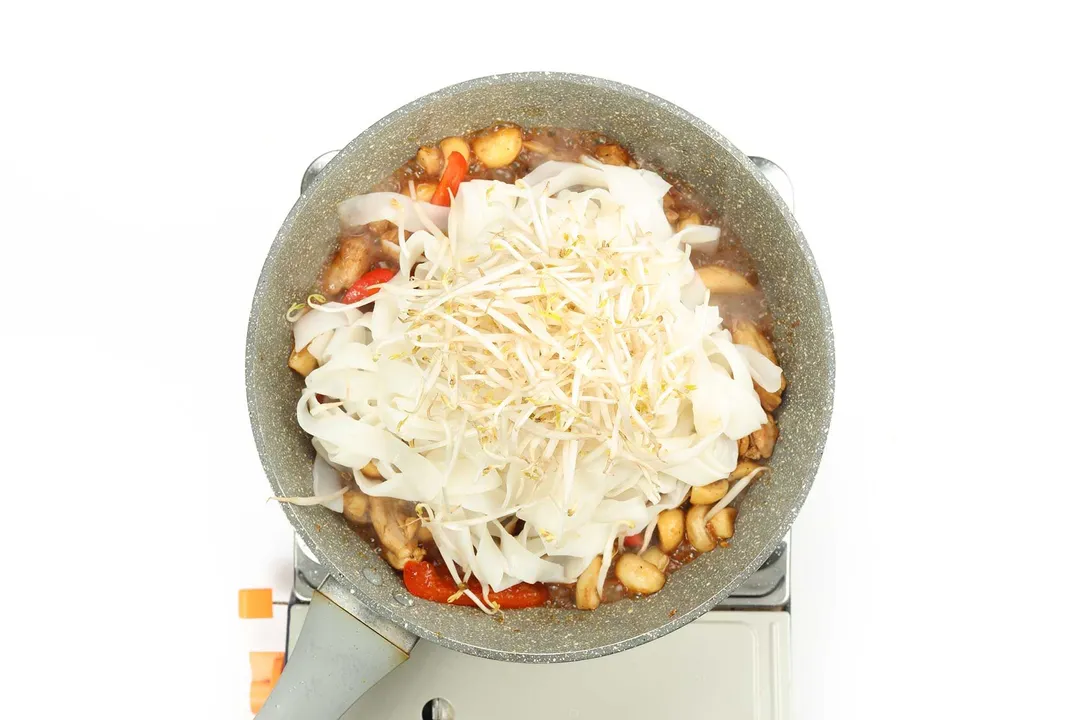 8
Garnish and serve: Sprinkle with 1/4 cup scallions, 1 tbsp black sesame seeds, and 1 tbsp white sesame seeds. Enjoy.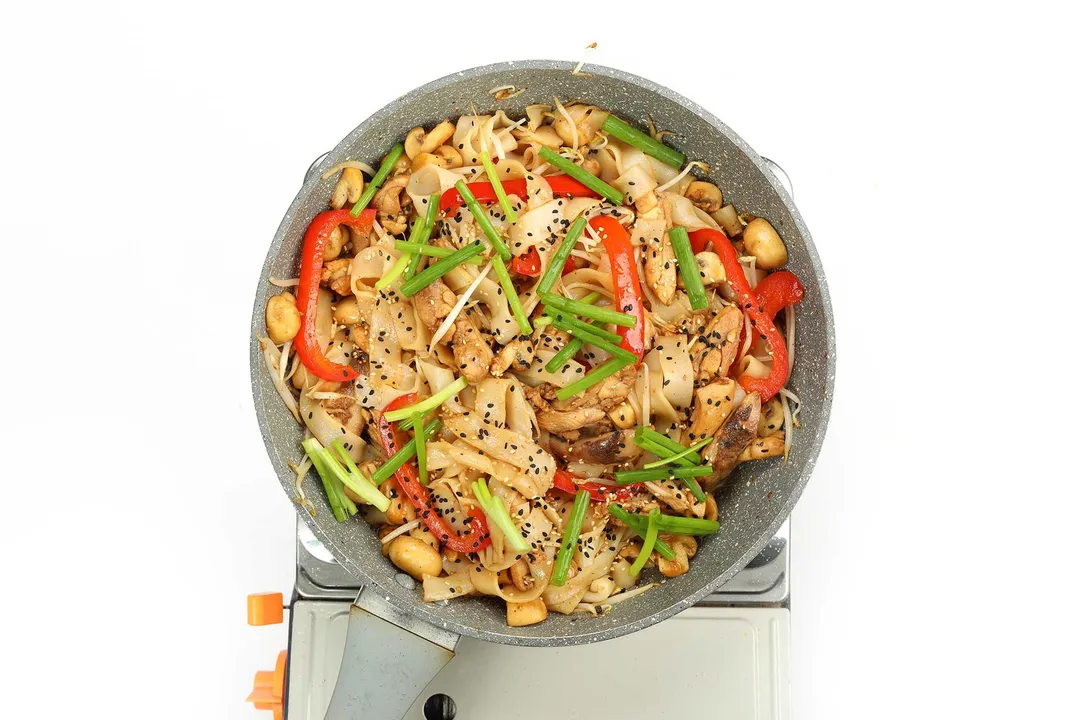 NUTRITION
Nutrition Facts
Chicken Chow Fun
Amount Per Serving (1 serving)
Calories 489
Calories from Fat 229
% Daily Value*
* Percent Daily Values are based on a 2000 calorie diet.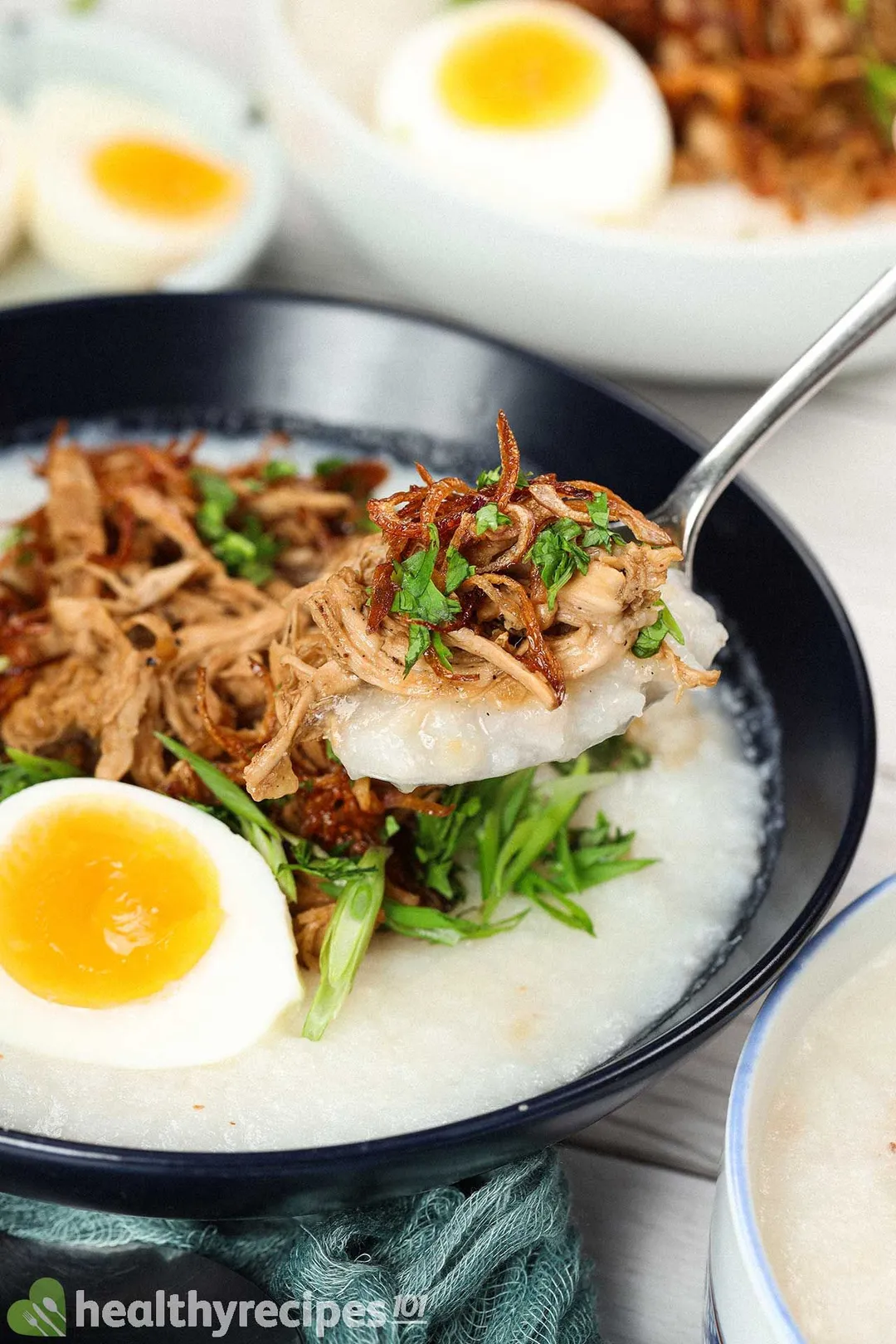 Previous Recipe
Chicken Congee
Chicken Congee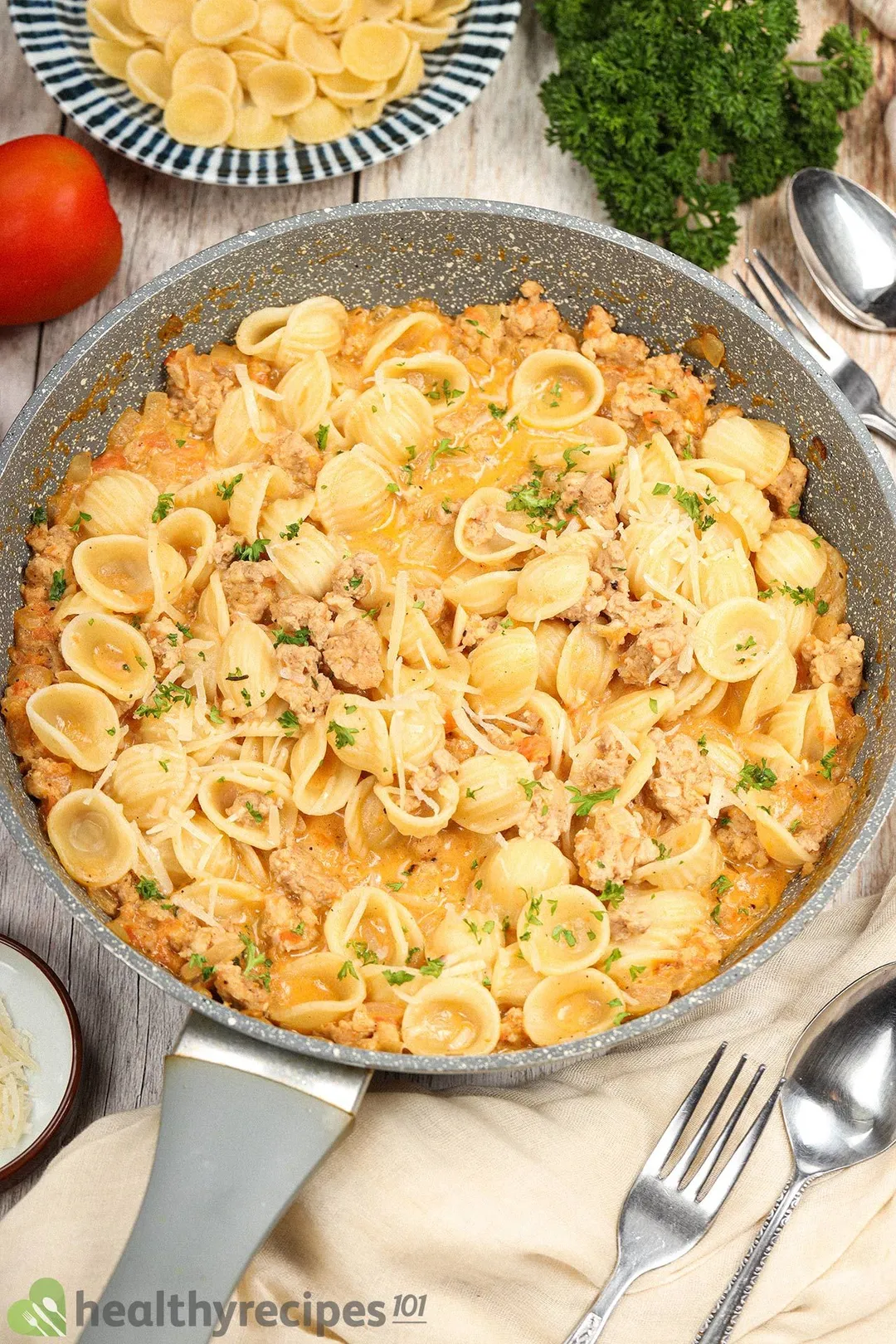 Next Recipe
Ground Chicken Pasta
Ground Chicken Pasta
Head Chef, Culinary Consultant
Tuyet Pham is an award-winning Saigonese chef who believes that joy is the secret ingredient to delicious food. At Healthy Recipes 101, Tuyet personally tests and simplifies every recipe, ensuring maximum flavor with minimal effort. With a background at prestigious French restaurants P'TI Saigon and Le Corto, Tuyet knows how to make every dish exceptional.
Writer, Author
Luna Regina is an accomplished writer and author who dedicates her career to empowering home cooks and making cooking effortless for everyone. She is the founder of HealthyKitchen101.com and HealthyRecipes101.com, where she works with her team to develop easy, nutritious recipes and help aspiring cooks choose the right kitchen appliances.
Delicious chicken chow fun - Asian-inspired delight!