Delicate and fancy, poached eggs are relatively easy to make.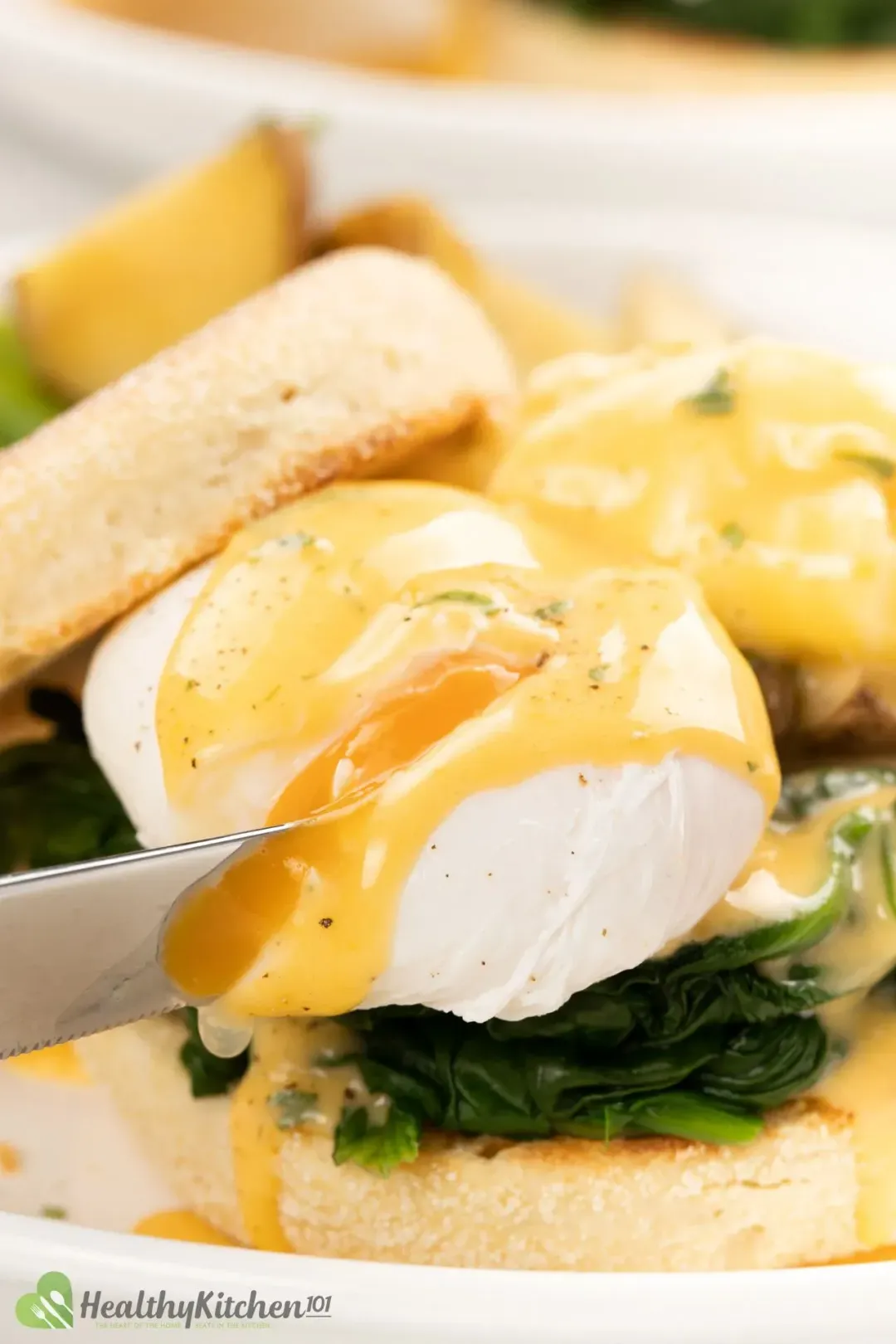 What Are Poached Eggs?
Poaching eggs is another simple way to cook eggs. Raw eggs are eggs cracked directly into a pot of boiling water and cooked until the white is fully cooked. They look like soft-boiled eggs, but they are more tender, with a really runny yolk.
Easier said than done; poached eggs can be a little bit tricky to make if you're unfamiliar with the technique. Don't worry though, we've got you covered.
Are Poached Eggs Healthy?
Often getting a bad rap for their cholesterol content, eggs are actually healthier than you might think.
Cholesterol in Eggs
For starters, there are many kinds of cholesterol, including HDL and LDL. LDL is considered "bad" cholesterol because it can harm your arteries when produced in a large amount.
Egg yolk does contain cholesterol, but it has nothing to do with HDL and LDL. Research has been conducted, but very few claim that egg cholesterol has a negative impact on the body's cholesterol levels.
All we can say for sure right now is that eggs are a rich source of protein, vitamins, and minerals. As with other foods, eggs need to be consumed in moderation.
Our other healthy recipes include this simple Indian-style main dish, an easy, elegant way to cook eggs, and a dish perfect for Easter, parties, and other gatherings.
Egg Nutrition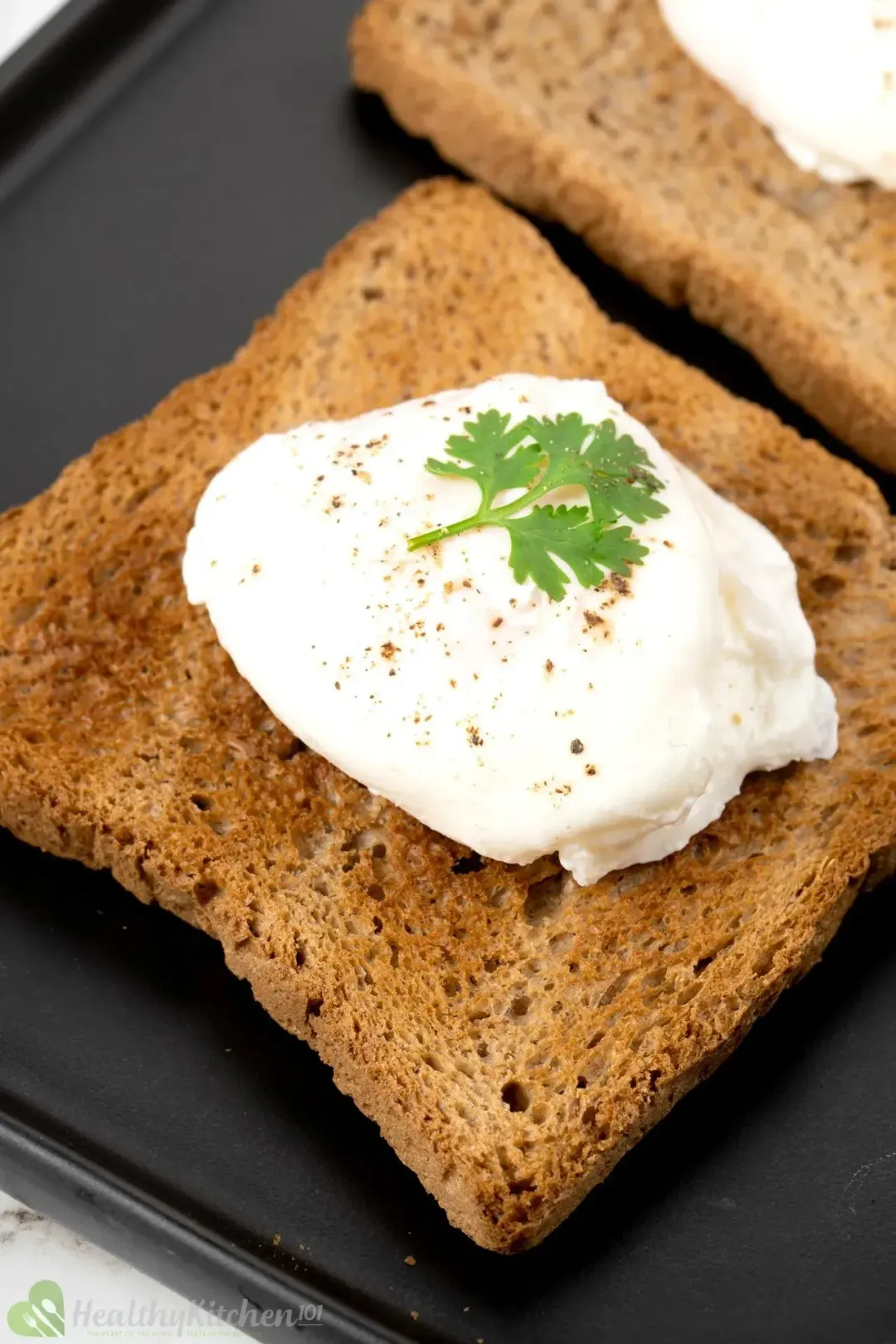 1. Carbs in Eggs
As a large egg has less than 1g of carbs, it is considered to make up 0% of your RDI. Hence, it is used a lot in low-carb and keto diets.
2. Protein in Eggs
According to the USDA's food database, there are approximately 12.4 grams of protein per 100 grams of egg.
The protein is distributed evenly throughout the eggs, but the whites have a little more protein (and less saturated fat). This is why some athletes or bodybuilders increase their protein intake by consuming lots of egg whites.
3. Calories in Eggs
One egg gives about 72 calories. The white yields minimal calories, with the majority being in the yolk.
If you're on weight watch, egg whites should be your trusty source of protein.
4. Vitamins in Eggs
We often hear that eggs are among the rare sources of vitamin D, and this is true. The vitamin is only found in egg yolk, liver, some kinds of fish, and fortified foods.
Sufficient exposure to sunlight already provides our body with enough vitamin D. However, for those living in areas with less sunny days or often stay indoors, vitamin D deficiency poses a great problem.
If you are concerned about vitamin D deficiency, moderate consumption of egg yolks can help. One egg also contains about 180 µg of vitamin A, about 25% of what The US's National Institute of Health suggests. The nutrient has been shown to boost our immune system and improve vision.
Poached Eggs Cooking Time
On medium heat, eggs should be cooked in 2 minutes to achieve a runny yolk that everyone loves. Poached eggs cook much quicker than boiled eggs because the whites are directly exposed to the hot water.
You can leave the eggs in there for an extra 1 minute to make the yolk's consistency thicker.
What to Eat with Poached Eggs
Poached eggs can be considered a delicious topping to go with many dishes, such as:
1. Eggs Benedict
As the name suggests, eggs benedict uses a poached egg as the main ingredient besides English muffin, bacon, and Hollandaise. It's umami and extremely creamy thanks to the Hollandaise sauce and the runny yolk.
But since eggs have a lot of saturated fats, it's easy to make eggs benedict that's packed with it. Not to brag, but our eggs benedict with spinach is a healthier version.
2. Avocado Toast
Crunchy toast and creamy avocado, slightly tangy mayonnaise and salt; these are what makes avocado toast so popular. With a poached egg on top that bursts when you slice into it, it is simply irresistible.
You can make a delicious avocado toast in no time with straightforward ingredients. Spend another 5 minutes to make a poached egg, and the dish is taken to another level.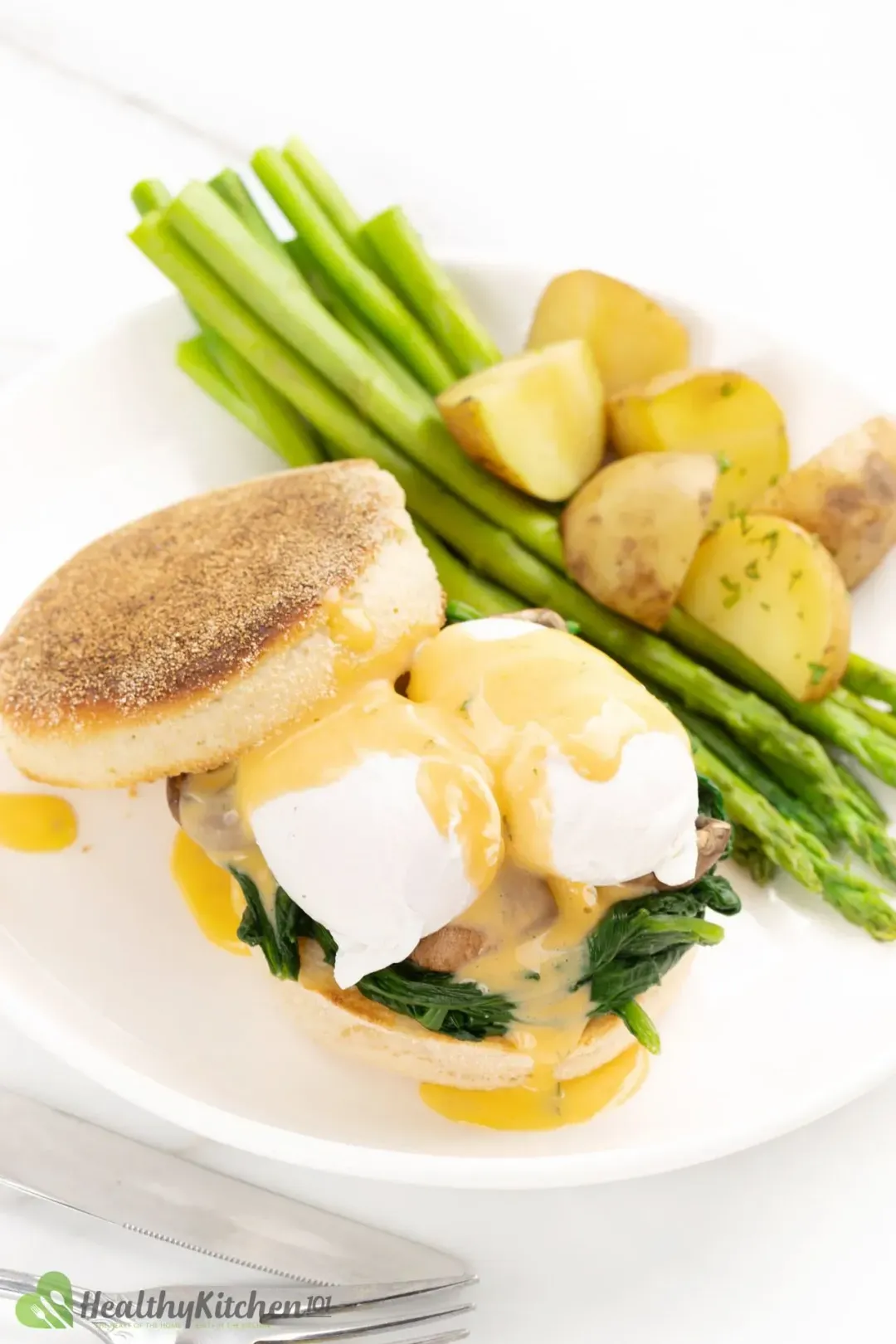 3. Sandwich
Or, pair the poached egg with any other kind of savory sandwich. BLT, English muffins with ham, or a vegetarian sandwich of arugula, avocado, and seasoning, your call.
4. Salmon
Baked, butter-seared, or honey-glazed, a slice of savory salmon tastes better when topped with a poached egg. The runny yolk's richness mellows the salmon's salty, umami taste, creating a balanced dish.
Not just regular salmon, lox (brined salmon) also benefits from the creaminess of poached eggs. Sandwich them between two slices of toast, a handful of your favorite vegetables, and mayonnaise, and breakfast is served.
5. Asparagus
Have you ever tried baked asparagus and mushrooms? The crunch of asparagus would not be complete without several slices of tender, chewy mushrooms.
To make this dish even better, place a poached egg on top. As you slice it open, the runny yolk comes flooding out, dousing every piece of veg with its creaminess.
When you finish, soak up all of that goodness on the plate with a slice of soft bread. It makes for a very satisfying experience.
How Long Do Poached Eggs Last in the Fridge?
Poached eggs last for up to 2 days in the fridge when stored in an air-tight container.
Since poached eggs are vulnerable to bacteria, you need to make sure that the container is clean.
Plus, make sure to cool the eggs before refrigerating them. If you don't,  when you place hot food into the fridge less desirable things happen:
Covered: the massive difference in temperature between the food and the fridge creates condensation. With water appearing inside the container, the bacteria are more likely to spoil your food.
Uncovered: the heat from your food warms up other food. This may reactivate the bacteria already inside those foods and, ultimately, spoil them.
So after poaching, put them in a clean container and leave them to cool down to room temperature first. Then close the lid and refrigerate.
We also have a large collection of healthy eggs recipes for your reference. Come check them out.
Can You Freeze Poached Eggs?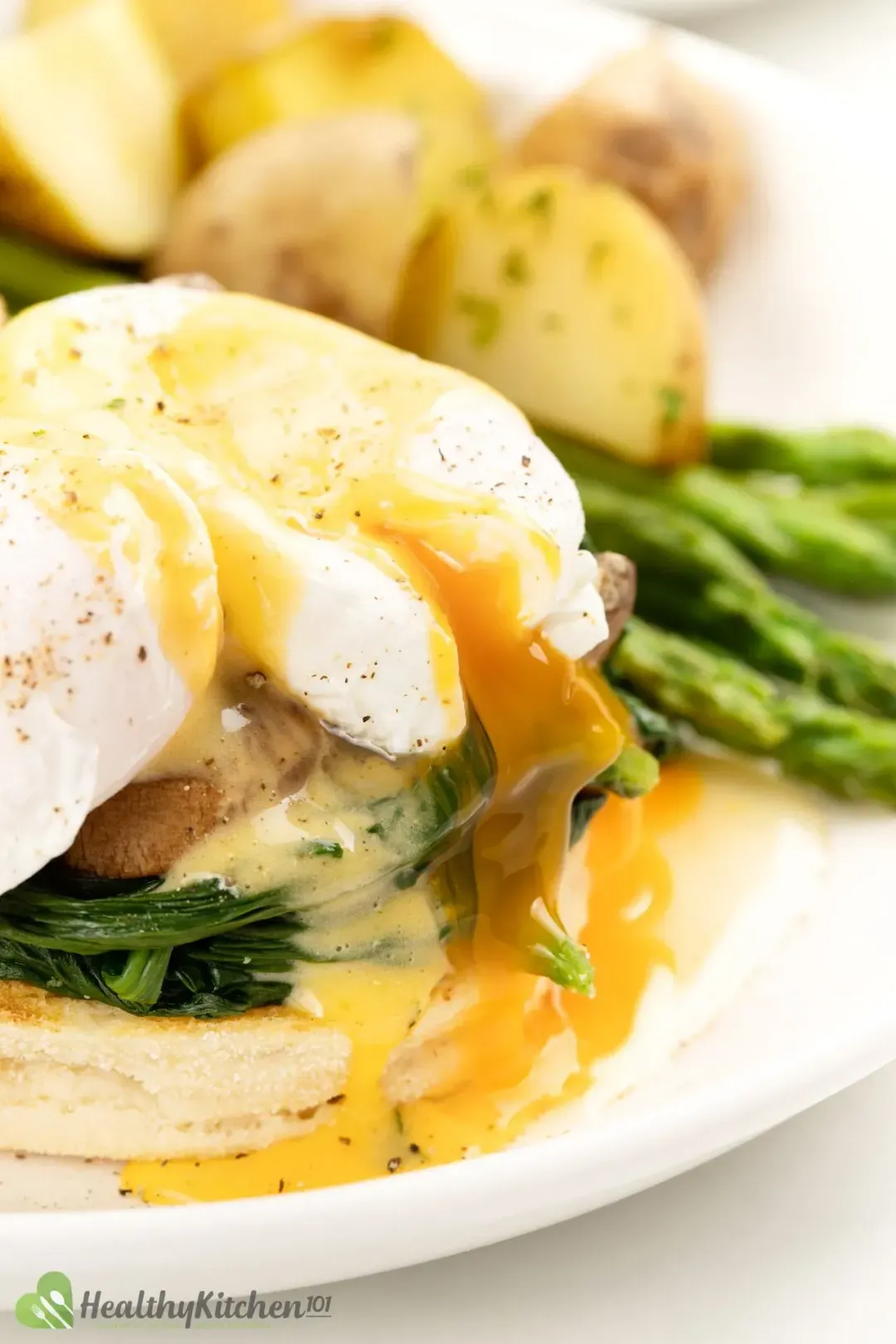 Freezing eggs, raw or cooked, is not as simple as freezing meat. Fortunately, Healthline has put together a clear article on this matter.
Here are a few key points:
You should never freeze raw eggs in their shells. The water retained in eggs will expand in volume when frozen, cracking the shell and contaminating its contents.
Cooked egg whites become rubbery when thawed out.
To store raw eggs, keep them in an air-tight container.
Dishes using eggs (casseroles, quiche, these egg muffins for breakfast) also freeze well.
With that said, cooked eggs are best eaten immediately or stored in the refrigerator. Poached eggs, in a similar manner, should not be stored in the freezer.
More Ways to Enjoy Eggs:
How to Poached Eggs
Poached eggs are delicate but straightforward to make once you know how. Follow our instructions, and you'll have a versatile and delicious addition to any dish.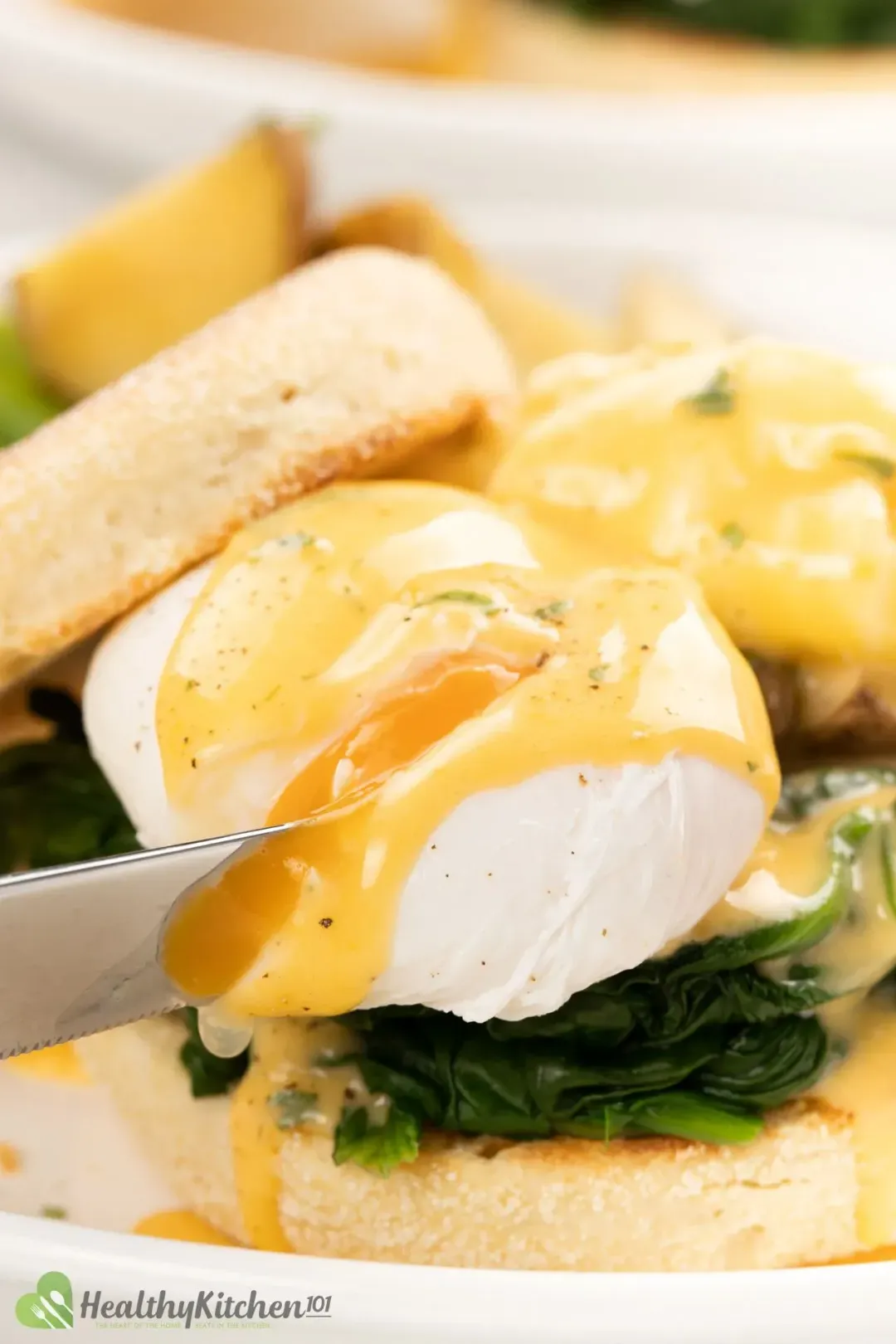 cook TIME

5 mins

total TIME

5 mins
COURSE

Breakfast

CUISINE

American

SERVINGS

CALORIES

72 kcal
INSTRUCTIONS
1
Add about 1 tbsp of vinegar and 1 tbsp of white wine to a pot containing 4 cups of water. Vinegar helps the whites to coagulate quickly, resulting in a beautifully shaped poached egg.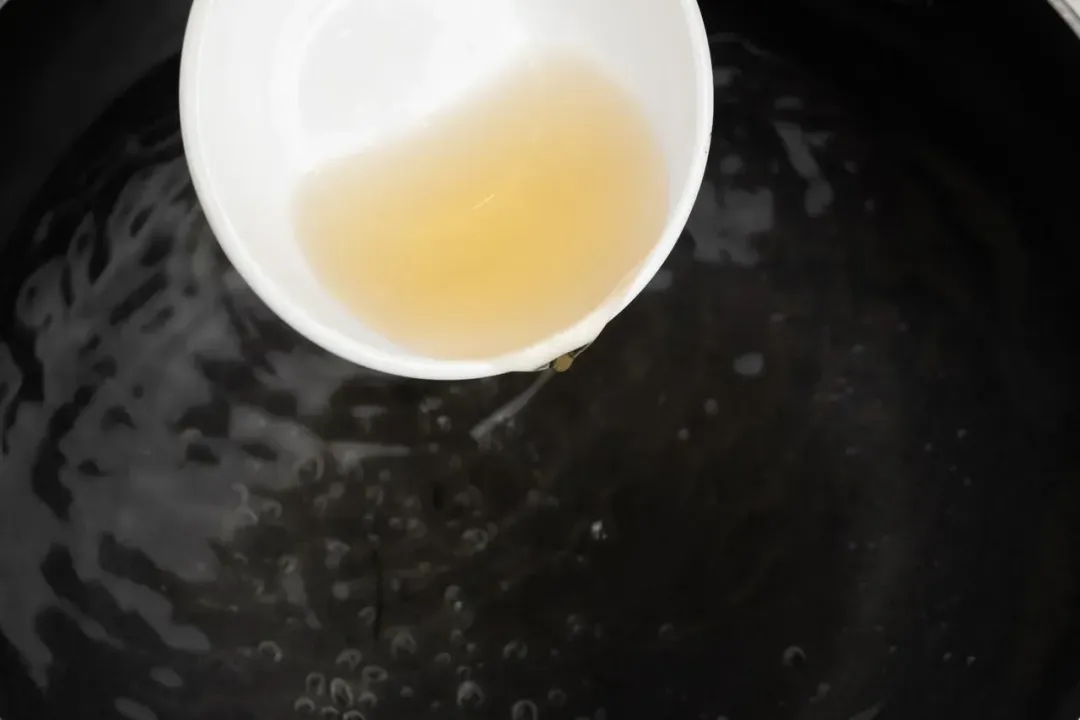 2
Turn the heat to medium-high and bring it to a boil.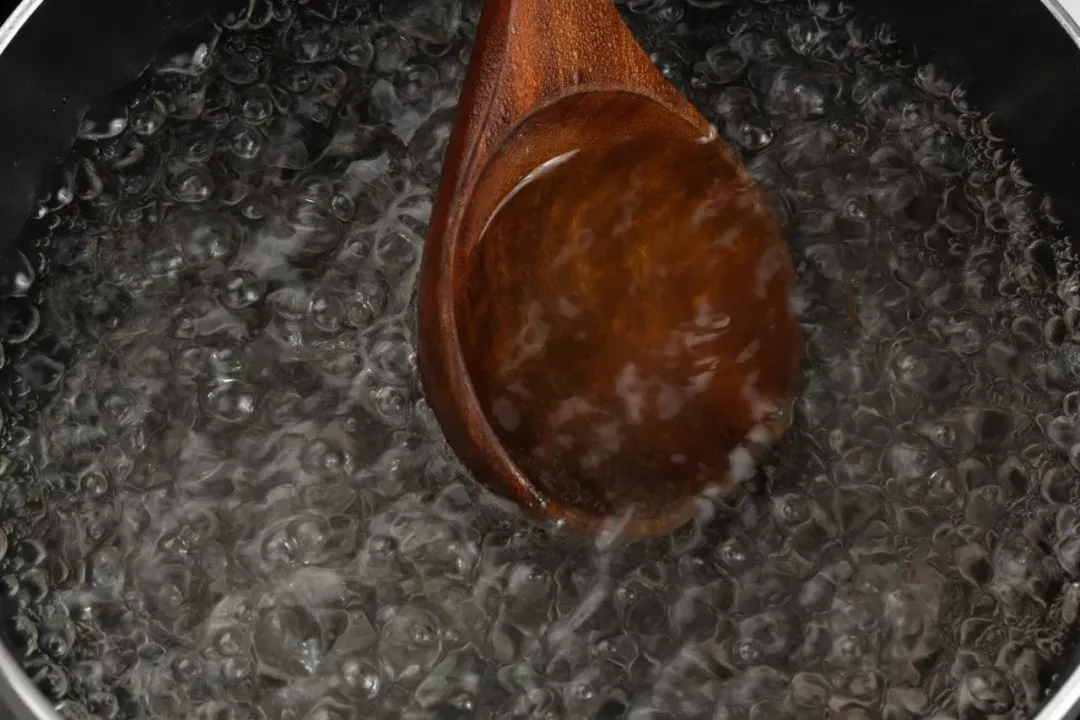 3
Crack one egg into a small bowl. Stir the water to form a vortex and gently place your egg in. Cook for about 2 minutes.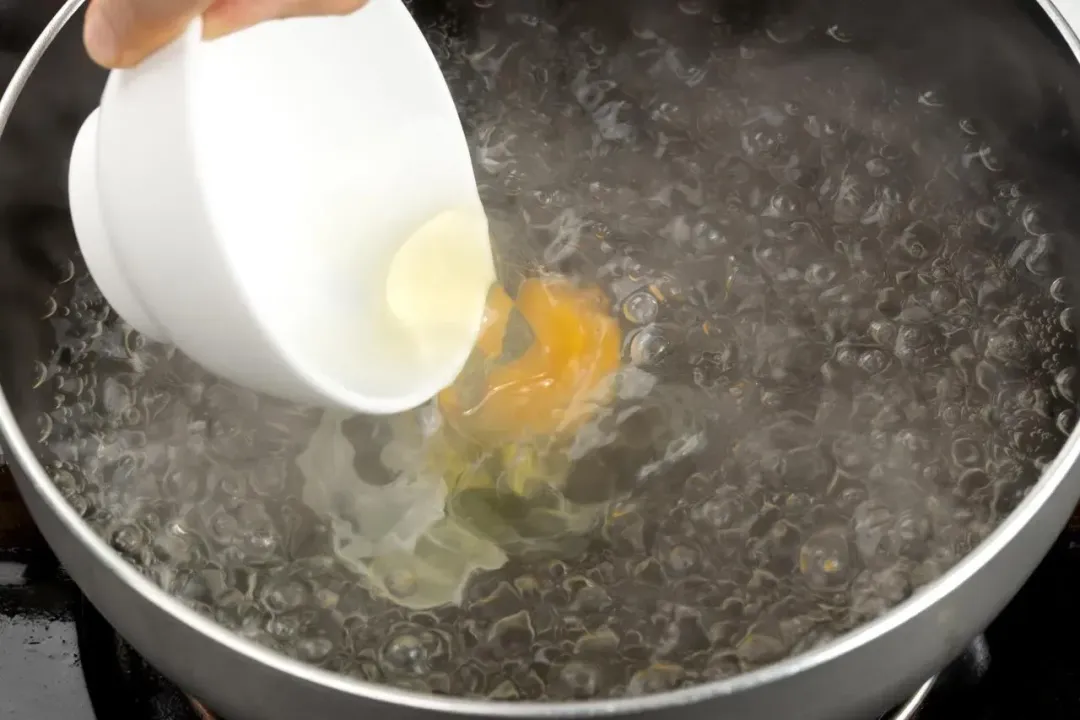 4
Prepare a bowl of warm water. Scoop the egg out using a slotted spoon and transfer it into the bowl. Repeat to poach more eggs.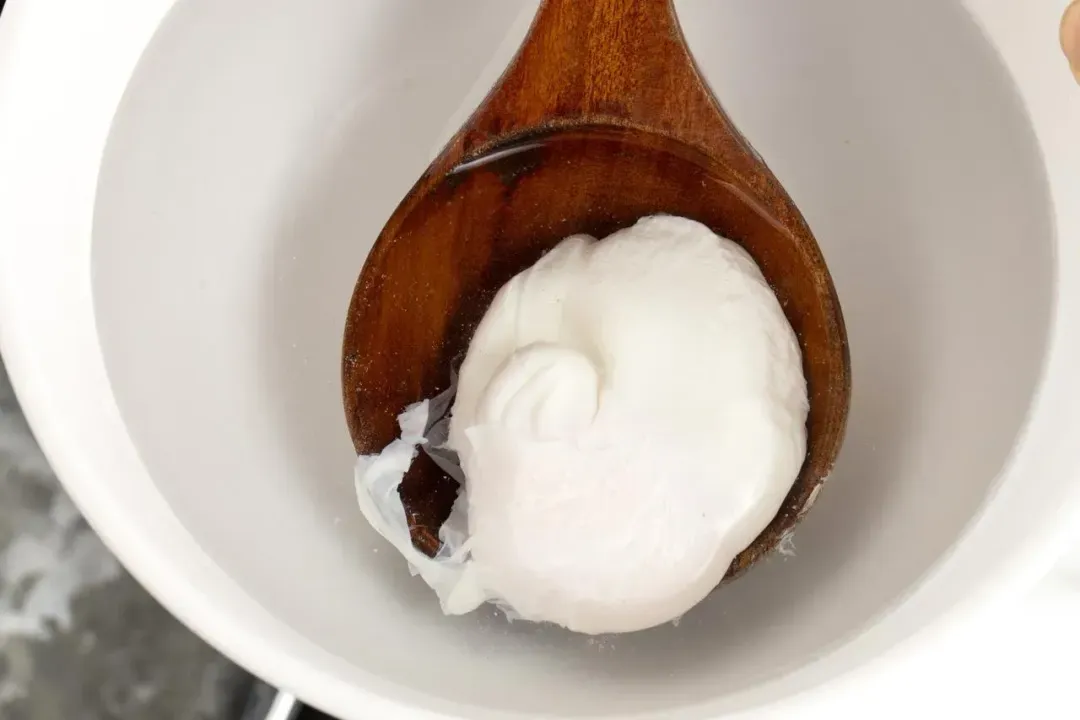 5
When serving, scoop the egg out, pat dry, and place on whatever you want.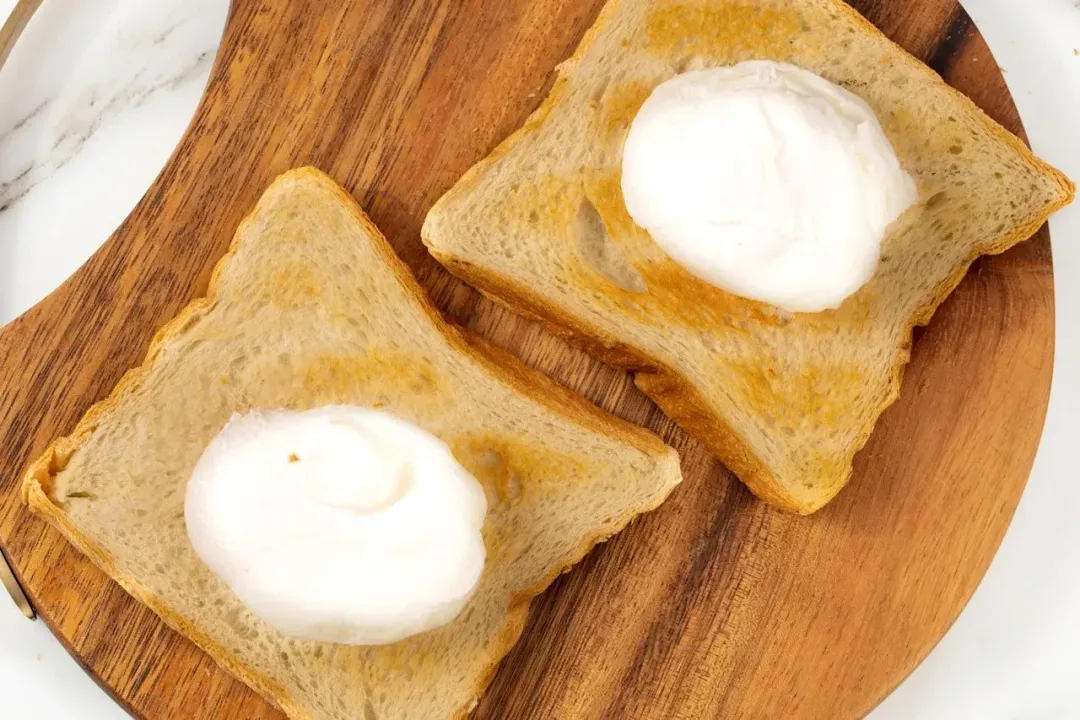 NUTRITION
Nutrition Facts
How to Poached Eggs
Amount Per Serving (1 serving)
Calories 72
Calories from Fat 43
% Daily Value*
* Percent Daily Values are based on a 2000 calorie diet.
Keywords: easy poached eggs, How to make Poached Eggs, Poached Eggs Recipe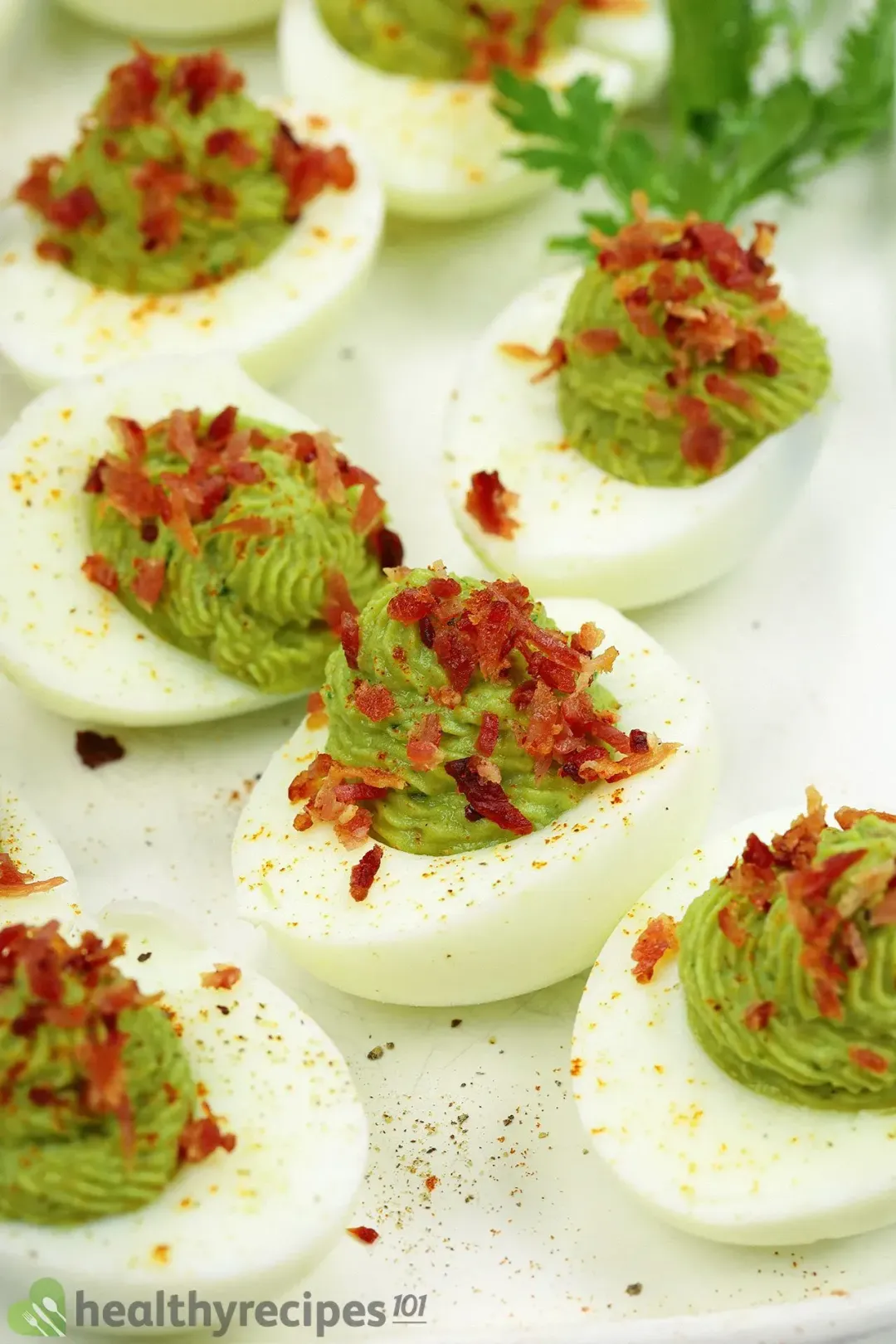 Previous Recipe
Avocado Deviled Eggs
Avocado Deviled Eggs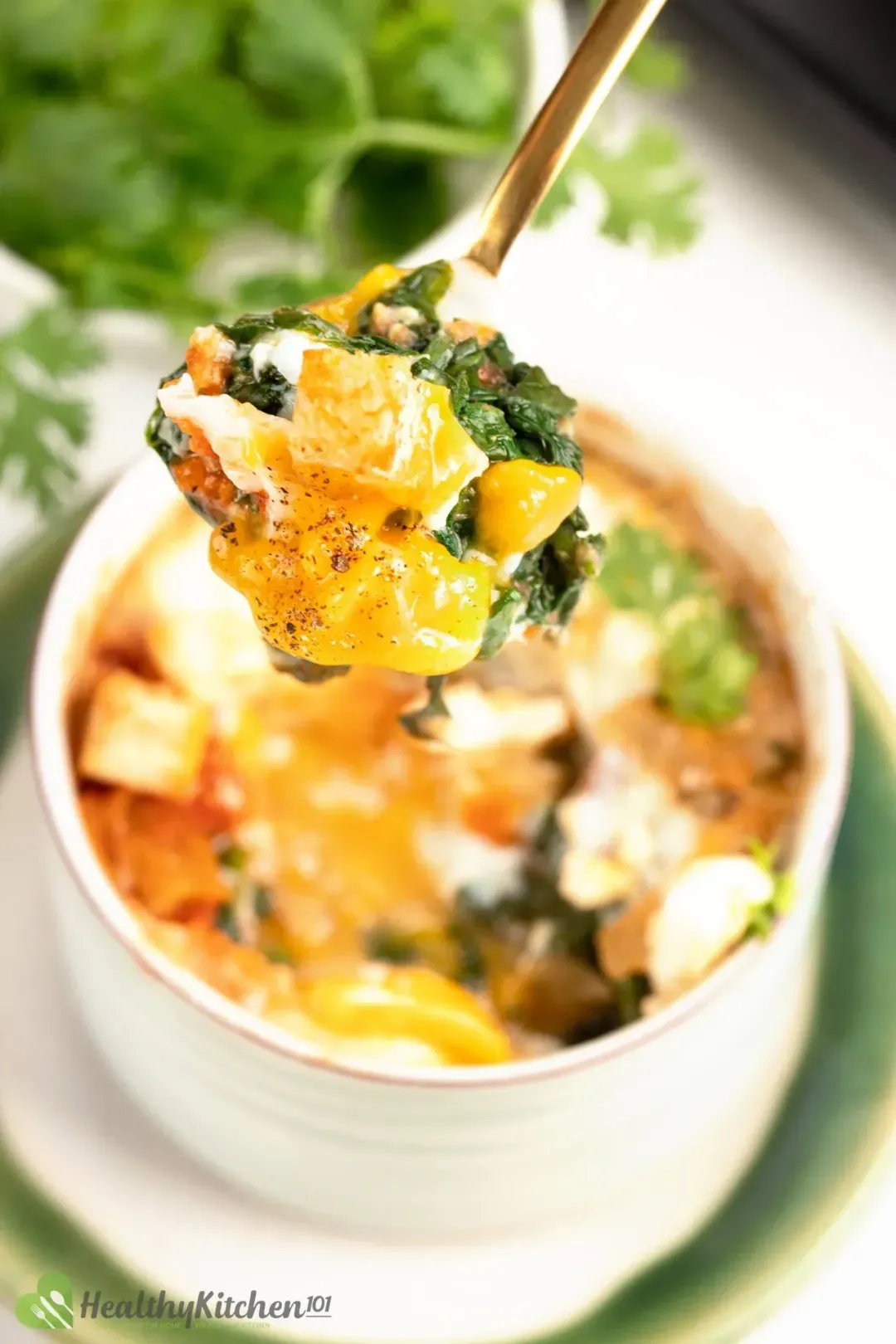 Shirred Eggs
Head Chef, Culinary Consultant
Tuyet Pham is an award-winning Saigonese chef who believes that joy is the secret ingredient to delicious food. At Healthy Recipes 101, Tuyet personally tests and simplifies every recipe, ensuring maximum flavor with minimal effort. With a background at prestigious French restaurants P'TI Saigon and Le Corto, Tuyet knows how to make every dish exceptional.
Writer, Author
Luna Regina is an accomplished writer and author who dedicates her career to empowering home cooks and making cooking effortless for everyone. She is the founder of HealthyKitchen101.com and HealthyRecipes101.com, where she works with her team to develop easy, nutritious recipes and help aspiring cooks choose the right kitchen appliances.
Nutrition Reviewer
Lizzie Streit is a Minneapolis-based dietitian and founder of It's a Veg World After All. She completed her MS in Human Nutrition from Drexel University, and is an expert in culinary nutrition, recipe development, and nutrition communications. Lizzie's philosophy is centered around making nutrition recommendations, and especially the advice to eat more vegetables, approachable and realistic. She is excited to be working with the team at Healthy Recipes 101 to ensure that their recipes are both nutritious and delicious.
Poached eggs are surprisingly easy to make, and this recipe gave perfect results every time! So satisfying to try something new but with success.