Our popcorn shrimp recipe makes an irresistible dish that everyone, even children, will love to see on the table, and all in less than half an hour. Its addicting flavor comes from the succulent shrimp, flavor-packed coating, and creamy dipping sauce.
Give it a try, and this simple popcorn shrimp will be your new go-to when it comes to fried food.
What Is Popcorn Shrimp?
Popcorn shrimp is a finger food made of shrimp coated in a batter— some even have the panko breading on them— and deep-fried until crispy. The recipe calls for small bite-sized shrimp which you can pop into your mouth like popcorn. It is often served as an appetizer and a popular snack in much of America.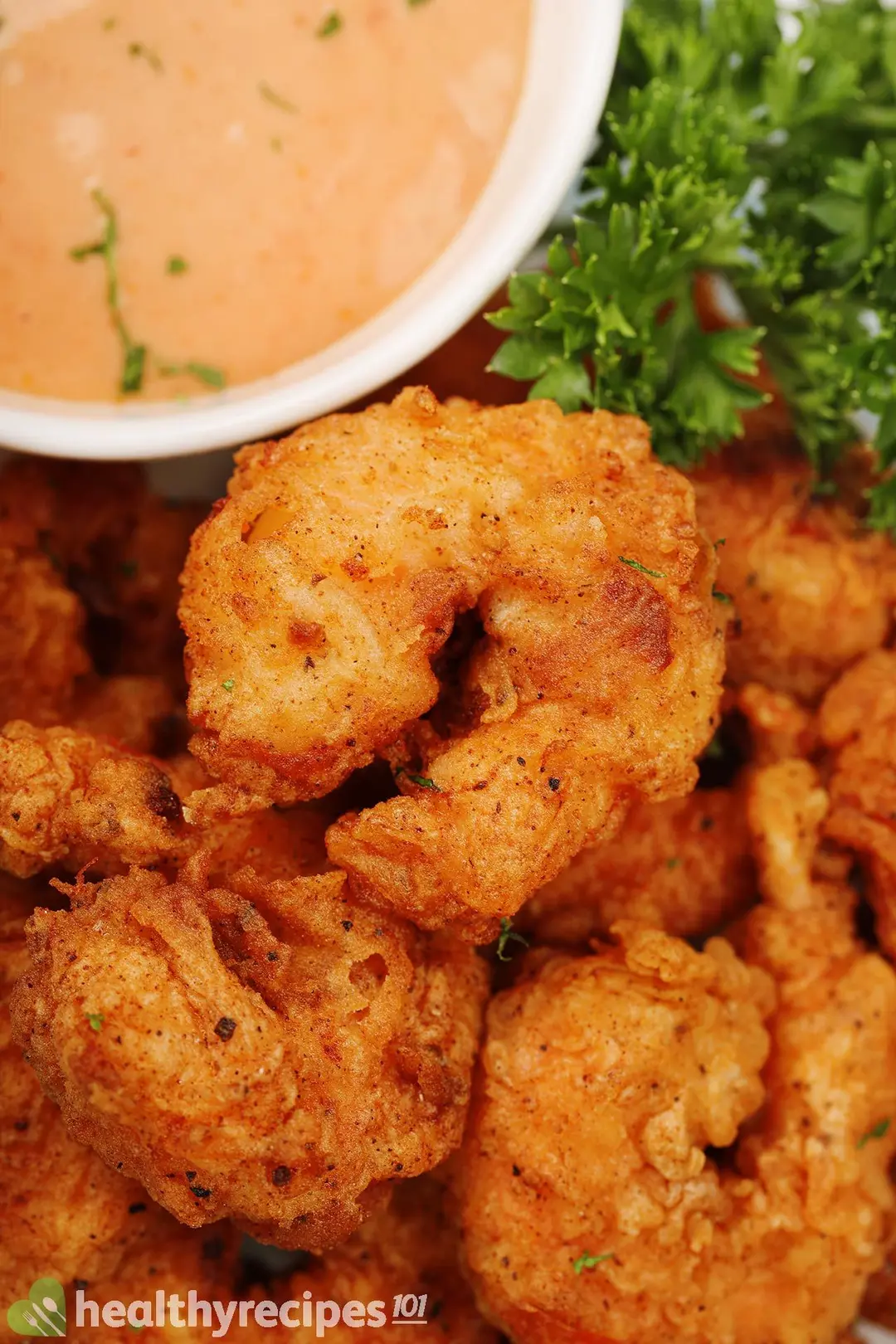 Whether it's the popcorn shrimp you eat at restaurants, food chains, or at home, there are always two main components: shrimp and coating. You can also add a sauce for dipping because almost everyone loves condiments.
Ingredients for Popcorn Shrimp
1. Shrimp
You'll need the raw bite-size shrimp that is peeled, deveined, and tail-off for this popcorn recipe. They are widely available in grocery stores if you check the seafood aisle.
We went with fresh shrimp, but you can use the frozen variety. Be sure to take all the tails off the shrimp before dipping them into the coating mixture.
2. Coating
Our coating for shrimp popcorn is mainly made of all-purpose flour and a few spices to maximize the flavor. The flour step helps absorb the excess liquid off the shrimp and acts as a primer to help the egg wash cling to the food surface. 
The egg wash in this step is super important since it acts as a 'glue' to stick the batter to the shrimp. Once cooked, the protein in the egg solidifies and holds the coating on the food.
The shrimp then return to the flour mixture for an additional texture. Once fried, there will be an attractive crunchy crust formed around the food.
The coating can include breadcrumbs, cornmeal, or nuts. However, note that the thickness and size of the coating also determine how fast it will brown and the final texture of the crust.
Though the process sounds a bit messy, it's not since every step can be done using a fork and different bowls. Your hands can stay clean.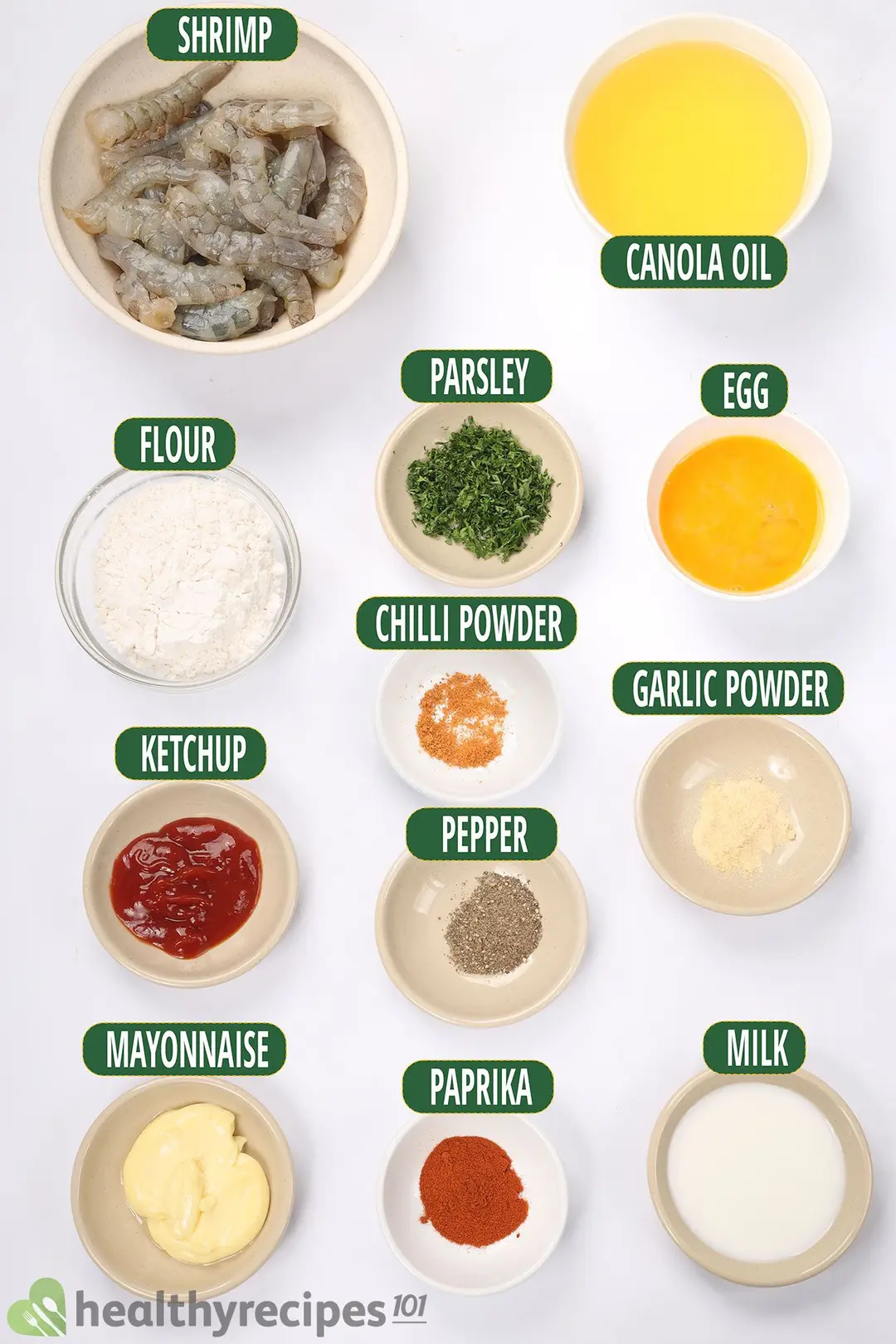 3. Dipping
Though these popcorn shrimp can be served alone, they taste even better when enjoyed with a dipping sauce. This flavorful accompaniment takes your seafood to the next level. These are some of our favorite dips:
Buffalo Sauce: Slightly sweet and sour with an intense spicy kick from the chili.
Sweet Chili Sauce: The sauce lends mildly sweet and spicy flavor and is perfect for fried or grilled food.
Mayoketchup (Fry Sauce): Made with mayonnaise and ketchup, it's creamy, sweet, and tangy.
Is This Popcorn Shrimp Recipe Healthy?
Yes, our popcorn shrimp recipe is healthy.
For starters, this popcorn shrimp is rich in protein. Each serving provides 29 g of protein — up to 60% of your recommended daily intake as recommended by the USDA.
Even being deep-fried and served with a mayonnaise-based dipping sauce, the dish surprisingly ends up with a relatively low amount of saturated fat, at only 1.4 g.
Best of all, our recipe doesn't call for any added salt but is still savory and full of flavor. Our popcorn recipe is a healthy way to incorporate seafood into your diet.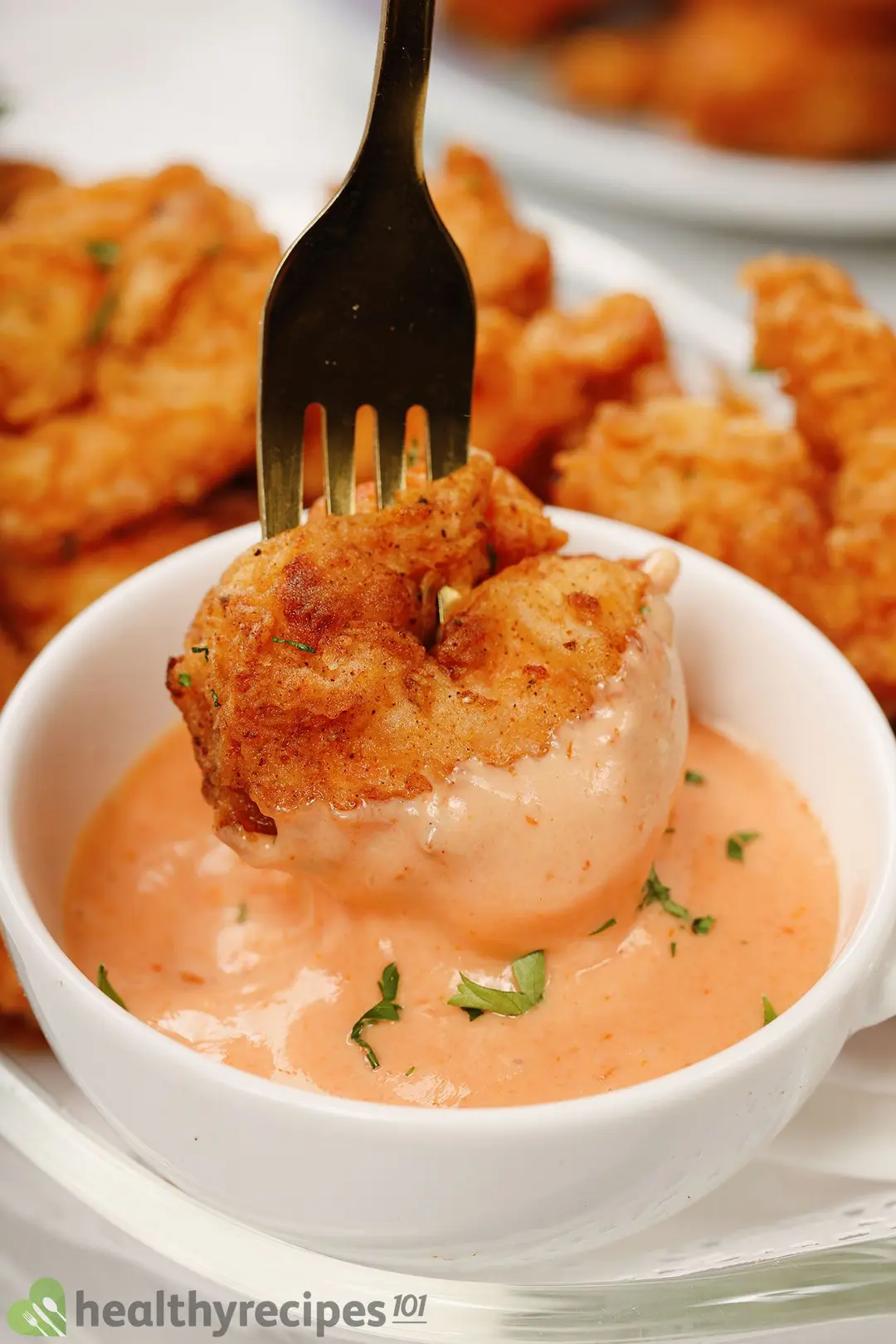 How to Make Popcorn Shrimp
Here is a quick look at how we made the popcorn shrimp:
Step 1: Prepare the coating batter. Set aside
Step 2: Whisk milk and egg in another bowl.
Step 3: Bread the shrimp.
Step 4: Make the dipping sauce.
Step 5: Fry the coated shrimp.
Step 6: Serve the shrimp with the dipping sauce.
Tips
The most common pitfall when making this popcorn shrimp recipe is insufficiently heated oil. If your oil is not hot enough, the shrimp will need to cook for longer and absorb more oil in the process.
To test if the oil is hot enough, try to stick the end of a chopstick or a wooden spoon into the heated oil. If you notice bubbles around the wood and they start to float up, the oil is ready for the shrimp.
Popcorn Shrimp in an Air Fryer
To bake the popcorn shrimp in an air fryer, the shrimp need to be prepped and coated in the batter mixture exactly like in the frying version. Then follow these steps:
Place the coated shrimp in the air fryer in a single layer.
Spray cooking oil onto the shrimp to prevent burning.
Cook at 400℉ for 6 - 10 minutes until crispy and brown.
Remove from the air fryer and enjoy immediately.
We suggest not overcrowding the shrimp and dividing them into different batches. This helps to cook them more evenly and results in a more crispy texture. 
Also, this method will not produce the same crispy coating as the deep-fried, but it is an excellent choice if you want to cut down the calories for the dish.
How to Store and Reheat Leftovers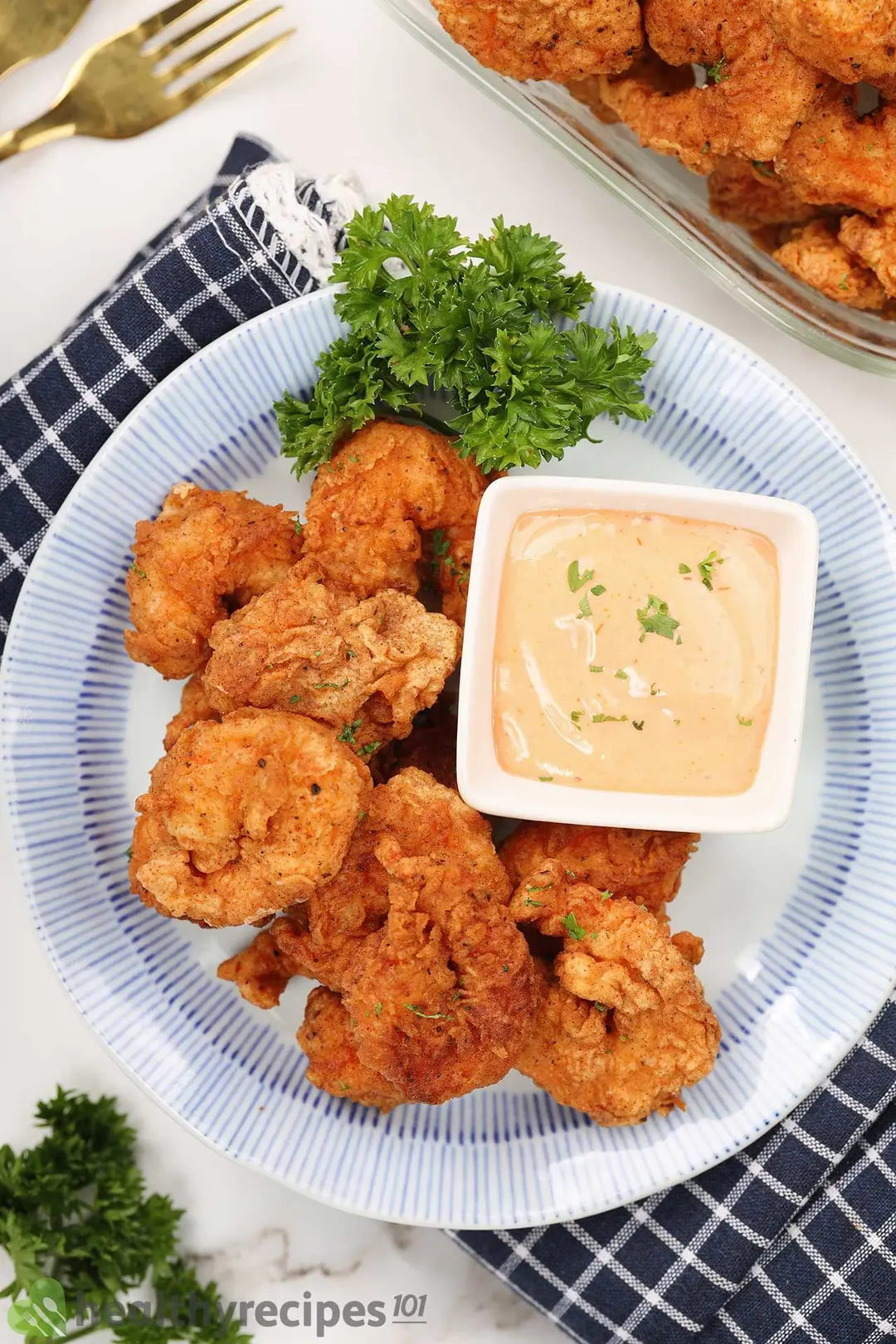 1. To Store
There are two more convenient options to extend the shelf life of your fried shrimp: in the refrigerator or in the freezer. Either way, you'll need to place the food in an airtight container or a freezer-safe bag. Fresh-cooked shrimp stay safe to eat in the fridge for 3 - 4 days and in the freezer for up to 3 months.
2. To Reheat
Once reheated correctly, popcorn shrimp can retain its crispiness. With the oven method, preheat it to 400 ℉ before baking the shrimp for about 7 - 10 minutes or until golden brown.
For food with light breading like popcorn shrimp, you can also try the flash-frying method. Simply heat up the oil on medium-high heat and quickly dunk the food in hot oil to crisp up the coating. Then put them in the oven for a few more minutes to warm through the shrimp inside. 
This technique is perfect for cooked breading food where you want the original crunchy texture.
What to Serve With Popcorn Shrimp
Besides serving shrimp popcorn as an appetizer or snack with a dipping sauce, it can also be a part of a complete meal. Roasted vegetables made from whatever vegetables you have on hand is always an excellent idea. 
They provide a delicious contrast in color and texture, and cut through the rich taste of the fried shrimp.
Another way to enjoy these popcorn shrimps is to pair them with pasta. Melt a regular stick of butter and stir in chopped garlic and your dried herbs of choice. Finally, place the shrimp popcorn on top of a pasta bed and drizzle with the sauce. This combination is one of our favorites because it's so tasty and a breeze to make.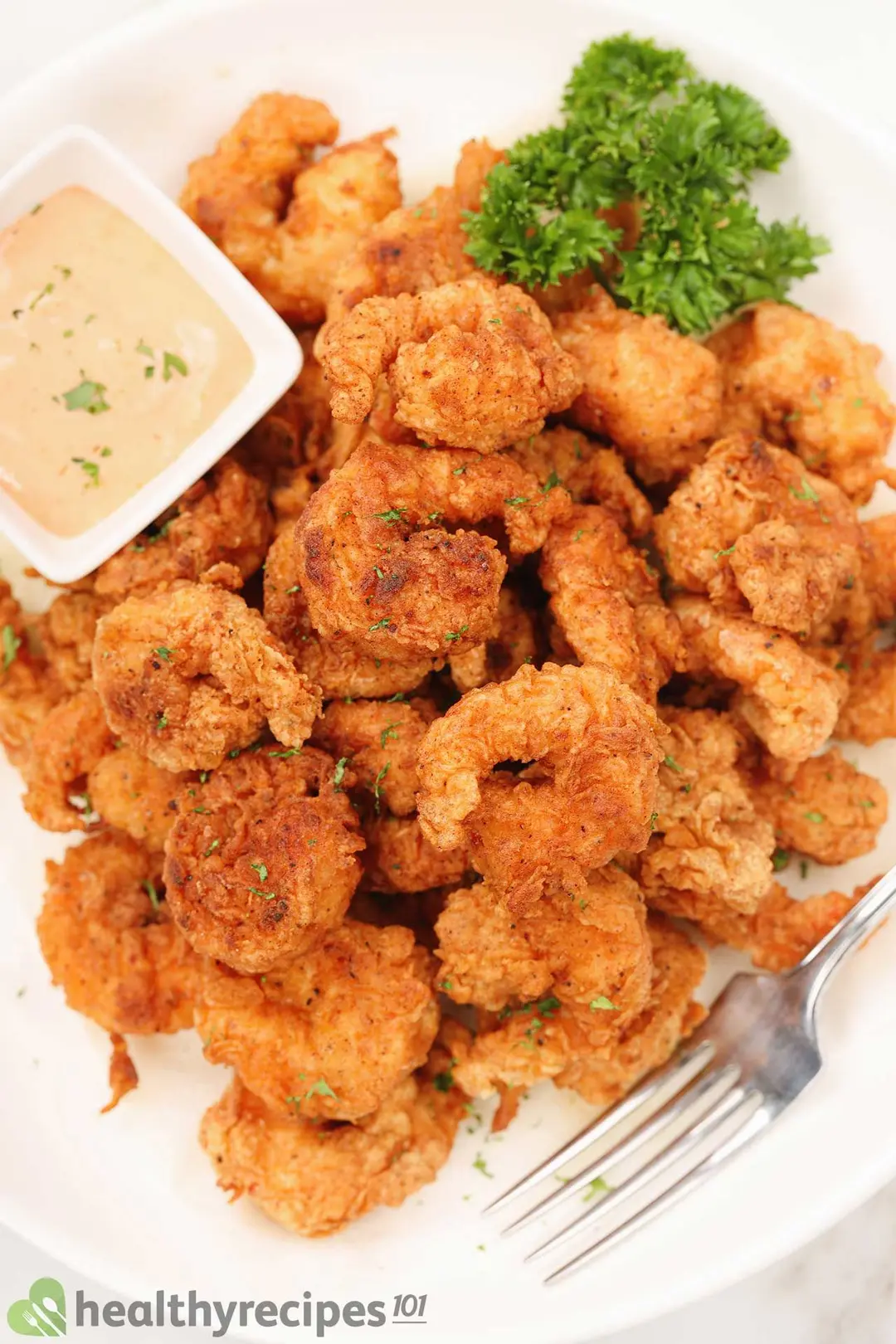 Popcorn Shrimp Recipe
This popcorn shrimp recipe is inspired by the ones you find in restaurant menus. Bursting with flavor, it is a delicious appetizer to wake up your taste buds.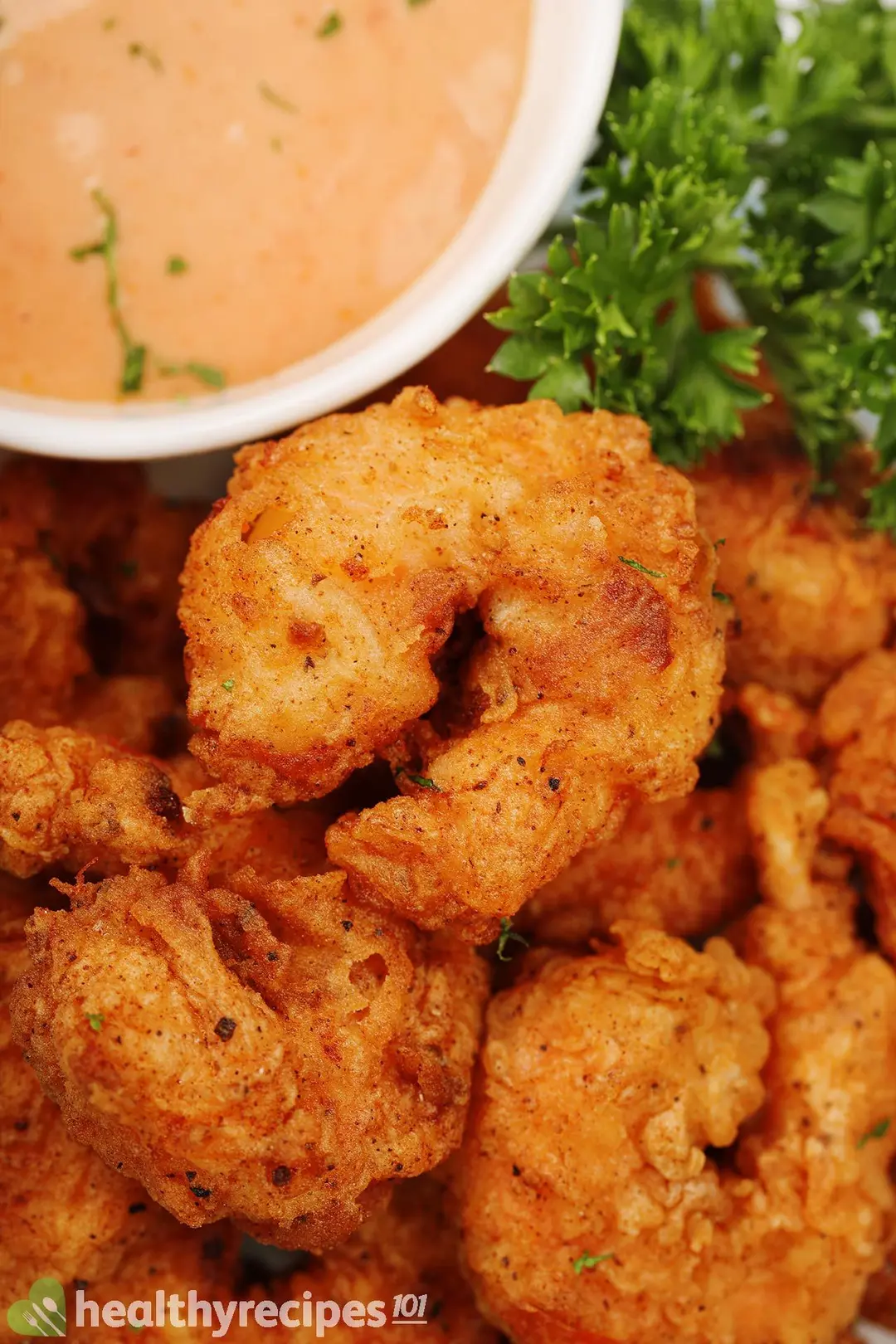 cook TIME

10 mins

prep TIME

15 mins

total TIME

25 mins
COURSE

Side Dish

CUISINE

American

SERVINGS

servings

CALORIES

258 kcal
INGREDIENTS
10 oz

peeled and deveined shrimp 18 oz raw shrimp

0.5 cup

all-purpose flour

0.5 tsp

black pepper

1 tsp

paprika

0.5 tsp

garlic powder

0.5 tsp

chili powder

1

medium egg beaten

2 tbsp

milk

2 tbsp

Japanese mayonnaise

1.5 tbsp

Heinz ketchup

1 cup

canola oil (*)

2 tbsp

parsley chopped
INSTRUCTIONS
1
In a medium bowl, mix together 1/2 cup all-purpose flour, 1/2 tsp black pepper, 1 tsp paprika, 1/2 tsp garlic powder, and 1/2 tsp chili powder.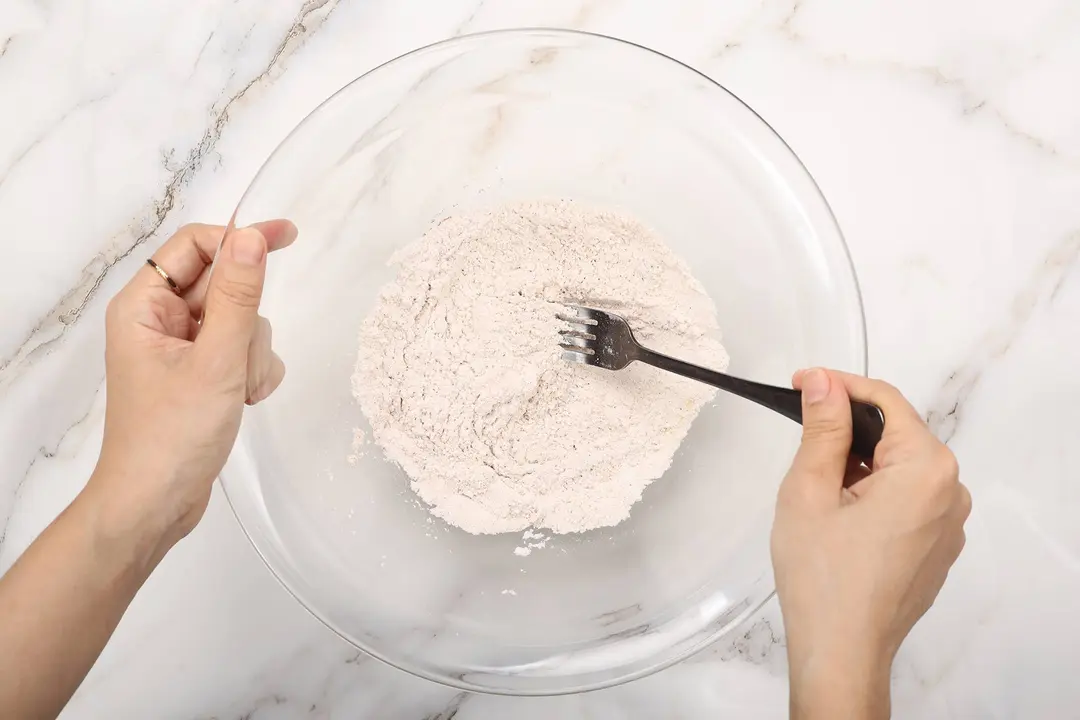 2
Whisk 1 medium egg and 2 tbsp milk in another bowl.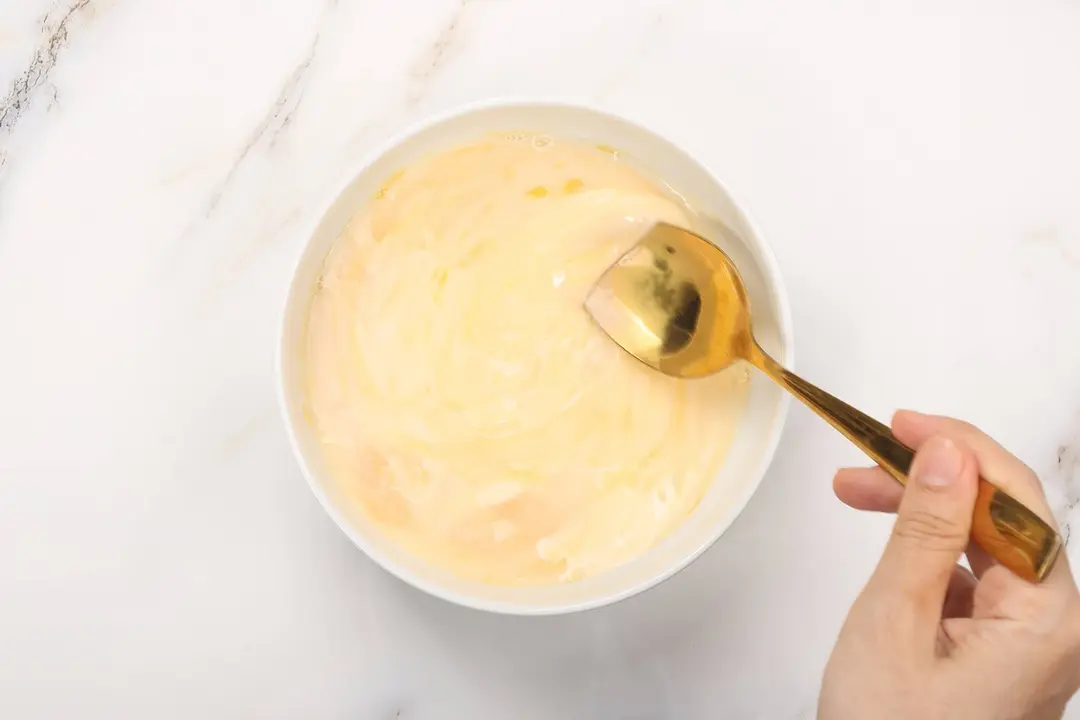 3
Pat 10 oz shrimp dry and place them into the flour mixture. Toss until each shrimp is breaded.
4
Dipping them into the egg mixture.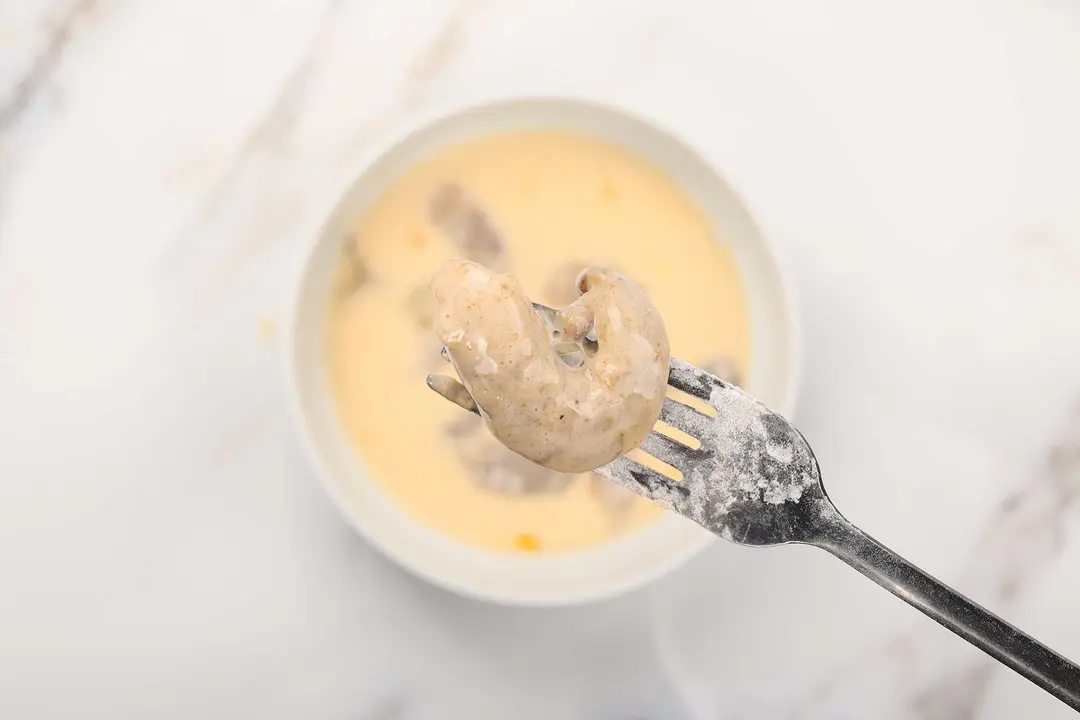 5
Then dredge the shrimp back into the flour mixture.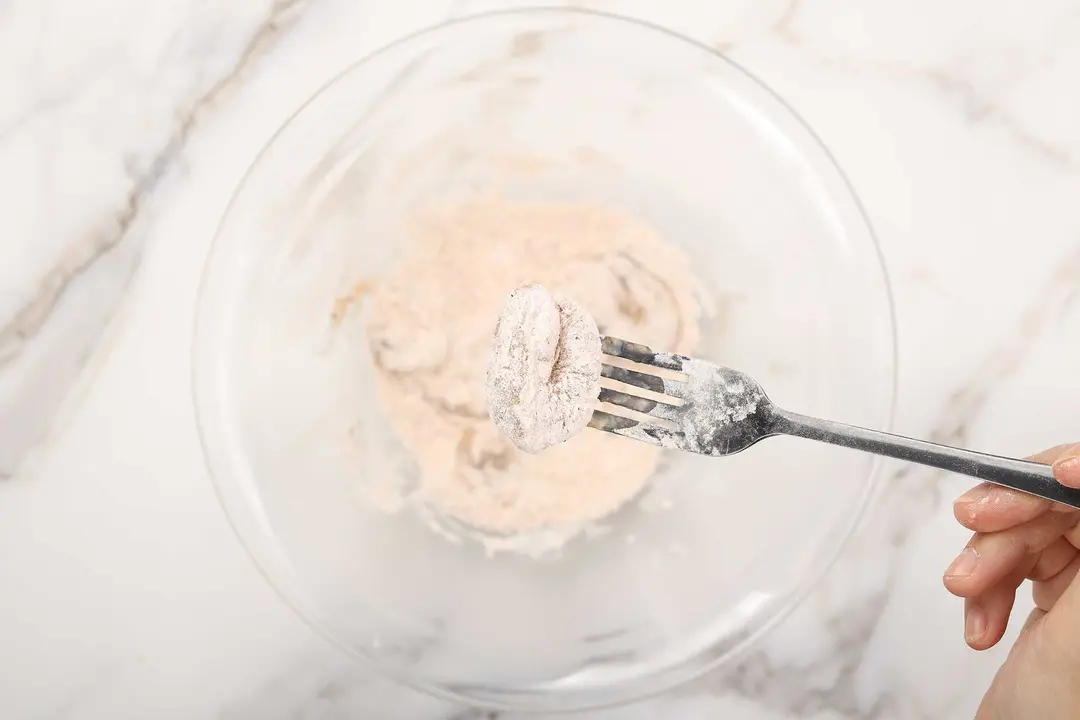 6
Make the dipping sauce: in a small bowl, whisk together 2 tbsp mayonnaise and 1 1/2 tbsp ketchup. Set aside.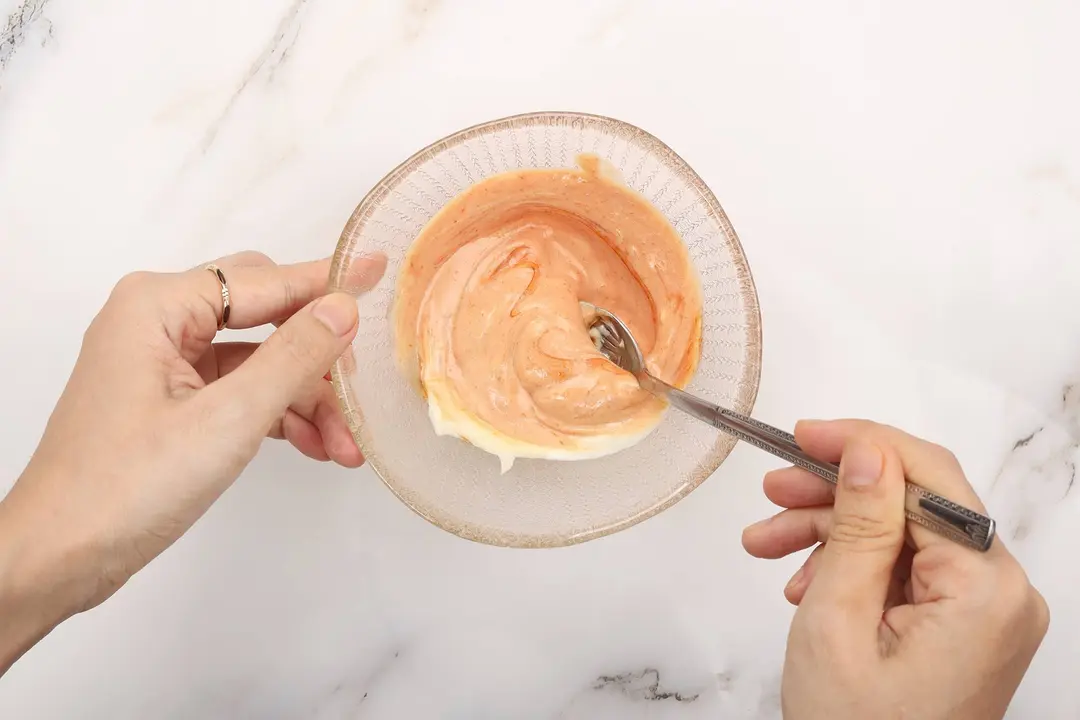 7
Heat 1 cup canola oil in a large deep pot to 350 ℉ and reduce to low heat. Place 8 - 10 pieces of shrimp in the oil and fry for about 3 minutes or until golden.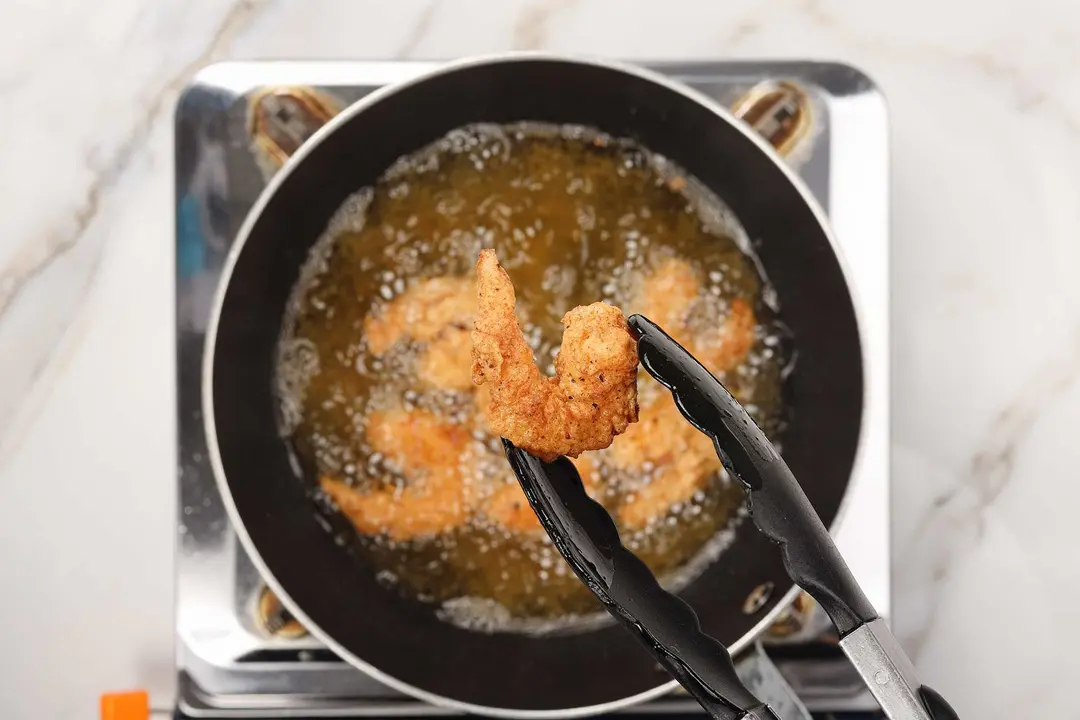 8
Remove the shrimp from the oil and drain them on paper towels to remove the excess fat. Repeat the process with the remaining shrimp. Sprinkle the cooked shrimp with 2 tbsp chopped parsley and serve with the dipping sauce.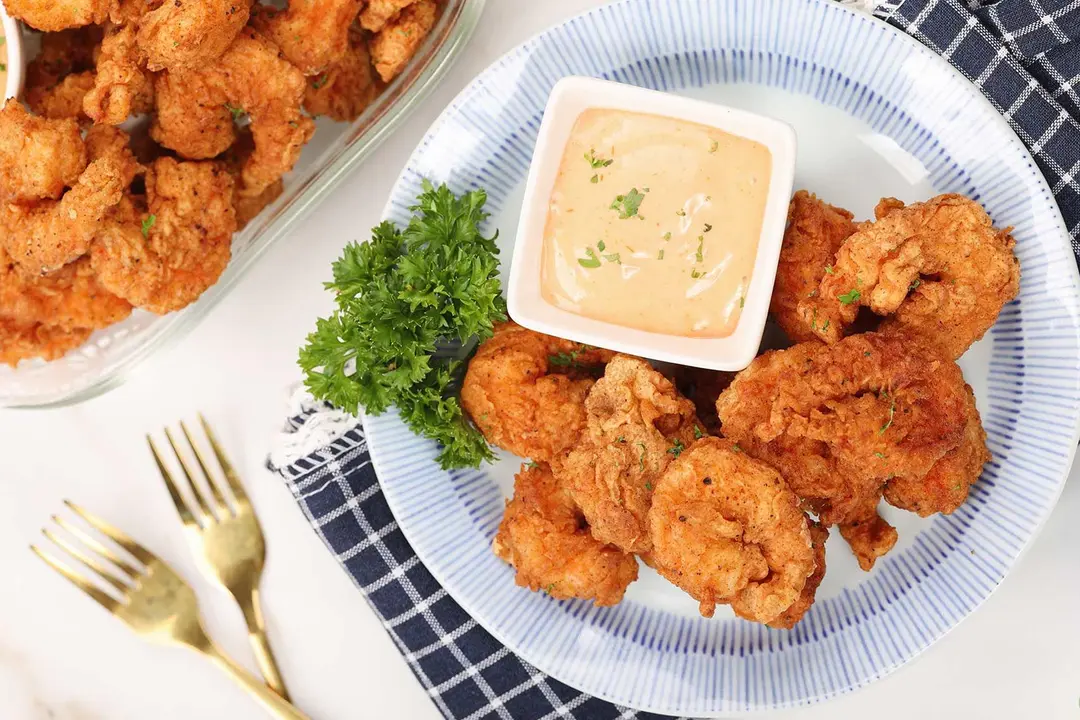 NUTRITION
Nutrition Facts
Popcorn Shrimp Recipe
Amount Per Serving (1 serving)
Calories 258
Calories from FDA
% Daily Value*
* Percent Daily Values are based on a 2000 calorie diet.
Note:
(*) Only part of the oil will end up in the final product and we have calculated nutritional values based on that amount. The whole amount is needed for frying, but what actually ends up being consumed is 1 tsp of olive oil between four servings.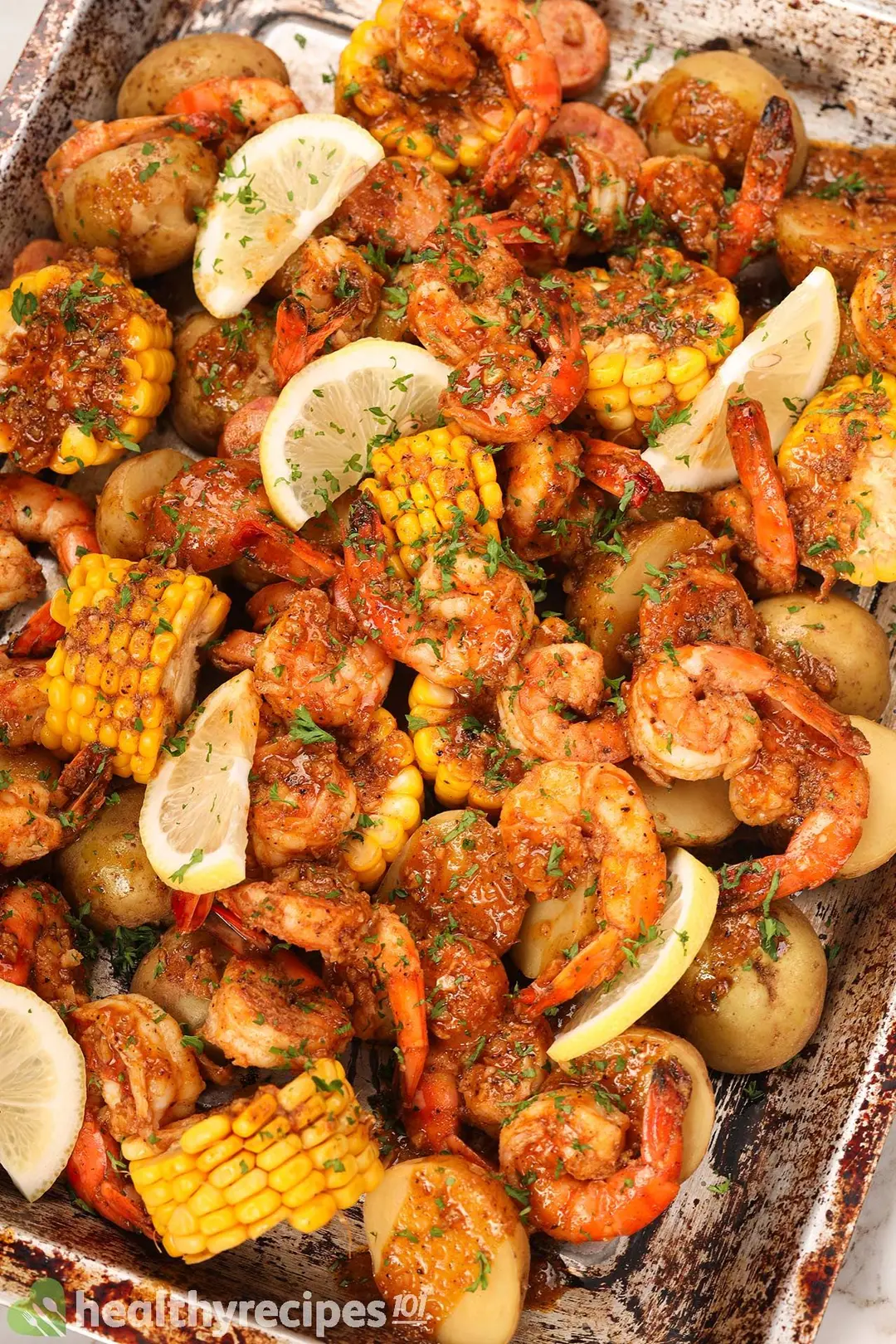 Previous Recipe
Shrimp Boil with Potatoes and Corn
Shrimp Boil with Potatoes and Corn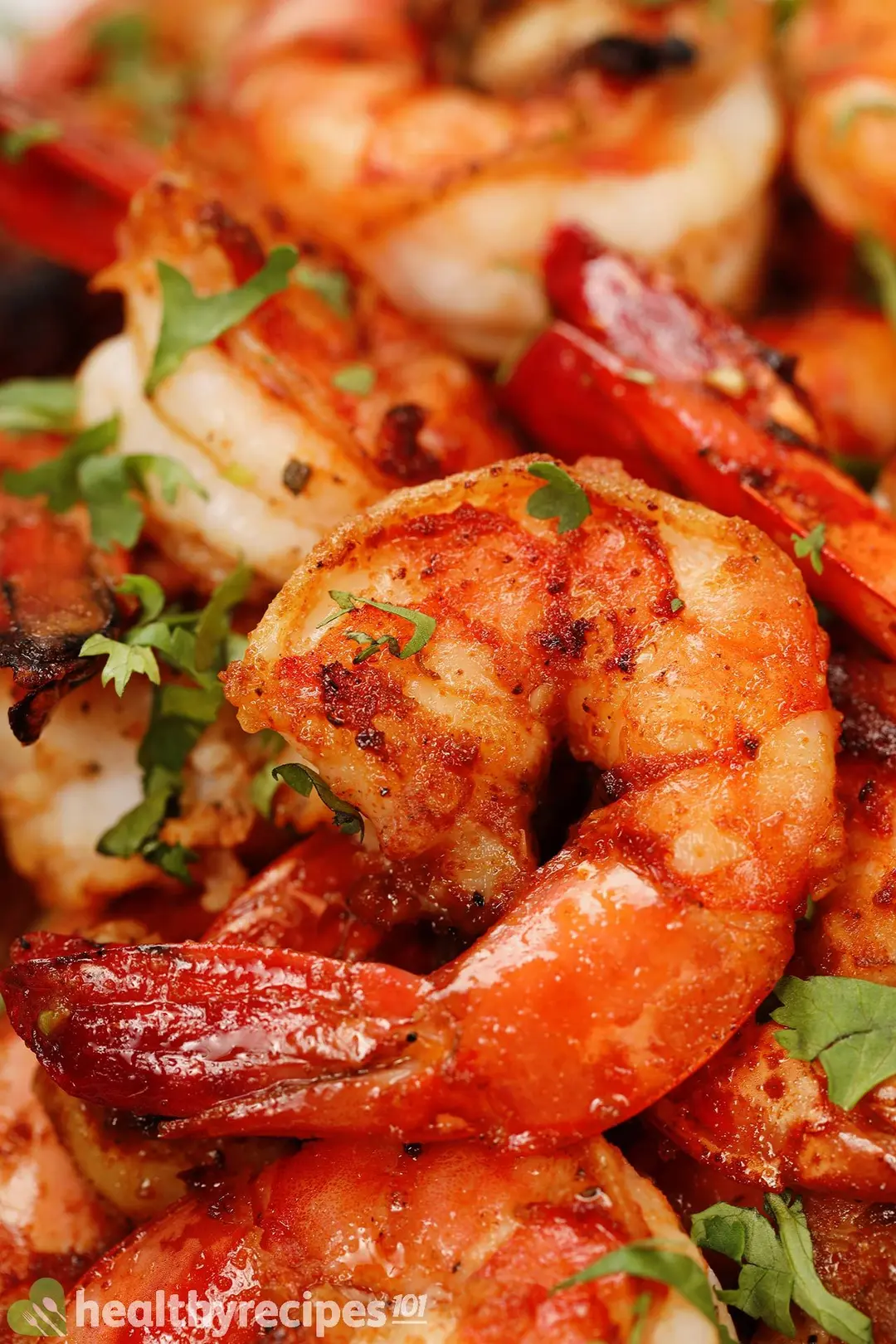 Next Recipe
Blackened Shrimp
Blackened Shrimp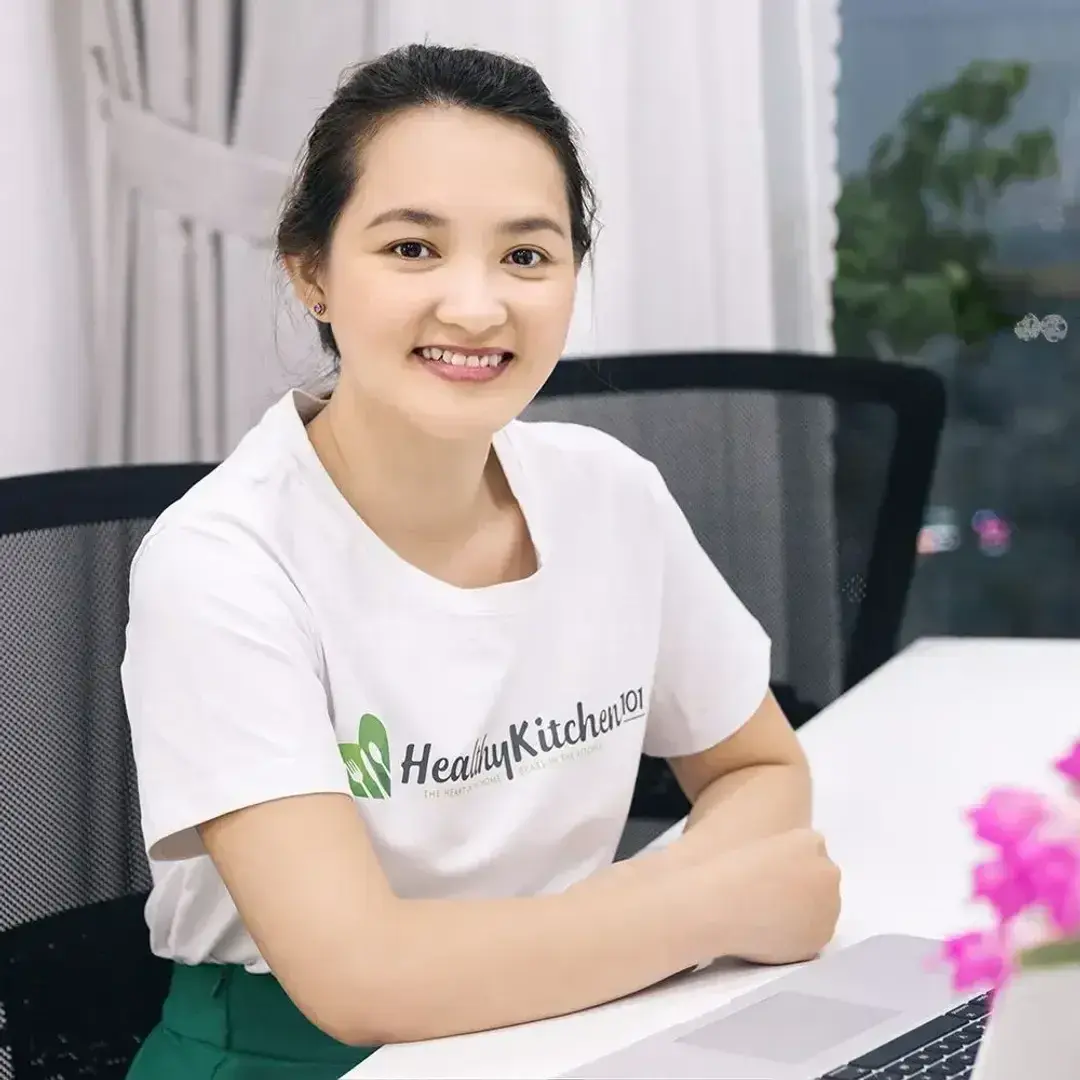 Luna Regina
Luna is the founder and chief recipe developer of Healthy Recipes 101. Apart from cooking, she also loves reading, programming, exploring the outdoors, and collecting useless facts about everything.