Today's air fryer coconut shrimp recipe is a 25-minute homemade guide to a golden crispy and outstandingly tasty delicacy that can rival the restaurant's version.
This dish can make a great choice either as an appetizer, midday snack, or a light side dish to accompany big meals. You'll get to enjoy the conflicting textures between the crispy coconut-panko outer crumbs and the succulent, plump shrimp on the inside. They're also perfect for outdoor picnics and summer feasts!
What Is Coconut Shrimp?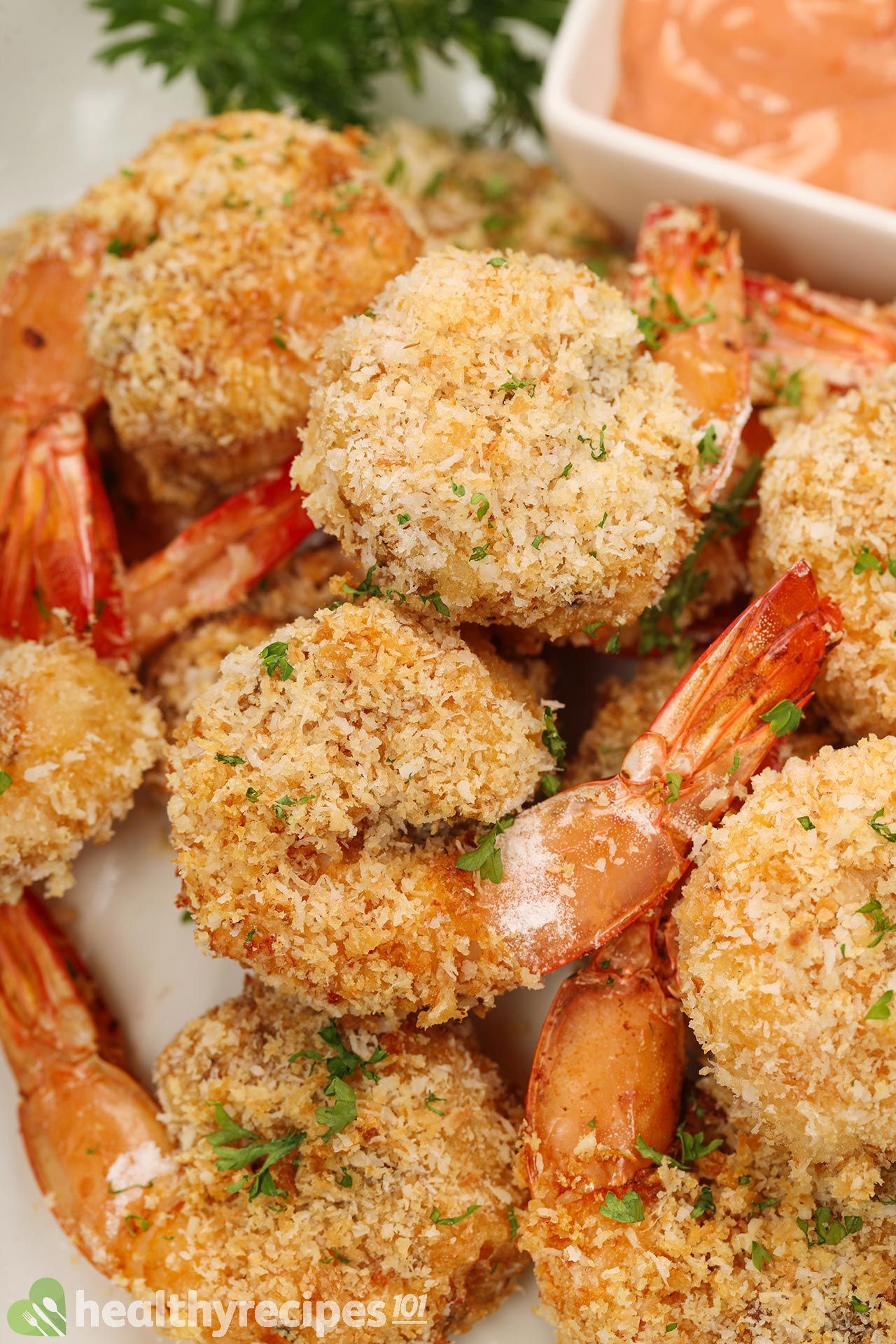 Coconut shrimp is a restaurant appetizer that's made by coating shrimp in coconut-panko breading and frying them until golden brown and crispy. This dish is usually served with a creamy or sweet-sour sauce of choice.
With today's air fryer coconut shrimp recipe, we're going to recreate the regular deep-fried coconut shrimp in the air fryer, but without an abundant amount of oil.

Is Coconut Shrimp Healthy?
Made in the comfort of your kitchen, these creamy and fragrant coconut shrimp come out perfectly crispy and tasty without the need for heavy oil and the deep- frying method. The popular restaurant deep-fried item is now recreated in a healthier way with the help of the air fryer, resulting in a light side dish with significantly fewer calories and fat.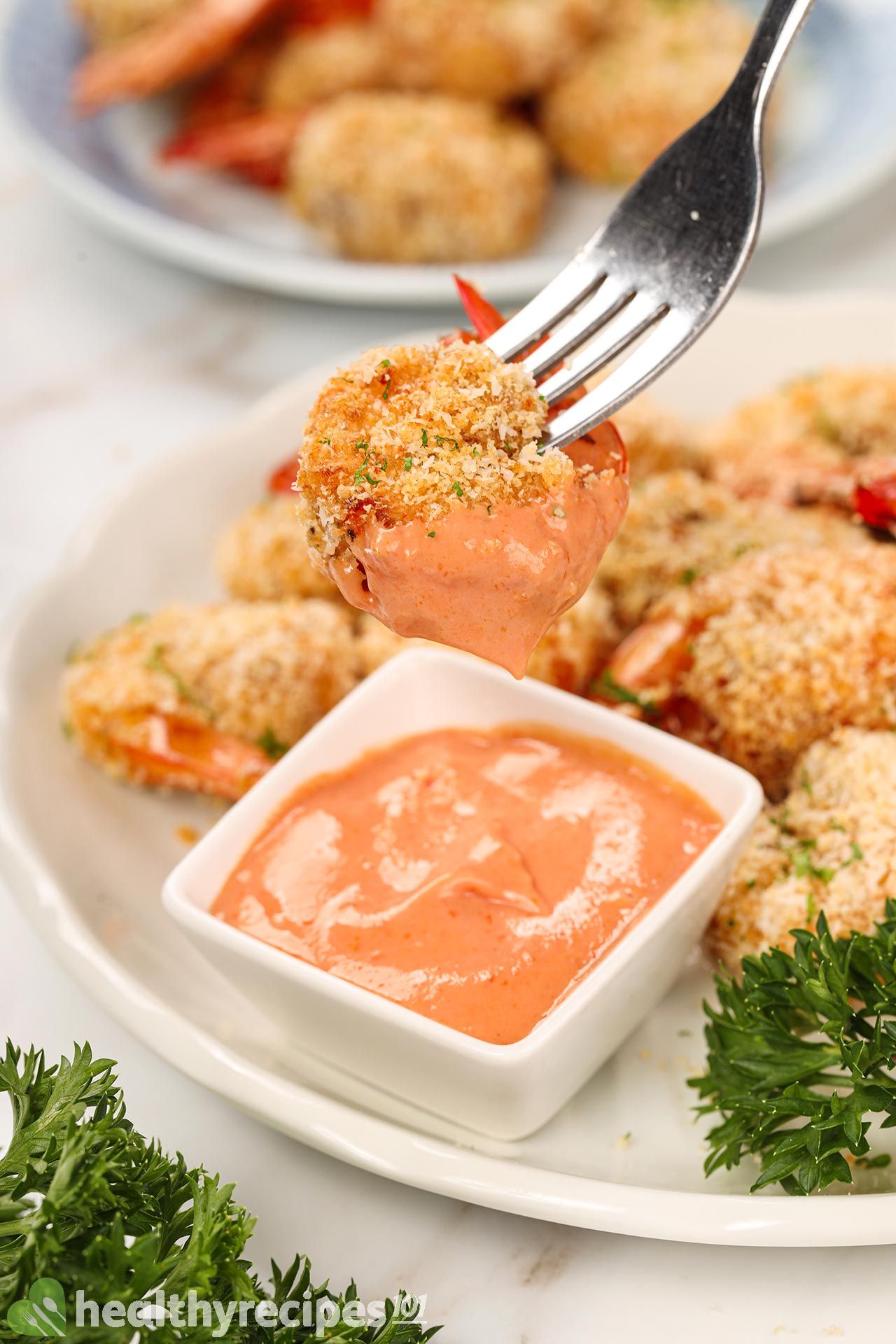 As a result, one serving of this air fryer coconut shrimp contains 233 calories, 2.6 grams of saturated fat, and 301.3 milligrams of sodium — all kept within healthy limits according to our healthy eating guidelines.

Ingredients for Air Fryer Coconut Shrimp
Either fresh or frozen shrimp can work for this air fryer coconut shrimp recipe. Consider your choice based on the ​accessibility​ of fresh seafood.
No matter what the choice is, remember to always drain excess water and pat the shrimp dry before anything else. By doing so, the spice rub and the crumbs will stick better to the shrimp when breading.
Excess moisture, if any, will impact the final texture of this dish. It will steam the shrimp instead of frying them, and as a result, the shrimp won't crisp up well and will eventually become soggy.
If you're using frozen shrimp and can plan your meals, let the shrimp thaw in the fridge overnight before the day of cooking. Otherwise, you can defrost them quickly by placing the Ziploc bags of frozen shrimp in a colander in the sink and running cool water over them for 10 minutes until there are no icy bits left on the bags.
We prefer keeping the tails on for today's dish for easier dipping. You can remove the tails when eating.
We spent 12 minutes air frying the breaded shrimp at 370℉. There's no need to flip the shrimp halfway through cooking, as the air fryer will be in charge of even cooking and crispy, golden- brown edges.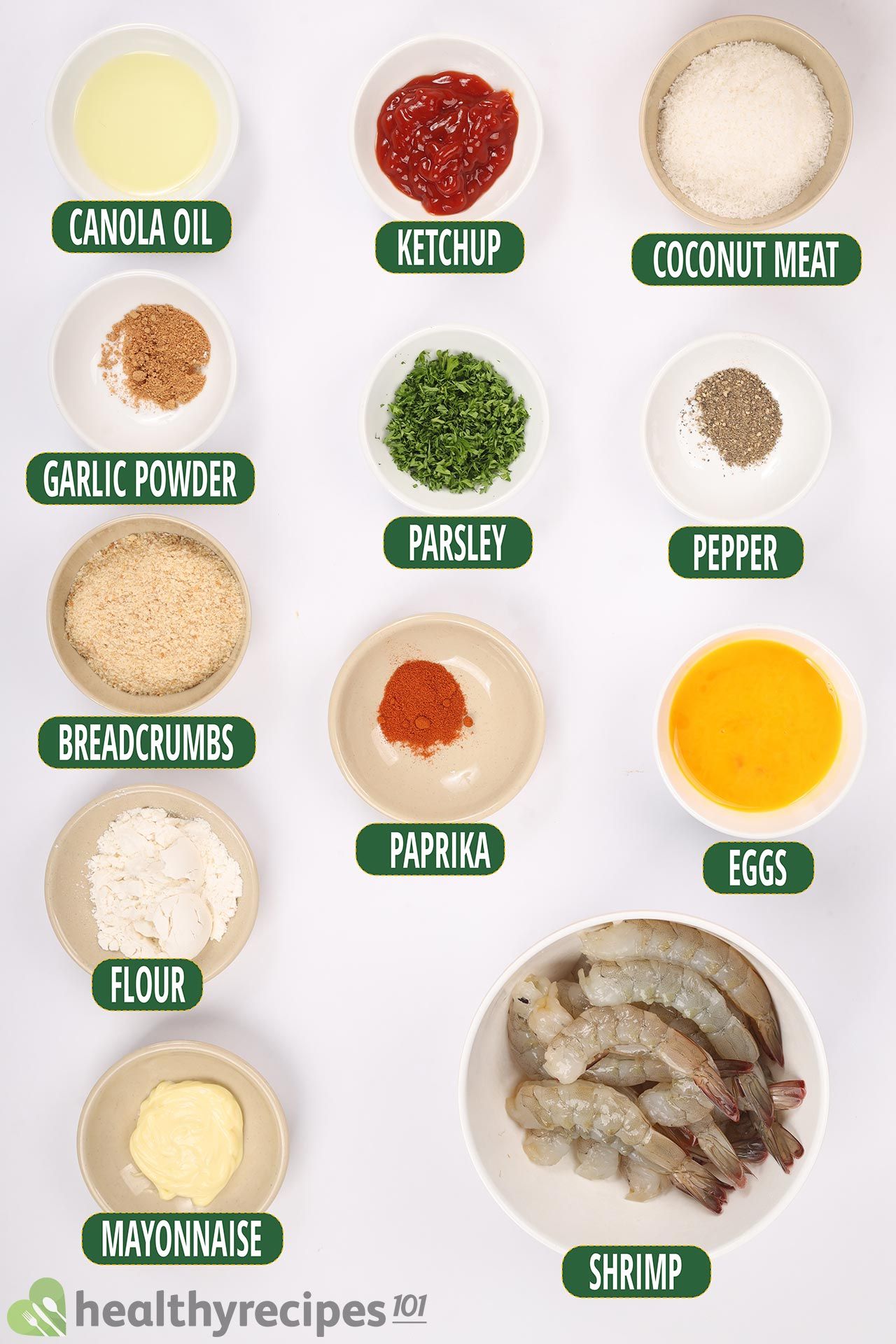 Shrimp cook fast, normally taking about 10-15 minutes to air fry, depending on the size of the shrimp. If you use smaller shrimp than ours, you might need to reduce the cooking time by a minute or two to prevent overcooking.
Make sure you don't overload the frying basket and arrange the breaded shrimp in a single layer so they can crisp up evenly on all sides.
We use desiccated coconut, also known as finely shredded coconut, to lend a delicate creaminess to the shrimp. Desiccated coconut is about the same size as the grains of panko breadcrumbs. When combined, they make a wonderful breading mixture that guarantees crust adhesion and tempting crispiness after frying.
If you can't find desiccated coconut nearby, you can still shred the coconut meat at home by putting it in a food processor and giving it a few pulses until finely ground.
The spice rub used for the shrimp requires just three simple pantry ingredients: paprika, ground black pepper, and garlic powder. It is meant to lightly spice up the shrimp and give them a kick of mild heat before being breaded.

How to Make Coconut Shrimp in an Air Fryer
Our air fryer coconut shrimp recipe is a convenient guide to an outstandingly tasty, light snack that can rival the restaurant's version. These wholesome air-fried shrimp can now be made in the comfort of your kitchen within 25 minutes using these easy steps:
Step 1: Marinate shrimp with spices.
Step 2: Prepare a coating mix of breadcrumb, desiccated coconut, and canola oil.
Step 3: Dredge the shrimp in flour and shake off excess.
Step 4: Dip the floured shrimp in the beaten egg.
Step 5: Bread the shrimp in the panko-coconut coating.
Step 6: Transfer the breaded shrimp to the frying basket. Air fry at 370℉ for 12 minutes.
Step 7: Make the dipping sauce with mayonnaise and ketchup.
Step 8: Garnish the coconut shrimp with parsley.
Step 9: Portion out and serve hot with the mayo-ketchup sauce.

How to Store and Reheat Coconut Shrimp
Similar to the regular air fryer shrimp without the breading, leftover air-fried coconut shrimp can be stored in an airtight container in the fridge for up to 3 days. They can stay well for up to 3 months in the freezer.
Raw and breaded shrimp can also last for the equivalent period in the freezer.
You can reheat the leftover coconut shrimp in the air fryer, in the microwave, or on the stovetop over medium heat. You can also add a splash of cooking oil to crisp them up again if desired.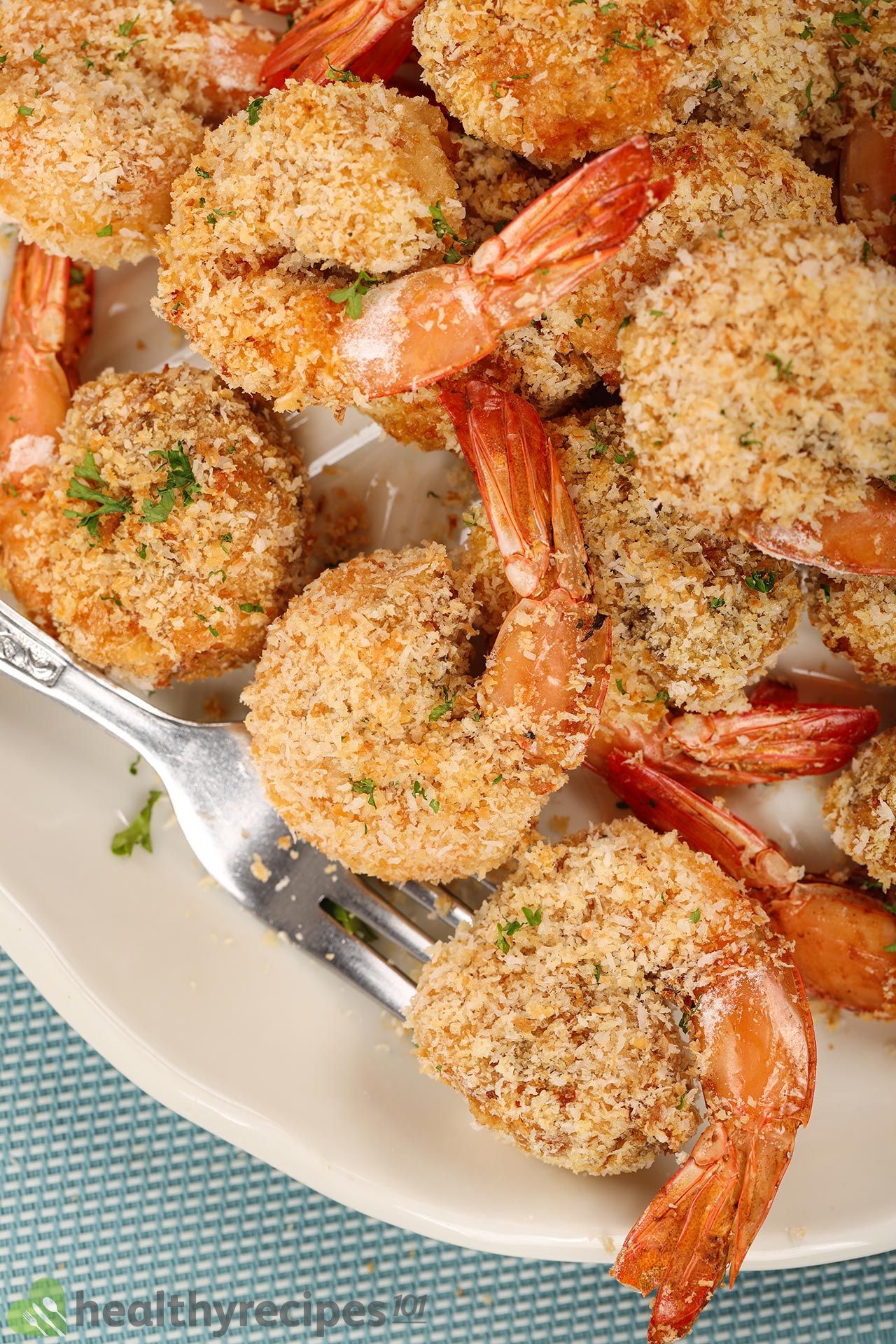 When thawing frozen portions, make sure you keep the shrimp in Ziploc bags when you run water over them, so they won't turn soggy after being reheated. If you can plan your meals, the best way to thaw shrimp is to transfer them to the fridge to thaw overnight before the day of serving.
If you can plan your meals, transfer the frozen portions of fried coconut shrimp to the refrigerator to thaw overnight before serving. Otherwise, keep the frozen coconut shrimps in sealed bags, then run cool water over them for 10 minutes until properly thawed.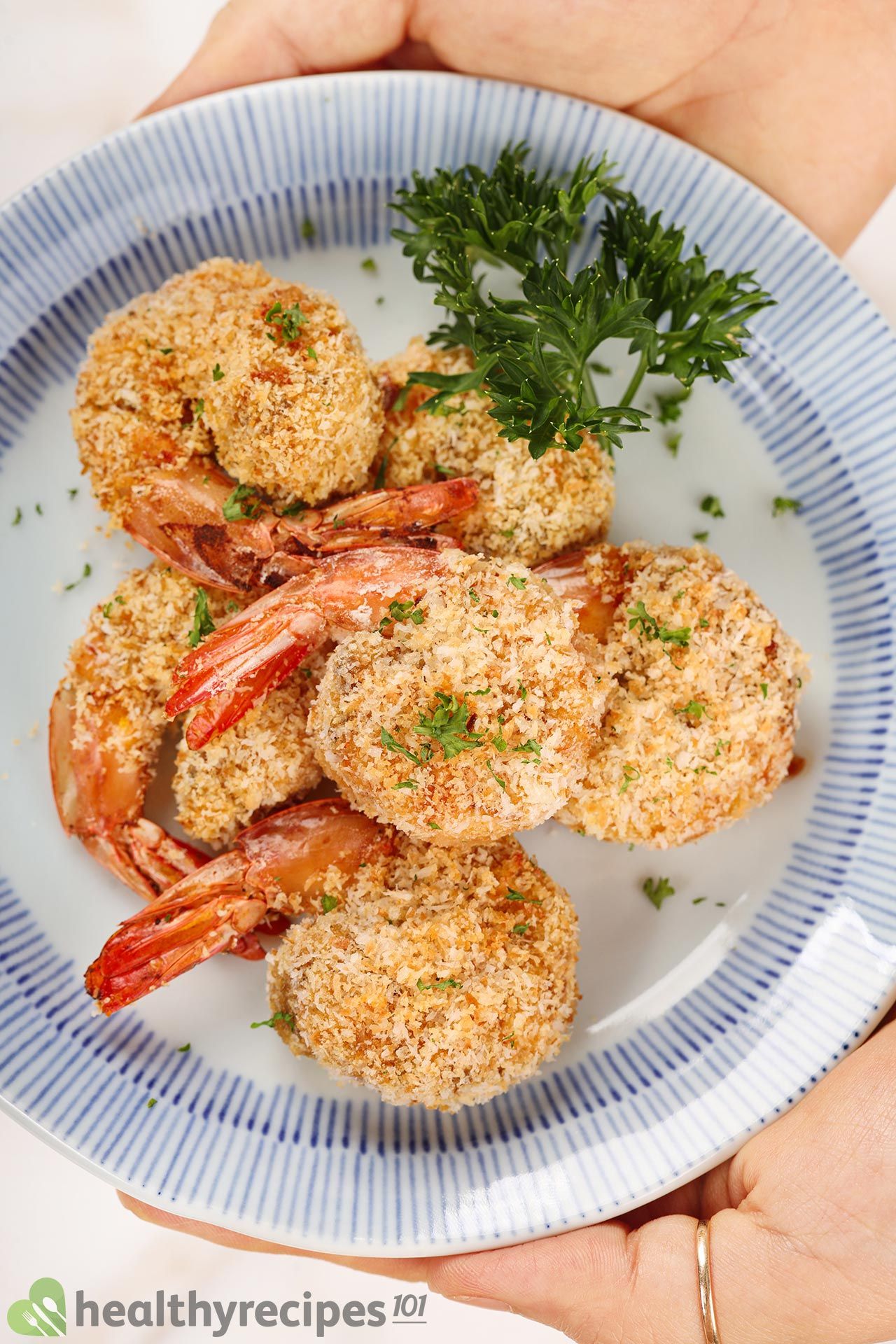 Previous Recipe
Shrimp Ceviche
Shrimp Ceviche
Next Recipe
Shrimp Burger
Shrimp Burger
Luna Regina
A writer and entrepreneur, Luna's day doesn't start at the computer keyboard, but in the kitchen.
Half of her working hours are spent on mixing ingredients for her recipes. The other half involve working with the tech team to research and test the tools and appliances that promise to make kitchen work effortless and mess-free. From a kitchen knife or water filter to the Instant Pot, if it can help save time and effort for the home cook, Luna and her team are on it.
Luna's extracurricular pastimes include camping, travel, and photography.